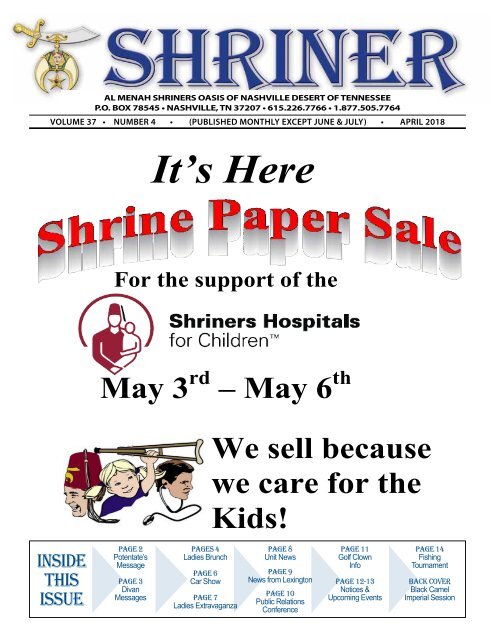 SHRINER APRIL 2018
Magazine of activities for members of Al Menah Shrine, Nashville, TN. Information on activities of our membership and advancements of our Hospitals for Children.
Magazine of activities for members of Al Menah Shrine, Nashville, TN. Information on activities of our membership and advancements of our Hospitals for Children.
SHOW MORE
SHOW LESS
Create successful ePaper yourself
Turn your PDF publications into a flip-book with our unique Google optimized e-Paper software.
AL MENAH SHRINERS OASIS OF NASHVILLE DESERT OF TENNESSEE

P.O. BOX 78545 • NASHVILLE, TN 37207 • 615.226.7766 • 1.877.505.7764

VOLUME VOLUME 36 • NUMBER 37 • NUMBER 4 • 4 • (PUBLISHED MONTHLY EXCEPT EXCEPT JUNE JUNE & JULY) & JULY) • APRIL APRIL 20182017

INSIDE

THIS

ISSUE

It's It's It's Here

Here

For the support of the

For For the the support of of the the

INSIDE

THIS

ISSUE

May 3 rd May rd – May 6 th

May 3 rd – May May th 6 th

PAGE 2

Potentate's

Message

PAGE 3

Divan

Messages

We

We We sell

sell sell because

because

we

we we care for the

care care for for the the

Kids!

Kids!

PAGES 4

Ladies Brunch

PAGE 6

Car Show

PAGE 7

Ladies Extravaganza

PAGE 8

Unit News

PAGE 9

News from Lexington

PAGE 10

Public Relations

Conference

PAGE 11

Golf Clown

Info

PAGE 12-13

Notices &

Upcoming Events

PAGE 14

Fishing

Tournament

BACK COVER

Black Camel

Imperial Session
---
Al Menah Al Menah Temple Temple

Oasis of Nashville

Oasis

Desert

of Nashville

of TennessEE

Desert of TennessEE

P.O.Box 78545 • Nashville, TN 37207

P.O.Box 78545 Phones • Nashville, 1.615.226.7766 TN 37207

Phones 1.615.226.7766

1.877.505.7766

1.877.505.7766

www.almenahShriners.org

www.almenahShriners.org

The Publication Committee

The Publication Committee

The Divan/Board of Directors

Potentate .................... Horace Frank Perkins Hester III

The Chief Divan/Board Rabban. ..........Randy of Directors Horace Perkins Williams III

otentate Assistant .................... Rabban ........... .........Randy Frank Hester Scott Williams Jones

hief Rabban High Priest ........... & Prophet. Horace .......... Donny Perkins Scott Drayton IIIJones

ssistant Oriental Rabban Guide ..........Randy . Vernon Donnie Williams Blackburn Drayton

igh Priest Treasurer & Prophet . ....................... Scott Jones Wes Frye

riental Recorder. Guide ...................Robert Donnie Drayton

Daniel

reasurer Editor. ........................ Maurice Wes Frye Smmith Smith

ecorder ...................Robert Published monthly except June Daniel and July

ditor ..................... www.almenahShriners.org

Maurice Smith

PAST POTENTATES

Published monthly except June and July

www.almenahShriners.org

*Charles Barham

*John E. Patton

*V. *Charles K. Stevenson Barham

*John D. E. Patton Whalley

*V. K. Stevenson

*John D. Whalley

PAST *W. *W. F. F. Hunt Hunt POTENTATES

Jack Norman, Jr.

*J. Pink Lawrence *Albert Jack Norman, Bennett Jr.

*J. Pink Lawrence

*Albert Bennett

Charles Barham *Ed R. Burr

*Ed R. Burr *John E. *Clyde

*Clyde Patton R. Watson

R. Watson

V. K. Stevenson

*J. Harry Murphy

*J. Harry Murphy *John D. *Marshall

*Marshall Whalley S. Whitley

*Charles N. Rolfe *James J. White S. Whitley

W. F. Hunt*Charles N. Rolfe Jack Norman, *James Jr.

*Paul DeWitt

*G. Cooper J. White Holt

J. Pink Lawrence *E. *Paul M. DeWitt Kelly *Albert Bennett

*J. *G. Coleman Cooper Holt Hayes

Ed R. Burr *Joseph *E. M. Kelly Higgins *Clyde R. *Donald

*J. Watson Coleman

R. Dunning

Hayes

J. Harry Murphy *Ira *Joseph E. Parker Higgins *Marshall *J.

*Donald S. P. Whitley Foster

R. Dunning

Charles N. *Martin

*Ira Rolfe E. Parker

S. Roberts *James J. *Gale

*J. White P. Foster

Robinson

Paul DeWitt *R.

*Martin

C. Derivaux

S. Roberts *G. Cooper *C.

*Gale

V. Holt Robinson

Cramb

E. M. Kelly *Oren

*R. C.

A.

Derivaux

Oliver *J. Coleman *J.

*C.

Nelson

V. Hayes Cramb

Bryan

Joseph Higgins *Lee

*Oren

L.

A.

Gamble

Oliver

*Donald*Robert *J.

R.

Nelson

Dunning Battle

Bryan

*Lee L. Gamble

*Robert Battle

Ira E. Parker *R. R. Clark

*R. R. Clark

*J. P. Foster *Jerry N. Tate

*Jerry N. Tate

Martin S. *William Roberts Raine

*William Raine *Gale Robinson *Fred H. Gay, Jr.

*Fred H. Gay, Jr.

R. C. Derivaux *Hugh F. Smith, Jr.

*Hugh F. Smith, Jr. *C. V. Cramb James A. Campbell

James A. Campbell

Oren A. Oliver *W. A. Bryan

*W. A. Bryan *J. Nelson *Claude

*Claude BryanG. G.

Southall

Southall

Lee L. Gamble *Charles L. Cornelius

*Charles L. Cornelius*Robert *W. Battle *W. B.

B.

Lawson

Lawson

R. R. Clark

*W.

*W.

Bush

Bush Herbert

Herbert

*Jerry N.

*Gale

*Gale Tate Robinson

Robinson

*Marshall

*Marshall

Hotchkiss

Hotchkiss

J.

J.

Dudley

Dudley Phillips

Phillips

William Raine

*Jess

*Jess

B.

B.

Templeton

*Fred H.

Hugh F. Smith, Jr. Templeton

*M.

Gay,

*M.

Norris

Jr.

Norris Jenkins

Jenkins

*T.

W. A. Bryan *T.

A.

A.

Springfield James A.

Springfield

*James Campbell

*James F.

F.

Scalf,

Scalf,

Jr.

Jr.

*James

Charles L. *James

G.

Cornelius G. Stahlman

Stahlman *Claude*William G. Southall

*William B.

B.

Jones

Jones

*J.

W. Bush Herbert

*J.

Clark

Clark

Akers *W. B. Lawson

Akers

Jack

Jack

C.

C. Phelps

Phelps

*R.

*R.

E.

E.

Baulch *Gale Robinson

Baulch

*David P. P. Brumfield Brumfield

Marshall *Thomas Hotchkiss

*Thomas

E.

E.

Doss

Doss

J. Dudley *Zack Phillips

S. S. Parrish, Parrish, Sr. Sr.

Jess B. Templeton Kerbela Kerbela Temple '28 '28 *M. Norris *Robert Jenkins E. Newman

T. A. Springfield *Maurice Weinberger

*James F. *George Scalf, Jr. Cook Cook

James G. *S. Stahlman *S. N. N. Allen

*William*R. *R. B. Parker Jones Graham

J. Clark Akers *W. *W. B. B. Hager

Jack C. Phelps H. H. Parker Toler

R. E. Baulch *O. *O. Lynn Meek

*David P. *R. Brumfield T. T. McNaney

Thomas E. *Jack *Jack Doss Norman

*Zack S. James Parrish, L. Ham Sr.

erbela Temple

*James '28

J. J. Vaughn

*Robert*Charles E. Newman H. H. Williams Williams

*C.

Maurice Weinberger

*C. H. H. Smith

William

*George Cook

D. Jones

*Fred

S. N. Allen

C. C. Laskey

John

*R. Parker L.

Graham

Weaver, III

*Ivo

W. B. Hager

A. A. Burton

Gale

H. Parker Toler

B. Robinson

*T.

O. Lynn Meek

*T. W. W. Bray, Jr.

Joe

*R. T. McNaney

Bell

*James R. Cox

Ronny L. Greer

Jack Norman *Paul R. R. Jarratt

James L. Charles Ham

E. Cardwell

James J. Vaughn *J. *J. Sumpter Anderson

Charles J. H. J. Franklin Williams "Jay" Scalf, III III

C. H. Smith *Hugh W. Robertson

William Conley D. Jones

Dykes

Fred C. Laskey *M. T. T. Gossett

John L. Weaver, David Smith III

Ivo A. Burton *Joe C. Carr

Gale B. Robinson Jim Cain

T. W. Bray, *James Jr. T. Hayes

Joe Bell *Mike Martin

James R. Cox *E. Lee Bennett

Ronny L. *Johnny Greer Dudley

Paul R. Jarratt *Orris E. E. Davis

Charles David E. Cardwell Wantland

J. Sumpter *Raymond AndersonH. Leathers J. Franklin Melvin "Jay" Meadows Scalf, III

Hugh W.

*Hilry

Robertson

H. Shaffer

Conley Dykes

Dennis Belford

*James N. Stansell

M. T. Gossett

*James

David

N. David

Smith

Vaughn

Stansell Carl E. Barnes

Joe C. Carr

Jim CainMike Van Sant

James T. Hayes

*Mike Martin Jeff Head

E. Lee Bennett

*Johnny Frank Dudley Hester

Orris E. Davis

David Wantland * Deceased

Raymond H. Leathers Melvin Meadows

Hilry H. Shaffer

2

* Deceased

Dennis Belford

*James N. David Vaughn

Another busy month at Al Menah, visiting Shrine Clubs,

Imperial meetings and parades. It was a great Al Menah

turnout at the Erin Parade, and the crowd was great.

There were thousands of people in green. Tammy

and myself are looking forward to the Ball. We hope

everyone can attend. Thank you for all you do to make

Al Menah great.

BE HUMBLE, BE KIND, BE NOBLE

Horace Perkins, III

Potentate
---
From the desk of...

CHIEF RABBAN

Welcome to Spring! One of our most

important events of the year is coming

up-our annual Shrine Paper Sale the

first weekend of May. This event is

an excellent way to not only raise

money for our hospitals but also get

the word out about our awesome

fraternity and potentially create interest

in qualified men to become Shriners.

It is not too early to be making plans

for our annual Circus October 6-8. This is THE fundraiser of

the year for our Temple so we will need everyone's help to

make it a success. It is always a good time to see the smiles of

children and adults as they enjoy all the circus activities. Let

me know what you can do to help!

In addition, our Ringmaster Club has begun! The giftsgarment

bags, soft shell Fez case, and reserved circus tickets

are a must for every Shriner and his Lady. Contact me or Kenny

Loftis to help fund our children's matinee for the circus.

The next few months promise to be busy ones! Help us help

others and have fun in the process!

Chief Rabban

Randy Williams

ASSISTANT RABBAN

First, I would like to thank Harry Dunn and the

LOH for a great time in Gatlinburg. Also,

ASSISTANT RABBAN

I

want to give a BIG round of applause to

the Al Menah Clowns and Clownettes

for all the hard work in producing the

Inaugural Shrine Clown Jamboree

hosted by SESCA in Gatlinburg, TN.

We had over 50 clowns in attendance

and 36 competed; the competition

and stakes were high, but the Al Menah

Clowns, led by Captain Froggy Wilson,

represented Al Menah proudly. They took home numerous

awards and First Place for their unit skit. Great job!

The star of the show was our very own James "Pokie"

Buchanan. He took home 1st place in Senior at the very young

age of 90! He is an inspiration to us all. Just a few days earlier,

he was traveling home from a clown meeting and was involved

in a automobile accident. By the grace of God, he was able

to walk away and compete just four days later. He knows the

reason why Shriners do what we do, it is for the kids and that

never gets old!

We want to say thank you to the Potentate Ball Committee

for all their hard work and planning. It was a great time by all

and the place looked fabulous as always.

Hope to see everyone soon as we travel the Middle Tennessee

area.

Assistant Rabban

Scott Jones

HIGH PRIEST PRIEST AND PROPHET AND PROPHET

From the land of High Priesting

and worthless Profiting comes the

following report: I traveled the

lonely and dangerous road past

the unit rooms and found a bunch

of nobles I haven't seen at the

temple much over the last 2 years.

Greeters had a big crowd; Flying

Fezz had 9 pilots in the same room;

even the Director's Staff had 10 guys

on hand and they don't even meet that

night. Matter of fact, I got nothing but praise from those

guys for the temple going back to the current format. I

guess we have to put that decision in the win column for the

possumtate. I hate the idea of that throwback being right

about something but I guess there's a first for everything.

Come see for yourself--it's a miracle!! Happy tax day,

High Priest and Prophet

Donnie Drayton

ORIENTAL GUIDE

What an exciting month full of fun and

fellowship. Al Menah participated in

the annual St. Patrick's Day Parade

in Erin, TN and just when you

thought the crowds couldnt get any

larger, they managed to squeeze a

ORIENTAL GUIDE

few more in.

The Potentate's Ball provided just

as much excitement. Shriners and

friends filled our auditorium and unit

rooms, and all in attendance had a great time. Thank

you to all those who gave of their time to ensure this

event was a success.

I trust you have made plans to work our annual Paper

Sale the first weekend of May. The great thing about the

Paper Sale being the first weekend of May every single

year is it helps us all remember to keep our schedules

clear of any distractions for this one weekend so that we

may give our all to supporting our hospitals. The Paper

Sale Caravan will be traveling soon and visiting with the

Ambassadors and Nobles as we prepare for this annual

event. Hope to see you out there fulfilling your obligation.

As always, thank you for all you do for Al Menah,

Shriners International, and Shriners Hospitals for

Children.

It's an honor to be a Shriner, especially an Al Menah

Shriner. Let us remind ourselves daily that we are each

working towards the same goal. We may be successful

individually, but we will be Triumphant as a team!

Oriental Guide

Vernon Blackburn 3

3
---
4
---
Paper Sale Donation from Kroger

On Monday, 7/18 Potentate Jeff Head and members of the Williamson

County Shrine Club were with Kroger Management at their Belle

Meade store where they presented a $1,000.00 to us for the Shrine

Hospitals for Children. The Kroger Manager was an acquaintance of

Scotty and Teresa Travis who put this together for the Al Menah Shrine

Hospitals for Children Paper Sale.

This is a portion of a message from Phyllis Berry, wife of this

Kroger Store Manager, Michael Berry.

Let me tell you, our son was a Shrine Hospital patient

and we are forever grateful The experience was an

awakening in humanity. The care was phenomenal. The

friendship my family made. The support from the men in

your fraternity was phenomenal. We thank you for all you

and your members do for children across the country.

Sincerely

Phyllis Berry

Fraternally,

Butch Mayes, WCSC

5
---
Dash Plates Awarded To All Entries

Trophies To Be Given For All Classes

Special Awards:

Potentate's Trophy

Original Best of Show

Modified Best of Show

Ladies Choice

Farthest Traveled

Oldest or Most Unusual Vehicle

Club Participation

14 Acre Show Site

At

Al Menah Shrine Center

1354 Brick Church Pike

Nashville, TN 37207

Exit 87, Trinity Lane

Call for directions

615-226-7766

Gates open at 7:30am

All vehicles will be classed at registration from 8:00am until 11:00am

Judging will be from 11:30am until 1:30pm / Awards will be presented at 3:00pm

"RAIN or SHINE"

Entry fee per vehicle is: $20.00 at the gate

Vendor space is available for $25.00 / 10' x 10'

Class Sponsorships are available

Kids Model Car Show is $5.00

To be judged, all vehicles must have the hood up, doors open or unlocked and the trunk open. Vehicles failing to be properly displayed

will not be classed or judged. Al Menah Shriners reserve the right to reclassify, add, delete, split or combine classes on the day of the

show based on participation. Al Menah Shriners reserve the right to remove offense, lewd or objectionable material.

All proceeds benefit Al Menah Shrine Center and are not deductible as a charitable donation

6

Make all checks payable to:

Al Menah Shriners

Attn: Car Show

P.O. Box 78545

Nashville, TN 37207

For More Information:

Shrine Center Office: 615-226-7766

Or

Keary D. Fleenor: 615-289-8272
---
7
---
CeNter

NeWS

Clowns

It's been a busy month for the Fabulous Al

Menah Clowns with the SESCA Mid Winter

and Erin St. Patricks Day parade.

Al Menah had a great turnout for the

SESCA Mid-Winter convention and clown

competition. Held this year as the "2018

Shrine Clown Jamboree" in Gatlinburg,

we took home a lot of trophies. Our Unit

Skit took first place. In Whiteface competition

James "Puzzles" Chambers took first

place and Charlie "Hot Rod" Jackson took

second. James "Pokie" Buchanan took first

place in Senior competition. In Character

Jim "Snips" Lee placed third. Auguste saw

Geoff "Sticks" King take second and Kenny

"Sparky" Loftis placed third. Our very

own Captain Frank "Froggy" Wilson won

first place Tramp with Ronnie "Useless"

Brown at second and P.P. Dennis "Chip"

Belford taking third. We had a first place

Rookie with Jason "Doaky" Thomas. In

Single Balloon competition Jim "Snips"

Lee took third and in Multiple Balloon

Geoff "Sticks" King took third. The Individual

Skit was won by Jim "Snips" Lee

coming in first. The Two Man Skit competition

saw James "Puzzles" Chambers & Jim

"Snips" Lee coming in at first, P.P. Dennis

"Chip" Belford & Danny "Slapstick" Gentry

at second and Frank "Froggy" Wilson

& Ronnie "Useless" Brown taking third. In

Paradeability James "Puzzles" Chambers

took first and Frank "Froggy" Wilson at

third. A big thank you to this years SESCA

President Scott "Joker" Jones for hosting

a fantastic competition. The rules were

changed allowing card-carrying Shrine

clowns from outside our region and the

turnout was excellent. Competition was

fierce, Al Menah prevailed, and we got

a chance to meet quite a few new clown

brothers.

As always, thank you to all of

you for what you do to support

our children's hospitals. Please

keep

8

those that are sick and unable to attend our

events in your prayers.

Keep on Clowning!

Jim "Snips" Lee

Secretary

Director's Staff

The first quarter of the year has been

one filled with enthusiasm and excitement.

Our stated meeting numbers are growing

with the attendance hitting close to a 50%

increase in member turnout. Keep in mind

that our stated meetings are the 4 th Tuesday

of every month with the social hour beginning

at 5:30.

Yes there have been a few surprises with

the cancellation of the onion sales and the

opportunity to attend either the Fun Fest

or the Dixie Association Convention in

March. Those members that have worked

for the Director Staff raising funds, helping

at the circus etc. will receive their allowance

towards helping with their rooms at

one of the events.

All those that signed up for the Potentates

Ball at the end of the month, March 23 and

24 enjoyed some very exciting evenings

full of friendship, with the Hospitality

Room at the Maxwell House both days.

We were very proud of our decorated unit

room, thank you Directorettes.

There are several dates to keep in mind:

May 3-6 - paper sale

June 23 -John Dudley Fishing Tournament

on Old Hickory Lake

July 15- 19The Imperial Session in

Daytona Beach, FL.

Sept 20 -The Director's staff Golf

Tournament, place to be determined

As you can imagine with the cancellation

of the onion sales we will need to strive to

obtain fund raising. Any new ideas would

be greatly appreciated.

Please note these dates, plan to attend,

and help out as needed.

Fred Lysak

Lt Directors Staff

Shrine Club News

Hendersonville Shrine Club

This is a great time of the year to be a

Shriner. Lots of activities. Our Potentate

Ball on Saturday, March 24th, our Patient

Easter Party on Saturday, March 31st, and

our biggest and most important event is the

Paper Sale on May 2nd through May 6th

followed by Fun Fest in Pigeon Forge May

10th through May 12th.

We all know the Paper Sale is our biggest

fundraiser of the year for our Hospitals and

our kids. If you live in our area and can

help sell papers on any of the days mentioned,

call me, Boyd Parnell at 615-598-

1339. We need your help.

Our club meets on the fourth Monday of

each month and our next meeting will be

Monday, April 23rd. We meet at the Black

Eye Pea at 164 East Main Street in Hendersonville.

We meet at 6:00pm for fellowship

and food and our meeting starts at 7:00pm.

Our club needs new workers and new

members. Come and visit our club. See if

you might want to be a member.

In closing, remember our Paper Sale, our

Hospitals and kids. Keep those who are

sick and those who have lost a loved one,

our country, our troops and our temple in

your prayers.

Boyd Parnell

President

Williamson County Shrine Club

By the time you see this article our club

will be getting organized for the paper sale.

This year it will be May 3-4-5-&6.

I hope you plan to help! This is what

we are all about, bringing in Dollars for the

Shriners Hospitals for Children. Remember,

we can sell Plaques all year long. We

have lots of Plaques and stickers so just let

us know how many you need?

Some of our WCSC Motor Division

attended the Erin St. Patrick's Day Parade

last Saturday. Don't forget about the

Franklin Rodeo Parade coming up on May

12. We will have breakfast hospitality at

Hiram Lodge beginning at about 9:00am.

The lineup is at 11:00am at the Franklin

Special School District Headquarters on

Hwy 96 West, with the parade beginning

at High Noon. We hope you can come and

participate in the Famous Franklin Rodeo

Parade this year.

If you don't belong to a club already,

come on down and visit with us on the third

Thursday at Logan's Steakhouse – 6:00 pm.

Please Note That we will be Dark in

June and July. We are looking for new

members. You can visit us and see if you

might want to join? Please remember to

thank God, every day for the freedom we

enjoy in this Great Country!

Butch Mays,

WCSC Ambassador
---
Once a patient, now a nurse

Medical journey at Shriners Hospitals for Children shapes employees career choice

At age 11, Kandace Stratton was diagnosed by her pediatrician with

adolescent idiopathic scoliosis and referred to Shriners Hospitals for

Children Medical Center — Lexington for treatment. The pediatric

orthopaedic surgeon recommended that Kandace be fitted by the

orthotics and prosthetics department for a thoracolumbrosacral orthosis

(TLSO) brace. A TLSO is the most common type of brace worn for

scoliosis. The brace is made of plastic and is contoured to conform to the

body. This close-fitting brace is almost invisible under clothes, as it fits

under the arms and around the rib cage, lower back and hips. Kandace

wore the TLSO brace for 23 hours a day for two years. At the end of the

two years, Kandace underwent two major spinal fusion surgeries within

four months.

Kandace spent a great deal of her teenage years as a Shriners Hospitals for Children patient. At the

time, she didn't realize how her medical journey would one day shape her career choice. Kandace and

her family were very thankful and impressed by the level of care that she received, which led to

Kandace choosing to pursue nursing school. "I have always loved children and felt as though I could

relate to patients since I was one!" said Kandace. Kandace received her nursing assistant certificate in

May 2009, and was hired at the then Lexington Shriners Hospital, working on the inpatient unit while

she continued to work on obtaining her nursing degree. For the next few years, she worked at a job

she loved preparing for the career she would love. In May 2012, Kandace graduated from nursing

school. As a registered nurse, she worked the same shift as she had for three years as an aide.

"God's plan for my life was to be a voice to these amazing children I am privileged to care for. I

try and use my experience as a patient to help these children and teens through their recovery," said

Kandace. "At 14, I was too young to realize it, but I now know why my medical journey led me

here. Shriners Hospital is a special place and I hold it dear. I am blessed that God brought me back

where my heart will always belong." Lexington Shriners Hospital transitioned to a new model of care

in April 2017, and was renamed Shriners Hospitals for Children Medical Center. The facility now

operates as a 100 percent outpatient pediatric orthopaedic medical center. The move provided

Kandace with an opportunity to shift from an RN on the inpatient unit to PACU. In addition to caring

for children as an RN, she contacts all patients scheduled for surgery at the ambulatory surgery center

several days prior, to provide specific details and answer any questions. Kandace was recently filmed

by Lexington Shriners Medical Center as the host of the pre-operative surgery video that will be

made available to all patients and families preparing for surgery.

"We have such a wonderful history of countless success stories, of brave and brilliant children who

come to us with a variety of medical needs. They move on to have successful and healthy lives of

their own. Sometimes, such as with Kandace, we are lucky to have them return and give back their

professionalism and love to the very organization that cured them," said Elizabeth Martin, RN,

manager of surgical services and infection preventionist at Lexington Shriners Medical Center. "We

are blessed to have Kandace a part of the Shriners Hospitals for Children organization."

9
---
10
---
Al Menah Clowns invite you to join us

Monday May 21 st

for a fun & exciting day of Golf at

Nashboro Village Golf Course

Registration starts at 10 AM

Lunch provided starting at 11:00

Shotgun start 12:30 pm

$65 per Man / $260 per team when accompanying

your entry form.

Deadline for entry form is May 10, 2018.

Any entry after May 10 th will be $70 per man / $280 per team.

Name:

Name:

Name:

Name:

We need hole sponsors. A sign will be placed on the course to show your

support, with entire amount going to the Hospitals.

Sponsorships are: $100.00

Including a sign at a hole & Plaque showing your support for the Hospitals.

So PLEASE let us know if you or your business wishes to donate to the Shrine

Hospitals via a hole sponsorship and include it with your entry!

Make checks payable to Al Menah Clowns.

Please mail your application & check with your team players or sponsorship

information to: Al Menah Golf Day

4235 Hermitage Rd.

Old Hickory, TN 37137

For more info contact Maurice Smith @ 615-513-7643

or email: wms2849@gmail.com w/subject Clown Golf

11
---
Congratulations go to Parker Toler for winning the Marlin .22 rifle at the

February Stated Meeting! Be sure to attend the March meeting for your chance to

win a 20-gauge turkey shotgun!!"

Notices

PATIENTS Easter Egg Hunt

Reminder

PLEASE NOTE; THIS IS A DIFFERENT FORMAT FROM PAST EGG HUNTS

AND THE FOCUS WILL BE ON OUR PATIENTS.

We'll need lots of support from Al Menah Nobles as there will be activities for the Patients,

Clown skits, balloon tying,

STATED

games, lunch, maybe

MEETING

a visit from an Easter Bunny or 2, and other

goodies.

As in our annual Christmas Party, we're asking the Ladies of Al Menah to please bring finger

APRIL 17, 2018 AT 7:30PM

desserts such as cookies, brownies, and cupcakes. As in past years, this party is for our Hospital

Patients no Nobel siblings, grandchildren, et al. so that all attention is directed to our Patients.

(Captain's Meeting at 5:30pm

Thanks for all your support and help with this heartwarming event.

Wes Frye

12
---
SAVE the DATE : JULY 18, 2018

Patsy and I would like to personally invite each of you to attend

and participate in the pageant and installation of the

Imperial Potentate on July 18, 2018 in Daytona Beach, FL.

We are so proud to represent our Al Menah family and

would be honored by your presence.

— Jim Cain, Imperial Chief Rabban

APRIL

Apr. 2-6 Paper Sale Caravan

From the Imperial Chief Rabban

Apr 7 Mule Day Parade - Columbia, TN

TL/U 10:00Am - S/O 11:00 Am

Apr. 13-14 Rainbow Girls Event @ AM

Apr. 13-14 Scottish Rite Reunion

Apr. 17 Stated Meeting

Apr. 20-21 Scottish Rite Reunion

JULY 18, 2018

Patsy Apr. 22 and Gospel I would Singing @ AMlike to personally invite each Daytona of you Beach, to Fl attend and

July 24 Captain's Meeting Only – 6:00 Pm

participate MAY

in the pageant and installation of the Imperial Potentate on July

May 3 – 6 Paper Sale

AUGUST

18, 2018 in Daytona Beach, FL. We are so proud to represent our Al Menah

May 10-12 Fun Fest - Pigeon Forge

Aug. 16-18 Southeastern Shrine Association

family

May 12

and

Strawberry

would

Festival Parade

be honored by your presence.

Pigeon Forge, Tn

Portland – L/U 3:00 - S/O 4:00 PM

May 15 Stated Meeting

May 17-20 Dixie Association Convention

Panama City

Upcoming events

CALENDAR OF EVENTS

AS OF THIS PUBLICATION – SUBJECT TO CHANGE

JUNE

June 2 Ladies Brunch

June 19 Captain's Meeting Only @ 6:00Pm

June 23 Casino Party @ Amt

JULY

July 8-14 Demolay Conclave

July 15-19 Imperial Session –

Aug. 21

Stated Meeting

Jim Cain, Aug. 24-25 Imperial Divan Weekend Chief Rabban

Cincinnati Shrine Hospital

13
---
10th Annual

AL MENAH SHRINERS

John David Dudley Fishing Tournament

SATURDAY JUNE 23, 2018

Sanders Ferry Park (Hendersonville, TN)

SAFE LIGHT TO 2:00PM WEIGH-IN

*Registration will start at 4:00am*

Starting number/positions determined by registration number.

MONEY RAISED IN THIS TOURNAMENT GOES DIRECTLY TO SHRINERS HOSPITALS FOR CHILDREN.

SHRINERS OPERATE 22 HOSPITALS IN NORTH AMERICA, SPECIALIZING IN ORTHOPEDIC PROBLEMS,

BURNS, SPINAL CORD INJURIES AND CLEFT LIP & PALATE.

PROUDLY SERVING CHILDREN SINCE 1922.

.

COST: $135.00 PER TEAM / OPTIONAL $10.00 BIG FISH POT PER BOAT

*Make checks payable to Al Menah Fishing Tournament*

Master Card and Visa accepted prior to tournament date.

$5000 FIRST PLACE PRIZE

Payback 10% of the Field.

Come on out and have a great time and support a great cause!

Stick around after the tournament and be included in our raffle.

Hundreds of great door prizes will be raffled off!!

WEIGH-IN conducted by: C&O Tournament Team

Contact:

Jeff Head

615-480-4844

615-310-9009

jeffhead2016@yahoo.com

jeff@jarvissigns.com

Contact:

Dennis Belford

615-305-4559

pbelford@bellsouth.net

All contributions are tax deductible as a charitable contribution.

14
---
REMINDER!

NOTICe:

ALL communications

for the Shriner

should be sent to

editor.amsc@gmail.com

15
---
Jerry Wayne Bain

Nashville

01/1/55 – 03/13/18

Nobles Nobles Visited Visited By By

The Black The Black Camel Camel

William Scott Nelson

Readyville

10/30/39 – 03/8/18

AL AL MENAH TEMPLE

A.A.O.N.M.S.

1354 1354 BRICK BRICK CHURCH CHURCH PIKE PIKE

P. O. P. Box O. Box 78545 78545

NASHVILLE,

NASHVILLE,

TN TN 37207 37207

www.almenahshriners.org

Nonprofit

Organization

U.S. U.S. POSTAGE

PAID

Nashville,

Nashville,

TN

TN

Permit No. 1731

Permit No. 1731

Edwin Morton Carter, Jr

Hermitage

10/21/30 – 02/11/18

Albert Loren Jaynes

Hendersonville

06/5/35 – 02/27/18

Fred Amos Joyner

Springfield

08/12/30 – 02/15/18

Charles H. Scalf

Hermitage

06/13/27 – 02/25/18

Thomas Ervin Templeton

Crossville

10/27/39 – 03/7/18

Shane Wesley Usleton

Manchester

08/7/88 – 03/13/18

DEADLINE FOR MAY SHRINER IS APRIL 19 TH , 2018