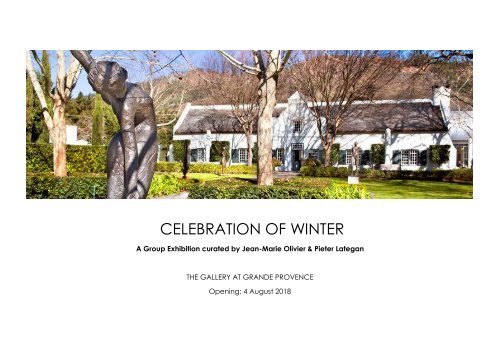 Celebration of Winter catalogue
An Exhibition of contemporary South African Art
An Exhibition of contemporary South African Art
SHOW MORE
SHOW LESS
You also want an ePaper? Increase the reach of your titles
YUMPU automatically turns print PDFs into web optimized ePapers that Google loves.
CELEBRATION OF WINTER

A Group Exhibition curated by Jean-Marie Olivier & Pieter Lategan

THE GALLERY AT GRANDE PROVENCE

Opening; 4 August 2018
---
Paula van Coller, True Blue (150cm x 100cm oil on canvas)

Martin Sycholt, Potbelly # 3 (height:31cm, ceramic)
---
Carl Roberts, Passage of Time ( width: 127cm , wood)

"I work like the automatic artist of the Surrealist movement in that I trust my subconscious to generate ideas. The

emphasis is on "magic, accident, irrational, symbols, and dreams". Like the Rorschach (inkblot) test, the material

often suggests images and sometimes presents them in an unusual way. The image made depends ultimately

upon what lies in the subconscious, elements of chance, and the spirit of the times."
---
Carol Cauldwell, Leap (height: 47cm, bronze edition)

Carol Cauldwell deconstructs that which bothers her and then makes a critical comment,

using fairy-tales, idioms, nursery rhymes, illustration and icons, in the hope that she will be

able to create some sort of resonance be it positive or negative in whoever engages in the

work. She tries to use familiar visual images which she arranges into conceptually layered

pieces.
---
Gerhard van Niekerk, Sava ( height 78cm , marble & GFRC composite edition of 8)

Claudia Ongaro,Form and Formless Series II ( 120cm x 90cm, pastel on paper)
---
Aidon Westcott, Frequency (160 x 200 cm, mixed media collage)
---
"The concept behind the artwork 'Frequency' deals with different forms or mediums of communication devices with the intention of

conveying a coded message to the viewer's sub conscious mind.

This artwork takes the form of an encoded message using written text, transmission signals and pictorial forms of visual, auditory and

tactile mediums. The composition is an important factor as it is designed to lead one eye in a continuous 'loop' within the borders of

the canvas.

The coded message therefor lies beyond the imagery and objects, hidden and tucked away amongst the memory and experience

of the viewer's non-linguistic internal universe. "
---
Jacques Dhont, Resilience (92 cm, mixed media)
---
Anton Karstel, Untitled (110cm x 110cm, oil on canvas)
---
Grace da Costa, Spaces between (Large)

(35 cm x 35 cm x 29cm bronze edition 9/10)

"I do not start with a fixed concept in mind. The

concept evolves during the process of

experimentation and development......The whole

process stimulates the senses: textures, colours,

shapes, marks- so many things can be done.

Proceeding to manipulate, distort or even destroy

the image. Creating art is expressing one's

immediate emotions, concerns or opinions,

without having to consider another being -pure

self-indulgence."
---
Rosemary Murry, Black and white bottle IV (height: 38 cm,ceramic)

Madelein Marincowits, Reconstruction of past events. (120 x 60 cm, oil on board))
---
Anton Smit, Toiva ya Toiva (life size -GRP)
---
Marie Kearney, Testimony I & II (63 cm x 63 cm -each framed, mixed media on board)
---
Rae Goosen, King (68 x 41cm x 46 cm -ceramic)
---
Iaan Waldeck, Nr 22 & Nr 46 (64 cm x 48 cm -each aquarelle and ink on paper)
---
Greg Schultz, Pulse (160 cm x 250cm, oil on canvas)
---
"Greg talks about these as moments of magic in air, water, fire and rock and as 'glimpses', leaving brief or incomplete views, or

glimmers, of world's unseen. This painting holds his traces of these tracings with which one might make one's way over, through or

along, or indeed go between these routes on a journey towards conditions of sensuous perception.

And one final trace: for those of us who have ever tied a … fly to a trace and arced a floating line into a flowing corner of the

Kwelera, the glimpse of movement angling away from us, it is impossible to not feel the twitch, the memory trace of anticipation in

the fingers, when standing in front of the evening light of 'Transfer'. "

Professor Gary Minkley SARCHI Chair in Social Change, UFH
---
Andre Stead, Female Fragment (height: 47cm mixed media)
---
Alex Hamilton, Hallo Sailor (120cm x 90cm, acrylic on canvas) & Snow White (45cm x 60cm, acrylic on canvas)
---
Louis Nel, 10/10/2012 & 18/10/2012 (50cm x 60cm, oil on canvas each)

Louis Nel lives at the coast in Kalk Bay. He is a surfer. He paints the sea and the forest in different pigments, tones, tides and seasons.

He titles his work according to the date of completion. Every exhibition becomes a painter diary.

Our contemporary world consists of technological creations and instant solutions to problems. In contrast to this oil painting is a classical

and time-consuming medium- it requires skill and patience. I believe in the relationship/correlation between value and the passing of

time. Every single square cm of these canvases has been touched by the artist's hand. The works are original, individual and not

machine made. Each piece can be linked to a specific date.

On another level I regard Louis's work as Romantic. His paintings are a revival of romantic ideas in a world where rational thinking,

technology and machines are ruling. Romanticism emphasizes emotion, individualism and the glorification of nature as well as the

past

These oils are not rational scientific depictions of nature, but intense emotional experiences embodied in seascapes. The Romantic

Movement emphasized intense emotion as an authentic source of the aesthetic experience. Louis landscape portray the

uncontrollable, unpredictable power of nature as an alternative to the ordered world in which we find ourselves. (text by Corlie de

Kock)
---
Andre Prinsloo, Squad (height:32 cm, bronze 5/14)

"The creation of my sculptures is a very private act

that originates from deep within my subconscious.

Often the idea just happens without much deliberate thought.

Verbal communication – especially with strangers,

does not come naturally to me. Thus sculpture –

like music, has become my universal language.

In the act of sculpting I therefore talk to myself

and it has become a way of exploring my inner emotions."
---
Grace Kotze, Two sparrows on the Antique Chinese Bowl (40 x 40 cm, acrylic on board)

Grace Kotze, Weaver Bird on the oil can (40 x 30 cm, acrylic on board
---
Martin Haines,White and yellow cat pair ( height 43 cm each, ceramic)
---
Johannes Scott, Platter III (45 cm diameter, ceramic)

Krisjan Rossouw, Dark Paradise #4 (214 cm x 156cm, Gliceé print)
---
James Stead, Lemons on a cloth (estimate 50cm x 100cm, oil on wood)
---
Phillemon Hlungwani, Ku Hava Xoxi Endla Hande Ka Ku hlevana (Alex) I(Those who gossip have nothing better to do than gossip)( 82

x 141cm, etching and watercolour edition 3/10)
---
Leandri Erlank, Happiness ( 100cm x 70 cm, charcoal on paper)

Theo Megaw, Small Girl with Dove (height:62 cm, bronze edition of 15) detail
---
Mark O Donovan, Avondale, Beaufort West- Scratching the surface (120 cmx 240 cm, mixed media on 100% cotton African wax

print)
---
Wendy Gaybba, Reënjas (13 cm x 18 cm, oil on canvas)

Kerri Evans, Goose Portrait (30 cm x 30cm oil on aluminium)
---
Antoinette Cloete-Nel,Complete I ( 120cm x 120 cm, charcoal on paper in perspex box)

Talitha Deetlefs, Shield I( height: 67 cm,bronze edition of 12)
---
Ig Terblance, Life Routes (210 cm x 82cm, charcoal on paper)

Frans Mulder, Waiting for my Prince (120 cm x 150cm, charcoal on paper)
---
Anton Brink, No country for old men (230 cm x 250 cm, oil on canvas)

Uwe Pfaff, Dinner in 5 (height: 185cm, oil on canvas)
---
Charmaine Haines, Masked abstract heads with fish and birds. (height: 40 cm, ceramic)
---
Everette Duarte, Fresh Rain (120 cmx 180cm, acrylic on canvas)
---
Toby Megaw, The Thinker (height 43 cm, bronze edition of 15)

"I am interested on one level in exploring the beauty of how our humanity expresses itself through form, stance and subtle gesture;

from a bent old woman, with her life experience speaking through the angles of her neck and back, to the gentle, soft, deep caring

of a mother for her baby, shown in the shadows of her face, or the embracing gesture of her body and arms. On another level, I am

interested in exploring how shapes, volumes and masses relate to each other and how lines flow through a piece - the mountainous

terrain in which I live is still, quiet, tranquil, sometimes soulful, with a solid three-dimensional honesty and integrity. Shaping clay with

simple, rough, wooden batons, I strive to embody something of these qualities in my work. If at all successful, my pieces create quiet

nodes in a rather busy world."
---
Toby Megaw, Boy with Frog (height 86 cm, bronze edition of 15)