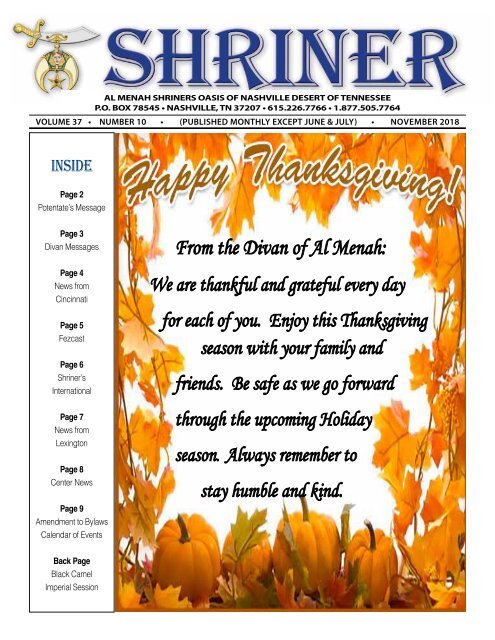 SHRINER NOVEMBER 2018
Publication of upcoming events and information about happenings of Al Menah Shrine, Nashville, TN.
Publication of upcoming events and information about happenings of Al Menah Shrine, Nashville, TN.
SHOW MORE
SHOW LESS
Create successful ePaper yourself
Turn your PDF publications into a flip-book with our unique Google optimized e-Paper software.
AL MENAH SHRINERS OASIS OF NASHVILLE DESERT OF TENNESSEE

P.O. BOX 78545 • NASHVILLE, TN 37207 • 615.226.7766 • 1.877.505.7764

VOLUME 3637 • NUMBER • NUMBER 4 10 • • (PUBLISHED MONTHLY EXCEPT JUNE & JULY) & JULY) • • NOVEMBER APRIL 2018 2017

INSIDE

INSIDE THIS

ISSUE

Page 2

Potentate's Message

Page 3

Divan Messages

Page 4

News from

Cincinnati

Page 5

Fezcast

Page 6

Shriner's

International

Page 7

News from

Lexington

Page 8

Center News

Page 9

Amendment to Bylaws

Calendar of Events

From the Divan of Al Menah:

We are thankful and grateful every day

for each of you. Enjoy this Thanksgiving

season with your family and

friends. Be safe as we go forward

through the upcoming Holiday

season. Always remember to

stay humble and kind.

Back Page

Black Camel

Imperial Session
---
Al Menah Al Menah Temple Temple

Oasis of Nashville

Oasis

Desert

of Nashville

of TennessEE

Desert of TennessEE

P.O.Box 78545 • Nashville, TN 37207

P.O.Box 78545 Phones • Nashville, 1.615.226.7766 TN 37207

Phones 1.615.226.7766

1.877.505.7766

1.877.505.7766

www.almenahShriners.org

www.almenahShriners.org

The Publication Committee

The Publication Committee

The Divan/Board of Directors

Potentate .................... Horace Frank Perkins Hester III

The Chief Divan/Board Rabban. ..........Randy of Directors Horace Perkins Williams III

otentate Assistant .................... Rabban ........... .........Randy Frank Hester Scott Williams Jones

hief Rabban High Priest ........... & Prophet. Horace .......... Donny Perkins Scott Drayton IIIJones

ssistant Oriental Rabban Guide ..........Randy . Vernon Donnie Williams Blackburn Drayton

igh Priest Treasurer & Prophet . ....................... Scott Jones Wes Frye

riental Recorder. Guide ...................Robert Donnie Drayton

Daniel

reasurer Editor. ........................ Maurice Wes Frye Smmith Smith

ecorder ...................Robert Published monthly except June Daniel and July

ditor ..................... www.almenahShriners.org

Maurice Smith

PAST POTENTATES

Published monthly except June and July

www.almenahShriners.org

*Charles Barham

*John E. Patton

*V. *Charles K. Stevenson Barham

*John D. E. Patton Whalley

*V. K. Stevenson

*John D. Whalley

PAST *W. *W. F. F. Hunt Hunt POTENTATES

Jack Norman, Jr.

*J. Pink Lawrence *Albert Jack Norman, Bennett Jr.

*J. Pink Lawrence

*Albert Bennett

Charles Barham *Ed R. Burr

*Ed R. Burr *John E. *Clyde

*Clyde Patton R. Watson

R. Watson

V. K. Stevenson

*J. Harry Murphy

*J. Harry Murphy *John D. *Marshall

*Marshall Whalley S. Whitley

*Charles N. Rolfe *James J. White S. Whitley

W. F. Hunt*Charles N. Rolfe Jack Norman, *James Jr.

*Paul DeWitt

*G. Cooper J. White Holt

J. Pink Lawrence *E. *Paul M. DeWitt Kelly *Albert Bennett

*J. *G. Coleman Cooper Holt Hayes

Ed R. Burr *Joseph *E. M. Kelly Higgins *Clyde R. *Donald

*J. Watson Coleman

R. Dunning

Hayes

J. Harry Murphy *Ira *Joseph E. Parker Higgins *Marshall *J.

*Donald S. P. Whitley Foster

R. Dunning

Charles N. *Martin

*Ira Rolfe E. Parker

S. Roberts *James J. *Gale

*J. White P. Foster

Robinson

Paul DeWitt *R.

*Martin

C. Derivaux

S. Roberts *G. Cooper *C.

*Gale

V. Holt Robinson

Cramb

E. M. Kelly *Oren

*R. C.

A.

Derivaux

Oliver *J. Coleman *J.

*C.

Nelson

V. Hayes Cramb

Bryan

Joseph Higgins *Lee

*Oren

L.

A.

Gamble

Oliver

*Donald*Robert *J.

R.

Nelson

Dunning Battle

Bryan

*Lee L. Gamble

*Robert Battle

Ira E. Parker *R. R. Clark

*R. R. Clark

*J. P. Foster *Jerry N. Tate

*Jerry N. Tate

Martin S. *William Roberts Raine

*William Raine *Gale Robinson *Fred H. Gay, Jr.

*Fred H. Gay, Jr.

R. C. Derivaux *Hugh F. Smith, Jr.

*Hugh F. Smith, Jr. *C. V. Cramb James A. Campbell

James A. Campbell

Oren A. Oliver *W. A. Bryan

*W. A. Bryan *J. Nelson *Claude

*Claude BryanG. G.

Southall

Southall

Lee L. Gamble *Charles L. Cornelius

*Charles L. Cornelius*Robert *W. Battle *W. B.

B.

Lawson

Lawson

R. R. Clark

*W.

*W.

Bush

Bush Herbert

Herbert

*Jerry N.

*Gale

*Gale Tate Robinson

Robinson

*Marshall

*Marshall

Hotchkiss

Hotchkiss

J.

J.

Dudley

Dudley Phillips

Phillips

William Raine

*Jess

*Jess

B.

B.

Templeton

*Fred H.

Hugh F. Smith, Jr. Templeton

*M.

Gay,

*M.

Norris

Jr.

Norris Jenkins

Jenkins

*T.

W. A. Bryan *T.

A.

A.

Springfield James A.

Springfield

*James Campbell

*James F.

F.

Scalf,

Scalf,

Jr.

Jr.

*James

Charles L. *James

G.

Cornelius G. Stahlman

Stahlman *Claude*William G. Southall

*William B.

B.

Jones

Jones

*J.

W. Bush Herbert

*J.

Clark

Clark

Akers *W. B. Lawson

Akers

Jack

Jack

C.

C. Phelps

Phelps

*R.

*R.

E.

E.

Baulch *Gale Robinson

Baulch

*David P. P. Brumfield Brumfield

Marshall *Thomas Hotchkiss

*Thomas

E.

E.

Doss

Doss

J. Dudley *Zack Phillips

S. S. Parrish, Parrish, Sr. Sr.

Jess B. Templeton Kerbela Kerbela Temple '28 '28 *M. Norris *Robert Jenkins E. Newman

T. A. Springfield *Maurice Weinberger

*James F. *George Scalf, Jr. Cook Cook

James G. *S. Stahlman *S. N. N. Allen

*William*R. *R. B. Parker Jones Graham

J. Clark Akers *W. *W. B. B. Hager

Jack C. Phelps H. H. Parker Toler

R. E. Baulch *O. *O. Lynn Meek

*David P. *R. Brumfield T. T. McNaney

Thomas E. *Jack *Jack Doss Norman

*Zack S. James Parrish, L. Ham Sr.

erbela Temple

*James '28

J. J. Vaughn

*Robert*Charles E. Newman H. H. Williams Williams

*C.

Maurice Weinberger

*C. H. H. Smith

William

*George Cook

D. Jones

*Fred

S. N. Allen

C. C. Laskey

John

*R. Parker L.

Graham

Weaver, III

*Ivo

W. B. Hager

A. A. Burton

Gale

H. Parker Toler

B. Robinson

*T.

O. Lynn Meek

*T. W. W. Bray, Jr.

Joe

*R. T. McNaney

Bell

*James R. Cox

Ronny L. Greer

Jack Norman *Paul R. R. Jarratt

James L. Charles Ham

E. Cardwell

James J. Vaughn *J. *J. Sumpter Anderson

Charles J. H. J. Franklin Williams "Jay" Scalf, III III

C. H. Smith *Hugh W. Robertson

William Conley D. Jones

Dykes

Fred C. Laskey *M. T. T. Gossett

John L. Weaver, David Smith III

Ivo A. Burton *Joe C. Carr

Gale B. Robinson Jim Cain

T. W. Bray, *James Jr. T. Hayes

Joe Bell *Mike Martin

James R. Cox *E. Lee Bennett

Ronny L. *Johnny Greer Dudley

Paul R. Jarratt *Orris E. E. Davis

Charles David E. Cardwell Wantland

J. Sumpter *Raymond AndersonH. Leathers J. Franklin Melvin "Jay" Meadows Scalf, III

Hugh W.

*Hilry

Robertson

H. Shaffer

Conley Dykes

Dennis Belford

*James N. Stansell

M. T. Gossett

*James

David

N. David

Smith

Vaughn

Stansell Carl E. Barnes

Joe C. Carr

Jim CainMike Van Sant

James T. Hayes

*Mike Martin Jeff Head

E. Lee Bennett

*Johnny Frank Dudley Hester

Orris E. Davis

David Wantland * Deceased

Raymond H. Leathers Melvin Meadows

Hilry H. Shaffer

2

* Deceased

Dennis Belford

*James N. David Vaughn

It was a busy month at Al Menah. The Director

Staff had their annual golf tournament and it was

very successful. Great job guys! After that, Al

Menah had the annual Car Show at the Temple.

Great turn out by the Nobility and we had 138 cars

in the show. Keary Fleenor, Jeff Head P.P., Mike

Van Sant P.P. and the committee did a wonderful

job. Thank you so much. The Circus was great,

and I personally want to thank everyone for all

their help. Now the parades and Christmas parties

start. Please try to make the parades to support Al

Menah and showcase the Temple, Shriners Hospitals

and our children.

BE HUMBLE, BE KIND, BE NOBLE

Horace Perkins, III

Potentate
---
From the desk of...

CHIEF RABBAN

Yes it has become that time of the year that

we meet our selves COMING and GOING.

From PARADES, to END of the YEAR

PARTIES, to WORKING on NEXT

YEAR, , ,Wow! Once again a BIG

THANK YOU to the Al Menah Family

that took the time to come down and take

part in this year Circus.

During this time of the year when we

think of Family, let US remember our Nobles

and their Family's that were in the path of the

Two Hurricanes that hit our two coast lines.

I would also like to Thank Noble Keith Taylor and his lady

for going to Imperial Shrine Membership School in Tampa. As we

Race into 2019 I know Keith and our Membership Team will do a

great job laying out a Road for New Members for Al Menah.

I hope everyone will have a Great Thanksgiving, I know my family

will. IT'S MY GRANDKIDS 1ST BIRTHDAY on Thanksgiving

Day - HAPPY 1st BIRTHDAY to Caroline and Anderson Whitaker.

Chief Rabban

Randy Williams

ASSISTANT RABBAN

A BIG thank you to all that helped with the Shrine

Circus. It was great to see all the kids with

big smiles on their faces and amazement in

their eyes. Also, a round of applause to

the Fabulous Al Menah Clowns for the

Divan's new fez's... they were slightly to

ASSISTANT RABBAN

big, but fun to wear.

Fall is in the air and that is a sign that

parade season is here. We have numerous

Veteran Day Parades along with Christmas

Parades. Hope to see everyone out on the

parade routes and remember if you do not have a

parade vehicle, then you can always catch a ride on one of the floats.

The more the merrier! See y'all soon!

Assistant Rabban

Scott Jones

HIGH PRIEST AND PROPHET

For those of you living under the nearest

convenient rock, we had our Circus this

month and we had a blast! We had a big

turn out and lots of very good help from

dedicated Nobles and their wives. A big

thanks goes out to those men and women

that donated their time and dollars to

support the temple.

Now for the rest of the story, the fun

loving and demented Clowns pulled their

usual antics but this year they added a new

HIGH PRIEST AND PROPHET

twist. In an effort to ensure their pie tossing percentage,

they filled red fez buckets with shaving cream and put them

on the Divans' heads - it worked like a charm! You have to

give them credit, they got us. The only problem is buckets

aren't pies, so back to square one boys.... I must admit that

later in the clown dressing room they did manage to hit me

with a pie - first class job, especially considering they didn't

have their usual supervision (their wives). At some point, one

might wonder when the Divan will respond to the antics of

the painted children. Well, I guess I should point out that it's

"parade time" boys!! Put them on your schedules and let the

fun begin!!

High Priest and Prophet

Donnie Drayton

ORIENTAL GUIDE

Congratulations on a job well done!

Thank you to all those who volunteered

their time and energy to making sure

everyone had a safe and exciting time

at the Circus! With every Circus,

there are always those moments that

fill your heart with joy and laughter.

Everywhere you look people are

having a great time. The kids are

smiling from ear to ear, laughing and

ORIENTAL GUIDE jumping

with excitement as they spot the

Elephants, or are getting the autograph and picture of their

favorite clowns. Even the adults are full of joy and laughter as

they witness the Clowns don each of the Divan with a shiny

plastic fez full of shaving cream. No mechanical failure this

time Donnie. I was however, surprised they were able to cover

that melon with only one can. Thanks for being such a great

sport! Not that you really had any other option.

Circus time really is one of most enjoyable times of the year

to be a Shriner. It's a blessing to give back to our communities

and getting to have fun in the process makes doing so easy.

Thank you again for all your hard work in making sure this

year's Circus was a success.

Parade Season is almost here. Get those uniforms ready,

parade vehicles and floats cleaned up, tuned up, and ready to

represent Al Menah.

Happy Thanksgiving to each of you and your families.

Oriental Guide

Vernon Blackburn

3

3
---
4
---
Dear Nobles,

We are pleased to introduce you to the very first edition of Fezcast: Resources

for Shriners to Share. This monthly electronic newsletter is designed to provide

you with links and information to enhance and improve your

communication efforts, and to ensure you are aware of the many

resources available to you. These resources will include a variety

of videos, social media tips, toolkits and other content to share. We

encourage you to stay up to date by referring to information in Fezcast and on Shriners Village,

and utilizing it often.

Yours in the Faith,

Jeffrey L. Sowder

Imperial Chief Rabban

Chairman, Imperial Marketing and Communications

Watch and Share Our National Patient Ambassador Videos

Every year, Shriners Hospitals for Children selects two National Patient

Ambassadors to represent the health care system's patients. They spend the year

sharing their stories of perseverance in the face of adversity, and the ways Shriners

Hospitals for Children has made a dramatic, life-changing difference in their lives.

Our 2018-2019 National Patient Ambassadors are Lily and Riley. Click on their

names to download and view their videos. They are examples of how your

contributions have impacted the lives of our patients.

Volunteer at the Shriners Hospitals for Children Open

View this YouTube video for information and see how you can help at this event by

clicking here.

CLICK HERE

Don't Miss out!

Do you know a Shriner that would like to receive our

emails? Click anywhere on the Shriner to the left to

go to the signup page and start receiving emails from

Shriners International and Shriners Hospitals.

Stay informed, signup today!

5
---
Dear Fellow Nobles,

Thank you for your incredible outpouring of support and prayers for your brothers in North

Carolina, and their families, during this time of need. I am very proud of the way you have

exemplified the Masonic tenet of brotherly love through your generous support of the relief

effort of the Masonic Service Association of North America (MSA).

Unfortunately, our call to service is not over. Hurricane Florence was a huge storm, causing

damage beyond state lines. In addition to the devastation in North Carolina, flooding in South

Carolina has caused considerable destruction. With the forecast of additional rain and storms in

this already flooded area, it is highly probable there will be additional damage.

Omar Shriners has reported the Waccamaw and Little Pee Dee Shrine Clubs in South Carolina

have suffered damage; the extent will be assessed as the clubs work with their insurance

companies.

The MSA has implemented a separate disaster relief appeal for South Carolina, in addition to

the ongoing efforts to assist those in North Carolina. All donations received through these

appeals will be transferred directly to the respective Grand Lodge for distribution to those in

need.

I thank and commend everyone who has already contributed to these efforts. The number of

our worthy brothers and their families who are in distress at this time has increased. We must

continue to share our concern and compassion, and offer every assistance possible to our

brethren.

Please donate today.

How to help masons and nobles affected by the hurricane:

Make a check payable to "MSA Disaster Relief Fund" and send them to:

Masonic Service Association

3905 National Drive, Suite 280

Burtonsville, MD 20866

Please write on the memo portion of the check, "North Carolina Disaster Appeal"or "South

Carolina Disaster Appeal."

Click here to donate via PayPal or credit card.

Contributions to Masonic Service Association of North America are tax-deductible to the extent

allowed by law.

The leadership of Shriners International remains in contact with the Grand Lodges of North and

South Carolina and the Potentates of the temples impacted by the storm, and asks that you

continue to keep your fellow brothers and nobles in your thoughts and prayers.

Yours in the faith,

Jim Cain

Imperial Potentate

6
---
Driving into the operating room

Thank you for choosing Shriners Hospitals for Children

Medical Center — Lexington to take care of your family. We

understand that surgery can be a frightening time but please

know that your child's comfort is our top priority.

Our nurses and medical teams are here to ease any fears or

discomfort of both the patient and family. One way we try to

remove the stress from the surgical experience is by

presenting the child with an exciting opportunity to "drive"

themselves into the operating room.

Depending on the patient's age, weight and condition, the child may be given the option of

receiving their very own driver's license so that they can drive themselves into the operating

room via one of our special four-wheel cars.

"It is always so fun to watch and the little children love it!" said Kandace Stratton, RN, a nurse

in the post-anesthesia care unit of the ambulatory surgery center.

The cars not only make the experience of having surgery less stressful, but studies have shown

that these benefits can help with the anesthesia process. The more comfortable and at ease

patients are prior to being put to sleep with anesthesia, the better the results after surgery while

the anesthesia is wearing off. If a child goes under happy and comfortable, they tend to wake up

with less crying and concern.

Driving a four-wheel car into surgery is better all-around for the patients and the parents.

Traditionally, patients are either wheeled into surgery via a hospital bed or carried by a staff

member. Nurses and staff members show pictures and describe the process with as much ease as

possible, but being separated from your parents in a new environment can be very traumatic for

children. The more upset and scared a child is feeling can directly correlate to how the parents

feel. Prior to any surgical procedure, it is important that both the patient and family feel

comfortable. One way the Lexington Shriners Medical Center commits to creating a familycentered

environment is by designing fun experiences, and the cars seem to take the children's

minds off what is happening and gets them to the operating room in a non-stressful way.

Now, the hard part will be getting the children out of the cars!

Photo courtesy of MD-Update.

7
---
CeNter

NeWS

Clowns

The Fabulous Al Menah Clowns ruled at

the Circus! Not only did we put on acts

twice per show, sign autographs for the

kids and generally entertain the crowds,

we were able to "Re-Fezz" the Divan!

Our Annual Clown Auction was held

October 13th with over $13,000.00 raised

going to our hospitals. Thanks to all that

attended, participated and made bids.

Your generosity is truly appreciated.

Parade season is here. The Fabulous

Al Menah Clowns along with all Shriners

will be putting our best foot forward

starting with Veterans day parades and

Christmas parades following immediately

behind. Let's celebrate this holiday season

in the spirit it's meant to be and make

a real positive impression to the public.

As always, thank you to all of you for

what you do to support our children's

hospitals. Please keep those that are sick

and unable to attend our events in your

prayers.

"I remain just one thing, and that is a

clown. It places me on a far higher plane

than any politician."- Charlie Chaplan

Keep on Clowning!

Jim "Snips" Lee

Secretary

Director's Staff

Wow can you believe we are one month

away from the Turkey Season already.

We have had a very busy fall filled

with many hours of volunteering from

our unit. Our stated meeting in September

was well attended and we

look forward to finishing the

year out the same.

8

October was a very busy month and for

those that were lucky enough to be able

to attend the events had enjoyed some

excellent companionship, gossip times

and those at the circus, the excitement of

the children.

We still have a full schedule coming

up, although this info will come out

after the October stated meeting I trust

everyone remembered that October is the

voting in of our new officers. Names to

be in next Shriner.

Please keep in mind the following:

Ladies Extravaganza on Nov 3.

Auction Nov 10

Last meeting this year Nov 27

Christmas party on the 8th.

Please note these dates, plan to attend,

and help out as needed

.

Fred Lysak

Lt Directors Staff

Legion of Honor

The Legion of Honor participated in

this year's Circus with the presentation

of Colors. It went well, and a number

of newer Legion members got their first

experience in the posting of Colors.

As we move into Autumn, so too the

activities for the Legion will change.

There are 3 Veterans Day parades at

Hendersonville, Mufressboro and Nashville,

and the Legion will be present at all

three.

Planning continues for the Ladies

Extravaganza. The Legion will again

provide breakfast foods, coffee and other

drinks to help the Ladies with the hard

work of shopping for various goodies.

Lastly, the Legion has prepared rewrites

for our Constitution, Bylaws, Budget

and the selection of 2019 Officers.

These will be voted on by the members

at our November meeting. We will cap

a very successful year with our annual

Christmas party on December 15th.

Again, much work, much fun and

support of the Shriner Hospitals had been

done. Many of our LOH members serve

a dual role, and also drive the vans taking

our kids to the Hospitals. Come and join

us. We have much planned for 2019.

Respectfully,

Art De Vooght

Commander 2018

Provost Guard

The Circus has come and gone for another

year. I think everything went well and

everyone had a good time.

Now it is time to focus on the parade

season coming up.

Secretary

Ken Loftis

Shrine Club News

Williamson County Shrine Club

We have officially moved our club meetings

to:

The Sportsman's Grille

1640 Westgate Circle

Brentwood, TN 37027

They are in Cool Springs and we plan to

be there until further notice. Come out

and see if you like it then report back.

WCSC always has a great program at our

meetings on the third Thursday of the

Month, 6:00pm.

Our December event will be our

Christmas Party and it will be at the

Sportsman's Grille as well, Dirty Santa

included.

Our Motor Division is gearing up

for the Parade Season and hope you can

come out and ride with us in some of the

upcoming parades.

We still have time left to get more

Plaque Sales in! Have you renewed your

Plaque? Have you sold one?

Please remember to pray for those on

our sick list, our Doctors / Nurses at the

Shrine Hospitals, our President of the US,

all our leaders, Police / Firefighters / First

Responders and our Military who are

fighting to ensure our freedom.

Butch Mayes

WCSC Ambassador
---
NOTICE OF AMENDMENT TO THE BYLAWS:

Article 7.4 – Circus Management Committee

This Temple shall have a Circus Management Committee. It's appointments and duties are

governed by the Bylaws of Shriners International. The purpose of this committee is to provide

consistent and ongoing management of Al Menah's annual Circus.

CALENDAR OF EVENTS

AS OF THIS PUBLICATION – SUBJECT TO CHANGE

Nov 2-3 Scottish Rite Reunion

9-10 Scottish Rite Reunion

Nov. 10 Gallatin Veterans Day parade 11:00 AM

Lafayette Veterans Day parade

11:00 AM

Murfreesboro Veterans Day parade

11:00 AM

Director Staff Auction

Nov. 12 Nashville Veterans Day parade 11:00 AM

Nov. 17 Springfield Christmas parade

Nov. 24 Manchester Christmas parade 6:30 PM

Nov. 25 Dickson Christmas parade.

Dec. 1 Macon County Christmas parade 1:00 PM

Lewisburg Christmas parade

12:00 PM

Portland Christmas parade

5:30 PM

Dec. 2 Smyrna Christmas parade 2:00 PM

Dec. 5 Chief Rabban Dinner

Dec. 8 Cookeville Christmas parade TBA

Granville Christmas parade

2:00 PM

Hartsville Christmas parade

10:00 AM

Dec. 9 Patients Christmas party

Dec. 31 New Years Eve party

9
---
Paper Sale Donation from Kroger

On Monday, 7/18 Potentate Jeff Head and members of the Williamson

County Shrine Club were with Kroger Management at their Belle

Meade store where they presented a $1,000.00 to us for the Shrine

Hospitals for Children. The Kroger Manager was an acquaintance of

Scotty and Teresa Travis who put this together for the Al Menah Shrine

Hospitals for Children Paper Sale.

This is a portion of a message from Phyllis Berry, wife of this

Kroger Store Manager, Michael Berry.

Let me tell you, our son was a Shrine Hospital patient

and we are forever grateful The experience was an

awakening in humanity. The care was phenomenal. The

friendship my family made. The support from the men in

your fraternity was phenomenal. We thank you for all you

and your members do for children across the country.

Sincerely

Phyllis Berry

Fraternally,

Butch Mayes, WCSC

10
---
REMINDER!

NOTICe:

ALL communications

for the Shriner

should be sent to

editor.amsc@gmail.com

11
---
AL MENAH AL TEMPLE MENAH TEMP

AL MENAH TEMPLE

Nonprofit

Organization

Nobles Nobles Visited By Visited By

U.S. POSTAGE

The Black The Camel Black Camel Nobles Visited By A.A.O.N.M.S. A.A.O.N.M.S.

1354 BRICK CHURCH PIKE

The Black Camel

A.A.O.N.M.S. PAID

P. O. Box 78545 P. O. Box 78545 Nashville, TN

NASHVILLE, TN 37207 1354 BRICK CHURCH PIKE

NASHVILLE,

P. O. Box 78545

TN 37207

James W. Pylant

www.almenahshriners.org

Pulaski, TN

NASHVILLE, TN 37207

04/03/28 – 09/28/18

www.almenahshriners.org

Charles L. Rogers

Manchester, TN

10/22/27 – 09/30/18

Charles H. White

Nashville, TN

03/23/30 – 10/10/18

Roland W. Gray

Nashville, TN

02/10/47 – 10/11/18

DEADLINE FOR DECEMBER 2018 SHRINER IS NOVEMBER 21 ST

Arnold E. Hendrix

Summerfield, FL

10/7/44 – 09/23/18

James R. Overby

Dickson, TN

05/23/41 – 09/23/18

Charles B. Hooper

Charlotte, TN

03/03/32 – 09/24/18

John V. Freeman

Brentwood, TN

11/26/18 – 09/26/18

1354 BRICK CHURCH PIKE

Permit No. 1731

www.almenahshriners.