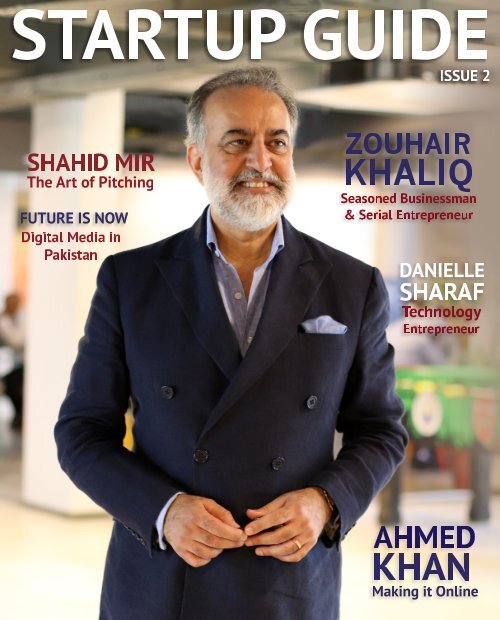 Startup Guide
Our second issue, in which seasoned businessman and serial entrepreneur, Zouhair Khaliq discusses his journey, which comprises of many failures and successes – " failure teaches you to learn better and to be humble. It puts that empathy for other people in you to be able to recognize that someone is struggling. That is why I believe that failure is essential to success." The founder of ModulusTech, Nabeel Siddiqui, talks about his game-changing idea and where he sees his business in the years to come. Mohsin Rafiq of APRUS shares his journey as an entrepreneur and taking his next-generation idea to market. Tech entrepreneurs Danielle Sharaf chats with us about what it takes to run a company and her latest app, Zoya. For any entrepreneur, selling an idea is a major part of making the business a success and the area where most of them lack is pitching -we converse with seasoned mentor, trainer and industry professional, Shahid Mir, as he shares key takeaways for entrepreneurs for making a successful pitch. The digital economy has taken over – the CEO of Cheetay, Ahmed Khan, sheds light on the e-commerce industry of Pakistan and what it takes to make it online. The future of digital is already here – Ali Khan Swati of Awaami discusses the mindset for adopting digital. One of our contributors, Zeea Hasan Talib, CEO of NShield Solutions, writes about the essentials of a viable business. In Startup Diaries, Azima Dhanjee shares her experience of running ConnectHear.
Our second issue, in which seasoned businessman and serial entrepreneur, Zouhair Khaliq discusses his journey, which comprises of many failures and successes – " failure teaches you to learn better and to be humble. It puts that empathy for other people in you to be able to recognize that someone is struggling. That is why I believe that failure is essential to success."
The founder of ModulusTech, Nabeel Siddiqui, talks about his game-changing idea and where he sees his business in the years to come. Mohsin Rafiq of APRUS shares his journey as an entrepreneur and taking his next-generation idea to market. Tech entrepreneurs Danielle Sharaf chats with us about what it takes to run a company and her latest app, Zoya. For any entrepreneur, selling an idea is a major part of making the business a success and the area where most of them lack is pitching -we converse with seasoned mentor, trainer and industry professional, Shahid Mir, as he shares key takeaways for entrepreneurs for making a successful pitch. The digital economy has taken over – the CEO of Cheetay, Ahmed Khan, sheds light on the e-commerce industry of Pakistan and what it takes to make it online. The future of digital is already here – Ali Khan Swati of Awaami discusses the mindset for adopting digital. One of our contributors, Zeea Hasan Talib, CEO of NShield Solutions, writes about the essentials of a viable business. In Startup Diaries, Azima Dhanjee shares her experience of running ConnectHear.
SHOW MORE
SHOW LESS
Create successful ePaper yourself
Turn your PDF publications into a flip-book with our unique Google optimized e-Paper software.
STARTUP GUIDE

ISSUE 2

SHAHID MIR

The Art of Pitching

FUTURE IS NOW

Digital Media in

Pakistan

ZOUHAIR

KHALIQ

Seasoned Businessman

& Serial Entrepreneur

DANIELLE

SHARAF

Technology

Entrepreneur

AHMED

KHAN

Making it Online
---
FOLLOW

US
---
Editor

t

Shehab Farukh Niazi

Finance

Ahad Wazir

Art Directors

Aleeza Javed

Mahnoor Haroon Niazi

Operations & Outreach

Abbas Khan

Video Content Producer

Rayyan Toru
---
CONTRIBUTORS

ZIA S. HASAN

Zia is the co-founder and director of NShield Solutions (Pakistan

& UAE). She is the first and only woman in Pakistan who is

successfully leading a surface protection company, breaking

barriers and setting an example for other professional women to

lead non-traditional businesses. NShield is a Nanotechnology

based surface protection company, which offers nano-ceramic

glass coating services for automobiles, and liquid steel &

antimicrobial coatings for various industries. NShield has a nation

wide presence in Pakistan with corporate branches in Karachi,

Lahore, Islamabad and Peshawar.

Janet Kozak

Janet Kozak is a Content Strategist, Digital Marketer, Copywriter,

Community Manager and the founder of JanetKozak.com. She's

been interviewed for publications like My Corporation, Huffington

Post, Glassdoor, Unread Magazine, Work at Home Success, and

NBC News. Janet's articles have touched hundreds of thousands

of readers and can be found in over a hundred print and online

publications. She can also be found on Facebook and Twitter.
---
OUR PARTNERS
---
EDITOR'S NOTE

Seasoned businessman and serial

entrepreneur, Zouhair Khaliq, in our cover

story, discusses his journey, which comprises

of many failures and successes – "failure

teaches you to learn better and to be humble.

It puts that empathy for other people in you

to be able to recognize that someone is

struggling. That is why I believe that failure is

essential to success."

In our second issue, we talk to a number of

entrepreneurs who have made it in diverse

industries through the process of learning

from previous experiences – the common

underlying aspect amongst all of them is that

they're not afraid of making mistakes as long

as they learn from them.

Learning and evolving continuously

lies at the core of the ultimate success

of entrepreneurs. When we talk about

success and failure, an important

question that arises is what is success

and what is failure? Talk to various

entrepreneurs – seasoned and novel and

you would discover that the definition

of success and failure varies widely –

they're both relative.

As Mark Cuban says, "it doesn't matter

how many times you have failed, you

only have to be right once", failure

is a phenomenon all successful

entrepreneurs are closely familiar with.

The founder of Modulus Tech, Nabeel Siddiqui,

talks about his game-changing idea and where

he sees his business in the years to come.

Mohsin Rafiq of Aprus shares his journey as

an entrepreneur and taking his next generation

to market. One of the few female technology

entrepreneurs, Danielle Sharaf chats with us

about what it takes to run a company and her

latest app, Zoya.

For any entrepreneur, selling an idea is a major

part of making the business a success and the

area where most of them lack is pitching. We

converse with seasoned mentor and industry

professional, Shahid Mir, as he shares key

takeaways for entrepreneurs for making a

successful pitch. The digital economy has

taken over – the CEO of Cheetay sheds light on

the e-commerce industry of Pakistan and what

it takes to make it online; the future of digital is

SHEHAB FARRUKH NIAZI
---
CONTENTS

THE ART OF PITCHING

THE JOURNEY

34 24

NEWS & EVENTS

10-12

17

07

10

12

13

14

18

17

24

EDITOR'S NOTE

021 DISRUPT

TTHE NEST I/O

WHAT INVESTORS SECRETLY WANT

BY JUMPACT

UPCOMING EVENTS

MARK YOUR CALENDERS

STARTUP DIARIES

AZIMA DHANJEE

JANET KOZAK

CONTRIBUTIONS

THE CONVERSATION

AHMED KHAN

28

34

38

42

44

47

50

THE JOURNEY

DANIELLE SHARAF

54

COVER STORY

ZOUHAIR KHALIQ

MENTORSHIP

SHAHID MIR

DIGITAL MARKETING

ALI KHAN SWATI

HOW THEY DID IT

RICHARD BRANSON

BUSINESS UNUSUAL

NABEEL SIDDIQUI OF MODULUS TECH

ZIA S. HASAN

CONTRIBUTIONS

GEN-NEXT

APRUS

MARKETING INTELLIGENCE
---
FEATURING

"An entrepreneur is someone who

identifies a space where there is a gap

and he or she is willing to fill that gap

through a product or service. This

means taking a risk, so there needs to

be that willingness"

ZOUHAIR KHALIQ

Cover Story

"Respect is how to treat everyone, not just

those you want to impress"

RICHARD BRANSON

How They Did It

"Connect Hear has done some major activities

including the first ever deaf concert

with Strings"

AZIMA DHANJEE

Co-Founder of Connect Hear

I believe that companies and individuals need to

start thinking digital now if theywant to catch a

slice of that huge digital space in the future as

it the future now.

ALI KHAN SWATI

The Future is Now
---
NEWS AND EVENTS

The international conference on entrepreneurship and

innovation, 021Disrupt, was held on Nov 10 and 11 in

Karachi to connect the world's leading investors,

innovators, and tech pioneers with the startup community

of Pakistan to exchange insights and explore investment

opportunities. The 2-day conference was organized by

The Nest I/O, P@SHA's Tech Incubator.
---
The participation at

021Disrupt was

overwhelming in terms of

quality and mix with over

600 thought leaders,

investors, entrepreneurs,

professionals, influencers,

and students attending

the conference on both

the days. Almost 300

startups from across

Pakistan attended the

The conference has become a catalyst in

bringing investments into Pakistani

companies. This year, GOBI Partners – an

investment fund that focuses on early stage,

IT and digital media companies, announced

investment in 'Sasta Ticket', a Pakistani

startup, at the event. Lamsa, a children's

edutainment app company with over 12

million downloads, announced that it will be

launching an Urdu version of the app for the

Pakistani audience. Another major

announcement was made by Coca-Cola, the

world's leading beverage company, about

'The Dasani Discovery Challenge', which

invites disruptive entrepreneurs to counter

the issues of plastic waste management

using innovative solutions.

conference with over 200 of them securing

office hours slots with investors and mentors

from around the world including Germany,

USA, UK, Japan, Malaysia, UAE, and others.

Some of the leading venture capitals that

participated in the event included Lumia

Capital, Middle East Venture Partners, Alter

Global, Fatima Ventures, Valhalla Capital,

Wamda Capital, GOBI VC, Sarmayacar, Lakson

Investments Venture Capital, and many more.

The investors had a cumulative target fund size

of more than a USD 1 Billion. Another major

announcement at the conference came from

Google, i.e. announcement of opening Google

Accelerator in Pakistan.

Jehan Ara, President P@SHA and Founder of

The Nest I/O commented, "021Disrupt has

become the go-to event for the startup

community of Pakistan while investors from

around the world use it as the hunting

ground for investment opportunities. We are

so proud of the brand and global network

that we have created around 021Disrupt and

hope to continue to raise the bar in the

coming years".
---
There tends to be a disconnect between

investors and entrepreneurs. Startups come

with brilliant ideas and products but don't

have the money to get going. They tend to

email investors, stalk them everywhere, but

they just don't seem to listen. Raising money

is extremely challenging and this session

aimed to teach startups to offer investors

something they actually want.

Saif Akhtar from 10xC, one of Pakistan's

biggest accelerators, joined Jumpact to

share the secret to getting investors to say

yes. He is a Pakistani American investor who

manages technology startup investments

through PlanetNGroup.com, 10xC.pk and

StartupSpace.pk.

In this investor session, Saif shared the

best pitching tips for anyone just getting

started with fundraising. The event

provided exclusive insights for both newbie

entrepreneurs as well as experienced ones,

which helped them to think about investors

like their customers. Furthermore, at

the event, Jumpact announced a formal

partnership with 10xC - Technology Startup

Seed Fund's Startupspace.pk for content and

collaboration. The key workshop takeaways

included learn tips on pitching better and

unlocking investment capital, getting insider

information on 10xC's investment strategy

and understanding what actually goes on in

the mind of an investor when they hear your

pitch or read your bio.
---
17th November will be a day filled with enlightening

discussions and workshops around Google technologies

such as Android, Firebase, Google Cloud Platform,

Google Assistant, Flutter, machine learning with

TensorFlow, and Mobile Web.

The theme of this year is "Digital WellBeing" which will

highlight and discuss the tools and features that help

people better understand their tech usage, focus on what

matters most, disconnect when needed, and create

healthy habits so that LIFE, not the technology in it, stays

front and center.

TechJuice Circle is a close-knit exclusive event for

entrepreneurs and startup founders to network with

the leaders in the business, technology and telecom

industry of Pakistan.

Through gamification of this networking experience,

every participant gets time to interact with fellow

founders and the mentors.

Code for Pakistan brings the biggest and most

exciting Hackathon of the year 'Civic Hackathon

2018' happening in Islamabad on the second

weekend of December 2018. This is going to be

a 2.5 days long Hackathon starting on 7th

December and concluding on 9th December,

2018.

During this wee

During this weekend, you will learn design

thinking, open-source hacking for social good,

receive mentoring and input from domain

experts in government and local organizations,

have opportunities to network, and work in

teams to create solutions — all for free.
---
Connect Hear aims to provide

sign language accessibility to

deaf community in Pakistan.

According to WHO statistics,

5% of world population has

hearing impairment and using

that figure, in Pakistan there

are about 10 million individuals

with hearing impairment.

Connect Hear aims to work for

them through technology to

provide them sign language

interpretation services. We also

want to make spaces inclusive

for the deaf.

I'm one of the co-founders of

Connect Hear and I have served

the deaf community since I was

12. I am a sign language

translator and bring in that

expertise to our startup. We are

a team of three people. Areej,

Arham and I, the co-founders

are high school friends and we

were in our second year of

university when we started

working on Connect Hear. We

have a team of seven people –

three are language interpreters,

one marketing lead, a

managing director and a

videographer.

The best part of the team is

that we all are youngsters and

we're all are below 21 years of

age. 60% of people in our team

have families who have one or

two hearing impaired persons.

Areej has attended Stanford

and Harvard Summer schools

and she has studied product

design and business

development and that's what

she brings in to the table.

Arham has self-studied

machine learning and other

technologies and he looks after

the technical aspects.

The idea was initiated last year.

My parents are hearing

impaired, I grew up seeing my

parents struggle to

communicate every day in their

life. If my parents have to call

someone or if they need to go

to a bank or if they need to go

to a hospital, it is difficult to

communicate on their own.

Even during our parent teacher

meetings, it was always a

struggle because they couldn't

communicate because of the

language barrier. This used to

frustrate me a lot and I used to

think that maybe someday I

would come up with a solution

for it. This kept me motivated

and last year, I discussed this

issue with my high school

friends and we built up an idea.

We had no resources and we

just had an idea; we didn't

know how to go about it.

We went to Nest I/O, which is a

Google incubator. We met with

them and discussed our idea –

we had our summer vacations

during that time and we wanted

to spend them productively.

Nest I/O immediately asked us

to join. We got a lot of

resources and a lot of

mentorship along the way. We

started teaching sign language

on Facebook and started to

interact with the deaf

community. Now, we have

established interpreter

systems.
---
We see incredible potential for our idea. There

exists a market among corporates, a lot of retail

stores, public sector banks because they want to

be inclusive. Considering that the community

with people having disabilities is asking for it,

institutions want to have a solution in case a deaf

customer walks in. It's amazing and the demand

is increasing, the recent government is

advocating for disabled people's rights. Imran

khan has included in his mandate the need for

interpreters,

he mentioned the need for having service at all

sectors and that's what we are hoping for. We

started to make personal connections and now

we have a personal connection with the deaf

community. We want to get on the B2B level and

use the businesses to provide the deaf

community with services. We have been in the

market for about a year and two months and we

have recently started our video interpretation

services in Jan 2018.

In terms of resistance to our idea, I think the first

major thing was to make people believe that our

idea will not run on a donor system; we have

revenue streams and we have a self-sustainable

model, which is not as good as corporate sectors

and other e-commerce industries where they

make a lot of money. We want to make enough

money so that we could reinvest that in our

ventures and keep it growing. We have been really

motivated to make real impact since the

beginning and we want to keep the impact

growing. This has been the first hard part. The

second hard part is that we're all students and

youngsters so people think that it's a one time,

temporary project. The truth couldn't be farther

from that; we want to make sign language

interpretation system inclusive, accessible and

available everywhere in Pakistan and then we are

planning on taking our service to India and

Bangladesh. This is our goal and we are focused

on it at the moment.

Another hurdle is that the deaf community is very

isolated and they are in groups. When we work,

we're trying to bring all these deaf organizations

and schools together. Our mandate is not to work

with only one specific group. We want to provide

a single platform that the community can trust.

We are in this forever and we are going to create

a self-sustainable impact in the community.

We've had to face some interesting situations

along the way. Connect Hear has done some

major activities including the first ever deaf

concert with Strings band – we invited 300

individuals who came and became a part of the

concert for the very first time. We had sign

language interpreters and the lights adjusted

according to the beat of the sound so that the

deaf could enjoy music as well.

Then, we did election interpretation and none of

the news channels were ready to have

interpreters so we brought the platform to our

Facebook page, we had live interpretation going

on for the news – we collaborated with Geo News.

And now Geo News keeps on bringing news

interpreters for different news sections.

For the future, we want our video interpretation

service to be out there. We want to have multiple

interpreters who are based in our call centers,

but are also based in local government sectors in

every part of Pakistan.
---
CONTRIBUTIONS

Keeping a Pulse on Customer Needs With Social

Listening

In my online business networking group, one

big problem small business owners cite most

frequently is marketing. Yet the challenge

of effectively marketing your business and

products can be easily solved with a number

of simple activities.

I regularly help other small business owners

put together marketing plans for their

businesses on a shoestring budget. This

means I get to see their needs and abilities

up close and personal. I budget for what they

have on hand at the moment and also build

growth into their long-term plans.

As an entrepreneur myself offering boutique

As an entrepreneur myself offering boutique

content marketing consultancy services,

I've found that the skills most lacking in

many entrepreneurs are also the digital

marketing skills crucial to ensuring steady

business. Two powerful public relations (PR)

and marketing activities I recommend to

all startups are social listening and social

influencing.

In the Entrepreneur's

Toolbox:

Social Listening

and

Social Networking

By Janet Kozak

Social listening is recommended for all small business

owners. Startups may have a handful of social profiles,

pages, and businesses, they follow, but many rarely do

so strategically. Business owners can cut through the

chatter with social listening tools that zero in on trends

and their competitors. Depending on their budget, I

recommend paid tools like Mention or free Google

Alerts for specific keywords.

Social listening helps entrepreneurs manage their

online reputations. It can also increase customer

retention by allowing small businesses to quickly

respond to issues that come up - often reducing

refunds in the process.

Additionally, social listening enables small businesses

to identify product and content gaps. This helps

businesses create and introduce new products and

content their audience urgently needs.

Building Networks with Influencer Marketing

Social influencing and influencer marketing are two

other tactics that help businesses grow their networks

and boost their brands. Of course, this needs to be

done carefully without stalking or spamming the

influencer you're targeting.

Social influencing can include blogger marketing

campaigns, earned media mentions, and

development of other strategic partnerships. When

my clients reach out down the line to influencers

they've been actively following, the influencers

are often happy to help...if the tone has been

appropriately set. Social influencing is useful for

networking purposes and keeping a pulse on one's

niche. A few tools that I recommend for social

influencing include Social Bluebook, BuzzSumo,

and Klout.

Small businesses have it hard. They have to keep up

with their larger competitors on a fraction of their

competition's budgets. Thankfully, with inexpensive

tools and a solid strategy, it can be done.
---
Ahmed

CEO

Khan

of Cheetay on Making it Online

"Small businesses

are by their very

nature more mobile;

they're better suited

to cater to certain

niches"
---
THE CONVERSATION

When we started like 6 years ago it was

very native, there was nothing going on

and we tried to build something from

the ground up. The tech landscape has

changed considerably. For example

there are fashion brands with a monthly

sale online of 1.5 crores, which means

that even their flagship stores don't

match that. This proves that

e-commerce has become huge and it's

going to continue to grow bigger with

time. I feel this is just the tip of the

iceberg because there is such a big

market out there and as more people

become educated, become smartphone

and internet savvy, they will see the true

value of ecommerce. Online retail is

always going to be cheaper than

conventional retail because you don't

have a retail overhead. Another positive

effect is that the government prefers

this because you know transactions are

accountable and traceable.

The shortcomings are that there is a

lack of regulation and a lack of

government support. The environment

still doesn't understand what is needed

for technology companies to flourish

and not just in terms of regulation, but

also in terms of manpower or the

training required. I really feel that our

focus as policy makers needs to be on

improving and generating new

technologies. Moreover, the

infrastructure is very limited because

there is a general lack of trust from

consumers, which we need to build on.

Ahmed Khan, the Founder & CEO of

Cheetay Logistics Pvt. Ltd is a

seasoned entrepreneur with a knack

for problem solving, operations and

analytics. With the profound

realization that the future belongs to

technology, he has been working on

building an e-commerce ecosystem,

where you add technology to

conventional retail and figure out the

optimization. His primary objective

behind Cheetay is to create an

e-commerce store with a fulfilment

service along with payment solutions

to make transactions easier,

frictionless and cheaper.
---
THE CONVERSATION

How can small businesses

have an edge in the

ecommerce market?

Small businesses are by

their very nature more

mobile; they're better suited

to cater to certain niches. So

if small businesses want an

edge, they have to pick a

niche and they have to

corner that domain and

build their expertise so that

no matter how many

government regulations are

in place, you cannot be

challenged.

Tell us about Cheetay?

How did the idea come to

be?

After Rocket, the challenge

that we faced at Daraz and

Kaymu was fulfilment and

payments. We were able to

generate customers, we were

able to acquire products, but

getting the orders fulfilled was

challenging. We were hovering

around 70% and there were

times with 40-50% fulfilment

rates where one of the key

challenges was payment. The

idea behind Cheetay was to

create an e-commerce store

with a fulfilment service along

with payment solutions so that

transactions becomes easier,

frictionless and cheaper.

What is the distinguishing

factor that sets Cheetay

apart from other players

in the industry?

Firstly, it's the values; there are

certain things we believe in.

We try to abide by those

values. Furthermore, our

mantra is to look at every

stakeholder as a key customer.

That is why we don't just look

at a customer as the one who

places an order. We classify

vendors, riders, restaurants

and all parties involved as

customers since adding value

from the start makes it trickle

down to the bottom.

Tell us more about your background and how you

became interested in the Pakistani ecommerce

sector?

I have a family business, which I was initially

helping to manage. I've also done management

consulting in the past and have also worked with

an FMCG so my background has always been

around problem solving, analytics and operations.

These are the sort of things that I understand and

get excited about. Technology for me was the

driving factor, so I realized that the future belongs

to technology and the more we can incorporate it

into our solutions, the cheaper and faster our

solutions will become. So that was the idea behind

building an ecommerce ecosystem – you take

conventional retail, add technology and figure out

how to optimize it.
---
What point does an ecommerce company

need to reach in order to benefit most from

increased margins?

We keep talking about scale and how

important it is; it's hard to say because it

depends on your cost base and right now our

scale is miniscule in Pakistan. Flipcart was

just sold for 18 billion dollars in India and our

biggest company gets sold for 150 million

dollars, which is a hundred times less, so we

have a long way to go to answer the question

of how big it needs to be. I think a good

ecommerce company should be doing 100

thousand transactions a day before it can

really start thinking about calling itself a

serious business.

"Technology for me

was the driving

factor so I realized

that the future

belongs to

technology"

What are the consumer attributes you find

lacking in the consumer market that

presents a hurdle for an ecommerce

company's growth?

Our experience with consumers has been that

they treat ecommerce as a discount store so

the only time they're willing to experiment or

use ecommerce is when they think it's going

to be cheaper. So, as a business when we look

at it we need to monetize that customer over

a lifetime because unless they are consuming

and transacting, they're not profitable for us.

Another thing is that we have very impatient

consumers who seem to be highly critical yet

highly sensitive so they get upset even if

something small goes wrong, but you don't

get appreciation for all the times when you've

done something right.

What's next for Cheetay?

Growth and scale; we want to

continue raising more money,

to expand to other cities, to

add more business verticals

and to expand our team. We

want to work towards

betterment and build our

technology to something that

is world class and

revolutionary. So, that's the

plan.
---
In Conversation with

Technology Entrepreneur

Danielle Sharaf
---
Tell us about your background and your

company.

I am an Electrical Engineer. I started my

career at ROZEE.PK in 2007 in products

and business development. Afterwards, I

started Switch in 2012 as a mobile VAS

company. Our first product was Ufone

Job Alerts – an SMS service connecting

jobseekers to employers through their

mobiles. Switch is now one of the

leading mobile VAS content providers

in the country reaching out to over 15M

users. We've recently branched into

digital content creation and acquisition.

You have worked for multiple

organizations before founding your

company. What do you believe were the

key lessons you were able to apply to

your business?

You're as good as your weakest link –

startup success is very much a team

effort. Choose talent as if your life

depends on it. I have a slightly different

approach when it comes to building

teams. Rather than referring to my work

team as a family, I prefer comparing

them to a sports team. Everybody needs

to step up and do their

bit. Unconditional support no matter

what the performance is just won't cut it.

Learn financial management – not saying

that you should be an ace accountant

or bury yourself in numbers every day,

but as a business owner, it's crucial you

understand the financial health of your

venture. One of the most critical hires

for any startup should be that of a good

finance manager. It should be someone

who not only understands the business,

but also the environment and regulations

surrounding it.

No decision is the worst decision –

sometimes businesses plateau and fail

not because of bad decision making but

because of no decision-making.

because of no decision-making.

Understand the importance of timely

decisions. That one follow up email, or

a strategic hire or a product pitch can

mean the difference between a hit and

a miss. Nothing is worse than 'what if',

even for your business.

You are one of the few female

technology entrepreneurs in Pakistan.

What do you believe is the greatest

hurdle that keeps females from starting

tech businesses?

Buying into conventional stereotypes that

there are certain kosher professions for

women that we should not stray from.

"You're as good as

your weakest link –

startup success is

very much a team

effort"

Medicine and teaching is fine, but

engineering and entrepreneurship,

especially tech entrepreneurship is

better left to the boys of the house. So

somewhere between choosing dolls

over mechano sets and making career

decisions we internalize this narrative.

It's unfortunate because I can tell you

how supportive and inclusive the tech

community in this country is. To date,

I have not felt discriminated against

because of my gender and that's saying

something in an orthodox society like

ours.

You have recently launched your latest

app, 'Zoya'. Tell us more about that.
---
How do you define success?

"Ultimately, sky is the

limit for Zoya; just like it

should be for every girl

in Pakistan"

Zoya started off as part of a bigger SMS

healthcare service, but pretty soon took a life

of its own. At that time, we were running a

women's service including an SMS advisory in

partnership with a local telecom and most of the

queries were about health and wellness. Zoya,

the app was a direct outcome of that.

It's a free multilingual health and wellness app

for girls in Pakistan focusing on 2 problem

areas. These are lack of information regarding

female healthcare and lack of connectivity with

healthcare practitioners.

Zoya is tackling it with a suite of features

including a newsfeed that showcases audio

video content in regional languages, an interactive

symptoms checker where you

can touch a body part to find out all possible

diagnosis, a period tracker that helps you track

your cycles, a verified database of over 15,000

doctors, 300 geolocations, diagnostic centres and

gyms, home remedies and above all a chat feature

where you can chat with a live expert through the

privacy of your home.

What was the gap in the market that motivated

you to work on this idea?

Restricted access to information about female

healthcare

Stigmas associated with female healthcare

No comprehensive health app available with

local content

Female smartphone usage is on the rise

I like to think of success as a relative

phenomenon. For me it's when I know that I've

put in my 100 percent and that there was nothing

else I could do, regardless of the outcome. I also

see it as a continuous journey. One where your

goals are ever evolving and so are your efforts.

In your opinion, what are the three greatest

traits of a good entrepreneur?

Self discipline – you know what they say about

discipline. It's the bridge between goals and

accomplishments. It's even truer when you're

the captain of your own ship.

Perseverance – entrepreneurship is not about

winning, but about learning from failure and

rising from the ashes again and again and

again. You will fall hard and fast more often than

you'll soar. Many a times it'll be a lonely and

excruciating journey, but giving up should never

be an option.

An eye for the right time – knowing when to

launch, when to grow and when to scale. All

of us make mistakes at these stages, but a

good entrepreneur is one who minimizes these

mistakes, learns from them and is swift to pivot

accordingly. A good entrepreneur is a creature

of opportunity rather than habit, i.e. he/she

understands the importance of the 'right' time

and adapts accordingly rather than repeating

the same processes over and over again.

What are the future plans for 'Zoya' and any

other ventures?

Zoya is a very small effort in normalizing an

age-old conversation on female healthcare and

our prime focus is on that. In the near future,

we want Zoya to become a trusted, household

companion for every girl in the country. It's

going to be an interesting learning curve for us

and our users, who are just hopping onto the

smartphone bandwagon. We're very excited to

see how Zoya evolves. Ultimately, sky is the limit

for Zoya; just like it should be for every girl in

Pakistan.
---
ZOUHAIRKHALIQ

"An entrepreneur is someone who identifies a space where

there is a gap and he or she is willing to fill that gap through a

product or service. This means taking a risk, so there needs to

be that willingness"
---
Zouhair Khaliq, a seasoned businessman

and serial entrepreneur, is on the boards of

directors and advisors of numerous diverse

entities from media and food to technology

and telecom. Business development,

strategy, fintech, operations, turnarounds,

mergers and acquisitions and startups are

only some of the areas he specializes in. He

talks to Startup Guide about how it all

began; how his career progressed through

the years; how his mindset has evolved; his

definition of success; traits in successful

entrepreneurs and a lot more!

How did it all begin?

If I look back, I find that I've been a nomad all

my life – my father was a civil servant, so we

travelled all over. You learn as you grow – a lot of

different cultures and influences keep growing

inside you and you don't realize it. When I went

to the UK to study at the age of 15 for ten years,

it had a significant impact on me – the UK was a

very parochial society, this was in 1975. They

would ask questions about whether we had cars

in Pakistan and if we lived in houses. It was a

revelation for me in terms of how people in

another part of the world behaved and how they

perceived the rest of the world. It was very

instructive at the time – it also made me restless

– when I stay in one place for too long, I crave

change. I've been working for 40 years, counting

the 4 years I worked as a Chartered Accountant.

I've come a long way in this span of time. It

wires you to look ahead – in perspective, I've led

a nomadic life, where I've constantly looked at

the next goal and the next big thing.

"

Failure is absolutely

essential in life. I know a

lot of people who have

come to a certain point

in their lives without

seeing failure. Therefore,

they're not able to be

empathetic towards

others. Failure teaches

you to learn better and

to be humble. It puts

that empathy for other

people in you

"
---
Your career progression has been

very quick throughout the years of

your incredible career. What was

your mindset during the process?

You wear many hats, with

the wide scope of work that

you do. What's the secret?

It comes from this early impulse of

restlessness. When I was younger, I

used to read a lot. Typically, there

used to be not one, but three or four

books that I was reading at one time

because my mind would not be able

to handle the monotony of doing just

one thing. This was the only way my

mind felt at rest. I learned to adapt

early on. I am on various boards,

which are very diverse.

The secret to wearing different hats is

to have the discipline to

compartmentalise. I use a lot of

technology – I have different parts

dedicated to different businesses in

my iPad. I make sure that I'm able to

walk away from one aspect to another

with a clear mind. It might seem a

little confusing to say that the mind is

restless and at the same time being

disciplined to be able to

compartmentalise, but it comes

naturally to me – I've never had to

practice this. You need to be able to

shut down if you can't do something

about a particular thing instantly

instead of festering. Come back and

tackle it later!

I was born into a family of engineers – my

grandfather was an engineer. My father and five

uncles are also engineers. Since the beginning,

while I was pre-ordained to become an

engineer, at the same time, mathematics and

physics seemed like Greek to me. I realized

that I had to adapt my mindset to something

else.

Ultimately, once I had adapted my mindset, it

set me free. What it meant was that I was free

to do what I wished to do. I went into

accounting – I call myself a 'reluctant

accountant'. I always wanted to be more. I

would say the mindset should be to always look

ahead, see where the world is going and adapt

yourself. That mindset actually reflects a lot of

career moves that I made over the years – from

being a reluctant accountant to going into

management.

Suddenly, there was this new, very appealing,

growing industry called mobile cellular and I

jumped into it, not knowing what it was really

about, but it was very exciting to me. Frankly,

I've never regretted a single day of making that

decision. Mobile has evolved immensely – from

being about a single phone call to data and so

much more. So, in my opinion, the key about

the mindset is how you anticipate the next

move and align yourself in a way that you can

benefit from it. Basically what you need from

such a mindset is that you need to take a lot of

risks. For me, being risk-averse in a way that

you stay in the same kind of job for decades is

like death.

When you take that first leap of faith, you have

no idea where you're going and then you do it

for the second and third and fourth time. Even

last year, my move back to Pakistan was a leap

of faith and so was creating the National

Incubation Center. When you're taking a leap of

faith, it should be like a calculated risk where

you weigh the pros and cons. My life has been

about taking so many leaps of faith and it has
---
"To me, success today is being

where I am without

compromising my core values

of integrity, honesty and doing

the right thing at the right time,

patience and treating the other

person in a certain way"

In your opinion, what are the traits that are

essential for entrepreneurs? During your

numerous interactions with them, have you

found any essential traits lacking?

Essentially, an entrepreneur is someone who

identifies a space where there is a gap and he or

she is willing to fill that gap through a product or

service. This means taking a risk, so there needs

to be that willingness. I have been in start up

situations several times from my involvement as

the founding employee of Mobilink, a company

called wCities, and launching networks in Egypt,

Tunisia, Algeria, Bangladesh and so on. I've had

the opportunity to work directly with

entrepreneurs for the last seven years. In

London, I was working with a company, heading

a division called Mobile for Development to

invest in entrepreneurs who were working on

ideas in Asia, Africa and other areas. Since we

built the NIC, I've had the opportunity to work

with entrepreneurs from Pakistan as well. The

common universal trait is being able to take the

leap. Often what you also find is that they're

focused and dedicated and believe in the work

they're doing. Essentially, all these are good

qualities in an entrepreneur.

What might be lacking might also be universal –

failing to anticipate how much hard work it will

take, how hard it would be to convince the

market that it needs a product and how long it

will take to do so. Sometimes, it can even take

up to five to seven years to hit the market in the

right way.

From personal experience, I can give you the

example of a company I ran in 2002, which

might seem very familiar. It was a small startup

– this was before Google came around. This

product made it possible for you to find a

restaurant, places to visit, cities to explore.

During my time as COO, we added a new service

– a SIM at the back of the PDA. With that, you

could not only find a place to visit, but also plot

a map to get you there. This is Google Maps

today. It was fantastic technology, but it failed

spectacularly. Investors had put millions of

pounds in it. When the company was closing

down, I was the last person to leave the office –

there was no one to sign my release. I hadn't

been paid in 10 months. Later on, when the

whole IP for the technology was sold for just

50,000 pounds, I got a cheque for 310 pounds

and 50 pence, which I've never cashed – I've put

it on a wall in a frame to remind me of what

failure can be like. That's a story of

entrepreneurship way before it was even a word!

This story carries a big lesson for entrepreneurs

to learn – you can have a brilliant technology and

idea, but if the time for it hasn't come, it will fail.

This doesn't at all mean that you shouldn't think

ahead. Thinking ahead of your time is how

revolutions come, so you have to do that.

However, at the same time, you need to be

cognisant of the fact that you may have a

brilliant idea, but you may have to work for it a

little bit. One of the things I teach entrepreneurs

is that above all other qualities you need as an

entrepreneur, is that if you believe in your idea,

be patient and stick it out, it will work.
---
How do you define success? How

has your idea of success evolved

through the years since you were

younger?

You think a lot about success, as you get older.

Typically for a young person, success is mostly

about having that dream job or making a certain

amount of money. At 20, I was convinced I

would make my first million dollars and be

successful at 25 and then I revised it to 30. I am

still trying to achieve that goal !To me, success

today is being where I am without compromising

my core values of integrity, honesty and doing

the right thing at the right time, patience and

treating the other person in a certain way. If you

can hang on to your core values in spite of all

the things that life throws at you, then that is

success and it's priceless.

Are you a perfectionist

or do you believe in

getting things right

along the way?

I'm a total perfectionist – my

family accuses me of having OCD. I

think that's also essential to

success because if you do not

demand the best of yourself and

that of everyone else, you would

never really achieve the goals you

have set out to achieve. Second

best doesn't count! Do everything

in life to the very best of your

abilities.

Your take on the country's

entrepreneurial ecosystem?

In Pakistan, I believe the ecosystem is at a

nascent stage. It needs a lot of work around

the ecosystem. When Parvez Abbasi and I

launched the NIC two and a half years ago, it

was a rare dream come true. We had started

with the concept of an online

mentorship-coaching platform. At that time,

everything was very basic. All the NICs that

have emerged since then are great and are

going to contribute a lot. However, if you look

at the bigger picture around the ecosystem,

we still need to have the correct legislation

to encourage entrepreneurs like giving them

tax breaks. To enhance access to funding, we

need incentives and schemes for investors –

we don't have the right ecosystem to

encourage seed funding and early stage VC

funding. We need to work very closely with

the government on legislation around all

these processes.

When it comes to academia, we do not teach

entrepreneurship – there are some attempts,

but they're not very successful.

Entrepreneurship, by definition is to take on

a new venture, take the risk, and put in the

work to make it a success. Typically, the

people who teach the subject are academics.

While they're highly qualified in their own

right, the reality is that they haven't been

entrepreneurs themselves. The practical

experience of having done it yourself is gold,

in my opinion. I think we need more

successful entrepreneurs, even failed

entrepreneurs to come in and do the

teaching. At least a majority of what is taught

needs to come from these people.

The whole concept of growing

entrepreneurship has to be based on

entrepreneurs getting together, kind of a

Silicon Valley. They should be able to hang

out together, share experiences, and learn

from the practical side of it from each other.

When you talk about teaching

entrepreneurship, it has to start early, even

the practical knowledge behind it.
---
What advice would

you give to your

20-year-old self?

This is a secret that I don't

often share. When I was 20

years old, I was totally

convinced that I would one

day lead a company and make

it very successful. It took me

another 25 years to get there.

If I were to give advice to my

20-year-old self, I would say

'chill, you'll get there'.

What game-changing

opportunities/industries are you

keenly looking at for the future in

Pakistan?

I think everything in Pakistan is going to have

great potential in the coming future. When we

look at international giants like Facebook,

Amazon etc., Pakistan is not on their roadmap –

I look at this as a huge opportunity for Pakistani

entrepreneurs to take the lead. I would say every

area from e-commerce and fintech to agriculture

and education offers tremendous opportunity – I

would not limit any sectors, we have the

opportunity to go all across the board and make

it happen. The future of "Naya" Pakistan will

change with technology implementation across

all sectors of society so that we are able to leap

frog in to the future!

You have been a part of

numerous ventures

throughout your lifetime.

Which has been your

favourite so far? Why?

It's been a long haul, but I would say,

my favourite has been a company

called Mobilink. I was employee one at

the time when it was launched as

Mobilink – it was a rare privilege to be

able to set it up, hire the first team, go

out there and see the first cell sites

being built, introduce the branding that

I was very intimately involved in and

look at the way, having that mobile

handset in your hands, change people's

lives.

During the last 25 years of the

company's existence, I have been

somehow associated with it, as CFO, a

member of the Board of Directors, as

CEO of the company and now as

partners with the company for NIC. I've

done many different things, been a part

of the launches of numerous

companies in multiple countries, but

this one is very special because it has

been a part of my life for a very long

time.
---
In your view, what are the qualities of a

good mentor?

A mentor is someone who has done it

and who has seen it; someone who has

fallen many times, who knows the

theory and who knows the turf.

Someone who can tell others what to do

and what not to do. For that, you need

to be very honest. Most of us talk about

all our highs or all the achievements,

the successes and wealth creation, but

only a few of us will have the gut to say,

"here is what I didn't do and if I had, I

would have done things differently". So,

after 99 falls, if you get one big high, it

is necessary to state the 99 failures to

show the mentee that it's not all about

the highs. So, a good mentor has to be

not only experienced, not only

knowledgeable, not only skillful and have

a great attitude, but also has to be able

to infuse his entire learning into the

lesson. How effectively you do that is

what really matters.

If you lose concentration, if

you lose the attention of the

person you are trying to

mentor during the process,

it means you are not

connecting with the person.

Another important thing is

engaging your subject; you

have to keep them engaged.

They need to start believing

in you in terms of what your

learnings have been. So, as

a mentor your

communication skills have to

be more than good. A good

mentor is a very effective

tutor and a friend,

somebody who speaks from

the heart and knows his

thing.

As a seasoned mentor, in

your experience, what are

the common mistakes

startups make in pitching

themselves and their

businesses?

They are not trained in

pitching – it is a science and

an art. There is a method to

pitching. Some people are

born pitchers and some are

not while some are trained

pitchers. It's just like you are

a born singer or a trained

singer or you are a bit of

both. In terms of what

startups don't know is that

pitching is more important

than their innovation. This is

because they might have a

billion-dollar idea, but if they

can't pitch it to the right

people and get across to

them, it is good for anything.

Pitching well is something

that has changed people's

lives. When I started training

people in pitching, I didn't

even know how effective it

was for people in their every

day lives.

One crucial thing is that

most startups are all about

engineering or about sales

and finance. They don't focus

on trying to get across to

people who matter. Whether

they are judges in a
---
competition or investors. The sales guy has to

be a great pitcher. So that's one of the arts

lacking. They can crunch numbers very well,

but they cannot pitch well. I would say that

pitching is the most important thing.

What would be your tips to startups on the art

of pitching?

The first tip is that you have to put your whole

business plan in the first five seconds. If you

don't sting you can't capture the audience's

attention. So the main thing you need to do is

to grab their attention and their engagement

and I call that a stinging operation.

The 5 attributes of a perfect pitch are:

precise, complete, correct, fast and

effectively communicated. I can enumerate

these 5 on my fingertips because I have

done this workshop many times. You can

master these by practice, practice and

practice. You can be a natural pitcher or

you can be a trained pitcher. It has a lot to

do with effective communication skills,

which is verbal as well as non-verbal. While

you can watch these pitching techniques in

TV shows and pick up points from there,

when you do it with a trainer, the trainer

will put you through those exercises and

will chisel and cut your proposed pitch

into a clear one. And that's what people

are looking for, as they don't have more

time than that.

You have mentored many startups and

individuals. What have you learned from

the experience?

What I have learned is that I have a 56

model Chevy that had been lying in a

garage. I built it from scratch literally from

a garage. Now that I coach, I mentor and

judge some of the pitches and I look at the

startups and the young blood, I have

decided that I am going to get that Chevy

out and get it dented and painted and

launch it again.

The other thing you need to do is to raise an

alarm. What is it that is so painful and that

prompted you to do this? Third thing is how is

this problem being solved currently? How are

you going to solve it? And what is in it for the

listener and investor? Why should he/she refer

you to someone? Why should he open his

roll-o-dex? Why should he signup or cut a

check? Why should he be interested?
---
My experience is that entrepreneurship or

self-employment is the only answer to

unemployment. I personally think that

passion rules everything. For those startups

where I see passion more than some

sensible, I consider that to be a

successful startup. Another thing I worry

about is that 90% will not make it may be

not in the first attempt, not the second or

third or fourth. I worry about them when

they hit their thirties and the ones who are

still students in their final semesters, how

are they going to earn their living. When

they go back to a bank or to get a job of a

manager or less what will that do to them.

Another worry is that, as these startups

make it, money starts to flow in. Most of

the time, they become like a teenager with a

loaded gun, so they don't know what to do.

All startup founders and co-founders and

their initial stakeholders needs a mentor.

Whether they give them equity or whatever,

but they need mentoring because that's

how they can keep their feet on the ground.

My learning is that whatever fear, I see hope

and I see this thing becoming like a fashion,

a wave – I see everyone having an idea and

it's fantastic.

What aspects of mentorship in the

ecosystem do you think need

improvement?

I think we need more mentors and, in

some way, mentors also need to take

something home and I am not saying

money. Mentors need not be like those

teachers who teach to the rest of the

world and they can't make their ends

meet. So, we need to incentivize

mentors too. A careful selection of

mentors so they conform to minimum

standard, lest they teach their own

philosophy and are creating monsters

out of what they do. One of the things

lacking is true venture capital, so all of

the incubation centers, the software

technology parts in Pakistan have not

yet seen the true venture capital

companies coming into Pakistan.

Venture capital is mostly considered

just money, whereas venture capital is a

combination of a few things that are

mandatory – one money, two

management experience, three big

roll-o-dex from the same sector to

enable the business to accelerate

quickly and four is an exit strategy. We

need to remember that venture

capitalists are not operators, but they

are people who come in, make multiple

P/E ratios and nobody is willing to leave

in Pakistan, especially those who write a

check, but the reality is that you get

out.
---
DIGITAL MARKETING

The Future is

Now

Ali Khan Swati

of Awaami

on the

Evolution

of

Digital Media

in Pakistan
---
Tell us about your background and

how 'Awaami' came to be?

I have around 10 years of experience

in the digital marketing world,

having worked with various clients

from the US and the UK. I have built

branding and digital marketing

strategies for local and international

companies and because of my

background in this field, I partnered

with Ehtisham Khan and co-founded

Awaami with the concept of a

socially conscious content platform

for social media. We have focused on

developing animations, graphics and

short films on social issues such as

child abuse, women's rights and

other important topics to develop

social awareness through engaging

content on a massive scale in

Pakistan.

What are your views on the

evolution of digital media in

Pakistan?

Pakistan is evolving to a digital

landscape at a very fast rate, as of

right now there is 13% increase in

social media usage annually in

Pakistan and 68% of social media

users are on the mobile platform. I

believe that companies and

individuals need to start thinking

digital now if they want to catch a

slice of that huge digital space in

the future, as it is the future now.

What are some of the hurdles you

face as a company while interacting

with potential clients about

adopting digital media?

I believe that

companies

and

individuals

need to start

thinking

digital now if

they want to

catch a slice

of that huge

digital space

in the future

as it the

future now.
---
I think right now companies are

more adaptable because they are

witnessing how their competition

is aggressively using social media

to promote themselves. When I

meet clients, it is easy to make

them understand what kind of

services my company can provide

them because they already have

an idea of how it will benefit them.

The biggest hurdle I face about

digital media adoption is that a lot

of companies want to either

advance too fast on it because

they think progress on that

platform is quick, but that's not

the case. Due to that, the main

hurdle is to bring their attention to

the fact that digital marketing has

no exact formula to it and that as

such they need to keep revamping

and adapting their strategies in

order to hit the right mark

because the digital trends and

market move fast.

"Give your

brand time,

digital

marketing is

an art as well

as science"

What would be your top 5 tips for startups

and entrepreneurs for using digital media

effectively to promote their businesses

with a limited budget?

1

Always know your target market and

make content for that niche

2

Use good graphic design in your

posts and videos because that reflects the

quality of your brand

3

Do not overspend if you are not

getting the right response, go back and

change your whole strategy

4

Give your brand time, digital

marketing is an art as well as science

5

Be innovative and engaging and keep

a good frequency of how much content you

put out

What are the top 3 trends you see

emerging in digital marketing in the future

in Pakistan?

There is no exact way of knowing what new

thing will emerge, but I do think that new

and innovative forms of video based

content will come in the future in Pakistan.

What's next for 'Awaami'?

Awaami will develop video and animation

content on more topics and keep

developing the social media platform in

Pakistan with new ideas.
---
HOW THEY DID IT

RICHARD BRANSON

"Respect is how to treat everyone, not

just those you want to impress"
---
TRIVIA

He was born

1950

1973

Launched the

record label

Virgin Records

with Nik Powell

Formed Virgin

Atlantic Airways

and Virgin

Cargo

1. He went into

business at the age of

16.

2. He loves Star Trek.

3. He bought an Island

for $180,000, well

under the asking price

of $5 million. It's

worth upwards of $200

million today.

1992

1984

Launched Virgin

Mobile in 1999

1994

1950

1997

Sold the Virgin label

to EMI for £500

million

2004

Launched Virgin Vodka

and Virgin Cola

2010

Launches Virgin

Trains

ACHIEVEMENTS

United Nations Correspondents

Association Citizen of the World Award

for his contributions to humanitarian

causes

ISTA Prize by the International Space

Transport Association for his

contributions pertaining to space

transport systems

Launches Virgin

Galactic

Launches Virgin

Racing, a formula one

team previously

known as Manor

Grand Prix
---
How did the idea of Modulus Tech come

about?

The idea of ModulusTech came about

in 2016 when the Syrian refugee crisis

was at its peak. We noticed how there

was a large influx of people in a short

span of time in these crises, resulting

in massive housing shortages. These

people were exposed to harsh living

conditions, exposed to all sorts of social

problems and epidemics. The solutions

that did exist in the world at that point

in time were either too costly or took

too much time to implement. Being

Pakistanis, we could relate to their

problems equally as well, with our own

IDPs and people affected by floods and

earthquakes. Hence, the idea was to find

an environmentally sustainable housing

solution that could be set up in minimal

time and be cost effective. That is how

Modulus Tech came to be.

As co-founders, what do you each of you

do? What are your backgrounds?

All three co-founders studied Civil

Engineering together at NED University,

where the idea of the startup came

about. Nabeel is managing the business

and management side of things.

Yaseen Khalid is mainly responsible for

operations and M. Saquib works on the

technology side.

What do you believe is the biggest

market for your products?

The biggest market is the millions of

people living without adequate housing

today. According to a McKinsey report,

the affordable housing sector is an 11

trillion dollar industry in construction

costs alone.

The solution you're offering is very

unique. How has the response been so

far?

Our solution is in fact very innovative

and has characteristics superior than

products available globally. We have

filed patents on multiple aspects of the

technology. We were recently recognized

by the United Nations and various other

organizations globally for our invention,

we also won awards at the Global
---
Cleantech Innovation Competition held

in Silicon Valley. We were also recently

selected by Techjuice in the 25 under 25

list.

Tell us about your prospective customers.

Our set of prospective customers includes

governments and NGOs working on social

projects; B2B sector for labor housing and

site offices and B2C market for consumer

products and stand-alone units

What would you say is the secret to finding one's

passion?

I believe passion finds you sometimes, as long as

you're honest to yourself. One needs to be foolish

enough to pursue where your interests take you,

no matter how impractical they may seem. We

genuinely cared about the problems we wish to

solve, and the impact we wish to create keeps us

going.

What do you believe has been the highlight of your

entrepreneurial journey so far?

The major highlight is being able to develop a

technology better than other large business groups

and organizations, who have been working in the

sector for decades.

Where do you see Modulus Tech in 5 years?

We see ourselves being a large business

capturing major markets around the world, while

creating huge social impact. We aim to be a

multibillion-dollar social enterprise.

What do you dream of

achieving through Modulus

Tech?

Creating large-scale social and

environmental impact globally.

When did you (founders)

realize this was the idea you

wanted to work on?

The moment we tested the

prototype and achieved

significant results, we knew

that this was something we

needed to work on, mostly

because of the potential for

the technology to create social

impact.
---
CONTRIBUTION

Business

Viability

for

Success

"Good design

successfully manages the

tensions between user

needs, technology

feasibility, and business

viability." — Tim Brown

Launching a company is a risky endeavour. It

takes your money, blood, sweat, tears and an

immeasurable amount of hard work to

successfully turn your business idea into a

running profitable business. The reason I

advise the future and my fellow

entrepreneurs to always start a business

based on a viable business model is that they

must know whether their idea is profitable

and whether or not the company is capable

of surviving and sustaining the tremors of

the market or not.

According to a research, 42% of startups

fail because they don't solve a market

need. If there is a market need, the

company will make profit. Turning a

brilliant idea into a booming business

isn't as easy as it may seem.

Sustainability and viability is essential in

creating businesses that will give you

profit in the long term. Having said that,

the first and foremost is to understand

why we are starting a business. Is it

going to fulfil our financial needs, pay all

bills, and other day-to-day expenditure

(the primary source of income) or is it a

hobby through which we want to earn

some money (the secondary source of

income). Your business viability model is

then developed based on the primary or

secondary business strategies.

The viability of a business is measured

by its long-term survival and its ability to

sustain profits over a period of time. A

business is able to survive when it's

viable because it continues to make a

profit year after year.
---
Any successful business revolves around

viability. A business idea that cannot

continue to serve the customers is not a

viable business. A business idea that cannot

compete is not viable. A business idea that

is not scalable is not viable. Hence, viability

means that your business is living, breathing

and growing and has the potential of seeing

the stages of infancy to adolescence and

maturity.

When I had started my company, NShield

Solutions 2 years ago, I knew that the

demand for cars is inevitable. People will

continue to buy cars and would need a

reliable company to maintain its looks and

functionality.

My extensive market research gave me my

viability outline. The automotive industry in

Pakistan is one of the fastest growing

industries of the country, accounting for 4%

of Pakistan's GDP. Over 180,000 cars were

sold in the fiscal year 2014-15. In Pakistan,

automobile sales are on a continuous

positive trajectory.

According to a Gallup report based on

Pakistan Economic Survey 2015-2016, in

the past 15 years, there has been a 268%

increase in the total number of registered

motor vehicles in the country. These figures

clearly showed that my target market will

continue to grow and so my profit.

"The viability of a

business is measured by

its long-term survival

and its ability to sustain

profits over a period of

time"

Validation of a great idea for business is the first step in establishing its viability. Here are

few basic questions that can help you evaluate it

Are your ideas

implementable

in real life?

Do you have the

skills,

resources, and

manpower to

implement the

idea?

Will you be able

to make enough

profit from the

implementation

of your

business idea

for a

considerably

long term

period?

Is there a

demand for

what you are

selling? If you

were a

customer,

would you want

to buy your

products or

services?

Lastly, is your

idea innovative?

Can it be

moulded to give

birth to new

products and

services?
---
"Viability means

that your business

is living, breathing

and growing and

has the potential

of seeing the

stages of infancy

to adolescence

and maturity"

Another high-end definition of business

sustainability, which is the next level of

creating a valuable and viable business, is to

create social or environmental impact through

your business. According to the Cone

Communications 2017 CSR study, 87% of

customers will make a purchase from a

company that advocates for an issue they

consider important. To be truly successful,

companies need to have a corporate mission

that is bigger than making a profit, meaning it

creates a social impact as well. So, once you

are into your profit-earning mode, your next

sustainability strategy is to create meaningful

impact on the society.

Ideas are always great, but an idea that is

viable with a potential to bring a positive social

change, is always a winning business strategy.

ABOUT THE AUTHOR: ZIA S. HASAN

Zia is the co-founder and director of NShield

Solutions (Pakistan & UAE). She is the first

and only woman in Pakistan who is

successfully leading a surface protection

company, breaking barriers and setting an

example for other professional women to

lead non-traditional businesses. NShield is a

Nanotechnology based surface protection

company, which offers nano-ceramic glass

coating services for automobiles, and liquid

steel & antimicrobial coatings for various

industries. NShield has a nation wide

presence in Pakistan with corporate

branches in Karachi, Lahore, Islamabad and

Peshawar.

"According

to a

research,

42% of

startups fail

because they

don't solve a

market

need"
---
GEN NEXT

Peshawar-based Aprus

On Changing the Future

of Medicine, One Product

at a Time
---
"We are working

on different

medical

equipment, but

initially, we are

focusing on

one product only"

unwanted thermal damage of tissues. We are

working on new technology, which uses

artificial intelligence-based control system

or instant response technology. This

minimizes the charring and unwanted

thermal damage of tissues. We will be the

first in the world to achieve this result and we

are also 10 times cheaper.

What was the vision behind creating your

product?

Our vision revolves around using

electrosurgical units during surgeries to make

them safe, to reduce the recovery time after

surgeries so that patients can live healthy

lives and to reduce the side effects of

surgeries.

Are there any other devices like yours in the

market internationally or locally? What

makes yours different?

There are other local as well as international

devices available in the market. With the

other local devices, patients face alternate

site burns and shocks. Other international

devices don't have such issues, but the

problem with them is the charring and

How do you see this technology making a

significant change in the medical section

locally and worldwide?

According to a research, 66 million surgeries

are performed per year in Pakistan. If we

only consider the benefit of this device in the

country, this device can eliminate the

charring and unwanted thermal damage to

those 66 million patients. In addition, the

same number of patients, with the use of

this device, would experience faster recovery

time and safer surgeries.

Are you working on other similar products

for the medical sector?

Yes, we are working on different medical

equipment, but initially, we are focusing on

one product only. We would like the company

to grow with this product first and then

introduce our next product, which is a

sterilizer.
---
How has NIC Peshawar

contributed towards your

growth?

Our background is of

engineering we had no

knowledge of running a

company – we pitched our

idea at NIC and we got

selected. Here at NIC, we

got the right coaches,

mentors and the right

knowledge through

Founders Institute's

course. We also got the

right linkages with

industry – all these are

factors that we have been

lucky to get access to as a

startup.

Where do you see your

company in five years?

After five years, we would

have captured all of the

Pakistani market and

would also be exporting to

the international market.

We see ourselves as a

million dollar company by

then Inshallah.

"In five years, we

would have

captured all of the

Pakistani market

and would also

be exporting to the

international

market"
---
MARKETING INTELLIGENCE

According to him, leading Starcom Mediavest Pakistan as the

CEO has been the biggest challenge he took on. He has recently

resigned from his position and is moving on to other avenues.

Given his experience from leading the agency of the future, we

ask him about the trends that are going to shape the marketing

landscape in Pakistan, with the rise of digital and social media

marketing.
---
I

II

III

IV

V

Marketers will develop a better understanding of the digital space.

They will try to keep pace with the ever-changing landscape, as much

as possible. They will not succeed entirely.

Marketers will realize that the agency is not their slave / servant / pet to

be mistreated at will. They will realize that the agency is the professional,

they know stuff about their work that the marketer cannot know, simply

because it is their job to know. Hopefully, this will result in a more equal

relationship, one based on mutual trust and understanding, that will

result in better work.

Marketers will start taking calculated risks, in their communication, their

social spaces, their activations, their media choices.

Brands will realize the importance of building brand equity and will refocus

on this much neglected and misunderstood area. They will reduce the

number of shortcuts they take in their work, focus on building real

consumer insights, and building strategies based on those insights.

Owners (saiths) will start investing more purposefully in marketing, not

because they want to, but because they have to. Competition in almost

every industry / category will increase exponentially, and brands that

are not differentiated will find it impossible to fight solely on price

(specially against the Chinese!).

VI

Digital experimentation will rise and ROI-driven marketing will become the

rage as owners / CEOs demand a return on the marketing investment. This

brings us back to point #1 above.
---
How do you believe digital media has

changed the way marketing is done in

Pakistan? How do you see the future of

digital marketing in Pakistan?

The explosion in the digital media space has

caught most marketers off guard. While a

small percentage have taken an active role in

understanding and capitalizing on the

opportunities that this new frontier offers,

the majority either believe that digital is the

same as social, or give it a polite nod and

allocate 1- 2% of their marketing spend to it.

Savvy marketers are investing behind these

new media opportunities, they are testing

and trying new ideas and new ways of doing

things, and above all, they are pushing their

organizations to become more digitally

savvy, not only in their marketing, but in the

way they do business.

Digital marketing will represent 30% of

the marketing budget of most companies

within the next 3 – 5 years. Globally,

digital spend has already overtaken

traditional spend, and it will do so in

Pakistan as well.

There is a new awareness about creating

and marketing quality content in

Pakistan. Do you think this will change

the game and the way agencies operate?

Hopefully, yes. It will take time however,

since the approval process remains the

same. The current content creation

process in Pakistan – whether it is for 30

sec TV ads or simple FB posts – remains

the same – play it safe. What will the boss

think? Can we plagiarize an idea that has

worked in other markets? We are talking

about content as though it's a new thing,

but it's not.
---
Any shortcomings you see in the

local industry for embracing new

media and the future of

marketing?

1

2

3

The average owner / saith is well

above 50. This puts the majority of

them at a disadvantage because

they are digital immigrants, and as

such, do not really understand

"digital". They try, but it's hard for

them.

There is a saying in Urdu that

roughly translates, as "their

stomachs are full". They are not

hungry for more growth than they

are currently getting. What they do

not understand is that what got them

"here" will not get them "there".

The lack of professionalism in

management is quite serious.

People are not valued, their

contributions are taken for granted;

they are replaced at a moment's

notice.

Recently, marketing

has become all about

context and

humanizing. Your top

tips on how to go

about it?

1. Be authentic

2. Be consistent

3. Be unique

4. Don't try to target

"everyone" – it's

impossible

5. Speak with a human

voice – and engage like a

person

6 Know your consumer

well – so that you know

when they are likely to be

receptive to your brand's

message

You recently stepped

down from your role

at Starcom. What's

next?

Wait and see

4The myopia infecting the majority of

owners is pandemic. Most look to this

month's or this quarter's sales. No one is

really interested in investing for the future

(with a few notable exceptions). This, I

think is the single biggest reason that a

nation of +200 million people is yet to

produce a single global brand. I don't

mean a brand sold in multiple countries –

there are a few of those. No, a brand

recognized globally with its roots in

Pakistan. There are a few companies

working now on this vision, but they truly

aren't unicorns.
---
The power to shape your destiny

Built to last

This book is not about leaders or rules

but about how visionary companies work

and how they keep their vision alive by

constantly struggling and competing

with their rivals partners. This book gives

insight into a six year research project at

the Stanford University Graduate school

of Business, Collins and Porras selected a

total of 18 companies that have a portfolio

of 100 years and have outperformed

the general stock market by a factor of

fifteen since 1926. This book gives a look

into the inner mechanisms that led great

companies to success.

The power to shape your destiny is a

must have book for high achievers. In his

book Anthony Robbins shows us the seven

strategies that can make us achieve our

best. Are you stuck in a constant struggle

for success and can't seem to have any

results that are worth your struggle?

Do you want a more fulfilling career,

economic freedom, or more passionate

relationships? Do you want to have the

time for vacations? Would you like to

travel the world? Would you just like to

be closer to a friends, relatives, or loved

ones? What's been holding you back from

living your dreams? This book shows you

how you can use these seven strategies

to overcome the perpetual helplessness

and to break the walls that are holding us
---
ClearBit Connect Extension

Clearbit Connect is a small widget that lives in Gmail's

sidebar. It displays useful information about the people who

email you, and allows you to find anyone's email address

without leaving your inbox. It is available for all browsers

like Safari, Chrome, Mozilla and Opera.

LinkedIn Sales Navigator

Extension

Engage with Sales Navigator

insights where you're already

communicating with prospects

and customers.

LinkedIn Sales Navigator for

Gmail - A free and convenient

way to build better relationships

by surfacing LinkedIn insights

about your prospects and

customers without having to

leave your inbox.

If you have a Sales Navigator

subscription, the extension

will unlock these additional

Premium features:

- Save contacts as leads in

your Sales Navigator account

- Use TeamLink to see if

prospects are connected to

your colleagues and get a warm

introduction

October Sky

John Hickam (Chris Cooper) is

a West Virginia coal miner who

loves his job and expects his sons,

Jim (Scott Miles) and Homer

(Jake Gyllenhaal), to follow in his

footsteps. But Jim gets a football

scholarship, and Homer becomes

interested in rocket science after

seeing Sputnik 1 crossing the

sky. John disapproves of his sons'

new mania, but Homer begins

building rockets with the help of

friends and a sympathetic teacher

(Laura Dern). Rocketry, he hopes,

will prove his ticket to a better life.