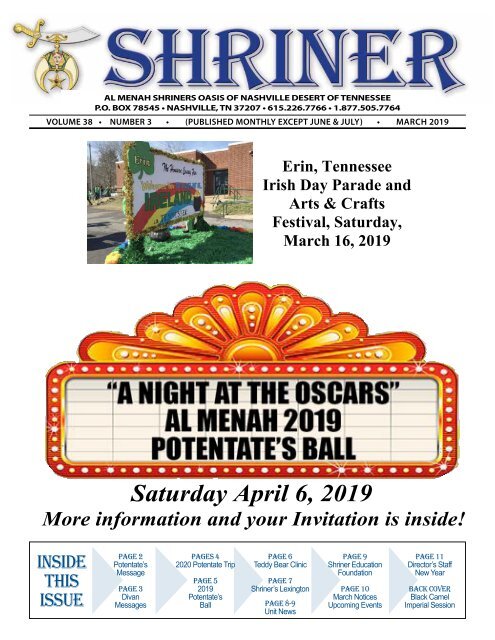 SHRINER MARCH 2019
Events and happenings of Al Menah Shriners for March 2019. Includes currently scheduled activities for March and April 2019.
Events and happenings of Al Menah Shriners for March 2019. Includes currently scheduled activities for March and April 2019.
SHOW MORE
SHOW LESS
You also want an ePaper? Increase the reach of your titles
YUMPU automatically turns print PDFs into web optimized ePapers that Google loves.
AL MENAH SHRINERS OASIS OF NASHVILLE DESERT OF TENNESSEE

P.O. BOX 78545 • NASHVILLE, TN 37207 • 615.226.7766 • 1.877.505.7764

VOLUME 36 • NUMBER 38 • NUMBER 4 3 • • (PUBLISHED MONTHLY EXCEPT JUNE JUNE & JULY) & JULY) •• MARCH APRIL 2019 2017

INSIDE

THIS

ISSUE

Erin, Tennessee

Irish Day Parade and

Arts & Crafts

Erin, Festival, Tennessee Saturday,

March 16, 2019

Irish Day Parade and

Arts & Crafts

Festival, Saturday,

March 16, 2019

Saturday April 6, 2019

More information and your Invitation is inside!

Saturday April 6, 2019

More information and your Invitation is inside!

INSIDE

THIS

ISSUE

PAGE 2

Potentate's

Message

PAGE 3

Divan

Messages

PAGES 4

2020 Potentate Trip

PAGE 5

2019

Potentate's

Ball

PAGE 6

Teddy Bear Clinic

PAGE 7

Shriner's Lexington

PAGE 8-9

Unit News

PAGE 9

Shriner Education

Foundation

PAGE 10

March Notices

Upcoming Events

PAGE 11

Director's Staff

New Year

BACK COVER

Black Camel

Imperial Session
---
Al Menah Al Menah Temple Temple

Oasis of Nashville

Oasis

Desert

of Nashville

of TennessEE

Desert of TennessEE

P.O.Box 78545 • Nashville, TN 37207

P.O.Box 78545 Phones • Nashville, 1.615.226.7766 TN 37207

Phones 1.615.226.7766

1.877.505.7766

1.877.505.7766

www.almenahShriners.org

www.almenahShriners.org

The Publication Committee

The Publication Committee

The Divan/Board of Directors

Potentate .................... Randy Frank Williams Hester

The Chief Divan/Board Rabban. .............. . of Directors Horace Scott Perkins Jones III

otentate Assistant .................... Rabban .........Donny ..........Randy Frank Hester Williams Drayton

hief Rabban High Priest ........... & Prophet Horace .......... .Vernon Perkins Scott Blackburn IIIJones

ssistant Oriental Rabban Guide. ..........Randy ........... . Donnie Williams Frank Drayton Wilson

igh Priest Treasurer & Prophet ....................Wes ........................ Scott Jones

Frye

riental Recorder. Guide ...................Robert Donnie Drayton

Daniel

reasurer Editor. ........................ Maurice Wes Frye Smmith Smith

ecorder ...................Robert Published monthly except June Daniel and July

ditor ..................... www.almenahShriners.org

Maurice Smith

PAST POTENTATES

Published monthly except June and July

www.almenahShriners.org

*Charles Barham

*John D. Whalley

*V. *Charles K. Stevenson Barham

Jack *John Norman, E. PattonJr.

*V. K. Stevenson

*John D. Whalley

PAST *W. *W. F. F. Hunt Hunt POTENTATES

*Albert Bennett

*J. Pink Lawrence *Clyde Jack Norman, R. Watson Jr.

*J. Pink Lawrence

*Albert Bennett

Charles Barham *Ed R. Burr

*Ed R. Burr *John E. *Marshall

*Clyde Patton S. Whitley

R. Watson

V. K. Stevenson

*J. Harry Murphy

*J. Harry Murphy *John D. *James

*Marshall Whalley J. White

*Charles N. Rolfe *G. Cooper S. Holt Whitley

W. F. Hunt*Charles N. Rolfe Jack Norman, *James Jr.

*Paul DeWitt

*J. Coleman J. White Hayes

J. Pink Lawrence *E. *Paul M. DeWitt Kelly *Albert Bennett

*Donald *G. Cooper R. Holt Dunning

Ed R. Burr *Joseph *E. M. Kelly Higgins *Clyde R. *J.

*J. Watson P.

Coleman

Foster

Hayes

J. Harry Murphy *Ira *Joseph E. Parker Higgins *Marshall *Gale

*Donald S. Whitley Robinson

R. Dunning

Charles N. *Martin

*Ira Rolfe E. Parker

S. Roberts *James J. *C.

*J. White P.

V.

Foster

Cramb

Paul DeWitt *R.

*Martin

C. Derivaux

S. Roberts *G. Cooper *J.

*Gale

Nelson Holt Robinson

Bryan

E. M. Kelly *Oren

*R. C.

A.

Derivaux

Oliver *J. Coleman *Robert

*C. V. Hayes Cramb

Battle

Joseph Higgins *Lee

*Oren

L.

A.

Gamble

Oliver

*Donald*Jerry *J.

R.

Nelson

Dunning N. Tate

Bryan

*Lee L. Gamble

*Robert Battle

Ira E. Parker *R. R. Clark

*R. R. Clark

*J. P. Foster *Fred H. Gay, Jr.

*Jerry N. Tate

Martin S. *William Roberts Raine

*William Raine *Gale Robinson James A. Campbell

*Fred H. Gay, Jr.

R. C. Derivaux *Hugh F. Smith, Jr.

*Hugh F. Smith, Jr. *C. V. Cramb *Claude G. Southall

James A. Campbell

Oren A. Oliver *W. A. Bryan

*W. A. Bryan *J. Nelson *W.

*Claude Bryan B. Lawson

G. Southall

Lee L. Gamble *Charles L. Cornelius

*Charles L. Cornelius*Robert *Gale Battle *W. B.

Robinson

Lawson

R. R. Clark

*W.

*W.

Bush

Bush Herbert

Herbert

*Jerry N.

J.

*Gale Tate

Dudley

Robinson

Phillips

*Marshall

*Marshall

Hotchkiss

Hotchkiss

*M.

J. Dudley

Norris

Phillips

Jenkins

William Raine

*Jess

*Jess

B.

B.

Templeton

*Fred H.

Hugh F. Smith, Jr. Templeton

*James

Gay, Jr.

*M. Norris

F. Scalf,

Jenkins

Jr.

*T.

W. A. Bryan *T.

A.

A.

Springfield James A.

Springfield

*William Campbell

*James F. Scalf,

B. Jones

Jr.

*James

Charles L. *James

G.

Cornelius G. Stahlman

Stahlman *Claude Jack G. Southall

*William

C. Phelps

B. Jones

*J.

W. Bush Herbert

*J.

Clark

Clark

Akers *W. B. Lawson

Akers

*David

Jack C. Phelps

P. Brumfield

*R.

*R.

E.

E.

Baulch *Gale Robinson

Baulch

*Zack *David S. P. Parrish, Brumfield Sr.

Marshall *Thomas Hotchkiss

*Thomas

E.

E.

Doss

Doss

J. Dudley *Robert *Zack

Phillips

S. E. Parrish, Newman Sr.

Jess B. Templeton Kerbela Kerbela Temple '28 '28 *M. Norris *George *Robert Jenkins E. Cook Newman

T. A. Springfield *Maurice Weinberger

*James F. *R. *George Scalf, Parker Jr. Cook Graham

James G. *S. Stahlman *S. N. N. Allen

*William H. *R. B. Parker Parker JonesToler

Graham

J. Clark Akers *W. *W. B. B. Hager

Jack C. Phelps *R. H. Parker T. McNaney Toler

R. E. Baulch *O. *O. Lynn Meek

*David P. James *R. Brumfield T. McNaney L. Ham

Thomas E. *Jack *Jack Doss Norman

*Zack S. *Charles James Parrish, L. Ham Sr. H. Williams

erbela Temple

*James '28

J. J. Vaughn

*Robert William E. Charles Newman H. D. Williams Jones

*C.

Maurice Weinberger

*C. H. H. Smith

John

*George William L. Weaver,

Cook D. JonesIII

*Fred

S. N. Allen

C. C. Laskey

Gale

*R. Parker John Graham L. B. Weaver, Robinson III

*Ivo

W. B. Hager

A. A. Burton

Joe

H. Parker Gale Bell

Toler B. Robinson

*T.

O. Lynn Meek

*T. W. W. Bray, Jr.

Ronny

*R. T. McNaney

Joe BellL. Greer

*James R. Cox

Charles Ronny L. E. Greer Cardwell

Jack Norman *Paul R. R. Jarratt

James L. J. Charles

Ham Franklin E. Cardwell "Jay" Scalf, III

James J. Vaughn *J. *J. Sumpter Anderson

Charles Conley H. J. Franklin Williams Dykes "Jay" Scalf, III

C. H. Smith *Hugh W. Robertson

William David Conley D. Jones Smith Dykes

Fred C. Laskey *M. T. T. Gossett

John L. Weaver, Jim David Cain Smith III

Ivo A. Burton *Joe C. Carr

Gale B. Robinson *Mike Jim Cain Martin

T. W. Bray, *James Jr. T. Hayes

Joe Bell *Johnny *Mike Martin Dudley

James R. Cox *E. Lee Bennett

Ronny L. David *Johnny GreerWantland

Dudley

Paul R. Jarratt *Orris E. E. Davis

Charles Melvin E. David Cardwell Wantland Meadows

J. Sumpter *Raymond AndersonH. Leathers J. Franklin Dennis Melvin "Jay" Meadows Belford Scalf, III

Hugh W.

*Hilry

Robertson

H. Shaffer

Conley Dykes

David Dennis Vaughn Belford

*James N. Stansell

M. T. Gossett

*James

David

N. Carl

Smith

David E. Vaughn Barnes

*John E. Patton Stansell Mike Carl E. Van Barnes Sant

Joe C. Carr

Jim CainJeff Mike Head Van Sant

James T. Hayes

*Mike Martin Frank Jeff Head Hester

E. Lee Bennett

*Johnny Horace DudleyPerkins III

Orris E. Davis

David Wantland * Deceased

* Deceased

Raymond H. Leathers Melvin Meadows

Hilry H. Shaffer

2

Dennis Belford

*James N. David Vaughn

We have had quite a past few weeks! The Divan enjoyed

travelling to Clarksville to meet with their Shrine Club and

welcome 8 new Nobles and 2 transfers joining them as well.

This is a growing club who is making quite an impact in their

community.

We traveled again a few days later to Spring Hill United

Methodist Church in Erin, TN for a Gospel Singing that

benefited the Shriner's Hospital for Children The donation

ended up being $2387, a record for them. Thanks so much to

Dale Francis for another great job!

There was a wonderful gathering at the Al Menah Shrine

Center on February 16 for the "Love to the Rescue" Valentine

Party. A record number enjoyed a delicious meal prepared

by Ronnie Brown and crew and great entertainment by our

fellow Noble Ken Sanders and the Nashville Kats. Many

thanks to Michael and Ali Villines and their committee for a

special evening.

Lady Beth and I wish to invite everyone to celebrate

Al Menah on April 6 at the Potentate's Ball "A Night at the

Oscars featuring Al Menah". Be sure and call the office and

secure your reservation for this great event. Cost will be $50

per couple.

We have lost several Nobles in death this last few weeks.

They have all made an impact on our Fraternity and our

thoughts and prayers are with their families.

Yours in the Faith,

Randy Williams,

2019 Potentate
---
From the desk of...

CHIEF RABBAN RABBAN

We had a great turn out at the Valentines

Dinner. Great job to everyone that worked

on that committee; everyone had a fun time

and the food was great!

Imperial Session will be here in no

time at all. Hope everyone will come out

and support our Imperial Sir Jim Cain

and Lady Patsy. It will probably not be

here in Nashville again, at-least in our

lifetime. Remember to support the units at

their competitions and visit the marketplace

located in the Music City Convention Center.

Al Menah will be leading the parade after the Imperial officers, so

let's try our best to get as many people to participate in that parade,

as possible!

The Al Menah Circus Committee is starting the circus ad sale

campaign this month. In the past, this has been not only the biggest

fundraiser for the temple, but for the clubs and units. If we could

set a goal of two ad sales per member, then we could definitely

make a Big impact for everyone. The circus committee will also be

selling a Ringmaster Dinner ticket with a give back twist. We will

be making our way around all the units and clubs to promote the

Ringmaster Club, which helps offset the cost of the Saturday Circus

Matinee show for the underprivileged children.

Hope everyone stays dry and looking forward to a sunny spring

that will arrive soon. Hope to see everyone soon.

Fraternally yours,

Chief Rabban

Scott Jones

ASSISTANT RABBAN

ASSISTANT RABBAN

Well this month I have some startling news

to report from the Imperial Curse - I mean

Cruise we were on in January. It turns

out your HP&P Mr. Jingles had some

problems as the ship pulled out of

port, you know, had queasy feelings of

dread and lots of Toilet hugging. He

was feeling pretty bad until he heard

of a jungle legend in Cozumel about

a Mayan cure. So he lands in Belize,

travels over land for miles, paddled up

"crock"-infested rivers to a jungle landing

near the ancient ruins of the Mayans.... As he

climbed the ruins he saw a vision of beauty, an ancient Mayan

priestess who led him to a steamy chamber where she taught him

of the powers of scrotox! Bingles emerged from the chamber a

NEW MAN! No more droopy drawers, toilet hugging, or wrinkles

anywhere - his head shone with a new luster blinding folks for

miles! The locals had to put a bag over his head just to get him back

to the boat. Jingles has kept the secret of scrotox to himself since

the cruise, sharing with none the joys of wrinkle-free manhood.

That's all this month from Donkeyland. Hug your kids and know

they are your security in old age.. scary huh??

Assistant Rabban

Donnie Drayton

HIGH PRIEST AND PROPHET AND PROPHET

February was crammed full of some fun and

fellowship. Your Divan visited several

Shrine Clubs, had dinner with a few

hundred of our friends and fellow nobles

during some great events, heard some

great singing, and most important,

we welcomed many new Nobles into

Shriners International. If Membership

is the key to our future, then our future

is looking bright! Everywhere we go we

see new Nobles, new Unit members, new

Shrine Club members, there are new Nobles

everywhere.

One of the most noticeable increases in Membership I've seen

recently was while visiting the Clarksville Shrine Club. Currently

under the leadership of Darrell Austin, this club continues to grow

each year and I want to take a moment to say Congratulations

on a job well done! They even had to change venues recently

to accommodate their growing membership. I'm certain more

GREAT things are ahead for this Shrine Club.

I would also like to say Thank You to Dale Francis and the Spring

Hill United Church for a fantastic evening and for their continued

support of Shriners Hospitals for Children. We left Cumberland

City with our stomachs full, and our spirit blessed.

Don't forget March kicks off with a splash of green. It's the

annual Irish Parade in Erin. This is always one of the highlights of

the parade season for all involved. Grab your parade gear, get your

green on, and get to Erin, TN.

As always, thank you for all that you do in support of Shriners

International, & Shriners Hospitals for Children. The efforts made

today, will change lives tomorrow.

High Priest and Prophet

Vernon Blackburn

ORIENTAL GUIDE

ORIENTAL GUIDE

We made it back from the Caribbean cruise

without being stranded on an island! It

was great to spend the week on board

ship, visiting with nobles and their

ladies from Shrinedom all over North

America. Sharing time and making

memories with fellow Shriners is yet

another reminder that it is great to be a

Shriner! And even though I've been a

noble of the Mystic Shrine for

nearly twenty-five years, I still get excited

when

I think of all we do to help children with

crippling diseases, burns and those born with cleft palate. I hope

you, too, will reflect on why you became a Shriner and on the

pride you feel when you see a child we've helped or when you

visit one of our hospitals. Perhaps you'll be inspired to look for

men you believe would make great additions to our dwindling

membership.

Spring, after much rain, is upon us. Please join us in Erin on

March 16th for the first parade of the year. Get involved this year

and let's have fun and help our children.

Oriental Guide

Frank Wilson

3
---
2020 Al Menah Potentate Trip

Cabo San Lucas

February 23 – March 1, 2020

Los Cabos is a magic land full of contrast, from breathtaking

seas, to desert and mountains. Also known as "Land's End"

for being located at the tip of the southern Baja California

Península. Step into the extraordinary world of Los Cabos

where the unparalleled natural beauty, biodiversity and

range of amenities will appeal to any personality.

In a paradise where the Sea of Cortés meets the Pacific

Ocean, there is something for everyone: fishing, golf, scuba

diving, snorkeling, kayaking, ATV Adventures, camel riding,

whale watching, wave runners, horseback riding, relaxing in

luxury spas and resorts and dancing 'til dawn.

Stay at the all-inclusive Pueblo Bonito Los Cabos Resort and Spa

7 nights $1,425 per person – Double occupancy ($2,475 – single)

3 nights $795 per person – Double occupancy ($1,250 – single)

*A Sunset Dinner Cruise with open bar is included

Package includes: Round trip Cabo to resort transfers, Vacation protection insurance, Travel Agent escort,

Complimentary Wifi, Restaurants (Los Cabos Resort - 3, Rose Resort - 5, Sunset Resort -15, alcohol beverages

and 24-hour room service), Twice – daily housekeeping, Feather-top mattress and pillow menu, Premium bath

amenities, Plush bathrobes, In-room safe, Complimentary shuttle service to Sunset Resort and

Taxes and gratuities included.

Sunday, March 31, 2019 there will be a meeting at AL Menah Dinning room at 1:00pm.

A lunch will be served .

For additional information – call Michelle Atchley @ (615)-792-7552

4
---
Illustrious Sir

Randy Williams

and Lady Beth

Proudly invite you to attend the

2019 Al Menah Potentate's Ball

Saturday April 6, 2019

Doors Open at 5:00

Grand March to begin at 6:30

Dinner and Dance to Follow

Al Menah Shrine Center

1354 Brick Church Pike - Nashville, TN 37207

$50 per couple. Call 615-226-7766 to RSVP no later than March 22

Formal Attire or Dark Suit with Fez

Hotel Accommodations available at La Quinta Inn Airport/Opryland

615-885-3000. Group Name Al Menah Shrine. Deadline March 15.

5
---
6

WE CAN'T WAIT TO SEE YOU AND

YOUR TEDDY BEAR ON MARCH 16TH!
---
The story of Chase's medical journey

from not walking to running and play sports

Chase, 9 year old patient from Maysville,

KY has been a patient of Shriners Hospitals for

Children Medical Center — Lexington since he

was 6 weeks old. Chase was born with cerebral

palsy, bilateral club feet and suffered several

brain bleeds while still in utero. The brain

bleeds caused Chase to have some

developmental delays as a young preemie baby

including right-sided weakness, most noticeably

in losing the use of his right arm.

Vishwas Talwalkar, M.D., pediatric

orthopaedic surgeon and Scott Riley, M.D., pediatric orthopaedic hand surgeon at Lexington

Shriners Medical Center work together as one medical team to provide Chase the wrap around

care he needs in order to live a full, healthy and amazing life.

"I had no idea if my child would ever crawl, walk, lift his arms or enjoy a 'normal' life, but

because of the care Chase has received from Drs. Talwalkar and Riley, we have a child who

runs, rides a bike, plays sports, swims, and does so much more," said Heather, mother of Chase.

Chase has undergone two surgeries and had several casts applied to his legs to help treat his

bilateral club feet and upper extremities.

As a way to help restore the use of Chase's right arm, Dr. Riley suggested Chase undergo

surgery for a tendon transfer in 2017. A tendon transfer procedure relocates a functioning

muscle-tendon to the area where there is lost movement in hopes it restores function.

"Both Drs. Talwalkar and Riley have given Chase a life we could only hope for and there will

never be a way to repay that, but we will forever try," said Heather.

Chase's family has been very active in telling people and their community about the hope and

healing found at Lexington Shriners Medical Center. As a family they have participated in many

fundraisers and committees that have raised substantial money through a variety of different

means.

"We will forever be grateful for the kindness and care that we have received, and if ever there

were a place worthy of a donation, this is it," said Jeremie, Chase's dad. The gratitude from

Chase's family does not stop there! Chase's mom, Heather, is a founding member of MDH

Heartstrings, Inc. and the Filthy 5K. Through which they have been able to donate over $10,000

to Lexington Shriners Medical Center's new Children's Rehabilitation Playground which is

currently under construction and expected to open fall of 2019.

"As a family, we will always do what we can to raise awareness and funds for this amazing

medical center that has changed our life and Chase's life forever," Heather said.

Today, Chase is a typical young boy who loves to play with his older brother, ride go-karts,

participate in dirt track racing with his mom and dad, play basketball and even has begun to

shoot archery. There is no limit to Chase's ability.

7
---
CeNter

NeWS

Clowns

February was a great month to be a

Clown. We started off with a Superbowl

Party then had a Clown Perfection

Party to help get ready for the

Shrine Clown Jamboree in Gatlinburg

March 8-10. The Fabulous Al Menah

Clowns will be well represented and

we look forward to seeing many more

Temples there this year as this event

continues to grow.

March16 will be the Erin St. Patrick

Day Parade.

Say hello to our newest Clown

Colton Young he is ready to start putting

on makeup and making people

smile.

As always, thank you for what you

do to support the hospitals and please

keep our sick brothers in your prayers

Clay "Flat Top " Hedgepath

Secretary

Greeters

The Greeters will participate in the

St. Patrick's Day Parade at Erin, TN

on Saturday, March 16th.We will

leave Al Menah at 7:00 a.m. and go

to Joel's Body Shop in Dickson for

refreshments. Horace Perkins, PP

hosting.Shortly thereafter we will

leave for Erin.

Greeters have been assigned to

meet arrivals at Metro Airport (BNA)

the week leading up to the Imperial.

We will be especially busy on Sunday

June 23rd meeting the Imperial Divan

and staff at the airport.On Sunday,

June 30th we will serve

as greeters for the Sunday

Church Service on Sunday

8

to be held at the Grand Lodge of Tennessee.We

need volunteers as we will

be covering several locations (airport,

hotel, and Grand Lodge) as Shriners

come to Nashville for the Imperial

Session.Please contact Captain Steve

Beasley, Conley Dykes, P.P., or Charlie

Smith so we can plan accordingly.

We need all Greeters to participate

this year in selling ads. Please attend the

next stated meeting for prices. Let's all

make this a great year.

Our Unit Contact Information:

Captain – Steve Beasley

(615) 268-6410

stbeasley@comcast.net

1st Lt. – Charlie Smith

(615) 417-6439

titancharlie@comcast.net

2nd Lt. – Scott Story

(615) 789-9189

scott_story@bellsouth.net

Scott Story

2nd Lieutenant

Legion of Honor

From 20 to 24 February the Legion

of Honor participated in the 2019

South East Shrine Association LOH

Mid-Winter meeting in Gatlinburg

Tennessee. Al Menah members provided

the majority of the participates

this year, along with representatives

from members from Georgia and

Florida. We also had a representative

from the International Legion of Honor

who provided updates on pending

changes to the international By Laws.

The meeting was overseen by Bob

Silva, who is this year's SESA LOH

Commander. As the parade season is

upon us we are making our plans to

participate in the Erin Parade. We

are looking at adding a vintage award

winning Muscle Car belonging to

Stewart Long to the parade in addition

to our regular van and float. We

have also rewritten our Constitution

and By Laws which have been approved

and in for print. As soon asuu

they come back from the printer we

will make copies available to those

who need one.

Wayne R. Steele

LOH Command

Provost Guard

The Provost Guard competition team

is getting ready for Dixie, Imperial

and S.E.S.M.A. Going to be a busy

year and we are looking foreword to

it.

The Erin parade is almost here.

Seems like a short year.

Lt. Ken Loftis

Motor Corps

February was full of fun and fellowship

for this Motor Corps! Super

Bowl party, Daytona 500 watch

party, Al Menah Valentine's party,

our ladies making blankets for our

patients…whew! And for those that

were not in attendance on the

Imperial Potentate's

cruise, boy did you

miss a special treat!

We "heard" that we

have a celebrity look

alike among us…Tom

Sellick! I see the resemblance,

don't you?

Happy St. Patty's Day!! Hope

to see everyone in Erin for the St.

Patrick's Day Parade. What began

as a religious feast day in the 17th

century has evolved into a variety of

festivals across the globe celebrating

Irish culture with parades, special

foods, music, dancing and a whole lot

of GREEN!

Don't forget to wear your

green!!

Always keep our sick and less fortunate

in your prayers!

Regards,

Fat Rabbit

2019 Journalist
---
Shrine Club News

Sumner County Shrine Club

he Sumner County Shrine Club is off

to a good start for 2019. We are adding

new members and getting lots of

visitors. It is our goal to have an interesting

guest speaker at most meetings.

In January we had the Sumner

County Sheriff Sonny Weatherford

speak to us about the Sheriff's Citizen

Academy which is a very worthwhile

program. He gave a very informative

talk and passed out applications.

In March we will begin meeting

at the newly renovated Logan's

in Gallatin which will provide us a

private room to hold our meetings.

We meet the first Monday of every

month. We eat at 6:00pm and our

meeting starts at 7:00pm. We want

to invite you to come to a meeting,

bring your ladies and check us out. If

you would like to join, we welcome

you. If not we will enjoy having you

visit us. Next meeting is March 4th.

Hope to see you there. Don't forget

your fez.

Roy Lindsey

President, SCSC

Williamson County Shrine Club

The WCSC held its first meeting of the

year on Jan. 17th at the Sportsman's

Lounge in Brentwood. 30 members,

wives and guests were in attendance.

Parker Tolar - PP was there to talk about

the upcoming Imperial event in Nashville

in early July.

The meeting was led by Past President

Bill Jager, as our new President

- Dale Pewitt was sunning himself

and enjoying the Potentate's Cruise!!!

Bill skillfully led the meeting through

the prayer, the Pledge of Allegiance

and reading of the all the Brothers

that were ill or had requested prayers.

The meeting quickly moved to the

presentation of 2 Blue Slipper awards

to Sharon Hellmintoler and Debbie

Thomas, daughters of deceased

Masons. Presentation was done by

Art De Vooght and Butch Mays. The

ladies were truly pleased with the

presentation and they were warmly

received by WCSC members. WCSC

is one of the few if not the only

Shrine unit that is conferring the Blue

Slipper to the wives and daughters of

deceased Mason in the entire state of

Tennessee.

Discussion followed about possible

fund raisers, but none was chosen.

Mac Farmer talked about progress to

clean up a cemetery with Union and

Confederate soldiers interred there.

The initiative is held up by non-response

of the cemetery care takers

as to our offer to help. The various

Shrine and Masonic organizations

gave updates of activities and impending

meetings, as well as dates for

the activities.

Past Presidents were recognized,

and there was no winner for the

drawing. The monies collected will

move to February's meeting. Meeting

ended at approximately 7:15, and

Motor Corp members gathered after

the regular meeting. Next meeting

will be on Feb. 21st.

Respectfully Submitted.

Art De Vooght

Secy.

Shriners International Education Foundation

Shriners International believes education, training and

leadership development are essential to the success of any

organization, but are critical to the success of nonprofit

entities. Two of our education programs – the Oriental

Guide and Assistant Rabban Leadership Seminars – will

be held next month in Tampa, Florida. Participation in

these seminars will have a tremendous impact on the success

of the temples, and I hope we have 100 percent attendance.

I want to thank everyone involved in the planning

for these events for their hard work and dedication. I also

want to thank everyone who is planning to attend – you

will return home with new knowledge, insights and energy

to share with your fellow nobles as you work together

to plan for the future.

Shriners International Education Foundation was created

to support, enhance and expand these efforts. I invite

you to be among the first to participate in this commitment

to education by becoming a Charter Member

of the Foundation. Everyone who donates or pledges a

minimum of $10,000 to Shriners International Education

Foundation during the 2018-2019 Imperial Year, will be

recognized and honored with the distinctive title of Charter

Member.

Another way to support Shriners International Education

Foundation is by purchasing a Challenge Coin. This

special commemorative coin is a limited-edition item,

only available this Imperial Year, and generally only available

from members of the Imperial Divan during association

meetings (another reason to attend the meetings).

For a donation of $20 in support of Shriners International

Education Foundation, one of these unique coins can

be yours. If you share our vision of making a difference

through education, show your support with a

Challenge Coin.

9
---
From the First Lady

MARCH NOTICES

What a busy few weeks already! We have

enjoyed a wonderful Valentine party and are

gratified that so many of you came out to join

us for a wonderful evening! Everyone enjoyed

a wonderful meal and great entertainment by

the Nashville Jazz Cats. Thanks so much to

Mike and Ali Villines and Ronnie Brown and

crew for a great dinner.

The ladies met on Stated Meeting night

and made 27 blankets for our Shrine Patients

to enjoy on their trips in our vans. They also collected a large number of bottled waters for the patients, their

families, and our drivers to enjoy.

We now look forward to April 6 for the Potentate's Ball. Make your plans to attend and enjoy "A Night at

the Oscars featuring Al Menah" in celebrating the Shrine and our wonderful temple. Call the office and make

your reservations now!

Beth Williams

2019 First Lady

Are you not receiving Shriner

Magazine, Pride and Tradition or

any of our other communications?

Did you know that all nobles have the ability to log

into their own records to update their contact information,

view their records and verify their payments via

WebFez, Shriners International's membership database?

We encourage everyone to log into WebFez to review

and update their information, including mailing

address and email, to ensure everything is up-to-date.

To access WebFez, please visit webfez.shrinenet.org.

If you need help registering or logging in, click the

"Need Help with register/Login" link on the top of the

page for a full tutorial.

UPCOMING EVENTS

AS OF THIS PUBLICATION – SUBJECT TO CHANGE

MARCH

7–9 SESCA Mid Winter (Pigeon Forge)

16 Erin St. Patricks Day parade

26–28 Tennessee Grand Lodge

APRIL

1 100th DeMolay Degrees @ Shrine

5 Potentate Ball Hospitality

6 Potentate Ball

8-12 Paper Sale Caravan

20 Temple Easter Egg Hunt

One Ring Circus @ Temple

10
---
Director's Staff Start the New Year

The Director's Staff held their Kick Off for the new year recently.

A time of fellowship and sharing plans for the upcoming year.

Everyone helped in the preparation of

the meal lead by the Direcoretee's

After seasoning the steaks by our

Social Chairman Brian McSpadden,

our fearless Lieutenant Joe Anderson

did the grilling.

A great turn out of over 60 people for our

Director's Staff kick off dinner. We all

were filled with food and exciting plans

for the upcoming year.

11
---
Paper Sale Donation from Kroger

On Monday, 7/18 Potentate Jeff Head and members of the Williamson

County Shrine Club were with Kroger Management at their Belle

Meade store where they presented a $1,000.00 to us for the Shrine

Hospitals for Children. The Kroger Manager was an acquaintance of

Scotty and Teresa Travis who put this together for the Al Menah Shrine

Hospitals for Children Paper Sale.

This is a portion of a message from Phyllis Berry, wife of this

Kroger Store Manager, Michael Berry.

Let me tell you, our son was a Shrine Hospital patient

and we are forever grateful The experience was an

awakening in humanity. The care was phenomenal. The

friendship my family made. The support from the men in

your fraternity was phenomenal. We thank you for all you

and your members do for children across the country.

Sincerely

Phyllis Berry

Fraternally,

Butch Mayes, WCSC

12
---
REMINDER!

NOTICe:

ALL communications

for the Shriner

should be sent to

editor.amsc@gmail.com

NOTICe:

ALL communications

for the Shriner

should be sent to

editor.amsc@gmail.com

13
---
RONALD G. ATTKISSON

Columbia, TN

4/10/56 – 1/23/19

Nobles Nobles Visited By Visited By

The Black The Camel Black Camel Nobles Visited By

The Black Camel

WILLIAM H. LUND

Nashville, TN

10/17/35 – 2/10/19

Nonprofit

AL MENAH AL TEMPLE MENAH TEMP

Organization

AL MENAH TEMPLE

U.S. POSTAGE

A.A.O.N.M.S. A.A.O.N.M.S.

A.A.O.N.M.S. PAID

1354 BRICK CHURCH PIKE

1354 BRICK CHURCH PIKE

P. O. Box 78545

P. O. Box 78545 Nashville, TN

1354 BRICK CHURCH PIKE Permit No. 1731

NASHVILLE, TN 37207NASHVILLE, TN 37207

P. O. Box 78545

NASHVILLE, TN 37207

www.almenahshriners.org

www.almenahshriners.

www.almenahshriners.org

CHARLES R. BARHAM

Gallatin, TN

5/8/35 – 2/12/19

DORRIS B. CALVIN

Nashville, TN

7/12/23 – 2/7/19

DOYLE N. FORD

Russellville, KY

3/25/33 – 2/18/19

THOMAS C. KELLEY

Nashville, TN

5/13/27 – 1/17/19

ERNEST R. NEELY JR.

Nashville, TN

8/17/21 – 2/11/19

VERNON R. RAY

Franklin, TN

4/16/26 – 1/18/19

CHARLES W. RIVERS

LaVergne, TN

10/25/46 – 2/13/19

CHARLIE W. SAWYER JR.

Franklin, TN

11/2/34 – 1/25/19

DEADLINE FOR APRIL 2019 SHRINER IS MARCH 22 ND