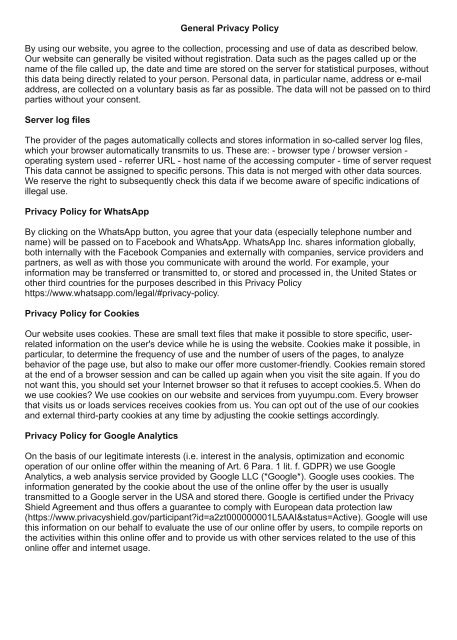 data protection regulation
Create successful ePaper yourself
Turn your PDF publications into a flip-book with our unique Google optimized e-Paper software.
General Privacy Policy

By using our website, you agree to the collection, processing and use of data as described below.

Our website can generally be visited without registration. Data such as the pages called up or the

name of the file called up, the date and time are stored on the server for statistical purposes, without

this data being directly related to your person. Personal data, in particular name, address or e-mail

address, are collected on a voluntary basis as far as possible. The data will not be passed on to third

parties without your consent.

Server log files

The provider of the pages automatically collects and stores information in so-called server log files,

which your browser automatically transmits to us. These are: - browser type / browser version -

operating system used - referrer URL - host name of the accessing computer - time of server request

This data cannot be assigned to specific persons. This data is not merged with other data sources.

We reserve the right to subsequently check this data if we become aware of specific indications of

illegal use.

Privacy Policy for WhatsApp

By clicking on the WhatsApp button, you agree that your data (especially telephone number and

name) will be passed on to Facebook and WhatsApp. WhatsApp Inc. shares information globally,

both internally with the Facebook Companies and externally with companies, service providers and

partners, as well as with those you communicate with around the world. For example, your

information may be transferred or transmitted to, or stored and processed in, the United States or

other third countries for the purposes described in this Privacy Policy

https://www.whatsapp.com/legal/#privacy-policy.

Privacy Policy for Cookies

Our website uses cookies. These are small text files that make it possible to store specific, userrelated

information on the user's device while he is using the website. Cookies make it possible, in

particular, to determine the frequency of use and the number of users of the pages, to analyze

behavior of the page use, but also to make our offer more customer-friendly. Cookies remain stored

at the end of a browser session and can be called up again when you visit the site again. If you do

not want this, you should set your Internet browser so that it refuses to accept cookies.5. When do

we use cookies? We use cookies on our website and services from yuyumpu.com. Every browser

that visits us or loads services receives cookies from us. You can opt out of the use of our cookies

and external third-party cookies at any time by adjusting the cookie settings accordingly.

Privacy Policy for Google Analytics

On the basis of our legitimate interests (i.e. interest in the analysis, optimization and economic

operation of our online offer within the meaning of Art. 6 Para. 1 lit. f. GDPR) we use Google

Analytics, a web analysis service provided by Google LLC (*Google*). Google uses cookies. The

information generated by the cookie about the use of the online offer by the user is usually

transmitted to a Google server in the USA and stored there. Google is certified under the Privacy

Shield Agreement and thus offers a guarantee to comply with European data protection law

(https://www.privacyshield.gov/participant?id=a2zt000000001L5AAI&status=Active). Google will use

this information on our behalf to evaluate the use of our online offer by users, to compile reports on

the activities within this online offer and to provide us with other services related to the use of this

online offer and internet usage.
---
Pseudonymous user profiles can be created from the processed data. We only use Google Analytics

with activated IP anonymization. This means that the IP address of the user is shortened by Google

within member states of the European Union or in other contracting states of the Agreement on the

European Economic Area. Only in exceptional cases will the full IP address be sent to a Google

server in the USA and shortened there. The IP address transmitted by the user's browser is not

merged with other Google data. Users can prevent the storage of cookies by setting their browser

software accordingly; In addition, users can prevent the data generated by the cookie and related to

their use of the online offer from being collected and processed by Google by downloading and

installing the browser plug-in available under the following link: http://tools

.google.com/dlpage/gaoptout?hl=en. You can find more information on data use by Google, setting

and objection options in Google's data protection declaration

(https://policies.google.com/technologies/ads) and in the settings for the display of advertisements by

Google (https:// adssettings.google.com/authenticated). The personal data of the users will be

deleted or made anonymous after 14 months.How can you disable and/or delete cookies on your

computer? Please note that most browsers support or accept cookies by default. In any case, you

can decide for yourself and manage cookies in your browser. You can delete cookies that are already

on your device or disable cookies at any time. The procedure for this varies depending on the

browser used. We recommend that you search for instructions in a search engine using the search

term "delete cookies Edge" or "disable cookies Edge" in the case of an Edge browser, or swap the

word "Edge" for the name of your browser, e.g. For example, Chrome, Firefox, Safari, etc. The

browsers can be set in such a way that a certain type of cookie or certain cookies are rejected. The

browser can also indicate when a cookie is being sent. You can do this by selecting the settings in

your web browser according to your cookie preferences. However, you may then have to manually

adjust some settings every time you visit a website. This may result in some services and features

not working properly.

Privacy Policy for Facebook

On this website we use functions of Facebook, a social media network of the company Facebook

Ireland Ltd. (4 Grand Canal Square, Grand Canal Harbour, Dublin 2 Ireland). facebook.com is

operated by Facebook Inc. (1601 S. California Ave, Palo Alto, CA 94304, USA). You can read about

which functions (social plug-ins) Facebook provides at

https://developers.facebook.com/docs/plugins/. By visiting our website, information can be

transmitted to Facebook. If you have a Facebook account, Facebook can associate this data with

your personal account. We would like to point out that we, as the provider of the pages, have no

knowledge of the content of the data transmitted or how it is used by Facebook. If you do not want

this, please log out of your Facebook user account. The data protection guidelines, which information

Facebook collects and how they use it can be found at https://www.facebook.com/policy.php

Facebook Like button

By clicking on the link button you leave this website and establish a direct connection between your

browser and the Facebook servers. Facebook receives the information that you have visited our site

with your IP address. If you click the Facebook "Like" button while you are logged into your Facebook

account, Facebook can assign your visit to our site to your user account. Information on the data

subsequently collected by Facebook Inc. can be found here:

https://www.facebook.com/privacy/explanation.Privacy Policy for Twitter

Use of SalesViewer® technology:

This website uses SalesViewer® technology from SalesViewer® GmbH on the basis of the website

operatorís legitimate interests (Section 6 paragraph 1 lit.f GDPR) in order to collect and save data on

marketing, market research and optimisation purposes.

In order to do this, a javascript based code, which serves to capture company-related data and

according website usage. The data captured using this technology are encrypted in a non-retrievable

one-way function (so-called hashing). The data is immediately pseudonymised and is not used to

identify website visitors personally
---
The data stored by Salesviewer will be deleted as soon as they are no longer required for their

intended purpose and there are no legal obligations to retain them.

The data recording and storage can be repealed at any time with immediate effect for the future, by

clicking on https://www.salesviewer.com/en/opt-out in order to prevent SalesViewer® from recording

your data. In this case, an opt-out cookie for this website is saved on your device. If you delete the

cookies in the browser, you will need to click on this link again.

On this website we use functions of Twitter, a social network of the company Twitter International

Company (One Cumberland Place, Fenian Street, Dublin 2 D02 AX07, Ireland). This means that

personal data can also be transmitted to Twitter. We do not monitor this data exchange and do not

store anything about it. If you would like to know more about how Twitter uses your data, you can find

all the information in the Twitter data protection guidelines at https://twitter.com/de/privacy. If you have

an account with Twitter, you can change your privacy settings in the account settings at

https://twitter.com/settings/account.

Twitter Like-Button

By clicking on the link button you leave this website and establish a direct connection between your

browser and the Twitter servers. Twitter receives the information that you have visited our site with

your IP address. If you click the Twitter "Like" button while you are logged into your Twitter account,

Twitter can assign your visit to our site to your user account. Here you will find the general terms and

conditions https://twitter.com/de/tos or the privacy policy of Twitter

https://twitter.com/de/privacy..Embedded YouTube videosWe embed YouTube videos on some of our

websites. The operator of the corresponding plugins is YouTube, LLC, 901 Cherry Ave., San Bruno,

CA 94066, USA. When you visit a page with the YouTube plugin, a connection to the YouTube

servers is established. YouTube is informed which pages you are visiting. If you are logged into your

YouTube account, YouTube can assign your surfing behavior to you personally. You can prevent this

by logging out of your YouTube account beforehand. If a YouTube video is started, the provider uses

cookies that collect information about user behavior. Anyone who has deactivated the storage of

cookies for the Google Ad program will not have to reckon with such cookies when watching YouTube

videos. However, YouTube also stores non-personal usage information in other cookies. If you want

to prevent this, you must block the storage of cookies in the browser. Further information on data

protection on YouTube can be found in the provider's data protection declaration at:

https://www.datenschutz.org/youtube/ .

Datenschutzerklärung für https://www.yumpu.com/de

Diese Webseite verwendet das Produkt Yumpu von i-magazine AG, Verwaltungsrat Kuster Martin,

Gewerbestrasse 3, 9444 Diepoldsau. Durch Nutzung dieser Webseite erklären Sie sich mit der

Erfassung, Bearbeitung sowie Nutzung der automatisiert erhobenen Daten durch Yumpu, deren

Vertreter sowie Dritter einverstanden. Weitere Informationen zu Cookies finden Sie in unseren

Cookie-Richtlinien https://www.yumpu.com/de/info/cookie_policy. Die Datenschutzerklärung finden

sie unter https://www.yumpu.com/de/info/privacy_policy.

Privacy Policy for Google Maps

This website uses the Google Maps product from Google Inc. By using this website, you consent to

the collection, processing and use of the automatically collected data by Google Inc, its

representatives and third parties. The Google Maps Terms of Use can be found under "Google Maps

Terms of Use".
---
Using Adobe Typekit

We use Adobe Typekit for the visual design of our website. Typekit is a service of Adobe Systems

Software Ireland Ltd. which gives us access to a font library. To integrate the fonts we use, your

browser must establish a connection to an Adobe server in the USA and download the font required

for our website. This gives Adobe the information that our website was accessed from your IP

address. For more information about Adobe Typekit, see Adobe's privacy policy, which you can

access here: www.adobe.com/privacy/typekit.html.

Use of script libraries (Google Webfonts)

In order to display our content correctly and graphically appealing across browsers, we use script

libraries and font libraries such as B. Google Webfonts (https://www.google.com/webfonts/). Google

web fonts are transferred to your browser's cache to avoid multiple loading. If the browser does not

support Google Webfonts or prevents access, content will be displayed in a standard font. Calling up

script libraries or font libraries automatically triggers a connection to the operator of the library. It is

theoretically possible, but it is currently unclear whether and, if so, for what purposes the operator of

the corresponding libraries collects data. The privacy policy of the library operator Google can be

found here: https://www.google.com/policies/privacy/.

Your rights

In principle, you have the rights to information, correction, deletion, being forgotten, restriction, data

portability, revocation and objection. If you believe that the processing of your data violates data

protection law or your data protection rights have otherwise been violated in any way, you can

complain to the supervisory authority. Of course, you also have the right to complain directly to a

supervisory authority at your place of residence or at our company headquarters in Diepoldsau.

However, we would ask you to contact us first. This is the quickest way to resolve misunderstandings

or problems.Further information, contact and data protection officerYou have the right to free

information about your stored data and, if necessary, a right to correction or deletion of this data. If

you have any questions about the collection, processing or use, information, correction or deletion of

data in the event of revocation of any consent given, please contact: HDWmedia, e-mail:

info@hdw.media, Tel. 02735-781546.