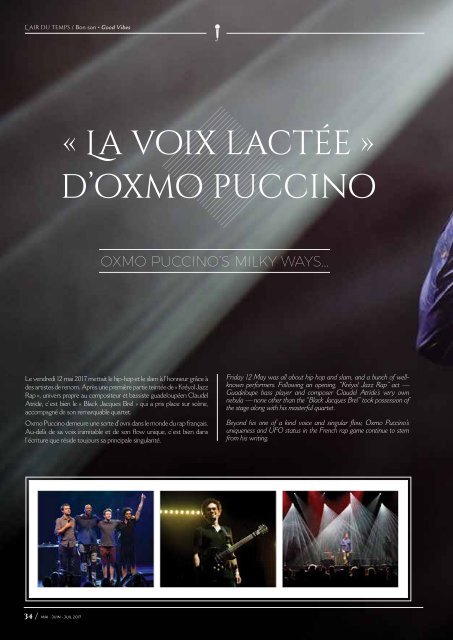 Create successful ePaper yourself
Turn your PDF publications into a flip-book with our unique Google optimized e-Paper software.
L' air du temps / Bon son • Good Vibes

Good Vibes • Bon son / L' air du temps

« La voix lactée »

d'oxmo puccino

OXMO PUCCINO'S MILKY WAYS…

Le vendredi 12 mai 2017 mettait le hip-hop et le slam à l'honneur grâce à

des artistes de renom. Après une première partie teintée de « Kréyol Jazz

Rap », univers propre au compositeur et bassiste guadeloupéen Claudel

Atride, c'est bien le « Black Jacques Brel » qui a pris place sur scène,

accompagné de son remarquable quartet.

Oxmo Puccino demeure une sorte d'ovni dans le monde du rap français.

Au-delà de sa voix inimitable et de son flow unique, c'est bien dans

l'écriture que réside toujours sa principale singularité.

Friday 12 May was all about hip hop and slam, and a bunch of wellknown

performers. Following an opening, "Kréyol Jazz Rap" act —

Guadeloupe bass player and composer Claudel Atride's very own

nebula — none other than the "Black Jacques Brel" took possession of

the stage along with his masterful quartet.

Beyond his one of a kind voice and singular flow, Oxmo Puccino's

uniqueness and UFO status in the French rap game continue to stem

from his writing.

« Chansonnier » ou « poémien » comme il se définit lui-même,

Abdoulaye Diarra est né au Mali en 1974 et arrive à Paris à l'âge de

5 ans. Fan de hip-hop, à 21 ans, le jeune citadin issu de l'immigration

commence à collaborer avec le collectif de rap, Time Bomb.

Il s'inspire du hip-hop américain de Notorious B.I.G. et d'autres

icônes pour raconter la vie misérable du 19e arrondissement de Paris.

Oxmo Puccino devient rapidement un parolier ingénieux, bien plus

doué pour les métaphores que ses pairs. En 1998, il enregistre pour

Virgin son premier album en studio : Opéra Puccino. Cet opus,

devenu culte, mettra 8 ans à décrocher sa certification disque d'or,

obtenue en 2006. Suivra une série d'albums, qui forgent à l'artiste

une solide réputation sur la scène du rap underground français.

En 2017, après bien des productions, ce n'est rien d'autre qu'un

huitième album qu'il vient nous présenter ! Intitulé «La voix lactée »,

ce dernier opus offre un résultat lumineux, direct et poétique,

intrinsèquement hip-hop, coréalisé avec Renaud Letang (Feist,

Alain souchon, gonzales...). A son écoute, on retrouve quelquesuns

des grands personnages ayant jalonné la carrière d'Oxmo

puccino : la délicatesse de l'homme à la voix de miel, la radicalité du

Black desperado, la puissance émotionnelle du Black Jacques Brel,

le groove du Black Barry White sur des productions plus hip-hop,

d'une richesse musicale inédite, portées par une rythmique et des

claviers qui diffusent des ondes aussi euphorisantes que lumineuses.

Album à découvrir d'urgence !

Self-defined as a "songwriter" or a "poemian", Abdoulaye Diarra

was born in Mali in 1974 before moving to Paris at age five. A

hip-hop enthusiast, 21 year old city dweller and former immigrant

started off with rap collective called Time Bomb. Inspired by

Notorious B.I.G.'s American hip hop among other icons, he spins

the destitute existence of Paris' 19th arrondissement residents.

Oxmo Puccino soon grows into a crafty lyricist, showcasing

greater metaphorical talent than his peers. In 1998, a deal with

Virgin leads to his very first studio album: Opéra Puccino. A now

cult opus that would need eight years to officially earn gold in

2006.

A number of LPs followed, that built the artist's solid reputation on

the French underground rap scene. In 2017, multiple productions

later, it is no less than his eighth album that is now brought to

us! This new release, called "La voix lactée", bids a bright, direct

and poetic score, naturally hip hop and co-produced with Renaud

Letang (Feist, Alain Souchon, Gonzales…). As you listen, you

may recognise some of Oxmo Puccino's greatest personas: the

golden vocalist's delicacy, the Black Desperado's radicalism,

Black Jacques Brel's emotional might and Black Barry White's

groove, embedded in unapologetic hip hop hues not to mention

an unprecedented musical breadth — carried by rhythm and

keyboard sections beaming both exhilarating and radiant vibes. It

is On' Air's current suggestion…

and a record not to be missed!

34 MAI - JUIN - JUIL 2017 onAir 38 38 35 35

Crédit photo : (c) Vincent Desailly