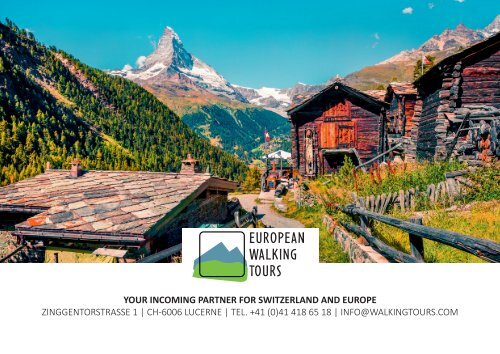 EWT 2018
Walking Tours
Walking Tours
MEHR ANZEIGEN
WENIGER ANZEIGEN
Sie wollen auch ein ePaper? Erhöhen Sie die Reichweite Ihrer Titel.
YUMPU macht aus Druck-PDFs automatisch weboptimierte ePaper, die Google liebt.
YOUR INCOMING PARTNER FOR SWITZERLAND AND EUROPE

ZINGGENTORSTRASSE 1 | CH-6006 LUCERNE | TEL. +41 (0)41 418 65 18 | INFO@WALKINGTOURS.COM
---
2
---
CONTENT

WHO WE ARE 4

Our Services & Program Types 5

Active Tours 7

Educational Programs 8

Family & Intergenerational Tours

10

Special Themed Tours

11

Leisure & Private Tours

13

TOUR IDEAS

14

Around the Mont Blanc, Multi-country Tour

Black Forest & Alsace, Multi-country Tour

Villages & Mountains, Switzerland

Panoramic Trains, Switzerland

16

17

18

19

Dordogne & Loire Valley, France

Cruise & Hike Rhône, France

Sicily, Italy

Cinque Terre, Italy

20

21

22

23

Tuscany & Umbria, Italy 23

Madeira, Portugal

Algarve, Portugal

Camino de Santiago, Spain

Southwest Ireland

Northwest Ireland

Baltic States, Multi-country Tour

Intergenerational Tour, Switzerland

Family Tour, Croatia

Multisport Tour, Norway

E-Bike Tour, Multi-country Tour

24

24

25

26

26

27

28

29

30

31

3

WHY BOOK WITH US?

MEMBERSHIP

32

35
---
4

WHO WE ARE

We are an incoming travel agency located in Lucerne,

the heart of Switzerland. With over 30 years of experience

designing guided tours in Switzerland and Europe

we are not only experts in active tours but also in educational

programs, culture & history tours as well as in

family & intergenerational tours.

Our mission is to create tours with unique, authentic

and memorable experiences. All our

programs meet your clients' needs, fitness level,

interest and budget.

Whether you intend do publish scheduled trips,

ad-hoc tours, custom tours or private guided tours,

we will be happy to help you create an unforgettable

experience for your clients.

Christine Ziegler

CEO

European Walking Tours LLC
---
OUR SERVICES

PROGRAM TYPES

5

B2B PARTNERSHIPS

MULTI-DAY PACKAGE TOURS

TAILOR-MADE TOUR SERVICE

PROFESSIONAL TOUR LEADERS

DRIVER GUIDE SERVICE

TRANSFER SERVICE

ACCOMMODATION & MEALS

TRAIN & PUBLIC TRANSPORTATION

ACTIVE SUMMER & WINTER TOURS

EDUCATIONAL PROGRAMS

FAMILY & INTERGENERATIONAL TOURS

SPECIAL THEMED TOURS

GUIDED LEISURE & PRIVATE TOURS

PRIVATE DRIVER GUIDE TOURS

INCENTIVE TRIPS

ENTRY TICKETS & SPECIAL REQUESTS
---
6
---
ACTIVE TOURS

7

We design hiking, walking and cycling holidays for active travelers for all levels, who

take pleasure in exploring the culture, the environment and nature. We specialise

in exclusive tailor-made active tours in Switzerland and Europe for activities during

summer or winter.

We bring your clients off the beaten path and into the middle of nature. Our

expert tour leaders are the key to interacting with local people, experiencing the

best of each destination and tasting typical food and drink. In addition to our walking

and cycling holidays, we also offer more adventurous trekking, biking and multisport

tours.

PROGRAM TYPES

WALKING TOURS

HIKING TOURS

TREKKING TOURS

SNOWSHOE TOURS

WINTER HIKE TOURS

BICYCLE TOURS

MOUNTAIN BIKE TOURS

E-BIKE TOURS

MULTISPORT TOURS

RIVER CRUISE & HIKE TOURS
---
8

EDUCATIONAL PROGRAMS

We have been organizing educational active programs for educational institutions

and non-profit organizations since our formation over thirty years ago. Our innovative

programs and local expertise gave us the privilege of working with major educational

travel agencies and alumni associations for their travelers and members.

Bringing the classroom out into nature, we combine activities like hiking or biking

with outstanding lectures out in the field, unique hands-on experiences and classic

sightseeing. Our highly educated local guides are real experts in their field.

WHY BOOK AN EDUCATIONAL PROGRAM WITH US?

PROFESSIONAL & WELL-EDUCATED TOUR LEADERS

LOCAL GUIDES WITH OUTSTANDING KNOWLEDGE

BRINGING THE CLASSROOM OUTSIDE

DAILY FIELD TRIPS

BEHIND-THE-SCENES EXPERIENCES

FOR ACTIVE & CURIOUS ADULTS
---
9
---
10

FAMILY & INTERGENERATIONAL TOURS

Our family and intergenerational tours are designed to inspire, enrich

and to educate travelers of any age. Our aim is to create experiences

in incredible places that are authentic, immersive and fun.

We choose family-friendly hotels, include fun activities for all ages

and take care of every detail of the tour. Participants can experience,

discover and be together as a family… making memories that

will last forever.

With our professional tour leaders and local experts, all participants

learn to understand the culture and natural wonders of

each destination. For the younger travelers, a carefully chosen

kids guide provides fun learning activities through the program.

WHY BOOK A FAMILY TOUR WITH US?

EDUCATIONAL & FUN ACTIVITIES COMBINED

SAFTEY FIRST

CHILD-FRIENDLY HOTELS

TOURS FOR FAMILIES WITH KIDS OR TEENAGERS
---
SPECIAL THEMED TOURS

11

Our themed tours are all tailor-made and are built around a particular

event, theme or any other interest that might attract a group

of people. All tours are led by experts who provide insight into the

events, places and people related to the theme.

We select all destinations, hotels and experiences individually to

suit your needs and wishes. We can combine a program to different

countries as well as combine elements of various themes in one

tour. We would love to design a customized themed tour in Europe

for you!

PROGRAM TYPES

UNESCO WORLD HERITAGE TOURS

ART AND HISTORY TOURS

GASTRONOMY AND WINE TOURS

FOLKLORE FESTIVAL TOURS
---
12
---
LEISURE & PRIVATE TOURS

13

Apart from wonderful traditional visits to unheard-of regions, far away from mass tourism

and in line with current trends, we offer leisure group tours, private tours or driver

guide tours for families and small groups.

We have taken the intimate knowledge of local experts and created a collection of

unique and unforgettable programs. They not only show stunning mountains, crystal

clear lakes and unique landscapes but also include the cultures and customs of these

remote regions.

PROGRAM TYPES

ART & HISTORY TOURS

MOUNTAINS & LAKES TOURS

WATCH & CHOCOLATE TOURS

UNESCO WORLD HERITAGE SITES TOURS

PRIVATE DRIVER GUIDE TOURS

CLASSIC SIGHTSEEING TOURS
---
14

TOUR IDEAS

On the following pages you will find samples of what you might experience in

Switzerland or Europe with us. All tours from European Walking Tours can be

tailored to your group.

CHOOSE YOUR DESTINATION, LEVEL AND PROGRAM TYPE

All programs and tours are carefully researched, and our goal is to cover not

only the «must-see» sites but also to include less well-known but equally

rewarding experiences on every tour. We can provide this due to the profound

knowledge of our tour leaders and our wide network of contacts all over

Switzerland and Europe.
---
15
---
16

AROUND THE MONT BLANC

SWITZERLAND, ITALY & FRANCE

MAJESTIC MONT BLANC

A HIKER'S PARADISE

DISCOVER THE CULTURE OF ALPINE VILLAGES

The beauty and majestic grace of the spectacular

Mont Blanc region should be experienced by everyone

on foot at some point in their lives. Because

of several cable cars and chair lifts, you can get a

glimpse of the impressive mountain scenery even

if you are not a hardcore hiker.

We design easy walking experiences where we

combine comfort and exceptional day walks but

also challenging trekking experiences with overnight

stays in cozy mountain refuges or charming

villages. We can offer several options to discover

the Mont Blanc area.

BEST TRAVEL SEASON: June - September

IDEAL DURATION: 8 - 12 days

ACTIVITY LEVEL: all levels possible
---
BLACK FOREST & ALSACE

AUSTRIA, GERMANY & FRANCE

17

BREGENZERWALD CHEESE TRAIL

MEDIEVAL TOWN COLMAR

CASCADING RHINE WATERFALL

Discover with local experts charming villages, castles

and forests in Austria, Germany and France. Visit

local farmers and cheese makers along the first

trans-regional cheese road in Bregenzerwald.

Step into a Brother Grimm fairy tale, walking

through centuries-old villages. Walk in the Black

Forest with a biologist and learn about flora and

fauna of Germany's biggest nature park.

Just across the Rhine River lies Alsace. Experience

a wine tasting and organic food at a winery with

a tradition of winegrowing and production extending

back to the 17th century.

BEST TRAVEL SEASON: April - June, Sept. - Oct.

IDEAL DURATION: 10 - 12 days

ACTIVITY LEVEL: easy
---
18

VILLAGES & MOUNTAINS

SWITZERLAND

CHARMING CITIES & MEDIEVAL GEMS

PICTURE-PERFECT ALPINE SCENERY

SWISS CULTURE & DELICIOUS FOOD

From vibrant cities and fairy tale villages to truly

spectacular alpine landscapes, Switzerland has it

all in one place. You have to head outdoors and

walk, hike, cycle or kayak through the picture-perfect

landscapes to fully appreciate Switzerland's

beauty.

Whether you are looking for a challenging adventure

or a leisure tour to soak up the majestic

scenery, our tours in Switzerland can be designed

for all skill levels. Thanks to Switzerland's advanced

transportation system of cable cars, cog trains,

and lifts, there is always an easier or harder option

to suit various fitness abilities.

BEST TRAVEL SEASON: all year round

IDEAL DURATION: 8 - 14 days

ACTIVITY LEVEL: all levels possible
---
PANORAMIC TRAINS

SWITZERLAND

19

ONE TICKET – A THOUSAND POSSIBILITIES

RELIABLE & SAFE PUBLIC TRANSPORTATION

LEGENDARY PANORAMIC TRAINS

With routes that traverse the entire country, a

journey by rail is the perfect way to see breathtaking

mountains, charming mountain resorts, fascinating

old towns and beautiful lakes.

One of the highlights is the train journey on the

Glacier Express from Zermatt on the foot of the

Matterhorn to St. Moritz. Another highlight is traveling

on the highest railway across the Alps on

the Bernina Express from St. Moritz to Tirano, Italy

or on the Jungfrau railway to the highest railway

station in Europe - the Jungfraujoch.

©Switzerland Tourism By-Line: swiss-image.ch/Lorenz Richard

© Switzerland Tourism - By-Line: swiss-image.ch/Alain Kalbermatten

There is no better way to see Switzerland than traveling

by train!

BEST TRAVEL SEASON: all year round

IDEAL DURATION: 8 - 14 days

ACTIVITY LEVEL: all levels possible

© Switzerland Tourism/Swiss Travel System By-Line: swiss-image.ch/Christof Sonderegger
---
20

DORDOGNE & LOIRE VALLEY

FRANCE

BREATHTAKING & PREHISTORIC CAVES

LOVELY GARDENS & STUNNING CASTLES

CHARMING VILLAGES & GOOD WINE

Welcome to the lands of wine, foie gras, magnificent

prehistoric caves and stunning castles - the

Dordogne and the Loire River Valley.

With rolling hills, woodlands and an abundance

of villages frozen in time, these two regions are

also the perfect places to walk and experience

thousands of years of history up close.

BEST TRAVEL SEASON: May - October

IDEAL DURATION: 8 - 10 days

ACTIVITY LEVEL: easy to moderate
---
CRUISE & HIKE RHÔNE

FRANCE

21

EXPLORE THE WINES OF THE RHÔNE VALLEY

PREMIUM CRUISE SHIP

CULTURAL SITES AVIGNON, LYON & BEAUNE

On this tour you will enjoy the magnificent and

romantic scenery and sights by cruising beautiful

landscapes with the premium cruise ship MS Amadeus

Provence. But you will also have the opportunity

to enjoy activities that speak to your passions

and interests as well.

Discover by foot (or bike) impressive wine growing

areas, the picturesque towns of Avignon, Lyon or

Beaune and the world-famous Pont du Gard. An

unforgettable adventure combining nature and

culture together with French charm.

BEST TRAVEL SEASON: May - September

IDEAL DURATION: 8 days

ACTIVITY LEVEL: easy
---
22

SICILY

ITALY

UNESCO WORLD HERITAGE SITES

MEDIEVAL CHURCHES & ANCIENT VILLAGES

MAJESTIC COASTAL & MOUNTAIN SCENERY

Sicily is known for its rich ancient history, fascinating

cultural experiences, unique wines, a beautiful

coastline, and one of the continent's highest

active volcanoes Mt. Etna.

It is a cultural crossroads where Greeks and Romans,

Phoenicians and Arabs, French and Spanish

civilizations have left their mark artistically and architecturally.

And then there is the fine food: believed by locals

to be the best in Italy, it is truly outstanding.

BEST TRAVEL SEASON: March - May, Sept. - Nov.

IDEAL DURATION: 8 - 12 days

ACTIVITY LEVEL: all levels possible
---
23

CINQUE TERRE

ITALY

UNESCO WORLD HERITAGE SITES

THE PERFECT HIKING DESTINATION

EXPLORE THE FIVE MEDIEVAL COSTAL VILLAGES

This picturesque coastal region is fringed by precipitous

cliffs on the Gulf of Genoa. The five villages of the

Cinque Terre are linked with one another by a narrow

country road and accessible by road, railway or boat.

TUSCANY & UMBRIA

ITALY

UNESCO WORLD HERITAGE SITES

SAMPLE TUSCAN WINES & CUISINE

MEDIEVAL HILL-TOP TOWNS & VINEYARDS

Nestled in the green heart of Italy, the Tuscany and

Umbria area is famous for the landscapes of rolling

hills, soldier-straight lines of Cyprus trees, vineyards

and olives groves.

BEST TRAVEL SEASON: April - June & Sept. - October

IDEAL DURATION: 8 - 10 days

ACTIVITY LEVEL: moderate to challenging

BEST TRAVEL SEASON: April - June & Sept. - October

IDEAL DURATION: 8 - 10 days

ACTIVITY LEVEL: all levels possible
---
24

MADEIRA

PORTUGAL

BOTANICAL PARADISE & HISTORIC TOWNS

FLOWER-LINED LEVADAS & NATURAL SEA POOLS

STUNNING COASTAL HIKES

Madeira - a Portuguese archipelago situated southwest

of Portugal - is a haven of natural beauty and a hiker's

paradise. Walk along flower-lined levadas or spectacular

coastal footpaths, discover historic towns or simply

relax in the natural sea lava pools.

ALGARVE

PORTUGAL

SCENIC COASTAL & COUNTRYSIDE HIKING TRAILS

BEAUTIFUL BEACHES & PICTURESQUE HARBOURS

SOUTHERN PORTUGAL OFF THE BEATEN PATH

The Algarve illuminates the southernmost area of the

Portuguese mainland. The region is packed with natural

beauty, dramatic coastlines, sandy beaches and lush

countryside. Hike along the stunning cliff paths, past

wide, sandy beaches and ocher shining rocky cliffs.

BEST TRAVEL SEASON: April - May, Sept. - October

IDEAL DURATION: 8 - 11 days

ACTIVITY LEVEL: all levels possible

BEST TRAVEL SEASON: April - May, Sept. - October

IDEAL DURATION: 8 - 10 days

ACTIVITY LEVEL: all levels possible
---
Camino de Santiago

SPAIN

25

ROMANESQUE CATHEDRALS & RURAL SCENERY

GALICIAN CAPITAL SANTIAGO DE COMPOSTELA

ONE OF THE WORLD'S OLDEST PILGRIM ROUTES

Millions of pilgrims in recent centuries have

traveled the Camino de Santiago de Compostela,

one of the most important routes of Christianity

along with Rome and Jerusalem.

Today the Camino is a World Heritage Site for anyone

who wants to enjoy it on foot or by bicycle.

The spirituality and magic of the Camino remain

intact, and over the centuries, places full of history,

magical legends and a first-rate artistic-cultural

heritage were forged along the Camino.

BEST TRAVEL SEASON: May - June, Sept. - Oct.

IDEAL DURATION: 12 - 14 days

ACTIVITY LEVEL: all levels possible
---
26

SOUTHWEST IRELAND

IRELAND

SPECTACULAR VIEWS OVER RING OF KERRY

HIKE THROUGH MOORLANDS AND MEADOWS

BOTANICAL PARADISE ON GARINISH ISLAND

Discover prehistoric tombs, impressive peninsulas,

calm villages and serene nature preserves along the

southwest Irish coast. Enjoy glorious walks on the Ring

of Kerry, at Gleninchaquin Park and Killarney National

Park.

NORTHWEST IRELAND

IRELAND

HORN HEAD WITH GLORIOUS VIEWS

ANCIENT DOLMENS IN KILCLOONEY

INISHEER WITH ITS PREHISTORIC FORTS

Experience Ireland's natural and cultural variety - castles,

medieval town centres and unrivaled wild beauty.

Walk through Glenveagh and Connemara National

Parks. Explore Aran Islands and the bohemian city of

Galway.

BEST TRAVEL SEASON: April - October

IDEAL DURATION: 7 - 9 days

ACTIVITY LEVEL: easy to moderate

BEST TRAVEL SEASON: April - October

IDEAL DURATION: 7 - 10 days

ACTIVITY LEVEL: easy to moderate
---
BALTIC STATES

ESTONIA, LATVIA & LITHUANIA

27

UNESCO WORLD HERITAGE SITES

MYSTICAL LAKES & OLD CASTLES

CITIES FULL OF ART NOUVEAU ARCHITECTURE

While Lithuania, Latvia and Estonia share the same

Baltic coastline, the contrasting unique characters

of these three countries will become evident as

you travel from Vilnius to Tallinn.

During our walking trip you will discover their

cultural heritage and explore some of their many

national parks. Walking along sand dunes and

through forests, learning the history and discovering

different ecosystems are just some of the

highlights. Visit the capitals of each country, see

the «old towns» that are UNESCO World Heritage

Sites and walk around Lithuania's beautiful 14thcentury

Trakai Castle.

BEST TRAVEL SEASON: April - October

IDEAL DURATION: 10 - 14 days

ACTIVITY LEVEL: easy to moderate
---
28

INTERGENERATIONAL TOUR

SWITZERLAND

FAIRY TALES AND ANCIENT CASTLES

CHARMING MOUNTAIN VILLAGES

ADVENTURES FOR ALL AGES

Explore with your family the Engadin, home to the

world-famous St. Moritz. Visit an ancient castle,

enjoy a magnificent panorama and learn about

the fairy tale of Heidi and Schellen Ursli.

This journey is a combination of walking for all

ages and fun for the adults as well as children. Test

your skills at the high rope park, learn about making

cheese and living on an alp.

As another highlight the program ends in Innsbruck,

Austria. You simply must visit the Bergisel

Ski Jump which is a training site for Olympic

hopefuls.

BEST TRAVEL SEASON: June - October

IDEAL DURATION: 8 - 10 days

ACTIVITY LEVEL: all levels possible

© ENGADIN St. Moritz By-line: swiss-image.ch/Christof Sonderegger
---
FAMILY TOUR

CROATIA

29

IDYLLIC BEACHES AND ANCIENT RUINS

FOLLOW THE DALMATIAN COAST

ADVENTURES FOR ALL AGES

Croatia's Dalmatian Coast runs along the western

edge of the country and is the ideal destination to

enjoy with your family.

Discover the crystal clear waters of the Adriatic

Sea, the beautiful landscapes of these attractive

regions and visit the impressive Old Town of dramatic

Dubrovnik, the «pearl of the Adriatic».

Croatia has something for the whole family. Find

inspiration here for holidays to suit all ages and

give the family an adventure to remember.

BEST TRAVEL SEASON: June - September

IDEAL DURATION: 9 - 12 days

ACTIVITY LEVEL: all levels possible
---
30

MULTISPORT TOUR

NORWAY

JAW-DROPPING NATURE ATTRACTIONS

KAYAKING ON CRYSTAL CLEAR WATER

VISIT BERGEN - A WORLD HERITAGE CITY

Norway is a land of myths and legends where the

summer days extend into the night with the midnight

sun. Discover bike routes through green valleys

nestled among snowcapped peaks, hike past

pristine lakes and Viking burial grounds or kayak

the peaceful waters of extraordinary fjords.

On our multisport tour you will experience a hiking

adventure in Bergen, a spectacular bike ride

down to Flam and a kayaking trip along the rugged

coastline of Norway. But of course you cannot

leave Norway without doing a spectacular glacier

walk.

BEST TRAVEL SEASON: June - August

IDEAL DURATION: 10 - 14 days

ACTIVITY LEVEL: moderate to challenging
---
E-BIKE TOUR

SWITZERLAND & ITALY

31

SWISS NATIONAL PARC ZERNEZ

MEDITERRANEAN FLAIR IN SOUTH TYROL

HISTORICAL VERONA

E-cycle your way pleasantly from St. Moritz in Switzerland

to Verona in Italy. The battery power gives

you an extra boost which means you can ride more

easily and it keeps you motivated!

Learn about historic and cultural landmarks, cycling

partly on Roman roads through breathtaking

and very varied landscapes. A fun e-bike adventure

connecting two different countries.

BEST TRAVEL SEASON: May - June, Sept. - Oct.

IDEAL DURATION: 10 days

ACTIVITY LEVEL: moderate

© ENGADIN St. Moritz By-line: swiss-image.ch/Romano Salis
---
32

WHY BOOK WITH US?

SWISS MADE

High-quality service, from the initial quotation right

through to operating your program.

EXPERIENCED AND PASSIONATE TEAM

We love what we do for over 30 years!

UNIQUE & AUTHENTIC EXPERIENCES

We create itineraries where we not only visit the «must

see» sites but also include less well-known but equally

rewarding experiences on every tour.

SMALL GROUPS & BIG ADVENTURES

We provide tours off the beaten path, enabling your

clients to discover nature and to experience authentic

glimpses of local culture.

TOURS FOR ALL FITNESS LEVELS

We offer itineraries for all levels and adjust our trips to

your guests' fitness level.

TAILOR-MADE TOURS

Total flexibility to meet your clients' needs and wishes.

LONG-TERM B2B PARTNERSHIP

Our expertise lies in long-term partnerships with partners,

suppliers and services based on transparency,

trust and reliability.

SAFETY FIRST

With full public liability and excellent strategies in place,

we keep your clients safe at all times.

EXPERT TOUR LEADERS

Our tour leaders are located all over Europe. With great

passion and deep knowledge of their destination, they

make every trip unique. They are trained regularly and

adapt perfectly to your company philosophy.
---
33
---
34
---
MEMBERSHIP

35

Imprint:

Photo rights: Shutterstock.com, swiss-image.ch,

ENGADIN St. Moritz, Engelberg Tourismus,

Jungfraubahnen Management AG

© European Walking Tours, Lucerne
---
EUROPEAN WALKING TOURS LLC

ZINGGENTORSTRASSE 1

CH-6006 LUCERNE

TEL. +41 (0)41 418 65 18

INFO@WALKINGTOURS.COM | WALKINGTOURS.COM