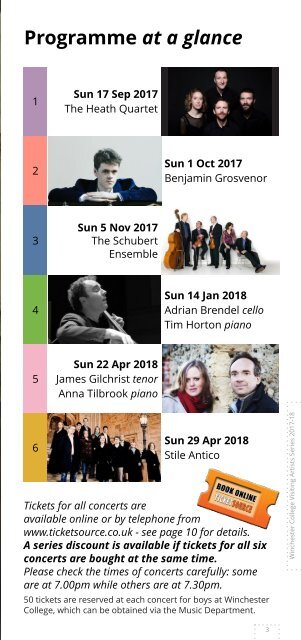 Winchester College VA Series 2017-18 brochure Six professional concerts in the beautiful surroundings of Winchester College.
Program m e at a glance

1

Sun 17 Sep 2017

The Heath Quartet

2

Sun 1 Oct 2017

Benjamin Grosvenor

3

Sun 5 Nov 2017

The Schubert

Ensemble

4

Sun 14 Jan 2018

Adrian Brendel cello

Tim Horton piano

5

Sun 22 Apr 2018

James Gilchrist tenor

Anna Tilbrook piano

6

Sun 29 Apr 2018

Stile Antico

Tickets for all concerts are

available online or by telephone from

www.ticketsource.co.uk - see page 10 for details.

A series discount is available if tickets for all six

concerts are bought at the same time.

Please check the times of concerts carefully: some

are at 7.00pm while others are at 7.30pm.

50 tickets are reserved at each concert for boys at Winchester

College, which can be obtained via the Music Department.

3
More magazines by this user