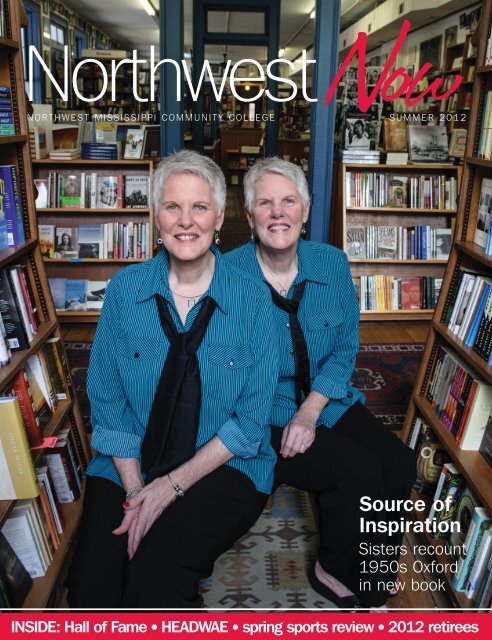 NW Now pages - Northwest Mississippi Community College
NW Now pages - Northwest Mississippi Community College
NW Now pages - Northwest Mississippi Community College
SHOW MORE
SHOW LESS
Create successful ePaper yourself
Turn your PDF publications into a flip-book with our unique Google optimized e-Paper software.
Now

NORTHWEST MISSISSIPPI COMMUNITY COLLEGE SUMMER 2012

Northwest

Source of

Inspiration

Sisters recount

1950s Oxford

in new book

INSIDE: Hall of Fame • HEADWAE • spring sports review • 2012 retirees
---
President

Dr. Gary Lee Spears

Now

Summer 2012

Northwest

A publication of

Northwest Mississippi Community College

Vice President for Fiscal Affairs

Gary Mosley

Vice President for Student Affairs

Dan Smith

Vice President for Educational Affairs

Dr. Chuck Strong

Chairman, Northwest Board of Trustees

Milton Kuykendall

Northwest Foundation

Associate Vice President of Development &

Special Projects/Associate Editor

Sybil R. Canon • srcanon@northwestms.edu

Director of Alumni Affairs & Development

Operations

Dolores Wooten • dbwooten@northwestms.edu

Communications

Director of Communications/Editor

Sarah Sapp • ssapp@northwestms.edu

Assistant Director of Communications/

Graphic Designer

Julie R. Bauer • jrbauer@northwestms.edu

Communications Assistant

LaJuan Tallo • ltallo@northwestms.edu

Coordinator for Sports Information

Kevin Maloney • kmaloney@northwestms.edu

Editorial Office

Northwest Now

P.O. Box 7039 • 4975 Hwy. 51 N.

Senatobia, MS 38668

Phone: (662) 562-3276 • Fax: (662) 562-3499

www.northwestms.edu

Northwest Now is published bi-annually as a joint effort of the

Northwest Foundation and the Office of Communications.

Winner of the

2007 & 2009

Grand Award,

Print Media

category

College Public

Relations

Association of

Mississippi

features

4

7

10

17

cross that line

College sees record number of graduates in three

ceremonies during 96th Commencement.

successful partnership

Ag Tech program hosts regional open house for

students and John Deere personnel.

cover story: y'all twins?

Sisters join other Northwest faculty in publishing

non-fiction, textbooks, and short story collections.

elite class

Athletes from various disciplines inducted into

Northwest's Sports Hall of Fame.

20

high tech leader

Northwest alum enjoys successful IT career

after college experience as athletic standout.

departments

1

2

3

12

17

29

contents

student snapshot/edan everett

president's reflections/dr. gary lee spears

alumni president's notes/mike boren

around campus

the legacy continues

the sporting life

from the heart of northwest/sybil canon

alumni news/dolores wooten

On the cover: Northwest mathematics instructor Kat King (right) and her twin

sister, Margaret, have joined the ranks of college faculty in writing their first

book, "Y'all Twins?", available at Square Books in Oxford. Photo by Justin Ford
---
Edan Everett

Walls • Sophomore

Major: Pre-Nursing

Scholarship: BancorpSouth Share the Future

Scholarship

What does getting a Foundation Scholarship

mean to you?

It means so much to me. It means that I don't

have to carry the financial burden of a quality

education. I can go to class without worrying how

I'm going to pay for school. I am very thankful for

this scholarship. It makes it easier on my parents,

as well as myself. It is truly a blessing.

Which instructors have been particularly helpful

in your experience at Northwest?

Mrs. Mary Bonds has been really helpful to me

this semester. She offered to be my academic

adviser when I came to the main campus this

semester. She has been very helpful with setting

up my classes and getting me prepared for nursing

school. Ms. Liesl Davenport has probably had

the greatest impact on my life this semester. I

met her in the first Northwest Biggest Loser competition

this semester. She inspired me to start

living a healthier lifestyle. I didn't meet my goal,

but I did see a lot of improvements. I hope to

continue during the summer and make that goal.

She showed me that I could do anything with

time and dedication. Next year I hope to do the

same for other students, faculty and whoever

wants to live a healthier life. The workouts were

hard at times, but well worth it.

What inspired you to choose your major?

I have always been interested in the medical

field. At first my major was pharmacy, but as I

learned about the field of nursing, I fell in love

with it. I'm a people person, so I would like to be

close to my patients. I have always been a helpful

person. One of my biggest aspirations is to motivate

people to be healthy and take care of themselves.

Where do you see yourself in five years?

In five years I see myself at UT Health Science

Center or The University of Mississippi Medical

School working to be a nurse practitioner and getting

my doctoral degree. I also see myself motivating

and inspiring people to live a healthy

lifestyle.

student

snapshot

www.northwestms.edu Summer 2012

1

Photo by Julie Bauer
---
president's reflections Dr. Gary Lee Spears

The 2011-12 academic year has come to a

close, and what an exciting year it has been! In

three graduation ceremonies, we awarded

diplomas to 814 students. An additional 309

students who chose not to participate in the

ceremonies earned diplomas, bringing the total

number of graduates to 1,123 students, an

increase of 310 students over last year. We

believe this increase is a result of a concerted

effort by our faculty, staff and administration to

encourage students to "cross the finish line" at

Northwest. This was the first year that Northwest has had three graduation ceremonies,

and while it was a challenge, at the same time, it was inspiring to see that many stu-

dents and their families and friends join together to celebrate this accomplishment.

We have also had success in sports and fine arts this year. Three of our teams

advanced to state playoffs—Lady Ranger softball, Ranger basketball, and Ranger base-

ball. The Ranger football team came awfully close as well. The Fine Arts Division pre-

sented stellar concerts, plays and art exhibits.

Our students competed in academic and career-technical competitions, and they

made impressive showings both in the state and regionally. Our Communications

Department won state awards for its publications.

I share these accomplishments, not to boast, but to point out that we are accom-

plishing the mission of Northwest Mississippi Community College, which is shown below:

The mission of Northwest Mississippi Community College is to provide the

students of its eleven-county district and beyond with opportunities for obtaining

affordable quality education to meet their diverse needs. The comprehensive

community and technical college offers students educational experiences

through traditional campus-based and distance learning opportunities.

Northwest is committed to achieving the following goals: to promote excellence

in educational programs; to maintain quality educational support services; to

continue responsive administrative processes; to ensure efficient use of financial

and physical resources; and to assure institutional effectiveness.

It is my honor and privilege to serve as president of what I believe to be one of the

finest community colleges in this nation, and I extend my heartfelt thanks to the taxpay-

ers who support this college, to the students and their families who choose Northwest

and to all who work with me to accomplish our mission.

2 Northwest Now

alumni

president's

notes

Mike Boren

One of the greatest joys of being

Alumni Association president is sharing

the accomplishments of the college with

all of our graduates. The college reached

a significant milestone on May 11, as

more Northwest

Rangers crossed

the finish line on

graduation day

than on any prior

graduation day in

the history of the

college. In fact,

the number of

graduates

increased an

incredible 38 percent in a single year.

What does that mean to our Alumni

Association and to the state of

Mississippi?

It means higher pay and better job

opportunities for Northwest Mississippi

natives. It means more students will

transfer seamlessly into four-year

Mississippi colleges. It means we are providing

Mississippi with better educated

and higher paid citizens who will have

greater potential to make the integral

changes and progress this state needs. It

means we are growing a highly skilled

workforce at an even greater rate.

It also means we are growing a more

powerful Alumni Association—one that

can continue to give back to the college

and carry on our tradition of excellence in

athletics, education and leadership. As

we continue to instill the importance and

rewards of crossing the finish line with our

student body, we inspire students to

believe in themselves and the college

that believed in them. This lifelong relationship

is what makes Northwest special,

and it is what creates an even more

active and generous Alumni Association.

I am so proud to be a part of the

Northwest family, and I look forward to

watching it grow even stronger in the

years to come.

www.northwestms.edu
---
www.northwestms.edu

around campus

Nine students inducted into college Hall of Fame

Northwest President Dr. Gary Lee

Spears congratulated nine students for

their induction to the 2012 Hall of

Fame at the Feb. 9 Board of Trustees

meeting on the Senatobia campus.

From the Senatobia campus,

Giovanni Biffle of Marks, Ali Cheatwood

of Potts Camp, Logan Dodson of

Senatobia and Katie Hardeman of

Southaven; from Lafayette-Yalobusha

Technical Center, Samantha Allred of

Oxford and Terese Adair of Water Valley;

and from DeSoto Center, Donna

Proctor of Hernando, Kayla Peeples of

Horn Lake and Chase White of

Southaven, were awarded the highest

honor a Northwest student can attain,

based upon their academic prowess

and involvement in student life at the

college.

Biffle is a criminal justice major

with a 4.0 cumulative GPA. A member

of GSA, Phi Mu Alpha Sinfonia,

Phi Theta Kappa, Society for Pre-Law

Majors, Honor Choir, Student

Government Assoc-iation and

President's List, Biffle is working

toward degrees in business and law and

hopes to eventually play a role in politics.

Cheatwood is an elementary education

major from Potts Camp High School with a

3.87 cumulative GPA. A member of the

Northwest Education Association, Phi Theta

Kappa, Ranger Cheerleaders and

President's List, Cheatwood has been recognized

as Outstanding Student for

Elementary Education and Rotary Club

Student of the Month. She hopes to finish

her education and go back to her hometown

to teach and ultimately become a principal.

Dodson is originally from Homewood,

Ala., and attended Homewood High

School. A member of Mu Alpha Theta Math

Society, Phi Theta Kappa, Student

Recruiters and President's List, Dodson

has been recognized twice as Outstanding

Student and as Rotary Club Student of the

Month. His career goal is to teach math

and coach football.

Hardeman is a theatre major from

Southern Baptist Educational Center

(SBEC). A member of the Northwest

Dr. Gary Lee Spears (far left), congratulates (back row, l-r) Ali Cheatwood of Potts Camp, Kayla

Peeples of Horn Lake, Logan Dodson of Senatobia, Chase White of Southaven, Samantha Allred

of Oxford, (front row, l-r) Donna Proctor of Hernando, Katie Hardeman of Southaven, Giovanni

Biffle of Marks and Terese Adair of Water Valley for their induction into the 2012 Northwest Hall

of Fame. Photo by Sarah Sapp

Players, Phi Theta Kappa, President's List,

Northwest Singers and Chamber Choir,

Hardeman has also been recognized for

her outstanding performances in multiple

theatre productions with a Northwest

Mississippi Theatre Alliance Award, the

Irene Ryan Acting Award and a Regional

Theater Award. After graduation from

Northwest, she plans to attend William

Carey College in Hattiesburg and pursue a

degree in theatre. Eventually she wants to

get her master's degree in performance or

directing and work professionally or teach.

Allred is an elementary education major

from Faith Christian Academy with a 3.95

cumulative GPA. A member of Phi Theta

Kappa, Allred was also recognized as a

member of Who's Who Among Students in

American Universities and Colleges. Her

career goal is to complete a master's

degree in mathematics at The University of

Mississippi.

Adair is a health-care data technology

major from Tupelo High School with a 3.92

cumulative GPA. A member of Phi Theta

Kappa, Adair was also recognized as a

member of Who's Who Among Students in

American Universities and Colleges. Her

career goal is to obtain employment in her

field of study.

Proctor, a graduate of Hillcrest High

School in Memphis, is an accounting technology

major with a 4.0 cumulative GPA.

She is a member of Phi Theta Kappa and

plans to complete her undergraduate

degree in accountancy in the 2+2 program

at The University of Mississippi-DeSoto

Center and pursue a career in accountancy.

Peeples, a pre-nursing major with a

3.87 cumulative GPA, is a graduate of

Gateway Christian School. A member of

Phi Theta Kappa, Peeples was recognized

as the Outstanding Student in her major

last fall. Her career goal is to become a

nurse practitioner.

White, an accountancy major from

Bolton High School in Arlington, Tenn., with

a 3.87 cumulative GPA, is a member of Phi

Theta Kappa. His goal is to attend The

University of Mississippi to obtain bachelor's

and master's degrees in accountancy.

—Sarah Sapp

Summer 2012

3
---
around campus

Record number of graduates 'cross the finish line'

Northwest President, Dr. Gary Lee

Spears, welcomed a record number of

graduating students and thousands of

their parents, family members and friends

to Howard Coliseum for the three commencement

programs held on the

Senatobia campus Friday, May 11.

"Today is the first time in the history of

Northwest that we are conducting three

graduation exercises in the same day,"

said Spears during his welcome address at

the afternoon program. "This morning in

two separate ceremonies, we awarded

224 Associate of Applied Science degrees

and 213 career certificates. This afternoon

we will award 377 Associate of Arts

degrees."

Spears noted that in addition to the

814 students who walked across the graduation

stage, 309 more students earned a

diploma this spring from Northwest for a

total of 1,123 students—310 more than

last year. He attributed the 38 percent

increase largely to the new campus-wide

initiative, "Crossing the Finish Line." This

campaign, through personal faculty-student

advising and on-campus and social

media marketing, reinforced the importance

of completing an associate degree

or certificate program before transferring

or entering the workforce. Having all

Cox

Lambert

coursework transfer to any four-year

Mississippi college, increased earning

potential and increased employability were

among the assets earning an associate

degree or career certificate promises that

the college officials and faculty touted

through an academic year-long campaign

HEADWAE honorees represent main campus

Northwest recently announced its 2012 HEADWAE

honorees. Sophomore pre-med major Benjamin

Lambert of Como was selected as the student honoree,

while criminal justice instructor Robert Cox of

Senatobia was selected as this year's faculty honoree.

HEADWAE stands for "Higher Education Appreciation

Day—Working for Academic Excellence." It was established

by the Mississippi Legislative Resolution No. 88

in 1987 to annually honor the academically talented

students and faculty members of Mississippi's higher

education institutions who have made outstanding contributions

in promoting academic excellence. Cox and

Lambert were honored at the 25th annual HEADWAE

program in Jackson on Feb. 28.

Lambert, who received his Associate of Arts from

Northwest this past May, was on the President's List for

his academic excellence and a Mississippi Eminent

Scholar. He was a member of Phi Theta Kappa and the

2012 Northwest Hall of Fame and was also a

Mississippi Council on Economic Education InvestWrite

they plan to continue using and developing

in the years to come.

At the 2 p.m. Associate of Arts graduation

ceremony, Spears paid special recognition

to Clay Davis of Hernando, an 89year-old

World War II veteran who first

Graduation page 28 ➤

Clay Davis of Hernando (center), an 89-year-old WWII veteran, joined a record-setting 814

Northwest students as they participated in the May 11 commencement ceremony on the

Senatobia campus. Photo by Julie Bauer

essay winner. He graduated from Magnolia Heights

School as valedictorian of his senior class.

"After completing my associate degree at

Northwest, I plan to further my education at Delta State

University and receive a biology degree with a minor in

chemistry," said Lambert. "After DSU, I hope to attend

the University of Mississippi Medical Center to become

a family physician."

Cox retired from the college in May after serving 39

years. He served on the Legal Studies Advisory Board

and was selected to attend the Lamplighter's

Conference in 1992. He received the Sandy Grisham

Excellence in Teaching award in 2007. Cox earned his

bachelor's degree and a master's degree of criminal

justice from The University of Mississippi.

"I consider it a special honor to be chosen from a

group of the finest educators in the state," said Cox. "I

appreciate being chosen to represent Northwest."

—Sarah Sapp

www.northwestms.edu
---
Northwest students Benjamin Lambert

of Como and Robert Barnes of Coldwater

were two of only 18 students statewide

who were recently accepted in to the

Mississippi Rural Physicians Scholarship

Program (MRPSP), a program that identifies

academically driven, rural college students

who aspire to return to their roots to

practice medicine and provides them the

academic enrichment, faculty and physician

mentoring and financial support necessary

to complete the rigors and costs

associated with medical school.

According to MRPSP recruiter, Janie

Guice, this two-year undergraduate program

is designed for rising college juniors

who apply to the program during their

sophomore year in college from either fouryear

or community colleges, although

admittedly more are accepted from fouryear

colleges. Both Barnes and Lambert

have already interviewed with The

University of Mississippi Medical Center

(UMMC), where the admissions committee

felt they both had potential to succeed in

their program and granted them direct

admission status.

Guice said Lambert and Barnes must

complete a pre-medical curriculum at the

four-year college of their choice and score

reasonably well on the MCAT in order for

the medical school to honor their direct

admission. The two students will each be

awarded a $30,000 scholarship each

year, enough to cover tuition, scrubs, insurance

and a monthly stipend of approximately

$1,000.

"The program was actually a perfect fit

for me, because I have wanted to become

a family physician and work in a small town

in Mississippi since I was in high school,"

said Lambert. "My father is a family nurse

practitioner in Cleveland. I have grown up

around medicine and people in rural areas,

so naturally it is what I have become

accustomed to being around. Since being

blessed with this scholarship, I don't have

around campus

Barnes, Lambert accepted into state MRPSP

Two of only 18 students

statewide to earn direct

admission, scholarships

to UM Medical Center

www.northwestms.edu

Barnes

to go through any more interviews for medical

school. The scholarship not only saves

me the stress of being interviewed by the

medical admissions council but also will

prevent me from having tons of debt when

I finish medical school."

Beyond the clear financial advantages

to this scholarship, the students will have

an experiential advantage through handson

learning and lectures offered at UMMC

through two-day medical encounters in

January and June during their junior and

senior undergraduate years where they will

cover five primary care areas—family medicine,

internal medicine, medicine-pediatrics,

obstetrics-gynecology and pediatrics—with

a significant focus on applying

these skills in rural communities. The students

will also complete 40 hours of shadowing

in a rural healthcare setting each

year, have access to free MCAT preparation

and have an opportunity to take gross

anatomy and biochemistry the summer

prior to their first year in medical school to

get a jumpstart on the challenging curriculum.

This summer they are required to complete

a community needs assessment in

their hometown—assessing community

health concerns, such as the number of

hospital beds available, emergency services,

nearest trauma unit, ob/gyn providers,

Lambert

water fluoridation and number of physicians.

They will compile their data and

work with UMMC Family Medicine

Residency Director, Dr. Shannon Pittman

to present these community snapshots to

the Mississippi Rural Health Association.

"This scholarship truly is a blessing,"

said Barnes. "This program will allow me to

go to medical school without the added

stress caused by mounting debt. It will also

prepare me for medical school by giving

me opportunities to get hands-on experience.

I'm really excited because I feel like

this program will give me an edge that will

help me be a successful student in med

school and jump start my journey into the

medical field. The reason I want to practice

in a rural area is because I have grown up

in Tate County, which is a rural area itself.

I love the small town atmosphere and the

people who live here, and I believe that my

love for rural communities will complement

my skill as a doctor, ultimately making an

impact on the community and the people I

care for."

During their time at Northwest, Lambert

was awarded The Gateway Tire Endowed

Scholarship and Barnes was awarded The

Joey Boldreghini Endowed Scholarship

from the Northwest Foundation.

—Sarah Sapp

Summer 2012

5
---
Young awarded college's

largest art scholarship

Northwest art major Maria Young of Southaven was recently

awarded a $57,000 scholarship to Memphis College of Art

(MCA). According to Lawayne House, Northwest art chair, this

is the largest scholarship a Northwest art student has received

from MCA to date.

Young, who graduated in May, says that although she initially

began as an illustrator, she has now developed a love for

painting because of her classes at Northwest. She credits her

instructors at Northwest for helping her develop as an artist. "I

have learned a lot at Northwest. I liked all of my teachers. They

were great and have so much to give their students. I learned

many new art techniques. It was an enjoyable experience,"

Young said. After she completes her bachelor's degree from

MCA, Young plans to see what opportunities are available for

her.

Recently, Young was awarded a $50 prize for third place in

painting at the recent Mississippi Junior College Annual Art

Competition and Exhibition at Mississippi Gulf Coast

Community College.

"Maria Young is one of those students we hate to see graduate

only because we selfishly would like to nurture her ability

beyond what our two-year program allows. Her tenacity and willingness

to work hard has paid off with Maria being awarded the

6

Northwest Now

around campus

Northwest art major Maria Young of Southaven was recently awarded

a $57,000 scholarship to Memphis College of Art. Young plans to

pursue a bachelor's degree with a concentration in painting. Here

she shows off some of her works on display in the Sophomore Art

Show last April. Photo by LaJuan Tallo

largest scholarship from Memphis College of Art ever awarded to a Northwest art major. We look forward to following Maria as she continues

her studies and are equally proud that the Northwest art faculty had her with us first, " House said. —LaJuan Tallo

Kate Bunce of Senatobia, right, is

congratulated by Dr. Mike Smith,

assistant professor of English at Delta

State University. He was the Poetry

judge for the contest.

Photo submitted

Two win annual creative writing contest

Kate Bunce of Senatobia and Angelika

Teasley of Hernando brought home honors at

the Mississippi Community College Creative

Writing Association (MCCCWA) 2012 Literary

Contest on April 19 at Holmes Community

College in Grenada.

Bunce, a sophomore majoring in elementary

education, won first place in Poetry for her work

entitled "Bitter." She wrote the poem in

January and showed it to her mother, Beth

Leishman, a Northwest English instructor, who

encouraged her to enter the contest. Bunce

emailed it to Dr. Phillip J. Underwood, who

teaches creative writing at Northwest. "I was

struck by how mature Kate's voice is,"

Underwood said. "She is very accomplished for

her age as far as her writing skills go. She is

writing at the level of many of the published

graduate students I studied with." Her father is

Dr. Robert Bunce, an English instructor at

Northwest.

Teasley, a native of Germany, is a sophomore

General College major at the DeSoto

Center. Teasley won second place in the

Literary Essay division for her essay

"Redemption and Ruin in 'The Sound and the

Fury.'"

"I am very grateful to receive this award. I

have always enjoyed reading and interpreting

literature and am thrilled to see my work recognized

in this way," Teasley said.

Her English instructor, Mark Alan Vinson,

was not surprised by her honor. Teasley won a

third place award in last year's contest for her

essay "Having Children Does Not Make a

Parent."

"It is no surprise to me that Angelika has

received this award for the second time. Her

writing and analytical abilities are exceptional,

and she is truly one of the best students that I

have had in both lower and upper division

courses," Vinson said.

All winners are published to the MCCCWA

website and/or The Community College Writer.

First place winners received $100 and second

place received $60. —LaJuan Tallo

www.northwestms.edu
---
www.northwestms.edu

around campus

Ag Tech showcases successful John Deere partnership

Northwest's John Deere/Agricultural Technology Open House

held Feb. 10 drew more than 150 students and John Deere territory

customer support managers (TCSM) and dealers to the

Senatobia campus. High school students from all over north

Mississippi and west Tennessee were bussed in by local TCSMs

and dealers, so they could get a first-hand look at the careers and

technology made possible by this unique educational

partnership between Northwest and John

Deere.

"We're needing technicians today who can

diagnose electrical problems with the latest state

of the art technology," said Don Scribner, John

Deere college partnership manager. "Before you

could fix it with a wrench, now you have to fix it

with a computer."

After an opening session where students

learned about admissions, financial aid and housing

at Northwest, current students enrolled in the

John Deere/Agricultural Technology program stationed

throughout the high-tech facility demonstrated

different skills they have learned through

the program. Electrical wiring, engine building and hydraulics were

just a few of the stations students could learn more about.

Matthew Andrews, a sophomore from Grenada, demonstrated

an electrical wiring scenario. "We have our boards where we can

hook up various electrical components in a series to get power

through to see how they would work and demonstrate different

Devin Suggs (center), hosted by Tennessee Tractor, joins his fellow classmates to

marvel at one of the John Deere machines on display. With over 150 total participants,

the program had a focus on analytic thinking and today's technician.

Photo by Sarah Sapp

applications for each one," said Andrews. "We have meters where

we can test the power flow, how much it is putting out and how it

works. These can demonstrate electrical power in something as

simple as a light bulb to something as complex as an engine."

"When you look outside at all of the machinery you can tell the

technology is never going to stop," said Jeremy Massey, John

Deere/Agricultural Technology instructor.

"We have tractors today literally driving

themselves. The new technicians of today

have to be analytical thinkers to understand and diagnose the

problems."

Jerry Burau, John Deere division customer support manager

from the greater Atlanta area, emphasized the importance

of the company's support of career technology

programs like the one on the Senatobia campus. "We

try to support the schools through sponsoring dealers

with work-study programs. There is such a need for

technicians, and we can offer them a career that they

can grow throughout their lifetime."

John Deere Corporate South Central Training

Manager, Greg Kooken, recently visited with Northwest

Vice President for Student Affairs, Dan Smith. In their

meeting Kooken praised Northwest's Pro-Tech program,

the continuing education division of John

Deere/Agricultural Technology located on the

Senatobia campus.

According to Smith, Kooken considered the facility

at Northwest to be one of the strongest training programs

in the country, and that John Deere workers

from all over the world want to come to Senatobia to

be trained, including workers from Brazil, India, South

Africa and China. "They have closed many of their

training programs at community colleges around the

country, but aren't even thinking of doing that on the

Senatobia campus," said Smith. Kooken explained it

is not a matter of facility quality, it's a program quality

issue. Places that had partnerships built nice facilities,

but they lost the programs because of training quality

Ag Tech page 28 ➤

Action News 5 reporter

Justin Hansen (left)

covered the event. In

his story aired Feb. 13,

Hansen highlighted the

importance of cutting

edge agricultural technicians

to local farmers

like Tommy Dickerson

(right). Visit

www.wmctv.com/story/

16924653/high-techtractor-repair-meansmid-south-jobs

to

watch the report.

Photo by Sarah Sapp

Summer 2012

7
---
Northwest students Joyce Jeltz of Horn

Lake, Megan Jones of Oxford, Giovanni

Biffle of Marks and Rachel Voss of Olive

Branch were honored on March 7 by the

Mississippi Legislature for being named to

the Phi Theta Kappa All-Mississippi

Academic Team. After being honored by

the Senate, the nominees adjourned to

the All-Mississippi Academic Team

Recognition Luncheon held at the Jackson

Convention Center where they were individually

recognized for their academic accomplishments.

Jeltz, a business and marketing technology

student from the DeSoto Center

was recognized as an All-Mississippi first

team honoree, while Jones, a biology and

pre-medicine major from Lafayette-

Yalobusha Technical Center, Biffle, a criminal

justice major from the Senatobia campus

and Rachel Voss, a general college

major from the Senatobia campus, were

recognized as All-Mississippi second team

honorees.

Mississippi Sen. Terry Burton; Executive

Director of the Mississippi Community

College Board, Dr. Eric Clark; and Phi Theta

Kappa Honor Society Executive Director,

Dr. Rod Risley served as distinguished

speakers and guests in attendance at the

recognition luncheon.

around campus

PTK All-Academic Team honored by state legislature

Dr. Gary Lee Spears (third from right), joins (l-r) Northwest instructors and Phi Theta

Kappa advisers Judy Barham and Dawn Stevens, DeSoto Center Dean, Richie Lawson,

Northwest instructors and PTK advisers Kim Hamilton-Wims (second from right) and

James Baker (right) in congratulating Northwest students (fourth from left-r) Megan Jones

of Oxford, Giovanni Biffle of Marks, Rachel Voss of Olive Branch and Joyce Jeltz of Horn

Lake for being named to the PTK All-Mississippi Academic Team. Photo by Justin Ford

Northwest President, Dr. Gary Lee

Spears, played a special role in this year's

ceremony by serving as chairman of the

event's steering committee.

Each two-year college in Mississippi

may nominate two students per campus to

the All-Mississippi Academic Team.

Nominations are based on outstanding

academic performance and service to the

college and community. —Sarah Sapp

Nursing students make history with early entry

These six Northwest nursing students are the

first in the college's history to be accepted into

the RN-MSN Early Entry program at The

University of Mississippi Medical Center. This

competitive program is for first-year nursing students

who qualify for this bridge program that

will put them on track for a master's degree in

nursing. Pictured left to right are Adyn Dancy of

Marks, Jenny Cole of Senatobia, Alex Shaw of

Batesville, Adam Clay of Oxford, Hilary Barringer

of Marks and Darla Moneymaker of Walls.

Northwest is one of only two Mississippi community

colleges who have students in the program.

Photo by LaJuan Tallo

Northwest Now

8 www.northwestms.edu
---
Student Activities Coordinator, Liesl Davenport (right), congratulates

Tyler Norcross (left), for winning Northwest's

own version of NBC's hit show "The Biggest Loser" at the

finale held April 24. Photo by Justin Ford

around campus

Campus gets fit with competition

About half of the original 115

students and 21 faculty remained

in Northwest's own version of

NBC's hit show "The Biggest Loser"

at the finale held at the newly renovated

McLendon Student Fitness

Center on April 24.

"This is the culmination of about

10 weeks of training. The participants

received journals and nutrition

guidance when they started,

and everyone that is going to weigh

in today has been to at least one

workout per week, and some to all

of them," said Liesl Davenport, program

sponsor and Student

Activities coordinator.

Northwest's Biggest Loser competition

is part of the Healthy

Northwest campaign to help the

community establish a healthier

lifestyle by promoting better nutrition

and fitness. Its goal is to help

students, faculty and staff find

healthy resources and to help make better

choices to reach their plans for smarter living.

Tyler Norcross, a sophomore psychology

major of Coldwater, was the overall winner in

the competition, with a 3.2 percent body fat

loss and 30-pound weight loss. He won a

one-year gym membership to ATC Fitness,

$100 Nike.com gift certificate and a

"Winners" hoodie. He attributes his success

to hard cardio training and cutting out sodas

and snacking. "I joined because I wanted to

lose weight, to be honest," said Norcross. "I'd

been trying to lose for a while, and I couldn't

stick with it. I don't think exercising alone was

very fun. I actually joined this thinking if other

people were doing it, I could do it too, and the

only thing I had to lose was body fat and

weight. I was very surprised that I won. I didn't

know how much I was going to lose."

Davenport plans to continue with the

Biggest Loser next year and hopes for even

greater success in overall participation and

results. —Sarah Sapp

The Northwest Foundation Board of Directors celebrated their recent awarding of scholarships at their May 15 meeting. For the 2012-13 academic

year, the Foundation will award 416 scholarships for a total of $312,000. Foundation Board members pictured are (first row, l-r) Charles Veasey

of Marks, Director of Communications, Sarah Sapp, Elizabeth Lewis of Coldwater, Gale Cushman of Senatobia, Associate Vice President of

Development, Sybil Canon, Roberta Mayfield of Senatobia, Elizabeth McCullouch of Oxford, Pat Hickey of Charleston, Foundation Administrative

Assistant, Carla Townsend, Alumni Affairs Director, Dolores Wooten, (second row, l-r) Northwest President, Dr. Gary Lee Spears, Harold Nichols of

Olive Branch, James Dunn of Tunica, Doug Davis of Hernando, Barry Bridgforth of Olive Branch, Dr. Joe Gardner of Batesville, Foundation Board

President, Dr. Robert Smith of Hernando, Dr. James Smith of Enid, Mack Young of Marks, Gary Kornegay of Batesville, (third row, l-r) Don Clanton

of Senatobia, Drew DePriest of Olive Branch, Kevin Doddridge of Olive Branch, Gerald Chatham of Hernando, Alvan Kelly of Hernando, and Gary

Anderson of Jackson. Not pictured are Milton Kuykendall and Bill Austin, both of Hernando, Larry Baker of Senatobia, Mike Boren of Tunica, Curtis

Greer of Holly Springs, Michael Herrington of Olive Branch, Perrin Hunter of Eads, Tenn., Jimmy McClure of Sardis, Tommy Reynolds of Charleston

and Tommy Woods of Byhalia. Photo by Justin Ford
---
Instructors pen variety of literary works

By Sarah Sapp

The faculty at Northwest are known for

their dedication to their students, their

exceptional instruction and their love for

learning, but did you know some of our best

teachers are also accomplished writers?

The true, hilarious and endearing tales of

sibling camaraderie and rivalry set in 1950s

Oxford—"Y'all Twins?"—starring the "King

Twins" and their family of seven, is the first

book authored by the identical twins, Kat

and Margaret King. Kat, now a mathematics

instructor at Northwest's Lafayette-

Yalobusha Technical Center in Oxford, and

Margaret, a retired government employee

and part-time employee at Oxford-University

Bank, didn't realize how quickly their first

stab at writing would become an overwhelming

success. With numerous book signings

behind them, the twins had more than 250

people attend their first signing at Off Square

Books in Oxford.

It is nearly impossible to tell Kat from

Margaret by sight. Even when it came time to

decide which twin was which for the cover of

the book, Kat and Margaret had to look to

their younger sister, Kirk, to tell them which

twin was on the left and which one was on

the right. It becomes very clear, throughout

Oxford center instructor

Katherine King (left)

and her twin sister

Margaret have written

a book about life in

1950s Oxford.

Photo by Justin Ford

the book, that the only identical things about

these sisters are their physical appearance

and love for each other.

In this autobiographical tale, Kat, who

emerges as the fearless tomboy, finds it difficult

to follow what she considers to be

needless rules. She scares away bullies,

excels in sports, wins against anyone who

dares play her in marbles and finds it nearly

impossible to deal with the necessary evils of

becoming a lady in the '50s—rejecting any

notion of shaving or wearing nylons, garter

belts and high heels. Margaret, the less

impulsive of the twins, surfaces as the femi-

Northwest Now

10 www.northwestms.edu
---
nine, studious, more obedient twin who

delights in playing dress up and dolls.

Throughout the book, the twins learn to use

their differences to their advantage, switching

places when necessary to always put the

best twin forward in any given situation.

"It's everything twins can get away with

because they can, and we did. We did our

whole lives," said Kat, summarizing the

book. "How did they put it? I'm the mastermind

and Margaret is the co-conspirator."

The book follows the twins' high jinks

from age 6-12. From hitching rides on the

back of William Faulkner's truck to poking

out the glass eye of an elderly woman's fox

stole in the middle of church service out of

pure curiosity, the twins' antics keep the

reader laughing through the entire book.

"We switched classes the first day of first

grade, and we never looked back," said

Margaret. "We're kind of Lucy and Ethel.

She's Lucy, and I'm Ethel. Whatever she

gets into, we have to figure out how to get

out of it."

"I think anybody who grew up in the '50s

is going to love this book. I think young people

who want to know what growing up in

the '50s was like are going to love this.

Faulkner lovers and Southerners in general

will enjoy this book," said Kat.

"Y'all Twins?" is available for purchase

from the twins' website, www.yalltwins.com.

It is also sold through Deeds Publishing,

Amazon.com and Square Books, The

Mustard Seed and Lammons Jewelry in

Oxford.

Fellow LYTC instructor and accomplished

newspaper columnist, Jimmy Reed, better

known as "Sarge" to the students lucky

enough to have him for composition, cre-

LYTC instructor and accomplished newspaper columnist, Jimmy Reed (left),

joins Kat (center) and Margaret King to display their most recent literary feats.

Reed released "Boss, Jaybird and Me: Anthology of Short Stories" in May last

year, while the Kings released "Y'all Twins?" in February.

Photo by Sarah Sapp

www.northwestms.edu

ative writing or literature class,

released "Boss, Jaybird and Me:

Anthology of Short Stories" last May.

Its 720 pages contain 230 short stories,

written by a master storyteller in

the old, time-honored, Southern tradition.

A unique aspect of the book is

that every story contains exactly 500

words, because each was carefully

crafted and edited to fit layout for a

newspaper. Reed regularly writes for

the Oxford Eagle and Canada Free

Press. Because most of the stories are

seasonal, the book's contents are listed

by the 12 months in a year.

"I've written two books so far. I've

been a newspaper columnist for many,

many years, and every so often I have

enough stories to be put together in a

book, so that's what I do," said Reed.

Most of the stories are about family,

growing up farming the Mississippi Delta

and Reed's military experience, but quite a

few have to do with his experience in the

classroom. "Students are a great source for

stories," said Reed. Reed stresses the

importance of being able to tell the best

story possible with the fewest number of

words. His evocative language is succinct,

but it communicates a vivid picture in each

short story.

"Mr. Jimmy Reed is a phenomenal

teacher. He is more than a teacher to me;

he is more of a mentor. He shares with us

life lessons while at the same time teaching

us to better ourselves in writing, grammar

and syntax. He is straightforward about

everything and tells you how it is. One of the

best quotes I have ever heard came from

Mr. Reed—'Do what you fear to do and that

will be the death of

fear.' I have fun

learning in his class

while learning the

discipline it takes to

make something of

myself through hard

work and determination,"

said Skyler

Ray of Randolph,

one of Reed's students.

"Boss, Jaybird

and Me: Anthology

of Short Stories" is

available at

www.squarebooks.com

and

directly from the

author.

In addition to

the great autobiographicalstorytelling

penned by

Northwest's Lafayette-Yalobusha Technical Center in

Oxford hosted a book signing for the King twins in

April. Photo by Mary Katherine Sharman

Ranger authors, textbooks and nonfiction

are also being produced by some of

Northwest's finest instructors. Northwest's

Division of Business Director, Amy Payne,

has recently co-authored "Technology

Integration and Foundations for Effective

Technology Leadership." She is responsible

for writing chapter six titled, "Professional

Development." Math instructor and recent

recipient of the Mississippi Virtual

Community College Instructor of the Year

award, Carolyn Warren, has co-authored the

textbook,

"Beginning

Statistics."

She and her

fellow authors

have just finished

the second

edition of

this text, published

by

Hawkes,

which will hit

campus bookstores

this fall

with substantial

updates.

David Bourne,

DeSoto Center

economics

instructor,

The first edition of "Beginning

Statistics," co-authored by

math instructor Carolyn Warren.

The second edition will be on

sale this fall.

recently authored his first book, "The History

of Economic Thought," that will be published

later this year. According to Bourne,

the book is a part of a series of reference

books about economics that will be marketed

to high school and college libraries. The

book looks at the development of ideas

about economic relationships and behaviors

from ancient to modern times and explores

how these ideas have been contextual,

reflecting the prevailing problems and cultural

realities of the times.

Summer 2012

11
---
The Legacy Continues

Legacy the

continues

It is, indeed, both a pleasure and an

honor to announce new scholarship

endowments, the beginning of a new legacy

for those being honored by these

scholarships and for the students who will

be assisted for generations to come. The

beauty of an endowment is that it will

continue to help students for as long as

this college exists. It is also wonderful to

think of how these students will use their

education to make better lives for themselves,

for their families and for the communities

in which they will live. Thus, it is

appropriate to name these pages, "The

Legacy Continues," because the effects

of these extraordinary acts of generosity

The Sarah Garner Ainsworth

Endowment

The Sarah Garner Ainsworth Endowed

Scholarship was established by Sarah and

her husband, Jim, in recognition of Sarah's

professional career as a teacher in the science

field, her dedication to her family and

her appreciation to Northwest for providing

a wonderful beginning to her educational

journey.

A native of Hernando, Ainsworth was a

student at Northwest from 1961-63 where

Sarah Garner Ainsworth

will last forever.

We are deeply appreciative for those

who have provided matching funds so that

the first $5,000 of an endowment is

matched. The primary benefactor for these

matching funds is the acclaimed actor of

national and international fame, Mr. Morgan

Freeman. Since 1997, Mr. Freeman has

donated $485,000 to the Northwest

Foundation, and the lasting impact of these

funds is truly immeasurable.

In addition, we received a generous

gift from the Estate of Clarence Thomas

Hill, Jr., in the amount of $180,000 which

was used for matching funds, thus creating

36 endowments valued at $360,000.

she was editor of the yearbook, president of

the Wesley Foundation, a member of the

Student Council, and a member of the

Northwest Singers. Following Northwest,

Ainsworth earned a bachelor's degree in

chemistry and a master's degree in education

from The University of Mississippi.

It was at the Ole Miss Wesley

Foundation that she met Jim, a pharmacy

student who would later become the chief

executive officer of Baptist Memorial

Hospital in Memphis, and would end his

career as vice president of Operations over

Baptist hospitals in Mississippi, Arkansas

and Tennessee. His 41-year career at

Baptist led him from being a pharmacist to

being at the helm of what was then the

largest private hospital in the world.

While waiting for Jim to complete pharmacy

school at Ole Miss, Sarah taught

biology at Oxford High School and then

worked in The University of Mississippi's

Research Division.

Jim and Sarah moved to Hernando, and

Sarah became a stay-at-home mother for

their two daughters, Becky and Deb. When

her daughters started school, Sarah began

teaching biology at Hernando High School.

She taught there for more than 17 years

and then taught for 7 1/2 years at the

Baptist College of Sciences, teaching a

variety of science courses to include microbiology

and anatomy and physiology.

Jim and Sarah are very active in their

church and community. Sarah serves on

the Baptist College of Health Sciences

Ambassador Board, and Jim serves on the

Other matching gifts sponsors include

Horseshoe Casino and Hotel, The Youth

Progress Association, Sycamore Bank,

Gateway Tire Founder Bobby Dunlap,

Sam's Town, Williams-Sonoma, Alcoa and

ThyssenKrupp.

Through the generosity of so many,

the Northwest Scholarship Endowment

has a current value of more than $6 million.

We hope that it will continue to grow,

for as it grows, so does the realization of

the hopes and dreams of our students

and so does the legacy of the special

people who are honored by these endowments.

—Sybil Canon

Baddour Center Board, the Mid-South

Education and Research Institute Board, the

Ole Miss Pharmacy Advisory Board and the

Mississippi Hospital Association Board. Their

greatest delight is their four grandchildren.

The scholarship will be awarded to students

who have graduated in the top 25

percent of their high school graduating

class, are majoring in a field of science and

have the greatest financial need.

The Dr. Bonnie Patridge

Buntin 2+2 Endowment

The Dr. Bonnie Patridge Buntin 2+2

Endowed Scholarship was established with

proceeds from the BancorpSouth 2+2

Scholarship Golf Tournament, chaired by

Michael and Debra Herrington of Olive

Branch, and by gifts from friends and colleagues

in appreciation for her leadership in

raising $1 million for the 2+2 Scholarship

Endowment that benefits both Northwest

and University of Mississippi students

attending the DeSoto Center and for her

tireless efforts to establish the 2+2 partnership

between Northwest and Ole Miss in

DeSoto County.

Buntin received her Bachelor of Arts

degree in communicative disorders and her

Ph.D. in educational leadership from The

University of Mississippi. She earned her

Master of Arts degree in speech pathology

from The University of Memphis.

From 1985 to 1996, she coordinated

speech pathology and pre-school services

for DeSoto County Schools. She also

Northwest Now

12 www.northwestms.edu
---
Dr. Bonnie Buntin

served as a speech pathologist in various

schools and clinical sites, and she served

on the Clinical Certification Board of the

American Speech Language Hearing

Association from 1995-99.

In 1996, she became director of The

University of Mississippi-DeSoto Center,

with the responsibility of beginning a 2+2

partnership with Northwest on the DeSoto

Center campus; in 2003, she was named

dean of the university's DeSoto campus.

This partnership enabled area students to

complete a four-year college degree, two

years at Northwest and two years at Ole

Miss, without leaving DeSoto County. More

than 1,000 students have graduated with a

2+2 degree.

Buntin was the first recipient of the

Outstanding Staff Award for Executive

Administrative/Managerial in 2003-04

from the University. She was also named

Outstanding Alumna from The University of

Memphis-Audiology and Speech Pathology

in 1984.

In 2007, she joined with Dr. Gloria

Kellum, then vice chancellor of University

Relations at Ole Miss, and Sybil Canon,

associate vice president of Development at

Northwest, to raise a $1 million scholarship

endowment for both Northwest and Ole

Miss students attending the DeSoto Center

campus. With the successful conclusion of

the campaign, permanent scholarship

endowment funds of $250,000 were

placed with the NWCC Foundation and

$750,000 were placed with the UM

Foundation, meaning that scholarship

assistance will be available for DeSoto

County students in perpetuity.

After retirement, Buntin has continued

her community and church service projects

in her hometown of Hernando. She is particularly

enjoying her time with her husband,

Taylor; her daughter and son-in-law,

Mary Elizabeth and Stephen Kirkpatrick;

and her granddaughter, Leah.

The proceeds from the endowment will

be awarded annually to DeSoto County stu-

www.northwestms.edu

dents who are enrolled in the 2+2 program

on the DeSoto Center campus of

Northwest.

The Jessica Gresham

Memorial Endowment

The Jessica Gresham Memorial

Endowed Scholarship was established by

her aunt, Linda Laine of Oakland, Tenn., as

a tribute to the memory of her niece whose

life ended on Nov. 15, 2009, just three

weeks after her 18th birthday, as a result of

a car accident.

Born in Memphis on Oct. 24, 1991,

Gresham attended St. Paul's Catholic

School and Highland Oaks Elementary

School until her family's move to DeSoto

County where she attended DeSoto Central

Middle and High School.

An avid sports enthusiast, she began

playing sports at a very young age, participating

in basketball, softball, track and soccer.

In addition, she loved theatre and

appeared in her high school production of

"Joseph and the Amazing Technicolor

Dreamcoat" and in DeSoto Family Theatre's

production of "A Christmas Carol". In 2009,

she was awarded the Northwest Mississippi

Theatre Alliance's Director's Choice Award.

In high school, Gresham took both academic

courses and vocational nursing

classes. She was recognized for outstanding

academic achievement by the National

Society of High School Scholars. It was her

desire to enroll in nursing at Northwest with

her long-range goal being to become a

nurse practitioner.

She was a communicant of Queen of

Peace Catholic Church in Olive Branch,

where she was very active in the youth

group. Jessica taught Sunday School class-

Jessica Gresham

es to pre-school children, taught confirmation

classes, was an altar server and was

also a scripture reader in church. A kind,

loving and caring person who went out of

her way to be nice to others, she went to

nursing homes to visit the elderly and to St.

Jude Children's Hospital to visit the children,

all as a part of her service projects for

her own confirmation.

In addition to her aunt, she left behind

her mother, Carol Prestridge; one brother,

Wesley Prestridge; her stepfather, Rob

Prestridge; her grandmother, Pat Laine; her

grandfather, John Laine; aunts and uncles

Rose and Steve Wallace, David and Tina

Laine, Mark and Brook Laine; and cousins,

Bradley Wallace, Logan Laine, Charley Warf,

and Eryn Laine.

The first scholarship will be awarded for

the 2012-13 academic year with preference

given to a graduate of DeSoto Central

High School who has a financial need and

is pursuing a nursing degree.

The Sammy Higdon

Endowment

The Sammy Higdon Endowed

Scholarship was established by Mississippi

State Rep. Tommy Reynolds and his wife,

Liz, in appreciation for his contribution to

education in Yalobusha County and for his

life of integrity and service.

A native of Trumann, Ark., Higdon attended

Arkansas State University and then

received his Bachelor of Arts and Specialist

degrees in Education from The University of

Mississippi.

Higdon served in the U.S. Army in the

2nd and 9th Infantry Divisions in the DMZ

in Korea. After his service in the Army, he

taught for five years at Oxford Elementary

School and then served as assistant principal.

From there, he went to Water Valley

Elementary, where he served as principal

for 14 years. He was then appointed as

superintendent of education for the Water

Valley School District until his retirement in

2010. Currently, Higdon provides educational

consulting for local school districts.

Higdon has served on the Board of

Trustees at Northwest since 2007. During

his time on the board, he has served on

the Administrative, Personnel and Finance

Committees.

Higdon has devoted his life to improving

education for the students of Yalobusha

County. Of his career, he said, "I believe

that education is the answer to many of

the challenges we face in Mississippi

today. From personal experience, I know

where education can take a young person.

Summer 2012

The Legacy Continues

13
---
The Legacy Continues

14

Sammy Higdon

It has been my honor to be a teacher, principal

and superintendent."

Dedicated to his wife, Sherri and their

children, Sammy and Denise, Higdon also

enjoys spending time with his three grandchildren.

The scholarship will be awarded to students

from Yalobusha County.

The Allen & Macelle

Holliday Endowment

The Allen and Macelle Holliday

Endowed Scholarship was established by

the Hollidays in appreciation for the great

beginning to their educational journey at

Northwest and for the wonderful memories

they share of their days as students

in the early 1950s.

Allen and Macelle became sweethearts

at Northwest, but just barely. It

was in the second semester of their

sophomore year that the two were

brought together by Macelle's roommate.

That courtship culminated in a

marriage that has lasted 58 years.

When Allen's parents moved to

Senatobia from Askew in 1948, with

Allen and his brother, Parley, and sister,

Josephine, they opened a store

on Main Street. Allen and Parley

enjoyed showing livestock in the 4-H

Club. Allen graduated from Senatobia

High School in 1950. After high

school, he was on his way to Camp

Shelby for training in the National

Guard when he was called to serve in

the Korean War with the U.S. Army.

After two years of service, he returned

to Northwest with his education funded

by the G.I. Bill. Allen played catcher

and outfielder on the Ranger baseball

team.

He earned his bachelor's degree

from Brigham Young University in Provo,

Utah and his master's degree in agriculture

from Mississippi State University.

He taught agriculture for 25 years at

Northwest from 1967 to 1992. He

served under presidents R.D. McLendon,

Henry B. Koon, and David M. Haraway.

The Hollidays lived for 18 years on the

Northwest farm and managed livestock,

in addition to his agriculture classes.

One of Allen's passions has been Boy

Scouts. He served as registered scout

leader for Troop 235 for 56 years.

Macelle Thornton Holliday is a native

of Lambert. She had one brother, Leroy.

Her mother, Mattie, attended summer

school at Northwest in 1929; she taught

school in a one-room school house.

Macelle, a student at Northwest from

1951-53, was active in many areas of

campus life. President of her freshman

class and secretary of her sophomore

class, she graduated second in her class.

She was elected Miss Northwest, Most

Versatile, and Friendliest. She was selected

for the Homecoming Court and the

Hall of Fame. She also played basketball.

Macelle attended Delta State

University her junior year, married Allen,

and moved to Utah to complete her education

at Brigham Young University, graduating

with highest honors. While at BYU,

she worked for Dr. Harvey Fletcher, Sr., a

renowned scientist and researcher. She

remembers taking dictation for a very

important document, "Dr. Fletcher was

asked to write a memorial tribute for Dr.

Albert Einstein. He dictated the letter to

me, and I transcribed and typed it. I

couldn't believe that something I would

type would be read as a tribute to Albert

Einstein. I wish I had a copy of it."

Macelle joined Allen at Northwest as a

business administration teacher but then

left after two years to be a full-time mom

to their adopted children, Timothy Allen,

Charles Lee, Victor Edward, and Kimberly

Ann. In addition to being a wife and mom,

Macelle began working as a volunteer to

organize a Northwest Alumni Association.

Macelle recounts, "We had as many as

300 alums to return for Homecoming—

such wonderful memories." In addition,

Macelle began a quarterly newsletter,

called the Northwest Now, which has

evolved into a bi-annual magazine.

Allen and Macelle are the same sweethearts

today that they were when they

met at Northwest so many years ago. The

land where they live in Sarah was purchased

by Allen's grandparents and handed

down through two generations. Still

strong advocates for Northwest, they also

enjoy working in their church and visiting

with their children and 10 grandchildren.

The Allen and Macelle Holliday

Scholarship will be awarded to students

demonstrating financial need and academic

potential to complete their college

education.

The Brenda Gentry Holmes

Endowment

The Brenda Gentry Holmes Endowed

Scholarship was established by her husband,

Scott; by Dr. Jack Butts, dean of

Northwest's Lafayette-Yalobusha

Technical Center; by Dr. Michael Butts,

Northwest instructor; and by her family,

colleagues and friends in appreciation

of her stellar professional career in

education and for her life of integrity

and service.

A native of Crowder, Holmes was

one of six children born to Nolan and

Clara Gentry. An honor graduate of

Crowder High School, she entered

Northwest in 1970 and graduated in

1972. She was a member of the

Northwest Misses dance team, and

her grades earned her membership in

Phi Theta Kappa. She earned her

bachelor's, master's, and specialist

degrees in education from Delta State

University and then earned her master's

in guidance and counseling from

The University of Mississippi.

Holmes began teaching fourth grade

at Crowder Elementary School in 1974.

In 1983, she transferred to Lucy Webb

Elementary in Greenville, again teach-

Northwest Now Macelle & Allen Holliday

www.northwestms.edu
---
ing fourth grade. She began working on

the Oxford campus of Northwest in 1985

under the Job Training Partnership Act. In

this program, she taught Youth

Employment/GED classes for four years.

She then became student services coordinator,

a position she still holds.

She is held in high esteem by Dr. Jack

Butts. "Brenda is one of those rare individuals

who possesses extraordinary professionalism

and compassion. She really

cares about our students and will do whatever

she has to do to help them succeed."

Dr. Michael Butts, an instructor and

colleague, recalls that many students

would stop by Brenda's office to express

thanks. While Holmes never explained

their expressions of gratitude, Michael

learned that Holmes had, on many occasions,

used her own resources to help students

pay their electric bills, buy lunch or

purchase books.

Her dedication to students has

endeared Holmes to both students and

colleagues. Whenever there are students

on the Oxford campus who need that

extra bit of encouragement to succeed, it

is Holmes who is called on to provide the

assistance the students need.

Brenda has been married to Scott

Holmes since 1974. Scott's career began

as a youth court counselor for Quitman,

Tunica and Tallahatchie counties. Until

his retirement four years ago, he was the

deputy chief U.S. probation officer in the

Northern District of Mississippi. They have

lived in Oxford since 1985.

The scholarship will be awarded to students

who are attending the Oxford campus

of Northwest and who have a financial

need.

Brenda Holmes with LYTC Dean Dr. Jack Butts (left) and Northwest

President Dr. Gary Lee Spears

www.northwestms.edu

The Dr. Gloria Dodwell

Kellum 2+2 Endowment

The Dr. Gloria Dodwell Kellum 2+2

Endowed Scholarship was established with

proceeds from the BancorpSouth 2+2

Scholarship Golf Tournament, chaired by

Michael and Debra Herrington of Olive

Branch, and by gifts from friends and colleagues

in appreciation for her leadership in

raising $1 million for the 2+2 Scholarship

Endowment that benefits both Northwest

and University of Mississippi students

attending the DeSoto Center campus.

After earning a bachelor's degree in

speech language pathology and audiology

and a master's degree in speech pathology

from Louisiana State University, Kellum

joined The University of Mississippi faculty

in 1966. She returned to LSU to earn

a doctorate in 1981. Kellum helped to

launch the speech and hearing program

at Ole Miss that grew into the Department

of Communication Sciences and

Disorders, a nationally accredited educational

and clinical program whose graduates

serve as speech-language pathologists

and audiologists, improving the lives

of countless children and adults throughout

the nation.

At age 32, she was the first woman

and the youngest person to receive the

university's Elsie M. Hood Outstanding

Teaching Award. Her professional accomplishments

include 20 referred articles;

15 indexes, reviews and state publications;

44 national presentations and

workshops; four book chapters; and 28

research and teaching grants totaling more

than $900,000, with significant funding

from the National Institutes of Health. As a

faculty member, she

served five terms on

the Faculty Senate,

chaired many university-wide

committees

and initiatives and

mentored more than

2,000 students.

In 1996, Kellum

was asked by then

Chancellor Robert

Khayat to join the

leadership team and

direct the university's

sesquicentennial celebration

and its capital

gifts campaign.

She was named vice

chancellor for

University Relations in

1998 and remained

in that position until her retirement in

2009. As vice chancellor, she directed the

Commitment to Excellence Campaign that

raised $525.9 million in private gifts and

the MomentUM Campaign that raised over

$200 million.

In 2011, Kellum received the highest

award given by the American Speech-

Language-Hearing Association (ASHA) when

she was presented the prestigious Honors

of the Association award. This award recognizes

members for their distinguished con-

Dr. Gloria Kellum

tributions to the discipline of communication

sciences and disorders.

In 2007, she joined with Dr. Bonnie

Buntin, dean of The University of

Mississippi-DeSoto, and Sybil Canon, associate

vice president of Development at

Northwest, to raise a $1 million scholarship

endowment for both Northwest and Ole

Miss students attending the DeSoto

Center. While it is rare for a community college

and a four-year university to join

together in a fundraising effort, Kellum

viewed it as a wonderful challenge. "When

institutions are willing to forget about 'turf

issues' and just think about what is best for

the students, everyone wins," she said.

Retirement has given Kellum the opportunity

to pursue activities that have been on

her "bucket" list, primarily spending time

with her husband, Jerry; daughters and

sons-in-law, Kate and Jason; and Kelly and

Billy and grandchildren, Cecilia and

Bennett. In addition, she has helped develop

two foundations—The Dodwell House, a

Summer 2012

The Legacy Continues

15
---
The Legacy Continues

16

community mission outreach center of

St. Anna's Episcopal Church in New

Orleans, La., and The Cotsworth Culture

and Heritage Foundation, dedicated to

purchasing and preserving Cotsworth,

the ancestral home of the late James

Zachariah George that will be a cultural

heritage site and an educational outreach

center.

The proceeds from the scholarship

endowment will be awarded annually to

DeSoto County students who are

enrolled in the 2+2 program on the

DeSoto Center campus.

The Gerald J. (Jerry)

Nichols Endowment

The Gerald J. (Jerry) Nichols

Endowed Scholarship was established

by colleagues and friends to honor the

enormous contribution he has made

and continues to make in Career-Technical

Education, both at Northwest and throughout

the state.

After attending Northwest, Nichols

received his Bachelor of Science degree in

agricultural education from Mississippi

State University and his Master of Science

degree in educational administration from

The University of Mississippi. He has also

completed advanced studies at Ole Miss.

Nichols began his career at Northwest in

1984 as the Vocational-Technical director

on the Olive Branch campus. In 1986, he

transferred to the Senatobia campus as the

Vocational-Technical director. He was later

named dean of Career-Technical Education

and currently serves as associate vice president

of the Career-Technical Education

Division and Workforce Development. In

this position, he administers more than 40

career-technical programs on the

Senatobia, DeSoto, Oxford, Olive Branch

and Ashland campuses.

Nichols has been instrumental in developing

corporate partnerships for Career-

Technical programs, including Chrysler with

the automotive technology program and

John Deere with the agricultural technology

program. Students involved in this program

are trained on farm equipment provided by

John Deere. After graduation from the program,

many of these students intern at John

Deere dealerships throughout the southeastern

United States. Being one of only

three in the U.S., this program has garnered

both national and international recognition.

The construction of the Ag Tech facility,

completed in 2005, was a joint effort spearheaded

by Nichols and the North Delta

Planning Commission, who secured funds

from John Deere Foundation and a U.S. gov-

Northwest Now

Jerry Nichols

ernment grant through the office of former

Sen. Trent Lott.

Recognized as a leader in the state's

Career-Technical Education efforts, Nichols

has served as president of the Mississippi

Dean's Association in 1992-93 and of the

Mississippi chapter of the Association for

Career and Technical Education (ACTE) in

2004-05. He was also named Outstanding

ACTE Professional of the Year.

Nichols serves on the Board of Directors

for the Northcentral Electric Power

Association and for Citizens Bank. Active in

his community of Byhalia and in his church,

he is devoted to his wife, Betsy, and to his

son and daughter-in-law, Jonathan and

Megan. His family spent many years caring

for his son, Jeffrey, who died of leukemia in

2011.

The scholarship will be awarded to students

who are enrolled in a Career-

Technical Education major.

The Papasan Family Trust

Endowment

The Papasan Family Trust Endowed

Scholarship was established by Dr. Bobby

Papasan of Tunica in loving memory of his

parents, Robert and Ruth Papasan, both

longtime residents of Union County and in

honor of the entire Papasan family.

Robert, a farmer, and Ruth, an educator,

were the proud parents of Dr. Bobby

Papasan, Larry Papasan of Memphis, and

Ruth Papasan of New Albany, whom this

endowment also honors.

Larry Papasan has retired as the head of

Memphis Light, Gas and Water and as the

head of the orthopedics division at Smith

and Nephew, while Ruth, following in her

mother's footsteps, is a retired educator.

Dr. Bobby Papasan, former superintendent

of Tunica County Schools, served on the

Northwest Board of Trustees from 1971-

1988 and again from 2005-2012. During

his time on the board, he served on several

committees, including the Finance

Committee and the Educational Program

Review Committee. A former instructor of

Higher Education at The University of

Mississippi, Papasan helped lead the

Northwest Mississippi Education

Consortium.

Dr. Bobby Papasan came to the Delta

after teaching in his hometown of New

Albany before his job opportunity arose in

the Tunica County Schools. Papasan

remembers fondly working for influential

educators during his tenure, including Rosa

Fort, for whom the local high school is

named. Throughout his time as an educator

and administrator, Papasan always worked

by the mantra, "We can all do better."

The Papasan Family Trust Endowed

Scholarship is intended for the benefit of a

lifelong resident of Tunica County.

Dr. Bobby Papasan (center) with family members during a special ceremony March 30 when

he was honored by multiple agencies for his lifetime dedication to education.
---
Former Northwest football and baseball student-athlete and long-time head softball

coach Mike Rowan was one of 15 athletic standouts inducted into the Mississippi

Community and Junior College Sports Hall of Fame on Tuesday, April 24 in Pearl.

A 1997 inductee into the Northwest Sports Hall of Fame, Rowan was a two-sport athlete

at Northwest from 1975 through 1977. The Senatobia native lettered two years in

both football and baseball, earning all-state honors in his sophomore campaign.

Rowan was the starting quarterback for head coach A.J. Kilpatrick, leading the

Rangers to a combined 14-7-1 record and a pair of state playoff appearances. After a

9-2 sophomore season, Rowan was selected to the Mississippi Junior College All-Star

game. On the baseball diamond, Rowan lettered as a pitcher/outfielder, helping legendary

head coach Jim Miles' team claim back-to-back north division titles and state

championships in 1976 and 1977.

Rowan's coaching career began in 1982, earning state and region Coach of the Year

honors after leading the Northwest track team to a north division, state and region

championship. He stepped away from coaching for the next 10 years to serve as the

director of athletics at The Baddour Center where he worked with the Special Olympics.

Rowan returned to coaching in 1991 at Senatobia High School where he was the junior

high basketball and football coach and girls' cross country coach until 2002.

The winningest coach in Northwest fast pitch history, he joined the softball staff in

2003 as an assistant coach, taking over as head coach a year later. He has amassed

an overall record of 253-118-1 and a 126-48 north division record in nine years, earning

his 250th career victory April 18. The Rangers won division titles in 2007 and 2009.

the sporting life

Rowan joins state's elite in MCJC Sports Hall of Fame

Dr. Gary Lee Spears (left) congratulates Mike Rowan

as one of 15 inductees into the MCJC Sports Hall of

Fame in April.

Rowan is married to the former Kathy Thompson of Hickory Flat, and they have two older children, Brandon, an assistant baseball coach

at Arkansas-Little Rock, and Britney, who is an occupational therapist at OT 4 Kidz, LLC in Starkville. —Kevin Maloney

Former greats inducted

into Sports Hall of Fame

About 150 people came to the Haraway Center on May 24 to hear

legendary Mississippi State Head Football Coach Jackie Sherrill speak

at the 2012 Sports Hall of Fame induction ceremony.

The inductees for this year's banquet

were Danny Cranford, 1957, football;

Merrie Carol Martin Butler, 1991, rodeo;

Cassius Ware, 1991, football; Bobby

Ferguson, 1980, football; Lacie McCulley

Cook, 2006, softball and Will Hall, 2000,

football.

Cranford, who played at Northwest

during the 1956 and 1957 seasons,

was chosen by the National Junior

College Athletic Association (NJCAA) as

Head Football Coach Ricky

Woods (left) with retired MSU

Coach Jackie Sherrill.

Photo by Justin Ford

an All-American, and was co-captain of

the East Team. After graduation from

Northwest, Cranford lettered at the

University of Houston in 1958 and 1959.

Before joining the Northwest rodeo

team, Butler distinguished herself as a

champion while in high school and continued her impressive career

after college. While at Northwest, she finished fourth in the nation in

breakaway roping in 1991 and was honored at Northwest with the

Women's High Point award in rodeo that same year.

Ware was a part of the Ranger teams that reigned as MACJC North

Champions (1990) and state and region champions and national runners-up

(1991). The talented linebacker holds Northwest's record for

most tackles in a single game at 24 against Southwest. After

Northwest, Ware was a standout player for Ole Miss.

Class of 2012 (l to r): Butler, Cranford, Cook, Ferguson, Hall, Ware

A double threat, Ferguson excelled as an all-state punter and allstate

kicker in football, recording his longest field goal of 51 yards during

his sophomore year in 1980. He also earned the all-state first

baseman and Tim Robbins MVP award in baseball while at Northwest.

Softball standout Cook continued her impressive childhood and

high school career when she came to Northwest. Cook was honored

as a MACJC all-state player both years she was at Northwest and

earned NJCAA all-region honors in 2006. Cook was also named the

team's MVP and honored as Eyewitness News Amateur Athlete of the

Week twice.

Hall broke multiple school records during his tenure as the

Rangers' quarterback, including most touchdown passes (57), and a

64.7 percent completion rate. He continued his record-breaking

career at the University of North Alabama, and since graduation has

coached at several colleges. He is currently in his second year as

head coach at the University of West Alabama. —LaJuan Tallo

Photo by Steve Diffey/Holmes Community College

Photo by Justin Ford
---
the sporting life

Rangers mark 25-win season with playoff appearance

Northwest closed out the 2012 season with a 25-23 overall

record and loss in the opening round of the state playoffs, falling to

eventual state champions and nationally-ranked Hinds, 14-5 and 11-

7 in a best-of-three series. The Rangers won six straight games down

the stretch to finish second in the north division at 16-8, but ran into

the hottest team in the state who ran roughshod through the playoffs.

The 25 wins marked a sixth consecutive season the Rangers have

won 25 or more games under current head coach Mark Carson and

a 17th winning season in the last 18 years overall.

With 17 sophomores returning, expectations were high in

Senatobia entering the year, but an up-and-down season never got

going how the Rangers had hoped.

The season did, however, have plenty of high notes and numerous

individual and team milestones.

Six Rangers earned MACJC All-State honors at season's end,

including first team selections Bradley Noland (2B), Dex Herrington

(OF), Jeremy Carlisle (OF) and Cody Reed (LHP) and second team

nods Jeremy Massie (LHP) and Colt Burns (LHP). For the first time in

school history, Kyle Blount, Noland and Massie were all named

Capital One Academic All-District.

Record-breaking performances during the year included shortstop

Josh Johnson breaking Chad Wardlaw's school record in stolen bases,

swiping 52 in 57 career chances, Reed tossing the school's first nohitter

in a decade, Burns being named the NJCAA Division II National

Pitcher of the Week and both Noland and Herrington eclipsing 100

career hits.

As a team, Northwest closed the year with a .956 fielding percentage,

which ranked 18th in the nation, and stole 108 bases on the

year—the first time in school history with back-to-back 100 stolen

base seasons. The Rangers also boasted a 3.71 team ERA, the lowest

since the 2004 season. —Kevin Maloney

Sophomore Justin Rose of Gulfport throws out one of his team-high

14 runners on the year. Photo by Justin Ford

Bull rider qualifies for national finals rodeo

Sophomore Lucas Boatwright will represent Northwest at the

College National Finals Rodeo after finishing third overall with

290 season points. Photo by Justin Ford

Northwest sophomore Lucas

Boatwright of Olive Branch is heading

to the College National Finals

Rodeo (CNFR) in Casper, Wyo., after

becoming the second Ranger in as

many years to qualify in the bull riding

event.

With Northwest occupying five of

the top eight spots in the Ozark

Region for the majority of the season,

Boatwright finished in third with

290 season points and won the first

event of the year at Missouri Valley

College. He just edged out Brian

Dowdy, last year's national qualifier,

who had 240 points.

The CNFR is the "Rose Bowl" of

college rodeo, with the 63rd Annual

weeklong event running from June

10-16 at the Casper Events Center

in Wyoming.

The National Intercollegiate

Rodeo Association (NIRA) will crown

individual event champions in saddle

bronc riding, bare back riding,

bull riding, tie-down roping, steer

wrestling, team roping, barrel racing,

breakaway roping and goat tying.

National team championships are

also awarded to both men's and

women's teams, with over 400 cowboys

and cowgirls from over 100

universities and colleges competing

from one of the NIRA's 11 regions.

Each contestant has three preliminary

rounds of competition prior

to the final round on Saturday night,

June 16. Scores and times from

those three rounds will be added up

and the 12 contestants with the

fastest total times or highest total

scores will advance to the finals.

—Kevin Maloney
---
Photo by Lee Adams/Itawamba Community College

www.northwestms.edu

the sporting life

Ladies earn accolades after stellar season

Winners in 20 of their final 24 games to

close the regular season, the Northwest softball

team capped an impressive 2012 season

with a 30-12-1 overall record and 18-6

mark in north division play.

Sophomore Linsey Hebert leaves Northwest as

the school's career leader in stolen bases.

Under MACJC Hall of Fame coach Mike

Rowan, the Rangers boasted a third, 30-win

season in the last six years and were receiving

votes in the NJCAA Division II Poll late in

the season.

Northwest snapped a two-year streak

without a win in the postseason by beating

East Central, 4-3 at the state tournament, as

sophomore Stormy Robison smashed an RBIdouble

to right in the bottom of the seventh

to punch the Rangers' ticket to the Region

23 Tournament.

Northwest lost two close games to reigning

national champion and top-ranked LSU

Eunice and Northeast as its season came to

a close at regionals. Eunice defeated the

Rangers 3-0, with all three runs coming with

two outs in the sixth, while Northeast captured

a 3-2 win with all three of its runs also

coming in the sixth inning.

The Rangers closed the year with the

nation's best fielding percentage in Division

II softball at .967 and hit over the .300 mark

for a fourth consecutive year at .311.

All-State honors went to freshman pitcher

Casey Baddley and sophomore shortstop

Hillari Plummer while All-North Division honors

went to Plummer, sophomore second

baseman Linsey Hebert, sophomore outfielder

Robison and freshman designated

player/outfielder Lauren Riley.

Baddley, a native of Nesbit, had a stellar

Golfers close strong at nationals

Freshman Chad Cupples and sophomore

Cameron Thomas wrapped up a fourday

week at the NJCAA Division II Men's Golf

Nationals May 22-25 at Swan Lake Resort

in Plymouth, Ind., with Cupples finishing in a

tie for 22nd and Thomas tying for 71st.

Cupples' top 25 finish marked the first

for a Ranger since T. Robert Oakley placed

25th in 2008 and is the best finish overall

since All-American Jeremy Aldridge placed

12th in 2005.

Cupples closed strong with a round of

70, the third-lowest round of the entire tournament,

and was 15-over-par for his fourday

total of 303 (78-77-78-70). He jumped

from 59th up to 22nd on the final day.

A PING Second Team All-American,

Thomas fired a four-day total of 312 (78-81-

75-78) to finish tied for 71st, carding a low

round of 75 on day three. He closes the

year with a 75.29 scoring average, the best

for a Ranger since 2008.

Thomas was the individual medalist with

a tournament-low 146 (74-72) at the region

tournament, earning All-Region 23 honors

and also MACJC First Team All-State honors.

His scoring average of 74.5 leads the team

and is the lowest for a Ranger in the last six

years.

A second team All-State selection with a

76.1 scoring average, Cupples carded a

two-day 158 (75-83) to finish in a tie for

eighth at the region tournament.

Northwest closed the year with five consecutive

top 3 finishes, including two runner-up

finishes, but was held without a team

win this spring. The Rangers' 307.3 scoring

average in 13 rounds marks the lowest single-season

team score in the last five years.

—Kevin Maloney

debut for the Rangers in the circle, finishing

17-4 with a 1.47 ERA. She threw 17 complete

games in 22 season starts, also throwing

nine shutouts and striking out 99 against

35 walks in 128.1 innings of work.

Plummer capped her career with All-State

honors for a second-straight year and got the

team award for Highest Batting Average

(.380). The Pope native leaves Northwest as

the all-time leader in hits (108) and runs

scored (82) and also ranks second in stolen

bases (23) and third in walks (32).

Hebert capped her two-year Ranger

career by being named a team captain, Most

Valuable Player and earned the Gold Glove

Award. In 291 career chances, the Batesville

product committed just six errors and fielded

.979. She leaves as the school's career

leader in stolen bases (24) and ranks second

in home runs (four) and third in runs

scored (69).

A regular in the circle and in the outfield,

Robison got the Heart of the Champion

award to cap her two-year career. A native of

Water Valley, Robison was a .302 lifetime

hitter in 81 career games and also went 7-4

in the circle with a 2.34 ERA.

This year's Slugger Award went to Riley of

Hernando after hitting a solid .364 with 10

doubles, a triple, four home runs and a single-season

school record 41 RBIs.

—Kevin Maloney

All-Region 23 medalist Cameron Thomas

Summer 2012

19

Photo by Kevin Maloney
---
High Tech Success

Scholar-athlete finds teamwork

key to conquering IT challenges

By Sarah Sapp

Former Northwest basketball superstar

Calvin Madlock, a scholar-athlete during his

1979-81 tenure at Northwest, is now applying

the leadership skills and teamwork he

learned on the court to his job as director of

Information Technology Services at Antelope

Valley College District in Lancaster, Calif.—

providing administrative and instructional

technology services for approximately

20,000 students and 1,200 employees

annually—following a six-year stint as Los

Angeles Community College District information

technology project manager, where he

served over 130,000 students per year and

12,000 employees within a nine-campus district.

So how did this Northwest Ranger go

from shooting hoops in Howard Coliseum to

creating fully integrated campus-wide information

systems for the largest community

college district in the nation?

Madlock excelled on the basketball court

and sailed through his physical education curriculum

with straight A's at Northwest. He

was voted Mr. NWJC and was named Who's

Who Among Students in American

Universities and Colleges. With both academic

and athletic scholarships in front of him,

Madlock accepted a full athletic scholarship

to Northwestern State University in

Natchitoches, La. Despite his athletic aptitude

to make it in professional sports regardless

of his academic performance in college,

Madlock challenged himself with a major in

computer and information systems and

earned the Academic All-American Award in

recognition of his athletic ability and his academic

accomplishments.

After earning his Bachelor of Science in

computer information systems, Madlock

moved to the west coast to pursue professional

basketball, but multiple injuries interfered

time and time again, beginning with

professional basketball camp tryouts and following

him through French Olympic Team and

Magic Johnson's All-Stars tryouts. Madlock

decided to make the best out of his situation

and, at the age of 26, put all of his energy

into pursuing his career in information technology.

He began his ascent in IT with an

entry-level position as a computer operator at

Hughes Aircraft, but quickly moved up to

computer programmer. Feeling confident in

his programming skills after working as a

computer programmer for Hughes Aircraft,

Rockwell International and United Airlines,

Madlock set out on his own to start a computer

consulting company, Madlock Services,

Northwest Now

20 www.northwestms.edu
---
With 11 seconds left on the clock, Madlock connected on a game-winning basket to

lift Northwest to a 55-54 win over rival Northeast Mississippi Community College during

the 1980-81 season. (right)

Inc., serving high-end clients like Farmers

Insurance Corporation, Nissan Motor

Corporation, Toyota Motor Corporation,

Ralphs Groceries and Kaiser Permanente.

"I enjoyed it more working for myself only

because I felt like I had so much confidence

in computers and working with people," said

Madlock. "I created a niche for myself by

telling clients, 'You bring in your project on a

Monday, and I can have an application written

for you by the end of the week.' I would write

the program so fast—I could write a program

shell in about 20 minutes—and then I would

work on that shell of the program. By the end

of the week I'd have the application finished

and show them the printout of the report that

I did from that application."

When Madlock transitioned to working in

higher education in 2005 as Los Angeles

Community College District information technology

project manager, he noticed a big difference

from his work in the private sector—

decisions and transitions were made in slow

motion. "I never let that change my attitude.

I've always lived by the principle that your attitude

determines your altitude, and I think

they found that refreshing. Just like with basketball,

it was all about team work. Everything

was collaboration. Let's empower the people,

or the end-user in IT speak," said Madlock.

He conquered challenge after challenge,

including instituting a new fully-integrated,

system-wide student identification system for

more than 130,000 students without a single

glitch in a 48-hour implementation—an

accomplishment that, coupled with completion

of a Master of Science in information

www.northwestms.edu

technology at Capella University in

2010, launched him into his current

position as director of Information

Technology at Antelope Valley College

District, serving nine campuses.

"The first thing I told my boss when I

got there was, 'I have to meet the people

at each one of the nine colleges in

our district.' The first thing he told me

was, 'We don't do that.' So my first challenge

was to convince my boss that we

could be successful if I go out to meet

the people." After convincing his boss to

allow him face time with steering committees

and departments at each one of

the colleges, Madlock created invaluable

communication channels he would

continue to rely on for years to come.

Madlock continues to work tirelessly

to provide cutting edge information technology

that enables the college to offer more

services with fewer fiscal resources and to

bridge the gap between faculty and everevolving

technology. He meets regularly with

administrators and faculty at each school to

assess their unique campus needs. He then

prioritizes those needs for the strategic planning

and budget committee to consider, gets

approval on his plans and implements

changes in a proven continuum he coined

the "campus computing life cycle methodology."

His most important project currently is

improving mobile technology and providing

wireless solutions district-wide.

"They learn differently now. You can have

a student who is on his iPhone maybe studying

for an exam, maybe podcasting—they are

multi-tasking, or the student who

may be keeping their child taking a

class at home who is online looking

at their lecture that's in the classroom—so

being able to stream a

lecture. We're just trying to make

sure that we're taking advantage of

and leveraging technology," said

Madlock.

Madlock had a string of incredible

mentors throughout his life—his

father and mother, the late Coot

and Jewel Madlock of Sardis; his

brother-in-law, Willie Sipp of

Coldwater, who encouraged him to

pursue computer information sys-

Madlock was voted Mr. NWJC in

1981, as seen here, pictured

alongside Miss NWJC, Jeanette

Henderson in the 1981 Rocketeer

yearbook. (left)

tems in college; Northwest basketball coach

Kenneth "Cat" Robbins and Northwestern

coach, Wayne Gates. His mentors taught him

the value of teamwork and reaching out to

people in need—values he hopes to instill in

every young man that sets foot in his mentorship

program. Madlock is highly recognized in

the Los Angeles area for his community service

efforts and involvement incorporating the

South Central Los Angeles Boys-To-Men Club,

where he served for five years as president,

encouraging and promoting social, economic,

educational, vocational and spiritual values

for young men ages 9 through 18.

"I saw kids that didn't have fathers in their

homes and they were on the street. They had

so much hopelessness. It's kind of like when

Coach Robbins reached out to me when I

was just kind of home doing nothing. I'm

reaching out to these kids, who are doing

nothing, and I start gathering these kids up

and I start giving them some hope and direction,

and that's kind of how it all got started."

Madlock's confidence today is clear, and

he admits that a lot of his positive attitude

stems from his experience at Northwest.

When Coach Robbins showed up at his front

door and told him he wanted him to play basketball,

he felt needed. "He said he would

love to have me at Northwest, and that's

what made me come to Northwest," said

Madlock. "When I came here, they kind of

embraced me in everything—when I won Mr.

NWJC, when I was invited to Phi Theta Kappa,

when I won Who's Who—the faculty and staff

embraced those achievements and nurtured

that side of me, not only the basketball player,

but the academic side of me. I just had a

great experience here. I can't tell you how

proud I am to be from Northwest."

Summer 2012

21
---
Retirees honored at service awards ceremony

Northwest honored

retiring employees

during its annual

Faculty and Staff

Awards Ceremony

and Reception April

26 in the Haraway

Center. Retirees for

2012 include (l to r)

electrician Larry

Broadway, office systems

technology

instructor Pam

Darnell, nursing

instructor Kathy

Mayhew, Lafayette-

Yalobusha Technical

Center practical

nursing instructor

Patti Williams,

groundsworker

Melvin Bradley, Lafayette-Yalobusha Technical Center career-technical counselor Joe Elliott, housekeeping staff member Evornia Jackson,

food service staff member Classie Mack and criminal justice instructor Robert Cox. Not pictured are retiring DeSoto Center chemistry

instructor Dr. Harold Simmons and DeSoto Center bookstore manager Dorothy Sykes.. Photos by Justin Ford

35 YEARS—Computer

information systems

technology instructor

Sheila Dandridge and

collision repair instructor

Jackie Brown. (right)

30 YEARS—Electrician

Larry Broadway. (far right)

25 YEARS—

Director of Management

Information Systems Amy

Latham (left) and DeSoto

Center Math Department

Chairman Wayne

Ferguson. (below left)

20 YEARS—

Accounting instructor

Leah Arrington, biology

instructor Robin

Robison, English

instructor Dr. Sandra

Banham, and Assistant

Director of

Communications Julie

Bauer. Not pictured is

DeSoto Center respiratory

therapy instructor

Regina Clark. (far right)

Service Awards

Northwest Now

22 www.northwestms.edu
---
Dr. Gary Lee Spears thanks John Gilliam of Benefit Concepts (left photo) and Bill

Prescott of CopyPlus (right photo) on behalf of the Foundation for their sponsorship

of Northwest's Faculty and Staff Awards Ceremony. State law prohibits the college

from purchasing gifts for employees; thus, the Foundation, through funds from private

donors, provides watches for retirees and gifts for employees celebrating service

anniversaries from five up to 40 years. Photos by Sybil Canon/LaJuan Tallo

15 YEARS— (first row, l to r) Associate Vice

President of Development and Special Projects

Sybil Canon, Paramedic Program Coordinator

Brenda Hood, housekeeping staff member Virginia

Green, Lafayette-Yalobusha Technical Center math

instructor Elizabeth Harvey, practical nursing

instructor Pam White, post office clerk Tina

Carrington; (second row) Chief of Police Al

Dodson, WIA Manager Jennifer Casey, Purchasing

Agent Barbara Young, English instructor LeeLee

Haraway, construction worker Roy Hunt, library

technical assistant Sandra McCrary, DeSoto

Center accounting instructor Dawn Stevens and

WIN Job Center counselor Cathy Moore. Not pictured

are DeSoto Center housekeeping staff

member Reneace Gardner, mechanic Randy

Moore and Head Softball Coach Mike Rowan.

10 YEARS— (first row, l to r) Mathematics

instructor Susan Leake, Workforce Development

Center data entry clerk Sharon Medlin, Supervisor

of Housekeeping James Neal, Instructional

Materials Specialist Donna Harvey, DeSoto Center

hotel and restaurant management technology

instructor Kay Mistilis, plumber Mitchell

Higganbothan, English instructor Cindy Pierce; (second

row) football coach Danny Ray Cole, drafting

and design engineering technology instructor Tim

Chavez, paramedic instructor Lisa Briscoe, media

librarian Keith Coleman, English instructor Anne

Smith and Lafayette-Yalobusha Technical Center

cosmetology instructor Heidi Riley. Not pictured

are music instructor Dr. Saundra Bishop, residence

hall supervisor Marshall Lea Creecy, agricultural

technology instructor Jeremy Massey, food service

staff member DeElla Meeks, WIN Job Center case

manager Leigh Nelson and residence hall supervisor

Jackie Thulin.

5 YEARS—(first row, l to r) Psychology instructor

Mary Lynn McLaughlin, library media assistant Glenn

McDowell, WIA case manager/receptionist Diane

Latham, food service staff member Renee Smith,

psychology instructor Jarrod Calloway, eLearning

administrative assistant Kim Steinman, mathematics

instructor Jennifer Jones, Director of Campus Life

and Housing Aime Anderson, Spanish instructor

June Turner; (second row) DeSoto Center Evening

School Director Jeremy Isome, civil engineering technology

instructor Tommy Watson, DeSoto Center aviation

maintenance technology instructor Calvin

Cooper, English instructor Beth Leishman, painter

Michael Brewer, Social Science Division Director Dr.

James Reed, biology instructor Melissa Greene,

Director of Accounting Stan Sullivant, Lafayette-

Yalobusha Technical Center history instructor

Matthew Johnson, economics instructor Marty

Bolen, DeSoto Center mathematics instructor

Randall Warren and DeSoto Center business instructor

Keith Reed. Not pictured are Assistant Soccer

Coach Charlie Baldwin, nursing instructor Toni

Barden, DeSoto Center English instructor Claude

Haraway, food service staff member Reba Means,

ABE instructor Bobby Neyman, DeSoto Center practical

nursing instructor Tamara Pittman, art instructor

Eunika Rogers, food service staff member Jeanne

Scott and DeSoto Center cardiovascular technology

instructor Cynthia Stanford-Means.

23
---
Piano duo exhibits artistry on college's new Shigeru

Generous Northwest Foundation donors,

area piano teachers and their students,

pianists, Northwest music majors, a host of

guests from surrounding communities,

along with Northwest President Dr. Gary Lee

Spears and his wife, Marilyn, filled the Fine

Arts Auditorium May 6 for a piano concert

by the celebrated Wang-Rodgers piano duo,

comprised of husband and wife team, Dr.

Diane Wang and Stacy Rodgers, of Oxford.

Wang is the coordinator of the keyboard

musicianship curriculum and instructor in

piano and flute at The University of

Mississippi. Rodgers is head of keyboard

studies and accompanying, as well as director

of The University of Mississippi

Community Music School. In addition, the

Northwest Singers, directed by Susanne

VanDyke and accompanied by Dr. Saundra

Bishop and Mary Sipley, sang four pieces.

Selections chosen by Wang-Rodgers

included "Navarra and Triana" by Isaac

Albeniz, Poulenac's "Elégie", "Variations on

a Theme" by Paganini and "The Garden of

Eden: Four Rags for Two Pianos" by William

Bolcom.

"The best compliment that I could give

these two incredible pianists is that, instead

of sounding like two pianists playing at the

same time, it sounds as if there is only one

pianist with four hands," said Associate Vice

President of Development and Special

Projects, Sybil Canon, who served as mistress

of ceremonies for the event. Canon

described the artistry of the duo as excellent,

noting the amazing synchronization

between the two performers.

"Northwest is very lucky to have such an

instrument as the Shigeru, and Stacy and I

feel privileged to have been able to play

both the Shigeru and the new Yamaha,"

said Wang.

Northwest President, Dr. Gary Lee Spears (right), and his wife, Marilyn (left), welcome the

celebrated Wang-Rodgers piano duo, comprised of husband and wife team, Dr. Diane

Wang (third from left) and Stacy Rodgers (second from left), of Oxford for a May 6 concert.

Photo by Sybil Canon

Scott Lane of Lane Music provided the

audience with information about the

Shigeru Kawai, recently purchased by the

college. He explained that the piano that

now graces the Fine Arts stage was originally

destined for the Lincoln Center in New

York. "Each piece of the Shigeru is made by

hand, and the craftsman who made this

piano traveled to Senatobia to 'voice' the

piano to Northwest's auditorium this past

February," said Lane. "This same craftsman

had just completed voicing a piano in

Moscow." Chuck Taylor, also of Lane Music,

explained that the Yamaha was a fine instrument

that would serve Northwest's Fine Arts

students well. The Yamaha was purchased

through the generosity of Morgan Freeman

and many other donors, according to

Canon.

Canon also thanked Eleanor Cahill who

donated her childhood piano, a Knabe

grand with ivory keys, in memory of her

mother, Estelle McCormick Cahill, and

Beverly and Melvin Kemp who donated their

family piano in memory of their sons, Kevin

and Barry. In addition to these donations,

Becky and Glenn Triplett donated the funds

to purchase two new electric keyboards for

the Music Laboratory.

Following the concert, a reception

catered by John Woods of First Choice

Catering was provided, and guests had the

opportunity to view a photography exhibit by

Mi'chel Jarjoura, a Northwest alum who is

now an adjunct professor at North Arkansas

College. —Sybil Canon

'Shoot' benefits nurses

The 12th annual "Shoot for the Heart" event was

held Saturday, April 21 at the Willows Sporting

Clays Center in Tunica. The event, which was

sponsored by the Community Foundation of

Northwest Mississippi, directly benefitted the

Northwest Division of Nursing. Donnie Caldwell

(second from left), representing event sponsor

Ozark Trucking, and Shoot for the Heart founder,

Keith Wilson (far right), congratulate the Shoot for

the Heart scholarship winners, Brady Simpson of

Olive Branch (left), Loren Coke (third from l-r) and

Courtney Hale, both of Senatobia, Amanda Perry

of Hernando, Mike Burgess of Southaven and

Roxanne Bischofberger of Coldwater. Not pictured,

Renee Howell of Nesbit. Photo submitted
---
Students receiving the Fallen Heroes of DeSoto County Endowed

Scholarship were recognized at the service, including (l to r) Cayce

Morgan of Olive Branch, Matthew Kittrell of Hernando, Ryan Minks

of Nesbit (seated), Seth Busby and Kristin Keltner of Hernando.

Not pictured are recipients Harrison Smith and Dylan Castoria,

both of Olive Branch, and Cody Dean of Horn Lake.

www.northwestms.edu

Fallen heroes remembered

at annual ceremony May 4

Associate Vice President of

Development Sybil Canon (above left)

presents Fallen Heroes Memorial cofounder

Hugh Basinger with a framed

print in honor of his dedicated efforts

in establishing the Fallen Heroes scholarships

and in organizing the memorial

service.

Eight DeSoto County law

enforcement officers killed in

the line of duty were honored

for their sacrifice May 4 at

the annual Fallen Heroes

Memorial Service on the

courthouse lawn in Hernando.

Gov. Phil Bryant (left) gave

the memorial address, and a

bell rang and a dove was

released for each of the eight

officers as their name was

called (far left).

Northwest President, Dr. Gary Lee Spears

(right), greets Gov. Bryant as he arrives at

the ceremony. Dr. Spears gave remarks

and introduced the college's Fallen Heroes

scholarship recipients.

Photos by Julie Bauer

Mayfield named Citizen of the Year

Northwest Foundation board member, Roberta Mayfield of Senatobia, left, was

named Citizen of the Year at the Tate County Economic Development

Foundation (TCEDF) Annual Meeting on Feb. 28 at the Haraway Center.

Mayfield was honored for her lifetime commitment of service to Senatobia. A

former president of the Foundation Board, she has been a member for over

15 years. Congratulating Mayfield is Janie Mortimer, executive director of

TCEDF.

Photo by Theron Fly/The Democrat

Summer 2012

25
---
honorariums/memorials

The Legacy of Memorial and Honorarium Gifts

A great many of the gifts that are received by the Northwest Foundation are given to pay tribute to the men and women who have

profoundly impacted the lives of others—parents, siblings, teachers, sons and daughters. Some gifts are designated for permanently

endowed scholarship funds, which means the gift "keeps on giving" forever. The memorial and honorarium gifts listed were

given between Nov. 1, 2011, and April 30, 2012, in appreciation both to those who gave the gifts and to those who have lived

extraordinary and inspirational lives. If you wish to make a memorial or honorarium gift, please contact the Foundation Office at

(662) 560-1103.

MEMORIALS

Sam Allison

by Mr. & Mrs. Bill Anderson

Mr. Jim Anderson

Ms. Allison Britt

Mr. & Mrs. John G. Burt

Mrs. Sybil Canon

Ms. Jane M. Cox

Mr. & Mrs. Milton Cushman

Mr. & Mrs. Ken Dossett

Mr. & Mrs. James W. Eubanks

Mr. N.C. Ferugson, Jr.

Mrs. Beverly Gaddy

Mr. & Mrs. William Gafford

The Hon. John T. Lamar &

the Hon. Ann Lamar

Dr. & Mrs. Marvin Lishman

Mr. & Mrs. John McCrary

Mr. & Mrs. Walt McKellar

Tunica Lions Club

Eugenia Bishop Arnold

by Dr. & Mrs. Johnny Still, Jr.

Clyde Rhea Ashe

by Mrs. Benford Ashe

Mrs. Laura Laughlin

Harvey Ashe

by Mr. & Mrs. Frank Givens

Howard Barton

by ESD, Incorporated

Mr. Whit Perry

Mr. & Mrs. Leeroy Willard

Carl & Mattie Blanchard

Jack & Betty Blanchard

by Mr. & Mrs. Louis Blanchard

Ross Boatright

by Mrs. Sandra Roy

Estelle Bobo

by Mr. & Mrs. Leon McCullouch

A.W. Bouchillon

by Mr. & Mrs. W.A. Bouchillon

Mr. & Mrs. Frank Givens

Mr. & Mrs. Don Waller

Mr. & Mrs. Bart Wise

Grover Bowers

by Mr. George M. Lee, Jr.

Ron Bradley

by Mr. & Mrs. Guy Purdy

Leon Brashear

by Mr. & Mrs. Guy Purdy

Zona Brashear

by Mr. & Mrs. Guy Purdy

Mary Broadway

by Mr. Joe Broadway

Mr. & Mrs. Pat Lewis

Mr. & Mrs. Marc Montville

Ms. Jean Nunnally

Tommy Brown

by Mr. Frank L. Tindall

David Bryan

Jo Bryan

by Ms. Virginia Hall

Mr. Sammy Aldridge

Mr. & Mrs. Joe Boyles

Mr. & Mrs. William Correro

Mr. J.G. Kornegay

Mrs. John M. Sumner

Mr. & Mrs. William J. Waldrup

Howard & Edna Carpenter

by Mr. & Mrs. Herman Coats

B.J. & Ruby Chain

by Dr. & Mrs. Buddy Chain, Jr.

Rita Carol Chance

by Dr. & Mrs. Ron Chance

H.I. & Westelle Copeland

by Mrs. Phoebe Copeland

Brownie Crawford

by Mr. Darrell Crawford

Yalobusha General Hospital

Price & Bobbie Darby

by Mr. & Mrs. Charles Patton

Henley, Sr.

Ms. Dee Henley

Lamar & Hannaford, P.A.

Charles & Elizabeth Dean

by Mr. & Mrs. Frank Givens

Mr. & Mrs. Jerry Nichols

Robert Dodson

by Mrs. Mildred Perry

Raiford & Inez Fancher

by Mr. & Mrs. Briggs Smith

Mr. & Mrs. William G. Yates

Anthony Farese

by Mrs. Margie Farese

Leta Fisher

by Mr. & Mrs. Guy Purdy

Martha Key Fite

by Dr. & Mrs. Johnny Still, Jr.

Aaron German

by Mrs. Dorothy Bryce

Mr. & Mrs. Lowell Salmon

Glen Gilbert

by Mr. N.C. Ferguson, Jr.

James P. Graeber

Lewis Graeber

by The Graeber Foundation

A.Q. Greer

by Mr. Frank Swords

Jessica Gresham

by Ms. Linda S. Laine

Charles Gurley

Paula Gurley

by Mrs. Mary R. Minor

Russell Hadskey

by Mrs. Jean Hadskey

Mr. & Mrs. Todd Latham

Mr. Bob Maddux

Mary W. Hammond

by Mrs. Mimi Herring

Juanita Hardin

by Mr. David S. Hall

Ms. Frances Hall

Looxahoma Baptist Church

Ms. Debbie Perkins

Mr. & Mrs. Reed Pope

Ann Eliza Allison Harris

by Dr. & Mrs. Robert Bourne, Jr.

Pete & Pauline Harris

by Ms. Joan Pierce

Dr. & Mrs. Walter Wicker

Mr. & Mrs. Dean Wright

Edmond & Lillian Hawkins

by Mrs. Mimi Herring

Sims H. Hawkins

by Mrs. Mimi Herring

Leslie, Paula, & Hal Herring

by Mrs. Mimi Herring

Ms. Mary Murphy

William Hickey

by Mrs. Pat Hickey

Ms. Sylvia Hickey

Mr. & Mrs. Geoffrey Thompson

Tommy Hogan

by Mr. & Mrs. Terry Potts

Charlie & Viola Holliday

by Ms. Marty Holloman

Lucille T. Hollister

by Dr. Denise Bynum

Carson Holloman

by Mrs. Sally Hederman

David Howell

by Mr. & Mrs. Milton Cushman

Kelly Wayne Hudson

by Mr. & Mrs. Jimmy Herron

Mrs. Kim Jackson

Mrs. June McCulley

Robert A. Hyde

by Mr. Sherman E. Austin

Mr. Alfonzo Battle, Jr.

Ms. Effie J. Boothe

Mr. & Mrs. George E. Brown

Ms. Bettye J. Caldwell

Mr. & Mrs. Roy L. Cole

Ms. Yvonia Foster

Mr. & Mrs. James Garner

Dr. & Mrs. Joe L. Greene

Mr. & Mrs. John Haynes

Mr. Lionel Henderson

Mr. & Mrs. Charles Hobbs

Hosie & Jimmie Holmes

Mr. & Mrs. Rupert Howell

Mrs. Cathryn Hyde

Ms. Jacqueline James

Mr. Gene Leland

Rev. & Mrs. Rufus A. Lloyd

Ms. Mary A. Love

Mr. & Mrs. Allen McKinney

Ms. Annie L. Rice

Mr. & Mrs. Tripp Thomas

Mrs. Mildred Washington

James Jackson

by Mr. Dennis Cobb

Robin James

by Mr. & Mrs. H.H. Burch

Hinds Chapel UMC

Horn Lake UMC

Ms. Jean Steadham

Jordan A. Jarjoura

by Mr. & Mrs. Peter Jarjoura

Bert Johnson

by Colonel Charles R. Johnson &

Ms. Trudy Hall

Dr. Robert H. Johnson, Jr.

George W. Johnson

by Mr. N.C. Ferguson, Jr.

Charlotte Johnston

by Ms. Earline Cocke

Mr. Wayne Ferguson

Ms. Bettye Johnson

Ms. Amy Payne

Mr. & Mrs. Greg Steinman

Mary Jane Jones

by Mr. N.C. Ferguson, Jr.

Finis N. & Vera D. Kelly

by Mrs. Nora Langston

Khalid Khouri

by Mr. Bud Donahou

Northwest Now

26 www.northwestms.edu
---
Dorothy Koon

by Mr. N.C. Ferguson, Jr.

Paul W. Lawrence, Jr.

by Mr. & Mrs. Paul Duncan

Mrs. Barbara Lawrence

Bill Lipscomb

by Mr. & Mrs. Bobby Lipscomb

Angelé McClure

by Mr. & Mrs. Justin McClure

Odis T. McCord

by Lewisburg Elementary PTO

Mr. & Mrs. David Love

Adam & Kim Sikes

Pennie McKinney

by Ms. Toni Barden

Mrs. Toni Blair

Mrs. Pam Briscoe

Dr. Denise Bynum

Ms. Lacey Gentry

Ms. Cindy Springer

Mr. Charlie Williams &

Dr. Ellen Williams

Robert R. & Mildred S. Meacham

by Mr. & Mrs. Bob Meacham

W.C. "Firpo" & Josephine Miller

by Mr. & Mrs. Frank Givens

Hugh M. Monteith

by Mr. & Mrs. Frank Givens

Mr. & Mrs. Kenneth M. Murphree

Bill Moore

by Mr. & Mrs. Todd Ledgerwood

Mrs. Becky Moore

Leonard Morris

by Mr. & Mrs. Gary Anderson

Mr. Sherman E. Austin

Mrs. Catherine Ferguson

Mr. & Mrs. Leonard W. Morris

J.K. & Norma Mote

by Mr. & Mrs. Phil Mote

Jeffrey Nichols

by Mrs. Sybil Canon

Mr. Don Clanton

Mr. & Mrs. William Correro

Mr. N.C. Ferguson, Jr.

Mrs. Charlotte Ferguson

Mr. & Mrs. John McCrary

Mr. Whit Perry

Mr. & Mrs. Guy Purdy

Ms. Joan Rose

Dr. Ken Sipley

Ms. Debra J. West

Buel Patton

by Mr. & Mrs. Henry Till

W.P. Perkins

by Mrs. Frances C. Perkins

J.P. "Blue" & Virginia Phillips

by Mr. & Mrs. Milton Cushman

Mr. & Mrs. Frank Givens

The Hon. Gov. & Mrs. William Winter

Raiford Pittman

by Mr. Aaron Condon

James S. Poe

by Mr. & Mrs. William Correro

www.northwestms.edu

Marion W. Pounders

by Mr. N.C. Ferguson, Jr.

Stephen Purdy

by Mrs. Vickie M. Bradley

Mr. & Mrs. Clifton Dandridge

Ms. Mary Murphy

Mr. & Mrs. Guy Purdy

Marie Ann Ray

by Mr. & Mrs. Guy Purdy

Mildred & Robert Redding

by Mr. & Mrs. Bobby Redding

David Lee Reynolds

by Mr. Aaron Condon

Sylvester Rice

by Ms. Annie L. Rice

Tony Roberson

by Ms. Mary Murphy

Mr. Kevin Wulff

Ross & Lucile Robison

by Mr. & Mrs. Mike Robison

Samantha Hayward Ross

by Mr. Jerry Clements

Barbara Sanderlin

by Mr. C.S. Sanderlin

Robert Sanders

by Mrs. Suzanne Brown

Mr. Jerry Clark

Freddie Sanford

by Dr. Everlyn S. Johnson

Jack Savage

by Mr. N.C. Ferguson, Jr.

Nita Scipper

by Ms. Kay G. Hasseltine

Mr. & Mrs. Lent E. Thomas, Jr.

Barry Scott

by Dr. Ken Sipley

John Scott

by Mr. N.C. Ferguson, Jr.

Mildred Scott

by Mr. N.C. Ferguson, Jr.

Gerald Shackleford

by Mr. N.C. Ferguson, Jr.

Al Simmons

by DeSoto County Literacy Council

Clifton & Jessie Sipley

by Mr. John Henry VanHoesen

Mr. & Mrs. Robert VanHoesen

Connie Sparks

by Mr. & Mrs. John G. Burt

J.E. Spurlock

by Mr. & Mrs. Joe Lucchesi

Billy M. Stallings

by Mr. & Mrs. Lent E. Thomas, Jr.

Bill Stubblefield

by Mr. & Mrs. William Correro

Lauren Elizabeth Tallo

by Ms. Sondra Holliday

honorariums/memorials

Mr. & Mrs. Austin Smith

Mr. & Mrs. Richard Tallo

Ms. June Vanlandingham

Edna Taylor

by Mr. & Mrs. Guy Purdy

Nat Troutt

by Mr. & Mrs. Frank Givens

Mr. & Mrs. Ronald Montgomery

Mrs. Lucile Troutt

Mr. & Mrs. Nat Troutt, Jr.

R.T. Ward

by Mr. Terrell Davis

William L. Watt

by Mr. & Mrs. William Correro

Lucy Whitwell

by Dr. & Mrs. Joe Whitwell

C. Chad Williams

by Mr. & Mrs. Brett Curtis

Ms. Ruby E. Magers

Mr. & Mrs. Steve Sturgeon

Marjorie Williams

by Mr. W. Ed Williams

Wesley & Alice Williams

by Mr. George Williams

Jane Willingham

by Mr. N.C. Ferguson, Jr.

Sue Wilson

by Ms. Mary Murphy

Everette Woolfolk

by Mrs. Sybil Canon

Mary F. Woolfolk

by Mr. & Mrs. Jack Woolfolk

Ben & Alma Wynne

by Mr. Joe Broadway

Mr. & Mrs. Pat Lewis

Mr. & Mrs. Chris McCall

Mr. & Mrs. Marc Montville

Ms. Jean Nunnally

Drew Young

by Mr. & Mrs. H.H. Burch

Hinds Chapel UMC

Horn Lake UMC

Ms. Mary Nell Mosley

Ms. Jean Steadham

Roy Young

by Ms. Genendle Parker

Stella Young

by Mr. Mack Young

Calvin Grover Youngblood

by Mr. & Mrs. Donald Bourland

Bourland, Heflin, Alvarez, Minor &

Matthews, PLC

Mr. & Mrs. Winn Brown

Ms. Frances Cooper

Mr. & Mrs. Daniel J. Koflanovich

Ms. Harriet C. Surprise

Ms. Barbara Tole

HONORARIUMS

Charlie Aaron

by Mr. & Mrs. Keith Godbold

Jerry Baker

by Mr. & Mrs. Ronald Montgomery

Dr. Marilyn Bateman

by Ms. Courtney Bell

Mrs. Pam Briscoe

Dr. Denise Bynum

Mrs. Sybil Canon

Mrs. Elizabeth Harvey

Mr. & Mrs. Sidney Johnson

Ms. Rebecca Scott

Mr. & Mrs. C.H. Skipper

Dr. & Mrs. Chuck Strong

Gordon Bigelow

by Mr. Larry Anderson

LaNell Bouchillon

by Mr. & Mrs. W.A. Bouchillon

Mr. & Mrs. Don Waller

Mr. & Mrs. Bart Wise

Albert Broadway

by Mr. & Mrs. J.W. Poff

Joe Broadway

by Mr. & Mrs. Pat Lewis

Ms. Jean Nunnally

Dr. Bonnie Buntin

by Mr. Robert Bateman &

Dr. Marilyn Bateman

Mrs. Sybil Canon

Mr. & Mrs. Keith Godbold

Elizabeth Burns

by Mr. & Mrs. Keith Godbold

Meredith Creekmore

by Mrs. Mimi Herring

Dr. Matthew Domas

by NWCC Division Directors

Keith Godbold

by Mr. & Mrs. Frank Givens

Mr. & Mrs. Keith Godbold

Mr. & Mrs. Sidney Johnson

Mr. & Mrs. Ronald Montgomery

Mrs. Dawn Stevens

Sandy Grisham

by Mr. Bud Donahou

Dr. & Mrs. Chuck Strong

Ms. Susanne VanDyke

A.L. Hickey

by Mr. Geoffrey Thompson

Pat Hickey

by Ms. Sylvia Hickey

Mr. & Mrs. Geoffrey Thompson

Sylvia Hickey

by Mr. & Mrs. Geoffrey Thompson

Walter Hickey

by Mr. & Mrs. Geoffrey Thompson

Sammy Higdon

by Mr. & Mrs. Tommy Reynolds

Dr. Jerry Hollis

by Dr. Carol Cleveland

Mr. Bud Donahou

Mr. Wayne Ferguson

Dr. Stacy Jones

Ms. Patricia Miller

Dr. Larry Sylvester

Brenda Holmes

by Mr. & Mrs. Jerry L. Addy

Mr. Mark Aldridge

Mr. & Mrs. Pete Allison

Summer 2012

27
---
honorariums/memorials

Mr. & Mrs. Tommy Austin

Mr. Neal B. Biggers

Mr. & Mrs. Thomas F. Boatright

Ms. Nancy Bouler

Mr. & Mrs. James Butler

Mr. William L. Calhoun

Mrs. Sybil Canon

Ms. Betty Crosby

Mr. & Mrs. Derrell Doss

Mr. & Mrs. Jimmy D. Dunn

Mr. Wesley N. Gentry

Mr. & Mrs. Michael Harris

Mr. & Mrs. James Hartsfield

Mr. & Mrs. Joe B. Hendrix

Mr. Scott Holmes

Mr. & Mrs. Mark A. Hudson

Mr. Wilson S. Jeter

Ms. Kat King

Ms. Larraine Kitchens

Mr. & Mrs. Jeff Lambert

Ms. Bobbie Lynn Little

Mr. Bob Maddux

Mr. & Mrs. William C. Martin

Mrs. Faye Massey

Mr. & Mrs. Leroy Matthews

Mr. Kurt D. Moreillon

Ms. Valarie F. Peters

Ms. Philomena Pietrowski

Ms. Dianne Ramage

Mr. & Mrs. Rusty Rasberry

Mr. & Mrs. Keith River

Ms. Joan Rose

Mr. & Mrs. T.D. Scarborough

Mr. & Mrs. Keith V. Searcy

Mr. & Mrs. Michael Sellers

Mr. Bobby Shields

Ms. Dorothy J. Snyder

Mr. & Mrs. Mitch Stone

Mr. Arliss Swindoll

Dr. Todd Threadgill

Mr. Harold W. Wiggs

Mr. & Mrs. J.E. Williams

Mr. & Mrs. Michael Wimberly

Mr. Robert Youngblood

Cathryn M. Hyde

by Mr. Sherman E. Austin

Mr. Alfonzo Battle, Jr.

Ms. Effie J. Boothe

➢ Graduation from page 4

attended Northwest in 1940-41 and

1945. Spears explained to the crowd that

a month before completing his last semester

at Northwest, Davis was drafted into

the U.S. Army. He had to take special

examinations to complete his coursework

before his deployment, but he still lacked

one class necessary to graduate, or so he

thought.

"Sixty-four years later, at the encouragement

of his youngest daughter, Mr.

Davis called the Registrar's Office at

Northwest to find out what he needed to

do to complete his Associate of Arts," said

Spears. "After carefully reviewing his old

files, the Registrar found that Davis had,

indeed, completed the requirements necessary

to earn a diploma. They offered to

mail it to him or allow him to pick it up, but

Mr. Davis wanted to walk across this graduation

stage with the rest of you fine grad-

28

Mr. & Mrs. George E. Brown

Ms. Bettye J. Caldwell

Mr. & Mrs. Roy L. Cole

Ms. Yvonia Foster

Mr. & Mrs. James Garner

Dr. & Mrs. Joe L. Greene

Mr. & Mrs. John Haynes

Mr. Lionel Henderson

Mr. & Mrs. Charles Hobbs

Hosie & Jimmie Holmes

Mr. & Mrs. Rupert Howell

Ms. Jacqueline James

Mr. Gene Leland

Rev. & Mrs. Rufus A. Lloyd

Ms. Mary A. Love

Mr. & Mrs. Allen McKinney

Ms. Annie L. Rice

Mr. & Mrs. Tripp Thomas

Mrs. Mildred Washington

Dr. Gloria Kellum

by Mrs. Sybil Canon

Mr. Richie Lawson

Richie Lawson

by Dr. Darrell Barnes

Dr. Harold Simmons

Mary Elizabeth Walker Lewis

by Mr. & Mrs. Frank Givens

Dr. & Mrs. Gary Lee Spears

Mr. & Mrs. Pat Lewis

by Mr. Joe Broadway

Mr. & Mrs. Chris McCall

Ms. Jean Nunnally

Ashley, Benjamin & Caleb McCall

by Mr. Joe Broadway

Mr. & Mrs. Pat Lewis

Ms. Jean Nunnally

Mr. Jim McClure

by Mr. & Mrs. Justin McClure

Schell Ann & Julia Wynne

Montville

by Mr. Joe Broadway

Mr. & Mrs. Pat Lewis

Ms. Jean Nunnally

Gary Mosley

by Sycamore Bank

Jerry Nichols

by Mrs. Elizabeth Dickerson

Mrs. Delores Jennings

Mr. Stephan McDavid

Jonathan Nichols

by Mrs. Sybil Canon

Mr. Don Clanton

Mr. & Mrs. William Correro

Mrs. Charlotte Ferguson

Mr. N.C. Ferguson, Jr.

Mr. & Mrs. John McCrary

Mr. Whit Perry

Mr. & Mrs. Guy Purdy

Ms. Joan Rose

Dr. Ken Sipley

Ms. Debra J. West

Jean Nunnally

by Mr. Joe Broadway

Mr. & Mrs. Pat Lewis

C.W. Parker

by Dr. & Mrs. Steve Akre

Terry Pegram

by Ms. Eunika Rogers

Pam Phillips

by Mr. & Mrs. Milton Cushman

Guy Purdy

by Mrs. Vickie M. Bradley

Joan Rose

by Mr. & Mrs. William Correro

Mr. & Mrs. Ken Dossett

Fred Rowland

by Ms. Frances J. Rowland Neely

Tommy Rowland

by Ms. Frances J. Rowland Neely

uates, despite having just recovered from

congestive heart failure. He has worked

tirelessly with his physical therapist to be

able to walk confidently alongside you all

today."

Davis joined three generations of his

family—his brothers, Therman and

Carlton; his daughters, Judy Marshall and

Debra Williams; and his granddaughter,

Leann Elrod—as proud graduates of

Northwest.

"There are others out there, like Mr.

Davis, who only lack a few hours to graduate

or who already have enough hours,

but no diploma," said Division of Business

Director, Amy Payne. Payne explained that

she is approached by former Northwest

students on a regular basis who are in a

similar situation, and she always encourages

them to come back to Northwest,

either online or in the traditional classroom,

to complete their degree. According

to Payne, it is never to late to "cross the

Bertha Sanford

by Dr. Everlyn S. Johnson

Dr. Gary Lee Spears

by Dr. Matthew Domas

Mr. & Mrs. Larry Simpson

Dr. & Mrs. Chuck Strong

Sycamore Bank

Marilyn Spears

by Mrs. Carol Amburn

Mr. & Mrs. Frank Givens

Dianne Strickland

by Mr. & Mrs. Geoffrey Thompson

Dr. Chuck Strong

by NWCC Division Directors

Angie Stuart

by NWCC Division Directors

Dorothy M. Taylor

by Mrs. Mimi Herring

Katie Beth & Chance Thweatt

by Mr. Joe Broadway

Mr. & Mrs. Pat Lewis

Ms. Jean Nunnally

Lane Tutor

by Ms. Eunika Rogers

Charles Veazey

by Graeber Foundation

Judy E. Wilbanks

by NWCC Division Directors

Sara Williams

by Mr. & Mrs. Geoffrey Thompson

The Hon. Gov. &

Mrs. William Winter

by Mr. & Mrs. Milton Cushman

finish line" at Northwest, and she encourages

students of all ages to contact

Northwest to find out what they need to

complete their associate degree or certificate

program. —Sarah Sapp

➢ Ag Tech from page 7

and service issues. Northwest, according

to Kooken, is the model for how to train

workers in these agricultural jobs.

There are now three major training centers

in the southern U.S., and the

Northwest training facility has passed

Dallas in trainee volume, because the program's

quality is well known. John Deere

Pro-Tech hopes to start distance-learning

training with the Northwest facility in the

coming year. Kooken added that

Northwest John Deere/Agricultural

Technology graduates are in high demand,

earning as much as $85-90,000 a year.

—Sarah Sapp

Northwest Now www.northwestms.edu
---
heart from the of Northwest alumni news

Sybil R. Canon

If there were just an extra 10 hours in

each day, there is something I would

really like to do. I would like to follow our

students for 10 years after they leave

Northwest and then contact all of the

people who have established

scholarships so they would know that

their investments have brought a return

beyond anything we ever hoped and

dreamed.

There are three students who have recently graduated from Northwest

that certainly are off to a great start. Robert Barnes and Ben Lambert

have each been accepted into the Mississippi Rural Physician Program,

receiving $30,000 in scholarships each year and a monthly stipend of

$1,000. For his two years at Northwest, Robert has received The Joey

Boldreghini Endowed Scholarship. Joey was planning to attend Northwest

when his life tragically ended in an automobile accident. His

grandmother, Mrs. Nan Flinn, established the scholarship with Dr. Lucie

Bridgforth, who was managing the Foundation at that time. Just think

about that. This scholarship was established in 1991, over 20 years ago,

and it is still helping students. Joey's legacy will live through Robert and

all of the patients he will treat when he completes med school.

Ben Lambert has received The Gateway Tire Endowed Scholarship at

Northwest. Bobby Dunlap, CEO of Dunlap and Kyle, the parent company

of Gateway, established this scholarship in 2003. Mr. Dunlap has helped

literally thousands of young people to go to school, and he can now add

a future medical doctor to his list. And, again, this scholarship will keep

on giving for years and years to come.

Logan Dodson was awarded The C.B. and Marjorie Norton Walker

Endowed Scholarship for his two years at Northwest. Both Mr. and Mrs.

Walker were educators, with Mr. Walker serving as Tate County

superintendent of education for 28 years. Mrs. Walker taught for a brief

time before devoting herself full-time to her family. Logan has been

awarded a full-tuition scholarship to the University of Mississippi to

continue his major of secondary education. He was one of 10 community

college students chosen out of a field of 220. The Walker Endowment

was established by their children in 2003, and the educational legacy of

their parents will keep on living.

In the past 10 years, because of the generosity of so many people, we

have awarded more than 2,500 scholarships. Certainly, not every

student has taken advantage of this wonderful opportunity; however, the

vast majority has. And if I could just get those extra 10 hours, would I

have a story to tell! But since I can't, please join me in imagining all of

the good and wonderful things that are happening in communities

throughout the South and beyond because kind and generous people

showed our students the "Heart of Northwest."

Dolores Wooten

Once again the

rodeo was a success

because of the

dedicated men and

women who give

tirelessly of

themselves. The

teamwork of the

Northwest alumni and

boosters is a prime

example of how a

dedicated group can be the backbone of any

special event. They work so very hard, giving

their time and resources for the good of our

students and expect nothing in return. These

volunteers spent weeks and months selling

sponsorships, buying supplies, locating

volunteers and attending regular planning

sessions. Their dedication to the rodeo program

enables us to provide the much-needed support

for those students interested in the sport.

It is the success of this event that enables us

to provide financial assistance to a rodeo student

who will be competing in the national finals in

Casper, Wyo. We are honored to send Lucas

Boatwright and wish him the best in this

competition.

The rodeo has been successful in terms of the

fundraising but also in providing a forum to

exchange and brainstorm new ideas and

suggestions to plan a fun-filled weekend for

families and competitors for the year ahead.

Thank you, ladies and gentlemen, for your

time, your talents, your resources and especially

your dedication to help our students be all they

can be. The rodeo just gets bigger and better.

Save the Date!

Homecoming—October 27

We will be honoring the classes of 1952,

1962 and 1972. A nurses' reception is being

planned as well. Watch your mailbox for

details!

Nursing alums, join the Facebook group

"NWCC Nursing Alums" to get all the latest

news.
---
NORTHWEST MISSISSIPPI

COMMUNITY COLLEGE

FOUNDATION

P.O. Drawer 7015 • 4975 Highway 51 North

Senatobia, MS 38668

ADDRESS SERVICE REQUESTED

Parting

shot

Graphic Design Technology student

Andrew Bartolotta of Southaven

prepares to "cross the finish line" at

the college's 96th Commencement

May 11 at Howard Coliseum.

Bartolotta, who served as editor of

the 2012 Rocketeer yearbook, was

one of 224 graduates receiving the

Associate of Applied Science

degree.

Photo by Julie Bauer

Northwest Mississippi Community College does not discriminate on the basis of race, color, national origin, sex, religion, age, disability or status as a veteran or disabled veteran in employment, programs, or provision of services. Compliance

with Section 504 of the Rehabilitation Act of 1973 and the Americans with Disabilities Act is coordinated by Mr. Michael Dottorey, Disability Support Services Coordinator, McLendon Student Center, P.O. Box 5555, Highway 51 North,

Senatobia, Mississippi 38668, telephone number 662-562-3309, email address mldottorey@northwestms.edu. Compliance with Title II of the Age Discrimination Act and Title IX of the Education Amendments of 1972 is coordinated by

Mr. Gary Mosley, Vice President for Fiscal Affairs, James P. McCormick Administration Building, P.O. Box 7017, 4975 Highway 51 North, Senatobia, Mississippi, 38668, telephone number 662-562-3216, email address

gtmosley@northwestms.edu.