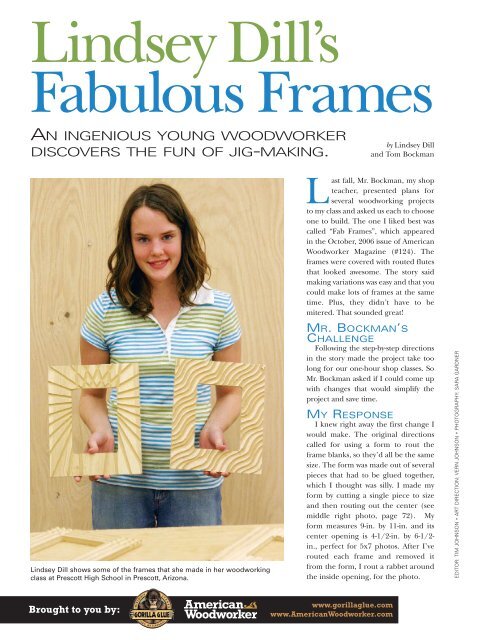 AN INGENIOUS YOUNG WOODWORKER ... - Gorilla Glue
AN INGENIOUS YOUNG WOODWORKER ... - Gorilla Glue
AN INGENIOUS YOUNG WOODWORKER ... - Gorilla Glue
SHOW MORE
SHOW LESS
Do you know the secret to free website traffic?
Use this trick to increase the number of new potential customers.
Lindsey Dill's

Fabulous Frames

AN INGENIOUS YOUNG WOODWORKER

DISCOVERS THE FUN OF JIG-MAKING.

Lindsey Dill shows some of the frames that she made in her woodworking

class at Prescott High School in Prescott, Arizona.

Brought to you by:

®

by Lindsey Dill

and Tom Bockman

Last fall, Mr. Bockman, my shop

teacher, presented plans for

several woodworking projects

to my class and asked us each to choose

one to build. The one I liked best was

called "Fab Frames", which appeared

in the October, 2006 issue of American

Woodworker Magazine (#124). The

frames were covered with routed flutes

that looked awesome. The story said

making variations was easy and that you

could make lots of frames at the same

time. Plus, they didn't have to be

mitered. That sounded great!

MR. BOCKMAN'S

CHALLENGE

Following the step-by-step directions

in the story made the project take too

long for our one-hour shop classes. So

Mr. Bockman asked if I could come up

with changes that would simplify the

project and save time.

MY RESPONSE

I knew right away the first change I

would make. The original directions

called for using a form to rout the

frame blanks, so they'd all be the same

size. The form was made out of several

pieces that had to be glued together,

which I thought was silly. I made my

form by cutting a single piece to size

and then routing out the center (see

middle right photo, page 72). My

form measures 9-in. by 11-in. and its

center opening is 4-1/2-in. by 6-1/2in.,

perfect for 5x7 photos. After I've

routed each frame and removed it

from the form, I rout a rabbet around

the inside opening, for the photo.

www.gorillaglue.com

www.AmericanWoodworker.com

EDITOR: TIM JOHNSON • ART DIRECTION: VERN JOHNSON • PHOTOGRAPHY: SARA GARDNER
---
Lindsey's jigs

make it easy to

create frames

with straight,

curved or wavy

patterns.

I thought of my second change after

following the directions to rout the

flutes in a frame blank. The directions

called for using the router table and a

fence to do this job. The fence had to

be precisely set up to rout the first

flutes and then had to be adjusted several

times to rout the remaining flutes.

Bor-ing! And after completing a few

frames, I was frustrated, because I

could only rout flutes in straight lines.

MY FIRST JIG

After discovering that I could make

wavy flutes with a template and a handheld

router, I designed a jig with rows

of evenly spaced holes to index the

template. (see "My First Jig", page 72).

Cutouts securely hold the frame blank

vertically and horizontally. I use

straight bits or core box bits to create

the flutes.

MY SECOND JIG IS

MORE VERSATILE

What if I could move the frame as

easily as I could now move the template?

Then I could rout flutes diagonally

across the frames. I tried drilling

the jig's indexing holes in a circle

around the cutouts, but I couldn't get

the spacing right. So instead of spinning

the template, I decided to spin

the frame. By this time I was tired of

drilling holes, so I figured out how to

get rid of them, too. My second jig has

a rotating circular insert and a Tsquare

fence (see "My Second Jig",

page 72). This time the routing templates

attach to the fence and the

fence clamps to the jig.

"

Lindsey's problem-solving and

imaginative solutions have made

her fabulous frames a popular

student project choice."

–Tom Bockman

Prescott High School

woodworking instructor

"

American Woodworker JULY 2007 71
---
My First Jig

My first jig allows routing flutes horizontally and vertically. I can rout straight,

curved, V-shaped or wavy flutes, depending on the shape of the template. I like

making the rows slightly asymmetrical, so I follow the template with the corner

of a square-based laminate trimmer.

9" X 11"

CUTOUTS

1/4" DOWEL

My Second Jig

My second jig is more versatile. The T-square

fence clamps at any point, so I can vary the

flutes' spacing. All of my templates fit, so the

flutes follow any pattern, and the frame rotates,

so I can rout flutes across it at any angle.

72 American Woodworker JULY 2007

PLYWOOD BASE

TEMPLATE

CLAMP NOTCH

1/4" HOLES

SPACED 1/2"

(TYP.)

T-SQUARE

FENCE

TEMPLATE

ROUTING

FORM

FRAME BLANK

To fit in my jigs, the frames all

have to be the same size. I

attach oversize blanks to a precisely-sized

form. After marking

and rough-sawing the frame's

center cutout, I rout each blank

to match the form.

PLYWOOD BASE

ROTATING

INSERT 18" DIA.