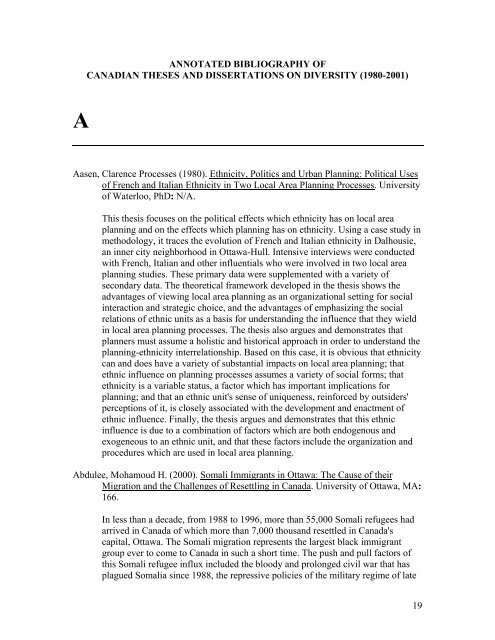 Annotated Bibliography - Metropolis Canada
Annotated Bibliography - Metropolis Canada
Annotated Bibliography - Metropolis Canada
SHOW MORE
SHOW LESS
You also want an ePaper? Increase the reach of your titles
YUMPU automatically turns print PDFs into web optimized ePapers that Google loves.
A

ANNOTATED BIBLIOGRAPHY OF

CANADIAN THESES AND DISSERTATIONS ON DIVERSITY (1980-2001)

Aasen, Clarence Processes (1980). Ethnicity, Politics and Urban Planning: Political Uses

of French and Italian Ethnicity in Two Local Area Planning Processes. University

of Waterloo, PhD: N/A.

This thesis focuses on the political effects which ethnicity has on local area

planning and on the effects which planning has on ethnicity. Using a case study in

methodology, it traces the evolution of French and Italian ethnicity in Dalhousie,

an inner city neighborhood in Ottawa-Hull. Intensive interviews were conducted

with French, Italian and other influentials who were involved in two local area

planning studies. These primary data were supplemented with a variety of

secondary data. The theoretical framework developed in the thesis shows the

advantages of viewing local area planning as an organizational setting for social

interaction and strategic choice, and the advantages of emphasizing the social

relations of ethnic units as a basis for understanding the influence that they wield

in local area planning processes. The thesis also argues and demonstrates that

planners must assume a holistic and historical approach in order to understand the

planning-ethnicity interrelationship. Based on this case, it is obvious that ethnicity

can and does have a variety of substantial impacts on local area planning; that

ethnic influence on planning processes assumes a variety of social forms; that

ethnicity is a variable status, a factor which has important implications for

planning; and that an ethnic unit's sense of uniqueness, reinforced by outsiders'

perceptions of it, is closely associated with the development and enactment of

ethnic influence. Finally, the thesis argues and demonstrates that this ethnic

influence is due to a combination of factors which are both endogenous and

exogeneous to an ethnic unit, and that these factors include the organization and

procedures which are used in local area planning.

Abdulee, Mohamoud H. (2000). Somali Immigrants in Ottawa: The Cause of their

Migration and the Challenges of Resettling in Canada. University of Ottawa, MA:

166.

In less than a decade, from 1988 to 1996, more than 55,000 Somali refugees had

arrived in Canada of which more than 7,000 thousand resettled in Canada's

capital, Ottawa. The Somali migration represents the largest black immigrant

group ever to come to Canada in such a short time. The push and pull factors of

this Somali refugee influx included the bloody and prolonged civil war that has

plagued Somalia since 1988, the repressive policies of the military regime of late

19
---
President Siad Barre (1969 - 1991), the colonial dismemberment of Somalia into

three different parts and the economic hardships characteristic of postcolonial

Africa. Unlike many other refugee groups such as the Vietnamese, most Somalis

made it to Canada on their own without the assistance of the Canadian

government or other humanitarian organizations. The overwhelming majority of

Somalis entered Canada as refugees under the Refugee Class of the Immigration

Act. As they began the process of resettling in Canada, Somali refugees

encountered enormous difficulties in adjusting to Canada's socio-economic and

political environment. Findings of this thesis indicated that Cultural, technological

and linguistic differences between Somali refugees and the host society seem to

have had profound impact on the integration pace of Somali refugees. This study

dealt with the background factors of Somali immigrants to Canada and the

challenges they faced in resettling in a country that shares little with Somalia in

terms of culture, language and religion.

Acharya, Manju Prava (1996). Constructing Cultural Diversity: A Study of Framing

Clients and Culture in a Community Health Centre. University of Lethbridge,

MA: 230.

N/A

Achenback, Kathleen Elizabeth (1999). Translating Diversity from Theory to Practice:

Evaluating the Effectiveness of Experimental Learning in the Helping

Professions. University of Calgary, MSC: 131.

The literature suggests that helping professionals are not prepared to effectively

meet the needs of increasingly diverse populations. Despite professional standards

and multicultural training curriculums, translating diversity from theory to

practice poses as a major barrier in acquiring multicultural competence. The

purpose of this thesis focuses on increasing the competency of self awareness

through an examination of how experiential learning impacts graduate students'

perception of diversity. Through the process of grounded theory, a model was

identified to explain how experiential learning is processed, the impact on cultural

empathy, and the long term effects of such learning. The emerging framework,

Challenging One's Notions through Cultural Experiential Processing Theory

(CONCEPT) is discussed along with the implications for the helping professions.

Considerations are also discussed for experiential learning in curriculum that

addresses cultural diversity.

Acton, Lyle R. (1999). Renewal in the Small Non-Profit Organization. Royal Roads

University, MA: 81.

Every community in Canada has a multi-cultural background that contributes

substantially to the social and cultural life of the general population. The extent of

this ethnic contribution is an outgrowth of the health of that multi-cultural

community and its constituent clubs. The advantage to the general population can

20
---
e greatly affected when volunteer cultural organizations falter, apparently

through a lack of membership support. This project involves a specific large

ethnic membership-driven volunteer organization in an urban community in

British Columbia, Canada. The project's purpose is to change the culture of the

organization, help the organization to find its roots and re-establish itself as it was

conceived. This requires bringing about an awareness of what the organization is

doing, why they are doing it, who they are doing it for and how--given their

significant organizational culture and the community context the group functions

in. This process would also overcome the perception by the older membership

that the organization is going to cease to exist because of its inability to generate

enough income to support its activities and facilities.

Adeodu, Rachel Adenike (1997). Teachers' Understandings of Educating in Culturally

Diverse Contexts. University of Alberta, PhD: 221.

The Province of Alberta, like many other provinces in Canada, has witnessed a

phenomenal growth in the immigration of people from non-European countries in

the last two decades. The children of these new immigrants, whose cultural

backgrounds are often quite different from those of their teachers, find their way

into Alberta's schools where most of the teachers are from an Anglo-Saxon,

European background. These differences in the cultural background of teachers

and students present a potential for misunderstanding and cultural conflict in the

classroom. By examining demographic shifts in immigration to Alberta, and

employing some autobiographical stories of my own family's struggles within a

new country and culture, I raise questions and issues about how teachers and

schools respond to culturally different children. This study then was an attempt to

uncover teachers' understandings of educating children who are culturally

different. It asks: how do we respond to the cultural "other" within our

classrooms? The mode of research employed in this study is action research, a

form of self-reflective inquiry undertaken to uncover and interpret inequities

within society and reflected in schools, in order to come to a deeper level of selfunderstanding

and thus improve one's own teaching practices. The participants,

all experienced teachers, were from a variety of cultural backgrounds. Through

the narrating of experiences during group conversations, the self and collective

interpretations of the narratives, reflective journal writing and conversational

interviews, participants became aware of their tacit assumptions, providing

pedagogical insights into their practice. Participants constructed their identities as

the cultural other, examined power relations between dominant and minority

group members and came to understand their own biases. Participants also

discussed the need to create a climate of trust as they interact with students and

their parents, the need to negotiate conflicting paths, and the necessity to make

efforts to respect and affirm cultural differences. The reflective journal writing, as

well as the individual and collective interpretation of stories and experiences also

served as a catalyst to a deeper level of self-understanding and transformation in

participants' teaching lives. Implications of this study for educators and teacher

education were discussed. Recommendations made include recruiting preservice

21
---
teachers from minority cultual backgrounds, hiring a culturally diverse teaching

staff in schools and faculties of education, and mandating courses in multicultural

education for all preservice teachers.

Adjin-Tettey, Paul (1991). Funeral Rites Among Ashanti Immigrants in Toronto: A Case

Study. Wilfred Laurier University, MA: 154.

I attempt to answer the following questions: To what extent do the Ashantis who

have migrated to Canada still hold on to indigenous concepts and funeral

practices? By virtue of their being in two worlds what difficulties come their way

if they try to follow indigenous practice to its letter? What innovations have they

introduced into their funeral rites? Can a symbol or procedure be radically altered

and yet perceived as the same? In a foreign context does ritual retain its unifying

function? Funeral rites among Ashanti immigrants in Toronto represent a mix of

Ashanti and Western cultures. The Ashanti immigrant community in Toronto has

undergone tremendous acculturation due to emigration, but they still adhere to

modifications of old values. The innovations introduced have not displaced the

fundamental belief in ancestors. Ashanti funeral rites in Toronto exhibit a

unifying function.

Adkins, Jennifer Nora (1999). The Impact of the Employment Equity Legislation on

Federally Regulated Organizations in Canada. University of Calgary, MA: 198.

The Employment Equity Act was established in 1986 to eliminate the

discrimination directed towards Aboriginal people, people with disabilities,

visible minorities, and women (designated groups) within the Canadian labour

force. Federally regulated companies are expected to identify and eliminate the

barriers which prevent these groups from fully participating in their organizations.

The objective of this thesis is to determine the impact of this antidiscriminatory

legislation and to reveal the reaction of employers. This study examines data from

the Legislated Employment Equity Program Annual Reports for the years of

1987, 1991, and 1995. The variables include numerical representation, hiring,

promoting, and the salary of the designated group members, as well as the

organization size, occupational group, employment type, and the Employment

Equity Legislation. The resource dependency and minimum compliance theories

are used to illustrate the outcome of this study.

Adley, Allyson Sarah (1999). Re-Presenting Diasporic Difference: Images of Immigrant

Women by Canadian Women Artists, 1912-1935. Concordia University, MA:

128.

In the early decades of twentieth century Canada, many middle and upper-class

Anglo-Saxon women social reformers helped shape Canadian immigration policy.

Discourses on single immigrant women competed and clashed, converging upon

Canadian women's images of immigrant women. These images are located at the

interstices of opposing discourses that demanded single immigrant women in

22
---
order to alleviate the shortage of domestic workers in middle and upper class

homes while simultaneously targeting the single immigrant woman as a

potentially corruptive and destabilizing addition to Canadian society. By

examining selected paintings, drawings, sculptures of immigrant women, I will

explore how these representations both challenged and supported eugenic

ideologies and how in some cases artistic production intervened in Canada's racist

immigration policies.

Agard, Ralph L. (1982). Sociocultural, Intelligence and Achievement Scores in a Black

Toronto Population: An Analysis for Programming Decisions. University of

Toronto, EDD: N/A.

Use of SOMPA (Mercer and Lewis, 1978) California ELP (Estimated Learning

Potential) norms with a Toronto Black population (N = 80) was examined

comparing multiple regression analyses results, used for developing local norms,

with those of the California normative sample. All three multiple regression

analyses were significant. (P < .001). Constants for regressions were very similar

to California's with Full Scale IQ constants being almost identical; (76.83

(California), 76.75 (Toronto)). In spite of different patterns of loadings, mean

predicted WISC-R IQs generated by Toronto regression equations compared

similarly to California's normative sample (largest difference four IQ points).

ELPs obtained using both sets of SOMPA ELP norms (Toronto and California)

had mean differences of 0.35, 1.77 and 0.53 on the Verbal, Performance and Full

Scales respectively. These results were viewed as demonstrative of stability of

California norms with a Toronto population if used on a group basis. Mean

Toronto IQ scores (WISC-R) were approximately two-thirds of a standard

deviation below the standardization mean for the test, (90.26, 92.62, 90.30 on

Verbal, Performance and Full scales respectively). Academic achievement scores

(PIAT Standard Scores) fell within a distribution expected for 'normal'

performance, ranging from 95 to 105 with a mean Total Standard Score of 99.23

and a standard deviation of two. Correlational analyses resulted in relatively high

correlations between Full Scale IQ and academic achievement (PIAT Total Score)

(.87, .87, .86 for Verbal, Performance and Full Scale respectively, p < .001).

These findings were in keeping with Mercer and Lewis's (1979) suggestion that

nationally standardized WISC-R scores used with some Black children may be

merely reflective of "school functioning level". Using cut-off points (below 69mentally

retarded; between 70 and 89-slow learner; 90 and 126-normal; 126gifted),

Full Scale ELP scores when used instead of conventional WISC-R scores,

reclassified 69.4% of "slow learners" as "normal", and 4.7% of "normal" as

"gifted". These findings imply that use of sociocultural background information

(ELPs) in the assessment process may alleviate the overrepresentation of children

from Caribbean backgrounds in the Toronto school system. (Deosaran and

Wright, 1975; Gersham, 1976).

Aguiar, Maria Margarida (1994). The School and Immigration Histories of Women from

the Island of Sao Miguel in the Azores Region of Portugal: Its Impact on Their

23
---
Relationship with Their Children's Education within Toronto's Elementary School

System. University of Toronto, MA: 222.

In this study, adult immigrant women from a specific cultural group contribute to

this process by examining key experiences in their lives from childhood to

adulthood. Through in-depth audio-taped interviews with seven immigrant

women originally from the island of Sao Miguel, in the Azores region of Portugal,

these women examined three stages in their lives; (1) their early schooling on the

island, (2) immigrating to Canada, and (3) having children in Toronto's

elementary schools. One of the primary purposes of the study was to understand

what impact elementary schooling and immigration experiences had on the lives

of these immigrant women and to examine the possible connection to their

relationship with their children's education. With the aid of an interview guide,

the women were able to recall and reconstruct a detailed and comprehensive

description of the school system they attended on the island over twenty years ago

and in some cases longer. They also shared their feelings and perceptions of their

personal immigration experience and we begin to understand what it meant for

these women to immigrate from a small rural village to a large urban city in a

very different country. And finally, as mothers of children attending Toronto's

elementary school system, the women discussed their hopes and aspirations for

their children's futures and what they expect from their children's schools. It is

hoped that as schools gain more understanding of the personal experiences and

values of the parents and in some cases, as in this study, of the mothers of their

diverse student population, schools and other related services may be better able

to assist and support parents of different socio-cultural backgrounds in their role

of nurturing and guiding their children throughout their school years.;

Aguzzi Bonar, Rita (1993). Intra-Ethnic Differences of the Perceptions of Aged Italian

Women in Receiving Care. McGill University, PhD: 277.

This thesis is qualitative study of the perceptions of aged Italian women in

receiving care. It examines intra-ethnic group differences between Italian-

Immigrant and Italian-Canadian women, and their definition of the experience of

receiving care. Also, it addresses gender, class, and ethnicity issues which have

implications for social work practice, policy, and research. Sixty-one interviews

were conducted with thirty participants, over the age of sixty-five. Participants

were interviewed in their treatment environments with follow-up interviews in

their home settings. Semi-structured in-depth interviews documenting these

women's life histories, as well as participant observation, were the qualitative

methods used to collect data. Interview transcripts and field notes were analyzed

qualitatively to identify similarities and differences in participants' perceptions as

care-receivers. A feminist theoretical perspective was applied to the discussion of

the data. The study suggests that differences exist between aged Italian-Immigrant

and Italian-Canadian women care-receivers. These differences are directly related

to specific personal and social factors which nurture and oppress them. Aged

Italian-Canadian women were found to have more resources, greater

24
---
independence with their supportive alliances, and higher levels of self-esteem and

life satisfaction than aged Italian-Immigrant women. The findings provide insight

into resources these women developed to deal with the constraints imposed on

them by their gender, class, and ethnicity. The study suggests an integratedinteractive

approach of practice, policy, and research to implement changes so as

to meet the needs of these individuals. The study recommends that a feminist

social work approach be adopted in the educational curriculum for the training of

social work professionals.

Ahmad, Itrat (1995). An Assessment Framework for Empowering Students in a

Multicultural Society (Third-Grade). McGill University, MA: 166.

The purpose of this study is to describe, apply and critique an assessment

framework, namely, 'Student-Centred Assessment' based on concepts presented

by Stiggins (1994). The theoretical basis is found in the literature dealing with

multiculturalism and education, the forces promoting change in assessment, and

the current status of assessment methods. The analysis of the 'Student-Centred

Assessment' reveals that in such a framework there is a constant interaction

between the student and the assessor leading to student engagement and that there

is a need for changes in the assessment practices. Of the weaknesses noted,

adapting tools for assessment is an ongoing challenge and the time needed to

apply the framework effectively is a stressful problem. Based on these findings,

various recommendations for practice and future research are made. The study

examines the assessment of students in a regular grade three class, divided equally

into a control and an experimental group randomly. Sources of data include

documents, reports, and interviews with administrators, educators, and students.

The control group is assessed by the classroom teacher according to norm-based

tests. This teacher and the resource teacher then assess the experimental group by

means of the methods outlined in the framework, to determine the inter-scorer

reliability. Thereafter, the scores of the control group are compared to those of the

experimental group to ensure internal validity and to analyze the framework. As

well, interviews with school personnel ascertain the current status of assessment

methods including sources for empowerment.

Ahmed, Abu Ishaque Mahbub Uddin (1985). Class and Ethnic Consciousness Among the

Bangladeshis in Toronto: Historical Bases and Current Patterns. York University,

PhD.

The dissertation examines the relationships between ethnic and class

consciousness, in its historical and contemporary expressions, among the

Bangladeshis in Toronto. The major thrust in the study is that of empirically

assessing the effects of fifteen selected economic and non-economic predictors on

ethnic and class consciousness of the Bangladeshi community. Eight measures of

ethnic consciousness and ten measures of class consciousness are analysed. The

data are derived from a survey of 100 Bangladeshi males and females in Toronto.

The zero-order correlation and the multiple regression analyses are used to

25
---
determine the effects of predictors on ethnic and class consciousness. It is found

that in the multivariate analyses, the number of statistically significant effects of

non-economic factors are decreased, as observed in the bivariate analysis. Instead,

class and status factors gain more significance. Gender, marital status and length

of residence, which are significantly related to class consciousness, have no

effects on ethnic consciouness. The thesis establishes a class base of ethnic

consciousness and an ethnic orientation to class consciousness among the

Bangladeshis. The zero-order correlation analysis indicates that the most political

measures of class consciousness, i.e., perception of class inequality, support for

working class rights, protests and welfare measures, are significantly related to

the most political measures of ethnic consciousness, i.e., perception of ethnic

discrimination and ethno-political consciousness. The thesis argues that such a

pattern is due to the situational determinism of class and ethnic consciousness of

which three structural factors are most important: the unique historical

background of the Bangladeshis, their unique conditions of migration and the

unique features of Toronto's labour market. The thesis concludes that in a

segmented labour market, ethnicity is a principal component of the class structure;

and that class consciousness is contained in ethnic consciousness.

Ahmed, Sanjeeda (1993). Discrimination in Employment and Adaptation of Immigrants:

Dimensions of Bangladeshi Experience. York University, MA: 226.

This study describes and analyses the subjective perceptions of racial

discrimination and adaptation by means of a survey of Bangladeshi immigrants in

the Toronto Area. A majority of respondents perceived "less reward" as the

typical differential treatment, referring to a variety of situations in promotional

setting, e.g., comparatively fewer promotional opportunities, denial of promotion

to key positions, low salary, underemployment, etc. Although it was anticipated

that as members of a visible minority group, Bangladeshis would undeniably

suffer from differential treatment, only one third of the sample reported such

incidents. This finding, however, does not reduce the importance of the problem.

For this one-third, especially the older, long-time residents and highly educated

persons, who faced discrimination, personal adjustment difficulties appear to be a

less serious problem than discrimination per se. In these perceptions,

discrimination seems to occur more in promotion scenarios than in any other area.

Reactions to the discriminatory incidents reveal some interesting choices made on

the basis of people's experience and opinions. These responses also show how

ineffective governmental anti-discrimination measures are, both as currently

legislated and employed. The data on adaptation processes show how individuals

have made accommodations to their new society. They also show how the

recently-arrived immigrants perceive the differences of values and norms of the

two cultures in their search for a sense of belonging in the new country.

Specificity of time in migration appears to be a major determinant in shaping

Canadian identity. Dealing with a dual sense of identity and the perception of

acceptance from other Canadians as reflected in some respondents' socialization

26
---
patterns, is interpreted as one coping behaviour in response to racial

discrimination.

Ahmed, Shameem (1991). Day In Day Out: Women's Experience in the Family and the

Reconstruction of their Secondary Status. McGill University, MA: 179.

The basic research question this thesis addresses is how the secondary status of

Bangladeshi women is reinforced through household labour. It is argued that

gender relations and housework shape each other. To develop this, it examines the

degree of participation of women in different areas of housework and family

decisions. The thesis further explores whether the autonomy of women coming

from the traditional Bangladeshi family set-up has increased as a result of their

immigration to Canada and their exposure to Canadian family values. This is done

by a comparison of the family experiences of Canadian and Bangladeshi women.

Finally, it is suggested that age, position in the family and length of immigration

are the indices of the autonomy of Bangladeshi women in Canada.

Ahmed, Shameem (1997). Imagining Ethnicity: Role of the Montreal Bangladeshi Press

in Ethnic Cohesion. McGill University, PhD: 318.

This dissertation explores the relationship between uses of the Bangladeshi

immigrant press in Montreal and the reinforcement of its readers' ethnic identity.

The work is based on information gathered from two Bangladeshi newspapers

published in Montreal-Probashbangla and Banglabarta. The study views ethnic

identity as being perceived, enacted, and maintained symbolically through

communication activities of ethnic group members. The Bangladeshi immigrant

press is considered to be a major vehicle for its readers' perception of ethnic

identity, and as a strong stimulus for its reinforcement. It is suggested that the

nature and extent of use of the Bangladeshi immigrant press serves as indices of

its readers' ethnic maintenance. The theoretical focus of this study is derived from

the notion of "imagined communities", which suggests that people without direct

face-to-face contact, through the sharing of symbols, may imagine themselves to

be a community. This study argues that through the mediation and promotion of

ethnic symbols, the Bangladeshi immigrant press provides its otherwise

unconnected readers with a means to imagine their affiliation with the

Bangladeshi ethnic community. Frequent exposure to the immigrant press works

to reaffirm that identity.

Aigner, Ursula Monika (1995). Intercultural Communication: Considerations and

Limitations as Reflected in Translation, with Practical Applications for Canadian

Refugee Claimants. McGill University, MA: 108.

The aim of this thesis is to demonstrate that communication involves more than

just language. Culture is central in the process and must be taken into account in

order for effective communication to be achieved. The emphasis is on translation

and how it is actually a form of intercultural communication. A host of examples

27
---
are provided to show how translation is severely limited and at times nonsensical

when cultural factors are ignored. Intercultural communications is also discussed

in detail to shed light on what is involved. The resulting arguments pertaining to

the limitations inherent in translation and intercultural communication are then

put into the context of refugee hearings in order to provide some practical

applications and point to areas where communication may be deficient.

Aiken, Rebecca B. (1985). Montreal Chinese Property Ownership and Occupational

Change, 1881-1981. McGill University, PhD: N/A.

Property ownership and occupational change are used to understand the social and

economic organization of the Chinese community in Montreal. These data can be

understood with a model of the lineage mode of production, situated within an

ethnically defined dual economy. Original immigration data show distinct patterns

for Eastern Canada, and the independence of migration from Canadian legislation.

The history of Chinese property ownership reveals encapsulated, long term tenure

with transfers related to life cycle crises rather than market conditions. Chinese

occupations are highly concentrated in service sector specialities which support

domestic production units. The Chinese community is present throughout the

Island of Montreal, while Chinatown contains some specialized institutions rather

than being a ghetto. Current demographic changes may jeopardize the future of

secondary Chinese centers such as Montreal, in favor of larger centers such as

Toronto and Vancouver.

Akbari, Syed Ather Hussain (1988). Some Economic Impacts of the Immigrant

Population in Canada. Simon Fraser University, PhD.

Immigration policy in Canada has undergone several significant changes over the

past 25 years. Domestic economic conditions provided a major impetus to these

changes. The present study is an attempt to evaluate the efficacy of Canadian

immigration policy over this period by assessing certain impacts on the nativeborn

population. The study is conducted in two steps using microdata from the

1981 Canadian Population Census. First, the life-cycle theory of consumption,

savings and investment has been used to hypothesize an immigrant's impact on

the native-born population through the public treasury. This theory implies a

positive net impact from the immigrant population since immigrants are generally

younger at the time of their arrival and spend their productive lives in Canada.

Major tax contributions and consumption of public services in Canada have been

estimated to obtain a balance sheet of transfers between immigrants and original

residents. Second, the impact of various policy-prone characteristics such as

education, labour market experience, ethnicity, gender, etc. are also analysed. For

this purpose the impact on earnings is analysed via a human capital framework.

Earnings models are estimated for immigrants and the native-born population

using Ordinary Least Squares. The unit of analysis is the household. Most of the

implications derived from the theory of life-cycle behaviour are confirmed. When

tax contributions and the consumption of all major public services are analysed, it

28
---
is found that the stock of post-1955 immigrants circa 1981 had a positive impact

on the standard of living of the native-born population. The second part of the

analysis reveals that because of the selection criteria used for admission,

immigrants in general were able to improve their economic performance over

their lifetime in Canada. European immigrants perform better than Canadian born

residents. Immigrants from Asia, Africa and Central America require ten to

fifteen years to emulate the economic performance of the Canadian born stock.

However, overall, their economic performance is similar to that of the native

born. The marginal impact of the length of stay in Canada on earnings is higher

for this latter group of immigrants. In sum, given the present analysis, it may be

concluded that immigration policy in Canada has been successful in obtaining a

positive impact from immigration.

Akoodie, Mohammed Ally (1980). Immigrant Students: A Comparative Assessment of

Ethnic Identity, Self-Concept and Locus of Control Amongst West Indian, East

Indian and Canadian Students. University of Toronto, PhD.

A sample consisting of 147 Canadian, West Indian and East Indian high school

students from the Toronto area were administered the Tennessee Self-Concept

Scale, the Group Cohesiveness Scale and Rotters Internal-External Locus of

Control Scale. The purpose of the administration of the instruments was threefold.

Firstly, the specific purpose was to identify and explore differences amongst the

three groups in Self-Concept, Group Identity and Locus of Control. The second

objective was to explore the interrelationships that existed between the variables

and the final objective was in the development of an Ethnic Identity Scale. The

results showed that the East and West Indian students in the study had Self-

Concepts that were similar to that of the Canadian students, were more internally

controlled and the West Indian students had a stronger ethnic identity score than

the East Indian and Canadian students. The identity score of the East Indian and

Canadian students was moderately high but did not differ in any significant

fashion. The variables of sex, grade and numbers of years in Canada were not

related to the scores but social class was significantly related. The

interrelationships between the tests were significant: high Self-Concept was

associated with a low internality score and a high ethnic identity score.

Akotia, Charity Syliva (1992). Kitchener-Waterloo Immigrant Settlement and Adaptation

Program (ISAP): A Process and Outcome Evaluation. Wilfred Laurier University,

MA: 178.

This research is an evaluation of the processes and outcomes of an Immigrant

Settlement and Adaptation Program (ISAP) in Kitchener-Waterloo, Ontario. ISAP

was established to facilitate quick and easy adaptation of newcomers in the

region. I conducted personal interviews with 30 randomly selected participants of

the program, and also a focus-group interview with four full time counsellors. The

findings indicate that ISAP is performing very well in meeting its process and

outcome goals. Many commented that integration into the community would have

29
---
een difficult had they not met their counsellors on arrival. The major themes that

emerged included lack of adequate information, lack of close contact with

counsellors, lack of follow-up on clients' progress, and their loneliness and

isolation. Clients' unemployment was a major factor affecting overall well-being,

self-esteem, and self-reliance. Thus, the vitality of employment in successful

adaptation to the host country, Canada, was highlighted. ISAP advocating on

behalf of its clients to work on "probation" basis with interested companies and

linkage with helpful employment support groups should alleviate the stress of job

searching for the new Canadians.

Akoto, William Boakye (2000). Educating the African Immigrant Child in Canada: A

Study of How Ghanaian Parents Negotiate the Home-School Intersection.

University of Toronto, EDD: 309.

This dissertation is an exploratory study of minority African parents' involvement

in the education of their children in a Canada. Situated within a framework which

underscores notions of pluralism and inclusion, the inquiry utilizes case study

methods to focus attention on the particular challenges that Ghanaian parents

encounter as they negotiate the intersection of the home and school in the

education of their children in Canada. The major finding of the study is that

Ghanaian parents' lack of awareness about educational policies and school

processes in Canada combines with the insensitivity of school officials to

attenuate the potential contribution of the parents to the education of their

children. The parents' attitudes and behaviors concerning their children's

education are largely informed by their pre-immigration educational and

socialization experiences in Ghana, and their daily lived experiences in Canada.

But, institutional and teacher practices do not offer much support to parents

because such practices are removed from the parents' experiences and are largely

fed by the "deficit thinking" paradigm. To maximize the contributions of

Ghanaian parents to the education of their children in Canada, the finding points

to the need to examine and interpret the relationship that schools maintain with

Ghanaian families in the light of the parents' pre-immigration socialization

experiences and present social, cultural and economic location within Canada.

Al Hihi, Mahmoud Moh' D. (1997). Arab Immigrants in the Canadian Labour Market:

Expectations and Compromises. Concordia University, MA: 194.

Immigrants have always played an important role in the development of Canada.

This study analyzes the adjustment problems of Arab immigrants who live in

Montreal and have immigrated to Canada in the 1980's and the 1990's. It is an

attempt to explore the nature of their economic adaptation. Economic adaptation

is raised here as one aspect--albeit an important one--of their integration in the

larger society. I have used both quantitative and qualitative methods in the

analysis of the data that I have obtained from the interviews of the sample of Arab

immigrants. The findings indicate that Canadian education and experience, length

of residence, official languages proficiency (especially French), marital status and

30
---
community support are major influences in their integration in the Montreal

labour market. This thesis also examines the relationships among expectations,

compromises and outcomes.

Alam, Matiul (1996). Literacy for Socio-Economic Integration of Marginalized Adults: A

Case Study of a Canadian Pre-Employment Training Program. Simon Fraser

University, PhD: 251.

The purpose of the present study is to examine the utilization of various types of

literacies, namely, basic, functional, cultural and economic literacy skills as

perceived by the graduates of a pre-employment training program (PETP) who

wish to play an active role in society. The specific research questions asked in this

study are: what differences are there between basic literacy, functional literacy,

cultural literacy and economic literacy and how does each affect the individual's

movement in the real world of social integration and economic viability? What

kinds of bridging processes and/or materials might be important in enabling

socially-marginalized adults to move from basic literacy acquisition to economic

independence? How are these processes and/or materials manifested in a literacy

program operated through a pre-employment training program? What kinds of

parallels are there, if any between the South Asian and the Canadian experience in

linking basic literacy to community economic development? Case study research

methods were employed and a total of 20 pre-employment training participants,

who are all ex-convicts, were interviewed. Interview results show that in the case

of every participant, basic and/or functional literacy skills were utilized in their

previous workplace to some extent, indicating that basic literacy skills were

necessary pre-requisites in a wide variety of occupations. Finding also suggest

that cultural literacy and economic literacies involving critical thinking need to

play a more prominent part in pre-employment training programs. Comparative

findings based on the perception of the training participants, and parallel

information drawn from a South Asian context indicate the necessity for

institutional support for the socio-economic and occupational integration of the

poor. Participants showed a keen interest in furthering their skills by taking

additional training and educational programs. All participants felt that the original

pre-employment training program was a turning point in their lives giving them

increased self-esteem, increased confidence and new prospects for continuing

education. Further applied research is needed to investigate in what ways and to

what extent institutional support can be provided to achieve a sustainable effect in

socio-economic and occupational integration.

Albright, Alison Lee (1997). Immigrant Families of Disabled Children: An Exploratory

Study. University of Calgary, MSC: 179.

Limited previous research has focussed on immigrant families of disabled

children. The current study has three objectives: First, to explore the experience of

immigrant families with disabled children. A semi-structured interview was

combined with two surveys to provide context-bound, descriptive information.

31
---
Second, to examine the impact of program intervention on the sample of families.

A single group pretest-posttest design was employed. Third, to compare

immigrant families' and service providers' perspectives regarding the service

delivery system. An open-ended questionnaire was used to gather descriptive

information. The findings suggest that immigrant families of disabled children

need information, lack social support and experience isolation. Participation in a

parent psycho-educational support program may address these issues. This study

also reveals limited awareness of service providers regarding barriers to service

access for immigrant families with disabled children. Recommendations for

improving the delivery of services and considerations for future research are

proposed.

Alemayhu, Retta (1990). Il/literacy in Canada: The Case of Ethnocultural Minorities in

Metropolitan Toronto. University of Toronto, EDD: 216.

This thesis seeks to explore how a lack of literacy skills in English affects the

lives of ethnocultural minority immigrants who have adopted Canada as their new

home within the last six years. The study examines the language and literacy

learning experiences and their impact on living conditions of immigrants who

come from three different continents (Asia, Africa, and Latin America) and whose

ages range between late twenties and early fifties. The data for the study were

collected through the use of qualitative fieldwork techniques (i.e., participant

observation, interviewing, and document analysis). To generate the data, a total of

twenty-six people were interviewed: nine English literacy learner adults; six

literacy programme coordinators; four provincial and federal government workers

who were closely associated with the decision-making processes of government

programmes in official language and literacy training; three English language and

literacy instructors; and four community organization leaders. Moreover, ten

volunteer tutors have participated in the study by responding to questionnaires.

Observations were made in seven adult literacy training centres located within

Metropolitan Toronto, and government and non-government documents were also

collected from three levels of government, volunteer organizations, boards of

education located within Metropolitan Toronto, and a number of community

organizations. The findings of the study show that the newcomers came to Canada

driven by new hopes of making it in "a country of great opportunities." Their new

reality (i.e., a lack of oral as well as written skills in either of the official

languages of Canada), however, hinders them from realizing those dreams. The

findings of this research also suggest that, as more and more non-Englishspeaking,

non-literate and/or non-functional literate immigrants become new

Canadians, the current official language and literacy training programmes have

not kept pace with the new demands and needs of newcomers, in terms of the

quality of programmes, resources, and classroom space. The study reveals that,

while participating in language and literacy training programmes in Metropolitan

Toronto is difficult for all newcomers, it is even harder for women who have

children and other dependents under their care. We also learn from this study that

adult official language and literacy workers (instructors and programme

32
---
coordinators) are very much underpaid and overworked. As a result, most of them

do not wish to continue in their work. One of the major constraints here is an

acute shortage of funds for adult literacy and official language training

programmes. While the federal and Ontario government and some members of the

business community have responded financially to the problem of illiteracy in the

country (which now affects one out of every five Canadians), their contribution

still falls short of dealing with a problem of such national magnitude as well as

meeting the many needs and demands of the newcomer adult literacy learners and

the organizations that are trying to help new Canadians deal with the new

demands in their lives. Finally, some recommendations are suggested for

government and non-government organizations, and individual Canadians, to help

improve government policies in the areas of language and literacy training,

programme planning, the content and quality of teaching/learning materials, and

official language literacy workers' economic conditions and training

opportunities.

Alex, Scarlett (1991). Acculturative Stress and International Student: A Comparison of

Three Treatment Modalities. McGill University, MA: 148.

This study investigated the effects of an orientation program on the acculturative

stress of international students. The sample consisted of 36 international graduate

students who were studying at McGill University. An orientation program was

designed and implemented using three delivery methods--information giving,

support, and a combination of the two. Pre- and posttreatment levels of

acculturative stress were statistically analysed to ascertain the effects of this

program. The quantitative results lacked statistical significance, but the qualitative

analysis of the data indicated the orientation program was beneficial for

international students. Participant responses denoted that the combination method

was the most effective in meeting their needs. Additionally, a desire for more

orientation programs specifically designed to meet the needs of future

international students was indicated. Based on these findings, recommendations

for future orientation programs and research on international students are

outlined.

Allan, James L. (1998). Sky's the Limit: The Operations, Renovations and Implications

of a Montreal Gay Bar. McGill University, MA: 105.

A burgeoning mega-club in the heart of Montreal's gay village, Sky embodies

many forces active in gay club cultures and villages across North America at the

end of the twentieth century. This project documents the daily operations of Sky-as

a complex architectural site, a complicated set of managerial practices, and a

popular space in Montreal's Village--and outlines the theoretical implications of

such an establishment for both the gay community and for club culture more

generally. A large entertainment complex currently undergoing a major

expansion, Sky cannot be theorized as either a wholly oppressive or completely

liberatory development. Although Sky presents some of the advantages of a

33
---
mega-club for the gay community--increased diversity, accessibility and

community--it also highlights the disadvantages in the development of such

establishments: concentration of ownership, the removal of a gay presence from

city streets, and the promotion of certain gay identities and cultures over others..

Allen, Andrew M.A. (1995). Constructing Meaning: The Responses of Emergent Readers

to Black Images in Children's Picture Books. York University, M|ED: 135.

This research centres on the reactions of a group of 20 first grade Black students

to the illustrations in a collection of "Black picture books." The findings suggest

that the working-class Black emergent readers in this study preferred illustrations

of Black characters in a detailed realistic style of drawing with backgrounds,

settings, situations and content that were familiar and recognizable to the children.

The students rejected illustrations that portrayed the Black characters; in a less

than realistic fashion, in unusual or unfamiliar clothing, with bare feet, that used

very dark colours, contained unfamiliar backgrounds or settings, or situations that

were unfamiliar or in conflict with the students' reality. When the students came

across books with any of these attributes, they lost their motivation to read and

avoided or refused to read the books with these types of illustrations. Teachers

can help address this issue by involving their students more in the review,

selection and critique of classroom reading materials. Children's literature can

serve as a tool to teach students to detect and critically analyze bias as they read.

Teachers should also take into account the student's particular experiences,

background and frames of reference when introducing and presenting books to the

students.

Almonte, Richard (1996). A Scholarly Edition of Mary A. Shadd's "A Plea for

Emigration; or Notes of Canada West". Concordia University, MA: 195.

The goal of this thesis has been to provide a reliable edition of Mary A. Shadd's

long-forgotten 1852 book A Plea for Emigration; Or, Notes of Canada West.

Shadd was an abolitionist, teacher, editor, army recruitment officer, lawyer,

advocate for women's rights as well as an immigrant to Canada from the United

States who lived here between 1851 and 1864. This thesis follows conventions of

editing embodied in editions published by the Centre for Editing Early Canadian

Texts based at Carleton University. These conventions include an Editor's

Introduction which provides biographical and literary context, as well as a

complete editorial apparatus including explanatory notes, bibliographical

description of copy-text and emendations. The editing of Shadd's book, it is

hoped, will allow scholars and teachers to reassess the scope of writing by Blacks

in the Canadian tradition, as well as establish Shadd as more than just a figure in

history, but also as a writer whose works deserve to be read today.

Almyroudis, Eleftheria (1991). The Acculturation of Greek Immigrants in Toronto,

Canada. Queen's University, MA: 215.

34
---
The present study had four goals: (1) To discover which particular mode of

acculturation first and second generation Greek immigrants adopt in Toronto. It

was expected that the first generation would be more integrationist, and the

second, more assimilationist. (2) To measure the level of acculturative stress in

both groups. It was expected that the first generation would have higher stress

levels. (3) To evaluate whether marginalization is associated with higher levels of

stress. (4) To measure the level of depression in both generations. It was

hypothesized that the first generation would be more depressed than the second,

and that such variables as age, sex, marital status, education, stressful life events,

and social support would predict or mediate depression. The two generations do

differ in the way that they adapt to Canadian society. The first generation was

more assimilationist than the second, but also more separationist. Stress and

depression levels were not significantly different in the two generations.

Marginalization was, indeed, associated with more stress and depression in both

generations.

Alonso-Coto, Miriam (1999). L'immigration et la communauté d'accueil: Le cas du

Saguenay-Lac-Saint-Jean. Université du Québec à Chicoutimi, MA: 175.

Cette recherche, effectuee dans le cadre de la mai trise en Etudes regionales, traite

de la problematique de l'immigration en contexte regional, c'est-a-dire hors des

grands centres urbains cosmopolites et multiculturels. Sa specificite est de

s'interesser au processus d'integration des immigrants dans un milieu regional

ajoritairement francophone. Actuellement, le Gouvernement du Quebec propose

une politique de regionalisation de l'immigration qui repose sur la presence de

communautes culturelles en region pour attirer et retenir les immigrants. C'est

dans cette perspective que nous avons tente d'identifier la communaute a laquelle

se sentent appartenir les immigrants habitant au Saguenay-Lac-Saint-Jean ainsi

que les particularites du processus d'integration dans le contexte regional. Lors

des renocontres avec des immigrants qui habitent au Saguency-Lac-Saint-Jean,

nous avons identifie deux facteurs qui attirent et retiennent les immigrants dans la

region. (Abstract shortened by UMI.)

Amanor-Boadu, Yvonne Elizabeth (1996). Inter-Ethnic Marriage as the Construction of

Similarity. University of Guelph, MA: 150.

This thesis is an investigation of the effects of inter-ethnic marriage on the ethnic

identity of Canadian women married to men from ethnic backgrounds different

than their own. Arguing for the need to go beyond studies of ethnicity to

explorations of "ethnicized relations" it employs a critical framework with regards

to the concepts of ethnicity and race. Ten informal, unstructured interviews were

conducted with Canadian women, including one with the researcher herself.

Information obtained in the interviews indicates that participants are involved in

the day to day "construction of similarity" as a means of negotiating their own

ethnicity. A model is proposed, including three methods of constructing

similarity, which are based either on reckoning back to a common origin,

35
---
stressing common values, or sharing in cultural rituals. Each method has its own

effects on ethnic identity as each also entails differing experiences of ethnicized

relations.

Ambrose, Michelle Susan (1999). Trends in Occupational Attainment of Women

Immigrants to Canada, 1971-1991. University of Calgary, MA: 75.

Using a data file created by merging public-use microdata files from the 1971,

1981, and 1991 Census of Canada, the intent of this study is examine the

experience of a female immigrant cohort over time with respect to their

occupational attainment levels. More specifically, I wish to determine the extent

to which the effect of ethnicity on occupational status change over the careers of

women aged 25 to 54 immigrating to Canada in the years prior to 1971. Changes

in ethnicity effect on occupational attainment of women aged 25 to 34

immigrating prior to each of the census years are also studied in order to estimate

the consequence of labour force changes for their occupational opportunities and

the effect of changes in the ethnic make-up of the immigrant groups. In both cases

attention has been paid to the labour market advantage of being educated in

Canada compared to being educated in their country of origin. Using this design,

cohort was held constant in the first instance and age in the second thus being able

to separate age, period of immigration and cohort effect on occupational

attainment. Models are estimated using multinomial logistic regression methods

controlling for education level, language ability, work experience, marital status,

number of children, size of place, full-time versus part-time employment and the

probability of being the labour force. The results indicate that Canada's "vertical

mosaic" appears to be a ranking of ethnic inequalities among adults educated

before immigrating to Canada. Virtually each ethnic group at all ages experienced

lower odds of employment, especially within the corporate sector of Canada's

economic system, when compared to the attainment levels of the Canadian-born

women. Plus there is no indication that the strength of effect of ethnicity declines

over time.

Anand, Anitia Indira (1996). Visible Minorities in the Multi-Racial State: When are

Preferential Policies Justifiable? University of Toronto, LLM: 170.

The purpose of this project is to delimit the circumstances in which it is justifiable

for the state to implement preferential policies in favour of visible minorities and

to outline an approach to policy formulation in such circumstances. The thesis

argues that visible minorities warrant preferential treatment in order to rectify past

injustices and to redistribute advantages to visible minorities who are chronically

poor. The thesis then asserts that "supply-side" over "demand-side" policies

should be adopted. Supply-side policies are preferable because they tend towards

the ideal of substantive equality by ensuring that individuals have a minimum

level of subsistence. However, if the goal of achieving substantive equality is to

be taken seriously, the poor should be entitled to benefit under preferential

36
---
policies. Thus, preferential policies should target poor people generally and

visible minorities specifically.

Anand, Sanjeev Singh (1997). Expressions of Racial Hatred and Criminal Law: The

Canadian Response. University of Alberta, LLM: 170.

This thesis argues that the criminal proscription of hate propaganda in Canada is

justifiable from a constitutional perspective. It also asserts that criminal law has a

special and necessary role to play in combatting hate propaganda. By and large,

the criminal offences pertaining to hate propaganda are well drafted, in that they

catch the most serious types of hate propaganda while giving great deference to

freedom of expression. However, there have been very few prosecutions under

the criminal provisions concerning hate propaganda, despite the fact that

numerous human rights cases demonstrate that the dissemination of hate

propaganda is an ongoing problem in Canadian society. Therefore it seems that

Canada's criminal laws dealing with hate propaganda do not give sufficient

protection to equality rights. Consequently, these laws are examined in order to

suggest reforms that would facilitate their enforcement while ensuring that the

freedom of expression is not unduly impacted.

Anchan, John Prabhakar (1998). Global Education Across Cyberspace: Role of the

Internet in Education for Global Awareness. University of Alberta, PhD: 308.

This study explores the possibility of the Internet contributing to the goals and

objectives of global education. It attempts to explore the content and the processes

that exist in relation to the users and the technology at the connectivity level

besides inquiring into the man and machine experiences at the personal level. The

emphasis is on the overall cultural context relating to elements of global

education. The discourse focuses on the intercultural relations pertaining to local

and global issues. The browsing itself was confined to sites that were relevant to

human rights, antiracism education and cross-cultural issues. The methodology

involved content analysis of selected global education sites on the Internet over a

period of 18 months, individual conversation interviews and focus group

interviews with 6 undergraduate students from the Faculty of Education,

University of Alberta. The findings of the study show that there is a need for

becoming more aware of global issues. Like all other tools, the use of the Internet

requires critical analysis of the process of using technology and the nature of

information available on the Internet. The development of critical pedagogy and

empowerment was dependent upon the global educator rather than the medium.

The experience with the machine and technology evoked questions about issues

relating to culture. It was realized that culture was neither fixed nor finite but was

mutable and influenced by power and struggles. It also became obvious that in

Cultural Studies, theory was actually "contextual intervention" that entailed

mapping connections and articulations. The Internet experience also elicited

questions pertaining to the evolution of multiple identities even as one shared the

common concerns with like-minded people. In order to enhance the role of the

37
---
Internet in contributing to the goals of global education, it became obvious that

further appropriation of the communication network system for classroom

teaching was imperative. Most importantly, there was an agreement to the crucial

need for critical and judicious filtering of information available on the Internet.

Anderson, A. Brenda (1996). A Comparative Study of Contemporary Feminist Issues and

Methods in Christianity, Islam and Hinduism. University of Regina, MA: 160.

This thesis examines selected contemporary feminist writings in Christianity,

Islam and Hinduism. The purpose of this study is to define the similarities and

differences in these writings, in the scholars' concerns and in their methods, in

order to demonstrate that contextual diversity is often considered a strength within

the feminist movement, and to illustrate that feminism creates a common ground

for ecumenical dialogue. In order to contextualize the issues which Christian,

Muslim and Hindu feminists consider to be primary, an overview of traditional,

patriarchal views of the feminine in each of these religions is provided, followed

by an examination of the impact such views have had on women living within

these patriarchally-defined religions and cultures. It is shown that each religion

has historically legitimized its patriarchal view of the feminine by claiming divine

sanction for the hierarchical social and ecclesiastical ordering of the sexes. This

religious claim of a natural order has made it historically difficult for women to

perceive the patriarchal paradigm as unjust, much less challenge its validity. The

third section of each chapter depicts the variety of concerns expressed and

methods employed by feminists from these three religions. These issues and

methods are compared in the conclusion, and it is here that we see that diversity

as well as similarity can contribute in a positive way to ecumenical dialogue

amongst feminists. From this thesis, feminism emerges as an analytical tool which

is being eagerly applied to contemporary cross-cultural, trans-religious studies.

Anderson, Bruce (1994). Regional Perspectives on the Trudeau Supra-Nationalist Vision.

Carleton University, MA: 147.

The mandate of this paper is to illustrate empirically that the different regional

cultures which exist in Canada have differing degrees of acceptance of the

proactive definition of "The Canadian Identity" as defined by Former Prime

Minister Trudeau. By use of the York University Academic Election Study of

1988, the first task is to examine quantitatively the citizens' attitudes concerning

four elements promoted by Trudeau: Social Welfarism, Anti-Americanism,

Multiculturalism, and Bilingualism. Secondly, the paper will ask three questions

concerning each element: (1) Is there general support for the initiative? (2) Do

inter-regional attitudes conflict on the initiative? (3) Is there a degree of intraregional

conflict on the initiative? The study suggests that support, or dissonance,

of the initiative can be understood through theoretical frameworks described by

rational self-interest and cultural heritage. The paper concludes with a discussion

of the results which suggests that Trudeau's nationalist vision is less than

successful because it is policy oriented. Moreover, the inference will be made that

38
---
the policy oriented approach of Trudeau has more to do with pleasing the Liberal

electoral coalition than the creation of a supra-nationalist Canadian Identity, and

via the Constitution and The Charter of Rights has institutionalized division.

Anderson, Ellen (1998). Enlightened Postmodernism: Scottish Influences on Canada's

Legal Pluralism. University of Toronto, LLM: 260.

Scottish immigrants to Canada imported Scottish Enlightenment philosophies of

moral sentiment, giving rise to indigenous philosophies of common sense that

coalesced in a distinctive (if amorphous) Canadian community state of mind

between about 1850 and 1950. During the premodern era when philosophy was

largely internal to law, these Scots dominated the historic development of

Canadian political, religious, economic, educational and legal institutions-especially

law schools. Exploring legal ideology in relation to modernity and

postmodernity reveals why modernism's advent precluded any self-conscious

Canadian history of legal theory. Legal postmodernism, defined as fragmentation

of the legal subject and corresponding indeterminacy of legal meaning, both

embraces modernism and sustains affinities with traditional Scottish

Enlightenment thought. Out of its Scottish heritage, Canada (the world's first

postmodern state) has evolved a largely unconscious and common sense

postmodern legal ethics which is revealed in contemporary Canadian legal theory

and epitomized by our contextual Charter jurisprudence.

Anderson, Kay Janette (1987). "East" as "West": Place, State, and the Institutionalization

of Myth in Vancouver's Chinatown, 1880-1980. University of British Columbia,

PhD.

The point of departure for this thesis is the view that "race" is not an objectively

given biological trait, but an idea, defined by the significance people attach to it.

It is an idiom around which have been erected epistemological distinctions of

insider and outsider, "we" and "they." In view of the problematic nature of race, it

is argued that one of the tasks of the social science of race relations is to uncover

the social process by which racial categories are themselves constructed and

institutionalized over time. In developing this argument, the thesis demonstrates

the roles played by place and the state in the making of a racial category, the

"Chinese" in one setting. The significance of place is identified for its role as the

historically evolving nexus through which the racial category is structured. It is

argued that "China town"--like race--is an idea that belongs to the white European

cultural tradition and the intention of the thesis is to trace the career of its social

definition in Vancouver, British Columbia over the course of a century. In so

doing, the claim is made that Chinatown reveals as much of the "West" as it does

of the "East." The ideas of place and identity would not have been so enduring or

effective, however, but for the fact that they have been repeatedly inscribed in

institutional practice. It is argued that the three levels of the Canadian state, as the

legislative arms of a hegemonic "white" European historical bloc, have granted

legitimacy to the race definition process through their national, provincial and

39
---
neighborhood practices. This process continues through the long period when

"Chinatown" was reviled as a public nuisance, promoted as a "Little Corner of the

Far East," reconstructed as a "slum" and finally under the aegis of

multiculturalism, courted in the 1970s by the Canadian state precisely for its

perceived "Chineseness." Underlying these definitions of Chinatown is a deeper

racial frame of reference that has been continuously re-created through

discriminatory and more subtle ways as part of the exercise of white European

cultural domination.

Angen, Maureen Jane (1995). An Exploration of the Self-Perceived Health-Related

Needs of Ethnic Minority Adolescents. University of Calgary, MSC: 123.

The literature suggests that ethnic minority adolescents experience greater

demands in their lives than majority adolescents. The study described in this

thesis explored the self-perceived health-related needs of ethnic minority

adolescents. An adolescent health needs survey, used to prioritize programming

for a pilot Comprehensive School Health project at the high school level,

provided the data for this study. The needs rated by ethnic minority adolescents

were compared to those rated by majority adolescents. Within the minority data,

possible differences due to ethno-linguistic group membership, length of

residence in Canada, and gender, were also assessed. Results suggest that

minority adolescents comprise a distinct group from majority adolescents on the

strength of some health needs. Within the minority data, length of residence in

Canada was the only distinction to result in significant differences between

groups. Ethnic minority adolescents who had lived in Canada for 5 years or less

showed higher needs than those who had lived in Canada for 6 or more years.

Results support the literature in several areas and suggest the need for assessment

and programming which is sensitive to the health-related needs of ethnic minority

adolescents, particularly the most recent immigrant group.

Annamma, Joy (1982). Accommodation and Cultural Persistence: The Case of the Sikhs

and the Portuguese in the Okanogan Valley of British Columbia. University of

British Columbia, PhD.

There are two themes that are explored in this thesis. The first is an examination

of the process of acculturation, defined here as the process of learning skills and

strategies native to another group. The second is comparative and examines the

causes for the relative success that the Portuguese had in learning to accommodate

and be accepted in Canada. By the same token the sources of acculturative stress

for the Sikhs will be identified. The two groups are comparable along several

dimensions such as age, education, skills, knowledge of English on arrival and so

on. Learning to be effective in Canada means understanding and acting

appropriately in given contexts. The spheres that I have identified as important are

the workplace and the community in which they live. The other spheres that come

under scrutiny as a result of the spillover of public activities and experiences are

the family, and the sphere of religious beliefs and practices. The workplace, I

40
---
argue, is a central institution wherein acculturation is imperative. Secondly, the

establishment of individuals in the community is a crucial factor. While the

formation of an ethnic enclave might serve as a support system for newcomers, it

also isolates and seperates them from others. The Sikh definition of identity is

hierarchical, with religion providing an anchorage for all other spheres such as the

family, caste, village, and occupation. In sort, individuals did not experience life

activities as differentiated or unrelated. Given the contexts of ambivalence and

hostility they perceived and/or experienced in Canada, the acquisition of new

forms of thought were neither seen as a challenge nor a necessity; but as a threat

to their identity. The Portugueses model, on the other hand, recognizes the

distinction between public and private lives. To them being "Portuguese" and/or

"Catholic" are primarily private matters. Also, by and large they gave importance

to individual achievement over corporate identity. To them, acculturation and

ethnic identity were complementary modes for the definition of themselves within

the Canadian context.

Anthony, Sandra Patricia (1998). Black-Eyed Susan: "Blue-eyed" Schools.

Academically-Oriented Black Girls in Toronto Schools. University of Toronto,

PhD: 239.

This study explores the ways in which academically oriented Black girls in

Toronto secondary schools perceive, interpret and cope with issues related to their

race and gender. It also examines their achievement motivation and strategies for

coping with their status as academic Black girls. The literature abounds with

research describing Black students who disengage from school or academics.

Much less is known about the strengths and coping mechanisms of those who

overcome barriers, such as racism and sexism, to achieving academic success.

This is the first study that focuses on academic Black girls in Ontario schools.

Through semi-structured personal interviews with twenty Black girls, this study

provides some insight into their experiences of racism and sexism, their academic

problems and their relationships with school staff, family, friends and

acquaintances. They also describe the strategies they use for coping with these

issues and the sources of their motivation to achieve. The findings show that

racism and sexism are still major elements of school culture and that perpetrators

include teachers, administrators and students. Despite this, the girls were able to

cope with discrimination in ways that did not jeopardise their academic

achievement. Contrary to popular belief about Black students, they consider

academic credentials as crucial to the attainment of their career goals. This study

dispels the myth which equates Black culture with nonconformist behaviour and

academic failure. The participants displayed positive aspects of Black culture and

identity, and a sense of pride in their African heritage. This research also

confirms that school staff, families and peers have key roles to play in Black

students' academic achievement. The girls had several supportive non-Black

teachers who encouraged their academic pursuits. The study identifies additional

ways through which educators and policy makers can promote achievement and

support, not only Black students, but those from other marginalised groups. Most

41
---
notable among these is the call for more Black and other "minority" teachers and

administrators in our schools. The participants also expressed a desire for a more

inclusive curriculum because the Eurocentric one currently used is not realistic

and does not adequately meet their needs. They proffered additional

recommendations for improving the school system, pedagogy and instruction and

these are also included here.

Appai, Padi Stephen Kodjo (1999). Study Abroad and Global Citizenship: Sub-Saharan

African Students at the University of Alberta. University of Alberta, PhD: 276.

Over several decades, universities in Canada and other North Countries have been

engaged in a process of internationalization. This is reflected in the curriculum,

study abroad/exchange activities and an international students' programme. In

recent years there has been a vigorous drive towards the marketing of educational

services to international students as a major part of the process of

internationalization. It is thus important to know what the potential contributions

of study in a North country like Canada are to the development of the global

perspectives of foreign students. This study thus provides a critical analysis of the

experiences of one particular group of international students, those from sub-

Saharan Africa, currently studying at the University of Alberta. While some

previous study in the field of international education have probed the effect of

study abroad on foreign students, most of these have focused on problems of

adjustment to host country culture and academic environment. This study goes

further to explore how these international students view themselves as global

citizens: What are their perceptions of their global identity? What changes, if any,

have occurred in their global perspectives as a result of their educational sojourn

in Alberta? The study also explores what empowerment their current worldview

has given them for reentry into their home countries. In effect, have their

educational experiences in Alberta enhanced and/or diminished their faith in the

value of global understanding and global citizenship? Conceptually, the study

draws on insights from various models of internationalizing universities as well as

from global education frameworks. Using the narrative methodological approach

within qualitative research traditions, the study investigated 10 graduate students

from various countries in sub-Saharan Africa who were registered in different

programs at the University of Alberta. Through in-depth interviews,

supplemented by a survey questionnaire and a model for determining Global

Citizenship developed for the study, the dissertation provides insights to help

understand how curricula and other academic issues as well as the paradigm of

internationalization employed by an academic institution, impact some

international students. The findings of the study show that the internationalization

process at the University of Alberta has not fully impacted some international

students in a positive way as to help them develop a transformative view of crosscultural

respect, global interdependence and global citizenship. A major

recommendation of the study is that the University needs to adopt an integrative

approach within a critical paradigm to its internationalization process. This

approach, coupled with curricula innovation and pedagogical orientation to

42
---
exposing students to diverse paradigms of critical thinking, would see a greater

level of empowerment for international and by extension, Canadian students, in

enhancing their roles as global citizens.

Applebaum, Barbara (1994). Respect for Diversity: Its Meanings, Moral Justification and

Educational Implications. University of Toronto, PhD: 205.

Multiculturalism is not only a descriptive but also a normative concept. Yet the

moral dimension of our normative commitments to multiculturalism has often

been overlooked. The primary objective of this thesis is to uncover the moral

justification of such commitments and to outline its implications for education.

The Argument from Respect for Diversity is claimed to provide the most

promising argument in the literature today which justifies our normative

commitments to multiculturalism because it takes cultural diversity seriously,

encourages interpersonal dialogue and avoids relativism, on one hand, and avoids

ethnocentrism, on the other. However, in order to understand the Argument from

Respect for Diversity correctly, an analysis of the concept of respect is required.

The concept of respect relevant for the Argument from Respect for Persons

involves a recognition of others as persons and does not imply any evaluative

judgments of others. It is argued that when applied to cultures, it is mistaken to

equate such respect with the belief that all cultural values are equally valid.

Respect for diversity, as interpreted here, avoids any association with moral

relativism. Furthermore, such a concept of respect does not preclude making

judgments about other cultures but rather, it is shown, sets the parameters from

which such intercultural judgment can be made. Respect for diversity and the

charge of ethnocentrism are both shown to be founded on the value of respect for

persons. Thus, the interpretation of respect for diversity cannot be accused of

being ethnocentric in the morally repulsive sense. Finally, the implications of

such an understanding of respect for diversity show that educators need not be

morally paralysed when faced with cultural value clashes in the classroom.

Rather, respect for diversity can be consistent with taking a particular moral

stance in the classroom. Most important, the concept of respect for diversity being

advocated strongly alerts educational policy makers to the need for a programme

of moral education in the multicultural classroom, without which multicultural

education is claimed to be ineffective.

Applebaum, Seymore (1992). Recruiting and Retaining Volunteers from Minority

Communities: A Case Study. University of Toronto, EDD: 251.

This exploratory case study of recruitment and retention of volunteers from

minority communities examines the issues from several perspectives. Historical,

political, societal and organizational contexts of volunteering and minority status

in Canada and other countries experiencing significant immigration from nontraditional

sources provide the background for an examination of the issues of

recruitment and retention in an agency (the Children's Aid Society of

Metropolitan Toronto (CASMT)) setting. The CASMT was selected because it

43
---
had a positive reputation for the successful recruitment and retention of minority

volunteers. The case study consisted of (1) Document Review, (2) Participant

Observation, (3) Staff Interviews, and (4) Interviews with volunteers

(administrative and service). The findings from the research were analyzed using

quantitative and qualitative research and analysis techniques. The results of this

exploratory case study reveal that there are many ways in which organizations

with volunteer programs can recruit and retain people from minority

communities. However, mainstream organizations must be prepared to address

issues of prejudice and racism if they intend to have long term equitable

representation among their volunteers. The growing recognition of the need for

anti-racism policies that are substantive offers some promise that working

conditions encountered by volunteers and their colleagues will change in such a

way that equitable relationships can be maintained and developed. A matrix and

strategy statements are provided to help organizations identify approaches that

will help meet specific needs in integrating volunteers from minority

communities.

Arab-Moghaddam, Narges (1997). The Concurrent Development of Reading and

Spelling in Persian and English. Carleton University, MA: 90.

The present research examined the concurrent development of reading and

spelling skills in two different languages, namely Persian (L1) and English (L2).

Fifty-five Iranian children aged from 7.0-9.9 who were attending Persian and

English schools in Ottawa, Toronto, Montreal, Waterloo, and Guelph were tested

for their reading and spelling performances in both Persian and English. Positive

correlations among measure of Persian and English supported cross-language

transfer, indicating that children who performed better on Persian measures were

likely to perform better in English measures. This student also examined the

relative contribution of phonological and orthographic skills in both reading and

spelling within each language. The finding for reading in both Persian and

English supported the Universal Hypothesis which assumes that reading of words

in any language can be accomplished mainly by the application of orthographic

skills. The result of spelling did not support the Universal Hypothesis. Spelling in

Persian was predicted by orthographic skills only, whereas spelling in English

was predicted similarly by orthographic and phonological skills. These results are

interpreted in terms of the development of literacy skills.

Aramaki, Michiko (1994). Family, Paesani and Networks: Politics and Economy of

Montreal Italians. McGill University, PhD: 276.

Focusing on Montreal Italian social networks, this thesis examines the ideological

nature of ethnicity, and its functioning in political processes in urban Quebec. The

ideological dynamics of ethnicity are revealed in the process of the creation and

re-creation of belief in "Italian family", as a distinctive 'Italian' culture. This first

separates Italians into different families and regional groups of paesani, but then

brilliantly unites Italians into one group according to necessity. In political

44
---
processes, various Italian associations and presidents are connected to formal

politics through the mediation of Italian political brokers. The extensive

construction of suburban residences created Italian economic elites and affected

other sectors of the economy. Significantly, Italians attempt to keep business

within Italian networks. This 'nationalistic' aspect of networks aims to maximize

interests within the group. Such dynamic Italian politico-economic networks

extend to the further level of formal politics in which federalist Liberals and

separatist Parti Quebecois are principal rivals.

Araujo-Forlot, Anelise G. (1995). The Impact of Migration and Immigration Policies on

the Adaptation of Latinas Under the Live-in-Caregivers Programme. University of

Toronto, MA: 215.

Immigrant domestic workers make up one of the oldest classes of migrants to

have come to Canada since the European settlement. However, living and work

conditions for this group of immigrant women have not improved a great deal.

Although several works have been written on the socio-economic conditions of

immigrant domestic workers in Canada, none has examined how this group of

workers adapt to Canadian society. The purpose of this study is to analyze the

adaptation of Latina domestic workers to Canadian society under the Live-In

Caregivers Programme (LCP) in Toronto. The two components which influence

this adaptation process and which were considered in this thesis are the migratory

process of Latina immigrant domestic workers and the immigration policy which

binds this group of workers to Canada. The live-in obligation and the temporary

visa status are the two main elements which have a direct impact on immigrant

domestic workers during their process of integration to Canadian society. These

constraints result in problems of maladaptation. As far as the migratory process

of Latina domestic workers is concerned, the issues dealt with are the reasons

which contribute to the decision to migrate to Canada, and the disappointments

generated by the discrepancy between expectations prior to migration and reality.

Furthermore, a discussion is presented on the particular LCP regulations which

influence the socio-economic and psychological well-being of immigrant

domestics as well as how these regulations contribute to their adaptation process.

An analysis of acculturation and adaptation variables affecting Latina domestic

workers is also carried out in this thesis.

Arcand, Sébastien (1998). Discours idéologiques et transculturalité: La question nationale

en débat. Université Laval, MA: 103.

L'objectif de cette recherche en sociologie est de rendre compte d'un aspect

specifique de la place qu'occupent certains intellectuels dans la production de

discours ideologiques au Quebec. La participation a la sphere publique est une

necsssite de l'engagement intellectuel et l'evolution des debats ideologiques est

liee au processus de creation de discours. Au Quebec, la participation des

intellectuels immigrants de premiere generation dans le debat sur la question

nationale reflete l'influence mutuelle entre la societe d'accueil et l'immigrant. C'est

45
---
donc dans une perspective de transculturalite que nous avons procede a une

analyse de discours. Pour ce faire, nous avons interroge neuf intellectuels

immigrants provenant de diverses regions du globe et qui ont pris une position

publique sur la question nationale. Les entrevues portent a la fois sur le passage

de l'emigration a l'immigration et sur la vision qu'ont ces intellectuels du debat sur

la question nationale. Cette recherche identifie trois formes de discours qui

temoignent d'une relation de transculturalite. Ainsi, la pregnance de la question

nationale incite les intellectuels a s'engager publiquement et les trajectoires

individuelles orientent la forme de cet engagement. Le Quebec est une societe

pluraliste et nous croyons que la relation que nous avons fait ressortir permettra

d'ouvrir des pistes de reflexion quant a l'orientation que donne cette pluralite aux

debats de societe. Fournissant en premier lieu une contribution a la sociologie des

relations ethniques, cette recherche tente de favoriser la convergence des cultures

et de sortir des sentiers traces par la division ethnique de la societe.

Armstrong, Tamara A. (1996). Asian Versus Western Differences in Satisfaction with

Western Medical Care: The Mediational Effects of Illness Attributions. University

of Western Ontario, MPS: 106.

This study examined Asian versus Western satisfaction with Western medical

care, and the extent to which satisfaction differences are mediated by culturespecific

"illness models". Seventy-nine Western (largely Canadian-born; 27

males, 52 females) and 63 Asian (first and second generation Asian immigrants;

31 males, 32 females) undergraduates completed measures assessing satisfaction

with Western medical care, views about the causes of illness, health locus of

control, and general attitudes about life, death, and illness. Results were consistent

with predictions. Asian participants were less satisfied with the health care they

have received in Canada, and believed more strongly in non-biological causes of

illness (i.e., supernatural and interpersonal influences) than did the Western

participants. Moreover, illness beliefs partly accounted for group differences in

satisfaction with Western medical care. Findings suggest that, to increase

accessibility of health care to the immigrant population, it is necessary to address

their culture specific illness models.

Arratia, Maria-Inés (1987). Latin Americans in London: A Critical View of Multicultural

Practice. University of Western Ontario, MA: 184.

N/A

Arseneault, Samuel Patrice (1988). "On est Venu, C'est Pour Rester": Caraquet, the

Development of an Acadian Identity. Queen's University, PhD: N/A.

This is a dissertation on the cultural and historical geography of Caraquet, the

oldest Acadian parish in northern New Brunswick. The area was visited regularly

during the French Regime, but it was only settled permanently in the last half of

the 18th century by displaced Acadians and fishermen from the Gaspe coast and

46
---
the shores of northwestern France. The concern of this thesis will be with how

these settlers, having the same language, the same religion, the same ethnic origin

and occupying the same village chose to regroup themselves into separate

communities, one group using the land while the other turned toward the sea for

its livelihood. The persistence of these two communities is based on the transfer

of different techno-economics rooted in different European settings. The farmers

of Caraquet were in fact descendants of farming communities in the lowlands of

western France while the fishermen learned their trade in the coastal communities

of Normandy. The North American setting, rather than transforming the technoeconomics

of the early settlers, actually helped to perpetuate their customs and

skills acquired throughout the centuries in France. This cultural heritage, carried

across the Atlantic to the shores of the Maritimes, was used successfully in the

separate development of the two Caraquet communities. During the 19th century,

the Acadian sense of identity was linked to the land-based farming economy,

ignoring for the most part the important fisheries sector. This land-based identity

was upheld by the clergy, written into novels and discussed at the National

Conventions. This image of the Acadians helped the elite to convince the people,

be they farmers or fishermen, to join the "Back to the Land" movement in the late

19th and early 20th centuries. The failure of the land movement and the economic

recession of the 1930s were responsible for the emergence of a new sense of

identity which was not only land but also sea oriented. This was possible in part

because the fishermen had new techniques, and exploited a more valuable

resource, but also because the Acadians were beginning to control their economy

through the cooperative movement. This economic control helped reinforce the

social, cultural and ethnic identity of the Acadians.

Arthur, Linda Faustina Clare (1997). An Analysis of the Nature and Implementation of

Policies Concerning Cultural and Racial Bias in Curriculum Materials. University

of Toronto, MA: 109.

In response to growing cultural and racial diversity in Canadian schools,

ministries and school boards have developed policies concerning racial and

cultural bias in curriculum materials. This thesis examines the nature,

implementation and outcome of these policies. Data were collected from nine of

the provincial ministries of education and ten school boards across Canada known

to have multicultural or race and ethnic relations polices in place. In addition,

pilot studies of implementation were conducted in two Ontario school boards.

Using the process of analytic induction, the data were examined according to a

typology of public policy and within a framework of implementation theory.

Findings revealed that bias policies elicited a range of individual responses which

cut across traditional organizational cultures. Furthermore, it was found that

personal commitment, political pressure and cultural reinforcement were, alone or

in combination, necessary precursors to the implementation of bias policies.

47
---
Ashley, Owen George (1994). Delinquency and Separated Male Caribbean Youth:

Parent-Child Separation, Bonding and Peer Relationships. York University,

MSW: 172.

This study examines delinquent behaviour among separated Caribbean

adolescents in Metro Toronto by seeking to explore some of the potential causes

that may contribute to delinquency. The purpose of this study is to gain a greater

understanding of the role that parents and peers may play in potential delinquent

behaviour among separated Caribbean youth, by using non-separated Caribbean

youth as a comparison group. Although there are other variables which contribute

to delinquency among Caribbean adolescents, this study used three important

variables that, according to the literature, exemplify characteristics common

among Caribbean youth who have immigrated to Canada. These characteristics

are separation, bonding and peer relationships. This study examines the possible

relationships among Caribbean youth, aged 16-19, that may exist between

delinquency and parent-child separation, parent-child bonding and peer

relationships. The study findings are based on a sample of 111 Caribbean males,

of which 52 were born in the Caribbean and separated from their parents for one

year or more. The other group consists of 59 Caribbean males who had not been

separated from their parents for any extended period of time, of which a majority

were born in Canada. The two groups were compared using established scales

(Delinquency Checklist or DCL, and the Parental Bonding Instrument or PBI) as

well as a questionnaire devised by the researcher. The findings of the study

showed that the separated respondents had higher rates of delinquent activity, and

weaker parental bonding, when compared to the non-separated group. There did

not seem to be any difference concerning the peer relationships that existed

between the two groups.

Ataca, Bilge (1998). Psychological, Sociocultural, and Martial Adaptation of Turkish

Immigrants in Canada. Queen's University, PhD: 324.

This study examined the acculturation and adaptation of married Turkish

immigrants in Canada. A comparative approach was employed by incorporating

the two sedentary reference groups of the Turkish migrant group: Turks in

Turkey, and Euro-Canadians. In this sense it is the first complete study of

acculturation. Data were collected through self-report questionnaires from three

groups: 200 married Turkish immigrants and 90 married Euro-Canadians living in

Toronto, Canada, and 114 married Turks living in Izmir, Turkey. Contrary to the

general contention that migration inevitably results in negative outcomes,

immigrant couples did not necessarily experience more difficulty due to

acculturation than the sedentary groups. Psychologically, Turkish immigrant

couples experienced no more difficulty than Turkish couples, yet experienced

more difficulty than Euro-Canadian couples. They had more sociocultural

difficulty than both sedentary groups. In terms of marital problems, they were not

different from either group. The psychological, sociocultural, and marital

adaptation of Turkish immigrant couples and also of immigrant men and women

48
---
were also distinguished using simultaneous multiple regression and canonical

correlation analyses. Consistent with stress and coping models, psychological

adaptation of married couples was associated with hardiness, social support,

acculturation attitudes, and discrimination. On the other hand, in line with social

learning perspectives, sociocultural adaptation was mostly related to English

proficiency and contact with members of the dominant group. Marital adaptation

was mostly associated with marital stressors and marital support. There were

differences in the differentiation of adaptation between males and females. This

differentiation was more clear in men than in women; there were also different

variables associated with the adaptation of men and women. Utilizing the basic

socioeconomic distinction among professional and nonprofessional Turkish

immigrants in Canada, the effects of socioeconomic status as well as gender were

examined. The two social classes of immigrants had different acculturation

experiences and adaptational outcomes. Gender differences were most apparent in

the lower socioeconomic status group. Women in general were psychologically

more vulnerable than men; the group that faces more risk factors were those

women of low socioeconomic status. In terms of acculturation attitudes, Turkish

immigrant couples strongly endorsed separation; however, those of high

socioeconomic status preferred integration and assimilation to a greater, and

separation to a lesser extent than those of low socioeconomic status. Euro-

Canadian couples preferred immigrants to adopt integration. The greater

incompatibility between the attitudes of Euro-Canadians and those of low

socioeconomic status is likely to foster greater conflictual relations.

Atinga-Chabot, Gladys Teni (1995). Difficultés d'intégration rencontrées par les

immigrantes et les immigrants africains de l'Afrique au sud du Sahara en terre

québécoise. Université Laval, MA: 105.

La presente recherche aborde la thematique de l'integration des immigrantes et

des immigrants africains dans la region de Quebec. Elle vise a comprendre les

difficultes rencontrees par ces immigrantes et ces immigrants africains dans leur

processus d'integration en terre quebecoise. Pour ce faire, nous adoptons une

demarche qualitative a l'interieur d'un paradigme phenomenologique. Nous

procedons a partir d'experiences vecues a l'etude des phenomenes relies a

l'integration des immigrants et immigrantes d'origine africaine dans la region de

Quebec, donc de l'induction a la deduction. La confrontation des donnees fournies

par cette enquete a la litterature fait ressortir trois aspects de l'integration des

immigrants en provenance de l'Afrique au sud du Sahara: le besoin

d'appartenance, la devalorisation des individus et la discrimination. Ces

phenomenes se voient exacerbes par l'absence d'une vraie politique d'integration

des immigrants.

Au, Doris Kin-Mee (1995). The International Languages Program: Pedagogical

Challenges Experienced by Cantonese Teachers in Primary Grades. University of

Toronto, EDD: 293.

49
---
This study examined the existing practices, challenges and expectations of

Cantonese teachers in the implementation of the International Language

Programme for primary aged students in a city in Metropolitan Toronto, Ontario.

Following an ethnographic design, three teachers of primary classes,

recommended by their supervisor, were invited to collaborate in the research.

They enabled the researcher to make weekly classroom observations and opened

for her a window on their reflections by journalling and dialoguing with her on a

regular basis. Also, with the assistance of these research-participants, the

researcher was able to select three children to represent the broad categories of

students who formed the majority of the population in the Cantonese program.

These children were visited in their homes and interviewed with their parents. The

case studies illuminated pedagogical concerns highlighted by teachers and offer

an interested profile of the student population for whom they had to programme.

In addition to the ethnographic component, a questionnaire with closed and openended

items was used to elicit information from Cantonese heritage language

teachers of primary grades in two school boards, on curriculum design, teaching

materials, pedagogy and instructional strategies. Another questionnaire was

employed to survey the parents of primary aged children attending the Cantonese

programme, in order to discover their opinions and expectations of the

programme. The study revealed that the Cantonese heritage language instructors

were particularly challenged by (1) the structure and format of the programme in

providing adequate learning time and an ideal learning environment to students,

(2) the lack of suitable instructional materials, (3) the wide range of abilities of

students in each class, (4) the lack of research and knowledge about Chinese

heritage language curriculum and teaching, (5) very diversified parental

expectations and support, (6) the insignificant status of the programme in the

overall school curriculum, and, (7) the lack of communication between School

Board administrators and the Teachers. A common concern was the lack of

standards and direction from the Ministry of Education and Training in the

Chinese program, and the inability of administrators to provide professional

guidance apart from the generic variety. By and large, teachers wanted to do their

work well. There appeared to be an attitude of openness for pragmatic ideas and a

willingness to become more student-centred in the design and implementation of

the programme. Often frustrated in their desire to be effective in teaching a

language and culture that has been 5,000 years in the making, they seemed,

nevertheless, anxious to make the best of every situation and hoped that change

for the better will occur soon.

Au, Kevin Yuk (1996). Grievance Initiation in an Ethnically Diverse Organization.

University of British Columbia, PhD: 187.

The demographic composition of the North American workforce is changing due

to the increase in non-European immigrants and different reproductive rates

among ethnic groups. This trend has created the need for managers and academics

to rethink traditional ways of management and derive new ways to integrate

minority workers for better performance. Guided by a social psychological

50
---
framework of multiculturalism, this project examined the use of the grievance

procedure in an ethnically diverse organization. It tested various hypotheses

concerning how ethnic belonging, perceived atmosphere of multiculturalism, and

individualism-collectivism value affected job satisfaction, complaint behaviours

of workers, the number of grievances filed, and workers' evaluations of the

grievance procedure. A study was conducted in the Vancouver plant of a Crown

Corporation. Through the cooperation of management and the union, labour

officers, shop stewards, and supervisors of the plant were first interviewed. After

that, 650 questionnaires were distributed to in-house, blue-collar workers who

voluntarily participated in the study. Of the 139 questionnaires returned (21%),

130 of them were completed and analyzed by regression. Many of the hypotheses

are supported. English ability is positively associated with ethnic belonging for

majority workers, but not for minority workers (Linguistic Vitality Hypothesis). It

is also positively associated with complaints to supervisors and the number of

grievances filed, but not with complaints to coworkers of same ethnic background

(Linguistic Accommodation Hypothesis). For minority workers, a stronger ethnic

belonging is related to perceiving a positive atmosphere of multiculturalism

(Ethnic Confidence Hypothesis). This relationship, however, does not exist for

majority workers. Moreover Ethnic Status Hypothesis is also supported, as ethnic

status is positively associated with perceiving a more positive atmosphere of

multiculturalism. Contrary to the general beliefs concerning multiculturalism,

perceived atmosphere of multiculturalism has little direct effect on grievance

behaviours in a multicultural workplace (Primary Multiculturalism Hypothesis).

However, in line with the literature of situational ethnicity, the interaction of

perceived atmosphere of multiculturalism and ethnic belonging exerts significant

effects on grievance behaviours (Secondary Multiculturalism Hypothesis). In

particular, when atmosphere of multiculturalism is perceived as high, ethnic

belonging is positively related to job satisfaction, but is negatively related to

complaints to supervisors. On the other hand, when the atmosphere is perceived

as low, ethnic belonging is positively related to the number of grievances filed. In

addition to findings concerning multiculturalism, different kinds of individualismcollectivism

values were found to influence grievance behaviours in different

ways. Coworker collectivism is positively related to complaints to supervisors,

complaints to coworkers of same ethnic backgrounds, and the number of

grievances filed. On the other hand, general collectivism is negatively associated

with complaints to shop stewards, the number of grievances filed, but is positively

associated with feelings of animosity and worry of reprisal after grievances were

filed. These findings were discussed in light of research implications for

individualism-collectivism, Canadian multiculturalism policy, and diversity

management. Furthermore, it is recommended that alternative dispute resolution

procedures, which allow disputants to structure the process with freedom, be

implemented in multicultural workplaces.

Auger, Martin F. (2000). Prisoners of the Home Front: A Social Study of the German

Internment Camps of Southern Quebec, 1940-1946. University of Ottawa, MA:

226.

51
---
During the Second World War (1939-1945), five internment camps were created

on the south shore of the St. Lawrence river for the incarceration of male

individuals of German descent. They were known as Farnham, Grande Ligne,

Icircle-aux-Noix, Sherbrooke (Newington) and Sorel. Their goal was to neutralize

any potential threat to the defence of the Canadian nation. With the entire country

being mobilized for war, the security of the homefront was necessary. Any person

suspected of sympathizing with the enemy was perceived as a potential "spy and

Saboteur" and was incarcerated in internment camps. Individuals of German

origin were no exception. During the first phase of southern Quebec's internment

operation, 1940-1943, civilians formed the bulk of the inmates while during the

second phase, 1942-1946, it was prisoners of war. This thesis analyzes how the

region's internment operation developed. It deals primarily with the issue of life

behind the barbed wires and how psychological strains came to affect inmates. It

also looks at how Canadian authorities attempted to counter such problems by

introducing labour projects and re-educational programs. This case study of

southern Quebec demonstrates that the internment camp operation in Canada was

an integral part of the effort to produce total war.

Avison, Shannon Margaret (1997). Aboriginal Newspapers: Their Contribution to the

Emergence of an Alternative Public Sphere in Canada. Concordia University,

MA: 225.

This thesis explores the contribution of the regional Indian, Metis and Inuit

newspapers to the development of an alternative political public sphere for

Aboriginal peoples in Canada. It argues that although the development of the

newspapers was an important aspect of the political and cultural development,

these newspapers were, to use Habermas' terminology, "feudalized" by the

political organizations that created them, the Canadian state that funded them and

the marketplace that determines their fate today. Using Jurgen Habermas' concept

of the public sphere, this thesis considers the contribution that these publications

made to the process of public opinion at the regional and national levels in

Canada. It concludes that the regional newspapers did contribute to the national

Aboriginal public sphere, but that state policies and financial exigencies limited

their contribution and prevented them from realizing their full potential in the

lives of Aboriginal Canadians.

Avrich-Skapinker, Mindy Beth (1993). Canadian Jewish Involvement with Soviet Jewry,

1970-1990: The Toronto Case Study. University of Toronto, PhD: 346.

The "plight" of Soviet Jewry, that state of un-freedom whereby Soviet Jews were

neither free to live as Jews in the Soviet Union nor free to leave the Soviet Union,

touched people the world over who cared about discrimination and human rights.

The cause of Soviet Jewry however, had a particularly strong resonance for the

Jewish psyche. As a result, many in the Canadian Jewish community became

increasingly concerned for, and involved with the fate of fellow Jews in the Soviet

52
---
Union. Canadian Jews have been involved with the Jews of the Soviet Union on

two related but in practical terms very different fronts, namely, emigration and

immigration. The thesis seeks to address both sides of the issue of "Soviet Jewry"

and their interrelationship over the last two decades. It attempts to do this within

the context of the larger issue of Jewish survival. The focus of the study is not

Soviet Jewry per se, but Canadian Jewry, or more precisely, Toronto Jewry. The

dissertation is concerned with the responses of Toronto Jews to Soviet Jews both

as emigrants from the USSR and as immigrants to their city. It traces the rise and

development of the highly successful Soviet Jewry movement in Canada, a

movement whose raison d'etre was the fostering of Jewish emigration from the

Soviet Union with Israel as the preferred destination and examines the Canadian

Jewish historical record with regard to the immigration and integration of those

Soviet Jews for whom Canada has been the preferred destination. The unique

challenges posed by the issue of "Soviet Jewry" called for new and creative

responses on behalf of the Canadian jewish community. One hopes that both the

Canadian Jewish community and the Soviet emigres and immigrants for whom,

and with whom, Canadian Jews have worked, have been enriched by the

challenges inherent in the experience. The aim of the research has been to

document and analyse that experience.

Aycan, Zeynep (1996). Impact of Employment-Related Experiences on Turkish

Immigrants' Psychological Well-Being and Adaptation to Canada. Queen's

University, PhD: 229.

This study examines the factors influencing Turkish immigrants' adaptation to

Canada with a specific emphasis on changes experienced in employment patterns.

One hundred and ten Turkish immigrants were surveyed through questionnaires.

The majority of the participants migrated to Canada within the last ten years.

Despite high educational attainments, two-thirds of the sample were either

unemployed of underemployed. Inability to integrate fully into the labour force

within the first six months in Canada was primarily attributed to the lack of

competence in official languages and Canadian work experience, and the

difficulty in getting credentials recognized. In time, these barriers seemed to be

overcome. In their place, market conditions (e.g., low-paid jobs, inadequate work

conditions, economic regression) delayed full integration into the work force.

Models that were tested through structural equation modelling (LISREL VIII)

revealed that adaptation was affected by both employment-related experiences

and psychological well being. Perceived discrimination, acculturation attitudes,

sense of coherence, migration motivation, and social networks moderated the

relationship among employment-related experiences, psychological well-being

and adaptation.

Ayres, Thena (1992). A Learning Design for Adults in a Canadian Intercultural Higher

Educational Context. University of Toronto, EDD: 235.

53
---
This study was designed to explore and describe participants' responses to

accepted principles and processes of adult learning and facilitation which were

introduced into a Canadian intercultural higher educational setting. The study had

three parts: a 12 week course designed for adult learners specifically to include

certain principles and process; the implementing of the course; and analysis of

how this design and these principles and processes were received by the learners.

The class consisted of 10 students with varying cultural backgrounds. Five of

these students volunteered to be participants, and were interviewed at the

beginning, middle and end of the course. In addition to the interviews a follow-up

meeting was later conducted with the participants. Qualitative methods were used

to collect and analyze the data. The findings indicated that for the five

participants, although culture shaped their understanding of the teaching/learning

enterprise, it did not close them to considering educational alternatives. Although

all of the participants came from teacher dominated educational backgrounds,

certain aspects of the person-centred model were positively received: the informal

environment, involvement of the learners in the planning and designing of the

learning experiences, active participation, and a focus on issues that were

personally relevant. Self-evaluation proved difficult for all of the participants.

When the components of both theory and practice were combined, the resultant

implications suggested that the adult educator needs to: understand the learners as

soon as possible, especially their level of English comprehension; clarify the role

of teacher/facilitator; make explicit the implicit dimension of culture; clarify

expectations; counter stereotypes; create a sense of unity; and establish an adult

learning environment.

Ayukawa, Michiko Midge (1990). Bearing the Unbearable: The Memoir of a Japanese

Pioneer Woman. University of Victoria, MA: 124.

This thesis is based on the memoir of a pioneer Japanese woman, Mrs. Imada Ito

(April 1891-November 1987), who immigrated to Canada in 1911 as a picture

bride. The part of her memoir I have studied here spans the years 1941-1971. This

period covers the time when Mrs.Imada and her family were evacuated from their

Fraser Valley farm to a self-supporting community in Taylor Lake, the wartime

interval lived in evacuation in the Cariboo, the years of recovery and

reestablishment after the war spent in Kamloops, and her retirement days in

Vancouver. The memoir was originally written the way elderly Japanese

Canadians and older Nisei (the second generation, Canadian born) speak today. It

is a unique blend of Meiji Japanese, fractured English and a mixture of prefectural

dialects. Her script was mainly hiragana (cursive syllabary) but also consisted of

katakana (phonetic syllables used for foreign words) often used inappropriately

(that is, for a Japanese word), kanji (Chinese ideograms or characters used in the

Japanese language) which were often incorrect but were similar in appearance or

sound to the correct ones. I have translated it into English and checked its

contents against other sources including government files and other documents,

contemporary newspapers, interviews with individuals mentioned in the memoir

and with others who lived through the events described, other autobiographical

54
---
accounts, and secondary sources in both English and Japanese languages. My

findings, as well as other explanatory materials have gone into the introduction,

afterword, critical memoir notes,and appendices in order to enhance the memoir's

usefulness to the social historians of Canada's immigrant pioneers.

Ayukawa, Michiko Midge (1997). Creating and Recreating Community: Hiroshima and

Canada, 1891-1941. University of Victoria, PhD: 303.

This dissertation covers the political, economic, and social circumstances in Japan

that led to the emigration from Hiroshima prefecture, and the lives and

communities of these emigrants in Canada. It traces the gradual conversion of a

sojourner society to family-centred communities with social relationships

modelled upon the Hiroshima village societies the immigrants came from.

Ostracized by white workers, exploited by the British Columbia entrepreneurs in a

"split labour market," and denigrated to second class citizenship by institutional

racism, the pioneers nevertheless persevered and reared their Canadian-born nisei

children to be Japanese Canadians. That is, they "acculturated" their offspring

with Japanese language and traditions so that the nisei would be able both to

function within the Japanese communities in Canada and would be proud of their

heritage. The degree of acculturation of the nisei varied and was dependent on

many factors: family goals, environments, time periods, as well as individual

inclinations. This study employed both English and Japanese language sources

including oral interviews of over fifty Hiroshima settlers and their descendants

residing in Japan and in Canada.

Azmi, Shaheen Hussain (1996). Perceptions of the Welfare Response to Wife Abuse in

the Muslim Community of Metropolitan Toronto. University of Toronto, PhD:

322.

This Thesis explores the welfare response to wife abuse in the Muslim community

of Metropolitan Toronto by employing a qualitative interviewing methodology.

The Thesis identifies the need to conduct qualitative sociological research to

properly understand and respond to the challenge presented to public welfare by

social diversity. Existing efforts by welfare practitioners to deal with diversity are

faulted for employing unduly simplified and myopic conceptions of both

"diversity" and "welfare". Research is proposed which aims to discover the

multiple meanings of these two central concepts implicit in situations where

social diversity confounds welfare activity. Guidelines for this type of research

are outlined. The methodological complications associated with attempting Social

research in the Muslim community are identified and discussed. During the course

of the research a native form of communication was employed to supplement the

chosen research technique of focused interviewing. The resort to a native form of

communication, and the need to employ such an instrument for similar types of

research is detailed. The Thesis identifies three different identity frameworks

from which participants in the research approached their interviews. Two of these

three were centred in the Muslim community, and one was centred in the

55
---
mainstream society. These three different identity frameworks were assumed to

summarize the diversity inherent in the welfare situation of the Muslim

community in Metropolitan Toronto, and were employed to structure the analysis

of perceptions gathered on welfare conceptions. The Thesis details fundamental

distinctions in the way that respondents from the various identity frameworks

viewed the nature of wife abuse and evaluated the welfare response to it. The

implication of these findings for the structure of welfare response in the Muslim

community is discussed. A final argument is made for similar research to be

conducted in the context of other communities manifesting qualities of diversity

which adversely affect their utilization of mainstream welfare services.

56
---
B

Babock, Ruth Christine Anne (1998). Participatory Action Research with the German-

Speaking Mennonites. University of Lethbridge, MED: 167.

German-speaking Mennonite people from Mexico are moving into Southeastern

Alberta. They are mainly employed as farm labourers. Their low level of income

makes it difficult to provide for the needs of their large families. Many also

encounter difficulties because of their lack of English and literacy, unfamiliarity

with Canadian ways and laws, and a lack of understanding and trust in the helping

agencies and school system. By using the Participatory Action Research

approach and the principles of Community Development, representatives of

community health services were able to enter into a unique partnership with the

Mennonite people to work toward meeting their identified needs. A familycentred

approach was used, with special attention being given to cultural and

religious traditions and values. Programs that were developed addressed the needs

of the Mennonite people including English as a Second Language, literacy,

nutrition, health, safety, dental, socialization, education, and German literacy for

the children. A key finding of the research study was that a participatory action

research approach did allow the Mennonite people in this study to find more

effective ways of making the transition from life in Mexico to life in southern

Alberta. Participants did take steps towards their goal of a better quality of life. As

well, agency people found new ways of working with the Mennonite people and

with each other. Finally, this study shows that as Mennonite people adapt to life in

Canada changes do occur in their ways of interacting with each other and with the

broader community.

Badasu, Delali Margaret (1990). Polish Immigrant to Alberta Since 1980: Determinants

and Consequences. University of Alberta, MA: 163.

This study examines the determinants and consequences of Polish immigration to

Alberta between 1980 and 1989. Polish-Albertan immigration during the 1980s

was determined by four sets of factors: (1) political and socioeconomic conditions

in Poland; (2) opportunities for temporary emigration to third countries, enhanced

by the country's geopolitical position; (3) Canada's immigration policy; (4) and

the presence of Polish community in Alberta, resulting in sponsorship of their

families, and fellow country people from Poland. Indirect emigration was a

prominent feature of the Polish immigration to Alberta during the period. This

was due to the communist government's restriction on emigration from Poland. In

the majority of cases, their migration path is rather complicated and involves a

lengthy stay in a third country before reaching their final destination. The

immigrants are predominantly of urban background. They are highly educated

and have greater proportion in the managerial and professional occupational

57
---
groups than their predecessors. These highly skilled immigrants have however

found it difficult to practice the occupational skills that they acquired prior to

their emigration, due mainly to the lack of accreditation of their educational

qualifications or certificates. The migration process has had a negative impact on

the socioeconomic status of the majority of the immigrants.

Badende, Isaac (1996). Transfert interculturel de matériel didactique sur la chaleur et ses

effets. Université Laval, PhD: 660.

Notre travail porte sur le probleme de la rarete de materiel didactique adequat

pour l'enseignement des sciences en Afrique tropicale. Parmi les solutions

possibles, le recours a du materiel qui a deja fait ses preuves ailleurs a

particulierement retenu notre attention. Apres avoir adapte au contexte burundais

un manuel quebecois portant sur la chaleur et ses effets, manuel ayant montre son

efficacite aupres d'eleves quebecois, nous avons procede a son experimentation

partielle aupres d'eleves burundais. D'une part, les resultats d'un pretest et d'une

entrevue semi-structuree administres aux eleves des deux pays avant le debut du

cours, et d'autre part, l'analyse de l'interaction des eleves avec le materiel

didactique a l'etude, ainsi que le temoignage de la clientele burundaise visee,

montrent que le succes enregistre aupres des eleves quebecois est egalement

possible aupres des eleves burundais. En effet, malgre certaines differences,

beaucoup de reponses donnees par les eleves quebecois et les eleves burundais

sont semblables, certaines sont identiques et la plupart des representations des

eleves quebecois et burundais susceptibles d'entrer en conflit avec le savoir savant

sont les memes. Par ailleurs, l'interaction des eleves burundais avec le materiel La

chaleur et ses effets suggere que ces derniers ont appris de facon signifiante les

phenomenes thermiques. Cette observation est en accord avec le temoignage des

eleves et de l'enseignant burundais qui jugent positivement le materiel utilise.

Baeker, Gregory G. (1999). Museums and Community Cultural Planning: A Case Study

in Participatory Action Research in Peterborough Ontario. University of

Waterloo, PhD: 392.

There is a rapid and double-edged change occurring in cultural policy as

responsibility and focus shift from the nation state to cities and regions, and as

European cultural traditions and norms are challenged by unprecedented ethnoracial

and cultural diversity. Canada has fallen behind other jurisdictions in

moving to embrace a more integrated approach to local cultural development

through a cultural planning approach. The literature review

explores this ground demonstrating a convergence of interest among reform

efforts in three fields: local cultural development, planning and community

development, and museums. The literature review concludes with a framework

for cultural planning in Canada. The hypothesis is that local museums can play

important roles in cultural planning. This is tested using a form of participatory

action research involving a primary case study in Peterborough Ontario. In 1995

the Peterborough Centennial Museum and Archives (PCMA) assumed broadened

58
---
cultural responsibilities as the Culture and Heritage Division (CHD) of the City of

Peterborough. The organization took on this extended mandate with no new

resources. The research examines the organizational and professional change

process through three phases of data collection and analysis. It includes a

comparison of findings in two communities - Kitchener and Aurora. The findings

suggest that the technocratic traditions and functional orientation of Canadian

municipalities pose many barriers to the wholesale reconceptualizing of local

cultural development advocated by the cultural planning approach. Innes (1990)

argues that planning is about conceptualization, problem framing or values

clarification. In Peterborough a reconceptualizing of culture and communitybased

cultural planning worked at the macro and meso levels. Participants did

evolve a broadened vision of local cultural planning, and of potential new roles

for the museum in this new planning context. But these insights did not translate

themselves at the micro level into relevant practices across the full spectrum of

the CHD's mandate, particular to reformed museum practices. Nor did they assist

in overcoming a variety of personal and interpersonal barriers to the change

process. The findings from this research lend weight to Lavine's (1992) warning

that museums not underestimate the organizational and professional challenge of

shifting from functionally oriented and collections-driven institutions, to more

outward looking institutions focused on "exchanges with communities." But the

Peterborough case also suggests a risk, in accepting the dichotomy drawn by

Lavine regarding traditional and reformed museum practice. If local museums are

to overcome the systemic biases in collecting and interpretative practices

necessary to serve increasingly diverse communities, a more proactive approach

to collecting will be required. Overall the research suggests the need for further

case studies that probe beneath the veneer of organizational change to explore the

complexities of the change process. These in-depth organizational studies must be

understood in the larger context of new planning and governance systems needed

in complex cultural systems at the local level.

Baggio, Daniela G. (1984). Ethnic Differentiation and Minority Language Maintenance.

Carleton University, MA.

N/A

Baghel, Marian Robertson (1998). The Social Construction of Racial Identity of White

Student Teachers and its Impact on their Leaning to Teach. York University,

MEd: 143.

This qualitative study examines how ten White teacher candidates (TCs)

reconstructed their racial identity over the course of their preservice, Bachelor of

Education, teacher education program, and interrogates the extent to which this

reconstruction impacted their year of learning to teach. Data was gathered through

in depth individual interviews and coursework which were then analyzed on an

ongoing basis throughout a program that featured antiracist pedagogy and crossrace

dyad partnerships in practicum settings. Using current models of racial

59
---
identity development popular in the research literature, TCs were initially

identified as resistant, liberal/uncritical, or progressive/critical, and were tracked

through their year of learning to teach to ascertain the extent to which the teacher

education changed their locations. This thesis demonstrates that current models of

White racial identity development are inadequate in dealing with the wide

variance within the concept of Whiteness itself, and the impact of social class,

ethnicity, gender and sexual preference on Whiteness.

Bagnall, John Charles (1984). The Ontario Conservatives and the Development of Anti-

Discrimination Policy: 1944 to 1962. Queen's University, PhD.

Between 1944 and 1962 Ontario Conservative governments passed nine

enactments, establishing a far-reaching system of legal protection of the rights of

ethnic and religious minorities. The Ontario Conservative party of this period was

generally regarded as being allied with private economic interests and these

interests were primarily responsible for discriminatory practices. Yet, Ontario

became one of the first North American jurisdictions to enact comprehensive

legislation against ethnic and religious discrimination. How can this be so? A

variety of primary sources is examined to reconstruct the policy process giving

rise to Conservative government involvement in the anti-discrimination field. Our

study shows that a number of non-economic factors contributed to the

determination of anti-discrimination policy, including, most importantly, the

protests of victims of discrimination expressed by a Communist Member of the

Provincial Parliament, Joseph Salsberg, and the advocacy of human rights

legislation by the Canadian Jewish Congress, the Association for Civil Liberties,

and a civil servant, Thomas Eberlee. However, we find that this line of policymaking

resulted primarily from an economic factor. Both the adoption of

comprehensive human rights protection as a governmental goal and the timing of

governmental actions toward that goal were products of a change in the thinking

of the Ontario Conservative Premier, Leslie Frost. That change stemmed, in turn,

from a change in Ontario's economic development strategy, requiring the

recruitment of large numbers of non-British immigrants. The apparent

contradiction of a government allied with business being a human rights leader

turns out to be apparent, not real, because it is shown that this change in economic

development strategy made anti-discrimination legislation important to Ontario's

economic development and therefore in the interest of provincial business. It is

concluded that previous explanations of the role of governments in this policyarea

have assigned excessive importance to widely-held attitudes of tolerance and

that governments are more likely to take major legislative action against ethnic

and religious discrimination if they are convinced that such action not only enjoys

wide support, but also advances the twin goals of economic development and

political stability.

Bah, Boubacar (1993). Les programmes d'accès à l'égalité et leur impact sur les minorités

ethniques et visibles au Québec. Université Laval, LLM: 141.

60
---
Cette etude s'interesse aux programmes d'acces a l'egalite et a leur portee sur la

situation de discrimination systemique vecue par les membres des minorites

visibles et ethniques du Quebec. Un premier chapitre examine les fondements et

la legalite des programmes d'acces a l'egalite dans le contexte Quebecois et

Canadien. Un deuxieme chapitre decrit la procedure d'elaboration et d'execution

des programmes d'acces a l'egalite. Il s'interesse aussi a l'evaluation du

programme d'acces a l'egalite de la fonction publique pour les communautes

culturelles, qui est le seul programme vraiment specifique aux minorites visibles

et ethniques. L'etat de la situation dans les services offerts au public est egalement

presentee.

Bai, Qingping (1993). The Social Construction of Occupational Opportunity in Canada:

A Case Study of Chinese Graduate Students at the University of Windsor.

University of Windsor, MA: 190.

The primary objectives of this research were to (1) examine perceptions of the

Chinese graduate students from mainland China, at the University of Windsor,

about the openness of the Canadian occupational structure; and (2) examine the

factors that contribute and shape these perceptions. In order to understand the

characteristics of the perceptions about Canada formed after the subjects have

resided in Canada for a while, the perceptions about Canada as imagined prior to

their arrival and perceptions about China were also examined. It is argued that the

results of the research show that the willingness and the ability to interact with

members of the host society have highly significant implications in the process of

migrants' adaptation. The different level of interaction with the host society, either

interpreted as the willingness to adapt or as the ability to adapt, indicates the

importance of individual tributes in the eventual occupational attainment of

immigrants.

Bai, Xudong (Shirley) (1995). Adapting to a New Environment: The Challenges Facing

Chinese Immigrant Youth. Simon Fraser University, MA: 139.

The influx of Asian immigrants to Canada in recent years has brought wealth and

vitality to a recessive economy. However, the difficulties encountered by these

immigrants in adjusting to the social patterns of their adopted country have caused

great concern throughout Canadian society. While the media have detailed the

problems faced by the immigrants, very limited academic research has been done

on these issues. This thesis explores the adjustment difficulties of immigrants to

North America in general and studies the impact of such difficulties. The focus of

this study is on young Chinese immigrants who have settled in the Greater

Vancouver region of British Columbia, Canada. For the purposes of this study, a

sample of twenty-five subjects was selected from the Junior Mentor Scheme of

the United Chinese Community Enrichment Society. The subjects were

interviewed with regard to their adjustment difficulties in the new social

environment. The results of the research indicate that the difficulties these youths

have experienced include language and cultural barriers as well as discrimination

61
---
from the dominant society. Significantly, the study shows that there exists tension

among different groups of Chinese youths. In addition, the "astronaut"

phenomenon has made the adjustment process extremely difficult for these young

Chinese. Interestingly, this study finds little connection between adjustment

problems and gang involvement. This is at odds with most of the literature on the

subject which concludes that there is a direct correlation between the two. As the

time-span for the research was only six months, it remains an open question

whether the sample subjects will eventually assimilate into the mainstream

culture.

Baillargeon, Jean J. (1996). Toleration and Equality: A Defense of Political Liberalism.

University of Toronto, PhD: 247.

This thesis offers an interpretation of liberalism that reconciles religious toleration

and political equality. It stresses the influence of John Locke's argument for

toleration on the recent work of John Rawls, and discusses contemporary

problems pertaining to religious freedom, cultural membership, gender equality

and the education of children. The aim of Chapter One is to stress the starting

point of liberal theory, namely that a special warrant is needed to underwrite the

power of the state to force citizens to comply with its laws and decrees. I explore

Robert Cover's argument that religious communities are entitled to a degree of

interpretive authority, and that state courts can recognize the integrity of

normative worlds only if principled commitments underlie their use of coercion.

In Chapters Two and Three I undertake a close reading of Locke's Letter

Concerning Toleration. While Locke argues that the liberal state must keep

politics separate from religion, his plea for toleration is limited by a sectarian

perspective on the nature of religious belief and a failure to recognize freedom of

religion as a political right. Chapters Four and Five are devoted to Rawl's Political

Liberalism. By drawing out the implications of freedom of conscience, Rawls

frames the terms for the justification of political power in a manner that is more

tolerant of religious diversity than Locke's argument for toleration in the Letter.

Moreover, with its emphasis on moral agency and toleration, political liberalism

creates the possibility of a reasonable consensus around egalitarian principles of

justice. Chapter Six explains the role of moral agency in Will Kymlicka's defense

of policies of cultural protection. Chapter Seven evaluates Peter Benson's view

that special rights for minority cultures should not override the protection of basic

liberties. Chapter Eight explores issues concerning public education, and argues

that the importance of fostering independence of judgement and critical reflection

varies according to the cultural contexts children find themselves in. At the same

time, the liberal state has a responsibility to educate children into the virtues of

citizenship, and can do so without violating the separation of Church and State.

Baines, Donna (1998). Everyday Practices of Race, Glass and Gender. University of

Toronto, PhD: 347.

62
---
Most approaches to social work do not engage with the question of how multiple

bases of subordination such as race, class and gender shape and organize social

life. While a number of critical social work theorists have addressed themselves to

issues of oppression, none of this work explicates the way that race, class and

gender overlap, contest and generally play themselves out in everyday life

(Carniol, 1990; Dominelli, 1988, Mullaly, 1993; Wineman, 1984). This thesis

looks at the everyday practices of front line critical social workers in order to

understand how race, class and gender are played out in the social work endeavor.

Data were collected from five focus groups and nine in-depth interviews

involving a total of twenty-one participants. Agency and community documents

and policies acted as secondary data sources and were used to provide a sense of

context. At the level of formal theory, the informants displayed a good

knowledge of critical theory. However, at the level of talking about everyday

social work practice, the informants tended to employ liberal, ideological

constructions of race, class and gender. In contrast, at the level of practice, that is

while employing techniques that are directly associated with the critical model of

social work, a shift occurred within the relations and identities of workers and

clients. This shift was typified by a reported commonality of cause and struggle,

shared new identities as social justice fighters, and a mutual sense that the existing

order, or pieces of it, are unjust and must be collectively changed. These shifts

underscore the importance of continuing to develop and work with these

explicitly critical social work practice techniques. This study also identified

various agency policies and processes that neutralize race, class and gender

conflicts without resolving them. Finally, the study identified structures and

policies that enhance and support critical practice. In sum, these findings are

important because improving our understanding of how race, class and gender are

depoliticized can enhance our capacity to resist oppression and build new

structures, relations and identities based on shared struggle and social justice

agendas.

Baker, David Noel (1999). Forms of Exclusion: Racism and Community Policing in

Canada. York University, PhD: 202.

This dissertation explores community policing from the perspective of a racial

minority. This research is designed to build on the need to draw community

policing which cannot be achieved without an understanding of the various forms

of exclusion. This study follows up on issues raised by current scholarship and

themes noted in an array of state sponsored task forces. Given the wealth of

information on community policing, an important goal of this research is to

provide much needed and often overlooked ways in which forms of exclusion

take place in the discourse on community policing. The politicized rhetoric of

community policing signals a rejection of narrow, reactive law enforcement and

depoliticized images of policing. What role does racism, law and crime play in

elements of community policing as deployed in a range of programmes? This

dissertation develops an adaptive strategy, "responsibilization", and strategies of

denial in the tension between law enforcement, racism and community policing.

63
---
Law plays a central role in the reproduction and legitimation of forms of

exclusion. Law as a social construct, is to be detached, objective and a neutral

expression of societal values. In reality, it is an ideological discourse that is

shaped by, and reflective of, the interests and experiences of those who participate

in society's defining structures. This is exemplified in the documentary analysis of

state sponsored task forces. Through the text of law and "law talk", with a

substantive focus on amendments to the Immigration Act and the Canadian

Criminal Code [hereinafter called I.A. and C.C.C.] the question of how racism

persists, in the presence of deracialised, non-exclusionary texts, is addressed.

Emphasis is placed on the power to criminalize as it comes to be institutionalized

in both the text of law and "law talk" in the discourse on community policing.

Theoretically, this study is informed by the critical interpretive perspective. This

dissertation argues that community policing as a social accomplishment is

contextualized culturally, mediated politically and articulated in an exclusionary

form. Exclusion thus plays an integral role in criminalization of a race and the

State's quest for legitimacy.

Baker, Roxanne (1990). A Survey of Race Relations at the University of Windsor.

University of Windsor, MSW: 153.

The purpose of this study was to identify problems visible minority students were

encountering on the University of Windsor campus, and in the community at

large. It was argued that the classification of the student (visa or non-visa) would

have an impact on whether they encountered unpleasant racial experiences. It was

also argued that more racial incidents would occur off campus than on campus.

Descriptive statistics revealed that some problems were present on campus and

that visible minority students did not have much knowledge about available

services on campus. It appears that there has been a lack of communication from

the university to visible minority students regarding services. It was

recommended that university officials distribute information and have more

advertisements available regarding services. It was further recommended that

future studies increase their sample size so a more representative group of visible

minority students could participate in the study.

Baklid, Bente (1996). Ethnicity, Dating and Woman Abuse Among Canadian University

and College Students: Exploring the Links. Carleton University, MA: 428.

This thesis explores the links between dating, ethnicity and woman abuse. Using a

representative sample of Canadian university and college students, the present

study has looked at how this population defines dating, the extent to which they

engage in inter-ethnic dating and the occurrence of violence in both inter and

intra-ethnic dating relationships, all with a focus on ethnicity. It was found that

while there are differences according to ethnicity, these differences often

disappear when introducing control variables (i.e. gender, age, school, number of

casual and serious dating partners, patriarchal and feminist beliefs and attitudes).

Given the lack of consistency, it is not possible to make general statements on

64
---
dating experiences and ethnicity. One notable exception is the French Canadian

segment of the sample whose responses are almost always different from the rest.

Bali, Jo Sarah (1997). An Inquiry into the Status of the Racialized "Other" in the

Institution of Art in Canada. Carleton University, MA: 149.

This thesis is an interdisciplinary study and analysis based on an inquiry into the

representation of non-White visual artists in the contemporary Canadian art

institution. It contains a brief history of issues of multiculturalism and diversity in

cultural policy and museum practice which includes an examination of the

contexts in which the works of non-White artists have been noted, discussed,

reviewed, and highlighted in Canadian art periodicals. Key issues that arise are

the notions of "authenticity", "representation", "Otherness", "identity",

"multiculturalism", "Eurocentrism", and "racism". I argue that racism and an

ethnic hierarchy exists throughout the history of the Canadian art institution and

continues to the present. I also argue that although curators of natural history

museums have begun to address the problem of systemic racism, the

representation of non-White artists in the contemporary art institution in Canada

continues to function in a manner that supports racism and a hierarchy of

ethnicities. The sources in this thesis include publications on cultural policy by

the Canadian government and Canadian cultural organizations, published texts on

Canadian art, newspaper and magazine articles, including a five year survey of

five Canadian periodicals, three of which are specifically focused on visual art

and two that are interdisciplinary or general arts magazines. Other sources have

been selected from recent cultural, race, museological, and art history writings

and theoretical writings.

Bancej, Christina M. (1998). Immigrant Women, Work and Health. McGill University,

MSC: 146.

This study examines the association between immigrant women's self-reported

health and their employment status and occupation using data on 859 immigrant

women aged 20-64 from the 1994-95 National Population Health Survey. Of this

group, 502 were in paid employment, 107 assessed their global health as poor,

and 158 reported one or more disability days in the previous two weeks. Distress

scores ranged from 0-21 (mean 3.85). Logistic and multiple linear regression

showed being employed (vs. not being in paid employment) was associated with

better self-assessed global health when age, education, income, marital status,

country of birth and time since immigration were controlled and women's caregiving

role was accounted for. However, this protective association was weaker in

women who also reported caring for their family as a main activity. Significant

associations between work and disability days or mental distress did not occur.

Among 476 immigrant women currently employed in their main occupation,

manual workers had poorer self-reported health and higher mental distress scores

than others.

65
---
Band, Ian Harold (1993). Race Relations: Native Peoples and the Royal Canadian

Mounted Police. Canada's Challenge. University of Manitoba, MA: 169.

This thesis is an examination of the relationship between Canada's Aboriginal

peoples and the Royal Canadian Mounted Police, and how over time, this

relationship has evolved. More and more, native peoples are calling for increased

control over their own affairs, including native-controlled policing programs.

Thus, in order to respond to these pressures there is a need for alternative

approaches to the issue of federal, provincial, and local responsibilities for the

delivery for policing services to native communities and reserves. Further, the

recent political developments in relations between Aboriginal peoples and

government have enhanced the position of Native peoples in society by

emphasizing their unique rights, aspirations and cultural identities as individuals

and communities. As the consolidation of special status becomes more firmly

rooted in various services and programs, government has been, and will continue

to be under pressure to deal with the policing needs of Native peoples in more

direct terms. These developments are premised on the simple notions that

Aboriginal communities are entitled to effective and culturally sensitive law

enforcement services just as is any other community within Canada.

Bandel, Monica (1995). Coping with Transitional Stress in Childhood: An Exploratory

Study of Immigrant Children in Toronto. University of Toronto, MA: 83.

Aspects of children's coping with transition are explored against the background

of self-reported experience with immigration, by a group of students in their early

teens. The study focuses on the analysis of coping resources and is conceptually

indebted to the relational theory of stress (Lazarus and Folkman, 1984). The

information gleaned from the interviews falls into two main categories, based on

(a) the analysis of the stressful situations in terms of the implied challenges and

(b) analysis of coping units as reflective of the underlying resources. As a result, it

became possible to outline the adjustment task for the members of the sample and

to describe a number of conditions that helped them negotiate stress. The material

is informative about the school experience, social network, quality of parenting

and the child' s own strengths as supports in transition; it also highlights the

emotional underpinnings of this period and touches upon their relationship with

mental health.

Bansfield, Anthony (1992). Alienation in the Metropole: Colonialism, Race and Class in

Austin Clarke's Trilogy and Other African Canadian and Freshwater Writings.

Université de Montréal.

N/A

Barabas, Diana (2000). Artists Experiencing Immigration: How We View Our Artistic

Expression in the Context of Dramatic Change. Concordia University, MA: 107.

66
---
The guiding questions of my research relate the notions of identity, displacement

and art. As artists, what are our particular ways of addressing the issue of identity

in the context of immigration? What are our strategies of relocation and

empowerment? What are the implications for art education? To answer these

questions I gathered and analyzed the life-narratives of three recent immigrant

women artists. Included in this analysis are reflections related to my own

immigration. Focusing on the artists' accounts, I have explored the relationship

between the experience of displacement and the (re)construction of identity. I

have looked at the ways by which visual narrative has been used as a strategy of

empowerment. Following the artists' stories and inspired by voices in the

academy, particularly bell hooks and Marianne Hirsch, I have suggested that

overcoming crisis (relocating) does not simply mean suspending displacement;

rather it is through a transformation of its meaning and means - from a site of

deprivation to a site of resistance - that we arrive to articulate presence and to

inhabit our own stories. Both dialogue as a form of solidarity between storyteller

and listener, and art-making are presented here as sites of the immigrants'

recovery, creativity and resistance.

Barber, Kathryn Elizabeth (2000). Community, Neighbourhood, Culture and Power:

Meanings of Diversity in Central West End, Toronto (Ontario). Trent University,

MA: 216.

This thesis explores the concepts of neighbourhood, community and diversity as

they are conceptualized and practiced in the Central West End of Toronto, a

socially diverse urban area. Using recent literature, local history, census data,

government, media and real estate portrayals of the area, as well as interviews

with community leaders and case studies of local issues, the thesis makes some

preliminary conclusions about the diverse urban area in Toronto. The research

recognizes that in a diverse urban area different conceptions of community exist.

In the Central West End a variety of factors, including the built environment,

institutional structures, physical and demographic histories as well as the cultural

and social assumptions and experiences of different groups, affect how these

different conceptions of community co-exist, and are contested. The ideal of

"diversity as our strength" as the closest thing to a unified community identity at

this very local level reverberates on a larger level and may illustrate the

possibilities for state-sponsored attempts to build national identities around the

ideals of diversity and multiculturalism.

Barbour, Yael (1997). Fresh Blood, A Consideration of Belonging. University of

Toronto, MA: 141.

Fresh Blood, A Consideration of Belonging is the script and theoretical treatment

of a critical video essay by the same title and under my preferred name, b.h. Yael.

Fresh Blood is an autobiographically derived examination of subjectivity in the

intersections of racialized identity, nationality, gender, sexuality, and religious

affiliation. The artist returns to a land of remembering and forgetting, to the Israel

67
---
of her birth with an examination of memory in connection with Jewish-Iraqi

heritage as well as Holocaust memory. The video and script of Fresh Blood

attempts to reposition Arabness as a cultural rather than solely a national

identification and examines issues of racialized identity, inside and outside

Jewishness. The textual analysis of this writing considers additional elements that

are implicated in cultural production: multiculturalism, autobiography, the

economy of art production, narrative and documentary formal practices. These

non-linear and fragmented elements are woven into an analysis that attempt to

disrupt hegemonic constructions of identity and linear narratives.

Bariana, April Kaur (1997). Broken Covenant: Punjabi Sikh Narratives. University of

Toronto, PhD: 417.

This study reflects the metaphorical journey of the kara (a steel bracelet, one of

the five baptised-Sikh symbols) expressed in the sense of "self" as it defines the

Sikh cultural boundary, shaped, preserved and extended through traditions which

have been transplanted from the homeland, Punjab, India to the host country,

Canada. The vehicle of this traditional boundary construction, transmission and

consequent reconstruction is the six primary data sources: three Punjabi females

and three Punjabi males, 19–29 years of age, who, through anecdotal

narratives, poignantly voice their individual and collective intercultural angst

which becomes the broken covenant. The participants include both the Canadianborn,

Punjabi Jat Sikh researcher and the Punjabi Sikhs, who are either Canadianborn

or recent immigrants. Their lived reality, profiled through a narrative inquiry

study, exposes their visible minority "self" and their intercultural

accommodation "self". The human rewards and punishment

inherent in the metaphorical kara, defined by the traditional rites, beliefs and

worldview, are revealed in the subsequent repercussions of acts of betrayal and

waywardness against the Sikh traditions. This activity is reflected by the

mainstream dominant culture's assimilationist forces which impinge upon the

Sikh karals cultural boundaries. These forces include the schooling of Sikh

children who represent the next generation and the mainstream social services

which constitute the epitome of western culture intrusion. The question, "Where

then, is the Sikh "self" within the boundary of the kara? demands an answer.

Prophetically, there is none, for that is how cultural adaptation is effected by

immigrants, caught in the web of powerful transplantation forces. Ironically, their

homeland cohorts simultaneously experience cultural change, albeit in a different

context and within varying degrees, while the migrated mindset appears stymied

in frozen traditions. The sociological dilemma of whether to adapt or not,

underpins the rationale of the broken covenant. Are boundaries meant to be

reconstituted and realigned as cultural adaptation occurs, or, are boundaries the

sacred relics of traditions no longer viable within a foreign context? Hence, is

there a safe zone within which one can exist inside the boundary of the kara, yet

still retain a Canadian-Sikh identity? Does this constitute cultural betrayal? This

study is framed by the Canadian-Sikh researcher's sense of "self" as defined by

her grandfather, Sardar Harnam Singh Hari, a Sikh pioneer who deserted the

68
---
British East-Indian Infantry in Punjab India, in 1903, in exchange for immigrant

roots in southern Alberta, Canada. The bond existing between grandfather and

granddaughter, as witnessed by the researcher's responses to the graduate student

letters, reveals a rare glimpse of the theoretical underpinning of a Sikh mindset

and worldview, a fact which highlights the need for scholarship in the universal

immigrant experience of clan, caste and kinship-based cultural boundaries.

Barise, Abdullahi (1999). The Effectiveness of Case-Based Instruction vs. the Lecture-

Discussion Method in Multicultural Social Work. McGill University, PhD: 186.

The purpose of the present study was to compare the effectiveness of case-based

instruction and lecture-discussions in enhancing students' multicultural social

work competence and their reflective self-regulation to learn multicultural social

work. The sample consisted of undergraduate social work students enrolled in a

multicultural social work practice course which was composed of two classes, the

Special Bachelor of Social Work (SBSW) and the Regular Bachelor of Social

Work (RBSW). The students in the SBSW had higher levels of education, mean

age, and mean GPA than the students in the RBSW class. Each of these classes

was divided into two sections. Participants were randomly assigned to these two

sections in which case-based instruction in a section (n = 20 for the SBSW class;

n = 19 for the RBSW class), and lecture-discussions in the other section (n = 20

for the SBSW class; n = 19 for the RBSW class) were used to teach the same

course content. To control for instructor effects, the researcher and another

instructor both taught the two sections of each class, one with case-based

instruction and the other with lecture and discussions. The randomized pretest

posttest control group design was used in this study. Case analyses scored through

Cross-Cultural Counseling Inventory-Revised and student self-reports using the

Multicultural Counseling Inventory were used to measure multicultural social

work competence. To measure levels of students' self-regulated learning in

relation to the course, students were administered the Motivated Strategies for

Learning Questionnaire. The same data were collected both at the beginning of

the study and at the end of the study. The length of the study was 8 weeks. Two

procedures were followed to ensure treatment fidelity: two observers recorded the

extent to which class plans reflecting the content and methods of instruction were

implemented and students completed questionnaires evaluating the extent to

which each method of instruction was implemented. Results indicated

significantly higher overall multicultural competence, awareness, skill, and

relationship for the case-based sections in both classes. There were significantly

higher levels of multicultural knowledge and learning motivation for the case

section in the SBSW, but not in the RBSW class. No significant interaction was

found between self-regulated learning and method of instruction. There was no

significant difference between the two groups in terms of increase in skills in selfregulation.

Barkley, Lori Gail (1998). Narrating Identity: "South African Immigrants" in Greater

Vancouver. Simon Fraser, MA: 143.

69
---
This thesis has two purposes. First, to explore the ways in which a group of

"South African immigrants" to Greater Vancouver talked about their racial, ethnic

and national identities, and how these may shift depending on social context.

Secondly, to examine how the participants differentially experienced the

immigration process (i.e., deciding to emigrate, immigrating, and adjusting to life

in Canada) depending on their identities and skin colour. Through narratives,

participants from varied backgrounds construct understandings about what it

means to be from South Africa, to be racialized, and to immigrate to Canada.

Excerpts from these narratives provide the basis for an ethnographic analysis of

how the experiences of the group of participants are differentially shaped

according to notions of self-identity and ascriptions of "otherness". Drawing on

the framework of relational positionality, I explore what the participants

communicated about self and other and how these may shift depending on social

context. (Abstract shortened by UMI.)

Barnes, Karen Elaine (1993). Barriers to Integration: The Immigrant Professional

Engineer Experience. University of Alberta, MED: 114.

Are immigrant professional engineers able to integrate into the engineering

profession in Canada? If so, what strategies and skills do they employ to achieve

success? What barriers do they overcome? During the last ten years, Canada has

allowed many skilled professional engineers to emigrate to this country. Only a

few of these people persevere to practise as professional engineers in Canada.

Who are those successful immigrants and what are their stories? The data for this

study were gathered through interviews with six professional immigrant engineers

in various stages of integration into the engineering profession. Public documents

were also examined. These documents included federal immigration regulations

and statistics on immigration trends as well as APEGGA and University of

Alberta requirements. The words of the participants were analyzed using a

grounded theory method. From these data, conclusions were drawn and

implications identified for the immigrant service providers and policy makers as

well as the engineering profession itself.

Barnsley, Susan (1993). A Practical Guide to Constituency Immigration Practice.

University of Manitoba, MSW: 339.

The purpose of this practicum project was to compile a manual that will provide a

practical guide to immigration practice to assist political constituency office

workers or other political aides or agencies in the provision of advice leading to

the resolution of constituents' immigration problems. Special focus is given to

issues while incorporating the need for ethno-cultural sensitive intervention and

the values and dilemmas inherent in this type of practice. The major findings of

active political immigration practice have been a serious knowledge gap on the

part of the service provider as to the immigration mandate, policies and

procedures; the necessity of more ethno-cultural sensitive intervention; and the

70
---
need to develop an awareness of the values and dilemmas inherent in this type of

casework due to the involvement of sometimes conflicting agendas for

intervention--problem solution as well as reelection concerns as the end views of

good service provision. Therefore the need for a factual knowledge base to

address these shortfalls in service provision was highlighted and the compilation

of a procedural manual seemed the most effective way to fill this gap.

Barrington, Charlotte Anne (1998). A Thematic Literature Unit: Developing Children's

Understanding of Culture, Cultural Identity, and Diverse Cultural Perspectives.

Memorial University, MED: 134.

In a fast paced technological world, global and multicultural issues are in the

forefront of every day life. Children need to develop a more global understanding,

acceptance and knowledge of themselves and others. This project explores the use

of children's literature to develop the concepts of culture, cultural awareness,

cultural identity, and diverse cultural perspectives. A thematic literature unit

suitable for eleven to fourteen year olds has been designed to enable children to

explore these concepts by reading and responding to a variety of children's

literature. The literature serves as a springboard for discussion of these concepts

and helps children look at themselves and others in new ways. In this project, the

writer describes the process of designing a thematic literature unit with the goal of

developing children's global understanding, acceptance and knowledge of

themselves and others. This includes the selection of learning outcomes, learning

resources, learning experiences and the development of assessment and evaluation

tools. Then a framework has been developed to demonstrate the implementation

of this thematic literature unit in an elementary classroom.

Barry, Pamela Louise (1997). Teacher's Awareness and Response to Cultural Diversity in

the Classroom. University of Alberta, MED: 87.

The classroom is a diverse environment that operates within the larger community

of the school. The make up of the school, hence the classroom, varies, and is

dependent upon who chooses to attend. It would be unlikely in today's world for a

teacher to be presented with a uniform group of students that could be approached

and taught using one single methodology. My interest in this issue includes not

only the insight and knowledge of teachers regarding this point, but also their

response to it in the classroom and the impact on the learning environment. This

study focuses on cultural diversity in the classroom through the eyes of the

teacher and their reactions to it upon recognition of this reality. This complicated

issue can be both a godsend and a challenge to teachers; presenting an opportunity

to strengthen the understanding and common goals of mankind while pushing the

limits of patience in dealing with the obstacles that arise from the process of

learning and teaching. The information was gathered from teachers in the

Edmonton Public School Board, as well as current sources of literature from the

school system and Alberta Education were examined. A literature review was

completed to procure recently available information generated by various

71
---
esearchers on the area of culture, school culture, human behavior and

development and cultural diversity. My intent was to establish the perception of

teachers regarding cultural diversity and their acknowledgement and reaction to it

in the classroom, concluding with recommendations and suggestions with respect

to this issue. The power and position teachers have creates an opportunity to

provide their students with a perceptive wisdom to cope with a multifarious

society.

Barsky, Robert F. (1992). The Construction through Discourse of the Productive Other:

The Case of the Convention Refugee Hearing. McGill University, PhD: 456.

This thesis is a description of the process of constructing a productive Other for

the purpose of being admitted into Canada as a Convention refugee. The

manuscript is divided into two parts: in Part One, The Claimant, the process of

claiming refugee status is analyzed with respect to two actual cases which were

transcribed in Montreal in 1987, and contextualized by reference to the laws and

jurisprudence that underlie it. In Part Two, The Other, I re-examine the entire

process with reference to methodologies from the realm of discourse analysis and

interaction theory, paying special attention to the works of Marc Angenot, M. M.

Bakhtin, Pierre Bourdieu, Erving Goffman, Jurgen Habermas, Jean-Francois

Lyotard and Teun Van Dijk, in order to illustrate the movement from Refugee

claimant to claimant as "diminished Other."

Basok, Tatayana (1983). Models of Successful Leadership: A Case Study of the Chilean

Immigrants in Toronto. York University, MA: 172.

The present thesis addresses the problem of successful leadership. It attempts to

formulate a general framework which would permit one to analyze success

(success is equated with stability) or failure of a leadership process in an

institutional setting. The author combines the transactional approach, developed

by Barth (1966) with, what the author calls, a 'role' model. On the basis of the

contribution of a leader in the formation of an institution and leadership structure

within it, three leadership roles are suggested: patron/broker, mobilizer/mediator,

and organizer/representative. It is argued that the patron/broker type of a leader is

the most stable one; while the organizer/representative type of a leader is the least

successful among three types of leaders. While the 'role' model points to the

potential course of development of the leadership process, the transactional

approach outlines the actual shape of the interaction between leaders and

followers. Equipped to analyze change, the transactional approach adds an

element of dynamics to the 'role' model. The thesis is based on fieldwork among

the Chilean immigrants in Toronto. Seven Chilean institutions were selected for

research: five sports clubs, the Arauco Housing Co-operative and the Toronto

Chilean Society. Leadership within each of these organizations was analyzed with

the help of two conceptual tools--transactional approach and 'role' model.

72
---
Bateman, Mark (1997). The Mathematics Learning Experiences of Four Immigrant

Students. University of Western Ontario, MED: 149.

This study was designed to explore the mathematics learning experiences of

immigrants students to Canada. A thorough review of the related literature

suggested that this exploration be guided by three categories: language, culture,

and cognition. To facilitate the exploration, grade 9 was chosen as the grade level

and algebra as generalised arithmetic was chosen as the mathematics topic. Four

research subjects were recruited, all of whom had been born and partially

educated in some country other than Canada. Each research subject went through

two interviews. The first interview involved a series of questions based on the

reviewed literature. The second interview specifically looked at algebra as

generalised arithmetic, with the assistance of the Chelsea Diagnostic Mathematics

Test for algebra. The data from the interviews were then unitized to allow for

analysis. The analysis challenged the view created from the literature that

immigrant students' cultures, language and cognitive structures will affect their

mathematics learning experiences. Factors such as a common mathematics

curriculum 'culture' and social stability may be equally important. Mathematics

teachers working with immigrant students should therefore be somewhat cautious

when applying views expressed in the ethnocultural literature to their classes.

Batson, Sandra Pamela (1998). "A Profound Edge": The Margin as a Place of Possibility

and Power (Neil Bissoondath, Dionne Brand, Marlene Nourbese Philip, Trinidad

and Tobago). McGill University, MA: 92.

This study explores the literary representations of the post-colonial margin, and

develops this site as a place of possibility to transform self identity and acquire

power. This exploration of Caribbean-Canadian literature, from writers born in

the Caribbean who emigrated to Canada indicates the potential for power in the

margins without idealizing this space. Close readings of fiction by Neil

Bissoondath, Dionne Brand and Marlene Nourbese Philip illustrate various

struggles within the margin based on race, gender, economics, and education.

Despite vast ideological differences regarding identity, all three authors concur in

their characterizations of the margin. In each work, the margin is not a monolithic

entity, but rather a diverse space which allows for the constitution of various

identities. This textual analysis in conjunction with critical analysis also

addresses issues of language appropriation and cultural ghettoization, by

critiquing the right of one group to speak for another in a racially mixed society

such as Canada, as well as by critiquing the homogeneity of identity within one

racial group. Ultimately, by illuminating these textual and critical trends, this

study looks toward possible future directions for Caribbean-Canadian literature.

Battaglini, Sandra P. (1996). "Don't Go Down The Mine Mamma!": Women in

Production Jobs at Inco During World War II, 1942-1945. Laurentian University,

MA: 178.

73
---
In 1942, International Nickel Company of Sudbury experienced very serious

manpower shortages that threatened the continuous production of nickel essential

to the war effort. Prompted by the emergency of war, Inco approached the federal

government requesting permission to hire women for surface work in its mining

and smelting operations. Bound by the Mining Act of Ontario, which prohibited

the employment of women except in a domestic, clerical or technical capacity, the

federal government, under the authority of the War Measures Act, issued a special

Order-in-Council P.C. 7032 granting Inco permission to employ women in

production jobs on August 13, 1942. Examination of Inco employee files in the

decade of the 1940s revealed that over 1400 women were hired temporarily by

Inco to replace men in specific occupations designated suitable by Inco and

government officials for female labour. This thesis will analyze and discuss the

experiences of the women who worked at Inco during World War II, both from

their perspective and from the standpoint of the government and Inco officials.

More specifically it will look at the collective and individual experiences of a

group of women of Italian ethnicity from the town of Copper Cliff who worked at

Inco. Although existing gender ideologies sought to limit women's activities, this

study concludes that women did not always conform to prescribed behaviour.

They acted and made choices on their own behalf!

Battershill, Charles David (1989). The Foreign Medical Graduate in Ontario: An

Empirical and Theoretical Enquiry. York University, PhD.

This project is a social-psychological investigation of foreign-trained physicians

seeking medical licensure in Ontario during the 1980's. Erving Goffman's works

provide both a methodology and a theory for understanding the experiences of

these physicians who undergo evaluation and seek to upgrade their abilities in

order to meet Canadian medical standards. We look at the foreign-trained

physician's pursuit of a license as a "moral career." Our method followed

Goffman's specification of the dual loci of careers: data were gathered on their

"internal," subjective reactions to requalification and on their situation's

"external," objective parameters. Foreign-trained physicians were interviewed and

field research was conducted on their requalification experiences. The Ontario

health care system's disposition toward these physicians was examined through

analysis of policy initiatives, the operation of the requalification institution and

through interviews of evaluators. To further understand the interplay of external

and internal factors in this type of "moral career," Goffman's concept of the "total

institution" was employed. Although developed through study of the inmates of a

carceral institution, the analogous powerlessness and discomfort of these foreigntrained

physicians allow us to substantiate Goffman's claim as to the generic

nature of the "total institution." The fate of the foreign-trained physicians' career

quest was further analyzed with Goffman's model of "cooling out," as the "social

organization of loss" conducted by the requalification system. Goffman's work is

shown to be highly relevant for empirical research in settings of structured

inequality. The project has developed insight into the patterns of experiences of

mostly immigrant subjects grappling with a powerful institution. We have

74
---
examined the process and outcomes of a group of people confronting an

institution whose purpose is to deny the majority of them their medical career.

Beaton, Elizabeth Catherine (1997). Housing, People and Place: A Case Study of

Whitney Pier (Nova Scotia). Manitoba, PhD: 475.

In any community, housing communicates a sense of place and belonging.

Through an examination of a variety of sources, including local government

documents, newspapers, building practices, and interviews, this thesis hopes to

show the meaning of housing in a specific community, Whitney Pier. Whitney

Pier is an urban community located on the east coast of Canada, on the north east

side of Sydney, Cape Breton. Whitney Pier's industrial working class orientation

is confirmed by its historic proximity to the Sydney Steel plant and coke ovens,

and to Cape Breton's main coal piers. In the early part of the twentieth century,

the coal and steel industries brought thousands of immigrants and Nova Scotian

migrants to Whitney Pier, resulting in the community's reputation as the most

diverse ethnic community in the Atlantic region. Reflecting a span of cultural

variety and a history of self-reliance, the housing of Whitney Pier illustrates

ethnicity and class status, as well as the roles of the state, community activism,

and to a limited extent, religion. The early farming and sea-trading era, the

industrial boom and immigration, the intervention of the state in response to a

failing economy, and internally inspired social action are all explicated in

Whitney Pier's housing landscape. Housing is involved in actively communicating

the lived experience of individuals and groups in Whitney Pier, through the

actions of community members and through the actions of community members

and through their oral tradition. The recollections of shacks provided by the

company and local entrepreneurs, the conscious and positive decisions to build a

home and to stay in Whitney Pier, the sense of loss created by urban renewal, the

frustrations and degradation of public housing, and the problems and proud

achievements of co-operative; and other social housing groups are included in this

study. Dependence upon industry--transferred to dependence on the state-matched

against individual and group self-reliance has been the basis of on-going

tension in the housing experience of Whitney Pier. The relationship between the

people of Whitney Pier and their housing is creative and positive rather than

merely responsive and passive. This "active engagement" between people and

housing in a particular place has been, and will continue to be, essential to the

sustainability of Whitney Pier as community.

Beattie, Angela Gwen (1995). Lead and Other Contaminants of Two South Asian

Cosmetics: The Use of Surma and Kajal Among South Asian Immigrants in

Winnipeg. University of Manitoba, MA: 193.

A body of research suggests that the eye cosmetic Surma poses a threat to the

health of its users. In particular, Surma is frequently found to contain a high

percentage of lead in the form of galena (PbS). The South Asian population of

Winnipeg, Canada was the target population for this examination of the use and

75
---
safety of Surma and Kajal, a similar substance. The goals of the research were to

determine the extent of Surma and Kajal use in Winnipeg, to identify their

contents and contaminants and to collect all data in such a way as to maximize its

utility in the event that a significant risk lo their users was established. Fifty

informal interviews were conducted. Information regarding informants behavior,

history, socio-demographic status and knowledge about Surma and Kajal was

solicited to produce a profile of Surma/Kajal users and an understanding of the

history and meaning behind the traditions. Surma and Kajal samples were

collected and subjected to analysis of their chemical contents (including lead) and

their microbial contaminants. Many Surma samples were found to be heavily

contaminated with bacteria, yeasts and molds. As well, thirteen of nineteen

contained 50% or more lead. Analysis of Kajal samples was less successful, the

five subjected to chemical analysis had only small amounts of lead. No link

between region of origin of a sample and its contents was observed. Surma and

Kajal are used for a variety of reasons including their medicinal properties,

aesthetics, warding off the evil eye, and religion. Modern Surma and Kajal use

continues a thousands of years old tradition. While the use of these products is

declining somewhat among younger South Asians, Kajal is still used in 24% and

Surma in 18% of households sampled.

Beattie, Laura Jean (1998). The Ethnic Church and Immigrant Integration: Social

Services, Cultural Preservation and the Re-Definition of Cultural Identity.

University of British Columbia, MA: 199.

N/A

Beaubier, Dean M. (1996). Ontario's Multicultural Education Curriculum and its

Implementation in a Secondary Classroom. Queen's University, MED: 184.

This study examined the implementation of multicultural education within the

framework of Ontario's antiracist and ethnocultural-equity curriculum. It focused

on a single urban high school and the manner and degree to which that school

environment interpreted and implemented the curriculum as outlined in the

Ministry documents. A qualitative approach to this research was undertaken so

that the case study involved interviewing, observing, and surveying a group of

students and teachers from the school's programs in the Ontario Approved Credit

and English as a Second Language areas. The results showed that the school was

meeting the objectives of multicultural education but that teachers were having

difficulties managing with the complexities of the problems created by cultural

diversity within the school. Based on these findings it was concluded that despite

the efforts put forth by teachers to deal with issues of race, further developments

and improvements are required in the areas of teacher training in both faculties of

education and inservice education.

Béchara, Antoine (1997). L'Islam et le discours de la folie: Terre d'origine et pays

d'accueil. McGill University, MSW: 53.

76
---
English Abstract, French Text: In the Islamo-arabic world, as it is proven in this

text, the expression of Insanity was tolerated, free, and was attributed traits of

sainthood. We found these three characteristics, in the speech of three muslim

immigrants, users of psychiatric services in Montreal. The major themes of their

speech were listed. Two therapeutic propositions were given as a conclusion to

the text.

Bechtel, Muriel Martin (1997). Showing our Colours: Encouraging Self-Differentiation

in an Urban Mennonite Congregation. Emmanuel Col of Victoria - University of

Toronto, DMIN: 264.

Two stories converge in this thesis--the story of Warden Woods Mennonite

Church, and the writer's story. Both are of Mennonites who in many ways have

integrated into the surrounding culture but who are still strongly influenced by the

theology and practices of their tradition. Both have been shaped by the emphasis

on the church as a visible body--in the world, but not of the world. Both have

placed a high value on peacemaking, on loving their neighbours, and on

belonging to a close community. In some ways they have left their tradition. They

question theological language which does not speak to the issues they face in their

multi-racial, multi-faith urban ethos. They clothe themselves in varied and

colourful dress, and look for fresh ways of expressing their theology that leave

room for differences. But they emphasize a strong sense of community and

belonging. They want the congregation to be diverse and creative, but it has

become more homogeneous. The author's story is one of coming into pastoral

ministry in mid-life. This congregation was her first pastorate, after spending two

decades in a number of roles as a caregiver--in her professional life as a public

health nurse, in her family, and as a volunteer in the church. The research grows

out of her personal experiences as the pastor to a congregation in which a

significant number of the members had spent several years of their young adult

lives in voluntary service to their neighbours who lived in the area around the

church or in other parts of the world. This study is based on the premise that in

order for a community to be creative and life-giving both for those who belong

and those who want to join, it needs to respect the unique stories of individuals

and create a safe environment for them to express differences. The study draws on

the insights of family systems theory, in particular the concept of selfdifferentiation.

The research process was designed to explore self-differentiation

with a selected group of diverse persons from the congregation, with the hope that

the experience would affect their participation in the larger congregation. While

not the primary focus of this thesis, the analysis includes observations on how a

major crisis in the congregation during the research process both influenced and

highlighted self-differentiation within relationships. The thesis concludes with the

study's impact on the researcher's own ministry and suggests some implications

for pastoral leaders in the North American Mennonite Church.

77
---
Bedard, Gabriel Camile (1999). Deconstructing Whiteness: Pedagogical Implications for

Anti-Racism Education. University of Toronto, MA.

N/A

Beimcik, Jackek (1996). Immigration and its Effect on Martial Satisfaction and Violence

Against Wives in Polish Families in Winnipeg. University of Ottawa, MSW: 166.

N/A

Bekkari, Mohamed (1991). Theoretical and Clinical Integration of Luria's Thesis of

Cognitive Development and Erikson's Psychosocial Stages. University of Alberta,

PhD: 335.

The ideological gap between Western and Marxist psychology is of paradigmatic

proportions, and few attempts were made to bridge it. However, recently,

Vygotsky's/Luria's cognitive psychology has overshadowed Piagetian psychology,

but in spite of this new prominence, Vygotskean psychology continues to suffer

from a shortcoming: Its underplaying of personality factors. Simultaneously,

Erikson's psychosocial thesis also gained prominence over traditional Freudian

theory, but it too suffers from another shortcoming: It does not account for

cognitive development. Since Luria and Erikson's theses are perhaps two of the

most widely recognized conceptualizations of cognitive and personality

development today, and since they belong to radically different worldviews, they

were included in this theoretical and clinical integration. The objective of this

integration is to bridge the gap between these two models in order to obtain more

comprehensive psychological knowledge. In order to check the validity of Luria

and Erikson's theses individually and also as part of the integration, Grounded

Theory, a qualitative method used to develop theories directly from the data, was

used. A sample of Canadian-born Muslim Lebanese late adolescents/young adults

from Edmonton, Alberta, participated in this study. This research shows that

substantive theory is very comparable to Luria's and Erikson's formal theses. The

value of the integration and its implications for future research, and especially for

developmental and cross-cultural psychology, are discussed.

Belfry, Melissa Wynne (1997). Muslim Refugee Women Speak Out: A Critique of the

Canadian Guidelines on Refugee Women Facing Gender-Related Persecution.

University of Victoria, MA: 113.

This study focuses on the experiences of refugee women seeking asylum from

gender-related persecution. Few women claim refugee status mainly because it is

more difficult for women to fit the necessary parameters set out by the United

Nations (UN) Convention on refugee status. Canada was the first nation to

implement Guidelines on Woman Refugee Claimants Fearing Gender-Related

Persecution (1993), to address this problem. I have interviewed five refugee

women from the Middle East and Asia, who have come to Canada within the last

78
---
five years seeking refuge. The participants were chosen for their potential to

illuminate the international problem of women seeking refuge from genderrelated

persecution, and the consequences of the Canadian Guidelines'

recommendation that women refugee claimants should base their claims on the

grounds of belonging to a "particular social group". The participants' stories were

analyzed and the data organized into themes. This analysis was informed by

feminist research perspectives. I explored concepts related to the Middle Eastern

female refugee experience, the invisibility of gender-related persecution, and the

need for a sixth category "gender", under which refugee status can be claimed.

(Abstract shortened by UMI.).

Bell, H. Bernice (1992). A Study of the Acculturation of Cultural Minority Social

Workers to Canadian Values Through Social Work Education. University of

Toronto, EDD: 389.

This is an exploratory study which examined from a selection of cultural minority

social workers the personal meaningfulness of Canadian values and their impact

on practice. It noted whether the social workers experienced changes in their

cultural values and what influence social work education had had an their value

changes. The sample was composed of twelve female social workers, six

Portuguese and six Chinese immigrants who had varied length of social work

practice in Canada following their graduation from social work education in a

Canadian university. Data were collected through the administration of structured

interviews with open-ended questions that served as a guide for audio-taped, indepth

interviews with each social worker. Included in the interviews were their

professional responses to distributed scenarios depicting common individual and

family problems as experienced in their work. The Canadian values of

individualism had the greatest impact upon both groups of social workers. The

meaning of this value reflected upon their traditional restrictive backgrounds from

which they respectively achieved freedom from control resulting in selfaffirmation,

and freedom for self-discovery and ability to express oneself

confidently. The study indicated that the Portuguese assumed the value of

individualism in social work practice, and retained their strong allegiance to the

value of the family. This created hidden conflicts in exercising authority in their

professional practice. The Chinese social workers' respect for their traditional

family limited their full use of the value of individualism in professional practice.

Their respect for traditional authority permeated their educational/learning

experiences. Social work education had little direct influence upon the workers'

acquisition of Canadian values which they had initially picked up but were

confirmed by their educational experience. Social work education had helped

them to affirm themselves as individuals but led them to inconsistencies in their

practice of Canadian values. The study indicated the need for the Canadian value

of multiculturalism to be incorporated in all aspects of social work education.

Bell, Jill Sinclair (1991). Becoming Aware of Literacy. University of Toronto, PhD: 367.

79
---
This dissertation uses a first person, narrative methodology to argue for an

understanding of literacy as an individual and societal construct. By exploration

of the writer's personal experiences as a literacy learner, teacher and researcher,

the thesis details how the understanding of literacy is an individual construct

growing out of personal experiences shaped by societal attitudes. It is argued that,

in view of the multidisciplinary nature of the literature on literacy, the notion of

commonplaces can usefully be employed to explore the relationship between

apparently disparate positions. It is suggested that all discussions of literacy can

be identified in terms of the relationships between the four commonplaces of

User, Text, Process and Society. Viewed in this way, it is evident that the role

played by the individual literacy User has not been thoroughly explored in the

literature. The research inquiry at the heart of this account examines the

interaction between User and Process as demonstrated in a study of Chinese

literacy carried out by the researcher. The analysis makes evident that learner and

tutor began the study with conflicting stories of literacy, which had a direct effect

on the learning experience and the literacy which resulted. Much of the learner's

prior educational experience proved to be dysfunctional when facing the task of

attempting literacy as understood by a different culture. The resulting challenge

which the learner experienced to the image of self suggests that the relationship

between the literacy commonplaces of User and Process is dialectical. Given the

multicultural nature of education in Canada today, this individually and culturally

based notion of literacy has profound implications for our understanding of the

teaching and learning situation. The implications for practice are explored in the

context of the production of a resource guide for teachers of literacy, considering

the impact on teacher education and on classroom methodology.

Bellay, Susan (1990). The Image of the French Canadian Race in English Canada:

English Canadian Attitudes Toward French Canada, 1880-1920. University of

Manitoba, MA: 168.

N/A

Bellous, Joyce Edith (1989). Toward a Philosophy of Multicultural Education. University

of Calgary, MA: 239.

N/A

Ben Zeev, Jacob (1998). Marriage of Convenience: The Subjective Experience of Anglo-

Saxon Immigrants in Canada. York University, PhD: 245.

During the last 60 years interest in psychological aspects of migration has

increased significantly. However, while there exists a considerable body of

research on psychological aspects of immigration, few studies have investigated

the subjective experience of the individual immigrant in a manner that is openended

and free of theoretical preconceptions. The present study explores the

subjective experience of 11 immigrants from Australia, Great Britain, and New

80
---
Zealand, who arrived in Canada between 6 months to 5 years prior to their

participation in the study. Anglo-Saxon immigrants to Canada were chosen as

participants in order to minimize the impact of language difficulties and cultural

differences and explore the core subjective experience of immigrants as it pertains

to the phenomenon of persons voluntarily moving from their homeland to another

country and settling there. Interviews with the participants were tape recorded,

transcribed, and analyzed using the grounded theory method in order to produce a

grounded model of their experiences. This qualitative approach enabled a

comprehensive description of the psychological dimensions of the immigrants'

subjective experience during their first years in the host country. The model

reflecting participants' experiences consists of four phases. When opportunity

knocks (phase one), represents the experience participants reported regarding their

motivation to emigrate and the selection of Canada as the host country. The trials

of courtship (phase two), describes participants' encounters negotiating with the

Canadian immigration authorities. Adjustment (phase three), portrays participants'

experience adjusting to life in Canada and involves three major life spheres:

cognitive, social, and emotional. Identity shift (phase four), concerns the impact

immigration had on participants' sense of identity. In all four phases: the most

striking attribute of the total experience described by participants was the casual,

utilitarian, prosaic, and dispassionate nature of their immigration. The core

category of the model, "Marriage of Convenience," was chosen to convey this

pervasive theme. The findings of the present study are compared with previous

studies dealing with the psychology of immigrants. Recommendations for further

research and for means of facilitating the adjustment of immigrants are made.

Bendavid-Streiner, Zohar (1992). Between Two Worlds: Daughters of Immigrants.

Carleton University, MA: 170.

This paper examines the experiences of daughters of immigrants from three

cultural backgrounds: the Middle East and Northern Africa, the Indian

subcontinent, and East Asia. It attempts to understand the special challenges faced

by women who, as they mature, are confronted with two very different sets of

values about the roles and behaviours appropriate to women: the more

conservative values of immigrant parents, and the more permissive values of

mainstream Canadian culture. Interviews were held with 29 women. All were

either born in Canada or arrived in the country with their parents before or during

adolescence. Qualitative analysis of interview data indicates that conflicts

between daughters of immigrants and their parents are common and tend to focus

on social interactions, curfews, and dating; that these conflicts are generally not

dealt with directly; and that their long-term effects include feelings of anger and

frustration, increased self-reliance, and alienation from their parents' culture.

Implications of these results for professionals working closely with this

population and for policy-makers are discussed.

Bennet, Jason Patrick (1996). The True Elixir of Life: Imagining Eden and Empire in the

Settlement of Kelowna, British Columbia. Simon Fraser University, MA: 123.

81
---
At the turn of the twentieth century, Canada was the destination for a great wave

of European immigrants which continued unabated until World War I. As a result

of the policies laid out by Clifford Sifton, federal Minister of the Interior, a

diverse group consisting of Scandinavians, Ukrainians, Poles, and other non-

British peoples settled in western Canada. Unlike the Prairie provinces, however,

British Columbia received a large contingent of Britons, consisting of English,

Scots, Welsh, and Anglo-Irish. The differing profiles of these immigrant

populations could be partly attributed to governmental power. While the federal

government orchestrated Prairie settlement, private land promoters with

provincial blessing directed the shape of British Columbia settlement. Consisting

mostly of British or anglophile Canadians, many of these land promoters

deliberately set out to attract Britons to the Pacific province. Moreover, they also

offered fruit farming as a "cultured" alternative to the wide-spread practice of

cereal farming on the Prairies. And yet, what is often ignored in the early history

of the Dominion is that the drama of immigration occurred within the context of

an aggressive and far-reaching British imperialism. Such was the case with the

British settlement of Kelowna.

Bennet, Nicole (1994). The Authorization of Difference: Tourism Canada,

Multiculturalism and the Commodification of Canadian Ethno-Cultural

Difference. Carleton University, MA: 127.

This thesis examines a rapprochement which took place between Tourism Canada

and multiculturalism in the late 1980s. The thesis explores attempts by tourism

policy makers to bolster Canada's share of the United States pleasure travel

market by selling Canada as a nation of interesting, "multicultural" people. It

argues that this rapprochement was entertained because of an understanding of

ethno-cultural difference which was common to both Tourism Canada and

Canada's early "celebration of difference" model of multiculturalism. The thesis

draws upon the work of post-colonial theorists who reexamine the concepts of

difference and identity, in order to analyze the "difference" which early

multiculturalism in Canada attempted to celebrate. It argues that this

understanding of difference is one which is consistent with the needs of "cultural"

and "ethnic" tourism which were being promoted by Tourism Canada. It suggests

that although the efforts to market Canada as a multicultural tourist site took place

at a time when the more equality-based, social justice model of multiculturalism

had taken hold in Canadian state policy, tourism policy makers nonetheless

harkened back to the earlier "celebration of difference" model of multiculturalism.

This is due in large part, it is argued, because the ways in which difference is

conceptualized within this earlier model of multiculturalism facilitate the

commodification of ethnicity and the production of simple, unproblematic, and

non-threatening signs for tourism's marketing needs.

82
---
Bennet, Paul W. (1990). "Little Worlds": The Forging of Social Identities in Ontario's

Protestant School Communities and Institutions, 1850-1930. University of

Toronto, EDD: 485.

The present study focuses on the social construction of identities--and the

socialization of boys and girls--in Ontario's Protestant denominational, minority

and reform school communities from 1850 to 1930. In analyzing school life, the

thesis applies what British social theorists term 'identity formation' theory. A

careful study is made of the schools' initial missions, models of reformation, and

the patterns and processes used to inculcate particular beliefs and values. It makes

clear that such schooling was not simply a matter of imposing identities, values

and beliefs on absorbent, unresisting school populations. Whatever the

educational mission, the responses of students and inmates ranged from general

compliance to uneasy accommodation to outright resistance. The thesis offers a

fresh interpretation of 'social identity' formation in Ontario's Protestant

denominational school communities from 1850 to 1930. Part One, entitled

"Reproducing the Social Order," focuses on the construction and reproduction of

class and gender identities in Ontario's private boys' schools and ladies' colleges.

In Part Two, "Social Identities Created," we see the emergence of a Protestant

dissenting tradition through studies of boarding schools serving the Quaker and

Methodist communities and analyze the sometimes ambivalent struggle of

Mennonite and black minorities for 'separate and peculiar' schools of their own.

Part Three, "Social Identities Imposed and Resisted," examines Protestant

industrial schools for Indian children and delinquent white youth and the

resistance that schooling encountered among segments of Ontario's Native and

working class communities. Ontario's Protestant denominational schools and

institutions gave rise to school communities that remained psychologically 'apart'

from the mainstream of state schooling. This thesis attempts to make thematic

connections which have previously eluded us. Important links are made between

life at Ontario's well-known elite private schools and the strangely comparable

social experiences at special institutions such as Indian residential schools and

white industrial reform schools. A serious effort is made to explain the complex

process of identity formation by which classed, gendered and partially assimilated

subjects were shaped in those schools. Most important of all, the study sketches

out a composite picture of school communities reflecting those class, gender,

religious and ethnic identities which together constituted the essential fabric of

Ontario society from 1850 to 1930 and beyond. .

Benoi, T. Ernst (1998). Les policiers et policieres noir-e-s d'origine haitenne: Etude

exploratoire sur leurs pratiques de travail. Université d'Ottawa, MA: 158.

Dans cette recherche, nous chercherons comment l'experience de travail des

policiers d'origine haitienne est affecte par une situation minoritaire et empreinte

de racisme. Pour ce faire, nous avons tout d'abord mis en evidence l'existence du

"racisme" dans la police pour ensuite tenter d'en reperer les effets sur les policiers

haitiens a travers leur perception de carriere et leur relations de travail. De

83
---
l'analyse des donnees (entrevues avec 8 policiers et policieres), est ressortie

l'importance de prendre en compte non seulement leur situation minoritaire et le

racisme, mais egalement leur positionnement en tant qu'acteurs sociaux qui

participent a leur integration. Cette integration a mis en evidence plusieurs

pratiques sociales qui ont marque d'une maniere indelebile la societe haitenne, et,

par voie de consequence, la communaute haitienne a Montreal. Nous faisons ici

reference aux croyances vaudouesques et l'ideologie coloriste qui traverse la

culture de ces derniers depuis pres de deux siecles, et posent de nouveaux defits a

l'approche communautaire de la police.

Benson, Malika (2000). Étude sur le mouvement des Noirs américains musulmans.

Université d'Ottawa, MA.

N/A

Benton, Winnifred Marie (1997). The Evolution of Afrikan Consciousness: The Effects

of R.A.C.I.S.M. on Afrikans in the Diaspora. Dalhousie University, MSW: 271.

Afrikan consciousness evolves from the acceptance of our Afrikan identity. This

evolution which entails a progressional journey from an Africentric orientation,

results in an ability to continuously maintain an awareness and analysis of our

individual and collective Afrikan identities, simultaneously with the ability to

implementing the necessary actions to combat the effects of racism. Once this

level of Afrikan consciousness is achieved, it is considered to be matured and

demands continued maintenance. In order to fully appreciate the complexity of

our journey through Afrikan consciousness, personal and ethnic identity

development is explored. A general discussion of the key components,

identified as cognitive and psychological developmental processes (internal

factors) and culture and cultural interactions (external factors), which facilitate

this journey are examined. This discussion leads into an exploration of

R.A.C.I.S.M. and its effects, as it pertains to the Afrikan Nova Scotian

experience. The result of this study concludes, highlighting a theory developed

from the results of the data, which argues that the majority of Afrikan Nova

Scotians cope with racism through the development of an Afrikan consciousness,

influenced by the knowledge of racism. This theory is derived from the data

collected, using a qualitative Africentric methodology, while adhering to the

protocol approved by the ethics committee. The limitation of this study is

identified and recommendations for implementation and further research are

suggested.

Benvenuto, Jose-Alberto (1996). The Process of Identity Transformation of Immigrants

in a Multicultural Society: A Case Study of the Spanish Speaking Community in

Toronto (Ontario). York University, MSW: 132.

This thesis shows the development, consciously or unconsciously of strategies of

adaptation requiring immigrants to distance themselves from the values of their

84
---
upbringings. This process of adaptation provided the immigrants with an

understanding of themselves within the new social and cultural dynamic

incorporating the symbols that represented the values of their new society.

Through this process they were able to strike a balanced identification through

integrating their very different life experiences. In this qualitative research

methodology, immigrants of the first generation of Latino-Americans in Canada

narrated their experience about the meaning, expressed in their own words, of

being a member of the Spanish speaking community in Toronto. Their stories told

of how they perceived themselves and their experience of "becoming Spanish" in

Toronto. They spoke of how they perceived themselves with respect to others,

including members of their own community. They shared how they felt about and

perceived other members of other minorities in Toronto and in general how they

saw and perceived those who they felt were members of the "dominant society".

Berger, Rachel Lynn (1996). Anti-Racism Education in Toronto's Elementary Schools:

The Theory, the Policy, and the Practice (Ontario). University of Toronto, MA:

94.

This study outlines some critiques of multicultural education and contrasts the

newer conceptual framework of anti-racism education as debated by

contemporary scholars and educators. The recent anti-racism education policies of

the Ontario Ministry of Education and Training and the Toronto Board of

Education are described. As well, ten teachers from various elementary schools in

Toronto were asked about their interpretations of anti-racist education, how they

view teaching for a diverse student population, and their opinions of the policies.

The thesis concludes that anti-racism education is often misunderstood and it is

considered to be synonymous with multicultural education. There is also an

evident need for teachers to become aware and to learn about anti-racism

principles before they communicate anti-racism education to their students. Some

recommendations for school boards concerning teacher development ideas are

provided.

Berron, Catherine (1998). "When there is an Opportunity, Take It!" Ou les Raisons pour

lesquelles trois parents d'origine indo-pakistanaise ont inscrit leurs enfants en

immersion francaise. Simon Fraser University, MA: 192.

In this study, I examine the reasons why three parents of Indo-Pakistani origin

have chosen to enroll their children in French Immersion. More precisely, the

objective of this study is to describe the experiences of these three parents with

languages at school, at work and at home, in their country of origin and in the host

country. In addition, this study explores their reasons for immigrating to Canada,

their perception of their identity and that of their children, their perception of the

Canadian school system and finally, their reasons for enrolling their children in

French immersion. In order to obtain rich contextualized information, data was

collected through interviews conducted in English. Each participant was

interviewed for a total of three hours. The interviews were recorded and later

85
---
transcribed. Further contacts were established with the participants to allow them

to read the transcriptions, to give additional information and to comment on the

transcription and the interpretation of the data.

Berthiaume-Zavada, Claudette (1994). Le chant ukrainien, une puissance qui défie les

pouvoirs. Université de Montréal, PhD: 263.

Les musiques identitaires ethniques qui constituent l'objet principal d'etude en

ethnomusicologie sont tributaires de nombreux facteurs influentiels. Leur

"vivacite" est grandement conditionnee par les contextes politiques, sociaux et

culturels ou elles prennent place, surtout dans notre monde contemporain dont les

progres technologiques contribuent a l'agrandissement constant des reseaux de

communication et ainsi a l'elargissement des frontieres culturelles. Chaque peuple

developpe ses propres strategies musicales identitaires a partir de son heritage

culturel ancestral et de conditions environnementales particulieres. A cet egard, la

situation ukrainienne contemporaine nous offre un exemple eloquent de

l'integration de la musique a la vie collective d'un peuple. Notre these vise donc a

illustrer differents modes d'expression musicale collective chez les Ukrainiens

dans deux milieux contrastants: (1) l'Ukraine, pendant la periode des revirements

politiques recents qui ont abouti a la conquete de son independance; (2) Montreal,

apres cent ans d'acculturation en terre canadienne. L'ensemble des situations

musicales dont nous avons ete temoin lors de notre recherche et qui ont constitue

notre corpus d'analyse, nous a revele les evidences suivantes: (1) la puissance

interne de la tradition musicale dans le processus de regeneration; (2)

l'indissociabilite du musical et des contextes ou il evolue; (3) l'importance vitale

du chant collectif dans la dynamique sociale et identitaire chez les Ukrainiens; (4)

la pertinence culturelle du style vocal comme marqueur identitaire dans l'etude

des transformations musicales. Afin d'elucider ces differents aspects, nous avons

propose des outils methodologiques et analytiques qui se sont averes fort utiles

dans la description des evenements musicaux et des pieces musicales. Nous

pensons surtout au systeme de transcription graphique que nous avons elabore a

partir de l'ordinateur et grace auquel nous avons pu ouvrir de nouvelles pistes

d'analyse. Ce systeme nous a permis entre autres, d'illustrer clairement les

composantes de l'articulation vocale et de l'organisation plurivocale des chants et

offre un eventail de possibilites interessantes dans la visualisation du phenomene

sonore et comme instrument d'analyse. En plus de faciliter l'integration des

elements musicaux et para-musicaux pertinents dans l'analyse et l'explication des

faits musicaux, les outils methodologiques que nous avons developpes au cours de

cette recherche (tableaux typologiques, criteres de classification et transcriptions)

se sont montres des instruments efficaces comme supports d'une approche

polyscopique et culturaliste. Ils nous ont permis non seulement d'illustrer mais de

demontrer la necessite d'une telle approche en ethnomusicologie ainsi que la

possibllite d'integrer des donnees musicales et para-musicales dans l'explication

d'un fait musical. Les analyses de le portee du chant dans l'ensemble des strategies

identitaires ukrainiennes ont demontre la "puissance" du chant a trois niveaux: (1)

" ... au dela du temps" tente d'expliciter les relations entre l"historique et le

86
---
musical"; (2) " ... au dela des pierres" illustre la force active et le role important

du chant dans la conquete de la liberte en Ukraine et les rapports entre le

"politique et le musical"; (3) " ... au dela des frontieres" met de l'avant des

strategies musicales de preservation et d'adaptation de la diaspora ukrainienne en

milieu d'adoption, illustrant ainsi des processus de "re-culturation" en milieu

d'acculturation et les relations entre l'"ethnicite et le musical".

Bertley, Leo W. (1980). The Universal Negro Improvement Association of Montreal,

1917-1979. Concordia University, PhD: N/A.

On August 1, 1914, a young Jamaican named Marcus Garvey founded the

Universal Negro Improvement Association in Kingston, Jamaica. Previous to that

date, Garvey had travelled extensively in the Caribbean, Latin America, and

Europe, and was appalled by the misery and suffering which people of African

descent had been experiencing regardless of the country he visited. He had also

spoken to people who had lived and travelled in other contries. They reported that

conditions in those areas were no better than those which Garvey had seen for

himself. The latter hoped to improve the lot of black people through this

association. Between 1916 and 1924 this organization grew rapidly. The U.S.A.,

which Garvey entered for the first time on March 23, 1916, became the centre. He

travelled extensively in that country, visiting 38 of the 48 states, and he saw that

there was need for his organization. He also came to Montreal, sometime in 1917,

and he was warmly received by the Blacks of this city. Partly as a result of his

visit, but largely due to the initiative taken by leaders of another black

organization which had already been established in Montreal, a division of the

UNIA was founded in this city. The official birthdate is given as June 9, 1919,

although there was, for all practical purposes, a well developed form of

Garveyism existing here at least two years previous to that date. The Montreal

Division developed rapidly. During its early years its following increased

geometrically, reaching its peak in 1921. This coincided with the glory years of

the organization as a whole when it was free from all the difficulties which, later

on, beset it and helped to reduce its size and influence to its present weakness.

During its heyday and for many years afterwards, the Montreal UNIA wielded

great influence among people of African descent in this city. Through its many

units, meetings, social, educational, and recreational activities, it afforded many

opportunities to Black Montrealers to fill the wide voids which existed in their

lives. Above all, it made them feel that they were worthy descendants of a great

heritage so that their self esteem increased at the expense of an inferiority

complex. This division was also active at the international level of the

organization. It participated in the important conventions, starting with the first in

1920. This role is continued to the present day. With its Toronto counterpart, it

provided the means whereby Garvey, after his deportation from the U.S., was able

to keep in physical contact with his large following in that country. It helped to

sustain Amy Jacques Garvey and her children during that period of great sorrow

and even greater economic hardship following the death of the organization's

founder and husband of that famous lady. Finally, the Montreal Division played a

87
---
significant role in saving the UNIA from destruction which seemed inevitable as a

result of the policies and practices of James R. Stewart, the man elected to

succeed Garvey. The Montreal Division of the UNIA, therefore, was established

early in the history of the organization, contributed a great deal to its development

and, at the same time, it played important roles in the lives of Black Montrealers.

This thesis, as aspect of the social history of this city as well as a study of the

UNIA from the perspective of one of its divisions, is an attempt to bring the work

and significance of these Montreal Graveyites to the attention of scholars and

others interested in this aspect of the social sciences.

Best, Melissa Anne (1993). Taxation and Portfolio Structure for Canadian Immigrants.

University of New Brunswick, MBA: 155.

Under Section 94 of Canada's Income Tax Act, an immigrant who transfers his

foreign assets to an offshore trust may not be taxable on foreign source income

generated by the trust until he has been a Canadian resident for sixty months. The

tax savings associated with these specially structured "immigrant trusts" can be

significant for wealthy individuals who have sizable assets offshore.

Notwithstanding the window of opportunity under Section 94, there are a number

of other potential traps under the Income Tax Act which must be scrupulously

avoided. The primary purpose of the thesis is to determine what strategies should

be used in the planning process to take full advantage of the 60 month exemption

while avoiding the risk of penalties under Section 94 and other sections of the

Income Tax. On a secondary level, the thesis examines the composition of

investment portfolios within these trusts. On the basis of a theoretical model, the

researcher proposed that the portfolios of tax exempt immigrant trusts should

favor fixed income securities when compared to the portfolios of typical Canadian

investors, all other things being equal. To test this theory, questionnaires were

sent to domestic and international lawyers and accountants involved in structuring

offshore trusts for immigrants and to trustees in tax haven countries who

administer them. The empirical results indicated that the typical asset mix of an

immigrant trust favors fixed income securities when compared with the asset mix

of a typical Canadian investor. The results were consistent with the theoretical

model and were supported by statistical evidence.

Bhatt, Gira (1994). Defining Self in a Multicultural Context: An Exploration of Some

Cognitive Implications. Simon Fraser University, PhD: 189.

The Canadian multicultural social context formed the backdrop of the present

study which was aimed at investigating the dynamics of ethno-cultural selfdefinitions,

race, and comparisons between self and "Canadian"--the nation group.

Classical and contemporary theoretical perspectives on self, culture, and social

cognition provided the conceptual frame. It was proposed that individuals'

comparison of self with the nation group is systematically related to their ethnocultural

self-definitions and their race. The research evolved through a series of

preliminary explorations in which a total of 964 undergraduate students

88
---
participated at various stages. The main study was designed with three levels of

Self-definitions: "Canadian", "Ethnic-Canadian" and "Ethnic"; and two levels of

race: "Caucasian" and "Visible", resulting in a 3 X 2 format. The self-nation

group comparisons were assessed by the measures of Perceived Agreement (PA)

and Perceived Uniqueness (PU). In addition, the subjective image of Canadian

was also explored. Two hundred and fifty-six undergraduate students participated

in the main study by completing a self-explanatory questionnaire. It was predicted

that there would be a main effect of Self-definitions on PA and PU, and there

would be an interaction effect of Self-definition and Race on PA and PU. The

results indicated that there was no main effect of Self-definition on PA or on PU.

Instead, there was a main effect of Race on PA and a main effect of Gender on

PU. Visibles, compared to Caucasians, perceived a higher opinion similarity with

the nation group. Women perceived lower uniqueness of their abilities than men.

The predicted interaction of Race and Self-definition was only marginally

supported. The subjective image of Canadian was generally positive, particularly

for the Visible women and Visible Ethnics. The implications of the findings for

Canadian multiculturalism are discussed within the broad frame of theoretical

perspectives.

Bhoi, Sukhdeep (1998). Ghadar: The Immigrant Indian Outrage Against Canadian

Injustices, 1900-1918. Queen's University, MA: 167.

Ghadar, meaning mutiny in Punjabi, was a revolutionary movement which was

carefully crafted by the Indian immigrants in Canada and the United States. This

study examines the historical background of South Asian settlement in North

America; Canadian racist and discriminatory policies, laws and practices; the

exclusion of the wives and children of the Indian immigrants; the rise of Ghadar

as a reaction to Canadian injustices; the eruption of the Komagata Maru Affair of

1914 and the subsequent development and aftermath of Ghadar in Canada.

Existing Canadian literature on the South Asian experience in Canada is focused

on how the host society viewed issues of race, immigration and labor. The thrust

of this study is the Indian immigrants appreciation of their problems in the context

of the host country environment. Existing literature deals largely with the

Orientals--the Chinese and the Japanese, to the exclusion of South Asians. The

impact of the policies and laws specifically designed for and applied to the

South Asians needs to be explored. The differentiation between the Orientals and

the South Asians, though significant, is often overlooked in practice. This is an

analysis long overdue of the South Asian experience in Canada, through the prism

of Ghadar. (Abstract shortened by UMI.)

Bhoola, Urmila (1995). The Constitutionality of Affirmative Action: A Consideration of

North American Jurisprudence and its Implications for South Africa. University

of Toronto, LLM: 162.

This thesis explores the legal and constitutional justification for affirmative action

and employment equity in the United States and Canada, and discusses strategic

89
---
implications and recommendations for the constitutional validity of comparative

initiatives to redress inequality in South Africa. It explores concepts of equality

that determine the validity of affirmative action in these jurisdictions. In addition,

significant issues that emerge from the Canadian and American jurisprudence are

considered, for instance: when are distinctions on the basis of race, colour, gender

or disability in order to promote disadvantaged groups justified; when is

preference for members of a particular group, say in employment, justified,

instead of the removal of barriers to economic advancement; the effect of

affirmative action on third parties, and whether they are victims of 'reverse

discrimination'; who are the legitimate beneficiaries of affirmative action. It

concludes that a multi-faceted approach to affirmative action is required,

incorporating both barrier removal and preference, if these measures are to

effectively redress inequality, particularly in South Africa.

Bialystok, Franklin (1997). Delayed Impact: The Holocaust and the Canadian Jewish

Community, 1945-1985. York University, PhD: 444.

The Holocaust was a seminal event in the twentieth century. Yet knowledge of the

event in the western nations outside of Continental Europe remained limited until

the 1960s. In Canada, the impact of the Holocaust in the Jewish community was

delayed for a generation. This study asks two questions: what was the impact, and

why was it delayed for a generation? The research shows that the community

deemed that it was obligatory to eventually educate itself because of the centrality

of the Holocaust in modern history, its overwhelming significance in Jewish

history, and the role of Canada and its Jewish community during and immediately

after the Nazi era. From the end of the war until 1960, however, this confrontation

with the legacy of the Holocaust was avoided by most Canadian Jews. They were

not psychologically prepared to deal with the event, nor were they attuned to the

enormity of the loss that had occurred in a world that was not theirs. Moreover,

the community was preoccupied with other priorities. This mood changed from

the early 1960s to the mid 1970s because of the efflorescence of marginal but

vicious antisemitism in Canada and by more potent racist and antisemitic outrages

internationally. Concurrently, the Holocaust was emerging as a field of academic

research, but more significantly as a theme in popular culture. In addition, the

politicization of Holocaust survivors propelled interest leading to the

institutionalization of the legacy of the event in the Canadian Jewish community.

This was most evident in events that galvanized the community in 1985. This

study relies upon two sets of sources: documents found in archives and private

papers, and the author's interviews with selected individuals. The thesis is located

in the field of post-war immigrant communities, but is also grounded in political

history and is mindfull of the context of the international developments as they

affected these developments.

Biles, John (1997). It Is All A Matter Of Priority: Multiculturalism Under Mulroney

(1984-1988). Carleton University, MA: 257.

90
---
The first Mulroney government brought multiculturalism front and centre as a

visible priority of the government. Drawing upon the available public record in

ministerial, departmental, and governmental documents, the media, and a series of

interviews, this paper examines the record of the Mulroney government in the

area of multiculturalism, paying specific heed to the leadership roles played by

many key figures of the 1984-88 period.

Billings, Marion L. (1999). "Greedy to know English": A Case Study. University of

Regina, MED: 186.

This case study examined four aspects of one English as a second language

learner's interlanguage development: morpheme acquisition, communication

strategies, learning strategies and the affective factors that can influence language

development. Data for the study included ten language tapescripts of a twenty

year old immigrant language student from the former Yugoslavia which were

recorded every two weeks over a five month period. The student also wrote fortyone

diary entries about her language learning experiences during this five-month

period. The findings show that her morpheme acquisition order conformed to the

general order of acquisition predicted by the research literature, and that she used

primarily interlanguage based communication strategies to negotiate meaning.

The diary accounts revealed that she approached language learning by using four

learning strategies. The diaries further revealed that affective factors played a

significant role in her interlanguage development. In particular, acquisition of

inflectional morphemes was related to a gain in self-confidence in her language

use. The study suggests that it is essential that practitioners be knowledgeable

about the theory of second language acquisition as well as methodologies and

materials that reflect this knowledge. There is a place in the classroom for

instruction that includes exposure to and practice of inflectional morphemes, and

students should be made aware of the communication and learning strategies that

can enhance their language development. Further, it is imperative that the

language classroom provide an emotionally safe and supportive environment, and

that an atmosphere of respect for the adult learner's previous knowledge and

experience be part of the daily classroom atmosphere.

Bindra, Gursharn Singh (1986). A Study of the Nutritional Status of a Selected Sample of

East Indian Punjabi Immigrants to Canada. University of Guelph, PhD.

Fifty-nine adult male (M) (mean age 37.7 (+OR-) 10.5 yrs) and fifty-five adult

female (F) (mean age 33.3 (+OR-) 7.4 yrs) East Indian Punjabi immigrants

participated in a nutrition survey. Dietary, biochemical and anthropometric

assessment was used to investigate mineral intakes and the iron, zinc, folic acid,

vitamin B12 and lipid status. All subjects were consuming predominantly lactoovo

vegetarian self-selected diets. Mean ((+OR-)S.D.) energy and mineral intakes

calculated from 3-day weighed dietary records were: energy M = 2374 (+OR-)

713, F = 1708 (+OR-) 552 kcal; calcium M = 990 (+OR-) 468, F = 837 (+OR-)

393 mg; phosphorus M = 2034 (+OR-) 778, F = 1489 (+OR-) 551 mg; zinc M =

91
---
12.2 (+OR-) 4.9, F = 8.8 (+OR-) 3.9 mg; copper M = 2.4 (+OR-) 0.9, F = 1.7

(+OR-) 0.6; and manganese M = 7.7 (+OR-) 3.3, F = 5.7 (+OR-) 2.4 mg. Grain

products were the major food source of energy (42.2%), phosphorus (40.4%), zinc

(47.2%), copper (49.8%), and manganese (75.4%), whereas milk and milk

products were the primary source of calcium (64%). Biochemical parameters of

iron status were incorporated into a 'Tri-index' (TI) model. The latter was found to

be appropriate for estimating the relative prevalence of iron deficiency in small

surveys. A high prevalence of iron deficiency was found in the female Punjabis

and attributed to their low available iron intakes (1.08 mg), concomitant with high

intakes of dietary fibre (mean = 23.6 g), phytate and tannins, components which

inhibit non-heme iron absorption. Thirty-two percent of the subjects had serum

zinc levels
---
Bisping, John (1992). Political Refugees or Economic Migrants: The Case of Polish

Professionals, 1980-1986. University of Ottawa, MA: 135.

This thesis searches for the presence of economic motives in professionals, who

left Poland circa 1980-81. Through this case study of so-called "political

refugees", the wider goal is to examine the dichotomy between political flight and

economic migration. At issue is the depoliticization of poverty in the Third

World, as well as the effect of the cold war on immigration policy in Canada. The

results indicate that economic factors constituted important motives for departure

in our target population. It is suggested that members of the latter were therefore

not political refugees by UN-defined standards.

Blackett, Patricia A. (1998). "Uh, Can I Say Something?": An Exploration of Pre-

Adolescent Black Female Subjectivity. Queen's University, MED: 212.

This thesis explores the subjectivities of ten black females between the ages of

nine and twelve, who live in a large metropolis in Quebec, Canada. The

researcher's subjectivity is also included and explored. Post-structuralist theory

and black feminist thought, which recognize the link between available discourses

and meaning, acknowledge the presence of multiple identities, and illustrate the

interlocking nature of race, class, and gender, are used to frame this work. Weekly

group discussions, entitled Girltalk, allowed for an exploration of the following

issues: geographic location, the male gaze and performative gender, and

perceptions of blackness. This thesis found that these preadolescent girls are

cognizant to a myriad of issues, and will actively critique these issues when given

a space to do so. Findings suggest a need for Girltalk spaces where preadolescents

can continually examine common truths and issues of power as they pertain to

their lives.

Blanchet, France (1995). L'immigration en région, l'accueil, les coopératives d'habitation:

Recherche-action. Université de Sherbrooke, MA: 192.

Le Ministere des affaires internationales, de l'immigration et des communautes

culturelles (MAIICC), par son programme PAO, a comme objectif: "D'ameliorer

l'acces et la qualite des services pour les immigrants et neo-quebecois en region,

et ameliorer les relations interculturelles au sein des organisations". La Federation

des cooperatives d'habitation populaire des Cantons de l'Est (FCHPCE), dans le

cadre dudit programme, obtient un appui financier et realise au cours de l'annee

1993-1994 un projet-pilote (le seul accepte a travers la Province de Quebec) qui a

comme objectif: "D'instaurer un processus durable pour faciliter l'integration de

personnes immigrantes dans les cooperatives d'habitation". Pour ce faire,

ameliorer le service d'accueil de la Federation (sensibilisation du personnel),

atteindre la clientele immigrante (recrutement), et faire en sorte que les

cooperatives d'habitation accueillent cette clientele (insertion dans les

cooperatives). L'auteure de cet essai est la personne a qui est confiee la realisation

du projet. Cet essai prend la forme d'une recherche-action qui a comme objectifs:

93
---
"De faire connai tre le processus mis en place a la Federation pour l'atteinte de ses

objectifs et, suite a des reflexions theoriques suscitees par les dynamiques vecues,

structurer un cadre d'action plus adequat, un ensemble d'activites humaines plus

pertinentes, qui faciliteralent l'acceptation de personnes immigrantes dans les

cooperatives membres de la Federation des cooperatives d'habitation populaire

des Cantons de l'Est". La premiere partie decrit le contexte dans lequel se deroule

le projet. La deuxieme partie raconte les evenements tels que vecus, par themes,

rediges a partir d'un journal de bord tenu chronologiquement et minutieusement

(instrument de collecte des donnees). La troisieme partie comprend d'abord une

synthese des evenements suivie de reflexions theoriques. Cette demarche permet

d'identifier les forces et faiblesses du processus utilise et de proposer des

modifications susceptibles d'etoffer plus solidement ce type d'intervention.

Bleasdale, Ruth Elisabeth (1984). Unskilled Labourers on the Public Works of Canada,

1840-1880. University of Western Ontario, PhD: N/A.

This study of canal and railway labourers on Canada's public works provides a

detailed analysis of an important segment of the developing industrial working

class during the years of transition to industrial capitalism. By examining changes

in the industry, the composition of the workforce, and the labourers' behaviour

and perceptions of that behaviour, it traces both the process of class formation and

the growth of class tensions. Beginning with an analysis of the public contract

system, it defines the nature of the relationship between contractors and

governments and traces the impact of the technological revolution and the growth

of a body of indigenous contractors within the industry. Despite important

advances within the industry, work on construction sites changed little, continuing

to depend primarily on the energies of unskilled labourers who enjoyed little

material reward for their back-breaking and dangerous labour. The forty-year

period, however, witnessed a significant change in the composition of the

workforce. Migrants from within Canada displaced Irish immigrants as the major

source of unskilled labour, and the workforce on construction sites became

increasingly ethnically heterogeneous. This change in the composition of the

workforce effected a modification of the stereotype of the unruly, drunken, and

violent public works labourer. Labourer's perceptions of themselves also changed

during these years. In the early years of construction strong factional, ethnic, and

sectarian bonds generated violent conflict amongst the diverse groups brought

together in the workplace. At the same time such bonds were a powerful source of

unity during the frequent strikes waged by the Irish labourers who dominated the

workforce. Over the period the basis of identification shifted from ethnicity to

class. The easing of tensions between ethnic groups and the unity of the various

ethnic groups during frequent strikes demonstrated an increasing ability to unite

in pursuit of common class interests. Although the labourers remained outside

formal union structures, they sustained an aggressive struggle with employers and

acquired the experience of militance and solidarity on which the working class

movement of future decades could build.

94
---
Blendick, Pauline Ann (1996). An Examination of Styles of Procedure used by Principals

in Connecting School to School Communities within a Multicultural Context.

University of Toronto, EDD: 234.

The major purposes of this study have been to analyze the actions of principals,

parents, members of staff and support staff, who contributed to the bonding of

schools with school communities and to describe and explain the extent of parent

involvement in a group of five elementary schools. I have examined the available

research in an effort to develop plans for the development of school associations

that could be available as guidelines or a model of planning for new principals.

The study was conducted in the context of the reorganization of the administrative

structure of the Metropolitan Toronto Separate School Board (1988). The data

were gathered by means of an extensive literature review, unstructured interviews,

a survey questionnaire distributed to all elementary school principals and a

climate survey questionnaire distributed to a group of teachers. The research

showed principals who worked in a reflective manner to review and revise their

planning. Leadership styles were particularly significant in schools that favoured

consensus management and flexibility in organization. Each of the five principals

developed a clearly identifiable style of communication with the families of the

children that fitted the context of the school community and the needs expressed

by the group of parents. Principals were enthusiastic in involving the families in

the life of the school, aware of the changes in the traditional family.$\sp1$ The

flexible organization of all activities contributed to this aspect of the partnership

between school and home as well as the extensive nature of communication that

was deemed necessary for effective interaction of school and community. A large

portion of the student population was composed of recent immigrants.$\sp2$ In

addition to being a challenge for parents and teachers, the multicultural aspect of

the schools was used to enhance curriculum. The administration and staff used the

knowledge this gave them about their communities to gain trust and strengthen

the bonds between parents, children and the school. This study did not provide

plans for a model of school associations. Each school was different but, in its

approach to the parents, clearly showed excellent guidelines that were used to

develop close ties between home and school. ftn$\sp1$The majority (83 percent)

of children living in Ontario are being raised in two-parent families, but that

number includes blended or recombined families. The "norm" may not be two

working parents, or it could be a single-parent or other kinds of family

arrangements that result from the greater number of divorces and remarriages in

society. (Royal Commission on Learning, 1995, Vol. 1, p. 27.) $\sp2$By 1991,

almost 40 percent of those living in Metropolitan Toronto were born outside

Canada. (Royal Commission on Learning 1995, Vol. 1, p, 28.)

Boateng, Kwabia (1993). A Comparative Analysis of Labour Supply Behavior Among

the Immigrant and the Canadian-Born Population in the Light of the Immigrant

Selectivity Hypothesis. Dalhousie University, PhD: 281.

95
---
Research on the economic performance of immigrants relative to the native-born

population since 1978 has revolved around Chiswick's immigrant selectivity

hypothesis, which argues that immigrants generally possess "superior motivation,

initiative and drive". However, most of the studies on the subject have focused on

earnings without much meaningful attempt to apply the hypothesis within the

context of labour supply. The purpose of this dissertation is to analyze the

differences in labour supply between immigrant and Canadian-born populations,

looking at both total labour supply and the effect of underemployment constraints,

and moonlighting activity. We estimated labour supply functions based on weekly

hours and annual hours in 1987 using Heckman's two-step regression procedure

for correcting selectivity biases due to participation and underemployment. The

regression results were then utilised for a Blinder-Oaxaca type decomposition

analysis of the hours differences, in the light of the immigrant selectivity

hypothesis.We found that there is no significant difference in the structure of the

labour supply functions, with respect to the intercept and wage coefficients, and

that the difference in the means of weekly and annual hours is explained fully by

the differences in the means of the demographic characteristics included in the

estimation equations.The analyses of moonlighting behaviour also revealed that

hours worked at the primary job were a strong factor in determining who

moonlights. In general the dissertation underlined the importance of labour

market constraints in analyzing the differences in the labour supply and

moonlighting behaviour between groups of individuals.

Bobb-Smith, Yvonne Gloria (1998). I Know Who I Am. A Caribbean Woman's Identity

in Canada: Agency and Resistance in Community Organizing. University of

Toronto, PhD: 319.

The identity of Caribbean women in Canada is often subsumed and homogenized

in the concept of "immigrant women" and contributions of these women to

Canadian society are erased. This thesis is an inquiry which transforms this

picture of an uni-dimensional Image to one of multiple subjectivities and

radicalism among forty-six women from the English speaking Caribbean. These

women represent diverse heritages; cultures; class positions and different sexual

orientation. They have in common their residence in Canada for periods of twenty

to thirty years. Their stories demonstrate how these Caribbean women, reinvent

their identities, opposing the pathologized victim identity of an "immigrant

woman" by using agency to apply to strategies of education; networking and

community organizing. I historicize these experiences from early colonization to

modern day political activity in the region. As a result the interconnectedness of

their histories becomes apparent and I hypothesize a collective subjectivity. I am

then able to interpret their stories with three arguments: (a) home is a site of

learning resistance; (b) independence is an ethic in Caribbean female ideology;

and (c) an alternative women's movement was formed in Canada to reproduce a

Caribbean brand of feminism. I further argue that this learning at home produced

independence as an ethic which them to act on behalf of themselves and their

communities. The activities of the women in this study culminated in an ongoing

96
---
alternative women's movement with strong anti-racist thrust. I conclude that such

collective resistance was only possible because home, despite its contradictions

and contestations, is an educative education that provided Caribbean women with

lessons of independence and resistance.

Boggende, Gijsbert Gerrit Jacob den (1991). Dutch Calvinist Immigrants in Hamilton and

the Hamilton Christian School, 1937-1960. University of Toronto, MA: 197.

Interwar-year Calvinists tried to continue the Dutch Christian school system in

their new country, but demographic and financial difficulties prevented its

realization. After World War II the influx of new immigrants made the wish a

reality. Yet, the founding of the Hamilton Christian School showed considerable

disunity. Ecclesiastical schisms, following Dutch antecedents, different views of

financing and doubts about the need of a Christian school postponed the opening

of the school and made cooperation a tenuous commodity. This thesis indicates

who was involved, which ideas could be incorporated in a new context, which

model of Christian school was followed and why the number of students grew

quite significantly during the first decade of the school's existence. The Hamilton

Christian School, however, was not a single experiment. It was part of a much

larger educational movement, both in Canada and the United States. Hence, this

thesis attempts to indicate the school's role in this movement. Furthermore, the

Hamilton Christian School, and with it the movement to which it belongs, can be

placed in an even larger context: multiculturalism.

Boisclair, Léonie (1993). La régionalisation de l'immigration et les attentes des

immigrants: Le cas du Saguenay. Université du Québec à Chicoutimi, MA: 180.

On commence de plus en plus a parler de deconcentration des pouvoirs

decisionels en region. La regionalisation de l'immgration devient dans ce contexte

une avenue possible pour le developpement regional selon le discours

gouvernemental. Mais, les immigrants qu'en pensent-ils ... ? Cette etude

s'interesse donc a cette question. Mais dans un premier temps, elle aborde

l'immigration au Quebec et aussi en region sur un plan global. On aborde la

repartition de l'immigration au Canada et au Quebec. On trace aussi le portrait de

l'immigration au Saguenay. Le deuxieme chapitre, qui presente le cadre theorique

de la these, met en relief quelques concepts tels que ceux de region, d'identite

culturelle, de regionalisation. On parle egalement de l'ethnicite au Quebec et des

types d'integration. Dans le troisieme chapitre, notre attention est portee sur la

regionalisation de l'immigration en rapport avec le developpement regional. On y

traite de probleme de la concentration de l'immigration a Montreal. On fait

l'historique de l'immigration au Canada et au Quebec. On traite aussi plus

specifiquement de l'immigration en rapport avec le developpement regional et on

examine les perspectives de regionalisation de l'immigration au Quebec. Le

quatrieme chapitre presente le resultat d'unc enquete par entrevues apres des neo-

Quebecois. On aborde des elements tels que le contexte de l'immigration, les

premiers contacts, l'integation des immigrants au milieu de vie et de leurs

97
---
perceptions de la vie en region. Cette partie est abondamment illustree de tableaux

recapitulatifs qui apportent un soutien au texte. Enfin, dans le dernier chapitre, on

presente la perception des neo-Quebecois au sujet d'une eventuelle regionalisation

de l'immigration. On apprend entre autres que les personnes interrogees sont

favorables a ce que les immigrants s'installent en region pourvu que le milieu

regional soit prepare a les recevoir et que les immigrants soient, eux aussi,

prepares a vivre en region.

Bombas, Leonidas C. (1988). The Greek Day School Socrates in Montreal: Its

Development and Impact on Student Identity, Adjustment and Acheivement.

McGill University, PhD: 232.

The purpose of this study was to investigate the development of the Greek day

school Socrates in Montreal and its overall impact on its students vis-a-vis the

variables of ethnic identity, socio-personal adjustment and academic achievement.

Existing documentation, content analysis of the Greek community press, and

participant observation were all used in unfolding the school's historical

development. The dependent variables of Greekness, adjustment and achievement

were examined via the interviewing of 549 Greek origin individuals, 118 of

whom were adults, 255 Socrates students, 158 non-Socrates students, and the rest

18 were Socrates graduates. Although the results obtained did not provide

conclusive evidence concerning an assumed differential impact of Socrates along

the variables investigated, the ethnic identity influences of the community school

were clearly delineated. At the same time, the results of the study have pointed to

what has been coined here a "Socrates ethos" which is may be conducive to

academic and socio-professional success. Accordingly, an overall long-term

Socrates impact has tentatively been postulated.

Bonato, Lisa (1994). Mothers and Daughters in Italian-Canadian Women's Narratives.

University of Alberta, MA: 117.

This work examines the portrayal of mothers and daughters, as well as

mother/daughter relationships in the narratives of Maria Ardizzi, Mary di

Michele, Caterina Edwards and Mary Melfi. Employing both ethnic and feminist

literary theories, I explore the dominant theme of multiple identities in the

portrayal of mothers and daughters. In relation to this analysis, I examine the

various ways in which the experiences of these four writers as ethnic or

immigrant women contribute to mother/daughter discourse. Therefore in my

approach, I focus particularly on the common areas of ethnic and literary theories

concerning the issues of subjectivity, author identity assertion and agency.

Bonnie, Kim (1991). Factors Affecting the Labour Force Participation of Korean

Women. Carleton University, MA: 219.

Over the past four and a half decades, South Korea has experienced fundamental

and extensive changes. The economy has evolved into a highly industrial structure

98
---
through rapid industrialization and high, continuous growth rates; and the Korean

society has been modernized by the introduction of Western ideas, technology and

culture. For Korean women, these changes have led to a rapid increase in their

labour force participation. However as traditional opinions of women have

prevailed in the minds of economic actors, women's labour force participation has

been distorted, marginalized and limited. This thesis examines the labour force

participation of Korean women since the advent of changes in South Korea. It

looks at how women have contributed to the economic development and the

factors which have shaped their economic participation and activities. As this

paper is informed and guided by perspectives in feminist theory, it also looks at

how these forces of distortion and marginalization can be and are being addressed

through reforms in state policy and the education system in South Korea.

Boonyaratapan, Malinee (2000). L'impact de l'entrainement a l'utilisation des strategies

de lecture sur la comprehension de textes chez des eleves thailandais. Université

Laval, PhD: 598.

N/A

Borisenko, Laurel (1991). Preperation for Refugee Resettlement: Refugee and Agency

Goals. University of Alberta, MED: 158.

The time that refugees spend waiting in first asylum camps is a crucial time which

should be used in the preparation for the transition to the resettlement country.

However, one problem that has been identified by the literature is the lack of

refugee contribution to the planning, implementation, and evaluation of predeparture

programs. This research hypothesizes that because of this lack of input

there will be a gap between the goals that agencies have for pre-departure

programs and the goals that refugees have for their own resettlement. This study

seeks to analyze the goals for resettlement from the perspective of the agencies

which implement the programs and refugees who are the clients. Khmer refugees

who have been resettled in Canada were used as a case study. This research

involves both descriptions of what it means to be a refugee and an analysis of the

resettlement experience. The first part of the fieldwork, conducted in Thailand,

includes a description of life in the Thai refugee camps. Past and present

orientation programs are examined, the latter being based on participant

observation. The second part of the fieldwork is a summary of interviews with

Khmer refugees and settlement workers in Edmonton.

Bornau, Ruth (1999). Cross-Cultural Communication in Selected Adult ESL Classrooms

in Vancouver: A Study of the Cross-Cultural Situations ESL Students and

Teachers Rate as Most Difficult. Concordia University, MA: 256.

This study is an examination of what cross-cultural situations students and

teachers find most difficult in adult English as a second language (ESL)

classrooms in Vancouver, British Columbia. Cross-cultural situations include any

99
---
encounter (verbal or non-verbal) with a person from a different culture. Seventysix

advanced to upper-advanced ESL students and 20 teachers from Vancouver

adult ESL schools filled out questionnaires detailing situations of cross-cultural

communication. The participants rated their level of comfort and understanding

on Likert scales and made written comments for each situation in the spaces

provided. Nineteen students and 10 teachers were also interviewed orally and

asked to elaborate on their questionnaire responses. The results from the Likert

scale data and the most frequent and salient oral and written comments suggested

that students had the most difficulty with language/pronunciation, classroom

discussion, talking to the teacher, students and teachers acting superior, knowing

when students or teachers are being impolite, accepting criticism from students,

dress and hygiene, teaching style, and personal space in the classroom. Teachers

rated students acting superior, cross-cultural conflicts (in general), disagreement

with students, managing the interaction of loud and quiet cultures,

language/pronunciation, and student unresponsiveness, adjustment, expectations,

emotions, and free time as most difficult in the classroom. The findings suggest

problem areas for researchers, curriculum developers, and teachers to focus on in

order to improve cross-cultural communication in Vancouver adult ESL

classrooms.

Boston, Patricia Helen (1994). Caring and Culture: The Practice of Multiculturalism in a

Canadian University Hospital. McGill University, PhD: 281.

This thesis examines how cultural understandings are generated and transmitted in

a Canadian multicultural teaching hospital. It explores how issues of 'culture' are

addressed formally and informally in the experiences of patients and practitioners.

Using the approach of an institutional ethnography, emphasis is placed upon

informal strategies of cultural care as a taken-for-granted practice in clinical life.

It illuminates how pressure to learn culturally sensitive care seeps into the fabric

of daily clinical life, and how cultural practices are constructed within a complex

set of organized social practices. The study concludes that advocacy of

multicultural policies, must consider the dominance of existing western health

care paradigms. It advocates culturally responsive care as a parallel force that can

collaborate with the regimes of formal health practices. It argues that providing

effective health care to all segments of Canadian society requires structural

changes in health education which need to address existing disjunctures between

'effective ideals' and ideological knowledge, in order that all are ensured optimum

health care.

Bouchard, Michel (1994). Ethnicité et identité: Le cas des francophones de la région de la

Rivière-la-Paix. Université Laval, MA: 162.

Le francais est une langue illegitime dans le contexte albertain et elle devient une

langue secrete largement invisible, meme dans les communautes majoritairement

francophones de la region de la Riviere-la-Paix (Alberta). Ce phenomene, decrit

par Eidheim (1969), limite l'usage de la langue du groupe ethnique la ou elle ne

100
---
genera pas la participation du groupe a la societe dominante. Trois strategies

ethniques, souvent contradictoires, (l'integration, l'accommodation et le

militantisme ou le "nationalisme" ethnique) se retrouvent dans la communaute, ce

qui contribue a la rivalite et aux conflits intra-ethniques lorsque les differents

leaders de la communaute essaient de rallier les francophones a leur strategie.

L'identite des francophones est tout aussi complexe que l'ethnicite et nous

retrouvons une multiplicite d'appellations ethniques ou nationales qui

correspondent generalement a la vision qu'on a de soi-meme, de sa communaute

et de son pays.

Boudreau, Michael Scott (1996). Crime and Society in a City of Order: Halifax, 1918-

1935. Queen's University, PhD: 597.

Halifax experienced dramatic socio-economic changes during the period from

1918 to 1935. The decline of industrial manufacturing meant growing

unemployment, poverty, and out-migration. At the same time, the rise of a

service-sector economy sheltered the city from complete economic collapse. New

forms of technology, culture, and ideas transformed the daily lives of many

Haligonians. While residents debated the pros and cons of their "modern" world,

most did agree on one thing: modernity had corrupted public morality and

unleashed an imposing array of social problems, including crime, upon the city.

Indeed, some even blamed modernity for the crime that beset Halifax from 1918

to 1935. By examining the incidence of crime and the experiences of some

criminals in Halifax during these years, this thesis will explore the ways in which

this perceived rise in crime, the response of the law, and the discussion of order

shaped one city's reaction to the challenges of modernity. Halifax prided itself on

being a peaceful, well-ordered city. Crime epitomized the essence of social

disorder, and to counter it, Halifax began to modernize its machinery of order (the

police force, prisons, and the criminal justice system) and to place greater

emphasis on the ethos of "crime control." In the process, the rule of law served as

a means to regulate the lives of those men, women, and children who broke or

who could potentially break the law. Moreover, it helped to entrench the class,

gender, and racial inequalities that characterized this city of order. Most members

of the Halifax community opposed crime and the "criminal element"; they

attached little importance to the reform and rehabilitation of criminals. Only

juvenile delinquents received any type of reformatory treatment. In the public

discussions that arose about crime and criminals, "traditionalist" and

"progressive" paradigms emerged which attempted to come to grips with the

problem of criminality. As the city's law enforcement authorities and concerned

citizens battled crime to preserve law and order they constructed an image of the

"criminal class." This class, comprised primarily of white, working-class men,

provided the police and the justice system with a convenient target in their efforts

to maintain a strict sense of law and order in Halifax. Women and ethnic

minorities who turned to crime also endured harsh opposition from the law and

Halifax society. Women, many Haligonians believed, could not commit a crime.

Paradoxically, however, those who did were punished severely, as anomalies

101
---
within the system of order. Some women also used the criminal law as a source of

empowerment, usually against their abusive or neglectful husbands. Yet they

often met with limited success. Whether as offenders, plaintiffs or victims,

women in Halifax were discriminated against by the law. Ethnic minorities bore

the brunt of the city's hostility towards crime and disorder. Halifax's dominant

white society depicted Blacks, Chinese, and "foreigners" as the "other" and

relegated them to the margins of civil society. As well, each of these groups were

accused of being purveyors of white slavery, gambling, and illegal drugs. In turn,

they suffered discrimination at the hands of the criminal justice system. The "city

of order" never fully materialized in interwar Halifax, but those who pursued this

ideal had a profound impact on social relations and daily life in the city.

Boulianne, Shelley (1999). Identity Politics and the Little Guy from Shawinigan (Jean

Chretien). University of Alberta, MA: 117.

Identity politics relates "who am I" to political positions. A new conception of

identity was introduced that stressed the complex, socially constructed, and

dynamic nature of identity. This conception was used to study Jean Chretien's

autobiographical construction of identity. His race, gender, class, ethnicity, sexual

orientation, and disability interact in constructing the specificity of his political

experiences. However, he does not consider how the privileges of his race, class,

sexual orientation, ethnicity, and gender buffer his experiences of being

differently abled. He fosters these identity components' invisibility, camouflaging

their importance and relationship to liberal democratic assumptions. These

unchallenged assumptions may lead to policy decisions with detrimental effects

on gays, disabled people, First Nations people, and women among others who are

marginalized within Canadian society.

Boulter, Kathleen M. (1990). Georgy Ryga: Suffering Humanity. University of Alberta,

MA: 143.

Certain ethical themes recur in all Ryga's work. He was genuinely concerned with

the suffering of all humanity. His primary interest was with the men and women

who have existence and responsibility foisted upon them. Ryga demonstrated

concern for those who suffered disastrous consequences of dehumanized

societies. Ryga's characters are often the displaced, suffering in an alien society.

They are the outcasts, human beings suffering from poverty, neglect, or

discrimination resulting from race, religion, or sex. Ryga's writings are concerned

with groups he considered to be socially oppressed. In his novels and plays, Ryga

asks his audience to examine the values of the individuals and compare them with

those of the society which has alienated them. He possesses a deep dissatisfaction

with society and attempts to change it by encouraging the audience to consider the

alternatives. Ryga supplies the questions; he leaves the answers to us.

Bourgeault, Ronald (1987). Class, Race and Gender: Political Economy and the

Canadian Fur Trade, 1670s to 1820s. University of Regina, MA.

102
---
N/A

Bowen, Sarah Jane (1999). Resilience and Health: Salvadoran Refugee Women in

Manitoba. University of Manitoba, MSC: 384.

This qualitative study describes, from the perspective of women themselves, the

health of Salvadoran refugee women living in Manitoba, their understanding of

causes of health and illness, and the strategies they use to maintain health and

cope with health problems. Participants fled war-related violence in El Salvador

and arrived in Canada during the period 1982-1992. The study was designed in

collaboration with Salvadoran women. Methods included qualitative interviews

with 12 women, two focus groups (for a total of 18 participants) and participant

observation. The research process included a feedback stage, which enabled

participants both to review excerpts from their own stories and to comment on the

interpretation of themes and conclusions. Differences in social class were

associated with systematic variation in women's life experiences and their

expectations of, and satisfaction with, services and life in Canada. However, the

study identified characteristics and coping strategies which transcended social

class, and focused on resilience and pragmatism. Study participants described an

understanding of the determinants of health and illness that was multi-causal and

multidimensional, and which emphasized the social roots of health and illness.

Their perspective suggests major limitations to the Determinants of Health model

emphasized in North America. While many participants reported war-related

trauma, on-going distress related to adaptation to life in Canada, and continuing

community polarization and mistrust were described as having a greater effect on

current health. The findings challenge the emphasis on individual diagnoses of

psychological disorder, suggesting that efforts should be addressed to the social

and behavioral effects of violence, betrayal and uprooting.

Bowering, Jacqueline Gail (1995). Spirituality in Education: In Search of a Unifying

Theme. McGill University, MA: 112.

This thesis examines traditional and contemporary perspectives on the nature of

spirituality. Its aim is to provide a basis for a programme or course on spirituality

that would be relevant and meaningful for students in multicultural settings. The

main theme unifying the diverse traditions and perspectives examined in the

thesis relates to the interconnectivity of all life within the Universe. Other related

themes include: the importance of living in the present, the unity between body,

spirit, and earth, and the importance of contemplative solitude and silence.

Bowes, Janet Patricia (1993). Multiculturalism in Prime-Time: A Study of "Urban

Angel". University of Calgary, MA: 194.

Governments have responded to the demands of ethnic and racial minorities to be

included into the mainstream of Canadian society with multicultural policy and

103
---
legislation. The legislation obliges the media to portray the diversity of Canadians

and to depict ethnic and racial minorities fairly in order to promote social

equality. This paper analyses a CBC television drama, Urban Angel, in order to

investigate how and if the representations of ethnic and racial groups fulfil the

aims of multicultural policy. The analysis is conducted using a Cultural Studies

theoretical framework, which makes the assumption that the media contributes to

the maintenance of power relations in society and that cultural myths and

ideologies embedded in the media are interwoven with capitalistic practices,

which tend to deny institutional barriers to individual success. From this position,

the question can be asked: Does Canadian dramatic programming reinforce the

status quo or work towards social equality?

Bowman, Kerry William (1997). Chinese-Canadian Attitudes toward End of Life

Decisions. University of Toronto, PhD: 211.

Purpose. The purpose of this study is to examine Chinese Canadian attitudes

toward end of life decisions. While extensive information is available on attitudes

towards end of life decisions in general, little is known about attitudes of specific

cultural communities. Within Western health care, autonomy is the dominant

value on which the intellectual and moral foundation of end of life decisions are

based. At the heart of this value is the belief that everyone is entitled to free

choice, self determination, and privacy. Vet for many people of non-Western

origin the image of the self is based on his or her relations with others rather than

individual free will. A Chinese sample has been selected because of the contrast

this group represents in relation to an autonomy based perspective and because of

the demographic significance of the Chinese in Canadian society. Methods. Three

elements of end of life decisions are explored in this research project: (a) advance

care planning, (b) truth telling, and (c) decisions to forgo treatment. Because of

the complexity of phenomena at the intersection of attitudes toward end of life

decisions in relation to culture, this research project is an ethnographic, qualitative

study. The constant comparison method was used for analysis. Results. (a)

respondents were indifferent or negatively disposed to advance care planning; (b)

respondents perceived truth telling to be variable in its importance, potentially

harmful, and a "process" rather than an "event"; (c) in relation to decisions to

forgo treatment, respondents were focused on the importance of avoiding or

alleviating suffering for the patient and others affected by the illness and

minimizing burdens to the family, the health care system, and the government.

Conclusion. From a moral and ethical perspective respondents' attitudes represent

a 'world view' which deals with a concrete situation and focuses on such values as

interdependence, comparison and protection in contrast to an autonomy based

'world view' which deals with abstract and hypothetical situations, and focuses on

such values as individualism, self determination and rights. For respondents in

this study, moral perspective appeared to reveal itself through context rather than

universal principles.

104
---
Brar, Narinder K. (1994). Racisms in British Columbia at the Turn of the Century:

Reinterpreting the Case of East Indian Immigrants. Carleton University, MA:

142.

The topic of racism against East Indians in British Columbia during the early part

of this century has thus far, been given only ad hoc attention in political economy

oriented 'race' relations literature under the general category of 'Anti-Asian' or

'Anti-Oriental' racism. Not only does this literature assume the various factors

which contributed to the treatment and subsequent categorical exclusion of East

Indians are synonymous with those which were responsible for 'Anti-Chinese' and

to a lesser degree 'Anti-Japanese' prejudice in the province, it also gives primary

analytic significance to economic relations. This thesis argues that although

racism against East Indians needs to be studied in relation to others racisms, it

must be given its own specificity. Utilizing the recent theoretical advances made

by Robert Miles to the field of 'race' and ethnic relations, this thesis argues that

such specificity is revealed by examining the development of British Columbia as

an 'imagined community' of white settlement in the broader context of British

Imperialism. It also illustrates the important role ideological and political

practices, relatively autonomous to the economy, had in production of racism

against East Indians.

Breems, Bradley Gene (1991). "I Tell Them We Are a Blessed People": An Analysis of

"Ethnicity" by way of a Canadian Dutch-Calvinist Community. University of

British Columbia, PhD: 475.

This dissertation treats ethnicity as cultural construal and ethnic group as the

maintenance of social boundaries. It finds that members of ethnic groups maintain

institutions and boundaries between themselves and others by which they

prescribe and proscribe ideas, behaviour and practice, as well as develop criteria

by which they identify, evaluate and judge themselves and others. Members share

aspects of culture, a presumed origin and worldview with one another. People

externalise their relationships and then maintain boundaries around themselves,

using elements from the past, interpreting their present situation and

contemplating effects on the future. It also finds that both external opposition and

internally generated worldview concepts are sufficient to bring about boundary

maintenance and group solidarity and identity. The research on which this work is

based combines ethnographic and survey methods in a study of Canadian Dutch-

Calvinists. It also incorporates a survey of theories of group phenomena. It finds

that theoretical treatments of ethnicity occur at different levels of the ethnic

phenomenon and it presents each of the analytic foci of these various levels. In so

doing, it contends that people may belong to groups for varying reasons. In fact,

using this case, a group which appears relatively homogeneous, is filled with

tension. Some people derive their sense of community from looking to the past;

others look forward. Some emphasize traits when trying to determine membership

in the group. Others are more concerned about the relational value of the group,

not as much with the specific features of membership. Such a group, while

105
---
threatening to break apart, actually persists because of the mutual member interest

in these variations, combined with a commonly maintained antithetical

worldview.

Brennan, Patricia Louise (1998). Storming the Ramparts: Employment Equity and the

Military. University of Manitoba, MPA: 139.

This study was conducted with a dual purpose. The first was to explore the theory

and history of employment equity in Canada in general and in the Canadian

military in particular. The second was to prepare a report on the findings as to

why personnel, particularly designated groups under employment equity, choose

to leave the military. The intent was to determine if there were significant

differences in reasons for leaving between men who make up the majority of the

Canadian Forces and designated group members, that in turn could be used to

determine if systemic barriers were contributing factors. The study was conducted

by comparing data for all who left the military from January 1994 to December

1996 with data from personnel who voluntarily completed an exit questionnaire

upon leaving, and then with gender and ethnic information from the 1995

Canadian Forces Diversity Study. Overall the results were consistent for women

and men--both citing family impact as the primary category of reasons for

leaving. The results were less consistent among aboriginal peoples and visible

minorities who reported higher instances of career dissatisfaction. Caution is

advised in interpreting these results as overall there was a low rate of response

from an groups (about 20%), an increased completion rate with rank progression,

inconsistent completion rate by occupation and small overall sample of aboriginal

peoples and visible minorities. Recommendations for increasing the validity of

the exit questionnaire include making completion mandatory, simplifying the

questionnaire and the process for completion, targeting designated groups as well

as junior personnel and non-traditional occupations to complete the questionnaire,

and instituting a program to refer designated groups to the reserves.

Brenneis, Sandra Elaine (1993). Committed to Love: The Lived Experience of Adopting

a Romanian Child. University of Alberta, MED: 122.

Romanian adoptions have received a great deal of attention in the last few years

and there has been much speculation as to the likelihood of success for the

adoptive parents and children. These children who have most often come from

institutional backgrounds exhibit several behaviors which are unfamiliar to

Canadian parents, and have become the focus of much public attention. There has

been some misunderstanding surrounding this experience of adoption which has

lead to assumptions about what the adoptive families experience and need during

the process. The experience of adopting a Romanian child has been explored

through the perspective of the adoptive parents. Using a phenomenological

perspective, an understanding of the experience was developed through the use of

in depth interviews. The interviews were considered first independently of each

other, then in comparison to each other and the common themes emerged. Three

106
---
separate stages of the adoptive process were identified. The Decision to Adopt

was the first stage of the process and themes of (1) Frustration and Uncertainty,

(2) Hope, and (3) God and Faith emerged. The Journey describes the experience

of travelling to Romania to pursue the adoption and has been divided into themes

of (1) Living the Culture and (2) Loss. The third stage describes the Adjustment

period of adoption as one of (1) Chaos, (2) Coping, (3) Unexpected Feelings, and

(4) Optimism for the Future. By listening to the people directly involved,

speculation of future possibilities may be more accurate and founded. Perhaps

what is learned and heard now, will be of use in establishing systems of a support

in the future.

Bridgman, Gail T. (1993). The Place of Mainstream and Ethno-Racial Agencies in the

Delivery of Family Services to Ethno-Racial Canadians. York University, MSW:

126.

This research examines the effectiveness of both mainstream and ethno-racial

(i.e., ethnospecific) family service agencies in providing culturally and

linguistically appropriate services to Canadians from diverse ethno-racial

backgrounds. The dilemmas inherent within official multiculturalism are

explained in the context of social work practice as we attempt to manage ethnoracial

diversity and provide services in an even handed manner. In fact, a gap

persists between the rhetoric of diversity and the reality of a service delivery

system that has virtually just started to address the struggle for equality and

justice. This raises the question whether ethno-racial agencies have an important

role to play in the family service delivery system. To address this question, five

mainstream and five ethno-racial agencies were selected for examination. Semistructured

interviews were conducted with the executive directors of these

agencies regarding service to ethno-racial clients. Our findings confirm on the one

hand, that mainstream agencies have been slow to respond to cultural diversity.

On the other hand, ethno-racial family service agencies were found to be

providing culturally-sensitive and linguistically-appropriate, accessible services to

ethno-racial clients. There appears to have been little improvement in coordination

and co-operation between the two sectors despite growing service

demands and decreased financial resources. Racism is undoubtedly one factor of

concern and is perceived as a significant barrier to co-operation and equal

partnership. The research concludes by pointing out the need for restructuring the

current delivery system to reflect our current multicultural reality. For example,

the recommendation of a partnership model warrants further consideration

whereby both mainstream and ethno-racial family service agencies could play

valued roles in serving ethno-racial Canadians by responding collaboratively to

the challenges of managing diversity.

Brigham, Susan Mary (1995). The Perceptions and Experiences of Immigrant Filipino

Caregivers: A Study of Their Integration into Canadian Society. University of

Alberta, MED: 156.

107
---
To date there has been little scholarly research done on one segment of immigrant

women in the Canadian context, namely live-in caregivers in Canada who have

come to Canada in the thousands to perform domestic labour. Except for a survey

conducted by Household Workers of Alberta, no in-depth research has been

conducted on caregivers in Alberta and none specifically on caregivers from the

Philippines. This thesis explores the perceptions and experiences of Immigrant

Filipino Caregivers in Edmonton. The data were collected through in-depth

qualitative interviews with nine women who have come to Canada as live-in

caregivers and are now permanent residents of Canada. The study looks at the

factors which impact on the ability of the Filipino caregiver to participate and

succeed in Canadian society. These factors are examined in four main contexts:

the caregivers' work, the process of ethno-cultural identity, education and the

state. The findings show that several factors play a role in their ability to integrate

and succeed in Canadian society. These include: the labour, class and status

characteristics of domestic work; community involvement; previous cross-cultural

experience; family and community ties in the Philippines; ethnocultural

discrimination; lack of accessibility to educational institutions and state agencies;

and the effects of policies and regulations governing the Live-in Caregiver

Programme.

Brodey, Deborah Alexandra (1997). From Judaism to Buddhism: Jewish Women's

Search for Identity. University of Toronto, MA: 170.

It is well known that disproportionately high numbers of Jews have become

Buddhists in North America. (Kamenetz, 1994). This study is an exploration of

nine North American Jewish women who have turned to Buddhism for their

spiritual development. The two research questions explore why these women are

attracted to Buddhism and the process of how they are integrating the two

religions within themselves. I have used the Push and Pull model of conversion

(McGuire in Selengut, 1988) to analyze why these women feel pushed from

Judaism and pulled towards Buddhism. In analyzing the second question, my

findings suggest that these women are not converting fully to Buddhism, but

rather are integrating both approaches in different ways. This integration was

often articulated by the women as retaining their cultural and ethnic identity as

Jews, while practicing Buddhist philosophy and spiritual practices in their

everyday lives.

Broh, Dagobert (1996). The History of the Newspaper "Aufbau", 1934-1948. Concordia

University, PhD: 476.

Aufbau began in 1934 as a monthly 12-page bulletin of the German-Jewish Club

in New York, N.Y. As a foreign-language paper, it wanted to be a bridge between

the old and the new homelands. It also adopted the purposes of the club, whose

members were recent immigrants: to help its readers become good Americans and

self-assured Jews. News and politics were limited to the fight against Nazism.

Members of the club produced and distributed the bulletin except for the printing

108
---
and some outside contributions. After overcoming two crises shortly after the

beginning, Aufbau gradually increased its circulation and advertising as more and

more refugees from Nazi persecution arrived. Aufbau guided them in their new

life, becoming a necessity for them. The increased revenue allowed Aufbau's

expansion to a true newspaper. In 1939, the club hired Manfred George, an

experienced journalist who had previously been instrumental in the establishment

of two successful newspapers. Aufbau would become the third. He changed it to

a weekly, gave it a style used by the liberal German press with some features

adopted from the American papers, and added news and non-partisan politics. His

editorial policy democratized the contents by sponsoring forums as well as

inviting contributions of all non-radical opinions of public interest. He also

promoted the view that Jews in America formed one of the sub-nations that

together constituted the great American nation. Aufbau also supported a Jewish

state in Palestine. During the Second World War, the American war effort was

given the highest priority for space in the paper. Thereafter, Aufbau endorsed,

after early doubts, U.S. government policy in the Cold War. The newsprint

shortage during the war and shortly thereafter stopped the paper's growth. The

circulation reached its peak in 1946/47. As a non-profit corporation, Aufbau used

its surpluses to finance its and the club's social relief programs.

Brooks, Cindy (1992). The Effect of Sex and Race on Students' Hiring Decisions.

University of Toronto, EDD: 140.

The present study was designed to examine the possible effect of sex and race on

students' hiring decisions to determined whether or not women and members of

minority groups continue to be hired less often than White men even when they

have identical formal backgrounds and qualifications. Participants were 72

college students (36 male and 36 female). They rated the suitability of candidates

for engineering (male-oriented), nursing (female-oriented) and psychology

(gender-neutral) positions, and were ultimately asked to state whether or not they

would hire each person. The candidates were either male or female and either

Caucasian, Chinese, or East Indian. Job descriptions rendered the candidates

qualified, marginally qualified or underqualified for the different jobs. A 2 x 2 x 3

x 3 x 3 Latin square design was employed with the following variables: sex of the

participant, sex of the applicant, race of the applicant (White, Chinese, East

Indian), qualification level of the applicant (qualified, marginally qualified,

underqualified) and type of job (engineering, nursing, psychology). A significant

3-way interaction was found for job qualification by type of job by sex of

participant, F(4,76) = 2.56, p $
---
under certain complex circumstances that include the sex of the person making

the hiring decisions as well as the qualification level of the person and the type of

job for which he/she is applying. Discrimination that occurs in this "covert"

manner is of concern because it is more difficult to prove than "overt"

discrimination where one is excluded from a job on the basis of gender and/or

race alone.

Brotman, Shari (2000). An Institutional Ethnography of Elder Care: Understanding

Access from the Standpoint of Ethnic and "Racial" Minority Women. University

of Toronto, PhD.

N/A

Brown, Avonie (1994). Links and Lineage: The Life and Work of Mary Ann Shadd in

Media, A Black Feminist Analysis. University of Windsor, MA: 141.

Accepting historical documentation as an inherently subjective and selective

process, this thesis will continue the process of reconstructing and highlighting

the importance of the Black Canadian historical presence. This thesis will attempt

to widen Canadian mass communication and historical vision by focusing on the

advocacy of Mary Ann Shadd: teacher, abolitionist, fighter for women's rights and

the first Black woman in North America and the first woman in Canada to found

and edit a newspaper. Using a Black feminist epistemological framework this

thesis will advance an analysis of her multiple roles, focusing on her media

participation and its implications for African-Canadian, women's and mass

communication history. How did the complex interconnectedness of race, gender

and class impact her activism as a Black woman in the struggle for civil rights in

Canada? How did this fundamental reality define the aesthetic and content of her

work as writer and editor of the Provincial Freeman?

Brown, Jeffrey A. (1997). New Heroes: Gender, Race, Fans and Comic Book

Superheroes. University of Toronto, PhD: 351.

This study offers an ethnographic account of one comic book publishing

company's attempt to address divergent audiences through new heroes and how

the readers of these texts come to understand them through interpretive strategies

and subcultural practises specific to the comic book industry and comic book

fandom. Specifically, this study focuses on the African American comic books

published by Milestone Media and how fans relate to the stories and the new

Black heroes according to six fundamentally interconnected principles and points

of comparison. The interpretive strategies used by comic book fans revolve

around (i) their recognition of Milestone's corporate and creative identity as the

mainstream publisher of African American comics; (ii) their awareness of the

debate between Milestone and other African American comic book creators

regarding the authenticity of ethnic representation; (iii) their reliance on

subcultural principles specific to comics fandom, such as the collecting principle

110
---
whereby the reader's recognition of specific artists and/or writers allows the fan to

accumulate cultural capital within the subculture; (iv) the fan's knowledge of

genre history and of earlier attempts to create Black heroes; (v) the fan's

familiarity with formalized genre conventions and Milestone's place as an

innovative publisher which retains most or the "classic" elements of the superhero

formula, and (vi) in comparison to the market-dominating comic books published

by other companies which promote a popular trend of gender extremism. For

many fans the Milestone superheroes function as a focal point for interpreting

revisionist notions of African American characters in comparison to more

mainstream comic book ideals, and further, they facilitate a progressive

interpretation of Black masculinity which incorporates intelligence with

physicality. This research is an attempt to contribute to the current debate in

Cultural Studies between perceptions of media texts as agents of hegemony and of

audiences as active resistors. Rather than either of these extremes, this study

argues that the reading of comic books is interpreted according to the ideological

encodings of the producers and the socially positioned, fandom-based, decodings

of the audience.

Brown, John Douglas (1982). An Exploration of the Construction of Recommendations

for Policy for a Board of Education: Investigating the Culture of Administration.

University of Toronto, EDD: N/A.

The study explores how recommendations for a race relations policy were

constructed for a board of education by a board subcommittee comprised of

system, community and other-agency members. A conceptual framework based

on a developed notion of the dialectic is employed in order to avoid what are

presented as agenda and epistemological limitations common among

contemporary studies of policy making. The methodology employed includes

interviews with the members of the City Board of Education's Subcommittee on

Race Relations (SCRR), and perusal of the documentary artifacts of the SCRR's

activities during a nineteen month period in 1977 and 1978. A descriptive account

of the SCRR's history is presented with the description ordered around

Wildavsky's (1979) notion of policy analysis as "asking" and "telling". The SCRR

is seen to be engaged in asking, among its members, when initially exploring the

nature of the problem to be addressed and possible methods of consulting with

student, system and community groups. A second stage was marked by an

externalizing of asking about the problem through consultation meetings with

such groups. The final epoch of the SCRR's career is presented as a telling that

sought to inform the policy's objects about intended actions. The final portion of

the study attends to an interpretation of the description. The principal claim of the

interpretation is that the members of the SCRR were engaged in the construction

and exercise of a particular cultural form, identified as the administrative culture.

The culture's most dominant trait is seen to be the exercise of an instrumental

rationality (Habermas, 1971), operating ultimately in a deductive mode and

preparing the way for a reduction of the problems of racism to problems of

organizational operation, in order to ensure prediction of outcomes and control of

111
---
ehaviour. This rationality is seen to be ideological by virtue of its attention to

real, but not all real relations among the policy's intended objects. The exercise of

the administrative culture's rationality is held to have been frequently challenged,

with some resistances representing potential disclosures of its ideological nature.

These contestations are seen to speak to the culture's conception of the individual,

its reformist perspective, and its operant conceptions of authority, organizing and

racism.

Brown, Michael Peter (1994). Locating Citizenship Across the City Politics of AIDS in

Vancouver, Canada. University of British Columbia, PhD: 298.

Chantal Mouffe has proposed a theory of political engagement or "citizenship"

that rejects fixed, essential definitions to "the political". With her pluralistic, nonessentialized

political subject, she hopes for a means by which different political

struggles can be linked together rather than ordered hierarchically or exclusively.

Here citizens are associated in distinct but related struggles, rather than by legal

status or community membership. A crucial point in her argument is that political

theorists must look for new "spaces" of politics. Since she never expands on this

call, we are left with little more than spatial metaphors that fix the locations where

citizenship might be found. Political theory typically plots three separate spheres

to describe people's lives: the state, civil society, and the family. By spatializing

these metaphorical locations I have taken up her call and explored the emergence

of citizenship across these spatialized social relations through an ethnography on

AIDS politics in Vancouver, Canada. For each allegedly discrete space in

political theory, I note an ongoing restructuring that affects and is affected by the

articulation of citizenship with the changes in social relations in place. These

restructurings suggest that fixed, essentialized characterizations of space must

also be rejected. I sketch the considerable overlap between social relations of

state, family, and civil society in locations across Vancouver's AIDS politics.

Radical civil disobedience failed because activists failed to understand the overlap

of state and civil society through AIDS service organizations. Within those

agencies, political engagement is caught between grassroots community

orientations (civil society) and the emergence of a large, rapidly bureaucratizing

service system attached to the state. Volunteers who provide all manner of

support (from social work to kinship) for people living with AIDS likewise

complicate any clearcut distinction between state and family. The overlap of the

family with civil society is illustrated by the Vancouver display of the AIDS

Quilt. It was at once a fundraising event held in civil society, yet it was also a

familial space: allowing families and friends to grieve and mourn their dead.

Spatial overlaps enabled (and also constrained) citizenship, as Mouffe defines it.

These hybrid spaces articulate de-centered citizens with the ongoing

restructurings of state, civil society, and family that are concurrent to the AIDS

epidemic. Consequently, I conclude that future work on radical democratic

citizenship consider the contexts in which the citizen engages in political struggle.

112
---
Brown, Winston Lloyd (1984). West Indian Youth in Metro Toronto: The Relative

Effects of Home and School Related Variables on Their Attitude Towards

Participation in Post-Secondary Education. University of Toronto, EDD.

This study focused on the relative effects of the home and school environmental

variables on the attitudes of West Indian youth in Metro Toronto towards

participation in post-secondary education. The study is exploratory in nature and

had three main objectives--to discover: whether or not West Indian youth in

Toronto have positive attitudes towards participation in post-secondary education,

the relative effects of the home and school variables on their attitudes, and what

variables (if any) have affected their attitudes towards participation in postsecondary

education. The population sample consisted of 100 West Indian youth

in Metro Toronto, age 14 to 24, who were attending university, college or high

school and, who had left school (drop-outs). The method used for the study was

attitudinal in approach. Participants were questioned on the items defined for the

study by means of a survey instrument. The responses were recorded on scales of

1 to 5, from very favourable to very unfavourable. There were four questions

posed for the attitudinal items which represented the dependent variables. The

independent variables consisted of items describing their home and school

environments. The major findings reveal that West Indian youth in Toronto

scored relatively on the attitudinal scales and demonstrate high to moderately high

scores with respect to their attitudes and aspirations towards participation in postsecondary

education; and, scored positively on the self-concept of ability sclales.

The high and positive scores observed were more pronounced with participants

who are in the upper levels in education and, who have parents with: occupations

in the higher socio-economic classes, post-secondary education and, high

aspirations for their children. It was also found that length of residency in

Canada has significant effects on their attitudes towards participation in postsecondary

education. Furthermore, the study shows: a lack of awareness of postsecondary

availability amongst most participants, a weakness in the counselling

system, as well as, problems in the placement and assessment procedures in the

schools. The study provides some answers to unsubstantiated and speculated

arguments that are often made on some of the characteristics of the West Indian

community.

Browning-Leveque, Gloria Janisse (1992). Part of the Patchwork: Representations of

Race and Gender in Theatre. Simon Fraser University, MA: 75.

This thesis examines the broader societal factors that facilitate cultural production

and, particularly, cultural identity. Within this framework, I am specifically

interested in the manner in which people who are identified as "visible minorities"

in the dominant discourse create sites for cultural productions that contest

dominant definitions and reaffirm their sense of identity. A report released by the

Alliance of Canadian Cinema, Television and Radio Artists (ACTRA) in 1986

details some of the institutional problems facing professional actors who are

"visible minorities" in Canadian television, radio, and theatre. Many of the

113
---
problems outlined in the ACTRA report parallel concerns identified by studies

like the 1984 Equality Now! "Report on the Special Committee on Visible

Minorities in Canadian Society". As Robin Breon and Brenda Kamino state in an

article to the Summer, 1990 issue of Canadian Theatre Review, "visible minorities

are a 'minority within a minority' thinspace" in Canadian theatre production. The

central focus of my thesis research deals with identifying the broader social and

psychological factors that necessitate the need for increased support and

opportunities for people of colour and First Nations people in theatre, particularly

for women from these groups. In partial fulfillment of this degree, a video

documentary records some of these artists' works, their opinions and experiences

in theatre production. The video, which focuses on participants in the Vancouver

1991 Women in VIEW theatre festival, highlights some of the concerns and

visions of women of colour and First Nations women who are working in an area

of specialization which demands a high level of creative output and often provides

limited financial returns and security benefits as a profession.

Bruechert, Alice (1992). The Concept of Immigration in the Development of the Nation-

State: A Comparison of Germany and Canada. Carleton University, MA: 208.

This thesis argues that the reason nation-states conceptualize immigration

differently today is that the concept of immigration developed concurrently with

the unique formation of the nation-state. The thesis demonstrates the validity of

this argument by comparing how Germany and Canada developed their current

concepts of immigration during their development as nation-states. In order to

achieve this end, the thesis was written as a comparative overview. It consists of

five chapters, each divided into a German and Canadian section, dealing with a

specific time frame. They cover from the roots of Germany and Canada's concept

of immigration during the pre-nation-state time period to their current concepts of

immigration discussed in chapter five. This overview explains how Germany and

Canada's concepts of immigration can be so different today, although both

countries have required foreigners to contribute to their development as nationstates.

Brunger, Fern Marjorie (1994). Safeguarding Mother Tamil in Multicultural Quebec: Sri

Lankan Legends, Canadian Myths and the Politics of Culture. McGill University,

PhD: 343.

I examine the concept of "culture" being promoted in the Canadian policy of

multiculturalism and by Tamil refugees safeguarding their culture in Quebec. I

take culture in its relation to power as my focus. I explore what culture means to

the Tamils, and how the Canadian ideology of multiculturalism is implicated in

the way Tamil "culture keepers" (re)construct their cultural identity. This research

addresses popular "multiculturalism" movements which use anthropological

notions of culture but fail to problematize the notion of culture itself. I illustrate

how and why the concept of culture is itself culturally embedded and historically

shaped, and thus dense with political implications. It also addresses

114
---
anthropological approaches which avoid realist ethnography because of its

political implications. I argue that a focus on culture in its relation to power is

necessary in order to examine anthropology's own continuing involvement in

imperialism.

Brunt, John Howard (1989). Coronary Heart Disease Among the Dariusleut Hutterites of

Alberta. University of Calgary, PhD: 227.

The two objectives of this epidemiologic study were: (1) to determine the

prevalence of coronary heart disease (CHD) and its risk factors, and (2) to

examine the association between CHD and its risk factors, among the Dariusleut

Hutterites of Alberta, Canada. The CHD risk factors examined included

hypertension, hypercholesterolemia, diabetes, cigarette smoking, elevated Body

Mass Index (BMI), alcohol consumption, psychological stress, physical activity,

and family history of CHD. The methods of investigation used for this crosssectional

survey included interviews, self-administered questionnaires, laboratory

measures (random blood cholesterol and post-prandial blood glucose), and

physical measures (blood pressure, height, and weight). The data gathered using

the questionnaire and interview included demographic information, lifestyle

habits, medication and health care utilization, evidence of Rose Angina, past

medical history, and family history of CHD. All Hutterites between 30 and 74

years of age from the 68 Dariusleut colonies in Alberta were invited to participate

in the survey; 38 colonies (55.9%) enrolled in the study. Of the 914 Hutterites

from the 38 colonies eligible for inclusion in the survey, 88.7% (n = 811)

participated, and surrogate information was gathered on the remaining 11.3% (n =

103). Within the Hutterite population, as compared to other North American

and/or European prevalence studies: (1) the prevalence of hypertension,

hypercholesterolemia, diabetes, and elevated BMI were higher, (2) the prevalence

of smoking, physical exercise, and extreme psychological stress were lower, and

(3) the prevalence of alcohol consumption was similar. A family history of CHD

was reported by over two-thirds of the respondents. In the adjusted analysis, the

factors significantly associated with CHD, for the males, included hypertension,

diabetes and increasing age. Only diabetes was significantly associated with CHD

for the females. Despite the high prevalence of hypertension,

hypercholesterolemia, diabetes, and elevated BMI, the prevalence of CHD was

not found to be higher than in other prevalence surveys. Possible explanations for

this finding include: (1) the very low prevalence of smoking among Hutterites

may reduce their risk of CHD by as much as 30%, (2) the moderate alcohol

consumption found among the Hutterites may help improve their lipid profiles,

(3) the strong social support systems of Hutterites may, through as yet unknown

mechanisms, reduce CHD risk, and (4) Hutterites may have higher case-fatality

rates for CHD than found in other populations.

Buchanan, Nancy (1997). The Adaptation Process of Somali Refugees in Winnipeg: The

Role of Adult Education. University of Manitoba, MED: 162.

115
---
This study explored the role of adult education in the adaptation process of

selected Somali refugees who had settled in Winnipeg, Manitoba between 1985

and 1995. The purpose of the study was to gain insight into the following four

questions: (1) What do selected Somali refugees in Winnipeg identify as their

adaptation needs? (2) What education experiences do selected Somali refugees

identify as important to their adaptation? (3) What obstacles to education have

selected Somali refugees encountered and how have they dealt with them? (4)

How helpful do selected Somali refugees in Winnipeg feel that their education

experience has been in meeting their adaptation needs? To explore these questions

in depth, the researcher conducted interviews with selected Somali refugees. The

data from the interviews was analyzed from a qualitative research approach, and

triangulated with a literature review and the researcher's involvement with the

Somali community. The findings of the study indicated that non-formal learning

experiences were more beneficial to selected Somalis' adaptation to the new

culture than were their formal learning experiences. However, participants also

identified several areas in which they desired support for educational

opportunities. These included: training in English which extend beyond the

achievement of basic survival skills, and which also offered English classes in the

workplace; employment programs that provided the students with the opportunity

to obtain 'hands-on' experience; family life classes and legal information which

addressed the different cultural values between Canadian and Somali societies; a

women's support group; and community-operated preventative programs. The

findings also suggested that the Citizenship and Immigration could do more to

fulfill its commitment to the successful resettlement of refugees. The study also

provided insights from Somali participants about cultural, political, social,

educational, and religious issues, as well as about family life and gender relations

in their culture.

Buckland, Robin Lynn (1997). The Everyday Experience of Somali Women in Canada:

Implications for Health. University of Ottawa, MSC: 153.

Access to health care is considered a basic right in Canadian society. However,

health services are frequently inappropriate, unacceptable and thus inaccessible to

immigrant and refugee women. The everyday concerns of immigrant and refugee

women are germane to establishing appropriate, acceptable and accessible health

care services. Thus, the purpose of this study was to examine the everyday life

experiences of Somali, exploring how these experiences affect their. Grounded

theory, a qualitative research method, in which data collection and analysis occur

in tandem, was utilized, and enhanced by the perspective of feminism, in this

study. This feminist perspective facilitated a non-oppressive, non-hierarchical,

interactive and reflexive research process. 'Rebuilding' in Canada was identified

as a central process. Two main categories were discovered in the process of

rebuilding; (1) adjusting to the refugee reality & (2) finding a new safety in

Canada. Running from flames reflects on the initial experiences of Somali women

in Canada. Despite the fact that they are safe in Canada, coming to terms with

their reality as refugees is not easy. Safe in Canada Somali women begin the day-

116
---
to-day trials of dealing with intercultural communication in an unfamiliar

Canadian system. The study finding encourage nurses and other health care

providers to consider the context and history of clients ultimately broadening their

conception, as health care providers, of health and the multiple factors that

determine it.

Buckridan, Rakib (1994). Trinidad Muslims in Canada: A Community in Transition.

University of Ottawa, PhD: 376.

This research project sought to obtain information through a mailed questionnaire

on various issues and problems encountered by Muslims of Trinidad ancestry in

transition as they settle into the Canadian environment. The results indicate there

is a core of non-negotiable elements which are held firm. For example: all

respondents claim belief in the oneness of God and Muhammed as His prophet (-the

testimony of faith that defines the Muslim); the Quran is the revealed word of

God to Muhammad; acceptance of the Quran and some or all of the Hadith; there

is life after death; angels exist; and that Christianity and Judaism are also

acceptable to God. At the same time, several aspects of their religious practices

appear negotiable, perhaps for survival or simply getting along in the larger

society. The frequency distribution of responses indicates, for example, that the

socio-cultural environment in Canada tends to hinder the exercise of some basic

injunctions. Political or governmental agencies may find it of interest to note

concerns related to finding suitable education for children (including facilities for

the imparting of Islamic instruction, Arabic and Urdu or Hindustani languages),

obtaining proper burial sites, avoiding religious and racial prejudices. Also

problematic are efforts geared at maintaining the extended family with parents

and elders held in high respect. There is a disenchantment with the practice of

arranged marriages, preferring pre-marital mixing of the sexes, dating and mate

selection. The appeal of skimpy clothes, calypso dancing, pre-marital and extramarital

sexual affairs are also noteworthy. Respondents, while regarding

themselves as less religious than their parents, see themselves as definitely more

religious than their children, an obvious decline over generations. The crosstabulations

indicate that while the immigrants from Trinidad tended over time to

modify their religious tradition and practices, their Canadian-born children (i.e.,

the next generation), caught between two cultures and no doubt experiencing

tension between minority-majority cultures as they live in the culture of their

parents at home but experience a different one in school, the neighbourhood and

through the media, were influenced further by the dominant culture in attitudes to

their religion and related issues and practices. Further, among the Trinidad

Muslim respondents in Canada, the overall watering down in Islamic traditions

and practices seems more prevalent among those respondents who are university

educated, are professionals, and have high salaries, as anticipated by the tested

hypotheses which are thereby confirmed. It is noteworthy, too, that by the second

generation born in Canada, there is a swing-back (reversion) to enhanced

involvement in their religion; and while interesting in itself, it seems to suggest a

117
---
hope of rescuing and developing their ethnic identity and religiosity. (Abstract

shortened by UMI.)

Buenaventura, Loreli C. (1998). Re/Negotiating "Home(s)": Identities, Racism(s), and

Resistance in the Lives of Second Generation Filipinas in Canada. University of

Toronto, MA: 141.

This study examines how second generation Filipinas develop a sense of "home"

and belonging in Canadian society. It argues that notions of "home" are tied to

how one understands experiences of racism as well as identity. I investigate such

experiences in the schooling context to understand how second generation

Filipinas are also affected and influenced by the national discourse of

multiculturalism. By examining the lived experiences of these girls, I reach the

conclusion that racial groups in society are differentially racialized. For second

generation Filipinas, their everyday realities are defined by "ambivalence" as they

simultaneously resist and conform to the dominant culture. But it is in these

spaces of ambivalence that acts of transgression are made possible.

Buller, Taylor Terri Lynn (1998). Self-Esteem and Achievement: Ethnicity, Gender,

Parental Love and Coping Styles. University of British Columbia, PhD: 225.

The strength of the relationship between various measures of self, such as selfesteem,

self-concept, self-acceptance, and achievement has been studied

extensively with varying results (see Hansford & Hattie, 1982). This

variation may be attributable to the use of different self and achievement

measures, ranges in the age of those studied, and not controlling for

socioeconomic status, ethnicity/race, gender, or school effects. The main goal of

my thesis was to estimate the strength of the relationship between self-esteem,

and achievement when gender, ethnicity/race, socioeconomic status, aspects of

the parent-child relationship and school contextual effects were controlled.

Analyses were conducted on two large data sets. The first was taken from the

National Educational Longitudinal Study (NELS) - 1988 and consists of 21,039

grade 8 students sampled from the United States. The second data set was taken

from the School-Based Prevention Project (SBPP) - 1995 and consists of 6,795

grade 8 through 12 students from 20 schools in British Columbia, Canada. For

both data sets, 7 of 10 items from the Rosenberg Self-Esteem Scale (1965) were

used to measure self-esteem. Analyses of the NELS data set yielded three notable

findings: (1) the strength of the self-esteem/achievement relationship is not

equivalent across gender-ethnic/racial groups, (2) the self-esteem/achievement

relationship varies when grades versus tests scores are used as achievement

measures, and (3) the variability in self-esteem is largely within-schools.

Variables controlled in these analyses were gender, ethnicity/race and

socioeconomic status. Analyses of the SBPP data yielded four notable findings:

(1) the strength of the self-esteem/achievement relationship varies across a new

measure of coping styles, (2) relational factors reduce the strength of the selfesteem/achievement

relationship, (3) relational factors explain much more of the

118
---
variance in self-esteem than does achievement, and (4) almost all the variance in

self-esteem is within-schools. Variables controlled in these analyses included

gender, grade-level, socioeconomic status, perceptions of Mother's and Father's

love, and coping styles. The theoretical implications of these results are discussed

in terms of attachment theory (Ainsworth, 1969), coping styles (Horney, 1950),

and the need to belong (Baumeister & Leary, 1995).

Bullock, Katherine Helen (1999). The Politics of the Veil. University of Toronto, PhD:

321.

The Politics of the Veil is an attempt to undermine the negative

stereotype, widely held in the West, that the veil is a symbol of Muslim women's

oppression in Islam. My main argument is that the popular Western notion that

the veil is a symbol of Muslim women's oppression is a constructed image that

does not represent the experience of all those who wear it. My method in

undermining the stereotype of the veil is eclectic. There are five chapters, each

using a different methodology, to take a different tack in challenging the

stereotype. Chapter One is a feminist ethnography of some Torontonian Muslim

women, that uses women's experience as a foundation of knowledge. To stress the

constructed nature of the anti-veil paradigm, Chapter Two traces the origins of the

'veil is oppressive' discourse in the West. I argue that attacking the

veil was an essential part of the colonial project. Chapter Three is a survey of the

contemporary 're-veiling' movement in the Muslim world that

demonstrates that women cover for many different reasons, be they religious,

social or political. Chapter Four is a critique of Moroccan feminist Fatima

Mernissi's idiosyncratic perspective on the veil. Chapter Five is an effort toward

formulating a positive theory of the veil. My eclectic methodology, in bringing

together disparate literatures in a way that has not been done before is an

important contribution to the various fields. My thesis gives a better picture of the

meaning of hijab for some women believers than the literatures

(while important in themselves) do when read alone. So, this thesis aims to

present an alternate and positive perspective on the veil and to show how such an

alternative reading is possible within Islam.

Burbridge, Anne Leslie (1998). Breaking the Code: The 1995 Immigration Policy of the

Reform Party of Canada. Trent University, MA: 151.

This thesis examines the 1995 Reform Party immigration policy and the context

of immigration politics in Canada and internationally. It traces the associations of

the party policy with nativism and xenophobia and highlights the relationship

between the party and the Canadian electorate. While the party avoids direct

associations with nativism and xenophobia, a study of the language patterns in the

policy and of public statements by Reform M.P.s reveal that the party has coded

its statements to avoid extremist labels. The party is seen to advance particular

economic arguments which are encoded in an attempt to support its restrictive

policy. This coding indicates that not only postmodern politics at work in Canada,

119
---
ut also the party is being influenced by the Canadian electorate which is less

tolerant of extremism than are parties in other countries such as those in France.

Burke, Jeannette Irene (2000). Consuming 'Culture'. University of Guelph, MA: 101.

Objects and images that create representations of "ethno-cultural" groups through

cliches, labels and text reflect the political context that lends meaning to both the

production and consumption of these cultural artefacts. What is explored is the

relationship between core institutions, the production of material culture and the

interpretations of these products in response to the larger context. Ethnicity,

culture and diversity are commodified through fashion products and presentations

that essentialize ethno-cultural groups, through depictions created from

stereotypes and symbols. The relationship between fashion and politics is

explored in the context of objects and images that appropriate and replicate

symbols and stereotypes associated with "cultural other". Fashion is understood as

a system of communication, as meanings emerge relevant to the context that

informs its production and consumption. It is within the current western

social/political context of globalization and multiculturalism that fashion objects

and images are labeled "ethnic", "diverse", and "global". This research focused

on three areas of interest. Whether ethnic objects and images that are produced for

mass consumption reflect core concepts related to political and economic

activities, such as globalization and multiculturalism. And, whether these objects

and images reflect a hegemonic relationship through their representations of

"cultural other". In addition the research looked at how these objects and images

were consumed by the individual, and how they were interpreted in relation to the

political context from which they were produced. A model provides an outline for

the presentation of the research, based on a metaphor of clothing as a

communication system, that involves coding, recoding and decoding. Fashion

images and objects exist as sources of meaning relevant to the context that they

are produced and consumed in. The use of codes is borrowed and modified to

capture how symbols are appropriated and altered in this process.

Busby-Sham Choy, Claire Annette (1998). Interpersonal Trust in Teacher-Student

Relationships: Meaning for Black Students (14-16 years) of Caribbean

Background in Secondary Schools in the Greater Toronto Area. University of

Toronto, EDD: 241.

This dissertation focuses on the issue of trust in the relationship between black

high school students of Caribbean background and their teachers. The central

purpose of this dissertation is to examine trust in terms of its internal-external

dynamics. It suggests that students pay attention not only to their external

experiences but also their internal experiences. It also suggests that emotional

experiences are among these internal experiences and that the characteristics of

age, gender and length of time in Canada influence the trusting relationship

between these students and their teachers. Twenty-four informants from

throughout the Greater Toronto Area were used in the study. They consisted of

120
---
eleven (11) nudes and thirteen (13) females between the age of fourteen to

sixteen. All informants were of Caribbean background and were either born in

Canada or in the Caribbean. Five (5) of these informants arrived in Canada within

the last two and a half years. Analysis revealed that black students trust noninstitutional

persons (parents, family members and friends) more than they trust

institutional persons (police, school administrators, teachers and counsellors).

There is a link between the internal and external world. As students decide

whether their teachers are trustworthy they look inward to their feelings,

memories, expectations, beliefs and values and outwards at the verbal and nonverbal

behaviours of their teachers, friends, family members and classmates.

Specifically, they look at behaviours in teachers which they regard as respectful,

and once they have encountered that respect, they make a confident decision

(which they may or may not act on) to trust their teachers. Simultaneously, they

experience feelings of security which give them the impetus to approach the

teacher and the task in a positive manner. Grounded Theory is of enormous

methodological significance in this study. It allows for the emergence of the

meanings of informants. Rather than imposing meaning on the data, the method of

constant comparison and testing of hypotheses brings out a holistic meaning of

trust in the relationship between these students and their teachers. Findings from

this study suggest that trust in the relationship between these students and their

teachers is a mutually dared experience involving above all, respect. For these

students, respect not only involves behaviours related to the academic but also the

non-academic including behaviours that demonstrate respect for their racial

heritage. These findings have numerous important implications for the microlevel

relationship between teacher and students as well as for the structural factors

that impact on this relationship. Greater respect, understanding and sensitivity in

relating to students are important for teachers and other school personnel to

demonstrate. It is also important that curriculum and educational policy issues

demonstrate and facilitate such respect, understanding and sensitivity.

Butler, Cheryl Anne (1995). 'Janey Canuck': Experiences of World War II British War

Brides who Emigrated to Canada. University of Toronto, MA: 136.

Approximately 45,000 British women met and married Canadian servicemen in

Britain during World War II. They were a unique group in that they were young,

female and married when they emigrated to Canada. They travelled to Canada on

bride ships and by train across this vast country, their transit paid for by the

Canadian Government. Unlike other immigrant groups, the women travelled

alone (except for those with children). and faced their future alone. Nor did they

settle in one particular area of a city or province. Rather they were disbursed

throughout every province in Canada. They were similar to other immigrants in

ways such as adjustment to a new culture and surprise at the size of Canada and

its climatic extremes. They experienced homesickness, difficulties and hardship

as did other immigrants. Eventually, they assimilated into their adopted

communities and many would say they could never return to live in Britain. The

121
---
story of British war brides provides insight into Canadian social history and

specifically into the experiences of large group of female immigrants to Canada.

Butska, Luba (1994). Writing and Reading Ethnicity: Vera Lysenko, George Ryga, and

Myrna Kostash Negotiate Cultural and Creative Spaces. University of Guelph,

MA: 92.

This thesis is an investigation of the writings of three Ukrainian-Canadian writers:

Vera Lysenko (1910-1975), George Ryga (1932-1987), and Myrna Kostash

(1944-). Ethnicity is a compelling force for all three writers; they explore and

struggle with Ukrainian and Ukrainian-Canadian heritage and the ways in which

ethnicity is constructed in Canada. Readers are given opportunities to see that

they are all, however unwillingly, ethnically situated, and the texts become sites

for cross-cultural connection and transformation. Of the three writers considered,

Myrna Kostash best manages to bring across to Canadian readers how difficult,

but creatively productive, a writer's confrontation with her or his own ethnicity

can be.

Butts-Smith, Audrey F. (1993). Een slimme meid is op haar toekomst bereid: Sex, Race

and Gender Construction in the Canadian and Dutch Mid-Nineteenth Century

Girl's Book. University of Alberta, MA: 112.

The concept that gender affects the reading is one that has come under close

scrutiny in recent years. What has not received equally intensive study is the

concept that reading affects and, in part, effects the construction of gender. This is

especially pertinent in the case of children's literature. The girls' book, which

emerged in the mid-nineteenth century, provides a valuable example of the way in

which children's narratives could function as tools for gender based and race

specific socialization. A translation of the Dutch title of this thesis would read "A

clever girl is prepared for her future." The title originates from the slogan of an

advertising campaign aired in 1990 by the Dutch government. Its aim was to

encourage girls to consider playing roles other than the traditional domestic ones

of wife and mother. Using two examples of girls' literature in Canada and The

Netherlands, Catharine Parr Traill's The Canadian Crusoes: A Tale of the Rice

Lake Plains and P. J. Andriessen's Marie en Pauline of Nederigheid en

Hoogmoed, this thesis illustrates some of the means by which the dichotomy in

female role models may have originated. It further details some of the methods

used by the authors of the girls' book to socialize the intended audience into

accepting and perpetuating the social status quo and their place in it. The analysis

illustrates how, once the system of punishment and reward is eliminated from the

narrative, female characters could embody new role models. These girls' books

were clearly tools in female socialization and intended to 'prepare the girl for her

future'. What emerges from the comparison of the girls' book in these two cultural

contexts is a realization in fiction of the Dutch title in both its passive and

potentially active capacities. The development of the Canadian girls' book

marked a unique period of social and economic change that resulted in a need to

122
---
ethink traditional female roles. The development of its Dutch counterpart marks a

similar period of change. In this latter case, however, the text reflects an attempt

to resist the pressures generated by these changes. The Dutch text further

entrenches traditional female gender construction by suppressing the very

qualities utilized in the Canadian text to create strong female role models for girls.

Byczynski, Julie Anne (1999). Minority Languages as Resistance in Marco Micone's

"Addolorata", Betty Quan's "Mother Tongue", and Guillermo Verdecchia's

"Fronteras Americanas. University of Guelph, MA: 96.

This thesis is an investigation of the use of untranslated minority languages (that

is, the presence of "foreign" words or phrases in the dialogue of plays written in

Canada's "official languages") as resistance to dominant discourses in three

Canadian plays emerging from immigrant or ethnic cultures. Marco Micone's

Addolarata (in its original French and in its English translation),

Betty Quan's Mother Tongue , and Guillermo Verdecchia's

Fronteras Americanas represent varying degrees and types of

resistance. The thesis draws on post-colonial theorists and on such writers as

Mikhail Bakhtin, Michel de Certeau, Baz Kershaw, and Homi Bhabha, to explore

the often ambivalent linguistic power relationships among French, English,

Italian, Cantonese, American Sign Language, and Spanish languages and cultures

in English Canada and Quebec.

123
---
C

Cadogan, Gidron M.O. (1989). The Management of the Canadian Immigration Programs:

1976-1988. University of Guelph, MA: 275.

This thesis examines the management of the Canadian immigration programs

between 1976 and 1988. It is argued that the political decision-making and

departmental managerial systems which are responsible for designing and

developing the Canadian immigration programs are affected by a multiplicity of

issues and events from both the international and the domestic environments.

Issues in the domestic environment include intersectoral interests,

intragovernmental objectives, intergovernmental policy; social, political,

economic and demographic variables. International issues encompass political

upheavals, civil wars and revolutions in different countries; economic growth, or

stagnation; population growth, and the immigration policies of major immigrant

receiving countries. The impact of international and domestic factors on the

immigration decision-making and managerial systems are illustrated through

selective examination of three immigration programs: family class, the refugee

program, and the labour market immigration program.

Cahill, Catherine Madge (1992). Six Perceptions of Cross-Cultural Counselling.

University of Alberta, MED: 230.

The purpose of this study was to examine how counsellors in practice in the area

of cross-cultural counselling perceive the significance of their own culture, the

culture of their clients, the culture inherent in counselling theory and practice, and

in the environment in which the process takes place. A qualitative research design

was employed and data was collected by an in-depth interview with each of the

six participants. Each transcript was analyzed for statements significant to the

research topic and these units were divided into thematic clusters. Four major

themes were abstracted from the data: counsellor beliefs, knowledge, skills and

professional orientation. The participating counsellors expressed knowledge of

the ways entering Canadian society can be stressful for newcomers. There are

many barriers to the use of the mental health system which emphasize remedial

rather than preventative services. The counsellors were aware of the ways

differences in values, family structure, gender roles, religion, language and

emigration experience can influence attendance at counselling and the process

itself. They emphasized that cultural knowledge was necessary in order to be

successfully empathetic and effective.

Caine, Cynthia Anne (1997). Increasing Teacher Effectiveness: Sensitivity and Clarity in

a Multicultural Classroom. University of British Columbia, MA: 102.

124
---
N/A

Cairone, Vito Domenico (1996). Aspects of Italian-Canadian Political Involvement in the

Royal Commission on Bilingualism and Biculturalism and the Multiculturalism

Policy, from 1963-1991. Queen's University, MA: 211.

The increased politicization of many Italian-Canadians is revealed by studying

their involvement on the national scene with the Royal Commission on

Bilingualism and Biculturalism (B and B) between 1963 and 1967, and later

during the implementation of the Multicultural policy in 1971 and in its

progression as a policy up to 1991. As the B and B attempted to create a national

linguistic and cultural policy that would firmly entrench the French and English

language and culture in Canada, "the other ethnic groups" became more

politically vocal in demanding that their contributions would not be overlooked.

Although the ethnic groups such as the Ukrainian-Canadians, Jewish-Canadians,

and Polish-Canadians (to name only a few) have traditionally been recognized as

leading the battle for the greater recognition of the "third force," it is argued here

that national political figures were fully aware of the growing number of Italian-

Canadians who also did not want to be relegated to second-class citizenship

status. The implementation of the Multicultural policy did not really place all of

Canada's ethnic groups, including the French- and English-Canadians, in the same

category in the Canadian constitution of 1982. The involvement of Italian-

Canadian organizations, such as the National Congress of Italian Canadians

("the Congress," Congress, or the N.C.I.C.), represented the growing

politicization of the Italian-Canadian community in Toronto, and also in the rest

of the country. Their struggle, after 1974, to implement a multicultural policy that

attempted to firmly incorporate the two "charter groups" in that policy reflected

the inadequacies felt by some Italian-Canadians and their efforts to have all of

Canadian citizens put on an a level playing field, apart from the Charter of Rights

and Freedoms, in the Canadian constitution.

Calderwood, Denise Louise (1993). International Students at Alberta Universities:

Perceptions and Levels of Satisfaction. University of Lethbridge, MED: 117.

International students in Canadian universities face an array of sometimes

bewildering practical, cultural, academic, and social challenges. In this study,

undergraduate men and women, from the University of Lethbridge, the University

of Calgary and the University of Alberta responded to a questionnaire consisting

of thirty-two questions on a five-point Likert scale ("strongly disagree" to

"strongly agree"). The questions were grouped into the following categories: first

contact with Canada, arrival and orientation, assistance for international students,

English language skills, housing and accommodation, academic assistance, and

getting to know Canadians. An additional summative thirteen questions, some of

which are open-ended, and eight demographic questions were also asked. Followup

interviews were arranged with a subset of the questionnaire respondents. A

total of 131 returned questionnaires and 32 personal interviews were available for

125
---
data analysis. The most notable findings are as follows: (i) Higher levels (at or

above 65%) of satisfaction were found in the areas of assistance requested from

professors and fellow students, the teaching and content of their courses, fair

treatment from professors, and making friends with and visiting in the homes of

Canadians. (ii) Lower levels (at or below 45%) of satisfaction were found in the

areas of assistance in obtaining suitable accommodation, the welcome and

orientation at their university, time to discuss course work with professors, the

lack of international content in their courses, the opportunity to get to know

Canadian and other international students in a non-academic setting, and the

experience of racism in Canada. This inquiry found that overall, 52.5% (68

students) were satisfied by the welcome and assistance they had received by the

university and community.

Calliste, Agnes Miranda (1980). Educational and Occupational Expectations of High

School Students: The Effects of Socioeconomic Background, Ethnicity and Sex.

University of Toronto, PhD: N/A.

This study investigates the effects of socioeconomic background, ethnicity and

sex on educational and occupational expectations of West Indian, South European

and Anglo-Canadian high school students in Ontario. A structural variable, level

of study; and two social-psychological variables: academic achievement and selfconcept

of ability are examined in the process of expectation formation. In other

words, controlling for level of study, academic achievement and self-concept of

ability, what are the effects of socioeconomic background, ethnicity and sex on

educational and occupational expectations of high school students in Ontario? The

sample consists of 892 respondents from 16 level five schools within six boards in

the Ontario public school system. The schools are drawn within a 50-kilometre

radius of Toronto. The study is a cross-sectional survey and the statistical

procedure employed is Log-Linear Analysis of Nominal or Ordinal Qualitative

data. The major findings are that students from higher socioeconomic background

are likely to have higher academic achievement, higher self-concept of ability, to

take level five courses and to have higher educational and occupational

expectations than respondents from lower socioeconomic background.

Controlling for socioeconomic background and sex, West Indians and South

Europeans are likely to have higher self-concept of ability and higher educational

and occupational expectations than Anglo-Canadians. South Europeans tend to

have higher academic achievement than West Indians and Anglo-Canadians but

West Indians are likely to have higher self-concept of ability and higher

occupational expectations. West Indians are more likely than South Europeans

and Anglo-Canadians to take level four courses. Among students who take mainly

level four courses, West Indians are likely to have higher self-concept of ability,

higher academic achievement and higher educational and occupational

expectations than Anglo-Canadians and South Europeans. In terms of sex

differences in expectations, the results indicate that though females tend to have

higher academic achievement than males, females are likely to have lower selfconcept

of ability and lower postsecondary expectations, particularly occupational

126
---
expectations, than males even when socioeconomic background and ethnicity are

controlled. In our discussion, we attribute the high educational and occupational

expectations of students from higher socioeconomic background to more financial

and psychological support which they may recieve from school and home. West

Indians and South Europeans may be more highly motivated and expect to be

upwardly mobile than Anglo-Canadians. Females' lower educational and

occupational expectations may be the results of a combination of structural

barriers and sex-role socialization. Proposals are made for an expanded system of

student aid to ensure continued accessibility to higher education for qualified but

needy students. Students should be given accurate information on the availability

of financial aid and loans for higher education, occupational and labour market

information and how to find their way into the occupational system. Suggestions

are also made for the intervention of the school, the family and the ethnic

communities in programs for the enhancement of self-concept of ability, the

elimination and/or counteracting of social class, ethnic and sex stereotyping and

the stimulation of educational and occupational aspirations and expectations.

Camelon, Stephanie Jean Marie (1996). "Sandwiches and/or Sushi?": Second Generation

Japanese Canadian Women and the "New Canadian," 1938-1949. University of

Victoria, MA: 142.

This thesis examines the writings of second generation Japanese Canadian women

in the newspaper, The New Canadian between 1938and 1949. Nisei women lived

in a dual world containing different messages of appropriate female behaviour.

Although there were similarities between Japanese and North American notions

of womanhood, female Nisei writers advocated acculturation to the dominant

society. In The New Canadian three major themes emerge from their writings that

centre around social acceptance. The first theme is prescriptions of masculinity

and femininity. They openly advocated popular North American gender roles,

deportment, etiquette and courting customs. The second theme concerns the Issei-

Nisei relationship and the conflicts that arose over different notions of femininity.

The third examines how Nisei women responded to Anglo-Canadian prejudice, by

denouncing racism and advocating acculturation to mainstream society. These

articles offer one image of how some Nisei women actively defined themselves,

their male counterparts and their future roles. These female voices suggest the

deep seeded ambivalent feelings many Nisei women had about their dual identity,

their Issei parents, and their status in Canadian society. The women in The New

Canadian offered one solution to this uncertainty--acculturation,

Campayne, Hazel Anne (1990). A Future with Hope: Ministry with Guyanese Exiles.

University of St. Michael's College, DMIN: 489.

Massive human displacement across national and cultural boundaries is a fact of

life in this century. The population patterns of Canada's big cities reflect this fact.

Behind each of Toronto's "ethnic communities" is a specific history of a homeland

in distress. The distress of contemporary Guyana has triggered an exodus heavy

127
---
with grief. Many Guyanese in Metropolitan Toronto are reluctant immigrants who

experience their absence from Guyana as an exile. In the process of recovering

meaning and hope, exiles need to wrestle with the history that uprooted them.

They must also reconstruct their personal and social identity "in a strange land".

They must recover their power to act towards a future good. This paper reports on

a project in ministry designed for a small group (30 persons) over a limited time

span (12 months). Despite the small scale, the act of paying attention to all the

levels of struggle faced by these reluctant immigrants demands wide theological

reflection. One must ponder in faith, not only the plight of Guyana and the future

of Canada, but also the meaning of the British Empire and of organized slavery;

the Third World debt as a new slavery; the iniquity of racism; the interdependence

of the human family; and the nature of God's commitment to the common human

future on our fragile earth.

Campbell, Jennifer E. (1991). A Study of Female Attitudes Towards Physical Education

and Related Activities Among Recently Arrived and Established Filipino Female

Students at a Major High School. University of Manitoba, MED: 296.

The purpose of this study was to examine and compare attitudes of "recently

arrived" and "established" female students, as it pertains to the physical education

and related activities. The study population consisted of thirty-nine secondary

Filipino females born in the Philippines. The study's instrument was a 42 item

Likert scale survey. Unpaired t-tests were used to test the hypothesis. From the

findings, the following conclusions were drawn: "Recently Arrived" Filipino

female students appear to: (1) prefer non-aggressive sports; (2) respond to

exercise that improves poise; (3) identify with their family unit as their preferred

advisor; (4) spend time on the academic subjects than on physical education.

"Established" Filipino female students appear to: (1) prefer aggressive and nonaggressive

sports; (2) be willing to take part in physical activity; (3) have physical

education as part of their school program; (4) feel free to make their own

decisions. Implications for education are that educators should be aware of the

various ethnic backgrounds and cultural influences with different expectations of

physical involvement and achievement that exists among ethnic students.

Campbell, Julie Marie (1998). Reflections of the Canadian Guidelines on Women

Refugee Claimants Fearing Gender-Related Persecution. York University, LLM:

143.

It is intended within this thesis to review current Canadian refugee law in order to

ascertain whether women refugees who have fled from their homelands in order

to escape gender-related persecution receive adequate protection in Canada. It is

proposed to appraise the notion of refugee and whether women can properly align

themselves to the definition of refugee as contained in the 1951 Convention

Relating to the Status of Refugees. Chapter One will contain a review of current

refugee law, assess its inadequacies, highlight areas of concern and the pitfalls

which can result in women refugees failing to obtain refugee status. It is

128
---
proposed, in Chapter Two, to examine the Canadian Guidelines on Women

Refugee Claimants Fearing Gender-Related Persecution, which were introduced

by the Chairperson of the Immigration and Refugee Board in March 1993. An indepth

analysis of the case law which has arisen since the introduction of the

Guidelines will be undertaken in Chapter Three. Chapter Four shall examine the

developments that have occurred since the introduction of the Guidelines. Finally,

in the Conclusion there will be a discussion of the desirability of reform being

undertaken by means of the Gender Guidelines as opposed to introducing

"gender" as a sixth refugee category.

Cantin, Lucie (1997). L'adaptation de Québécois à l'étranger et au retour. Université

Laval, MPS: 103.

La presente etude se propose d'examiner le phenomene d'adaptation des

Quebecois a l'etranger et au retour en visant 2 objectifs: verifier si l'adaptation

depend de l'ethnie, en examinant les similitudes et les differences entre les

Quebecois et d'autres ethnies face a l'adaptation dans un nouveau pays, et evaluer

l'impact au retour des Quebecois, comparativement a leur sejour a l'etranger.

Trente Quebecois et 29 immigrants ont repondu a deux questionnaires ("Sejour a

l'Etranger", "Inventaire de Personnalite d'Eysenck") pour evaluer leur adaptation.

Concernant le sejour a l'etranger, les resultats revelent que les Quebecois sont

mieux prepares materiellement et mieux soutenus par leur employeur

materiellement, professionnellement et concernant leurs enfants. Ils sont plus

extravertis, se font plus facilement de nouvelles relations, et ont moins de

problemes financiers et linguistiques que les ethnies, tout en manifestant une plus

grande satisfaction sociale et une integration plus rapide en pays etranger. D'autre

part, en ce qui concerne leur retour, les Quebecois sont moins biens prepares

professionnellement et psychologiquement, de meme que moins bien soutenus par

leur employeur materiellement et professionnellement, mettant plus de temps

d'adaptation au retour que lors de leur sejour.

Canton, Licia (1997). The Question of Identity in Italian-Canadian Fiction. Université de

Montréal, PhD: 259.

This thesis analyzes the representation of the hyphenated identity in seven novels

by five Italian-Canadian writers: Frank Paci's The Italians (1978), Black

Madonna(1982) and The Father (1984), Caterina Edwards' The Lion's Mouth

(1982), Mary Melfi's Infertility Rites (1991), Nino Ricci's In a Glass House

(1993) and Antonio D'Alfonso's Fabrizio's Passion (1995). The novels trace the

process towards defining an identity which is torn between two conflicting

cultures, the Italian and the Canadian. The analysis of the narrative structure

shows that the tension and the negotiation between the Italian and the Canadian

components of the bicultural identity represented at the level of the events

narrated are also at work at the level of different narrative perspectives and in the

texture of the writing. In other words, the Italian and the Canadian identities are

illustrated in the very organization of the different narrative strands and in the

129
---
weaving of the words on the page. The novels discussed suggest that to define

one's identity it is essential to acknowledge one's origins: the self is in turmoil

until it is able to negotiate the components of the bicultural identity. A journey

oriented towards the inner self, towards memory and towards the past, allows a

better understanding of the present and leads to a reconciliation between the

elements of a fragmented identity. This is clearly illustrated at the level of the

story - the narrated -and reinforced at the level of the narration. The levels of

narration and the pattern established by the process of narration function to

illustrate the duality and confusion inherent in the Italian-Canadian identity. Thus,

the process of the telling - the sequence used in telling the events as well as from

whose perspective they are told - plays an important role in the question of

identity as represented in the novels under study. Language is one of the elements

which causes friction between the two cultures presented in the narratives. The

question of identity is played out in the weaving of the words: the presence of the

"heritage" language within the "ethnic text" is a device used by the writer to

illustrate the tension and negotiation at work in the bicultural identity. The

interweaving of the heritage language with the language of the majority in the

adopted country is an attempt to bring the two cultures together. Through their

fiction Italian-Canadian writers suggest that in order to come to terms with the

element of "schizophrenia" inherent in a bicultural identity, the individual must

undertake the process of reevaluating the heritage culture. By writing about their

specific bicultural experience and that of their ancestors, hyphenated-Canadian

writers are simultaneously valorizing the immigrant experience and contributing

to the shaping of the Canadian identity. Through fiction, the Italian-Canadian

writer gives her/his community an identity and a specific space within the

Canadian mosaic.

Cardu, Hélène (1996). Organisation et ethnicité: L'engagement envers l'organisation dans

une perspective interculturelle. Université de Montréal, PhD: 440.

N/A

Carignan, Nicole (1993). Pedagogie musicale et education interculturelle: Materiaux pour

une analyse critique. Université de Montréal, PhD: 488.

Milieu privilegie de transformation sociale, l'ecole est influencee par la clientele

aux origines de plus en plus variees qui la frequente. Ces changements nous

incitent a reconnai tre les cultures "autres" et a s'interroger sur la maniere de

s'adapter a ces nouvelles realites. C'est dans une telle perspective que se situe la

reflexion qui nous amene a poser la question suivante: "Quelle est la construction

et la representation des cultures musicales dans les contenus d'enseignement de la

musique?" Apres avoir fait etat de la situation actuelle de l'enseignement musical

dans le secteur francophone sur le territoire de la province de Quebec, cette etude

nous a permis d'explorer les contenus du materiel didactique officiellement

approuves et utilises dans l'enseignement de la musique au prescolaire, au

primaire et au secondaire. Visant la remise en cause de l'attitude ethnocentrique et

130
---
la reconnaissance du piuralisme, cette recherche nous a fourni le materiau

necessaire pour une analyse critique de l'enseignement musical. Ces contenus ont

attire notre attention car ils participent d'une certaine facon au processus de

construction et de representation des "porteurs de culture". Les preferences, les

rejets et les omissions des auteurs faconnent la construction du message. Puis, a

travers les valeurs et les images des auteurs, ce sont celles de la societe qui

emergent. Mediatises par les enseignants, ces contenus sont "transmissibles". Ce

processus de transmission nous renvoie a un processus de communication. Ainsi,

la theorie de la communication fonde notre analyse en etablissant les trois

elements essentiels dans la chai ne de transmission de l'information. D'abord, le

pole-emetteur livre les croyances et les valeurs dss auteurs par le message

implicite--sens cache ou latent--et explicite--ce qui est vraiment dit par les

auteurs. Puis, le decodage du message nous permet d'analyset les caracteristiques

thematiques, semantiques et formelles du contenu des cultures musicales: c'est la

materialite du discours. Enfln, le pole-destinataire croit recevoir passivement

l'information encodee; mais dans les faits, il la transforme en la reprenant a son

propre compte, puisqu'apres l'avoir analysee, il la reinterprete. En d'autres termes,

ce message est recu par les enseignants et les eleves qui, par leur propre

mediation, decode et reinterprete l'information transmise: c'est la reception du

discours par la retroaction.

Carlevaris, Anna Maria (1992). Photography, Immigration, and Canadianism: 1861-1921.

Concordia University, MA: 112.

In the years between 1896 and 1921 a massive influx of immigrants to Canada

directly affected the economic, political and social life of the nation. In an era of

rapid industrialization, growing population and an escalating crisis in the

administration of government services, immigration became the focus for larger

questions about national identity and social consciousness. The period under

study also marks the emergence of the modern era of photographic

industrialization. Because of technical developments the photograph became an

important vehicle for visual communication within networks such as those of the

popular press and those of government run advertising campaigns. By examining

the use of the photograph in several types of immigration-related material the

thesis serves as a study of the relationship between photographic discourse and

issues of national and ethnic identity.

Carlson Cumbo, Enrico Thomas (1996). "As the Twig is Bent, The Tree's Inclined":

Growing Up Italian in Toronto, 1905-1940. University of Toronto, Phd: 716.

While the Italian first generation in Canada has been studied extensively, little has

been done on the second generation experience. The dissertation treats the second

generation Italian youth experience in pre-World War II Toronto in the context of

familial, peer and host institutional relationships. The study is divided into two

parts. Part A, examines the primary socializing influence of family and home in

the lives of the second generation young. Here, the children were imbued with the

131
---
core values and value systems of their elders, instructed in their importance as

"traditions" and their currency as functional, ongoing strategies of survival. The

integrity of these values remained even as their "boundaries" were "pulled and

hauled by cultural contention." Moving beyond the confluence of home and

ethnic ambience, the study examines the larger urban and peer associational

influences of the "streets" on Toronto's second generation youngsters. Though the

streets comprised a "separate world" for the children, the adolescent young in

particular incorporated and adapted many of their elders' values in the very

"independence" of their peer associational life. Italian Canadian youngsters,

however, were far from mere clones of their elders. They developed a vibrant

street culture based partly on inter-ethnic associations, and a distinctive sense of

identity bearing little a resemblance to the ethnic "marginalization" and

"alienation" theories of the day. Part B examines the Canadianization efforts of

four host agencies (each an important "outreach" presence in the enclaves), i.e, the

elementary school, the settlement house, the Protestant mission, and the Catholic

parish. Each of these institutions is dealt with separately. Three broad questions

frame the analysis: (i) what were the host institutional impressions of the foreign

element, the immigrant young in particular? (ii) What were the achievements and

limitations of the work as defined by the workers themselves? and (iii) What was

the immigrant response to the institutional outreach; in what way and to what

extent did first and second generation Italians participate in organized institutional

activities? While differing in their approach, the agencies essentially agreed on

the necessity of "moulding" the foreigners into "Christian Canadian citizens of the

right type." In seeking to implement this ideal, however, the agencies faced a

variety of problems, chief among them the foreigners' unwillingness to act as

subservient or ancillary players in the relationship. Like their elders, the

immigrant young had their own agendas and their own perception of the

institutions' usefulness. In the case of the settlement and mission houses

especially, many simply made use of the facilities and resources provided without

the least regard for formal ideals. The children's familial, peer and street culture

was not easily "remoulded". Indeed, Italian youngsters were more successful in

"bringing the streets" into the mission and settlement houses than the house

workers were in "taking the streets out of the children". In locating the "voice"

and "agency" of the immigrant young in pre-War Toronto, the dissertation

contests the usefulness of imposition and social control theories as models of

historical explanation.

Carpenter, Susan Lynn (1998). Ethnocultural Dimensions of the University

Adviser/Advisee Relationship. University of British Columbia, MA: 109.

N/A

Carr, Tracey Jean (1994). The Italo-Canadian Experience of Mothering a Child with a

Disability. University of Toronto, MSC: 153.

132
---
The ethnographic method was used to gain understanding of the experience of

mothering a child with a disability in the context of the Italo-Canadian culture. A

convenience sample of eleven Italo-Canadian mothers was recruited through a

pediatric rehabilitation centre. All mothers had children with moderate to severe

disabilities. Two Italo-Canadian community informants where also interviewed.

The nature of the Italo-Canadian mothers' subjective experiences and their

ethnocultural identity, beliefs and practices were explored. Two patterns of ethnic

identity maintenance emerged in this study: (1) pattern of transplantation of the

old culture among the older, first generation Italo-Canadians, and (2) pattern of

rebellion against the old culture among the second generation Italo-Canadian

mothers. These intergenerational differences contributed to conflict between the

mothers and grandmothers over approaches to the care of the children. The

mothers attempted to balance the beliefs of the old world culture with those of the

Canadian majority. Implications for practice and research were identified.

Cavon, Aarron F.L. (1998). Nations within Nation: An Intercultural Reckoning of

Interior National Diversity in the Canadian Novels "Chorus of Mushrooms" and

"In Another Place, Not Here" (Hiromi Goto, Dionne Brand). Dalhousie

University, MA: 173.

The following thesis is an examination of the oppression that visible minorities,

perceived through contemporary constructions of Race, have experienced in the

Western context. General discussion of the disempowerment of these people

labeled with the diminutive "Other" by a racist, essentialist cultural narrative of

"National Unity" is made particular in an exploration of the contemporary racial

situation in Canada. My argument is based mainly on a textual analysis of the

current Canadian novels In Another Place, Not Here by Caribbean Canadian

author Dionne Brand (published 1996) and Chorus of Mushrooms by Japanese

Canadian author Hiromi Goto (1994) as they are illuminated by two recent books

of (post-colonial) theory: Strange Multiplicity by James Tully (1995), and The

Location of Culture by Homi K. Bhabha (1994). The first two chapters of this

thesis explore the presence, codification, and disempowerment of the Western

Other. Chapters Three and Four discuss the strategies of resistance that Othered

citizens employ in each novel in order to reassert the importance of their

individuality. The last chapter focuses on the identification of a new national

paradigm in which diversity may be acknowledged and empowered.

Cayer, Carmen Gina Ann (1996). Hijab, Narrative, and the Production of Gender Among

Second Generation, Indo-Pakistani, Muslem Women in Greater Toronto. York

University, MA: 209.

This thesis examines how selected Western, anthropological and Eurocentric

feminist concepts of culture and gender produce homogeneous, stereotyped

discourses and texts about Muslim women. Specifically, it focuses on the way

second generation, Indo-Pakistani, Muslim women in Greater Toronto are

performing a critique of these discourses and texts by the "wearing" of hijab. This

133
---
the sis contributes to the anthropological literature of dress, by exploring how

hijab is used in the construction and meaning of gender by Muslim women in

Canada. As such, it informs and refines anthropologists' and feminists'

understandings of the negotiation of gender and culture by Muslim women in

North America; and emphasizes the need for an engagement with Muslim

women's critiques and evaluations of anthropological and feminist theories. This

thesis argues that social institutions within ethno-Muslim communities need to be

contextualized in relation to the community's interactions and perception of its

position within the wider Canadian society. The research that informs this work

draws attention to the heterogeneity of experiences among Indo-Pakistani,

Muslim women and reveals the discrepancies in Canadian studies of Indo-

Pakistani, Muslim women regarding second generation women's views on Islam,

marriage, gender roles and behaviour within the Indo-Pakistani community and

the wider Canadian society.

Cazabon, Benoît Gilles (1985). Mesurer la compétence à la communication en langue

maternelle dans des milieux minoritaires. Université de Sherbrooke, PhD.

N/A

Cepuch, Stefania Halyna (1992). "Our Guests are Busy": The Internment and Labour of

German Prisoners of War in Ontario. Queen's University, MA: 138.

For a period of six years stretching from 1940 to 1946, over 35,000 members of

the German armed forces were interned in seventeen prisoner of war camps all

over Canada. The passing of order-in-Council PC 2326 authorized the use of

German prisoners of war labour in those industries that required additional help.

As a population, Canadian citizens during WWII did not trust aliens of any kind

that entered their country. They were concerned with the possibility of sabotage

and escape if the prisoners were allowed out of the encampments to work. After a

short time, this mistrust was replaced by an acceptance of men who showed a

willingness to work for their jailers. The prisoners themselves adapted well to

their six years behind barbed wire. Their military structure was modified to work

within the camps, and their enforced isolation from any other way of life

increased the efficiency of this organization. Setting up escape committees,

classrooms and recreational activities, the POWs were allowed to live with the

minimum of interference from their Canadian guards. The Canadians themselves

had to adapt to the presence of the enemy in their midst. While attempting to

administer the camps in accordance with the Geneva Convention, the Canadian

government made some mistakes which were marks against an otherwise

exemplary record in their treatment of prisoners of war.

Chall, Catherine (1996). A Model Minority: A Study of Selected Chinese-Canadians and

Their Strategies for Coping with Marginal Status in Canadian Education.

University of Toronto, MA: 165.

134
---
This thesis focuses on Chinese Canadians and how their educational experiences

have influenced and shaped their perceptions of what it is to be "successful."

Through semi-structured interviews, ten participants were interviewed according

to five themes: education, marginality, coping, identity and success. The rationale

behind this thesis is to examine the positive experiences of Chinese Canadians in

marginal situations rather than negative and to identify strategies for coping with

obstacles placed in their way by factors such as discrimination, stereotyping and

community or family pressures. The "model minority" concept is also addressed

and how positive stereotyping can be negative as it reflects an ideal that may be

hard to match and how this can mask other problems that exist in the system for

Chinese Canadians. Findings from this thesis suggest that educators must be

aware of Chinese cultural emphasis on education and the high amount of stress

these students may be experiencing and offer them help or counselling.

Chamberlain, Nigel C. (1983). Soccer Multiculturalism and the Canadian State.

University of Alberta, MA: 251.

N/A

Chambers, Evadne E. (1990). Racism in the Workplace: Its Impact on Life Satisfication

of a Sample of Caribbean Immigrants in Winnipeg (Manitoba). University of

Manitoba, MSW: 201.

The objective of this thesis was to investigate the impact of racial discrimination

in the workplace on the life satisfaction of a select group of Caribbean immigrants

in Winnipeg. It also examined the relationship between the migrants' use of

support systems to deal with this discrimination and their level of life satisfaction.

It further examined the relationship between the experience of racism and the

migrants' self identification as Canadian. Results indicate that there is no strong

relationship between the immigrants' experience of racial discrimination in the

workplace and their level of life satisfaction. While respondents might have

experienced workplace racism in its various forms, their overall satisfaction with

their lives as West Indian immigrants living in Winnipeg is of a high level. While

respondents' level of identification with the workgroup was high in the area of

task performance, their level of social interaction with their white Canadian

colleagues away from the job situation was low. Respondents' level of

identification of themselves as Canadian was generally low. Use of support

systems to deal with racism affects respondents' level of life satisfaction adn

identification of self as Canadian. When the network of support included more

formal organizations respondents reported higher levels of life satisfaction and

identification of self as Canadian.

Champagne, André (1994). Analyse évaluative des objectifs d'apprentissage de sessions

de formation pré-départ pour conseillers techniques oeuvrant en coopération

internationale. Université d'Ottawa, MAED: 131.

135
---
Dans le domaine de la formation interculturelle pour des personnes qui vont vivre

et travailler dans une autre culture, il y a des questionnements sur la veritable

nature des formations. Sont-elles des sessions de preparation et d'orientation

fournissant de l'information sur le pays et la culture hotes, ou sont-elles des

sessions de formation developpant des habiletes et des capacites d'interagir

efficacement avec les individus de l'autre culture? Cette recherche descriptive, de

nature evaluative, utilisant une approche d'analyse documentaire, analyse les

objectifs d'apprentissage de sessions de formation pour conseillers techniques

canadiens avant leur affectation outre-mer dans le cadre de projet de cooperation

internationale. Partant de la notion de l'efficacite interculturelle, des qualites

requises d'un conseiller technique efficace et du continuum du developpement de

la sensibilite culturelle de Milton Bennett, un outil d'analyse est developpe. La

demarche comprend un survol du developpement international ainsi que certaines

perspectives des efforts de cooperation internationale d'agences et d'organismes

impliques dans ce milieu. Un des moyens privilegie de la cooperation

internationale, la cooperation technique est decrite et un bilan, tire de la

litterature, est degage. La notion de l'efficacite interculturelle et les qualites

requises d'un conseiller technique efficace interculturellement sont exposees et un

continuum de sensibilite culturelle est explique. Une grille est developpee afin de

pouvoir analyser les objectifs d'apprentissage de sessions de formation

interculturelle. Une correlation, decoulant de l'analyse des objectifs

d'apprentissage, est faite entre l'efficacite interculturelle, le developpement de la

sensibilite culturelle et la formation interculturelle.

Champagne, Mireille Ginette (1984). Children's Racial Attitudes: A Cross-Cultural and

Historical Analysis. York University, PhD.

In the present study, the relationship between past and present historical events

and the development of children's racial attitudes was explored. Canadian and

American children, white and black, 5-7, 10-12 and 15-17 years old, were

interviewed about racial attitudes. The interview included questions on (1)

students' actual friendships and general awareness of racial preferences, (2)

students' aspirations, (3) students' knowledge and awareness of race relations and

their perceptions of different races and (4) an adaptation of the Clark and Clark

(1947) doll-choice procedure. The data were analyzed using two separate but

complementary sets of analyses: historical comparisons and cross-cultural

comparisons. Cross-cultural comparisons revealed differences in racial attitudes

between Canadian and American black children but not between Canadian and

American white children. These results suggest that differences in the early social

backgrounds of the black students (West Indian vs. American) may be of primary

importance in shaping their attitudes. Historical comparisons revealed that the

attitudes of American white students were related to age and cohort differences,

and that the attitudes of American black students were related to cohort and timeof-testing

differences. Overall, these findings suggest that the development of

racial attitudes in black children is affected more by historical change than the

development of racial attitudes in white children. This difference in the

136
---
development of racial attitudes in white and black children is seen as having

significant educational, political and social ramifications.

Chan, Christina Wai Mei (1998). Coping with Schizophrenia Among Chinese Families in

Toronto. York University, MSW: 106.

This thesis is the result of a qualitative study examining the coping strategies of

first generation immigrant Chinese families with individuals with Schizophrenia

living in the Greater Toronto Area. For the purpose of this study, the term families

includes the individual suffering with the illness, plus siblings and their spouses

(if any) and parents. The particular focus of the study is the identification of

constructive strategies utilized by families, and their difficulties. The

methodology of this study was that of in-depth interviews with both individuals

with schizophrenia and their primary family caregivers. The inclusion of both

parties was considered important as under the Ontario mental health policy,

greater responsibility for taking care of persons with schizophrenia may shift to

themselves and their relatives. In addition, research consistently indicates that the

course of the illness and the family environment are connected. Finally, Chinese

have a strong family concept and it is essential to use a holistic perspective in

studying their coping.

Chan, Fungyee Claudia (1998). The Effects of Chinese Immigrant's Acculturation and

Changes in Family Environment on Children's Productive Influence in Family

Purchase Decisions. Concordia University, MSC: 156.

This study investigated the relationship among three major concepts, i.e.,

acculturation, family climate, and children's product influence. The acculturation

construct was measured according to fathers', mothers' and children's responses.

Family climate was measured by ten FES subscales. Four product areas were used

to investigate children's product influence. Results indicated that mothers'

acculturation level has the strongest impact on the family climate. The family

environment has the most effect on children's purchase influence on purchase of

expensive family products, while acculturation has no relationship with expensive

children products. The mediating role of the family environment was weak. Only

three FES subscales, i.e., moral religious emphasis, control, and independence

appeared to be mediators of the acculturation and product relationship in the

hypothesized direction. Results of the Family Incongruence Scores showed that

the Chinese families are very traditional and acculturation does not strongly affect

their level of family unity.

Chan, Ivy (1989). The Process of Mother Tongue Maintenance Among Chinese

Adolescent Students. University of Toronto, EDD: N/A.

N/A

137
---
Chan, Margaret W.W. (1996). The 'Yellow River Piano Concerto' As a Site for

Negotiating Cutlural Spaces for a Diasporic Chinese Community in Canada. York

University, MA: 277.

This thesis explores how one musical work, the Yellow River Piano Concerto

(1970) can serve as a site for articulating plural Chinese identities. My fieldwork

with a number of first generation Hong Kong Chinese immigrants/Canadians

forms the basis for this exploration. Diasporic Chinese relate to the work with

reference to their split loyalties to the past, contemporary China and Hong Kong

as well as to their current discretely different context in a major North American

city, Toronto. The Yellow River Piano Concerto, a musical work which owes its

origins to the Yellow River Cantata (1939), has borne changing political

connotations. While the anti-Japanese theme of the Cantata remains unchanged,

the addition of new themes, for example, Mao's deification and the propaganda

for universal communism, has caused much uneasiness for many Chinese of

different generations and different parts of the world. For some people in Hong

Kong who perceive the Yellow River as symbolic of Chinese culture and

civilization, the river alludes to limitless imagination. For others, a Chinese piano

concerto is a representation of a "modern" musical genre coloured with national

flavour. Whereas the Yellow River Piano Concerto carries different meanings for

Chinese, this musical work forms a site for members of the diasporic Chinese

community to perform and negotiate their identities..

Chan, Samuel Sum Yee (1991). Growing Chinese Boomer Churches in Toronto. Fuller

Theological Seminary, DMIN: 218.

This dissertation investigates the contextual and institutional factors that affects

the growth of Chinese baby boomer churches in Toronto. Boomer churches are

churches whose target audiences are people born between 1946-1964. The

Chinese boomers in our study were born overseas in Hong Kong or China and

they immigrated to Canada in the past twenty years. The traditional Chinese

culture, the boomer Chinese culture and the North American boomers culture are

compared and contrasted and a cultural relevant strategy for the Chinese boomer

churches is developed. The first part of the dissertation examines the contextual

growth factor. Basic Chinese worldview is studied and its effects on the

development of the character of Chinese people are explored. The historical

development of the Chinese boomer culture in Canada is traced and a sociological

and culturally relevant strategy for a Chinese boomer church is proposed by

analyzing and synthesizing current research findings on Caucasian and Chinese

church growth. The second part of the dissertation explores the biblical principles

of the true nature reality, priority and purpose of life for the boomer generation. A

case study from the Richmond Hill Chinese Community Church illustrates how

this church incorporates cultural and biblical principles into the philosophy of

ministry and the growth and non-growth of this church is analyzed. A number of

key growth factors for the Chinese boomer churches are then developed. Finally

138
---
future plans and evaluation for the next five years are suggested for the effective

growth of this church.

Chan, Timothy Chi Him (1998). The Social and Regulatory Relations of Metropolitan

Victoria's Commercial Greenhouse Industry: 1900 to 1996. University of

Victoria, 177: MA.

This thesis investigates the social and regulatory relations of the commercial

greenhouse horticulture industry from 1900 to 1996 in the Metropolitan Victoria

area of British Columbia. The growing of crops under glass in a controlled, heated

environment is a multi-million dollar agricultural industry in North America and

has gone through many changes in its century-long existence. A case study of

Metropolitan Victoria's greenhouse industry was chosen because of its long

history as a greenhouse growing area, the lack of a prior study, and its ethnic

component through major Chinese ownership. This research is based on data

collected through an archival search and semi-structured personal interviews

conducted with former and current greenhouse owner-operators. Among factors

explored are government regulations, urbanization, technology, distribution and

markets, organization, and the experiences of Chinese and non-Chinese owneroperators.

The spatial extent of greenhouses is shown through maps of their

locations at crucial times during the study period of 1900 to 1996.

Chan, Yvonne (1997). Physical and Psychological Predictors of Health Seeking

Behaviours of Chinese-Canadians with Low Back Pain. Queen's University,

MSC: 167.

Delivering health care which confirms a patient's culture-based attitudes may

have a demonstrable positive effect on treatment outcomes. This study examines

the differences in health attitudes of Chinese-Canadians seeking either Westernstyle

treatment (WT), Chinese-style treatment (CT), or a combination of both

Western-style and Chinese-style treatments (BT) for their low back pain (LBP).

Structured face-to-face interviews using a 79 item Likert-scaled questionnaire

were conducted to inquire about health and treatment beliefs. Thirty-three

practitioners in Scarborough, Ontario helped to recruit subjects who were

Canadians of Chinese descent, at least 16 years of age, seeking treatment for their

LBP, and able to speak and understand verbal Cantonese or English. In total, 60

patients were interviewed: 13 used CT, 30 used WT, and 17 used BT. One-way

analysis of variance found differences at p = 0.05 between the 3 groups on 8

variables. Stepwise multiple regression showed that 3 of these 8 variables were

also strong predictors of health seeking behaviour. From these results, Chinese-

Canadians make a treatment choice based on whether their LBP is acute or

chronic, how strongly they feel that responsibility for rehabilitation lies with the

practitioner, their perceived effectiveness of CT and WT, and their age. The

decision to switch between CT and WT is based on whether pain goals are

achieved quickly and on perceived treatment effectiveness. Thus, predictors of

treatment choice are dependent upon both physical and psychological

139
---
characteristics. Clinically, it is vital to define treatment goals and expectations upfront

and to provide education which is relevant to the patient's culturally-based

health attitudes.

Chandy, Nina (1997). Gender Persecution as a Basis for Refugee Status: Internationally

and in Canada. Dalhousie University, LLM: 176.

'Gender persecution' is the term that encompasses various forms of violence

committed almost exclusively against women, such as domestic violence and

forced sterilization. The definition of 'refugee' under the 1951 Convention

Relating to the Status of Refugees does not list 'gender' as a ground upon which a

person can claim refugee status. This means that women who are subject to

gender persecution cannot directly claim refugee protection under the

1951Convention. The position is the same in Canada, where the 1951 Convention

definition has been adopted. Thus, victims of some forms of gender persecution

can receive refugee protection under existing refugee law, through a broad

interpretation of the grounds, which are race, religion, nationality, membership in

a particular social group and political opinion. Internationally, the UNHCR has

provided for the interpretation of the 1951 Convention grounds to include claims

based on sexual violence. In 1993, Canada framed the Guidelines on Women

Refugee Claimants Fearing Gender-Related Persecution, which allow it to accept

as refugees those women who can prove their gender-related claims of

persecution are linked to one or more of the 1951 Convention grounds. Such

broad interpretations may suffice the needs of some gender violence victims.

However, an act of gender persecution being a severe violation of a woman's

human rights, is as deserving of refugee protection as violations on other grounds

recognized by the 1951 Convention. Therefore, this Thesis concludes that the

specific inclusion of 'gender' in the 1951 Convention, would best serve the

interests of women around the world who are victims of gender persecution.

Chang, Imelda Kin-Sang (1991). Chinese Immigrant Mothers' Acculturation and their

Children's Self-Concept. University of Manitoba, MSC: 113.

In this study, the relationship between the acculturation level of Chinese

immigrant mothers and their children's self-concept was investigated. The sample

consisted of 45 Chinese immigrant mother-and-child pairs. The children were 3 to

5 years of age. Measures of the children's self-concept and level of intellectual

maturity were obtained from the Purdue Self-Concept Scale for Preschool

Children and the Goodenough-Harris Drawing Test. Mothers responded to a selfadministered

questionnaire on acculturation. Both mother's acculturation score

and family socioeconomic status are positively correlated with children's selfconcept.

The only significant main effect on intellectual maturity is the child's

age. The effects of socioeconomic status and acculturation on Chinese immigrant

children's self-concept are discussed.

140
---
Chan-Marples, Lan Wai (1993). Immigrant Women, Disability, and Culture. University

of Alberta, MED: 203.

The study is a review and interpretation of current research-based literature on

immigrant women and disability, written from various fields and theoretical

perspectives, with a special emphasis on studies which focus on ethnic minority

immigrant mothers of disabled children. Using primarily North American

literature, some key issues in the everyday experiences of these women as

immigrant women, as visible minority women, and as mothers of a disabled child

were identified. The study also discusses the women's underuse of mainstream

health resources and social service agencies. Ethnic minority parents with

handicapped children also underuse special programs. Their use of health services

has been limited by lack of information, host-language skills, bicultural and

bilingual staff, culturally sensitive and appropriate professional practices

regarding disability. Thirdly, this study highlights some of the racial, classist,

handicappist, and sexist issues faced by immigrant minority women in their daily

lives. It explores the thinking of feminist scholars to explain how the labels

immigrant, women, and ethnic racial minority have been constructed from the

women's relationships with the dominant community. From these perspectives, it

also looks at the relationships between immigrant minority women and ethnic

health care system. In all these areas, the myriad of ideological and structural

contradictions, hardships, and barriers made women's adjustment to a new culture

a difficult task. Yet, they themselves have been regarded by the dominant

population as the source of their own problems. As women living between two

cultures (country-of-origin and host-country), the dilemmas faced by immigrant

women have been shown to be manifold. Furthermore, the conclusion identifies

areas which require further scholarly investigations. New research should

investigate how the powerful factors of gender, religion, class, ethnicity, and

patriarchy shape the experiences of women with disabled children.

Chao, Lien (1995). Beyond Silence: Chinese-Canadian Literature in English. York

University, PhD: 316.

Chinese communities have been in Canada for one hundred and thirty-seven

years. The assertion of their voice in Canadian literature is a recent development

undertaken by the first-generation writers, who arose collectively from the

Chinese Canadian Writers' Workshop held initially in the 1970s. This dissertation

studies the growing body of contemporary Chinese Canadian literature written in

English. In particular, it studies its historic foundation, its two landmark

anthologies: Inalienable Rice and Many-Mouthed Birds, and its all-genre

configuration. The thesis is divided into eight chapters as the following: "Rereading

Chinese Canadian History and the Need to Access Mainstream

Discourse"; "The Transformation from Silence to Voice and Other Discursive

Strategies"; "Anthologizing the Collective: The Epic Struggles to Establish

Chinese Canadian Literature in English"; "Mythologizing the Collective History

and Reclaiming 'Chinamen': Tales from Gold Mountain"; "Bachelor-Man: 'A

141
---
Silence Crying Out to Be Broken' in Canadian Theatre"; "The Collective Self: A

Narrative Paradigm and Self-Expression in Three Prose Works"; "Dialogue: A

Discursive Strategy in Chinese Canadian Poetry" and "From Testimony to

Erotica: the Split Subject and Oedipal Drama in Evelyn Lau's Prose." Theoretical

approaches to Chinese Canadian literature as a minority discourse are developed

and implemented throughout the thesis. Literary tropes synthesized from across

the genres include the Gold Mountain milieu, the bone-hunting journey, and the

collective self. The repetitive use of these tropes helps to reclaim the community

history and herstory from silence. Through these shared literary strategies,

Chinese Canadian writers raise a resistant voice against European cultural

hegemony in Canada. While the community is regarded as a resource for its

literature, this thesis challenges a unified Chinese Canadian identity. The

conclusion emphasizes two characteristics of Chinese Canadian literature: the

community resource and the collective sensitivity. It suggests that the communitybased

minority literature is as capable of development as any existing mainstream

literature. The entry of Chinese Canadian literature into mainstream helps to make

up what has been missing--the minority images and voices. As a pioneering work,

this thesis will serve as an introduction to future studies of Chinese Canadian

literature by offering some tentative, critical models.

Charland, Sarah Danielle (1999). L'integration des immigrantes d'origine algerienne,

marocaine et tunisienne au Quebec. Université de Sherbrooke, MSC: 588.

French Text, English Abstract: Our research deals with immigrant women

originating from three North African countries: Algeria, Morocco and Tunisia.

Despite the similarity of their cultural background, these countries have evolved

differently in relation with political environments such as: the French

colonization, the independence and its aftermath. These circumstances have had a

different impact particularly on women's conditions. Three different women's

profiles appear to exist in the Maghreb. Within the Quebec immigration context

marked with ambiguities such that immigrants carry on with their original way of

life, we wondered whether these women conserve as well their differences when

they become integrated within the Quebec society or, on the contrary, allow them

to gradually disappear in time. Starting from three different profiles that

characterize the Muslim women coming from the Maghreb, our main objective is

to study the way these immigrant women become integrated into the Quebec

society. Specifically, the ultimate purpose is to establish to what extent women

coming from the Maghreb keep their respective differences while becoming

integrated within the Quebec culture.

Cheng, Agnes (1999). The Cancer Experiences of Chinese Immigrants to Canada.

University of Alberta, MN: 187.

Interviews were conducted with ten Chinese-Canadian cancer patients to examine

the Chinese cancer patients' information needs and decision-making preferences

in regard to cancer treatment selections. The study findings revealed that the

142
---
majority of participants preferred to have their physicians select cancer treatments

for them. Two participants, however, wanted the opportunity to make choices

themselves. All participants wanted their diagnosis revealed and the treatment

options explained. Trust in the doctors, perceived lack of relevant knowledge are

reasons given for delegating the decision-making responsibility to the doctor. In

addition to the initial objectives of the research, participants described the impact

of cancer on themselves and their families and shared the strategies used to cope

with the cancer experience. The use of Traditional Chinese Medicine (TCM) was

mentioned by some participants but others expressed concerns about the efficacy

of such practices and the safety in the Canadian setting where traditional

practitioners are not regulated. Problems with language barriers, lack of

awareness of existing services were some of the special issues raised by the

participants. These hardships, however, were not shared by everyone. What was

most interesting about the findings was the limited way in which cultural values,

beliefs and practices commonly found in the transcultural literature seemed to

influence the decision-making preferences, information needs, and cancer

experiences of these Chinese Canadian immigrants.

Cherwick, Brian Anthony (1999). Polkas on the Prairies: Ukrainian Music and the

Construction of Identity. University of Alberta, PhD: 217.

This study looks at the activity of Ukrainian polka bands performing in the

Canadian prairie provinces, with a specific concentration on one of these groups.

These musicians often focus on the construction of their own identities as

contemporary musicians and on the roles they play in creating successful dance

events. However, through public exposure, the performances of such musicians

have come to be viewed by many as fitting representations of Ukrainian music

and culture. As links to a cultural past and as catalysts for new ideas and

practices, musicians therefore play an active role in forming and re-forming the

ethnic identity of contemporary Ukrainian Canadians. The current state of

Ukrainian music has been affected by a number of significant nodes along the

historical continuum. These nodes correspond with changes in content, context or

medium, at times addressing one, two or all three variables, and tend to coincide

with significant processes in Ukrainian Canadian society in general. This study

will present an overview of the activity that occurred at each of these musical

nodes: the emergence of commercial recordings of Ukrainian music in the late

1920s; the development of a unique hybrid of Ukrainian country and western

music in the 1960s; an increase in ethnic awareness and the development of

consciously ethnic music in the 1970s; the rise in popularity in the 1980s of

Ukrainian music that incorporated western Canadian rural repertoires with eastern

Canadian urban sensibilities and the main context for this type of music, the

zabava; the continued flourishing of local music making

traditions featuring bands that consisted of neighbours or family members; and

the influence of the mainstream marketplace of the 1990s on the activities of

Ukrainian bands. At the same time, it will consider the current activity of the

143
---
Edmonton band "Charka" discussing the way that the historical past shapes their

ethnographic present.

Cheung, Maria Yip Ling (1999). Impact of Gender and Culture: Contributing Factors to

Satisfactory Long-Term Marriages. Wilfred Laurier University, DSW: 378.

The constructs of gender and culture have been neglected in our understanding of

marital relationships. With the recent upsurge of postmodernism, the two

constructs have come into focus as essential to furthering our understanding of

these relationships. My doctoral dissertation research is a cross-cultural

comparative study of five Hong Kong Chinese immigrant couples in Canada and

five Euro Canadian couples who were born in Canada. I used a social construction

perspective to examine the gender and cultural processes that evolve in the longterm

satisfactorily married couples. Couples who have been married for thirty to

thirty-six years were under study. I used the Dyadic Adjustment Scale which

measured married couples' marital adjustment and satisfaction as a screening

instrument to identify the ten couples for in-depth interviews. I adopted an

inductive narrative approach to analyse the gender and cultural factors that

contribute to long-term marital satisfaction. The narratives of the couples'

evolution of their gender relationships reflect the evolving culture embedded in a

particular group's socio-historical context. Through comparison of the two

cultural groups, I made the cultural elements more transparent, and in turn,

problematised certain gender issues in their socio-historical context. Building

upon the existing knowledge of long-term marriages, I conducted an empirical

research grounded in a theoretical model which illuminated how cultural contexts

and gender role expectations interweave with interpersonal life to create meaning

of a satisfactory long-term marital relationship. With the cross-cultural

comparisons, I explored the different meanings of marital expectations, marital

satisfaction, gender role expectations, and the qualities of sharing, acceptance, and

commitment in marriage among the two cultural groups under study. Culturalspecific

factors and cross-cultural factors that contributed to satisfactory longterm

marriages were discovered from the couples' narratives. Compatibility

between the partners in a marital relationship was found to be important for a

couple to achieve marital satisfaction. Perceived fairness in the couple's gender

division of labour, efforts to accommodate changes and go through difficulties,

the distribution of decision-making power, willingness to compromise, shared

values and activities, and good communication contributed to long-term marital

satisfaction. Care and concern, as most of the long-term marriage studies suggest,

were more important than satisfaction in sex. A distinctive factor, gender

mutuality—the reciprocity of each spouse in understanding the other's

gender characteristics—was found to contribute to the couples' high level

of marital satisfaction. Couples who had high gender mutuality also had a more

positive sense of self. My cross-cultural comparative study articulated the

complex processes of socio-cultural construction of male and female in each

cultural group under study and examined how such forces affected long-term

marital satisfaction. My theoretical endeavour was to dislodge the oppositional

144
---
dichotomy of the dominant Western gender discourses and deconstruct the

Western notion as the norm for understanding human behaviours explored the

different meanings co-constructed by the husband and wife in a marital

relationship, under their own socio-cultural contexts, in achieving the couple's

long-term marital satisfaction.

Chindalo, Pannel (1999). Immigrant Minorities' Stories: A Narrative Analysis. York

University, MED: 81.

This thesis is a narrative analysis of educated immigrant minorities' schooling

experiences in Canada. The study weaves through the complexities and

contradictions of their experiences. By using narrative analysis methodology, the

study challenges essentialist (single cause) explanations of immigrant minorities'

experiences. It includes the evolving social meanings of being labeled,

"immigrant" and ""minority". The social meanings of immigrant/minority often

have contradictory legal or common-sense meanings: those who are legal

immigrant/minorities may not socially be identified as such, and vice versa. The

complexities and contradictions in immigrant minorities' narratives stem from

their Canadian socialization, including Canadian inexperience, foreign

credentials, lack of English proficiency, and so on. Issues of employment,

socialization and racism in the narratives of successful immigrant minorities were

also explored. Educated immigrant minorities' schooling success was found to

depend on several factors such as parental support, individual ability, personality,

age at migration and the culture of schooling before emigrating to Canada.

Chitiri, Helena-Fivi (1991). The Influence of Language and Writing System

Characteristics on the Reading Process. University of Toronto, PhD: 397.

This thesis is comprised of two experiments investigating the reading processes of

monolingual and bilingual adolescents in English and in Greek. These two

languages differ in the regularity of their letter-to-sound correspondence with

Greek orthography being more consistent than English orthography. The two

languages also differ in the way they express the relationships of their sentence

constituents--Greek is an inflected language while English is a word order

language. The objective of the research was to determine whether these

differences would be reflected in the reading patterns in each language. The

inclusion of the bilingual aspect was expected to provide further insight into the

reading processes in the two languages and also into the development of second

language reading proficiency. The impact of orthographic regularity was studied

in relation to two phonologically defined factors, syllable and stress. In line with

previous findings, these factors were expected to have more influence in Greek

because of the more reliable representation of pronunciation in this orthography.

To determine the influence of linguistic (syntactic) characteristics, the study

examined whether readers differ in the processing of content versus function

words and in the processing of content word endings, as suggested by research on

inflected languages. These issues were investigated among monolingual readers in

145
---
the first experiment and among highly proficient bilingual readers in the second.

Both experiments involved a letter cancellation paradigm in the reading of

connected passages. The passages constructed for the purpose of the experiment

were made as comparable as possible across languages. The results of the two

experiments provided evidence that readers were sensitive to the idiosyncrasies of

each language. Specificaly, the findings indicated that Greek readers

demonstrated more consistent phonological effects and processed inflected

function words and content word endings to a greater extent than did readers of

English. While bilingual readers performed similarly to monolingual readers in

their mother tongue, in the second language they deviated in some respects from

the patterns of the respective monolingual readers. This discrepancy was

interpreted as lack of coordination of different word recognition skills consistent

with information processing models.

Chiu, Mei Lee Teresa (1994). Health Services Utilization by the Chinese in Greater

Toronto: An Analysis of Ontario Health Survey. University of Toronto, MSC:

133.

The objective was to assess the health service utilization by the Chinese in

Greater Toronto using the 1990 Ontario Health Survey (OHS) data. The OHS

sampled 12,524 people including two hundred and sixty-four Chinese in the area,

using a cross-sectional, stratified design. The results showed that the Chinese,

defined by home language, used specialists two times less, emergency services

three times less, dentists three times less and hospitals two times less than the

non-Chinese. General practitioner and optometrist usage did not differ between

the two language groups. The effect of sociodemographic factors, health needs

and medical insurance on the differences were examined. Factors not measured in

the OHS were discussed. The limitations of the data included measurement errors,

selection bias, age-sex adjustment difference and lack of measurements in cultural

beliefs and use of traditional Chinese remedies. Further research, health planning

implications and ethnocultural measurements of population health studies are

suggested.

Chiu, Siu-Miu Luda (1994). Job Transferability of Chinese Immigrant Women in

Vancouver: Their Voices. University of British Columbia, PhD: 315.

The raising of immigration standards for entry into Canada in recent years has

resulted in many Chinese immigrant women from Hong Kong being admitted as

"independent applicants", on the strength of their academic standing, official

language proficiency, and professional training. However, many of them are not

able to access jobs for which they would seem to have the appropriate credentials.

No studies have yet systematically examined the barriers these women face in the

job market in Vancouver. A literature review shows two main approaches to the

problems of immigrants adapting to life in their new country. The cultural

approach concentrates on the effects of the immigrants' own culture on the

adaptation process, and the cultural conflicts between the mainstream culture and

146
---
the culture immigrants bring with them. The structural approach emphasizes the

impact of the social structure of the host country on immigrants, and examines

structural barriers which bar immigrants from moving upward in the labour

market. The first approach concentrates on immigrants and their culture while the

second focuses on the structural constraints experienced by immigrants. The

present research argues that examining employment issues of immigrants from

only one of these two approaches is inadequate. Both perspectives are important.

Other informal barriers which could not be categorized under these two

approaches should not be ignored.This is a qualitative study based on in-depth

interviews with 20 Chinese immigrant women from Hong Kong. The research

problem is limited to the employment experiences, as well as to the meanings of

events and processes, described by these women. The central questions are: (1)

What do Chinese immigrant women who come as "independent applicants"

experience in the workplace in Vancouver? (2) What does their work in

Vancouver mean to them? And (3) What are the factors, in terms of cultural

barriers, structural barriers or other elements, that affect these women in the

process of job transferability? Suggestions to eliminate barriers are proposed, and

recommendations for further studies are presented.

Choi, Jung Min (1998). Assimilation, Postmodern Identity, and Unravelling the

Theoretical Roots of Racism. York University, PhD: 231.

Recently, discussions regarding race/ethnic relations in the United States have

reached new heights. Both conservatives and liberals have debated the cultural,

political, and social dimensions of this issue. Key to this imbroglio has been the

focus on the inability of minorities--especially blacks--to assimilate successfully

to main stream society. Two camps, in particular, have dominated much of the

debate: assimilationists and cultural pluralists. Assimilationists have charged that

minorities must discard their inferior racial/ethnic traits in order to find full

inclusion. On the other hand, pluralists have argued that differences must be

maintained and tolerated. Although the two sides seem to oppose one another,

neither position is conducive to democracy. Due to a particular outlook that

sustains these two perspectives--namely, foundationalism--both fall short of

fostering a democratic society, where persons are free to pursue self-actualization

without any hinderance from abstract principles. The central problem regarding

this controversy is that race/ethnic relations have been examined mostly in a

logistical manner. Consequently, the philosophical underpinnings of this debate

have been overlooked. Therefore, by approaching the issue of race/ethnic

relations on a theoretical level, the many hidden assumptions regarding ethnicity

and race are brought to light and can be addressed. Additionally, by incorporating

postmodern theory into this subject, an alternative social imagery that supports

fairly democratic race/ethnic relations is made possible. To be sure,

postmodernism supports a true multiculturalism, where differences are respected

and recognized and identities are secured without culminating in the loss of moral

order. In this respect, order and difference can co-exist harmoniously.

147
---
Choi, Soo Hyang (1990). Communicative Socialization Processes: Korea and Canada.

University of Alberta, PhD: 210.

The study was concerned with the child's socialization processes in Korea and

Canada, with a particular attention paid to the child's daily communicative

experiences with the mothers. The main objectives were to describe the mother's

culture-specific communicative patterns, and to determine if any differentiated

influences were operating on the child's psychosocial development. Two motherchild

dyads were drawn from each cultural group. 15 sessions of 30 minute videotaping

occurred in their home. The data were treated to a communicative analysis

in which 3 aspects of the mother's utterances were determined: thematic progress,

affecting styles, and semantic contents. The communicative pattern of each group

was interpreted in terms of the mother's different perceptions of the child's

psychosocial reality. Korean mothers viewed the children's psychosocial reality as

being not yet fully functional, and showed assisting patterns of communication.

Canadian mothers emphasized an autonomous psychosocial reality of their

children, and posed themselves as communicative colleagues of their children.

The study concluded with an appeal for a psychosocial model of child's

communicative socialization processes.

Cholewinski, Ryszard I. (1993). The Protection of Migrant Workers and their Families in

International Human Rights Law. University of Ottawa, LLD: 672.

This thesis focuses on the protection in international human rights law of the

economic, social, cultural, political and residence rights of migrant workers and

their families, broadly defined as long- or short-term immigrants who are or have

been employed in countries other than their own, included those who entered

illegally. These are the rights of most concern to migrants in the country of

employment. Economic and social rights comprise employment rights, trade

union rights and rights to social security, health, housing, family reunification and

education. Cultural rights of migrants embrace their right to retain and develop

cultural identity, including the teaching to their children of the culture and

language of the country of origin, and political rights encompass their right to

political activity and to participate in the decision-making process concerning

their interests, including the right to vote. Residence rights comprise their right to

remain in the host country, while in work and immediately after the termination of

employment, and their rights to permanent residence and naturalization and to

protection against unfair expulsion. The thesis develops a theoretical framework

that is justified in terms of both individualist and communitarian liberal

principales. These principles provide for conceptions of citizenship which go

beyond mere form and which justify the extension of membership of the state to

alien migrant workers and their families. These normative models also support the

provision of more extensive rights to both legal and illegal migrants. Limiting the

rights of migrants already in the territory and controlling the entry of new

immigrants is justified by the principle of sovereignty on the basis of socioeconomic,

cultural and physical state security. This principal, however, is being

148
---
eroded by the development of international standards for the protection of

vulnerable groups. A redefined conception of the liberal-democratic community,

which recognizes the participation and contribution of migrant workers and their

families, is more responsive to the interdependence of the international

community of states and more closely conforms to its own individualist and

communitarian precepts. This thesis concludes with the conviction that the

adequate realization of the rights of alien migrant workers and their families can

only serve to advance the rights of all human beings, including citizen-members

of states.

Chopra, Anju (1981). Design and Evaluation of Experimental Multicultural Television

Segments for Preschool Children. Concordia University, MA: 92.

N/A

Chow, Henry Pok Hang (1997). In Search of a Land Flowing with Milk and Honey: The

Adaptation Experiences of Uprooted Chinese And Black Immigrant Students in a

Multicultural Society. University of Toronto, PhD: 235.

This dissertation examined the adaptation experiences of Hong Kong and

Caribbean immigrant students attending public high schools in Metro Toronto

during 1993 and 1994 using a multivariate approach. The present sample

comprised of 368 Chinese immigrant students from Hong Kong attending 26

different public high schools under the jurisdiction of six school boards. The three

selection criteria included (i) last permanent country of residence being Hong

Kong; (ii) legal status in Canada being landed immigrant or citizen; and (iii)

length of residence in Canada being 5 years or less. The same criteria applied to

the comparison group, except the last permanent place of residence being the

Caribbean, rather than Hong Kong. The comparison group included 63 Black

students from 10 schools under the jurisdiction of three school boards.

Multivariate analysis of variance (MANOVA) was conducted on the various

scales measuring the adaptation experiences of these immigrant students. It has

been found that Hong Kong immigrant students adapted better academically than

the Caribbean counterparts. On the other hand, Caribbean students were found to

be adapting better culturally, socially, and linguistically. Racial discrimination

was a problem encountered by these immigrant students. More specifically, about

25% of the Hong Kong group and 17% of the Caribbean group reported

discrimination experience. To assess their overall adaptation experiences, students

were asked to indicate whether they would prefer to stay in Canada or to return to

homeland if they were given a choice. More than one-third of the Hong Kong

students (34.1%) expressed that they would return to Hong Kong. Slightly less

than one-third (31.3%) indicated that they would stay, and 30.8 percent said they

had no particular preference. With respect to the Caribbean students, about half of

them (51.6%) would choose to stay in Canada. Multiple regression and logistic

regression analyses revealed various socio-demographic and background

variables as strong determinants of adaptation. Additional qualitative data

149
---
obtained from personal interviews conducted with 30 Hong Kong and 10

Caribbean students provided greater depth of understanding of these minority

students' adaptation experiences.

Chow, Ivy Gar Yin (1993). An Assessment of Factors Influencing Chinese Canadian and

Caucasian Women's Identification with Feminism. Carleton University, MA: 132.

The present study attempted to examine the factors behind feminist and

nonfeminist Chinese Canadian and Caucasian women's identity with feminism.

Chinese Canadians and Caucasians were preclassified on the basis of self-reports

as feminist or nonfeminist (N = 66), and were asked to complete a series of

questionnaires regarding background information. As expected, feminists

expressed higher group consciousness with all of the social groups, by contrast to

nonfeminists. There were no differences between Chinese Canadians versus

Caucasians, nor between feminists and nonfeminists with respect to value

perceptions and priorities. However, results did indicate that participants

perceived equality to be less important to themselves than to women and

feminists, and that their own values were more important to themselves than to

women and feminists. Chinese Canadian participants believed that most of the

given values were less important to Chinese Canadians in general compared to the

participants themselves, women, and feminists. While both Chinese Canadian and

Caucasian women perceived affirmative action to be less important to themselves

than to women and feminists, and the reverse was true for their own interests,

Caucasians perceived racism to be less important to self than to women and

feminists, while Chinese Canadians perceived this issue to be equally important to

themselves and all three social groups. Caucasian women also perceived all of the

interests to be less important to women than to feminists, with the exception of

their own issues, while Chinese Canadian women perceived no differences in the

interests of women or feminists.

Chow, Jo-Anne May (1998). Education, Gender and Erosion of Tradition: Perceptions

and Experiences of Second-Generation Chinese. University of Calgary, MA: 126.

Canada, a country of opportunities, has long been a destination for the Chinese.

This journey has generally been successful since many families were able to find

material comfort. But immigrant parents and their descendants struggled to

integrate two different and at times, antagonistic cultures. This acculturation

process appears most pronounced in the second-generation of immigrants since

the first-generation cling to their ethnic values while the second-generation tries

to bridge the cultural chasm. This thesis investigates intergenerational and crosscultural

conflict issues faced by second-generation Chinese. Fifty-six of these

immigrants were interviewed on education, grades, dating, marriage, ancestor

worship, and parental support. The discussion focused on whether women

experienced more conflict than men in each of the six topics. Results showed that

women felt greater conflict in five of them. This conclusion has important

150
---
implications for the perception of immigrants and suggests that educational

programs sensitive to these women should be designed. )

Chow, Maria (1983). Canadian-Chinese Adolescents' Attitudes Towards Ethnic

Language Maintenance. York University, MA: 242.

According to Gardner and Lambert, the learners' attitudes towards members of a

language group and their language could influence their aptitude to learn a

language. This study speculated that the Canadian-Chinese adolescents' attitudes

towards ethnic language maintenance are related to their actual ethnic language

maintenance; the finding suggests, however, that the two are independent of each

other. The data suggest that there is a substantial ethnic language loss among the

Canadian-Chinese adolescents, however, a majority of them maintain a positive

attitude towards ethnic language maintenance. The Canadian-Chinese adolescents

have developed four basic language orientations to communicate with significant

others. Respondents who tend to use Chinese with significant others are more

likely to have a positive attitude towards ethnic language maintenance. Foreignborn

Chinese adolescents are more likely to have a positive attitude towards

ethnic language maintenance than the Canadian-born. Meanwhile, parents' length

of residence in Canada is significantly correlated with the respondents' attitudes

towards ethnic language maintenance. The study has also found that demographic

factors are significantly correlated with the Canadian-Chinese adolescents' interethnic

friendship patterns.

Chow, Mayling (1990). The Acquisition of a Written Language by ESL Children during

the Kindergarten and Grade One Years. University of British Columbia, MA:

157.

This research investigates the development of writing in children who are learning

English as a second language (ESL). Its underlying hypotheses are: (1) ESL

children will learn to write independently when placed in a social and

psychological setting that facilitates language learning; and (2) they will use the

same strategies and follow the same general patterns of development as those

reported for English-speaking children. Current research on emergent literacy

provided the theoretical framework for this study. This investigation followed

eleven ESL children from the beginning of Kindergarten to the end of Grade One.

The children's writing samples were collected daily and were analyzed and

classified within Gentry's (1982) stages of writing development. The data were

examined for implied strategies, knowledge and understandings. Observational

notes on the children when writing revealed characteristics and behaviours found

at each level of writing development. The results point to the similarities between

how ESL children and English-speaking children learn to write when challenged

to discover the English writing system for themselves. The theoretical

perspective of writing as a developmental process was evident throughout the

study. Additional findings highlighted the significant role of literature in ESL

learning and the importance of a learner-centred approach to literacy instruction.

151
---
The implications of the research findings for ESL methodology is discussed

together with an account of the children's development in writing.

Chow, Terry S.C. (1993). A Q Method Study of how Women of Chinese Descent

Construct themselves in Relation to Popular Stereotypes of Chinese Women.

University of Windsor, MA: 164.

This study examines the self-perception of Chinese women, with respect to two

popular stereotypes of Chinese women (the "China Doll" and the "Dragon Lady"),

in the context of their most recent dating experience with a white male and how

these women feel their dating partners perceive them with respect to the same

stereotypes. Through the use of a Q sort study, 38 volunteer subjects sorted into

four factors and one opposing view of how Chinese women perceived themselves

and how they felt their dating partners perceived them. Differences among

perceptions were analyzed using SPSSx (1986). Of the 38 Q sort participants, 16

participated in personal interviews that revealed: (1) popular stereotypes of

Chinese women are undergoing change, (2) there are three coping mechanisms

that Chinese women use when dealing with popular stereotypes of Chinese

women (acceptance, negotiation, and rejection), and (3) the extent to which

Chinese women assimilate in North American society is related not only to their

acceptance of North American values and stereotypes but is also related to their

lack of desire to date Chinese men.

Chrichlow, Wesley Eddison Aylesworth (1998). Buller Men and Batty Boys: Hidden

Men in Toronto and Halifax Black Communities. University of Toronto, PhD:

273.

This thesis was born of my desire to put forward a critical analysis of racialized

heterosexism within Black diasporic communities. Central to this project is an

elaboration of how such heterosexism is manifest as a form of bio-nationalism

that is fundamental to many contemporary discourses of Black identity. The dual

starting points of this analysis are the recent scholarly work theorizing the politics

and socially transformative possibilities of Black same-sex practices [particularly

in the work of Lorde, Mercer and Riggs] and my own experience growing up in

Trinidad and living in Canada as a "buller man", one who is

communally identified [and publicly embraces this identification] as participating

in male same-sex practices. With a framework developed on this double basis, I

then present a detailed study of 19 Black men who participate in same-sex

practices on a variety of terms and with various degrees of family and community

awareness of their desires and experiences. These interviews provide a unique

perspective on an until now, hidden dimension of Black communal life in Canada.

Stressed in the analysis of these interviews is how these men negotiate the

structure of heterosexist and homophobic domination that define the

circumstances of their lives in the Black communities of Toronto and Halifax.

This domination is also traced to the discourses of Black nationalism and the

Black church. I argue that this dominance enacts a regressive form of "bio-

152
---
nationalism" which legitimates a regulatory politic that effectively

excludes Black same-sexed men from membership in Black diasporic

communities. I conclude with a consideration of the transformative vision for a

Black communal consciousness that would embrace all its members.The findings

in this dissertation highlight several educational, communicative and pedagogic

issues for the contemporary educator to articulate a broader definition of Black

nationalism, Black history and Black consciousness in Euro-Canadian/American

contexts.

Chrisholm, Catherine Kim (1996). Attachment Security and Indiscriminately Friendly

Behavior in Children Adopted form Romanian Orphanages. Simon Fraser

University, PhD: 125.

Attachment and indiscriminately friendly behavior were assessed in children who

had spent at least 8 months in a Romanian orphanage (RO) and two comparison

groups of children: a Canadian-born, non-adopted, never institutionalized

comparison group (CB) and an Early adopted comparison group adopted from

Romania before the age of 4 months (EA). Attachment was assessed using 2

measures: an attachment security questionnaire based on parent report and a

Separation Reunion procedure that was coded using the Preschool Assessment of

Attachment (Crittenden, 1992). Indiscriminately friendly behavior was examined

using parents' responses to 5 questions about their children's behavior with new

adults. Although RO children did not score differently from either CB or EA

children on the attachment security measure based on parent report, they did

display significantly more insecure attachment patterns than children in the other

two groups. In addition, RO children displayed significantly more

indiscriminately friendly behavior than both CB and EA children, who did not

differ in terms of indiscriminate friendliness. RO children's insecure attachment

patterns were not associated with any aspect of their institutional environment, but

were related to particular child and family characteristics. Specifically, insecure

RO children had more behavior problems, scored lower on the Stanford-Binet

intelligence scale, and had parents who reported significantly more parenting

stress than RO children classified as secure.

Christou, Chryssie (1994). Policies for Minority Education: A Comparative Study of

Sweden and Ontario. York University, MSW: 183.

Advanced industrial societies claim in their laws to support equality of

educational opportunity. The contradiction between the rhetoric of the ideals of

democracy, equality and social justice, and the practice of inequality of

educational opportunities, especially for ethnic and racial minority children, poses

a challenge for modern industrial societies. Some societies manage this better than

others when it comes to the education of minorities. This study explores the

problem of educational inequality and its consequences for ethnic and racial

minority children in Sweden and Ontario from the ideological perspectives of

"reluctant collectivism" (George & Wilding, 1976) and social democracy. It

153
---
analyzes two policy areas: (i) Home language/Heritage language and (ii)

Comprehensive/streaming policies and their consequences. The second chapter

presents the ideology and background of Home language/Heritage language

education, implementation and an evaluation. The third chapter does the same for

comprehensive/streaming policies. The fourth chapter identifies structures and

process which influence policies and their outcome. The fifth chapter compares

the two policies under the ideological approaches of "reluctant collectivism" and

social democracy in light of the findings of the previous chapters; identifies

differences and accounts for their differences in terms of ideologies and

institutions; and considers lessons to be learned from different policies and their

outcomes. The comparison shows what is possible by way of effective policies

and stresses the need for stronger social commitment if policies of de-streaming

and culture retention are to succeed in Ontario.

Chu, Albert Yuen Shan (1995). The Classification and Character of Chinese Christianity.

University of Alberta, MA: 133.

Developments within church-sect theory are proceeding towards the use of one

attribute, either societal tension or the mode of membership, upon which to

structure a scale of differentiation in classifying religious associations. Current

developments, however, have excluded ethnicity within theoretical discussions of

church-sect theory. This examination of ethnic religious organizations,

particularly Chinese ones, advocates the use of tension as the attribute that best

serves as a basis of comparing religious groups. The future utilization of tension,

however, must factor in the implications of ethnicity. Without incorporating the

issue of ethnicity into church-sect theory, researchers may define incorrectly

ethnic religious organizations as sectarian, regardless of the doctrinal and societal

beliefs of the organizations or their members. This study also provides an

historical review and describes the current character of Chinese Christianity in

Canada.

Chubachi, Natsuko (1999). Geographies of Nisei Japanese Canadians and their Attitudes

towards Elderly Long-Term Care. Queen's University, MA: 146.

The way elderly long-term care is delivered varies in time and space, and people's

attitudes towards elderly care are socially constructed through policies, family

ideology, and the spaces in which they live. When people, who have a distinct

family ideology, immigrate to another country, their attitudes towards elderly

long-term care may change in the new place. Therefore, this study seeks to

answer to two questions: "What is the difference in attitudes towards elderly longterm

care, between issei (the first generation of Japanese Canadians) who

maintained a distinct family ideology and nisei (the second generation) who were

born and brought up in Canada?", and "How and why have the attitudes changed

over the two generations?" After exploring the history and spatial change of

Japanese Canadians, data from semi-structured interviews with 33 nisei Japanese

154
---
Canadians are examined. These analyses show that nisei attitudes towards elderly

care have been socially constructed through their geographies.

Chui, Tina Wai-Ching Leung (1996). Political Participation and Culture of the Canadian

Ethnics. University of Waterloo,: 389.

While research in ethnic relations has been an important focus in Canadian

sociology in the past few decades, the literature on ethnic political behaviour has

been fairly thin. The political participation and culture of the Canadian ethnics is a

key to understanding of ethnic relations. Individuals' political participation and

culture are aspects of their integration into the broader society. The extent of

political participation indicates also the responsiveness of the political system to

the Canadian ethnics. Ethnic collective politics represents attempts on the part of

the ethnic communities to influence the political process and thereby to play a

fuller role in Canadian society. Using two survey sets collected in the Toronto

metropolitan area, this study examines the political participation and cultures of

Canadian ethnics. Following a descriptive analysis of ethnic political behaviour,

the study proceeds to explain ethnic political participation and culture in terms of

ethnic identification, ethnic consciousness, voluntary association participation and

perceived political resources of ethnic community. The study acknowledges that

these concepts together with political participation and culture are multidimensional,

therefore various measures are used. The findings indicate that

ethnic inequality in political participation persists even after statistical controls for

demographic and socio-economic factors. While identification with ethnicity is

associated with lower political participation, other factors, such as the structural

barriers of the political process, seem to also contribute to inequality. Ethnic

voluntary organizations play a significant role in individuals' political behaviour.

These organizations do not only provide political socialization, but also bear the

potential to mobilize their members into collective action. Although to some

extent individuals are unable to participate fully in politics, they are not apolitical.

Those who are conscious of their ethnic status often opt for a collective political

approach to improve their situation. Three sociological theories are used to

interpret the results and all three theories are useful in explaining different parts of

the findings. The assimilation theory provides explanation to individuals'

integration in politics. The class conflict theory stresses the structural aspect of

inequality and explains the collective economic experience of individuals. The

ethnic competition theory expands the conceptualization of ethnic political

behaviour from the assimilation theory by focusing on the role of ethnic

communities.

Chumak-Horbatsch, Roma (1984). Language in the Ukranian Home: Its Use in Ten

Toronto Familes Attempting to Preserve their Mother Tongue. University of

Toronto, PhD.

This thesis documents home language behaviours of Ukrainian mothers and

children. Ten Toronto families with preschool and school aged children, whose

155
---
homes are governed by a "Ukrainian only" language rule and who are determined

to preserve the Ukrainian language in their homes, participated in the study. Two

ethnographic hypotheses are formulated and investigated. The first hypothesis

proposes that mothers' language behaviours are consistent with their Ukrainian

language maintenance philosophy. The second hypothesis proposes that there are

many signs of English in the "Ukrainian only" home. The study follows an

ethnographic design and consists of (1) a description of the Ukrainian language in

Toronto (2) recordings of mother-preschooler spontaneous home language and (3)

ethnographic interviews with mothers. It was noted that since 1971, the Ukrainian

language in Toronto has been undergoing a general generational decline.

Spontaneous speech samples showed that mothers and their preschoolers engaged

in two types of language activities: joint conversation and separate activities. Joint

conversation was segmented into smooth (meaning match) and problem (meaning

mismatch) transactions. Specific child behaviours and mothers' strategies are

described for each type of meaning transactions. It was found that mothers'

language behaviours were different with preschool and school aged children. This

difference was noted in mothers' attitude and response to children's English usage

in the home. Also, it was found that the "Ukrainian only" home is permeated with

English. It was concluded that mothers' transmit an emotive attitude towards the

Ukrainian language and an instrumental attitude towards the English language.

Time spent in conversation with mother in the home was described as being

facilitative for the learning and mastery of the Ukrainian language for the

preschool aged child. The outlook for the continuation of the Ukrainian language

in Toronto was described as bleak and not particularly positive. Implications for

teaching Ukrainian in the Heritage Language context are drawn. Two language

facilitative activities, talking with children and sharing literacy with children are

described.

Chung, Edward (1997). The Company One Keeps: Ethnic Homogeneity of Social Ties

and Intracultural Differences in Consumer Behavior. York University, PhD: 312.

This study explores differences in consumer behavior among Hong Kong

immigrants in Canada, and how these differences are informed by the strength

and relative ethnicity of social ties. As such, the study is intra-cultural rather than

cross-cultural. In consumer research, intracultural differences traditionally have

been investigated on the basis of psychological dimensions. Specifically, subjects

are measured on how strongly they identify with a particular demographic ethnic

group. This emphasis on agency has yielded many informative findings, but has

largely neglected the social side of human action. This undersocialized

perspective of the ethnic consumer reflects a significant gap in the literature; a

gap that needs to be filled if we are to develop a more comprehensive view of the

ethnic consumer. Theory-building efforts will undoubtedly suffer unless the

consumer is recognized as a social animal. This is especially so in view of the

emergent perspective of culture, which sees culture (and its categories and

meanings) as a socially constructed and relational phenomenon; that ethnicity is a

dialectical process and is neither linear nor unidirectional. The present study

156
---
investigates intracultural differences using both psychological (ethnic

identification) and social (social ties) aspects of a person's ethnicness, and

hopefully provides a balance between the under- and over-socialized views. Three

aspects of intracultural consumer behavior differences: relative knowledge of

non-ethnic products, relative usage of ethnic products, and cultural values. The

fundamental research question was whether the ethnic homogeneity of a person's

social ties informs differences in consumer behavior. Related to this question was

whether the ethnic homogeneity of social ties provides additional explanatory

power over the traditional emphasis on ethnic identification. The findings indicate

that indeed the ethnic homogeneity of social ties significantly improve our

understanding of intracultural differences in some instances but not in others.

While the ethnic homogeneity of social ties appeared to be more robust in some

areas and less so in others, over a range of products and services and consumer

behavior dimensions the ethnic homogeneity of social ties enhance the ability to

explain differences among members of the same demographic ethnic group.

Overall, this research lends support to the emergent culture perspective, and

certainly recommends that interpersonal relationships be incorporated into future

ethnic consumer research.

Churchill, Angela Kaye (1993). The Effects of Ethnic Accents on Judgements of

Personality and Occupational Suitability. Queen's University, MA: 109.

This study investigated the effects of accent on impression formation. In a

preliminary experiment, 87 psychology undergraduates identified the accents of

18 tape recorded female voices. Nine speakers, three English Canadian, three East

Indian and three Italian, were chosen for inclusion in the main experiment based

on ease of identification. Thirty-five male and 41 female subjects were asked to

form impressions of the nine speakers based on taped speeches. The subjects rated

the voices on personality characteristics and occupational suitability. The

personality traits varied along two dimensions, competence/status and

solidarity/sociability. The occupations presented varied in job status (high and

low) and amount of contact with the public (high and low public exposure). As

expected, English Canadian voices were rated higher on the competence

dimension than East Indian and Italian voices which did not differ from each

other. English Canadian voices were rated higher on the solidarity dimension as

well. Also as predicted, English Canadian speakers were deemed more suitable

for high status and high public exposure jobs and less suitable for low status, low

public exposure jobs than East Indian and Italian speakers. The findings of this

study are discussed with reference to the status-matching hypothesis and the

issues of social subordination and social distancing.

Churchill, Flavia (1997). Towards the Achievement of Educational Equity: The Impact of

Antiracism Policy on Teacher Perceptions and Practices. York University, MED:

162.

157
---
This study explores the implications of a mandated provincial government

antiracism and ethnocultural equity policy on teaching practices. The participants

of the study are a group of elementary school teachers who all taught at Parkhill

school, located in the province of Ontario. Qualitative research methods were

used to obtain data. The specific methods utilized to gather data were participant

observation techniques, field notes, interviews, and the collection of school

documents such as minutes of meetings, school board directives and school

newsletters. The responses that emerged in the perceptions of the teachers as they

negotiated the process of change is explored in relation to the establishment of

policy. The findings indicate that the implementation of an antiracism and

ethnocultural equity policy had a positive impact on the teaching practices of the

teachers who worked at Parkhill elementary school. Antiracist education at

Parkhill began to challenge the existing Eurocentric structure as the 'correct' social

structure to be modeled by all.

Ciccarelli, Silvina Beatriz (1997). ESL for Nation Building: The Origins of Federally

Funded ESL in Canada. University of Toronto, MA: 83.

The purpose of this thesis is to study the origins of federally-funded ESL in

Canada and to argue that political elites played a definitive role in the introduction

of the classes as part of a post-war nation-building strategy. Nation-building in

Canadian history has consisted of the exclusion and marginalization of

immigrants and the perpetuation of the dominant Anglo-Saxon culture. I show

that ESL instruction was introduced in 1947 not as a tool for ESL fluency but to

preserve Canadian "values," "norms" and "our way of life." Political elites

regarded this form of instruction as a guarantee of national unity in the post-war

era. Understanding the limitations of current federally-funded ESL programs

necessitates examining the interconnections of ESL, citizenship and federal

nation-building strategies. This thesis relies on a system for identifying covert

racist discourse to analyze these interconnections.

Clark, Penney Irene (1996). "Take it Away, Youth": Visions of Canadian Identity in

British Columbia Social Studies Textbooks, 1925-1989. University of British

Columbia, PhD: 358.

Textbooks are a "cultural artifact" in that they are developed and approved for use

in schools within particular sociocultural and educational contexts. As such, they

offer a glimpse of those contexts. This study examined 169 social studies

textbooks approved for use in the schools of British Columbia following three

educational turning points: the 1925 Putman-Weir Report, the 1960 Chant Report,

and the 1970 establishment of the Canada Studies Foundation. The textbooks

were examined to ascertain the views of Canadian identity which they conveyed

and how those views were redefined over time. In the Putman-Weir era, Canadian

identity involved a sense of increasing independence within an enveloping

allegiance to Great Britain and its empire. Textbooks encouraged the adoption of

characteristics of good citizenship such as loyalty to country and empire through

158
---
the use of heroic figures. The concept of Canadian identity was both inclusive and

exclusive. It was a gendered concept, excluding women. It was inclusive of most

immigrants because they were needed to people the land. It was exclusive of

Oriental immigrants because they were viewed as unable to assimilate. It also

excluded Native people, who were seen as being unable to contribute to national

progress. In the Chant era, Canada's independence from Great Britain began to be

taken for granted. Textbooks were more concerned with Canada's relationship to

the United States and its role on the world stage. Textbook authors saw a thriving

anti-Americanism as an important part of what made Canadians Canadian.

"Canadianness" included women only in peripheral roles. Immigrants, other than

Oriental, received a joyous welcome in these texts. These "new Canadians" were

expected to contribute to the ongoing tide of progress in which Canadians were

engaged. A negative tone pervaded discussion of Native peoples. The Canada

Studies era was characterized by two dominant movements. These were

promotion of Canadian nationhood and a greater inclusiveness. Ironically, pride in

Canada, as well as optimism for its future, was less evident in the Canada Studies

era texts. Inclusion was the watchword of this era.

Clarke, A. La Ferne (1995). The Process of Changed Meanings: A Study of the Canadian

Experience of Somali Women in the Kitchner-Waterloo Area in Regard to Female

Circumcision. Wilfred Laurier University, MSW: 179.

This thesis tracks the process of changed meanings. My research tells the

fictitious story of a Somali woman named Mary. She has been in Canada for less

than five years, and she moved to the Kitchener-Waterloo area, almost

immediately. The narrative tells of her transition and the issues she had to handle.

Female circumcision is the central issue in the story. Mary's thought process as

she moves from a country that supports female circumcision to a country that

calls this practice female genital mutilation has to change if she decides not to

circumcise her daughter. This Canadian story should guide other women through

this process of transition. It should also help Canadian social workers comprehend

the issues Somali women, and all women who have this cultural practice

experience. The story values the perspectives of women who have had to confront

FGM. They encountered it in childhood in one context, and now have to manage

this issue again as mothers in a different context. Their decisions will affect their

daughters' lives in their new environment. How does Mary handle situations?

What feelings unfold within her? What coping strategies are formulated? These

answers emerge when a composite of individual experiences create this fictitious

narrative, which reflects an accurate Canadian-Somali story. This story was

gleaned in a manner that was respectful and dignified and it provides us with an

understanding of what occurs when the definition of female circumcision changes

its meaning.

Clarke, Adrienne Lesley (1998). Making Literature Meaningful: Exploring Cultural

Identity in Realistic Young Adult Multicultural Fiction. Queen's University,

MED: 134.

159
---
This study focuses on the need to connect students to literature that is meaningful

to their culture and experience. Assuming that literature has the power to make

students aware of different cultural values and experiences, this thesis presents

arguments for transforming the Secondary School English curriculum so that it is

more reflective of society's growing ethnic diversity. To assist parents and

educators in the selection of multicultural literature, this study provides a model

of analysis for evaluating the cultural content of young adult multicultural fiction

books. The thematic content analysis of the nine young adult multicultural books

selected for this study examines how the theme of cultural identity is explored in

each novel. Steps in the analysis include (1) Describing the books' thematic

content, and (2) Evaluating the books' meaningfulness in relation to the young

adolescent reader. The in-depth analysis of the nine books included in this study

identified two major approaches to cultural identity as well as nine common

multicultural issues that offer insight into the kinds of issues and concerns that are

treated in young adult multicultural fiction. The potential of multicultural fiction

for engaging students in a personal exploration of literature is that it provides

them with a broader reflection of society and may help them to understand such

marginalized issues as race, class, and gender. This study's recommendations for

further research include developing new strategies for using multicultural

literature in the classroom and discovering new methods of textual response that

encourage students to see relationships between literature and their own lives.

Clarke, Andrea (1990). The Structure and Operation of the Immigration Appeal Board:

Resolving the Identity Crisis. University of Guelph, MA: 165.

This study is presented as an illustrative case of how a non-departmental body has

evolved in the Canadian administrative system. The study demonstrates the

complexities associated with the delegation of authority and the problems which

develop between departments, boards, commissions, the public, and the court

system in the formulation of immigration policy. This study focuses on the

emergence of a specific non-departmental body: the Immigration Appeal Board. It

outlines the reasons for its creation, and reviews the structure and organizational

development of the Board.

Clarke, Wilma Daygre (1996). The Process of Identity Formation in Black Youth Raised

in Radically Dissonant Social Environment. Simon Fraser University, MA: 201.

The process of identity formation in black youth, of Caribbean heritage, residing

in the greater Vancouver region of British Columbia, is the general focus of this

research. As there is a relatively small black population within this region, black

youth are raised in an environment which has been referred to by social

psychology theorists and researchers as being racially dissonant. It was

anticipated that the experiences of black youth raised in greater Vancouver may

be quite dissimilar to the experiences of black youth raised in metropolitan cities

in Canada and the United States where there is a larger black community. Some

160
---
comparisons are made with studies which focused on the process of identity

formation in black youth residing in the United States. Various theories of ethnic

identity development were used to guide this investigation. The general research

question was: What is the nature of the relationship between visible minority

status and the process of identity formation in youth? In particular, sociological

and psychological factors which may impact the development of self-concept and

self-esteem are examined. The results of this investigation indicate that black

youth raised in the greater Vancouver region develop a generally positive selfconcept

and high-self esteem, though in a racially dissonant social environment.

Factors that may be strong influences on identity formation include family and

close friends, in particular black friends, and the development of coping strategies

and a system of support for black youth. The research indicates that black youth

do not view school personnel as being receptive and responsive to their issues.

Additionally, results indicate that black youth perceive the experiences and

contributions of black people in Canada, both historically and currently, to be

both misrepresented and under represented in school curriculum.

Classen, Sigrid Ulrike (1997). The Black Madonna Figure as a Source of Female

Empowerment in the Works of Four Italian-Canadian Authors (Nina Ricci, Frank

G. Paci, Vittorio Rossi, Marco Micone). Université de Sherbrooke, MA: 130.

This thesis deals with the image of the black madonna, a pre-Christian female

deity, in the works of four Italian-Canadian authors: the works include Nina

Ricci's novel Lives of the Saints, Frank G. Paci's novel Black Madonna, Vittorio

Rossi's play The Last Adam, and Marco Micone's play Addolorata. The black

madonna, the central figure of this thesis, is not an exclusively Italian

phenomenon. Most people probably associate her with the image of the Southern

European, predominantly old, often Italian peasant woman, who is dressed in

black clothes from head to toe. The black madonna statues, however, are possibly

connected with the veneration of a female divinity, the Great Mother, Great

Goddess, primordial goddess, and even earth mother. In his early myth and

folklore collection, Sir George Frazer concluded that the "great Mother Goddess

(of Western Asia), the personification of all the reproductive energies of nature,

was worshipped under different names but with a substantial similarity of myth

and ritual" (Frazer 299).

Clifton, John Stewart (1988). "Racism," Persuasive Definition and Linguistic Choice.

University of Guelph, PhD.

Since "racism" is both a vague and a highly emotive term, attempts to define it

often result in what C. L. Stevenson has called "persuasive definitions." A

persuasive definition gives a specific descriptive meaning to a term without

altering the term's emotive force. Some persuasive definitions are objectionable

on the grounds that they are in fact stipulative while masquerading as lexical in

order to garner certain rhetorical advantages. In recent years a number of

philosophers have provided definitions of "racism" that differ significantly from

161
---
one another. In the introduction to this study, both good and bad persuasive

definitions are discussed. In the succeeding chapters, case studies of discussions

of "racism" by a number of contemporary philosophers are provided with the aims

of clarifying their accounts and ascertaining whether or not they succumb to the

error of providing objectionable persuasive definitions. Some of the accounts are

shown to contain important errors of vagueness, while others are found wanting in

regard to their approach to "racism"'s emotive force. Eventually the question of

whether "racism" is a term that has become too vague and emotive to be of any

legitimate use is considered. Although the case studies do not provide an

unambiguous answer to this question, they do provide a methodology for avoiding

the kinds of problems that terms like "racism" can engender. Finally, a denotative

definition focusing upon certain catastrophic events in race relations during the

modern era is recommended to serve as the central or nuclear meaning of

"racism." It is argued that in light of a number of crucial historical considerations

this definition will best make use of "racism"'s potential as a linguistic mnemonic

device.

Cobb, John M. (1991). German Lutherans in the Prarie Provinces Before the First World

War: Their Chuch Background, Emigration, and New Beginnings in Canada.

University of Manitoba, PhD: 441.

In this dissertation the author examines the development of German Lutherans in

the Prairie Provinces against the background of their historical experience in

Europe. The evidence indicates that a large majority of the immigrants originated

in Russia, especially Volhynia, and in Austria-Hungary, especially Galicia. Here

they generally lived in cohesive communities (Gemeinden) centered on church

and confessional school. In both Russia and Austria-Hungary their Gemeinden

formed, as is it were, "Germanic islands in a Slavic sea." Only a minority of

German Lutherans came from Germany itself. However, the influence of this

minority, which included many pastors and writers in the German-language press,

was great as German Lutheran church life developed in western Canada. German

Lutherans in western Canada, as they are identified from the census, were about

twice the number which Lutheran church bodies claimed as members. To the

question: Why did so many religious people not rejoin the Lutheran church? the

study answers: the original pastors who answered the call to western Canada

attempted to guide the settlement of Lutherans back into cohesive Gemeinden

such as the latter had experienced in Europe. However, conflict occurred within

their parent church body over the question of German missions in Canada. The

resulting weakness from this conflict led to the entrance of competing Lutheran

church bodies. After 1895 German Lutheran church life was marked, not only by

a weakness in shepherding a large number of immigrants scattered over a huge

territory, but also by energy robbing and demoralizing ecclesiastical conflict. A

consequence of this conflict was that, although all held to an ideology which had

gained strength in the minority context of eastern Europe, the Lutheran church

bodies in western Canada had but partial success in setting up the parochial

schools on which the churches believed their future would depend.

162
---
Codjoe, Henry Martey (1997). Black Students and School Success: An Study of the

Experiences of Academically Successful African-Canadian Student Graduates in

Alberta's Secondary Schools. University of Alberta, PhD: 450.

This dissertation investigates, documents and analyses the experiences of

academically successful Black youth in Alberta schools. Previous research has

focused on describing and explaining the low academic achievement of Black

students. Rarely do these studies identify Black students who are academically

successful in school and determine what factors are associated with their success.

Using a narrative methodological approach within qualitative research traditions

and a multicultural/anti-racist education theoretical framework, the study

investigated 12 African Canadian students who have experienced academic

success--with the goal of contributing toward more hopeful futures. Through

individual and focus group interviews, supplemented by relevant research, the

study provides personal insights to help gain an understanding of how some

Black students have succeeded in school in spite of the odds against them. The

findings of the study show that contrary to popular opinion and research, not all

Black students make poor choices about education. Black students also develop

successful academic skills. A positive Black racial identity, enhanced with an

awareness, pride and knowledge of Black and African affairs is crucial to school

success. The implication here is that minority status and identity do not and

should not always lead to negative educational outcomes. These and other

findings of the study are generally supported in the research literature. In the

belief that society can do more to improve educational chances and success for

Black and other minority students, the study identified four areas in which

educators and policy makers can take specific actions to encourage and promote

academic achievement among students from minority populations. Specific policy

recommendations based on participants' feedback and current educational

research and practices are also presented.

Cogan, Karen Beth (1999). Inside Intermarriage: The Experiences of Gentile People

Married to Jewish Spouses. University of Alberta, PhD: 207.

Canadian intermarriage rates between Jewish and Gentile people have risen

significantly over the past several decades. Most related research has been

generated in the United States and focuses on Jewish concerns for continuity and

survival. This dissertation focuses on the experiences of seven Gentile people

married to Jewish spouses who were living in Edmonton, Canada. Three females

and four males, ranging in age from 27 to 55 years old, with backgrounds in the

Catholic, Anglican, United, and Mormon churches, were interviewed twice. Most

individuals had been intermarried for a minimum of seven years. Four participants

had been married only once, whereas three had been married previously. Two

participants had children as a product of their current marriage and three

individuals had children through previous marriages. The goal of the unstructured

interviews was to elicit rich descriptions of intermarital experiences. A

163
---
phenomenological methodology was employed to collect and analyze the data and

to extract common themes generated by the narratives. Participants felt that they

were more like their partners than different, and more importantly that they were

compatible. Through the course of their marital lives they benefited from social

support and also faced external challenges from rabbis, parents, friends, and

communities. The ability to manage negative influences depended on a number of

interconnected factors, including the internal and external resources of couples.

Formal study, mentorship from Jewish families, and experience over time helped

those who were initially unfamiliar with Jewish traditions to "learn the ropes" of

Jewish life. Juggling life cycle milestones, traditions, and choosing the religious

identity of children required negotiation, flexibility, communication, and mutual

respect. Marital dynamics strongly impacted the navigation of religious and

cultural differences. Over time, participants gradually felt more like insiders with

respect to the Jewish community, however some believed that they would never

fully internalize a strong sense of Jewish identity. Some felt more like outsiders

with respect to their Gentile communities as a byproduct of intermarrying.

Participants did not define their relationships by religious or cultural differences

and overall felt that intermarrying had widened their horizons. Implications for

counselling and research are discussed.

Colalillo, Giuliana Giovanna (1981). Value Structures Within Italian Immigrant Families:

Continuity or Conflict? University of Toronto, PhD.

Much of the existing literature on the adjustment of immigrant families suggests

that the family is a disintegrating unit surrendering to the pressures of

assimilation. Many theorists and researchers in the areas of immigrant and ethnic

studies maintain that there is incompatibility between the attitudes, beliefs and

values of immigrant parents and their children due to the latter's more rapid

socialization to the values and norms of the host society. This incongruity is seen

to result in cultural conflict and stress within the family leading to the alienation

of the children from the immigrant parents and their traditional norms of

behaviour. Yet another body of literature suggests that children of immigrants

come to strongly identify with their cultural and linguistic heritages, and in fact

may choose to integrate many of their parents' values and traditions into their own

life styles. Moreover, the immigrant parents themselves also adapt to the new

society by modifying their attitudes and beliefs, thus creating a more suitable

framework for the family's adjustment. This thesis adds to this latter research by

exploring the issue of cultural sharing and continuity within the Italian immigrant

family. This was done in two ways: (1) The value structures of 75 Italian

immigrant parents and their adolescent children--37 daughters and 38 sons--were

compared on the Rokeach Value Survey. (2) The perceptions of a smaller group

of Italian immigrant parents and adolescents of Italian immigrant background to

issues arising from living in a bicultural setting were recorded. The results of the

Value Survey supported the hypothesis of cultural sharing and continuity: there

was substantial similarity between the value structures of the Italian immigrant

parents and their adolescent children in the sample studied: females tended to

164
---
have more similar value structures to that of their parents than did males. This

difference may be due to the differential socialization experiences of the girls and

boys in the Italian immigrant family. In addition, there was a high degree of

similarity in the value structures of the Italian and a comparison group of

Canadian adolescents. However, a number of significant differences in the mean

standard scores of specific value concepts differentiated the Canadian and Italian

adolescents as well. The 13 parent and adolescent interviews in the thesis

represent a variety of views and perceptions with regard to living in a bicultural

setting. The interplay among the parents and the adolescents on three themes

discussed in the thesis--the issue of freedom, the italianita' (italianess) of the

adolescents, and the concept of a derived culture--provided ample evidence of

cultural continuity and sharing within the Italian immigrant family. The results of

this research provide a firm basis from which a new image of the Italian Canadian

family can evolve. The Italian immigrant family does not appear to have

surrendered to the forces of assimilation as described by assimilation and culture

conflict theories. Contrary to the stereotype model, the findings of this thesis

suggest that the Italian immigrant family is an adaptive and resourceful unit which

develops its own adjustments in response to the expectations and pressures of

living in a bicultural setting. There may indeed be differences among Italian

immigrant parents and their adolescent children, but it is misleading to

automatically attribute the cause of such disagreement as being prima facia

evidence for fundamental discontinuity. The results of the present research

suggest that despite other potentially influencing factors, we must account for a

substantial degree of congruence in the value priorities of members of Italian

immigrant families.

Coleman, Daniel (1995). Masculine Migrations: Reading the Postcolonial Male in New

Canadian Narratives. University of Alberta, PhD: 353.

Masculine Migrations argues that assumed gender practices are often troubled

when a person migrates from one culture to another, so migrant narratives offer an

opportunity to examine commonly hidden masculine codes at a time when they

are under transition and reevaluation. Drawing on social constructionist theories

of gender and sexuality, as well as the insights of postcolonial and Canadian

multicultural studies, this work dismantles the conventional male/female gender

binary by examining masculinities in a diversified field of social relations, which

includes considerations of ethnicity, race, class, inherited colonial history,

transcultural migration, and contemporary postcolonial politics. The dissertation

considers how the cultural disruptions in contemporary narratives by male

Canadian authors of non-European descent intensify the struggles between social

constraints and innovative practices in representations of migrant masculinities. In

delineating the historical, cultural, economic, and political structures that

constrain these masculinities, Masculine Migrations seeks not only to expose

illusions of masculine self-sufficiency and plenitude, but also to observe how

different masculinities have various relations to social power. Chapter One shows

how the codes that exclude non-white immigrants from the centres of financial

165
---
power in Toronto simultaneously call forth and condemn the protagonist's

struggle for social status in two stories from Austin Clarke's collection, Nine Men

Who Laughed. Chapter Two demonstrates how the historical and continuing

commodification of black men's sexuality in North America limits the liberatory

potential in Dany Laferriere's parody How to Make Love to a Negro, threatening

to recuperate it back into demeaning discourses of racialized sexuality. Chapters

Three and Four examine Neil Bissoondath's A Casual Brutality and Michael

Ondaatje's Running in the Family respectively, while Chapter Five focuses on

Rohinton Mistry's Such a Long Journey and Ven Begamudre's Van de Graaff

Days. These three chapters show how traumatic histories of colonial and

postcolonial migration work intimately in family structures to challenge and

displace the conventions of male authority expressed in patrilineal continuity,

patriotic loyalty, and patriarchal power. By focusing on the historicity of

masculinities' shaping factors, Masculine Migrations emphasizes a kinetic and

diversified, rather than static and monological, conception of gender.

Collin, Sarah Christine (1996). Matters of Multiculturalism: Approaching a Canadian

Politcs of Belonging (Micheal Ondaatje, Rohinton Mistry, Shyam Selvadurai).

University of Guelph, MA: 130.

By juxtaposing Canadian media and historical texts with three South Asian

Canadian fictions--Michael Ondaatje's Running in the Family, Rohinton Mistry's

Tales from Firozsha Baag, and Shyam Selvadurai's Funny Boy--this thesis

examines issues of Canadian multiculturalism. The thesis argues that, from a

South Asian historical perspective, becoming part of Canada has involved a

complexity of social politics. To approach matters of multiculturalism by

contrasting Canadian 'facts' with South Asian Canadian fiction means, then, a

careful consideration of the public and personal negotiations involved in a South

Asian person's choice to immigrate to Canada. In its examination of Ondaatje,

Mistry, and Selvadurai's texts, the thesis insists that, in reading other historical

and media discourses, we remain critically aware of one, constructions of

difference, and two, ideas of Canada.

Collins, Jendju (1996). The Courtship Crisis: Traditional Middle Eastern Courtship,

Marriage and Sexual Knowledge Transmission in a North American Context with

Implications for Education. University of Alberta, MED: 171.

Immigrant communities, particularly small ones, often face pressures to adjust

their behavioral archetypes to a new context. This study examines this issue

within the Christian Arab Canadian community in Edmonton. In order to conform

to contemporary peers, teenagers and young adults find themselves rebelling

against parental authority. They also find themselves forced to reject one of their

own culture's traditional core aspects--the female ideal or archetype. Conflict

arises between parents and children over dating and marriage. This propels the

family into a crisis situation: the "Courtship Crisis". This study also examined

formal and informal knowledge transmission concerning courtship, marriage and

166
---
sexual behavior both within the Middle Eastern and Canadian context. Findings of

this study have implications for the field of anthropology and educators who are

working with populations which experience these kinds of socio-cultural

conflicts.

Conle, Carola (1993). Learning Culture and Embracing Contraries: Narrative Inquiry

Through Stories of Acculturation. University of Toronto, PhD: 441.

This thesis arises out of my narratives of acculturation experiences in several

settings: language learning; immigration; graduate studies; male/female

interactions; teacher education and multicultural classrooms. In each of these

settings an encounter of difference took place within perceptions of similarity. In

narrating such encounters I profiled dialectical tensions that created a learning

dynamic when they were allowed to merge with academic inquiry. Life and

inquiry came together through narrative forms of experience and a narrativization

of phenomena. Narrativization, or the need to perceive phenomena contextually

(within plots, characters, milieux, moods and moral dimensions) gave the tensions

a personal and cultural history and moved my inquiry along. Narrativization also

was the telos or implicit, often tacit, end-in-view that gave direction to my

inquiry. I consider this process as not irrational, but as one where thoughts and

phenomena were linked through resonance via metaphorical connections. When I

focused specifically on several such sets of connections (e.g. in my own thesis

writing), I perceived a "third term" in common to the metaphors of a set. This

"third term" motivated the resonance. As this motivation became clearer to me, I

recognized it as the need to counter certain dangers in acculturation processes: a

maneuvering of abstractions, relations to power, and the loss of self in an

osmosis-like taking-on of the new. These clarifications moved my

autobiographical inquiry to deeper and simultaneously wider issues, such as the

lived significance of the history of which I was a part, and the acculturation

experiences of others. I consider this kind of narrative inquiry as educationally

significant for the heterogeneous groupings in a multicultural society, once the

danger of stereotyping is held in check. In my experience it was helpful to view

stereotypes as "hardened stories in the air" that needed narrativization to lose their

power. My inquiry was also important to me as a member of cultures dominated

by technological ways of doing and perceiving; it created an awareness of a

prevalent "forgetfulness of being" that I and others experienced.

Connelly, Christine Diane (1998). Haciendo un poquito de des/enlace/ You'll Get it on

your way out: Opening a Space for Listening/Possibility. Queen's University,

MED: 210.

In this thesis, I document the experiences named by young women who were

invited to talk about their lives in their Eastern Ontario host community as

newcomers from various parts of Latin America. This documentation attended to

the social construction and location of the young women's voices and their

problematizing from both empirical and theoretical perspectives. I present an

167
---
understanding of how a grounded theory/emergent design methodology might

support a participatory research approach toward problematizing young women's

everyday experiences. The empirical work in this thesis reflects conversations

with young women, their mothers and members of their communities. I

negotiated, over a period of several months, with several research participants

towards making sense of the young women's personal experiences with dual or

multiple cultural membership. In the early phases of this study, research

participants included community support agency members having expertise in

cross-cultural communication and social justice work, parents/guardians who

were newcomers from Latin America and their daughters (young women aged 10

to 13 years), friends and relatives of the young women, faculty members and

research colloquium participants. In later phases of this work, two mothers and

two young women, key participants in the research, expressed interest in carrying

the work from earlier phases into further research activities. I suggest through my

presentation of the mothers' and young women's voices that young women are

situated within multiple, shifting hegemonic discourses where they participate in

cultural and linguistic activities in particular ways. I demonstrate that hegemonic

systemic forces construct the possibility of spaces within the young women's

social context as problematic. I illustrate that the researcher must attend carefully

to the social dynamics in the construction of spaces if young women's voice and

the problematization of young women's experiences is to become a possibility.

Conner-Schisler, Anne-Marie (1996). The Effect of Environmental Change on Daily

Occupations: A Case Study of Burundian Refugees Living in Southwestern

Ontario. University of Western Ontario, MSC: 105.

This ethnographic research explores the change that occurs in daily occupations

when an individual's environment is drastically altered. In particular, the

experiences of eight adult refugees who relocated from Burundi, central Africa, to

Southwestern Ontario will be examined. Data were collected by the researcher as

both an informal and formal participant observer in the Burundi community over

a period of 16 months, from November 1994 to March 1996. The findings of this

study indicate that the participants experienced physical, socio-cultural, political

and economic environmental changes. These changes impacted all aspects of

daily occupations and shifted over time. In addition the participants' perceptions

of themselves and others were altered by environmental and occupational change.

Participants indicated that occasionally occupations continued as before but that

most frequently they were altered or abandoned with new occupations being

added. With few exceptions, occupational opportunities were mediated by the

person.

Connors-Stack, Margo (1995). Multicultural Education: A Critical Analysis of Policy and

Curriculum. Memorial University, MED: 194.

This study is a critical analysis of the Government of Newfoundland and Labrador

Multicultural Education Policy: Responding to Societal Needs (1992). It is also a

168
---
critical examination of the materials prescribed for the current Grade Nine

English literature curriculum in the Province of Newfoundland and Labrador in

relation to the Multicultural Education Policy and multicultural education in

general. The Multicultural Education Policy is analyzed to determine whether it

presents a clear understanding of multiculturalism; a clear vision of multicultural

education; a framework and philosophy for curriculum revision; as well as a

recognition of the challenge geographic isolation and ethnic homogeneity present

to multicultural education. The literature materials are examined to determine the

extent of multicultural spirit or representation contained therein. The potential for

the literature materials to foster an understanding of multiculturalism, to be used

in a multicultural education curriculum, and to bridge geographic isolation and

ethnic homogeneity is presented. The Multicultural Education Policy is found to

present a superficial understanding of both multiculturalism and multicultural

education. The sampled literature materials are found to be generally inadequate

for use in a school curriculum dedicated to multicultural education. The analysis

of the Multicultural Education Policy and the sample literature materials provide

implications for the future implementation and effectiveness of multicultural

education in Newfoundland and Labrador. Recommendations for the

implementation of multicultural education in the Province are provided, as well as

specific recommendations concerning the Grade Nine literature curriculum

materials in relation to multicultural education. Finally, critical questions are

raised as possibilities for future research in the area of multicultural education in

Newfoundland and Labrador.

Cook, Phillip (1989). Chronic Illness Beliefs and Health Seeking Behavior Among

Chinese Immigrants, Indian Immigrants and Anglo-Canadians. Queen's

University, MA: 167.

Recent trends in research on illness behavior have revealed that if actions are to

be effective in the prevention of disease and in the promotion of well being, they

must be based on an understanding of culture, traditions, beliefs, and patterns of

family interaction. In an attempt to better understand the role of the popular sector

in defining and treating long term illness three cultural groups (Indian-, Chinese-,

and Angloceltic-Canadians) were surveyed in the greater Kingston areas. Subjects

(total N = 182) completed a questionnaire concerning their illness beliefs and

treatment intents for long term illness. Long term illness was defined as any

illness of more than one month duration. Items were grouped into scales on the

basis of their affinity with either a biomedical, psychosocial, or phenomenological

conception of long term illness. Further changes were made to better represent the

beliefs of the cultures in question. While some problems were identified with the

questionnaire, results indicate the existence of three culturally specific patterns of

belief, and support is found for theories linking a person's illness beliefs and the

treatment sought on the basis of these beliefs.

Cookson, Catherine Jean (1996). Embedded and Upfront: Transforming Curriculum to

Meet the Challenge of Educational Equity. Simon Fraser University, MA: 151.

169
---
The Lower Mainland of British Columbia is growing rapidly with the ethnic

make-up of the area continuing to diversify. The students at the College reflect

this diversity. As well, over 50% of the students are women, the average age is 24

years, and 35% of the students have languages other than English as their

"mother-tongues". The study is based on interviews done with faculty at the

College who self-identified as interested in the concept of educational equity.

Many of the faculty participants are endeavouring to change their courses and

programs to take account of the diversity of students. For some, the diversity of

the community is also important as their programs prepare students to live and

work within the community. The work of curriculum transformation requires

dialogue, reflection, and action. These processes of change disrupt the privacy of

teaching/learning by opening up the curriculum contents and processes for

examination. The systems of the institution which support the curriculum are

therefore also subject to change. The relationships between faculty and students

are affected by the recognition that who the students are and where they live and

work matters in the design of curriculum. This study argues that factors which

profoundly affect people's lives such as gender, race, class, sexual orientation, and

disability need to be considered as interrelated. We need to move away from

prioritizing one factor over another. As well, links between educational and

employment equity are seen as essential. This research identified language

competency as a critical and complex issue in the work on educational equity.

Entry level competencies, exit requirements for language use, the necessity of

common language use for critical dialogue, and how language acts as a screen are

all components requiring further exploration.

Cooper, Afua A.P. (1991). Black Teachers in Canada West, 1850-1870: A History.

University of Toronto, MA: 186.

Cooper, Constance M. (1994). Race and Gender: The Question of Authorship in African-

American Women's History. University of Windsor, MA: 135.

Through an examination of historical works written by blacks and whites, and the

criticisms made about their publications, this thesis traces the history of the

authorship debate. The first chapter begins with a summary explaining why black

nationalists felt so strongly that white authored black history weakened their

liberating efforts. Next, I compare nationalists' claims with histories written by

whites during the 1970s. My study confirms that nationalists' fears were partially

justified because whites dominated black history. The next chapter examines

writings in American women's history and discovers that black feminists reproblematized

white authorship. Unlike the history of slavery, African-American

women's history was developed by black women. In addition, most black

feminists were in agreement that white feminists had to work harder to

incorporate race into their findings. Once white feminists began to address race,

the debate re-surfaced and some black feminists challenged white women's

170
---
attempts to include race. Black activist and feminist Bell Hooks was critical of

whites writing black history. She also argued that whites could write about blacks

if they challenged structures of domination, like the organization of race, class

and gender. The final chapter focuses on the development of postmodern theory

in historical investigation and explores the consequences of whites studying

blacks in a changed intellectual milieu. Since postmodernism challenged many of

the assumptions and practices of contemporary scholarship, it became easier for

whites to write about blacks without appropriating their voices. Postmodernist

historians such as Joan Scott, for example, deconstructed the concept of

difference and argued that a perception of "other" was something discursively

produced

Cooper, Kenneth Paul (1997). The Faith Community as Extended Family: The Influence

of Shared Spiritual Values as Experienced by Baha'i Famileis in the Cowichan

Valley. University of Victoria, MA: 116.

This is an exploratory study on the community context of family life, using in

depth group interviews to examine the perceptions of Baha'i adults, children and

youth about how the Baha'i community influences their family life. The study

provides a glimpse into the nature of the Baha'i family; addresses the influence

which dominant beliefs or life perspectives have on standards of behavior; and

articulates a community paradigm which provides a value-based social network

that is organized to provide diverse and challenging experiences and which holds

the potential to do so in a more deliberate manner. The findings suggest that the

influence between the family and religious community can be reciprocal and

mutually beneficial, giving access to additional human resources, grounded in

common values and principles, and thereby extending, supporting and

strengthening the family.

Coopsammy, Madeline F (1987). The Development of a Multicultural Short Story

Anthology for Grades Ten to Twelve in Canadian Schools. University of

Manitoba, MED: 107.

N/A

Corbeil, Jean Pierre (1992). Vision et agir Linguistiques chez des jeunes non-

Francophones de Quebec. McGill University, MA: 147.

Abstract in English/Text in French - The role of ethnic minorities in present day

Quebec is clearly one of the important topics which many researchers and social

players of diverse political and cultural allegiances have addressed and still

continue to address. The study which follows, attempts to show the importance

which is given to French by certain non-francophone youths attending French

schools and colleges in the regions of Montreal and Hull. The analysis of sociolinguistic

attitudes and behaviours of these youths, as well as their vision of the

future with respect to the French or English reality is especially needed, as school

171
---
aged youth are the ones who will soon become important actors in a Quebec

which is becoming more and more multicultural. This kind of analysis is also

important because it allows for a better understanding of the causal factors

underlying these attitudes and behaviours. It is therefore the achievement of these

objectives with which the following study is concerned.

Corlett, Kristi Aileen (1995). A Dream of Homogeneity: Arthur Lower's National Vision

and its Relationship to Immigrants and Immigration Policy in Canada, 1920-1946.

Queen's University, MA: 235.

This thesis examines historian Arthur Lower's thought regarding the Canadian

nation and its relationship to immigrants and immigration during the period 1920-

1946. Lower was one among several young Canadian historians who pioneered

the writing of a distinctly North American brand of Canadian history in the years

following World War I. His passionate national vision, his sharply critical

outlook, and his provocative style of writing set him apart from his peers. His

particular concern with immigration had to do with its effect on the ethnic,

demographic, and cultural ideals he longed for Canada to achieve. Convinced that

the nation was as yet in a fledgling stage of development, vulnerable to strongly

divisive social, economic, and political forces, Lower hoped for the emergence of

a homogeneous Canadian 'type' which was white, Anglo-Saxon, and Protestant in

character. He fixed his dreams for Canadian unity and national maturity on this

archetype. Consequently he rejected the idea that Canada could flourish as a

multicultural body, and pinpointed the immigration of non-Anglo-Saxon groups

like Poles, Ukrainians, Chinese and Japanese as particularly damaging to the

growth of the nation. Lower's personal papers, his historical writings, as well as

the relevant observations of contemporary and past historians and colleagues are

all sources in the critical exploration of Lower's anti-immigrationist outlook. The

aim of this thesis is to contribute to a fuller perspective on one of Canada's most

important--and controversial--historians..

Cornish, Cynthia Dale (1992). Unfree Wage Labour, Women and the State: Employment

Visas and Foreign Domestic Workers in Canada. University of Victoria, MA:

179.

The present study examines federal government programs to admit women to

Canada as foreign domestic workers, their exclusion from labour standards

legislation, the conditions of work and wage-rates which result from this

exclusion, and attempts to organize foreign domestic workers. The thesis

maintains that foreign domestic workers represent a modern form of unfree wage

labour since they are required to remain in domestic work as a condition of entry

to Canada. The study also examines the intersection of gender, class and ethnicity

in the foreign domestic labour process. It is argued that the employment of foreign

domestic workers in the homes of privileged families gives rise to differential

experiences of oppression by women of different classes and ethnic origins.

172
---
Corson, Patricia Jean (1998). Anti-Bias Education in Early Childhood: Preparing

Teachers For Diversity. University of Toronto, EDD: 163.

In response to the changing demographics of Canadian society, this thesis

proposes that anti-bias education is a key to working with young children and

their families to respect and recognize the validity of ethnocultural diversity, and

to nurture cross-cultural awareness and understanding. Using qualitative

methodology integrating a critical perspective, the study collected data on Early

Childhood teacher preparation programs across Ontario to determine what

strategies were in place to prepare teachers for working with diversity.

Comprehensive data was gathered using a triangulation of interviews, document

analysis and focus groups. A content analysis of the documents and the transcripts

raised several themes which were discussed in the context of a wide ranging

literature review. Verbatim comments from the transcripts give voice to the

participants. The findings suggested that while efforts were being made to prepare

teachers for diversity there were many barriers to overcome. The thesis concludes

with a model for incorporating diversity content into early childhood teacher

preparation programs and offers recommendations for implementation.

Cosgrove, Gregory Tracey (1982). Home Training of Parents of Culturally Different

Junior Kindergarten Children. University of Toronto, PhD: N/A.

This study involved the evaluation of results of a home-based outreach

(intervention) program designed to assist parents of culturally different junior

kindergarten children to refine their teaching skills. Subjects totaled one hundred

and eighteen children ranging in age from forty to seventy-five months and

represented a wide variety of cultural and ethnic groups and placed in five junior

kindergarten classes in two elementary schools. Pre-test data were gathered on all

subjects using the following instruments: The Slosson Intelligence Test; The

Screening Test of Academic Readiness; portions of the AAMD Adaptive

Behaviour Scale; The Goal Attainment Scale and the Fels Parent Behavior Rating

Scale. The parents of the subjects in the treatment group received from October

through May, a series of weekly visits from specially trained paraprofessional

workers who were themselves members of the immediate community with

children of their own in the junior kindergarten classes. During each of these

visits the paraprofessional would present the parent(s) with an educational task

ideally based on a parent-generated idea that parents would then attempt to teach

their child. The subsequent visit would serve to evaluate the previous week's

efforts and also, present the new task. Posttesting on the same instruments used

for pre-testing took place at the end of the program. As well, data were gathered

through the use of participant questionnaires. Twenty-one hypotheses were

proposed related to changes in the mental age, academic readiness, adaptive

behavior, goal attainment and parent behavior scores. Fifteen of these hypotheses

were accepted and six were rejected following the employment of an analysis of

covariance procedure with appropriate pre-test scores and IQ as covariates. A

discussion of the results particularly as regards the rejected hypotheses and

173
---
commentary on the results of the participant questionnaire was included. It was

concluded that sufficient evidence was gathered to support the contention that this

home-based paraprofessional outreach program was successful as far as its effects

on the treatment group were concerned. A discussion of the limitations of the

study and suggestions for further research are also included.

Coulson, Rosilyn Gaye (1989). The Change in Human Capital Transfers to Canada from

Less Developed Countries: 1967-1987. Simon Fraser University, MA: 212.

This research accomplishes two tasks. The first is a measurement of the human

capital inflows, in the form of professionals, from less developed nations to

Canada, over the period of 1974-1987. The replacement cost concept, i.e., the cost

to Canadians of producing a worker with an equivalent level of education of an

immigrant upon arrival, is used as a measurement of the value of an immigrant's

human capital. The second task is to use the estimates of human capital inflows to

test for any changes in the quality of immigrants entering Canada over the period

1967-1987. This is accomplished by combining the current research with the

earlier work of D. DeVoretz and D. Maki. The specific definition of educational

attainment indicating quality of the immigrants' human capital content imposes

severe limitations upon any conclusions made about immigrants over this period.

Nonetheless, this method is employed for two reasons; first, to provide a

comparison with the earlier study of D. DeVoretz and D. Maki, second, because

of inherent data limitations. The main finding indicates that there has been no

decline in the value of human capital of immigrants from less developed countries

to Canada in the professional occupations from 1967-1987.

Couton, Philippe (1995). Cultural Congruence in Education: Haitian Educators in Quebec

Schools. McGill University, MA: 97.

A growing body of both substantive and theoretical literature suggests that

educational underachievement among certain ethnic groups is due to the cultural

discontinuity between mainstream education and minority students. A pedagogy

that both uses and reinforces the culture of ethnic minority students, implemented

by ethnically similar teachers, is therefore thought to contribute to a more

constructive school experience and strengthen the social and political status of

the ethnic community as a whole. For this thesis, a group of Haitian educators

working in Montreal area schools was interviewed to investigate the extent to

which this approach is viewed as a potential solution to the low academic

achievement of numerous Haitian students. Some evidence was found that

culturally congruent education is, according to the experiences of some of the

respondents, a potentially beneficial strategy to curtail educational inequality. In

was generally argued, however, that this should be a limited, remedial strategy

with little bearing on the communal survival of the Haitian community.

Cox, Sarah Rhiannon (1996). Seeing Red: The Challenge of Competing Claims on

Canadian Identity. Concordia University, MA: 161.

174
---
We are leaning, more and more, towards an exclusionary approach in our

individual and group behaviour and the consequence is a focus on unique

identities at the expense of a collective Canadian community. Canadian public

policy, including the Canadian Charter of Right and Freedoms and the

Multiculturalism Act, has encouraged this lack of consensus, has promoted

divisiveness, and has contributed to the erosion of a national identity. Nationalism

and identity have emerged as strong forces among Native nations across the

country. Native peoples are a significant and essential part of Canadian society. If

we have failed in the last 200 years in developing a serious rapprochement

between Native peoples and original European settlers, how can we claim

credibility in dealing today with a multitude of new "settlers?" There is no doubt

about the continuation of identity group claims and their persistent challenge to

Canadian identity. Our tradition of developing and implementing ambiguous

policy, a quintessentially Canadian feature, may have worked in the past, but it is

inadequate in dealing effectively with the dilemmas we face currently, and will

continue to face in the future.

Craft, Kenneth Edward Percy (1987). Canada's Righteous: A History of the Canadian

National Committee on Refugees and Victims of Political Persecution. Carleton

University, MA: N/A.

By 1938 a small group of Canadians were aware that Germany's Nazi regime was

following a policy of expelling Jews. In the years leading up to the Second World

War the League of Nations Society in Canada sought to aid these refugees. In late

1938 they realized they could no longer assist refugees and fulfill their other

humanitarian obligations. In October 1938 the League of Nations Society in

Canada executive voted to create a Canadian National Committee on Refugees

and Victims of Political Persecution (CNCR). This thesis is a study of their work

and an examination of the ideas which motivated their members to action. It will

outline the activities of the CNCR which included lobbying the Government to

admit refugees, publishing literature on the refugee question and assistance of

refugees upon arrival in Canada. It demonstrates that most members were

motivated to this service by a belief in internationalism or in the social nature of

Christianity.

Craig, Terrence L. (1982). Attitudes Towards Race in Canadian Prose Fiction in English,

1905-1980. University of Toronto, PhD.

During the last seventy-five years, literature has increasingly been concerned with

the social consequences of racism. In Canada, with its ethnically diverse

population and its history of immigration, prose fiction has reflected this concern

in varying ways and degrees. After examining theories of race and potential

causes of racism, with special attention to Gobineau, this thesis studies the

changes in racial attitudes apparent in prose fiction written between 1905 and

1980. The study begins in the West, examining popular opinion about

175
---
immigration before concentrating on the work of Gordon, Stead, and Gibbon to

define an English-Canadian concept of WASP superiority. These authors

attempted to monopolize the cultural future of Canada, at times in racial terms.

Their complacent patronization of immigrants from other, so-called "alien"

groups was a defensive activity protecting their class interests as well as

contributing to the ideals of the British Empire, but it was often expressed as part

of a struggle between races. In the early twenties an opposing attitude was

presented by immigrant writers defending their groups from ubiquitous

discrimination. Grove and Salverson best exemplify this reaction, asserting the

cultural pride of various groups and their indignation over their treatment. A

mixture of racial theories appears in these works, and while no unified defense

was achieved, the cumulative effect of a number of individual voices constituted a

counter-reaction to the English-Canadian attitude. During and shortly after World

War Two, some liberal-minded English-Canadian authors synthesized these two

positions into a multicultural concept that deplored racism while promoting

mutual tolerance. Single novels by Graham, Bodsworth, and Callaghan

demonstrated a new concern for the exposure and eradication of racial

discrimination. Their attitude was taken further by Wiebe's novels in which

history is reconstructed in order to more objectively present the truths of group

conflicts without the qualitative favouritism that biased fiction such as Gordon's.

Presentation of social truths, regardless of group affiliation, and the acceptance of

humanity as a whole without qualitative distinctions, characterizes this

contemporary attitude. The conclusion evaluates the various approaches to racism

that Canadian authors have used in their fiction.

Crawford, John Darroch (1990). The Maltese Diaspora: The Historical Development of

Migration from Malta. University of Victoria, MA: 145.

A study of the complexities of migration in relation to Malta, its history and

geography, provides the general framework for an examination of three separate

topics: emigration from Malta to Canada in the period from 1945 to 1960; the

movement of Maltese between countries overseas; and return migration to Malta.

This study argues that population pressure and economic factors alone are

insufficient explanations for the high levels of Maltese emigration. Equally

indispensable were chain migration, active government support of emigration, and

cultural acceptance of migration by the Maltese people, and the receptiveness, at

times, of receiving countries to Maltese immigrants.

Crealock, Ardith Erin (1993). The Homestay Experience: Its Linguistic and Cultural

Effects. University of Alberta, MED: 138.

This study addresses the question of how the homestay experience affects the

aural/oral English language skills, cross-cultural awareness and personal

development of high school-aged participants. Nineteen Japanese homestay

students who attended rural Alberta high schools and lived with host families

through an organized homestay program completed listening and speaking tasks,

176
---
and personal interviews at intervals during the 1991-92 school year. The results

showed that most aspects of the students' listening and speaking skills improved

significantly. Students remained positive about the English language and its study,

and Canadians and their lifestyles and culture. They became aware of the

similarities and differences between Canada and Japan and began to think

critically about the ways of life in each country. The students also experienced

and recognized their personal development and in addition their plans for the

future became more focused. Students felt that they had learned many things

about language, culture and themselves. Athough the homestay experience had

positive effects on the students' aural/oral language proficiency, cross-cultural

awareness and personal development, they felt that the agencies administering the

program did not offer them enough information or support to help them prepare

for the homestay.

Creese, Gillian Laura (1986). Working Class Politics, Racism, Sexism: The Making of a

Politically Divided Working Class in Vancouver, 1900-1939. Carleton University,

PhD.

This dissertation addresses the articulation of class, ethnic, and gender relations

among the working class in Vancouver during its formative period, between 1900

and the eve of the Second World War in 1939. The historical development of a

labour market segregated by ethnicity and gender is traced, and the effect of

labour market segregation, ethnic relations of white domination, and patriarchal

relations of male domination on the political practices of the working class is

assessed. It is shown that the economic and political marginality of Asian and

women workers in British Columbia affected their involvement in the Vancouver

labour movement. Although many Asian and women workers played an active

role in labour struggles, both were in a much weaker position than white male

workers. Moreover, the practices of the predominantly white male labour

movement reinforced the marginal position of Asian workers through exclusion,

and women workers through the perpetuation of relations of dependence. Political

divisions within the labour movement reflected the salience of ethnicity and

gender in defining workers' lives, while at the same time reproducing the

subordination of Asians and women within the labour market and throughout civil

society. Conditions facilitating solidarity within the working class began to

develop during the severity of the economic depression of the 1930s, when

socialist politics were strengthened, and when Asian workers and women workers

began to place their own issues on the political agenda of the Vancouver labour

movement.

Crosbie, Kimberley Ann (1995). Re-Thinking Mandatory Charging Policies in Cases of

Wife Battering: A Critical Look at (White) Feminist Law Reform Strategy.

Carleton University, MA: 228.

More than a decade has passed since the implementation of mandatory charging

policies in cases of wife battering. There are indications that police charging

177
---
policies are having limited impacts. Policies are not being evenly and consistently

followed across Canada and women continue to report dissatisfaction with police

responses. Black women and women of colour are expressing that, as a result of

racism in the criminal justice system generally, and police brutality against men

of colour and black men specifically, they are reluctant to involve the police when

they have been battered by their intimate male partner. The questionable impact

of this law reform is in part due to the limited effectiveness of feminist

engagement with the law. The limited and negative impact of this policy can also

in part be explained by the omissions made by the (white) women's movement of

the experiences of black women and women of colour with racism. After

presenting and discussing these issues, I argue for the need to re-think mandatory

charging policies.

Crozier, Stephen Joel (1999). An Investigation into the Correlation Between

Ethnolinguistic Vitality and Well-Being. Concordia University, MA: 68.

This study examines the possible correlation between the sociolinguistic concept

of ethnolinguistic vitality and the notion of well-being. French, English, mixed

Aboriginal, and Chinese university students in Montreal participated in this

research. One issue explored is whether the groups perceived their ethnolinguistic

vitality and their well-being differently from those of other groups Also, a new

concept, norm-referenced ethnolinguistic vitality, is introduced to explore the

subjects' perceptions of the fair and just treatment of their ethnolinguistic groups.

Furthermore, two components within ethnolinguistic vitality, one having to do

with language and the other with group recognition, are isolated and investigated

as to their correlation with well-being. It was found that each group did perceive

its ethnolinguistic vitality different from of the other groups in the study. Also, all

measurements of ethnolinguistic vitality and its major components positively

correlated with measurements of well-being, and many of these correlations were

found to be statistically significant.

Crump, Elizabeth Rose de Filippo (1986). The Multicultural Orientations of Elementary

and Junior High School Children: Edmonton, Alberta. University of Toronto,

PhD: 321.

N/A

Cunningham, Nicola (1991). Seduced and Abandoned: The Legal Regulation of

Domestic Workers in Canada from 1867-1940. York University, LLM: 171.

This thesis examines the legal regulation of domestic workers in Canada from

1867 to 1940 with reference to immigration law and policy and labour law. In the

thesis, domestic work serves as a site for an analysis of the role of law in

regulating human activity. Domestics were protected in transit by criminal

sanctions prohibiting the seduction of female passengers on ships sailing to

Canada; as such, the law concerned itself with the virtue of domestics as potential

178
---
mothers. Under labour law, however, the working conditions of domestics were

not regulated. When new legislation was enacted at the end of World War I

offering further protection to workers, especially working women, domestics were

explicitly excluded on the grounds that they were "safe" within the family. In an

attempt to improve their conditions of work, domestics unionized and lobbied the

provincial governments for coverage under the minimum wage statutes, but

legislators were unwilling to enact laws which would encroach on the private

domain of the employing classes.

Currie, Albert Wayne (1980). Intraethnic Marriage and Identification Among German

and Ukrainian Ethnic Groups in Canada: A Study of the Effect of Socioeconomic

Status on Structural Ethnic Identification. University of Toronto, PhD.

The thesis argues that among the two Canadian ethnic groups studied, the

persistence of ethnic identification into the older native-born generations is

neither a uniformly higher nor lower socioeconomic status phenomenon. Rather,

higher status ethnic members remain strongly attached to the group on certain

dimensions of ethnic identification compared with their lower socioeconomic

status counterparts, and conversely, lower socioeconomic status ethnic members

remain more strongly attached to the group on other dimensions of ethnic

identification. The study is carried out by means of secondary analysis of data

from a 1973 national sample of metropolitan Canadian ethnic groups. Ethnicity is

viewed as a complex multidimensional variable, thus it was necessary to select

one dimension of ethnic identification as an organizing focus for the study. In the

first part of the analysis, the case is made for intraethnic marriage as the central

indicator of structural ethnic identification. Relationships between intramarriage

and several other dimensions of structural ethnic identification are demonstrated.

Studying the relationships between socioeconomic status and intraethnic

marriage, it was found that higher socioeconomic position of origin is related to

stronger ethnic identification with the ethnic group for the childhood immigrant

and native-born of foreign-born generations, while higher achieved

socioeconomic status is related to stronger ethnic identification for the native-born

of native-born generation category. The inference is that the momentum toward

the retention across generations of ethnic identification is highest among higher

socioeconomic status ethnic members. This appears to take the form of a

generational progression in which the childhood immigrant and native-born of

foreign-born generation ethnic members from higher status family backgrounds

are most likely to retain identification with the group. Insofar as they retain their

higher socioeconomic status, and they pass along their relative status advantage

to their children, it is their children who are the highest status members of the next

generation and who are most likely to remain strongly attached to the ethnic

group. This generational pattern could not be replicated with the other three

dimensions of ethnic identification in the second stage of the analysis of the

socioeconomic status effect. However, it was shown in this part of the analysis

that higher socioeconomic status ethnic members are more strongly attached to

the group than their lower status counterparts in terms of membership in ethnic

179
---
voluntary associations. On the other hand, lower socioeconomic status ethnic

members were found to be more strongly attached to the ethnic group on the

residence in an ethnically homogeneous neighbourhood and attendance at an

ethnic church dimensions of structural ethnic identification. These findings

demonstrate that ethnic identification is neither a uniformly higher nor uniformly

lower socioeconomic status phenomenon. The pairing of the dimensions of

structural ethnic identification in the third segment of the analysis of the

socioeconomic status effect was conceived to represent ethnic closure, the strain

toward ethnic homogeniety of activities among members of a diffuse ascriptive

solidarity. In this section the effect of socioeconomic status on the relationship

between intraethnic marriage and the other dimensions of ethnic identification

was examined. The same patterns found in the section described above appeared.

The strain toward ethnic closure was greatest for the highest socioeconomic status

ethnic members on the intraethnic marriage/membership in an ethnic voluntary

association pair of dimensions. The strain toward ethnic closure was generally

strongest for lower socioeconomic status ethnic neighbourhood and intraethnic

marriage/attendance at an ethnic church pairs of dimensions of ethnic

identification. In view of these findings reservations about the persistence of

ethnic identification from across the generations based on the idea that the

persistence of ethnic identification signals lower socioeconomic status need to be

reassessed.

Curry, E.M. Ann (1992). The Reactions of Native English Speakers from a Particular

Multicultural Community to Accented Speech and its Speakers. University of

Regina, MED: 116.

This study was designed to measure the attitudes of members of one multicultural

community toward the accented speech and its speakers of several ethnic groups.

Two tape recordings were prepared, each having identical content but having the

order of speakers varied. The content included single sentences on a topic both

familiar and popular to Reginans in order to measure language quality, and a noncontroversial

reading passage in order to measure the personality attributes of the

speakers. Recordings were made by a male and female speaker from French,

Bulgarian, Chinese, Vietnamese, and Ethiopian ethnic groups. A demographic

questionnaire, a Likert-type language quality measurement instrument, and a

semantic differential measurement instrument were devised. They were

administered to 32 native speaker adults from Regina who rated the speech for its

language quality and the speakers for their personality attributes. The preferences

determined as a result of this study indicate that various ethnic groups are

perceived differently according to the ethnic make-up of a community and its idea

of what is familiar. This held true whether the ethnic groups were considered

individually or combined into known/preferred, known/not preferred, and

unknown groups. While no main effect was found for gender on any of the

language or personality measures, significant interaction effects for some

measures were found according to accent group. The findings indicate the need

for a multicultural perspective in future research in the area of native speaker

180
---
eactions to accented speech. As well, in a multicultural community, there is a

need for an analysis of the ethnic make-up of the community and its impact on the

communication process for ESL teachers and students. Finally, the notion of

"good English skills" which promote effective communication may need to be reexamined

from a multicultural perspective. (Abstract shortened by UMI.)

Cutler, Rosaleen (1987). Preparation for Social Work in a Multicultural Society. York

University, MSW.

N/A

181
---
D

D'Abate, Dominic A. (1991). The Role of Social Network Supports of Italian Parents and

Children in their Adjustment to Separation and Divorce. Université de Montréal,

PhD: 389.

The role of social network supports in the adjustment to separation and divorce of

Italian parents and children were examined and a comparison made with

separated and divorced parents from a mainstream background, namely, French

Canadians. The latter sample consisted of thirty-one custodial parents who had

been separated or divorced for a period of at least six months and no more than

five years while the sample of custodial parents of Italian origin consisted of

twenty-three participants who had also been separated or divorced for a similar

period of time. The sample of students was comprised of nineteen children of

Italian origin and twenty-nine children from a mainstream background. Separation

was viewed as a process with three distinct stages: pre-separation, separation, and

post separation. The primary means used to gather data on custodial parents'

social network support systems was a series of structured questionnaires based on

a social support measure (ASSIS) first developed by Barrera (81). A number of

open ended questions were also added to obtain information of a more qualitative

nature. The Teacher's Report Form (TRF) of the Child Behaviour Checklist

(Achenbach & Edelbrock, 1986) was used as the principal measure to determine

academic performance and adaptive functioning of the children in our sample.

The average size of the social networks for Italian respondents was found to be

larger than that of their mainstream counterparts at each stage of the separation

process. The Italian sample also had a substantially denser social network in the

pre-separation stage while no difference was found between the two samples

during separation and in the period that followed. Although both groups depended

greatly on family members for support, the Italian sample reported a greater

number of friends in their network than did the mainstream group. Those of

Italian origin also received more support during and following separation than

members of the mainstream sample. In the pre-separation stage. However, the

former group expressed a strong reservation and disappointment in the quality and

meaningfulness of the supports received in the pre-separation stage. In general, it

was found that, although custodial parents of Italian origin did experience the

process of separation and divorce somewhat differently than those from the

mainstream background, this difference was not as great or significant as was

anticipated. Factors related to ethnicity and culture did play an important role in

the pre-separation stage but diminished in influence in the latter stages. The two

groups tended to resemble each other more as they progressed from the point of

separation. This was most evident with regards to network density, greater

reliance on friends and oneself for support, approval for separation, and need for

outside resources.

182
---
Daenzer, Patricia Margot (1991). Ideology and the Formation of Migration Policy: The

Case of Immigrant Domestic Workers. University of Toronto, PhD: 335.

This study will examine critically the historical development of Canadian

migration policies and administrative practices which regulated the importation

and employment of immigrant live-in domestic workers in Canada during the

period 1940-1990. The policy currently known as the Foreign Domestic

Movement has an instructive historical development. While labour market

policies in general have tended to increase workers' rights and protection in the

last half of the twentieth century, the domestic workers policy has a history of