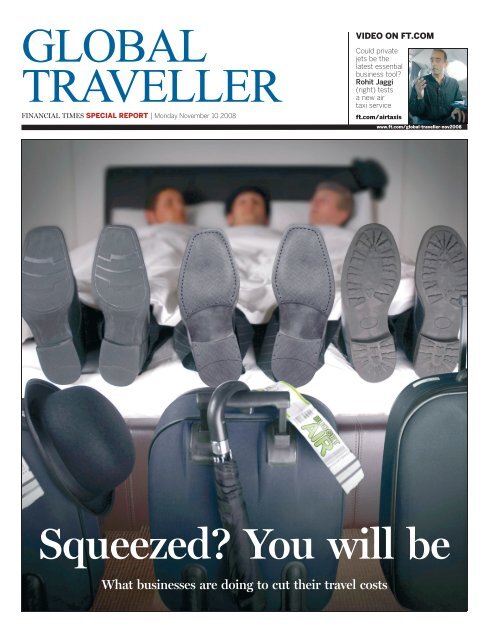 What businesses are doing to cut their travel costs - Financial Times ...
What businesses are doing to cut their travel costs - Financial Times ...
What businesses are doing to cut their travel costs - Financial Times ...
SHOW MORE
SHOW LESS
You also want an ePaper? Increase the reach of your titles
YUMPU automatically turns print PDFs into web optimized ePapers that Google loves.
GLOBAL

TRAVELLER

FINANCIAL TIMESSPECIALREPORT | MondayNovember 10 2008

Squeezed? You will be

What businesses are doing to cut their travel costs

VIDEOONFT.COM

Could private

jets be the

latest essential

business tool?

Rohit Jaggi

(right) tests

a new air

taxi service

ft.com/airtaxis

www.ft.com/global­traveller­nov2008
---
2 FINANCIALTIMESMONDAYNOVEMBER 10 2008

Global Traveller

IN THIS ISSUE

Soap Box

ALAN PARKER

The chief executive of Whitbread Group

writes that 'budget' no longer has to mean

'bad quality' Page 3

Business Class

AIR TAXIS

Rohit Jaggi finds the arguments for the

business have merit. But will they attract

the required passengers? Page 4

Frequent Traveller

PETER GAGO

The chief winemaker for Penfolds says

preferential treatment for business travellers

is not elitist, just fair Page 5

Business Hubs

LIMA, MUMBAI AND FLORENCE

FT correspondents on grand Peruvian

façades, charming Indian hotels and an

Italian city that breathes culture Pages 6­7

Wake­up call

Roger Bray looks

at the lengths

companies will go

to cut their travel

budgets: The Big

Story Page 8;

Case studies –

Boston Scientific

and SFR Page 8

CEO Interview

CHRIS CUDDY

Roger Blitz meets the head of Cheapflights,

a price comparison website Page 11

Front Page Illustration: MEESON

Contributors

Roger Blitz

Leisure Industries Editor

Rohit Jaggi

Aviation Columnist

Mark Mulligan

Madrid Correspondent

Naomi Mapstone

Andes Correspondent

James Fontanella­Kahn

India Editor, FT.com

Jonathan Soble

Tokyo Correspondent

Jill James, Roger Bray

FT Contributors

Seb Morton­Clark

Commissioning Editor

Steven Bird

Designer

Andy Mears

Picture Editor

For advertising details,

contact:

Jo Bellanca on

tel: +44 (0) 20 7873

3180; fax: + 44 (0) 20

7873 4006,

or e­mail:

josephine.bellanca@ft.com,

or contact your your

usual Financial Times

representative

Travellight:clientsareplanningday­tripsratherthanovernightstaystosavemoney Corbis

Battle lines drawn as

budgets begin to bite

AGENDA

Hotels are bracing

for a year of

stiff competition,

writes Roger Blitz

Business travellers

and the hotel industry

have embarked

on a battle royal

over prices as hoteliers fight

tooth and nail to stop the

economic downturn from

eating into their profits and

corporations drive a hard

bargain over room rates.

According to some of the

bigger hotel groups, business

travellers hoping to see bargains

being thrown their way

from hard-pressed hoteliers

during these lean times may

be getting a bit ahead of

themselves. But the mood

among corporate travel buyers

is uncompromising and

hotel groups are reluctantly

admitting that they are in

the early stages of a

prolonged buyers' market.

No-one in the hotel industry

denies that trade has

started to dry up, alarmingly

so in some cases. Rezidor,

the European-based group

that manages Radisson SAS

hotels, last week said it was

cutting costs by €20m after

announcing a big slump in

profits.

Marriott, Wyndham and

Accor have all reported

sharp falls in business and

virtually everyone is predicting

a rough ride in 2009. With

companies scything through

their travel plans, or trading

down, discounted rates

would appear inevitable.

"For 2009, we will see

hotels really looking for business

in a way they have

never had to do for a number

of years," says Nigel Turner

of Carlson WagonlitTravel,

the travel management

group. "We will see some

better rates in the marketplace.

A lot of hotels are

increasingly giving us indications

that they are interested

in marketing to corporate

business."

Current discounts average

about 10 per cent, "not a lot,

given the increases in the

last few years", Mr Turner

says. "But it is the first time

we are seeing rates go in the

other direction."

"Discount" is not a word

that readily comes to hoteliers.

Expect to hear hotel

groups talk about "value" as

they compete with each

other for the ever-reducing

numbers of business travellers

over the next 12 to 18

months. Cutting back on

charges for accessory spending

is one strategy. Those

hotel groups with mid-scale

brands can argue that customers

who normally pay

extra for hotel amenities at

upscale hotels will effectively

pay nothing for them when

they trade down.

"The winners will be the

brands that offer exceptional

value and service," says

Betsy O'Rourke, senior vicepresident

of marketing at the

7,000-hotel Wyndham Worldwide.

"Travellers hate being

nickelled and dimed to death

for every service like internet

access, local calls, use of

a business centre or gym."

To win business, hotel

groups know they have to

spend marketing dollars, and

the campaigns are starting to

come thick and fast. Inter-

Continental Hotels Group,

for example, because it is

legally obliged to spend a

marketing fund made up of

hotel owners' contributions,

has £800mits disposal.

That will go partly into

keeping IHG at the top of

Google's hotel search page,

plus promotion of Holiday

Inn two-nights-for-one offers,

room upgrades and free

breakfasts. But much of it is

heading for its loyalty club

points system, which has

20m members.

"We are certainly looking

from a marketing point of

view to increase the way we

promote our loyalty

schemes," says Leslie

'The winners will

be the brands that

offer exceptional

value and service'

McGibbon of IHG, which as

well as doubling loyalty

points will also be giving

away wine and baseball merchandise

through the system.

Loyalty schemes have real

traction in the US. Marriott

is tweaking a variety of its

reward programmes, increasing

points bonuses, offering

one night free on a five-night

stay and abolishing "blackout"

dates from January,

thereby enabling members to

redeem points on any day.

Wyndham is doubling points

for the next two months.

But when it comes to customers

beyond the US –

where loyalty schemes generate

less interest – and the

all-important corporate

travel brokers, pricing decisions

may be the only means

for hotel groups to control

the inevitable decline in revenues.

"Points appeal to travellers,

but pricing appeals to

the organisations they work

for," says Mr Turner. "If they

want to hit both people, it's

got to be really on price."

Hotels and their corporate

clients are in the midst of

negotiating over 2009 prices.

The anecdotal evidence

shows clients shopping

around more, plotting daytrips

rather than overnight

stays and reducing the

number of hotel suppliers

they use to increase economies

of scale.

JW Marriott, chairman of

the hotel group, acknowledged

last week that the outlook

for next year was weakening.

If occupancy drops

further, it plans to open up

more discounts on a hotel-byhotel

basis. "Dropping the

corporate benchmark rate is

not something we will be the

first to do," the company

said.

It is not surprising that

corporate travel brokers

expect 2009 hotel bills to be

considerably cheaper than

those in 2008. "Most of the

markets are expecting a

discounting of prices and the

corporate broker will use this

to make any rate gain as

little as possible," says IHG's

Mr McGibbon.

Did he just say "rate

gain"? Even in this recessionriddled

market, IHG is still

working on the premise that

hotel rates are going up.
---
FINANCIALTIMESMONDAYNOVEMBER 10 2008 3

The biggest challenges of the recession

SoapBox

ALAN PARKER

I was at my old school

recently, talking about the

ups and downs of life as a

chief executive. The events

of the past few months will

certainly provide economics

students with much to

study. I have seen several

downturns and recessions

and the way in which the

current one has come about

is unprecedented.

Whitbread has weathered

a few storms in its 260-year

history. No longer a brewer,

we have made the business

leaner and more agile so we

can stay focused on what's

at our core – brands which

represent value for money

for all the family. Yet, there

are always lessons to be

learned. The biggest is the

need to stay relentlessly

focused on value, and on

the customer. And the

challenge is to do this

without compromising on

sustainability. The corporate

landscape may well look

very different in a few

years' time, but those who

can adapt quickly to the

changing times will prove

the most resilient – and may

even emerge stronger.

This may not sound

surprising. We have seen a

huge growth in "budget"

consumption over the last

few years. Although this is

nothing new – supermarkets

created "Value" ranges as a

response to the last

recession – the public has

become increasingly savvy

at finding great deals when

it comes to booking hotel

rooms, eating out and

buying food. And the

market has adapted and

grown to meet this appetite.

This is clear from the

phenomenal growth seen by

the budget hotel sector in

recent years. The number of

rooms has more than

doubled, from 40,000 to

90,000, in the UK since 2000

alone. Indeed, the sector

now accounts for two-thirds

of the annual growth within

the UK hospitality industry.

What's more, occupancy and

revenues are growing fastest

at the budget end of the

market.

The budget hotel in its

current form is a relatively

new phenomenon. The

sector certainly did not exist

back in 1992, when we last

saw a prolonged consumer

recession. There were

merely a large number of

unbranded and unconnected

independent hotels across

the country. Since then, we

have seen the emergence of

a few major players,

Whitbread's Premier Inn

being the leader in the

overall UK hotel market.

The branded budget hotel

model provides the leisure

and business traveller with

a clearer choice when

booking accommodation. It

also gives them a more

comfortable stay.

"Budget" no longer has to

mean "bad quality". What

may be surprising, however,

is that I believe the sector

has the potential to

continue growing, despite

the current challenging

economic conditions.

Like-for-like sales at Premier

Inn rose 10 per cent in the

first half, with revenue per

available room (a common

metric used in the hotel

industry) up by more than

6 per cent. The branded

budget market is still

relatively under-represented

in the UK, with a 13 per

cent share compared to

23 per cent in France and

25 per cent in the US, both

more established markets.

There is clearly room for

more. That said, even in a

growth phase, just like our

customers, we must keep

strict controls on costs.

Other businesses are

doing the same. We are

seeing a significant increase

in corporate customers.

Under pressure to cut costs,

The more the

hospitality industry

can do to promote

itself as great

value, the more

likely we are to

emerge stronger

companies are recognising

the value-for-money,

guaranteed standards in a

£50 room over a £100

four-star room. "Trading

down" doesn't have to mean

settling for something

cheaper either, just buying

smarter. Premier Inn

attracted more than 1,800

new companies to its

Business Account scheme in

the first half of this year, an

increase of 16 per cent

taking the total to 13,000

businesses.

Those who specialise in

giving customers great

value will have the edge.

We're all working harder

than ever, but we still need

to eat and sleep and relax.

We shouldn't have to stop

the lifestyle we have,

instead, we have the choice

to prioritise differently. We

know people still want to

eat out, so we have looked

hard at our restaurant

business and have refreshed

our menus with more

emphasis on the value

proposition, on lower-cost

dishes and on attractive

food offers (such as two

meals for £9 at Brewers

Fayre). Price flexibility is

crucial in times like these.

Perhaps the recession's

biggest challenge, a lesson

we all need to learn, is how

we can continue to give

customers great value, but

do it more sustainably. We

cannot let these times serve

as an excuse to let slip our

responsibilities towards the

environment. The industry

needs to be sensitive to

these challenges and

continue to adapt

accordingly. The 2012

Olympics will bring millions

of people to the UK. The

more the hospitality

industry can do to promote

itself as great value, with no

compromise in quality and

sustainable practices, the

more likely we are to

emerge stronger than before.

Alan Parker, CBE, is chief

executive of Whitbread

Group plc

Global Traveller

''Budget'nolongerhastomean'badquality'' Charlie Bibby
---
4 FINANCIALTIMESMONDAYNOVEMBER 10 2008

Global Traveller

Volume issue

hoversoverair

taxi start­ups

BUSINESSCLASS

European newcomers

will be banking on

high utilisation rates,

reports Rohit Jaggi

The concept of air taxis has

not got off to a flying start.

The US service that had

the biggest ambitions,

DayJet of Florida, had those lofty

plans brought crashing down to

earth by the credit crunch and

delays in aircraft deliveries. Of the

1,400 Eclipse 500 very light jets

(VLJs) it envisaged operating, the

28 it actually received are now

being sold on by the manufacturer.

In western Europe, conditions are

different. While roads are more congested,

there are more options for

point-to-point travel, including fast

rail services. And some, including

the body responsible for air traffic

control in Europe, fear the system

will not be able to cope with sizeable

fleets of four-passenger, twinturbofan

air taxis.

Meanwhile, the rapid deteriora-

'The timing for us is

quite an opportunity

...If the cycle follows

the usual trends in the

world, we'll be launching

in the upcycle'

tion in the financial climate has put

a squeeze on conspicuous consumption

of private aviation services.

One large operator calls the current

sudden slowing in business jet

traffic a "pregnant pause".

But others say the situation

demands that companies pursue

opportunities more aggressively,

and focus more clearly on choosing

travel options that are efficient not

just in cost but also in time.

There is also evidence owners of

large business jets are willing to

slum it in an air taxi for shorter

hops, because the cost is more easy

to justify. In addition, commercial

airline schedules do not often lend

themselves to multi-sector trips in

a single day.

Blink, one of the first European

start-ups to use the air taxi model,

is confident. It says its decision to

go with a per-plane hire basis,

rather than the per-seat model that

DayJet was so confident would succeed,

gives it an edge. But at the

same time that model puts it close

to the traditional private charter.

Where the two models differ is

that the air taxi start-ups hope to

offer lower prices by achieving

higher utilisation rates of their

expensive assets – the aircraft.

Established charter companies

expect to have their aircraft flying

for about 400 hours a year. Blink is

aiming at more like 800.

The Farnborough-based company

started operations in June, and has

been operating with only one aircraft

since. "It's still very early,"

says Peter Leiman, Blink managing

director. "With one plane we can't

draw any definitive conclusions.

But, that being said, in September

we achieved a utilisation rate that

on an annualised basis would be

840 hours a year."

Blink has opted for a single plane

from an established manufacturer –

the four-passenger Citation Mustang,

from Kansas-based Cessna.

There have been none of the delays

and technical issues that still afflict

the Eclipse, the aircraft that the

now-defunct DayJet chose, according

to Mr Leiman.

Two additional Mustangs arrive

this month, then on average one

more a month will be added to the

fleet over the next two years.

The Phenom 100, another new

aircraft from an established manufacturer,

has been chosen by

JetBird, which plans to launch next

year from Germany. It has 56 firm

orders and 44 options for the fourpassenger

Phenom, made by

Embraer of Brazil. JetBird expects

its first aircraft in April with, on

average, two more a month to 2013.

Stefan Vilner, JetBird chief executive,

is unfazed by the current economic

woes. "The timing for us is

quite an opportunity," he says. "We

are going to launch quietly in 2Q

2009. If the cycle follows the usual

trends in the world, we'll be

launching in the upcycle."

According to Domhnal Slattery,

JetBird founder: "From an equity

perspective, the balance sheet is

very healthy. We completed all of

our equity financing before the dislocation

in the markets."

Financing for the start-up phase

is key. "Forty to 50 aircraft are

required for economies of scale,"

says Mr Slattery. "We assume we'll

get to critical mass in 2011."

Mr Leiman says signs support the

idea that air taxis could expand the

whole market. "Some 60 per cent of

our customers are private-jet-down

users," he says. "But 40 per cent

are new to private aviation."

Some analysts are not convinced.

"The last time I looked you need

utilisation rates of at least 1,000

hours a year," says Chris Tarry,

who runs aviation consultancy

CTAIRA. The arguments for air

taxis, he says, "clearly have merit.

But are they going to have the

volume?"

VIDEO ON FT.COM

Rohit Jaggi puts the air taxi service to

the test and looks at the vulnerability

of the private jet sector in a downturn

www.ft.com/airtaxis

Offthebeatentrack:airtaxiscanputtravellersintosmallerairfieldsclosertotheirdestination Ben Stansall

Pricecomparisonshowshowtheairtaxisfare

Air taxi operators, whether in business already or

about to be, push the idea that using their services

can permit greater efficiency by allowing more

meetings to be squeezed into one day, especially in

places ill­served by the airlines. Saving time by

avoiding long check­in and security queues when using

smaller airports is another bonus.

But they also claim these benefits come at an

attractive price. UK­based Blink says that if all four

passenger seats in its Cessna Citation Mustangs are

filled, the cost is within 20 per cent, up or down, of

business­class fares on scheduled airlines.

JetBird, due to launch from Germany next year, is

not giving away pricing details. But Domhnal Slattery,

its chairman, says fares will be "50 per cent lower

than current incumbent legacy players among the big

charter companies". That claim is echoed by Blink.

To test the pricing model, I asked Blink to quote for

a flight today from London to Paris to Stuttgart to

Antwerp and back to London. Blink's price, including

all landing fees, was £5,049. A total flying time of less

than four hours would leave ample time for meetings

in all the destinations.

British Airways, when asked for fares to cover this

flight, was flummoxed. I could leave London early this

morning, and get to Stuttgart, but the BA person was

unable to find a way of getting me from Stuttgart to

Antwerp. "You're going to need to get in touch with a

private jet charter company for this," he said,

unprompted. "You need a Lear jet, that's what you

need."

The best BA could find in a business class, fully

flexible fare would not get me back to London from

Amsterdam until tomorrow. It would also cost £1,199

per person. "And that's missing a bit in the middle,"

as the good­humoured BA fellow put it.

A second attempt with BA got me to Brussels via

Lufthansa late in the day, after a long stop in

Stuttgart. Catching the last flight to London left no

time to do anything more than sprint between aircraft.

As an alternative, I was offered a £120 four­star

hotel room, and a first flight to London in the

morning. Either way, the cost in fares and taxes was

in the region of £1,190 per person. That comes to

£4,760 for the same number of passengers you can

fit into your own Mustang,

The Air France office was thrown into confusion by

my request. Much putting on hold while people in the

office conferred, and a few false conclusions later, Air

France came up with a route that covered all the

ground – to Brussels though not to Antwerp – but

would keep me out of London until Wednesday

evening, the 12th. At a business­class cost of £1,130

per person, or £4,520 for four seats.

But another factor may upset the pricing equation.

According to aviation analyst Chris Tarry, fares on

regular airlines are falling swiftly.

Quotes for the same route from other aviation

operators included £7,000 all­in using a Mustang, the

same aircraft as Blink's, from air charter broker

Oxygen 4. The broker also quoted £9,000 using a

Learjet 45 super­light aircraft, and £14,000 for a

Cessna Citation Sovereign super midsize jet.

Business aviation specialist ExecuJet, meanwhile,

quoted €17,200 (£13,890) for the route in a Learjet

60, which can take six passengers.

To put all that in context, a flight from London to

Larnaca in Cyprus, taking about the same time as the

total for the four­leg trip quoted above, would cost a

NetJets customer about €18,700 on a Hawker 800.

The Blink fare is close to that for four airline

business­class seats – and enables a more efficient

day. But the average number of passengers on a

business jet flight is only two – booking a Blink

Mustang and putting only two people on it would give

a very different complexion to the comparison.

Rohit Jaggi

Highlevel:RohitJaggiinBlink'sMustang Ben Stansall
---
FINANCIALTIMESMONDAYNOVEMBER 10 2008 5

Global Traveller

Full­bodybubblesbestat35,000ft

FREQUENTTRAVELLER

PETERGAGO

Chief winemaker

for Penfolds talks

to Jill James

For a winemaker, Newcastleborn

Peter Gago drinks an

awful lot of water. But since

he spends so much time in

an aircraft cabin then it may

not be such a surprise.

"I drink plenty of water to

counteract cabin air-conditioning

systems," he says.

"But drinking my own company's

wine is now a touch

more complicated as airlines

will only let you on with less

than 100ml of any liquid."

Bottles that he invariably

has to bring on his travels

are safely stowed in the hold

with the rest of his baggage.

As chief winemaker for Penfolds,

one of Australia's better-known

wine producers,

Melbourne-raised Mr Gago

inhabits a truly global world.

"But one that needs to be

diligently serviced," he maintains.

He is more than happy to

talk about wine with anyone

and it is surely his communication

skills that help make

Penfolds Wine Recorking

Clinics so popular. You may

think these events are the

'If you're travelling

on business you

should get some

priority – this isn't

an elitist thing,

it's functional'

province of a wealthy few

who just want to make sure

their wine assets are safe −

but you would be wrong.

"We do get wealthy collectors

of course," he says. "But

there's a healthy mix from

across the world, a broad

spectrum from mums and

dads, young and old, corporate

buyers, anyone and everyone

– people interested in

finding out more about wine

and looking after it."

Since 1991, he believes, the

Penfolds team has recorked

95,000 bottles of wine, 15

years and older, worldwide.

And, in case you are wondering

why anyone should go

to that trouble, you need

only look at the prices that

Penfolds charges for its top

vintages. Its famous Grange

and other Special Bin wines

retail on release for more

than £150 a bottle.

Australia's winemakers are

more peripatetic than most.

A high level of exports has

much to do with this. In the

case of Mr Gago's company,

two out of every three bottles

leave Australia.

Which is why New York,

Miami, Chicago, Houston,

San Francisco, Toronto,

Hong Kong, Singapore, Wellington,

Zurich, Munich and,

of course London, are just

some of the places to which

Mr Gago and his team have

taken the recorking clinics in

the past few years.

Athough he can be anywhere

in the world in almost

any season, the time of the

Australian vintage is a complete

no-fly zone. From February

to May, he spends time

in the winery and visiting

his vineyards, from Coonawarra,

Robe, Wrattonbully

and Padthaway in Australia's

south-east to

McLaren Vale, Barossa Valley,

Adelaide Hills and Eden

Valley.

As a traveller with so

much mileage on the clock,

the Adelaide-based oenophile

is very conscious of his carbon

footprint – he does his

best to offset – and points to

the environmental policies

his company has put – and is

putting – in place. This is

just as well since Gail, his

wife, is a South Australian

government minister and

recent holder of the environment

portfolio.

His travels also bring a

heavy workload. "We seem

to work more and more

seven day weeks really," he

says. "I work in the air as

long as possible on emails,

reports, catching up . . . "

In September, he flew

direct from Sydney to Vancouver

with Air Canada. "If I

can avoid the unknown

potential delays of US customs

and immigration, then I

will," he says.

Qantas is his airline of

preference and his card privileges

mean he takes advantage

of all that business class

and the occasional upgrade

have to offer, from fine wines

to good-quality lounges.

Curious to know what a

winemaker drinks when he

is flying? He says: "At

35,000ft I go for the bigger,

fuller-bodied names in Champagne,"

he says. "Bollinger

and Krug – if ever on offer.

Complex and fuller-flavoured,

multilayered styles."

He nearly always has a

glass of Champagne on takeoff

and a glass of wine with

his meal. "I treat the wine

choice in the same way as I

would if I were in a restaurant."

Good airlines take into

account the real needs of

business travellers, he says,

adding: "It doesn't matter

what your class of travel –

first, business or economy –

if you're travelling on business

you should get some priority

– whether it's queuing

less or being called at a later

time for a flight. This isn't an

elitist thing, it's functional.

When I'm travelling on holiday

I don't have deadlines

and in a more relaxed way I

can spend extra time, if necessary,

at the airport. Busi-

ness travellers are always

under a different set of time

pressures."

When the FT caught up

with him in London he was

staying at one of his favourite

hotels, the small and comfortable

Capital, in Basil

Street.

Its appeal – apart from the

Michelin-starred cooking of

Eric Chavot – is its service,

friendliness and understated

luxury, says Mr Gago. He

likes boutique hotels and

mentioned the Hotel Gansevoort

in New York's meat

packing district as another

favourite.

"But, hey, if someone else

is paying I'll happily stay at

the St Regis."

One of the snags of travel,

he says, is spending so much

time away from home. "But

in some ways at times it's

fortunate that Gail, my wife,

is incredibly busy because of

her job – I get away with a

little more absence than I

might otherwise."

He muses: "Jet-lag seems

to catch up with me more as

I get older, I'm now 51, and it

seems such a random thing. I

guess that and the massive

waste of time spent in

queues and on tarmac are

the real downsides of travel."

Tasteful:PeterGago
---
6 FINANCIALTIMESMONDAYNOVEMBER 10 2008

Global Traveller

Ancient cities

still tantalise

modern guests

BUSINESSHUBS

FT writers offer

their tips on three

key destinations

Lima

How to get there

Most visitors arrive at Lima's

sparkling Jorge Chavez terminal

in Callao, which in

good traffic is a 40-minute

drive from the seaside district

of Miraflores (more than

an hour at peak times). Travellers

from Europe will have

to connect in the US, where

LAN and American Airlines

have direct flights. It's not

advisable to take taxis from

touts, but taxi remisse services

within the terminal are

good, though expensive. If

you can ring ahead, local

companies such as Taxi Full

Service (+511 0125711311) and

Taxi Seguro (+511 415 2525)

are reliable. A hint for travellers

returning home: get to

your departure gate as soon

as possible after checking in.

You will need to queue three

times – once to pay a departure

tax, a second time for

security checks, and a third

for immigration.

Where to stay

While Lima's colonial centre

has some lovely squares and

grand façades, many choose

to base themselves by the

ocean in Miraflores or San

Isidro. Miraflores Park Hotel

and the Marriott offer fivestar

service and rooftop

pools, as well as unbroken

views of the Pacific and of

the colourful flocks of parasailors.

In San Isidro, Swissotel

Lima and Sonesta Posada

del Inca El Olivar are conveniently

located.

Where to eat

This is the key question in

Lima, a city rightly proud of

its cuisine – a melange of

Peruvian, Spanish, African,

Chinese, Japanese and Moorish

influences. If you learn

only one Spanish phrase during

your visit, make it "Que

rico!" or "How delicious!"

The city has thousands of

hole-in-the-wall eateries

where it is possible to get a

menu of the day for 10 new

sol ($3.30) or less, which will

normally include a glass of

chicha morada (sweet juice of

purple maize), ceviche (fish

marinated in lime juice and

spices with a garnish of

sweet potato, corn and sliced

Spanish onions), a main dish

such as aji de gallina (a type

of chicken stew with yellow

pepper) or arroz con pato

(roast duck in a coriander

sauce with rice) and a pudding.

For the best criollo

cooking, head to El Rincón

que no Conoces, where Ter-

ExplorethecatacombsofLima'sSanFranciscoChurch Alamy

esa Izquierdo has been presiding

over the kitchen for 31

years. To hang with Lima's

smart set, book a lunchtime

table (many of the best seafood

restaurants are not open

for dinner) at La Mar, the

excellent cevicheria founded

by celebrity chef Gastón Acurio,

or the nearby Pescados

Capitales. Its dishes are

named after various deadly

sins, including – aptly – gluttony,

and if you pay close

attention to the menu of the

day you may find evidence of

the latest political scandal –

a recent menu featured "Los

Aceitados" (the bribes) and

"Yehude", a tribute to the

newly sworn-in prime minister,

Yehude Simon, after a

hasty cabinet reshuffle.

For top Peruvian modern

"fusion" food, try Astrid y

Gastón or relative newcomer

Hervé – a chic bistro that

blends French technique

with local ingredients. For a

passionfruit pisco sour or a

meal with a view, try La

Rosa Nautica, which sits on

a lovely wooden pier over the

Pacific amid the breaking

waves, or Huaca Pucllana, at

the base of a centuries-old

pyramid in the heart of Miraflores.

What to do

Lima was the Spanish centre

of the Americas from 1535 to

the early 19th century. It was

levelled by an earthquake in

1746, but nine years later, the

cathedral that now stands in

the World Heritage listed

Plaza de Armas in central

Lima rose from the rubble –

a reconstruction of the original.

Combine a visit to the

cathedral to see the chapel

said to house the remains of

the explorer Francisco Pizarro

with a trip to the nearby

San Francisco Church for a

guided tour of catacombs

where thousands of skeletal

remains are laid out.

The legacy of the Inca and

Moche civilisations can be

felt everywhere in Peru, but

the presence of the Huaca

Pucllana pyramid amid the

suburban homes of Miraflores

is especially arresting.

If you have a day to spare,

you might also consider a

trip to Pachacmac, a vast

ancient ceremonial complex

south of Lima, or Caral, a

valley of pyramids linked to

a pre-Incan society from 5,000

years ago (a three-and-a-halfhour

drive from Lima each

way).

Back in Miraflores, take a

Reservedaseat?CommutertrainsarriveatChurchgatestationinMumbaiduringrush­hour

walk along the cliff-tops to

the Love Park. If you're not

scared of heights, strap yourself

in with a parapente

instructor at the park next

door and fly along the

clifftops in either direction.

On the beach below, you can

rent boards and wetsuits and

take a surfing lesson for 50

new sols.

The markets in Petit

Thoars, Miraflores, offer

goods from all over the country

– alpaca scarves and ponchos,

textiles, ceramics and

paintings.

A smaller night market in

Parque Central de Miraflores

offers a similar selection,

with the added benefit of

being close to good cafes and

regular free evening concerts

of Afro-Peruvian and other

local music.

Naomi Mapstone

Mumbai

How to get there

Mumbai may be India's

financial capital but Chhatrapati

Shivaji International

Airport (CSIA) will not

impress you: it's dirty, congested,

and still under construction.

CSIA is in north Mumbai,

about 35km from the south,

where most business meetings

and conferences are

held. Travelling by taxi can

be extremely challenging, as

roads are constantly jammed

and full of potholes – a sign

of the cities dire infrastructural

conditions. A trip from

CSIA to the south can take

anywhere between 45 minutes

and 3 hours. To avoid

the onslaught of taxi drivers

offering their services, organise

someone to pick you up

at the airport. All big fivestar

hotels can arrange for a

driver with an air-conditioned

car, which is a must

for any business traveller.

Although local cab drivers

are very friendly and they

tend to stick to the meter,

the black and yellow 1950s

Fiat cabs tend to flood the

senses with pollution, stifling

heat and pungent smells.

Where to stay

You can find a good selection

of luxury hotels close to the

financial district in Nariman

point, south Mumbai. A

favourite is the charming

100-year-old Taj Mahal,

which overlooks the harbour

and the Gateway of India –

one of the city's most popular

tourist sites. If it is fully

booked, try the Oberoi or the

Intercontinental on Marine

Drive, where you will find

breathtaking views of the

Arabian Sea.

In the north, around Bandra

Kurla, which is Mumbai's

version of London's

Canary Wharf, you can stay

in the characteristic ITC

Grand Maratha Sheraton, or

there is the more standard-

Hayatt and the Marriott fivestar

hotels. However, if you

are staying here, do not

expect to go for a walk after

dinner – you will be surrounded

by construction

sites and stray dogs.

If you plan to stay for long

periods you can opt for a

serviced apartment at the

Taj Mews Luxury Residence

in south Mumbai, next door

to the Anil Ambani, the

world's sixth richest man,

according to Forbes.

Where to eat

Mumbai offers the best selection

of international food in

India. Top of the list is

Indigo, in Colaba, behind the

Taj Mahal hotel, which

serves a great Italian champagne

risotto and seafood

spaghetti. If you are in town

over the weekend, try the

Sunday brunch, which offers

a mixture of continental

starters, one main course, a

selection of desserts and a

"drink as much as you can"

offer, which includes local

champagne (or sparkling

wine) Sulla and cocktails, all

for Rs2000 (about $40).

For seafood go to Trishna

in Kala Ghoda, in the Fort

area of South Mumbai. The

fish is fresh and when it

comes to lobster you can

pick what you eat. Avoid fish

during the monsoon season

(mid-June to the end of September),

as fishing boats

remain docked in the har-
---
FINANCIALTIMESMONDAYNOVEMBER 10 2008 7

bour. For Indian food try

Khyber, with their Mughalera

dishes, which includes

spicy curries and succulent

kebabs. Khyber has two

branches, one in the south,

on Mahatma Gandhi Road in

Fort, and a more recent additiona

in Khar, in the north.

If you are flying out of

Mumbai, which means your

flight will leave late at night,

have dinner at Peshawari at

the Sheraton, which is close

to the airport. The sikandari

raan, a slowly baked mutton

dish, and a rich Dal Makhani

(dark lentils), are a must.

What to do

Enjoy a drink at the Inter-

Continental's Dome bar,

which is on the rooftop of the

five-star hotel, overlooking

the Arabian sea. The place

will give you a chance to

enjoy a beer away from the

hustle and bustle of Mumbai's

streets. Have a stroll

along Marine Drive – the

only walkable area of Mumbai

– and enjoy the vibrancy

of Chowpatty beach. Then

take a car to the Blue Frog, a

hip bar housed in a converted

mill with great live

music.

Mumbai is also a good

place for shopping. Apart

from the malls, try Fabindia

in the Fort district, which

offers cheap ethnic garments

with a western touch. You

can also have a tailor-made

suit or dress made by the

Italian-trained designer

Bloomberg

Marco at Filoppo's Boutique.

The Indian tailor's team can

turn five metres of fabric

into a pinstriped suit in less

than 12 hours. Located

behind the Taj Mahal Hotel,

ask the concierge for either

Marco, or his father Filippo,

and you will be directed to

their small shop. A tailormade

suit will cost you on

average Rs15,000 (about

$300). You will not regret it.

James Fontanella­Kahn

Florence

How to get there

Florence, or Firenze, has its

own airport – Amerigo

Vespucci, formerly Peretola –

3 miles (5 km) from the centre,

with direct BA flights

from London City airport.

However, it is a small airport

and most airlines land at

Pisa's Galileo Galilei airport,

an hour's train or car journey

away. From Pisa, trains

run from the airport terminal

to Lucca, Florence, Montecatini

and Pistoia. Florencebased

travellers will find the

rail service efficient and

dependable as the city is on

the main north-south rail

line. If you land at Florence's

airport you can book private

transfers via the web.

Do not forget to treat yourself

to a good pair of shoes

when you are there. Not

least because walking is the

best way to get around and

the historic centre is closed

to cars. It helps that the city

is awash with classy shoe

shops.

Where to stay

Florence's business is tourism.

However, it is developing

other sectors such as

information technology.

Many Florentines work in

the suburbs where industries

include furniture-making,

production of rubber goods,

chemicals, food, traditional

handicrafts and clothes and

shoes. Gucci and Ferragamo

still operate out of the city

that is now part of a huge

industrial district running

northwest to Prato and Pistoia.

There is a good argument

for basing yourself west of

Florence if you are not doing

business in the city itself.

For example, the spa town of

Montecatini has about 200

hotels, good road and rail

links with Florence and is

itself a small industry hub.

Grand Hotel Croce di Malta

with 144 rooms – 64 with

hydromassage fixtures – and

22 suites, can host events for

10 to 140 persons and is a

firm favourite with business

visitors. There are good restaurants

here too, such as

Enoteca da Giovanni in the

Via Garibaldi.

In Florence itself the fivestar

Four Seasons is simply

stunning. Set in an eight-acre

park in the city centre you

can relax amid original frescoes

and sculptured reliefs.

There is no such thing as a

modest room here and just

about every business tool

that you need can be provided,

including secretarial,

translation and interpretation

services, as well as a

worldwide courier service.

Business people with partners

who like to shop might

be keen to opt for the Helvetia

& Bristol in Via Dei

Pescioni, parallel with the

Via Tornabuoni – one of the

city's most elegant shopping

streets. The Grand Hotel

Baglione and the Plaza &

Lucchese are two other business

and leisure favourites.

Where to eat

For aperitifs or after-dinner

drinks, try Angels Lounge

Bar in Via del Proconsolo,

Fusion Bar in the Gallery

Hotel Art in Vicolo dell'Oro,

and the Negroni Florence

Bar in Via dei Renai.

In the old part of Florence,

tourist-free cafés do not

really exist – you will have to

go to the suburbs for that.

But there are some nice, historic

places where you can

read a newspaper while sipping

a macchiata. These

include Caffè Gilli and Caffè

Giubbe Rosse, both in the

Piazza della Repubblica, and

Caffè Rivoire in the Piazza

della Signoria.

Your business hosts will

almost certainly steer you

away from the main tourist

traps. But for those occasional

days when you just

want a simple meal and a

glass of red wine you are safe

pretty much everywhere. If

you need to do some entertaining

of your own then the

two Relais & Chateaux-rated

properties Enoteca Pinchiorri

(Via Ghibellina), and Onice –

the restaurant of the Villa la

Vedetta (Viale Michelangelo)

– would be stunning, albeit

pricy, experiences. Pinchiorri

is the proud holder of three

Michelin stars.

What to do

Florence breathes culture, so

even if you usually spend all

your free time time in bars

and nightclubs then exposure

to art is inescapable.

This is, after all, the city of

Leonardo, Dante, Machiavelli

and Galileo. You will be most

unlucky if your visit fails to

coincide with a festival or

exhibition. Since there are

1,000 ways to explore Florence

you must plan and book

as much aspossible. Or bribe

your hotel concierge to do it

for you. The web site

www.firenzeturismo.it is an

invaluable source of information.

Florentines, like most

Italians, take football and

shopping seriously. Fiorentina,

or la Viola – an allusion

to the team's purple shirts –

inspire fanatical support and

the team's ground, Franchi

stadium, has national monument

status. Firenze rugby

Global Traveller

club might be more appreciative

of the extra cheers

though – and you will have

no trouble getting tickets for

its home games in the Via

Delle Panche.

If you visit one shop – shoe

fetishists note – then the Ferragamo

flagship boutique

with its lofty frescoed ceilings

in the Palazzo Spini

Feroni would be a good

choice. Its museum contains

10,000 shoes. Personally, I

would head for San Lorenzo

and the food delicatessens.

The size and variety of the

salamis alone are enough to

make strong men weep.

Jill James

Setinstone:theartandcultureofFlorenceisinescapable Reuters
---
8 FINANCIALTIMESMONDAYNOVEMBER 10 2008

Global Traveller

Cash crisis sounds wake­up call

THEBIGSTORY

Roger Bray looks at

the lengths to which

companies are going to

cut their travel budgets

The long suffering road warrior,

reading a list of ways

to save money on trips suggested

by American

Express Business Travel, might be

forgiven the urge to rebel.

"Employees that stay together

save together," says the international

travel management company

in a 10-point plan to offset the

impact of the financial crisis,

issued from its New York headquarters.

Some companies, it

claims, are already asking employees

to share hotel rooms.

But while waiting for a colleague

to finish shaving before using the

bathroom may seem an economy

too far, evidence is mounting that

companies around the world are

seeking to reduce the cost of business

travel. How are they going

about it?

When KDS, the online travel and

expense management provider,

asked its clients how the downturn

was hitting them, 54 per cent said

they expected to have pruned travel

costs by next March and 36 per cent

said they had cancelled trips

already booked.

A survey by the Brussels-based

Business Travel Coalition of corporate

travel managers in 17 countries

found that just over a quarter

had implemented emergency cutbacks

in recent weeks, over and

above those made earlier this year.

Of those, about one third had

banned all trips temporarily.

Roughly one in five had ordered

cuts in travel spend, 45 per cent of

those demanding reductions of 10

to 20 per cent. The findings indicated

that there had also been a

significant swing towards the use

of low-cost airlines, while 30 per

cent of managers said their companies

were planning "above normal"

investment in technology that

might obviate the need to fly, such

as video conferencing equipment.

Besides more predictable measures

such as demanding employees

should forego business class flights,

steps being taken to reduce travel

include compulsory seven-day

advance purchase of air tickets,

avoiding overnight stays or, perhaps

extending trips, visiting more

customers in one go, requiring staff

to stay in cheaper hotels and use

compact or economy rental cars

rather than more expensive models.

A separate survey of corporate

travel managers by the National

Business Travel Association in the

US found that the reintroduction of

minimum stay requirements by airlines

on domestic routes was having

a marked impact, with "a significant

percentage" encouraging

staff to consider staying over on a

Saturday night if the saving outweighed

the additional hotel and

meal costs. Many were urging travellers

to compare the cost of airport

parking with using taxis, and to

use public transport if possible.

They were also requesting employ-

Shareandsharealike:astimesgettight,employeescouldbeaskedtomakecertainsacrifices Alamy

BostonScientific Staff comfort still a priority

Travel budget in Europe, the Middle

East and Africa is about €30m, but

the company is looking for a 5 to

10 per cent reduction. It has frozen

all but essential, customer­facing

travel (such as sales trips) and is

encouraging others to use

alternatives such as web

conferencing.

Employees are recommended to

make "hybrid" flight bookings:

travelling to North America in

ees to share hire cars and fill up

the tank before returning them, to

avoid higher refuelling charges

imposed by rental companies.

Companies with large enough

demand to negotiate discounts with

airlines, hotel groups and other

suppliers in return for providing set

levels of business should start by

ensuring employees do not jeopardise

those deals by booking with, for

example, non-preferred carriers.

Small or medium-sized businesses

with insufficient clout to secure

such deals may not have that

option. As Norman Gage, business

travel director of the UK's Advantage

travel agents' consortium,

observes, if only one or two personnel

represent the company on the

road, it is clearly much harder to

make economies by cutting the

number of staff travelling. "SME

guys are more hand-to-mouth. The

often have no choice but to fly."

One company, whose business

travel clients include a large

number of individuals and small

outfits is UK-based Trailfinders.

Typically, they are not big enough

to employ inhouse travel managers

or to secure deals with airlines or

hotel groups. In the current climate

it is "very, very clear" that such

customers are seeking ways to cut

economy, for example, but

returning overnight in business

class.

It has also been discussing

whether to ask staff to stay in

lower­rated hotels. But, says,

Volker Spichal, finance director for

EMEA, "the idea is that people

who already have fairly long days

should still have some degree of

comfort".

"We are trying to set ceilings on

costs, says Steve Gadd, its business

travel director. "The crisis has

acted as a wake-up call. Maybe the

company secretary has demanded

savings on travel. As a result we

are getting inexperienced employees

asking for our help to reduce

spending," he says.

"Increasingly, customers who

might have been happy to fly direct

when times were better are pre-

'Customers who might

have been happy to fly

direct when times were

better are prepared to

book indirect flights'

pared to book indirect flights – to

India via the Gulf for example. That

can add two to three hours to their

journey times but it can save companies

20 to 30 per cent on fares.

Others are switching from flag carriers

to emerging airlines such as

Jet Airways and Kingfisher.

"It's also clear that people are

moving away from the very high

price luxury hotels, the uber-brands

if you like, to less expensive fivestar

properties. At the same time a

the amounts staff spend...We

want them to consider how much

they would spend eating out on

their own account."

The company hopes to use

information garnered via the staff

online booking and expense

reporting tool, supplied by KDS, to

drive down negotiated air fares and

keep tabs on staff spending –

naming and shaming the most

profligate.

lot of travellers are dropping from

five to four-star hotels."

Although it may seem contradictory,

at least one travel management

company, Yorkshire-based

Redfern Travel, has decided to help

clients avoid travelling – by offering

them the option of online audio

or video conferencing. Commercial

manager Mark Bowers says: "The

credit crunch wasn't the driver, but

there's no doubt that it will focus

people's attention on the first question

they should always have

asked, which is: do we really need

to travel? They are now more likely

to ask it and if they don't, their

senior executives are going to insist

that they do."

Even the way businesses pay

travel management companies can

make a difference to costs. Norman

Gage says: "After the downturn in

the early 1990s we saw a shift from

airlines and other suppliers paying

agents commission, to our clients

paying members overall management

fees. After 9/11 clients found

they were travelling less but paying

agents the same fees, so there has

now been a big shift to transaction

fees [fees paid for each booking or

other service provided]."

The switch away from commission

has meant agents are under no

SFR

Flowers for the Host

The Paris­based mobile phone

network operator has a total

travel budget, including transport

and other expenses, of about

€18m. Staff make some 18,000

trips a year.

SFR succeeded in cutting its

travel spending by 10 per cent

last year and is now attempting

to achieve a further 20 per cent

reduction.

With about 70 per cent of its

travel already restricted to the

use of trains, it has banned the

purchase of first class tickets

for trips of less than two

hours.

It has now also increased the

minimum rail journey time above

which employees are allowed to

fly, from two to three hours.

The company is planning to

raise the time threshold beyond

which staff may book business

class on long­haul flights from

three hours to five or six hours.

At the time of writing a decision

was still pending.

Strenuous efforts are being

made to maintain high use of the

company's self­booking tool.

Travel manager Jean­Francois

Magne says this shows staff

economic ways of travel,

including advance purchase of

non­refundable tickets if they are

confident the trip will not be

cancelled.

"To do that for each employee

would be impossible for me and

uneconomic even for a travel

management company."

Staff who choose to stay with

friends or relatives on the road

get €15, not as some miracle

solution to cut costs, says Mr

Magne, "just to buy flowers or a

bottle of wine".

pressure to push business class

fares, he notes.

"Previously they earned more

from selling premium class but now

they don't care which class they

book."

Automation also helps cut costs,

says Mark Bowers: "A figure we

have often heard from government

travel sources is that by the time a

train ticket has been sent out and

an individual invoice issued – and

maybe sent to the wrong department

– the administration cost for

one trip is on average £41. We have

automated transactions, providing

clients with ticket printers and

invoicing all their trips together at

the end of the month, which they

say cuts the cost to £3.50. I take

both the higher and lower figures

with a pinch of salt but even if they

save £10 on each transaction it is

considerable."

Meanwhile other recommendations

in the Amex list include

reconfirming appointments rather

than risk incurring flight cancellation

fees; before embarking on

longer trips, comparing the cost of

recently-imposed fees for checked

bags on some US airlines with that

of the hotel laundry, which, if you

really have to share a room might

have other added advantages.
---
FINANCIALTIMESMONDAYNOVEMBER 10 2008 9

Global Traveller

Safe and friendly place to sing your heart out

EXECUTIVEGUIDE

TOKYO

Jonathan Soble is

told where to go

by an old hand

In the battle of the Beatles

tribute pubs, John Vail is an

Abbey Road man.

"I used to go to the Cavern

Club years ago, but I heard

their old band moved to

Abbey Road (4-11-5 Roppongi,

Minato-ku, 03-3402-0017) so I

started going there. It's a

very friendly place."

Tokyo – where Mr Vail,

chief global strategist at

Nikko Asset Management,

has spent eight years – is a

place of wanton cultural mixing

and near-infinite choice.

Other cities may have

Beatles tribute bands, but

only the Japanese capital has

a mini-industry of bars dedicated

to the form.

"I like it when both western

and Japanese cultures

are represented. I'm not the

kind of guy who insists on

'The subway is

easy to use,

except maybe in

rush hour. It's best

to wake up early'

JohnVail

ChiefGlobalStrategist

NikkoAssetManagement

sushi served the traditional

way. I like fusion."

Mr Vail was born in Ohio

and raised on Chicago's

North Shore.

He watched Japan's stock

bubble inflate and burst during

his first stint in the country

from 1988-1992, as a fund

manager with Fidelity.

After returning in 2004 he

joined Nikko – a big mutualfund

manager that is now

part of Citigroup – in 2006.

"Tokyo is a lot more pricefriendly

now," he says.

"It's still really safe and

the service is always impeccable.

You never have to

worry about being cheated. I

never look at the coins the

taxi driver gives me."

Hotels

By Mr Vail's reckoning, the

Conrad (1-9-1 Higashi-Shinbashi,

Minato-ku,

03-6388-8000), in Shiodome,

southwest of Tokyo Station,

offers Tokyo's biggest, bestdecorated

rooms.

For high-style lobby tea

service he recommends the

Ritz Carlton (9-7-1 Akasaka,

Minato-ku, 03-3423-8000) in

Roppongi's sprawling Midtown

development, while the

venerable Imperial (1-1-1 Uchisaiwai-cho,

Chiyoda-ku,

03-3504-1111) in Hibiya boasts

Tokyo's "best old-fashioned

bars".

Restaurants

"I've never had a bad meal in

Japan. It's universally very

high quality, and there is a

huge amount of variety."

Nobu (4-1-28 Toranomon,

Minato-ku, 03-5733-0070)

offers its globetrotting brand

of Japanese fusion at "surprisingly

reasonable prices"

in Toranomon, next to the

Okura Hotel, while the New

York import Union Square

(9-7-4 Akasaka, Minato-ku,

03-5413-7780) grills Tokyo's

best western-style steaks.

Sushi connoisseurs are

known to line up at Tsukiji

fish market at dawn, but

even the lazy have little trouble

finding tasty maguro,

ikura and hamachi. "For

sushi, there are so many

places and it can be very

inexpensive – or outrageously

expensive, if that's

what you want."

Networking

Few places attract moneyed

dealmakers like the Oak

Door (6-10-3 Roppongi,

Minato-Ku, 03-4333-1234), a

bar and restaurant on the

sixth floor of the Grand

Hyatt hotel in Roppongi

Hills. "It's definitely a place

to meet people," Mr Vail

says. At ground level in the

same complex is Heartland

(6-10-1 Roppongi, Minato-ku.

Tel: 5772-7600), where the

crowd of 30-something expats

spills out on to the street,

drinks in hand.

Where to sing karaoke

"I've had some of my best

nights out at Fiesta (7-9-3

Roppongi, Minato-ku,

03-5410-3008), a small karaoke

bar across from Roppongi

Midtown where you sing on

stage in front of everyone.

It's amazing – you get professional-level

singers and warbling

old men, but it's always

fun." For those who prefer to

keep their ululations among

friends, the similarly named

Festa (3-5-7 Azabudai,

Minato-ku, 03-5570-1500), also

in Roppongi, offers thousands

of English songs in private

rooms for up to 30 people.

On an afternoon off

"Meiji Shrine is so serene.

You feel like you're a million

miles away," Mr Vail says of

the wooded Shinto sanctuary

just west of the city centre.

He also recommends peoplewatching

in neighbouring

Yoyogi Park or along Takeshita

Street in Harajuku. "It's

jammed on the weekends

with young people wearing

all sorts of odd outfits." For

indoor culture there is Roppongi

Hills' Mori Museum

(6-10-1 Roppongi, Minato-ku,

03-5777-8600) and the nearby

National Art Center (7-22-2

Roppongi, Minato-ku), with

its Kisho Kurokawa-designed

curving glass facade. "Even

if the exhibit isn't special,

just being in the building is

treat enough."

What to miss

"I've never been up Mount

Fuji but I've had a lot of people

say they'll never do it

again. It's single file all the

way up this rocky path, and

you're just looking down at

the footsteps of the people in

front of you all the way."

Getting around town

"I don't own a car – you

don't need to in Tokyo. The

subway is clean and efficient

and it's easy to use, except

maybe in rush hour. It's best

to wake up early."

Ideal excursions

"Take a one-hour express

train to Mount Takao, with

shrines and many nice paved

and rough hiking trails." In

winter, the ski slopes at

Karuizawa and Echigo-Yuzawa

are less than two hours

away by bullet train. Overnighters

can stay at the

Karuizawa Prince Hotel

(Karuizawa-machi, Nagano,

0267-42-1111) or the Otani (330

Oaza, Yuzawa, Niigata,

025-784-2191), though there

are "many wonderful oldstyle

pension hotels everywhere".
---
10 FINANCIALTIMESMONDAYNOVEMBER 10 2008

Global Traveller

Land of the long – and filling – meetings

BUSINESSETIQUETTE

SPAIN

Mark Mulligan reviews

local working culture

Spain is one of Europe's great economic

success stories; from lowwage

backwater in the 1980s to

modern global force today. However,

do not be fooled by the shiny

new wrapper: custom and tradition

die hard in what is still an essentially

conservative business society.

"Doing business in Spain is still

more like negotiating in northern

Africa than agreeing a deal in

northern Europe," says a British

financier living in Madrid. "Si, Si

often means no, no, and nothing

gets done in a hurry."

This lack or urgency may irritate

those on a tight schedule. Spanish

businessmen, particularly in multinational

companies, are aware of

this and will endeavour to adapt.

However, government departments

are indiscriminately bureaucratic

and obstructive, despite regular

promises by politicians to reduce

red tape. In any case, it often pays

to go with the flow.

Business meetings that may take

20 minutes in, say, Amsterdam,

could drag on for an hour or more

in Madrid. They can also seem a lot

less structured, with participants

appearing and disappearing with

little explanation. Listening attentively,

while a virtue in many societies,

is optional in Spain.

"Be prepared for chaotic business

negotiations," advises the International

Business Centre, a not-forprofit

on-line advisory service.

"Often numerous people will be

speaking simultaneously." Meetings

are usually called or scheduled

for late in the day, and run well

into the evening.

Despite this relative chaos, business

protocol and custom, though

slowly dissolving in some sectors,

is rigid. Attire is almost invariably

sober and understated: dark suits,

light shirts and conservative ties

are the norm. One's superior is

always right and not to be contradicted,

especially in front of others.

Subordinates will often refer to a

male chief executive as "Don" soand-so,

bestowing upon him a title

best translated as "sir".

Though foreigners are not

expected to show the same deference,

this treatment, on being introduced

to the boss, will be appreciated.

Use "Don" as part of a formal

greeting, in Spanish, and your

efforts will be noted. Simply effusing

"Es un placer conocerle, Don

Jaime", or "Mucho gusto, Don

Jaime" on shaking hands will

DisdaininSpain:forsandwichesatdesks.Aproperlunchisfavoured Getty

unfailingly elicit compliments

about the level of your Spanish.

After that, first names are generally

fine, though the occasional

"Señor" followed by the surname

will help maintain a basic level of

formality. Get the surname right:

Spaniards generally have two and,

although customarily go by the

first – which is the paternal one –

they sometimes use the second.

José Luis Rodríguez Zapatero, the

prime minister, is a case in point.

Learning how to order a few

favourite dishes in Spanish will

also be a point-scorer. When there

is business at hand, your host will

generally insist on a three-course

meal with wine, often prefaced with

a beer and tapas and topped off

with a post-prandial whisky or

other spirit. These feasts rarely

start before 2pm and can run to

beyond 4pm, serving as a sort of

long intermission in a commensurately

long working day. Do not

expect to find people in their offices

during this time – Spaniards view

with some disdain the idea of a

quick sandwich at the desk.

Business is not necessarily the

focus of what many would term a

"working lunch", but rather a way

to get properly acquainted. "Ideally,

you should talk shop at the table

only if your Spanish companions

initiate it," advises Executive-

Planet.com. "In any case, protocol

requires that you wait until coffee

is served at the end of the meal to

bring up the subject of business."

Avoid talk of politics until allegiances

are established, and take

note that Spaniards are sensitive to

overt criticism of their country.

"People in Spain – and other Latin

societies – tend to confuse criticism

of institutions with personal

attacks," says the head of an influential

business lobby. This said,

observations with a negative tinge

are fine, although they are best offset

with an equally unfavourable

remark about one's own country.

They also value family life above

all else, so questions about your

host's family normally go down

well. Football is another great leveller.

Spaniards are also fiercely

regional. The former chairman of

one electricity group delighted in

presenting to visitors a tome of

photographs from his province. A

few anecdotes about your own

home will keep conversation flowing

until talk finally gets around to

business.

Green awareness grows

MICE

Germany leads the

way in sustainable

conferenceplanning,

reports Jill James

Rising environmental costs

look set to play an even

larger part in the meetings,

incentives, conferences and

exhibitions market (Mice).

In Germany, which has the

biggest share of the sector in

Europe, environmental

awareness is particularly

strong. Many of the country's

hotels have been revelling in

their role as "green models".

And, as last year's American

Express Hospitality Monitor

showed, German hotels stand

out for their energy efficiency

on a European level.

But it is one thing to run a

hotel on environmentallysound

polices and quite

another to cater for conferences,

congresses and events

involving up to 15,000 people.

"Take a little thing such as

a coffee break," says Michel

Maugé, general manager of

the convention centre in

Mannheim. "Recently, I had

5,000 people here and during

their coffee breaks they used

10,000 cups. It's important

that they are recycled."

Mannheim alone can cater

for 9,000 people each day.

"There are two things to bear

in mind in terms of environment,"

says Mr Maugé.

"There is the buildings, hardware

and energy savings

side, and then there is what

we do with the participants

and their production of CO2

when they travel here."

He says the new Mannheim

building is more than

double the size of the old

one, but uses just 25 per cent

more energy. "We have a

new lighting and cooling

system and have made big

economies there."

Messe München (MMG),

'This starts with

the question of

whether an event

should really take

place or not'

Munich's trade fair company,

says it took account of environmental

protection from

the start. The new Munich

Trade Fair Centre, it says,

was the first to gain an

Energy Efficient Enterprise

certificate from TÜV SÜD, an

inspection authority. It operates

extensive measures to

save energy, from building

automation to energy-saving

lighting systems.

"Our goal," says Manfred

Wutzlhofer, chairman and

chief executive of MMG, "is

to use state-of-the-art technology

to achieve the most

efficient results, ecologically,

technically and economically,

in energy consumption

and CO2 emissions."

Planners realise that an

event is no less successful if

it is green, says the German

Convention Bureau. It says a

new philosophy is gaining

ground. "This already starts

with the question of whether

an event should really take

place or not. Sometimes telephone

and video conferences

can be a cost- and energy-efficient

alternative. "

However, once the goahead

has been given, more

planners are opting for a sustainable

approach: sending

invitations by e-mail; selecting

a destination that is easy

to reach; and choosing centres

and hotels with a sustainable

management.

An example of what delegates

may expect in future

was highlighted by this

year's Imex show for meetings

and incentive travel in

Frankfurt. Visitors were

encouraged to travel to

Frankfurt by train with the

help of discounts from Deutsche

Bahn. Imex also introduced

an anti-idling policy

on all its courtesy buses and

many used bio-diesel fuel.

Sustainability may have a

long way to go but, in Germany

at least, they are paying

it more than lip service.
---
FINANCIALTIMESMONDAYNOVEMBER 10 2008 11

AskGlobalTraveller

Send your questions to

askglobaltraveller@ft.com

Q: What do you have to do to

get an exit row seat? Recently,

I was at the front of the line

when check­in opened and still

couldn't get one. The flight was

oversold in economy, so the

airline must have allocated them

all.

DP, IT consultant, Perth Western

Australia

A: You may be able to grab one

online if you jump in as soon as

internet check­in opens – but it

depends on which airline you fly

with. Safety regulations, generally

state that passengers sitting in

emergency exit rows must be

sufficiently able­bodied to open

those exits. But there seems to be

widespread – or maybe wilful –

misunderstanding of this rule. The

knee­jerk response from some

carriers is that because they need

to be sure passengers are not too

old or infirm to make the physical

effort demanded they can only

allocate such seats at check­in.

European regulations, at least, do

not prevent allocation online or by

telephone. British Airways, for

example, says: "We used to only

allocate these seats at the airport,

this has all changed. But we still

have those same checks online and

you are required to confirm that

you are able bodied and willing to

help with an evacuation in the

event of an emergency. This is

checked at the airport as well."

Singapore Airlines has started

offering online customers the

option of exit seats, in return for a

fee. Qantas assigns such seats only

at the airport, as does Virgin

Atlantic for £50 ­ £70 one way.

Q: Why doesn't every airline

introduce an "economy plus"

cabin? The extra five inches of

leg room you get on United

Airlines, for example, compared

with a normal economy seat,

really makes a difference.

RA, marketing consultant, Essex, UK

A: A particularly relevant question

at a time when the economic

climate is likely to force many

travellers to downgrade from

business class. It is also plain to

see that those carriers that do

operate such cabins have no

trouble filling them. Air New

Zealand, for example, which has

twice upped the number of

premium economy seats on its

Boeing 747­400 aircraft, announced

recently it would double them on

its 777­200ERs, from 18 to 36. The

argument against is that demand

for these seats varies significantly

between routes. Adding what is

sometimes a fourth cabin – in

addition to first, business and basic

economy – leads to less efficient

deployment of aircraft because it

becomes more difficult to switch

them from routes where there is

heavy demand to routes where

premium economy is harder to sell.

United's economy plus, which is

available on domestic as well as

international flights, differs because

it cannot be booked in advance.

Although seats can sometimes be

bought at the airport. If there are

any left over they are used to

reward frequent flyers or customers

paying fully flexible economy fares.

Q: When travelling business

class on short­haul, priority

labels may be attached to hold

baggage. More often than not,

priority bags don't appear first

on the baggage carousel. So

what's the point? Airlines are

advertising this as a benefit of

buying business class, but then

they omit the service. This is

not so much of a problem on

long­haul routes, where larger

aircraft are used and priority

baggage has its own container.

PA, group manager, Staines, UK

Global Traveller

An optimistic look to the skies

CEOINTERVIEW

CHRISCUDDY

Roger Blitz talks

to the head of

an airline price

comparison website

Thanksgiving

weekend is

approaching and

according to

Cheapflights' Chris Cuddy,

several of the bigger airlines

are offering signficant price

deals to grab business.

"They have got relative

breathing room," says the

chief executive of the price

comparison website. When

oil touched $140 a barrel

this year, airlines cut

capacity and costs and

threw in additional fees.

Now that oil is around the

$60-$70 mark, the holiday

season is a chance for

airlines to pass on the

benefit of the oil price

decline to the traveller. "For

the time being, airlines are

ahead of their worst-case

scenarios," Mr Cuddy says.

Few practitioners have a

better immediate fix on the

state of the travel industry

than Cheapflights. Founded

12 years ago by a former

travel editor of society

magazine Harpers & Queen,

it introduced pay-per-click in

the UK, making its money

from airlines who advertise

their deals on its website.

Millions of flights are

listed on its websites

tailored to the UK, the US

and Canada and Mr Cuddy

last month launched the

company's first continental

European site, for Germany.

He hints further expansion

is more than likely soon.

It is his first big initiative

since stepping up from

group managing director to

chief executive in March.

Plans for a flotation are on

hold, so there is nothing to

distract from taking

advantage of the downturn.

"We are a value

mass-market brand," he

says. "We are bigger than

anyone else out there and

drive more leads to the

airline industry than any

source other than Google."

Its leads resulted in $4bn of

business for airlines and

advertising partners in 2007.

"When airlines are

'There is no

substitute for

being there and

no practical

substitute for

long­haul flights.'

desperate to put people in

their seats, that puts

Cheapflights in a good

position."

Mr Cuddy, 44, works

between London and Boston,

where he lives with his

family. The US business is

expected to overtake the UK

division next year and,

despite portents of gloom, or

perhaps because he was

being interviewed on the

day Barack Obama was

elected president, he

remains upbeat about the

industry's prospects.

"Air travel fuels the

Extralegroommakesadifference

energy of international

commerce," he says with

evangelical zeal. "There is

no substitute for being there

and no practical substitute

for long-haul flights."

Air travel overall has

declined only marginally in

these difficult months,

despite the reduced traffic

reported by some carriers,

and the widespread pruning

of travel budgets. "There is

a disconnect with what is

going on with airlines and

passengers," he says.

Certain things have

changed, though. Those who

think business class equals

business travel are plain

wrong, he says: "Business

travellers sit everywhere in

the plane."

Travel guidelines for

business travellers are

getting tighter and will

continue to do so. They are

taking up bookings 30 days

before flying to reduce flight

costs, buying online and

skirting around in-house

travel agencies.

With airline fares having

risen by up to 8 per cent

year on year, the pressure is

on travellers to look at

flying at weekends and

other cheaper times. "We

are doing it at Cheapflights

ourselves," he says.

"Right now, business

travellers are in the same

mix as leisure travellers.

They have to play by the

same rules. If you are

booking at the last minute,

you are paying a much

higher price."

Meanwhile, the dramatic

movement in currency

exchange rates is causing

what he calls a

ChrisCuddy:'Airtravelfuelstheenergyofinternationalcommerce'

"game-changing shift", in

the past three months, to

low-cost carriers which he

expects will emerge from a

recession in a better

position than others.

As for the airlines, the

introduction of Open Skies

may have been

overshadowed by economic

events, but Mr Cuddy

believes the openingof

transatlantic routes will, in

the long run, result not just

in an increased choice for

business travellers, but will

also give airlines greater

flexibilityto cut routes and

capacity.

But Mr Cuddy also thinks

airlines and governments

still have a long way to go

in understanding business

traveller needs. "There is

still a painful gap

between...expectations and

the reality of business

travel," he says.

Infrastructure is still

lacking in the UK, while air

passenger duty has done

nothing to change passenger

behaviour.

"There needs to be a

comprehensive review of

travel infrastructure. We

need to put infrastrucutre as

a priority for an island

country."

A: It seems to be a widely­held

view that priority tagging is

pointless. Swiss, for example,

insists that it does work and says

there is "absolutely no evidence"

that the service is less effective on

on short­haul flights. That said, the

number of airlines offering this

service on short­haul routes is

fewer than you imagine. One that

does not is Air France, which says

a lack of infrastructure at some

airports and variations between

aircraft makes special handling

difficult to organise with any

consistency. Another consideration

is that punctuality is more

important to short­haul passengers

and sorting bags could delay flights.

Austrian Airlines, on the other

hand, does offer priority tagging. It

says it focuses on making the

service work but adds that, as with

all airlines, this depends on the

diligence of staff. Lufthansa, which

offers the service to premium cabin

passengers and frequent customers

on short­ as well as long­haul

flights, claims it "works very well".

Roger Bray