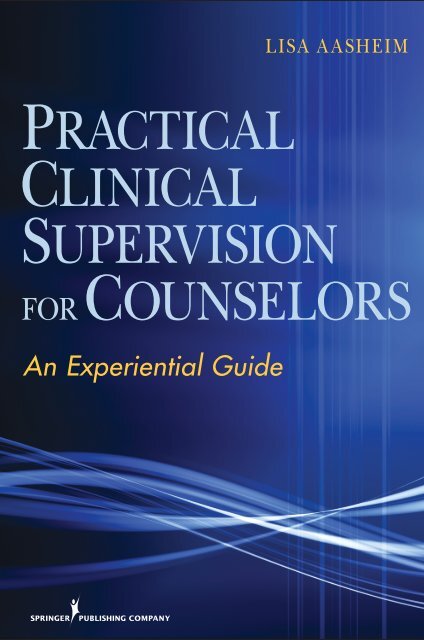 ISBN 978-0-8261-0786-2 - Springer Publishing
ISBN 978-0-8261-0786-2 - Springer Publishing
ISBN 978-0-8261-0786-2 - Springer Publishing
SHOW MORE
SHOW LESS
Create successful ePaper yourself
Turn your PDF publications into a flip-book with our unique Google optimized e-Paper software.
Lisa A a sheim

Practical

Clinical

Supervision

for Counselors

An Experiential Guide
---
Practical Clinical

Supervision for Counselors
---
About the Author

Lisa Aasheim, PhD, NCC, ACS, is the coordinator of the School Counseling

Master's Program and the director of the Community Counseling Clinic

at Portland State University. She also maintains a private practice offering

counseling, clinical supervision, and agency and school consultation. She is

a chapter author of numerous textbooks and has presented at ACES, ACA,

and the Oregon Counselors Association. Dr. Aasheim has participated in

the Oregon Board of Licensed Therapists and Counselors, the Teachers

Standards and Practice Commission regarding social work licensure, and in

clinical supervision revisions and standards.

ii
---
Practical Clinical

Supervision for Counselors

An Experiential Guide

Lisa Aasheim, PhD, NCC, ACS
---
Copyright © 2012 Springer Publishing Company, LLC

All rights reserved.

No part of this publication may be reproduced, stored in a retrieval system,

or transmitted in any form or by any means, electronic, mechanical, photocopying,

recording, or otherwise, without the prior permission of Springer Publishing Company,

LLC, or authorization through payment of the appropriate fees to the Copyright

Clearance Center, Inc., 222 Rosewood Drive, Danvers, MA 01923, 978-750-8400,

fax 978-646-8600, info@copyright.com or on the Web at www.copyright.com.

Springer Publishing Company, LLC

11 West 42nd Street

New York, NY 10036

www.springerpub.com

Acquisitions Editor: Sheri W. Sussman

Composition: diacriTech

ISBN: 978-0-8261-0786-2

E-book ISBN: 978-0-8261-0787-9

11 12 13/ 5 4 3 2 1

The author and the publisher of this work have made every effort to use sources believed

to be reliable to provide information that is accurate and compatible with the standards

generally accepted at the time of publication. The author and publisher shall not be liable

for any special, consequential, or exemplary damages resulting, in whole or in part, from

the readers' use of, or reliance on, the information contained in this book. The publisher

has no responsibility for the persistence or accuracy of URLs for external or third-party

Internet Web sites referred to in this publication and does not guarantee that any

content on such Web sites is, or will remain, accurate or appropriate.

Library of Congress Cataloging-in-Publication Data

CIP data is available at the Library of Congress

Special discounts on bulk quantities of our books are available to corporations,

professional associations, pharmaceutical companies, health care organizations,

and other qualifying groups.

If you are interested in a custom book, including chapters from more than one of our

titles, we can provide that service as well.

For details, please contact:

Special Sales Department, Springer Publishing Company, LLC

11 West 42nd Street, 15th Floor, New York, NY 10036-8002

Phone: 877-687-7476 or 212-431-4370; Fax: 212-941-7842

Email: sales@springerpub.com

Printed in the United States of America by Gasch Printing
---
This book is dedicated to my lovely Madeline Rose,

whose empathic, warm, curious, and beautiful nature

inspires my work and play.
---
Contents

Preface xi

Acknowledgments

xv

I. Preparing to Supervise 1

1. What is Clinical Supervision? 3

What is Clinical Supervision? 3

Defining Clinical Supervision 4

The Prevalence of Clinical Supervision 6

The Purposes of Clinical Supervision 6

How Should Clinical Supervision be Conducted? 8

Supervisor Development 8

Toward Reflective Practice 9

Competent Supervision 10

2. Preparing for Effective Supervision 13

Supervisor Credentials and Training 13

State Licensing Boards 14

Professional Organizations and Accreditation 17

Standards of Supervision Practice 18

Characteristics of the "Ideal" Supervisor 20

The Supervisory Alliance 20

Availability and Approachability 21

Core Qualities 22

Role Clarity: Supervisor or Therapist? 23

Ability to Tolerate Powerful Affect 23

Effective versus Ineffective Supervision 24

A Model of "Lousy" Supervision 25

Effective Supervision 30

3. Identifying Your Model of Supervision 35

Supervision: Combining Science and Practice 35

The Importance of Using a Supervision Model 36

Evidence-Based Practice 37

Selecting a Model 38

Developmental Models 39

vii
---
viii Contents

Counseling and Psychotherapy-Based Models 46

Cognitive-Behavior Therapy Supervision 47

Social Role Models 49

The Discrimination Model 49

The Systems Approach to Supervision 51

4. Preparing for the Initial Session 53

To Supervise or Not to Supervise? 53

The Pre-Supervision Interview 57

Supervision Fees 61

Scheduling 62

Setting The Stage for Supervision: The Supervision Contract,

Informed Consent, and Professional Disclosure Statement 63

II. Supervision in Action 69

5. The Initial Session 71

The Supervision Environment 72

Beginning the Session 73

The First Session Checklist 74

Collaborative Goal Setting 81

6. The Supervisory Alliance: Building the Relationship 85

The Supervisory Alliance 85

Important Components of the Supervisory Alliance 85

Role Clarity: Managing Multiple Relationships 99

Managerial versus Clinical Supervision 100

7. The Supervision Alliance: Strains, Stressors, and Solutions 103

Counterproductive Supervision Events 103

Counterproductive Events Involving Ethical Nonadherence 105

Counterproductive Events Involving Supervisor Technical

Skill 113

Counterproductive Events Involving Supervisor

Personalization Skills 115

Conflict in Supervision 117

Defensive Strategies and Strategic Games 122

8 Beyond Self-Report: Supervision Modalities and Methods 129

Concurrent and Ex-Post Facto Supervision Methods 131

Concurrent Methods of Supervision 131

Ex-Post Facto Supervision 138

Technology-Assisted Remote Supervision 145
---
Contents ix

9. The Supervision Process: Technical Tools and Tips 151

Supervision Phenomena and Processes: Making Sense of It All 152

The Separation-Individuation Process 152

Self-Efficacy 155

Anxiety 159

Self-Presentation 160

Nondisclosure 163

Lying 166

Transference—Countertransference 169

Supertransference 171

Parallel Process 172

Emotions 174

Supervision Techniques 177

10. Models of Supervision: Triadic and Group Supervision 189

Triadic Supervision 189

Benefits and Drawbacks 190

Supervision Structure 191

Composing the Triad 194

Group Supervision 195

Goals of Group Supervision 195

Benefits and Drawbacks of Group Supervision 196

Group Supervisor Characteristics 196

Group Composition 198

Formatting the Group 198

Bringing the Group into Action 201

Engaging the Members 203

Problems in Group Supervision 206

11. Creativity in Supervision 209

The Scamper Model of Creativity 209

No-Tech Creativity: Techniques Using No Equipment

Nor Materials 212

Low-Tech Creativity: Techniques Using Simple Technical

Equipment and/or Simple Materials 216

Mid- And High-Tech Creativity: Techniques Using Complex

Technology and/or Materials 219

III. Critical Components of Clinical Supervision 223

12. Legal and Ethical Matters 225

Ethics and Supervision 226

Competence 227
---
x Contents

Due Process 232

Informed Consent 233

Confidentiality and Privilege 234

Malpractice 237

Direct Liability 238

Multiple Relationships 240

Ethical Decision-Making Model 243

13. Evaluation, Documentation, and Risk Management 245

Formal Evaluation: Professional Performance Assessment 245

Documentation in Supervision 255

The Supervision Chart 256

The Case Review Form 258

14. The Fine Art of Feedback 265

The Nature of Feedback 265

Content and Process 267

Content and Variables 267

Process Variables 269

The Technical Aspects of Feedback in Supervision 273

Working with Intention 274

Earning The Right To Challenge 275

The Three Constituents 275

Effective and Ineffective Feedback 276

Appendix A: Ethical Guidelines 279

Appendix B: Supervisee Information Form 287

Appendix C: AMCD Multicultural Counseling Competencies 289

Appendix D: Counseling Supervision Contract 293

Appendix E: Sample Professional Disclosure Statement 297

Appendix F: Supervision Session Report 301

References 303

Index 325
---
Preface

My passion for clinical supervision was born one sunny afternoon on a

park bench in Portland, Oregon. I had just left the university bookstore with

Holloway's Systems Approach to Supervision in hand and, with an hour to

spare before class, I decided to preview this required textbook while taking

advantage of the early spring sunshine. Within a few moments, I was so

deeply engrossed in the book that I, ironically, barely made it to the actual

clinical supervision class on time.

It was on that park bench that I learned that supervision is not merely a

task or duty assigned to a senior therapist. Instead, supervision is a field of

study, complete with theories and models, practice standards, a code of ethics,

credentialing, professional conferences, and professional organizations.

It is a field of study and practice that is transdisciplinary and is relevant to

many kinds of helpers in many helping professions. It was on that bench

that I learned that the supervision relationship is core. Admittedly, that was

not entirely new information; as a counselor, I already respected the critical

importance of a strong, trusting relationship in any helping arrangement.

I had also learned through experience that the relationship between a counselor

and his or her supervisor was crucially important as well. I knew that

my supervisors could directly impact my clinical work with clients through

conversation, role modeling, demonstrations, and carefully guided discussion.

I also knew my supervisors could directly impact my emotional and

psychological experiences at work; the nurturance, guidance, and support

afforded me in supervision somehow alleviated much of the frustration,

helplessness, and isolation I felt as I did my best to help others live and function

well. I did not understand, at the time, the mechanisms by which these

supervisors could be so impactful. I just knew that my supervisors had the

potential for great power in my professional (and personal) life; they had the

power to influence and shape my relationships with my clients, my work setting,

my colleagues, and my profession, for better or worse. I had certainly

experienced both.

On that marvelously sunny afternoon, I first learned one approach to

supervision; in the subsequent weeks and months, I learned the rest. Following

that transformative hour on a park bench, I spent an evening and the following

day listening with unswayable interest to my professor, Dr. Miars, share

his knowledge and passion for this practice called "clinical supervision."

I listened with great curiosity and mild skepticism as Dr. Miars insisted that

xi
---
xii Preface

with skill, practice, and forethought, we could all be effective supervisors.

Then, at the end of less than ten hours, Dr. Miars sent the group of us off to

provide supervision to Masters-level trainees and insisted, contrary to our

insecure cries, that we would do alright. My profound disappointment at

the brevity of the workshop was overshadowed by my excitement for what

I had learned. Little did I realize that I, after consuming one book and a onecredit

class, was actually more trained than many of my own supervisors

had been.

Following that impactful experience, I used that one required book as a

compass to direct my further investigation into this enigmatic practice called

"clinical supervision." I used that initial book's reference section as a reading

list and devoured every article and book I could find. I used each article

to lead me to more articles, more information, until I could no longer find

anything novel pertaining to the practice. Frustrated that the well of information

had perhaps run dry, I attended every training and workshop I could

find pertaining to the practice of clinical supervision. To my dismay, such

workshops were few in number and far in distance. So, with a wide breadth

of knowledge and a passion for the practice, I turned most of my professional

attention to providing and practicing supervision so that I could learn

experientially the many methods and approaches that I had merely read

about. I offered supervision to Masters-level clinical mental health trainees,

associate and bachelor-level addictions counselors, prelicensed and licensed

counselors. I used individual, triadic, group, and classroom formats, all to

gain a more intimate knowledge of the mechanisms and phenomenon that

make supervision work. The hunger was mutual: I wanted to supervise as

much as my counseling supervisees wanted supervision. We all longed for

the powerful, formative experiences, and my supervisees and I looked forward

to our time together and lamented at the end of each session that once

again, time had flown by too quickly.

After completing a doctoral degree that focused on counselor education

and supervision, then teaching counseling courses at two universities, I have

finally landed at the very same university where I first learned about supervision.

I teach alongside my dear colleague, Dr. Russell Miars, the very same

professor who planted the "supervision seeds" many years ago. We and our

colleagues take great delight in training supervisors for their future work

with supervisees in a multitude of settings. It is for these supervisors that

this book is written.

This book is for the supervisors who would like a practical guide to

supervision, a framework that is applicable to any work context and most

any situation; the supervisors who, like myself, wanted to learn supervision

thoroughly so that it could be provided with the highest level of competence

and effectiveness; the supervisors who also recognize that knowledge alone

is not sufficient; our experiences, past and future, inform us as readily as

the literature does. In reality, many supervisors have little time to gather
---
Preface xiii

vast amounts of information. Instead, this book brings that information

directly to them in a way that integrates lived experiences with scholarly

information.

My passion for clinical supervision continues as I teach classes for master's

and doctoral level counselors who wish to provide supervision for licensure

purposes. I conduct research to examine the quality and experiential

aspects of counselor supervision in various settings, and I continue to practice,

practice, practice. I direct a training clinic where I have the luxury of providing

supervision and witnessing others provide supervision from behind a twoway

mirror. I have a learning laboratory at my doorstep and take great pleasure

in sharing my knowledge, experience, and enthusiasm with others both

locally and nationally. You, as a reader of this book and an active participant

in your learning process, will learn from my experiences as well as your own.

This book is not didactic in nature; that is, it imparts information, but much of

the learning will occur as you reflect, consider, and intentionally create your

supervision experience.

Supervision is meant to be beneficial and fulfilling to all parties. While

clinical supervision is an invariably challenging and, at times, distressing

practice, it provides supervisors with the opportunity to impact thousands of

clients by shaping and supporting their counselors. As you prepare to begin

or continue your supervision practice, I invite you to find a spot on a lovely

bench and dive into this book with the same curiosity, passion, and eagerness

that drove your initial entry into the counseling field. Spend some time

with this book and the opportunities therein; you will gain new knowledge,

learn new concepts, and be introduced to new techniques and ideas. You will

have the chance to reflect upon your own experiences, plan your future practices,

and create your identity as a clinical supervisor. You may feel, at times,

tempted to skip an exercise, section, or chapter. Resist the urge. Instead, allow

yourself to be guided through the material and experiences therein. Your

experiences, knowledge, and wisdom influence your learning and the meaning

of this book's content. Engage fully in the activities and return to this

book's material as often as needed so that you may make new sense of the

information at a later time. From this point forward, read, learn, and supervise

with intention. Enjoy.
---
Acknowledgments

I am profoundly grateful for the support of my colleagues and mentors who

listen to my endless musings about all-things-supervision: Susan Halverson-

Westerberg and Russ Miars, who inspired my career with their support,

wisdom, and guidance, and who have each provided me with countless

opportunities to learn, grow, practice, and create; Deborah Rubel, who

quite unintentionally inspired this book and quite intentionally taught me

how to write, research, and write research; Cass Dykeman, who provided

supervision-of-supervision and a myriad of opportunities to learn, teach,

reflect, and practice; and Rick Johnson, a mentor who somehow knows just

when to teach, support, guide, protect, praise, encourage, listen, and laugh.

Additionally, I appreciate Kim Hattig for her tireless enthusiasm, relentless

energy, and impeccable competence as a research assistant and colleague.

I also thank Megan Scheminske and Tammy Schamuhn for their research

assistance, and my dear colleagues Hanoch Livneh, Tina Anctil, Don

Mihaloew, Kathy Lovrien, and David Capuzzi for their continued support

and listening ears.

Additionally, I appreciate the scholars, researchers, and authors who

influence my practice and feed my passion, including Holloway, Milne,

Bernard, Ladany, Falendar, Goodyear, Borders, Stoltenberg, Delworth,

Leddick, Lambert, Ellis, Nelson, Watkins, Wilcoxon, McNeill, Norem, and

Magnuson (who has inspired me to write "60 by 60").

Finally, and most important, without the love and support of my family,

I would not have the great fortune of sharing my work and passion with

others. I am immensely grateful for my loved ones, who support me as I

continue to live, work, and follow my passion.

xv
---
PART I

Preparing to Supervise

1
---
One

What is Clinical Supervision?

Few aspects of the mental health profession are as illogical, inherently

risky, and anxiety-provoking as clinical supervision. Ironically, the

absence of clinical supervision is also illogical, inherently risky, and ought to

be anxiety-provoking for all involved.

Clinical supervision at its finest protects client welfare and enhances the

professional functioning and competence of mental health counselors (Holloway

& Neufeldt, 1995). It has been shown to increase counselor skill levels,

decrease risk to clients, and facilitate professional development and ethical

functioning (Cormier & Bernard, 1982; Milne, 2009). It provides counselors

with a venue for support, challenge, reflection, training, objective feedback,

and professional discourse. When performed effectively, supervision is

informative and transformative for all parties. When performed ineffectively,

supervision is unimpactful in some cases, traumatic and hindering in others.

Ineffective supervision may result in stagnation or a decrease in counselor

skill development, potential ethical and legal violations, and, ultimately,

increased risk of harm to clients (Ellis, 2001; Nelson & Friedlander, 2001). At

its best, clinical supervision may be at once a counselor's best and seemingly

worst professional experience. At its worst, clinical supervision is harmful to

all involved, most notably the supervisee's clients.

WHAT IS CLINICAL SUPERVISION?

Clinical supervision is not merely an activity specific to the counseling profession;

rather, it is a distinct field of preparation and practice (Dye & Borders,

1990) that is interdisciplinary and maintains its own code of ethics, standards

of practice, professional organization (The Association for Counselor Education

and Supervision), national credential (the Approved Clinical Supervisor

Credential, CCE Global), and scholarly journals (Counselor Education and

Supervision and The Clinical Supervisor).

When one enters a new field of practice, it is reasonable to expect that

additional field-specific training is needed to build competence in the new

practice area. This is certainly the case with clinical supervision. Some believe

3
---
4 I. Preparing to Supervise

that a highly competent, effective counselor will naturally become a skilled

clinical supervisor. This is simply not the case. A skilled supervisor is not

merely an experienced counselor. A skilled supervisor has received training

specific to clinical supervision so that he has knowledge, skills, and disposition

to meet the practice standards specific to the clinical supervision field

(Borders & Leddick, 1987). Experience alone does not transform a counselor

into a competent supervisor (Stevens, Goodyear, & Robertson, 1997); rather,

experience as a counselor is simply one feature of the complete supervisor

skillset.

DEFINING CLINICAL SUPERVISION

Clinical supervision has been described as an essential, mutually advantageous,

and impossible task (Borders & Brown, 2005; Zinkin, 1989). Further,

defining clinical supervision has proven nearly as complicated as the practice

itself. The literature presents a multitude of definitions, and the complexity

of these definitions reminds supervisors of the complexity and multifaceted

nature of the task itself.

In its simplest form, clinical supervision could be defined as "a controlling

mechanism instituted to oversee directly the skills utilized in the treatment

of patients" (Lyth, 2000, p.723) based on the literal meaning of the

words clinical and supervisor. However, many would argue that the simple

definition is inaccurate in that it omits most major defining variables of the

practice. While it is agreed that the field lacks a strong, operational definition

of the term clinical supervision, the term still carries strong implications for

practice and tasks therein.

The most frequently cited definition, coined by Bernard and Goodyear

(2009), defines clinical supervision as an intervention provided by a seasoned

member of the field to less-experienced counselors in the course of an ongoing,

evaluative relationship. That relationship aims to improve professional

functioning of the newer counselor, monitor professional services rendered

by the newer professional, and screen those who are attempting to enter the

field (Bernard & Goodyear, 2009). Another notable researcher in the clinical

supervision field notices some problems in operationalizing that definition

for research purposes and presents the following definition as an alternative:

The formal provision, by approved supervisors, of a relationship-based

education and training that is work-focused and which manages,

supports, develops, and evaluates the work of colleague/s. It therefore

differs from related activities, such as mentoring and therapy, by

incorporating an evaluative component and by being obligatory. The

main methods that supervisors use are corrective feedback on the

supervisee's performance, teaching, and collaborative goal-setting.

The objectives of supervision are "normative" (e.g., case management

and quality control issues), "restorative" (e.g., encouraging emotional
---
One: What is Clinical Supervision? 5

experiencing and processing), and "formative" (e.g., maintaining and

facilitating the supervisees' competence, capability and general effectiveness).

These objectives could be measured by current instruments

(e.g., "Teachers PETS"; Milne et al., 2002) (Milne, 2009).

Supervision has additionally been defined as a "learning alliance that

empowers the trainee to acquire skill and knowledge relevant to the profession

and to experience interpersonal competence in the supervisory relationship"

(Holloway, 1994). Drapela (1983) also focused on competence when he

defined clinical supervision as a process of overseeing, guiding, and evaluating

professional activities for the purpose of ensuring a high quality of

counseling services for the clients served. Clinical supervision has also been

defined as a practice in which a supervisor assists a counselor in working

more effectively with clients to achieve successful outcomes (Herbert, 1997).

Although readers are left to speculate about whether "successful" is defined

by the supervisor, supervisee, or client, there is little doubt that the author is

focusing on supervision as a tool for competence building.

The repeated cries for a unified definition is important on two levels:

first, researchers who would like to conduct studies on the usefulness of

supervision need a definition that lends itself to strong, empirical study. Second,

clinical supervision as a practice is widely varied in the field. That is, the

clinical supervision one counselor receives from one supervisor in one particular

setting may be quite different from the clinical supervision another

counselor receives from a different supervisor in another setting.

Clinical supervision is clinical in nature; that is, its focus is on the clinical

services delivered to the client and the clinical skills of the counselor

delivering such service. Often times, administrative tasks are necessarily intermingled

with clinical tasks. Administrative tasks are tasks that necessarily

accompany client care. These tasks are supplemental to direct service provision

and include documentation and clinical communication (e.g., progress

notes, case reviews, formal treatment plans). Managerial tasks, by contrast,

center on meeting agency and bureaucratic needs (Haynes, Corey, &

Moulton, 2003) and may include tasks that sustain agency operations and

policies (e.g., budgeting, scheduling, systems coordination) (Spence et al.,

2001). Clinical tasks, by contrast, focus more specifically on counselor and

client needs (Kaiser, 1997) and include tasks such as case conceptualization,

treatment planning, examination of the therapeutic relationship, and repairing

alliance strains. Despite the inherent disparities, these clinical and managerial

tasks often seem to exist within the same job description (Holloway,

1995; Powell, 2004).

In some cases, agency administrative needs (managerial tasks) may

take precedence above clinical focus and supervisee development. This

typically creates great role strain for the clinical supervisor, who attempts

to balance clinical and managerial foci and typically creates dismay for

the supervisees who would often rather attend to client care. Research
---
6 I. Preparing to Supervise

reveals that supervisees prefer a clinical focus during supervision as

opposed to an administrative one (Crimando, 2004; English, Oberle, &

Byrne, 1979; Herbert & Trusty, 2006) and find great frustration with supervision

sessions that do not adequately attend to client care needs. One study

of rehabilitation counselors found that counselors who indicated their supervisor

"always" took an administrative role (engaging in administrative

tasks) were most dissatisfied with their "clinical" supervision experiences.

This same study indicates that counselors who were much more satisfied

with supervision when their supervisors "often, rarely, or never" engaged in

administration roles and focused instead on clinical tasks (Herbert & Trusty,

2006, p.74).

Clinical supervision is intended to protect the welfare of the supervisee's

clients above all else. Following that, supervision provides counselors with

a means to improve their performance and build additional clinical and professional

competence. Supervision welcomes counselors into the profession

by providing developmental support from an objective, skilled, and experienced

colleague who has the power to greatly influence the supervisee's

experience of his clients, his clinical work, and his professional identity.

THE PREVALENCE OF CLINICAL SUPERVISION

Virtually all counselors have some relationship with clinical supervision

at some point in their careers. Clinical supervision is acknowledged

as a critical and core function of counselor early training and development.

The accreditation bodies who recognize counselor preparation and

clinical psychology programs require ongoing and regular supervision

of counselors in training (e.g., CACREP, AAMFT, APA). Clinical supervision

is also recognized by state licensing boards as a critical and core function of

prelicense counselor preparation (e.g., American Association of State Counseling

Boards), and most states require prelicensed counselors to engage in

clinical supervision while earning licensure (Pearson, 2000). Once licensed,

most counselors are typically legally allowed to practice autonomously without

additional clinical supervision. However, many of the recipients of effective,

impactful supervision understand its value and prefer to continue to

access supervision well into their professional career (Usher & Borders, 1993).

Further, many employers and agencies require ongoing supervision of their

counselors for the betterment of client care, oversight, and protection for all.

THE PURPOSES OF CLINICAL SUPERVISION

Clinical supervision, above all else, is for the protection of client welfare.

Every task and activity related to clinical supervision either directly or

indirectly impacts client welfare. Supervisors help supervisees develop and
---
One: What is Clinical Supervision? 7

maintain clinical competence so that clients will be more optimally served.

Supervisors ensure that supervisees are practicing in an ethical manner so

that clients are not harmed in the therapeutic process. Client welfare is at the

core of all clinical supervision; supervisors help counselors gain and sustain

clinical competence to that end.

Developing and Maintaining Clinical Competence

Counselor supervision is essential in developing and maintaining clinical

competence (Bernard & Goodyear, 2009; Borders & Leddick, 1988; Cross &

Brown, 1983; Hansen, Pound, & Petro, 1976; Page & Wosket, 2001). The

supervisor's job is primarily to create a relationship and environment in

which the supervisee can learn essential skills that then transfer into the

therapeutic exchange with clients ( Holloway, 1995). Furthermore, supervisors

help supervisees to connect the science and practice of counseling

( Holloway & Wolleat, 1994), a task that is growing increasingly important

with the strengthening emphasis on the utilization of evidence-based practices

in agency settings (American Counseling Association (ACA) Code of

Ethics, 2005; Blume, 2005). Supervision may additionally be used with counselors

who need specialized or remedial training and guidance (Cobia &

Pipes, 2002). In fact, increased clinical supervision is often required by state

regulatory boards who find a counselor operating below acceptable practice

standards. Finally, supervision by nature is evaluative: that is, supervisors

are tasked with constantly evaluating the counselor's work in accordance

with professional practice standards. This evaluation provides supervisees

with necessary feedback about where their competence may be improved

for optimal performance.

Building and Sustaining Ethical Practice

Another key function of clinical supervision is to ensure that the supervisees

are engaging in sound ethical practices. Clinical supervision affects the

supervisee's level of ethical competence and, consequently, increases the

quality of service delivery to the client (Cormier & Bernard, 1982; Herlihy,

2006). Counselor supervisors are ethically bound to ensure the well-being of

the clients with whom the supervisee is working (Cormier & Bernard, 1982),

while at the same time honoring the growth and continual development of

the supervisee. So, supervisors take care to role model and provide ongoing

evaluative feedback to supervisees with regard to optimal ethical practices

( Borders & Brown, 2005; Cormier & Bernard, 1982).

Supervisees engaged in supervision will likely be encouraged to

examine issues of informed consent, dual relationships, confidentiality,

and ethical service provisions (Borders & Brown, 2005; Cormier &

Bernard, 1982). Supervisors have the opportunity to provide training to
---
8 I. Preparing to Supervise

supervisees and can engage in practice activities regarding ethical issues

(Cormier & Bernard, 1982). Supervisors also serve as gatekeepers to the

profession, meaning that they are responsible for keeping unethical practitioners

away from the profession (and thus, away from clients) (Pearson &

Piazza, 1997).

HOW SHOULD CLINICAL SUPERVISION BE CONDUCTED?

The majority of this book provides supervisors with information so that

they may make informed, well-considered decisions about how to practice

clinical supervision in their particular practice setting. However, all clinical

supervision practice should align with the practice standards and competencies

specific to the supervision field.

The ethical guidelines for supervision were originated in the 1980s

by the Association for Counselor Education and Supervision's (ACES)

Supervision Interest Network (SINACES). This network created and recommended

the Ethical Guidelines for Counseling Supervisors (Borders

& Brown, 2005). The ACES Executive Council endorsed these guidelines

and formally adopted them in March 1993 as a way to guide and inform

supervisors in their practice (Borders & Brown, 2005; Hart, Borders,

Nance, & Paradise, 1995). Currently, ethical guidelines for supervisors

are embedded in the American Counseling Association's Code of Ethics

(ACA, 2005).

The ethical guidelines clarify the responsible delivery of effective clinical

supervision. The guidelines focus on client welfare and rights, the supervisory

role, and the program administration role that is at times held by a

supervisor (Supervision Interest Network/SINACES, 1993). The guidelines

recommend that supervisors should utilize the following sequence when

making decisions regarding supervision and supervisory tasks: relevant

legal and ethical standards, client welfare, supervisee welfare, supervisor

welfare, and program or agency service and administrative needs (Supervision

Interest Network/SINACES, 1993). That is, clinical needs are the top

priority, administrative tasks the lowest.

SUPERVISOR DEVELOPMENT

Many new or untrained supervisors experience thoughts and feelings reminiscent

of their days as novice counselors. They feel eager to perform well,

are nervous that they will not know how to perform well, and wish they were

beyond the point of being so concerned about their performance. Indeed,

clinical supervisors move from novice to expert in a manner similar to that of

most counselors and experience the same types of uncertainty, impatience,

and at-times painful introspection along the way.
---
One: What is Clinical Supervision? 9

Watkins (1990; 1993) presents a supervisor development model that consists

of four developmental stages. The first stage, role shock, involves a novice

supervisor experiencing the "imposter phenomenon" so common of early

counselors who worry that someone will notice that they are not actually a

"real" counselor and quite probably have no idea what they are doing. This

stage involves the struggle to build competence and a concern for "doing it

right." Supervisors at this stage are concerned with learning and following

the rules, and are eager to know concretely what the "rules" actually are so

that supervision can be done "correctly."

The second stage is the role recovery/transition stage, in which supervisors

begin to exercise some flexibility and relax a bit into the supervisor role.

They have developed enough confidence at this point to tentatively address

issues such as transference and countertransference but are not yet confident

enough to effectively challenge a supervisee's performance deficits.

The third stage of the Watkins (1990) model is role consolidation. In this

stage, the supervisor gains a greater understanding and confidence in his

role and feels more ready to exert influence in the supervision process. This

supervisor has adopted a theory or approach to supervision and is engaging

in more flavorful practice as he tries new techniques and uses new tools.

The fourth and final stage is role mastery. This stage is typically a more

comfortable one for the supervisor, as he has a clearer understanding of his

competence as a supervisor. He uses a sense of humor and enjoys the intricacies

of the supervision process. Further, he has integrated the supervisor role

and operates comfortably from that position.

Many supervisors are excited to arrive at that final role mastery stage.

However, they recall from their early days as counselors that there is work to

be done before true mastery can be achieved. While enhancing their knowledge

and skill base, supervisors learn to engage in ongoing reflectivity about

their supervision practice so that they may move to optimal, autonomous

functioning as supervisors. Concurrently, they will help their supervisees

move toward optimal, autonomous functioning as reflective, self-monitoring

counseling professionals.

TOWARD REFLECTIVE PRACTICE

Reflectivity, or self-reflection, is a core tool in developing critical thinking, selfevaluation,

insight, and autonomy in one's work (Orchowski, Evangelista, &

Probst, 2010). Self-reflection refers to the cyclical process a supervisor uses to

critically evaluate and examine his affective, behavioral, and cognitive experiences.

This critical examination yields greater insight and understanding,

which are then applied to one's conceptual framework and understanding.

This greater insight and understanding leads to change (Orchowski, Evangelista,

& Probst, 2010). Supervisors aim to become self-reflective supervisors

who can autonomously engage in a critical analysis of the many complicated
---
10 I. Preparing to Supervise

relationship dynamics, clinical phenomena, and stressors that are present in

the supervision experience. There are innumerable factors to attend to, and

supervisors, with practice, become increasingly skilled at efficiently making

sense of voluminous amounts of information.

Supervisors engage in self-reflection for the betterment of their performance

as a supervisor; additionally, supervisors model reflectivity so that their

supervisees may learn and develop the same self- reflective and analytic

skills in their own clinical work. Ideally, a supervisee, with time and practice,

becomes readily able to self-monitor and manage his work with greater

autonomy. Eventually, a supervisee becomes increasingly capable of selfsupervision

and is ready for fully autonomous clinical practice. Autonomous

practice does not mean practicing alone or in isolation; rather, autonomous

practice means having the skill and insight to be able to make in-the-moment

corrections to one's work. Clinical autonomy means having the competence

to recognize legal and ethical dilemmas as they occur and knowing how

and when to access consultative assistance and support. Clinical autonomy

means having an understanding of one's professional standards of practice,

and being able to accurately evaluate one's performance in relation to those

standards. For supervisors to move their supervisees to such proficiency in

their clinical work, it is necessary for supervisors to move to proficiency in

their competence as a clinical supervisor.

COMPETENT SUPERVISION

Many of the major theorists and leaders in the supervision field have

contributed to the collective understanding of what makes supervision

"good" (e.g., Stoltenberg, McNeill, & Crethar, 1994; Worthen & McNeill,

1996). In that same spirit, many of these contributors have also examined

what makes supervision "lousy" or ineffective (e.g., Magnuson, Norem, &

Wilcoxon, 2000; Nelson & Friedlander, 2001; Wulf & Nelson, 2000). While the

literature provides a fairly comprehensive and at times humorous account of

the many features of good and bad supervision, supervisors must concern

themselves first with providing competent supervision. Competent supervision

is supervision that aligns with the knowledge, skills, and attitudes

described by the Standards for Counseling Supervisors (Supervision Interest

Network/SINACES, 1993). A supervisor who aims to practice competent

supervision builds his knowledge about supervision as a discrete field of

practice, gains experience in providing supervision in a self-reflective manner,

and actively works to identify as a member of the clinical supervision

profession.

This book assists supervisors in these crucial tasks. While reading this

book, supervisors will collect knowledge about the field and practice of clinical

supervision. As they gather knowledge, supervisors will think critically

and reflectively about their own experiences as a supervisee and, perhaps, as
---
One: What is Clinical Supervision? 11

a supervisor. These recollections will help shape and inform current thinking

about the supervision process and one's developing practice as a clinical

supervisor. Finally, this book helps supervisors gain familiarity with the

many key features of the clinical supervision profession: the methods and

approaches, the standards and competencies, the code of ethics, the roles and

functions, and the many interrelated tasks and features of the supervision

process.

This book is an instrument to gain knowledge, develop skills, and form

the habit of self-reflective practice. Supervisors should complete the readings

and exercises in the order they are presented, as many of the components

build upon prior experiences and reflections. Most importantly, supervisors

should recognize that this book, while experiential and interactive, is only a

book. It is not a substitute for the valuable learning and development that

can be gained by supervisors who invite a more experienced and trained

supervisor to oversee their work through supervision-of-supervision. Supervisors

may use this book as a tool to develop knowledge and to form their

professional plan and identity as a clinical supervisor; this book, combined

with supervision-of-supervision, will assist supervisors in providing competent,

effective, and impactful clinical supervision services.