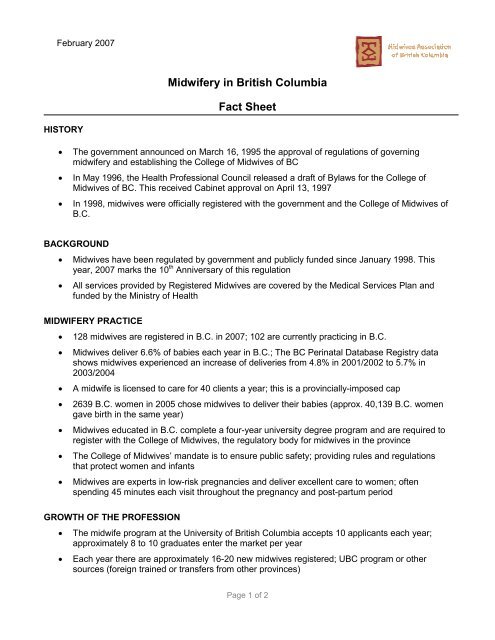 BC Midwifery Fact Sheet - Pomegranate Community Midwives
BC Midwifery Fact Sheet - Pomegranate Community Midwives
BC Midwifery Fact Sheet - Pomegranate Community Midwives
SHOW MORE
SHOW LESS
You also want an ePaper? Increase the reach of your titles
YUMPU automatically turns print PDFs into web optimized ePapers that Google loves.
February 2007

Midwifery in British Columbia

Fact Sheet

HISTORY

• The government announced on March 16, 1995 the approval of regulations of governing

midwifery and establishing the College of Midwives of BC

• In May 1996, the Health Professional Council released a draft of Bylaws for the College of

Midwives of BC. This received Cabinet approval on April 13, 1997

• In 1998, midwives were officially registered with the government and the College of Midwives of

B.C.

BACKGROUND

• Midwives have been regulated by government and publicly funded since January 1998. This

year, 2007 marks the 10 th Anniversary of this regulation

• All services provided by Registered Midwives are covered by the Medical Services Plan and

funded by the Ministry of Health

MIDWIFERY PRACTICE

• 128 midwives are registered in B.C. in 2007; 102 are currently practicing in B.C.

• Midwives deliver 6.6% of babies each year in B.C.; The BC Perinatal Database Registry data

shows midwives experienced an increase of deliveries from 4.8% in 2001/2002 to 5.7% in

2003/2004

• A midwife is licensed to care for 40 clients a year; this is a provincially-imposed cap

• 2639 B.C. women in 2005 chose midwives to deliver their babies (approx. 40,139 B.C. women

gave birth in the same year)

• Midwives educated in B.C. complete a four-year university degree program and are required to

register with the College of Midwives, the regulatory body for midwives in the province

• The College of Midwives' mandate is to ensure public safety; providing rules and regulations

that protect women and infants

• Midwives are experts in low-risk pregnancies and deliver excellent care to women; often

spending 45 minutes each visit throughout the pregnancy and post-partum period

GROWTH OF THE PROFESSION

• The midwife program at the University of British Columbia accepts 10 applicants each year;

approximately 8 to 10 graduates enter the market per year

• Each year there are approximately 16-20 new midwives registered; UBC program or other

sources (foreign trained or transfers from other provinces)

Page 1 of 2
---
February 2007

• In each health region the existing Department of Midwifery determines how many midwives can

have hospital privileges – for example, in Victoria there are 13 midwives; 10 of whom have

hospital privileges

ATTRITION RATE

Registered

Midwives in BC –

Jan.2007

Non-Practicing New Registrants –

since Apr.2006

128 26 18 102

Town/City

# of Midwives

Greater Vancouver Area 56

Victoria 13

Saltspring Island 2

Duncan 4

Nanaimo 4

Courtney 3

Errington 1

Comox 1

Roberts Creek 2

Nelson 4

Cranbrook 2

Kelowna 2

Vernon 1

Lister 3

Prince George 3

Total # practicing

today

• "midwifery services in rural communities are vulnerable to shifting labour and delivery services to

regional centres including hospital closures and high GP attrition rates"

• "Although one rationale for the regulation and public funding of midwifery in BC was increased

access, to date rural women have not, for the most part, benefited from regulated midwifery"

• "legislative deterrents including current fee-for-service models of remuneration that make practice in

low-volume environment challenging "

(reference: Rural Women's Experiences of Maternity Care: Implications for Policy and Practice, published July

2007 www.ruralmatresearch.net )

Page 2 of 2