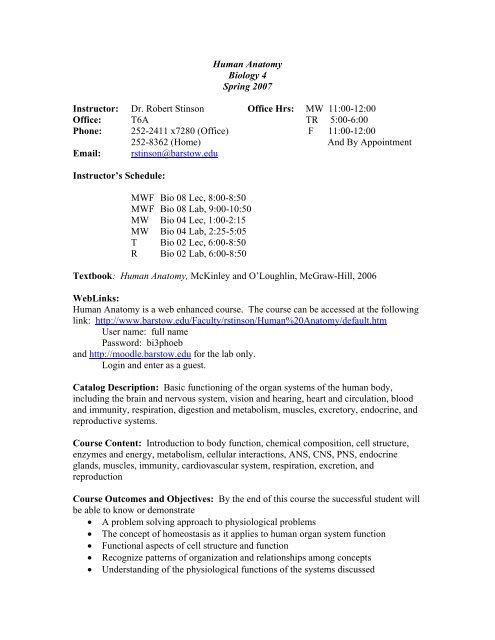 Human Anatomy Biology 4 Spring 2007 - Barstow Community College
Human Anatomy Biology 4 Spring 2007 - Barstow Community College
Human Anatomy Biology 4 Spring 2007 - Barstow Community College
SHOW MORE
SHOW LESS
Create successful ePaper yourself
Turn your PDF publications into a flip-book with our unique Google optimized e-Paper software.
Human Anatomy

Biology 4

Spring 2007

Instructor: Dr. Robert Stinson Office Hrs: MW 11:00-12:00

Office: T6A TR 5:00-6:00

Phone: 252-2411 x7280 (Office) F 11:00-12:00

252-8362 (Home) And By Appointment

Email: rstinson@barstow.edu

Instructor's Schedule:

MWF Bio 08 Lec, 8:00-8:50

MWF Bio 08 Lab, 9:00-10:50

MW Bio 04 Lec, 1:00-2:15

MW Bio 04 Lab, 2:25-5:05

T Bio 02 Lec, 6:00-8:50

R Bio 02 Lab, 6:00-8:50

Textbook: Human Anatomy, McKinley and O'Loughlin, McGraw-Hill, 2006

WebLinks:

Human Anatomy is a web enhanced course. The course can be accessed at the following

link: http://www.barstow.edu/Faculty/rstinson/Human%20Anatomy/default.htm

User name: full name

Password: bi3phoeb

and http://moodle.barstow.edu for the lab only.

Login and enter as a guest.

Catalog Description: Basic functioning of the organ systems of the human body,

including the brain and nervous system, vision and hearing, heart and circulation, blood

and immunity, respiration, digestion and metabolism, muscles, excretory, endocrine, and

reproductive systems.

Course Content: Introduction to body function, chemical composition, cell structure,

enzymes and energy, metabolism, cellular interactions, ANS, CNS, PNS, endocrine

glands, muscles, immunity, cardiovascular system, respiration, excretion, and

reproduction

Course Outcomes and Objectives: By the end of this course the successful student will

be able to know or demonstrate

• A problem solving approach to physiological problems

• The concept of homeostasis as it applies to human organ system function

• Functional aspects of cell structure and function

• Recognize patterns of organization and relationships among concepts

• Understanding of the physiological functions of the systems discussed
---
Tests and Grading: There will be four lecture tests and a Comprehensive Final Exam

that will determine your grade for this course. Exams will include various formats

including, but not limited to, essay questions, true-false questions, multiple choice

questions, fill-in, and short answer. Each of these tests will be scaled to 100 points.

Quizzes are random and may occur at any time. Your grade will be determined by the

total number of points earned. The grading scale is as follows:

A = 90-100% Points in lecture: 500 (63%)

B = 80-89% Points in lab: 300 (37%)

C = 70-79%

D = 60-69% Total: 800 (Approximate)

F = 00-59%

A lecture exam can only be made up in the event of a verifiable student absence provided

that the student has notified the instructor prior to the exam. The instructor must be

notified directly. You must schedule an appointment to take the exam prior to the next

scheduled class meeting. All make-up exams will be essay exams. Any student who

enters an exam or quiz late will not be given any extra time to take the exam, and if

sufficiently late, will not be allowed to take the test at all. There is no form of extra

credit for this course. Special Note: There will be no early finals given for this class.

Attendance Policy: College policy permits an instructor to lower a student grade or drop

a student from the course if absent more than 10% of all classes.

Academic Dishonesty: Acts of academic dishonesty, including plagiarism and cheating

will not be tolerated and are considered serious offenses by Barstow Community College.

Any such action by the student will be reported to the Vice President for Academic

Affairs. Penalties could range from loss of points to permanent expulsion from the class

or college.

Withdrawal Policy: Students may withdraw from this course until Apr. 25, 2007 by

going to the Admissions and Records Office and completing all the appropriate

paperwork. It is the responsibility of the student to withdraw from a course.
---
Bio 4 (Human Anatomy) Spring 2007

Lecture Schedule

Date (Week of) Topic Text Chapters

1/15 First Look at Anatomy Chapter 1

Cell Structure/Function Chapter 2

1/22 Embryology Chapter 3

Tissue Level of Organization Chapter 4

1/29 Integumentary System Chapter 5

Examination #1 (1-4)

2/05 Cartilage and Bone Chapter 6

Axial Skeleton Chapter 7

2/12 Appendicular Skeleton Chapter 8

Articulations Chapter 9

2/19 Examination #2 (5-8)

Muscle Tissue/Organization Chapter 10

2/26 Axial Muscles Chapter 11

Appendicular Muscles Chapter 12

3/05 Surface Anatomy Chapter 13

Examination #3 (9-12)

3/12 Nervous Tissue Chapter 14

Brain and Cranial Nerves Chapter 15

3/19 Spinal Cord and Nerves Chapter 16

Integrative Function Chapter 17

3/26 Examination #4 (13-16)

Autonomic Nervous System Chapter 18

4/02 Senses Chapter 19

4/09 Spring Break

4/16 Endocrine System Chapter 20
---
Blood Chapter 21

4/23 Examination #5 (17-20)

Heart Chapter 22

4/30 Vessels and Circulation Chapter 23

Lymphatic System Chapter 24

5/05 Respiratory System Chapter 25

Digestive System Chapter 26

5/12 Urinary System Chapter 27

Reproductive System Chapter 28

5/19 Final Examination (21-28)

This schedule is tentative and the dates may change. In the event of a change, the

instructor will make an announcement in lecture. It is the responsibility of the student to

be aware of any announced schedule changes.
---
Bio 4 (Human Anatomy)

Lab Schedule

01/15 Organization of the Body

Microscopy and Cell Structure

01/22 Examination of Tissues and Organs

01/29 Tissues and Organs (cont.)

02/05 Integumentary System

Introduction to the Skeletal System

02/12 Examination #1

Axial Skeleton

02/19 Appendicular Skeleton

Articulations

02/26 Examination #2

Introduction to Muscles

03/05 Muscles of the Head and Neck

Muscles of the Shoulder and Upper Extremity

03/12 Muscles of the Torso

Muscles of the Hip and Lower Extremity

03/19 Examination #3

Introduction to the Nervous System

03/26 Brain and Cranial Nerves

Spinal Cord and Spinal Nerves

04/02 Sensory Receptors

Endocrine System

04/09 Examination #4

Blood Cells and Heart

04/16 Spring Break
---
04/23 Blood Vessels

Lymphatic System

04/30 Respiratory System

Digestive System

05/05 Urinary System

Reproductive System

05/12 Final Lab Examination