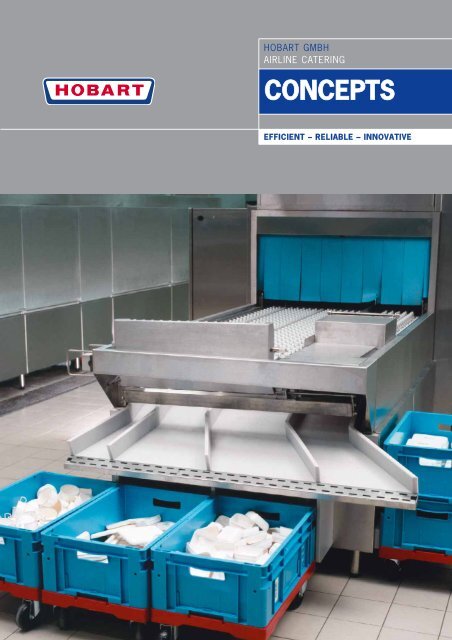 CONCEPTS - HOBART GmbH
CONCEPTS - HOBART GmbH
CONCEPTS - HOBART GmbH
SHOW MORE
SHOW LESS
You also want an ePaper? Increase the reach of your titles
YUMPU automatically turns print PDFs into web optimized ePapers that Google loves.
HOBART GMBH

AIRLINE CATERING

CONCEPTS

EFFICIENT – RELIABLE – INNOVATIVE
---
WHEREVER YOU ARE, HOBART IS THERE

No other manufacturer can rival HOBART's close knit distribution and customer service

network, which spans the globe. Proven and competent specialists are on hand with

advice and planning, and trained engineers will keep your operation running.

Local agents guarantee availability of spare parts and customer support around the clock.

The HOBART name stands for top quality products and exemplary customer service.

WAREWASHING COOKING FOOD PREPARATION WASTE TREATMENT SERVICE
---
HOBART

The world's first self-contained powered coffee mill was

introduced to the market already in 1903. A clear objective

was standing behind this development: to simplify

the daily work in the kitchen – rationally and economically.

This coffee grinder was a HOBART invention.

The Benchmark for Quality and Innovation

Starting from small undercounter dishwashers to large semiand

fully-automatic warewash solutions HOBART is market

leader in commercial warewash and catering equipment for

bars, restaurants, canteens, bakeries, butcheries, hospitals,

cruise vessels, and airports.

HOBART GMBH

AIRLINE CATERING

CONCEPTS

EFFICIENT – RELIABLE – INNOVATIVE

The products meet exceptional quality standards. The result of

a constant adaptation to customer needs.

HOBART products, their installation and an outstanding after

sales service is provided globally via an extensive network of

branches and properly trained international distributors.

Understand – Simplify – Focus – Renew

This is our company philosophy, and our ongoing motivation for

product improvement and innovation, to give our customers

state of the art equipment, really tailored to their needs.
---
1 When making capital investments

all aspects have to be

considered. Not only purchasing

prices have to be compared,

also operating costs are

essential for decision making.

HOBART is a good partner also

in regard to cost factors, but

also for know-how.

Paul Simon, Administrative

Department Sunshine Airline,

London

1 2

3 4

2 Dishwashing in the airline

catering sector is a challenge

- for the employees as well

as for the dishwasher. Being

in operation 365 days a year,

24 hours a day, high quality

and reliability are basic

requirements.

Xu Hong, Warewash Manager,

Hongkong

3 The food production chain in

the airline catering section has

a tight timetable. We have to

rely on the previous production

stage to remain "on time".

We are only as fast as the

weakest link in the chain -

therefore we need highest

efficiency and reliability -

what we get from HOBART.

Frank Müller, Chef,

Frankfurt

4 Every day we prepare

thousands of trays for the

airlines. Unclean dishes are

a reason for interrupting our

fluent process. Therefore it is

very important to us to trust

in our dishwashing machine.

With our HOBART machine we

can.

Shan Ying,

Kitchen Help
---
1

CUSTOMIZED

Born out of the success of HOBART`s expertise and innovation

in flight-type dishwashing (semi- and fully-automatic systems)

comes the flexibility and know-how to offer customized solutions

adapted to the specific need of the individual customers.

The options offered by HOBART are as unlimited as required.

Whether it is a standard machine with semi-automatic components

or a fully-automatic system with integrated automatic

modules - HOBART designs parameters to suit the needs on

site.

Consultation with HOBART project engineers at an early stage

of the project ensures correct design, allocation of services

INDIVIDUAL - OPTIMIZED - FLEXIBLE

Fully automatic components

reduce menpower needed.

Skilled 3-D planning simplifies

the coordination of all partners.

HOBART GMBH

AIRLINE CATERING

CONCEPTS

EFFICIENT – RELIABLE – INNOVATIVE

and space and an optimized system. Cost to benefit ratios and

project economies are determined in the planning stages of the

system concept and its integration into the total organization

flow.

Each system is customized, state of the art and designed by

HOBART project engineers to the exact specifications required

by the client.

From the planning stages into reality, the complete system is

fully operational within the HOBART factory.

Planning, installation, maintenance -

HOBART is always your partner.

HOBART warewashing concepts are

especially designed to customer

needs.
---
2

RELIABLE

The airline catering industry requires a system durable enough

to withstand the rigours of a 24 hour operation -

365 days a year.

HOBART uses proven technology. Due to the experience gained

throughout decades of manufacturing dishwashing machines, all

components are well balanced and secure a high reliability and

a minimized downing time.

All dishwashing machines are completely made of stainless

steel components promising a long durability.

HOBART GMBH

AIRLINE CATERING

CONCEPTS

EFFICIENT – RELIABLE – INNOVATIVE

3

ECONOMICAL

The focus on the cost drivers is the essential key in optimizing

the operating costs of a machine with a 24 hours a day operation.

As a leading specialist within its field, HOBART is constantly developing

and releasing innovative solutions to reduce energy, water

and detergent needed.

Labour costs are the prime cost driver in the airline catering industry.

HOBART objective of developing economical airline catering

solutions is also focused to provide equipment that integrates

seamlessly in a lean production process. Providing dishwash

equipment that fits the particular workflow and logistical environment

is the main strength of HOBART.

Listening to our customers - developing solutions together with

our customers to their business needs - maximize operational

benefits - this is HOBART.

SOLID - HEAVY DUTY EFFICIENT - COST-EFFECTIVE

Heavy duty stainless steel

components increase the

reliablity of the equipment.

Robust design of all

components.

Advanced energy management

Due to innovative technoglogy we

save energy and chemicals.
---
4

PRODUCTS

Trayset Washer FTX

Pot Washer FUX

Trolley Washer MCW

Dishwasher LInE:

economical solution
---
HOBART GMBH

AIRLINE CATERING

CONCEPTS

SOLID EQUIPMENT - SOUND ADVICE

EFFICIENT – RELIABLE – INNOVATIVE

Airline catering is demanding - particularly when it comes to warewashing.

Thousands of rotables, including glassware, cutlery, trysets and carts have

to be cleaned quickly and efficiently. After all, you can't keep the plane

waiting just because the carts aren't cleaned and the cutlery isn't ready.

HOBART offers customized solutions meeting the specific demands and

requirement of each facility. Many years of experience led to an incomparable

reputation for HOBART among worlds major airline caterers.
---
WAREWASHING COOKING FOOD PREPARATION WASTE TREATMENT SERVICE

HOBART GMBH

Robert-Bosch-Straße 17

77656 Offenburg/GERMANY

Phone 0781.600-0

Fax 0781.600-23 19

email:

airline-catering@hobart.de

Internet:

www.hobart.de/airline-catering

Member of the ITW Food Equipment Group Europe

EFFICIENT – RELIABLE – INNOVATIVE

PR-0706-568-H