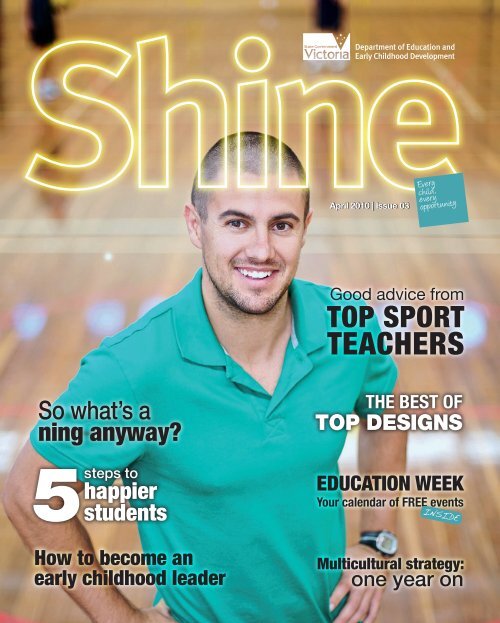 Shine Magazine, Issue 3, April 2010 - Department of Education and ...
Shine Magazine, Issue 3, April 2010 - Department of Education and ...
Shine Magazine, Issue 3, April 2010 - Department of Education and ...
SHOW MORE
SHOW LESS
Do you know the secret to free website traffic?
Use this trick to increase the number of new potential customers.
Xxxxxxxxxxxxxxxxxxxxxxxx

April 2010 | Issue 03

Good advice from

top sport

Teachers

So what's a

ning anyway?

5

steps to

happier

students

How to become an

early childhood leader

the best of

top designs

Education Week

Your calendar of FREE events

inside

Multicultural strategy:

one year on

Shine APRIL 2010 1
---
Contents

25 26 50

News

page 18

Single mothers resource translated

The popular resource guide for single

mothers is now in different languages.

page 26

Sporting stars applauded

Our wrap-up of this year's Victorian

School Sports Awards.

page 42

More bilingual workers for kids

Children's centres across the state will

soon have more bilingual support.

Features

page 12

Good advice from top sport teachers

Four of the state's leading PE teachers

offer their tips and advice.

page 22

So what's a ning, anyway?

Teacher Briony Heneberry puts an end

to this much-asked question.

pAge 50

What's good for the goose

Expert researcher John Hattie says what

works for teachers, works for students.

Regulars

Briefcase.............................................. 6

Flashback............................................ 9

Snapshot.......................................... 11

Research.......................................... 50

Where are they now?.................. 29

eLearning......................................... 60

Regional Roundup....................... 74

Curtain Call...................................... 87

Professional Development........ 88

Staffroom Quiz............................... 90

Shine is published monthly by the

Communications Division for the Department

of Education and Early Childhood Development,

GPO Box 4367, Melbourne 3001

ABN 52 705 101 522

www.education.vic.gov.au

On the cover | Manny Peresso, physical

education teacher at Fountain Gate Secondary

College is as keen as the kids about playing

sport. "Enthusiasm from me is a massive thing in

helping students," he says.

Read more about Manny Peresso in our feature

article "Good advice from top sport teachers" on

page 12.

Cover photo by Paul Philipson.

editor | Sarah Willsher

Phone: 9637 2914

Email: editor@edumail.vic.gov.au

Designer | Alan Wright

Any use of this publication is welcome within the

constraints of the Copyright Act 1968.

Publication dates 2010 |

Next issue published week beginning May 10

tO advertise |

Contact Wayne Maxwell or Diane Mifsud

Ph: 9637 2868 or 9637 2862

ed.advertising@edumail.vic.gov.au

tO SubScribe |

Contact Wayne Maxwell

Ph: 9637 2868

Email: shine@edumail.vic.gov.au

Advertisements featured in Shine carry no

endorsement from the Department of Education

and Early Childhood Development, either implicit

or explicit. Readers should rely on their own

inquiries and investigation. No responsibility

is accepted by DeeCD for the suitability or

accuracy of goods, services or advice contained

in advertisements.

Some material in Shine is opinionative and

does not necessarily reflect the views of

the Department.

Proudly printed by Hannanprint

Victoria under Iso 14001

Environmental Certification.

The paper used to create this

magazine comes from certified and

sustainable forests. Please recycle.

Shine APRIL 2010 3
---
MessAGes

Minister for Education

minister for skills and

workforce participation

Bronwyn Pike

Minister for Children and

Early Childhood Development

minister for women's affairs

Maxine Morand

Secretary of the Department

of Education and Early

Childhood Development

Professor Peter Dawkins

The continued upskilling of early childhood professionals is a key priority in

Victoria, and more than 5000 kindergarten teachers across the state started 2010

with better pay and conditions thanks to the Victorian Early Childhood Teachers and

Assistants Agreement and the Local Government Early Childhood Education Employees

Agreement, both implemented last year.

Over the life of these new early childhood agreements, kindergarten teachers in Victoria

will achieve salary parity with Victorian primary school teachers, and both of these

agreements mark an important step forward in raising the status of early childhood

professionals and recognising the vital role this sector plays.

Also front of mind for educators recently was Cultural Diversity Week, which ran from

14 to 21 March and provided yet another opportunity for Victorians to promote mutual

understanding and respect. A highlight of this was the Cultural Diversity Quest awards

ceremony, which celebrates the outstanding work being done in Victorian schools to

promote inter-cultural harmony.

Our kindergartens and schools are buzzing hubs of multiculturalism and this year there

were more than 310 entries for the awards from 105 schools across the state – a huge

congratulations on this enormous effort.

Cultural Diversity Week also provided the perfect platform for the launch of the All of Us

– Multicultural Perspectives in Victorian Schools resource kit for teachers. Developed

by the Victorian Multicultural Commission in partnership with the Department and

Education Services Australia, this fantastic and timely resource will provide teachers

with a practical guide and activities for assisting students to explore cultural diversity

and the values that are important to everyone.

This year's Victorian School Sports

Awards highlighted the sporting talent

thriving in our government schools. The

Department is committed to encouraging

children and young people to lead an

active lifestyle, and these awards recognise

the excellence that can be achieved in this

area. With mandated sport and physical

education in primary and secondary

schools, grants to install bicycle sheds,

and joint-use sporting facilities, our young

people are gaining a sound understanding

of the importance of physical activity.

Victoria continues to be the study

destination of choice for overseas students,

and International Education Week – held

this year from 19 to 23 April – celebrates

the diversity international education

brings to Victoria, and increases awareness

of the benefits and contributions

international students make to Victoria's

cultural richness. This year's event

promises to be another fabulous welcome

to our international student community,

and I encourage all schools to get involved

in this very important week.

4

Shine APRIL 2010
---
BRIeFCAse

What's new this month?

Wildlife

photography

workshop with

Steve Parish

n Each year world-renowned photographer Steve

Parish takes budding camera buffs on an inspiring

journey into wildlife photography at Healesville

Sanctuary. Students spend the day with Steve

picking up practical tips on capturing the beauty

of Australia's flora and fauna, before having the

opportunity to apply their new knowledge and

skills with some up-close animal encounters.

Workshop dates for 2010 are Wednesday 28 July

for Year 5 and 6 students, and Thursday 29 July

for secondary students. Cost is $58 per student.

Places are limited and bookings are essential.

Visit www.zoo.org.au/learning/programs

or call 5957 2818.

Registration now

open for public

speaking comp

n Registration is now open for

schools to enter a maximum of

two students in the Plain English

Speaking Award. The competition is

open to students aged between 15 and

18, and requires students to present

a six-minute prepared speech and

a three-minute impromptu speech.

Registration closes on 19 April.

Entry forms are available on the

VCAA website www.vcaa.vic.

edu.au/vcaa/excellenceawards/

plainenglishspeaking

Education Week

is coming soon!

n Education Week is a great opportunity to open your doors to the local community.

If your school or kindergarten is holding an open day or another special event, don't

forget to register it on the Education Week website at www.education.vic.gov.au/

educationweek All registered events will be included in an official Education Week

media kit being distributed throughout Victoria and featured in the 'What's On'

section of the Education Week website.

There is also a great range of free activities for school and kindergarten groups hosted

by libraries, galleries, museums and other community organisations. For details,

see the special lift-out poster in this issue of Shine. Places are limited and bookings

essential, so get in early. Education Week will run from 16 to 22 May this year.

For more information, phone 9637 3919 or visit www.education.vic.gov.au/educationweek

6

Shine APRIL 2010
---
BRIeFCAse

Update on Kate

n Adventurer Kate Leeming is now five months – and more

than 8000km – into her 10-month expedition across Africa,

cycling more than 20,000km from Senegal in the west to the

Horn of Africa in the east to raise awareness about extreme

poverty. "The most oppressing thing so far has been the

temperature – 40 degrees with high humidity. It took me a

while to acclimatise and for my body to adjust to the 100km

per day that we are riding on average," she said.

The ning that was set up to follow Kate's journey is attracting

plenty of activity from schools undertaking one or more of

the four learning units connected to the expedition. These

inquiry-based units incorporate a wide range of thinking

skills and online technologies to deepen understanding

and increase awareness of African cultures, geography,

environmental sustainability and the causes and effects of

extreme poverty.

To get involved, visit http://breakingthecycleafrica.ning.com

War memorial guidebook now in schools

n In the lead up to Anzac Day on

25 April, all Victorian schools will

receive a copy of Remember Them.

The book shares the stories of courage

and sacrifice of local soldiers who are

now honoured in 250 war memorials

across Victoria. This detailed and easily

accessible guidebook is a great resource

for teachers and students.

If your school has not received a copy

yet, visit www.veterans.vic.gov.au

VOX Pop

What's the most

interesting

countRY you've

EVER visited?

"Thailand. It's so colourful

and the people are lovely.

We rode elephants through

the jungle, cuddled

monkeys and floated down

a river on a bamboo raft

while snakes swam past."

Joanne Clarke –

child care assistant,

Wonga Park Community Cottage

"India: the colours, the

fragrances, the cultural diversity

and the smiles on people's

faces – they exude a sense of

calm. It also puts our lives into

perspective."

Jenine Threlfall – teacher, Maldon

Primary School

"East Timor. I'm pretty

passionate about it, and have

been involved with several

projects there. It's one of

the poorest nations in the

world and I am constantly

impressed and surprised

by the resilience, charm and

courage of the people.

They are just amazing."

Heather Ridge – lead coach,

Loddon Mallee region

Shine APRIL 2010 7
---
BRIeFCAse

Houdini done it – or did he?

n 2010 marks the centenary of powered flight in

Australia, or does it? This month, the engine from

what is believed to have been the first aircraft to

fly in Australia will go on display at Scienceworks,

highlighting the drama and controversy of early flight

in Australia.

The engine will be on display in Going Places: The

Technology of Transport, an exhibition that explores

how science makes it possible to fly, float and cover

vast distances as we move around the globe. Going

Places includes a flight simulator and hands-on

exhibits focusing on airships and airport security.

Visit www.museumvictoria.com.au/scienceworks

Apply now for

science and maths

excellence awards

n Applications are now being

accepted for the Science and

Mathematics Excellence Awards.

The awards are open to government

schools that have innovative industry

partnerships that complement their

science and/or mathematics education

program.

Draft teacher standards up for debate

n New draft National Professional Standards for Teachers have been released by

the Ministerial Council for Education, Early Childhood Development and Youth

Affairs for consultation with the education profession and Australian community.

The draft standards set out what teachers should know and be able to do across

the domains of professional knowledge, professional practice and professional

engagement at four levels: graduate, proficient, highly accomplished and lead

teacher.

To read the draft standards and make a submission, visit www.mceecdya.edu.au

The consultation process will run until May 21. For a full story on the National

Professional Standards for Teachers, read the May issue of Shine.

One award winner will be selected

from each of Victoria's nine regions,

and each winner will receive $10,000

to consolidate or promote their

industry partnership. One of the nine

regional winners will be awarded the

Victorian Science and Mathematics

Excellence Award and receive an

additional $10,000. The awards are

open to schools, teams or a single

teacher, and applications must have

the support of the regional network

leader.

Regional and state award winners

will be announced during National

Science Week, which runs from 14 to

22 August.

To download an application form, visit

www.education.vic.gov.au/about/events

8

Shine APRIL 2010
---
FLAsHBACk

"Dana Street Primary School's history spans 153

years. It has seen wars, changes in politics and

watched a town grow into a city but the one thing that

hasn't changed is the warmth of this school community.

"At the moment we are seeing some new changes

happening with the new building being constructed

on the grounds and the new administration area being

refurbished that will once again open the front doors for

the next generations of students to add their footprints

to the worn blue stone steps of Dana Street Primary

School.

1876

"We have a Prep student enrolled is year who is the

fourth generation of her family to attend this wonderful

school. I'm her grandmother. I started here as a fouryear-old

and I'm still here as the business manager!"

Vicki Dunne, Dana Street Primary School

Send us your fLAshbACK photo!

Got a great old photo? Email your image to editor@edumail.vic.gov.au

Shine APRIL 2010 9
---
CALenDAR

Your calendar for the month ahead

April

12

Holidays are over and the students are back. Open your doors wide and let

the learning begin as Term 2 commences for both kindergartens and schools.

19

25

Celebrate the diversity that our international students bring to Victoria

during International Education Week. For event ideas for your school, visit

www.study.vic.gov.au

Anzac Day. Commemorate the anniversary of the first major military action

by Australian and New Zealand forces during the First World War.

26

30

Public holiday in lieu of Anzac Day

Winners of this year's Victorian Education Excellence Awards are confirmed

- to be announced at the Gala Dinner on 14 May.

10 Shine APRIL 2010
---
BRIeFCAse

Samoa, 2.30pm

n "I took this photo when I visited Samoa last year. I have taught at Westall

Secondary College for many years. We have a large number of students from

the South Pacific Islands such as Samoa, Cook Islands and Fiji. Needless to

say, we struggle to field a footy side but we do well in rugby. Samoa is a great

place to visit, the people are friendly, the surfing is world-class and waterfalls

and exotic beaches prevail. On Sundays in Samoa everything stops and

everyone heads off to their village church. The family in this photo may well

be related to some of our students."

Steve Newton, Westall Secondary College

Send us your

snAPshot!

got a great pic? Email your high-resolution

photo to editor@edumail.vic.gov.au

Shine APRIL 2010 11
---
XXXXXXXXXXXXXXXXXXXXXXXXX

"The boys' classes are competitive. You

need to be well prepared because they

want so much of out it. If you're not –

you'll probably lose them."

PHOTO BY PAUL PHILIPSON
---
cover story

Good advice from our

top sport teachers

From enticing reluctant students from the safety of the sideline to nurturing our

state's top talents, Victoria's sports teachers deal with the entire physical spectrum.

Rachel Skinner talks to four teachers about how they get their students excited

about sport.

PHOTO BY SHARON WALKER

Janice Hayes,

Moonee Ponds West Primary School

Alpine Shire MCH nurse Sue Toleman

Moonee Ponds West Primary School

physical education teacher Janice Hayes

believes there's potential in every child to

be a sporting star in their own right. And

discovering fresh talent can be as simple as

thinking outside the square of traditional

sports.

"We offer wide variety of sports in the PE

program, so there's always something the

kids haven't played before and everyone

starts in the same spot," she says.

"Last year, we did a circus unit and that

was hugely successful. We finished with a

performance and the feedback from kids,

parents and staff was that it was fantastic.

There were kids who weren't really good

at sport who really shone, and some of the

kids who were really sporty found it quite

difficult – so it really evened everything

out. Parents couldn't believe their kids

wanted to practice for an hour after school.

"I also run units where kids take on

different roles – coaches, equipment

organisers and umpires. That gives them

the opportunity to try something new, and

shows that you can be involved in sport

without actually playing.

"I'm trying to instill confidence in every

child to see themselves as a person who can

do it. I'm looking for everybody to improve

from where they are. I'm always saying to

the kids, it doesn't matter what everyone

else can do – as long as you've improved,

that's the main thing."

Janice Hayes won an award for

Outstanding Teacher Contribution at the

recent Victorian School Sports Awards.

Craig Cornwell,

St Arnaud Secondary College

St Arnaud Secondary College physical

education teacher Craig Cornwell says

setting targets is the key to involving

students in sport – no matter what their

age or ability level. That way, they've

always got something to strive for.

"I try to make sports fun and include

all the students. Some people really

concentrate on their high flyers, but I

think it's important to cater for your

low- and mid-range students, because

if you get improvement out of them, it

lifts the whole team. It's important to be

enthusiastic. I love my job and I think

that helps. When we have kids go away for

athletics and cross-country competitions,

we hold practices during lunch breaks,

and during the holidays we let them take

equipment home so they can practice.

We've got a bit of a culture of teaching

kids they have to put in the hard yards.

"I record all the kids' performances,

so year after year they can see their

progress. The idea is to try to beat their

time from the last time they did it. It's

pretty amazing for the ones who are in the

lower ranges to see how they can improve

after two or three weeks of practice. It's

amazing when you get them involved and

they have a bit of success, how they can

change their attitude."

Craig Cornwell also won an award

for Outstanding Teacher Contribution.

Victorian School Sports Awards.

PHOTO BY RICHARD GIBBS

Shine APRIL 2010 13
---
cover story

PHOTO BY ROSS HOLMBERG

Anne-Maree Cuthbertson,

Cowes Primary School

Cowes Primary School physical education

teacher Anne-Maree Cuthbertson says

genuine enthusiasm is a sure-fire way to

get kids excited about sports – and that

finding the right sporting fit can entice

even the most reluctant student.

"If you can find something in a child

that they're good at, if you can focus

them towards that area so they can

achieve success – that really helps them.

If they've had success in one area, that

gives them confidence to try something

new.

"I try to encourage students to pursue

sports out of school. I have lots of

community links with sports clubs so I

can point them in that direction. This is

a generalisation, of course, but a lot of

boys are brought up with sports and it

comes naturally – so I love to get girls

into cricket and footy; something that's

not traditionally a "girls" sport, because

a lot of them can do really well in those

activities and really enjoy themselves.

"I just continually try to encourage them.

It's about persistence and trying to find

something that they're going to grab

onto that will get them into other sports.

They're more willing to try out things

that they might not have tried otherwise,

once they've had a bit of success.

"We have a very broad PE curriculum

with lots of electives, so there's going to

be something, somewhere they're going

to be good at and they're going to like.

It's about finding things for the kids who

aren't going to play footy or netball or

cricket."

Manny Peresso,

Fountain Gate Secondary College

Fountain Gate Secondary College

physical education teacher Manny

Peresso believes tailoring sports classes

to specific interests and ability levels can

make them fun for all, from the most

competitive student to the least.

"There's not many places in society

where you don't have to work with other

people and I think sports play a massive

part in that. If you've played sports, you

know how to communicate and work

with others, and that can go into other

areas of your life.

"Enthusiasm from me is a massive thing

in helping students; being involved in

sport myself and having that interest rub

off on them. It definitely helps them in

their motivation.

"Helping reluctant students have a go

depends on why they're reluctant –

whether they don't like to be challenged,

or they don't like that particular sport.

It's about providing variety, and

emphasising that it doesn't always have

to be a competition.

"I provide a variety of classes. We've got

an all-boys class that's really competitive,

and mixed classes where they just want

to have fun and enjoy themselves. They

get the option in Years 8, 9 and 10 to be

in a single-sex or mixed class. I try to

match classes to their likes and dislikes,

and ability level.

"Usually the boys' classes are really

competitive and it's really good for

their motivation. They like to push

themselves, and they get more out of it

because all their other classmates are

there for the same reason. You need to

be really well prepared because they

want so much out of it, and if you're not

prepared, you'll probably lose them."

14 Shine APRIL 2010
---
Awards recognise

leaders in school sport

The annual Victorian School Sports Awards are

the highest sporting accolade in the Victorian

primary and secondary government school

sectors.

Presented for the first time in 1994, the awards

recognise excellence across all categories of

major school sports and are given to students,

teams, coaches and volunteers who have

excelled or made an outstanding contribution to

school sport.

The individual student awards, each known

as a Blue, are based in the history of English

sport, when in 1936 during a boat race between

Cambridge and Oxford Universities, a Cambridge

oarsman tied a light blue ribbon to the bow of

his boat (the colour of his school, Eton College).

A dark blue ribbon was then ascribed to Oxford

(the colour of Christ Church College).

Subsequently, a Sporting Blue became identified

around the world as an accolade of sporting

excellence by young people, and is distinguished

by a two-coloured blue ribbon attached to a

traditional bronze medallion.

The Victorian School Sports Awards incorporate

individual Sporting Blue awards as a reflection

of the high standard of talent and dedication

demonstrated by aspiring young athletes in

Victorian government schools.

To find out who this year's winners were, turn to

our story on page 26. S

Shine APRIL 2010 15
---
NationAL PARtnersHIPs

New chapter for literacy

support in schools

Reading recovery tutors can make a world of difference in children's literacy.

By the time he started Year 1, six-yearold

John was stumbling on tricky words.

He would rather watch television than

pick up a book and disliked putting pencil

to paper. Judging by early indications, he

was a struggling student at risk of falling

further behind.

But with expert intervention, students like

John have an opportunity to 'catch up' and

develop reading and writing skills that are

the very building blocks of learning, says

Reading Recovery tutor Trish Priest.

Ms Priest, who works with a network of

schools in the Loddon Mallee region to

provide intensive support to struggling

students, is one of eight new Reading

Recovery tutors to commence working

with schools this year.

The experienced educator, who has held

principal, assistant principal and teaching

roles, rates her current role as by far

the most rewarding. Even the weekly

commute from Mildura to Melbourne

to undertake training in 2009 failed to

dampen Ms Priest's enthusiasm for the

job.

Ms Priest and her fellow Reading

Recovery tutors completed their training,

delivered by the University of Melbourne,

in late 2009.

"Literacy is absolutely a big passion of

mine," Ms Priest said. "This program is

the most valuable PD a teacher can do

and it was a fantastic opportunity to get

involved."

The Reading Recovery program provides

Year 1 students who are having difficulties

with learning to read and write with 30

minutes of one-on-one instruction with

a specially trained teacher each day. The

$1 million Reading Recovery boost is part

of Victoria's $38 million co-investment

supporting the Smarter Schools National

Partnerships.

"Literacy is the number one foundation

for everything," Ms Priest said. "It is just

so satisfying to see kids click (with their

learning) and run with it."

All Victorian government schools with

primary enrolments receive funding for

Year 1 literacy intervention, including

Reading Recovery, for the lowest

achieving 20 per cent of Year 1 students.

The program complements a raft of

initiatives in Victorian government

schools and the early childhood sector to

foster improvements in literacy.

Dr Stephen Brown, executive director

of the Department's newly established

Victorian Literacy and Numeracy

16 Shine APRIL 2010
---
NationAL PARtnersHIPs

Secretariat, is spearheading the push to

improve these fundamental learning skills

in government schools. The Secretariat

will coordinate literacy and numeracy

policy and programs and assist regional

offices, networks and schools to lift

student performance in literacy and

numeracy.

"The Secretariat is an exciting Blueprint

initiative," Dr Brown said. "It will provide

a focal point for the system-wide activity

in literacy and numeracy."

The Secretariat will also work closely

with schools funded under the Smarter

Schools National Partnerships, and,

according to Dr Brown, "will provide

statewide leadership for a focused strategy

to improve student achievement in

literacy and numeracy over a rolling sixto-18-month

period." S

The lowdown on literacy

All Prep students are assessed on their English skills when they

begin school using the English Online Interview, which measured

130,000 Prep to Year 2 students for the first time last year.

the latest NAPLAN data shows Victorian students are among

Australia's best performers in Years 3, 5, 7 and 9 reading, writing,

numeracy, spelling, grammar and punctuation.

sixty literacy coaches are this year working with around 600

teachers in 160 schools to support teachers to improve literacy

outcomes.

Professional learning for literacy coaches is available through the

Bastow Institute of Educational Leadership. Visit www.education.

vic.gov.au/proflearning/bastowinstitute
---
Single mothers

resource now in

different languages

Minister for Children and Early Childhood Development Maxine

Morand at the launch of the translated parenting resource.

SuPPort hAS been extended to mothers of diverse

backgrounds with the release of the Single Mothers: a resource

for parenting solo booklet in Chinese, Vietnamese and Arabic,

by Minister for Children and Early Childhood Development

Maxine Morand. The English version of the booklet was

released in July last year.

Developed by the Parenting Research Centre and the Council

of Single Mothers and their Children, the booklet offers advice

on coping with change, connecting with children and keeping

healthy, and provides information on how and where to get help

and support.

"Single parents, most of whom are single mothers, can face

extra challenges," Ms Morand said. "They can be dealing with

negative attitudes from family and the community, parenting

without a larger 'team' around them and often navigating the

tricky area of parenting after separation."

The number of single parent families has risen sharply in recent

years. Between 1996 and 2006 there was a 23 per cent increase

in the number of single parent Australian families with children

aged under 15 years. By 2006, about one in five Australian

children were growing up in a one-parent family and of those

families, 87 per cent were headed by women.

Other resources that support non-English speaking parents

include the Mch Caterpillars, which are key age and stage

bookmarks produced in 18 languages, and a new cd-rom

resource for early childhood professionals about child rearing

practices of immigrant families in Australia.

Single Mothers: A Resource for Parenting Solo is available by calling

Parent Line on 13 22 89 or visiting www.education.vic.gov.au
---
EARly CHILDHood

Leadership development

for early childhood professionals

Two new programs run through the Bastow Institute

will be delivered to early childhood leaders.

The Bastow Institute of Educational

Leadership will deliver two new

professional learning programs for early

childhood leaders. Both programs will

run over approximately five months, and

will combine evidence-based coursework

presented in three full-day workshops

with practical application through

supported workplace-based learning

activities.

Leading People in Early Childhood

Settings will support early childhood

professionals responsible for leading

others to build constructive, respectful

relationships with staff, children,

families and communities. Through the

program, leaders will learn new skills

that will help them to develop themselves

and others, and bring out the best in

their teams during a time of significant

change. Semann Slattery and Associates,

in conjunction with the University of

New England, will deliver the program

on behalf of the Bastow Institute.

Applications for this program have closed

for 2010 but will re-open for a second

intake in 2011.

Educational Leadership in Early

Childhood Settings is targeted at early

childhood teachers with a leadership

role. It will help educational leaders

develop their skills in leading change

and aligning professional practice with

the Victorian Early Years Learning and

Development Framework and national

Early Years Learning Framework. The

University of Melbourne will deliver this

program on behalf of the Bastow Institute.

Applications for this program are now

open and will close on Monday 19 April

2010.

Visit www.education.vic.gov.au/

proflearning/bastowinstitute

Shine APRIL 2010 19
---
School news

New perspectives on

multicultural education

The first year of the multicultural

education strategy has seen students

enjoy learning in diverse and exciting

ways. Schools have run various programs

to implement the strategy, including

developing intercultural literacy and

teacher and leadership capacity.

Victoria's population comes from more

than 230 countries, speaks more than

200 languages and dialects and follows

more than 120 faiths. Manager of the

Department's Multicultural Education

Unit Lynn Pickles said that education

aimed to equip students for success in

their world. "It's important that students

have the edge about themselves and

others, and appreciate, value and work

with difference," Ms Pickles said.

Many schools incorporated Values and

Civics and Citizenship Education into

the strategy through promoting inclusive

school cultures and building teacher

confidence in addressing stereotyping,

racism and other prejudices. Three model

United Nations Conferences were held

over the last 12 months, two of which

Nazih Elasmar, MLC for Northern Metropolitan, with students from Highton Primary School,

whose Chinese Dragon won them the Middle Years (Years 5–6) award.

looked at the rights of refugees. The events

involved more than 300 students and

teachers from primary and secondary

schools around Victoria.

Students also took part in constitutional

conventions, where they discussed

current social issues and the Australian

Constitution from an international

perspective. And the launch of a new

resource kit last month means teachers

can help students even further improve

their intercultural skills.

The All of Us – Multicultural Perspectives

in Victorian Schools resource kit was

developed as a key priority of the global

citizenship strategy, which was launched

in March last year. The Victorian

Multicultural Commission, together with

the Department and Education Services

Australia, developed the kit.

Email info@vmc.vic.gov.au to order your copy of All of Us – Multicultural Perspectives in Victorian Schools Resource Kit

20

Shine APRIL 2010
---
EARly CHILDHood

Why physical activity

is so important

Professor Geraldine Naughton, an expert

in paediatric exercise, tells Shine's Emily Stoikovich

why early learning is child's play.

Why are children's play and

movement so important?

Play and movement are important in

the growth and development of healthy

bodies and minds, and in fully developing

the senses. Both play and physical

activity encourage curiosity, which

teaches children about the world around

them. They help nurture language and

communication. Movement in play aids

posture, muscle strength and balance

in the bodies of young children and,

importantly, enables them to feel loved

and secure.

Can children engage in physical

activity before they can walk?

Yes! Tummy time, grabbing, grasping,

rolling and learning to stand

independently is all physical activity.

This type of activity helps create

correct posture and provides plenty of

opportunity for sensory development.

What simple things can families

do to facilitate play and

movement in young children?

Making use of local, low-cost resources is

important, as is family prioritisation. If

families see physical activity as important,

it will happen. A parent who is encouraging

of play and physical activity and who

enjoys walking with the child sends all

the right values right from the word go. I

understand that parents are stretched but

physical activity and play ought to be given

as high a priority as nutrition.

How much physical activity

should young children do?

Physical activity should be encouraged

from birth. It is recommended that

children aged one to five have at least

three hours of physical activity per day

spread throughout the day.

Once young children are mobile

what types of structured

activities are beneficial?

Parents can engage their kids in more

organised activities like playgroup, gym

or swimming and creative dance lessons.

These things are a good supplement but

they should not replace free-play. A play

buddy is a great way to promote physical

activity in children if local resources are

limited.

When should children be

restricted from watching

television and from using other

electronic media?

The recommendation is that children aged

zero to two shouldn't watch television

because social engagement is how they

learn. Engaging with adults develops

language, communication and the mind.

The recommendation for children aged

two to five is that they watch no more than

one hour of television, or other electronic

media, per day.

22 Shine APRIL 2010
---
EARly CHILDHood

How do we build play and

movement into daily life?

Use active transport, which requires

children to walk or push their way to a

destination, and encourage them to help

around the house. Decrease long periods

spent in strollers, highchairs and cars to

allow more time for play and physical

activity. This can be hard on parents but

make up for it later in the day with some

outdoor play. Outside, children can really

move big muscles and engage with the

environment.

What is your final message to

early childhood professionals

and parents?

Adults who have contact with children

aged zero to five should rethink the

value of play and physical activity. They

need to understand that the benefits of

physical activity far outweigh risks like

minor injury. Adults must prioritise

opportunities throughout the day for

children to be active. The picture around

play and movement is very complex. There

is no magic fix – it's a whole lifestyle issue.

One the whole family needs to embrace.

Geraldine Naughton is Professor

of Paediatric Exercise Science and

Director of the Centre for Physical

Activity Across the Lifespan at the

Australian Catholic University. She

also works with the Royal Children's

Hospital to provide resources for health

professionals working with young

families. In February she addressed

800 maternal and child health nurses

at the MCHN Conference to discuss the

importance of play and movement in

relation to young children. S

Tell us what you think. Email editor@edumail.vic.gov.au

Shine APRIL 2010 23
---
ON THE GROUND

A day in the life of...

Neil Rampling | Year 7 and 8 coordinator at Ballarat High School

From running year-level assemblies to coordinating overseas excursions, Neil Rampling has a lot

more on his plate than just classroom teaching.

9.00am Running assembly

9.50am Leading a Year 7 experiment

Like most schools Ballarat High has a whole-of-school

assembly each Monday morning. Neil Rampling also runs

special assemblies for Year 7 and 8 students twice a term.

"We have around 250 students in each year level. We meet

before each assembly to discuss the agenda. In this initial

assembly we introduce ourselves to the students, run through

yard areas, where to go if the students have any queries, and

outline upcoming swimming and sports carnivals," he says.

Assembly over, Mr Rampling heads straight to his Year 7

science class.

It's all hands on deck in the lab as Mr Rampling's Year 7 science

students take part in a separation of mixtures activity. "There are

24 students in the class and I try to do hands-on activities two

out of three lessons to keep it varied. I also keep investigations

open-ended so that the students can choose their assignment to

a degree." Mr Rampling sets one piece of homework a week in

science (and maths) and a major science project each term.

"This term it's electricity – they have to make the strongest

possible electro magnet they can using the materials we have,"

he says. As the students migrate towards their next class, Mr

Rampling heads to the staffroom to catch up on paperwork

during his free period. Then it's off to another timetable meeting.

11.00am

Chairing the coordinators' meeting

"I meet with the four other Year 7 and 8 coordinators and

the middle years assistant principal once a week. We discuss

individual learning plans for students and programs for kids

with special needs. We also look at issues that we need to focus

on as a group: movement through corridors and cleanliness of

the yard." By now it's midday – and Mr Rampling is rostered

on for yard duty.

PHOTOgraphy by ANDREW wilson

24 Shine APRIL 2010
---
ON THE GROUND

12.00pm Supervising the playground

3.30pm Planning an overseas excursion

"It's lunchtime and the kids are out. I wander round the yard

and pick up any misdemeanors – kids dropping papers or

wandering outside their allotted year area. It's also a good time

to catch up with students who I used to teach; they come up and

have a chat, which is great. We talk about how they are going

and what they are doing outside of school. It's a relationship

exercise."

After yard duty it's time to grab some lunch and then it's

another free period, which is used for lesson planning and

preparation. If time allows, he will schedule in a student or

parent meeting and then it's back to the classroom for Year 8

maths.

"Over the day I teach four out of six periods. The last class is

over by 3.15pm – but it's still not time to leave, because I have a

student meeting," he says.

"I'm accompanying a group of students to Vietnam at the end

of the year as part of World Challenge. I meet with the kids

once a fortnight, and they meet with the World Challenge

group once a term to discuss the trip, their preparation and

expectations."

World Challenge sets the itinerary for the 28-day educational

expedition, which includes seven days of trekking and a 10-

day community project, but it's up to the students to work

out accommodation and food for the group. They also have to

raise their own funds.

"Some kids have got part-time jobs, others are baking

cupcakes and making and selling things on eBay. As for me,

I'll be manning the sausage sizzle stand at the local hardware

store on weekends." S

Shine APRIL 2010 25
---
sCHool news

Sporting stars applauded

Former Olympians congratulated future Olympians at this year's Victorian School Sports Awards.

Some of

our sporting

standouts

Victorian government school

students are shining on the world

sporting stage.

• Su Hyun Oh (McKinnon

Secondary College) is the

youngest-ever female qualifier to

play in the Australian Women's

Open Championship at the

Metropolitan Golf Club.

• Cem Kahraman (Maribyrnong

College) is currently ranked fourth

in the World Taekwondo in the 14

to 17 year age group.

Former AFL footballer Matthew Lloyd and champion badminton player Erin Carroll with

Benalla West Primary student Rachel Waters, who won a sporting blue for cross country.

Forty-four talented primary and

secondary students, two teachers and two

community volunteers were recognised

at the Victorian School Sports Awards

last month, held at the Melbourne Cricket

Ground. An all-star cast, including AFL

star footballer Matthew Lloyd and former

Olympic swimmer Nicole Livingston,

hosted the ceremony with Minister for

Education Bronwyn Pike.

"These sports awards recognise the

highest level of sporting excellence and

highlight the exceptional talent and

dedication thriving in our government

schools," Ms Pike said. "It is inspiring

to see so many promising young sports

people here today who have already

achieved so much in their chosen sport.

"But we would not be here today without

the enormous support of sport's unsung

heroes, including parents, teachers and

community members, who work tirelessly

behind the scenes to help students achieve

their sporting best. Their dedication and

support deserve our recognition, and

today's awards acknowledge their vital

role in nurturing our young sportspeople."

Winning students were recognised

in 17 sports ranging from cricket and

badminton to tennis, athletics and

swimming.

• Brianna Davey (Melbourne Girls'

College) was named a member of

the Melbourne Victory Women's

Soccer squad despite being too

young to play.

• Joshua Wilcher (Box Hill Senior

Secondary College) was offered a

full basketball scholarship to attend

America's Metro State University.

• Andrew Read (Kew High School)

is ranked second in Australia in

the 100m backstroke for his age

group.

• Samuel Moon (Bendigo Senior

Secondary College) was awarded a

baseball scholarship to Oklahoma

University.

PHOTO BY les o'rourke

26

Shine APRIL 2010
---
sCHool news

Entries now open for School Design Awards

Now in its fifth year, the School Design Awards showcase the

extraordinary transformation that school design has undergone in

recent years to meet 21st century teaching and learning methods.

This journey has seen the 'boxes off corridors' approach transform

into spacious, open and light-filled learning areas. Today, the

corridors themselves are even scattered with cushions, computers

and engaged students.

This year is also a celebration of the Victorian Schools Plan,

the Victorian Government's plan to rebuild, renovate or extend

all government schools by 2016–17. Boosted by the Federal

Government's Building the Education Revolution, the Victorian

Schools Plan – now in its fourth year – has provided an

unprecedented level of capital works funding for the state's schools.

The awards are open to designers of any Victorian state school

projects completed between January 2008 and June 2010. If your

school has had a project built in this timeframe we encourage you to

contact your architect and support their submission.

Visit www.education.vic.gov.au/about/events

Shine APRIL 2010 27
---
SCHooL neWS

More Koorie literacy coaches

available for schools

Literacy learning is continuing to flourish thanks to the appointment of 15 Koorie literacy coaches

to schools across Victoria, writes Emily Stoikovich

Under the Literacy lmprovement

Team Initiative the Department's existing

coaching program was recently broadened

to focus on the specific needs of Koorie

students. The coaches are working closely

with school leadership teams and teachers

in and outside the classroom to build

knowledge, skills and classroom practice

around literacy. They work in identified

primary and secondary schools that have

more than 20 Koorie students.

Collette Caffrey, a Koorie literacy coach

for the Hume Region, says that teachers

are coached to provide inclusive and

sustainable teaching practices. This is

done through, "reflective conversations

and co-construction of explicit teaching,

development of precise learning tasks

to meet the learning needs of individual

students, and the development of

culturally inclusive teaching practices",

she says.

Feedback from the existing program,

implemented in 2007, shows that Koorie

students have already benefited from the

initiative. According to results from the

VCAA's On Demand Adaptive Test of

Reading, Koorie students in the program

have improved by 0.4 of a VELS level

over 6 months. This is above the 0.25 rise

expected. The gain is consistent with that

of the general student population within

the coaching program.

The literacy coaches are also optimistic.

Ms Caffrey says that she gets great

satisfaction from her role. "I love the idea

that every student has the opportunity to

learn in a more engaging way and I also

really enjoy seeing the teachers excel in

their practice."

The Koorie literacy coaches have joined

a current team of 45 general Literacy

Coaches already working in targeted

schools. All coaches are provided with

ongoing job training, which includes

professional development, Disciplinary

and Pedagogical Content Knowledge

Workshops looking at literacy, math and

science, and online information sessions.

28 Shine APRIL 2010
---
Where ARe they now?

Susannah

Wimberley

••

Photographer

frankston High School 1998–2003

PhotogrAPhing U2 frontman Bono and working on Baz

Luhrmann's Australia are now all in a day's work for ex-Frankston

High School student Susannah Wimberley.

Then ••

The 24-year-old photographer, whose work will be shown alongside

Victoria's most promising young designers, artists and performers

during the Vce Season of Excellence Top Designs tenth birthday

celebrations at Melbourne Museum, has been making a name for

herself since leaving high school and completing a photography

degree at RMIT. In demand, Ms Wimberley currently divides her

time between Sydney and Melbourne – on the opening night of Top

Designs she will be on a plane to Scotland for a photo shoot.

"At school I dreamed of being a photographer, but I did not expect

this. I still don't expect it to happen," says a bemused Ms Wimberley,

who credits her high school media teacher Anne Griffin for kickstarting

her rising career.

"Before taking Anne's Year 9 media class I had not really touched

a camera. I was interested in the darkroom and the technical side,

such as the shutter speed and motion blur and I had more of a

passion for architecture than for fashion and portraits, but Anne

encouraged me to look at a whole range of photography. She

understood my needs and gave me the right material to inspire me.

"She was really interested and passionate in everything that she did

and that really rubbed off on us. She had directed a video clip and

she showed us the work. She got excited about it, so we got excited.

She made you believe that if you were passionate enough and

worked hard enough, then your dream could be a reality."

Since leaving school and completing a photography degree at RMIT,

Ms Wimberley has worked as a stills photographer on a number of

small films and music video clips, as well as on blockbuster movies

Australia and Wolverine. She has also taken a series of dynamic

portraits of U2 frontman Bono – a job that came completely out of

the blue but which has put her on a stellar path to success.

"The U2 job was incredible," she says. "I was only one week out of

university and assisting in retouch photography when I got a call

from some people I was running time lapses for and the next thing

I knew I was in the studio shooting Bono. It was amazingly good

timing and from that I met some great people who recommended

me to go on and do Australia and Wolverine. I learned so much

about lighting and how the directors work with people's moods and

the landscape, and that experience has really helped me with my

portraits. It's funny because architecture was my initial passion and

Anne encouraged me to explore beyond that, and I discovered that

portraits are fascinating and fantastic. I find people engaging and I

really like showing their quirks," she says.

Susannah Wimberley (pictured here in her final year of study at

Frankson High School) credits her Year 9 media teacher Anne Griffin

for kick-starting her now thriving career in photography.

Now ••

"The U2

job was

incredible.

I was only

one week

out of uni,

and the

next thing

I knew

I was in

the studio

shooting

Bono."

If you know of a past student who has achieved success, email us at editor@edumail.vic.gov.au

Story by Tina Luton

Shine APRIL 2010 29
---
Opinion

Desma Strong and Liz Freeman

Student wellbeing is

every teacher's business

Student capacity to benefit from education

is inextricably linked to their wellbeing.

Our understanding of the

importance of student wellbeing has

expanded over the past decade. Research

now shows us that student wellbeing has a

direct, positive impact on student learning

outcomes. The capacity of students

to learn and benefit from education

is inextricably linked to their social,

emotional and physical wellbeing.

We also know that a school's capacity

to create a safe and supportive learning

environment will influence student

wellbeing and requires a proactive

and preventative approach. A school's

approach to student wellbeing is most

effective when it is implemented across

every aspect of its operation. Such an

approach will be reflected in philosophy,

policy, organisation, curriculum and the

school's relationships with its families and

the wider community.

A whole-school approach requires that

all teachers make it their responsibility to

safeguard the wellbeing of their students

and adopt proactive measures to promote

social and emotional health in their

classroom. We are confident that it is

within every teacher's capacity to fulfil

this role.

30 Shine APRIL 2010
---
OPINIon

A growing number of teachers are

recognising the importance of wellbeing

in learning and are keen to extend their

knowledge and skills in this area.

At the University of Melbourne's

Graduate School of Education we know

that teachers who complete our Master

of Education (Student Wellbeing)

report enhanced relationships with

students, higher levels of confidence

and empowerment in meeting the

needs of all students, and an enhanced

capacity to create nurturing and caring

environments.

They also report that their study with

like-minded peers has reinvigorated their

approach to teaching, leading to a sense of

professional renewal.

The current agenda in student wellbeing

is to increase the focus on the promotion

of wellbeing, by equipping all students

with social and emotional skills and

positive attitudes necessary for problem

solving. Positive relationships between

teachers and students are fundamental to

the development of supportive classrooms

and the promotion of student wellbeing.

Desma Strong and Liz Freeman

lead the Master of Education

(Student Wellbeing) at the University

of Melbourne's Graduate School of

Education. S

Visit www.education.unimelb.edu.au

5 steps to happier students

In 2006-07 our researchers undertook a project titled Relationships,

Wellbeing and Learning, in partnership with the Catholic Education

Office Melbourne, to investigate how teachers could enhance wellbeing

and learning in their middle years classrooms. The project defined the

following key tips for teachers to build positive relationships for student

learning and wellbeing.

Connect

(building

rapport)

Respect

(valuing )

Understand

(empathising)

Support

(helping)

Feedback

(reinforcing

expectations

of success)

• Greet students by name

• Find out the interests of each student

• Chat outside the class

• take students seriously

• Value your students' experiences

• Involve students in decision making

• Listen closely to students

• see a situation from a student's perspective

• think about how a student feels

• know the stories of your students' lives

• Be available

• offer help when you think a student has a problem

• Help students to develop strategies and access further

support

• Help students to develop goals and timelines

• Acknowledge effort

• Acknowledge each student's strengths

Adapted from the Relationships, Wellbeing and Learning Project

Shine APRIL 2010 31
---
SCHooL neWS

Happy feet make for positive teens

Contemporary music and dance are part of a new program to pique the interest of Indigenous

youth, writes Tina Luton

The new Wannik Dance Academies,

partly supported by the Australian

Government's Sporting Chance program,

have opened in schools around the state.

Victoria's three dance-based academies

will be operating within Ballarat,

Eaglehawk and Mooroopna secondary

colleges, and are aimed at engaging Years

7–10 Indigenous girls with their learning.

The students will attend regular classes

and take part in a dance program, which

will be provided two afternoons a week.

The classes will be run by qualified

dance instructors sourced from local

communities with the assistance of groups

such as Ausdance Victoria. A range of

dance styles and skills will be explored,

providing significant opportunities for the

students and the schools to work with the

local Indigenous communities.

Beth Crowley, from the Department's

Wannik Unit, says the dance academies

are an opportunity to align student

classroom learning and assessment tasks

with a range of learning experiences

included in the dance academy program.

Leading teachers have been appointed to

manage Wannik Dance Academies, and

they will collaborate with all classroom

teachers to ensure attendance and literacy

and numeracy achievement is progressed.

"As part of their course, students will

complete a certificate qualification, which

will provide a structure to base their

learning programs around. They will also

participate in a mentoring program with

mentors sourced from the performing arts

area," she says.

"Performances could include school and

community assemblies, local community

celebrations, planning for events and

dance performances during Dance Week

in May each year, celebrations of events

such as NAIDOC week and the Joining

the Chorus biennial performances, in

which the various dance academies will

train independently and come together to

perform," she adds.

Leader of the Wannik Dance Academy

at Ballarat Secondary College,

teacher Sue Broadway, with students

Samantha, Michaela and Taylor.

32 Shine APRIL 2010
---
OPINIon

Briony Heneberry

So what's a ning

anyway?

No idea what a ning is? Keep reading.

Facebook, MSN, MySpace… Kids may

not be watching The 7:30 Report, but

they are plugging into the worldwide

web every other afternoon and evening.

They're watching and uploading to

Youtube, participating in online forums,

electronically investigating the lives of

people in other countries and broadcasting

themselves for the world to see. They are

truly digital natives.

As educators, we have to acknowledge that

a large part of a student's life doesn't exist

in the physical sense, and if their education

is to accurately reflect their world, we need

to meet them in it. This is why I like nings.

There are difficulties and dangers

associated with using Facebook and

MySpace in schools, not least of which

include the fact that by default these social

networking sites are blocked by the state's

internet service provider, Netspace. The

appeal of these types of sites to young

people, however, is undeniable, and nings

are a happy medium between the engaging

online format that students love and the

security of a closed community that satisfies

both schools and parents.

"I couldn't be happier

with the way my

students have treated

the intellectual property

of their peers."

But what exactly is a ning? A ning is

a customisable social platform, that

allows administrators to quickly and

easily create an attractive and interactive

online community. Not overloaded with

complicated elements that might make

setup and maintenance more trouble than

its worth, nings have WYSIWYG (what you

see is what you get) controls that let you

add, remove and edit functions quickly, and

privacy settings that plainly outline who

can view your community and make posts.

So, in preparation for the 2010 school

year and my new creative writing elective

for Year 9s, I created a ning that includes

blog functions, a forum, and the ability

to upload videos, music and pictures. It

was surprisingly easy to customise and

required no knowledge of ccS or html code

(although for advanced customisation this

is beneficial).

I sent out email invitations to all of my

students a week before the commencement

34 Shine APRIL 2010
---
OPINIon

Ms Heneberry's ning for her Year 9 English

class includes blog functions, a forum and

the ability to upload videos and music.

of Term 1 and was rewarded when one

student posted his status as: 'This seems

much cooler than I thought. You've made

my semester and we haven't even started

yet.'

Weekly homework tasks are all posted in the

forum for students to complete at home, and

creative tasks are presented on their blogs

so that others within the class can provide

feedback.

I couldn't be happier, or more

impressed, with the level of activity

on the ning both inside and outside of

school hours, or the supportive and

mature way in which my students have

treated the intellectual property of their

peers. Non-compulsory discussion

threads have blossomed over weekends,

and students have used their blogs to

share what they have been developing,

"Nings are not just another case of technology replacing something that can easily be done

by traditional means," insists Brentwood Secondary teacher Briony Heneberry.

actively seeking comments and

suggestions from each other even when

it was not required for assessment.

Aside from the beauty of paperless

assessment and the ability check on the

progress of students wherever I have

an internet connection, I have found it

extremely rewarding to have studentinitiated

curriculum-centric conversations

outside of the classroom.

Nings are not just another case of technology

replacing something that can just as easily

or effectively be done by traditional means;

they are an engaging and interactive Web

2.0 platform that students enjoy using,

because they utilise the different electronic

modes of communication that now

dominate their lives.

Briony Heneberry is an English teacher at

Brentwood Secondary College. S

Tell us what you think. Email your letters to editor@edumail.vic.gov.au

Shine APRIL 2010 35
---
School news

Western suburbs students

head to China

Left and right: Year 10 and 11 students from Braybrook College and Sunshine College will head to China next month.

Minister for Education Bronwyn

Pike recently bid farewell or zaijian to 30

western suburbs students who have just

embarked on a once-in-a-lifetime study

experience to China.

Earlier this month, 15 Braybrook College

and 15 Sunshine College Year 10 and 11

students flew to China for three weeks as

part of the Department's Overseas Study

Experience program.

This experience will immerse students in

Chinese culture and help them prepare

for future life as global citizens. They will

be accompanied by six teachers and will

spend time studying at schools in Suzhou

and Nanjing and will also visit Beijing and

Shanghai.

As a result of technology and Australia's

proximity to Asia, many students will

spend their working lives in multinational

environments, and this Overseas Study

Experience program is another way the

Department is preparing students to

thrive in modern workplaces.

The experience will further the students'

cultural understanding and help them to

promote cultural respect in their schools.

The students will return home to

Melbourne during International

Education Week, which runs from

Monday April 19 to Friday April 23.

36 Shine APRIL 2010
---
musIC

Prestigious music

scholarships go to

government students

Two gifted students from government schools are this

year's recipients of the prestigious Margaret Schofield

Music Scholarship. The scholarship will enable the young

musicians to continue their study of music this year.

Euan Cumming attended Leongatha College and plays

piano. He performs solo, in a jazz quintet and at school

was in a concert band ensemble. He also enjoys composing

music and looks forward to a career as performer and

educator.

Melina van Leeuwen has studied the harp since the age

of six and has been a student at the Victorian College

of the Arts Secondary School. Her goal is to become a

harpist of both the mainstream classical repertoire and of

contemporary/experimental music.

Both these students will receive $5000 towards their first

year university fees.VCE Music students can apply for a

Margaret Schofield scholarship in Year 12. The

scholarships are provided by the trustees of the Margaret

Schofield Memorial Trust.

Right: Trustees of the Margaret Schofield Music

Scholarship Dr Fiona Cochrane and Dr Andrew Cochrane

with successful students Euan Cumming and Melina van

Leeuwen and VCAA chair Professor Adam Shoemaker.

Email the VCAA on vcaa@edumail.vic.gov.au for

more information on

Margaret Schofield Music Scholarships.

Shine APRIL 2010 37
---
SCHooL neWS

State Schools Spectacular to shine on

With former student stars returning to the stage, and fresh talent nipping at their heels, the 2010

Spectacular is gearing up for a big one, writes Tina Luton

It's no accident that many past

performers in the Victorian State

Schools Spectacular have gone on

to achieve successful careers. Singer

Vanessa Amorosi, Sun Aria winner

Nicole Carr and European musical

theatre star, Winston Hillier have all had

their names in lights since starring in

the government schools production. And

there are plenty more hoping to follow in

their footsteps.

This year's spectacular is called Shine

On and features a range of uplifting and

inspirational pop songs and musical

theatre tunes, from Michael Jackson's

Earth Song to the Jennifer Lopez hit

Let's Get Loud, as well as popular pieces

from the musical Nine to Five, which is

currently taking Broadway by storm, and

Stephen Sondheim's fairytale-inspired

Into the Woods.

Talented vocalist Georgia Wilkinson

who played Charity in last year's big-top

performance of Barnum is keen to get

back on stage this year, so too is Tessa

Ramanlal who joined the Department's

key performing arts initiative JtC (Joining

the Chorus) vocal ensemble in 2008

and was one of the star performers of

a glittering tribute to Kylie Minogue.

Currently completing Year 12 at McKinnon

Secondary College, she jumped at the

chance to try out for this year's show.

"The Spectacular was such an incredible

experience," she says. "I made so many

new friends and having the chance to sing

with so many talented people in front of

such a huge audience was just amazing. I

can't wait to do it again."

Dean Schulz first appeared in the

spectacular as a dancer in 2003 when he

was in Year 5. Three years later he was

back, this time playing Titch in Oklahoma

– he was the second youngest cast

member and one of the most dedicated.

Now in Year 12 at Eltham High School,

Dean is determined to make a name in

musical theatre. "I love the feeling of being

on stage. It is a feeling I can't get anywhere

else and I am very excited about this

year's State Schools Spectacular. It will be

fantastic – and it brings me one step closer

to my dream," he says.

Shine On will be performed at Hisense Arena from 18 to 19 September. For

more information, visit www.education.vic.gov.au/about/events/spectacular

38 Shine APRIL 2010
---
ResoURCes

Five fantastic

films exploring

Australian identity

1. Bran Nue Dae

MusicAL comingof-age

story set in 1969.

After fleeing a religious

mission in Perth, Willie

– a young Indigenous

boy – heads home to

Broome, learning about

life and his heritage

along the way.

3. Looking for Alibrandi

In present-day Sydney,

17-year-old Josephine Alibrandi

reaches a turning point in her life

and discovers much about her family

and herself. Explores cultural rituals,

teenage love and suicide.

2. Gallipoli

Peter Weir's

award-winning

film captures

the character of

Australian diggers

during World War I

and the mythology

that was born

around them.

5. The Castle

SurburBAn

Aussie battlers

the Kerrigans find

their happiness is

threatened when

developers attempt

the compulsory

acquisition of their

house to expand the

neighbouring airport.

4. Rabbit Proof Fence

The true story of three Indigenous

girls who make a 1500-mile trek across

the outback to return home after being

removed by the government to be

trained as domestic staff.

Shine APRIL 2010 39
---
Opinion

Dennis Matthews

How do we keep

people in teaching?

Forty years in the classroom have taught

Dennis Matthews a thing or two about teaching.

I AM 63 years old and have been teaching

in the classroom full-time since January

1970. I still love coming to work, but I see

many new teachers struggling under great

pressure and wearing themselves ragged in

order to cope. I worry about their longevity

both personally and for the profession

itself. Too many newer teachers anticipate

leaving the profession after only a little

while. It seems that this is one way they

manage the pressures that are wearing

them out. Frequent career changes are

now regarded as normal, and there's a

plan to attract top graduates from other

occupations to fill expected gaps in the

teaching service.

New teachers are well prepared for

teaching in some ways but not so well in

others. Younger ones say that the biggest

difficulties lie in student management and

in juggling the multitude of tasks demanded

of them. My observation would support this.

Undergraduate preparation in pedagogy

and content is generally pretty good, but the

areas teachers live or die by are not so well

covered. I know some things only come by

experience but I hate seeing young people

agonizing over issues unnecessarily.

Teachers are task-focused people; they

have to be to get the job done because there

is another task just around the corner and

after that, a dozen others. In teaching there

are so many tasks to be accomplished you

wonder if ever you will complete them

all. Relationships matter most though. If

people could try and keep things simpler

and not get bushed in the labyrinth of

VELS, perhaps relationships might be

easier to work at.

The classroom is not a democracy. It

would help young teachers if they were

allowed to feel okay about wanting to be

in charge in their rooms. It's fine to chat

about classroom rules if you want to, but

the bottom line is that you are accountable

for what happens in your classroom. As a

teacher, you are the adult and you are in

charge; not bossy, but in charge.

40 Shine APRIL 2010
---
OPINIon

You can't solve all problems. There are

serious problems that sadly beset many

kids, and these are generally beyond the

influence of most teachers. Wellbeing

coordinators and others are usually very

busy trying to address harmful behaviours

like binge drinking, substance abuse, sexual

adventurism, off-campus cyberbullying,

home violence and sexual abuse, to name

some common ones. If we as teachers are

in for the long haul we have to know what

we can manage and what we have to let

go through to others. Our obligations and

realistic actions must stop at notifying

others of our concerns and keeping a

watching brief if and when those kids are in

our classes. It doesn't mean we don't care,

just that we can't do everything.

To stay in teaching people have to be

there for the right reasons. The notion of

responding to a 'calling' might seem oldfashioned

to some, but I really believe that

it is necessary for one to stay in teaching.

Prestige, glamour, celebrity, family pressure,

chance, availability and money are some

of the reasons why people choose their

occupations and none of these will do for a

teacher. If teaching is your calling you will be

gifted in the area. You will have to work on

your gifts but the work will be comfortable.

If you want to last in teaching make sure it

is where you are meant to be. Trainees need

to be challenged on why they want to be

teachers. Are their eyes wide open?

"Gratitude may exist

but it's rarely expressed.

Three kids in a busload

of 40 might say thanks

as they alight after

you've busted a gut

taking them on a world

tour."

Teachers need to be ready to go with an

attitude of service and no expectation of

gratitude for services rendered. Gratitude

may exist but it's rarely expressed. Three in

a busload of 40 might say thanks as they

alight after you've busted a gut taking them

on a world tour. You must also resist taking

negative behaviours personally. Fretting or

sulking over hurtful remarks and actions is

nervous energy wasted. Teach kids to say

thank you, (for example), as best you can.

But move on if they don't, otherwise it will

wear you down.

To survive in teaching you have to get

balance in your life. We all have many roles

and responsibilities to fulfil. Each one is

a different ball to juggle and we drop one

of them to the detriment of ourselves and

others. How can we do justice to them

all? It seems that available time conspires

to make that impossible. At times the

demands can be burdensome and I'm sure

that feeling contributes to many teachers

departing the service. The tasks of the job

are unremitting. You are never prepared as

well as you'd like to be. You never seem to

be fully in control of your pile of correction

or return it as quickly as you'd like to. You'd

rather spend time preparing for classes at

the end of the day but there are meetings to

attend. How do you possibly organise your

life to fit in the other important things? Do

it you must, or you won't go the distance.

Surviving in teaching is about what's

happening in your head, not what's

happening in your job. I hope there are

people to coach new teachers in these

ways. They are the treasure of the future,

and they must be looked after.

Dennis Matthews is a teacher from

Red Cliffs Secondary College. S

Tell us what you think at

editor@edumail.vic.gov.au
---
eARLy CHILDHood

More bilingual workers in

children's services

Early childhood professionals can now connect more easily with non-English speaking children

thanks to the help of bilingual workers.

Victorians come from more than 230

countries, speak more than 230 languages

and dialects, and almost a quarter of the

state's population was born overseas. So

it's no surprise that children and students

learning English as a second language

represent a significant group in Victorian

government schools and early childhood

education providers.

To support this cultural and linguistic

diversity, bilingual workers are

becoming an essential part of Victoria's

early childhood services – and as FKA

Children's Services Casual Bilingual

Program team leader Rose Colombo

explains, children, families and the wider

community all benefit from this dual

approach to teaching young children.

"Bilingual workers assist children with

communication, support maintenance of

the child's first language, develop pride

in their own culture, assist them to settle

into the service and support children to

develop connections with other children

and adults," Ms Colombo explains. "They

can also assist parents during parent

interviews and orientations, exchange and

share information about their children

and family life, support staff by providing

cultural information and advice regarding

child rearing practices and celebrations,

and assist the staff to learn key words in

the child's first language. And because

they help families from culturally and

linguistically diverse backgrounds

understand the value of early childhood

services, children are more likely to attend

regularly."

FKA Children's Services' team of casual

bilingual workers come from diverse

backgrounds and bring with them a wide

range of experiences. They provide free

bilingual support in around 100 different

languages and dialects to children and

families in early childhood services,

including long day care, kindergarten,

family day care and out of school

hours care, including vacation care in

metropolitan and rural areas of Victoria.

This service is also free for children

attending through the Adult Migrant

English Program, and can be provided on

a fee-paying basis to other early childhood

services.

Bilingual workers also offer parents and

caregivers from diverse backgrounds

much-needed familiar cultural and

linguistic links – particularly to families

from disadvantaged backgrounds who

have recently settled in Victoria.

"Casual bilingual workers provide families

with a sense of belonging and staff with

an understanding of the experiences new

immigrant, refugee and asylum seeker

may have had before arriving to the

county," Ms Colombo says. "Staff can work

towards meeting the needs of individual

families to help them settle, and provide

an understanding of the family and child's

needs."

for more information on the FKA Children's Service Casual Bilingual Worker

Program, visit www.fka.com.au

42 Shine APRIL 2010
---
News bites

Community use of P21 facilities

More than 200 Victorian government schools are

receiving a new multi-purpose hall through the Building

the Education Revolution (BER) program, providing

communities across the state with new potential

spaces for sports programs.

The BER guidelines stipulate that all buildings in the

Primary Schools for the 21st Century program must be

made available for community use at no or low cost.

The use of school facilities by community groups can

provide many benefits to a school such as improved

community engagement, strengthened partnerships

with clubs and groups in the community, informal

security presence at the school after hours and

potential financial advantages.

To help schools understand their requirements and

how to manage the community use of the new facility,

the Department is developing a series of fact sheets

that will be distributed via a school circular in the near

future.

The fact sheets will include information about the

Commonwealth requirements, insurance and liability,

costs to consider when determining fees, advertising

and local council requirements.

Mental health conference

Mental Health and Wellbeing in the Classroom is a

conference for teachers and school staff working in

primary and secondary school settings. The conference

will provide a contemporary overview of child and

adolescent behavioural and emotional problems faced

by teachers in school settings. All presenters are child

and adolescent psychologists or psychiatrists who

have extensive experience in working with school staff.

They are also actively involved in clinical research that

aims to improve understanding and treatment of mental

illness in youth.

When: Friday 23 April; Where: Spring St Conference

Centre, Melbourne; Cost: $330. To register, visit

http://ecommerce.med.monash.edu.au or email Ruth

Kirpalani at ruth.kirpalani@med.monash.edu.au or

phone 9594 1354
---
ReGIonAL Network leADers

10 questions for

Joanne Levey

Cappuccinos seem to top the list of life's little

pleasures for regional network leader (RNL)

for the Highlands City network in the

Grampians Region.

1. What do you think makes a good principal?

The thing that all good principals have in common is the ability

to develop good relationships with their school community and

a strong belief that the bottom line in any decision is what is best

for the learning and wellbeing of the students.

2. When you were a student who was your most

inspirational teacher?

Mrs Murray my HSC biology teacher. She was passionate about

her subject and had high expectations of all her students. She

conveyed her enthusiasm for the subject to me.

3. What are you reading at the moment?

I don't like sitting still for very long so most of my reading is

on a 'need to' basis. I do read the Age every day to improve my

general knowledge so that I can beat my husband in the quiz –

which I have achieved. I still wonder at why anyone would care to

remember that a quogga is an extinct relative of the zebra.

4. What is your idea of the perfect weekend?

I love all weekends because they are an opportunity for a change

of pace and routine. I particularly enjoy getting a lap lane at the

pool to myself, a coffee with friends and catching up with my

three children when they come home from working and studying

in Melbourne. Weekends are also a chance to appreciate the

superb Wimmera landscape, which I miss since shifting off our

farm into town.

5. What do you love to eat?

I love mangos and anything my husband cooks. His cooking is so

much better than mine and I will make sure that he reads this.

6. What was your main motivation for becoming

an RNL?

I received a little push to take on an acting RNL role. The timing

was right and the school improvement focus appealed to me.

7. What were you doing prior to this role?

I was principal of Horsham 298 Primary School and loved

working with the great students, staff and community that made

it a very special place.

8. What are some of the key projects you are

working on?

This year Wimmera West network has a number of projects

including the Wimmera Virtual School, the Wimmera Trade

Training Centre, a focus on improving student achievement in

writing, and planning for the implementation of a developmental

curriculum approach to early years learning.

9. What do you do to relax after work?

Swim, play with my two clever and energetic sheep dogs and

sleep when I sit down to watch TV.

10. What is your all-time favourite movie?

The Piano because I love its haunting story and music.

44 Shine APRIL 2010
---
eARLy CHILDHood

New children's centre

in Warrnambool JLevey

The new Warrnambool Children's

Services Centre opened for business in

mid-February and is already helping to

accommodate some of 2300-plus children

aged 0–5 years living in the area. The

$900,000 centre is a partnership between

the Victorian Government, Warrnambool

City Council and the local community and

was opened by Minister for Children and

Early Childhood Development Maxine

Morand.

Ms Morand said the centre was a onestop

shop where whole-of-family support

can be provided at one location. "These

services are exactly what young families

in Warrnambool need," Ms Morand said.

"This centre integrates long day care,

play groups, kindergarten, and a range of

family support and community services,

which will ensure children have a seamless

transition from early childhood to

kindergarten and then to school," she said.

The centre features a native garden and a

children's outdoor play area, as well as a

Minister for Children and Early Childhood Development Maxine Morand and Gayle Tierney,

MLC for Western Victoria, with children at the new Warrnambool Children's Services Centre.

range of early childhood and kindergarten

programs. Ms Morand said she was

delighted that the playgroup program

targeted local Aboriginal families. "This

will encourage more Indigenous children

to subsequently move on to three- and

four-year-old kinder – a vital step in

preparing children for a successful

transition to school."

Shine APRIL 2010 45
---
What is International Education about?

International education is about connecting Victorian students and educators with the world.

It is about a two way exchange of knowledge and culture that provides opportunities for

Victorian students and teachers to deepen their international-mindedness, cultural literacy

and global citizenship. This exchange can be encouraged through international student

programs, student, teacher and principal overseas study experiences, school-to-school

relationships and a more globalised curriculum.

Celebrating the contributions of international

students and educators

International Education Week celebrates the

contributions that international students and

educators bring to Victoria, and showcases

the many things schools are doing to connect

their students and teachers with the world.

The objectives of the week are to:

• welcome international students to Victoria

and celebrate the contribution made by them

and overseas educators to the Victorian

community

• showcase the many programs in which

schools are engaged to augment whole school

approaches to international education

Schools creating

global communities

To further 'internationalise' Victoria's school education, the Department of Education

and Early Childhood Development continually provides opportunities for students,

teachers and school leaders to engage across other languages and cultures. This is

consistent with the Blueprint for Education and Early Childhood Development's vision

to ensure we equip young people with the skills and capabilities they will need for

economic, social and cultural success in the 21st century. The Blueprint also reflects

the importance of young Victorians making effective contributions to

their local and global communities.

• increase cultural awareness and cross

cultural communication; and

• expand the international mindedness

of Victorian students and educators.

Some of the activities being held by schools

throughout the week include traditional dancing

classes, cross cultural awareness discussions,

presentations by exchange students and

culture based research projects. In addition, the

Department's International Education Division

is hosting several events aimed at exploring

and highlighting the internationalisation of our

school education.

International Education Week:

19–25 April 2010

A week of celebrations

Monday 19 April – Languages Symposium

The theme for this symposium is Language Teaching and Learning

and the Internationalisation of Victorian Education. An expert

panel from the education and industry sectors will present their

views and engage the audience on the contribution of language

studies to the internationalisation of education in Victoria. This

event will be facilitated by Jenny Brockie of SBS TV's popular

show, 'Insight'.

Wednesday 21 April – Secretary's Roundtable

The Secretary's Roundtable will bring together senior

Departmental staff and other influential thinkers to inform the

Department's longer term vision for internationalising education

in Victorian schools. The discussion topics will include: How will

Australia / Victoria be placed in the world in 5, 10, and 20 years

time? Why does the Victorian education system need to continue

to internationalise? What do young people expect from schools to

equip them to be global citizens?

Thursday 22 April – Government House Welcome

to International Students

This event welcomes newly arrived international school students

and celebrates and acknowledges the contribution made by all

international students and educators to the Victorian economy

and community.

The Governor will host this event and over 500 international

students from the government, independent and catholic schools

sectors together with their accompanying teachers will participate

at this event. There are several regional welcome events that are

also being held throughout the week.

Friday 23 April – Asian Perspectives Seminar

This seminar will explore how Asian perspectives

in Victorian teaching and learning

can further impact system

improvement; workforce

reform; and partnerships with

parents and communities. The

event will be hosted by Chris

Wardlaw, Deputy

Secretary, Office

for Policy,

Research and

Innovation,

and will

feature keynote

speakers from the Asia Education Foundation, the

Australian Curriculum, Assessment and Reporting

Authority (ACARA), and McCrindle Research.

All week – Photo competition

International students from all schools in Victoria

have been invited to submit photographs of their experiences in

Victoria in a storybook or portfolio style. They are required to address

themes such as their first impression of Victoria/Melbourne, or a

week in the life of an international student enrolled in a Victorian

Government School. A selection of the storybooks/portfolios will

be displayed at the Government House function and the winner

announced by the Minister for Education, Bronwyn Pike, on the day.

Raising awareness of global and intercultural

engagement

As well as welcoming new international students to Victoria

and celebrating the contribution made by them and overseas

educators to the Victorian community, the Department hopes that

this week-long celebration will also increase awareness of the

benefits of global and intercultural engagement. As a result of

technology and Australia's proximity to Asia, many Victorians will

spend their working lives in multinational environments, and by

internationalising our state's education system the Department

is preparing students and educators to thrive in these modern

workplaces and a globalised world.

For more information regarding

International Education please visit:

www.study.vic.gov.au
---
School news

Awards celebrate cultural diversity

The annual Cultural Diversity Quest was more colourful than ever this year.

An originaL musical about Vietnamese

refugees, a Chinese dragon parade and a

mural of Indigenous stories were among

315 entries to this year's Cultural Diversity

Quest.

On behalf of the Minister for Education

Bronwyn Pike, Nazih Elasmar MLC

congratulated students, teachers, and

schools that celebrate Victoria's diversity

and promote social inclusion at a

ceremony during Celebrate Our Cultural

Diversity Week last month. Mr Elasmar

presented prizes and awards to three

individual students, 13 school groups and

four teachers.

The quest received 315 entries from 105

schools, compared to 74 entries last year.

There were 45 multimedia entries (for

example, claymation and blogs) compared

to just five the previous year.

Multicultural Education Unit manager

Lynn Pickles said the entries displayed

a deep understanding of our cultural

diversity and that the entries were often

part of a larger unit of work or whole

school project. "Many students and

teachers explored cultures around the

world, the experiences of migrants and

refugees, and racism," Ms Pickles said.

Schools used various ways to explore

cultural diversity, including picture books

as springboards, food and recipe books

and Asian studies. Bendigo's Quarry Hill

Primary School received the Immigration

Museum Award for its submission

Everybody Belongs. Teacher Frances

Forge says the students completed

various tasks in their cultural diversity

studies. They visited the Queen Victoria

Market, created visual stories of arrivals

to Australia and photographed small

dolls dressed in clothing from various

countries.

"Our school does not have a wide range

of cultural backgrounds; we wanted to

expose students to other cultures and talk

about acceptance," Ms Forge said.

All winning entries will be displayed at

the Immigration Museum throughout

June.

48 Shine APRIL 2010
---
Say hello to Hollywood

Nothing spells murder and intrigue like film noir, and former Year 12 student Nicholas Rickard, who graduated from Northote High

School last year, has captured the genre perfectly. His short film The Wrong Step is part of the 2009 Top Screen exhibition, and is a

black and white evocation of "the double games of a private investigator". Top Screen is on at ACmi until 7 May.

Photo by Les O'Rourke

Shine APRIL 2010 49
---
ReseARCH

Visible learning: what's

good for the goose…

Research by John Hattie suggests that what works best for students

is what works best for teachers.

Professor John Hattie recently

visited Victoria to discuss his latest book,

Visible Learning: A synthesis of over 800

meta-analyses relating to achievement.

His book is a culmination of 15 years

of research incorporating more than

50,000 studies and over 800 metaanalyses

involving millions of students

and represents the largest collection of

evidence-based research into what actually

works in schools to improve learning.

The aim of the book is not to overwhelm

the reader with the wealth of research;

rather it builds an exploratory story about

the influences on student learning and

then defends the nature and value of this

story through the research evidence.

The overall message in this book is the

importance of "visible teaching" and

"visible learning". Hattie suggests that

visible teaching and learning occurs when

learning is the explicit goal: when there

is feedback given and sought and when

there are active, passionate, and engaging

people, including teachers, students, and

peers participating in the act of learning.

Hattie points out that the main feature of

the research evidence is that the "biggest

effects on student learning occur when

teachers become learners of their own

teaching, and when students become

their own teachers". This allows students

to show self-regulatory attributes that

are most desirable for learners, such as

self-monitoring, self-evaluation, selfassessment,

and self-teaching.

The research evidence supports another

important message: "what teachers do

matters", particularly those who teach

in the most deliberate and visible way.

These teachers intervene in calculated

and meaningful ways to alter the direction

50

Shine APRIL 2010
---
ReseARCH

Top 20 influences on student learning and achievement

This table contains the top 20 influences as measured by

'effect size' on student achievement. In total, Hattie analysed

and ranked 138 influences.

of learning in order to attain the desired

goals. They also provide students with

a range of learning strategies, including

direction and re-direction and maximising

the power of feedback from the student.

Hattie suggests that teachers need to

deliberately intervene to enhance teaching

and learning, particularly when the

content is not understood.

Hattie argues that successful classrooms

have visible teaching and learning, where

there is great passion displayed by the

teacher and learner, and where there is a

variety and depth of skill and knowledge

by both teacher and student. Teachers

must know when learning is correct or

incorrect; learn when to experiment;

learn to monitor, seek and give feedback;

and know how to try alternative learning

strategies when some don't work. A key

message is "the more the student becomes

the teacher and the more the teacher

becomes the learner" the more successful

the achievement outcomes.

Hattie examines six factors and

assesses their respective contributions

to achievement. These factors are: the

child; the home; the school; the teacher;

the curriculum and the approaches to

teaching. In terms of the child, Hattie

argues that the child or student brings to

school factors that influence achievement

(from preschool, home, and genetics) as

well as a set of personal dispositions that

can have a marked effect on the outcomes

of schooling. The home can either nurture

and support achievement of students, or it

can be harmful and destructive.

Hattie also suggests that positive

expectations from the parents can be

critical to the success of children. As such,

parents need to know how to "speak the

language of schooling" so that they can

provide assistance to their children in

terms of developing the child's learning and

love of learning, and in creating high and

positive shared expectations for learning.

In regards to the school, his research

suggests that the most powerful effects

Rank domain influence

1 student self-report grades

2 student Piagetian programs

3 teaching Providing formative evaluation

4 teacher Micro teaching

5 school Acceleration

6 school Classroom behavioural

7 teaching Comprehensive interventions for

learning disabled students

8 teacher teacher clarity

9 teaching Reciprocal teaching

10 teaching Feedback

11 teacher teacher-student relationship

12 teaching spaced vs mass practice

13 teaching Meta-cognitive strategies

14 student Prior achievement

15 Curricula Vocabulary programs

16 Curricula Repeated reading programs

17 Curricula Creativity programs

18 teaching self-verbalisation/self-questioning

19 teacher Professional development

20 teaching Problem-solving teaching

Source: Hattie, J. (2009). Visible Learning: A synthesis of over 800 metaanalyses

relating to achievement.

relate to features within the school, such

as the climate of the classroom, peer

influences, and the lack of disruptive

students in the classroom. There are

a number of teacher contributions

to student learning, such as teacher

expectations; teachers' conception of

teaching; and teacher openness. Hattie

argues that the most critical aspect

contributed by the teacher is the quality

of their teaching as perceived by the

students.

The curriculum also needs to provide

opportunities for a balance between

surface and deep understanding, based

on specific learning intentions and

success criteria. He examines these six

factors and their associated variables

and ranks them in terms of their effect

on achievement outcomes (see box: Top

20 influences on student learning and

achievement).

Overall, Hattie argues that teachers need

to seek feedback on their practice from

both students and colleagues. They also

need to help students become their own

teachers. Through more visible teaching

and learning, there is a greater likelihood

of students reaching higher levels of

achievement.

Shine APRIL 2010 51
---
Tradition

#

RESEARCH

Influences on achievement

This figure is a barometer of

influence developed by Hattie

and used throughout his book.

For all the variables or attributes

evaluated, the average of each

influence is indexed by an arrow

through one of the zones on the

barometer. All influences below

d = 0.40 are labelled as 'Zone

of desired effects' as these

influences have the greatest

impact on student achievement

outcomes. The typical effects

from teachers are between d

= 0.15 and d = 0.40; and the

zone between d = 0.0 and d

= 0.15 is what students could

probably achieve if there was no

schooling.

For example, Hattie identified

some of the influences

that the child brings into a

school (through the effects

of their achievements, their

dispositions, and their preschool

experiences). Students' 'selfreport

grades' had the highest

influence with an effect size of

1.44. This is typically formed

from past experiences in learning

and students have a reasonably

accurate understanding of

their levels of achievement and

chances of success.

On the other hand, Hattie found

very little or non-substantial

effects from gender, diet, and

exercise. Gender has an effect

size of 0.12. Hattie suggests

that contrary to popular beliefs,

males and females are similar on

most, but not all, psychological

variables – they are more alike

than they are different.

custom school publishing

Our advancedlife photo package

For your album or scrapbook

A selection of portraits for

gifts for family and friends

Make your memories

last forever!

Your personal

keepsake book

12-16 Page Photo Book Packages

8 Page Photo Books for Kindergarten

20 Page evening event Photo Books

$15.00 pre-paid with all photos

available online

A huge range of extras including swap

portraits, gift tags and bookmarks

Weekend Sporting Club Photography

Conference Sponsorship

30 year archive certificate for student

portraits

*Quote "Shine" for a special offer. *Conditions apply

User-Friendly Yearbook Production

Posters

Banners

Welcome

to our Co lege

The Academy is a College rich in

Stationery

Learning Opportunities

Faith and Compa sion

Pastoral Care and Community

achieve excellence in these vital areas…

Melton College

INDEPENDENT COLLEGES AUSTRALIA

2009

Websites

Annual Reports

Diaries

(for table bookings) RSVP by Friday 1 July

Tables seat 10 people

Table Captain's name

Telephone:

Email:

Guest names (for table seating)

I enclose a cheque $

Please charge $ to my Mastercard Visa

Credit card number

Expiry Date: /

Card holder's name:

Card holder' signature:

Date:

Hawthorn Community Chest,

PO Box 231, Hawthorn, Vic 3122

(payable to Hawthorn Community Chest Inc)

Please return a ceptance card, together with a list of guest addre ses for

Entrée cards and any special dietary requirements to:

Hawthorn Community Chest and The James

Macready-Bryan Foundation would like to

thank a l of our supporters for their generous

contribution to the Gold 'n' Great Ba l.

HawtHorn Community CHest

invites you to the

Gold

Great

Ball

'n'

- a celebration of 50 years. Helping our community

Reply Card

21 Bridge Street, Bulleen VIC 3105 Telephone: 9852 1133

Email: advancedphoto@optusnet.com.au

www.advancedlife.com.au www.advancedschoolyearbooks.com

10 Apollo Court, Blackburn VIC 3130 Telephone: 9878 3000

www.allardice.com.au www.advancedschoolyearbooks.com

52

Shine APRIL 2010
---
John Hattie on

measuring progress

Well-known psychometrician John Hattie says

we need to set the bar higher for students.

John hATTie is a man dedicated to helping teachers in their

work. He is particularly interested in how teachers observe and

measure progress in students and believes we need to set the bar

higher. Learners will make "a year's progress" by virtue of their

development: what is the added value that schools provide?

Through his projects in New Zealand, Hattie has found that often

students in low socioeconomic circumstances learn more outside

school than in it. But, as research in Victoria has found, in schools

where expectations are high, and students are encouraged to set

their own targets, they generally aim high and achieve results.

As commented by Hattie, students can look at their own test

data to ascertain progress, while teachers diagnose strengths and

weaknesses and choose strategies that will assist the individual

learners. Teachers, of course, have a role to play in teaching students

how to set targets, in the style of a "personal best" and in developing

quality tasks for students. The effects, says Hattie, are "dramatic".

Hattie has observed the power of feedback: not just the feedback

that teachers give their students, but more importantly the

feedback that teachers get from their students. He argues that the

time allocated to feedback is an important input measure that can

explain outcomes. As a psychometrician, Hattie is used to crunching

numerical data, and much of his work involves measuring effect

size. But he also promotes greater use of video recording to gather

data about what is happening during class and to identify missed

opportunities. For example, using video analysis of classrooms,

researchers have found there are some students to whom no-one

speaks in class, thus limiting opportunities for learning.

But how do parents get involved in their children's learning? Parents

generally have high expectations of what schools will provide,

and the Ultranet and 1:1 devices will provide infrastructure for

better communication between schools and homes. But schools

and teachers often use language that excludes many parents. In

the Flaxmere project, computers were provided in homes, and

former teachers helped the parents to use them with their children.

However the most important outcome was not the computer skills,

but the understanding that parents gained about the language of

schooling, and the confidence that flowed from that. The implication

for Victoria is in how we communicate clearly with parents in

inviting them to use the Ultranet.

Ever controversial, Hattie challenges us to consider: What if the

school leaving age was 12? and the associated questions: Would

students stay on to learn in our schools? What if schools received

a financial reward when students completed levels of education, as

occurs in the university sector? The debate continues.

Shine APRIL 2010 53
---
OPINIon

Pitsa Binnion

How principals

view John Hattie

John Hattie is the most exciting and confronting

educator in the world at the moment.

Professor John Hattie's latest

publication Visible Learning: A synthesis

of over 800 meta-analyses relating to

achievement provides a rare opportunity

to access 15 years of research and data on

the influences on student outcomes.

School leaders and teachers from around

Victoria gathered at McKinnon Secondary

College in early March to engage with

Hattie and other authors and researchers.

To say the least, it was a stimulating

experience.

Hattie uses an "achievement continuum"

to chart the factors that decrease or

enhance student achievement. The

results of studies from all over the world

reveal some startling, and sometimes

controversial results.

Fundamental to Hattie's message is

the importance of regular feedback for

both teachers and students. This sort of

reflection is central to improving student

success. Feedback must be inherent in the

planning, the delivery and the reflection

on all lessons. It is a powerful and simple

message that is supported throughout

Hattie's research.

"We felt empowered

hearing what we

intuitively knew to be the

case: effective learning

resides with teachers in

their daily work."

Hattie's extensive research paints a

compelling picture of evidence that is hard

to ignore. When viewing his data it is

clear that the quality of the instructional

strategies teachers employ far outperform

any other structural or organisational

variable schools implement to raise

student achievement levels.

We felt empowered and challenged by

what was presented, hearing what we

intuitively knew to be the case; that in

the main, the power of effective learning

resides with teachers in their daily work

with students.

Providing challenging learning and

meaningful feedback feature strongly in

the data, so too does providing informed

interventions to enhance understanding.

If you get the chance to catch John Hattie,

I strongly recommend it!

Pitsa Binnion is the principal of

McKinnon Secondary College.

54 Shine APRIL 2010
---
SCHooL neWS

Short-term strategy to

have long-term benefits

A new 6–18 month strategy to help schools improve literacy and numeracy will have long-lasting effects.

The Literacy and Numeracy 6–18

Month Strategy aims to support regions,

regional network leaders (rnLs), principals

and school leadership teams of more than

300 schools in receipt of Smarter Schools

National Partnership funding to achieve

significant improvements in student

literacy and numeracy outcomes over six to

eighteen months.

"Principals will be able

to use the strategy with

ease as it is organised in

year levels and in terms."

The newly established Victorian Literacy

and Numeracy Secretariat will work with

regions and rnLs to support the effective

implementation of the strategy. Vicki Renick,

rnL in the Barwon South Western region,

says the strategy has been "well thought out,

is very clear and precise and extremely userfriendly".

"Principals will be able to use the strategy

with ease as it is organised in year levels and

in terms," Ms Renick says. "From a teacher's

perspective, it is laid out very simply and

clearly in two parts: what will happen in the

classroom, and what the leadership team will

do."

The strategy provides a six-term schedule,

divided into two sections. The first,

Assessment for Learning, contains a

minimum expected literacy and numeracy

assessment schedule for all students from

Prep to Year 10 and advice on data analysis

at a school, year, cohort and individual level.

The second section, Whole School Planning,

includes an outline of a multi-faceted

response to student literacy and numeracy

learning needs. This response includes

developing and maintaining a whole-school

focus on literacy and numeracy, including

the implementation of student intervention

programs, advice on staff professional

learning, and strategies to strengthen key

partnerships with families.

Ms Renick says many schools will find the

strategy affirming; validating that they are

already on the right track to improving

student outcomes. It will also be a good tool

to help principals develop appropriate plans

to address identified needs, and support

rnLs, principals and teachers to ensure

there is a shared focus across the school and

network on improving literacy and numeracy.

The Literacy and Numeracy 6–18 Month

Strategy will be made available online to

all schools. Teachers are further supported

by the Key Characteristics of Effective

Literacy Teaching P–6 and 7–10, and the

Key Characteristics of Effective Numeracy

Teaching P–6 and 7–10. S

For more information, visit www.education.vic.gov.au/studentlearning/litnum/default

Shine APRIL 2010 55
---
ReGIonAL XXXXXXXXXXXXXXXXXXXXXXXXX

Network leADers

10 questions

for John Haines

John Haines regional network leader (RNL) for

the Casey North network rates The Godfather

as his top movie pick and is partial to a spot of

gardening.

1. What do you think makes a good principal?

You need to enjoy working with children and be committed to

developing high-quality relationships with staff, parents and the

wider community. A principal doesn't necessarily have to have

been a classroom teacher but it helps to understand the dynamics

of creating a caring and challenging learning environment.

2. When you were a student, who was your most

inspirational teacher?

No individuals stand out, however if the teacher had a thorough

knowledge of their subject, actively listened and could make you

laugh, that appealed to me.

3. What are you reading at the moment?

Wisdom by Andrew Zuckerman – a gift from my network schools.

4. What is your idea of the perfect weekend?

I enjoy working in the garden, listening to the races and a

Collingwood victory. This would be capped off with dinner and

drinks, with family and friends.

5. What do you love to eat?

I like any cuisine with a preference for fresh seafood.

6. What was your main motivation for becoming

an RNL?

To continue the work I was doing as a senior education officer

(SEO). I had worked in great schools and networks in Springvale,

Dandenong and Berwick and wanted to continue what I had

started.

7. What were you doing prior to this role?

I was an SEO in Southern Region for three years, prior to that, a

principal of Maffra Primary School in Gippsland.

8. What are some of the key projects you're

working on?

Like most networks we are committed to sustainable

improvement in literacy and numeracy teaching and outcomes.

Specifically, I am working on the 0–9 Doveton Project, a

regeneration project bringing together Endeavour Hills

Secondary College, and Doveton and Eumemmerring primary

schools. In additional to this the alliance created by the demerge

of Eumemmerring SC is exciting to be involved in.

9. What do you do to relax after work?

I'm usually too tired to do anything much but try to go for a walk

after dinner.

10. What is your all-time favourite movie?

The Godfather.

56 Shine APRIL 2010
---
inFRAstRUCtURe

New infrastructure

supports ESL teaching

THE BUILDING the Education

Revolution (Ber) program is providing

40 government secondary schools with

new learning spaces specifically designed

to enhance the teaching and learning of

languages. The Department's state-ofthe-art

standard design for science and

language centres supports teachers to cater

for a generation of students with multiple

learning styles who are technologically

skilled.

Wellington Secondary College's $1.97

million refurbished science and language

wing will provide spaces for teaching

French and will support the school's strong

English as a Second Language (ESL)

program. Principal Mary Jo Putrino said

the Ber funding was providing a fantastic

opportunity for their school community.

"More than 90 per cent of our students

have a background with a language other

than English so we have a large number of

ESL classes," she said. "In our new science

and language centre, we will have purposebuilt

spaces for languages with audio and

visual equipment to help with aural and

verbal development.

"Wellington Secondary is also an accredited

English language centre and our 20-

week English program will be run in the

new facility. This is a program open to

international students who are either

attending Wellington Secondary or who

plan to go to another school in the area."

Construction on the science and language

centre at Wellington Secondary College is

currently underway and is scheduled for

completion in September 2010.

VCE international students from China,

Vietnam and Korea outside Wellington

Secondary College's refurbished science

and language wing.

For more information, visit www.education.vic.gov.au/buildingrevolution or call the beR information line on 1800 679 938.

58 Shine APRIL 2010
---
Solar panels in

48 new schools

Students from 48 schools across the state are

learning the benefits of solar power first-hand

thanks to the Solar in Schools program, writes

Caroline Kearney.

CarLTon PriMAry School is passionate about its

environmental education, delivering an environmental

curriculum and a number of hands-on projects to teach students

about energy, waste, water, biodiversity and landscape design.

A recent addition to the program at this inner-city Melbourne

school – which includes a kitchen garden, a rain garden and

multicultural school gardens – has been the installation of

photovoltaic panels for the school to generate its own electricity.

Carlton Primary is one of 48 Victorian schools to install panels

with support from the Solar in Schools Initiative and the Federal

Government's National Solar Schools Program.

Minister for Education Bronwyn Pike visited the school in late

February to view the installations and discuss solar panel data

with students. A further 468 schools will complete installations

this year, she said.

"This initiative is part of an overall push to reduce energy

consumption, cut greenhouse gas emissions and raise awareness

of renewable energy technologies," Ms Pike said. "At the same

time students are learning about renewable energy, the role it

can play in the future and how energy consumption impacts on

global warming."

Students in Jindivick and Strathfieldsaye have already observed

the impact of the initiative, with their schools' participation

inspiring solar installations in houses and public buildings in the

area, says Ms Pike.

"These solar systems complement the many other measures

in our schools including energy efficient lights, wind turbines,

rainwater tanks, extra insulation and skylights."

Shine APRIL 2010 59
---
eLeARning

Nothing saves teacher time like

digital resources

The pool of online teaching tools available on The Learning Federation website is a godsend for

busy teachers.

Ardmona Primary School is a small

school located in northern Victoria with a

diverse student population. Students have

access to a range of technologies including

desktop computers and a bank of 30

laptops. Three interactive whiteboards

are also available. According to Adam

Torney, a teacher at the school, the school

has embedded ICT into its learning and

teaching practice.

"Everyone uses ICT extensively in their

teaching," Mr Torney says. "It's become

second nature really, embedded in all our

work – an automatic consideration when

we're doing our planning."

Mr Torney uses digital curriculum

resources produced by The Learning

Federation (TLF) in his classroom. He

explains that he has limited time as a

teacher to constantly search for or create

curriculum resources so the TLF digital

learning objects available on FUSE are

very useful. "I can always make a quick

call about TLF content and know that it

will be educationally sound and suitable

for all my students, no matter what their

language level," he says.

Evidence from the research report:

Using The Learning Federation digital

curriculum resources to enhance the

education of Indigenous students, 2009

proposes that the use of TLF curriculum

resources supports motivation and

engagement in learning amongst all

students, and Mr Torney wholeheartedly

agrees.

"The content is suitable for all my

students," he insists. "The combination

of audio, visual and text found in the TLF

content allows my students to develop an

understanding of content and also enables

them to enhance their literacy skills."

Mr Torney says students are able to

progress their learning at their own rate,

according to their needs, and are so

engaged they see the TLF content as fun

and do not realise they are learning.

In addition to using the TLF digital

learning objects, Ardmona Primary

School has purchased a range of software

to complement the TLF content. This

includes online books suitable for the early

year's readers that allow the children to

hear the text being spoken and read along.

According to Mr Torney: "The online

books really help the children develop

a good understanding of the English

language."

TLF resources can be accessed from fuse https://fuse.education.vic.gov.au/pages/teacher.aspx. Teachers will need to log in

using their edumail user name and password to access the TLF content.

60 Shine APRIL 2010
---
eLeARning

Great websites for exploring...

cultural diversity

Multicultural Commission

www.multicultural.vic.gov.au

The multicultural commission supports ethnic

communities and encourages their active participation

in the social, economic, cultural and political life of the

community.

Living in Harmony

www.harmony.gov.au

Living in Harmony is designed to promote community

harmony, build relationships between people and

address racism where it occurs in Australia.

Lore of the

Land

www.

loreoftheland.

com.au

Lore of the Land is an

Indigenous site designed

to encourage us to live

in harmony with each

other and with the land

we each call home.

Through deepening our

knowledge of who we

are and where we are

together, we can create

a new story.

62 Shine APRIL 2010
---
eLeARning

Breaking the Cycle

http://breakingthecycleafrica.ning.

com

Kate Leeming's inspiring 20,000km ride across Africa

is highlighting the causes and consequences of extreme

poverty, along with diversity, in the communities she

passes through. A true star from Malvern, join the ning

now and share the learning!

Immigration Museum

http://museumvictoria.com.au/

immigrationmuseum

Learn about Victorian immigration history and our diverse

immigrant communities, research your own family history

and read personal stories.

UN Cyber School Bus

www.cyberschoolbus.

un.org

The United Nations Cyber

School Bus is an interactive site

full of great information about

international issues, United

Nations, games, quizzes, country

profiles and curriculum resources.

It's a magic bus.

Shine APRIL 2010 63
---
eLeARning

Web 2.0: use it with a purpose

New research into classroom learning shows that Web 2.0 technology is not an end in itself.

Effective use of Web 2.0 technologies

in teaching practice can impact very

positively on student learning outcomes,

according to the findings of a major

research project in Victorian schools.

However, the research also clearly

demonstrated that the best outcomes were

achieved when the focus was on teaching

and learning – not on the technology

itself.

Conducted by the Department, the

KnowledgeBank: Next Generation Project

research showed technology increases

student engagement, lifts motivation

levels and contributes to better student

outcomes. As part of the research project,

trials and pilots using specific Web

2.0 technologies such as blogs, wikis,

podcasting and web conferencing were

integrated into teaching practice.

More than 3500 students participated

in the trials and pilots, and along with

teachers, parents and principals also

participated in surveys, discussions and

focus groups, while a review of educational

literature relating to the impact of

Web 2.0 technologies was conducted.

Teachers reported high levels of student

engagement and ownership of the learning

process, particularly where students had

the opportunity to work collaboratively

and share their knowledge and experience.

Boort Secondary College teacher Jarrod

Robinson, who participated in the

program, saw first-hand the potential of

new technologies to engage students and

promote the learning of key content. "It

was also obvious that students became

more interested in the work surrounding

the video game play, which enhanced the

overall outcomes," he said.

for more information, visit www.education.vic.gov.au/fuse

64 Shine APRIL 2010
---
eLeARning

Software

Review

Ray's Letters and Numbers

n Specifically designed for early years students,

Ray's Letters and Numbers is a collection of four fun

learning activities. Choose from number fun, colour

fun, everyday objects and the alphabet game.

Download Ray's Letters and Numbers at

www.brothersoft.com

All applications reviews on this page in Shine are

freeware and available on new teacher notebooks,

eduSTAR netbooks and as free downloads for

school and home use.

Three weeks to go…

Update

n The Ultranet is on track to be rolled out to all Victorian

government schools from 3 May this year. Ultranet coaches are

currently helping these schools with the final stages of preparation.

All schools will progressively receive and be trained in the Ultranet

from May to September this year.

Release 1 of the Ultranet will enable students and teachers to

collaborate using Web 2.0 tools, to create their own online learning

portfolio and take part in online learning activities and to access and

share quality assured digital learning resources across Victoria.

Release 2, available from end September, will bring parents on board

and unleash the powerful individual learner profile and learning task

modules of the Ultranet.

For deployment advice and other resources, visit

https://edugate.eduweb.vic.gov.au/sc/sites/Connections2010

Shine APRIL 2010 65
---
School news

Theresienstadt exhibition

at Jewish Museum

It beGAn with a telephone call to the

Jewish Museum of Australia some 20

years ago. An elderly voice said, "I have

something I would like to give to you."

A visit to the home of the caller was

arranged. She turned out to be a lady in

her 70s. She took the curator into her

spare bedroom and pulled an old suitcase

from under the bed. She unclicked the

latches, raised the lid, and there inside

were paintings – watercolours – over 100

of them!

Regina Schwarz was the custodian of

these pictures that had been painted by

her husband, Paul Schwarz, and a fellow

artist, Leo Lowit, in Theresienstadt

Concentration Camp. Paul and Leo

and their wives were imprisoned in the

infamous camp during much of World

War 2. Paul, Leo, and his wife Jindriska

were transported to the east, and

murdered in Auschwitz. Regina survived

and brought the paintings with her to

Australia.

Now, the Jewish Museum has created an

exhibition specifically for school students

entitled Theresienstadt: Drawn from the

Inside. Works from the Jewish Museum

of Australia Collection, displaying the

Schwarz and Lowit paintings. And

cccording to the museum's education

coordinator Jenny Better, the exhibition

will also feature other primary sources.

"Students can see original diary entries,

read poems, and and look at other artists'

drawings – all of which will give these

watercolours a context," Ms Better says.

"Students will be able to evaluate the

sources and use them to put together

information about Theresienstadt and

the lives of the people incarcerated there.

From the camp's children's homes, there

are pictures and poetry, each named for

the child that created the piece," she says.

If the fates of those children are known,

student will learn them, and they can also

watch interviews with child survivors from

Theresienstadt.

"Our aim is for students to draw their own

conclusions: use the evidence to follow the

life of an individual, and to talk to guides,"

Ms Better says.

To book a school group visit, call the Jewish Museum of Australia on 8534 3600.

66 Shine APRIL 2010
---
School news

News bites

Shakespeare scholarship rings

a bell for regional teachers

Victorian teachers Justeen Hahn from

Gippsland Grammar School and Jessica

Kelly from Ballarat High School are among 12

teachers from regional Australia to be awarded

a professional development scholarship with

Bell Shakespeare Company. Now in its fourth

year, the Bell Shakespeare's Regional Teacher

Scholarship consists of four days of intensive

professional development designed to address

the unique challenges of teaching Shakespeare

in remote and regional schools. It will also assist

teachers preparing for the incoming National

Curriculum in 2011 and give them an opportunity

to share ideas with each other about teaching off

the beaten track.

Sustainable living festival made a difference

Do you know the recommended temperature to set your air conditioner

over summer to ensure maximum efficiency? If you attended the

Sustainable Living Festival earlier this year, you might.

Back in February, visitors to the Sustainable Living Festival at Federation

Square found out that the ideal temperature for air conditioners in summer

is 26 degrees. That little titbit may not be much use now the weather is

cooling down, but the festival offered many other tips about how to live

more sustainably.

The Department recognised the important role that students and schools

can play in sustainability by sponsoring the festival's Education Day. Almost

500 students attended Education Day back in February, and participated in

a series of workshops and presentations.

Students and teachers learnt that changing little things can make a

big difference. Turning off lights, using less water, labelling bins to help

recycling and sharing knowledge with fellow students and teachers will all

reduce a school's environmental impact.

Shine APRIL 2010 67
---
Highlights from

Top Designs

Celebrating its 10th birthday this year,

Top Designs proves once again that teenage

creativity is a force to be reckoned with.

Georgia Hodgson

Flaming Burlesque

Poster – inkjet print

Costume constructed

from satin, tulle,

cotton, chiffon, lace,

ribbon, sequins,

feathers

Visual Communication

& Design 4

Brighton Secondary

College, Brighton East

Holly Van

Maanen

Surfboard

surface graphics

and billboard

advertisement

Visual

Communication &

Design 4

Mentone Girls

Secondary College

Barney Patrick

Remote-controlled search car

Systems Engineering

Mount Waverley Secondary College, Mount Waverley

68 Shine APRIL 2010
---
Rebecca Willox

Oriental Mood Lamp

Constructed from Jarrah,

white glass, oriental fabric,

fluorescent tube

Design & Technology

Swan Hill College, Swan Hill

Nicole Malishev

Shoe design and

magazine advertisement

Visual Communication &

Design 3

Beaconhills College, Berwick

Lachlan Coates

Bent Beddie

Constructed from Victorian ash, marine ply, varnish, paint

Design & Technology

Frankston High School, Frankston

Raylene Ong

Comic

storyboard

Visual

Communication &

Design 4

Distance Education

Centre Victoria,

Thornbury

Templestowe College,

Templestowe

Top Designs – part of the 2010 VCE Season of Excellence – features work created by 2009 VCE students in six study areas: Design

and Technology, Food and Technology, Media, VET Multimedia, Systems Engineering, and Visual Communication and Design.

Top Designs will run from 27 March to 27 June at Melbourne Museum. Visit www.vcaa.vic.edu.au/excellenceawards

Shine APRIL 2010 69
---
Kitchen rules

serve the

masses

Around 30 Vet Hospitality

students from Footscray City

College cooked up a storm in

a real-life industrial kitchen

recently – and the results

were tasty indeed. Under the

watchful eye of head chef

Sean Flynn (picture left) the

students cooked and served

canapés for more than 500

people at the official opening

of Top Designs at Melbourne

Museum. The exhibition

will run until June 27 at

Melbourne Museum.

Turn to page 68 for our

special pictorial spread on

highlights from Top Designs.

Photo by Les O'Rourke

70 Shine APRIL 2010
---
SCHooL neWS

New research on teenage alcohol use

Few teachers will be surprised by recent findings that show parents play a direct role in shaping

their child's approach to alcohol.

While a number of studies have

examined young people's attitudes and

behaviours in relation to the consumption

of alcohol relatively few studies have

explored the role parents play in shaping

youth consumption patterns. In 2009

the Department commissioned research

into parental attitudes about the use of

alcohol by adolescents and young people.

A survey of 388 Victorian parents of

adolescents aged between 14 and 16 years

was completed in April 2009.

The survey found that 30 per cent of

parents thought it likely that their child

currently drinks alcohol. A further 40

per cent of parents thought it unlikely

that their child drinks alcohol, with

the remaining 30 per cent of parents

indicating that their child definitely did

not drink alcohol.

Further data from parents showed that

40 per cent of adolescents had attended

at least one party, in the previous three

months, where alcohol was available.

The majority (95 per cent) of parents

surveyed reported that they would discuss

alcohol and safety with their adolescent

prior to them attending a party.

The findings of this survey are consistent

with previous reports on the attitudes

towards and supply of alcohol by

Australian parents. The findings of this

survey are consistent with previous reports

on the attitudes of parents regarding the

supply of alcohol to adolescents. The use of

alcohol in the family home and at parties is

role modelled to young people on a regular

basis and parents play a pivotal role in the

supply and use of alcohol by adolescents.

The Australian Guidelines to Reduce

Health Risks from Drinking Alcohol

(NHMRC, 2009) provide a base for

parents in their decision-making about

whether their child should drink alcohol.

Specifically, Guideline 3 states that for

children and young people less than 18

years of age, not drinking alcohol is the

safest option.

The Parents, Parties and Adolescent Alcohol Use Report is available from

the research page of the Department's drug education website at

www.education.vic.gov.au/drugeducation

Shine APRIL 2010 71
---
eARLy CHILDHood

Cluster management

delivers better services

The new kindergarten cluster management policy framework is strengthening the delivery of

better services for Victorian youngsters.

Kindergarten cluster management

brings together a group of kindergartens

under the management of a single

organisation building a stronger and more

responsive kindergarten system across

Victoria.

Introduced in 2003, it reduces the

administrative burden on parent

committees, strengthens the delivery

of kindergarten programs and provides

kindergarten staff with professional

employment arrangements. Along with

local government, a range o f different

groups, including community-based

organisations, have also taken on

kindergarten cluster management.

Adding weight to this already highly

successful system, Minister for Children

and Early Childhood Development

Maxine Morand launched the Victorian

Government's new Kindergarten Cluster

Management Policy Framework at the

Kindergarten Cluster Management

Forum held at the MCG in mid-March.

The framework acknowledges the role

of local government in the planning

and coordination of services for young

children and their families. It aims to

further enhance Victoria's kindergarten

cluster management arrangements

and has identified five key components

for a successful cluster management

arrangement: geography – links to local

government including municipal early

years plans; robust governance and

support infrastructure; participation

in local partnerships; professional

development opportunities and career

pathways for kindergarten staff; and a

culture of continuous improvement.

"We want to ensure all Victorian

children have access to quality

kindergarten program. The framework

will help ensure kindergarten services

are well placed to deliver the National

Partnerships commitment to provide 15

hours of kindergarten a week for fouryear-olds

by 2013," Ms Morand said.

The Department's Anthony Raitman

says the policy has bolstered the

cluster management model, providing

greater definition and direction for

both cluster managers and standalone

kindergarten services. "The

policy provides greater clarity for

kindergarten cluster managers in terms

of what is expected of them, and also

clarity for stand-alone kindergarten

services in terms of what they gain if

they join a cluster," he says.

During the forum, Ms Morand also

announced that $520,000 would be

provided over three years to Kindergarten

Parents Victoria (KPV) to promote

kindergarten cluster management. This

will allow KPV to take a leadership role

in promoting good governance among

kindergarten cluster managers through

mentoring services and development

of an online policy bank. The Victorian

Government also provides KPV with

$258,890 annually to deliver advice and

support to community-based, funded

kindergartens.

72 Shine APRIL 2010
---
innoVAtion

Learning from extremes at the 2010

DEECD Innovation Showcase

The annual Innovation Showcase is just around the corner and this year, internationally acclaimed

innovation expert and former Blair advisor, Charles Leadbeater, will be the keynote speaker.

Charles Leadbeater is one of the

most innovative education thinkers in

the world and has an original message for

improving education systems by learning

from developing nations. In his recent

publication, Learning from the Extremes,

Mr Leadbeater examines the way

developing nations are attracting children

and parents to the education system

through unconventional methods such as

learning through dance and play, learning

outside the classroom and through a

curriculum that helps to solve problems in

the community.

Mr Leadbeater discusses strategies

for meeting the challenge to improve,

reinvent and transform learning and

education. He talks about successful

programs from around the world that are

making learning attractive to children

and families; programs that rely on peer

learning; create learning spaces where

they are needed; and focus on learning

that stems from real challenges faced by

the community. Most of the examples of

this kind of transformational innovation

Mr Leadbeater found in the developing

world. His research focussed on social

entrepreneurs in education in India, Brazil

and Kenya.

Learning from the Extremes brings

together inspiring examples of innovative

education under the extremes of poverty

and skills shortages, such as The Ruchika

Social Service Organisation, which runs

schools on railway platforms for the

thousands of children who live and work

around Indian railways. These railway

platform schools use games and music to

attract children to learn.

In developing countries throughout the

world innovative and passionate people

are making space for learning under

the most severe of circumstances. The

Ugandan Tigers Club Project is one of

many that works with street children

using sport – in this case soccer – to draw

them into learning. Grassroot Soccer

has engaged 230,000 young people

since 2003. The program's mottos are:

'Learning is not a spectator sport' and

'It takes a village to provide lifelong

opportunities for learning.'

Mr Leadbeater's presentation on

Learning from the Extremes will open the

Innovation Showcase on Monday 10 May.

Followed by keynotes from two Victorian

educators and presentations from more

than 30 of Victoria's most innovative

educators, the showcase celebrates

innovative practices in education and early

childhood settings.

The 2010 DEECD Innovation Showcase

wil be held on Monday 10 May at Sofitel

Melbourne on Collins. This a free event

and all teachers and early childhood

practitioners are encouraged to attend.

For more information and to register to attend this free event, visit

www.education.vic.gov.au/researchinnovation/showcase

Shine APRIL 2010 73
---
ReGIonAL rounDUP

Good news

from around

the state Compiled by Tina Luton

Hume

A group of students from

Alexandra SC have put their

survival skills to the test, hiking,

camping and kayaking during a

10-day expedition through the

Big River State Forest and Lake

Eildon National Park as part of the

Alice Sloan Trust Expedition and

Berry Street Leadership Program.

Principal Andy Johnston says the

expedition encourages students to

support each other, strengthens

friendships, and exemplifies the

skills needed to work in partnership

with outside organisations.

"With the program developing its

community leadership component

with Berry Street, Alexandra

Secondary College can benchmark

for other schools within the region,

how to manage private and public

partnerships," he says.

Barwon South Western

Warrnambool College is supervising a new project

to help disengaged students to finish high school.

The Warrnambool Alternative VCAL Education

(WAVE) project offers students aged between 15 and

19 the chance to study for a Victorian Certificate of

Applied Learning (VCAL) qualification in a supportive

environment.

Project coordinator Jim Matthews says students would

have a course designed to suit their individual needs,

and that the specialised attention would help pave the

way to a career or tertiary education.

"This is a Year 11 and 12 course for students who don't

feel comfortable or cannot participate in mainstream

schools. Some of our students have young babies, some

have had a fractured schooling history, others may have

encountered cultural problems and others simply just

don't operate well in a secondary school world of bells,

uniform, different classes, different teachers," he says.

74 Shine APRIL 2010
---
ReGIonAL rounDUP

Loddon Mallee

Kennington PS jump-started the school year by conducting

its annual Jump Start Program. The goals of the program

include establishing positive relationships and a sense

of community within classrooms and across the school,

promoting teamwork, recognising and understanding

emotions, and exploring the school values of community,

caring, personal best and respect.

Activities included a picnic, swimming, wheelchair sports,

badminton, cricket, bubble-blowing, and learning to sing

and sign the school song using Auslan (Australian Sign

Language). Principal Glenda Miller said the enthusiasm and

energy of the students was wonderful, and the involvement

of so many parents and members of the school community

very much appreciated.

Grampians

Early childhood staff from across the Golden Plains Shire

gathered for the fifth biennial children's services conference.

The theme of the conference was 'Shared Understandings

Across Traditional Divides', with a focus on implementation

of the National Early Years Learning Framework and the

Victorian Early Learning Framework.

Child care consultant and author Anne Stonehouse was the

guest speaker with workshops delivered by Debbie Cole and

local children's services and communication and marketing

staff. Over 60 people attended the day from long day care,

kindergarten, family day care, Maternal and Child Health,

occasional care and external services who work with families

in the shire.

Southern Metropolitan

Students at Lang Lang PS might live in a regional area but they are certainly

used to international visitors. Kristen Lapthorn from Whitewater University in

Wisconsin, USA, is the latest in a long line of overseas teachers to practice at the

small country school of 150 students.

Year 5/6 teacher Michael Smythe initiated an international teacher exchange six

years ago to give the students real life experiences with other cultures. "After we

lost our Italian LOTE teacher seven years ago our students, who live and learn in

a totally Anglo Saxon environment, had very little contact with other cultures,"

he said. "Since then, we have had a Japanese intern, two teachers in training

from Sweden and a previous teacher in training from Whitewater University.

We have also had visits from professors from Sweden and Japan, principals and

teachers from Norway, Wales, England and Denmark."

A teacher from New York has also visited the school after having participated in

a collaborative online project with students. On a more local and furrier note,

students are often treated to a visit from Mr Smythe's "very gentle, friendly and

photogenic" Shetland sheepdog, Toby.

Shine APRIL 2010 75
---
ReGIonAL rounDUP

Northern Metropolitan

Glenroy Specialist School senior VCAL student Michael Samoun

has been awarded Moreland Junior Citizen of the Year. The

award was presented by mayor Stella Kariofyllidis in recognition

of Michael's strong commitment to, and leadership within,

Moreland City Council's oxYgen Committee and Project, the 2009

Youth Summit, and the Anti Racism Action Band performances.

Glenroy principal Raelene Kenny says Michael is an exemplary

role model and a great ambassador for the school and broader

community. "He has demonstrated to his peers that with

determination, hard work and commitment they can achieve

at high levels within and beyond the school. Michael is a great

ambassador for our school and for people with a disability. We

are all very proud of him," she says.

Western Metropolitan

Students at Gilmore Girls College are getting a taste of life

in the corporate fast lane. Through the Australian Business

Community Network (ABCN), the school has partnered

with industry advisory firm PricewaterhouseCoopers (PwC).

Principal Bette Prange, pictured here with PwC Australia

partner Vish Padmanabhan, says the partnership is teaching

students how business corporations work, how to access

different parts of an organisation and preparing them for

the workforce by strengthening vital skills, including oral

presentation and community awareness.

"The girls are meeting people involved with industry and we

are learning just how we (school and business) can support

one another," she says. The ABCN and PwC have staged a

career day, work readiness workshops and facilitated work

placements for the Year 7 students, who are also involved

with the RISE mentoring reading program.

Gippsland

Loch PS is thriving thanks to the record addition of 16 new

Preps to the school. Principal Greg Bull credits close links

with the local kindergarten for the increased intake, which has

bumped the school's total number of students to 71. "We have

a great transition program from kinder to Prep at this school,

and the senior school has a really strong link with the kinder

as well," he said. "The students go down and read with the

children from early in the year, so we really make a connection

with them. When it is time for them to come to primary

school, they already know a lot of the senior students, their

teachers and myself," he says.

Like most schools in the region, Loch is undergoing an

upgrade as part of the Building Education Revolution (BER)

and will soon have new toilet blocks, two new classrooms and

a library learning space.

76 Shine APRIL 2010
---
ReGIonAL rounDUP

Eastern Metropolitan

Forty-one students and six staff from

Ringwood SC recently embarked on 31-

day world tour. Inspired by the success

of previous world tours and coupled with

the number of international sister schools

that the college boasts, World Tour 2010

took the students to Canada, USA, UK,

Holland, France, the Czech Republic and

finally to Chiang Mai in the highlands of

Thailand.

The 41 musicians, dancers and actors from

the middle to senior levels of Ringwood's

highly acclaimed Performing Arts Program

staged This is Melbourne, Australia!, which

tells the history of the city through song,

dance, puppetry, projection and audience

interaction. And when they weren't

performing the students made the most of

local interests and activities, including ice

skating in Canada, visiting Shakespeare's

house in England, taking a boat cruise

through Strasbourg, a walking tour of

Prague and river rafting in Thailand.

Since the triennial world tours began in

2001, Ringwood has hosted return visits

from schools in Thailand, England, France

and the Czech Republic. "This form of

international exposure not only develops

performance skills but is a fantastic

educational experience," says performing

arts director Rob Motton. "These students

return with an enriched understanding

of differing cultures and a heightened

perspective on life."

Shine APRIL 2010 77
---
APPointments

The appointments listed below are as a result of vacancies advertised online. All data, including spelling of names and schools, is as

provided by schools through the Recruitment Online system. This information is published for the purpose of general interest only.

NAME SCHOOL CLASSIFICATION

Barwon South Western

Aberline, Paul Anthony timboon P–12 School Grd

Ackland, danielle Renee Grovedale College claSS

Arundell, Nicholas James lara Lake PS Grd

Baker, Nicola brauer Sc eS1-2

Batson Sr., Morgan Sloan chilwell PS Grd

Bonney, Edwina Oberon South PS Grd

Brabham, Simone Maree branxholme & Wallacedale CPS claSS

Brittain, Patricia Ann Oberon HS eS1-1

Brown, Jenelle barwon Valley School eS1-1

Calder, Tessa highton PS PR2-3

Carmichael, Renae torquay P–9 College Grd

Carstein, Janine brauer Sc claSS

Cashmore, Jaye Sian timboon P–12 School Grd

Chapman, Belinda Lee clifton Springs PS aP1-1

Cockerell, Sarah Louise Forrest PS Grd

Crilly, Shane Phillip newcomb Sc eS1-2

Crossett, Peter Frederick Fyans Park PS PR2-3

Cullen, Gemma Louise allansford & District PS Grd

Curley, Margaret leopold PS claSS

Curnick, Anthony Douglas newcomb Sc claSS

Daff, Barbara belmont HS claSS

Day, Miriam Kathleen Western Heights Sc lead

Diment, Darryl Ocean Grove PS PR2-3

Donald, Belinda Maree belmont HS claSS

Dunlop-Moore, Philip barwon South Western Region eXeclS

Dyke, Adam Jeffrey heywood And District Sc eS1-2

Eastwood, Michelle Joy Matthew Flinders Girls' Sc claSS

Everitt, Vanessa newcomb Park PS acPT

Fagone, Vera Mary Mt Duneed Regional PS claSS

Fahey, Harry Allan brauer Sc eS1-2

Fary, Abby Jane allansford & District PS claSS

Featherstone, Katrina a colac Sc eS1-1

Fehling, Ryan Lucas Western Heights Sc lead

Fitzgerald, Michael Thomas derrinallum P–12 College claSS

Flack, Michele Ann Warrnambool College claSS

Foord, Michele Louise brauer Sc eS2-3

Fraser, Thomas Lloyd Warrnambool PS claSS

Freeman, Helen Doreen hamilton (Gray St.) PS PR2-3

Geerings, Katie Louise lorne-Aireys Inlet P–12 College claSS

Gibbs, Kate Alyce Grovedale College claSS

Gibbs, Michele Christine Warrnambool SDS eS1-1

Grimshaw, Brenda bellarine Sc claSS

Halliwell, Lisa Gweneth Warrnambool West PS claSS

Harms, Janelle Renee hamilton (Gray St.) PS claSS

Harris, Ronna Joy Western Heights Sc lead

Hawkins, Jennifer Matthew Flinders Girls' Sc PR2-4

Heard, Julie Colleen corio South PS eS1-2

Henderson, Jessica Amy Wallington PS Grd

Henderson, Stephen torquay P–9 College Grd

Hollingsworth, Shellie Maree A Derrinallum P–12 College claSS

Holman, Donna Helen newcomb Sc eS1-1

Hooper, Paul b bellarine Sc claSS

Howlett, Christine Anne Panmure PS claSS

Howlett, Luke Anthony Warrnambool College Sch

Jackson, Mark Andrew Flinders Peak Sc eS2-3

Jankowski, Justin Kent lara PS Grd

Jenner, Nathan Portland PS Grd

Jobling, Jenni Wendy barwon Valley School eS1-1

Justin, Linda colac Sc eS1-1

Kalla, Ross Matthew Flinders Girls' Sc claSS

NAME SCHOOL CLASSIFICATION NAME SCHOOL CLASSIFICATION

Keane, Timothy Blair terang College eS1-2

Klingberg, Rowan newcomb Sc claSS

Lambertz, Bianca Anne north Geelong Sc eS1-1

Lawrence, Paul James north Geelong Sc eS1-1

Lenehan, Rachael Anne Koroit & District PS Grd

Lewis, Graham Allan colac South West PS claSS

Lillyst, Melissa Maree barwon South Western Region eS2-4

Love, Jason Macabe barwon Valley School claSS

Lowther, Sharron Leigh Warrnambool SDS eS1-1

Luke, Jacqueline Elaine hamilton (Gray St.) PS Grd

Maclean, Sarah hamilton (Gray St.) PS Grd

Maslen, Donna Belinda brauer Sc claSS

Matthews, Anne Louise colac Sc eS1-1

Matthews, James Patrick Warrnambool College claSS

McCallum, Janette Lesley G hamilton North PS claSS

McCulloch, Andrew Winston newcomb Sc eS1-2

Mcelhinney, Jana Ellen norlane West PS claSS

McKinnon, Meridith Jane Simpson PS Grd

McLauchlan, Chad Simon belmont HS claSS

McNamara, Elizabeth norlane HS lead

Millman, Olivia Maree Western Heights Sc lead

Muir, Andrew James lara Lake PS Grd

Muschalla, Kaylin Matthew Flinders Girls' Sc claSS

Mutch, Julie Lorraine balmoral P–12 Community College eS1-2

O'Brien, Olivia Jayde baimbridge College Grd

O'Connor, Jacqueline Anne derrinallum P–12 College claSS

Osborn, Irene Oberon HS eS1-1

Polglaze, Elizabeth (Liz) north Geelong Sc eS1-1

Porter, Neil J brauer Sc claSS

Rae, Justin Joseph norlane West PS Grd

Raidme, Ben Moriac PS Grd

Ramage, James Allan M Grovedale West PS acPT

Randall, Justine north Geelong Sc eS1-1

Rose, Daryl barwon South Western Region eS2-4

Rowe, Gaelene brauer Sc claSS

Rowe, Tania Lea Warrnambool SDS eS1-1

Russell, Kylie Anne

balmoral P–12 Community College eS1-1

Sachse, Shane Daniel Western Heights Sc lead

Saggers, Jamie Renee lara Lake PS Grd

Shen, Sophia Feng Matthew Flinders Girls' Sc claSS

Sinclair, Jeremy John newcomb Sc claSS

Sly, Janette Christine Oberon HS eS1-1

Smith, Carly belmont HS claSS

Smith, Maree cavendish PS Grd

Spring, Suzanne Maree Warrnambool SDS eS1-1

Stannard, Alister Jeffrey bundarra PS lead

Sullivan, Leah Jane heywood And District Sc claSS

Tagell, Timothy newcomb Sc claSS

Tait, Airlie Ronda brauer Sc claSS

Taranto, Alesia Binmore anglesea PS Grd

Thorne, Judith Alma barwon South Western Region eS2-4

Tudor, Claire baimbridge College claSS

Turner, Carley Louise Geelong HS claSS

Turner, Mary Theresa Grovedale College claSS

Twaddle, Graeme William Warrnambool College eS1-2

Tyzack, Kym Western Heights Sc lead

Van De Camp, Joanne Eileen brauer Sc

claSS

Walkington, Trevor Albert baimbridge College lead

Warrick, Sandi corio West PS claSS

Welsh, Jemimah Grace ashby PS Grd

Whytcross, Allison corio West PS claSS

Williams, Donna Jane cressy PS Grd

Wuchatsch, Margaret Gaye alvie Consolidated School claSS

Yamamoto, Yoko brauer Sc claSS

Eastern Metropolitan

Acatos, Stefanie Kallista PS Grd

Ayton, Kelly Jayne Mooroolbark College eS1-1

Bainbridge, Frances heatherwood School eS2-4

Ball, Darren Anthony croydon Community School eS2-3

Barnes, Rachel Chanelle Scoresby Sc Grd

Barnett, Louise Sarah Mt. Waverley North PS claSS

Barry, Zac James chatham PS Grd

Basic, Vesna templestowe Valley PS SSO1-1

Bateman, Fiona lilydale HS claSS

Begbie, Helen Mary tinternvale PS eS1-1

Beglan, David Andrew Kerrimuir PS eS1-1

Beith Jr., Nicole Emma Great Ryrie PS Grd

Benne, Michael Adrian Fairhills PS Grd

Benney, Judith Maree Maroondah Sc aP1-1

Black, Bruce Melville heatherwood School claSS

Black, Neil William don Valley PS claSS

Bon, Matthew balwyn HS claSS

Bradbury, Meagan Jayne cockatoo PS Grd

Braithwaite, Lauren Isabelle essex Heights PS Grd

Brisbane, Fern Elizabeth box Hill Senior Sc lead

Broderick, Gavin John healesville HS eS1-2

Brown, Jennifer Ann blackburn HS eS2-4

Brown, Joanne Margaret burwood East SDS SSO1-1

Brown, Nigel Christopher balwyn HS eS1-2

Brown, Tamara Elizabeth highvale Sc Grd

Bulbul, Janice Leanne heathmont College claSS

Buzaglo, Bernardine c bayswater North PS PR2-3

Byrne, Hayley Susan Glenallen School eS1-1

Byrnes, Trudy Jane templestowe College eS2-3

Cahill, Jeannette regency Park PS eS1-1

Callaghan, April Jane hartwell PS Grd

Campbell, Sally heatherwood School claSS

Castillo, Peter Andrew upwey HS claSS

Chandler, Carolyne Louise croydon West PS acPT

Chaplin, Jemma Kate John Monash Science School Grd

Chapman, Timothy Mark lilydale Heights College claSS

Clayton, Anthony Bruce albany Rise PS claSS

Coates, Dawn canterbury Girls' Sc eS1-1

Coffin, Benjamin Ronald ruskin Park PS Grd

Colby, Lauren belgrave South PS Grd

Connell, Sally Ann tecoma PS claSS

Cottle, Laura Ruth rowville PS Grd

Cribbin, Imelda Mary Kilsyth PS eS1-1

Crotty, Sarah Ferny Creek PS eS1-1

Cusack, Joshua doncaster Sc Grd

Davey-Popovits, Karen Andrea Upwey HS

lead

Davidson, Kim Maree Pembroke PS Grd

Davies, Linda Maier Wantirna College claSS

Dawson, Alice Amy bayswater South PS claSS

De Niese, Rachel Erin Monash SDS eS1-1

Deres, Tuan croydon Community School eS2-3

Douglas, Greig Andrew Monbulk College claSS

Dousset, Evelyn d Ferny Creek PS eS1-1

Draganidis, Anna Glendal PS claSS

Drew, Jennifer Claire Mooroolbark College eS1-1

Duband, Fleur Monash SDS eS2-3

Dudek, Lauren norwood Sc Grd

78 Shine APRIL 2010
---
APPointments

NAME SCHOOL CLASSIFICATION

Faella, lauren Nicole upwey PS Grd

Fathers, Sally Josephine eastern Metropolitan Region claSS

Fernandez, Kerry J. highvale Sc claSS

Foley, Kim Susan eastern Metropolitan Region claSS

Forester, Rebecca Mary emerald PS Grd

Forward, Donald i upwey HS claSS

Fotheringham, Kirstie-Bree Glen Waverley Sc Grd

Franklin-Pearse, Vicky Diane Mooroolbark College eS1-1

Fraser, Rory eastern Metropolitan Region eXrt

Gaffy, Christina Glendal PS claSS

Gallaher, Benjamin Charles upwey PS Grd

Giddings, Lynette J ashwood School eS1-1

Gosper, Elizabeth Louise burwood East PS Grd

Greenfield, Paul James croydon Community School eS1-2

Gregory, Sophia Scoresby Sc Grd

Hall, Melissa bayswater West PS eS1-1

Hams, Russell Allan ashwood School eS1-1

Hanmer, Stuart Keith Wattle View PS claSS

Haspell, Nicole Louise Mount Evelyn SDS eS2-3

Haspell, Nicole Louise Mount Evelyn SDS eS2-3

Hasseldine, Anthony Koonung Sc Grd

Henderson, Matthew Phillip camberwell HS Grd

Heuston, Mark Anthony croydon Community School lead

Hicks, Grace canterbury PS Grd

Hill, Sarah Elizabeth Glendal PS claSS

Hindmarsh, Jan Maree vermont Sc eS2-3

Hogg, Michael John Mitcham PS claSS

Hoogkamer, Darren James Wantirna College Grd

Howard, Margaret Mary croydon Sc claSS

Hse, Julie Eva Glendal PS claSS

Huang, Dongping east Doncaster Sc eS1-1

Hunt, Margaret Elaine Park Orchards PS claSS

Hunter, Earle norwood Sc claSS

Ikin, John heathmont College eS2-3

Indralingam, Indika Sivajini camberwell South PS Grd

Ishida, Ayako Monbulk College claSS

Jackson, Carolyn Anne norwood Sc claSS

Jacobs, Susan Joy Warrandyte HS eS1-1

Jeffery, Kate Scoresby PS Grd

Jowsey, Linda camberwell HS eS1-2

Judd, Susan highvale Sc claSS

Kerrisk, David Wellington Sc eS1-2

Key, Damon John Monash Science School claSS

King, Anthony Charles highvale PS aP1-1

Kirton, Liana Yeong Joo Kent Park PS Grd

Kopciewicz, Amy Louise Glen Iris PS Grd

Kopietz, Belinda Park Orchards PS claSS

Kyriakopoulos, Kathy templestowe Park PS eS1-1

Langdon, Julian Nathan upwey HS claSS

Laurie, Jake Kallista PS Grd

Lee, Jacquelyn Ann emerald Sc Sch

Lee, Russell doncaster Sc Grd

Lehmann, Ines vermont Sc claSS

Lester, Michael lilydale Heights College claSS

Liddle, Amanda Jane ashwood School eS1-1

Limoli, Fiona Greythorn PS aP1-1

Lindholm, Jenny Ann Glen Waverley South PS claSS

Lyall, Giorsal Freda camelot Rise PS eS1-1

Macauley, Alison r Kent Park PS PR2-3

Macreadie, Rebekah Park Orchards PS Grd

Madgwick, Miranda Janine eastern Metropolitan Region eS2-4

Magree, Neil Vincent upwey HS claSS

Maillardet, Peter William Warrandyte HS claSS

Maloney, Eleanor Margaret Monbulk College Grd

Maltezos, Angela albany Rise PS claSS

Mann, Suzanne Patricia heathmont College eS1-1

Marcantonio, Emma Lea Waverley Meadows PS Grd

Mariniello, Catherine Elizabeth tinternvale PS

eS1-1

Marsham, Jason Ian Maroondah Sc Grd

Masterson, Peter James upwey HS claSS

Mcaloney, Robyn boroondara Park PS eS1-1

McCaffrey, Luke Michael Scoresby Sc Grd

McDonald, Ellen Nicole Monbulk College claSS

McIntosh, Samantha Jane Mooroolbark College lead

NAME SCHOOL CLASSIFICATION NAME SCHOOL CLASSIFICATION

McLaren-Brilli, Allison ruskin Park PS Grd

McNair, Fiona Elizabeth Monbulk College lead

McNamara, Allison Katheryn burwood East PS eS1-1

McPhee, Melanie Glendal PS claSS

Melican, Mark Anthony blackburn elS lead

Middleton, Sandra Nicole Wantirna College Grd

Miosge, Jane Maree hawthorn Sc eS1-2

Mitchell, Jacqueline eastern Metropolitan Region claSS

Mitchell, Michelle Faye heany Park PS eS1-1

Moore, Thomas Nathan lilydale HS Grd

Morgan, Roger Leslie Mooroolbark College claSS

Morris, Jennifer Anne upper Yarra Sc eS1-1

Mould, Emily east Doncaster Sc claSS

Mumford, Paul Leighton eastern Metropolitan Region claSS

Murray, Claire Glen Iris PS claSS

Naughtin, Katharine Amy healesville PS Grd

Neal, Evonne Amelia upwey HS claSS

Nelson, Lesley Ann Monash SDS eS1-1

Norton, Timothy Park Ridge PS Grd

nowicki, helen Mooroolbark College eS1-1

Oxley, Samantha eastern Metropolitan Region claSS

Paget, Lauryn Joy eastern Metropolitan Region claSS

Parry-Fielder, Jane albany Rise PS claSS

Paspa, Sharyn Clair Koonung Sc claSS

Pennycook, Christopher Douglas Lilydale HS

claSS

Phang, Kristy templeton PS Grd

Phillips, Rosemary Park Orchards PS claSS

Pianta, Luanda Wen Ai donvale PS claSS

Pickford, Carol Ann Mount View PS eS2-4

Pidoto, Carolyn heany Park PS Grd

Pietersz, Karin Glenallen School eS1-1

Piper, Jodie Maroondah Sc Grd

Pitson, Rachel Louise Glen Iris PS Grd

Poole, Michelle Poole Mary Karoo PS Grd

Potts, Kristen croydon SDS eS2-3

Poulton, Julia Louise Monash SDS eS2-3

Powell, Josephine Milly Glenferrie PS claSS

Puddy, Michael Mount Evelyn PS lead

Pumpa, Fiona Mary Park Orchards PS claSS

Purdy, Liam Yarra Junction PS acPT

Quinn, James Liam croydon Sc Grd

Rees, Catherine Caroline lilydale HS Grd

Rhynsburger, Guy croydon Community School eS1-2

Rhynsburger, Guy croydon Community School eS2-3

Riccioni, Jennifer Anne Park Orchards PS claSS

Rice, Cynthia Kaye aurora School claSS

Richardson, Gayle Wattle Park PS PR2-3

Richardson, Meredith Jean Warrandyte HS eS1-1

Richardson, Blair Edwin b Oakleigh PS Grd

Roberts, Ashley burwood East PS Grd

Robottom, Nancy Louise Surrey Hills PS lead

Ronalds, Melinda Kalinda PS claSS

Rose, Jasmine burwood East SDS SSO1-1

Rosier, Geraldine Mary upwey HS claSS

Rossi, Sandra Teresa healesville HS eS1-1

Rowan, Kathi Tanith hawthorn Sc eS1-1

Sawalaga, Tim auburn PS Grd

Sayers, Rachel emerald Sc eS2-3

Scammell, Matthew Francis heany Park PS Grd

Schijf, Felicity Mary norwood Sc claSS

Schwarz, Kim Ralph east Doncaster Sc Sch

Scully, Benn Jarrod ringwood Sc Grd

Seabrook, Christopher Brian Mooroolbark College claSS

Seamer, Stephanie Phillis Mary Doncaster PS Grd

See, Cindy heany Park PS Grd

Sherpa, Tsering Dolma belmore School Grd

Sier, Elise Wattle View PS claSS

Simkin, Erin Michelle box Hill HS Grd

Sittampalam, Leanne M Sherbrooke Community School Grd

Small, Lynette Joy Park Orchards PS eS1-1

Small, Lynn Pimpar Monash SDS eS2-3

Smith, Naomi Grace lilydale HS Grd

Snowdon, Patricia Millwarra PS claSS

Souter, Vivien Joanne Warrandyte HS eS1-1

Spencer, Andew Thomas Maroondah Sc eXrt

Stavropoulos, Kaliopi Bobbie upwey HS

claSS

Stevens, Felicity Swinburne Senior Sc Grd

Stobart, Virginia hawthorn Sc eS1-2

Street, Meagan Claire belgrave South PS Grd

Sturnieks, Jarrod east Doncaster Sc Grd

Sutcliffe, Emma Jean burwood East SDS claSS

Taouti, Rachida canterbury Girls' Sc Grd

Taylor, David Geoffry Olinda PS PR1-1

Taylor, Vyvyan Macclesfield PS claSS

Tcheupdjian, Amy Kate east Doncaster Sc claSS

Teague, Chantal Hollie croydon West PS Grd

Thomason, Jennifer Kay Glendal PS claSS

Tikfesis, Carmel Lorraine regency Park PS eS1-1

Timbury, Virginia Lee upwey HS claSS

Tomasi, Maria boroondara Park PS eS1-1

Tomic, Tanya Glen Iris PS claSS

Tully, Julie Melissa lilydale Heights College claSS

Turner, Tracey Leanne east Doncaster Sc claSS

Twigg, Vivianne Caroline Monash SDS claSS

Unland, Lucas Mooroolbark College claSS

Vanderkruk, Penny Jane croydon Hills PS aP1-1

Veal, Christopher John box Hill HS Grd

Vincent, Robyn Ann Karoo PS eS1-1

Volkering, Paul albany Rise PS PR2-3

Voutier, Karen croydon SDS eS1-1

Wagenfeld, Mary-Jane Mooroolbark College claSS

Walker, Kelly Maree brentwood Sc Grd

Walker, Lauren May billanook PS Grd

Walker, Tony David heatherwood School aP1-1

Waterman, Laura Jean Ferny Creek PS Grd

Watkins, Alison Claire doncaster PS Grd

Watt, Kevin croydon Community School claSS

Weaver, Andrew John livingstone PS lead

Welsh, Nalini Sarah camberwell South PS claSS

Whiteley, Laura Elizabeth lilydale Heights College claSS

Whitter, Samantha Louise andersons Creek PS eS1-1

Willingham, Jan Marie Mooroolbark College eS1-1

Winstone, Pauline Glen Waverley Sc eS1-1

Wrzesinski, Mark Scoresby Sc Grd

Yeung, Man Sze Christina Monash SDS eS2-3

Young, Joyce W Karoo PS eS1-1

Zwarteveen, Jantina Glen Waverley South PS Grd

Gippsland

Abrahams, Tina Jane noojee PS acPT

Barry, Penny Omeo PS eS1-2

Barton, Laura Jane lakes Entrance PS Grd

Bishoff, Sylvia Coral heyfield PS claSS

Boadle, Sonya noojee PS claSS

Bradford, Kevin narracan PS PR1-1

Brandsma, Jamie South Gippsland Sc claSS

Bridle, Lynne lindenow PS eS1-1

Burdett, Cassandra Joy Korumburra Sc claSS

Carbone, Tanya Louise traralgon College eS1-1

Carr, Fiona Gaie bairnsdale West PS claSS

Chester, Wayne Alan Yarram Sc PR2-4

Collins, Suzanne Louise tubbut PS eS1-1

Colvin, Rose c lakes Entrance PS claSS

Cooney, Ashleigh Maree Grey Street PS - Traralgon Grd

Currie, Matthew Sale PS aP1-1

Dacy, Joanne Ruth Orbost North PS PR1-1

De Visser, Maxine Pearl nambrok - Denison PS eS1-1

Del Busso, Tania baringa Special School Grd

Delany, Timothy Vianney traralgon College lead

Dockley, Steven Grant Moe (Albert St) PS Grd

Dunbar, Sarah rawson PS Grd

Dunbar, Sarah rawson PS Grd

Eastwell, Judith Ann Warragul North PS eS1-1

Edwards, Leanne Joy bass Valley PS PR2-3

Estcourt, Tammy traralgon (Liddiard Rd) PS Grd

Evans, Bradley a Sale PS PR2-3

Evans, Cheryl Joy Maffra Sc aP1-2

Falk, Lesley lakes Entrance Sc claSS

Fry, Steven toorloo Arm PS claSS

Shine APRIL 2010 79
---
APPointments

The appointments listed below are as a result of vacancies advertised online. All data, including spelling of names and schools, is as

provided by schools through the Recruitment Online system. This information is published for the purpose of general interest only.

NAME SCHOOL CLASSIFICATION

Geary, Lois Jean Woodside PS eS1-2

Goodall, Veronica Ann nambrok - Denison PS eS1-1

Green, Melissa Mirboo Nth. Sc Sch

Guerin, Mark Swifts Creek PS claSS

Haeslar, Emily Moe (Albert St) PS eS1-1

Halket, Tamara G'anae Yinnar PS Grd

Hamer, Anna eagle Point PS Grd

Hanney, Mark Warragul PS claSS

Harrington, Terrence P Gippsland Region PR3-6

Harrison, Natalie lakes Entrance PS claSS

Harrison, Sarah Caroline traralgon College eS1-1

Hayes, Caroline Grey Street PS - Traralgon eS1-1

Heiberg, Mark Kurnai College lead

Herbstreit, Emily Maffra Sc eS2-3

Hibbs, Cheryl Moe (Albert St) PS eS1-1

Holland, Mark Sale Specialist School claSS

Holland, Mark Sale Specialist School claSS

Hollonds, Laura Rose baringa Special School Grd

Holmes, Paygen Jade Maffra PS Grd

Hopkins, Susanne M Moe (Albert St) PS eS1-1

Hughes, Lynda Jeanne Warragul PS aP1-1

Jackson, Paige Danielle Yallourn North PS Grd

Jennings, Keith a Sale College claSS

Johnstone, Jarrod d toorloo Arm PS Grd

Kaur, Gagandeep trafalgar HS claSS

Kilner, Carol drouin Sc eS1-1

Kraan, Ruth Sharon traralgon College eS1-1

Lau, Wing Kuen lakes Entrance Sc claSS

Lee, Amanda Melissa loch PS Grd

Love, Sarah leongatha Sc eS1-2

Lynch, Bronwyn Woodside PS eS1-1

Mann, Caroline lowanna College claSS

Marsh, Amie Louise traralgon (Stockdale Rd.) PS Grd

Mason, Kristal South Gippsland Sc claSS

Mathers, Deborah Louise lakes Entrance PS claSS

McDonagh, Shannon Bree bairnsdale West PS Grd

Nicholls, Melanie Moe (Albert St) PS claSS

Nicolson, Peter r newmerella PS eXrt

Nikolajew, Caitlyn Elizabeth east Gippsland Specialist Sch claSS

Noble, Rachel e Maffra Sc aP1-1

O'Meara, Sarah Louise Warragul PS Grd

Oldham, Carmel M Warragul Regional College claSS

Pattinson, Lee neerim District Sc eS1-2

Phillpot, Robert George bairnsdale Sc claSS

Ponton, Leslie John Kurnai College lead

Risol, Catherine Marie newborough East PS eS1-2

Roberts, Jayne Ann traralgon (Stockdale Rd.) PS Grd

Robertshaw, Kristy Wonthaggi PS eS1-1

Schellen, Sarah May heyfield PS claSS

Scott, Beth Marie nicholson PS Grd

Shugg, Gina lindenow PS eS1-1

Slee, Anthony John Warragul PS claSS

Smith, Tara Omeo PS Grd

Tactor, Jamie Michael commercial Road PS - Morwell PR2-3

Timmer-Arends, Kristy Maree Grey Street PS - Traralgon Grd

Trewin, Heather Joy bundalaguah PS eS1-1

Twining, Denise Anne lakes Entrance PS claSS

Tyler, Beverley tubbut PS acPT

Verey, Matthew lakes Entrance Sc Grd

Voss, Courtney Renee traralgon (Liddiard Rd) PS Grd

Wain, Eugene Russell Swifts Creek Sc claSS

Wain, Tracey Ann Sale College eS1-1

Websdale, Jennifer lindenow PS eS1-1

Weymouth, Jesse Ashlea Sale College Sch

Wilson, John Cameron cann River P–12 College acPT

Grampians

Beckley, Anna-marie ballarat Specialist School eS1-1

Bruyn, Charlene Melissa ballarat Specialist School eS1-1

Cameron, Cymantha Jane bacchus Marsh College eS1-1

Capuano, Nola Joan Yuille Park P-8 Community Coll claSS

Carey, Kim Maree Forest Street PS claSS

Chaston, Tracey Leeanne apsley PS Grd

Clark, Suzanne Maree bacchus Marsh College aP1-1

Clarkson, Ian Malcolm horsham 298 PS PR2-3

Close, Suzanne Maree edenhope P–12 College claSS

Cochrane, Carole bacchus Marsh College eS1-1

Coller, Tabatha Rayleen bacchus Marsh College eS1-1

Collicoat, Raymond J ballarat Sc claSS

Conlan, Bernie buninyong PS PR2-4

Creek, Lisa nhill College claSS

Davies, Dianne Kaye newlyn PS claSS

Dean, Wesley nhill College eS1-1

Dingwall, Leanne Christine Murtoa College eS1-1

Doolan, Janine ballarat Specialist School eS1-1

Engel, Carol Leanne ballarat Specialist School eS1-1

Ervin-Ward, Ute Siglinde edenhope P–12 College eXrt

Evans, John Granville Yuille Park P-8 Community Coll acPT

Feely, Rachael Maree Mount Blowhard PS Grd

Ferris, Darren Leigh Skene Street School eS1-1

Fisher Sr., Julie Ann black Hill PS eS1-1

Fox, Patricia Barbara ballarat Sc claSS

George, Wayne Leslie ballarat Specialist School eS1-1

Gilbert, Samantha Sebastopol College claSS

Guo, Han bacchus Marsh College claSS

Hoebergen, Sarah Alice ballarat Specialist School eS1-1

Hume, Ian donald HS Sch

Hutchinson, Shane Matthew ballarat Sc claSS

Jarvis, Adam ballarat Specialist School eS1-1

Kennedy, Ulrike Skene Street School eS1-1

NAME SCHOOL CLASSIFICATION NAME SCHOOL CLASSIFICATION

Kerr, Jackie ararat Community College - Sec claSS

Kick, Karen bacchus Marsh College eS1-1

King, Rebecca Sebastopol College claSS

Koene, Suzi Rennice ballarat Specialist School eS1-1

Levey, Peter Howard horsham College eS1-2

Loughnan, Andria Louise horsham College claSS

Mackenzie, Robyn Gayle bacchus Marsh College eS1-1

Mader, Anne ballarat Specialist School eS1-1

Martin, Jared Jon edenhope P–12 College eS1-1

Mason, Tony Keith ararat PS Grd

Mcerlain, Julie Anne ararat Community College - Sec claSS

McGrath, Caitlin Una horsham College claSS

McKelvey, Robert h ararat Community College - Sec claSS

McKenzie, Sally Anne laharum PS claSS

McKenzie, Catherine Louise birchip P–12 School Sch

Mebalds, Kai Liga Sebastopol College Grd

Mills, Helen Joan laharum PS claSS

Mitchell, Raelene P edenhope P–12 College eS1-1

Muhammad, Tariq Stawell Sc Sch

Mulraney, Carole a edenhope P–12 College eXrt

Murphy, Joan Leslie landsborough PS eXrt

Murphy, Erin Sebastopol College claSS

Nagan, Jayandran edenhope P–12 College claSS

Natoli, Paul ballarat HS Sch

Near, Maree bacchus Marsh College eS1-1

Norman, Simone Elise ararat West PS Grd

O'Day, Christie Michelle bacchus Marsh PS Grd

Ogilvy, Elizabeth edenhope P–12 College claSS

Owins, Karra urquhart Park PS Grd

Paget, Amanda apsley PS claSS

Parry, Andrew John caledonian PS PR1-2

Payne, Maureen Lois Yuille Park P–8 Community Coll claSS

Praetz, Leonie c nhill College PR2-4

Pyers, Beverley May horsham College eS1-1

Reynolds, Coby Myrniong PS Grd

Round, Sarah Great Western PS Grd

Sanders, Terese Joy beulah PS eS1-1

Schmidt, Jane Skene Street School claSS

Seneweera, Mythri Warracknabeal Sc claSS

Sharp, Julie Margaret ballarat Sc claSS

Sherwell, Heather Dawn ballarat Sc claSS

Sidea, Nadia daylesford Sc claSS

Smith, Josephine Elizabeth ballarat Specialist School eS1-1

Smithyman, Margaret dimboola PS eS1-1

Stevens, Ryan Trent Sebastopol College claSS

Tangey, Karen Skene Street School eS1-1

Thomas, David Anthony horsham College eS1-2

Thomas, Luke horsham Special School claSS

Vanzini, Sarah edenhope P–12 College Sch

Vaughan, Russell John horsham College eS1-1

Webb, Emma Ellen horsham 298 PS Grd

Wemyss, Kate ballarat HS Sch

Wilson, Michael Frederick ballarat Sc claSS

Wilson, Gabrielle horsham 298 PS Grd

Wood, Julie Dawn balliang East PS claSS

Wright, Rebecca Kirsten birchip P–12 School Sch

Young, David Pleasant Street PS lead

Hume

Adams, Roger a Shepparton HS claSS

Akan, Shamsul Huda Wodonga Senior Sc Grd

Allen, Karen M belvoir/Wodonga SDS eS1-1

Athorn, James Edward Seymour East PS Grd

Bacon, Christopher Raymond hume Region

lead

Bailey, Nicole Anne Shepparton HS eS1-1

Baker, Donna Mary Wandong PS eS1-1

Baker, Sarah Anne Mcguire College Shepparton claSS

Baskett, Kayla Maree Yackandandah PS Grd

Bates, Jean Betty Wangaratta HS eS1-2

Bell, Jessie Ellen belvoir/Wodonga SDS claSS

Briggs, Joanne Kathryn Wanganui Park Sc eS1-1

Broughton, Leanne Patricia belvoir/Wodonga SDS eS1-1

Buckley, Lisa Marie Moyhu PS Grd

Caffrey, Collette Ann hume Region lead

Cairns, Lorraine Dorothy dookie PS lead

Callan, Pat belvoir/Wodonga SDS eS1-1

Cashmore, Joy Elizabeth belvoir/Wodonga SDS claSS

Child, Aleisa Dorothy St Georges Road PS Shepparton claSS

Clarke, Dianne Wallan Sc eS1-1

Coates, Nicole Louise Shepparton East PS Grd

Cole, Steven Yarrawonga Sc claSS

Cook, Sheana Ann Wangaratta HS eS1-1

Cooney, Vikki Maree Mooroopna PS eS1-1

Cowell Sr., Jennifer Anne Willowmavin PS eS1-1

Crossman, Sarah Jane Wangaratta West PS Grd

Curnow, Bailee Jayne Yarrunga PS Grd

Daly, Helen Patricia Walwa PS eXrt

Deery, Nicole Maree belvoir/Wodonga SDS eS1-1

Delaney, Craig Thomas Myrtleford P–12 College eS1-1

Delbridge, Elizabeth Nancy hume Region lead

Denke, Gabrielle Irene Seymour Technical HS eS1-1

Doonan, Pauline a Kialla West PS lead

Dow, Christian Wanganui Park Sc eS1-2

Doyle, Michelle Gowrie Street PS Shepparton eS1-1

Eadie, Lynley Jane Grahamvale PS PR2-3

Elkington, Cindy belvoir/Wodonga SDS eS1-1

FitzSimons, Chantal Renee baranduda PS Grd

Fletcher, Keith Hamilton hume Region lead

Fowler, Katie Francis Grahamvale PS claSS

Freeman, Brendan Matthew baranduda PS Grd

Friswell, Julie Michele Puckapunyal PS claSS

Fujimoto, Natasha Orrvale PS claSS

Garraway, Lauren Jane Yackandandah PS acPT

Gibson, Brooke Willowmavin PS claSS

Gibson, Howard a Greta Valley PS claSS

Giovanetti, Melanie Marysville PS claSS

Goldrick, Maria Johanna Shepparton HS claSS

Grant, Lachlan Lloyd Yea PS Grd

Gray, Jaclyn Bree benalla PS acPT

Griffiths, Heather Joy Shepparton HS eS2-3

Hajra, Arindam Wodonga Senior Sc claSS

Harriott, Cathy Veronica Wilmot Road PS Shepparton eS2-3

Harris, Teresa Peta belvoir/Wodonga SDS eS1-1

Hayes, Kiera bandiana PS Grd

Heath, Denise Helen Myrtleford P–12 College claSS

Heath, Gillian upper Plenty PS Grd

Herbert, Melissa Sarah Wallan Sc claSS

Higgins, Simone Anne hume Region lead

Hoath, Emma Seymour Technical HS claSS

Hogan, Phillip Gregory Myrtleford P–12 College eS1-1

Hollow, Julie M Porepunkah PS Grd

Holloway, Deanne Elizabeth upper Sandy Creek PS eS1-1

Hosny, Natasha Jane Mansfield Sc claSS

King, Julie Kim eskdale PS PR1-1

Krake, Kenneth Wangaratta HS eS1-1

Larkin, Heather Maude hume Region lead

Lavoipierre, Gertrud Hermine Seymour Technical HS claSS

Lawless, Marc Mooroopna North PS claSS

Laws, Jessica Elizabeth cobram PS Grd

Leishman, Jennifer Christine Seymour Technical HS claSS

Lim, Scott Teng Fook Wallan Sc claSS

Lobe, Monique Claire Shepparton HS eS1-1

Lowe, Bronwyn Jamieson PS acPT

Lucas, Paul b Shepparton HS eS1-2

Mason, Barbara e hume Region lead

Mason, Deirdre Wallan Sc eS1-1

McGhee, Douglas Ramsay belvoir/Wodonga SDS claSS

McKenzie, Janet Seymour Technical HS eS1-2

Mcleod, Debra Kim Wangaratta HS Grd

McNally, Brianna Wangaratta HS Grd

Montgomery, Pamela Alice hume Region lead

Mouat, Miranda Ann corryong College eS1-1

Nicholls, Julie Ann Grahamvale PS claSS

Nichols, Andrea Margaret cobram Sc eS2-4

Nikolovski, Suzanna Wallan Sc claSS

Nugent, Nicole Leanne corryong College eS1-1

O'Beirne, Carmel Maria hume Region lead

O'Loughlan, Karyn Elizabeth Middle Kinglake PS Grd

Owen, Jacqueline Mary upper Plenty PS claSS

Parbery, Sharon Lee alexandra PS claSS

Parfitt, Emily Lauren Margaret Wodonga PS

Grd

Patterson, Barbara Joy Yarrunga PS eS2-3

Pearn, Catherine Anne Yarrawonga PS eS1-1

Petts, Ricky James Milawa PS Grd

Pilli, Lisa Samantha corryong College eS1-1

Pink, Stephen John broadford PS PR2-3

Piper Sr., Elisa Wangaratta HS eS1-1

Pleydell, Ian Deacon Mooroopna North PS eS1-1

Pronk, Sandra dederang PS eS1-1

Radford, Megan Kialla West PS Grd

Reilly, Tina Mary the Alpine School claSS

Richardson, Susan Margaret numurkah Sc eS1-1

Ritchie, Alison Wanganui Park Sc eS1-1

Roberts, Barry Alfred benalla College lead

Roberts, Sandra Leanne Yarrunga PS Grd

Rowney, Dee-Arne Mary Myrtleford P–12 College eS1-1

Russell, William George Wangaratta HS eS1-1

Schier, Julie Maree avenel PS claSS

Scott-Walker, Lucinda Phillipa Yea PS

claSS

Sekfy, Sarah Ann Wallan Sc claSS

Shand Jr., James Aubrey Yarrawonga PS eS1-1

Skovdam, Marion Ruth Wallan Sc claSS

Spiteri, Ashlea Maree Wanganui Park Sc Sch

Stanimirovitch, Ray Melrose PS eS1-1

Stanley, Gail Deborah hume Region lead

Syngaris, Helen Wandong PS eS1-1

Tanner, Priscilla Ann hume Region lead

Thomas, Richard Alan tallangatta Sc eS1-2

Thomson, Sally-Anne Porepunkah PS claSS

Tindill, Deborah Jean Moyhu PS eS1-2

Tricarico, Catherine Anne Mooroopna PS eS1-1

Turner, Susan tallangatta Sc eS1-1

Ure, Lauren Seymour Technical HS eS1-1

vanRoevan, Darlene Myrtleford P–12 College eS1-1

Warnett, Tara Lee Wanganui Park Sc claSS

Watson, Alisha Kiewa Valley PS acPT

Willaton, Stacey Ellen Shepparton HS claSS

Woodcock, Cameron Robert Mcguire College Shepparton Sch

Zeqo, Aida bourchier Street PS Shepparton eS1-1

Loddon Mallee

Aldridge, Jade Maiden Gully PS eS1-2

Anderson, Neville Dean Maryborough Education Centre claSS

Anstey-Sprigg, Glenda Maria Gisborne Sc lead

Arnott, Nicole Maree Swan Hill College Sch

Ballinger, Kristin Maree rochester Sc claSS

Barnes, Rachael Jayne Swan Hill PS claSS

Beilharz, Anna bendigo Senior Sc claSS

Bennett, Elise Weeroona College Bendigo eS1-2

Binks, Nathan Richard Ouyen P–12 College lead

80 Shine APRIL 2010
---
APPointments

NAME SCHOOL CLASSIFICATION

Bird, Sharon Kyneton Sc claSS

Blanks, Marcellinus B.C. loddon Mallee Region lead

Bond, Robert George Maryborough Education Centre claSS

Branson, Darrel l loddon Mallee Region lead

Brennan, Kellie Kyabram P–12 College lead

Bridgewater, Sarah Gisborne Sc claSS

Briggs, Lynette i romsey PS eS1-1

Bright, Shane castlemaine Sc claSS

Brown, Hamish Maryborough Education Centre claSS

Brown, Tenielle Gisborne Sc Grd

Bubb, Timothy echuca College Sch

Cameron, Damien Maryborough Education Centre claSS

Cameron, Wayne McFarlane crusoe 7-10 Sc eS2-3

Cao, Zhihui red Cliffs Sc claSS

Carey, Lukas Peter eaglehawk PS Grd

Cawthan, Kristie Lea castlemaine PS Grd

Chater, Ian Stafford Maryborough Education Centre claSS

Childs, Ashlea Maree red Cliffs East PS Grd

Clarke, Trudie Leanne ranfurly PS claSS

Cole, Janene tarnagulla PS eS1-1

Coulter, Pamela bendigo Senior Sc claSS

Cowan, Susanne tongala PS claSS

Cray, Amanda rushworth P–12 College claSS

Crow, Richard Alan Swan Hill College claSS

Cullen, Jacqueline Maryborough Education Centre claSS

Curnow, Lois S nullawil PS claSS

Danes, Glenn Peter bendigo South East Sc claSS

Davies, Dianne June loddon Mallee Region lead

Davison, Jerrod Kyabram P–12 College Grd

Dawe, Kathryn Werrimull P–12 School claSS

Delbridge, alexia Jayne irymple Sc Grd

Di Pilla, Janet Gisborne Sc aP1-1

Diaz-Jones, Evangelina Yvon chaffey Sc claSS

Dilks, Sally-ann Maryborough Education Centre claSS

Doolan, David Paul Weeroona College Bendigo eS1-1

Douglas, Lorraine Jean tarnagulla PS eXrt

Drummond, Carinda Swan Hill College eS1-2

Eliades, Karli Louise red Cliffs Sc claSS

Emery, Kate Nicole crusoe 7-10 Sc claSS

Emmett, Megan Louise irymple South PS claSS

Fabry, Jeanette echuca College eS1-2

Fiske, Stacy Heath Golden Square PS Grd

Forbes, Robert John Kyneton Sc claSS

Francis, Taygen eaglehawk North PS Grd

French, Ashley Thomas rochester Sc Grd

Frost, Corey Swan Hill College claSS

Gilmour, Annalie Marita Swan Hill PS claSS

Ginnivan, James Weeroona College Bendigo claSS

Gwynn, Johanna castlemaine Sc claSS

Haberman, Heidi Swan Hill College eS1-2

Hall, Kirstie Joy Macedon PS Grd

Hammond, Samuel Nahum crusoe 7-10 Sc claSS

Harriott, Christina Marianne Maryborough Education Centre claSS

Hedger, Lisa Gaye carisbrook PS eS1-1

Hedges, Yvonne Jean Mildura West PS eS1-1

Hillier, Terrence Oswald Maryborough Education Centre lead

Hinton, Sue Elizabeth loddon Mallee Region lead

Holmes, Matthew loddon Mallee Region eS2-4

Holmfield, Benjamin echuca East PS claSS

Holy, Rebecca Joy Merbein PS claSS

Hughes, Todd Robert irymple Sc claSS

Jenkins, Paula d castlemaine Sc Grd

Jenner, Linda t echuca College claSS

Jones, Krystal Nicole nyah District PS claSS

Jones, Rodney James chaffey Sc claSS

Joppich, Luke bendigo South East Sc claSS

Jovicic, Zorica Mildura Specialist School eS2-4

Julian, Eva Maryborough Education Centre claSS

King, Brenda Maree heathcote PS eS1-1

Kingston, Amelia Rose Ouyen P–12 College claSS

Laity, Kevin John Merbein PS eS2-3

Lee, Sherri Sunnycliffs PS Grd

Lehmann, Anna Kathryn Swan Hill College Sch

Leslie, Matthew Noel Mildura Specialist School claSS

Leung, Narissa Jane loddon Mallee Region lead

Lewis, Sheena Fay echuca College eS1-1

Lowenthal, Sandrah Lorraine crusoe 7-10 Sc claSS

Lupson, Kerrie Anne Kyneton PS eS1-1

Lynch, Maureen castlemaine Sc eS1-2

Madden, Yvonne Alison loddon Mallee Region lead

Maiorana, Martha Mildura Specialist School lead

Mawby, Matilda Weeroona College Bendigo eS1-1

Mcguffie, Kerry Lynette epsom PS PR1-2

McKern, Melissa bendigo South East Sc eS2-3

McRae, Barbara Ellen Gisborne PS lead

Mein, Alicia bendigo South East Sc claSS

Mills, Nicole Maryborough Education Centre eS1-2

Molkentin, Helen echuca College claSS

Morris, Richard Clive Winter's Flat PS claSS

Moser, Janet Faye Swan Hill College eS1-2

Munro, Sarah Jean Mareee Swan Hill College claSS

Nelson, Amanda Maree big Hill PS acPT

Nelson, Katherine Laura Quambatook Group School Grd

O'Brien, Eileen Gisborne Sc claSS

O'Connor, Stephen M loddon Mallee Region lead

Oborne, Suzanne red Cliffs Sc claSS

Odathumparambil, George Kyneton Sc claSS

Pearce, Lara Louise Kalianna Special School claSS

Pettigrove, Jacqueline tongala PS PR1-2

Peverill, Andrea Lyn charlton College eS1-2

Phillips, Elizabeth Ann baringhup PS claSS

Pickles, Susan bendigo Senior Sc claSS

Pitcher, Amanda Jane Swan Hill College Sch

NAME SCHOOL CLASSIFICATION NAME SCHOOL CLASSIFICATION

Price, Emma Jean irymple South PS claSS

Pryor, Anne Elizabeth Swan Hill PS claSS

Quinn, Daniel tyrrell College claSS

Quirk, Kerryn Elizabeth loddon Mallee Region lead

Reeves, Matthew Weeroona College Bendigo Grd

Reidy, Lauren Frances Spring Gully PS Grd

Rigoll, Michaela Anne eaglehawk PS Grd

Roach, Pauline Joy Weeroona College Bendigo eS1-1

Roberts, Emma Jean baringhup PS acPT

Rose, Melodie Claire charlton College claSS

Royce, Sarah Michelle crusoe 7-10 Sc Grd

Schneider, Wendy Olwyn eaglehawk PS acPT

Shipp-Tink, Hayley Jane rochester Sc claSS

Shovan, Beverly charlton College eS1-2

Sinclair, Debbie Leigh romsey PS eS1-1

Slingo, Bradley Clinton bendigo South East Sc claSS

Sliwczynski, Breeana Helen Gisborne PS claSS

Sloan, John Edward loddon Mallee Region PR3-6

Smith, Michelle Evelyn Maryborough Education Centre claSS

Stacey, Bobbie Ouyen P–12 College eS2-3

Staley, Campbell r crusoe 7-10 Sc claSS

Starick, Ann Kathryn Kerang PS eXrt

Steel, Christian Maryborough Education Centre claSS

Stephens, Jean Weeroona College Bendigo claSS

Swinnerton, Rachel Leah east Loddon P–12 College claSS

Thomas, Kathleen Elizabeth castlemaine Sc claSS

Thompson, Marc Daniel chaffey Sc eS2-3

Thornton, Ryan Colby bendigo South East Sc claSS

Tsiplakis, Leanne castlemaine PS eXrt

Tucker, Petra Gisborne Sc claSS

Van Ravenstein, Kerrie Leanne california Gully PS

Grd

Vandenberg, Jessica Anne robinvale Sc claSS

Walsh, Kyle Weeroona College Bendigo eS1-1

Weightman, Donna bendigo Senior Sc eS2-4

Whykes, Debra Allison charlton College eS1-1

Wuthrich, Veronica Judith Macedon PS Grd

Zan, Samantha Jane romsey PS claSS

Northern Metropolitan

Andrews, Trevor Stanley collingwood College eS1-1

Angell, Glynis Grace Preston PS claSS

Angus, Karen Leanne northcote PS eS1-1

Apostolopoulos, Johanna thornbury HS eS1-1

Apted, Meiki Elizabeth brunswick Sc Grd

Bailey, Dianne Lisa the Lakes South Morang P–9 claSS

Barclay, Mary lynall Hall Community School aP1-1

Barnes, Danielle Selina thornbury HS Grd

Barrett, Marc Hughan carlton North PS claSS

Barrett, Phillip William Preston PS Grd

Barton, Julie coolaroo South PS eS1-1

Beck, Janet richmond West PS PR2-3

Beeck, Melanie clifton Hill PS Grd

Bisset, Christopher northcote HS claSS

Booth, Maria brunswick East PS eS2-3

Bourke, Amanda l the Lakes South Morang P–9 Sch

Bowen, Trevor Robert brunswick North West PS PR1-2

Brace, Alexandra Pascoe Vale PS eS1-1

Bradley, Susan Pascoe Vale PS claSS

Bradshaw, Louise Katherine clifton Hill PS Grd

Brebner, Suzanne Rachael collingwood College lead

Brinkhege, Sarah Preston North East PS claSS

Callinan, Clare Marie collingwood College claSS

Carcarello, Gary hume Central Sc lead

Cerra, Antonio Westbreen PS PR2-3

Chantry, Alana Lauren lalor Sc eS2-3

Clark, Marnie Maree Preston PS Grd

Clarke, Amy Elizabeth roxburgh College claSS

Collins, Erin Louise the Lakes South Morang P–9 Sch

Coningsby, Jason Alan concord School PR2-4

Coombs, Jennifer Preston PS claSS

Corrigan, Laura Elizabeth Kingsbury PS claSS

Corso Sr., Connie Glenroy Specialist School eS1-1

D'Alessio, Jacopo Gladstone Park Sc claSS

Dawson, Amber Jane clifton Hill PS eS1-1

Dean, Mathew banksia/LaTrobe Sc Grd

Demarte, Therese broadmeadows PS claSS

Di Lizia, Laura Meadows PS Grd

Douglas, Michelle Patricia Killara PS Grd

Dunn, Erica Marie brunswick Sc claSS

Edgley, Erin Melbourne Girls' College eS1-2

Ellem, Moya Kathleen Fitzroy HS claSS

Ewing, Sarah clifton Hill PS eS1-1

Fagan, Sarah Jayne richmond PS Grd

Farmer, Naomi Louise northern School for Autism claSS

Finger, Kelvin Lindsay Greenhills PS Grd

Fisiak, Laura Jane Sunbury PS Grd

Flint, Sandra Caroline Morang South PS aP1-1

Fraser, Gavin Stuart craigieburn PS claSS

Fraser, Sarah craigieburn PS claSS

Gould, Francene Joan ivanhoe East PS acPT

Goutzamanis, Con viewbank College eXrt

Guo, Renwei Gladstone Park Sc Grd

Hamilton, Ashleigh northern School for Autism eS1-1

Hancock, Jacqualin Ann northern School for Autism eS1-1

Hann, Melissa Mill Park Sc claSS

Harman, Katie Findon PS claSS

Harrison, Melanie Amelia thornbury PS claSS

Hassapis, Tasha diamond Valley College claSS

Hawley, Karina Lee the Lakes South Morang P–9 claSS

Heales, Andrea Louise Killara PS eS1-1

Hendry, Natalie austin Hospital School claSS

Heywood, Emma Lee Killara PS Grd

Hinman, John Robert Fitzroy HS Grd

Hirth, Margaret Clare Greensborough PS PR1-2

Hocking, Peter Stewart brunswick East PS claSS

Hodgson, Nerinda Tiffany Montmorency South PS claSS

Holmes, Vicki Irene northern School for Autism claSS

Hughes, Cheralyn Joy epping Sc claSS

Hunt, Hannah Mary Pender's Grove PS claSS

Hutson, Marlea Orion thornbury PS claSS

il, Deniz banksia/LaTrobe Sc eS1-2

Izev, Kire Whittlesea Sc eS1-2

Jackson, Marisa Janine Merri Creek PS claSS

Johannsen, Kellyanne rosanna Golf Links PS claSS

Kaur, Paramjeet Glenroy Specialist School eS1-1

Keenan, Michael Anthony Gladstone Park Sc aP2-3

Kelly, Luke craigieburn Sc eS2-4

Kelly, Tristan Spensley Street PS Grd

Kent, Michael Anthony Watsonia Heights PS PR2-3

Khor, Kim Yen northern School for Autism eS1-1

Kilmartin, David John coburg West PS PR2-3

Kingsley, Linda Susan Sunbury PS claSS

Kneebone, Michael J Mill Park Sc claSS

Korkoneas, Maria craigieburn Sc Sch

Kosmider, Kylie Lynda craigieburn Sc Sch

Kostic, Jessica Ann Gladstone Park Sc claSS

Kun, Qian northcote HS eS1-2

Lascelles, Amy Joy collingwood College claSS

Lawrence, Caroline Fiona Yarra PS Grd

Lazarus, Irene M banksia/LaTrobe Sc claSS

Lenders, Pamela Mary Sunbury PS claSS

lessware, carol ann Sunbury College claSS

Logan, Erika Susan Fitzroy PS Grd

Lucy, Catherine Anne Montmorency South PS Grd

Lupone, Selina Laura Glenroy Specialist School eS1-1

Marsh, Kaine Richard doreen PS claSS

Martin, Keith Whittlesea Sc eS1-2

Mason, Rebecca Jenny the Lakes South Morang P–9 Grd

Mcauliffe, Elissa Helen collingwood College claSS

McCafferty, Robert Sunbury Downs Sc claSS

McCarthy, Prue Spensley Street PS Grd

McCosh, Emma Kate Sunbury College claSS

McDonnell, Angela Findon PS eS1-2

McHardy, Elizabeth Sunbury Downs Sc claSS

Meusburger, Sarina Fay Gladstone Park Sc claSS

Mibus, Ingrid northcote HS Grd

Milam, Lineen Debra Killara PS eS1-1

Milne, Margaret Lynne laurimar PS lead

Mitchell, Andrew James Pascoe Vale PS Grd

Mizzi, Patricia Jade northern School for Autism eS2-4

Money, Gordon Kingsbury PS claSS

Montile, Jenna Anne reservoir PS claSS

Morgan, Barnaby Gladstone Park Sc Grd

Muir, Shea lalor North Sc claSS

Murphy, Aimee Westgarth PS Grd

Murray, Catherine Louise Mill Park Sc claSS

Nash, Elisa Kelly bundoora Sc claSS

Niclasen, Sharyn Maeve Greensborough Sc lead

Northmore, Jennifer northern School for Autism claSS

O'Connell, Josie lalor Sc claSS

Oakley, Adam Rodd laurimar PS claSS

Oliver, Jaimie Louise the Lakes South Morang P–9 claSS

Oliver, Nicolle the Lakes South Morang P–9 claSS

Overall, Karen Gaye concord School aP1-1

Ozen, Kezban craigieburn PS claSS

Palozzo Sr., Ennio craigieburn Sc claSS

Paolone, Voula clifton Hill PS eS1-1

Pappas, Merelina clifton Hill PS Grd

Pearce, Kiri Ann coolaroo South PS Grd

Perry, Lisa roxburgh College claSS

Pillot, Christine Nicole concord School lead

Pipka, Christine hume Central Sc lead

Pipolo, Bruna Pascoe Vale PS eS1-1

Polack, Chrysanthe collingwood College aP1-1

Pollock, Kathryn Jean Killara PS Grd

Polwarth, Timothy thornbury HS Grd

Portelli, David Anthony Pender's Grove PS claSS

Pouniotis, Paul Donald Gladstone Park Sc Grd

Powell, Josephine Milly brunswick East PS claSS

Pringle, Erica thornbury PS claSS

Proctor, Ruth Spensley Street PS Grd

Purchase, Gemma laurimar PS claSS

Pyne, Carole Joy craigieburn PS claSS

Rego Iii, Gareth Francis collingwood College eS2-3

Reiger, Lynette viewbank College lead

Rice, Pauline e Fitzroy HS PR2-4

Richards, Glenn Westgarth PS claSS

Riddle, Lotte coburg Senior HS claSS

Ridout, Alison craigieburn PS claSS

Rimoni, Denise roxburgh College eS1-2

Robinson, Lisa Gillian hume Central Sc lead

Rodenfels, Carrie Lynn Pender's Grove PS claSS

Roscoe, Shovana Merriang SDS claSS

Rothman, Julie Faye Fitzroy PS PR1-2

Saisanas, George Fawkner PS Grd

Sciacca, Tania hume Central Sc claSS

Seago, Jean-Michel Whittlesea Sc claSS

Simondson, Nada Louise Plenty Parklands PS claSS

Skate, Douglas John Pascoe Vale PS Grd

Slatter, Zoe Clair diamond Valley College claSS

Smith, Briony Evelyn diggers Rest PS Grd

Smith, Stephen Keith Sunbury College PR3-5

Spence, Annette lalor Sc claSS

Srblin, Rachael Michelle Preston PS Grd

Stephenson, Caitlin banksia/LaTrobe Sc eS1-2

Stock, Bente Iris Whittlesea PS PR2-3

Stock, Laura lynall Hall Community School lead

Shine APRIL 2010 81
---
APPointments

The appointments listed below are as a result of vacancies advertised online. All data, including spelling of names and schools, is as

provided by schools through the Recruitment Online system. This information is published for the purpose of general interest only.

NAME SCHOOL CLASSIFICATION

Sutherland, Skylah Dale Yarra PS Grd

Tadros, Youssef Habashy Greensborough Sc Grd

Tadros, Youssef Habashy Mill Park Sc claSS

Taylor, Samantha Jayne rosanna Golf Links PS Grd

Teasdale, Lisa Wales Street PS claSS

Teuber, Enza Kismet Park PS eS1-1

Thompson, Lynda Kay Mernda PS PR1-2

Thompson, Jade Matthew northern School for Autism claSS

Ting, Jonathan Greensborough Sc Grd

Torcasio, Elizabeth Anne northern School for Autism eS1-1

Tree, Courtney Jane broadmeadows PS claSS

Tresidder, Serene Joy diamond Valley College claSS

Truran, Lyn Jean roxburgh Park PS aP1-1

Tsiliris, Despina lalor Sc claSS

Tucceri, David banksia/LaTrobe Sc claSS

Tucker, Sarah Sunbury PS Grd

Turbiak, Pauline Mary collingwood College eS1-2

Turner, Katie Louisa hume Central Sc claSS

Van Leest, Jason Paul craigieburn Sc claSS

Vanderzee, Ursula Rose Preston PS claSS

Varrasso, Nadia Anna Glenroy North PS lead

Wang, Jing banksia/LaTrobe Sc claSS

Wang, Lucy Qingke banksia/LaTrobe Sc eS1-2

Watson, Michael J lalor Sc lead

White, Sarah northern School for Autism Grd

Wilkins, Moira a eltham North PS eS1-1

Williams, Jon Stuart lalor Sc claSS

Williams, John Malcolm Mill Park Sc claSS

Williams, Lauren Whittlesea Sc Grd

Wilson, Lucas David collingwood College claSS

Wintersea, Enis clifton Hill PS eS1-1

Wuelfert, Hannah Julia epping Views PS Grd

Zammit, Aleisha dallas PS claSS

Southern Metropolitan

Abrat, Lianna berwick Fields PS claSS

Adgemis, Nicholas John P cheltenham Sc claSS

Akehurst, Karla Elice beaumaris PS acPT

Alexander, Betty Gardenvale PS eS1-1

Allaf, Layal Sandringham College acPT

Annable, Jacqueline Ann Mornington Park PS aP1-1

Anthony, Ryan J coatesville PS Grd

Archer, Taryn Skye PS claSS

Asimoudis, Sue Zaharoula noble Park elS claSS

Baker, Holly Laura Skye PS claSS

Balaskas, Leonidas Southmoor PS claSS

Baragwanath, Katie langwarrin PS claSS

Barrett, Amanda Parkdale Sc claSS

Barrow, Joanne dandenong HS claSS

Barry, Maria Cornelia langwarrin PS claSS

Beare, Stephen Geoffrey Koo-Wee-Rup Sc claSS

Beaumont, Yashmin Bernice devon Meadows PS eS1-1

Beeston, Emily Anne aspendale Gardens claSS

Begley, Shirleyanne berwick Sc claSS

Bennett, Jane Melissa Seaford Park PS Grd

Bensted, Stephanie Patterson Lakes PS claSS

Bernau, Timothy hampton PS claSS

Bevege, Ross d Southern Metropolitan Region PR3-6

Biggins, Staci Leanne berwick Fields PS claSS

Blackman, Brenda Anne caulfield Junior College Grd

Bolton, Kylie Seaford North PS claSS

Bound, Katrina Jane Patterson Lakes PS Grd

Bowden, Jessica Anne Patterson Lakes PS Grd

Bramley, Rohan nossal HS claSS

Brice, Katie Port Phillip Specialist School claSS

Bridgford, Kym Anthony Koo-Wee-Rup Sc PR2-4

Briedis, Dahliyani Parkdale Sc Grd

Brown, Elizabeth Anne brentwood Park PS Grd

Budd, Eric Douglas McClelland Sc claSS

Campbell, Stuart Trevor Mentone Girls' Sc Grd

Carter, Erin Hope carwatha College P–12 Sch

Casey, Sam Mentone PS claSS

Celik, Yilmaz cranbourne North East PS Grd

Chadwick, Amy Louise brighton PS claSS

Cheshire, Sam Cheshire St Kilda PS Grd

Chu, Mei-Lin aspendale Gardens claSS

Chua, Sonny MacRobertson Girls HS claSS

Cilia, Leslie Ann nossal HS claSS

Clark, Angus James nossal HS claSS

Clarke, Rebecca Erin coatesville PS Grd

Coghill, Fiona Jayne east Bentleigh PS eS1-1

Conklin, Christy Jane Fountain Gate Sc claSS

Cook, Todd Nicholas valkstone PS claSS

Cooney, Andrew caulfield Park Community School claSS

Cooney, Samantha Jayne benton Junior College claSS

Cooper, Diane Elizabeth Mount Erin Sc eS1-1

Cooper, Maddison Naomi benton Junior College claSS

Cosgrove, Jonathan James dandenong HS claSS

Cousens, Barbara cranbourne Sc eS1-1

Coyne, Narelle Jacinta chalcot Lodge PS eS1-2

Croy, Brian Keysborough Sc eS2-3

Culleton, Ursula Sandringham College SSO1-1

Daniele, Teresa caulfield Park Community School claSS

Davies, Cindy-Lee nepean Special School Grd

Davis, Janine May timbarra PS claSS

Davis, Micah lyndale Sc lead

Dawson, Joel Peter cheltenham Sc claSS

De Ley, Marc cranbourne North East PS claSS

Deo, Arvind lyndale Sc Grd

Desaulniers, Michelle M nossal HS claSS

NAME SCHOOL CLASSIFICATION NAME SCHOOL CLASSIFICATION

Devries, Emma caulfield Junior College Grd

Dewhurst, Samantha Jean Westall Sc claSS

Dickins, Lynette J clayton South PS PR2-3

DiLollo, Tracey nossal HS eS1-2

Dingli, Emily Jade Springvale South PS claSS

Douglas, Greig Andrew Western Port Sc claSS

Dunshea Sr., Lesley noble Park Sc eS1-2

Dutton, Natalie Mary benton Junior College eS1-2

Eager, Suzanne Frances Kingston Heath PS Grd

Edgecomb, Roslyn timbarra PS claSS

Edward-Van Tatenhove, Veronica Rowellyn Park PS

claSS

Elliott, Joanne Leigh bentleigh West PS acPT

Ennis, Michael Gordon ballam Park PS claSS

Ferguson, John Laurence Sandringham College acPT

Ferriere, Natalie berwick Fields PS claSS

Ferris, Lynne Joy coomoora PS Grd

Filippone, Annette brentwood Park PS eS1-2

Fode, Natalie Keysborough Sc claSS

Foster, Ciar Lien Sandringham College Grd

Foster, Maxine Gail Gleneagles Sc lead

Fox, Tracie Maree Yarraman Oaks PS Grd

Fuller, Tara Pakenham Springs PS Grd

Fulton, Shen St Kilda PS Grd

Funston, Jyoti Charissa rangebank PS Grd

Gargano, Pasquale brighton Sc aP2-3

Gazzo, Jessica hampton PS Grd

Geake, David Leon Patterson Lakes PS claSS

Gear, Catherine Jane lyndhurst Sc claSS

Gearon, Katrina Anne Pakenham Springs PS Grd

Giannopoulou, Ilya Sandringham College claSS

Glaus, Chisa caulfield PS eS1-1

Grasso, John Carmen Monterey Sc claSS

Green, David Southern Metropolitan Region PR3-6

Grindley, Corey Andrew harrisfield PS Grd

Grollman, Sarah beaconsfield PS Grd

Haddad, Joseph carwatha College P–12 lead

Haines, Angela Wallarano PS Grd

Hamilton, Cara Jane alkira Sc claSS

Hansen, Jaye Melissa tyabb PS eS1-1

Hasen, Mimi Sandringham College claSS

Hawkes, Lucy Jennifer Keysborough Sc claSS

Henderson, Kerri Sandringham College claSS

Herman, Camelia Anca caulfield PS SSO1-1

Higgins, Rachael narre Warren South P–12 College claSS

Higgins, Susan Amanda St Kilda PS PR2-3

Hill, Alisha brentwood Park PS claSS

Hislop, Alison benton Junior College claSS

Hodkinson, Meaghan Maxine ballam Park PS

Grd

Hogg, Kristine alkira Sc claSS

Holder, Rhys Gleneagles Sc claSS

Holloway, Aaron Christopher hallam Senior Sc eS1-2

Holmes, Amanda Louise coomoora PS Grd

Holmes, John Jefferey lyndale Sc Grd

Hone, Catherine Mary Johanna Coatesville PS

claSS

Howard, Darragh Pakenham Sc claSS

Hubbard, Karen Anne Gleneagles Sc claSS

Hui, Benjamin Mornington PS Grd

Humble, Jessica aspendale PS claSS

Hurley, Amanda berwick PS eS1-1

Huynh, Cuong Trong Keysborough Sc claSS

Ikeda, Yuko caulfield PS eS1-1

Insausti, Mercedes Giselle hampton PS claSS

Irvin, Bree Sarah Port Melbourne PS Grd

Jahn, Heidi M timbarra PS claSS

Jamoos, Jamal Khalil dandenong HS claSS

Jarman, Michelle berwick PS eS1-1

Jasem, Christina dandenong Valley School claSS

Jemmett, Christianne Overport PS claSS

Jenner, Craig Patterson Lakes PS eS1-1

Jirasek, Jan bentleigh Sc Grd

Johns, Jessica Claire aspendale Gardens Grd

Johnston, Paula Jane narre Warren South P–12 College aP1-2

Jolliffe, Katrina Lee dandenong PS Grd

Jones, Philippa Louise Montague Continuing Education claSS

Jones, Catherine Anne Mentone Girls' Sc Grd

Joseph, Jeff Philip dandenong HS claSS

Joyce, Ricky hampton PS Grd

Katz, Eric Sidney Mentone Girls' Sc claSS

Kaulins, Rita Irene cheltenham PS claSS

Kay, Tracey Lee hastings PS Grd

Keane, Danielle Elise coatesville PS Grd

Kelly, Julie hillsmeade PS eS1-1

Kempster, Melissa Anne Jill Silverton PS claSS

Kerr, Ameena dandenong HS claSS

Kerr, Stuart Alexander alkira Sc claSS

Kettle, Amber Elizabeth cranbourne Sc eS1-1

Kettle, Simon Robert langwarrin PS claSS

Keysers, John G Southern Metropolitan Region PR3-6

Killen, Amber Kate Patterson Lakes PS Grd

King, Paul Anthony tootgarook PS lead

Kingsley, Christine Ruth brentwood Park PS claSS

Klein, Sarah Jane Pakenham Springs PS Grd

Kluckow, Simone Lisa nossal HS eS1-2

Knaggs, Sheila Mary boneo PS eS1-1

Knight, Samantha Jane courtenay Gardens PS Grd

Koppens, Mark Anthony Patterson Lakes PS claSS

Kurelja, Shain aspendale Gardens lead

Kwan, Marika benton Junior College claSS

Kyval, Jennifer Louise Koo-Wee-Rup Sc lead

Larkins, Thea Jessica benton Junior College claSS

Leed, Janine Lauren Monterey Sc PR2-4

Lewis, Kerrie brentwood Park PS claSS

Liang, Kerry Ann Fountain Gate Sc eS1-1

Lloyd, Christopher n Somerville Sc PR2-4

Lomeri, John Gabriel Keysborough Sc eS1-1

Lowe, Steve Fountain Gate Sc claSS

Lowerson, Jenny boneo PS eS1-1

Magnano, Kathryn Josephine Springvale South PS

claSS

Mahoney, Sarah Seaford North PS Grd

Malual, Madduk Goryang noble Park Sc eS1-1

Marks, Marion Elizabeth hampton PS Grd

Marshall, Gordon John carwatha College P–12 claSS

Maslin, Anne Patricia Springvale West PS claSS

Matheson, Jacinta Mount Eliza North PS Grd

Mathews, Michael Alan Mentone Girls' Sc claSS

Matthews, Nicole Jayne cranbourne Sc eS1-1

Mayle, Robyn e cranbourne North East PS claSS

McCabe, Glenda Ruth Keysborough Sc claSS

McCabe, Kirsty benton Junior College claSS

McCarthy, Yvonne Gwenneth langwarrin PS

claSS

McConchie, Lauren Anne beaumaris PS Grd

McConnon, Sandra Jean berwick Fields PS claSS

McCrory, Rachel bayles Regional PS Grd

McKenna, Patricia Ann cranbourne Sc eS1-1

McKeown, Gerard J avenues Education claSS

McKinnon, Scott Robert Pakenham Springs PS claSS

Mclean, Amanda brighton PS aP1-1

McLeod, Kerri a cheltenham East PS aP1-1

McLeod, Lucy Victoria ballam Park PS Grd

Mebalds, Ginta Mae hallam Senior Sc claSS

Meehan, Robyn Joan beaumaris PS eS2-3

Mepstead, Amy cranbourne North East PS claSS

Miller, Stuart Mount Eliza Sc claSS

Miller, Stuart Western Port Sc claSS

Mills, Elisabeth cranbourne Sc eS1-1

Minnemeyer, Teri cheltenham Sc claSS

Miszkowiec, Carol hallam Valley PS eS1-1

Mitchell, Judie Anne nossal HS claSS

Moncur, Caitlin Laura Somers School Camp Grd

Moorhouse, Tegan elsternwick PS claSS

Morgan, Lynda hallam PS eS1-1

Mori, Katsuya Sandringham College claSS

Morrissy, Samantha Jane Patterson River Sc claSS

Moss, Jonathan Mark Strathaird PS claSS

Munari, Alison Lee alkira Sc claSS

Murphy, Lisa Jane Kambrya College claSS

Naiken, Kirby Louise benton Junior College claSS

Nicholls, Melissa Lee berwick Sc claSS

Nickam, Sam narre Warren South P–12 College claSS

O'Connell, Angela Louise brighton PS Grd

O'Dea, Monica Elissa cranbourne North East PS lead

O'Toole, Thomas Keysborough Sc claSS

Orme, Jane caulfield Park Community School claSS

Pace, Leigh Keysborough Park PS claSS

Papettas, Laura red Hill Consolidated School Grd

Papp, Mary Antoinette MacRobertson Girls HS claSS

Parker, Ilana Sarah Mentone Girls' Sc acPT

Parsons, Tracy Jane Western Port Sc Grd

Paterson, John Young Fountain Gate Sc lead

Paterson, Anne-Marie tootgarook PS Grd

Patsialaridis, Katina Kathy carwatha College P–12 lead

Pay, Kirsty dromana Sc claSS

Pegram, Ian Charles nossal HS claSS

Pennant, Maree Therese Fountain Gate Sc eS1-2

Perara, Jayne ballam Park PS Grd

Pocock, Sharon Lee cranbourne PS eS1-2

Pollock, Alison Isobel Mary dandenong HS claSS

Power, Kerry hallam Senior Sc claSS

Power, Leanne berwick Fields PS claSS

Pratt, Dennis Keith Southern Metropolitan Region PR3-6

Precel, Jonathan Andrew Fountain Gate Sc claSS

Prosser, Madelaine Alice coatesville PS Grd

Provis, Abbie Beth Pakenham Consolidated School Grd

Western Metropolitan

Agostino, Sam St Albans Sc claSS

Allan, Carley Faye Moonee Ponds West PS acPT

Allan, Karen Anne the Grange P–12 College lead

Amparis, Jane Sunshine Harvester PS eS2-3

Anderson, Gregory Curtis Moonee Ponds West PS eS1-1

Anderson, Justine Mary altona Meadows PS Grd

Archer, Jessica Williamstown HS eS1-2

Armstrong, Reachel Anne altona Meadows PS Grd

Attwood, Katherine Emily St Albans North PS Grd

Ausilio, Bianca Staughton College claSS

Aveling, Melissa the Grange P–12 College Grd

Azmitia, Fatima Arleth Keilor Downs Sc Grd

Bagci, Banu caroline Springs College claSS

Bailey, Vicky Kathleen Western Autistic School claSS

Balharrie, Elizabeth Jayne deer Park North PS aP1-1

Ball, Katherine Mary altona Green PS eS1-1

Barbuto, Monique Renee Western Autistic School claSS

Barker, Lauren essendon PS Grd

Barrett, Cheryl altona Meadows PS eS1-1

Barry, Lyndal Maree caroline Springs College claSS

Bath, Rebecca Strathmore Sc Grd

Batsis, Eleni Footscray West PS claSS

Beggs, Matthew ascot Vale West PS claSS

Benedetti, Esilio rosehill Sc Grd

Bernardi, Lynne altona Green PS eS1-1

82 Shine APRIL 2010
---
APPointments

NAME SCHOOL CLASSIFICATION

Birch, Erin Amber Western Metropolitan Region eS2-4

Borg, Deborah Manor Lakes P–12 Specialist claSS

Borg, Stacey Glen Orden PS claSS

Bortolot, Elizabeth M Western Metropolitan Region lead

Boyden, Rebecca Margaret taylors Lakes Sc claSS

Boyson, Marie Teresa deer Park North PS eS1-1

Bramley, Kate Maribyrnong Sc claSS

Branciforte, Charles Western Metropolitan Region PR2-3

Brooks, Amy Katherine iramoo PS claSS

Broome, Annette Brenda Sunshine College claSS

Brown, Lauren Elyse Manor Lakes P–12 Specialist claSS

Browne, Kay Williamstown HS eS1-1

Brownrigg, Susan Western Metropolitan Region lead

Buerckner, Jessica Moonee Ponds Central School Grd

Burns, Lee Kensington Community HS Grd

Busuttil, Joanne Eva caroline Springs College eS1-2

Cassar, Albert the Grange P–12 College eS1-1

Cassar, Laura Helen Maribyrnong Sc claSS

Chan, Chui Yuet Maribyrnong Sc eS1-1

Chan, Joshua Zhao'en iramoo PS claSS

Chellew, Olivea Kathleen Western Metropolitan Region lead

Clark, Kathryn caroline Springs College claSS

Clark, Lauren Maree caroline Springs College Grd

Clark, Tracey Louise taylors Lakes Sc claSS

Cocks, Trent Michael caroline Springs College claSS

Costa, Joe - Kurunjang Sc claSS

Cotronea, Kayleen Angela Parkwood Green PS claSS

Crandles, Justine Amelia caroline Springs College claSS

Cull, Lorelle Jayne iramoo PS claSS

Cummins, Danni Louise Western Autistic School claSS

D'Ortenzio, Marino caroline Springs College lead

Dalinkiewicz, Peter caroline Springs College claSS

Davis Sr., Annette Elizabeth Staughton College Grd

Dawson, Lynette Joy deer Park Sc eS1-1

Day, Philippa Ann cambridge PS Grd

Dempster, Tammy-Lee iramoo PS claSS

Dervish, Melek Maribyrnong Sc Grd

Devereux, Amy Strathmore Sc claSS

Dickinson, Sharron Maree Moonee Ponds Central School claSS

Dimasi, Nella Strathmore Sc claSS

Donald, Carla Western Autistic School claSS

Dorais, Michelle Lousie iramoo PS claSS

Dowell, Lucy Strathmore Sc claSS

Dreyer, Megan Lisa caroline Springs College claSS

Eyers, Rachel caroline Springs College claSS

Feain, Claire Frances Strathmore Sc claSS

Ferroni, Jessica n Parkwood Green PS claSS

Finelli, Eleonora Western Autistic School claSS

Firth, Laura Kate Western Autistic School claSS

Galea, Michelle Catherine essendon North PS Grd

Garro, Laura Maree Seabrook PS claSS

Gentile, Alana caroline Springs College eS2-3

Germaine, Danielle Lee caroline Springs College lead

gibson, mae-lee Maribyrnong Sc Grd

Gilham, Katrina Louise baden Powell P–9 College claSS

Gill, Margaret Ann Sunshine SDS claSS

Gillard, Naomi Jade essendon North PS Grd

Gok, Yelda taylors Lakes Sc claSS

Green, Jacqueline Spotswood PS PR1-2

Guppy, Robert St Albans North PS aP1-1

Hale, Clinton Bradley Maribyrnong Sc claSS

Hall, Lesley Margaret Western Metropolitan Region lead

Hall, Robert St Albans Sc eS2-3

Harris, Helen E a Western Metropolitan Region lead

Harrison, Catrina altona Meadows PS claSS

NAME SCHOOL CLASSIFICATION NAME SCHOOL CLASSIFICATION

Hatherley, Dailan Sunshine College acPT

Hennessy, Louise Jackson School eS2-4

Hentschke, Cara essendon/East Keilor District Coll Grd

Heywood, Tina Lorraine Sunshine Heights PS eS2-4

Hickey, Mark Patrick altona Meadows PS Grd

Hoang, Liza caroline Springs College claSS

Hood, Nayuka Kurnai Western Metropolitan Region eS2-4

Howells, Terrence Raymond debney Park Sc eS1-1

Iacobaccio, Jennifer Louise Parkwood Green PS eS2-4

Ivory, Blake Ross caroline Springs College claSS

Jehu, Jessica Kate Kurunjang PS Grd

Johnston, Carol caroline Springs College claSS

johnston, jan Western Metropolitan Region eXrt

Jordan, Rebecca F'long Pk Sch & Pre-Sch For Deaf eS1-1

Joyce, Brett Michael Kensington Community HS claSS

Judd, Glenda Jane victorian College For The Deaf eS1-2

Karevski, Stevce the Grange P–12 College claSS

Keating, Karen copperfield College claSS

Keegan, Rilla Anne Melton West PS claSS

Kelly, Alexander Joseph victorian College of the Arts eS1-2

Kelly, Mary Jo victorian College of the Arts lead

Kenshole, Sharon Ann Glen Orden PS eS1-1

Kilfoyle, Matthew James rosehill Sc claSS

King, Christine Anne Western Metropolitan Region lead

Kirik, Senem Parkwood Green PS claSS

Kirk, Hayley Anna Western Autistic School claSS

Knigge, Kate Alexandra caroline Springs College claSS

Kolevas, Linda taylors Lakes Sc claSS

Krause, Amelia Strathmore Sc claSS

Krywult, Jolanta caroline Springs College eS1-2

Kumar, Dimple ascot Vale West PS eS1-1

Kydd, Laura Footscray West PS claSS

Lagerwey, Melinda Kate newport Lakes PS Grd

Lambert, Luke Melton West PS claSS

Large, Michael John rosehill Sc claSS

Lata, Komal Karishma Maribyrnong Sc claSS

Ledney, Paul Peter the Grange P–12 College claSS

Leopoldo, Maria Western Autistic School claSS

Lesa, Peteru Galvin Park Sc claSS

Lett, Karen debney Park Sc eS1-1

Lewis, Zoe Ellen Flemington PS Grd

Lieu, Betty Footscray PS Grd

Little, Carly Evelyn baden Powell P–9 College claSS

Littleford, Heidi Rosemary Western Metropolitan Region eXrt

Lombardi, Davide Anthony Footscray North PS aP1-1

Lynch, Erika Elizabeth Western Autistic School claSS

Lyons, Susan Anne victorian College of the Arts eXrt

Ma, Andrew university HS Grd

Mair, Wendy St Albans Sc Sch

Maloney, Erin caroline Springs College eS2-3

Malveda, Nory Torres Western Autistic School claSS

Markovics, Rosalie Western Autistic School claSS

Marsaja, I Gede caroline Springs College claSS

Martin, Nicholas J the Grange P–12 College claSS

Mathews, Elizabeth Spotswood PS eS1-1

Matthews, Susan Gail Western Metropolitan Region eXrt

Mavridis, Mary altona Meadows PS claSS

Mayus, Joseph James caroline Springs College claSS

Mazzei, Maria Western Autistic School claSS

McConville, Eve Christine debney Park Sc Grd

Mcewen Jr., Karin Margaret the Grange P–12 College claSS

McGinnis, Jessica caroline Springs College Grd

McGregor, Denise Williamstown HS eS1-1

McLaverty, Maria Georgina Manorvale PS Grd

McMahon, Mollie Flemington PS claSS

McPadden, Julie Anne caroline Springs College claSS

Mendes, Michelle Irene caroline Springs College claSS

Merlo, Melinda Louise copperfield College eS1-1

Milano, Michelle Keilor Downs Sc eS1-1

Mills, Elizabeth Western Autistic School claSS

Mitchell, Linda Jane Sunshine College claSS

Moodie, Ruth Clare Western Metropolitan Region lead

Morel, Denise copperfield College eS1-1

Morin, Bradford ascot Vale West PS claSS

Morton, Christopher Sunshine College Grd

Moustafa, Manolya Staughton College claSS

Muir, Sommer Elizabeth Western Autistic School claSS

Munro, Hayley Strathmore Sc claSS

Muscat, Roxanne Parkwood Green PS claSS

Neal, Michael Manorvale PS Grd

Nguyen Iii, Trieu ( Peter) Thanh Western elS eS1-1

Nguyen, Tram Thu Sunshine Heights PS eS1-1

Norrish, Josephine Strathmore Sc claSS

Nugent, Rachel Mary Western Autistic School claSS

O'Brien, Bradley Shane the Grange P–12 College claSS

O'Connell Sr., Laura Isabel deer Park North PS eS1-1

O'Connor, Jennifer Teresa Western Metropolitan Region lead

Oakley, Suzanne Jane Footscray PS Grd

Osborn-Macpherson, Amaya Grace Williamstown PS

claSS

Ouko, Akaline Boyani St Albans Sc claSS

Owen, Jessica caroline Springs College claSS

Oxley, David caroline Springs College claSS

Palmarella, Elvira Strathmore Sc claSS

Panousieris, Robin Lee caroline Springs College claSS

Papafotiou, Georgina Sunshine Heights PS aP1-1

Parboo, Lee-Anne Marie Footscray North PS claSS

Parboo, Lee-Anne Marie Footscray North PS claSS

Pavlakos, Denise Moonee Ponds Central School claSS

Peterson, Susan Robyn Western Metropolitan Region lead

Petrie, Megan Louise Western Autistic School claSS

Phillips, Katherine Lee Wedge Park PS claSS

Pino, Gabrielle Glen Orden PS eS1-1

Pisano, John Joseph Werribee Sc lead

Piscioneri, Marco altona Meadows PS eS1-1

Powell, Kimberley Susan Staughton College claSS

Pozzebon, Sherre Lee Sunshine College Grd

Presa, Cristina Mary Western Metropolitan Region lead

Rafoo, Majid Sunshine College acPT

Read, Lynette Alisson Sunshine PS PR2-3

Reynolds, Angela Ann iramoo PS claSS

Richardson, Megumi Williamstown HS claSS

Riddle, Helen Joan Western Autistic School claSS

Riley, Benjamin Liam Werribee Sc claSS

Rootes, Jeffrey W brimbank College claSS

Rowe, Lina Keilor Downs Sc eS1-1

Ryan, Sean St Albans Sc claSS

Sablic, Belinda deer Park North PS Grd

Sakellarides, Christina altona PS claSS

Sakellaropoulos, Sophie rosehill Sc Grd

Sammut, Kristyn Marie Strathmore North PS Grd

San Lorenzo, Grace caroline Springs College eS1-2

Sargeant, Michael Peter victorian College of the Arts lead

Savvidi, Aliki Western Autistic School claSS

Scicluna, Katia Flemington PS claSS

Seaman, Maria Westgrove PS eS1-1

Shaw, Nicholas Adrian altona College Grd

Shegog, Tanya Louise the Grange P–12 College Grd

Shields, Kay caroline Springs College claSS

Shute, John P Western Metropolitan Region lead

Sinclair, Peter Graeme St Albans Sc claSS

Shine APRIL 2010 83
---
ClaSSiFiEDS

Retirements

retIrInG soon?

Volunteers for Isolated Students' Education

recruits retired teachers to assist families

with their Distance Education Program.

Travel and accommodation provided in

return for six weeks teaching. Register at

vise.org.au or George Murdoch 03 9017 5439

Ken Weeks 03 9876 2680

Your retIrement - Your musIC - real musIC

…with RIGHT SMACK DAB – 60's and 70's

covers band. Beatles, Stones, Animals, Bee

Gees, Creedence, Elvis, Roy, Buddy and many

more. Always a no-cost pre-function meeting to

build in any special requirements and ensure

that your event is as you want it. Call John – B)

9306 2844 H) 9497 3146 Mob 0438646624

Reunions

BrIGHton HIGH sCHool '79 reunIon

(Form 1 1974 to HSC 1979). Visit our website

http://members.ozemail.com.au/~jcurrie/

Saturday 5 June 2010 from 8pm to 1am at

Milanos, 4 The Esplanade, Brighton. $36 per

person to be paid in advance with RSVP (covers

finger food and room hire, cash bar on the

night). Come along if you were in our year group

anytime between starting Form 1 in 1974 and

completing HSC in 1979 or if your were our

teachers. Partners welcome. RSVP – By Friday

28 May 2010 via the website. Enquiries to Kay

Dunkley (nee Robinson) kdunkley@bigpond.net.

au or 03 9557 9398

GraHamvale prImarY sCHool

May 1st, 2011 Grahamvale Primary School near

Shepparton will celebrate its centenary.

To coincide with this we are seeking memoires

from past staff and students for a book.

Please include the years of your involvement.

Entries, no matter how long or short the

piece of writing, will be accepted until the end of

April, 2010. The mention of other friends or

events and occurrences would be entertaining.

Please email grahamvale.ps@edumail.vic.gov.au

or mail to Grahamvale P.S., 85 Grahamvale Rd,

Grahamvale, 3631

enGraveD Glasses

Have your reunion or commemorative message

permanently laser engraved on glassware.

Contact Ian Newman, telephone/fax 9645 8699,

or PO Box 5164, Middle Park Vic 3206.

Accommodation

BOOK

NOW! NOW! TO TO AVOID AVOID

DISAPPOINTMENT

Make your next

school trip to Melbourne an

adventure and stay at the

Hotel Claremont

Guest House

189 Toorak Road, South Yarra, 3141

1300 301 630

info@hotelclaremont.com

www.hotelclaremont.com

ACCREDITED SCHOOL ACCOMMODATION

per student per night

$42* (based on group share

accommodation) includes breakfast,

GST and 1 teacher at no cost for every

10 students. * Rates subject to alteration

Building services

GraffItI removal

Sparkling Impressions is a specialist graffiti

removal and pressure cleaning business with

over 15 years experience. Call Phill Jenkins on

0418 322 689 for prompt service.

Phone us on

03 5940 0281

www.adloheat.com.au

See main

ad on

page 31

lIne kInG lInemarkInG

Specialising in linemarking school grounds and

carparks. Colin & Liz Buckland 9770 2087 or

0417 326 176.

LINE MARKING

Melbourne line marking company.

All playground lines, sports courts

and car parks.

Phone Barry 0419 315 431

See main ad on page 11

Computer Services

Warranty l Repairs l Support

Fully authorised Apple service

FAST TURNAROUND & QUOTING

FREE METRO COURIER PICK-UP

Our dedicated team of IT

support consultants and

service technicians are fully

trained and certified to carry

out all Apple support and service, incl:

l ANY APPLE WARRANTY CLAIMS

l HARDWARE REPAIRS

l UPGRADES FROM OLDER SYSTEMS

l OPTIMISING MAC PERFORMANCE

l SOFTWARE PROBLEM SOLVING

l PERIPHERAL TROUBLESHOOTING

l INTERNET & NETWORK ISSUES

l VIRUS PROTECTION & SECURITY

l PC / MAC INTEGRATION

l NETWORK CONFIGURATION

l WIRELESS NETWORKING

l MAC / UNIX / WINDOWS SERVER

l TAILORED SERVICE CONTRACTS

EMERGENCY 24 HOUR PRIORITY

& ON-SITE services available*

*ADDITIONAL COSTS APPLY FOR THESE SERVICES

Contact Client Services Manager Frank Ryder

for all warranty, repair or support enquiries on:

FREE CALL: 1300 060 320

www.connectingpoint.com.au

Suite 55, Level 2, 255 Drummond St, Carlton

CNP9425_GND

Educational

materials/services

CHIlDren's autHor/Illustrator

Michael Salmon, Children's Author/Illustrator has

extensively toured Australian Schools over the

past 34 years. His sessions are lots of fun, with

lightning fast cartoons, caricatures, silly prizes

and general encouragement for Students to

develop their own creativity. Contact Michael via

email michael@michaelsalmon.com.au, phone

(03) 9822 7643 or 0408 227 643. Visit our web

site: www.michaelsalmon.com.au and view

School feedback and more.

CIRCUS MAXIMUS P/L

"Over 20 Years

BOOK

Experience

NOW FOR

2011

Bringing the

Circus into Education"

Ph: 03 94823512

email:

greg@circusmaximus.com.au

DON'T MOVE

PUPPET THEATRE

PUPPET SHOWS &

PUPPET MAKING

WORKSHOPS

Contact

John Evans

Telephone

9397 0033

0419 346 731

www.dontmove.com.au

GREAT SOUTH

LAND SHOW

Aussie Songs, History & Bush Dances

with

Lazy Harry

V.I.T. Reg.

Music

Teacher

BOOKINGS: 0419 236 314

www.lazyharryaustralia.com.au

Journeyman

Starlab &

Cosmodome

Travelling

Planetariums

COUNTRY TRIPS

GIPPSLAND

3rd to 7th May

N.W. VICTORIA

17th to 21st May

Bookings:

9748 8326

Teach kids the time in no time at all.

• 24 fun filled colourful pages

• Covering every aspect of time right

around the clock

• Analogue and digital

• Includes 5 times table

Ph 03 54223484

edwinabarber@bigpond.com

www.edwinabarber.com

An Experience! Not a Show.

• Science & Technology teaching

specialists for Primary Schools

• Over seventeen years experience

• Practical workshops for children

- 90 minutes of educational fun

- Individual grade lessons are our

specialty

• Many Topics/ Themes (VELS)

• Professional Development

• Family Science Nights

• No need for a bus

We come to your school

Contact: Emily or Robyn

Phone: (03) 9852 0054 or (03) 9855 1191

www.handsonscience.com.au

84

Shine april 2010
---
CLASSIFIEDS

SPEAK WITH POWER

Debating

Public Speaking

VCE Orals

& Leadership

Training

20 YEARS OF EMPOWERING

STUDENTS

Phone Ron for details:

0434 582 362

speakwithpower@internode.on.net

www.speakwithpower.com.au

Live Reptiles at your school

Hold a snake • Feed a lizard • Say hello

to a frog • Touch a turtle •

Wrestle a crocodile!

See page 23 for

our programs or visit

www.roamingreptiles.com.au

Call Tracey

0418 227 083

snakes@roamingreptiles.com.au

General knowledge

class quiz

Year 3

to

Year 10

RegistRations

closing soon!

For details contact Val Bates:

Fax 9882 7159 Ph: 9805 9111

Email: vbates@epilepsy.asn.au)

See our

main ad on

page 61

LIVE ANIMALS

DIRECT

TO YOUR

CLASSROOM!

www.wildaction.com.au

Telephone 0419385245

Employment

Applying for a Job?

Specialists in:

• Key Selection Criteria • Cover Letters

• Curriculum Vitae • Interview Preparation

Our consultants have extensive

principal class, teaching and editing experience.

Discounted rates for graduate teachers.

Phone Alison at Effective Corporate

Communications: 0438 378 214

Email: ecc@live.com.au

APPLICATIONS FOR JOBS

Expert, friendly, current professional service.

Principal/Teaching/Support Staff, CRTs, Graduates:

All school systems in Victoria.

Effective letters, resumes, criteria responses.

Experienced Principal; quality guarantee.

Free help for interviews & applying online.

Call Geoff: 5998 4932 or geoff@sagacityservices.com.au

www.sagacityservices.com.au

Improve Your CV

Do you want to improve your CV to include

Timetabling & Daily Organisation? Special

mentoring and individual programs are available,

contact: Frank Attard, phone: 0414579249,

email: attardfrank@hotmail.com

Call Peter on

9505 3287

for professional support with

• selection criteria

• interviews

• resumés (CVs)

30 years experience with the Education

Department...teaching & in the Principal Class

Resumé Bureau

Financial planning

Carrington Financial

Services

We offer

n Salary Sacrifice

n Novated Lease

n 54.11 Resignation

n Retirement Planning

n Wealth Creation

n Taxation

n Estate Planning

For a no obligation assessment of your situation

Contact John Doyle or

Jeevan Intherarasa on (03) 9820 8688

Health & Wellbeing

Mental Health Week Competitions:

years 5-12

1. Rural Schools Poster Competition

Create an optimistic image of mental health.

Winning images featured on posters for MHW.

Closes June 25th

2. Creative Writing Competition

Write a poem, essay, play or story based on your

experience of mental health. Prizes awarded.

Closes July 30.

Entry forms: Mental Health Foundation 03 9427

0406 admin@mentalhealthvic.org.au

Holiday

accommodation

CAIRNS, PALM COVE

Fully self contained one bedroom apartment in

the Novotel precinct. Overlooks pool. Short walk

to beach. $100 per night. Phone (03) 5674 1760,

0409 776 954.

Daintree Views Rainforest Retreat

Spectacular views of the Daintree National Park,

your own mountain waterfall and swimming

hole, a private outdoor spa and the Great Barrier

Reef at your doorstep. 3 Bedroom house

accommodating up to 6 people. Pay for 5 nights,

stay for 7. $320 per night/4 people.

www.daintreeviews.com Phone: 07 4094 1207

GIPPSLAND LAKES, paYNESVILLE

Two bedroom units three minutes walk to beach,

three bedroom house with lake frontage. Fully

self-contained for a comfortable holiday or

short break. Phone 5156 6395, email

info@lakewoodpark.com.au

Metung

Akora flats; 4 two bedroom self contained flats.

Outdoor bbq, off street parking for cars and

boats. Well behaved dogs are welcome. Phone

03 5156 2320 or email: info@akoraflats.com or

visit www.acoraflats.com

ocean grove

Modern 2 story, Sea views, 2 living areas, 2

bathrooms, 3 bedrooms; sleeps 9. Secure double

garage. Ph; 9439 1258 Mob: 0419 536 608

Professional

development

See our advert in

the PD section or

book online at

www.edpd.com.au

Forthcoming Workshops - Term 2

Ivanhoe Grammar School is committed to building academic professional knowledge through

the delivery of high quality seminars and workshops presented by internal and external speakers.

THU 22 APRIL Charles Lovitt

Creative Unit Planning and the National

Curriculum in Mathematics

FoR YEARs 5 To 10 TEAcHERs

TUEs 27 APRIL Kath Murdoch

The Inquiring Classroom

FoR PREP To 6 TEAcHERs

THU 29 APRIL Deb Sukarna

Comprehension and Strategies for

Reading Fiction

FoR YEARs 3 To 9 TEAcHERs

Mon 3 MAY Rob Vingerhoets

Open-ended Problems – Getting them

started and keeping them going in your

classroom

FoR PREP To YEAR 6 TEAcHERs

THU 13 MAY Darryn Kruse

Literacy across the Curriculum: Strategies

for the Middle Years Classroom

FoR YEARs 5 To 9 TEAcHERs

THU 20 MAY Michael Grose

Working Effectively with Today's Parents

FoR TEAcHERs AT ALL LEvELs

THU 27 MAY Kathy Walker

Linking the Early Childhood Years

with Early Primary Education

FoR PREP To YEAR 6 TEAcHERs

THU 10 JUnE Michael Ymer

Thinking Mathematically

FoR PREP To YEAR 6 TEAcHERs

FRI 11 JUnE David Hornsby

Comprehension – Developing

Thoughtful Literacy

FoR YEARs 3 To 8 TEAcHERs

TIME:

9:30am – 3:30pm

(Registration from 9am)

WHERE: Darebin Arts &

Entertainment Centre

(Cnr Bell Street &

St Georges Road, Preston)

cosT:

$189 (inc. GST)

Cost includes morning tea,

lunch & hand-outs

For full details, and our complete

2010 program visit our website:

www.ivanhoepl.com

For registration forms and enquiries, please contact Paula Welham on:

Telephone: 9490 1877 • Mobile: 0488 110 000 • Email: mail@ivanhoepl.com • Book online: www.ivanhoepl.com

Shine april 2010 85
---
ClaSSiFiEDS

Instruction courses

THRASS phonics courses provide

teachers with a simple and sustainable

methodology for teaching English right

from day one of a child's learning.

THRASS is Australia's most attended

phonics PD.

Please see our ad on page 27 for details

of upcoming courses.

Educational Planning

for Students with

Special Needs

Course provides participants with the

skills and knowledge to enable them

to write and implement an Individual

Educational Plan for students with

special needs.

Dates: May 14, 15, 22

Duration: 8.45am – 4.30pm

Venue: Clayton Campus

Contact: 9905 2700

12 points credit at postgraduate level.

www.education.monash.edu/shortcourses

CRICOS Provider: Monash University 00008C

Supporting Children with

Additional Needs in Early

Childhood Programs

Designed for qualified and

unqualified staff, and members of

the community associated with early

childhood education and care.

Dates: April 29, 30

May 11

Duration: 8.45am – 4.30pm

Venue: Clayton Campus

Contact: 9905 2700

6 points credit at undergraduate level.

www.education.monash.edu/shortcourses

CRICOS Provider: Monash University 00008C

School camps

Lakewood Park Paynesville

Making memories for life

ACA Accredited Camp

n Up to 100 students

n Luxury staff quarters

n Lakes cruise

n Australian Indigenous Culture

Activities

n Beach activities, water skiing,

sailing, canoeing, raft making,

nature walks, orienteering,

ropes, hut building

BOOK NOW for 2011

Contact us – limited dates available in 2010

www.lakewoodpark.com.au

Phone 5156 6395 or 0427 516 050

email info@lakewoodpark.com.au

Travel

franCe - soutH West

17C.2B/R apart. in elegant Figeac or cottage in

hilltop Lauzerte. Low cost, brochure, teacher

owner 03 9877 7513.

www.fl ickr.com/photos/clermont-fi geac/

www.fl ickr.com/photos/les-chouettes/

franCe, provenCe

Fully equipped and restored 17th century house

in mediaeval, fortified village of Entrevaux.

Sleeps seven. Close to Nice, Cote d'Azur

and Italy. Phone owner 5258 2798 or

(02) 9948 2980. www.provencehousestay.com.

parIs

Stay right in central Paris in a beautiful one

bedroom, fully contained apartment. Five

minutes walk to the nearest metro and then on

to all the Paris tourist sites: Louvre, Eiffel Tower,

Champs Elyses. Sunny, inviting apartment.

Bedroom, lounge, separate kitchen and

bathroom. English speaking owners. Live with

the locals, talk with the locals and

experience the traditional Parisian lifestyle.

www.rentaparisfl at.com

sHort Walks In HIGH provenCe, franCe

Small groups, September,2010. 7days exploring

hillside forest trails,historic villages and Old

Nice.staying in mediaeval house in Entrevaux.

Ph. 52582798 for information.

Wanted

WanteD–pHotoCopIers

Photocopiers all brands and many models.

Working, faulty, obsolete or surplus. Also

telephone systems, IT/computer items. Contact

David on 0402 469 111, and fax 9388 9810.

Email bbs_copy@westnet.com.au Call all hours

and

Advertising

collection arranged.

Shine

C L A S S I F I E D S

E: ed.advertising@edumail.vic.gov.au

T: Diane Mifsud: (03) 9637 2862

The travelsafe water bottle

GREEN TECHNOLOGY

No toxins, no bacteria

These revolutionary 500ml plastic food grade

approved and 600ml stainless steel water

bottles come with their own specialised filter

and disinfection component for destroying

bacteria.

Suitable for everyday use, camping, bush

walking, athletics, bike riding or international

travel, water can be obtained from almost

any source EXCEPT SALTWATER, and ready to

drink within minutes. SAFE.

GLOBALLY the most field and laboratory tested

product of its kind.

ADVANTAGES:

• Refill up to 600 times prior to yearly filter

replacement

• Significant savings on bottled water purchase.

Eltham North Primary school currently

use travelsafe water bottles in place

of bottled water.

OTHER INFORMATION:

• EPA approved,

• BPA free,

• Non leaching,

RRP $49.95

Exclusive price:

$25 inc GST for

schools, staff & family

members

• 85% of water we drink is away from home.

• point 2 micron in filter makes it impossible

for bacteria and chemicals to get through

the system

• replacement of filter only $9.

By investing in peace of mind with the travelsafe,

you will also assist in reducing the impact

on our landfills thus helping the environment.

Purchase by cheque or money order from:

Silverwater Technology PTY LTD

Email: admin@silverwatertechnology.com

P0 Box 6610 St. Kilda Road Central,

Melbourne VIC 3004

Web: www.silverwatertechnology.com

Ph: 9600 4443

Go green Aussie,

go GREEN

86

Shine april 2010
---
Curtain Call

Attention teachers! Nothing brings words to

life for students like seeing them performed

on stage. Feast your eyes on this month's

educational stage productions and incursions.

Compiled by Rachel Skinner

Melbourne Theatre Company

presents:

Bookings: 1300 723 038

The Grenade

Until Saturday 15 May

Playhouse Theatre, Southbank

Richard iii

Saturday 24 April to Saturday 12 June

Sumner Theatre, Southbank

Ruby Moon

Monday 19 April to Wednesday 5 May

Lawler Theatre, Southbank

Australian Shakespeare Company

presents:

Bookings: 1300 122 344 or www.

shakespeareaustralia.com.au

Richard iii Dissected

Monday 12, Wednesday 14 and

Thursday 15 April

Athenaeum Theatre, Melbourne

Bravehearts 'A Midsummer Night's

Dream'

Sunday 20 June

Athenaeum Theatre, Melbourne

Arena Theatre Company presents:

Bookings: 1300 182 183 or www.

arenatheatre.com.au

Mr Freezy

Tuesday 27 April to Saturday 1 May

Fairfax Theatre, Melbourne

Moth

Thursday 13 to Sunday 30 May

Tower Theatre, Southbank

Incursions

No time for lengthy theatre

excursions? Bring the show to your

students with professional, in-school

productions.

Australian Shakespeare Company

presents:

Bookings: 1300 122 344 or www.

shakespeareaustralia.com.au

Speak the Speak, Walk the Walk

Monday 12 to Friday 30 July

Shows 4 Kids presents:

Bookings: 1300 855 919 or info@

shows4kids.com.au

Tutti Fruity Healthy Eating and

Exercise Show

Incursions through 2010

arts2go, Regional Arts Victoria

presents:

Bookings: 9644 1800 or www.rav.net.

au/arts2go

Complete Works Theatre Company

– Poetry Alive!

Incursions from Tuesday 27 April to

Monday 14 May

deBAse Productions – The Clown

from Snowy River

Incursions from Monday 17 to Friday

28 May

Leave the Cat Alone Productions –

Diabolica Jones

Incursions from Monday 31 May to

Friday 11 June 2010

Impro Melbourne – Theatresports

Performances and Workshops

Incursions through 2010

Stagecraft with Real TV

Incursions through 2010

Dance Workshops with akaDance

Incursions through 2010

Circus Solarus – Street Theatre

Essentials

Ongoing residencies throughout 2010

Coco's Lunch – Vocal Workshops

Ongoing residencies throughout 2010

Brainstorm Productions presents:

Bookings: 1800 676 224 or www.

brainstormproductions.com.au

The Magic Words

Until Friday 25 June

Wired

Until Friday 25 June

Sticks and Stones

Until Friday 25 June

Buddies

Incursions through 2010

The Hurting Game

Incursions through 2010

Cheap Thrills

Incursions from Monday 12 July to

Friday 17 September

Verbal Combat

Until Friday 17 September

Saving Cal and Mindi

Until Friday 17 September

Complete Works Theatre Company

presents:

Bookings: 9417 6166

Romeo and Juliet

Incursions through 2010

Macbeth

Incursions through 2010

The Word Superb – Poetry for

Years 7-8

Incursions through 2010

QUIZ ANSWERS 1. Botanic 2. USA and Mexico 3. Coppola 4. Yani Tseng 5. 15 March 6. The Victa Lawnmower 7. Deafness 8. Children of a Lesser God 9. Lewis Carroll

10. Charles Dodgson 11. Three 12. Monaco 13. 1982 14. West Side Story 15. Linux 16. Nagasaki 17. The skull 18. A musical instrument 19. Water 20. Salt, sour, sweet,

bitter, umami, fat

Shine APRIL 2010 87
---
XXXXXXXXXXXXXXXXXXXXXXXXX

ProfessionAL DeveloPMent

Professional Development

History Teachers'

Association of Victoria

Bookings: www.htav.asn.au

Web 2.0 for History Teachers

Tuesday 27 April, Collingwood

National Curriculum

Friday 30 April, Wodonga

Interactive Whiteboards

Monday 10 May, Collingwood

Victorian it Teachers'

Association

Bookings: www.vitta.org.au

Enter the Programming Awards:

How to get your students

programming in one lesson with

Scratch

Wednesday 21 April, Venue TBA

Games Programming with Xbox

360

Thursday 22 April, South Yarra

Teach your Students to Make

Exciting Computer Games and

Enter the Programming Awards

with Game Maker

Wednesday 28 April, Venue TBA

Gowrie Victoria

Bookings: 9349 2890 or www.

gowrievictoria.org.au

Emergent Curriculum/Innovative

Programming

Tuesday 13 April, North Carlton

Communicating Victorian Early

Years Learning and Development

Framework to Parents

Monday 19 April, North Carlton

Creating Indoor/Outdoor Learning

Environments

Tuesday 20 April, North Carlton

Music and Movement

Tuesday 27 April, Docklands

Transition Learning and

Development Statements

Wednesday 28 April, Wodonga

Building Children's Creativity,

Curiosity and Imagination

Thursday 29 April, North Carlton

Planning and Documentation for

Play Based Learning

Monday 10 May, North Carlton

Building Children's Creativity,

Curiosity and Imagination

Thursday 20 May, Ballarat

Fostering Resilience

Tuesday 25 May, Shepparton

Supporting Children's Identity and

Sense of Belonging

Wednesday 26 May, North Carlton

St Albans Meadows Primary

School

Bookings: www.samps.vic.edu.au

1:1 Professional Learning Session

Thursday 22 April, St Albans

Joining the ChoRus

Bookings: jtc@edumail.vic.gov.au

Joining the ChoRus VCE

Workshop for Accompanists and

VCE students

Wednesday 12 May, Collingwood

IT For Kindergartens

Bookings: www.kindergarten.vic.gov.

au

Online data collection form

Tuesday 13 April, Ballarat and

Bendigo

Online data collection form

Wednesday 14 April, Ballarat and

Melbourne

Online data collection form

Thursday 15 April, Melbourne

Online data collection form

Friday 16 April, Lilydale

Online data collection form

Monday 19 April, Melbourne and

Geelong

Online data collection form

Tuesday 20 April, Melbourne and Sale

Online data collection form

Wednesday 21 April, Sale

Online data collection form

Thursday 22 April, Warragul

Online data collection form

Thursday 29 April, Melbourne

Online data collection form

Friday 30 April, Melbourne

Victorian Orff Schulwerk

Association

Bookings: (03) 9535 7020 or

glenys@stockdaleacs.com.au

VosA Living Music and Dance

Friday 7 to Saturday 8 May, Preston

88 Shine APRIL 2010
---
Soundhouse

Bookings: www.soundhouse.com.au

Adobe Premiere Level 1

Thursday 29 April, Flemington

Digital Movie Making for Home and Classroom

Friday 30 April, Flemington

Taking your Classroom Online – Wikis, Pods and

Blogs

Monday 3 May, Flemington

Create Music for your Films with GarageBand

Thursday 6 May, Flemington

Creating Powerful Video Documentaries in the

Classroom

Friday 7 May, Flemington

Flash Level 1 – Design for the Web

Monday 10 May, Flemington

The Australian Council for Health, Physical

Education and Recreation

Bookings: www.achper.vic.edu.au

Using PoLT in Physical Education

Wednesday 14 April, Balwyn

Starting Out – VCE Health and Human Development

Units 2 and 4

Friday 16 April, Albert Park

Twilight Health Topics 3

Wednesday 21 April, Clayton

VCE Outdoor and Environmental Studies Units 2

and 4

Monday 3 May, Box Hill

Email your PD listings to editor@edumail.vic.gov.au

Shine APRIL 2010 89
---
Take a BReak

Staffroom Quiz

Put your general knowledge to the

test with this month's 20 questions.

1

2

3

4

5

6

7

8

9

10

11

12

13

14

15

16

17

18

19

20

Are Melbourne's famous gardens called

the Royal Botanic Gardens or the Royal

Botanical Gardens?

The Rio Grande River runs between

which two countries?

To avoid suggestions of nepotism,

Nicolas Cage changed his surname from

what early in his acting career?

Who won the Australian Women's Open

golf competition in March?

Julius Caesar was assassinated on the

ides of March. What date is that?

For which invention is the Australian

Mervyn Victor Richardson famous?

Marlee Matlin became the youngest ever

recipient of the Best Actress Oscar in

1986. What physical disability does she

have?

And for which film did she win her

Oscar?

Who wrote Alice in Wonderland?

What was his real name?

How many hearts does a squid have?

Which is the world's second smallest

independent state?

In what year did the Swans become the

Sydney Swans?

Which 1957 stage musical was based on

Shakespeare's Romeo and Juliet?

Which computer operating system was

developed by a college student named

Linus Torvalds?

Which was the first city to be levelled by

a plutonium-based atomic bomb?

Where in the body would you find the

parietal bone?

What is a dulcimer?

Does sound travel faster in air or water?

What are the 6 tastes detectable by the

mouth?

Sudoku

Difficulty level: hard

Cartoon by Simon Schneider

Questions compiled by Melbourne Trivia

Company www.melbournetrivia.com.au

See page 87 for answers

90

Shine APRIL 2010
---
Shine APRIL 2010 91
---
92 Shine APRIL 2010