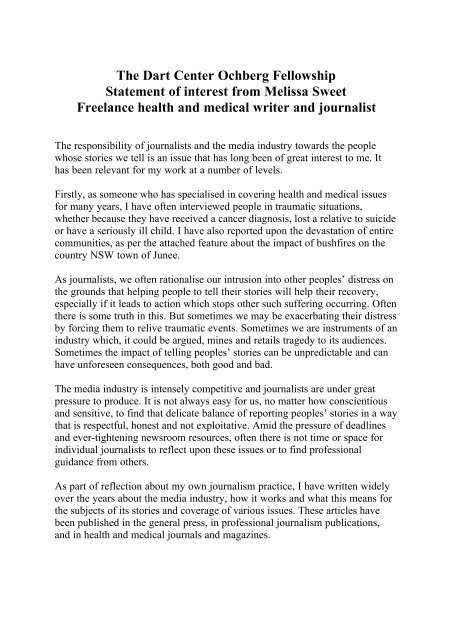 The Dart Center Ochberg Fellowship Statement of ... - Melissa Sweet
The Dart Center Ochberg Fellowship Statement of ... - Melissa Sweet
The Dart Center Ochberg Fellowship Statement of ... - Melissa Sweet
SHOW MORE
SHOW LESS
Do you know the secret to free website traffic?
Use this trick to increase the number of new potential customers.
The Dart Center Ochberg Fellowship

Statement of interest from Melissa Sweet

Freelance health and medical writer and journalist

The responsibility of journalists and the media industry towards the people

whose stories we tell is an issue that has long been of great interest to me. It

has been relevant for my work at a number of levels.

Firstly, as someone who has specialised in covering health and medical issues

for many years, I have often interviewed people in traumatic situations,

whether because they have received a cancer diagnosis, lost a relative to suicide

or have a seriously ill child. I have also reported upon the devastation of entire

communities, as per the attached feature about the impact of bushfires on the

country NSW town of Junee.

As journalists, we often rationalise our intrusion into other peoples' distress on

the grounds that helping people to tell their stories will help their recovery,

especially if it leads to action which stops other such suffering occurring. Often

there is some truth in this. But sometimes we may be exacerbating their distress

by forcing them to relive traumatic events. Sometimes we are instruments of an

industry which, it could be argued, mines and retails tragedy to its audiences.

Sometimes the impact of telling peoples' stories can be unpredictable and can

have unforeseen consequences, both good and bad.

The media industry is intensely competitive and journalists are under great

pressure to produce. It is not always easy for us, no matter how conscientious

and sensitive, to find that delicate balance of reporting peoples' stories in a way

that is respectful, honest and not exploitative. Amid the pressure of deadlines

and ever-tightening newsroom resources, often there is not time or space for

individual journalists to reflect upon these issues or to find professional

guidance from others.

As part of reflection about my own journalism practice, I have written widely

over the years about the media industry, how it works and what this means for

the subjects of its stories and coverage of various issues. These articles have

been published in the general press, in professional journalism publications,

and in health and medical journals and magazines.
---
2.

As outlined in my CV, I have recently published a book based on the murder

of Dr Margaret Tobin, who was the director of mental health services in South

Australia at the time of her death in 2002 (Inside Madness, Pan Macmillan).

Researching and writing this book was an extremely traumatic process, both for

myself and for some of Margaret's friends and family members. By telling

Margaret's story, I was also telling the stories of those close to her. I had many

difficult times negotiating the ethical issues involved, and turned to the writing

of other journalists, particularly the US writer Janet Malcolm, to help with this.

My experience researching Inside Madness also made me more aware of the

suffering of some journalists as a result of their work. While much attention

has been paid to the impact on high-profile journalists such as war

correspondents, the impact of the more everyday jobs of journalism may be

overlooked. I spent some months in court attending the trial of the deregistered

psychiatrist who was eventually convicted of Margaret Tobin's

murder. During that time, a number of specialist court reporters told me of

how their work had adversely affected their own psychological well-being.

Some had spent many weeks in court listening to the grisly details of the socalled

Snowtown murders, and this had left a profound mark upon them.

Another reason I am applying for this Fellowship is that I have been working

as a freelancer for several years. Freelancing is not for the faint-hearted; you

sacrifice income and security for the freedom of being able to assert some

control over your work and professional standards. It can also be isolating. I

would welcome the opportunity to meet other journalists and to share some

professional exchange of ideas and issues.

If successful in winning this Fellowship, I would accept a responsibility to

share my learnings with colleagues and relevant audiences. A variety of outlets,

from general news media to health, medical, and journalism publications might

be interested in running articles. In particular, it is likely that there would be

interest from the British Medical Journal (which has a huge international

audience, not only amongst health and medical professionals, but also amongst

the media) and The Walkley magazine, which is distributed to all members of

the Media, Entertainment and Arts Alliance. I have previously written for both

these publications about ethical issues related to media reporting.

Thank you for considering my application.

Melissa Sweet

11 July 2006