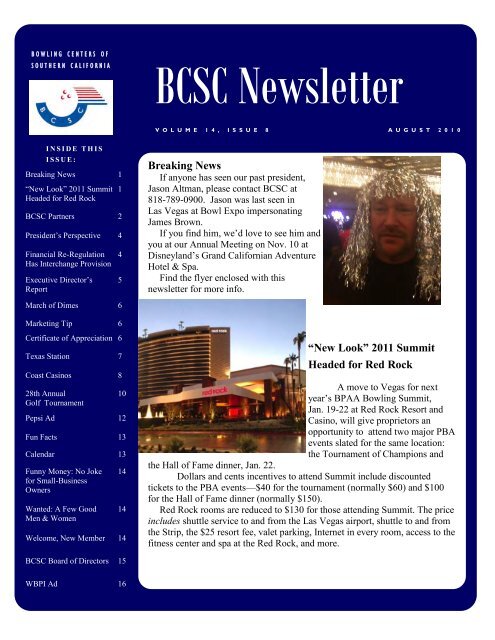 Breaking News - Bowling Centers of Southern California
Breaking News - Bowling Centers of Southern California
Breaking News - Bowling Centers of Southern California
SHOW MORE
SHOW LESS
Create successful ePaper yourself
Turn your PDF publications into a flip-book with our unique Google optimized e-Paper software.
B O W L I N G C E N T E R S O F

S O U T H E R N C A L I F O R N I A

BCSC Newsletter

V O L U M E 1 4 , I S S U E 8

A U G U S T 2 0 1 0

I N S I D E T H I S

I S S U E :

Breaking News 1

"New Look" 2011 Summit

Headed for Red Rock

BCSC Partners 2

President's Perspective 4

Financial Re-Regulation

Has Interchange Provision

Executive Director's

Report

March of Dimes 6

Marketing Tip 6

Certificate of Appreciation 6

Texas Station 7

Coast Casinos 8

28th Annual

Golf Tournament

1

4

5

10

Pepsi Ad 12

Fun Facts 13

Calendar 13

Funny Money: No Joke

for Small-Business

Owners

Wanted: A Few Good

Men & Women

14

14

Welcome, New Member 14

Breaking News

If anyone has seen our past president,

Jason Altman, please contact BCSC at

818-789-0900. Jason was last seen in

Las Vegas at Bowl Expo impersonating

James Brown.

If you find him, we'd love to see him and

you at our Annual Meeting on Nov. 10 at

Disneyland's Grand Californian Adventure

Hotel & Spa.

Find the flyer enclosed with this

newsletter for more info.

"New Look" 2011 Summit

Headed for Red Rock

A move to Vegas for next

year's BPAA Bowling Summit,

Jan. 19-22 at Red Rock Resort and

Casino, will give proprietors an

opportunity to attend two major PBA

events slated for the same location:

the Tournament of Champions and

the Hall of Fame dinner, Jan. 22.

Dollars and cents incentives to attend Summit include discounted

tickets to the PBA events—$40 for the tournament (normally $60) and $100

for the Hall of Fame dinner (normally $150).

Red Rock rooms are reduced to $130 for those attending Summit. The price

includes shuttle service to and from the Las Vegas airport, shuttle to and from

the Strip, the $25 resort fee, valet parking, Internet in every room, access to the

fitness center and spa at the Red Rock, and more.

BCSC Board of Directors 15

WBPI Ad 16
---
P A G E 2

BCSC PARTNERS

American Consulting Group

Eric Martin

23361 Madero, Suite 220

Mission Viejo, CA 92691

800-747-8666

www.american-consulting.com

Dippin' Dots

John & Cheryl Hiller

27530 Newhall Ranch Rd.

Valencia,. CA 91390

661-510-8348 • 661-857-3274

Betson

Kyle Berger

5660 Knott Ave.

Buena Park, CA 90621

714-228-5714

kberger@betson.com

C. Sanders Emblems, L.C.

Penny Ledbetter

12965 Arroyo St.

San Fernando, CA 91340

800-336-7467

penny@csanders.net

Champion Family Games, LLC

Douglas Parrott

19451 Vintage St.

Northridge, CA 91324

866-523-4039

www.ChampionFamilyGames.com

info@championfamilygames.com

El Dorado Hotel & Casino

John McGinnes

888-808-7720

mcginnesj@eldoradoreno.com

Family Amusement Corporation

Stephen or Robert Peck

876 N. Vermont Ave.

Los Angeles, CA 90029

323-660-8180

info@familyamusement.com

www.familyamusement.com

HPSI Hospitality

Spencer Gonzalez

1 Ada Suite 150

Irvine, CA 92618

949-250-4774

spencerg@hpsionline.com

HPSI is a national group purchasing service company

that negotiates contracts, collects rebates, and audits

invoices for our consumers in the food service, bowling,

hospitality, and healthcare industries.

CleanSource Inc.

Gus Dominguez

5580 East Olympic Blvd.

Commerce, CA 90022

323-837-4149 • 323-788-3392

gdominguez@cleansource.com

Digital View

David E Brow

2735 San Pasqual St.

Pasadena, CA 91107

626-354-1989

adigitalview@gmail.com

www.adigitalview.com

Herzog Insurance Agency

Bob Herzog

235 Main Street

Pleasanton, CA 94566

800-300-1303

info@herzogins.com

Lime Energy

Burke Ewers

2247 Lindsay Way

Glendora, CA 91740

909-394-0230

bewers@lime-energy.com

www.lime-energy.com

Lime Energy provides energy-efficient design/build solutions

for lighting, HVAC, water, weatherization, and renewable

energy.

B C S C N E W S L E T T E R
---
V O L U M E 1 4 , I S S U E 8

BCSC PARTNERS

P A G E 3

Lind Shoe Company

David Wiggins

6620 Southpoint Dr., Suite 501

Jacksonville, FL 33216

800-950-4568

dwiggins@linds.com

www.linds.com

Lind Shoe Company supplies USBC-approved pins, house

shoes and balls, essential items for pro shops. No-hassle

warranty on all products. Contact us at sales@linds.com.

Kahn Air Conditioning, Inc.

Mike Carson

19434 Business Center Dr.

Northridge, CA 91324

818-886-2600

mcarson@kahnair.com

www.kahnair.com

MillerCoors

Jeff Colton

(949) 278-9875

Jeffrey.Colton@millercoors.com

Mischel & Company

Bowling & Entertainment Centers - Full-Service

Brokers, Appraisers and Financial Advisors

Ken Mischel

37 Tunapuna Lane

Coronado, CA 92118

619-423-2001

Fax: 619-423-7850

Murrey International, Inc.

Bill Snoberger

14150 S. Figueroa St.

Los Angeles, CA 90061

Ph: 310-532-6091

www.murreyintl.com • sales@murreyintl.com

National Planning Corporation

Vayle Floria

752 Town and Country Road

Orange, CA 92868

714-750-3090 ext. 110

Fax: 714-750-3091

vayle.floria@natplan.com

Pepsi

Greg Copeland

27717 Aliso Creek Rd.

Aliso Viejo, CA 92656

949-643-5743

greg.copeland@pepsi.com

QubicaAMF

Joe Roussin

190 S. Summertree Road

Anaheim Hills, CA 92807

714-974-9436

jroussin@qubicaamf.us

www.qubicaamf.com

QubicaAMF, the leader in new bowling center develop.m.ent and

existing center modernization, bowling equip.m.ent and support

services.

Switch Bowling and Billiards LLC

James Borin

1025A Avenue M

Grand Prairie, TX 75050

972-679-4824

james@switchbowling.com

Switch Bowling offers the latest technology and highest quality

production methods. Check us out on www.switchbowling.com.

US Bowling Corporation/

US Steltronic

Mark Marchido

5480 Schaefer Avenue

Chino, CA 91710

909-287-0712

Fax: 909-287-0718

mark@usbowling.com

VISTAR

Dan Walsh

1975 E. Locust St. #B

Ontario, CA 91761

909-673-1780

dwalsh@pfgc.com

www.vistar.com

Western Bowling Proprietors' Insurance

Larry Linder

1535 E. Shaw Street, Suite 100

Fresno, CA 93710

800-200-9998

Fax 559-227-4461

Western Pacific Bowling Supply

Chuck Sager / Lee Haxton

1216 W. Grove Avenue

Orange, CA 92865

714-974-1733

chuck@wpbowling.com
---
P A G E 4

President's Perspective

As president of our association, I made the move this year to bring

our annual meeting back to Southern California. In the past, we held it

in conjunction with the Western States Super Trade Show in Northern

California, but Southern California attendance was very poor lately

and we really need more proprietors to attend our annual meeting.

I am reaching out this year to all of you to plan to attend this

important once-a-year event. We will be hosting it on Wednesday,

Nov. 10, at the Disneyland Hotel at Disney's California Adventure in Anaheim. The event

will include breakfast, annual meeting, guest speaker on customer service, lunch and tables

for our Business Partners to show their products offered to you year round.

The best part for you in attending is the fact that it will be free.

In hope that we can get good numbers for the event, I decided that we would raise money

for all proprietors to attend. In addition, we will have a gift for all who attend. Complete

information should have been sent to everyone already, but I'm sure we will sending it out

again.

Please mark this down, as attendance is very important to me, and I would like all of you

to meet your board members that make the BCSC operate.

The Grand Prix bowling program will come to an end this month with a great Awards

Banquet at Knott's Berry Farm. This will end 20+ years of a junior program that has lost

some steam the past few years. We thank everyone that has helped and participated with the

program, and let's hope we can find something comparable for the future.

Tom Cristi

President

Bowling Centers of Southern California

Financial Re-Regulation Has Interchange Provision

Dodd-Frank—the Wall Street Reform and Consumer Protection Act— a significant

re-regulating of the financial services industry, was signed by President Barack Obama July

21. Among its provisions, the so-called Durbin Amendment requires the Federal Reserve to

determine "reasonable" interchange fees for credit card transactions. Also, merchants are

allowed to offer discounts for forms of payment other than credit cards without penalties being

assessed by credit card companies.

B C S C N E W S L E T T E R
---
V O L U M E 1 4 , I S S U E 8

P A G E 5

Executive Director's Report

As a new bowling season begins, I am looking both

backwards to the final hurrah of our Grand Prix program

and forward to the new league season and to the new

programs that we will develop over the next months and

seasons ahead.

As to Grand Prix, we finished the program with more

than 200 young So Cal bowlers in competition at the state

finals. The setting was the behemoth Brunswick West

Covina, and boy what a day we had! The day was filled

with great sportsmanship and camaraderie. And, we can't

forget great service. The team at BWC did an outstanding

job taking care of the bowlers and the add'l 400+ guests

that were in attendance.

Even though there were many that are disappointed this

program had to end, many are hopeful that we can find

new and more relevant ways to entice youth to experience

the thrill of bowling competition.

Do we have specific program in mind yet No. Do we need

your help in working together to put that next big thing together.

BCSC E.D. gets acquainted with Buddha's

belly during dinner at Bowl Expo.

Yes! Remember, even the best plan on paper means absolutely nothing if there is no support

from you, our members. Nothing successful happens here, without you.

We do look forward to our annual (and final) Grand Prix awards banquet dinner, Aug. 21 at

Knott's Berry Farm. It's not too late to become a table sponsor, by the way. All the money will

go into the scholarship fund for our kids.

As we say goodbye to our Grand Prix program, our hats here at BCSC are off to those of

you who contributed so much to help build youth bowling and to lend a hand to kids setting

out on their college careers. This year the Foundation has provided more than $50,000 in

scholarships to more than 70 kids. Accumulatively, the Foundation has given more than

$500,000 in scholarships.

This is an amazing accomplishment for an amazing association.

I believe participating proprietors, managers, youth coordinators and staff can hold their

heads up high knowing that this program ended with dignity, grace and style befitting to the

Grand Prix legacy.

Scott Frager

Executive Director

Bowling Centers of Southern California
---
P A G E 6

March of Dimes

Every day, thousands of babies are born too soon, too

small and often very sick. I'm walking in the March for

Babies because I want to do something about this. And I

need your help.

Please support my walk. Making a secure donation is

easy: just click the 'donate now' button on this page. Thank

you for helping me give all babies a healthy start!

The mission of March of Dimes is to improve the health

of babies by preventing birth defects, premature birth, and

infant mortality.

Your gift will support March of Dimes research and

programs that help moms have full-term pregnancies and

babies begin healthy lives. And it will be used to bring comfort and information to families with a

baby in newborn intensive care.

Was notified today that we can accept credit cards including American Express. Link to website

is as follows: www.marchforbabies.org/bob_herzog

Marketing Tip

How do you market to your bowlers

To the left is how Santa Clarita Lanes

lets their bowlers know what they're

offering. The center features its best

league in the concourse area of the

bowling center where bowlers can't miss

but to see the products/programs they're

offering.

Is your center reaching out to your

bowlers the same way

Certificate of Appreciation

University of California, Santa Barbara recently

sent the Foundation of BPASC a Certificate of

Appreciation for the support of their students through

our Grand Prix Scholarship Program.

Scholarship monies bowlers accumulate

throughout the years help them with options to

achieve their academic goals.

This could not have been done without our

centers' participation. Thank you.

B C S C N E W S L E T T E R
---
P A G E 10

28th Annual Golf Tournament

This year's annual golf tournament was held on July 28, 2010 at Black Gold Golf Club.

The weather was perfect, the course was well organized, the food was delicious and

everyone had a great time. We had over 60 golfers and attendees for dinner. Big thanks

go out to Pepsi and MillerCoors for providing the refreshments, Dippin' Dots for the

ice cream, South Point Hotel & Casino for sponsoring the cocktail hour and

Coast Casinos for sponsoring the golf carts. And of course, thank you to all those for

attending. We hope to see you again next year.

B C S C N E W S L E T T E R
---
V O L U M E 1 4 , I S S U E 8 P A G E 11
---
V O L U M E 1 4 , I S S U E 8 P A G E 13

Fun Facts: In a recent

survey, BCSC asked its

members which top 3

methods do you prefer

getting your BCSC news/

info regarding programs,

services and events. The

result (chart on the right)

says most prefer email and

the newsletter.

Calendar

September 2010

Sun Mo Tue We Thu Fri Sat

1 2 3 4

5 6 7 8 9 10 11

12 13 14 15 16 17 18

19 20 21 22 23 24 25

26 27 28 29 30

November 2010

Sun Mo Tue We Thu Fri Sat

1 2 3 4 5 6

7 8 9 10 11 12 13

14 15 16 17 18 19 20

21 22 23 24 25 26 27

28 29 30

Sept. 7: Angels merchandise and optional game ticket due

Sept. 8: San Bernardino/Riverside County Regional Meeting

Location TBD

Nov 7-9: BCSC Board Retreat, Disney's Californian Adventure

Hotel & Spa

Nov. 10: BCSC Annual Meeting, Disney's Californian

Adventure Hotel & Spa
---
P A G E 14

Funny Money: No Joke for Small-Business Owners

Counterfeit cash cuts into profits at firms, many of which are already struggling in the tight

economy, and puts pressure on prices, but

the fake bills can be hard to spot with an

untrained eye, and sophisticated digital

printers have made it easier for criminals to

create higher-quality bad bills, faster.

The problem appears to be growing. The

Secret Service, which is in charge of

investigating and preventing counterfeiting,

said it helped remove from circulation

more than $182 million in fake U.S. currency

in the fiscal year that ended Sept. 30,

2009. That's more than double the amount in fiscal 2008.

Cash-based businesses such as bowling centers, gas stations, liquor stores, fast-food restaurants,

convenience stores and mom-and-pop grocery stores are obvious targets. Criminals try to get

around authorities in several ways. Experts say bills printed on unofficial paper can be coated with

hairspray that can fool special pens meant to detect legitimate currency paper. Higher denomination

fakes often are printed on real, lower-value bills that have been bleached clean of ink,

according to Jim Smith, senior vice president of sales and marketing at UVeritech Inc., a Glendora

company that makes and sells fraud-prevention products.

Just last month, authorities in San Diego broke up what they called "one of the most organized

counterfeiting operations" ever discovered in the county, which they said passed more then

$100,000 worth of fake $100 bills at local businesses. The fakes started out as real $1 bills.

Small businesses can fight back by teaching employees how to spot bogus bills: Posters and

other resources are online at http://www.newmoney.gov. Countertop UV machines can cost $100

or less. Some machines can also detect micro-printing, watermark and magnetic security features.

Hand-held UV pens are even less expensive.

WANTED: A Few Good Men and Women

The BPAA Nominating Committee will be conducting interviews

during the Bowling Summit in January 2011 for anyone

interested in serving as an officer of BPAA or serving on BPAA's

Board of Directors. For more info, please call Scott Frager at

(818) 789-0900 or email scottf@socalbowling.com.

Welcome, New Member

76-lane Sunset Station, under the management of Jim Welch, has joined BCSC. Sunset joins

Red Rock Lanes, Texas Station and Santa Fe Station as full members. We hope our SoCal centers

will help drive sweeper business to our Vegas bowling centers.

B C S C N E W S L E T T E R
---
V O L U M E 1 4 , I S S U E 8

P A G E 15

BCSC BOARD OF DIRECTORS

TOM CRISTI

President

Santa Clarita Lanes

21615 W. Soledad Canyon Rd.

Santa Clarita, CA 91350

P: 661-254-0540

F: 661-254-7562

scl4usc@aol.com

DAN MUELLER

Vice President

Buena Lanes

1788 S. Mesa Verde

Ventura, CA 93003

P: 805-656-0666

F: 805-656-0774

buenalanes1@earthlink.net

GARY FORMAN

Secretary / Treasurer

Fountain Bowl

17110 Brookhurst St.

Fountain Valley, CA 92708

P: 714-963-7888

F: 714-965-1158

gcf@fountainbowl.com

BRYAN ALPERT

Pickwick Bowl

921 W. Riverside Dr.

Burbank, CA 91506

P: 818-842-7188

F: 818-845-5082

balpert@pickwickgardens.com

MICKEY COGAN

Gable House Bowl

22501 Hawthorne Blvd.

Torrance, CA 90505

P: 310-378-2265

F: 310-378-6158

mcghb@aol.com

NICOLE ELLISON

Del Rosa Lanes

1499 E. Highland Ave.

San Bernardino, CA 92404

P: 909-886-4675

F: 909-883-4665

nicole@delrosabowl.com

CRAIG GOODMAN

Santa Clarita Lanes

21615 W. Soledad Canyon Rd.

Santa Clarita, CA 91350

P: 661-254-0540

F: 661-254-7562

craiggnla@dslextreme.com

DINA FINK

Buena Lanes

1788 S. Mesa Verde

Ventura, CA 93003

P: 805-656-0666

F: 805-656-0774

buenabowler@aol.com

JOHNNY HUMBLE

Kearny Mesa Bowl

7585 Clairmont Mesa Blvd.

San Diego, CA 92111

P: 858-279-1501

F: 858-279-8693

johnnyhumble@hotmail.com

BILL MOSSONTTE

Mission Hills Bowl

10430 Sepulveda Blvd.

Mission Hills, CA 91345

P: 818-361-1221

F: 818-361-0321

missionbowl@verizon.net

SCOTT PODDIG

Harley's Camarillo Bowl

305 Arneill Rd.

Camarillo, CA 93011

P: 805-482-0747

F: 805-987-5170

cambowlscott@yahoo.com

DOUG SVELA

Gage Bowl

3477 E. Gage Ave.

Huntington Park, CA 90255

P: 323-587-3211

F: 323-587-3531

gagebowl@sbcglobal.net

Bowling Centers of Southern California

13245 Riverside Dr. Suite 501

Sherman Oaks, CA 91423

Scott Frager, Executive Director

scottf@socalbowling.com

Victoria Tahmizian, Office Administrator

bcsc@socalbowling.com

Phone: 818-789-0900

Fax: 818-783-2874

E-mail: bcsc@socalbowling.com