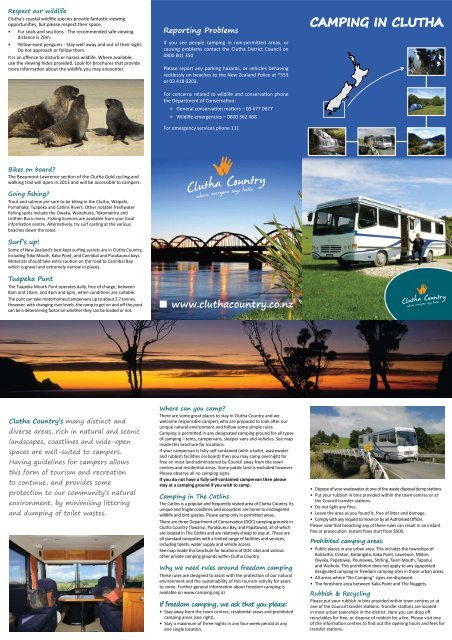 Camping-in-Clutha-Brochure.pdf - Clutha District Council
Camping-in-Clutha-Brochure.pdf - Clutha District Council
Camping-in-Clutha-Brochure.pdf - Clutha District Council
SHOW MORE
SHOW LESS
Create successful ePaper yourself
Turn your PDF publications into a flip-book with our unique Google optimized e-Paper software.
Respect our wildlife

Clutha's coastal wildlife species provide fantastic viewing

opportunities, but please respect their space.

• Fur seals and sea lions - The recommended safe viewing

distance is 20m.

• Yellow-eyed penguins - Stay well away and out of their sight.

Do not approach or follow them.

It is an offence to disturb or harass wildlife. Where available,

use the viewing hides provided. Look for brochures that provide

more information about the wildlife you may encounter.

Reporting Problems

If you see people camping in non-permitted areas, or

causing problems contact the Clutha District Council on

0800 801 350

Please report any parking hazards, or vehicles behaving

recklessly on beaches to the New Zealand Police at *555

or 03 418 0203.

For concerns related to wildlife and conservation phone

the Department of Conservation:

• General conservation matters – 03 477 0677

• Wildlife emergencies – 0800 362 468

For emergency services phone 111

CAMPING IN CLUTHA

Bikes on board

The Beaumont-Lawrence section of the Clutha Gold cycling and

walking trail will open in 2013 and will be accessible to campers.

Going fishing

Trout and salmon are sure to be biting in the Clutha, Waipahi,

Pomahaka, Tuapeka and Catlins Rivers. Other notable freshwater

fishing spots include the Owaka, Waitahuna, Tokomairiro and

Leithen Burn rivers. Fishing licences are available from your local

information centre. Alternatively, try surf casting at the various

beaches down the coast.

Surf's up!

Some of New Zealand's best kept surfing secrets are in Clutha Country,

including Toko Mouth, Kaka Point, and Cannibal and Purakaunui bays.

Motorists should take extra caution on the road to Cannibal Bay

which is gravel and extremely narrow in places.

Tuapeka Punt

The Tuapeka Mouth Punt operates daily, free of charge, between

8am and 10am, and 4pm and 6pm, when conditions are suitable.

The punt can take motorhomes/campervans up to about 2.7 tonnes.

However, with changing river levels, the ramp to get on and off the punt

can be a determining factor on whether they can be loaded or not.

• www.cluthacountry.co.nz

Clutha Country's many distinct and

diverse areas, rich in natural and scenic

landscapes, coastlines and wide-open

spaces are well-suited to campers.

Having guidelines for campers allows

this form of tourism and recreation

to continue, and provides some

protection to our community's natural

environment, by minimising littering

and dumping of toilet wastes.

Where can you camp

There are some great places to stay in Clutha Country and we

welcome responsible campers who are prepared to look after our

unique natural environment and follow some simple rules.

Camping is permitted in any designated camping ground for all types

of camping – tents, campervans, sleeper vans and vehicles. See map

inside this brochure for locations.

If your campervan is fully self contained (with a toilet, wastewater

and rubbish facilities on-board) then you may camp overnight for

free on most land administered by Council away from the town

centres and residential areas. Some public land is excluded however.

Please observe all no camping signs.

If you do not have a fully self-contained campervan then please

stay at a camping ground if you wish to camp.

Camping in The Catlins

The Catlins is a popular and frequently visited area of Clutha Country. Its

unique and fragile coastlines and ecosystem are home to endangered

wildlife and bird species. Please camp only in permitted areas.

There are three Department of Conservation (DOC) camping grounds in

Clutha Country (Tawanui, Purakaunui Bay, and Papatowai), all of which

are located in The Catlins and are relatively cheap to stay at. These are

all standard campsites with a limited range of facilities and services,

including toilets, water supply and vehicle access.

See map inside this brochure for locations of DOC sites and various

other private camping grounds within Clutha Country.

Why we need rules around freedom camping

These rules are designed to assist with the protection of our natural

environment and the sustainability of this tourism activity for years

to come. Further general information about freedom camping is

available on www.camping.org.nz

If freedom camping, we ask that you please:

• Stay away from the town centres, residential areas and prohibited

camping areas (see right).

• Stay a maximum of three nights in any four-week period at any

one single location.

• Dispose of your wastewater at one of the waste disposal dump stations.

• Put your rubbish in bins provided within the town centres or at

the Council transfer stations.

• Do not light any fires.

• Leave the area as you found it, free of litter and damage.

• Comply with any request to move on by an Authorised Officer.

Please note that breaching any of these rules can result in an instant

fine or prosecution. Instant fines start from $500.

Prohibited camping areas:

• Public places in any urban area. This includes the townships of

Balclutha, Clinton, Kaitangata, Kaka Point, Lawrence, Milton,

Owaka, Papatowai, Pounawea, Stirling, Taieri Mouth, Tapanui

and Waihola. This prohibition does not apply to any signposted

designated camping or freedom camping sites in those urban areas.

• All areas where "No Camping" signs are displayed.

• The foreshore area between Kaka Point and The Nuggets.

Rubbish & Recycling

Please put your rubbish in bins provided within town centres or at

one of the Council transfer stations. Transfer stations are located

in most urban townships in the district. Here you can drop off

recyclables for free, or dispose of rubbish for a fee. Please visit one

of the information centres to find out the opening hours and fees for

transfer stations.
---
Clutha Gold Trail

indicative route

1

Waihola:

Lake Waihola Holiday Park, 03 417 8908, dump station,

enquiries@holidayparknz.co.nz, www.holidayparknz.co.nz

7

2

Taieri Mouth:

Taieri Mouth Beach Holiday Camp, 67 Moturata Rd, 027 890 2346.

6

5

8

1

2

3

4

Milton:

Taylor Park Camping Ground, Main Rd, 03 417 8109, dump station.

Balclutha:

Balclutha Motor Camp, 56 Charlotte St, 03 418 0088, dump station $5 or

guests free, balcluthacamp@hotmail.com, www.balcluthamotorcamp.co.nz

3

$

Clinton:

Public dump station, Triangle Reserve on Anzac St, free

$

4

5

6

Tapanui:

Black Gully Recreation Reserve, 03 204 2187 or 027 234 1002

Tapanui Motor Camp, Northumberland St, 03 204 8212 or 0274 952

795, dave@tapanuimotorcamp.com or davescott@slingshot.co.nz,

www.tapanuimotorcamp.com.

Free public dump station, Bushyhill Street

9

10

7

8

Lawrence-Beaumont:

The Beaumont Holiday Park, 1987 Beaumont Highway (SH8), 03 485

9431, dump station free for guests, bookings@beaumonthotel.co.nz,

www.beaumonthotel.co.nz

Gold Park Motor Camp, 1 Harrington St, 03 485 9850,

southern.shearing@xtra.co.nz

Free public dump station, SH8, Lawrence, across from Police Station.

16

12 11

13

14

15

9

Kaitangata:

Kaitangata Riverside Motor Camp, 20 Water St, 03 413 9219,

dump station.

Clutha I-SITE Visitor Centre

4 Clyde St, Balclutha

Ph: 03 418 0388

Fax: 03 418 1877

clutha.vin@cluthadc.govt.nz

Catlins Information Centre &

Owaka Museum

10 Campbell St, Owaka

Ph/Fax: 03 415 8371

catlinsinfo@cluthadc.govt.nz

19

18

Milton Information Centre

53 Union St, Milton

Ph/Fax: 03 417 7480

miltoninfo@xtra.co.nz

17

Toilets

Fuel

Dump Station

$ ATM

Prohibited non-urban

camping areas

Lawrence Information Centre

& Museum

17 Ross Place, Lawrence

Ph/Fax: 03 485 9222

lawrence.infocentre@xtra.co.nz

Main Touring Route

Distance in Kilometres

Southern Scenic Route

Other Touring Roads

Railway

Native Forest

Plantation

Tramping &

Walking Tracks

Please note, public places in urban areas, as well as anywhere else 'No

Camping' signs are displayed are also prohibited camping areas.

Tapanui Service Centre,

Information Centre & Library

1 Suffolk St, Tapanui

Ph: 03 204 8306

Fax: 03 204 8302

tapanui.info@cluthadc.govt.nz

10

11

12

13

14

15

16

17

18

19

The Catlins:

Kaka Point Camping Ground, 39 Tarata St, 03 412 8801, dump station,

kakapoint@hotmail.com, www.kakapointcamping.co.nz

YHA Catlins Coast and Camp Ground, corner Ryley and Clark streets,

Owaka, 03 415 8333, stay@thomascatlins.co.nz, dump station free for

guests, $5 non-guests.

Catlins Inn, 21 Ryley St, Owaka, 03 415 8350, dump station,

catlinsinnowaka@xtra.co.nz

Free public dump station, Inn St, Owaka

Keswick Park Camping Ground, Park Lane, Pounawea, 03 419 1110,

dump station, stay@pounawea.co.nz, www.pounawea.co.nz

Pounawea Motor Camp, Park Lane, pounawea.motor.camp@xtra.co.nz,

03 415 8483, dump station.

Newhaven Holiday Park, 324 Newhaven Rd, Surat Bay, 03 415 8834,

newhaven@ihug.co.nz, dump station free for guests.

DOC Tawanui Campsite, Morris Saddle Rd, www.doc.govt.nz

DOC Purakaunui Bay Campsite, Purakaunui Bay Rd, www.doc.govt.nz

DOC Papatowai Campsite, Main road, www.doc.govt.nz

Whistling Frog Cafe & Holiday Park at McLean Falls, 7 Rewcastle Rd,

Chaslands, 03 415 8338, dump station free for guests, $5 non guests,

stay@catlinsnz.com, www.catlinsnz.com

NB: Some private dump stations may incur a fee. Prices correct at 1 December 2012