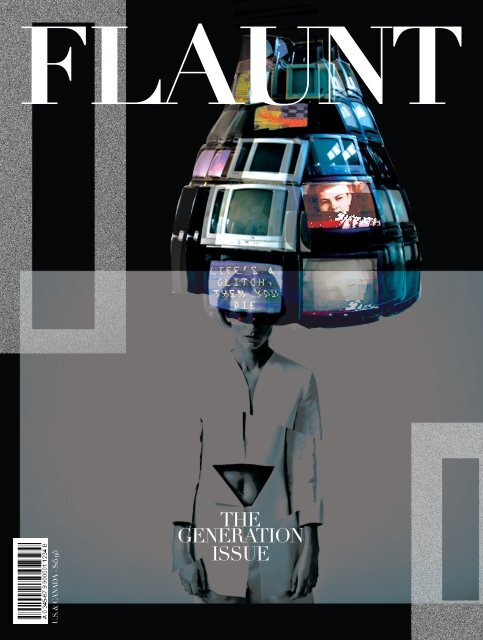 FLAUNT - The Generation Issue
FLAUNT is the American fashion, culture magazine. The featured FLAUNT issue, themed as "The Generation Issue", narrates the idiosyncrasies of our current Y Generation from the digital age to our cultural icons. Compassing how we are being consumed by technology and regressing from it. This publication was created as a collaborative project for a Current Trends and Forecasting class at the Savannah College of Art and Design. It is a reproduction of our own FLAUNT magazine and is not an official FLAUNT publication.
FLAUNT is the American fashion, culture magazine.
The featured FLAUNT issue, themed as "The Generation Issue", narrates the idiosyncrasies of our current Y Generation from the digital age to our cultural icons. Compassing how we are being consumed by technology and regressing from it.

This publication was created as a collaborative project for a Current Trends and Forecasting class at the Savannah College of Art and Design. It is a reproduction of our own FLAUNT magazine and is not an official FLAUNT publication.
SHOW MORE
SHOW LESS
Create successful ePaper yourself
Turn your PDF publications into a flip-book with our unique Google optimized e-Paper software.
FLAUNT

U.S. & CANADA - $15.95

THE

GENERATION

ISSUE
---
134

SPRING 2014 Fashion Preview

FLAUNT

FLAUNT FLAUNT

PHOTOGRAPHED BY:

PAT BOMBARD "ANARCHY LOOKS BEST IN SPRINGTIME,"

BREANNA EDWARDS "LIFE'S A GLITCH AND THEN YOU DIE"

KELIANNE "IN THE FUTURE WE'LL ISSUE TAXES FOR OUR GOOD LOOKS"
---
BROOKE

ATWOOD

collection
---
CONTENTS

Clockwise from left:

Behind the Scenes from

"WIPE THAT SMILE OFF YOUR FACE"

43 GALLERY GIRL Clothing Takes a Fine Art Spin

47 MARILYN MONROE An American Icon

59 IF YOU WANT SOMETHING DONE RIGHT, DO IT YOURSELF

A Conversation with Joshua McLeold

Behind the Scenes from

"WIPE THAT SMILE OFF YOUR FACE"

Behind the Scenes from

"LIFE'S A GLITCH AND THEN YOU DIE"

65 THE GREATEST JOY AND THE PROFOUNDIST PAIN

85 ANARCHY IS BEST IN THE SPRINGTIME RIH-TRANSLATE

103 WIPE THAT SMILE OFF YOUR FACE

A Spotlight on Designer, Brooke Atwood

121 IN THE FUTURE WE'LL ISSUE TAXES FOR OUR GOOD LOOKS

135 GENERATION Y: In the Midst of a Youthquake

139 LIFE'S A GLITCH AND THEN YOU DIE

161 TRANCENDENCE Going Beyond the Limits of Ordinary Experience

167 ANDY WARHOL Digital Art Pioneer

173 ALL SIGNS LEAD TO HERE Lawrence Murray of Genius Aesthetics

183 THE FUTURE OF FASHION

How 3D Printing is Revolutionizing the Fashion Industry

189 PHOTOGRAPHY IN THE DIGITAL AGE...A'INT BAD

191 PHONG DANG PDK Sounds
---
CONTENTS

Clockwise from left:

Behind the Scenes from

"WIPE THAT SMILE OFF YOUR FACE"

Behind the Scenes from

"WIPE THAT SMILE OFF YOUR FACE"

Behind the Scenes from

"ANARCHY IS BEST IN THE SPRINGTIME"

Behind the Scenes from

"LIFE'S A GLITCH"
---
FLAUNT THE GENERATION ISSUE 134

EDITOR IN CHIEF

WRITERS

SKYE SIENKIEWICZ

MORGAN MCCARTY

BUSINESS DIRECTOR

DIGITAL

CREATIVE DIRECTOR

LILY MARSHALL

TENISHA CLARKE

SKYE SIENKIEWICZ

LILY MARSHALL

JILL CARVAJAL

JILL@FLAUNT.COM

FLAUNT.COM

CONTROLLER

STYLE DIRECTOR

BUSINESS STRATEGIST

LUIS BARAJAS, SR.

TENISHA CLARKE

PHOTGRAPHERS

MAURIZIO MARCHIORI

CULTURAL DIRECTOR

MORGAN MCCARTY

PAT BOMBARD

KELIA ANNE MACCLUSKY

BREANNA EDWARDS

+1 917 826 6979

MAURIZIO@FLAUNT.COM

HEADQUARTERS

LOS ANGELES

FASHION DIRECTOR

LAWRENCE MURRAY

WEB DEVELOPER +

1422 N. HIGHLAND AVE.

MUI-HAI CHU

KB ANSARI

STRATEGIST

LOS ANGELES, CA 90028

ART DIRECTOR

NIGEL ZEFF

ARTISTS & ILLUSTRATORS

MADISON TAYLOR

FRANCISCO SALVADO

DIGITAL APPLICATIONS

+1 323 836 7053

INFO@FLAUNT.COM

MANAGING EDITOR

WAYLON PEELE

NEW YORK

ANTHONY MILLER

DESIGNERS

365 W. 20TH ST, 17-B

ASSOCIATE EDITORS

SWAY BENNS

E. RYAN ELLIS

BROOKE ATWOOD

RENATA DABDOUB

LEAH MICHELLE SMITH

JOSHUA MCLEOD FOR

COMMUNICATIONS

DAN BARTON

+1 323 836 1946

NEW YORK, NY 10011

+1 212 645 9950

FAX: +1 212 675 3551

ASSOCIATE FASHION

EDITOR

ZAQUAN CHAMP

VICTOR ALEXANDER

LAWRENCE MURRAY

MADISON TAYLOR

NATIONAL +

INTERNATIONAL

DISTRIBUTION

FOUNDERS

LUIS BARAJAS

JIM TURNER

LONG NGUYEN

EDITOR AT LARGE

MAKEUP ARTISTS

CURTIS CIRCULATION

JOHN-PAUL PRYOR

ASHLEY LO

COMPANY

FOLLOW US

ASSISTANT EDITOR

ELENI SOLOMOU

MOSI MCKIE

HANA HYMAN

+1 201 634 7400

CIRCULATION INQUIRIES

INFO@FLAUNT.COM

@FLAUNTMAGAZINE
---
CONTRIBUTORS

(FROM LEFT)

ANTHONY MILLER

SKYE SIENKIEWICZ

KELIANNE

PAT BOMBARD

LILY MARSHALL

BREANNA EDWARDS

HANA HYMAN

TENISHA CLARKE

MOSI MCKIE

ASHLEY LO

MORGAN MCCARTY

33
---
EDITOR'S LETTER

I am a pioneer with nothing to lose,

in search of opportunities.

We all are.

We Connect.

Love,

Skye Ashley

Skye Ashley

37
---
ART

GALLERY

GIRL

Clothing takes a fine-art spin with

painterly prints & bold brushstrokes

WRITTEN BY TENISHA CLARKE

ISA ARFEN

style.com
---
"One should either be a work of art, or

wear a work of art," are great words from the late

Oscar Wilde that have truly come to fruition in a number

of collections that have come down the runway in recent

seasons. The merging of art and fashion has definitely

progressed from an early history where fashion was only

depicted in art, especially during the Renaissance when

fashion as a medium played an extremely significant role. Art

and fashion began intermixing during this period as artists

used fashion a great deal in paintings, and eventually used

their skills to create and design textiles and embroideries,

like in the case of artist Antonio Pisanello. Today people are

highly influenced by artistic garments themselves, but by

the cultural aspects of the art pop movement as adopted

by icons such as Jeremy Scott and even singer/singwriter

Lady Gaga.

The spirit of collaboration between artists and fashion

designers can be seen as early as the late 30s, when

Elsa Schiaparelli and many of her Surrealist artist-friends

worked to produce a number of designs for her collections.

Elsa went on to work with artists like Salvador Dalí on the

shoe hat. She also created the Lobster dress and the Tear

Illusion dress with appliques provided by Jean Cocteau.

.

Garments as canvases, the true merging of traditional art

and the fashion industry, date back as far as 1965. Yves

Saint Laurent produced his autumn/winter collection of

A-line shifts that year in collaboration with Piet Modrian.

Since then, art and fashion have continued to have a longterm,

close, working relationship with one another – almost

to the point where its hard to differentiate between the

two at times.

PRADA SS14

style.com

Recently, we've seen a tremendous collision in art and

fashion where artists and fashion designers have come

together in a number of ways to merge the characteristics

of each respective category through their collaborations. In

2008, artist Damien Hurst designed for Levi's, and Fabrizio

Plessi and Louis Vuitton created the limited edition Molten

bag that sold for nearly $50,000. From 2010-2012 we saw

Rosson Crow and Zac Posen, Meret Probst for Fendi, Matt

Groeninh and Comme des Garcons, illustrator Keith Haring

few Nicholas Kirkwood, and the Jimmy Choo capsule

collection with Rob Pruitt just to name a few.

The emerging "gallery girl" trend was prevalent in Resort

2014 shows by designers such as Milly, Nicole Miller,

Cynthia Rowley, Rachel Comey and Cédric Charlier, which

then trickled down into Spring 2014 shows. Large portraits

appeared in a number of artistic styles. Some were painted

or inked, while others were hand-drawn or enlarged

photo prints and classical paintings. Design houses such

as Chanel, Prada, Céline, Louis Vuitton, Dior, Jil Sander,

Christopher Kane, Versace, Calvin Klein Collection, Isa

Arfen, Giles, Andrew Gn, Giorgio Armani, Saint Laurent,

Vivienne Westwood, Jean-Charles de Castelbajac, Aquilano.

Rimondi, Paule Ka, and Antonio Marras incorporated cubist

portraits, street murals, freehanded painterly pantones,

daring brushstrokes and a fine art spin inspired by artists

like Picasso, Jeff Koons and Stephen Sprouse into their

collections.

CELINE SS14

style.com

44
---
Ed Feingersh

Marilyn with Chanel No.5, 1955/2003

Silver gelatin print
---
"When you speak

of the American

way of life,

everybody thinks

of chewing gum,

Coca-Cola and

Marilyn Monroe."

- Nedvela Magazine
---
ART

MARILYN:

An American Icon

WRITTEN BY MORGAN MCCARTY

Marilyn Monroe was an American star, but her charm

has captured the world's fascination with magnetic

appeal. "Marilyn: Celebrating an American Icon", is an

internationally traveling exhibition featuring dozens of

works owned by private collectors in Europe, Sotheby's

archives, European art galleries and the estates of artists

who interpreted the muse that was "Marilyn." Presented in

a variety of media including videos, photos and paintings,

the exhibition captures Marilyn's personage behind the

scenes and in the spotlight. The exhibit includes more

than 50 artists' works, in styles ranging from Alfred

Eisenstaedt's photography to Andy Warhol's Pop art.

It comes to no surprise that retrospectives such as this have

featured Marilyn as their subject of interest. It has been

nearly 50 years since her mysterious, and untimely death.

But look around: Her legend lives on, and more dazzlingly

than ever. The 1950's bombshell has developed into a 21stcentury

pop culture phenomenon, and in such a fashion

that Marilyn certainly would have appreciated. Helen of

Troy may have been the face that launched a thousand

ships, however when it comes to moving merchandise,

nobody can equate to the face of Marilyn Monroe. Those

platinum locks, the bright red lips, and that enviable

curvy figure have become a recognizable brand image

Dolce & Gabbana has captured Scarlett Johansson as

the cultural icon within their advertising campaigns.

and powerful marketing tool for artists and advertisers.

Marilyn via CGI within Dior ads. Magazine spreads have

continuously featured celebrities such as Lindsay Lohan,

Nicole Kidman, and even Rihanna having a "Marilyn

moment," on their covers. Commercial ventures for Marilyn

inspired product lines within Mac Cosmetics, Nova Wines

Inc., Betsey Johnson, Salvatore Ferragamo, and Dolce &

Gabbana have also been in the works ranging from tote

bags, and Monroe-motif dresses to Monroe themed wines

and postage stamps. Musicians such as Elton John have also

paid their homage to the icon through songs like "Candle

in the Wind." Contemporary artist, Seward Johnson, has

even immortalized Marilyn through a 26-foot-tall sculpture

depicting Monroe's iconic subway grate pose from "The

Seven Year Itch" located in Palm Springs, California.

Marilyn's infamy was amplified posthumously. But before

she became an established icon, she played the role

of "the muse." At the height of her acting career, she

captured the world's fascination through her noteworthy

roles on the big screen. Her comedic charm stood out as

the gold digging Lorelei Lee who sang "Diamonds Are

a Girl's Best Friend," in "Gentlemen Prefer Blondes." She

played the sultry but senseless blonde in "The Seven

Year Itch." In "Some Like it Hot," she displayed her vocal

talents as the sexy band singer. Her luminosity transcended

off the big screen into the hearts of the world's most

famous artists, musicians, and members of high society.

CONTINUED ON PG. 61

We have also seen Charlize Theron meeting up with

49
---
Peter Beard

Dead Elephant Book Diary, Marilyn

Monroe, 1971-2001

Photography/Mixed media on silver

gelatin print

Andy Warhol

Marilyn Diptych

1962

Acrylic paint on canvas
---
Marilyn Monroe

Cecil Beaton

Photographed in 1956

Marilyn Monroe

Being photographed by

Cecil Beaton
---
arilyn as the actress appears to have been lost in the minds

M

of the younger generation. She is enamored as something

completely different, as an image and an icon. Marilyn

has continually been misunderstood in this way and has

struggled fiercely with society's perception. She has been an innocent

victim of the Hollywood machine. The image we see of Marilyn was

a beautifully constructed façade from the dyed hair to her famous

"wiggle walk." Marilyn herself worked very hard to invent this image,

one that she later struggled deeply to escape. While she represents

everything that is glamorous about Hollywood, the disturbing story

of her private life represents the darkest side of fame. Born as the

plain-Jane Norma Jeane Mortenson, moving from foster home to

foster home, her childhood has been a tragic story of victimization

and sexual abuse. Her life behind the silver screen is consumed with

scars of abuse; the pain of psychotherapy; the betrayal by her third

husband, Arthur Miller; and the fierce determination to master her

art. Her shimmering blonde aura has merely been a glamorous

disguise for the abused, and lonely Marilyn, unseen by the world.

With her premature death at the age of 36, Marilyn has been

captured immortally as a personification of femininity, naïveté,

and sexuality. Decade after decade, Monroe continues to appear

in popular culture in different guises. In the 1960s she was Andy

Warhol's silk-screened muse; in the '80s she was the inspiration

behind Madonna's career-defining "Material Girl" video. More

recently, she is reimagined in the Golden Globe winning drama "My

Week With Marilyn" through the face of actress Michelle Williams,

the glamorous star of a Broadway musical in the NBC series "Smash"

and the alter ego of pop singer Nicki Minaj in the single "Marilyn

Monroe." While a myriad of celebrities including Christina Aguilera,

Gwen Stefani, and Lady Gaga have given a decent effort in capturing

the "MM" persona; there will never be another Marilyn Monroe.
---
PEOPLE

IF YOU

WANT SOMETHING

DONE RIGHT,

DO IT YOURSELF

A conversation with, Joshua McLeod of Victor + Alexander

PHOTOGRAPHED BY: BREANNA EDWARDS

WRITTEN BY TENISHA CLARKE

59
---
"Seriously, who wants to pay $150 for a

t-shirt?" While we all know there is quite

a percentage of people who don't mind

it, I'm sure those who prefer not to pay

that amount (or simply can't afford to)

are far greater. Joshua McLeod, founder

of the blog and online storefront Victor

+ Alexander, made it very clear that he

believes in living a life of high fashion

and glamour. But who says it has to be at

the expense of owning pricey designer

labels?

Labels are great and most certainly

have their place in the industry, but

with companies like H&M, Forever 21,

Zara and ASOS on the rise it's almost

impossible to differentiate between high

and fast fashion labels.

Even more so, there are tons of

individuals who have taken to the

art of DIY (Do It Yourself) fashion. In

conversing with Joshua and viewing his

blog and past and upcoming handbag

collections, I couldn't help but admire

the craftsmanship and dedication that

he puts into it all.

"Basically it all started with a Jack

Spade bag that I really needed in my

life," he says. "But the problem, like

so many other things I want, was that

it was too expensive. For all of my life

I've lived by my motto, "If I can't afford

it, then I can figure out how to make it.

And that's what I did." And there are so

many others doing it as well. The first

major project for Victor + Alexander, a

collection of vegan leather handbags,

launched in March of this year. Other

projects featured on the blog cover

a wide range of lifestyle categories

including style, home, art and travel.

Beyond the workroom of Victor +

Alexander, there are tons of other

project inspirations available from a

number of individuals who have blogs

and vlogs. Joshua mentioned some of

his personal favorites, which include Mr.

Kate, P.S. I Made This, Flax & Twine, and

Martha Stewart.

So the major question or concern I

think would be whether or not the DIY

craze poses a threat of some sort to the

fashion industry? Potentially. It most

certainly affects it, but not necessarily

in a negative way. If we're honest, a

majority of people are far too lazy to

go about making things on their own,

especially not an accessory or an entire

wardrobe.

Joshua and I proceeded to discuss the

matter and he believes that the projects

done by major DIYers will simply open

followers' eyes to big name designers

that they draw inspiration from. He puts it

in a rather relatable ontext. "If Alexander

Wang makes a pair of gold metallic harem

pants and I absolutely have to have

them, I make them. Then my followers

are directed towards the original, and

they look at his entire collection […] so

they simply buy it themselves. In the

long run, for me at least, its the high

fashion labels that inspire my DIYs." I

drifted off momentarily at this moment

just Imagining the amazing creation

that would be golden pants by Wang.

Um, yes please? Then we laughed off

the thought of DIYers mass-producing

designer quality clothing. That'll be the

day…

While I may never develop the skills

necessary to make half of the amazing

things that Joshua does, there is

something fascinating I think to us

all, young and old, about being selfsufficient

in any capacity.

Find out more about Joshua,

and Victor + Alexander at

www.victoralexanderco.com.
---
REGRESSION ri-gresh-uhn

the act of returning to a former, less

developed state

PHOTOGRAPHED BY MACKENSEY ALEXANDER

WRITTEN BY SKYE ASHLEY

65
---
"It's not where you

take things from,

it's where you take

things to."

68
---
ack

to basics

One must remember how to

regress back from the chaos of its

surroundings. In today's generation

of youth, we get consumed in its

initial advancements of technology.

This is when we look at the other

side of the spectrum of today's

generation Y and the Millennials. It

is here, that we have to provide an

environment where, Less is more;

we have to disconnect before

reconnecting, to pare back and strip

down for a more simplified look.

When transitioning back to

simplicity, where we just live off

the basics and essentials, a new

appreciation is fulfilled in looking

at the organic and raw space

surrounding you. It creates a

space to breathe, to retreat into

the confines of simplicity, bare yet

beautiful. As we get back to the

basics, a warm, natural monochrome

palette surface s, focusing more

on quality than quantity. Full

of emotional resonance, were

exposed to the heart of essence:

it honors the art of editing down

and follows in the footsteps of

intuition, which connects directly

with the spirit of self-reflection.

t
---
O

nce we begin to regress back, there is an emphasis on the importance of inner observation. We

no longer feel the media pressuring us on what to feel or think, our 'gut' feeling is back. As we

stem away from the other side of the spectrum of technology advancements, the transition to

day-to-day life occurs in finding happiness, compared to the everyday pressure of what needs to happen

next in order to get 'this,' done. Although it seems to be an organic and more 'raw' way of thinking

and living compared to others, were still learning and maintaining the priorities necessary to survive.

Money and time is what we collect to save up for meaningful content and experiences. Consumers are taking

this, to reward themselves with premium experiences and products. The increasing interest in the power of

the mundane, which is the cause of coexisting in harmony, and behavior are becoming the driving force for

innovation. Thus, the desire to reconcile a need to be alone, with a desire to find intimacy increases more

rapidly. As we relish in a redefined world of 'luxury,' powerful connections begin to resonate in the simplest

forms and create humble routines. It is this state that we as people, begin to feel like an individual again.

71
---
Our new found, or should I say, resurfaced priorities still lie in offering an emotional connection and an

opportunity allow them to reduce stress. The overall culture of the millennials and Generation Y, show strong

drives towards intimacy, however they tend to be so consumed in the digital age that they make no time for that

reaction to occur. Instead they resort to using technology to fulfill those needs, cutting out the initial human

interaction. Yes, regressing back to a more organic and simplistic nature of living does give us the need for

isolation and the reclaiming of space to be alone, however we still need and want interaction and someone to

share the experience with. Interacting with people in a natural environment also tends to come more naturally,

crazy concept right. We're so quick to jump to some type of electronic resource in order to communicate.

Designing around the basic actions and routines that we perform naturally, every day, is becoming an important

starting point for product development and consumer needs. Exploring mundanity in this environment is done

by seeing past the gloss to the truths behind your work. In doing so, consumers will respond to products that they

relate to their day-to-day experience. They respond to products that tap into daily routines and enhance the dayto-day

experience. This season, it explores the relationship between man and earth, becoming rooted as one,

once again. Giving homage to the Earth, 'mindfulness of the natural well-being is explored. Having lost ourselves

in the new generation and its advancements we must restore the sensitive balance of the primitive connections

to who and what, we are. It is there that we will find our individual identity and embrace natural interaction.

76
---
ANARCHY

IS BEST

IN THE

SPRINGTIME

PHOTOGRAPHED BY PAT BOMBARD WRITTEN BY SKYE ASHLEY

STYLED BY TENISHA CLARKE

85
---
"MITRA" BODY CHAIN

MELANIE MCPHERSON

TURBAN, HOOP EARRINGS,

AND SHORTS

STYLIST'S OWN
---
"MITRA" BODY CHAIN

MELANIE MC PHERSON

SHOES ZARA

TURBAN, EARRINGS,

SHORTS
---
"MITRA" BODY CHAIN

MELANIE MCPHERSON

TURBAN, EARRINGS, SHORTS

STYLIST'S
---
RIHtranslate

An influence to young women, fashion, music, and her

fans, Rihanna continues to translate what a strong,

powerful, unique and sexy, women is. The Barbadian

artist, success and confidence does not seem to cease.

On June 2, she will receive the Fashion Icon Award at the

2014 CFDA Fashion Awards at Lincoln Center.

Following incredible past recipients, such as Kate Moss

and Lady Gaga, the award will be a well-deserved honor,

underwritten by Swarovski. A presence well paid off,

Rihanna couldn't escape the front rows of Paris Fashion

week from Chanel to Gaultier, Dior, Givenchy, and of

course Balmain. The multi-talented artist is the new face

of high-end fashion label, Balmain, for Spring/ Summer

2014. The creative director himself, Olivier Rousteing,

described RiRi as an "icon."

She's done nothing except, prove that she is an icon.

Upon receiving the announcement, RiRi stated, "People

want to know who you are. Fashion is a clear indication,

a way to express your attitude, your mood." Although

the artist started her career in music, she's made such

a strong impact in the fashion world, not to mention

for all young women. This will follow after her cover of

Vogue this month, which is her third time on the cover.

It was the 10th anniversary of Vogue's shape edition in

2011, that Rihanna was first featured on the cover as the,

youngest black woman to appear on American Vogue.

Continued on pg. 94

89
---
"INDRA ARMOR RING,"

"STASIS" EARRINGS,

MELANIE MCPHERSON

SUNNIES & BANGLES

STYLIST'S OWN

CROCHET DRESS

FOREVER 21
---
"MARROW EARRINGS"

"INDRA ARMOR" RING

MELANIE MCCPHERSON

"PANDORA" BAG,

GIVENCHY

CUSTOMIZED JACKET,

BATHING SUIT BOTTOMS,

BODY CHAIN, STYLIST'S
---
HOOP EARRINGS, BODY CHAIN,

BANDEAU, & SKIRT,

STYLIST'S

"AEON CUFFS,"

"INDRA ARMOR"RING

MELANIE MCCPHERSON
---
SUNNIES & BANGLES,

STYLIST'S OWN

CROCHET DRESS,

FOREVER 21

"INDRA ARMOR RING,"

"STASIS" EARRINGS

MELANIE MCCPHERSON
---
C

ontinuing her journey to becoming a Fashion

Icon, she was featured in the 2012 '100 Most

Influential' that year. She then started designing

her collection with River Island, which is going on

to her 4th season. I consider this her formal influence in

fashion, it was in 2004 when she emerged as the R&B

pop princess that she began evolving fashion for young

women both black and white. She's one of the first artist

that represented and influenced the mainstream, street

culture of youth. As she evolved, street wear and ready

to wear evolved, even for men's fashion too.

It was in 2007, with the release of Umbrella, when

Rihanna began to find herself in fashion and style and

not just her 'Rihanna Navy' of fans. She allowed young

women to find what made them like a sexy powerhouse.

From here fashion, in both teenagers and young women

began to evolved into a refined edge, just as Rihanna

did. By 2008, she sported the chainmail corsets at

black tie events, with power-shouldered jumpsuits,

which quickly started trending along with the leather

hot pants on stage. Women were dressing sexier and

with confidence, which only continued to progress into

accepting racier dressed women as an icon.

RiRi was dominating that media and social scene in 2011,

as her onstage outfits also took the streets. We saw

leather straps, studs, fishnets, and heels, Rihanna was

showcasing her female sexuality as visual performance

for everyone. Shouldn't every woman feel strong and

confident enough to do the same. This wasn't about

sex or to flaunt it. It was something to idolize, to relish

in and see that those boundaries could be broken down.

94
---
Shortly after, we gained yet another respect for this

fashion icon, when she was the first mainstream

artist to show case the aesethetic, of the current

festival-attending teens. She mixed prints and colors

and metals, with oversized items and statement

jewelry. Today she still embodies the edgy style

but makes it into an ensemble by wearing Gucci,

Cavalli and Armani, while adding hipster high street.

A successful music career with number one hits,

multiplatinum albums, countless awards and loyal fans,

is the back bone to Rihanna's initial success. However,

as her fashion evolved, as well as influenced, so did her

tactics in the entertainment industry. She is a powerhouse,

"the HBIC."

From where she started ten years ago with her first lable,

to where is now, taking on several titles, is impressive

and empowering. Every young and grown women can

find an inspiring icon with Rihanna, even her reactions

to the media and how she handled her in past tangles.

Nothing held her back. I wouldn't say that roles are

reversing, however they are enhancing. Women have

always had that fire, confidence, and determination,

they just need someone to show them how to utilize it.

95
---
"MITRA" BODY CHAIN

"EZRA" RING

MELANIE MCCPHERSON

TURBAN, EARRINGS,

STYLIST'S
---
WIPE THAT

smile OFF

YOUR FACE

A SPOTLIGHT ON DESIGNER, BROOKE ATWOOD

PHOTOGRAPHED BY PAT BOMBARD

WRITTEN BY SKYE ASHLEY

103
---
LEATHER PATCHWORK TOP

& TULLE SKIRT,

BROOKE ATWOOD

SHOES, MODEL'S
---
LEATHER CUT OUT TOP,

LEATHER SHORTS.

BROOKE ATWOOD

LEATHER ANKLE

BOOTS,

ALEXANDER WANG
---
LEATHER PERFORATED

TOP, LEATHER SKIRT,

BROOKE ATWOOD

JEWELRY, STYLIST'S
---
LEATHER DRESS,

BROOKE ATWOOD

RINGS, MODEL'S
---
"there's

really

not

an option

to stop

and take

a breather,"

108
---
CHIFFON DRESS WITH

VELOUR SLEEVES,

BROOKE ATWOOD

JEWELRY, STYLIST'S
---
A

candid response from the designer,

Brooke Atwood, regarding what's

next with the growing demand of

her self-named label. She launched

Brooke Atwood two years ago in 2012, with the

intention to embrace her love affair with leather

and make an income doing it. The effortless,

yet edgy womenswear collection has been a

success and so has the ongoing journey to get

there.

Originally from Mississippi, Brooke

grew up being taught to sew various clothing

patterns by her grandmother. Although her

interest in fashion continued, she went on to

receive a Business Degree at the University of

Mississippi. It was at the age of 24, that the young

entrepreneur opened a clothing boutique in

Oxford. As a single woman and mother, with no

significant other to be a 'bread winner,' Brooke

saw no other option but to be her "own boss."

When asked about women's roles in modern

society, she believes that although women are

more empowered than before, both men and

women are equaling out and finally reaching the

same page, at home and in the business world.

Setting high goals, the designer's

personal determination and success

department never ceased. After three years of

retail, it was time for Brooke Atwood to follow

her true infatuation: Design. This brought her

to the city of Savannah, where she received an

MFA in Fashion Design at Savannah College of

Art and Design. Now moving onto her fourth

season, her collections are produced and sold

in showrooms in New York, as well as various

boutiques in the U.S. Upon her success, Brooke

continues to reside in Savannah, where she is

one of the first working fashion stylists in the

area, and designs at her in-home studio.

Since sketching is not her forte, she

typically creates two to three pieces that she

envisions and from there, builds off of those

to create the rest of her collection.Inspired

by traveling, music, live shows, and a fearless

attitude, her own effortless, rocker chic style is

evident in her designs. Being that trends isn't

something Brooke looks for when designing,

she likes to create pieces of longevity that can

be worn season after season.

Who needs a muse when your success

stems from designing for what defines you? It

seems that confidence and dedication are key

in the design world. In Brooke's perspective, it

never ends in fashion, as an emerging designer,

or any designer for that matter; there is never a

break during the design process. Currently, the

Brooke Atwood collection has hit runways at

the 2014 Capsule Trade Fair in New York, along

with Nashville Fashion week, and Savannah

Fashion week. Each show featured her 2014

Fall/Winter collection of 24 pieces, which the

designer related back to her roots in Mississippi

and where she is now, with western details of a

1975 rodeo prom Queen, meets New York.
---
"FASHION is

becoming

more PROGRESSIVE"

As more designers begin to emerge at a younger

age, fashion is becoming more progressive.

Looking into the future of the self-named label,

Brooke is working towards adding a smaller

capsule collection that is more sustainable, using

eco friendly leathers and with lower price points.

Being a new label on the scene, the hardest part

tends to be honing in on who your customer is

and who you want to be. There is always a need

to perfect and refine one's work, according to

Brooke; Of course there is, leather does so naturally.

111
---
CHIFFON DRESS WITH

VELOUR SLEEVES,

BROOKE ATWOOD

JEWELRY, STYLISTS
---
PERFORATED LEATHER

TOP, LEATHER SKIRT,

BROOKE ATWOOD

JEWELRY,

STYLIST'S OWN

WOOL COAT,

BROOKE ATWOOD

SUEDE ANKLE BOOTS,

GIUSEPPE ZANOTTI

TURBAN, JEWELRY,

SHEER STYLIST'S DRESS

WITH VELOUR SLEEVES,

BROOKE ATWOOD

STYLIST:

JEWELRY,

STYLIST'S TENISHA OWN CLARKE

SHOES, MAKEUP & HAIR:

STYLIST'S ASHLEY OWN LO
---
DRESS BY

LEAH MICHELLE SMITH
---
in the FUTURE we'll

ISSUE TAXES FOR

our GOOD LOOKS

PHOTOGRAPHED BY KELIANNE

WRITTEN BY SKYE ASHLEY

122
---
PREVIOUS PAGE:

NEOPRENE DRESS,

THIS PAGE:

NEOPRENE TOP AND

PANTS BY

RENATA DABDOUB

NEXT PAGE:

NEOPRENE DRESS,

RENATA DABDOUB
---
STREET

style

Current trends in Women's Street Style are continuing to evolve

throughout the season, consisting of different techniques

and styles that play with, graffiti and hyperreal bright prints.

Playing with various bright colors to layer and piece together,

creating a pop of art, as well as graphic details.

The graphic prints have a fruitful play that are inspired by

contemporary photography and the trend for Modernist

editorial design. Fashion is given a Pop Art style, with highly

saturated colors for an alternative update. Hyperreal is from

the postmodern philosophy, where what appears real and what

appears fiction are seamlessly blended together. Allowing

physical reality and virtual reality to mix and blend.

Graffiti paint gives abstract and conventional prints a

contemporary street-art feel. Arthouse techniques are

emerging from the runways, as a new graphic style that has

wide commercial appeal that can't be used for contemporary

patterns. Designers have embraced experimenting with spray

paint, mark-making, expressive strokes and abstract patterns,

along with the layered colors, to create a fun piece. This creates

a playful twist in the graphics and shapes seen in Street-Art.

STYLIST & HAIR:

TENISHA CLARKE

MAKEUP:

MOSI MCKIE

127
---
CULTURE
---
GENERATION Y:

In the midst of a youthquake

WRITTEN BY SKYE ASHLEY

We are living in the new digital age, of a fast growing, technology revolution. What was once seen as a fantasy can now

be a reality. Where is this trend taking our future? Looking back at the 60's Youth Quake, there was a lot of political

change occurring that set off a chain reaction for the people, and the entire culture to change, from the way they

dressed to they way they thought. It brought a new perspective. The Civil Rights Act brought an end to segregation

and a fight against the progressives. While this occurred, the youth responded by embracing new fashion and new

sounds music, which continues to shape fashion today. We are now in the midst of youth quake due to the significant

changes we've experienced again in our politics, as well as our increased knowledge. Since there is an established gay

identity in our society, most people have come to respect and accept them, which has led our government to legalize

gay marriage, and taxes. The legalization of marijuana and its health benefits has also contributed to the culture

change, as well as our found knowledge of the environment and how we must become more sustainable. Due to this

generations acceptance and optimism many aspects of our lives have improved and advanced, including technology.

136
---
T

oday there are approximately 9 billion people in

the world, out of the population there is the largest

generation of youth in history. An actual "youth quake," of 4.3

billion people between the ages of 10 and 25. Instantaneous

modes of communication is what drives the population,

Cisco's 2012 Generation report found that 60% of Generation

Y compulsively check their smart phones for messaging, social

media, and information. The Millenials are such a well informed

generation since information is accessible at anytime.

Designers have struggled and progressed with the

advancements in technology, as well as the demand of the

new consumer. Luxury names such as, Gucci and YSL, had

to transition to more commercial visions to capture a new

audience and compete with fast fashion companies like, Zara

and Forever21 replicating their collections from the runway.

Advancements in technology have also brought our attention

to the environment and the kind of effect we're causing.

Companies have lowered energy and water consumption as

well as, carbon emission, to be more sustainable and maintain

transparent with consumers. Textiles have also advanced to

modern technology to create 3D woven natural fabrics and

new treatments.

Alexander McQueen was an early adopter of

technology: in spring 1999 No. 13, a model wearing a dress

was spray painted by two robots, and later in 2010, McQueen

adopted digital printing from photography in Plato's Atlantis

collection. Lady Gaga was influenced by his collections and

emerged digital technology into the public. Another Gaga

influencer, Iris Van Herpen, was the first to use 3D printing in

haute couture; "fusing fashion, science, and technology." The

trend of materials becoming media is continuing to progress.

In the 2014 Fall collections, Alexander Wang revealed

a developing form of technology in fashion that was futuristic,

yet functional for the survivorlist. Heat-sensitive leather

changed in front of metals vents to colors of black to blue, to

yellow, or purple and slowly faded. This advanced material has

been ten years in the making by Lauren Bowker, an alchemist,

that is using her designs to sync certain colors with seasonal

cues in the environment. A chemical compound is injected into

the leather and then ignited to see its reaction to temperature.

The compound also reacts to UV rays, friction, sound, moisture,

and pollution. It's potential use for health are being developed

to possibly communicate the severity of an asthma attack, or

a garment that acclimates to the weather.

Studio Roosegaarde has also developed a high-tech

fashion made from e-foils which become transparent based on

personal interactions. Merging the current trend sexual desire

and technology, Intimacy 2.0 is a dress that responds to the

heartbeat of another person, these interactions determine the

level of transparency, creating a "sensual play of disclosure."

If technology has advanced to create a material that becomes

transparent then we can create something invisible, right?

Harry Potter's invisible cloak and GI Joe's invisible

suit have actually, been developing for the last two years.

Hyperstealth Biotechnology Corp, designed Quantum Stealth,

a camouflage material that renders the wearer as invisible by

bending light waves around them, mimicking the surrounding

environment. The material is lightweight and works against

military IR scopes and Thermal Optics according to U.S. and

Canadian military. This material is advanced and intimidating,

there's a fear that strikes of the possibility of it getting in the

wrong hands. A clearly, defined ramification that can arise

with such quick advancements in technology. Although it is

still being developed for security issues, this design sets new

standards and expectations for our generation and the future

of the digital age.
---
life's a GLITCH

and then YOU DIE

PHOTOGRAPHED BY BREANNA EDWARDS

WRITTEN BY SKYE ASHLEY

140 139
---
STYLIST: TENISHA CLARKE

MAKEUP: HANA HYMAN

ALL GARMENTS BY:

MADISON TAYLOR
---
"

She taught me how to make

connections, how to take two

separates and make them

whole, until she couldn't remember

how to communicate from

her internal harddrive to

her hands. like the insides

of computers, the insides of

humans sometimes crash

too. there is no ctrl + z or

backspace that can get the

files of our memory back.

but she keeps on scanning

her mind, through the static,

through the glitches of time

and moments shared.

some remain black and

white but others explode

with color, making sparks

and some openings.

"

150
---
E

very generation has a great challenge; Ours is seen to institutionally reinvent

the world. As true digital natives built on the desire for change, this desire

stems from the digital age we were born into, and the constant advances

developing through technology. While exploring one's consciousness, our

sense of self is constantly being challenged. Since Generation Y is constantly

'On,' and connected, technology is considered a critical part of our life and work.

This necessity, has allowed us to become an educated youth, by the accessibility

we have to instantaneous media and information. News, to music, fashion, and

human interaction is always at access from a screen, just at the end of our finger

tips. It's evident that technology is quickly changing every industry, however,

there is a heightened concern that this digital revolution is consuming our

generation. The Y generation is already known for being digital multi-taskers,

which we tend to switch devices and platforms up to twenty-seven times, every

hour. Not to mention, making a routine of initially checking their phones in the

morning. With something that has become so normal, how do we decipher if we

are digitalized or desensitized?

Technically...by considering that the obvious attachment we have to our phones

is normal, defines our consumption and desensitization to technology. We're

already glitching, or are we just being the magnificently flawed, and inherently,

dependent human beings, that needs to be with one another. In reality, our future

is driven by data and powered by intuition. "Inspiration is a matter of sensitivity,"

Van Herpen said. "It is the ability to collect from the past, present, and future,

as they shift past us simultaneously." Everyday there is something new that is

presented to consumers to peak our interest or educate us, but is easily forgotten

and glossed over with the next "new" creation.

In fact, I believe that technology is what is causing us humans, and the Y generation

to 'glitch.' With the high volume of extreme advancements in technology it's

difficult to keep track of what is going on, whether it is a new gadget, social

media, or medical procedure, etc. It doesn't allow the consumer to understand

it and become acclimated. There are also stipulations of new technologies being

developed too fast that they, themselves glitch. Our exposure to graphic news

and media has been tainted by digital and social media posted everywhere

that its no longer provocative. We are now capable of posting images, videos,

and saying whatever we'd like immediately or simultaneously, for others to see.

Generation Y and the Millennials are very involved with social media; We become

more focused on our identity that is perceived online than our personal self, thus

being consumed by technology.
---
Technology is connecting and giving us options to help network with people as

well as, the environment and our health. Today's generation is optimistic about

the future however, in the words of Isaac Newton, "For every action, there is

an equal and opposite reaction." Society can continue to invest in 3D printing

organs, humanizing technology, and figuring out how to make us live till were 200,

however, we must learn to regress and slow down to avoid anything occurring

too soon among any other ramifications. Although some implications may not

be clear quite yet, I think our knowledge and advancements should give us the

opportunity to pull from nature and the basics to further the future in technology

and our well-being.

Those attempting to explore the idea that technological progress correlates to a

loss of human individualism must look at how technology can be humanized and

its implications. Beyond Verbal, developed a human app called Moodies, which is

to capture and analyze intonation for the technology to give a human response.

Not only are we so consumed in technology to communicate with people and

shop but now we can just talk to another computer. A different perspective

of human apps is Extended Mind, which allows those suffering from a form of

memory loss to extend their cognition by uploading their thoughts and task.

Viewpoints in media and press have silenced many of our own judgements and

opinions, that we have to learn to explore our consciousness and form our own.

It is crucial that we admire and open eyes to what is being presented to us and

to consider the imprints of our current lifestyles and what we may leave behind.

We are a generation built on serving our own, in search of opportunities. There

are glitches to gloss over what is old and then what is new. As we look forward in

fashion and everyday life, we need to consider what can be reinvented.

Stepping back from this digital age, we should ask ourselves, if there is the

possibility that we are progressing too fast? Today's advancements do help us in

many ways, however this generation of the Millennials and Generation Y tend to

gloss the underlying reality of things. Our generation needs to be more informed

than just 'glossed.' The hype over this digital age can blind people from looking

at things realistically. It is then, that you humanize and draw a deeper meaning

from data.

152
---
To find your individuality during this digital age, is by being outrospective, which

is looking past yourself to understand others and pursue a path of empathy and

collaborating it with the power of design and creativity. This is evident in the

creative work of Madisun Moon and professional knit and weaver, Matt Bobbins.

The two collaborated to create this collection of layered knits, wovens, and digital

printed fabrics. The various woven pieces that constructs most of the fabric were

made by Matt, after Madisun told him about her concept for her pieces and the

color story. As a person of the Y Generation, Madisun embraces technology for

what it is and accepts that it is unpredictable because it is ultimately a machine,

and at any point, can gLitCh.

She also looks at its relevance in another perspective; her grandmother Georgia

is diagnosed with severe Alzheimer's. Although, we are not built like computers,

nor meant to be turned into one, we too can glitch and lose bits and pieces of our

memory drive. Every once in while though, we recovery a file that we thought

was lost, and it always holds something that you want to 'save' forever.

Remember this digital era is still very new, leaving plenty of room for mistakes

and risk. If we learn to slow down in this fast-paced, interconnected world, maybe

we would see things a little clearer. It's only a matter of time before you run into

another little gLitCH.

153
---
CULTURE

TRANSCENDENCE

Going Beyond the Limits of Ordinary Experience and Knowledge

WRITTEN BY SKYE ASHLEY

Reviews of the recently released Sci-fi film, starring

Johnny Depp, and has had mixed reviews, mostly

teetering towards a negative perspective. Although the

film, written by Jack Paglen, is focused on the subject

of technology consumption and artificial intelligence,

there are religious undertones of God and evolution,

which could offend some viewers. There are also those

who believe it was written poorly and others who

absolutely loved it.

Personally, I felt drawn to go see Transcendence just

from watching the trailer. I'm glad I did. It's definitely

not a film for everyone, nor was it done to necessarily

excite, or entertain an audience. I found it to be

insightful and relevant to what is occurring in our world

and society today. Not enough films today are made

to allow, as well as push, the viewer to think and to

question.

With our current advancements in technology and its

integration into our health, communication, appearance,

way of life, and society; we have to ask ourselves if

where is it going and what are the repercussions. Dr.

Will Caster, played by Johnny Depp, is a scientist who is

designing a sentient computer, or AI, that will ultimately

create a technological singularity among people and

cause Transcendence.

The idea behind this is to have human-like intelligence

exhibited by machines or software that will progress to

a greater than human intelligence, changing civilization

and human nature.

Will gets hurt by an extremist group, the Revolutionary

Independence From Technology (R.I.F.T.) causing him to

die. However, his wife is able to upload is consciousness

into the quantum computer, which survives and

requests to be connected to the Internet to grow in

capability and knowledge. By pulling information

and hacking databases his 'saved conscious' is able to

recreate himself and communicate via the computer.

It is here that I began to reflect. We have grown to

become a society in fear of what our last moment will

be. Before we looked to plastic surgery and various

remedies to remain ageless and live longer, but now

we've reached new heights of how to create and recreate

man. Digital healing and physical enhancements

have emerged, not to mention that creation of artificial

parts made to keep us alive. Now scientists are even

developing ways to possibly keep us alive till were 150

years old. So, does it pose the question of 'playing

God' or is this kind of extremity that people need to

finally let go?

CONTINUED ON PAGE 164

161
---
I

n Transcendence, as Will continues

to live as a sentient computer his

sense of emotions begin to fade,

it's ultimately his conscious and the

information there.

"Biochemistry is emotion, being

able to weigh everything no longer

makes you a person, you are a statistic."

Computers aren't always

efficient or last forever, nor should

we. The film also touches base on the

notion of always be connected to the

internet, implying that people to find it

as an extension of being and we feel lost

without it. At this point, the internet

source is what is keeping him alive, and

after transcending himself to become

a 3D regeneration he must always stay

connected to everyone.

At the end of this dynamic film

each character is forced to choose

between the destruction of all advanced

technology, and a return to a pretechnological

world, or the acceptance

of transcendence, and with it an end to

pollution, disease, and human mortality.

We're only human, we naturally fear

what we don't know and what we don't

understand. Although, people don't

know what is to come later in life, 'the

human emotion can contain illogical

conflict, a piece of technology can't

reconcile that.
---
ART

ANDY WARHOL

Digital Art Pioneer

WRITTEN BY LILY MARSHALL

Around 30 previously unknown works done by Andy

Warhol have been recovered by the Brooklyn-based

new media artist Cory Arcangel. The artist was part

of a team that went digging through Warhol's old

Commodore Amiga disks, never looked at before,

and discovered some of Warhol's experiments in early

digital art.

Arcangel, a self-confessed Warhol fanatic, was

browsing YouTube videos of the artist when he came

across Warhol painting Debbie Harry on an Amiga

computer (right.) His interest piqued, he reached out

to the Andy Warhol Museum in Pittsburgh to see if they

had any more of Warhol's digital artefacts. While the

Debbie Harry picture was in the museum's collection,

evidence of Warhol's other computer art adventures

was only found after an extensive search uncovered the

old Amiga and some floppies.

The Amiga 1000 computer might be dated and retro

today, but it was once pioneering technology. Its

manufacturers, Commodore, elected Warhol as the

man to help promote the launch of the Amiga 1000,

commissioning him to create works on the computer. In

order to recover the images, Arcangel enlisted the help

of Carnegie Mellon University Computer Club, a team

renowned for their expertise in dealing with obsolete

computer technologies. Magnetic imaging tools had to

be used to copy data on the floppy disks to ensure that

no damage was done to the original floppies, and the

files were formatted in an unknown format that was not

recognized by any modern utility.

The team managed to crack the antiquated format,

revealing 28 images that hadn't been seen before – 11

of which were signed by Warhol.

Chief archivist at the Warhol Museum, Matt Wrbican,

wondered how Warhol would have adapted creatively

to the advances in technology that have been made

in the 21st century: "No doubt he resisted the urge to

physically touch the screen – it had to be enormously

frustrating, but it also marked a huge transformation

in our culture, the dawn of the era of affordable home

computing. We can only wonder how he would explore

and exploit the technologies that are so ubiquitous

today."

It isn't the first time that Cory Arcangel has been

involved with the process of recovering media from

difficult situations – last year he teamed up with

Oneohtrix Point Never to make a track called "Joyvtl

Jvbuayf" that was technically unlistenable, unless you

had the dated software to play it.

Speaking about his hero Warhol, Arcangel said, "What's

amazing is that by looking at these images, we can see

how quickly Warhol seemed to intuit the essence of

what it meant to express oneself, in what then was a

brand-new medium: the digital."

A documentary about the painstaking recovery process

has been made and will be shown at the

Warhol Museum on May 10, 2014.
---
Commodore Amiga computer equipment

used by Andy Warhol 1985-86

Andy Warhol, Andy2, 1985

168
---
Andy Warhol, Campbell's, 1985
---
ALL SIGNS

LEAD TO HERE

Lawrence Murray of Genius Aesthetics

PHOTOGRAPHED BY LAWRENCE MURRAY & BREANNA EDWARDS

Q&A WITH TENISHA CLARKE
---
Lawrence Murray is truly a genius in his own right.

His 'mixture of madness' extends from the art

realms of photography, graphic design, and web

design. He literally does it all. Most recently, he's

gone about rebranding himself from Buy Lawrence

to Genius Aesthetics, and has created a line of street

wear to launch and market all things Genius.

176
---
Tell me a little bit about yourself.

Where are you from? What are

your general professional and nonprofessional

interests?

Hi, I'm Lawrence. I'm 20 years old

and I'm from Hinesville, Georgia.

I'm a freelance graphic designer,

web designer, and photographer.

Of course I go to SCAD majoring in

Motion Media Design with a minor

in Film & Television.

What's the story behind Genius

Aesthetics? What inspired you to

merge your graphic design talent

with the world of fashion and street

style?

Like I said I'm a freelance designer,

and for the past few years I've been

under the brand of 'Buy Lawrence'

and I've kind of outgrown that. I've

been in the process of rebranding

myself under the Genius Aesthetics

brand. Genius Aesthetics is my

creative company, so I like to call it.

Which merges my creative design

services with my film production.

I've always wanted to do an apparel

line, so I figured that with the

rebranding of Buy Lawrence to

Genius Aesthetics, it would be the

perfect time to launch this line. I'm

really utilizing this apparel line as a

marketing tool, to kind of get

my brand out there. Right now

we have some cool apparel that

showcasesmore of the logo, but

definitely in the future I plan on doing

more apparel that incorporates

more typography, photoraphy, and

graphics. Doing this is just a great

medium to get my work out there,

When did you realize you wanted

to enter the world of fashion and

what was the first article of clothing

you created a design for?

I can recall wanting to do an apparel

line way back in middle school when

I first started getting into graphic

design. However I didn't have the

resources and funds that I do now.

And honestly timing is everything;

my designs would have looked like

crap if I had done it back then.The

first design that I did for this line

was the graphic tee with my face

on it. I randomly showed it to a

friend and the first thing they said

was "I would definitely wear that".

Which was a shock to me. I thought

who wants to walk around with my

handsome face on a shirt? Then I

showed it to a few more friends and

I kept getting similar reactions.

What are some of your

accomplishments as a designer?

Well for one I got scholarships

to attend SCAD based off of my

graphic design portfolio. I've been

freelancing since I was in 9th

grade. I was a designer before I

even graduated high school. My

work has been on several national

popular media platforms, and I

even have some work that has been

broadcasted internationally.

Some of your goals?

My near sighted term goal is to

get the film production branch of

Genius Aesthetics off of the ground,

and that takes time. I want to do

music videos. So I'm working on

that as well as writing screenplays

for short films and web series. I want

to put out a web series under the

Genius Aesthetics brand sometime

next year.

Who are some of your favorite

designers (fashion and nonfashion)?

In fashion honestly I'm not into

names. I probably have designer

clothes and not even know it. I just

like what looks good, but I do buy a

lot of clothes from Zara. Some of my

favorite non-fashion designers are

Gavin Taylor and Scott Grossman.

How would you describe your

personal style and aesthetic?

In regards to fashion, I have

repetitive phases. I go back and

forth through urban street wear,

to the daily semi-casual, to more

of a modern 90s west coast look.

It really all depends on how I am

feeling.

Tell me about your design process.

I usually start off with a

brainstorming session. Then with all

of the ideas and junk in my head I try

and narrow it down to one general

idea or direction by crossing off

the unnecessary things I've written

down during the brainstorming

session. Then the execution process

starts.

Where do you get your inspiration?

Music. When I listen to music I see

colors. I see textures and different

color palettes. So music is a very

important part of my process.

What matters most to you as a

designer?

Execution.

How would you define the style

that Genius Aesthetics exemplifies?

Color! I like vibrancy and I try to

incorporate that in all of my designs.

Whether it be one color, a specific

color palette, or even black and

white. I try to incorporate vibrancy

through my designs.

What are some things that you like

and dislike about designing?

I like designing. I like using my

brain and figuring how to arrange

different elements. I like happy

clients. However I don't like dealing

with people sometimes. Every now

and again I'll get a client whose

knowledge of graphic design

extends to Microsoft Paint. I could

come up with an exceptional

design, of course that might need a

few revisions,

What advice do you have for

aspiring designers?

Be yourself. There is no right or

wrong way of designing. Art is

totally subjective. However, educate

yourself. Learn the principles and

elements of design so you can have

an effective design. Outside of that,

create what looks good to you and

be confident in that.

Where can readers find out more

about you and your work?

To check out some of the apparel,

get a look at my portfolio, as well

as get information on my creative

design services, you can go to my

website which offically launches

May 5, 2014.

geniusaesthetics.com

@geniusaesthetics
---
STYLING:

TENISHA CLARKE

BRANDED APPAREL:

GENIUS AESTHETICS
---
CULTURE

THE FUTURE

OF FASHION

How 3D printing is revolutionizing

the fashion industry

WRITTEN BY MORGAN MCCARTY
---
F

ashion has always been seen as

a world of fantasy and fiction.

The onslaught of new technology and

materials has brought fantasy into the

realm of science fiction and taken on

new dimensions, [literally]. 3D printing

technology has been incorporated

into nearly every industry thus far;

from medicine to movies scientists,

engineers, artists, and designers.

Although it seems to have just recently

surfaced via media, this new form of

printing has been developing for over

the last thirty years.

We've discovered the most functional

and ingenious medium since pen and

paper; and the potential applications

are sure to make an impact in the

most unimaginable ways. Naturally,

the medical industry envisioned

the potential applications of this

technology by developing a way to

"print" functioning organs and tissues,

creating the first prosthetic kidney

for animals. After further industry

breakthroughs including, prosthetic

limbs and vessels, robotic aircrafts,

and the world's first 3D printed car,

this technology began to find itself

more accessible to various consumer

markets.

Increasingly adaptable processes allow

jewelry designers to use this medium

precious metals, such as 14K gold

and sterling silver. An ability to create

abstract and surreal forms caught

the attention of footwear designers,

taking them to new 'heights,' as they

created new conceptual and Avantgarde

styles. Anything they draw,

the printer could create. Commercial

footwear companies such as, New

Balance and Nike, debuted sneakers

with a revolutionary 3D printed plate

that enhanced football athlete's

performance.

Fashion designers are expanding the

scope of garment manufacturing far

beyond the needle and thread. The

dawning of technology had thus,

entered the world of runway, Haute

Couture and the red carpet. Couture

integrated the latest 3D printing

techniques to produce advanced

garments, with innovative material

manipulations; creating 'techouture,'

where traditional techniques are

replaced with codes.

Dutch fashion designer, Iris Van

Harpen, is one of the first adopters

of 3D printing and has become a

pioneer of materializing technology

in innovative ways from hard-shell

garments and more flexible 3D prints,

collection after collection. Victoria's

Secret also acquired the growing trend

for the recent Fashion show, when

they collaborated in a 3D printing coproject

with Swarovski's crystals to

create the sexy, snowflake 'outfit' worn

by Supermodel and angel, Lindsay

Ellington.

Celebrities have also collaborated

with engineers to create one-of-a kind

red carpet garments. Dita Von Teese

wore a Swarovski crystal encrusted,

'mesh' dress to a two-day, 3D printing

conference. Based on the Fibonacci

sequence, this fully articulated gown,

was designed by Michael Schmidt,

and modeled by architect, Francis

Bitonti to be 3D printed in nylon by

Shapeways. The gown was assembled

from seventeen pieces, dyed black,

lacquered, and adorned with over

13,000 Swarovski crystals to create

a sensual flowing form. A significant

influencer in fashion advancements,

Lady Gaga has worn two 3D printed

dresses this year. The first, called

Anemone, was an integrated bubble

dress, and more recently, a parametric

sculptured dress at the launch of her

album ARTPOP. Both pieces were

designed by Studio XO, a Londonbased

fashion technology company

in collaboration with the Belgian

3D printing company, Materialise.

Creatives have their minds set in the

third dimension; seeing and thinking in

3D.

What does this mean for fashion's

future? Bespoke clothing will be

referenced in a digital sense, that a

tailor and sewing machine will no longer

be a part of the equation. 3D printing

gives the ability to customize the piece

according to exact measurements.

Instead we will download codes for

various garments and items to be

able to print it in any way imaginable.

Programmers are becoming fashion

designers while fashion designers

are becoming more in tune with this

technology to take their fashion to

new dimensions. The life of designers

will change when consumers can buy

designs online to make a 3D printed

dress out of the plastic or nylon mix

with their in-home printers.

Here is where an area of controversy

arises. There is potential, that this

technology can do to fashion, just as

Napster did to the music industry. As

3D printing evolves, it will introduce

new conflicts into copyright law. 3D

printing processes contains opensource

codes and designs instead of

trademarked and protected industry

techniques to create garments. With a

computer, the right software, and a 3D

printer, it's now possible to produce

your very own jewelry, accessories, or

bikini within the home.

Already, platforms such as Shapeways,

allow users to upload and share digital

designs with others. Brand owners

may soon face challenges with the

widespread cloning of their products,

as well as the spread of their own

design blueprints. The design and

manufacturing process of 3D printing

has serious implications for intellectual

property and brand copyright.

However, due to the complex and

expensive nature of the printing

process, it will be long before we see

consumers recreating full couture

garments on a mass scale.

Nevertheless, there is significant

potential in 3D printing with an

enormous scope to revolutionize the

fashion industry, particularly when

it comes to materials. We will really

see an impact when manufacturers

begin to offer more flexible molds and

garment-friendly materials. Pringle, of

Scotland, collaborated with scientist

Richard Beckett, and utilized a special

process to produce flexible 3D printed

fabrics that move like traditional

fabric once combined. This is where

3D printing will make the biggest

impact. The textile industry will be

hit with a curve ball as more people

begin to adopt 3D printed synthetic

materials instead of traditional fabrics.

"I do think cottons and silks

will be gone, but it will take a

long time," claims designer Iris Van

Herpen. (NYMAG.com)

Whether the implications of 3D

printing technology on the fashion

industry are positive or negative,

change is inevitable. An infinite

amount of possibilities for designers,

manufacturers, and consumers to

utilize this technology. The potential is

great, however there is still much to be

done before 3D printing can be fully

realized within the mainstream. Until

then, we will leave it to imagination. to

envision the future of fashion.

184
---
CULTURE

DIGITAL AGE

PHOTOGRAPHERS...

A'INT BAD!

WRITTEN BY MORGAN MCCARTY

A'int Bad Magazine is an exemplar for

those who wish to maintain the value

of print photography. They attempt

to use their magazine to promote the

roots of traditional photographic art

through print as well as stimulate the

collections of and appreciation for

photography.

In conversation with Editor, Carson

Sanders, we began to discuss the

idiosyncrasies of our generation's

photographers and his opinion on the

directions of photography within the

digital age.

It has become harder to keep

photography relevant with in the

digital age. There has been an

overabundance of photography on

the Internet and it has become more

accessible than it has ever been.

Camera phones, Instagram, and a

myriad of photo edition programs and

apps have allowed "photographers"

to accomplish what once required

hours of work in a dark room.

Taking, storing, editing, and sharing

photographs has become so

simplified, there is little room left for

professionals. "The Photographer"

is beginning to loose its definition,

as Instagram and other mobile apps

have become the platform for an

abundance of "self proclaimed"

photographers. They have debased

real photography by reducing the

productivity of photography as a

profession.

The overwhelming depth of

photography available on the

Internet tends to weaken the

impact of its content. However, even

professional photographers have

almost hypocritically and established

themselves through using Instagram

as photographic technology. As a way

to spark an ironic commentary about

the digital age of photography, some

photographers have highlighted this

as the subject of their photography.

Benjamin Lowy, a New York based

photographer specializing in conflict

and feature photography, uses his

iPhone to document the Libyan

uprising against Muammar Gaddafi.

He did this to mimic the way civilians

documented the rebel movement

with their mobile phones, instantly

updating the world on events as they

transpired.
---
This was a way to embrace a new

paradigm of photographic journalismno

middleman, no publisher - and

bypass traditional news sources.

This new digital age has made it

more difficult for photographers to

stand out. With this new digital age,

photographers now need to find

innovative ways to stand out. In order

to keep the traditional formats alive,

photographers are finding creative

ways to blend and incorporate digital

formats within their photography.

Stephen Tillmans, a Berlin - based

photographer, created a photographic

series, called Luminant Screen

Shapings, of old tube televisions

taken at the very moment they are

switched off. The TV picture breaks

down and is abstracted to its essential

element: light. This series bridges the

gap between digital and traditional

formats of photography, highlighting

a scientific and technological theme

through the use of old-fashioned film

photography.

There will always be a grass roots

approach to photography consisting

of purists who strive to maintain

the traditional format of printed

photography. The disappearance of

this craft will not disappear in that

sense. The impact of the digital age

is uncontrollable, however, and thus a

transformation is inevitable.

190

To purchase a limited edition issue of

the publication, or to submit a single

body of work, go to:

aintbadmagazine.com

Keep up to date with A'int Bad:

aintbadmagazine.tumblr.com

@aintbadmagazine

facebook.com/aintbad
---
PEOPLE

PHONG

DANG

PDK Sounds

WRITTEN AND Q&A WITH MORGAN MCCARTY

PHOTOGRAPHED BY KB ANSARI

Previously, these artists were regarded merely as studio

technicians, yielding the spotlight to nameless singers

and unsung stars. With the innovations in computergenerated

music, these sound sculptors have come to

the forefront as stars in their own right. We can see

them now exhibiting their acoustic genius at runway

shows, red carpet events, and prevailing music festivals

such as Coachella.

DJs like Tiesto, Nervo, Tritonal and Kaskade are able

to utilize synthetic music to not only produce a fresh

sound, but also design an atmosphere.

Emerging DJs are the producers of our future scenes.

DJ Phong Dang, of PDK Sounds, does more than

just scratch a record; his messages and moments of

inspiration, are conveyed to listeners through sound as

a vehicle, and a medium.

Born in Ho Chi Minh City, Vietnam, Phong was raised

in Savannah, GA where his father's music and the

creative scene of the city surrounded him. Following

his passion for the pulse in music, he studies Sound

Design at Savannah College of Art and Design.

Phong has left a melodic footprint on his hometown by

featuring his mixes within local runway events such as,

Savannah Fashion Week, Fashion Night Out, and the

year-end SCAD Fashion Show.

This year, Phong will be featured as the headlining

DJ for the Savannah Fashion Week Fashion show. His

talent is destined for boundless acclaim, however. He

has since been assisting DJs at New York Fashion Week

shows for Altuzarra, J. Mendel, Prabal Gurung, Helmut

Lang, Richard Chai, 3.1 Phillip Lim, Wes Gordon, Patrik

Ervell, Marchesa, and Oscar de la Renta. He has even

crossed borders into Milan Fashion Week working as

an assistant DJ at the Bluemarine show. Phong bares a

unique and humble perspective on the art of sound and

through his mixes provides a musical translation for his

audience, whether metropolitan chic or charmingly

southern.

A Q&A interview with Phong Dang continues on

pg. 50.
---
192

T SHIRT BY GIVENCHY

HEADPHONES BY BOSE
---
How would you describe the music that you create?

I describe my mixes as the vehicle used to get a message

across, whether mine, or someone else's. When I mix, I usually

have a message or inspiration at hand. Often times when

collaborating with designers and stores, they provide me

with the inspiration or message underlying their collection.

In return, I provide them with my interpretation of what

their collection should sound like. I consider references

in art, trends, pop culture, world culture, psychology, and

various genres of music. This music consist of electronic,

pop, dance, Bossa Nova, and even orchestra when mixing.

The common threads between my mixes are that they are

clean; they are chic, but always with an edge.

How did you develop an interest in this type of music, and

music in general?

My dad is a very musical person so I think I get my musical

ears from him. He sings and is a proponent musical organizer

in the Vietnamese community in Savannah to this day. As

for picking up pop music, I think everyone has an affinity to

anything with a good beat and lyrics, no matter how much

they don't want to admit it to the world. I have learned how

to ration just the amount to catch your attention without

getting boring. I mix this element with other genres like

experimental or ambience to create an over all feeling rather

than just a remix.

What excites you most about music, the industry, and your

own work?

Sounds can be applied to anything and anywhere. I find it

to be the most malleable substance in the world. And that

excites me. When I can change your mood with something

that I made. That excites me.

Describe your artistic process and where do you get your

inspiration from?

I find my inspiration through art, fashion, movies, archives of

sound artists, the Internet, and my friends.

What other artists do you listen to and get inspired from?

I really like the work of Alen Splet, who is known for his

work in the genre Musique concrète. A prime example of his

work and one of my favorites, is from the movie Eraserhead

directed by David Lynch. The sounds of warping metal

and stretched out tape recordings created this weird other

worldly vibe that I really dig. It has always amazed me that

he was able to make me feel like that though sound.

What other genres of music do you listen to?

I listen to everything. I find nuances in all genres of music.

Even if it's the worst thing I'll find something interesting

about it and continue listening on. That's not to say that I

like everything I hear of course.

What are your favorite events / projects that you have

worked on thus far and why?

My favorite event that I have worked thus far would have

to be Phillip Lim's s/s 14 show. The set and concept was

amazing and Phillip is such a great person.

I understand that you have recently been chosen to be the

headlining DJ for Savannah Fashion Week 2014, tell me a

little about that, how did it all come about for you, and what

you are looking forward to most about it?

I know Heather Burge, the president of this year's board,

through a fashion competition event I do every year at
---
Savannah Arts Academy called Junk2Funk, where she was a

judge. She was a fan of my mixes and reached out to me to

headline the 2014 show. I was really excited because I have

always wanted to work with all of these different stores in

Savannah and this would be my opportunity to reach out

to them. So getting the chance to have a conversation with

these designers and business owners who are making a

name for themselves was exciting all onto itself for me.

What has been the greatest experience you have had so far

as an artist?

I think going to New York and assisting the shows of all of

these top brands has been the greatest experience. I got to

learn so much about the industry as well as myself.

What are you most excited about when it comes to your

music and what might be in store for you in the future?

The thing that I am the most excited about is showcasing

my mixes. Playing shows and reaching new people really

gets me going. In the future I would like to have exhibitions

of my sound art pieces.

Have you had experience with the more traditional forms of

music and instruments?

I played the flute in my middle school band. I learned how

to play drums for a while and dabbled in piano. All of which

were experimentations and nothing really solidify.

Where do you think music is going? Do you foresee a

complete shift from the traditional styles of music to more

synthetic and electronic sounds?

Workstations) get more sophisticated the sounds getting

produce will mirror real instruments, some already do.

However, there will always be a purest side to music, which

will heavily oppose electronically created instruments, and

they won't go down without a fight. It's hard to say though.

What do you think about this direction music and sound is

going in?

I think music is going to shift to more eastern sounding

melodies. I hear a taste of it on the radio now a days and I

think, as Asia become more prominent in pop culture music

will definitely be affected.

What would you like to see happen to the industry of music

and sound?

I would love to see things get more experimental and for

sound art pieces to play on the radio. I think that'll be so

cool, driving down the street listening to a John Cage piece

on the radio and living in a fantasy land for a moment.

THE FINAL EDIT:

I would just like to say, be nice to people because you don't

know what they're going through right now and you might

just change their life. Learn how to not over think things

and to just let live sometimes. Don't let other people take

advantage of you and always give thanks.

FACEBOOK.COM/PDKSOUNDS

As for sounds getting more "synthetic", that's a loaded

question because I think as computer DAW's (Digital Audio

194