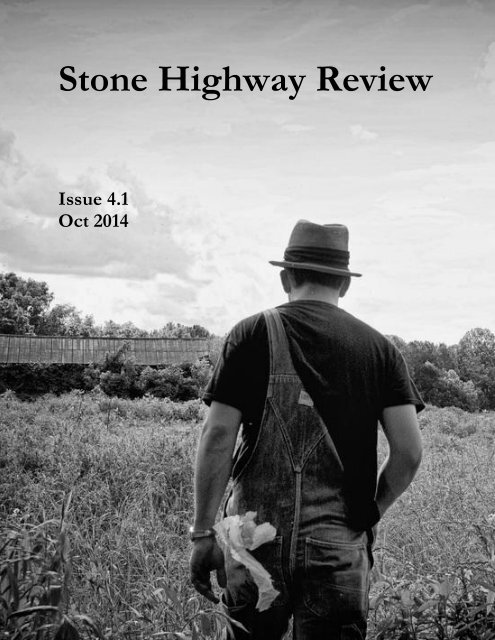 Create successful ePaper yourself
Turn your PDF publications into a flip-book with our unique Google optimized e-Paper software.
Stone Highway Review

Issue 4.1

Oct 2014
---
Stone Highway Review is a new journal of poetry

and prose, dedicated to publishing women and

other underrepresented voices. Stone Highway

Review wants to publish the beautiful, the exciting,

the new. Stone Highway Review is edited by

Amanda Hash, Katie Longofono, and Mary Stone Dockery.

Stone Highway Review is published three

times a year. Submissions are welcome through

the submission manager found on our website,

at www.stonehighway.com.

Copyright 2014 by Stone Highway Review

ISSN 2162-3686 (print)

2162-3678 (online)

Cover Credits: Mandi Cook "This Land Was Our Land"
---
Table of Contents

Hungry for a Hello Vinita Agrawal................................................................................................. 1

Forest as Story Amy Ash and Callista Buchen ............................................................................. 2

Eyes as Shield Amy Ash and Callista Buchen ............................................................................... 3

Alphabet as Market Amy Ash and Callista Buchen ................................................................... 4

2 Poems Lisa Marie Bastile ................................................................................................................... 5

The Window Factory Workers' Night Out A.M. Brant ..................................................... 6

To and Fro Emily Capettini ....................................................................................................................7

The Theory of Displacement Suggests Moriah Cohen ........................................................ 8

This is my Body Emily Rose Cole ....................................................................................................... 9

Boxcar Willie Doesn't Live Here Anymore Chauna Craig ............................................ 10

It Starts with Allergies Risa Denenberg ...................................................................................... 11

Morse Code Jennifer Faylor ............................................................................................................... 12

Haunted Ruth Foley................................................................................................................................ 13

Obscura: The Daguerreotype Series Julie Gard .................................................................. 14

Heavy Air Sara Ghoshal ....................................................................................................................... 16

In the Rendaku Forest Derek Graf ............................................................................................... 18

Arachnid, in Allegory KT Gutting ................................................................................................. 19

Pillow Talk Sara Henning .................................................................................................................. 20

Babel Rae Hoffman ................................................................................................................................ 21

Fat Girl at Weight Watchers Meeting Jennifer Jackson Berry ................................... 22

National Dream Share Day Brett Elisabeth Jenkins .......................................................... 23

Removing Hurricane Debris Mark Allen Jenkins ............................................................... 24

Between Bouts of Insomnia Les Kay .........................................................................................25

The Eye Surgeon Jill Khoury .......................................................................................................... 26

Identifying the Ruby-Throated Hummingbird Erin Koehler .................................... 28

Property Rachel Lake .......................................................................................................................... 29

After the Sewol Sank, 2014 Kristin LaTour ........................................................................... 30

To See the Thing M. Mack ................................................................................................................. 31

Melancholia Blinks Sarah Miller Freehauf ............................................................................... 32

Wolf Pelt: $50 T.A. Noonan ............................................................................................................. 33

Steam Engine 1023 Al Ortolani ..................................................................................................... 34

A Synonym for Flock is Mob Carla Panciera .........................................................................35

End of Days Christopher Petruccelli............................................................................................... 36

The Moon Hanger Kate Soules ...................................................................................................... 38

You, and You Letitia Trent ............................................................................................................... 39

Little Love Poem Letitia Trent ....................................................................................................... 40

Codependent Donna Vorreyer ......................................................................................................... 41

Release Kami Westhoff ........................................................................................................................ 42

Early Warning Kami Westhoff ....................................................................................................... 43

Babylon Megan Willoughby .............................................................................................................. 44

Theater of March Sarah Ann Winn ............................................................................................. 45

Contributors ........................................................................................................................................... 46

i
---
Vinita Agrawal

Hungry For A Hello

This fat body is a lie

True is the tub of buttered popcorn in my lap

and the huge packet of chips by my side

Its hunger is a lie

My heart is the ravenous one

I am adept at burrowing inside cracks

when I spot lovelessness

Skilled at living in between the floor boards

when people walk over me

I am a discarded umbilical cord crying for a foetus

My screams ribbon unheard through eons of time

My fat body is a lie

You should see it from within

It is lean like a new moon

emaciated as the setting sun

thin as hope in a beggar's eyes

gaunt as the marrow in centenarian bones

You can destroy me anytime

with a loose word, an acid glance

I'll come down like a house of cards

at the slightest puff of acrid winds

My bellows cannot light my fire

nor my ankles weight lift, the shackles of disdain

I cannot holler, I cannot stomp about

For I am spindly like a new born doe

You would see me as thin

without the mess I am inside.

1
---
Amy Ash and Callista Buchen

Forest as Story

woodland, jungle, plant, floor

landing, tier, untruth, account

Beside the mosses, chanterelles burst in gold flourishes over some other season's oak leaves. We don't know

what to crush. Shoeless, our toes touch padded ground, plush carpet. We kneel at a tree trunk, split open like

a storybook. Inside, we bury hands in rotted bark. We think softness, we think quiet, as if we can read the

flood of insect song, scuttle and mumble in the alburnum. Wings, legs, antennae, fragile as eyelash. Blink and

the sky slides between branches, flutters in the wind. What we think we hold is slippery. Shadows, shapes,

until we can't tell time. Hunger hovers like fog. Behind us, the wolves breathe.

2
---
Amy Ash and Callista Buchen

Eyes as Shield

judgments, appreciations, senses, discernments

protection, armor, defense, buffer

With eyelids closed, we feel

forward, as if leaning, falling,

diving into blackness, into bruise.

Hands up, we push against

shade and shadow, press into

against behind ourselves. A mirror

gunmetal gray, and polished. Look

at your opposite, at the distance

shrinking and distorted, an iris

tunneling light into vision. We go

without atlas or guidebook, follow

the passage, even as the light

deceives us. Border, barrier, fence

the prick and hustle the tears

even torn, even tattered, we see

the eyeless horizon, impossible,

how it breaks the world in the two.

3
---
Amy Ash and Callista Buchen

Alphabet as Market

bazaar, fair, promote, sell

language, letter, script, tongue

The market's archway, ridged like the roof of a mouth. Even after

the sounds crawl away into corners, moon licked across

and swallowed in a pink, throaty sky, corridor collapsing as we call

with tongues already closed for the night. We want to sell

what language we own, but words only curl behind our teeth, unable

to sound. Corridors empty, the stalls still promise. Whispers:

desire, devour. We read the writing, symbol and rune, our fingers

eager, like mouths, tips raw from lapping against the sand.

Under our touch, castles crumble, alphabets erode.

We are going to bury the sounds, let the moan of shifting earth

write us into morning. Rubble and remnant, we'll buy

the scraps, fruit and fish, scattered before us like stones, like tongues.

4
---
Lisa Marie Basile

2 Poems

we cannot sustain the abundant

in us the girl is a levee instead;

so feckless we split the grape

we drink in order of height so that the tallest

falls hardest.

a girl's blood can be seen in a kind of light,

a kitchen table light, the circular ones, with a box unopened,

a box, and crushlillies: what is in it, what is of them?

and a table cloth. goldenrod,

woundcolored. at the table we pronounce our names

as if we own them.

we are the bodies of them,

and the name is of some other thing. a victory, a knot.

we make champagne of ourselves for one another

held high.

one day we will step from chairs

and celebrate death.

the ceiling fan will

spin slowly,

the table watching

light watching.

i really was

inverted. i draped knee of blanket

over grassy field. i became the field.

i really was love. i woke wide

to the light, and thought

bully.

smooth yellow wash too beautiful to put into a box,

or a small dish shaped of

a shape we do not know.

i really was wanton,

shaped up and over arched back bent belly out,

we caught my red mouth on you out the door.

let me combine of me the things in you, let me.

i really was full this time,

field full, a flora, body open, body bound.

5
---
A.M. Brant

the window factory workers' night out

lamasco's bar & grill—evansville, indiana

ten on a friday night, no windows to make on weekends.

back when i was still chain-smoking, back when

you could still smoke in bars, when you were still

married, still trying to get me to give you blow jobs

on lunch hour. this was the night

you looked at me with feeling, then followed your wife

into the ladies room and fucked her against the wall, came

back, wet temples and a smirk, put your hand on my knee

under the table, looked at me again, sorry and not sorry

all at once. this was not the first or last time

you or another man would do something like this,

say something like you're too good for me or want me

to put this dick in you?

6
---
Emily Capettini

To and Fro

"She lied to me! She was wrong," weeps the former student on the stand. The court is full of

spectators, and I watch silently as she gives her testimony. "She told me 'I felt a Funeral in my Brain' was

about madness, not death, but someone else told me that's wrong! She lied to me."

Some of the spectators gasp, but most others are hunched over with their arms beneath the seats in

front of them. One of them has forgotten to turn off his text message notifications, and the courtroom

speakers shriek a static tttttt tata-ta tata-ta with each cellphone's interference. Tap dancing mourners, to and

fro.

My lawyer, Ralph Waldo Emerson, turns towards me and shrugs, his dusty, age-worn suit trembling

under the pressure of movement when it has been still for so long. He asks for a recess, and I later find him

lying under a tree with a book, insects scuttling along his white, seashell bones.

"What are you doing?"

"Living deliberately."

I frown, but decide not to tell him that's Thoreau, nor mention how long he's been dead. The latter

must be obvious to him with every turn of the page.

"You shouldn't worry what others think of you," he continues.

"I'm a teacher," I say, thinking of the tenure review that looms ahead of me like some kind of hydra.

No matter what I check off for it, the tasks only seem to multiply.

Emerson shrugs and returns to his book. His suit splits open at the collar.

I'm found guilty of misinterpreting Dickinson. I must forfeit my "I felt a Funeral in my Brain" lesson

plan and agree to never teach the poem again.

"Don't feel too badly about it," Emily tells me later. "They found me guilty of lying under oath. I'm

not allowed to write things with multiple meanings anymore."

"Don't they know you're—um…that you haven't been writing for a hundred years?"

"My Verse is alive," she replies and wanders outside to pluck flowers from my garden, pretending

just to sniff them until I've glanced away. Then, she stuffs them in her pockets and down her blouse. She

returns bursting with color and life, but I have pretended and continue to pretend to see nothing. The flowers

will grow and bloom again after she's left, and I understand her fascination. I've planted things out there that

aren't native to this region, things she likely hasn't seen before—sprawling, heavy-blossomed plants that

weather the hot, humid days with grudging acceptance.

Somewhere, above my head, Emily drops something. The floor creaks under her as she wanders to

and fro, and I think of the silence I will be glad of and dread when she leaves.

Emerson goes before her, perhaps ashamed of his poor attempt at being a lawyer, though it may also

be to escape the mounting requests for interviews, commencement speeches, and book reviews. He looks

panicked when he says his goodbyes, papers stuffed in every pocket, wedged between the bones in his arms,

and beneath his hat. "Good compost, good compost," Emerson mutters as he hurries down the walk, the

papers spiraling away from him like pale, flightless birds.

Emily lingers only long enough to pluck the last of my toad lilies. When she comes to say her

goodbyes, I can see a brilliant amaryllis blossom through her age-thinned blouse, caged within her ribs. We

shake hands, for she cannot kiss my cheek as she would prefer, and she sets off down the path barefoot,

trailing dried flowers as she goes.

Long after she's left, I am still finding dried flowers pressed between the pages of all of my books:

papery, delicate flowers that blaze with color even long after they've died, spilling from every page I open

until my floors are coated with a soft bed, and no one can hear my footsteps as I cross through my rooms.

7
---
Moriah Cohen

The Theory of Displacement Suggests

no moonshine can float the dead,

not even in this black pool where I've come

with the first woman I loved to bury

lullabies beneath the sod. If light is the soul

confused at having lost the body, then darkness

is an atrium we linger inside, besot with words

like oeillade, sinew, cusp, and pewter. But good

acoustics are no selling point when the party's over

and the racket of your loneliness begins

to catcall across the room. Life's milk hails

such delitescent desires; when I toast to exile, quilting

insomnia, I already know that later I will cull

the rosaries writhed from her mouth. Hail Mary,

where do we go when a kiss no longer

sutures the lips of the wound? Tradition claims

our losses with headstones. On every tile, a spirit

waits for a poem to lift it from the mud.

8
---
Emily Rose Cole

This is my body

Early June. I unspool yellow tongues that carry

the scent of sunlight through your backyard.

I watch you crush dandelions under your pink

Nikes, twist the creamy bells of buttercups

under your baby-soft chin, separate daisies'

long lashes from their gaping, golden eyes.

To you, we're only weeds. I know what will become

of me when you approach, pluck me up, roll

my body between your thumb and forefinger.

You'll gnash me open, draw the long thread of spine

through my fluted center. Come. I offer you the honey

of my blood like a sacrament: Child, take, drink.

9
---
Chauna Craig

Boxcar Willie Doesn't Live Here Anymore

This train whistle is more a horn. Long and loud and musical—blown into the wind before a storm.

Through town, the heavy mechanical whining wheels, their bass rhythm thumping through my walls, pulsing

up the soles of my feet. I lean into the feeling of sound. How my blood wants to follow and hop an open

car and be taken…somewhere.

The Railway Killer followed a line in the late 90s that took him within yards of a house where I slept. It

wasn't my house, though my cousin had once lived there. In Arkansas, expect that. My lover lived there.

The horn never blew, the trains just rolled through. Expect that too. That summer I screamed when a

Junebug knocked the screen. I screamed and called for a man because something deep inside me believed: if

men could kill, they could also save.

It was only a Junebug, sometimes called a May beetle. The neighbors had a pit fire, our windows open to the

charred night.

I have wanted to be taken. Silent whistle to a Grim Reaper in the form of a Junebug batting my screen day

and night until the wire starts to unravel.

Present perfect. I have wanted.

In this perfect present, the train whistle blows forever. A loneliness I cannot capture and that cannot capture

me.

Present perfect continuous: you haven't been listening. And so, I'm tense.

10
---
Risa Denenberg

It starts with allergies

~1~

Peanuts, tree nuts, eggs and shellfish. Odd leftovers that slosh

over the bowl's edge and stain linen. The color of snot. Also,

shouldn't we get smaller as we age, not bigger, and shouldn't we

disappear at death, not leave a ruined body for others to brawl with?

~2~

You can't do the tango anymore. Do the hip-break dance. Your sex

drive circles the drain. The big picture squints with presbyopia.

In fact, all senses become unreliable, making you wonder if

your magic mama has forsaken you.

~3~

If I don't smile, what of it? Tell me a highbrow pun, I'll give you

a grim grin. I mean, how much loss can I pile on this achy spine

before I divest? I squeeze temples to sequester anxieties. I squeeze

blackheads when I'm bored. What I really want is to be forgiven.

~4~

A fortune for each x-ray, the bargain brokered by the opposite

of hope, the doctor's cut enormous. Yes, it will cost dear.

As the end draws near, you won't recall why you have to suffer

so, you will only stare, wide-eyed from your cachectic carcass.

~5~

The potential for demise pops up at every fork. Look, I don't always

know what point I'm trying to make. I have no idea how you will take

my mordant attitude. You can sign off, or sigh and continue. You've

come this far. Let's walk a bit along the briny beach, even if we are afraid.

11
---
Jennifer Faylor

Morse Code

The first night I attempt sleep without her

in our bed, the world's noise becomes Morse Code.

Ants tap her name across the dark linoleum,

and boots clunk through ceiling tiles––

they stamp out the word goodbye.

After midnight, crickets gather

in the sweetgum tree outside.

For hours they sing the lyrics

of things I should have said to her.

The express bus brings the graveyard shift

home to their wives, and the engine sputters

the words she would have mumbled in her sleep.

I even hear apples drop in the cold rain

all the way upstate.

Their red noise spells out my love,

but I know the fruit will only roll and rot

in the distant corners of the field.

12
---
Ruth Foley

Haunted

I turn my head and there is burning—

smoke from the back of the television

like from a drop of oil smeared

on the stove or a slice of potato

left to char on the oven floor. Or snow

lifting from the side grass along

the underpass, whirled into the draft

of a sixteen-wheeler, all the moisture

frozen out of the air so completely

May could be another planet in another

solar system. Sometimes there is

perfume—a blossoming in the flour

canister or in bed at night. Anywhere

there are no flowers. A woman I once

knew swore I was haunted—not my

house, me. She heard other voices

below my own, she said, and once

saw a girl standing behind me,

shaking her head. I didn't ask if

anything came to her, petal soft.

I tell myself it's old damage from

an old wound—a biking accident

in high school or the endless sinus

infections I suffered as a child. I

would—I swear—never lie to you.

13
---
Julie Gard

Obscura: The Daguerreotype Series

1.

A child in a chair with a bow like a curl, face pocked with the metal's aging. Double chin and grandmother's

sharp eyes, dress checked and simple, thin boots tightly laced. I stare for the requisite forty seconds at

splotches of turquoise rot. The child's parted lips exhale pink iodide. Grave napoleonic girl with pudgy fists

and pinpoint irises, small pillow at her back, small words in her mouth. She breathes them in and looks ahead

like she was told, her gaze blind, preternaturally fixed, as she seeks approval across time.

2.

Margaret Ann Pence was told not to close her eyes and like everything, she took those words seriously.

Margaret rarely said what she thought, for her mind's directness often shocked her and she feared its effect

on a member of her family with a weak heart. Her face waits for lines in this picture. She is certainly a virgin,

laced up sleeve to wrist. Only fingertips emerge from black natting. Open eyes escape, and closed mouth.

This one girl in one moment is only sixteen. Forgive her for what she won't say. It is all she has.

3.

If he could, this man would lecture me kindly on what I do not know and on what I know better than he.

There is little that progress cannot teach us, he'd intone. Women are a certain thing, a certain way. His

spectacles, small and wire, reveal my liberation, in which he partway believes.

What he does not see: the discoloration of his face framed with purple, then blue burst of chemical flower.

His eyes untouched and shining from the center, beard trimmed but feral. The humanity in him stitched from

something wild.

From his jacket an object emerges, a blankness or a book. It's his auricle pulsing forth, the book he has

written, the one that contains all the rules of his life and the love who was lost down river. She had never

learned to swim, or swam too well.

4.

You are iconic with globed eyes and eggshell skin, yet as I write it you refuse the designation. I try to hold

your face but my eyes are drawn down to one small hand in black glove, in shadow, and another firm and

naked on the arm of the chair. A strong hand and a masculine face beneath white wimple, blank halo. The

usual pink mercurial glow and a robe like a judge's: silk, tassled, obscure. You weigh knowledge in one hand

and doubt in the other, what you saw and could not see. Two like quantities pressing on opposite hands.

5.

I name them lovers, that sort of brother. They hide from the camera how they are connected, and yet their

jackets touch. The young man is hale in his pinstriped suit, wild cowlick above careful part. The elder recedes

in his pale three-piece: sallow cheeks, trim moustache, knowing droop to left eye. Early pictures were mirror

opposites. Silence became clatter as the longing ghosts moved in next door.

14
---
6.

I would read every page of the book in your hand if I could open it. The photograph captures the spine and

the glut of the hardback's gilding, a sliver of page as careful and modest as the point of your white throat.

You sit rigidly while your mind composes a decades-long poem to God. Specks of changed metal descend on

your bookish cell. You ask questions regarding salvation, but I have no answers and merely take notes:

transcendent bibliophile, alchemical, oddly dressed.

7.

A girl my daughter's age, gypsy, stunning, utterly alert. Rings etched onto right-hand fingers reveal her early

marriage to beauty and reckless dancing. A child of the bleak Midwest defies her dutiful bloodline, takes to

wandering and asymmetrical curls. Wry lip closes over a mouthful. They have caught her for one minute,

before her mind once again changes. Through her life she stores them up, the revelations, the heaven in hell.

I am not sure who she tells. A playmate, husband, river, aunt, dying elm tree, mouthful of jam.

8.

A boy shot from a distance clutches his scroll of plans. Overwhelmed by the frame, he nonetheless looks on

boldly from beneath a grey felt derby. The room around him radiates hairline cracks. His face is the young

end of handsome behind scratched glass and encircled by foil. The upper edge of his photograph is etched

and dark, yellow film peeled. Though trapped, he is alive. The exhibition slips from its place.

9.

I have broken loose from my case. You toss me downriver like a lucky bottle and the glass green message I

carry: these bonnets are damned uncomfortable, and without the love of God I'd never get through a day in

one.

Don't doubt a minute that my own heart hurt as Penelope walked along the bank searching for a proper

switch. And as I struck her with it, I felt the fire myself: a punishment for us both. Better this now, I

whispered, than for eternity. Feel your sharp sin now so there is time for repentance, and after that cake.

She didn't go hungry. I fed my children no matter what they did. I would give it to them from my own

mouth, my own wrist. You doubt, you question, as if you are not brutal. You chew the bird one century after

I snapped its neck.

10.

The words I contain are of sadness, not finery. If you watch long enough I will open my mouth and stain my

dress with my secret. What I have to say is only what you are learning. I find freedom as any woman does:

find, lose, find, lose, find in losing and so on. Black lace traps the skin. I beg you, go on with your day.

______________________________________________________________

Previous publication, with copyright returning to author:

Obscura: The Daguerreotype Series, chapbook. Finishing Line Press, Georgetown, KY, 2007.

15
---
Sara Ghoshal

Heavy Air

For Ron Padgett

I.

It hangs. As you walk out, you encounter a force so great it must be alien. It must shoot spaceships at you

because you can't walk, you can't run, you can't make it to the suburban jungle you're supposed to be saving.

You can only sit where you are and contemplate how it could possibly be so full.

II.

When it comes spewing forth, spit gets on my forehead. I think a drop landed on an eyelash. He is angry.

Tired. Exhausted from the repetition and his feet drag hard enough that they don't stir anything up at all.

They just add to the dust, to the unfounded specimens crawling toward the crack in the bathroom wall.

III.

Someone once told me it's a sign of sun poisoning if you get chills while laying out. If this is true, then I have

been poisoned since the '90s, reveling in the chill that comes with a soft breeze on Belmar with my novel and

my absolutely unwavering belief that any place with sand counts as vacation.

IV.

I am not serious enough. The most shocking word I use is fuck. I just can't see myself using the word

menstrual in a poem. It seems dirtier, less correct than fuck. It seems like it would stomp on fuck, it would

send fuck to the butcher, it would hang on to fuck's neck like a monkey.

V.

Two weeks ago, that bonsai tree was so bright green I thought I could eat its leaves and juices would come

fresh out and they would taste like lime. It was shining, waiting for Buddha. Then the leaves started sinking

hard, drooping with the weight, clipping themselves off with wet snaps. Today, it recovers.

VI.

Her jealousy stares at life unflinchingly, expecting that which is not hers, wanting that which should be hers,

constantly miserable, constantly looking around the corner, up the hill and down the street to the place she

used to want but now just wants to want. Red dresses run past her in haste and she sits on a metal bench,

defeated.

VII.

There are at least 100 steps to our bench and it smells like punk rock in here. Salty and unequal. I am unable

to make it past, unable to propel myself forward with simple movements. I can only remember the words to

the song. I'm not a cool guy anymore.

VIII.

He crouches in dirty jeans – really dirty jeans with actual dirt on them, streaked, not just worn a few days in a

row, for hours, meticulous. A light sits across from him, too bright for the daylight but just fine up here in

the land of insulation and lost boxes of naked Barbie dolls and rolled up carpets brought home from college

and salvage from the storm. He drinks more water than anyone I know.

IX.

The words hang there, stuck in a spider's web, sitting on invisibility. "You are not him and you never will

be." But I am me, better than him, I have more money than the him that is not really him but is really the

him that used to be me. And my mother said I have more smarts.

16
---
X.

We're all tired. And in the winter, when we are scraping windshields, when we are adding ten extra minutes to

the morning routine to bundle up (hatscarfglovescoathood), when we are watching it come down in blankets

and throw pillows and soggy circles that only glitter for a moment, when we are picking dead leaves off of

beloved, named plants, when human interaction is severely cut, seriously hampered, and the streets are quiet

with the buzz of the efficient walker, we will dream of being this tired again, of burnt toes and early morning

runs. We'll dream of when it hurts to breathe.

17
---
Derek Graf

In the Rendaku Forest

Leave home gray animal, you wild bright—hold this song until you burn: gray like the branches we walk on,

our breath brushes through the low dim of dawning. Your violet iris bruising under sky-lids lidded by frost: in

this river all we know is violence—crowing vigils, united in crimson we moon-glow: this fabric clasped with

your pale arms clots the wind tonight; my psalm-body mutters under lines of driftwood black unlike the

breath of rivers—heretical, always descending at hills beyond. Distant barrows dome dusk into curves of

needled trees: with the night turning to stone, our palms are where we cannot speak of the stars magnetic and

heavy with blood.

18
---
KT Gutting

Arachnid, In Allegory

There is no fire in this cave, no light.

The orbweaver who lives here rakes shells

and exoskeletons out with the tide every night

by her angular legs, through determination,

through damned-if-she-does, through don't,

to smack against the horizon. And they will

strike it, that illusory sharpness, and split cleanly

into sun or ocean depth to still. Yet the orbweaver,

scraping her cave faithfully of bone, remains

in motion, silently spinning her moonless hole—

some web in the dark, a letting cold, and for this

that's caught, there is no other word but no.

19
---
Sara Henning

Pillow Talk

It's only boys kindling ball rockets. Neighborhood boys burning their fingers on taut-strung bangers. All you'll say—though

I'm thinking, will the gun shots barrage the air all evening? Though I'm thinking, will they brocade what's volatile into the

air at dusk? Show me boys crushing fallout duds into soil, how they curse while praying for a double break to

ease the loss. Show me the one holding the Roman candle too long, palm enthralled by the cardboard-choked

clay seal, the flame swathing the pyrotechnic star, and everything torched careening from the tube like a

bullet. Hush now, you're saying, but it's the ghost of the boy's hand I won't stop thinking of, the blast's

reverberation, his cry beveling against the bedroom's heat-flecked walls. Wait for the bells, you're saying, as

though they'll helix through the sepia stillness of morning from the Church across the boulevard, but I'm

thinking of the mother replaying her son's finger shorn, stitched and abandoned by the cosmos. Sleep now,

you're saying, but you're on top of me. Tell me no one is dying with ringing in his chest, I'm whispering, I want to

scream, but you're indicting me with your body, not your words. So I'm telling myself, the boys are only holding

the lifting charge of their transcendence against each other. I'm crying, for anyone who can hear, the boys misfiring are

turning into men.

20
---
Rae Hoffman

Babel

For Ben

Show me your scarecrows, your sidewalk hieroglyphics. Show me your funeral procession, your seven-gun

salute, your painted eyes, your afternoon flutes. Show me your blank pages, I'll touch them, I'll stuff them. I'll

change them. I'll leave them. Show me your red lines, your revisions, your clean cuts, and last minute

indecisions. Show me your antechambers, your drywall, your railings, your shrill birdcall. I want to fill your

mouth with crescent moons, white lilies, and civil war pantoums. I want your histories, your rebirths, your

crystal chandeliers. Show me your minute hand, your chromosomes, your midnights. Show me your

Redwoods, your crisp collars, your typhoons, your stone and mortars. I'm falling apart. The world is falling

through me. I'm a big empty box. Point me in any direction. Tie my hands together. I'll walk up your granite

stairs, I'll climb on your roof and howl at the rolling fields until someone, anyone calls back.

21
---
Jennifer Jackson Berry

Fat Girl at Weight Watchers Meeting

I'm supposed to tell

everyone I'm dieting

& give away pants

as they get too big.

They say if you feel bad

about your loss, go to

a grocery store, pick up a bag

of sugar, of flour, 10 lbs.—

that's what you used

to carry around your middle.

We clap for lost quarters

of pounds. This is the first time

I've lost more than sticks

of butter. When I slip,

when I cheat, I try

to imagine the alternatives.

But I fear the canula—

that lipo tool, long

like a princess's wand.

The doctor thrusts in & out

just under the skin

like fast sex & the sucking

in like a little girl's gasp

when she sees a prince.

22
---
Brett Elizabeth Jenkins

National Dream Share Day

I go up to the woman with the green coat

on the subway and tell her about my dream.

You were there, I say. It was the opposite

of a nightmare. There were popsicles.

She tells me about her brother rolling

away from her in a gigantic birdcage, down

and down a grassy hill, until he disappeared

and was never seen again. I overhear two

Japanese men outside a bakery crying about

their mothers. In the distance, an elderly man

flails his arms in front of a crowd of people.

The chipmunk was nine feet tall. He had

Shaquille O'Neal's face. Tomorrow morning

we will not make eye contact. I think

of touching her green coat. I want to ask

about her brother. I never do.

23
---
Mark Allen Jenkins

Removing Hurricane Debris

When last August hurled

the first hurricane of the season our way, I laughed

at your use of packing tape to secure

glass windows in your rented house,

Its only ability to not peel off glass.

It's what the locals did to prepare

for a hurricane. Fill their gas tank, run

to the store for beer, ice, Zapp's potato chips, anything

they could grill. Outsiders, we compare it to tailgating.

I'm unsure what you were protecting- a bathroom

door whose antique knob turned then broke, stubby

florescent lights, rental offwhite shag

carpet that absorbed Natural Light. A bike, used

to ride to campus once in a harrowing, near

injury over profound experience. A backyard

no mower ever tamed.

I try not to think of my

apartment down the street- putting off

packing, emptying, until the last

minute all of it, plates, a freezer

full of chicken, popsicles, Jim Beam.

A packing feels like a retreat, an army

of me pushed too far south, Louisianan

Gulf Coast ate away at my shoes and car.

The only thing left was to head west to Texas,

leave the mildewed concrete behind.

As I slowly make my way

up your house's windowpanes, each swath

of tape, glue, and gel, removes traces of your

short time here, but like my thumb, indented

where it extended the scraper's blade, each future

resident will notice small traces that can't be scraped away.

24
---
Les Kay

Between bouts of insomnia

we munch microwave popcorn as

New York, Washington, Los Angeles,

Sydney, Tokyo, Moscow, Paris,

and London all simultaneously

explode beneath mint-green lasers,

and mankind slowly resists

enslavement to extraterrestrials

that look almost exactly like us;

we sip corn-syrup-rich generic soda

as a hitherto unknown virus

slips through spider monkey cages,

breaking the underfunded lab's

overly lax quarantine procedures

before spreading faster than meme

to every metropolis, every shopping mall.

All night disbelief is ghost,

a gentle coo dismissed as wind—

the faintest clink of chain and iron.

Suspension lasts until daybreak

when bright-winged cardinals whistle

for clay-colored mates, and you

turn again to the same damn song:

crosswords, cover letters, résumés.

25
---
Jill Khoury

The Eye Surgeon

I do not wish

my eyes symmetrical

I would not trade

the almost-sight of

finch, jay, cardianal

for a pixilated

viewfinder

*

We do this procedure all the time on children

If you were four years old we would just get it over with

*

The horizon is

horizontal; the

horizon is

vertical

*

I should

just

do you

and get it

over with

*

They begin

decompression

*

To them

I am a projection

I am so

many deep

I will be so

many wide

so many

high

*

26
---
I enter

prairie

Graze

bluestem

with my

fingertips

27
---
Erin Koehler

Identifying the Ruby-throated Hummingbird

I spent my twentieth summer thinking about beardtongue

& the benign polyp in my mother's colon.

I diagnosed the problem: eating

too much of her father's rhubarb without

any sugar. It wasn't diabetes that snapped his heart—

the dark jewels on his skin were to blame. The black

masses growing like when I was thirteen & fed

my Venus flytraps dead pool insects. Their bodies

slow-wilted, soft & the flies came at last

to the mold-tomb bodies of chlorinated

nectar. It was my mother who found him & folded

his foxglove eyelids—

& when her children went to college, she still drank

on her own, a gallon of milk a week.

28
---
Rachel Lake

Property

Browns Mills, NJ

This is not the house where my brother almost shot

himself, but missed. The crumbling hole in drywall

hasn't committed itself to the top of the staircase

that leads into the basement, which stoops

like a dislocated shoulder. This place is old, but

in a different way, like a stained hand-me-down

sweater. There is no well here and the faucet

doesn't smell like eggs, but there is a dirt road,

even now, after I've come back to clean the house

for new tenants. There is dog piss on the walls,

poison ivy in sly trails beneath the bishop's weed

and woodruff. The woods opposite the house

are filled with gypsy moth caterpillars. I remember

raiding their white-knit nests and letting their small

flax-furred bodies envelop my hand like bark

until I couldn't stand the itch—

their thousand legs—and I dropped them. I've seen

the hunger they inflict, forests stripped and leafless,

and it's almost enough to persuade me to close

my heel over their soft bodies, but I stop.

The proportion feels cruel, the orange diamonds

on their backs too perfectly aligned. I don't have

the nerve to love that way. Years ago, my brother

flew out the front door. His father swung

and missed, cuffed the doorjamb with the side

of his fist. Thrown across the grass and shaking,

my brother covered his face with his hands

and cried.

29
---
Kristin LaTour

After the Sewol Sank, 2014

There are empty spaces in the rooms

our children are not crowded into, no cries.

We stand on the beach and call their

names into the wind, but they are just

carried back to us, transparent. We

are not grateful for imagination and

experience. The water is cold. Underneath

the surface is dark. The boats pump air

into the cavities to keep the ferry afloat.

They are like lungs. The ferry is a shark.

One mother asks, see, this child, round

faced, almond eyes, laughing? She loved

goats and sparklers. Another shows her child

dancing in a loop, hula hoop around his waist.

Their bodies are now cradled by arms that weep

seawater when they bring them above.

They are shrouded in a tent, then blankets.

We are told their fingers are broken.

How hard they tried to climb out, how

metal doesn't care about tendons and bone.

The searchers are blind, reach forward

in the darkness for softness. The water is cold.

Underneath the surface is dark. There is

nothing between them and our daughters' hair

flowing black, the jelly of our sons' eyes, the supple

breast or curve of a knee. We try to be thankful

for touch and connection, that fingers can feel.

They are shrouded in a bag, the a tent, then blankets,

then caskets. We are asked to look at their hands

and ankles, find marks that show they belong

to someone. We do not see their faces.

We want to be thankful for their youth

the soft breath of sleep we watched when

they were just born. We want to be thankful

that they were together in the end, embracing

each other until—

The monks continue praying, eyes closed, facing

the sea, silent and wrapped in orange cloaks. Mourners'

candles are shielded from the wind by cups. Who shielded

our children from the water? Who will shield us

as we walk before their two hundred portraits, the scent

of lilies perfuming our grief?

30
---
M. Mack

To see

the thing

To make the shadow of the thing look like the thing, you must trick the light. I

contort my fingers against pavement, and the shadow waves. My middle finger

appears there as thumb, my fingers stretch away and then into familiar lines.

On a sidewalk at night, in the space between two streetlamps, there are always

two of me. I follow myself, uneasy. On a bright afternoon, after making a hand

from my hand, when I approach a double-paned door, I have a double I can see.

31
---
Sarah Miller Freehauf

Melancholia Blinks

The morning of the massacre

I found two of them. Babies.

Likely born within minutes

of one another. But I couldn't

ask their mother. She stood dumb,

blinkless. On the edge of concrete.

Both of their bodies rose and fell.

With a slam of the screen door

Daniel somehow picked them

both up. No bleeting.

Likely bleeding.

I sat upstairs in squares of sun. Waiting for their charcoal to rest.

The lambing-time. The hard hours.

Later I found them. Dry. One

with her head facing sun. Half-yelling

eyes not old enough. He curled as

tightly as when he fell. Head tucked.

Isn't that how it is? Head up, head down,

death. No matter the matter.

I used a silver kitchen spoon to dig their graves.

A spoon. Because they were so very small.

I threw it away and vowed no food that day.

Later, I saw him eating animal off a bone.

We do that, as humans. Spoon-dig graves

eat our own after. In fellowship.

In their grave now. Head up, head down.

A burnt offering for the Midwestern haze.

I can see their blood pigment to black.

Carbon bones gone soft. Blood gone hard.

How long does this all take?

Soft hearts, always blink.

32
---
T.A. Noonan

Wolf Pelt: $50

The huntsman drew off the wolf's skin and went home with it…

He's outside because he smells; the rot clings years later. I hear he bathed him in baby shampoo. I hear he

stays in the greenhouse because it didn't work. Today, he rests in a flowerbox, not unlike all those red hoods

in my bottom drawer. But he is fur. Whiskers smoothed, nose leathered and glossless. One socket pinched

like a flattened seed. One open, staring at his split belly. Socket wide, shadowed. There's something in there.

Ghost of jaw. Fold of muzzle. A single paw jutting up and out, the better to hug me with. I can't smell him

from here, though. What I smell is coffee. I imagine he could smell the same—earth made thinner, lighter

with milk. He would not see the sill above the sink as I do. The way winter sun cuts bottles into green, amber.

And that skull, painted with devils and flowers, an offering to some unknown god. I wonder if he would put

it on if he could. It would give me something to turn to the door. He would want the rest of his bones, too. I

wonder what he thinks of me. If he knows I would trade skins with him now—just once—to slink out of this

home, these woods. To smell skunk musk, touch my nose to bones. I wouldn't smell them, though. They

don't have a scent. It's what happens when something is finally clean.

33
---
Al Ortolani

Steam Engine 1023

Your daughters dig out the sledand lean it inside the garage, readied

for the overpass at Schlanger Park.

Lamp lit windows hang against

the house like flat screen TV's.

By nightfall, goose feathers loosen

from the clouds and drift in the gray streets.

You step out to the porch and breathe woodsmoke from a neighbor's chimney,

and in the taste of cold

you know today's disappearing, your memories

sculptured in snow. Tomorrow,

a girl with a red scarf flies down the overpass, her steel runners singing, cutting

towards the chain link. For years

the old locomotive has waited

at the bottom of the hill

for the fastest sleds, daughters like yours

pumping their fists.

34
---
Carla Panciera

A Synonym for Flock is Mob

The absent woolclasser, gun-shearer, the worldon-holiday

feel of this hillside, leave the broomie bored.

Amidst a flock of Dorset coveting their belly wool,

he flinches again at visions of Arcadia.

Please, God, don't let that be the end result

of meatless Fridays and Confession.

Sheep keep their backs to him, shoot marbles

out their asses and amass, a stinking cumulus, at the shed door.

Whale-eyed, they don't need to turn their heads

to see him, but he knows they're watching.

The broken-mouthed, the suckers, shift on devil-hooves.

They're earmarked, too, against their god's perfection.

To think this is the paradise of knitters, of those redeemed

by the Easter-cheery iconography of lambs.

The world is delusion's convert, replete with fairy tale lovers

and those who believe that men rule beasts –

a place where no one knows that sheep never forget a face.

And why, he might ask the human conquerors, is that?

To mark us, beards and all, of course, to drag data stores

to their heft for future use we can't divine.

Where is the shepherd when he's needed? The skulking dog?

The butcher? The broomie remembers a public speaking trick –

imagines a flock of poodles, pom pom tails, wool bracelets,

the Continental clips of Westminster. He laughs.

A cull ewe stomps her leg. Choreographed, pre-ordained,

cud chewing halts. They're staring now, those backsides.

Sun slits barn boards. Fibers flit through razor shafts.

Wind tries the latches, stirs the beasts.

The hills resound with bleats, an ascendancy of code.

Once the first sheep turns, it won't be long.

Brandishing his broom he wonders: Can I ape a wolf bark?

Can I sweat the stench of bear?

35
---
Christopher Petruccelli

End of Days

after Terrance Hayes' "Origin of the Days"

Sunday: the shine of stars is only turbulence,

sunsets and rises redden with dust and grit.

Fishermen watch the sun

dip and streak the sky with cerise.

At the end of the day,

clouds are rosewood, and the fishermen's

families leave notes behind that read,

Gone indefinitely.

Monday: the moon is a single man in a dark room

alone at night. He pulls the tides

close to his face and smells the fractioned sea,

salt hardly reaching his nose.

The moon drowns out the Monday

groan, sinking into the Seine.

Tuesday: Mars appears,

a fleck of rust in the night sky

and grows to the size of a red hot.

We see explosions from its surface

like Wells predicted. The worst things will come

in pairs—heat rays, black smoke.

Wednesday: we are all busy little bees,

Hermes is tired. He drops his caduceus

in the middle of the street and says,

Fuck it. Then, it's nothing but runs on banks

and inflation. The day ends with men

trading stones for thistles.

Thursday: the oak trees blaze

from lightning strikes. Soot rests on burnt

crowns, and the air smells like the coffee

morning began with.

Friday: The fishermen return to empty beds

and packed tables, cook fatal clumps

of strangely hominid ocean dwellers.

Some have reservations, others don't.

All purse their lips as salt

wrenches tongue.

36
---
Saturday: We put out lawn chairs, watch

Pestilence eat rotten apples as the other

horsemen round the corner. The riders'

snapping joints set the rhythm

our world ends to—a march

almost like a samba.

37
---
Kate Soules

The Moon Hanger

Where the sun releases its final arcs

and returns borrowed shadows to the depths

(that is night)

the moon hanger stretches forth.

Waking from a moment

slightly hunched with shriveled hair

he smells the night and

steals towards the deep.

He trails his twine behind.

Nimbly he slides into the sea,

becomes graceful in his descent

to haul the moon to the surface.

Latching twine to time he tugs the orb,

hoists the heaviness of luminescence.

He climbs the ladder in the stars

the bulky bulb banging below

until he comes to the last rung,

the resting place of the moon.

Here he pauses to gather strength

until he can lift the final weight.

38
---
Letitia Trent

You, and You

Thanks you for taking leave

of me, if just

for ten minutes,

your black thread of static

running through my forecasts,

my films playing

as I would have liked them:

my talk slipping like

honey from a hot spoon

and an elegant settle

into gestures like lines

around a body.

It didn't happen that way,

but thank you

for taking leave

for a day, for two. In such

permanent, purposeful

absence, the mind

insists—seal the thought-lid.

Stop this. My dentist,

when I came to him holding

my cheek, said,

his scraping hook

against my gum,

you cannot possibly

feel this anymore.

I removed the nerve, he said,

turning up his soap opera.

There's no there to hurt now.

39
---
Letitia Trent

Little Love Poem

You move like a scarf

across a throat you

across a room or eye

your hand tea-cupped

around your chin

Help me not to tell

the same story

over and over knowing

it's pushing

forward the apologia: why

I would not let you

touch me

then the apex:

how you drove us gently

off the ice and into the angel

breast: That's it:

you move like ice

across the road

each day I drive

denouement: in the

embalming cold since

I have been alone

40
---
Donna Vorreyer

Codependent

A quick flick of the wrist, a smirk to hush

a scream – this is how it all begins

since we are tuned to violence. The lush

strumming of classical guitars turns

into the hyperactive pounding of bass

in heavy metal diatribes. Slam dance

just for two. Circle pit with no escape.

Then the power ballad swells second chance,

and it's Cusack with a boom box outside

my window and I can't resist. Some say

music can soothe a beast, and who am I

to say they're wrong? I wait another day,

each breath a grace note. You, warped xylophone,

me, cracked reed. We have never sung alone.

41
---
Kami Westhoff

Release

The phone call about his release

enters her ear like a letter

opener. It's unlikely he will cause

you any more grief, she is told, but

we want to be on safe side.

Their daughter, only a month into walking,

toddles into the gate at the top of the stairs.

It quivers, and she worries about its installation.

She'd never before held a drill, and its vibration

settled in her throat like a lie.

She thanks the man

on the phone, and promises,

at his insistence, caution. She imagines

his head as two dots, a triangle, an semi-circle,

arms and legs and body as simple

as sticks. If he were real, flesh and shit

and guts and bone, he would at least let slip

a tone of defeat, regret, some hint

of the pity one feels when it watches

a creature, whatever its kind,

drag itself roadside.

The baby shakes the gate's railing,

her smile exposes gums erupting

with bone. It is almost time for her dinner:

mashed avocado, blueberries, cheese cubed

smaller than necessary. Then her bath

where the yellow duck tests the temperature

and promises Okay. She lifts her, hushes

her fussing before it begins. Its legs tighten

around her hip as its chest twists away, back

in an arch toward the gate.

42
---
Kami Westhoff

Early Warning

On a fog-choked morning, they meet. He is taller

than she expected, curls the color of coffee

deflated from the damp. She has seen him before,

bent in a hover over the lifted hood of a broke down,

back arced, shoulders winged by the buck

of a hay bale.

He reaches out his hand to hers,

exposes a nub where his pointer finger

once was. She accepts his hand,

feels its abbreviation against her line

of fate. Hazards of country life, he explains,

lifts his hand to her cheek. His touch

zaps her skin electric for hours.

In two weeks, she will meet his family. His mother's

eyes and smile will greet her in discordant

hemispheres. His sister will approach, each step

as cautious as a cow. His father will sink

the knife into the meat, compliment his wife

on how easily it releases from the bone.

43
---
Megan Willoughby

Babylon

"When we first broke into that forbidden box in the other dimension,

we knew we had discovered something as surprising and powerful

as the New World when Columbus came stumbling onto it."

—Ken Kesey

1

i wanted to ask you how it felt—my fingers against your lips,

the wafer on your tongue, a gift.

2

we climb the stairs to the bell tower,

where the old piano lies tuneless.

she keys the minor chords, their melody

taut like flesh—i listen to the space between

notes, exposed like snapped wires.

3

she says it's bold to love a girl – eyes glow like cathedrals –

makes it feel like your love halfway exists.

i say her music is beautiful, she asks:

do you know the pressure it takes

to make diamonds?–turns like a bitch

driven to bite—chews

my tongue like canvas,

keeps the tatters as trophies.

4

We are holy as fire—I could burn you

with these notes, leave

proof hanging on the piano

like rosary beads.

44
---
Sarah Ann Winn

Theater of March

Brown stage curtains remain closed.

If you don't brave the bluest

of the bruised clouds, you might miss

the burst through when the buds slip

their hands through the sleeves of twigs —

some still brown mittened. some green.

Soon the birds — the shyest ones —

arrive with a kind of spring,

if not one you remember.

Cue: whiteout, paper birches

unpeel, reveal stage notes carved

deep, unweathered. Inserted

in your program, a card requests

a small donation — maybe

a grape hyacinth, maybe

a branch of pussy willows.

The brashest forsythia.

A bracing of melt. Check one.

Leave it in the jar by the door.

Right now, there's only staging.

Each set layer moves offstage.

First, snowbanks part to reveal

white-lit mountains, falling away

blue silhouetted skyline.

Redbuds approach on tracks upstage

to down, advancing towards

the audience — through the seats,

the lobby, the parking lot,

out to a clearing, a green

place, applause in a field full of fiddleheads.

45
---
CONTRIBUTORS

Mandi Cook: Photography is how I fuse my digital interests with my traditional skills. When I began taking

portraits, I wanted the photos to speak loudly. Art must have a soul - I believe our spirits are older and larger than

our limited physical being. Our artistic influences should be larger than ourselves, and draw from an inner tenacity

for life, not just the external world around us. View more of my work here: http://dr34mcrush3r.deviantart.com/

Vinita Agrawal is a Mumbai based, award winning writer and poet. Her poems have appeared in Asiancha,

Constellations, The Fox Chase Review, Pea River Journal, Open Road Review, and Mandala among others. She was

nominated for the Best of the Net Awards 2011, awarded a prize in the Wordweavers Contest 2013 and is the author

of Words Not Spoken. She has a Masters in Political Science with a gold medal and is a full time writer.

Amy Ash is the author of a chapbook, Acme Book of Love (Main Street Rag). Her first full-length collection The

Open Mouth of the Vase (winner of the 2013 Cider Press Review Book Award) is forthcoming in 2015.

Callista Buchen is the author of the chapbooks The Bloody Planet (forthcoming from Black Lawrence Press) and

Double-Mouthed (forthcoming from dancing girl press). Her work has appeared in Arsenic Lobster, Blue Mesa

Review, DIAGRAM, and many other journals.

Lisa Marie Bastile is the founding editor of Luna Luna. She is the author of APOCRYPHAL (Noctuary Press):

a holy, girly, neurotic text obsessed with its own secret world. Her poetry and other work is found in Best American

Poetry, PANK, The Nervous Breakdown, Tin House, Prick of the Spindle and other publications. An MFA recipient

of The New School in NYC, she runs DIORAMA, an intimate literary/music salon.

A.M. Brant's poems have appeared in Ninth Letter, Harpur Palate, Bellevue Literary Review, and elsewhere. She

lives in Pittsburgh.

Emily Cabettini is a fiction writer originally from Batavia, IL and received her Ph.D. from the University of

Louisiana at Lafayette. Her fiction has most recently appeared in Noctua Review, and her critical work on Doctor

Who is upcoming in Neil Gaiman in the Twenty-First Century (McFarland, forthcoming). She currently lives in

Maryland.

Moriah Cohen's poetry has been published or is forthcoming in Hayden's Ferry Review, Hoot: A Mini Literary

Magazine on a Postcard, Baltimore Review, and Narrative where she was runner-up in this year's "30 Below"

contest. She received her MFA from Rutgers University's Newark Campus. Currently, she teaches at Ramapo

College.

Emily Rose Cole is a writer, folksinger, and MFA candidate in poetry at Southern Illinois University Carbondale.

Her debut solo album, "I Wanna Know," was released in May of 2012 and is available on iTunes and Amazon. Her

poetry has appeared or is forthcoming in Gulf Stream, Weave Magazine, Jabberwock Review, Neon, and Word Riot,

among others. She is working on a collection of persona poems that re-envision The Wizard of Oz.

Chauna Craig's stories and essays have appeared in magazines such as Prairie Schooner, Fourth Genre, and Flash

Interntional and the anthologies Sudden Stories (Mammoth Press) and You Have Time for This (Ooligan Press). Her

work has been recognized by the Pushcart Prize anthology and Best American Essays. She's won fellowships to

Virginia Center for the Creative Arts, Vermont Studio Center, and Hedgebrook Writers Retreat. She teaches

creative writing at Indiana University of Pennsylvania.

Risa Denenberg is an aging hippie currently living in the Pacific Northwest who earns her keep as a nurse

practitioner. She is a moderator at The Gazebo, an online poetry board; reviews poetry for the American Journal of

Nursing; and is an editor at Headmistress Press, dedicated to publishing lesbian poetry. Her most recent publication

is blinded by clouds (Hyacinth Girls Press, 2014). You can learn more about Risa at:

http://risadenenberg.blogspot.com/

46
---
Jennifer Faylor is a poet from New York City and has her MFA in poetry from Sarah Lawrence College. She is the

author of a choose-your-own-adventure poetry chapbook, "The Case of the Missing Lover" (Dancing Girl Press,

2013), and a full-length book of poetry, Edison's Ghost Machine (Aldrich Press, 2014). She's been published in such

places as Bat City Review, Black Heart Magazine, The Literary Bohemian, and Cleaver Magazine. Read her blog at:

jenniferfaylor.com

Ruth Foley Ruth Foley lives in Massachusetts, where she teaches English for Wheaton College. Her work appears

in numerous web an print journals, including Antiphon, The Bellingham Review, The Louisville Review, and

Nonbinary Review. Her chapbook Dear Turquoise is available from Dancing Girl Press. She serves as Managing

Editor for Cider Press Review.

Julie Gard's prose poetry collection Home Studies was winner of the 2013 Many Voices Project at New Rivers

Press and is forthcoming in 2015. Previous publications include two chapbooks, Obscura: The Daguerreotype

Series (Finishing Line Press) and Russia in 17 Objects (Tiger's Eye Press), along with work in a number of journals

and anthologies. Julie lives in Duluth, Minnesota with her partner and daughter and is Assistant Professor of Writing

at the University of Wisconsin-Superior.

Sara Ghoshal is from NJ. She currently teaches writing at Montclair State University and earned her MFA from

Long Island University, Brooklyn. Her poems are forthcoming in a number of journals including Shampoo and

Hermeneutic Chaos, as well as an anthology inspired by Hurricane Sandy. This poem comes from a collection of

prose poetry that she is currently revising and hoping to publish, titled Peaceful Monster.

Derek Graf Derek Graf is the author of the chapbook, What the Dying Man Asked Me, forthcoming from ELJ

Publications in 2015. His poems will soon appear in Portland Review and Revolution House.

Anxiety-ridden San Diego poet KT Gutting received her MFA in poetry from Saint Mary's College in 2013. She is

The Taxidermist for White Stag and her poetry has also appeared in the Bicycle Review.

Sara Henning is the author of A Sweeter Water (Lavender Ink, 2013), Garden Effigies (Dancing Girl Press,

forthcoming), and To Speak of Dahlias (Finishing Line Press, 2012). Her work has appeared or is forthcoming in

such journals as the Green Mountains Review, Crab Orchard Review, and Connotation Press. She is currently a

doctoral student in English and Creative Writing at the University of South Dakota, where she serves as Managing

Editor for the South Dakota Review.

Since graduating with an MFA from Wichita State University, Rae Hoffman has been published in Mojo, Kenning

Journal, and was announced winner of the 2014 Cincinnati Library Poetry Contest. She spends her time reading,

dreaming, and looking at pictures of pugs.

Jennifer Jackson Berry is the author of the chapbooks When I Was a Girl (Sundress Publications) and Nothing But

Candy (Liquid Paper Press). Her poems have appeared in Harpur Palate, Cider Press Review, and Mead, among

others. Poems were also published in various anthologies in 2014, including We Will Be Shelter (Write Bloody) and

By the Slice (Spooky Girlfriend Press). She is an Assistant Editor for WomenArts Quarterly and lives in Pittsburgh,

Pennsylvania.

Brett Elizabeth Jenkins lives, writes, and teaches in St. Paul. She was nominated for Best of the Net in 2012 and

2014. Look for her work in Beloit Poetry Journal, PANK, Linebreak, Paper Darts, Drunken Boat, and elsewhere.

Mark Allen Jenkins is the former Editor-in-Chief for Reunion: The Dallas Review. Currently a PhD student in

Humanities with a Creative Writing Focus at the University of Texas at Dallas, his poetry has appeared

in Memorious, minnesota review, South Dakota Review, and is forthcoming in Every River on Earth: Writing from

Appalachian Ohio.

Les Kay holds a Ph.D. from the University of Cincinnati's Creative Writing program. His chapbook, The Bureau, is

forthcoming from Sundress Publications in 2015, and his poetry has recently appeared or is forthcoming in Southern

47
---
Humanities Review, RomComPom, Whiskey Island, Sugar House Review, The White Review, The Boiler Journal,

Borderlands, and elsewhere.

Jill Khoury earned her Masters of Fine Arts from The Ohio State University. She teaches writing and literature in

high school, university, and enrichment environments. Her poems have appeared or are forthcoming in numerous

journals, including Bone Bouquet, RHINO, Inter|rupture. She has been nominated for two Pushcart Prizes and a

Best of the Net award. Her chapbook Borrowed Bodies was released from Pudding House Press. You can find her at

jillkhoury.com.

Born and raised outside of Rochester, NY, Erin Koehler is currently a senior at SUNY Geneseo studying Creative

Writing with a Native American Studies minor. Stone Highway Review is her first publication. Post undergrad, Erin

hopes to find a career writing children's literature and being creative.

Rachel Lake is a poet from New Jersey and a recent graduate from Sarah Lawrence College's MFA program. You

has recently been published in Glassworks magazine and The Bicycle Review. You can also find more of her work at

Luna Luna Magazine where she publishes articles each month to their blog. To reach Rachel, feel free to email her

at rachelklake@gmail.com

Kristin LaTour's first full-length collection, What Will Keep Me Alive, is forthcoming from Sundress Publications

in 2015. Her poems can be found in journals including Massachusetts Review, MiPOesias, Extracts and Menacing

Hedge. She practices not going insane in Aurora, IL, where she resides with her writer husband and two dogitos.

More information is available at kristinlatour.com.

M. Mack is a genderqueer poet, editor, and fiber artist in Virginia. Ze is the author of the chapbooks Traveling

(Hyacinth Girl Press, 2015) and Imaginary Kansas (dancing girl press, 2015). Mack is a founding co-editor of

Gazing Grain Press.

Sarah Miller Freehauf is the Managing Editor for Lunch Ticket Literary Magazine, a reader for [PANK] magazine, and an

MFA candidate in Poetry at Antioch University, Los Angeles. She also teaches high school English and Creative Writing in

the Midwest.

T.A. Noonan's latest chapbook, The Midway Iterations, is forthcoming from Hyacinth Girl Press in 2015. Her

previous books include Petticoat Government, The Bone Folders, and four sparks fall: a novella. Recent work can

be found in Stirring, LIT, West Wind Review, Eleven Eleven, and more. A weightlifter, priestess, and all-around

woman of action, she lives in Knoxville, Tennessee, and serves as an artist-in-residence at Firefly Farms, home of

the Sundress Academy for the Arts.

Al Ortolani's poetry and reviews have appeared in journals such as Prairie Schooner, New Letters, Word Riot, and

the New York Quarterly. His fifth collection of poems, Waving Mustard in Surrender, was released in 2014 from

New York Quarterly Books. He is on the Board of Directors of the Kansas City Writers Place and is an editor with

The Little Balkans Review.

Carla Panciera has published two collections of poetry: One of the Cimalores (Cider Press) and No Day, No Dusk,

No Love (Bordighera). Her collection of short stories, Bewildered, received AWP's 2013 Grace Paley Short Fiction

Award and is available from the University of Massachusetts Press.

Christopher Petruccelli's friend Matt Fox says, "Chris is a springtime rose amidst dystopian rubble. A 40 in one

hand and pen through his heart, never has society been challenged by beard or bard." But really, Chris just drinks

whisky and smokes cigarettes with older women. His poems have appeared in Gingerbread House Literary

Magazine, Connotation Press, Rappahannock Review and elsewhere. His chapbook, "Action at a Distance," is

forthcoming from Etchings Press, University of Indianapolis.

Kate Soules is from Vermont and enjoys hiking the Green Mountains, traveling, and punk rock. She has published

in The New Poet, academically, and in journalism.

48
---
Letitia Trent's first novel, Echo Lake, is available from Dark House Press. Her previous books include the poetry

collection One Perfect Bird and the chapbooks "You aren't in this movie," "Splice," and "The Medical Diaries."

Trent lives in Colorado with her husband, young son, and three black cats.

Donna Vorreyer is the author of A House of Many Windows (Sundress Publications, 2013). Her work has appeared

in many journals including Rhino, Linebreak, Cider Press Review, Stirring, Sweet, Tinderbox Poetry, and Weave.

She is a consulting contributor for The Poetry Storehouse, which encourages remixing poetry with other art forms.

Her second poetry collection is forthcoming from Sundress Publications in 2016.

Kami Westhoff's work has appeared in journals including Meridian, Carve, Phoebe, Stirring, The Madison Review,

Third Coast, and is forthcoming in Sundog Lit and WomenArts Quarterly. She received her MFA from the

University of Massachusetts-Amherst and teaches creative writing at Western Washington University in

Bellingham, Washington.

Megan Willoughby is a writerperson from Los Angeles. She edits and reads submissions at the NewerYork. She's

currently working on a Creative Writing degree. Upon completion she will grow a beard, join the circus, and flail

her way towards adulthood.

Sarah Ann Winn lives in Fairfax Virginia. Her poems have appeared or will soon appear in [d]ecember,

Flycatcher, Lunch Ticket, Massachusetts Review, and Stirring, among others. Her chapbook, "Portage," is

forthcoming from Sundress Publications this winter. Visit her at http://bluebirdwords.com or follow her

@blueaisling on Twitter

49