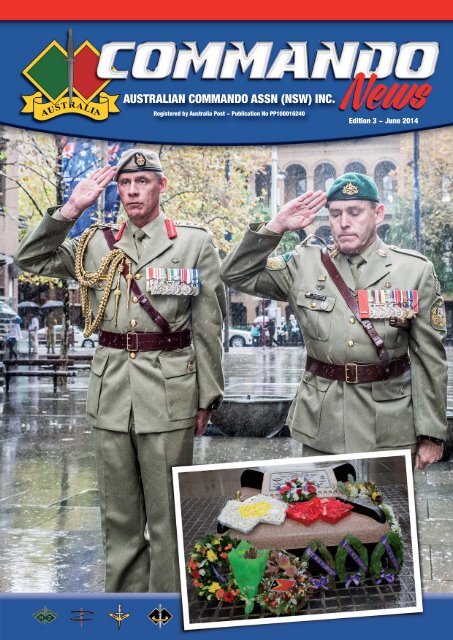 AUSTRALIAN COMMANDO ASSN (NSW) INC.
Create successful ePaper yourself
Turn your PDF publications into a flip-book with our unique Google optimized e-Paper software.
AUSTRALIAN COMMANDO ASSN (NSW) INC.

Registered by Australia Post ~ Publication No PP100016240

Edition 3 ~ June 2014
---
ANY

SPACE Mission effectiveness ectiveness relies heavily on a team's ability to

adapt

to different situations.

As such, having a weapon with multi-role

capacity can spell the difference between success and failure.

The light, flexible and

robust Carl-Gustaf system is a true

multi-purpose weapon

under

constant

development.

Man-portable and shoulder-fired, it providesmaximum

m

versatility and is compatible with a wide range of ammunition

types. The brand new

HEAT 655 Confined Space round also

offers enhanced urban

warfare are capabilities, allowing it to be used

in avariety of space-restricted estrictedenvironments.

environments.

You can rely on Saab's

thinking

edge

to deliver

innovative

ve

products and solutions s that enhance your capabilities and deliver

smarter

outcomes.

CARL-GUSTAF

Multi-mission

Man-portable

www.saabgroup.com/au

au
---
REGISTERED BY AUSTRALIA POST

PUBLICATION No PP100016240

AUSTRALIAN COMMANDO

ASSOCIATION (NSW) INC.

OFFICE BEARERS

PATRON:

Brigadier Keith Stringfellow RFD (Retired)

PRESIDENT: Barry Grant

Phone: 02 9543 4241 • Mobile: 0414 914 615

Email: starlightcdo@gmail.com

VICE PRESIDENT: Jeff Ireson

Phone: 02 9520 8865 • Mobile: 0468 396 778

Email jeffron@iprimus.com.au

SECRETARY: Kevin Mahony

Phone: 02 9644 8794 • Mobile: 0425 279 111

Email: kevin.mahony1@bigpond.com

TREASURER: Ivan Kelly

Mobile: 0417 042 886

Email: ikelly@bigpond.net.au

COMMITTEE:

Alan Grant Laurie Hall Norm Wood

David Lynch Reg Davis, 2nd/9th

Ted Hartley Ken Curran, 2nd/11th

EDITORS:

Barry Grant ~ Phone: 0414 914 615

Email: starlightcdo@gmail.com

Barbara Pittaway ~ Phone: 02 9427 5407

Email: ladybaussie8@bigpond.com

The Australian Commando Association (NSW)'s membership

consists of Servicemen who have served with Independent

Companies, Commando Squadrons, "M" and "Z" Special units

and Special Forces during and since the Second World War

DISCLAIMER: Opinions expressed within this publication are

those of the authors, and are not necessarily those of the Editor,

Publisher, Committee Members or Members of our Association.

We welcome any input as long as it is not offensive or abusive

but if any member has a problem with a printed article we would

like to be informed in order that the author may be contacted.

We do encourage your opinion.

Official Publishers:

Statewide Publishing P/L

ABN 65 116 985 187

PO BOX 682, SURFERS PARADISE QLD 4217

PHONE: 1300 662 885 • FAX: 1300 557 996

EMAIL: statepub@bigpond.net.au

Printed by Galloping Press

Unit 29, 398 The Boulevarde, Kirrawee NSW 2232

PHONE: 9521 3371

CONTENTS

President's Report .............................................3

Reserve Forces Day 2014 ..................................5

Military Funerals in Port Moresby .....................6

Book Review: Silent Feet...................................7

"What are the chances?"...................................9

Anzac Day ~ Sydney .......................................11

Home at last from Vietnam .............................12

HALO Parachuting in Ausralia

"The Early Days"........................................14

From the Prolific Pen of Harry Bell .................21

Field of Remembrance ....................................23

News from the Victoria Association

Kokoda Milestone......................................24

Sick Parade ......................................................25

Vale ..................................................................25

Events Calendar for 2014................................26

Membership Application/Renewal..................27

"Q" Store Order Form ....................................28

Deadline for next edition: SUNDAY, 31ST AUGUST 2014

Next edition out in time for Battle for Australia Day.

All news on members and interesting articles accepted.

(Subject to editors' approval.)

Barry G

AUSTRALIAN COMMANDO ASSN (NSW) INC.

Registered by Australia Post ~ Publication No PP100016240

Edition 3 ~ June 2014

Front Cover: Special Operations Commander

(Australia) and RSM SOCOM

at Commando Memorial Seat, Sydney

COMMANDO NEWS ~ Edition 3 I June 2014 1
---
• Unique Single Passenger Cab Design Gives a

Whole New Off-Road Experience

3-Point Seatbelt and Protective Netting

Certifi ed Roll-Over Protection Structure (ROPS)

Adjustable Seat and Steering Wheel

Independent Front & Adjustable Rear Suspension

Front Rack/Rear Box Capacity 55 kg/110 kg

32 HP EFI Engine with Polaris Variable Transmission

On Demand True All-Wheel-Drive (AWD)

CERTIFIED ROPS CAB FRAME

ADJUSTABLE SEAT

& STEERING WHEEL

ON DEMAND TRUE

ALL-WHEEL-DRIVE (AWD)

KG

680

680KG TOWING CAPACITY

32 HP

EASILY TRANSPORTABLE

1300 654 142 www.polarisindustries.com.au

ADVERTISEMENT

PERSONAL

INSURANCE

FOR VETERANS AND ADF

MEMBERS

COVER

PLUS

THE

CARE

WWW.DSH.GOV.AU

TO COMPARE THE FEATURES CALL

1300 552 662

• Home

• Contents

• Landlords Liability

• Car

• Caravans

• Trailers

• Private pleasure craft

• Motorcycles

• Travel

Pay your premiums by

direct debit at no extra cost (not

applicable to Travel and CTP)

Authorised by the Australian Government, Capital Hill, Canberra

Printed by Galloping Press, Unit 29, 398 The Boulevarde, Kirrawee, NSW, 2232

(The Defence Service Homes Insurance Scheme

underwrites the DSHI Home Building policy. All

other policies are underwritten by QBE Insurance

(Australia) Limited ABN 78 003 191 035. AFS

Licence 239 545). Please consider the Product

Disclosure Statement of the particular product

before making any decisions about the product.

DVADHIS2_FAA

2 COMMANDO NEWS ~ Edition 3 I June 2014
---
President's Report

Anzac Day for your President started off at

0300 hours at the Woronora River RSL Sub Branch

where I am the President there as well. (Never a

dull moment for me.)

The rain held off until 20 minutes before we

were to start the 0600 hours Service.

Some 600 to 700 residents turned up for this

year's service, and yes, they stood in the pouring

rain for over half an hour whilst we conducted the

Dawn Service.

We believe that next year, being the 100th

Anniversary of Anzac, will be even bigger and

planning has already started. Service finished at

0645 hours and I had to hurry to Martin Place by

0815 hours.

Changed my wet jacket and put on my nice

dry Commando Green jacket and headed off for

the Commando Seat, disembarked at Martin

Place and within one minute I was back to square

one, wet.

Despite the rain a good crowd assembled in

Martin Place. The decision to move under the

eaves of the Reserve Bank was prudent, that way

only some of us who laid wreaths were drenched.

Special Operations Commander Australia and

RSM SOCOM (see front cover), were among

many of our special guests representing our

Com mando Regiments as well Commandos past

and present.

We were also honoured to have the presence

of Veterans from the Timor Leste Defence Force

who laid wreaths and bouquets on the Com -

mando Seat.

When I attended the RSL "wash-up" of the

Anzac Day March committee, the same old

problems were raised about lack of vehicles,

Parade Marshalls not knowing what was going on,

no comms etc.

I raised the idea of simply numbering the

registered associations, that way everyone knew

where they fitted into the march. (KISS principle.)

We wait with baited breath for a solution to

that one!

★★★★★

Whilst mentioning

the Commando Seat,

I believe it is way

past time to alter the

seat and inscribe the

names of both the

1st and 2nd Com -

mando Regiments

on the seat. The Regiments have earned that

right by participation in recent conflicts over the

past 10 or so years.

We have identified spaces either side of the

seat; however, we must now talk to the Sydney

City Council about how to facilitate the inclusion

of the names, and also how these changes will be

financed.

We would like to have your views on this idea.

★★★★★

At the recent AGM of the Australian

Commando Association in Canberra, the issue of

a National newsletter was raised.

After some discussion it was resolved that we

use the current NSW Newsletter as the basis of

the National issue.

So the next edition in September will contain

news sent from all States, with info on both

current and former Commandos.

The only change to the front cover will be to

remove the words (NSW), the name will remain

"Commando News".

Apart from that nothing will change.

We also we are formulating a National mem -

ber ship application form to be included in the

newsletter, and it will be included in the next

newsletter.

New applicants just have to nominate the

State they want to pay their dues.

Barry Grant

President and joint editor

COMMANDO NEWS ~ Edition 3 I June 2014 3
---
COMMANDOS: I.A. REQUIRED

Further your career with project management skills:

•

•

•

•

•

•

•

•

Deliver

4 COMMANDO NEWS ~ Edition 3 I June 2014
---
SYDNEY – RESERVE FORCES DAY 2014

SUNDAY, 6 TH JULY 2014

DRESS:

MEETING PLACE:

MARCH OFF:

Green Jacket, grey slacks, black shoes, beret and medals.

Hyde Park 1000 hours near Archibald Fountain with 8th Brigade

Some rehearsals will also take place here.

1100 hours along College Street past St Mary's Cathedral, then into

Macquarie Street accompanied by bands, to Parliament House.

There will be a salute from His Excellency Hon Tom Bathurst QC.

After the address there will be a "March Past" then on to the

Dismissal Area in Phillip Street.

We hope everyone can join us for refreshments after the march

and tell a few fibs about how good we once were.

Venue to be confirmed.

DRESS:

FORM UP:

MARCH OFF:

DISMISSAL:

NEWCASTLE – RESERVE FORCES DAY 2014

Same as above

1030 hours in Lamen Street (just above Civic Park.

1100 hours (All downhill)

Approximately 1230 hours.

ALL TRAVEL ON PUBLIC TRANSPORT WILL BE FREE FOR THE DAY.

(Providing you are wearing medals, beret and name badge)

Improving business performance through enhanced project management

Whether you are the owner of a business, an employee, or self-employed, we all want to

earn more but not work quite as hard in our enterprises.

In this article, Doug Wheeler, who has over 30 years of experience in the consulting

industry, and is currently the Academic Director for the project management program at

UNE Partnerships, provides some tips on how applying project management practices can

improve the financial performance of our projects while enhancing our relationship with

clients and our reputation.

Doing projects is what most business do, but project management is sometimes seen as

only belonging to large or certain types of projects. Project management is also portrayed

at times to be very complicated and expensive to apply.

Some also see project management as being all about schedules and budgets. While

these are important, project management is much more than that, because at the end of

the day, projects are done by people for people. The following tips provide some of the

clues to improving performance.

Become multi-lingual. Once we become proficient at a skill, trade or profession we are

eventually asked to take more responsibility for projects. We then become what are known

as accidental project managers. We are proficient in our technical language but that may

not be a language that our clients understand. If we also learn the business language of

our clients we become better at understanding their requirements and then translating

that into the project management and technical languages. In reverse, we are better able

to interpret technical and project performance information into a form that our clients will

relate to. You could say we have become multi-lingual.

Write more concise but stronger proposals. Many people use terms like: "the work

includes, but is not limited to…" Unfortunately, this is open to interpretation by both

parties and leads to many difficulties in determining what is or isn't in scope. This can

result in much more work being done that was not allowed for in the budget, resource

planning, and schedules; or alternatively, a testy relationship with the client. This can be

overcome by writing proposals that comprise the elements of a scope statement. These

put less reliance on listing what is 'in scope' but more on why the project is being done;

the project objective; what is clearly out of scope (sometimes called exclusions); as well

as the constraints and assumptions. By doing this we provide some boundaries on

understanding, more clarity on what work has to be done, and when variations will apply.

Employ project change management. All projects require additional work being required

to meet the requirements of client. If these changes are clear through having more

effective scoping, we then analyse and quantify them, and get approval by the client before

undertaking the additional work, we have done project change management. In doing this,

we have evaluated the potential impacts of the change on our budget; milestones;

resourcing; quality requirements; risks to the project, the client, our business, and other

stakeholders; and any contractual arrangements. By communicating these impacts

(positive and negative) to the client they are able to make a more informed decision. This

enhances our reputation and if they proceed, they are accepting the impacts of that

change and our financial position is maintained. If, however, we don't undertake the

analysis and have the discussion before we implement the change, the client will view this

in terms of the value to them from the change. This perception of value may be very

different to the real cost of the change, and after doing the work, we have diminished

bargaining power. This can severely impact the expected financial performance of the

project. It is even worse if the change wasn't recognised at all, and additional work was

undertaken (sometimes with good intentions) with no increase in budget or change to

milestone dates. This relates to what we call scope creep. In simple terms, approved

changes are good, scope creep is bad.

Timeliness. There is a direct relationship between time and cost. Projects and tasks that

are completed on time, or early, are generally on, or under budget. Projects and tasks that

are late, will generally be over budget. Therefore, once we have timeframes and

milestones in place, we need to do what we can to meet these. Timeliness overlaps with

the earlier tips, as realistic timeframes require a clear understanding of scope and

requirements; and timely completion of tasks is an effective control of scope creep.

How can I learn about this?

UNE Partnerships can support individuals and businesses in improving performance

through the provision of consulting to business; one on one coaching; public and

business designed short courses; nationally and industry recognised qualifications in

project management, business and management; and pathways to UNE post-graduate

programs. If you would like to find out more contact UNE Partnerships on 1800 818 458

or study@unep.edu.au or please visit our website www.unep.edu.au.

Doug Wheeler MAppSc (Research) BE GDSTT ADPM CPEng NPER RPEQ CPPD MAIPM

MPMI is highly qualified in engineering and project management with over 40 years of

experience in a wide range of sectors. For last 14 years he has taught project management

to several thousand people around the country, and is a regular speaker at conferences.

He has been a consultant to UNE Partnerships for the last 14 years delivering and

assessing in the project management program.

COMMANDO NEWS ~ Edition 3 I June 2014 5
---
Military Funerals in Port Moresby

On the 10th of June I travelled to

Port Moresby, Papua New Guinea

(PNG), to join Keith Long, President

of the Queensland Branch of the

Association.

The reason for our attendance was

the full Military Funerals of LCPL

Spencer Walklate and PTE Ronald

Eagleton, former members of

Services Reconnaissance Depart -

ment, a WW2 Special Forces Unit

sometimes referred to in the press as

"Z Special Unit". (That was their

administrative unit.)

In one of our earlier newsletters

we reported that their remains had

been located on the Island of Kairiru

just off Weewak in PNG.

The team that discovered the

remains were under the leadership of

Brian Manns and MAJ Jack Thurgar

SC OAM from the Army's Un -

recovered War Casualties Unit.

The task of identifying the exact location through

unending and thorough research by both men and the

recovering the remains is a task that that is under -

estimated.

Australians should be thankful that we have people

of SUCH passion.

The families of the soldiers were flown to PNG by

the Army for the service, including Sapper Edgar

Thomas (Mick) Dennis MM, the sole survivor of

Operation Copper.

The remains were to be interred in Bowmana War

Cemetery, some 15 kilometres outside of Port

Moresby.

This sacred place holds the remains of some 3,300

Australians from WW2, and I believe it is the largest

solely Australian, War Cemetery in the world.

After some research of the records in this cemetery

MAJOR Jack Thurgar SC OAM

in front of Private Ron Eagleton's

headstone.

I discovered the headstones of

approximately 100 Australian Com -

mandos (including 3 or 4 "Z Special

Unit").

I have photographs of some and

hope to have the remaining photos

in early July.

Also in attendance were

members of the 1st & 2nd Com -

mando Regiments as well as re -

presentatives from the SAS, Deputy

Special Operations Com mander

Australia, bearers and firing party.

Padre Keil Maslen, Chaplain of

the 2nd Commando Regiment

conducted the service under the

shade of a rain tree at the bottom of

the hill.

This was a very moving service

and Keith and I were honoured to lay

wreaths on both graves as re pre -

sentatives of the Australian Com -

mando Associations.

Following the official service the families gathered

around the graves in a personal tribute to the relatives.

Both men were residents of the Eastern Suburbs of

Sydney so it was appropriate that sand and sea water

from Maroubra beach was sprinkled on the caskets.

Later Australian gum leaves were laid against the

headstones by one of the official party.

The only downside to the day was the fact that

owing to a traffic jam (not uncommon in Port Moresby)

the trip back to the hotel took 3 hours longer than

normal, resulting in me missing my flight back to

Sydney. The traffic had to be seen to be believed, I am

sure there are road rules, but no one seems to abide by

them.

Barry Grant

President ACA New South Wales

Mr. Todd Walklate representing the family of LCPL Spencer

Walklate receives the customary Australian Flag from the

casket. "On behalf of a grateful nation".

Sapper "Mick" Dennis, the sole survivor of Operation

Copper, pays his respects laying wreaths on his comrade's

final resting places.

6 COMMANDO NEWS ~ Edition 3 I June 2014
---
"Mick" Dennis MM sprinkling sand and water from

Maroubra Beach on PTE Eagleton's casket.

Author:

Title:

Publisher:

Courtney, G.B. MBE, MC

Silent Feet

Slouch Hat Publications, Vic, Australia,

2002. Card Cover Only.

Description: New, p272, Card Cover, 9 1/2"x 6 3/4",

SRD Honour Roll, SRD (Operatives)

Nominal Roll, Bibliography, Index

Order type:

ORDER – Available for a cost of

AUD$50.00 [plus postage] per copy

This book contains factual information from published

military archives about all the special operations

conducted by 'Z' Special Unit which was the adminis -

trative arm for the operatives deployed.

New Car Sticker for Members

Members we have a new National Commando

Association car sticker for the inside of your car

window.

See the "Q Store" list for details.

JOKE

Mildred, the church gossip, and self-appointed

monitor of the church's morals, kept sticking her

nose into other people's business.

Several members did not approve of her extracurricular

activities, but feared her enough to

maintain their silence.

She made a mistake, however, when she

accused Frank, a new member, of being an

alcoholic after she saw his old pickup parked in

front of the town's only bar one afternoon.

She emphatically told Frank (and several others)

that everyone seeing it there would know what he

was doing!

Frank, a man of few words, stared at her for a

moment and just turned and walked away. He

didn't explain, defend, or deny.

He simply said nothing.

Later that evening, Frank quietly parked his

pickup in front of Mildred's house, walked home...

and left it there all night.

(You gotta love Frank!)

COMMANDO NEWS ~ Edition 3 I June 2014 7
---
Train hard,

play harder

BOOK YOUR FLIGHTS TODAY!

1300 366 364

Next to Richmond RAAF AF Base

123 Mulgoa Road, Penrith (Sydney) NSW 2750

8 COMMANDO NEWS ~ Edition 3 I June 2014
---
"What are the chances?"

Recently I received a phone call

from Rod Baran who had just been

to a garage sale looking for fishing

equipment (what else).

Saying, "Barry you have just got

to go and have a look at a couple of

boat models a lady has".

Later I visited the lady and found

to my amazement a very good

model of the "Krait". The original

craft is of course moored at the

National Maritime Museum in

Darling Harbour.

This model was a labour of love

by her late husband who had

passed away recently and she was

con sidering selling the radio

controlled craft.

Having spent a few hours talking

to her about the wartime boat and

the crew whom I had met, she

asked what I would do with the

model.

The obvious answer was to

display it at the Commando History

& Research Centre at Holsworthy.

She said she would discuss the

matter with her family and maybe

get back to me.

Well, to my surprise I was invited

to come and collect the model.

It is now in the History Centre for

all to see as part of a future display

of "Z Special" memorabilia.

It is truly a labour of love and a

lot of research has gone into the

model.

Pictured are Moss Berryman and President Barry Grant aboard the MV Krait in Darling Harbour late last year

after a visit to Sydney from Adelaide. Moss is now the sole survivor of the 1943 Jaywick raid to Singapore by

SRD operatives lead by MAJ Ivan Lyon. This raid by 3 canoe teams sunk approximately 40,000 tons of Japanese

shipping. Moss and his wife Mary were taken for a harbour joy ride on the Krait by the staff of The Australian

National Maritime Museum.

COMMANDO NEWS ~ Edition 3 I June 2014 9
---
Australian Army Infantry

Museum

Cnr Golden Highway

& Range Road

Whittingham NSW 2330

Open to the public Wed to Sun 9am to 4pm

The museum serves as a mirror to the Infantry Corps. It is a place

where young soldiers can learn about the history behind the place

names they are familiar with, or perhaps about the military service of

a family member. Gallipoli, Passchendaele, Kokoda and Long Tan are

all brought to

life, along with

less familiar

deployments

such as the

New South

Wales Marine

Light Infantry

deployment to

Peking in

1900, or the

platoon from

2/4 RAR that helped to keep the peace in Cambodia in 1993.

GENERAL ENQUIRIES AND GROUP BOOKINGS

Museum

Phone: (02) 6575 0257

Email: info@infantrymuseum.com.au

Web: www.infantrymuseum.com.au

Lone Pine Kiosk and RAINF Corps Shop

Phone: (02) 6575 0427

remain physically

active with a

rewarding career

Become an elite Personal Trainer and SAVE $1,500 when

you enrol in the Fast Track / Dual Diploma Package with

the Australian Institute of Personal Trainers!

VET FEE-HELP available

Motivate, inspire and change people's lives for the better with

the REAL

prefers and enrol in the June intake!

Places are limited, so enquire NOW!

Call Now 1300 880 255

PROFESSIONAL EOD

TOOLS & ACCESSORIES

VECTOR

Trading Corporation

PTY LTD

VTRADECORP.COM

Tel: 03-98464709 |

Mob: 0416 195306

reuven@vtradecorp.com | info@vtradecorp.com

JUST FOR THE GIRLS

Booty Camp, Australia's #1 choice for

outdoor fitness, is now training girls to

become fitter, stronger, healthier and achieving

amazing results.

Booty Camp is running a 6-week course near

you for Girls Only.

Enrol now to start working towards your goal.

ENROL NOW | 1300 BOOTYCAMP | BOOTYCAMP.COM.AU

(1300 266 892)

10 COMMANDO NEWS ~ Edition 3 I June 2014
---
ANZAC DAY

SYDNEY

Friday, April 25, 2014

The Hon COL of the Commando

Regiments, BRIG Philip McNamara CSC

addresses the service.

Arthur "Itchy" Eastwood, Jim Pullin and "Bluey"

Ken "Bluey" Curran and Barry Grant

Yes it was raining!

Don Newport 2nd/12th Independent Coy

Veterans from Timor Leste

COMMANDO NEWS ~ Edition 3 I June 2014 11
---
HOME AT LAST FROM VIETNAM

By Mr Brian Mann

The excitement spread through the Vietnamese

labourers washing the soil coming out of the ground

beside the Suoi Sap in Vietnam. The team leader of the

Australian Army Recovery Team had taken one of the

hoses and was carefully washing something that had

just been found by Vietnamese Army engineers.

As the water washed over the object of interest it

became clearer that it was what everyone had hoped

for – an identification disc of the type worn by

Australian soldiers during the Vietnam War.

Now clean, there was no doubt that what Brian

Manns held in his hand was an identity disc, and one of

the stainless steel types often worn by Australians. The

disc was still wrapped in black tape and as Manns

carefully folded back the tape the letters 'DJE Fisher'

glistened in the sunlight.

Everyone, Australian and Vietnamese, was quietly

overjoyed: the most important piece of equipment that

it could be hoped would be found had been found.

The team knew immediately that the final missing

Australian soldier from the Vietnam War was no longer

missing.

Private David John Elkington Fisher was a young

Australian who had volunteered for national service,

had been selected for the Special Air Service Regiment

(SASR) and had spent several months in Vietnam.

On 27 September 1969, Fisher was a member of an

SASR patrol in an area to the west of the Nui May Tao

Mountains in what was then Long Kanh province in

Vietnam. After a number of contacts the patrol was

lifted out of the area in a 'hot extraction', and it was

during this extraction that David Fisher fell from the

rope that suspended him below the Royal Australian

Air Force helicopter into thick jungle.

Several air and ground searches over the course of

the next 10 days failed to find any trace of Fisher. He

was officially listed as 'missing in action presumed

dead' and a death certificate was issued. That's the

way it stayed until 28 August 2008, when his 'dog tag'

was found along with Caucasoid human remains

beside a stream (the Suoi Sap).

The discovery of human remains was the culmi -

nation of a detailed and exhaustive investigation

carried out by the Australian Army History Unit (AHU).

In January 2008, and following on from successful

recoveries of three other previously missing Australian

soldiers in Vietnam, the Deputy Chief of Army directed

AHU to investigate the case of the last missing

Australian soldier from the Vietnam War – Private David

Fisher, SASR.

A small two-man team – Brian Manns and Jack

Thurgar of AHU – commenced a careful examination of

all of the available Australian records, including unit

war diaries, and interviewed Australian veterans

involved in the incident in which Fisher was lost. They

also appealed to the Australian Vietnamese community

for help.

Armed with the information already gathered in

Australia, the team travelled to Vietnam in March 2008

to gather information from Vietnamese sources. An

exhaustive two weeks of interviews with Vietnamese

veterans who had fought on the opposing side, and

others, confirmed which Viet Cong and North Viet -

namese Army units operated in the area and gave a

very clear understanding of the procedures that they

followed. Information flyers were also distributed to

the Vietnamese veteran groups, appealing for help in

locating Fisher's rifle and equipment.

That initial investigation in Vietnam confirmed a lot

of the already gained information but also created

more unanswered questions and so a return trip to

Vietnam was planned. In the meantime the team

continued to expand its body of information from

Australian sources. In the Court of Inquiry documents,

Jack Thurgar recognised a small piece of information

that seemed to have escaped the attention of earlier

researchers. It was a reference to the discovery of a

pool of water 'red in colour'. This pool of 'red' water

was just outside of the designated search area. The

Private David John Elkington Fisher

12 COMMANDO NEWS ~ Edition 3 I June 2014
---
find was considered significant enough by the

company commander for a sample to be taken and

returned to the 1st Australian Field Hospital for

analysis. No record of what happened to the sample

was found, even after extensive record searches and

personal interviews with the commanding officer of the

hospital and the United States (US) Mortuary Unit in

Vung Tau and in Saigon (where facilities existed for

such analysis).

The next important breakthrough came from a

member of the Australian Vietnamese community. He

told investigators that in early October of 1969 he and

another soldier 'from the North" had found the body of

a 'dead American' (Fisher, like most SASR soldiers,

wore US camouflage uniform) and had buried his body

in a shallow grave beside the Suoi Sap. Later this man

made his way to Australia.

The final missing piece in the Fisher jigsaw was a

more precise indication as to where David Fisher might

have hit the ground. To calculate this required details

of the direction and speed of the aircraft, the time of

flight before the fall and other factors. Once the

calculations were done and the information applied to

a map, it became apparent that earlier searches had

concentrated on an area too close to the roping

extraction point. This area had not been searched,

because the US heavy artillery at Fire Support Base

'Blackhorse' (8 inch and 175 millimetre) had ordered all

Australian forces to clear the western sector as they

wanted to fire harassment and interdiction fire missions

into that zone. The impact area was the centre of axis

for the opposing force's main supply route, which

bypassed a major US roadblock on Highways 1 and 2

established by the US 11th Armoured Cavalry

Regiment.

The team returned to Vietnam in August 2008 to

continue to interview Vietnamese veterans and to

examine the new area of interest. On Friday 8 August

the team began its careful examination of the area

bordering the Suoi Sap from its confluence with a

major river (the Song Ray) to the newly plotted area of

interest. While Manns reconnoitred the Suoi Sap from

the Song Ray to a point some 1.5 kilometres to the

west, Thurgar and his Vietnamese search team moved

directly to the area of interest.

The breakthrough came when a Vietnamese search

team member from Thurgar's group was examining an

erosion hole close to the Suoi Sap. A large piece of

bone believed to be human in origin was found along

with a piece of plastic that appeared to be from the

inside of an Australian-issue collapsible water bladder

used by the SASR in Vietnam. The next day, after

examining a photograph of the bone fragment, an

Australian forensic anthropologist was able to confirm

that it was most likely the lower end of a human femur

(thigh bone). This opinion was supported by the

director of the Military Forensic Institute in Hanoi the

following week.

Work commenced immediately to get the

remainder of the Australian Army Recovery Team to

Vietnam in order to recover any further remains that

were still able to be found before the full force of the

'wet season' struck the flood-prone area. After a week

of negotiations approval was granted for a recovery

and the additional team members arrived in Vietnam.

After Vietnamese Army engineers conducted an un -

exploded ordnance search, there followed a week of

careful excavation during which more of David Fisher's

remains were found. The work culminated in the

discovery of one of his dog tags but did not cease till

all recoverable remains were collected from the site.

The important artefact discovery was only possible

because of the support of Vietnamese Army engineers

using Australian Minelab equipment.

Private David John Elkington Fisher was repatriated

to Australia by the Army in October 2008.

Thanks to the determination of Australian and

Vietnamese veterans, Army Headquarters and AHU

staff and many others, all of those Australian soldiers

who were killed in action but who had not been

properly buried at the time of their loss have now been

found and returned to their families in Australia. While

it may have taken a very long time to bring them home,

at least now they are home.

Copper Wire & Communication

After having dug to a depth of 10 feet last year, British scientists found traces of copper wire dating back 200

years and came to the conclusion that their ancestors already had a telephone network more than 150 years ago.

...Not to be outdone by the British, in the weeks that followed, an American archaeologist dug to a depth of

20 feet, and shortly after, a story published in the New York Times said: "American archaeologists, finding traces

of 250-year-old copper wire, have concluded that their ancestors already had an

advanced high-tech communications network 50 years earlier than the British".

One week later, Australia 's Northern Territory Times reported the following: "After

digging as deep as 30 feet in his backyard in Tennant Creek , Northern Territory ,

Knackers Johnson, a self-taught archaeologist, reported that he found absolutely

bugger-all.

Knackers has therefore concluded that 250 years ago, Australia had already

gone wireless."

... Makes ya feel bloody proud to be Australian

COMMANDO NEWS ~ Edition 3 I June 2014 13
---
HALO PARACHUTING IN AUSTRALIA

"THE EARLY DAYS"

Nostalgia from Bruce Horsfield

I read with interest and nostalgia an item in a Strike

Swiftly sometime ago, on Brian Murphy's high altitude low

opening (HALO) free fall parachuting record back in the

60's. Brian's achievement caught my imagination at the

time and I thought that your readers might like to hear

about some other early HALO endeavours by a member

of 1 Commando. In setting down my own HALO

experiences as I recall them, warts-and-all, I often shudder

at some of the vivid images that come sharply into focus

in my memory, stern reminders of the problems and

dangers we were up against and the limitations of our

approach. Certainly, we were really establishing civilian

HALO parachuting in Australia and there were critical

times when our ignorance caught up with us. But we were

lucky, we were young and somewhat brash, and we had

some successes. And now, of course, with the wisdom of

hindsight and middle age, we'd probably not take as

many risks as we did in our three attempts on HALO

altitude records.

"High altitude" is an imprecise term but my memory

has it that "HALO" jumping is free falling from over

20,000 feet – that height above which the free fall

parachutist is required both to use the inboard aircraft

oxygen supply and to carry a separate portable oxygen

supply in free fall.

* * * * * * * Early 1958, at age 17, I was the sole

volunteer in D Company, University of NSW Regiment -

the scruffy, university student conscript CMF unit that was

the Newcastle part of UNSWR. I had never heard of

1 Commando but after a chance meeting at Holsworthy

with 0the unassuming and very professional Brian

Murphy I was delighted in September '58 to pass the

medical for 1 Commando, transfer from D Company and

get my black beret. On the Taronga Zoo bus to Georges

Heights on the first Tuesday parade night I met Corporal

Mike Wells. Later Mike showed me some photos of the

free falling that he, Brian Murphy, Barry Evers, Red

Harrison and others were pioneering (and, painfully,

without canopy deployment sleeves!) at Camden, south

west of Sydney. This really looked like absolute lunacy to

me at the time, and I mentally dismissed parachuting as

unnecessarily dangerous and definitely to be avoided.

Worse, during my Green Beret training I was dismayed to

learn that the Para course was the only compulsory course

in the unit. I seriously thought that I would quietly resign

from 1 Commando. But as many of us who have been

through the unit have no doubt found, with its effective

training and great esprit de corps, I gradually started to

warm to the idea of parachuting. I had always been air

minded and loved heights and would have enlisted as a

pilot in the Fleet Air Arm in 1957 had my father allowed

me. The older hands in 1 Cdo wearing their Para wings

certainly seemed no worse for the experience (read: if

they can get their wings then so can I!)

So, in April 1960 I grasped the nettle and did my first

frightening static line jump from 1200 feet with Sydney

Skydivers at Camden using a 28-foot British X-type ex-

Army static line parachute. The jump platform was a

lumbering but adequate De Havilland Dragon twinengined

biplane. By the time I did the Para course at

RAAF Williamtown in November 1960 I had already

completed eight static line jumps and two "jump and

pulls" i.e. with ripcord deployment from 2,500 feet. Barry

Clissold had also started jumping at about that time and

we were the only "experienced" jumpers on our Para

course, smugly watching 20 other fearful and utterly

miserable first jumpers on the first long, long sortie until

we started to catch the jitters from them anyway.

Gradually I got hooked on free falling and bought my own

ex-USAF main parachute and reserve, so that a few of us

could go up country on weekends and make a plane load

to get higher altitude jumps.

At Camden in 1960 a free fall of 5 - 10 seconds was

regarded as pretty sophisticated stuff. While we were very

keen, none of us demonstrated much skill in or knowledge

about free falling. The near blind led the blind. True skill

in free fall - and high altitude air space so close to Sydney

- were both very scarce. Sadly, we were restricted at

Camden to 3,500 feet above terrain by Air Traffic Control

at Mascot. Of course, skydivers can never get enough

altitude and non-bivouac weekends would often see a few

of us in Goulburn or Bathurst for higher altitudes. By 1962

we were proficient at stabilising and turning in longer free

falls of 7,000 – 8,000 feet above terrain. We knew little of

HALO jumping (I don't think the term had been invented)

and we were still a bit timid about altitudes above 10,000

- 12,000 feet. HALO jumps from the troposphere

(altitudes up to 37,000 feet) and the stratosphere (above

37,000 feet) were remote, fantasies to ponder over a beer.

No one that we knew had experienced free falls from

either of those levels. Anyway, what would be the

requirements for oxygen? We understood that in-board

oxygen was required above 10,000 feet AMSL by the then

Department of Civil Aviation and there were stories that a

personal oxygen supply in free fall was also compulsory

above 20,000 feet AMSL. But where could the small

personal bottles and oxygen masks to carry in free fall be

obtained? Who had that sort of gear? Moreover, suitable

aircraft that could make it to higher altitudes were

expensive and hard to find. But all this was more in the

realm of pub talk, for at this time we were mostly

preoccupied with mastering stability and linking up with

each other in free fall, and trying to steer our canopies to

land dead centre on the DZ marker.

14 COMMANDO NEWS ~ Edition 3 I June 2014
---
But because of our love of free falling the mystique of

high altitude parachuting – prolonging the free fall part of

the jump - persisted with many of us. Were there real

dangers in a long free fall, we wondered? Could you lose

control, and go into an accelerating flat spin that would

cause blackout, as we read had happened in the USA?

That is, my generation of jumpers in the early '60's

thought mainly of the free fall part of the jump, and not

being skiers or climbers asked few if any questions about

the environment of the troposphere. Not having ever

been seriously exposed to the frigidity of high altitude, we

had no sense of the hazards of hypothermia, exposure,

sub-zero temperatures, frostbite, frozen altimeters, and

the decline in mental performance, judgement and gross

and fine motor skills resulting from hypoxia. (We didn't of

course know that we would soon get first hand experience

of these things the hard way!) To us HALO was all just a

fantasy fuelled by a frustrating mixture of timidity,

ignorance, curiosity and a desire for adventure. Obviously,

by this stage I'd come a long way since my dread of the

basic Para course. One detail we weren't worried about

though was the chance of missing the drop zone on a

HALO sortie. Just getting to the ground in one piece

would do nicely. Anyway, the spotting on our sorties was

often lousy in the early 60's and we all knew what it was

like to lug our gear a long way back to the strip after a

poor spot!

But skydivers elsewhere, free of the altitude

restrictions of Camden, pushed ahead. Suddenly, drama -

tically, higher leaps started happening around us. Laurie

Trotter, an early 'civvie' skydiver, set an Australian altitude

record with a 60 second delay from 12,000 feet. At

Camden our parochial little group of skydivers were

grudgingly impressed. Then, to our surprise and delight,

Brian Murphy made a successful attempt on Trotter's

Australian high altitude free fall record using a Cessna

210. Brian's free fall from 17,000 feet - astonishing at the

time - broke not only Trotter's 12,000 feet Australian

record but also our own psychological and physical

resistance to the HALO environment above 12,000 feet.

Then a NZ skydiving team using a supercharged Aero

Commander 680F attained a remarkable 27,000 feet - a

wondrous, absolutely mind-blowing excursion into the

upper troposphere even by today's standards. And, for

what it was worth, it was a Southern Hemisphere high

altitude free fall record. They exited at 27,000 feet and

pulled ripcords at 2,000 feet. To most of us at Camden

that sort of operation and altitude seemed out of our

league. I remember wondering at the time just how such

a jump could be possible.

However, times and people change and in 1965 I

decided to give it a go. We - Robin Godwin, a civvie mate,

and I - would attack the Kiwi's Southern Hemisphere

HALO record of 27,000 feet. Brian Murphy unselfishly lent

us each a portable oxygen cylinder (De Havilland Vampire

jet fighter ejection seat cylinders, each with a 7 minute

constant flow supply), which was required for jumping

above 20,000 feet AMSL by the Australian Parachute

Federation. Brian had acquired these little bottles for his

own HALO record attempts (deferred indefinitely

following a knee injury while parachuting). We were lucky

to get cost - free an Aero Commander 680F, in a

sponsorship deal with the then Avis Rent-a-Plane. The

Avis pilot, Captain Peter Ahrens, assured us that the 680F

could beat the Kiwi's 27,000 feet. At this stage I had done

147 jumps, mostly free falls, the highest being a 45

second delayed opening from 9,500 feet without oxygen

equipment.

Our plan was to free fall from the Aero Commander's

absolute ceiling – we had no idea what this would be - to

2000 feet, open parachutes, and land in Lake Illawarra

where boats of the Kanahooka Motor Boat Club would

retrieve us. Along with us on the sortie as "drifter" (a term

used to refer to a device for gauging the wind strength

and direction after take off but also to justify a free jump)

was my younger brother - another Robin, aged 18 - who

was doing his 45th jump. (Soon after, in January 1966

during the Vietnam War, Robin "celebrated" being

conscripted by doing 40 jumps in one day onto Aero

Pelican strip, Newcastle. Rob has very good legs!) As

our drifter, Robin was to free-fall from about 16,000 feet

to 2000 feet and land in the lake, exiting the aircraft

as it climbed to whatever altitude the pilot could attain.

The Aero Commander had its own in-board passenger

oxygen console for our use on the climb and we would

carry the little 7-minute ejection seat oxygen cylinders

tied to our reserve chute bungies. These would be

connected to our $5 Army Disposal Store WWII "12

O'clock High" oxygen masks – oldish, but in mint

condition, like the candy striped USAF military surplus

parachutes that we used. We would change over from the

aircraft oxygen console to our portable cylinders on the

dropping run, just prior to exit. The air space clearance to

all altitudes from Air Traffic Control Mascot was for Sunday

14 February 1965 from first light to 0700 hours. Piece of

cake!

We spent an uncomfortable night before the drop on

the floor at the Albion Park Aero Club. Next morning,

mindful of Brian Murphy's report of the deep cold he had

experienced on his own record jump, we ate a hearty meal

of steak and eggs thinking it would keep our bodies warm

on the sortie. It was a meal we were shortly to regret

having eaten. Then, to make it easier to get from our

aircraft seats to the rear doorway for exit, we reversed the

Aero Commander's seats on their floor mountings so that

all of us, except the pilot, Captain Peter Ahrens, faced the

rear door, which we removed for our exit under the port

wing. This also meant that all of us - pilot included - had

our backs to the 680F's oxygen console, into which we

were all plugged. Several days previously we had sought

to familiarise ourselves with the aircraft oxygen console

and low-pressure connecting lines and fittings but

unfortunately - and ominously - we couldn't organise it

with Avis staff. So, as we geared up next to the aircraft for

our Southern Hemisphere HALO Record bid, we were full

of steak and eggs, rash optimism and the confidence of

youth. Not only were we totally unfamiliar with the vital

oxygen system on the Aero Commander but we had also

ingeniously managed to arrange the seats so that all four

of us, pilot included, were sitting with our backs to the all

- important oxygen console. Moreover, neither of us had

used Brian's Vampire ejection seat bottles before, even in

a rehearsal, since once the lanyard was yanked the flow

could not be turned off, requiring a time-consuming

COMMANDO NEWS ~ Edition 3 I June 2014 15
---
service by Hawker de Havilland at Bankstown. Youthful

impatience resisted such extravagant waste of time!

However, the morning was clear and calm and so we

geared up in parachutes, life jackets, oxygen cylinders,

balaclavas, gloves and ski masks and heaved ourselves on

board the Aero Commander. The aircraft's take-off gave

us our first discomforting surprise, for to us the speed and

rate of climb of the supercharged Aero Commander were

simply incredible, and to me as jumpmaster/dispatcher

quite disorienting. Accustomed to underpowered

Austers, the old De Havilland Dragon and the odd

struggling Cessna, where there was ample time in the

slow climb to altitude to think about the jump ahead, we

were riding in a rocket by comparison. This resulted in less

time to adjust mentally to the new environment of high

altitude – a feeling of being "rushed" and of not being in

complete control of our sortie.

As we climbed steeply over Lake Illawarra, what had

begun as clear sunny sky suddenly started to clag right in

underneath us. A sea drift of thick, opaque cloud began

rapidly to obscure the ground and lake. In no time we

were at 18,000 feet and I dispatched brother Robin, who

enjoyed a very long free fall to the lake through the last,

fast-disappearing small hole remaining in the cloud cover.

Pulling at 2,000 feet, he later reported a very pleasant and

satisfying free fall. As the 680F shot on up into the

troposphere the complete cloud cover settled in well

below us - but how far below, we could not tell merely by

looking down at it. We had no DZ controller with ground

to air radio and even if we'd had ground control there was

little they could have done to guide an aircraft that they

could barely hear and couldn't see. In fact, by 19,000 feet

we had absolutely no specific idea of where we were, and

I couldn't do my usual visual spotting for the exit point

because there were no landmarks visible. A moody dawn

sky above the cloud added to the sense of strangeness

and uneasiness of it all and we had no plan of action for

finding a lost DZ. Navigation for the dropping run and exit

point therefore devolved entirely on the radio navigation

skills of our pilot, Peter Ahrens, who seemed to have

caught the spirit of our record attempt. No one, including

the pilot, thought of calling it off because of the total

cloud cover. It had taken much organisation, time and

effort to get this far, and we were determined not to abort

the sortie if we could avoid it.

Then as we approached 25,000 feet I started to doze

off to sleep, rationalising to myself that the previous few

days jump preparations and the rough night's sleep had

been a little fatiguing and that a cat nap before the

dropping run would surely do me the world of good. Of

course, as a new chum I had no idea that I was drifting into

the cosy seductiveness and fatuous serenity of hypoxia.

This disaster struck very quietly. Unnoticed by us, behind

our backs all three oxygen lines - pilot's included - had

simply dropped out of the oxygen console to the floor

under their own meagre weight because of slack bayonet

fittings. We did not know we were breathing only the thin

inadequate atmosphere. So, there we were, hurtling

upwards, dead to the world in a deep hypoxic slumber. In

his sleep Robin vomited up his steak and eggs into his

oxygen mask and all over his reserve 'chute, clothing, his

seat and the carpeted aircraft floor.

Suddenly I woke up, nauseous and very groggy. Where

the hell was I? What was going on? As I struggled to gain

some awareness I realised that the aircraft was in a steep

dive. Fortunately for us all, Peter Ahrens, an experienced

pilot, had detected early the symptoms of hypoxia in

himself and was descending as quickly as he could to a

safe altitude. I was light-headed, sick and weary, but felt

even worse when I realised that our precious record

attempt was RS. But then Robin woke up and I thought

fast. (The inflated arrogance, mindless urgency and

insatiable appetite of youth!) I reassured the pilot

confidently that we were ok to jump, but at first Peter

didn't want to know. Although I felt dreadful, I was

insistent, making me speak briskly and moving

purposefully to show him how wonderfully recovered and

normal I really was. It was a shameless con. I shudder to

think of how we must have looked and sounded. But

Peter, sizing us up, finally agreed to give it another go,

and called up Air Traffic Control Mascot for an extension

of time. I refitted our oxygen leads and held them in their

sockets, and the pilot pulled the aircraft's nose back up.

We managed to get to 25,200 feet before our extra time

ran out. Peter then signalled us to jump. We changed over

from the aircraft bottle to our 7-minute supply portable

bottles and crawled into the open doorway.

Poking my head through the doorway I looked down

on a vast white floor of thick cloud thousands of feet

below us. Where, under all that cloud, was our Lake

Illawarra drop zone? Far to what was probably the west of

us a mountain peak nosing up through the cloud may

possibly have been near Burragorang, but as far as my

addled judgement was concerned it could have been any

feature at all. Peter was working overtime cranking the

RDF handle above his head trying to fix our position

within a triangle formed by three terrestrial nondirectional

radio navigation beacons (NDB's). He kept

nodding vigorously to us that we could jump, but looking

down on to the complete cloud cover I hesitated in the

doorway. I wondered sluggishly if fixing one's position by

triangulating NDB's was accurate enough for us, as only

one NDB could be lined up at a time, and with the great

speed of the Aero Commander it seemed that a large

margin of error was likely. It didn't occur to either of us or

to the pilot to abort the sortie but because there is only a

thin strip of land between Lake Illawarra and the ocean I

was afraid that we might even be out over the Tasman

Sea. If we jumped perhaps no one would see us and we

might be lost out to sea. Peter continued to put the Aero

Commander into a fast, steeply banking orbit - clearly, he

thought that we were over the drop zone. I wasn't as

confident as he – I had been on sorties where the pilot

had insisted on doing the spotting and it was always very

inaccurate. It also crossed my still sluggish mind that we

didn't know whether the base of the cloud cover was right

down to ground level or was at our parachute opening

height of 2,000 feet, or was higher, or lower. But finding

the DZ was our absolute priority and accuracy now

depended entirely on the pilot's navigational skills. As we

banked in a continuing 360-degree circle I kept

gesticulating to him, "Where are we? Can we go?" But

with our seven minute portable bottles starting to run low,

pinpoint accuracy became an academic question and

16 COMMANDO NEWS ~ Edition 3 I June 2014
---
despite feeling very vulnerable and disoriented, our

dwindling oxygen supply forced the decision. I dived

through the terrific slipstream of the port engine into the

vast void of space and sky, Robin Godwin following

immediately.

As I stabilised in free fall, the sun peeked over the

horizon of the cloud floor far below and my amber tinted

ski goggles treated me to an enthralling, spectacular

display of colour as the eastern sky and the entire terrain

of cloud turned rich pink, orange and crimson.

Instinctively I did a 90-degree turn and faced the rising

sun. (At this stage I had been studying the transcendental

nature poetry of the Lake Poets such as Wordsworth and

Coleridge for my BA degree and, high on a blend of their

pantheistic Naturfilosofie and the drunkenness of hypoxia,

I found this solitary splendour of crimson cloud at high

altitude total, spiritual and calming. In a crazy, irrational

way my orientation to earth and sky inverted, as it were,

so that the sky above me seemed solid and the ground

below distant, ephemeral and unimportant. The Lake

Poets would have approved!) But this transcendental

"high" was suddenly interrupted, for as I reached terminal

velocity in free fall my 12 O'clock High oxygen mask was

blasted off my face and I was forced reluctantly out of my

reverie and back to my immediate problems. Holding my

oxygen mask firmly on my face with one hand while

struggling to maintain free fall stability with the other, I

started to wonder how much height I had left, since, still

under the influence of the solar psychedelics and still not

mentally 100%, I hadn't noticed whether my 10,000 feet

altimeter had wound past zero once or twice. So with the

soft surface of the cloud cover below now starting to rush

at me, I grappled with my frenzied oxygen mask and with

the problem of whether I was at 18,000 feet or 8,000 feet.

Dawn suddenly turned to dusk as I plunged into the greywhite

gloom of the cloud mass, but my mental clock told

me that my altimeter needle had in fact wound past zero

twice. I took a punt and pulled at what I hoped was 2,500

feet, and not 12,500 feet, still in the cloud. As I floated

down out of the cloud base I saw the ground and could

see that I was at 1,800 feet - not above Lake Illawarra or

the Tasman Sea, but above the land strip between the

lake and the Tasman. Robin Godwin landed nearby. That

was good enough. "A big thanks to our able pilot, Peter

Ahrens". Spotting with NDB's is a fine thing, and to be

highly recommended! Who wanted water landing

anyway?

On the ground I still felt sick from the hypoxia and a bit

dazed and weary from the whole experience, but I was

glad to be in one piece. It turned out that Robin Godwin

had waited until clearing the cloud before pulling his

ripcord and I must ask him one day how he knew that the

cloud base wasn't at ground level. Perhaps he was

keeping close tabs on his altimeter as he fell. Afterwards

we enjoyed a day or two of media hype, but we had had

a taste of HALO and promptly started planning to better

both our Australian record of 25,000 feet and the

Southern Hemisphere Record of 27,000 feet of the New

Zealand team. We were feeling quite pleased with

ourselves, for our sortie could easily have been a

disastrous and embarrassing failure (purists would say that

it was anyway!). True, if we hadn't blacked out we could

have possibly made 30,000 feet or better in the time

available. But we had gained some invaluable experience

with oxygen and with operational planning. We hadn't

been cold at all at 25,000 feet or at any time on the flight,

even with the door removed. Perhaps we were too

hypoxic to notice, but I don't think so. I thought at the

time that perhaps we stayed warm because the aircraft

climbed so quickly that we didn't have time to lose much

body heat. But we were soon to discover the hard way

that the time of year affects temperatures "upstairs" a

great deal.

Now, how were we going to beat the Kiwi's 27,000

feet record? Finding a suitable jump aircraft was no easy

matter. The Avis Aero Commander was no longer

available to us as Avis went out of the rent-a-plane

business soon after (but not because of!) our jump. After

a very long and frustrating search we managed to find

another sponsor when WD and HO Wills agreed to pay

for the Aero Commander 680F of King Ranch Australia.

The pilot, John Laffin, assured us that his 680F had an

absolute ceiling of over 30,000 feet. So, on 12 September

1965 the two Robins and I flew up to Cowra for the record

attempt - but without the steak and eggs breakfast this

time. To avoid the pleasures of hypoxia we did good

aircraft oxygen and equipment checks before taking off.

At 22,000 feet I despatched brother Rob (with 53 jumps

still regarded as too inexperienced for the higher altitude

"men's" stuff) and we continued to climb towards the

680F's maximum ceiling.

But before long the plummeting temperature in the

aircraft became excruciating. The cold was absolutely

appalling. The frigid blast from the port propeller was

rammed in through the open doorway, icing into opacity

our goggles and altimeters, reducing us to sluggishness,

numbing our hands and fingers and giving our clothing,

faces and parachute rigs a heavy coating of frost. I had

never experienced anything like this in my entire life. Pilot

John was obviously suffering greatly too and a more

wretched trio I couldn't imagine. Hypothermia was rapidly

debilitating us. However, despite the terrible wind chill

factor and deep cold, we nevertheless continued the

climb. After all, that's why we were there!

But it wasn't to be. At 27,000 feet - equal to the height

of the New Zealand altitude record - the oil in the port

engine thickened from the cold and the pilot had to

feather its three bladed propellers. I can't recall it clearly

but my logbook states that for some reason my mate

Robin blacked out at about this stage and that he didn't

regain consciousness until a lower altitude was reached.

On only one engine the Aero Commander dropped

rapidly and by the time we changed over from aircraft

oxygen to our portable cylinders and exited we were

down to 18,000 feet - ironically, an exit height lower than

brother Robin's 22,000 feet only a short while before.

I shall never forget the frigid misery of the free fall that

followed. Already hypothermic, I found the cold in free fall

unbearable, piercing my thick layers of clothing, gloves,

balaclava and helmet. My skull chilled and I felt that my

brain was freezing - I might as well have been free falling

stark naked. To try to avoid the awful cold I rolled onto my

back into the "dead horse" position, so that the main

parachute pack might provide a shield from the painfully

COMMANDO NEWS ~ Edition 3 I June 2014 17
---
cold blast of free fall. But to no avail. I was chilled to the

marrow. I perhaps should have opened my parachute high

to end the pain, but not knowing the wind strengths and

directions at all altitudes and not knowing where I might

drift off to, it really wasn't an option. Mercifully the

opening height of 2,000 feet finally arrived, and, my

fingers being inoperable, I pulled the ripcord with my

thumb.

What a forgettable sortie! With a glum sense of

anticlimax, we packed up and flew back to Sydney. We

had not beaten the Kiwis' Southern Hemisphere or even

our own Lake Illawarra Australian record. To be fair, we

had had no warning during the Lake Illawarra record

attempt of the perils and difficulties of extreme cold at

high altitude, and so had not really given it any serious

thought on this second attempt.

But we weren't yet ready to call it a day, and despite

the awful obstacle of hypothermia we still wanted to beat

the Kiwis - if possible, without the problems of oxygen

and cold, which had detracted from our earlier efforts at

Lake Illawarra and Cowra. WD and HO Wills were a bit put

off by our Cowra failure but sportingly rallied to meet the

costs of a Fokker F27 Mark 1 Friendship turbo prop

airliner from the then East West Airlines. An airliner, no

less! Yes, thanks! We invited Kenny Bath, an instructor at

Sydney Skydivers, to join us for this third attempt on the

Southern Hemisphere High Altitude Record. We told Ken

about our loss of 10,000 feet of hard earned altitude at

Cowra because of the slow changeover from aircraft to

personal oxygen. He turned up with male and female

couplings for each of us, which, he said, would enable us

to do a quicker switch over from the aircraft oxygen,

supply to our little personal bottles so that any loss of

precious oxygen or altitude would be negligible. I was so

reassured by this cunning display of engineering initiative

that I didn't even try out the couplings, but left Kenny to

fit a pair to each of our personal cylinder oxygen lines. It

all seemed so simple.

East West Airlines shrewdly moved our third record

attempt to Grafton in northern NSW for two reasons: a) it

was a sea level drop zone, providing "free" altitude

compared with higher inland drop zones such as Cowra,

and b) there was turbine fuel for refuelling. The Fokker's

absolute ceiling would be greater with a partial fuel load.

Our inboard aircraft oxygen consisted initially of the

pressurised interior of the Fokker, then medical oxygen

cylinders from CIG strapped to the seat next to each of us

for when the aircraft depressurised above 20,000 feet.

The spotting at high altitude was the job of the pilot,

Captain Jim Swan, who would fly on a heading at

whatever altitude he could attain straight down the

Grafton runway and signal us when to jump. Knowing that

the oxygen changeover on the dropping run was more

important than where we would land I had no problem

with this plan. (After the jump we found ourselves only a

forgivable kilometre from the strip.) On the dropping run

we would therefore have ample time for an unhurried

changeover from aircraft to personal oxygen systems. On

the climb, although depressurised, we would keep the

Fokker's sliding rear passenger door closed so that the

cabin heaters could warm up the interior. This proved to

be very successful in keeping us warm before and thus

during the free fall. However, after the deep cold of the

Cowra jump, I had readily accepted Brian Murphy's kind

offer of his padded USAF aircrew quilted nylon inner suit

for the jump (where did he get that, I wondered). Again,

because of the previous effect of deep cold on my fingers,

I swapped my leather gloves for large leather motorcycle

gauntlets, which were mitten-like, without individual

fingers – my thumb would have to pull the ripcord. Ken

Bath and Robin Godwin had white cotton overalls on and

warm clothing and balaclavas. In the quilted USAF suit I

looked and felt like something from outer space,

especially as it was too big for me. I had no opportunity

to try the suit out in free fall before the big day – if I'd tried

it out in free fall I wouldn't have worn it on the record bid.

In view of our oxygen problems on the previous HALO

sorties the question of whether we should fit barostats

(automatic parachute opening devices - "AOD's") to our

reserve 'chutes came up, but most AOD's were poorly

regarded at the time as on several trials they had pulled

the ripcord D Ring of the reserve chute after the

parachutist had landed! So we didn't take the idea of

AOD's seriously for HALO jumping.

To add to the sense of occasion, I invited 30 skydivers

at ten dollars a head to come along with us for a rare

cheap leap from 10,000 feet from a Fokker Friendship, the

money to go the Royal North Shore Hospital Paraplegic

Unit. (There was some grumbling from the fraternity about

both the money and my restricting their altitude to only

10,000 feet, but I felt that if we went higher for the 30 fun

jumpers, there wouldn't be enough time to fully

oxygenate the three of us between their exit altitude of

10,000 feet and our proposed exit altitude at whatever

the aeroplane could attain. It was simply a matter of

priorities.) Two weeks before the jump I asked my older

brother David, who had served as an IO in UNSWR, to fly

with East West Airlines to a recce of the Grafton drop zone

on our behalf and bring back a good field sketch of the

environs – terrain, trees, natural and built hazards etc.

What could go wrong when everything was so well

planned?

So, on a calm and sunny 24th of October 1965, we all

flew from Sydney to Grafton, geared up and took off. I

insisted on personally despatching each of the three sticks

of ten skydivers on three runs at 11,000 feet. The Fokker's

sliding rear door and the handy airhostess' phone to the

pilot made my jumpmaster's job a dream. No NDB's

needed here! I was in form on the day and all three sticks

landed very near the white cross on the airfield. I enjoyed

that very much ("First stick, stand up!" sort of thing). Then

I closed the door, returned to my seat, went on to the CIG

oxygen and the aircraft re-pressurised. After we passed

through 20,000 feet we depressurised and awaited the

climb to the Fokker's absolute ceiling and the pilot's

signal - relayed to us by Ron Walesby, the Manager of East

West Airlines, which we were soon to commence the

dropping run. After the hypothermia of Cowra the Fokker

was cosy and warm, and the big medical oxygen cylinders

with their clearly calibrated flow meters roped to the seats

next to us worked well. At 31,000 feet, with the Fokker's

rate of climb right down, Ron signalled to us that we were

on the dropping run - time for us to change over to our

little cylinders, get quickly down to the back door, slide it

18 COMMANDO NEWS ~ Edition 3 I June 2014
---
open, and jump. Nothing to it. However, my motorcycle

gauntlets did not permit a quick, nimble-fingered oxygen

changeover using Kenny Bath's male and female fittings.

So, to conserve my seven-minute personal supply I

removed my gauntlets, activated my portable bang-seat

bottle, and disconnected my 12 O'clock High mask from

aircraft supply and plugged into the low-pressure line

from Murphy's portable bottle. As the male fitting

snapped home, I felt an unexpected whoosh of air in my

oxygen mask. But I could not pause to investigate this

oddity, because Ron was motioning to us to be on our way

to the rear doorway. I put on my gauntlets, stood up,

plodded down the aisle of the Fokker to the back door

and pulled it open. As I did so, I heard a loud sharp bang,

like a double bunger, followed by another sharp bang.

Puzzled, I waited at the open doorway, but neither Ken

nor Robin joined me. Then Kenny came down the aircraft

to the doorway with the shredded end of his portable

bottle's low-pressure line in his mouth. This was probably

not what one hopes to see on a well-organised HALO

jump. But, recognising there was nothing that could be

done; I held my oxygen mask firmly to my face and

stepped out of the door into space, Kenny following.

Robin Godwin did not join us at the doorway before we

jumped.

We worked out later what had gone wrong. We hadn't

known that the male and female fittings Kenny had

obtained for us had a one-way non-return valve that

wouldn't open until the fitting was actually snapped

home. Kenny had made no mention of the one-way valves

– maybe he did not know about them either. The portable

bottles, once activated, had simply built up pressure

behind the one-way valve until the lines exploded. With

the whoosh into my mask I had escaped by only a few

seconds a similar explosion, because, of the three of us, I

was the only one who had happened to remove his gloves

to affect a quick oxygen changeover. Kenny was lucky in

that his line exploded near his mask and was still long

enough to simply put in his mouth. Robin Godwin was not

so fortunate: his line exploded near his personal bottle

lashed to his reserve parachute and so it wasn't long

enough to reach his mouth unless he wanted to unhook

his reserve 'chute and free fall with it under his arm! At

31,000 feet, with the aircraft depressurised and his free fall

personal oxygen supply unusable, Robin looked down the

full length of the Fokker to see Kenny and myself

departing through the open doorway. Deciding that it was

too good a picnic to miss, Robin got up, oxygen or no

oxygen, charged down the aircraft and out into space. He

reported no ill effects or hypoxia from this, and we

thought it must be good value to be well oxygenated at

high altitude if you can manage it.

My own free fall of 29,000 feet was a mess. The 12

O'clock High mask was again ripped away from my face

by the blast of the free fall. But my quilted nylon jump suit,

while warm enough, had such a low coefficient of friction

with the air that I found it virtually impossible to stabilise

in free fall. I skidded and skated all over the sky like a

beginner on a skating rink. Worse, the suit was far too big

for me, and unimpeded by the three-point parachute

harness the inner suit billowed, concealing my ripcord

handle, which totally disappeared into the billowing folds

of the inner suit. I spent almost the entire free fall

alternatively looking for the bloody ripcord, wrestling the

oxygen mask back onto my face and carefully counting

the needle of my 10,000 feet altimeter three times past

zero. Interestingly, although it was still only spring and the

pilot recorded an outside air temperature of minus 67

degrees Fahrenheit at our exit height of 31,000 feet, I had

no sensation of cold whatsoever on this sortie and neither

did the others. Being warm in the Fokker on the climb had

presumably done the trick. I was also interested to learn

from a friend who was a Professor of Physics at UNSW that

terminal velocity in free fall from that altitude in the

thinner air was probably about 340kph (or, in my slippery

nylon tent, probably 400kph!), and that the duration of the

fall was over two minutes.

So, third time lucky. We had the title. The media came

to the party, WD and HO Wills threw us a big reception

and presented us each with a nice trophy, suitably

inscribed, and all the cigarettes we could smoke! Our

jump had finally beaten the New Zealanders and our

record stood for something like six or seven years at least,

when I think a Victorian team achieved about 32,000 feet

using a Beechcraft King Air. We were later somewhat

galled to learn that at Grafton our pilot could have

possibly got the Fokker even higher. But as its rate of

climb on the dropping run was only 40 feet per minute

(very low indeed) it was not clear what extra altitude could

really have been achieved on that sortie, short of

removing all the seats and stripping the aircraft of

everything removable. Had I known in advance, though, I

would have taken my spanner with me and assisted in

stripping the Fokker.

There was a worthy outcome to our oxygen problems:

later the Australian Parachute Federation arranged for its

members to accompany QANTAS trainee pilots in the

high altitude simulator decompression tank at RAAF

Richmond, which I did. Although it came after the event,

the RAAF tank was a valuable experience of medically

controlled hypoxia that I could heartily recommend to my

fellow skydivers. The main message about hypoxia was

that you could feel normal and confident but at the same

time have seriously impaired judgement and cognition.

Although I subsequently tried hard to break our

altitude record with a night free fall from 38,000 - 40,000

feet, we couldn't find an affordable, adequate aeroplane

and Grafton was in fact the last of our HALO jumps. We

had learnt a lot about oxygen and its portability, about

combating extreme cold, about the psychology of

performing arduous physical and mental tasks, and - the

hard way - about sound planning and rehearsal, especially

with new equipment. The dollar cost of the aircraft is

probably still a major factor – if you can afford the right

aeroplane then you will be spared the problems of

hypothermia and hypoxia.

Now, I wonder what a 747 costs per hour…?

(Cpl) Bruce Horsfield

1 Commando Coy

1958-1962

Editors note

Professor Bruce Horsfield is a current member of the

Australian Commando Association (NSW).

COMMANDO NEWS ~ Edition 3 I June 2014 19
---
When clear

communication

is critical

LRADX – is the clear choice

Clear voice communication cation at great distance and over wide areas

Life Saving

Sound

For cost effective base security, force

protection and safer interdiction.

As

used by the RAN, USN, US

Army,

Singapore Navy & allies

around the world.

Seascape Technology

– The sound of security –

Unit 1 Building 5, 49 Frenchs Forest Rd, Frenchs Forest NSW 2086 | Ph 02 8977 4054 | NCAGE: Z0DB8
---
From the Prolific Pen of Harry Bell

First, Vale VX93214, Robert Perry ("Bobby") Reed

(2/9). Born on 6.2.1923, he died on 29th April. A

popular member of C Troop, Bob lived in Geelong but

occasionally made it to Melbourne. I recall that when

the late Neville McCowen (6 Div Cav, 2/9) went down

for the Melbourne Cup some years ago, the main event

on his itinerary was a meeting with Bob, organised by

Keith Johnston (2/10). I have asked Bob's great niece

for some details and if handed in time, they will be

included.

Next, Anzac Day wreathlaying; 0800 at the Com -

mando Memorial Seat in Martin Place. It was pretty

miserable in the rain and apart from the fact that we all

got moist, it was difficult to move around to see who

was there. Graham Dolton, Reg Davis and I (all 2/9) led

the column in from Macquarie Street to the Memorial

and I was disappointed not to be joined upfront by

others. Bryce Killen (2/8) was present but he wasn't

wearing his beret or his Moonagee dryzabone so was

having trouble keeping his powder dry. Allan Kelso

(2/6) was there too, but is of limited mobility. Later, I

spotted a spritely young fellow laying a wreath and had

I not known that Don Newport (2/12) must be in a

wheelchair, I would have reckoned it was he. Well, it

turned out to be Don after all. Relying on a couple of

walking sticks, he had come all the way in from the

Northern Beaches, accompanied by Peter Aird, the

cable-laying son of Don's great mate, the late Bill Aird

(2/12). Don says that Bill Fulljames (2/12) was there

too, but they lost contact – Bill went to the pub, Don

went home. He and Bill Aird went on the water wagon

over thirty years ago, when Bill had to save money to

buy petrol for his new gas-guzzling Ford car.

Ken Curran (2/11) was there of course, looking

rather less robust than of yore but still upright. There

must have been other old fogeys but I simply didn't

see them through the rain, so can't name them. I don't

think Keith Stringfellow (2/5) was able to make it. No

Keith couldn't make it this year.

Barbara Pittaway - a 2/5 girl - was there as always,

with son Geoffrey. After the Martin Place ceremony, she

went down to St Andrew's for some duties that she

performs there – Perhaps you can enlarge on this,

Barbara? Yes Harry can I please see my article on The

Field of Remembrance.

Joan, widow of Lionel Morgans, (2/8) had sent her

son in, in search of 2/8 men who remembered his

father. Sadly, I don't think he succeeded. But not all the

Morgans' news is bad: Joan has won a berth for the

Gallipoli Centenary Celebrations: her father was in the

3rd Bn. forming the second wave ashore on 25.4.15.

Wounded, he then joined the Australian Flying Corps

and returned to Australia to begin a family.

Congratulations, Joan. Have a wonderful experience.in

Turkey.

Brig. McNamara spoke briefly, to the

point and audibly. Wreaths were laid

as always. The ceremony was rather

shortened by the weather, but Barry Grant

has undertaken to improve conditions next year.

He must have passed the port the wrong way and

upset Huey this time.

Then the March. The format was drastically changed

this year and for the better. The gallant lads from

Afghanis tan had, deservedly, pride of place, and the

League made a real effort to enforce its "in order of

conflict" edict, so that we no longer had to stand about

while thousands of healthy young matelots swung

past.

Unfortunately, the teething problems, inevitable

with such big changes, were exacerbated by the rain.

2/9 and 2/10 usually march with 2/6 Cav (Commando)

Regt, at the head of 6 Division, not with Commando

Squadrons amongst Corps Troops, but our banner

carriers went missing. The March Marshals were unable

to help so that the only WW2 members marching had

to try our luck with 2/1 Infantry Battalion – who, I think,

were glad of reinforcements, even though one of us

(Grahame Dolton – of whom more later) was in a

wheelchair pushed by his son Ross..

About 5 or 6 minutes after we had fallen out in

Elizabeth Street at the end of the march, the Cavalry

banner swung into view. It seems that when the banner

eventually arrived at the F.U.P. the president and

committeemen (and women) had grabbed the poles

and with commendable initiative, set off with a little

entourage of children and grandchildren, grabbing the

first vacant spot they could find, which was near the

rear of 6 Div.

Unfortunately, those distributing the bands

amongst the marchers were unable to provide us with

a Pipe Band – or perhaps they did not appreciate our

need. We had an excellent Brass Band which sped

along at a spanking 120 x 30"' paces to the minute;

easy for a fit young 70 year-old but a bit flash for the

nonagenarians amongst us. Ross Dolton saw to it that

his father made the distance by wheelchair (Grahame

has just celebrated his 90th; see later) and your

correspondent is a boy of 88 but 91 year-old Trooper

Davis R.T.R. (2/9) found it a bit much. He could easily

have handled the more leisurely tempo of the

bagpipes.

Sadly, only three from the Regiment, all from 2/9,

were able to march on the Day but a fourth turned up

at lunch: Jo, Ken's daughter, and her husband David

Smith brought Ken Buckler (2/10) in from his nursing

home and glad we were to welcome him. (If there were

any marchers from 2/7, I apologise for their omission;

they would be very welcome to join us at lunch next

year).

COMMANDO NEWS ~ Edition 3 I June 2014 21
---
John Ellice-Flint (2/10) had planned to fly down

from Buderim but medical problems intervened at the

last moment – rather more serious than he had hoped.

He is undergoing treatment and thinking positively. We

look forward to welcoming John, his wife and their

large family (large meaning both numerous and hefty)

in 2015.

Another notable absentee was Ted Workman (2/10).

Ted and Lola had booked in at The Grace Hotel for the

occasion, but Ted had had a very bad fall at home,

gashing his leg and breaking several ribs, which put

him in hospital for a lengthy stay. As I type this, on

10.05.14 (the day before Dove Bay landing day) he is

still there, his scheduled discharge having been

postponed because of infection in the skin graft. Better

luck next year, Ted. Incidentally, Ted is usually a starter

at a regular gathering at the Combined Services RSL

Club in Barrack Street, (Third Tuesday of each month,

at about 1100 hours if you are interested) but has not

been up to it recently. If he had, he might have been

better off financially: I won the large jackpot Door Prize

there recently, thanks to Pat Fagan keeping her ears

open, and a nice little surprise it was, too.

Others who did make it to lunch included the

Wickham family and the Davis family, each occupying a

whole table for ten. My family combined with the

Dolton family to make a table for nine. There was a

good representation too from the Houlistons: Roma,

Carmen (better known as Carmen Ky, artist of note)

Azura, wee Stella and Jordan.

The Doltons (Graham, son Ross and daughter in law

Wendy) had arrived from Perth on Anzac Eve so Charlie

Vassarotti (2/9) and Pat joined us at my unit in

Woolloomooloo for a pre dinner drink before heading

for "Bill & Toni's" Italian Restaurant for dinner. We ate

better than we had when last we met, in 1944/5

Ted MacMillan (2/9) had been up from South

Australia the previous week. He had come for my

sister's funeral on 17th April (she had died at 97). That's

what mates do. He couldn't stay for the March. He was

well but following attendance at the Dawn Service in

Burra, he and Barbara have both gone down with 'flu.

He had probably over-exerted himself sawing up a very

large mallee which had been blown over into his drive -

way. Reckons he has 2 years' supply of firewood – and

he hasn't yet dug up the roots. And he reckons that

there has been so much growth since the last rain that

he needs a machete to get into his pumpkin patch. The

last time he was here was in 2007 when he attended

the regimental lunch after riding in a jeep for the

march.

Max Drummond (2/6; 2/9) was unable to take part

in the Laverton proceedings this year, due to the death

of Janet's favourite aunt.

Keith Johnston (6 Div Cav, 2/10) wasn't up to the

long trip from Melbourne and there was nobody to

march with from the Regiment. He did get to the

Commando association lunch in Bleak City; we hope to

see him in Sunny Sydney in 2015. He tells me that Ted

("Duke") Carlin (2/10) is another on the sick list, with

some respiratory problems. Keith says he has been in

hospital since Easter.

Addendum – Reg Davis has had a couple of spells

in hospital and has had a pacemaker fitted. He is in

really good spirits.

Eating in the Fifties

• Pasta was not eaten in Australia.

• Curry was a surname.

• A takeaway was a mathematical problem.

• A pizza was something to do with a leaning

tower.

• All potato chips were plain; the only choice we

had was whether to put the salt on or not.

• Rice was only eaten as a milk pudding.

• A Big Mac was what we wore when it was

raining.

• Brown bread was something only poor people

ate.

• Oil was for lubricating, fat was for cooking.

• Tea was made in a teapot using tea leaves and

never green.

• Sugar enjoyed a good press in those days, and

was regarded as being white gold.

• Cubed sugar was regarded as posh.

• Fish didn't have fingers in those days.

• Eating raw fish was called poverty, not sushi.

• None of us had ever heard of yoghurt.

• Healthy food consisted of anything edible.

• People who didn't peel potatoes were

regarded as lazy.

• Indian restaurants were only found in India.

• Cooking outside was called camping.

• Seaweed was not a recognised food.

• "Kebab" was not even a word, never mind a

food.

• Prunes were medicinal.

• Surprisingly, muesli was readily available: it was

called cattle feed.

• Water came out of the tap. If someone had

suggested bottling it and charging more than

petrol for it they would have become a

laughing stock!!

• The one thing that we never ever had on our

table in the fifties....elbows!

22 COMMANDO NEWS ~ Edition 3 I June 2014
---
Field of Remembrance

In his article Harry Bell commented that I was at St.

Andrew's Cathedral. I was helping at the kiosk of the

War Widows' Guild of Australia NSW's Field of

Remembrance. As most of the members of the Guild

are over 80 the staff of the War Widows' Guild help

man the kiosk while it is open.

Each year a Memorial Service is held in St Andrew's

Cathedral several days prior to ANZAC Day, followed

by Dedication of the Field and the planting of official

crosses. The State Governor, who is also the Patron of

the Guild, plants the first cross for the Unknown

Warrior, followed by representatives from the New

Zealand Government, City of Sydney, the three Armed

Services, RSL and the War Widows' Guild. The Field is

then open to associated bodies and members of the

public to plant small wooden crosses or tokens, which

are available from a kiosk staffed by Guild members.

The Field remains open until sunset on ANZAC Day.

Throughout the intervening days, hundreds of crosses

are planted by the public, providing a quiet and

personal way of remembering those who gave their

lives in the service of their country. A special closing

ceremony is held usually the day after ANZAC Day.

The Field of Remembrance has taken place every

year since 1952, the same year as Queen Elizabeth II

ascended the throne. In 1977 to commemorate the

Silver Jubilee of Her Majesty the Queen, a Visitor's

Book was presented to the Cathedral. In 1978, a

commemorative plaque was set into the base of the

flagpole and unveiled by His Excellency Sir Roden

Cutler VC KCVO CBE, Governor of New South Wales,

to mark the Field. In 2011 a plaque was unveiled by

Her Excellency Professor Marie Bashir AC CVO,

Governor of New South Wales, to commemorate the

60th Anniversary of the ANZAC Field of Remembrance

at St Andrew's Cathedral.

The service recognises the loss experienced by war

widows and their contribution by continuing their lives

and supporting their families without their husbands

and partners.

COMMANDO NEWS ~ Edition 3 I June 2014 23
---
NEWS FROM THE VICTORIA ASSOCIATION

KOKODA MILESTONE BY ASSOCIATION MEMBER

Several years ago I advised

members of the Association of a

fantastic achievement by Com mit -

tee Member, Richard Godden, who

at that time had completed his 50th

crossings of the Kokoda Track in the

capacity of a trek guide.

I'm now happy to advise that

Richard has completed his 60th

crossing since 2001. The man is a

"trekking machine"!!

This achievement equates to the

following statistics:

• A total of approximately 5760k

of arduous trekking!

• 480 days of trekking which is16

months on the track!

• Completed an average of 5 treks

every year for 12 consecutive

years!

• Led over 700 trekkers.

• Has destroyed pairs of boots too

numerous to mention over the

journey.

I'm aware that many of you who

are reading this article have had the

wonderful experience of trekking

Kokoda. Some of you trekked with

Richard and myself in the Com -

mando Association treks of 2001

and 2002. Others would have

trekked with Richard or me in the

years that followed.

In 2001 only 35 people trekked

Victorian court case

How could you keep a straight face!

Kokoda (12 were from the Asso -

ciation) compared to around 2500

in the 2013 trekking season. The

facilities along the track have

certainly been developed to cater

for the increased popularity of this

very Australian activity, however

even with these changes the track

continues to physically, emotionally

and even spiritualty challenge those

who take it on.

Congratulations Richard, your

achievement is something to be

justifiably proud of and we all salute

you. Well done mate and keep on

trekking safely!

There are two groups of people

in this world, those that have

walked Kokoda and those that

haven't. Its time you all joined this

first privileged group!

Best regards to all.

Drew Gordon

2 Commando Company 1975 - 82

Kokoda Trek Guide

Police work must be enter tain -

ing as well as dangerous.

Recently, a female police officer

arrested Patrick LAWRENCE, a 22-

year-old male, who was caught

fornicating with a pumpkin in the

middle of the night.

The next day, at the Horsham

Court (Victoria, Australia), LAW -

RENCE was charged with lewd and

lascivious behaviour, public inde -

cen cy and public intoxication.

LAWRENCE explained that as

he was passing a pumpkin patch on

his way home from a drinking

session, he decided to stop.

"You know how a pumpkin can

be soft and squishy inside... well,

there was no one around for miles –

or at least I thought there wasn't

anyone around..." he stated.

LAWRENCE went on to say that

he pulled over to the side of the

road, picked out a pumpkin that he

felt was appropriate to his purpose,

cut a hole in it and proceeded to

satisfy his pressing need.

"I s'pose I was really into it, you

know?" he commented with

evident embarrassment.

In the process of doing the

deed, LAWRENCE failed to notice

an approaching police car and was

unaware of his audience, until

Senior Constable Brenda TAYLOR

approached him.

"It was an unusual situation,

that's for sure," said Senior

Constable TAYLOR.

"I walked up to LAWRENCE –

and he's just banging away at this

pumpkin..."

Senior Constable TAYLOR went

on to describe what happened

when she approached LAW -

RENCE...

"I said; 'Excuse me sir, why are

you having sex with a pumpkin?"

"LAWRENCE froze.

He was clearly very surprised

that I was there, but then he looked

me straight in the eye and said,

"A pumpkin? Shit – is it

midnight already?"

The court (and the magistrate)

could not contain their mirth.

The Geelong Post wrote an

article describing this as 'The best

comeback line ever'.

24 COMMANDO NEWS ~ Edition 3 I June 2014
---
SICK PARADE

Tony Scudder 1965 - 1969

From Kevin Hulton Smith

Cricket Match in the US

during the war years

G'day All,

Tony Scudder is in Royal North Shore Hospital. He

is very ill with Cancer. He can talk on the phone.

Call 02 9016 0900.

When asked for patient Number press 1284993.

Or drop in and say hello, if you are in the area.

I'm sure he would be happy to hear from any of his

old Cdo mates.

JOKE

Please take note of some of the names in the list.

Celebrities........? You be the judge.

Why I am not telling who is in the will.

What is the reason baby nappies have brand

names such as "Luvs" and "Huggies," while under -

garments for older people are called "Depends?"

When babies crap in their

pants, people are still gonna

Luv'em and Hug'em.

When older people crap in

their pants, it "Depends" on

who's in the will!

VALE

Lindsay Cottee of "Z Special Unit" passed away recently.

Lindsay deployed by submarine on 6 October,1943, into East

Borneo on Operation PYTHON. Successful up until 16 February,

the Japanese discovered their location and the party went on the

run eluding considerable Japanese forces trying to catch them.

The remnants of the party were finally evacuated by submarine on

the fourth attempt in June, 1944. PYTHON was considered a

successful mission providing the only intelligence on British Borneo

at that time and reporting over 80 shipping sightings in that

period.

❈ ❈ ❈ ❈ ❈ ❈ ❈ ❈ ❈

Also regret to advise notification received recently of the recent

passing of Queensland member Raymond Middap (2nd/5th

Independent Coy) formerly of Maroochydore.

COMMANDO NEWS ~ Edition 3 I June 2014 25
---
AUSTRALIAN COMMANDO ASSOCIATION (NSW) INC

EVENTS CALENDAR FOR 2014

JULY 6 (Sunday)

SEPTEMBER 26 (Friday)

OCTOBER 18 (Saturday)

NOVEMBER 11 (Tuesday)

NOVEMBER (TBA)

RESERVE FORCES DAY – SYDNEY

Jacket, beret, medals and black shoes

Meet in Hyde Park North near the Archibald Fountain

1000 hours

Look for banner with 8th Brigade

JAYWICK DINNER

Onboard the ferry "South Steyne"

DARLING HARBOUR

1830 Hours for Dinner at 1900 hours

$60.00 per head. Drinks at bar prices

Guest speaker will be COL John Hutcheson AM (Ret'd)

Topic will be on "Australia's Amphibious Capability"

Also in attendance as our guest will be his father,

COL. John Hutcheson MC (Ret'd)

Former OC 2 Commando Company Melbourne 1956-1958

Bookings should be made to the secretary, see below.

ANNUAL GENERAL MEETING OF ASSOCIATION

To be held at "Simpson VC Club"

1st Commando Regiment Randwick.

1030 hours

REMEMBRANCE DAY

AUSTRALIAN NATIONAL MARITIME MUSEUM

DARLING HARBOUR

SERVICE HELD AT THE "KRAIT"

Service starts 1030 hours

ASSOCIATION XMAS DINNER

CARNARVON GOLF CLUB

Families always welcome

1830 hours for 1900 hours

Please direct your enquiries to our Secretary, Kevin Mahony

Home: (02) 9644 8794 or Mobile: 0425 279 111 or Email: kevin.mahony1@bigpond.com

26 COMMANDO NEWS ~ Edition 3 I June 2014
---
The

Secretary

PO Box

13133

SUTHERLAND NSW 1499

Telephone

(02) 9644

8794

0425

279

111

E-mail - starlightcdo@gmail.com

gmail.com

"COMMANDO MA

FOR LIFE"

SURNAME

MEMBERSHIP APPLICATION/RENEWAL

L

RANK & GIVEN NAMES

DATE OF BIRTH

REGIMENTAL ENTAL NUMBER or

PM KEYS

/

/

ADDRESS (For Correspondence)

Post code

CONTACT DETAILS

(Home)

(

)

(Mobile)

(

)

(Business)

(

)

(E-mail)

……………………………………………@…………………@

NEW MEMBERS ERS TO COMPLETE THIS SECTION

UNIT DETAILS ENLISTMENT DATE

DISCHARGED/CURRENT

Nominated by

Signature

Verifying Unit e.g

Commando Unit

Secondedd by

Signature

Position/contact

details e.g

RXO

Date

Signature of

applicant

Signature of verifying i

officer

fi

/

/

By signing

this

application you agree

to

be

bound

by

the

constitution of

the

Australian Commando

Association (NSW)

Inc.

st

st

Financial year

1

st January

to 31

st December – Annual fee $30.00 + $25.00 joining fee for new members m

Annual

fee

e subject

to

review by committee.

tee

Banking ng

details. Australian Commando

Association ion (NSW)

Inc.

Police Bank BSB 815

000

Account

number

41117

✂

COMMANDO NEWS ~ Edition 3 I June 2014 27
---
COMMANDO FOR LIFE

Australian Commando Association New South Wales Inc.

"Q" Store Order Form

"Q" Store order form.

Name:

Address:

Contact Phone:

Email Address:

Price list effective from June 2014

ITEM FOR SALE POST QTY PRICE $$$

Association Green Jacket pocket (For new jackets) $ 3.00 $ 80.00

Association Green Jacket pocket (Replacement pocket) $ 3.00 $ 15.00

Association Green Jacket, complete with pocket $ 350.00

Badge - Cloth - Commando Parachute $ 3.00 $ 6.00

Badge - Beret (New Design) $ 3.00 $ 15.00

Badge - car window decal - NEW $ 1.00 $ 2.00

Badge – Lapel – 1 st Commando Regiment $ 3.00 $ 10.00

Badge - Lapel - Australian Commando Association $ 3.00 $ 10.00

Badge – Lapel - Para Wings $ 3.00 $ 10.00

Badge - Name $ 20.00

*Beret - Green Qualified members only (Size required - see below $10.00 $ 32.00

Book 'Strike Swiftly' "The Australian Commando Story" $18.00 $ 70.00

Caps - Black – Australian Commando Association $10.00 $ 20.00

Coasters - set of 6 - Gold anodised aluminium $10.00 $ 25.00

Coasters - single $ 3.00 $ 5.00

Plaque - 1 st Commando Regiment $15.00 $ 50.00

Shirt – Grey with Australian Commando Assn logo $10.00 $ 48.00

Shirt – Polo (Grey with Australian Commando Assn logo) $10.00 $ 40.00

Tie - 1 st Commando Regiment $10.00 $ 20.00

Total $_________

Send cheques/money orders payable to Australian Commando Association (NSW) Inc

The Treasurer, Australian Commando Association (NSW) Inc.

PO Box 1313, SUTHERLAND NSW 1499, AUSTRALIA

Internet banking details (Australia)

Australian Commando Association (NSW) Inc.

Police Bank: BSB: 815 000 Account No.: 41117 – Quote your name and Subs/Qstore etc.

Internet banking details (Overseas)

Account with institution/swift code – ANZBAU3M

BSB: 012010 / Account Number: 777000675

Beneficiary customer – Police Bank

Details of payment – Account Number 41117, Australian Commando Association (NSW) Inc.,

Quote name and subs/Q store etc.

Your order will be processed by Norm WOOD, Quartermaster, (02)9545-0484 or 0419-484-541 or newood@ozemail.com.au

*Nominate Size (beret measurement around head cm)

✂

28 COMMANDO NEWS ~ Edition 3 I June 2014
---
Your early-warning

advantage on any

dangerous ground.

When a perimeter breach could have costly consequences, you choose your

sentries wisely. The Patrol Persistent Surveillance System from Rockwell Collins

guards any boundary with unattended, all-weather ground sensors. Ultrasensitive

to movement and sound, the sensors are part of an integrated system that also

provides real-time video surveillance. Know what's happening at the moment

a trigger event occurs.

Senses movement, ground

vibrations, aircraft, speech

and more

Perimeter detection ranges

10 km (6.2 miles) or more

Scalable to any size perimeter

or facility

www.rockwellcollins.com

© 2014 Rockwell Collins. All rights reserved.