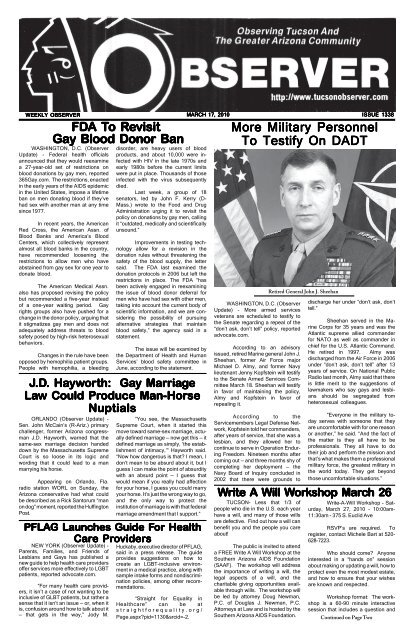 sents 'Dance In T sents 'Dance In The Red' - Tucson Gay Museum
sents 'Dance In T sents 'Dance In The Red' - Tucson Gay Museum
sents 'Dance In T sents 'Dance In The Red' - Tucson Gay Museum
SHOW MORE
SHOW LESS
Create successful ePaper yourself
Turn your PDF publications into a flip-book with our unique Google optimized e-Paper software.
WEEKLY WEEKLY OBSERVER OBSERVER

MARCH MARCH 17, 17, 2010

2010

ISSUE ISSUE 1338

1338

FD FDA FD A T TTo

T o R RRevisit

R visit

Gay Gay Blood Blood Donor Donor Ban

Ban

WASHINGTON, D.C. (Observer

Update) - Federal health officials

announced that they would reexamine

a 27-year-old set of restrictions on

blood donations by gay men, reported

365Gay.com. The restrictions, enacted

in the early years of the AIDS epidemic

in the United States, impose a lifetime

ban on men donating blood if they've

had sex with another man at any time

since 1977.

In recent years, the American

Red Cross, the American Assn. of

Blood Banks and America's Blood

Centers, which collectively represent

almost all blood banks in the country,

have recommended loosening the

restrictions to allow men who have

abstained from gay sex for one year to

donate blood.

The American Medical Assn.

also has proposed revising the policy

but recommended a five-year instead

of a one-year waiting period. Gay

rights groups also have pushed for a

change in the donor policy, arguing that

it stigmatizes gay men and does not

adequately address threats to blood

safety posed by high-risk heterosexual

behaviors.

Changes in the rule have been

opposed by hemophilia patient groups.

People with hemophilia, a bleeding

disorder, are heavy users of blood

products, and about 10,000 were infected

with HIV in the late 1970s and

early 1980s before the current limits

were put in place. Thousands of those

infected with the virus subsequently

died.

Last week, a group of 18

senators, led by John F. Kerry (D-

Mass.) wrote to the Food and Drug

Administration urging it to revisit the

policy on donations by gay men, calling

it "outdated, medically and scientifically

unsound."

Improvements in testing technology

allow for a revision in the

donation rules without threatening the

safety of the blood supply, the letter

said. The FDA last examined the

donation protocols in 2006 but left the

restrictions in place. The FDA "has

been actively engaged in reexamining

the issue of blood donor deferral for

men who have had sex with other men,

taking into account the current body of

scientific information, and we are considering

the possibility of pursuing

alternative strategies that maintain

blood safety," the agency said in a

statement.

The issue will be examined by

the Department of Health and Human

Services' blood safety committee in

June, according to the statement.

J.D .D .D. .D . Ha Hayw Ha yw ywor yw or orth: or th: Ga Gay Ga y Mar Marria Mar ria riage ria

La Law La w Could Could Pr Produce Pr oduce Man-Hor Man-Horse

Man-Hor se

Nuptials

Nuptials

ORLANDO (Observer Update) -

Sen. John McCain's (R-Ariz.) primary

challenger, former Arizona congressman

J.D. Hayworth, warned that the

same-sex marriage decision handed

down by the Massachusetts Supreme

Court is so loose in its logic and

wording that it could lead to a man

marrying his horse.

Appearing on Orlando, Fla.

radio station WORL on Sunday, the

Arizona conservative had what could

be described as a Rick Santorum "man

on dog" moment, reported the Huffington

Post.

"You see, the Massachusetts

Supreme Court, when it started this

move toward same-sex marriage, actually

defined marriage — now get this — it

defined marriage as simply, 'the establishment

of intimacy,'" Hayworth said.

"Now how dangerous is that? I mean, I

don't mean to be absurd about it, but I

guess I can make the point of absurdity

with an absurd point — I guess that

would mean if you really had affection

for your horse, I guess you could marry

your horse. It's just the wrong way to go,

and the only way to protect the

institution of marriage is with that federal

marriage amendment that I support."

PFL PFLAG PFL G Launc Launches Launc hes Guide Guide F FFor

F or Health

Health

Car Care Car e Pr Provider Pr vider viders vider

NEW YORK (Observer Update) -

Parents, Families, and Friends of

Lesbians and Gays has published a

new guide to help health care providers

offer services more effectively to LGBT

patients, reported advocate.com.

"For many health care providers,

it isn't a case of not wanting to be

inclusive of GLBT patients, but rather a

sense that it isn't an issue — or, when it

is, confusion around how to talk about it

— that gets in the way," Jody M.

Huckaby, executive director of PFLAG,

said in a press release. The guide

provides suggestions on how to

create an LGBT-inclusive environment

in a medical practice, along with

sample intake forms and nondiscrimination

policies, among other recommendations.

"Straight for Equality in

Healthcare" can be at

straightforequality.org/

Page.aspx?pid=1130&srcid=-2.

More More Military Military Personnel

Personnel

To To Testify Testify On On DADT

DADT

WASHINGTON, D.C. (Observer

Update) - More armed services

veterans are scheduled to testify to

the Senate regarding a repeal of the

"don't ask, don't tell" policy, reported

advocate.com.

According to an advisory

issued, retired Marine general John J.

Sheehan, former Air Force major

Michael D. Almy, and former Navy

lieutenant Jenny Kopfstein will testify

to the Senate Armed Services Committee

March 18. Sheehan will testify

in favor of maintaining the policy,

Almy and Kopfstein in favor of

repealing it.

According to the

Servicemembers Legal Defense Network,

Kopfstein told her commanders,

after years of service, that she was a

lesbian, and they allowed her to

continue to serve in Operation Enduring

Freedom. Nineteen months after

coming out — and three months shy of

completing her deployment — the

Navy Board of Inquiry concluded in

2002 that there were grounds to

Retired General John J. Sheehan

discharge her under "don't ask, don't

tell."

Sheehan served in the Marine

Corps for 35 years and was the

Atlantic supreme allied commander

for NATO as well as commander in

chief for the U.S. Atlantic Command.

He retired in 1997. Almy was

discharged from the Air Force in 2006

under "don't ask, don't tell" after 13

years of service. On National Public

Radio last month, Almy said that there

is little merit to the suggestions of

lawmakers who say gays and lesbians

should be segregated from

heterosexual colleagues.

"Everyone in the military today

serves with someone that they

are uncomfortable with for one reason

or another," he said. "And the fact of

the matter is they all have to be

professionals. They all have to do

their job and perform the mission and

that's what makes them a professional

military force, the greatest military in

the world today. They get beyond

those uncomfortable situations."

Write rite A A Will Will W WWor

W or orkshop or shop Mar March Mar h 26

26

TUCSON- Less that 1/3 of

people who die in the U.S. each year

have a will, and many of those wills

are defective. Find out how a will can

benefit you and the people you care

about!

The public is invited to attend

a FREE Write A Will Workshop at the

Southern Arizona AIDS Foundation

(SAAF). The workshop will address

the importance of writing a will, the

legal aspects of a will, and the

charitable giving opportunities available

through wills. The workshop will

be led by attorney Doug Newman,

P.C. of Douglas J. Newman, P.C.

Attorneys at Law and is hosted by the

Southern Arizona AIDS Foundation.

Write-A-Will Workshop - Saturday,

March 27, 2010 - 10:00am-

11:30am - 375 S. Euclid Ave

RSVP's are required. To

register, contact Michele Bart at 520-

628-7223.

Who should come? Anyone

interested in a "hands on" session

about making or updating a will, how to

protect even the most modest estate,

and how to ensure that your wishes

are known and respected.

Workshop format: The workshop

is a 60-90 minute interactive

session that includes a question and

Continued on Page Two
---
PAGE TWO MARCH MARCH 17, 17, 2010

2010

chili just for good measure! Play some

pool, throw some darts, groove to

some great music, or just flirt with

Danny, our adorable bartender, it's all

good!

WEEKLY OBSERVER

Maurice Maurice Grossman's

Grossman's

Colorful Colorful Life,

Life,

March March 21

21

Maurice Grossman

TUCSON (Observer Update) -

As a tribute to Maurice Grossman, who

passed away in January, Wingspan

Senior Pride will be showing the video

of his "Colorful Life" presentation on

Sunday, March 21st at 2:00 pm at the

Ward 6 City Council office (3202 E. First

St., just east of Country Club behind the

Walgreens on Speedway).

This presentation took place

last year and was a taped memoir of

the life of one of Tucson's most colorful

LGBT members. If you missed the

original presentation, come see and

hear Maurice talk about his colorful life.

If you were there the first time, come reexperience

the event in memory of

Maurice. This event is free and open to

all!

For more information, contact

Penelope Starr, 520-730-4112.

Boys-R-Us Boys-R-Us Presents

Presents

Polyamory

Polyamory

Polyamory

TUCSON (Observer Update) -

The boys are bringin' the heat for this

one. Fire hoses needed! We wanna

show you how to love - love yourself

and love others, Friday, March 19, 9 to

11 PM, at the Surly Wench Pub, 424 N.

4 th Ave.

This evening of "Polyamory"

features our new emcee, MC Cockren.

Join us with Janee Starr and DJ Motion.

Tickets are $8.00 for general admission,

$12.00 for VIP seating. First row is

gonna get wet!

For more information, contact

Rachel Castillo, 520-551-0778.

2010 2010 PFLAG

PFLAG

Scholarships

Scholarships

TUCSON (Observer Update) -

This coming year PFLAG Tucson will

again award at least three or four Gene

Moore Memorial LGBT Scholarships.

Although we have little money in our

scholarship fund at the moment, we

hope to raise more in the coming

months.

Our scholarships thus may be

$500 rather than $1000 this year so that

we can benefit more students.

TucsonLGBT.com is establishing a

$250 School Books Scholarship this

year specifically for a Tucson lowincome

gay male high school senior

who plans to attend Pima College.

They will award this through

the PFLAG Tucson application process.

For more information and

application forms, go online to

pflagtucson.org/scholarships/

index2010.htm. Awards will be made at

our support meeting on Wednesday,

May 5.

Bear's Bear's Beer Beer Bust

Bust

Benefitting Benefitting Benefitting Wingspan

Wingspan

March March 27

27

TUCSON (Observer Update) -

Come on down and help the Bears of

the Old Pueblo kick off our return to the

Venture-N, 1239 N. 6 th Ave., 3 to 7 PM

as our home bar! This will be our big

kick-off event and we'd love to see ya

spend an afternoon with friends new

and old!

Join us for cold beverages,

hot chili, warm bruins, all on the

Venture-N's sunny back patio! This will

be a monthly event from here on out

every 4th Saturday! Drafts of beer and

soda are just $1.00 and pitchers are

only $2.50 and we'll be serving up

$2.00 bowls of our famous homemade

And if that wasn't enough to lure

ya down for an afternoon of fun 100% of

the proceeds go to directly to Wingspan

- Southern Arizona's LGBT Community

Center! Everyone is welcome -

feel free to invite friends and we'll see

ya there!

Hannah Hannah Free Free At At The

The

Loft

Loft

TUCSON (Observer Update) -

Wingspan is pleased to announce a

benefit premiere of the acclaimed film,

Hannah Free, at the Loft, 3233 E.

Speedway, on March 30, 2010. The

$10.00 admission ticket will go directly

to Wingspan. Patio reception at 6:30

p.m., the film will show at 7:30.

Advance tickets are available

for sale at Antigone, Casa Video, and

The Loft. Hannah Free is an independent

feature film about a lifelong love

affair between an independent spirit

and the woman she calls home. Sharon

Gless stars in the title role. Hannah and

Rachel grew up as little girls in the

same small Midwest town, where

traditional gender expectations eventually

challenge their deep love for one

another. Hannah becomes an adventurous,

unapologetic lesbian and

Rachel a strong but quiet homemaker.

Weaving back and forth between past

and present, the film reveals how the

women maintained their love affair

despite a marriage, a world war,

infidelities, and family denial.

Executive Producers Tracy

Baim and Sharon Zurek, director Wendy

Jo Carlton and screenwriter Claudia

Allen bring a wealth of talent to create

this beautiful and realistic love story

beginning in an era when being gay

was simply not allowed in society and

ending in contemporary times where

we see romance lives beyond middle

age. Reviewers are raving about the

film, the acting, the narrative and the

score. On Sharon Gless: "Her broad,

hammy portrayal of a free-spirited

butch lesbian bridling against authority

conveys the same punchy heartiness

she brought to Debbie Novotny, the

mother of a gay son in "Queer as Folk." -

Stephen Holden, The New York Times.

"Gless, glammed-down and butchedup,

delivers a dignified yet vulnerable,

heart-tugging performance — and it's a

reminder why we're demanding full

federal marriage rights now." - Instinct

Magazine. "Cagney lives, and she's as

cranky as ever." - LA Weekly

For more information, call 520-

319-0679.

Write Write A A Will Will Work- WorkWork- shop shop March March 26

26

Continued from Page One

answer component and a complementary

workbook, "A Guide to Planning

Your Will or Trust" for recording

important information regarding the

preparation of your will. Light refreshments

will be provided.

Each year SAAF provides

services to nearly 1,200 people and

delivers targeted prevention outreach

and education programs to over 20,000

people who are at risk for infection. For

more information about the programs

and services of the Southern Arizona

AIDS Foundation (SAAF) or to schedule

a tour of SAAF, please visit

www.saaf.org or call (520) 628-7223.

SAAF's mission is to create and

sustain a healthier community through

a compassionate, comprehensive response

to HIV/AIDS.

P.O. P.O. BOX BOX 50733,

50733,

TUCSON, TUCSON, AZ AZ 85703

85703

(520) (520) 622-7176 622-7176 (Voice)

(Voice)

Computer Computer FAX FAX ()792-8382

()792-8382

Com ComOffice Com Office Hours: Hours: 9a.m.-6p.m.

9a.m.-6p.m.

Monday Monday thru thru Friday

Friday

Office Office Office Office Office Closed Closed Closed Closed Closed Thursdays

Thursdays

Thursdays

Thursdays

Thursdays

792-8382puter 792-8382puter FAX FAX (520)792-2

(520)792-2

Observer Observer on on the the World World Wide Wide Web Web :

:

www.tucsonobserver.com

www.tucsonobserver.com

E-Mail: E-Mail: E-Mail: info@tucsonobserver.com

info@tucsonobserver.com

——————————

——————————

EDITOR/PUBLISHER:

EDITOR/PUBLISHER:

Bob Bob Bob Ellis Ellis

Ellis

ARTS ARTS & & GRAPHICS:

GRAPHICS:

Gary Gary Clark

Clark

MANAGING MANAGING EDITOR:

EDITOR:

Mark Mark Kerr Kerr

Kerr

Special Special Events Events Photos:

Photos:

Bill Bill Morrow

Morrow

Hunter Hunter Johnson

Johnson

Amanda Amanda Irvin

Irvin

Contributing Contributing Columnists

Columnists

Mark Mark Mark R. R. Kerr

Kerr

Jack Jack Jack Melichar

Melichar

Publication of names or photos of any person

or organization in the OBSERVER is not to be

construed as indication of the sexual

orientation of such person, organization or

advertisers or any employees thereof.

Opinions that are expressed in Letters to the

Editor or columns by contributors are not

necessarily those of the OBSERVER, its staff

or advertisers. OBSERVER assumes

responsibility for its own editorial policy only.

Although OBSERVER has many fine

advertisers, we do not accept responsibility for

any claims made pertaining to their products

and/or services.

*

Permission to reprint (except for separately

copyrighted material) is granted when credit is

given to the OBSERVER.

*
---
WEEKLY OBSERVER MARCH MARCH 17, 17, 2010

2010

PAGE THREE

by John Culhane, Professor of

Law, Widener University

RICHMOND (Observer Update) -

Have you been keeping up with the antigay

merry-go-round in Virginia? Events

have been spinning so fast that it's not

easy to do, but it's a story worth

discussing because of what it says

about the state of our rights – not just in

Virginia, but nationally, 365Gay.com

reported.

A quick recap: Shortly after

taking office early this year, Governor

Bob McDonnell rescinded the standing

Executive Order that forbade discrimination

against public employees on a

number of grounds, including sexual

orientation.

McDonnell, who'd written a JD/

masters thesis denouncing everything

and everyone from working mothers to

"homosexuals" (and something called

"Democrats") while at Pat Robertson's

Regent University, had clammed up

about his homo-loathing during the

campaign; he presented himself as a

practical, pro-business conservative.

But once elected, it was off to the races.

McDonnell claimed that the

previous Executive Order, by including

sexual orientation within its protections,

granted rights that the Governor's office

had no authority to grant: This issue was

for the legislature, he said.

McDonnell's gay and lesbian

wipeout emboldened State Attorney

General Ken Cuccinelli , himself a

natural law, anti-gay warrior. He fired off

a letter to the state's universities,

informing them that any policy they had

Vir ir irginia' ir ginia' ginia's ginia' s Anti-Ga Anti-Gay Anti-Ga y Mer Merry-Go-R

Mer ry-Go-R ry-Go-Round

ry-Go-R ound

prohibiting sexual orientation discrimination

was a dead letter.

This turned out to be the

tipping point; a colossal blunder that

caused an unstoppable spiral of

events against all of this old-school

homophobia. Universities aren't like

state agencies, and their employees

include presidents and professors

who are used to, and need, a certain

degree of independence and autonomy

on policy issues, especially

on issues like discrimination.

And there's a practical dimension

to their stubbornness: They

know that their school won't be able

to compete for the best and brightest

students if applicants perceive that

the campus is unwelcoming, or

medieval, in its outlook. Reaction

was swift, and not subtle.

A member of George

Mason's governing board declared

the actions "reprehensible," and

made the quite sensible point that the

AG could have just let the matter

alone. I was proud that the President

of my alma mater, William and Mary,

released a strong rebuke that went

about as far as it responsibly could:

Taylor Reveley's letter to the W&M

community said, respectfully but

plainly, that the College's anti-discrimination

policy "isn't going to

change."

Reveley's letter followed an

angry and insistent on-line campaign

by W&M students, and Virginia's

students didn't stop there. On

Wednesday, more than 1,000 students

from Virginia Commonwealth

University, located in the state capital

of Richmond, took to the streets, and to

the state house, in protest.

That did it, the Governor

emerged from his bunker to announce

his new… Executive Directive! One that

protects gays and lesbians from

discrimination! Well, sort of. An Executive

Directive doesn't have the same

force as something called…an Executive

Order. Here's the difference, in a

nutshell: an Executive Order would let

the aggrieved party sue, while an

Executive Directive provides less direct

protection. A directive puts the

power of the governor's office, but not

of law, behind the mandate. So an

employee who has been discriminated

against because of sexual

orientation can't sue, but the directive

will still be a powerful disincentive

because the offender will be disciplined,

and perhaps even fired.

And the employee wrongfully

discriminated against would get to

keep his or her job. Why the aboutface?

I'll let McDonnell tell you: "[The

controversy] has caused too much fear

and too much uncertainty in the

business community and the highereducation

establishment and among

young people in the commonwealth —

and I simply won't stand for that." Note

the order of concerns expressed: the

business community comes first. What

does this controversy have to do with

that?

Plenty, as it turns out. Shortly

after McDonnell's Executive Order

misstep, Maryland officials began

stepping up their courtship of defense

contracting firm Northrop Grumman, a

very gay-friendly company that's in the

process of choosing between these

two states as their corporate headquarters.

And then, according to an

article in the Washington Post, savvy

Virginia students have spent the week

since Cuccinelli wrote his poison pen

letter expressing their "concerns" about

the climate to Northrop.

Business and students!

There's the lethal combination of

interests that caused McDonnell to

collapse. He's politically astute to

know that sexual orientation isn't an

issue for most younger voters – except

to the extent that it's a winning side for

progressives – and once Jon Stewart

(another W&M alum) stuck his skewer

through the McDonnell-Cuccinelli kebob,

the game was over. None of this

changes the way McDonnell thinks, of

course. But he has his eye on higher

office, and it's a mark of progress, in a

strange but unmistakable way, that the

governor has had to retreat so visibly

from his avowed social conservatism.

All of that heat has warmed me up.
---
PAGE FOUR MARCH MARCH 17, 17, 2010

2010

WEEKLY OBSERVER

EDITORIAL. . . . . .

LGBT LGBT Leadership

Leadership

(Observer Note: The following was an oped piece penned by open

Lesbian state Senator Paula Aboud which ran in the March 16 edition of the Arizona

Daily Star. This shows why she is sorely needed at the State Capital to defend the

interests and rights of LGBT citizens of the state as well as everyone else. Anyone

who takes as much time and makes such an effort for little salary and plenty of grief

and wants to continue to do so is a true public servant, one not out for their name in

the news but to make life better for all.)

I am sorry that we couldn't stop the governor's Republican budget from

passing out of the Legislature last Thursday night. It was not for lack of trying on my

part or that of my Democratic colleagues. I fought to defeat that budget in the

Appropriations Committee for 10 hours, to no avail.

I pointed out how the Democrat budget offered solutions that wouldn't

throw people and children under the bus. We could eliminate some of the $10

billion in tax loopholes in our tax system and balance the books today. I reminded

them that we could suspend $250 million in tax credits instead of cutting services to

developmentally disabled populations or our hospitals. We even offered a tax on

liquor or candy and soft drinks to help save the children. It all fell on deaf ears.

The governor's budget was not the only option for Arizona's citizens. A

clandestine group of moderate Republicans and Democrats created an

alternative budget proposal that resolved our deficit more humanely. But that

budget, while it could have served as a negotiating piece, was ridiculed by the

conservatives, discounted as nonsense and trashed.

What is nonsense is that the conservatives and the governor are

dismantling funding to schools and social-service programs that are vital to our

state. Cutting 45,000 children's health care wasn't enough; they eliminated the

KidsCare program forever, costing the state $54 million in federal matching funds.

Throwing 300,000 people off the Arizona Health Care Cost Containment System

will now send them and 45,000 children into the emergency rooms for their

uncompensated health-care needs.

Hospitals will have no choice but to pass on those costs to you and me

through skyrocketing insurance premiums. That's a hidden health-care tax forced

upon us by this budget. Gutting AHCCCS and KidsCare cuts the payment to

hospitals, adding huge stressors to the one economic sector that is providing new

jobs to Arizona's badly hurting economy. Some 43,000 adults have earned their

GEDs at a cost of $300 per adult, which enabled them to earn $9,000 more per year

on average in income - all of which helped bring in needed tax dollars to the state.

The governor didn't just cut the adult-education funds, she eliminated the program

forever!

A young woman from rural Arizona testified before the Appropriations

Committee that she'd be on welfare, in jail or worse without that program putting her

on a positive track for life. That program represented a smart investment for

Arizona. The cut was shortsighted nonsense. Desperate for money, the governor

even took money from the developmentally disabled, swiping another 18 percent

of their Supplemental Security Income checks. We no longer put people and

children first in Arizona, and that's sad.

Where is the conscience and heart in politics in Arizona? What future are

these conservative legislators creating for Arizona?

Please step up and ask for the change that Arizona deserves. Please

give Arizona new legislators who will pass a budget that is responsible to the

needs of the future for our good state so that people will want to visit or move to

Arizona.

(Can you help Paula Aboud get to the finish line? She needs more $5

Clean Election contributions. Her campaign website is paulaaboud.com, E-mail:

AboudforSenate@gmail.com or call 520-323-7264.)

Ar Art.If Ar t.If t.If.Act t.If .Act Dance Dance Pr Project Pr oject Pr Pre- Pr e

sents sents 'Dance 'Dance In In T TThe

T he R RRed

R ed ed' ed ' T TTo

T

Benefit Benefit SAAF

SAAF

(Tucson, AZ)- "Dance in the Red"

was originally founded by Joshua

Blake Carter and Ashley Bowman in

January of 2009; Artifact Dance Project

is happy to bring Joshua back (from

the city of Chicago) to set a new duet

for Emily Acre and Corbin Kalinowski

called, "When Love Becomes Convenient."

This piece is set to the music of

Shostakovich and will feature pianist

Alexander Tentser, cellist Robert

Chamberlain and violinist Carla Ecker.

The performance will also include

choreographic premieres "To Boston for Sex", a short film titled,

"Laundromats and Dream Destroyers", "Mein Herz" *(German for "my heart") is

a soulful female trio choreographed by Ashley Bowman and danced by Eboni

Taylor, Claire Hancock and Ashley Bowman and so much more.

Don't miss out on this wonderful opportunity to participate in this unique

event and give back to the community. Tickets are $45, a silent auction will be

held in the theatre at 6pm, the performance begins at 7:30pm.

Tickets can be purchased online at www.artifactdanceproject.com or by

calling 520-780-6879.

Event Dates: - Friday and/or Saturday, March 26 and 27.

The Southern Arizona AIDS Foundation's mission is to create and sustain

a healthier community through a compassionate, comprehensive response to

HIV/AIDS.

AROUND AROUND THE THE G GGAY

G Y GL GLOBE. GL OBE. . . . . .

.

The two major organizations

that hold LGBT sports competitions

are considering a merger, according

to Outsports. The Federation of Gay

Games and the Gay and Lesbian

International Sport Association (which

handles the Outgames) may hold a

joint event in 2018. The news comes

out of a meeting at the European Gay

and Lesbian Sport Federations last

weekend in Manchester, England,

where a proposal was presented for a

joint event. The third Outgames will be

in 2013 in Antwerp, Belgium. The eighth

Gay Games will take place in Cologne,

Germany, July 31-August 7. The following

Gay Games event is slated for

Cleveland in 2014. Global economic

issues may contribute to a merger, as

the competitions have had some

problems sustaining funding.

A widening child sexual abuse

inquiry in Europe has landed at the

doorstep of Pope Benedict XVI, as a

senior church official acknowledged

Friday that a German archdiocese

made "serious mistakes" in handling

an abuse case while the pope served

as its archbishop. The archdiocese

said that a priest accused of molesting

boys was given therapy in 1980 and

later allowed to resume pastoral

duties, before committing further

abuses and being prosecuted. Pope

Benedict, who at the time headed the

Archdiocese of Munich and Freising,

approved the priest's transfer for

therapy. A subordinate took full responsibility

for allowing the priest to

later resume pastoral work, the archdiocese

said in a statement.

The Vatican spokesman, the

Rev. Federico Lombardi, said he had

no comment beyond the statement by

the Archdiocese of Munich and

Freising, which he said showed the

"nonresponsibility" of the pope in the

matter. The expanding abuse inquiry

had come ever closer to Benedict as

new accusations in Germany surfaced

almost daily since the first reports in

January. On Friday the pope met with

the chief bishop of Germany, Arch-

bishop Robert Zollitsch, the head of

the German Bishops Conference, to

discuss the church investigations

and media reports.

Archbishop Zollitsch said the

German church had vowed to investigate

all allegations of abuse, encouraging

victims to identify themselves

even if the abuse happened decades

ago. In recent weeks, hundreds

of people who say they were

abuse victims have come forward.

Experts said the scandals could

undermine Benedict's moral authority,

especially because they cut

particularly close to the pope himself.

As head of the Vatican's main

doctrinal arm, the Congregation for

the Doctrine of the Faith, he led

Vatican investigations into abuse for

four years before assuming the

papacy in 2005.

A federal judge annuled the

marriage of two gay men that took

place in Buenos Aires last week,

according to the Catholic News

Agency; but gay marriage bills are

still moving ahead in Argentina.

Judge Felix Gustavo de Igarzabal of

Buenos Aires ruled that marriage is

defined by being between a man and

a woman – and since both parties

were men, no marriage took place.

This reversed an earlier decision

allowing two gay men to marry at the

city's civil registry office on March 3.

Two men were legally wed in the

province of Tierra del Fuego in

December, after the governor ordered

the civil registry office to

perform and register their marriage.

Cohabitating same-sex couples have

the right to collect the pensions of

their deceased partners in Argentina

and gay prisoners can receive

conjugal visits. Civil unions are

recognized in four jurisdictions in

Argentina, including Buenos Aires.
---
WEEKLY OBSERVER

Two Two House House Democrats Democrats Back

Back

Gay Gay Housing Housing Protections

Protections

WASHINGTON, D.C. (Observer

Update) - Two House Democrats are

backing a bill that would outlaw

discrimination on the basis of sexual

orientation and gender identity in the

area of housing, reported On Top

Magazine. Representative Jerrold

Nadler of New York, along with

Michigan Congressman John Conyers,

introduced the measure at a subcommittee

hearing reviewing the efficacy

of the Fair Housing Act of 1968.

"Housing discrimination remains

a persistent problem in our

country," Nadler told the panel. "Jim

Crow laws and restrictive covenants

may no longer be with us, but the

discriminatory attitudes and practices

they represent remain. Outright discrimination,

steering, a refusal to build

accessible housing as required by

law, and discriminatory lending practices

continue to plague renters and

prospective homeowners. And,

shamefully, discrimination on the basis

of sexual orientation and gender

identity are perfectly legal in many

areas, and people are regularly

denied a place to live simply because

of that status."

The Nadler/Conyers bill

seeks to amend the Fair Housing Act

to include sexual orientation and

gender identity. Rea Carey, executive

director of the National Gay and

Lesbian Task Force Action Fund,

testified that 11 percent of transgender

people have been evicted because

of their gender identity; another 19

percent have been left homeless. A

2007 study concluded that 30 percent

of gay couples were treated differently

when attempting to buy or rent a

home, Carey said.

"For us, the pursuit of the

American dream, including home

ownership, is a risky proposition. We

may experience resistance or outright

hostility from a variety of sources

including landlords, lenders and

realtors," Carey testified. "When we

disclose our sexual orientation or

gender identity, voluntarily or involuntarily,

we may be subjected to

violence and/or property damage,"

she added.

A hearing on the bill has yet

to be scheduled.

U.S. U.S. Representative Representative Holds Holds Panel

Panel

On On Fostering Fostering For For LGBT LGBT Parents

Parents

U.S. Representative Pete Stark

WASHINGTON, D.C. (Observer

Update) - U.S. representative Pete

Stark of California's 13th congressional

district will hold a panel discussion

focused on the reintroduction of

the Every Child Deserves a Family

Act.

The legislation would open

more homes to foster children by

working to end discrimination against

prospective foster and adoptive par-

ents based on their marital status or

sexual orientation.

Those sitting on the panel

will range from foster children to

adoptive parents who are said to

have experienced discrimination.

LGBT and foster care experts are

also scheduled to attend, as well as

an American Civil Liberties Union

attorney.

Washington Washington State State Senate Senate Passes

Passes

Anti-Bullying Anti-Bullying Law

Law

OLYMPIA, WA (Observer Update)

- The Washington state senate

has passed an anti-bullying law that

includes protections for gay, lesbian,

bisexual and transgender students,

with a vote of 48-0, according to Equal

Rights Washington. Earlier in the

session, the House voted to pass the

bill 97-0, reported 365Gay.com. Go.

Chris Gregoire vowed to sign the bill

when it hits her desk.

The bill will create anti-harassment

policies in schools across the

state. Each school will create a staff

position that handles all harassment

and bullying complaints. In addition,

the bill states the school's policies on

harassment and bullying must be

available online.

"Today let us celebrate the

leadership of Representative Marko

Liias who championed this legislation,

the commitment of the legislature

to ensuring that every student enjoys

a safe learning environment and the

ongoing work of the Safe Schools

Coalition," Josh Friedes, advocacy

director of Equal Rights Washington

said in a statement.

MARCH MARCH 17, 17, 2010

2010

Okla. Okla. Senate Senate Opts Opts Out Out Of

Of

Hate-Crime Hate-Crime Act

Act

OKLAHOMA CITY (Observer

Update) - Oklahoma state senator

Steve Russell pushed an amendment

that makes it possible for the

state to circumvent the portion of the

Matthew Shepard and James Byrd,

Jr. Hate Crimes Protection Act that

concerns LGBT protections, reported

advocate.com.

According to NewsOK, a

state law enforcement agency would

not be required to share investigative

files with federal agencies under the

proposed changes to the Oklahoma

hate-crimes bill. The bill is now

headed to the house for consider-

TGLBTCC TGLBTCC Meeting Meeting March March 18

18

TUCSON (Observer Update) -

The March March Breakfast Meeting

of the Tucson Gay, Lesbian, Bisexual

and Transgender Chamber of Commerce

will take place Thursday, March

18, 7:30 A.M., at the Hotel Tucson City

Center Conference Suite Resort, 475

N. Granada.

"Big changes may be in store

for health care in AZ; get the skinny at

our March Breakfast Meeting"

The featured speaker will be

Dr. Matt Heinz, Arizona District 29

member, Arizona State House of

Representatives. Matt will speak on

several current initiatives including his

efforts to propose and pass in Arizona

a health care bill that would enable

most Arizona citizens to purchase

health insurance on the same basis as

state employees.

$20 members/ $25 guests. $5

Dr. Dr. Matt Matt Matt Heinz

Heinz

PAGE FIVE

ation after passing the senate 39-6.

"Under the new provisions of Senate

Bill 1965, reports that were collected

during investigations of possible hate

crime that did not end in a conviction

would be destroyed or kept by the

Oklahoma State Bureau of Investigation,"

reported NewsOK.

"Russell said the bill is meant

to prevent the federal law enforcement

officials from taking over a case and

applying different standards when local

law enforcement has already investigated

a case." The senator also said

his bill is meant to protect speech of all

kinds, according to NewsOK.

discount for members and guests who

RSVP by Monday, March 15,615-6436 or

info@TucsonGLBTChamber.org.
---
PAGE SIX MARCH MARCH 17, 17, 2010

2010

Douglas J. Newman, P.C.

A T T O R N E Y A T L A W

Corporations . Limited Liability Companies . General Business

Wills . Trusts . Estate & Estate Tax Planning . Probate

2650 North Country Club Road . Tucson, Arizona 85716

Phone 520-325-2053 . Fax 520-325-2274 . dougnewmanlaw.com

WEEKLY OBSERVER

NBC Show's Meredith Vieira Apologizes

For Post Oscar Comments

NEW YORK (Observer Update) -

NBC "Today Show" co-host, Meredith

Vieira made comments during post

Academy Awards coverage that generated

a substantial number of complaints.

During a celebratory interview

with the cast of the multi-award winning

movie, The Hurt Locker, Vieira jokingly

made reference to a past hug between

actors Anthony Mackie and Jeremy

Renner at the time the film was

nominated, reported GLAAD. VIEIRA:

"You hugged him pretty tight, I must say,

in the moment. There was a lot of man

lovin' goin' on last night. Do I have

reason to be worried?" Anthony Mackie

then offered a heartfelt response,

completely disarming the idea that

there may be a problem with two men

embracing.

Vieira has a long track record

of supporting our community so the

remarks did come as a surprise.

GLAAD also heard from multiple constituents

who were offended by what

she said. That's when we got on the

phone with Vieira to voice concerns

and ask her to address the issue. We

had a very productive conversation

and in the end we walked away

knowing her heart is in the right place

and she had no intention of causing

harm for LGBT people. She even sent

along a statement of explanation and

an apology which she asked GLAAD to

distribute:

"During an interview with the

cast of the hurt locker on Monday, I

turned to actor Anthony Mackie and

made a joke about "man hugging" in

reference to a hug he and fellow actor

Jeremy Renner had shared a few

weeks earlier on our air. It was meant to

be lighthearted, but some were offended

by what they believed to be a

homophobic comment. That was never

my intent, but that doesn't matter.

Words are extremely powerful and

should never be chosen lightly, even in

a lighthearted moment. I apologize to

any and all that I offended. My support

of the gay and lesbian community is

longstanding and well documented. It

has not and will never waver."

Today Show's Co-Host Meredith Vieira

GLAAD thanks Meredith

Vieira for listening to concerns,

addressing this issue sincerely and

for using this moment to educate the

public on how words can hurt. We

continue to value her as an ally and a

friend.

Gay Gay Republicans Republicans Refuse Refuse To

To

Hold Hold Roy Roy Ashburn Ashburn Accountable

Accountable

SACRAMENTO, CA (Observer

Update) - Five days after Republican

California Senator Roy Ashburn admitted

he's gay, the nation's two largest

gay GOP groups have kept mostly

silent on the issue, neither willing to call

out the senator on his long anti-gay

record, reported On Top Magazine.

Log Cabin Republicans Spokesman

Charles Moran appeared on Oakland,

California-based Fox affiliate KTVU to

voice the group's reaction, but failed to

condemn Ashburn's career-long hypocrisy.

Ashburn's sexuality has been

under the microscope since his March

3 arrest on suspicion of drunk driving

after leaving a popular Sacramento

gay bar. On Monday, the conservative

lawmaker and father of four told talk

show host Inga Banks: "I am gay."

Social conservatives immediately

asked for Ashburn's resignation, while

Republicans appear prepared to give

the 55-year-old politician a pass. In the

interview, Moran suggested that he

was OK with Ashburn's conflicting

message of being a gay man while

voting and speaking out against gay

rights measures. Moran said that every

gay and lesbian person should come

out in their own time, then added,

"unfortunately, this situation prompted a

bit of an untimely and unprepared

coming out process," for Ashburn.

And Moran implied that the

political culture was responsible for

Ashburn's apparent double life: "There

are some serious ramifications and a

lot of discussions about his voting

history on a lot of these issues, but also

a greater discussion about the culture

in politics that really forces people on

the left and on the right to feel like they

need to hide their sexual orientation to

be successful in politics." GOProud,

another gay group that supports Republicans,

remained silent about

Ashburn, but felt free to take a swipe at

former Democratic Representative Eric

Massa, who resigned his seat last

week amid allegations that he

groped a male staffer. On the group's

Facebook page, Jimmy LaSalvia,

the group's executive director, commented:

"Democrat closet case scandal

details coming soon."

Both groups have previously

said that gay rights come

secondary to conservative values.

Log Cabin Republicans endorsed

the 2008 presidential campaign of

Arizona Senator John McCain despite

his staunch support for "don't

ask, don't tell," the 1993 law that

forbids gay troops from serving

openly, and state constitutional

amendments that ban gay marriage.

Iowa Iowa Gay Gay Marriage

Marriage

Foe Foe Equates Equates Gay

Gay

Sex Sex With With Smoking

Smoking

Risks

Risks

DES MOINES (Observer Update)

- The president of the Iowa

Family Policy Center, a group that

opposes marriage equality, released

a statement that made gay

sex appear to be a health menace.

"The Iowa Legislature outlawed

smoking in an effort to improve

health and reduce the medical costs

that are often passed on to the state,"

Chuck Hurley said, according to the

Des Moines Register. "The secondhand

impacts of certain homosexual

acts are arguably more destructive,

and potentially more costly to society

than smoking. … Homosexual

activity is certainly more dangerous

for the individuals who engage in it

than is smoking."

Hurley cited a new report

from the U.S. Centers for Disease

Control that showed a higher number

of gay and bisexual men have HIV

and syphilis. The report made no

mention of smoking. Hurley believes

Iowa's passage of same-sex marriage

will lead to higher HIV and

syphilis rates in the state.
---
WEEKLY OBSERVER MARCH MARCH 17, 17, 2010

2010

Lesbian Lesbian T TTeen

T een Sues Sues T TTo

T o F FFor

F or orce or ce

Sc School Sc hool T TTo

T o Hold Hold Pr Prom Pr om

JACKSON, MS (Observer

Update) - A lesbian student who

wanted to take her girlfriend to her

senior prom is asking a federal

judge to force her Mississippi school

district to reinstate the dance it

canceled, reported 365Gay.com.

The American Civil Liberties

Union of Mississippi has filed a

lawsuit in U.S. District Court in Oxford

on behalf of 18-year-old Constance

McMillen, who said she faced some

unhappy classmates after the

Itawamba County School District

said it wouldn't host the April 2 prom.

"Somebody said, 'Thanks for ruining

my senior year,'" McMillen said of

her reluctant return to Itawamba

Agricultural High School in Fulton.

The lawsuit seeks a court order for

the school to hold the prom. It also

asks that McMillen be allowed to

escort her girlfriend, who is a fellow

student, and wear a tuxedo, which the

school said also violated policy.

The district's decision came

after the ACLU demanded that

officials change a policy banning

same-sex prom dates because it

said it violated students' rights. The

ACLU said the district violated

McMillen's free expression rights by

not letting her wear a tux. McMillen

said she never expected the district

to respond the way it did. "A lot of

people said that was going to

happen, but I said, they had already

spent too much money on the prom"

to cancel it, she said. McMillen said

she didn't want to go back to the high

school in Fulton the morning after the

decision, but her father told her she

needed to face her classmates. "My

daddy told me that I needed to show

them that I'm still proud of who I am,"

McMillen told The Associated Press in

a telephone interview. "The fact that

this will help people later on, that's

what's helping me to go on."

The school board statement

said it wouldn't host the event "due to

the distractions to the educational

process caused by recent events" but

didn't mention McMillen. District

officials didn't return calls seeking

comment. At least one supporter has

offered to help McMillen and her

classmates hold an alternate prom.

New Orleans hotel owner Sean

Cummings told The Clarion-Ledger of

Jackson he was so disappointed with

the school board's decision he offered

to transport the students in buses to the

city and host a free prom at one of his

properties. "New Orleans, we're a

joyful culture and a creative culture

here and, if the school doesn't change

its mind, we'd be delighted to offer

them a prom in New Orleans," he told

the newspaper. "Concluding your high

school experience should be a joyful

one. One shouldn't conclude that

experience with all their friends on a

negative note."

PAGE SEVEN

Community Community Bars

Bars

1. 1. THE THE BIZ

BIZ

2900 2900 E. E. Broadway Broadway Broadway 318-

318-

4838

4838

2. 2. IBT'S

IBT'S

616 616 616 N. N. 4 4 th Ave. Ave. 882-3053 882-3053

882-3053

3. 3. VENTURE-N

VENTURE-N

1239 1239 N. N. 6 6 th Ave. Ave. 882- 882-

882-

8224

8224

5. 5. WOODY'S

WOODY'S

3710 3710 N. N. Oracle Oracle Rd,

Rd,

292-6702

292-6702

6. 6. COYOTE COYOTE MOON MOON PUB

PUB

915 915 W. W. W. Prince Prince Rd. Rd. 293-

293-

7339

7339

8. 8. COLORS COLORS COLORS FOOD FOOD & & SPIRITS

SPIRITS

5305 5305 E. E. Speedway Speedway 323-

323-

1840 1840

1840

Organizations

Organizations

A. A. MCC MCC - - METROPOLITAN

METROPOLITAN

COMMUNITY COMMUNITY CHURCH

CHURCH

3269 N. Mountain - 292-9151

B. B. CORNERSTONE CORNERSTONE FELLOWSHIP

FELLOWSHIP

2902 N. Geronimo - 622-4626

D. D. WINGSPAN

WINGSPAN

430 E. 7th Street -624-1779

E. E. S SS.A.A.F

S .A.A.F .A.A.F. .A.A.F - - 375 S. Euclid 628-7223

G. G. G. TIHAN TIHAN - - Tucson Interfaith HIV-AIDS

Network - 1101 N. Craycroft

Suite 301 - 299-6647

H. H. EON EON YOUTH YOUTH CENTER

CENTER

620-6245
---
PAGE PAGE EIGHT

EIGHT

WEEKLY WEEKLY OBSERVER

OBSERVER

TUCSON RESOURCES - TUCSON RESOURCES - TUCSON RESOURCES

Accurate Accounting & Business Solutions

Specializing In Small Business,

Tax, Accounting & Bookeeping

20% Discount on 2009 Tax Service

Free Consultation

520-490-2421

MARCH MARCH 17, 17, 2010

2010

520-615-6436

520-615-6436

PERSONAL

PERSONAL

TRAINING

TRAINING

* * Certified Certified Trainer

Trainer

FREE FREE CONSULTATION

CONSULTATION

* * Body Body Body Work

Work

P. P. O. O. Box13312 Box13312

Box13312

Tucson, Tucson, AZ AZ 85732

85732

www.tucsonglbtchamber.org

info@tucsonglbtchamber.org
---
WEEKLY WEEKLY OBSERVER OBSERVER

MARCH MARCH 17, 17, 2010

2010

PAGE PAGE NINE

NINE

TUCSON RESOURCES - TUCSON RESOURCES - TUCSON RESOURCES

CANCER SUPPORT GROUP for Lesbians,

Bisexuals, Trans, Queer, Women. Meets Mondays

(6:00 - 7:30pm) at Wingspan, 425 E. 7 th Street, Tucson,

AZ 85701. For more info, pleases contact Brenda

Casey, LMSW 520-694-0247 or

bcassey@umcaz.edu

SEXUALLY TRANSMITTED DISEASE CLINIC

provided daily by the Pima County Health

Department. Gay friendly. Confidential. Treatment

and Medication too! Any questions? Call 624-8272

SOUTHERN ARIZONA AIDS FOUNDATION

(SAAF), 375 S. EUCLID. Office Hours 8am to 5pm,

Monday through Friday. Direct services and

emotional support for persons with and affected by

HIV. Anonymous HIV testing and support groups

available. Prevention education programs. 628-

SAAF (7223). World wide web: http://www.saaf.org.

VOLUNTEERS WELCOME.

P.F.L.A.G. -CANCER SUPPORT GROUP for

Lesbians, Bisexuals, Trans, Queer, Women. Meets

Mondays (6:00 - 7:30pm) at Wingspan, 425 E. 7 th

Street, Tucson, AZ 85701. For more info, pleases

contact Brenda Casey, LMSW 520-694-0247 or

bcassey@umcaz.edu

P.F.L.A.G. - Parents and Friends of Lesbians and Gays

- is a support group available to anyone who has a

son, daughter or friend who is Gay. Call 360-3795 or

write P.O. Box 36264, Tucson, AZ 85740-6264. All

replies confidential.

YOUNG AND GAY?

GLBT Youth 23 and under, meet Tucson for sharing,

support and information. You are not alone. For more

info call Wingspan, 624-1779.

Start getting more out of life with TUCSON PRIME

TIMERS. We're the local chapter of Prime Timers

Worldwide, the preeminent social organization for

mature gay and bi men as well as younger (21+) men

who enjoy their company. Each month we sponsor a

wide range of dining events, cultural enrichment

activities, parties, meetings, bowling, day trips, picnics,

tours and much more. Visitors are always welcome.

For info call our message phone 520-743-9514 Visit

our website: www.tucsonprimetimers.org

TUCSON INFORMATION AND REFERRAL

For Information on human service organizations,

health and mental health services, financial and

government assistance, emergency services such

as food and shelter, education, etc. Call Information

and Referral 325-2111 - 7am-7pm M-F - 9am-5pm

weekend and holidays.

WINGSPAN - Tucson's Gay, Lesbian & Bisexual

Community Center, 425 E. 7th St., offers support groups

/ info line / social events / library / meeting space.

Volunteer Opportunities. Board meetings every 2nd

Thursday (open to all), 6:00 p.m. Information 624-1779.

GREATER PHOENIX GAY & LESBIAN CHAMBER

OF COMMERCE (GPGLCC) P.O. BOX 2097, Phoenix,

AZ 85001-2097. E-mail: webmaster@gpglcc.org or

call (602)225-8444.

SOURCES UNLIMITED, a Lesbian & Gay referral

service. Business and individual listings are free of

charge. All information available to anyone just

simply by asking. 322_5655. Leave message.

TucsonSources@aol.com

INNER WISDOM _ Try hypnotherapy for pain relief,

past life exploration and addiction release. Also

available: Spiritual Counseling and Dream

Interpretation. 579_9020

BEARS OF THE OLD PUEBLO - a social club for

bears and bigger, more robust men (and of course,

those who prefer their company). For more info, Call

the Bears Hotline (520)829-0117 or write P.O. Box

43910, Tucson, AZ 85733-3910 of visit our website at

www.botop.com All are welcome to our general

meetings/potlucks on the 2nd Friday of every month,

at 3202 E. 1 st St. (the "Ward 6" Office Bldg.) Just south

of Speedway & East of Country Club. PotLuck Dinner

begins at 6:30 and the monthly meeting follows at 7:15

p.m.

LESBIAN AND GAY AL-ANON- Affected by

someone's drinking? Meeting every Tuesday 8:45 to

9:45 p.m. at Lambda Center, 2940 E. Thomas,

Phoenix. Ellie 581-8850 or Ronn 968-2384.

CHRISTIAN SCIENCE GROUP - Outreach to Gay and

Lesbian people in Arizona. Meets monthly. Write to

P.O. Box 893, Phoenix, AZ 85001 or call Eddy Walters,

(602)371-1102

T-Squares, Tucson's Gay & Lesbian square dance

club, dances Tuesdays 6:30_9 pm at the Cornerstone

Fellowship Social Hall, 2902 N. Geronimo Ave

(Northwest of 1st Ave & Glenn St). No experience

needed, no partner required! For more information

contact Barb at 886-0716, or visit

www.azgaydance.org.

LIGHTNING LIGHTING will provide lighting for AIDS

and related benefits at no charge. For more info call

Adrienne at 889-7298.

COME EXPLORE YOUR SPIRITUALITY! St. Philip's

in the Hills Episcopal Church offers a variety of Gay

and Lesbian groups and services for the spiritually

minded. Come meet the Family! For more information

call Debbie 579-9827 or David 323-7943.

LESBIAN/GAY WRITERS: Workshop at 7:00 p.m.

third Wednesday of every month. Read and critique

current projects. Network and support. For info call

325-4737.

DESERT VOICES, Tucson's Gay, Lesbian, Bisexual,

Transgender and Straight Chorus, has been singing

songs of pride, hope and laughter for 20 seasons.

Check out our website at www.desertvoices.org, or

call (520)791-9662 for information about upcoming

concerts or how to join.

Join the LESBIAN & GAY PUBLIC AWARENESS

PROJECT. In Tucson write Awareness Project, 3661

N. Campbell Ave. #365, Tucson, AZ 85719.

AA Meeting with HIV/AIDS focus, Wednesdays, 7:30

p.m., Wingspan Annex, 425 E. 7 th Street. All alcoholics

welcome.

MEN'S SOCIAL NETWORK: Social organization for

men of all ages. Building an extended Gay family in

Tucson. Monthly social potluck gatherings the first

Saturday of each month and almost weekly social

activities. Call 207-5336 for information and a

newsletter.

CARE TEAMS ARE AVAILABLE to offer support to

people living with HIV/AIDS. The Tucson Interfaith

HIV/AIDS Network (TIHAN) offers trained,

compassionate and committed volunteers to provide

services including friendly visits, light housekeeping,

assistance with meals, shopping, errands,

transportation and companionship for medical

appointments, and respite care for primary care

givers. No judgement or proselytizing - we are here

to be of service. For information call Scott at 299-6647.

FOR INFORMATION ABOUT SPORTS TEAMS and

updates on Gay Games, contract TEAM ARIZONA

at their website: teamarizona.org

CHAMBER OF COMMERCE GLBT, Tucson's Gay

and Lesbian business networking group holds regular

meetings the third Thursday of every month. Call 615-

6436 for more info. www.tucsonglbtchamber.org

TUCSON PRIDE, INC. meets on the second

Wednesday at Braun P.C. located at 6125 E. Grant

Road at 6pm. Tucson Pride produces the following

events each year: Pride Week; Pride In The Desert

and Pride On Parade. For more information please

call 622-3200 or visit their website at

www.tucsonpride.org

LEARN TO BE A LISTENING FRIEND Unique

Hospital Volunteer Program teaches listening skills

to Volunteers who provide a safe/compassionate

environment to at_risk patients. Training every 6

weeks. 694-7063.

ANONYMOUS HIV COUNSELING AND TESTING

is available through the Pima County Health

Department at sites throughout Tucson, Very Gay

Friendly. For more information or to make an

appointment call 791-7676.

SMART (Self Management And Recovery Training)

a free non-12-step self_help alternative for people

working to overcome addictive and other emotional

problems meets in Tucson Monday thru Thursdays

at different locations. For more information about

SMART, contact Jennifer at 838_3975.

THEATER / DINNER / MOVIES / ETC! Nonsmoking

Lesbian Network meets every month. If you'd like to

meet women 50+ (flexible) and socialize in a smokefree

environment, please call or email: 888-8010 'til

9pm, or joycesmth1@aol.com. The group dines OUT!

and attends shows, movies, comedy events, etc. Now

in our 23rd year, 7th in Tucson.

SOUTHERN ARIZONA GENDER ALLIANCE

(SAGA). The Southwest's largest transgender and

gender-diversity advocacy organization. Speakers

and panelists available. General meetings monthly

on the 1 st Mondays at 7pm; Dezert Girlz (MTF Support)

meets 2 nd Mondays at 7pm; Dezert Boyz (FTM

Support) meets 3 rd Tuesdays at 7pm. Also serving

partners, youth, intersex, service providers and allies.

Call (520)624-1779 x26 for more info.

EDUCATIONAL SUPPORT GROUP FOR

ALTERNATIVE LIFESTYLES. Not a dating club.

Discreet. Meetings every Monday evening. Call for

more info. APEX (Arizona Power Exchange) 602-

415_1123. 24-hr multi-choice message including

information, calendar and location.

ARIZONA AIDS POLICY ALLIANCE (AZAPA) seeks

to educate legislators and citizens about sound AIDS

policy. For more information write AZAPA, 6523 N.

14th St., #112, Phoenix, AZ 85014 or call 602-279-4805.

DESERT DOMINION, whose focus is providing

information and education for people interested in

the BDSM lifestyle, meets monthly for group

discussion and social events. Visit our web site http:/

/www.desertdominion.org or call (520)792-6424

SEXUAL ASSAULT SURVIVORS. Starting this

February, the Tucson Rape crisis Center will be

providing free confidential group services for

Lesbian, Gay, Bisexual and Transgender survivors

of all manner of sexual assault. Interested persons

please call Mirto Stone, MSW, at 327-1171 (if

unavailable leave message with phone number.

GLSEN - Gay, Lesbian and Straight Education

Network meets first Thursday of every month at

4:30pm at Wingspan, 425 E.7th Street. 743-4800.

SAA (Sex Addicts Anonymous) has 5 meetings a

week in Tucson. People who wish to stop their

compulsive sexual behavior, please call (520) 745-

0775 for current information.

TUCSON GREATER SOFTBALL ASSOCIATION.

Interested? Call Kelly Quinn, (520)906-0669 and or

Mona Garcia 256-8728.

LUTHERANS CONCERNED - Tucson chapter for

Gay/Lesbian Lutherans meets 3rd Sunday, 5:30 p.m.

each month at Lutheran Church of the Foothills, 5102

N. Craycroft Rd. For information visit www.lctucson.org

or write: Lutherans Concerned/Tucson, P.O. Box

40702, Tucson, AZ 85717-0702.

REVEILLE MEN'S CHORUS rehearses Monday

evenings 7_10pm at the Historic Y, corner of

University Blvd. And 5 th Ave. Join us!! Call 304-1758

for more info.

LGBT SUPPORT GROUP FOR VICTIM/

SURVIVORS OF Domestic Violence, Sexual Assault,

Hate Crimes, Bias Acts, Harassment. Call Megan at

Wingspan, 624-1779, ext. 116. Services are free.

MEN'S HIKING CLUB - A peer-run MEN's outdoor

club for hiking, biking, camping, boating etc, is now

up and running in the Tucson area. To join, go

toSAGE-Tucson-subscribe @yahoogroups.com.

See you on the trails.

MEN'S KINK DISCUSSION GROUP (Open to all who

identify as male and are 18 or older) meets 2 nd

Tuesday of the month, 7:00 p.m. at Desert Dominion,

3843 E. 37 th Street, Tucson, AZ. (Map available at

www.desertdominion,org) For those who are kinky or

just curious. No fee, contributions are appreciated,

but not required.

Mondays, 6:30pm at Wingspan, 425 E. 7 th Street. This

is an open meeting of Narcotics Anonymous - all are

welcome. For more info call Bernie W.: 406-0740

TUCSON LATINO M2M - http://

groups.yahoo.com.TucsonM2M A social group for

Tucson and Sonora Latinos, and those who

appreciate them.

CANCER SUPPORT GROUP for Lesbians,

Bisexuals, Trans, Queer, Women. Meets Mondays

(6:00 - 7:30pm) at Wingspan, 425 E. 7 th Street, Tucson,

AZ 85701. For more info, pleases contact Brenda

Casey, LMSW 520-694-0247 or

GRIEF SUPPORT GROUP

Sponsored by TMC Hospice and Valor Hospice

Care. 1st & 3rd Thursdays 4:30-6:00 p.m. at the

Unitarian Universalist Church, 4831 E. 22nd Street,

Tucson. Located one quarter mile east of Swan on

22nd St. For more information please contact Steve

Ross- Valor Hospice 615-3996; Karla Brockie - TMC

Hospice 269-9573 or karla.brockie@tmcaz.com
---
PAGE TEN MARCH MARCH 17, 17, 2010

2010

WEEKLY OBSERVER

Weir Weir Too Too Gay Gay For For Stars Stars On On Ice

Ice

NEW YORK (Observer Update)

- Is Johnny Weir too gay for Stars on

Ice? Advocate.com reported that

according to the Gay & Lesbian

Alliance Against Defamation, an

anonymous source close to the

organization says sponsors of the ice

skating tour have refused to allow

Weir to participate because he is "not

family friendly."

Writes GLAAD: "To say that

Weir is "not family friendly" would be a

clear jab at his perceived sexual

orientation. Weir is extremely involved

with his family. He is putting his

younger brother through college, and

supports the family financially because

his father's disability prohibits

him from working. Weir's dedication to

Ice Skater Johnny Weir

his family can be clearly documented

in the Sundance series, Be

Good Johnny Weir, which follows

him and his family and friends

through his life and career as a

championship skater."

Weir was harshly criticized

at the winter games in Vancouver for

his flamboyant performance style,

with two French-Canadian journalists

saying he makes a mockery of

figure skating and should be forced

to take "a gender test." Dubbed

America's Premier Figure Skating

Tour, Stars on Ice's sponsors include

Smuckers and IMG Entertainment.

Tours like Stars on Ice have

the potential to provide a significant

source of income to figure skaters.

CLASSIFIED ADS ARE 25¢ PER WORD, $5.00 MINIMUM

FOR RENT

ROOMMATE ROOMMATE WANTED/FUR-

WANTED/FUR-

NISHED NISHED NISHED ROOM ROOM FOR FOR RENT RENT. RENT Includes

Private bathroom, utilities, cable-

TV, garage, home gym, pool-spa access.

Northwest Tucson. 15 minutes from

downtown. Call 991-8782 1341

FOR SALE

LEATHER LEATHER ITEMS ITEMS FOR FOR FOR SALE SALE. SALE

Large chest harness – Baseball Cap -

Armbands - Large Vest - Studded Belt - XL

Leather Sport Jacket NEW (Never worn) -

Asking $200 or best offer takes all. Chuck,

520-207-2833 1338

PERSONALS

NICE, AFFECTIONATE, PLAYFUL,

healthy, fifty-something HIV- bottom, enjoys

being seduced, non-tobacco smoker,

looking for nece 18+ HIV- top friend. Email:

42405@live.com 1343

ROOMMATE

CHARMING CHARMING 3 3 BEDROOM

BEDROOM

HOUSE HOUSE TO TO TO SHARE. SHARE

SHARE Master bedroom,

private bath, shared kitchen, living space.

Cable/Internet access. Seeking mature

responsible individual. $450/mo. Utilities

included. Call Richard 520-867-8582

1334

Washington Washington Post Post Subscribers Subscribers In In Uproar

Uproar

Of Of Men Men Kissing

Kissing

WASHINGTON, D.C. (Observer

Update) - The Washington Post's

ombudsman, Andrew Alexander, reported

that an unusual number of

readers have complained and canceled

subscriptions over the publishing

of a photo of two men kissing on

the front page, advocate.com reported.

The photo shows two men in

a light kiss, celebrating the day that

DC started accepting applications for

marriage licenses for gay couples.

Many of the readers used anti-gay

slurs, Andrews said. Twenty-seven

subscribers canceled. One emailed

one of the reporters who worked on

the story to say: "That kind of stuff

makes normal people want to throw

up. People have kids who are being

exposed to this crap. I will be glad

when your rag goes out of business.

Real men marry women."

But Andrews said: Did the

Post go too far? Of course not. The

photo deserved to be in newspaper

and on its Web site, and it warranted

front-page display. News photos capture

reality. And the prominent display

reflects the historic significance of

what was occurring. The recent D.C.

Council decision to approve samesex

marriage was the culmination of

a decades-long gay rights fight for

equality. Same-sex marriage is now

legal in the District. The photo of

[Jeremy] Ames and [Taka] Ariga

kissing simply showed joy that

would be exhibited by any couple

planning to wed – especially a

couple who previously had been denied

the legal right to marry. There was a time,

after court-ordered integration, when readers

complained about front-page photos

of blacks mixing with whites. Today,

photo images of same-sex couples

capture the same reality of societal

change.

MASSAGE

TERRIFIC TERRIFIC Professional Professional MAS-

MAS-

SAGE. SAGE. Sensual Sensual TANTRIC TANTRIC SES-

SES-

SIONS! SIONS! My masculine touch gives

you the an awesome experience!

Creating a sacred space, for 28 years.

Marc - 881-4582 (8 AM - 8 PM)

Touching Tucson men since 1981.

Discounts available. 1338

MATURE MATURE MASSEUR MASSEUR MASSEUR OFFERS

PAIN RELIEF, STRESS RELIEF MAS-

SAGE. Quiet setting, professional

table. 10 years experience. Near

downtown and UofA. $50/hour. 9m-

9pm daily. Discounts for seniors &

students Dick. 520-208-1698 1336

SERVICES

GAY GAY GAY MALE MALE CAREGIVER

CAREGIVER

Very open-minded and understanding.

Available short term, long

term. Prefer Sierra Vista, Bisbee area.

Call Don Hill 520-971-5884 1336

ALTERATIONS ALTERATIONS AND AND AND RE-

RE-

PAIRS. PAIRS. Let me keep your clothes

fitting properly and in good rrepair.

Experienced - Economical - Prompt.

Merle Hudson, (520)888-7264 in Tucson.

1340

CHILL CHILL WITH WITH A

A

SUMMER

SUMMER

MASSAGE

MASSAGE

Starting Starting @ @ $49.00

$49.00

Outcall Outcall only only 24/7

24/7

Friendly Friendly & & Courteous

Courteous

Guy

Guy

TONY TONY 520-390-0330

520-390-0330

Bar Bar Calendar

Calendar

Special Special Events

Events

SATURDAY, SATURDAY, MARCH MARCH 20

20

WOODY'S WOODY'S - - Bunny Bunny FuFu FuFu and and

and

Friends Friends "An "An Affair Affair Off Off 4th 4th 4th Ave."

Ave."

8:00 8:00 p.m.

p.m.

WEDNESDAY, WEDNESDAY, MARCH MARCH 24 24

24

WOODY'S WOODY'S - - Amateur Amateur 'Strip

'Strip

Off' Off' Off' Contest Contest begins begins tonight. tonight.

tonight.

Weekly Weekly prizes prizes for for the the winner winner and

and

a a final final final Grand Grand Prize Prize for for the the winner

winner

May May May 5th. 5th. It's It's It's your your your chanc chanc e e to to show

show

it it off!!!

off!!!

SUNDAY, SUNDAY, APRIL APRIL 4

4

WOODY'S WOODY'S - - Join Join the the gang gang for

for

the the Easter Easter Sunday, Sunday, special special brunch

brunch

and and traditional traditional Easter Easter Egg Egg Hunt.

Hunt.

(1 (1 egg egg per per person) person) person) - - Easter Easter "Bas- "Bas"Basket"ket" and and and Bonnet Bonnet Contest. Contest. Contest. FestiviFestiviFestivi- ties ties begin begin at at 11:00 11:00 a.m.

a.m.
---
WEEKLY OBSERVER MARCH MARCH 17, 17, 17, 2010

2010

DAILY BAR

CALENDAR

SUNDAY

SUNDAY

THE BIZ - Open 5pm - 2am It's Latin Sunday

like the good ol' days. Catch DJ Dmenace spinning

the best Cumbias. Get your Bucket of Beer ... 5 Bud

Bottles for $5!

COYOTE MOON PUB – Open 11am. Beer

Bust Sunday - $1 draft beers (12 oz), domestic only;

$2.25 domestic long necks.

IBT's - Open Noon. Happy Hour Noon-8pm

$2 Well or Domestic Beer. Karaoke on the Patio 4-

8:30pm. Burger BBQ 5-8pm + $1 pint draft. 9pmclose

Karaoke inside with Troy & $1.50 Well or

Domestic Beer, $2.50 Call or Premium Beer. DJ

Hurricane on the Patio.

WOODY'S - Open 11am-2am. Peter's Build

Your Own Bloody Mary Bar 11am-2pm. Happy Hour

11am-8pm (excluding special events). Full Menu

Kitchen open 11am-8pm. Back Pocket Patio Bar

2pm-2am. Beer Bust 2pm-7pm. Karaoke with

Michael D 9pm-Close. Drag Bingo every other

Sunday 8-9pm. Check our Ad for Special Events or

Parties

MONDAY

MONDAY

THE BIZ - Closed for employee training.

COYOTE MOON PUB – Open 3pm. Happy

Hour 3 - 8 p.m. $2.50 well, domestic longnecks &

pints. $3.50 sm. Pitcher/$5.50 lg. Bucket o" Beer - $10

Domestic, $12 Imports and microbrews (4 beers to a

bucket, for 2 or more people, Some brands

excluded).

IBT's -Open Noon. Happy Hour Noon-8pm

$2 Well or Domestic Beer. 8pm-close $5 Scratch

Long Island Varieties. 9pm-close DJ Hurricane with

"All Request Music".

WOODY'S - Open 11am-2am. Happy Hour

11am--8pm (excl spec events) Full Menu Kitchen

open 11am-10pm Back Pocket Patio Bar 8pm-close.

Karaoke with Michael D. 9pm-close.

TUESDAY

TUESDAY

THE BIZ - Open 5pm-2am. Happy Hour 5-8

and Game Night all night long. Play Wii, beer pong

and pool with the staff.

COYOTE MOON PUB – Open 3pm. Happy

Hour 3-8. $2.50 well, domestic longnecks & pints.

Pitcher Special $3.50 sm. Pitcher/$5.00 lg. Pitcher

(excluding Blue Moon & Dos XX Amber).Girlz Nite

Out. Girlz pay only .75 for well liquors or domestic

drafts 8-10pm. Ladies only Texas Hold 'Em Poker 6

p.m. Y-Not Karaoke with Anna at 8pm

IBT's - Open Noon. Happy Hour Noon-8pm,

$2 Well or Domestic Beer. 8pm-close "2'sDay" - $2

Well or Domestic Beer. DJ Q 9pm-close.

WOODY'S - Open 11am- 2am. Happy Hour

11am-8pm (excl spec events). Full Menu Kitchen

open 11am-10pm. Back Pocket Patio Bar open

8pm-close, Caribbean Party Night with Woody's own

Specialty Mojitos, Caprioskas and Martinis with

Tucson's Hottest Bartenders.

WEDNESDAY

WEDNESDAY

THE BIZ - Open 5pm-2am. Happy Hour 5-

8pm. Wild Wednesday 18+ Party with DJ White

Shadow spinning the hottest Hip Hop, R&B and top

40 remix dance of today. 21+ NO COVER. 18+ $8

Cover.

COYOTE MOON PUB –Open 3pm. Happy

Hour All Day $2.50 well, domestic longnecks & pints,

$3.50 sm. Pitcher/$5.50 lg. Pitchers. Karaoke with

Ynot Entertainment at 9pm.

IBT's - Open Noon. Happy Hour Noon-8pm,

$2 Well or Domestics. "Diva-Licious" show w/Bunny

FuFu. 11pm - -close "Reverse Happy Hour". DJ Q

Inside & DJ Mike Lopez playing 80s music on the

Patio.

WOODY'S - Open 11am-2am;. Happy Hour

11am-8pm excl. special events). Ful Kitchen open

11am-10pm. Back Pocket Bar open 8pm-close.

Service Industry Employee Special All Day Long - $1

off all drinks except schnapps and draft. Different

Themed Underwear Party 9pm-close with $1.00 off

for those who participate (excl. Schnapps and Draft).

Retro 80s & 90s Dance with DJ Clint 9 til close..

THURSDAY

THURSDAY

THE BIZ - Open 5pm-2am. Happy Hour 5-

8pm. Y-NOT Karaoke 9pm-2am with Meco pouring

the best drinks in town. Come out and play.

COYOTE MOON PUB – Open 3pm. Happy

Hour 3 - 8 pm, $2.50 well, domestic longnecks &

pints, $3.50 sm. Pitcher/$5.50 lg.. Pitcher. Boyz Nite

Out - boys pay only .75 for well liquors or domestic

drafts 8-10pm. Bicardi Thursdays - $3.00 Bicardi

Rum - all flavors.

IBT's -Open Noon. Happy Hour Noon-8pm,

$2 Well or Domestics. 10pm-close "Boyz Nite Out"

w/Bartenders in their underwear. DJ Hurricane

spinning Top 40 & DJ Mike Lopez on the patio. $1.75

Long Island, $1.50 Tequila Shots, $3 Skyy Cape

Cods and $4 Skyy Cosos.

WOODY'S - Open 11am-2am; Happy Hour

11am-8pm (excl Spec Events); Full Menu Kitchen

open 11am-10pm. Back Pocket Patio Bar open

8pm-close. Cheap Party Day **FREE POOL**,

$1.00 PBR Longnecks, $2.00 Tecate Longnecks.

Techno and Top 40 Dance with DJ Jeff 9pm - close..

FRIDAY

FRIDAY

THE BIZ - Open 5pm-2am. Happy Hour 5-8

pm. GoGo Fridays with 2-4-1 drinks for the ladies til

midnight. Catch Shorty spinning the hottest Hip Hop,

R&B and Top 40 remix dance of today.

COYOTE MOON PUB – Open 3pm. Happy

Hour 3 - 8 pm, $2.50 well, domestic longnecks &

pints. $3.50 Sm. Pitcher/$5.50 lg. Pitcher. $2.75 All

Mexican Beers and Dos XX Amber. Dance lessons

at 7pm $5 per person, Country Dancing 8:30 p.m. to

close with DJ Pat.

IBT's - Open Noon. Happy Hour Noon-8pm,

$2 Well or Domestics. 9pm -close DJ Hurricane

inside. 10pm-close DJ Mike Lopez with "I'm a Sexy

Bitch Night" on the patio.

WOODY'S - Open 11am-2am;

Happy Hour 11am-8pm (excl spec events). Full

Menu Kitchen open 11am-11pm Back Pocket Patio

Bar open 5pm-close. Enjoy the Live Blues/Motown/

Soul sounds of Simon Crown 6-9 p.m.; Request your

favorite Music Dance Night with DJ Clint 9pm-close.

Monthly Birthday Party every 2 nd Friday Night of the

month.

SATURDAY

SATURDAY

THE BIZ - Open 5pm - 2am. Latin night with

Latin Drag Show the 1 st , 3 rd and 4 th Saturdays of the

month. DJ Dmenace spinnin' the best Cumbias,

Salsa & Merengue. $3 pitchers and $2 Tequila shotz

all night long!

COYOTE MOON PUB – Open at 2pm.

Happy Hour 2-8pm, $2.50 well, domestic longnecks

& pints. $3.50 sm. Pitcher/$5.50 lg. Plus check out the

bartenders choice of shot specials. $5.00 cheeseburger

& fries. $3.00 Cuervo and $4.75 Jager Bombs.

Check our calendar for the Saturday Night Special

Entertainment.

IBT's - Open Noon. Happy Hour Noon-8pm,

$2 Well or Domestics. 5-8pm Karaoke on the patio

$1Draft Pints. 9pm "Saturday Starrlett's" w/Bunny

FuFu & Janee Starr. After the show, DJ Q spinning

inside & 10pm-close, DJ Mike Lopez with the "Party

on the Patio".

WOODY'S - Open 11am-2am;

Happy Hour 10am-8pm (excl spec events); Full

Menu Kitchen open11am-11pm. Back Pocket Patio

Bar open 5pm-close. Techno and Top 40 Dance with

DJ Jeff 9pm til close. Check our ad for Twice-A-

Month Special Events or Themed Parties.

PAGE ELEVEN

Poet's Corner

HAIL HAIL TO TO THE THE QUEEN

QUEEN

by by Ron Ron Rose Rose - - Tucson

Tucson

The The subjects subjects are are assembled

assembled

In In Queen Queen Micki's Micki's Micki's Fairyland.

Fairyland.

The The subjects subjects brought brought to to order

order

With With a a sweep sweep of of Micki's Micki's Micki's hand.

hand.

The The The Queendom, Queendom, known known as as Woody's

Woody's

Awaits Awaits the the the trumpets trumpets call

call

To To start start start the the celebration.

celebration.

There's There's There's fun fun inside inside for for for all.

all.

Hugs Hugs and and kisses kisses blowing blowing

blowing

Like Like the the bubbly bubbly and and the the the wine wine

wine

The The The food food is is on on on the the table

table

Have Have to to to finish finish it it by by nine.

nine.

Susan's Susan's warming warming warming up up the the keyboard

keyboard

Gary's Gary's hat hat and and and laughter laughter heard,

heard,

"Desperado" "Desperado" fills fills the the the tiny tiny room

room

You You can can can hardly hardly hear hear a a word.

word.

The The The conversation conversation glowing glowing

glowing

As As As the the time time flies flies quickly quickly quickly by.

by.

The The Queen Queen is is is in in her her glory

glory

Let's Let's raise raise our our glasses glasses glasses high.

high.

Another Another night night at at Woody's

Woody's

With With all all all our our loving loving crew

crew

We We sure sure had had fun, fun, we we have have to to run

run

Goodbye Goodbye Goodbye dear dear dear friends, friends, toodaloo! toodaloo!

toodaloo!

Personal Personal Training

Training

50% 50% OFF

OFF

Only Only $20 $20 per per hour

hour

per per hour!

hour!

Includes Includes a a FREE

FREE

gym gym membership

membership

Call Call Andrew

Andrew

520-909-4649

520-909-4649
---
PAGE PAGE TWELVE TWELVE

MARCH MARCH 17, 17, 2010

2010

WEEKLY WEEKLY OBSERVER

OBSERVER

ACL CL CLU CL U F FFiles

F iles Complaint Complaint Ov Over Ov er

Lesbian' Lesbian's Lesbian' s Military Military Dismissal

Dismissal

RAPID CITY (Observer Update)

- Two Rapid City, S.D., police

officers are accused of playing a part

in getting a staff sergeant from

Ellsworth Air Force Base expelled

from the military under Don't Ask,

Don't Tell, KOTA reported.

In response, the American

Civil Liberties Union of South Dakota

filed a complaint, questioning the

conduct of the officers involved,

reported 365Gay.com. The complaint

stems from an incident last

November. Rapid City police officers

went to serve a warrant on Cheryl

Hutson, who shares a home with

Jene' Newsome. When police

couldn't find Hutson, Newsome was

called.

When Newsome arrived at

the house, she found Hutson and

police inside. "Other than them trying

to get me to help them out, I wasn't

involved at all," she told a KOTA

reporter. The officers noticed an Iowa

marriage certificate on the kitchen

table, and while the marriage did not

relate to the police matter, the officers

reported it to the Ellsworth AFB Office

'One 'One Lif Life' Lif e' R RRep

R p On On Decision Decision T TTo

T

End End GayStory

GayStory

'Kyle & Fish' Love Story To End

NEW YORK (Observer Update)

- A rep for ABC soap One Life to

Live told The Advocate that while the

show is concluding its gay story line

and actors Scott Evans and Brett

Claywell will be leaving the show, the

door is open for their return in the

future, reported advocate.com.

ABC issued the following

statement: "The groundbreaking Kyle-

Fish relationship on One Life to Live

was embraced by fans both as a

great story and a fair and honest

reflection of the LGBT community.

We're glad their story resonated with

the audience, and understand the

fans' disappointment now that it has

concluded. The show has a history of

bringing LGBT stories to the screen —

earning two GLAAD awards in the

process — as well as returning

popular characters when they serve

the ongoing story. These great

characters remain in Llanview, and

while there are no immediate plans to

advance their story, the door is

always open for their return."

The statement comes after

the Gay and Lesbian Alliance Against

Defamation announced that it is

lobbying ABC Daytime to review its

decision to end the storyline. "Last

summer One Live to Live brought a

groundbreaking relationship into the

homes of millions with Kyle and

Fish's story, one that build acceptance

and understanding of gay

people," GLAAD president Jarrett

Barrios said in a statement. He went

Jene' Newsome

of Special Investigations. Newsome

was promptly discharged for violating

Don't Ask, Don't Tell.

Rapid City Chief of Police

Steve Allender told KOTA it is standard

policy. "I'll just say when a member of

the Air Force is involved in an incident,

we have a long standing policy to

report those occurrences to the Air

Force Office of Special Investigations,"

Allender said.

on to say that ending the story is a step

backward in the representation of gay

Americans, even though plot changes

and cancellations are common in

daytime dramas.

"We remain disappointed that

ABC Daytime has chosen to stop

sharing this powerful story with viewers

of One Life to Live. GLAAD will continue

to advocate that in the near future

producers and writers at ABC Daytime

incorporate gay and transgendered

characters in their programming."

There have been rumors that

One Life to Live was ending the gay

story line because of low ratings and

poor response to the characters.

Judge Judge Rules Rules For

For

Gay Gay Bar Bar In In Raid

Raid

Case

Case

ATLANTA (Observer Update) - A

judge ruled that three defendants in an

Atlanta gay bar case are not guilty. The

prosecutor decided to drop the charges

against the other five defendants in the

case, 365Gay.com reported.

"Municipal Judge Crystal

Gaines said city police failed to

produce evidence proving that men

danced naked without permits or that

the bar operators were running an

unlicensed adult establishment," The

Atlanta Journal-Constitution reported.

The defendants in the case are

countering with a lawsuit against the

city and Atlanta police officers.

The case began last September

when police raided the Atlanta

Eagle gay bar, detaining and searching

several customers. Customers said

they were not allowed to move for more

than an hour and the officers uses antigay

slurs, the newspaper reported. In a

separate move, the Atlanta City Council

decided to subpoena 18 officers about

the incident.

COMMUNITY FRIENDLY

Free Inspection

with mention of this ad

520-622-3500 520-622-3500 or or 520-623-0644

520-623-0644

Fax Fax 520-624-6574

520-624-6574

2208 2208 N. N. Stone Stone Avenue, Avenue, Tucson, Tucson, AZ AZ 85705

85705

COMPLETE CAR CARE