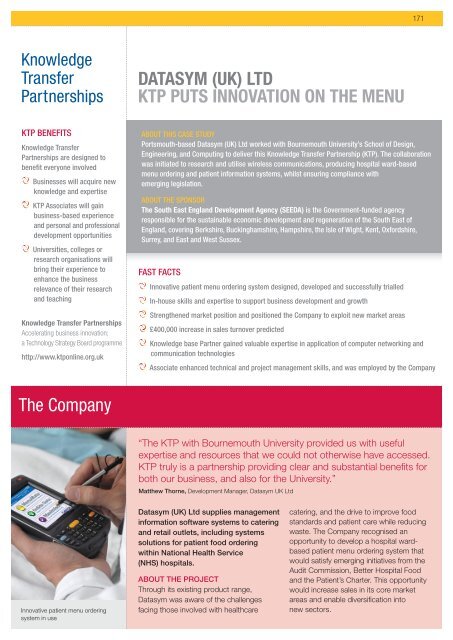 The Company DATASYM (UK) LTD KTP PUTS innovATion on ThE ...
The Company DATASYM (UK) LTD KTP PUTS innovATion on ThE ...
The Company DATASYM (UK) LTD KTP PUTS innovATion on ThE ...
SHOW MORE
SHOW LESS
You also want an ePaper? Increase the reach of your titles
YUMPU automatically turns print PDFs into web optimized ePapers that Google loves.
171ong>DATASYMong> (ong>UKong>) ong>LTDong>ong>KTPong> Puts innovation on the menuong>KTPong> BENEFITSKnowledge TransferPartnerships are designed tobenefit everyone involvedBusinesses will acquire newknowledge and expertiseong>KTPong> Associates will gainbusiness-based experienceand personal and professionaldevelopment opportunitiesUniversities, colleges orresearch organisations willbring their experience toenhance the businessrelevance of their researchand teachingKnowledge Transfer PartnershipsAccelerating business innovation;a Technology Strategy Board programmehttp://www.ktponline.org.ukABOUT THIS CASE STUDYPortsmouth-based Datasym (ong>UKong>) Ltd worked with Bournemouth University's School of Design,Engineering, and Computing to deliver this Knowledge Transfer Partnership (ong>KTPong>). ong>Theong> collaborationwas initiated to research and utilise wireless communications, producing hospital ward-basedmenu ordering and patient information systems, whilst ensuring compliance withemerging legislation.ABOUT THE SPONSORong>Theong> South East England Development Agency (SEEDA) is the Government-funded agencyresponsible for the sustainable economic development and regeneration of the South East ofEngland, covering Berkshire, Buckinghamshire, Hampshire, the Isle of Wight, Kent, Oxfordshire,Surrey, and East and West Sussex.FAST FACTSInnovative patient menu ordering system designed, developed and successfully trialledIn-house skills and expertise to support business development and growthStrengthened market position and positioned the ong>Companyong> to exploit new market areas£400,000 increase in sales turnover predictedKnowledge base Partner gained valuable expertise in application of computer networking andcommunication technologiesAssociate enhanced technical and project management skills, and was employed by the ong>Companyong>ong>Theong> ong>Companyong>"ong>Theong> ong>KTPong> with Bournemouth University provided us with usefulexpertise and resources that we could not otherwise have accessed.ong>KTPong> truly is a partnership providing clear and substantial benefits forboth our business, and also for the University."Matthew Thorne, Development Manager, Datasym ong>UKong> LtdInnovative patient menu orderingsystem in useDatasym (ong>UKong>) Ltd supplies managementinformation software systems to cateringand retail outlets, including systemssolutions for patient food orderingwithin National Health Service(NHS) hospitals.ABOUT THE PROJECTThrough its existing product range,Datasym was aware of the challengesfacing those involved with healthcarecatering, and the drive to improve foodstandards and patient care while reducingwaste. ong>Theong> ong>Companyong> recognised anopportunity to develop a hospital wardbasedpatient menu ordering system thatwould satisfy emerging initiatives from theAudit Commission, Better Hospital Foodand the Patient's Charter. This opportunitywould increase sales in its core marketareas and enable diversification intonew sectors.
---
This ong>KTPong> was set up to develop aninnovative product that could capturepatient meal orders at the hospitalbedside, and then transmit the ordersto the hospital's catering departmentwithout interfering with existinghospital equipment.BENEFITSong>Theong> collaboration with the School ofDesign, Engineering, and Computing atBournemouth University provedextremely successful, leading to thedesign and development of a newon-ward meal ordering system, whichshould lead to increased turnover andprofits. This innovative product, knownas 'MenuMate', works with a number ofhand-held computing devices, enablingdata to be entered at the patient'sbedside. In hospital trials, the systemproved effective, reducing waste fromunwanted food and enabling dietarymonitoring through central data collection.Through the ong>KTPong>, Datasym has increasedits knowledge of communicationsengineering and optimisation methodsfor real-time functions, and has thein-house capabilities to utilise the latestapplication development software andprogramming languages to expand andenhance its product range. Applying itsnewly acquired expertise will enable thecompany to update and modify itsnew product, thereby maintaining itsperformance and retaining itscompetitive edge.RESULTSInnovative product developed andlaunched, securing market positionong>Companyong> positioned to exploit newmarket areas, predicted to generate£400,000 increase in sales turnoverEnhanced reputation within thecatering, hospitality and retail sectorIn-house knowledge and capabilitiesacquired, enabling on-going productenhancement, maintaining performanceand competitive positionong>Theong> Associateong>Theong> Academic Partner"ong>Theong> project has enhanced the reputation of thecompany within the catering, hospitality and retailsector. Many hospitals have enquired about theavailability of the solution with the intention of triallingit when it becomes available. I am very proud to havebeen the one to introduce such a solution tothe NHS."Chamal Rangajeewa, ong>KTPong> AssociateAn MSc in Information Engineering made ChamalRangajeewa the ideal candidate for Associate on this ong>KTPong>,with his exceptional ability and commitment provinginstrumental in its success.BENEFITSong>Theong> demanding targets and timescales set for the projectoffered Chamal the chance to enhance his business,project management, technical and communication skills.He successfully researched and defined requirements forDatasym's proposed new product, applying and buildinghis interpersonal skills through meetings with peopleinvolved in hospital catering. Chamal rose to the challengeof developing a prototype solution for the Better HospitalFood (BHF) 'Flexi-menu' initiative within a very short time.Despite this addition to the original ong>KTPong> project, hedelivered the final on-ward order system on time, whileapplying his experiences to improve the quality of thefinished product.RESULTSImproved technical, project management andinter-personal skillsOffered and accepted a job with Datasym asProject Manager"ong>Theong> University academic teamgained a great deal from seeingtheir knowledge put into practicein a commercial environment."Dr Frank Ball, School of Design, Engineeringand Computing, Bournemouth UniversityBournemouth University's School of Design, Engineeringand Computing worked with Datasym (ong>UKong>) to develop aninnovative on-ward ordering system, with Dr Frank Ballacting as Academic Supervisor.BENEFITSMany benefits have accrued from this partnership. Workingon the development of a new product enabled theAcademic Supervisor to gain valuable expertise in anumber of key areas, including the application of computernetworking and communication technologies, which hasinfluenced teaching and research. Case studies areplanned to demonstrate the commercial application oftheoretical knowledge, and the curricula of severalundergraduate and postgraduate courses havebeen updated.This ong>KTPong> has proved to be a good lesson in how to realiseand maximise benefits for all partners, and has resultedin more effective processes for the development ofnew partnerships.RESULTSClose relationship established with the ong>Companyong>Valuable lessons learnt in how to maximise benefits forall partnersUseful course work developed