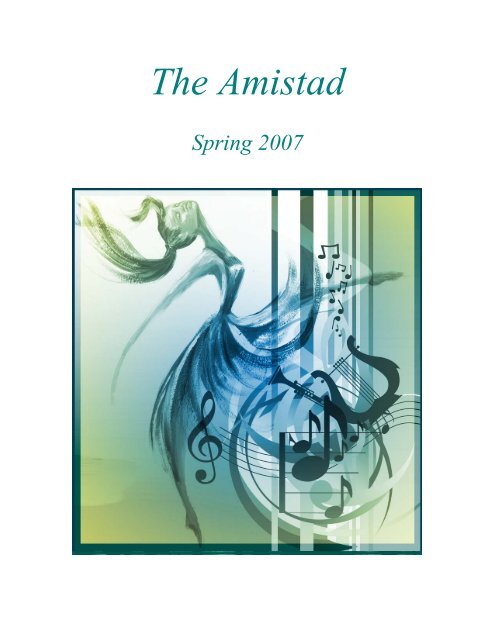 The Amistad – Spring 2007 - COAS - Howard University
The Amistad – Spring 2007 - COAS - Howard University
The Amistad – Spring 2007 - COAS - Howard University
SHOW MORE
SHOW LESS
You also want an ePaper? Increase the reach of your titles
YUMPU automatically turns print PDFs into web optimized ePapers that Google loves.
<strong>The</strong> <strong>Amistad</strong> – <strong>Spring</strong> <strong>2007</strong>TABLE OF CONTENTSEDITOR'S NOTE ..................................................iART EXCHANGE ................................................iiiFEATURESA Legacy Continued:An Interview with William Henry Lewis................ 1Looking at the Invisible People:A Review of All Aunt Hagar's Children ................ 7Interview with a DramaturgeAn Interview With Joe Kraemer............................. 9An Interview With Erik Greene............................ 12FICTIONSummer Spent....................................................... 19J.J. DeCeglie<strong>The</strong>rapy ................................................................. 21Meilani ClayOrigami Love Story .............................................. 23J. Laury DesmondFICTION continuedBefore the Wings Grow Out ................................. 48Shari Inniss-GrantAffirmations .......................................................... 51Katherine LuckPoliticized Compassion......................................... 59Kenya Mitchellfour….. ................................................................. .62Erik Powell Jr.Amiga…………………………………………….77Aileen RobledoSoul Collected ....................................................... 78Break in the Sun.................................................... 84Ashanti WhiteA Gift for Nina...................................................... 88Ashley Lee WilliamsDRAMAEvery Skin Teet Ain A Laugh............................... 92Shari Inniss-Grant<strong>The</strong> Kill ................................................................. 26Lloyd FryeNO MUSE IS GOOD MUSE ............................... 30Ralph Greco Jr.Lost Love .............................................................. 32Jasmine Green<strong>The</strong> Pace of the Heart............................................ 42Alexia Hogan-vi-
---
<strong>The</strong> <strong>Amistad</strong> – <strong>Spring</strong> <strong>2007</strong>TABLE OF CONTENTSPOETRYMy One Last Cent................................................100Kim Carroakland summers..................................................101wings....................................................................102Meilani ClayBallin'.................................................................. 103Julius Erving ....................................................... 104Curtis CrisslerSouthern Comforts.............................................. 105GenesisReflections of a Hopscotcher.............................. 108Venitia GhozlanFirst Touch/Touch First ...................................... 109Jasmine GreenESSAYSLessons from Abroad .......................................... 121Ronke AjalaPlaying Semantics ............................................... 123Abdul AliReflections of Poverty......................................... 125Troy BakerOn How It Feels to Be Colored Me .................... 130Melanie ChamblissCONTRIBUTORS ............................................ 131STAFF ................................................................ 137SUBMISSION GUIDELINES ......................... 139Sista Hot-combed My Hair ................................. 110Lavelle IngramMay Blossom May Flower.................................. 111Heidi MartinAFRO CENTRIC................................................ 113Allison MathewsCatwalks.............................................................. 115Kenya MitchellDespecho............................................................. 116Rapture Everlasting............................................. 118Aileen RobledoBronx Boys ......................................................... 119Grandpa and the Negro Leagues......................... 120A.E. Roman-vii-
---
A Legacy Continued:An Interview with William Henry LewisAbdul Ali<strong>The</strong> <strong>Amistad</strong> – <strong>Spring</strong> <strong>2007</strong>FEATURESSomething happened to me when I first discovered William Henry Lewis's short stories. <strong>The</strong> search wasover. I found in Lewis a fresh, literary voice—a rarity in contemporary African American Literature. More thanLewis' literary fiction, I found solace in the knowledge that Ralph Ellison, Richard Wright, and James Baldwinwere not lost, that a continuum was being preserved by this emerging young writer.Mr. Lewis and I corresponded via email which resulted in this interview about his life as a writer, hiscreative process, and the responsibility of the reader to question.William Henry Lewis is the author of two collections of short stories: In the Arms of Our Elders and IGot Somebody in Staunton. He is a PEN/Faulkner finalist and a winner of the Hurston/Wright College WriterAward. Mr. William has just accepted a position at the <strong>University</strong> of Maryland's M.F.A Program.Abdul Ali: When did you first begin writing?William Henry Lewis: This is both a simple and complicated thing for me. I wasn't one of those who setout to be a writer early on. I discovered in college that what I was working out on my pages wasconnecting with professors and folks who I respected for their creative energy. But I can't say that Iknew I wanted to be a writer. I'll simplify it this way: my fascination with stories—narratives of howpeople came to be where they are and how we come to know those narratives—have been a part of me fora very long time, perhaps before I was able to write. This fascination is at the heart of the writing for me,but I can't really mark a moment when writing became a primary way in which I tapped into thisfascination.AA: When did you know you were a writer?WHL: I come to know this every new day. Publications, workshop praise, awards, good jobs; none of thatmakes you a writer. You are a writer when you are writing. It's as simple as that. I discover how I am awriter every day I am at the desk.AA: Who were some of your favorite writers?WHL: I love reading, I love words, the narratives they make, the way they sound and look, both togetherand alone, but I never have been a fast or a sharp reader, so not as many books as I would like are in me.Writers that guided me were folks like Hurston and Ellison, Toomer and Wright. Toni Cade Bambara.James Alan McPherson and Wideman have been big ones for me. But I was also very moved by the shortstories of Joyce, Sherwood Anderson, George Garrett. Richard Ford. Beth Nugent. Rick Bass. ShirleyHazard and Deborah Eisenberg. See, this is where the "favorites" thing unravels. My list could keep-- 1 --
---
<strong>The</strong> <strong>Amistad</strong> – <strong>Spring</strong> <strong>2007</strong>FEATURESgoing. I haven't even tapped into poetry, music and visual work. <strong>The</strong> painting of Hopper and WilliamH. Johnson, the artwork of Andy Goldsworthy, Sam Gilliam, Bettye Saar, the poetry of GwendolynBrooks, Etheridge Knight, Richard Hugo, the music of the Louis Armstrong, Johnny Griffin, andAfrican Heritage Ensemble, just to name a few, have been as vital to me as any writers.AA: Why was there a ten year break between your first and second short story collections?WHL: <strong>The</strong>re was no break for me. I was writing the whole time. I probably write 4 to 6 stories a year,but I end up finishing about two a year, two that feel as if they are complete. I like the process, the placeI go inside of myself when I write, so I'm in no hurry. I don't like to put work out there until it feels rightto me.AA: You mentioned that you traveled the Bahamas, Brooklyn, and Virginia. How have each of those spacescontributed to your worldview as a writer? Or what if anything have you gained as a result of living there?WHL: <strong>The</strong> main thing I've learned is that to sit back and observe, see how the everyday living, alongwith the history of a place, plays into how the people there do what they do. Too often we rush in andmiss the finer points, the way people talk, the food they eat, the rituals that bring them together. RichardHugo suggests that most of what we write is about our figurative hometown—the place where our actualand/or spiritual body grew—but he believes that we discover more about that hometown when weexplore ourselves in other towns. I suppose I'm trying to say that I feel as if I've tried to make each oneof these places my home, not just a place to stay. To do that, I had to do more than take up residence. Inthe end, I feel that each is a part of me, in the way that I talk and laugh, in the way that I look at others. Ibelieve I was raised to give a wide range of consideration for folks from other cultures and, before Imoved around, I think this worked in me in a theoretical way that was very successful. But the living inthe places, that's what made it real for me, that's what took certain ideas out of my head and put theminto practice, whether I wanted to do so or not. I can't say I'm savvy in any way, but I do think I feelcomfortable with stepping outside of my American comfort zone and look forward to checking into howsomeone else is living. Many people ask me if this has been good for the writing, but I truly feel it's beengood for living.AA: Tell me about the title "I Got Somebody in Staunton," is this story autobiographical?WHL: So many people understand the particulars of this story. I share their experiences and I havewitnessed much in this regard, but the story itself is not autobiographical. I will say that I love ruralspaces, I have driven those roads often, but I've never picked up any women in bars or given rides likethat.-- 2 --
---
<strong>The</strong> <strong>Amistad</strong> – <strong>Spring</strong> <strong>2007</strong>FEATURESAA: I noticed that many of your short stories have to do with memory or history. Why is this theme soprominent in your work?WHL: Because I think the quality of our lives is framed by what we remember, how we remember, andwhat we forget or let slip out of our memory.AA: What are some other topics that interest you?WHL: I don't know if I think of memory as a topic as much as energy, a frequency. As for other topics,I get interested in just about anything. My stories may sometimes appear to be driven by a subject ortopic, but that isn't what gets a story going for me.AA: What would you say about the state of Black Literature? Where would you like to see Black Literature tenyears from now?WHL: I can't speak for the whole of Black literature, as in African, Caribbean and immigrant literaturesin other countries. I know more about African-American literature. I think it has always been a culturalexpression that understands, negotiates, falls in line with and runs under the veneer of how dominantculture tends to value written experience over oral experience. We have witnessed that writing is huge inthe culture, we see that it empowers and disenfranchises, but at the same time we know the power ofvoice and gesture, song and sermon, so the best of Black American literature (when we find it importantto wear that suit), balances the best of preliterate and literate cultures. I think it has always done thatand will continue to do so. Given this trajectory, it's possible that what we call "literature" ten yearsfrom now may have more to do with our many African-American communities receive the messages thatare important to us. Most of us don't read to gain and spread the word. <strong>The</strong> question may have to domore with where Black readers are ten years from now. I hope there are more, but I worry that therewill be less. <strong>The</strong>y will be wired into iPods and Gamecubes. Without those readers, I think writers willcontinue to write—someone is always going to be reading—but perhaps we will go through some waveswhere, just like jazz, most of us writers will find our main readership is other writers. I'm not good atthe prophecy thing, but I think these are some considerations to weigh up.AA: Do you enjoy teaching?WHL: Very much so. I feel it's important that artists get involved with teaching. We were once—andstill are, or should be—apprentices to someone. We should look to continue that cycle for someone who iscoming along. I gain so much from my students. Young people today have so many interesting ideas andways of working with language. Teaching is among the best of cultural exchanges. I feel I'm giving thema few tips from what I've seen on my journey, but, quite selfishly, they give me a great deal more.-- 3 --
---
AA: What advice would you give to aspiring writers?<strong>The</strong> <strong>Amistad</strong> – <strong>Spring</strong> <strong>2007</strong>FEATURESWHL: I'm not so keen on giving advice to someone right off the bat. Most of my students might witness asemester of my showing them how to go about the craft, but it's never coming in one conversation. Idon't think I know enough to be giving advice. If there is anything that my students hear more than onceit might be these ideas: don't get too impressed with yourself or the folks in the spotlights; always pushyour writing to a new place; have respect; work like a dog; write with an eye to history, with the sensethat when they dig you up thousands of years from now, you feel proud about what you have put out intothe world. Perhaps the most important two bits of advice I can give are not my own. I believe it wasElizabeth Bowen who said "work to write good fiction, not to publish it." <strong>The</strong> other comes from ToniMorrison: "I try to write stories I'd like to read." I don't think she's ego-tripping here; I think she'sspeaking to all that she has read, all that has challenged how she thinks, and is demanding of her craftthat she strive to write in that arena.AA: Who do you like to read? What genres?WHL: Everything and anyone. Sorry to oversimplify this one.AA: Can you tell me about the novel that you're working on?WHL: I'm sorry to say that I can't. I don't want to talk it out of existence.AA: What if any obstacles have you experienced when you were trying to get published?WHL: I have been very lucky in publishing. Some early publications hit for me without me doing much.I have my shoebox of rejection letters like anyone else, but I think I avoided the frequency of obstaclessimply because I don't send out work that often. By the time I send it out, it feels right to me, and,fortunately, some editors have felt it was right for them.AA: How do you catch your stories? What are their geneses?WHL: I think I like this question, but I also think that I don't understand it. Can you rephrase it?AA: To rephrase, how does a story begin for you? Can you describe that Journey?WHL: This is easy for me to answer but I don't think it will be a satisfying answer. I don't have oneway, or any particular range of ways in which a story begins for me, and the journey is always different.Ideas, visions, voices, come from all places, from memory, from what I read, watch, hear, feel, and theylaunch into all directions. This isn't very precise, I know, but I suppose I am into living with an idea as itgrows. Some ideas live with me as one sentence for years, while others are fully formed stories that I-- 4 --
---
<strong>The</strong> <strong>Amistad</strong> – <strong>Spring</strong> <strong>2007</strong>FEATURESretell to myself in my head and get onto paper rather quickly. No matter what, I like to have them live inme a while. Other than that, I would say that my process usually is a combination of 1) generating morepages than I need (and then I cut away to get to the story—but even this process is evolving for me) andquilting aspects of narrative together until they make up a piece that seems to cover all of what I feel thestory is meant to be.AA: Given only one more story to write, what would it be, and why?WHL: Hey, the big meteor, or the lotto, could strike tomorrow, so I always feel that whatever I amworking on is potentially my last story. I feel that writing is always with me, even when I don't write forlong stretches of time. <strong>The</strong>re may come a time when I don't write again, but I think that the creativeenergy that fueled writing will be fueling something else—working with wood, coaching, teaching, raisingkids, remodeling in the house—and that would be fine with me. It would just be another channel. <strong>The</strong>reare ideas for stories that I hold off on writing, mainly because I don't think I'm skillful enough in thecraft to match the idea in my head, but I never think of a story that I'm holding off on because it is THEstory.AA: What do you hope to add to the World of Literature with your writing?WHL: I'm not knowledgeable, clear-headed, or confident enough to get my mind around this one. Atbest, I feel that my work may point folks to other works of literature, help them begin or extend aconversation that has been echoing around us for quite some time, but I really can't imagine what Imight add to the world of letters.AA: On a lighter note, what has been the most unusual response you've gotten from a reader?WHL: Probably the New York Times Book Review writer who seemed to have trouble with the idea ofmy book more so than actually getting into the content. I didn't mind the less than effusive review, butwhat threw me was her launching on the fact that I always use caps when I am using Black or White ascultural references. I think her self-impressed, navel-watching line was something like, "who besidesEbony capitalizes Black anymore?" I thought she had some fish in a barrel she wanted to shoot, but mybook seemed a strange place to be aiming. It was weird for me as a writer, but more insulting for me asan African-American educator and reader. <strong>The</strong> strangest and funniest part was that a few months later,she happened to be a student/participant in a summer writing conference at which I was a featuredreader. I didn't do or say anything to confront her at that moment, but I could see the surprised,embarrassed shock in her face when she saw me at this event; suddenly she realized how small thewriting biz can be.-- 5 --
---
<strong>The</strong> <strong>Amistad</strong> – <strong>Spring</strong> <strong>2007</strong>FEATURESAA: Is there anything about being a writer you wish you could change?WHL: More time to write, more focus and I wish I was a much faster reader so that I could take in moreknowledge.AA: Do you require a special "space" to write or can you write anywhere?WHL: I'm still figuring that out, but usually I can't really write if anyone else is in the house.AA: What do you think about the reading community shrinking, or at least hearing that the reading communityis shrinking? What do you think can be done about this problem?WHL: When I think of a reading community, I think of that as a community of active readers, folks wholike to do more than let the page-turning happen to them. I say this, then, to point out that "reading"really means active reception and perception of a given narrative. Considering this, there may be fewerpeople reading books, but I think the same intelligent, creative, engaging receivers/perceivers ofnarratives are still around, "reading" the powerful narratives in music, in film, etc. <strong>The</strong> problem for meisn't a shortage of a reading community as much as it the danger that fewer people take the time engagetexts (literary, visual, aural, movement-based) in complicated and deeply-meaningful ways. Our dangeris in narratives passing through people too quickly, too simply, with not as much of a conversation withthe narrative or within ourselves about how that narrative resonates inside of us. I think the media of theday comes at us fast and doesn't stay with us long enough for us to mull over it—folks don't want to chewon ideas for much longer than a few minutes—so I feel that our minds look for overly-efficient ways toprocess and move past all these bits of information. Art is about slowing down to look, to be askedquestions, to answer and ask back, to wait around for new questions and answers, to return again to seehow those responses change, but I'm not so sure folks are willing to do this. I'm not sure how to changethis.AA: Because there are no MFA programs at HBCUs, many writers of colors are enrolled in mostly white MFAprograms. What are some challenges you have faced teaching at MFA programs?WHL: I can tell you more after I've been at Maryland a while. 98% of my teaching since 1993 has beenwith undergraduates.-- 6 --
---
<strong>The</strong> <strong>Amistad</strong> – <strong>Spring</strong> <strong>2007</strong>FEATURESLooking at the Invisible People:A Review of Edward P. Jones' All Aunt Hagar's ChildrenJemiah BarrowIn All Aunt Hagar's Children Edward P. Jones, presents fourteen complex and at times dark shortstories, in which he gives us well-rounded full characters. A sense of loss, tragedy, and also an underlyingcomic element pervade the stories. <strong>The</strong> entire collection is almost 400 pages long, each story averaging between20 and 30 pages in length. <strong>The</strong> length of the stories allows Jones to make each a type of compact novel, a shortstory which is not overdone but also does not feel spare of detail.<strong>The</strong> book returns to Washington, DC, the locale of his previous collection Lost in the City (1991). Allthe stories are set in or en route to Washington, DC, and Jones heavily references the city's streets andneighbourhoods in both collections. This time, however, Jones is exploring the transition between the traditionsof the South and a new way of life in the North experienced by African Americans. Jones broadens hischronological scope to encompass virtually the entire 20th century and a wide range of experiences andAfrican-American perspectives, from a man who has kept the secret of his adultery for 45 years, to anotherwhose most difficult task on leaving prison for murder is having dinner with his brother's family. Anotherconstant theme of the collection is that of travel and journeys. Whether or not these journeys are realized,planned or unplanned, bittersweet or hopeful, they are unique to each story. <strong>The</strong> symbolism of each character'sroute and roots is apparent throughout the collection.<strong>The</strong> phrase "all Aunt Hagar's children" is one Jones' mother used to describe black people and referencethe biblical figure of Hagar. Hagar was the slave and concubine of Abraham, and she and her Ishmael wereeventually banished to the wilderness by Abraham and his wife, Sara, after the birth of their legitimate son,Isaac. Jones stated that the phrase was originally the title of his Pulitzer Prize winning novel, <strong>The</strong> Known World(2003), but the title is more fitting for these short stories which explore not the lives of the powerful politiciansof Washington, DC but the ordinary citizens of the city, many of whom live barely above the poverty line. <strong>The</strong>title lends itself to many of the characters who are discarded, or neglected.Undoubtedly, the best story of the collection is the title piece, "All Aunt Hagar's Children", the story ofa Korean War Veteran who is pressed by his mother and aunt to find the murder of their friend Agatha's son. Inthis story Jones takes the genre of the noir detective story, and infuses it with dark humour and raw sympathy. Itis in this story that reader most empathizes with the sense of abandonment and neglect felt by the AfricanAmerican characters in the collection. We can understand Agatha's loss and desperation when she says: "<strong>The</strong>ykilled my Ike…'Near bout two years gone by, and they ain't done any more than the day it happened." At thesame time the story is underlined with dark humour, as the narrator is trapped by fear and shame, and the ironyof the surprising and violent ending exposes a crude joke that has been present throughout the story.-- 7 --
---
<strong>The</strong> <strong>Amistad</strong> – <strong>Spring</strong> <strong>2007</strong>FEATURES<strong>The</strong> pervasive sense of loss and sadness is beautifully illustrated in "Old Boys, Old Girls", in whichJones proves his own sensitivity to humanity and his ability to weight his words with as much emotion as any ofhis characters can feel:Caesar changed the bed clothing and undressed Yvonne. He got one of her largepots and filled it with warm water from the bathroom and poured into the watercologne of his own that he never used and bath-oil beads he found in a batteredcontainer in a corner beside her dresser. <strong>The</strong> beads refused to dissolve, and he had tocrush them in his hands. He bathed her, cleaned out her mouth. He got a green dressfrom the closet, and underwear and stockings from the dresser, put them on her, andpinned a rusty cameo on the dress over her heart. He combed and brushed her hair,put barrettes in it after he sweetened it with the rest of the cologne, and laid her headin the center of the pillow now covered with one of his clean cases. He gave her noshoes and he did not cover her up, just left her on top of the made-up bed. <strong>The</strong> roomwith the dead woman was as clean and as beautiful as Caesar could manage at thattime in his life.<strong>The</strong> stories of All Aunt Hagar's Children pulse with regret, sorrow and nostalgia. Jones treats hischaracters with a profound compassion, refusing to allow them to be marginalized, misunderstood or ignored.He crafts his stories with tempered passion and his attention to detail would be disastrous in less careful hands.It works because of Jones' ability to unfold characters and situations with one sentence: "Caesar flipped thequarter. <strong>The</strong> girl's heart paused. <strong>The</strong> man's heart paused. <strong>The</strong> coin reached its apex and then it fell." Jones doesnot create easy solutions for his characters and they remain mostly just as lost and stymied as we all do. <strong>The</strong>re isalso an air of hopefulness to this collection which remains bittersweet. Jones is clever but humble, and hishumility and compassion are ever present in his stories. <strong>The</strong> sense of this is illustrated in Jones' poignantdedication:…to the multitudes who came out of the Southfor something better, something different, and again,to the memory of my mother,Jeannette S. M. Jones,who came as well and found far lessthan even the little she dared hope for-- 8 --
---
<strong>The</strong> <strong>Amistad</strong> – <strong>Spring</strong> <strong>2007</strong>FEATURESInterview with a Dramaturge:An Interview with Joe KraemerShari Inniss-GrantJoe Kraemer is the literary manager for the Lila Acheson American Playwrights Program at <strong>The</strong>Juilliard School. He oversees the playwriting fellowship program that has included writers from around theEnglish-speaking world. Due to his present vocation as a dramaturge for Juilliard's Drama Division and hisprevious position at <strong>The</strong> Shakespeare <strong>The</strong>ater, Washington D.C. he has a great deal of theatrical experience,with a focus on the development of new playwrights' materials and the production of classical plays.Shari Inniss-Grant: Taking your present role and your long history in theatre into consideration, I waswondering what, in your view, is the state of theatre today?Joe Kraemer: One thing that impresses me about the state of theater in America at the moment is thereal hunger and interest that I sense in audiences who attend the theater: people who line up to see newplays and to re-encounter-- or watch for the first time-- those plays we consider classics of the form. Youmight think, with the prevalence of television and film-going in our culture now, that the need for, orinterest in, theater might be less, but in fact I seem to always be meeting audience members who areeager and turning out in big numbers, anxious to see plays. And I find that enthusiasm encouraging forlots of reasons.SIG: What's the state of theatre in New York? What aspects of the city do you think are conducive to andrestrictive of theatre?JK: I think the state of theater in New York in particular is hopeful, too. Every theater on Broadway isfilled with a new play or musical, and the Off-Broadway and Off-Off-Broadway theater scene ishumming as well. Like I said, I do believe there are audiences ready to sit down and watch new playsand musicals. In New York, I see a real openness to a variety of plays—stories told in so many differentways—musically, experimentally-- and of course, for urban tales, since of course city dwellers do have aninterest in city tales.But theater is expensive—that's a worry—and there is safety in programming overall thatconcerns me. Of course, theaters have to think about their audiences and the people paying for tickets,including their subscribers. But it can lead to cautious decision making, or to an emphasis in, say, castingbig TV or film stars, and this has repercussions as well.I love to see a new company or a theater that's been around for a while really take chances on newtalent—a young actor just out of a school like Juilliard, or a new director-- but especially when that newtalent involves a brand new play.-- 9 --
---
<strong>The</strong> <strong>Amistad</strong> – <strong>Spring</strong> <strong>2007</strong>FEATURESSIG: What would you say is the tastes upcoming playwrights? Are they any trends or distinctions that markthese contemporary plays?JK: I find that writers today are quite varied in the stories they have to tell and how they choose to tellthem. Some people write quite traditionally, with very old-fashioned narratives and characters and plotlines that we might associate with "traditional theater", but there are a number of writers with verydifferent ambitions, who approach the job of making a play very differently. <strong>The</strong> avant garde scene hassome exciting writers coming up in it, and there are young artists at Juilliard for example, eager to blendmusic—classic, jazz, pop and hip-hop—with acting and dance and multi-media forms. People pushing tocross the familiar borders are exciting to me, and I think there's a lot of that going on in New York now.SIG: Are they currently any upcoming or even established playwrights of color we should look for?<strong>The</strong>re are many wonderful, established black writers I always enjoy reading and seeing, like KiaCorthron, Lynn Nottage, Cheryl West and Charles Smith.I think there are also a lot of terrific, up-and-coming black playwrights to watch out for, too:writers whose work I keep my eyes open for and love to read. Kia Corthron's sister, Kara Corthron, andOni Faida Lampley, Brian Tucker, Hilly Hicks, Steve Harper, Tracy Scott Wilson—all amazing writerspushing boundaries and telling stories that are gripping, funny, dark, and moving.Michael Develle Winn has a play about Tupac Shakur I still love, and oh, Tanya Barfield is awriter I really love! Her remarkable play, BLUE DOOR, which opened in New York last year, is playingin Seattle now to acclaim. She's a writer to watch out for: intelligent, witty, wise, so humane. She'sworking on a new play about Woodrow Wilson I'm dying to get an early look at this summer!SIG: Speaking of playwrights of color, I have to talk about August Wilson, who has recently been celebratedwith a run of his plays. What would you say makes Wilson distinct?JK: August Wilson is a master of the form.Some of the first plays I ever saw in New York, when I was still in college, were plays by AugustWilson: his incredible TWO TRAINS RUNNING and FENCES, with the remarkable James Earl Jones--I saw three times—and it still wasn't enough!SIG: What is it about his work?JK: It's personal and deeply felt and obviously comes from his gut and his heart both. His plays are sobig—the canvas on which he paints is so large—and he just has so much to say. It's like stepping up to asprawling buffet and having so many wonderful options for how to fill your tray: story; excitingcharacters with rich histories; intense, dramatic situation; and real, life-or-death conflict. His plays justhave it all!If I were to characterize one thing I find important and meaningful in his body of work, I think itwould be the intensity with which he brings all his artistic powers to really saying something about thetimes in which his characters and their immediate ancestors live and lived. So few writers tackle the "bigpicture" the way he did, and that kind of personal bravery and theatrical courage are, I think, inspiring.-- 10 --
---
<strong>The</strong> <strong>Amistad</strong> – <strong>Spring</strong> <strong>2007</strong>FEATURESHe once said something about how a person's history dictates his duty, and that by writing aboutblack people, black writers are not limiting themselves. "<strong>The</strong> experiences of African-Americans are aswide open as God's closet," he said. I always liked that. I find it very inspiring and soul-affirming.SIG: What do you think is the role of theatre in general?JK: One important role of theater is to create an opportunity for us to gather as a community—in oneplace, in real time, outside of any "virtual reality"—and listen to stories together. <strong>The</strong>re is something soimmediate and visceral about the activity of live storytelling and audience-going, and in a world thatoften asks little of us as a group—and that is so set on "delivering entertainment"—theater is still aforum where important things can be said and shown, and thought about, and discussed. Speaking ofAugust Wilson, I remember feeling this acutely when SEVEN GUITARS opened on Broadway: being ina packed house, every seat full and people leaning forward to look and listen and engage. Doing thattogether, as a group, at a set time—you just don't get much of that outside of maybe—church, you know?SIG: What is your own role and history as a dramaturge?JK: I studied English, with a particular love for, and emphasis in, Shakespeare, at Hillsdale College inMichigan, and my first job after school was at the Folger Library in Washington, D.C. This job becamea position at <strong>The</strong> Shakespeare <strong>The</strong>ater, which in the early 90's was attached to the Folger, and I recallseeing every show they did two or three times. I could get a discounted ticket and sit upstairs, or stand,with all the students from <strong>Howard</strong> and Georgetown and George Washington who came on the weekendsto see Macbeth or <strong>The</strong> Merchant of Venice or <strong>The</strong> Merry Wives of Windsor. Those were happy days forme!Later, my literary work took me to Los Angeles, and then to New York, where I had the greatgood fortune of helping to create the Playwrights Program at Juilliard with John Guare and TerrenceMcNally in the early 90's. It was thrilling for me to have a chance to focus my energies on finding newwriters and developing their plays at Lincoln Center. Seeing what interests the "writers of tomorrow"and watching them do the work that puts their careers into motion, well—that is and continues to be theabsolute best!-- 11 --
---
<strong>The</strong> <strong>Amistad</strong> – <strong>Spring</strong> <strong>2007</strong>FEATURESJW: What are you hoping to convey to readers through your family's account of Sam's life?EG: <strong>The</strong> last Sam Cooke biography published painted what I feel is a dark picture of my uncle. Bypainting such a dark picture of Sam's life, it would only stand to reason that his "end" would justify themeans. But all my life, in intimate settings with those who were around Sam on a daily basis, I had alwaysheard warm, glowing stories about a man who was kind, caring, and generous but who didn't let othersstand in the way of his goals. This was the Sam Cooke I remembered and tried to paint a picture of inOur Uncle Sam. By piecing together the last couple of years of his life, I was shocked to find out the manynegative factors—including greed and jealousy—that were prevalent in my uncle's life. <strong>The</strong> story of hisdeath as reported was never believed by the family, and in dissecting the rather illogical sequence ofevents, I hope to make readers understand that my uncle did not die in shame, but rather died holding onto what he believed was right. Because Sam Cooke wouldn't give in to unscrupulous forces, he was morevaluable dead than alive. I think this is an extremely important point to recognize when evaluating hislegacy.JW: What do you think it is about Sam's music that makes it timeless, and just as relevant and enjoyable todayas the day he created it?EG: First of all, Sam wrote most of his major hits, which is more than a lot of successful artists can say.He tried to write songs everyone can understand; songs for the "common man." In Our Uncle Sam, oneof the songs I talk about is "Wonderful World", which deals with the dilemma of a lovesick teenager.This is a scenario most of us have dealt with in adolescence and one that future generations willexperience as well. Though the song was released in 1959, the feeling is never lost, and thus I considered ittimeless. This feeling comes through in a lot of his songs— the electricity in "Having a Party", the puppylove in "Only Sixteen", the despair in "Sad Mood", and the energy in "Twistin' the Night Away" just toname a few.JW: Your book repeatedly mentions the unique quality Sam had to put every one at ease, whether it wascharisma, confidence, or something else, he seemed to have it. What was it that made him "a truly magicalman" as you state in your first chapter?EG: I think Aretha Franklin put it best when she said Sam "had the ability to make you feel like you'rethe most important person in the world, even in a room full of people." Dot Holloway, Sam's long timelove who I talk about in the book, conveyed the same sentiment. In talking with other family members Iget the sense that Sam listened intently, and that he genuinely cared when you talked to him. He'd oftenrefer back to issues from previous conversations when he talked to you—"how's your mom feeling? Iknow you said she was sick last time we talked" or "how did you do on that science paper you wereworking on?" People tend to remember how another person made them feel, even years later, and I thinkthat's why he evokes such warm memories to this day.-- 13 --
---
<strong>The</strong> <strong>Amistad</strong> – <strong>Spring</strong> <strong>2007</strong>FEATURESJW: Erik, most people don't realize how strong Sam pursued his rights in terms of his music and control over it.He was a major influence for many other African-American artists of the time, and was a significant voicetrying to change the industry standard. Would you comment on his advocacy in this area, and the problems itcaused him?EG: Sam was a full-time member of the Soul Stirrers at only 20 years old, and he gained maturity frominteracting with group members old enough to be his father. <strong>The</strong> Soul Stirrers were a small businesswithin themselves—forecasting expenses and allowing for unforeseen hazards as would any smallbusiness owner. <strong>The</strong>se lessons stayed with Sam after becoming a solo artist. He also learned the power ofownership along the way, especially when "You Send Me" became a hit. In Our Uncle Sam, I talk abouthow two record labels were in bitter dispute for control of the publishing rights of "You Send Me". SinceSam wrote the song, he realized he should've been the one to own the rights. <strong>The</strong>se life lessons, combinedwith the intestinal fortitude instilled in Sam by his father, made for one stubborn warrior. Once Sambegan to attract more attention in the industry, he became more determined to level the playing field forhis brethren. Needless to say, Sam's "bucking the system" did not sit well with those who became wealthyfrom exploiting recording artists and musicians.JW: Do you think with the increasing pressure of being an international star, Sam ever felt like just giving it allup, and pursuing a quiet life away from the spotlight?EG: Sam never wanted to give it all up, but he did want to make changes in his approach. His first bigbreak as a pop star came in 1957 with the release of "You Send Me", a song targeted to theteenaged/young adult audience. As he got older, he focused on more adult-oriented material and moreadult venues. Instead of singing one-nighters from town to town, he wanted extended dates in higher-endsupper clubs in cities such as Miami and Las Vegas. This way would prove less taxing on his body and hisprofits wouldn't be eroded by travel expenses. His second stint at New York City's Copacabana wassupposed to be his test run for breaking into this new realm of music. While Sam was a resoundingsuccess at the Copa, working the supper club circuit would've proved to be more difficult for Sam downthe road. A good number of these clubs were either owned or influenced by branches of organized crime,and Sam was openly defiant in their attempts at extortion. Fortunately, he was still RCA's hottest artistbehind Elvis Presley, and his record labels were doing well, so he had a living to fall back on.JW: Erik, you truly have presented a wealth of information in your book. How did compile the stories, photos,and musical timeline in "Our Uncle Sam"? How many family members contributed, and how long did theprocess take?EG: I had no idea how difficult the process would be when I first took on the project. I thought it was assimple as sitting down with Sam's brothers and sisters, turning on the tape recorder, and saying "tell meabout Sam."Needless to say, this approach was ineffective, because after 40+ years, memories are oftenforgotten and sometimes repressed. Instead, I had to ask them to comment on a certain event and whatSam felt and/or expressed to them about the event. <strong>The</strong>n, with that testimony, I had to go around to allthe other people who shared the similar experience and trigger memories I harvested from previousinterviews. "I heard that Sam would always take the kids to the amusement park when he was home.-- 15 --
---
<strong>The</strong> <strong>Amistad</strong> – <strong>Spring</strong> <strong>2007</strong>FEATURESWhat do you remember from those times?" <strong>The</strong>se are the types of questions I asked in order to summonchildhood memories from his nieces and nephews. I interviewed his children, brothers and sister, andother family members also, whether in person or over the telephone; individually or in groups. I foundthat memories flowed better in a group setting, but interviewees were more candid in one-on-one settings.I also tape recorded family events once the conversation switched to Sam. In addition, I did a lot ofresearch on Sam's activities. I wanted to garner as little outside reaction as possible, and I think Ieffectively did that. <strong>The</strong> end result was it took about 2½years to record the information and write OurUncle Sam.<strong>The</strong> photos were another hurdle. I was surprised to find how few pictures of Sam there were infamily photo albums. I soon learned it was because Sam wasn't a celebrity to them, just another sibling,and there weren't a lot of sensationalized photos available. I found that photos had deteriorated, beenstolen out of photo albums or lost in basement floods over the years. I was fortunate because my uncleL.C.'s ex-wife saved photos and clippings of Sam, and thanks mostly to Barbara Bonner Cook's efforts,there are over 50 pictures in my book of Sam and of his family in intimate settings. My collection includesSam and his family at Disneyland, Sam out on the town with friends, and personally autographedpictures to family members.JW: Do you think that people have a different perspective about Sam's and his music today that they did whenSam was still alive? How has people's appreciation changed in light of the music of this generation?EG: I've found that with the amount of uninspired and poorly-written music that's out here today,people tend to appreciate the quality of Sam's songs even more as time passes. In the Forward of mybook I mention "good music is eternal and has the ability to transcend all age barriers." I think as timepasses, others realize that so many of Sam's songs set the standard in quality. Again, take a look at theyoung singers today who build a reputation for themselves by being able to "nail" the classics.JW: Erik, you talk quite a bit about Sam's death - the inconsistencies, and the behind-the-scenes upheaval thatwas going on personally and professionally for Sam. What family perspective does your book offer towardsSam's untimely passing?EG: One thing the family found amazing was how the details of Sam's death were so out of characterwith his personality. Supposedly he was found dead in a $3-a-night motel, and when my family heardthis, they said they immediately knew the whole thing was a lie. Sam, because of his unique contract atRCA and outside business ventures, was quite well off financially. He always did things "first class," asevidenced by the brand new Ferrari he was driving at the time. Family members who knew Sam say, to aperson, there's no way he would ever check into a $3 establishment, especially having to pass severalhigh-quality hotels in the process. But their understanding versus what the rest of the world heard andbelieved was like a raindrop in the ocean, and the family's attempts to defend Sam's honor were futile.Fortunately, most of the evidence from that night supports their conclusion that there was more toSam's death than previously reported. For example, it was said the middle-aged manager of theHacienda Motel shot Sam in self-defence after a physical altercation. Yet police reports claim BerthaFranklin was uninjured, and an up-close photo in my book taken directly after the shooting tends toconfirm this. Sam, on the other hand, had bruises on his face, a large lump on his head, a broken rib, and-- 16 --
---
<strong>The</strong> <strong>Amistad</strong> – <strong>Spring</strong> <strong>2007</strong>FEATUREStwo badly broken hands—all evidence that he was roughed-up and tried to fight for his life. This chapterof my book is one of the most in-depth chapters and took me the longest to write. I also offer analternative scenario to Sam's final moments as told to me from a valued source.JW: Erik, on a personal note, what does the legacy of the man and the music mean to you as his great-nephew?What does it feel like knowing that this cultural icon was your great-uncle?EG: One thing I gained in writing Our Uncle Sam was a tremendous amount of respect for thetremendous amount of respect my uncle garnered, if that makes any sense! Aretha Franklin called Sam"a Prince of a man," and I was surprised at how the exact same assessment of Sam was repeated; nomatter a person's standing in life or how deep their interaction with him, he made you feel like you weresomething special. Quite often they remarked on how he was never changed by success and how he waswilling to share his knowledge with others.<strong>The</strong>y also say how they've never known anyone like Sam before or after they knew him.Musically, it's remarkable how Sam's songs have withstood the test of time. I devoted a chapter in OurUncle Sam to his song writing prowess, and how his songs were written in a way that can be understoodeven today. I look to expand recognition of Sam's musical achievements now and in the future. He did somuch for today's artists that it's important his efforts are fully recognized and never forgotten.JW: In your opinion, what were Sam's biggest accomplishments?EG: <strong>The</strong>re are almost too many to name. His refusal to sing to segregated audiences has to be the biggestbecause it came at a time when others were reluctant, and rightfully so, to make a stance against theestablishment. I always point to the scene in the movie "Ray" when Ray Charles changes his mind aboutperforming a concert once he realizes people are picketing outside. Sam didn't need people with picketsigns to make up his mind for him. He took the initiative, and that's what made him so special.Demanding ownership of his publishing rights has to be second, because while it didn't involve riskinglife and limb, it was a evolutionary move that could've severely crippled his career if it backfired. <strong>The</strong>reare a lot of young entertainers and record moguls who owe their current success to the pioneering effortsof Sam Cooke.JW: What does today's extended Cook family feel about your book?EG: On the whole they are proud that the world has an opportunity to hear their voice. Through OurUncle Sam, the record can be set straight as to the wonderful person my uncle was. I think many of hisaccomplishments have been lost because people were turned off by the seedy details surrounding hisdeath. Also, because the family does not control his music catalogue, certain songs are continuouslyrecycled. <strong>The</strong>re are a lot of his songs that didn't go gold, but are enjoyable nevertheless. Most of thesesongs have yet to be released in a CD format.-- 17 --
---
<strong>The</strong> <strong>Amistad</strong> – <strong>Spring</strong> <strong>2007</strong>FEATURESJW: How can readers find out more about you and "Our Uncle Sam"?EG: My website is simply the name of my book, www.ourunclesam.com, and personally-autographedcopies can be ordered there. I try to refresh the information on a regular basis so that the website staysfresh and informative and up to date on events related to my uncle.JW: EG, it has been great having the opportunity to talk with you today. Your book Our Uncle Sam is afantastic family account of your famous great-uncle and a must read for all music fans. We encourage readers tolook for a copy of your book on your website. Before we let you go, do you have any last thoughts for yourreaders today?EG: First of all, I'd like to thank you, Juanita, for embracing my family's story the way you have.Secondly, the purpose of my book was to let the readers know the truth about my uncle's life. Our UncleSam provides an introspective look into Sam Cooke the man as well as the performer, and helps answersome of the many questions that have surrounded his death these 42 years plus. Sam died fighting to holdon to what he built. I think that's the most important point in the Sam Cooke saga. It's what made him"a truly magical man."-- 18 --
---
<strong>The</strong> <strong>Amistad</strong> – <strong>Spring</strong> <strong>2007</strong>FICTIONSummer SpentJJ DeCeglieTogether they sat with beers at a table by the road down the far end of Fremantle. This was theold part of town and it was the part they enjoyed best. <strong>The</strong> authentic section that the sun would set behindleaving a sheen of rays about the whole stretch of road and aged building faces along it as if a runway for theorange burning light. <strong>The</strong> only place you could really enjoy the beer and the town as one unless you drank itdown by the ocean, but tonight there would be too many others that way. <strong>The</strong> heat was close and felt as if itwere sweating out of the sidewalk and road then hanging low leaving their skin wet against their collars. Bothof the men shined with it in the yellow of the streetlights. <strong>The</strong>ir beers perspired leaving puddles on the table.<strong>The</strong>y sat in the night waiting for it's end and they sat in their town. <strong>The</strong>y knew it's lighting by heart. Sep hadexplained to Chase how Hunter Thompson had copied out the entirety of Hemingway's <strong>The</strong> Sun Also Rises justso as to understand the style and art of it, he had the sickness Chase said, and Sep knew that he had and thatthey did too or were as close to it as any he knew of. Sep gulped a long portion leaving his glass done thenmotioned up and got another for he and Chase. Both were having a genuine bitch of a time in life. Sep had nowork and his girl at home now without him and Chase was facing dismissal with the armed forces if he went toofar just once more and both knew he probably would.Maybe the boat has sunk Chase said, I know many have already for us both but maybe this onehas too, Sep considered him, if you mean the writing you're wrong, Sep said it and meant it, not the writing,never that, how could that ever be…you have that and you know I believe you do and I am really on you to giveme some of it, Chase was approaching it and Sep reckoned he was, Sep knew what he was coming to and thathe didn't want to say it, Chase took an even mouthful and smacked his lips for it when done with the beer downhis throat, this I mean, this, just this, just now, it's you and your girl now and you know how that goes and Sepdid. It had followed him for days now. This feeling of heartbrokenness that minced with excitement and left youexhausted and vacant. He knew of the sprawl of it and the weight and had seen others done in by it though hewas convinced he could beat it. I love her Chase and there is no other way for it, this is what is done, what elseis there anyway? You could leave her, just leave, many do it just that way, this Sep had thought of already, nohe said, then drank, I would end up dead in a cheap Paris hotel room and you know it, and he had alreadythought it out thoroughly, that and many other things, always a blur sharpened into a cutting clarity, thoughmostly on all the other three billion girls out there some of whom he'd had and seen and smiled or flirted withor read about or masturbated over and some he'd never meet or seen and he'd loved others and wonderedmostly on that and what happened to the ones you loved and never had or almost had and who he knew hadknown he loved them just by the glint of their eyes and sway of their voice, what became of the love you lostand the pain that had been and gone with it, you could still feel it if thought about it enough, he knew that, itwas different for each girl you'd lost and there were maybe only five who had counted for Sep, by five he meantfive whom he was quite sure could feel the pain for him if they tried enough to, individual loss of anotheraching in a past whose future never came, I love her, it is that simple, there is nothing that simple stated Chase,Sep knew it, knew in a way he was done for because all men are eventually done for in some way, let's getwhiskey said Sep, Chase ushered him to sit while he went for it, so he sat and made eyes for a girl walking byand she made them back and he thought by fuck it's useless, you can love them and never had spoke a damnword to them, Chase had the drinks and they downed them in swift snaps and then had more this time Sepbuying and they were scrupulously spent very quickly on whiskey having at least three more shots each withbeers for the burn and then walking along the street away from town and to the beach beyond the old limestoneconvict holding on the hill. Sep felt he was handling the liquor very well. He felt that mostly he always did this.-- 19 --
---
<strong>The</strong> <strong>Amistad</strong> – <strong>Spring</strong> <strong>2007</strong>FICTIONHe measured his gait and watched the road and train tracks they crossed and then the rougher terrain down bythe water. <strong>The</strong>re wasn't a false step he had taken and both had spoken well on literature and football with twoconclusions reached, the first that much more Faulkner must be read and read out loud and his life must beunderstood more fully, he worked with Fante in Hollywood you know Sep had said, Chase adding thatBukowski had told Fante on his deathbed that he was as good as Faulkner ever was, Sep already knew this, healso knew that Faulkner was the greatest drunk of them all, more than Hem or Jack, than Buk or Hunter, Sepwondered in a flash of the work he could produce if he left and died in that Parisian hotel alone and drunk withwhores and books and paintings fresh in his eyes, the second point settled was that the Dockers may do well thisyear if they just had more courage when the ball was there to be won and if they would play genuine football,Sep added that Pavlich would have to be All-Australian Captain and both admitted he was one of the real onesand could kick eighty goals from centre half forward. <strong>The</strong>y both handled the booze well and sat on a bench onthe grass before the sand of the beach was below them. <strong>The</strong> sand under the green of the grass was white. Bothwere sweating now and the breeze down that way did them well for cooling. Sep felt the whiskey in his bloodmore when he was sat. He could see the moonlight on the water more than the water itself. <strong>The</strong> breeze wasn'tcool but due to the heat had an effect as though it was. <strong>The</strong> ocean and night together were what looked as vastas the space past the moon and out to the stars. Sep could barely make out the separation of sea and sky but forthe moon's light that was a flickering yellow tower ceasing flat with water's tucking under along with earth'scurve. He felt tired now and knew neither should drive home. He hoped Chase would offer anyway. By god it ishot Sep said, this summer seems to never want to end, he unbuttoned his shirt, let the air run over his skin some,I kissed a blonde beauty just over there Chase, he pointed to the start of the park behind them, she read poetry Iwrote of her and we kissed and I loved her then and for a time after but that is so far away and dead now, I thinkof it sometimes, it makes me so gloomy that I stop thinking, she was wonderful that girl, she kissed like a firmwarm heaven and had skin like vanilla ice-cream, she smelt and tasted like fresh milk, when I kissed her shewas the most marvellous thing I had ever known and nothing else could matter cause that marvellous thing waskissing and holding and thinking of me, that never dies, it shouldn't and doesn't, Chase didn't speak, he listenedto Sep and enjoyed the listening, Sep was finished speaking though, he thought to himself that he was gone,even with the love you're gone, and what makes it so and what can take it away, there is nothing for it andmaybe nothing for anything, the ocean did not cease it's coming and going, it crashed against the rocks of themole and the roar was clear each time it combusted in the dark, are we better off alone? Sep asked it of Chase,he asked it to the dim, no said Chase, I was only saying. That was it then. <strong>The</strong>y went back into town footingacross the park and aiming for more whiskey. <strong>The</strong>y wanted to see their town spin and spark and burn out in themorning's drunken pale light. <strong>The</strong> entire time Sep wished he were at home asleep near the girl he simply loved.It got worse as he got more thorough. <strong>The</strong>re was no way to explain anything. He realised it as the sun beat backthe darkness and converted it light blue.-- 20 --
---
<strong>The</strong> <strong>Amistad</strong> – <strong>Spring</strong> <strong>2007</strong>FICTION<strong>The</strong>rapyMeilani ClayShe liked therapy. She liked knowing that this person would always listen to what she had to say withoutraised eyebrows or pats on the back, unless that's what she wanted. She enjoyed the freedom that came withknowing someone was listening, listening carefully enough to take notes, ask questions, repeat things she'd saidbut not in that annoying way that people have where they try to pretend they're listening by repeatingcompletely irrelevant things, like her father's name, as if that had anything to do with the fact he didn't knowshe existed. That's why it was nice having a therapist. Someone who could decipher her body language, makeher infrequent eye contact mean something, make her shy smile mean something, because they meanteverything. Her therapist started off slowly. Asked her how she liked high school. Asked her what made herdecide to get her nose pierced. Asked her why she chose the shoes that she did, seeing as how they made herstand out. <strong>The</strong>se things made her talk more, and more, session y session, until the real question arose. <strong>The</strong>question the therapist had been skirting around in order to make her feel more comfortable, although hertherapist knew from the beginning why she was there. <strong>The</strong> therapist put the question simply, trying to subtlyaddress the issue. "So tell me, Leslie, if you don't mind, what is your biggest fear?" Leslie did mind but hermother had insisted that these sessions were only to help, never hurt. And so she told her therapist the thing shewas most afraid of."I'm afraid of rejection," she said. She quickly dropped her eyes and began softly tugging at her fingers."Well, many people are afraid of rejection, Leslie. You don't have to feel alone in that.""No. You don't understand.""What am I not understanding Leslie? If I'm going to help you, you have to help me." <strong>The</strong> therapistleaned forward in her chair. She examined the girl in front of her, slouched down in a similar chair, pulling onher fingers, and began chewing on the pen she kept notes with."I'm afraid of rejection by my father." Leslie glanced up to measure her therapist's reaction, and findingnothing but calm, sent her attention back to her hands."Leslie, many teenagers your age feel anxiety about being accepted for who they are becoming by theirparents. It's very common.""But he doesn't know I exist." Leslie spoke softly, not really wanting to share this piece of news, butalso not wanting to hear her mother asking if she had gotten over her fear yet because she couldn't afford to payfor these sessions forever."I apologize, Leslie, but I couldn't hear you.""He doesn't know I exist." Leslie stopped tugging her fingers and sharply raised her head. "He doesn'tknow me. I'm just a stranger to him."-- 21 --
---
<strong>The</strong> <strong>Amistad</strong> – <strong>Spring</strong> <strong>2007</strong>FICTION"Well, Leslie, there must still be a way you can get to know him." <strong>The</strong> therapist noticed that her wordscaused Leslie to narrow her eyes, a brief and slight change in her body language. She leaned forward across thedesk separating them."Not if he doesn't know me! You were supposed to be listening!""Leslie, I am listening. I was just suggesting---""Your suggestions aren't helping. You stopped listening." <strong>The</strong> therapist paused at this accusation, thisattack on her profession, leaned back. She leaned onto the desk again, interlocking her finely manicured handsin front of her."Leslie, I think you need to---""I don't want to do anything anymore." She crossed her arms and sunk back down into the chair. <strong>The</strong>therapist paused, deciding whether or not she should risk saying something else."You still have ten minutes.""I'm not talking anymore.""That's fine, Leslie. You know these sessions are all up to you." <strong>The</strong> therapist tried to regain some of thetrust she had broken. Leslie kept quiet. <strong>The</strong> therapist knew she had crossed a line somewhere, but she hadn'tseen it drawn. Leslie did not want to think about the gap in her life that sat staring at her, everyday. This gapwas always accusing, always questioning, making her feel that she must have done something in the womb todeserve her father ignorance about her existence. As she left the room proudly furious ten minutes later, notfully aware of her mother's usual barrage of questions, Leslie decided she wasn't so sure how she felt abouttherapy.-- 22 --
---
<strong>The</strong> <strong>Amistad</strong> – <strong>Spring</strong> <strong>2007</strong>FICTIONOrigami Love StoryJ. Laury DesmondPlaying Sudoko on the train, never had a chance when I saw you sitting across from me.Peeking at you, over your New York Times, in a New York state of mind. Noticed you'd stuck my favouriteweb comic between the pages, I wanted to tell you my name.Or take you to a ball game.Just for the popcorn and a chance to kiss you.Laughed out loud at your afro dripping with rain and miss-matched socks, first impressions are tough. Drinkingcoffee, staring at your chocolate milk with lust. You looked at me cross eyed with your tongue sticking out.Commented it was rude to stare.God it was beautiful when you frowned.Say hello to me stranger, I beg of you, we could both get off right now, and we'd be together.That's got to be worth a sick day and the glitter you throw in your hair.Strange girl, don't be a stranger. Danger was climbing the tree to get you the perfect flower, you just had tohave. It wouldn't have been so bad, if it wasn't a cactus tree. Don't worry, your laugh made it worth it.I tried to ask you to marry me. | You ended up asking me.My voice shook when I first tried to talk to you. I've started to think it didn't sound the same when I said yourname. Saw it stenciled on the front of your notebook with a never ending game of hangman. I guessed the letterL. I should have seen it spelt out:H.A.P.P.Y T.I.M.E.S A.R.E H.E.R.E A.G.A.I.N.<strong>The</strong>y'll never go away.Would it have been better if I just said hello and told you I noticed your glow.<strong>The</strong> name game might have been over kill.<strong>The</strong> palm-reading I said yes to turned out to be the best $5 I ever spent. It meant I had a much needed excuse totouch you.I thought about that the first time you let me kiss you.My boss noticed the tattoo you gave me. I quit today.Are you lonely now? Would that be the first thing you'd want to ask?Sometimes your kisses felt like a trap, you must have given me what I needed to play 'kiss it better'. She stillasks for you.A month of Sundays leads to waking up with you, six years before I could wed you. You never would have let-- 23 --
---
<strong>The</strong> <strong>Amistad</strong> – <strong>Spring</strong> <strong>2007</strong>FICTIONme keep you any other way. I'm thankful that I have you- in my heart.People talk about us when we do the weekly shop. Our stereotypical fairy tale didn't have its 2.5 child happyever after. You just wouldn't let it be stereotypical. I just didn't want to let you go. I would have fought for you.You never let me leave you. She is more than enough, but I know she's not you.Yes you got a grand finale. <strong>The</strong> BBQ went down well. I wasn't sure about the balloons, or the rock band. But Idid it just like you told me to.Thank you for showing me how not to sell out, I'm still tempted to but every time I think of us playing in therain, I cry in pain. My tie did make the best flag; you where right about that game.It will never be the same.You made naked seem normal, even while playing games.Lights gone down, empty head - empty place. No we never had a chance.Not even in bed. You ate pop tarts for breakfast and I liked raisin bran. Ice cream in bed - was a treat for you,but hell to me.My mother looked down at you, dad never understood you. I tried to love you. You would have said don't try,just do.I do.So we made it work. All your talk of simple little everything's - stuck.Sushi and fries aren't cool but I loved feeding you after school. Leaving notes, writing letters made it last, Ifound the piece of silk you left in my desk. Passing glances lead to my all time favourite romance.Yes it stars you.I tell our little girl all about you. She wears a camera just like you used to. I never warn her about strangers. Idon't shout about the glitter mess.She rushes, and has a flair for talking with her hands. I swear she laughs just like you. I find my self touchingher to make sure she's still here.You and me, we made her. She makes me tell her all your stories. On Mother's Day she sings, I know you canhear her. (That's because she tells me you can.)Is this where I thank you, for laughing at the brown suit? Do I mention that I still have the quilt you made?Sometimes I lock the door and cry. Your old lovers call me, just to talk.We all miss you.-- 24 --
---
<strong>The</strong> <strong>Amistad</strong> – <strong>Spring</strong> <strong>2007</strong>FICTIONYou where right, I know you know that but I just need to say it. I needed to say all of this too; I'll keep itfor our baby. I told you, she always asks.Don't worry I tell her everything. Even the dirty bits, like you made me promise to. She has your heart, and myfeet. Thankfully she stands tall - more like you than me.I've been rambling like you used to make me. My part of the deal is fulfilled, thanks for the $5, I used it tomake origami.But I'll keep telling our story for free.-- 25 --
---
<strong>The</strong> <strong>Amistad</strong> – <strong>Spring</strong> <strong>2007</strong>FICTION<strong>The</strong> KillLloyd Hudson FryeMajabu was the only son of the village chief, Miatoo. He was tall for 12, muscular, and smart.<strong>The</strong> tribe was Gamba, meaning lion hunters, they lived on the plains, next to the narrow, shallow Yabu River.<strong>The</strong>y worshipped the lion for its strength and cunning.At thirteen every boy in the village had to kill a male lion, with only a spear. This passage tomanhood, provided a necklace of teeth he would wear for life and the woven sack of the hair from the lion'smane would be given to his future father-in-law, as a show of manhood and ability to support his daughter.Killing a male lion was acceptable because they didn't feed the pride. <strong>The</strong> females were thehunters, removing the older males gave the pride fresh genes. Fighting would decide which male would reign.Usually no more than one boy turned 13 in any year, so the number of males was plentiful.A month before Majabu's 13 th birthday, Caminto began showing him techniques used to killolder males, without getting killed in the process."Majabu, you must make sure the old male is alone.""Of course.""You must come up from behind.""I know all that.""But did you know the lion must charge you.""Why is that, Caminto?""<strong>The</strong> spear must enter the middle of his chest.""I see.""After it enters his chest, you must hold on tight, till he stops moving.""I am ready.""He may claw your chest or face?""Yes.""He may bite your arm or hands.""Yes, hang on tight to the spear, till the end."-- 26 --
---
<strong>The</strong> <strong>Amistad</strong> – <strong>Spring</strong> <strong>2007</strong>FICTION"Do you see my arms?""Yes, I see them.""<strong>The</strong> lion clawed me that day, I bled for one week.""I say I'm ready."Majabu grew quiet as he looked closely at the scars that ran from Caminto's elbows to his wrists.<strong>The</strong>y seemed to glow in the dark by the light of the fire. He thought how painful it must have been until thescabs formed.<strong>The</strong> night before his trial of manhood, Miatoo came to him."My son, are you ready to meet the lion?""Yes father.""But I have not fully instructed you.""No father.""Let me see your spear.""Yes father."Miatoo took the spear, balanced it on his shoulder, then grabbed it and drove it into a supportbeam of the hut. <strong>The</strong> spear went deep and Miatoo twisted the shaft and wedged it to one side, in an attempt tobreak it. <strong>The</strong> spear held and bowed, Miatoo smiled with satisfaction."You know to bury it in the middle of the lion's chest when he is charging.""Yes father.""Are you prepared to die?""I will not die father.""Are you afraid to die?""No.""Why not?""Being afraid of something that may not happen, is foolish."-- 27 --
---
<strong>The</strong> <strong>Amistad</strong> – <strong>Spring</strong> <strong>2007</strong>FICTION"How long do you have to plant the point of the spear properly?""If I come across the lion and surprise it, I'll have less time than it would take to hit the ground ifI dropped the spear from my shoulder. If I'm careful and sneak up on the lion, I'll have plenty of time to fall tomy knees and plant my feet to support the charge.""But…"throw it.""But I will not try to throw the spear, no matter how easy a target, no matter how close, I will not"That is good my son.""Father?""Yes Majabu.""Where you scared when you killed your lion?""I was neither scared nor bold, I just was the spear.""I will also be the spear.""Keep your face back as far as you can. If the lion gets to your neck, you will die.""Yes, father."holding him.Miatoo leaned over to his son and embraced him. Majabu couldn't remember his father ever"I will help you weave the mane tomorrow night, while the fur is still soft.""Yes, father."Miatoo got up and left as quickly as he had arrived. Majabu knew his father loved him, butshowing that love was not part of their culture. Majabu lay in bed silently, reliving his father's embrace. Thatnight in his dreams, Majabu killed a lion, the claws rip his arms open, and then his back was torn to shreds. Hesat bold upright in his bed. What could the dream mean? Did he miss planting the point in the chest? Did thelion knock the spear out of his hands? He decided not to tell his father or Caminto of his dream.Several of the tribal men were standing around the small fire that morning as Majabu readied histhings. All the elders were there, his father in the center. Caminto and four other young warriors formed theouter circle. All the faces were somber as Majabu approached. Each male had woven a small necklace ofcharmed luck to slip over his head, a way to send part of their spirit with him. He looked back at the fire, the-- 28 --
---
<strong>The</strong> <strong>Amistad</strong> – <strong>Spring</strong> <strong>2007</strong>FICTIONmen, and the village of his birth. <strong>The</strong> look in Miatoo's face was one of concern. Maybe he should have told himof his dream.Once out of the low-branched trees, Majabu squatted close to the ground and silently slid alongthe dry soil like a soft breeze. All his senses were firing at full capacity. <strong>The</strong> slightest noise or snap of a twigwould have him ready his spear, in anticipation of a 400 pound man-eater flying through the air.<strong>The</strong> first sight of lions sent shockwaves through his system. <strong>The</strong>re were several lions under alarge tree in the distance. He knew he had to find a solitary lion. He cautiously got out of the line of sight of themain pride. He circled for what seemed like days but could not have been more than an hour. He saw him. Anold male was coming his way, the head low to the ground. Majabu dropped to his knees. He looked around andfound a rock, planted the base of his spear against it, and aimed the point towards the oncoming lion. No onesaid to use a rock to anchor the spear that was his idea. He thought he would let the charging lion's weight drivethe spear deep into his chest. He would roll to one side once he was sure it had been driven home.<strong>The</strong> lion didn't look up until it was 10-12 feet away, then it stopped. It was only three or fourseconds but it seemed like an hour, the lion watched Majabu. This was it, he couldn't run now. <strong>The</strong> male roaredand bolted ahead. Two strides and the lion went air-bourn, timing the jump to land perfectly. <strong>The</strong> spear wasraised slightly to adjust for the angle. As soon as the point entered the middle of the chest, Majabu rolled to hisleft. In doing so, his right foot ended up in the air, providing an easy target. <strong>The</strong> muffled roar of pain from thespear was lessened by Majabu's foot. <strong>The</strong> lion shook his head violently, severing the foot above the ankle.Majabu looked down and saw his bloody stump, a dead lion just beyond, still shaking frommuscle spasms. He went into shockBack at the fire Miatoo stood up, threw his arms back, and bellowed. He had seen an image inthe fire of a young warrior, his foot severed, a female lion on his back. His piercing cry echoed through thevillage. "MAJABU !"-- 29 --
---
<strong>The</strong> <strong>Amistad</strong> – <strong>Spring</strong> <strong>2007</strong>FICTIONNO MUSE IS GOOD MUSE *Ralph Greco, Jr."Jesus Christ!!"Calipe' looked up at the shout from the third-story window as Trevor plopped back down at his desk."Some people," Calipe' sighed to the quiet suburban street, bending to the second garbage can.Once again the Puerto Rican teen up-turned a gray dimpled can, dumping a load of smelling kitchenwaste into the maw of the truck.He then 'settled' the can back on to the cement street."Jeeesus!" Trevor yelled again. This time he kept his face to his screened-in window so the workerbelow could get a good long look at his annoyance."Just doin' the job bro," Calipe' shouted, looking up through the Magnolia limbs to the bearded facestaring down at him. "Sorry to have disturbed you, man."Placating, sincerity, mocking...whatever, Trevor was having none of this shit from a lowly garbage man!<strong>The</strong> magazine was waiting on the column he had been trying to write this whole week and he was crusty,constipated and more then a bit hypersensitive to his writer's block. With speed his stubby legs hardly everemployed, Trevor leapt from his perch-of-an-office, down the five attic steps, around the dark upstairs hallway,down thirteen more steps, across the worn carpet of his aunt's living room floor and out the front door!"Stop banging the fucking ca..." Trevor began, running across his aunt's front lawn to his neighbor'scans."Man, man," Calipe' interrupted. <strong>The</strong> young man raised his meaty gloved hands in front of his broadchest, mockingly warding off this crazy man in the black sweats and AMAZON.COM tee-shirt!Trevor halted at the curb, Calipe' stood at his truck a house down...then both men broke into deepchuckles!Trevor realized that the curly-haired teen was alone; did they trust this young lad with the truck and solopick-ups?"Sorry," Trevor softened.- 30 -* MUSEa definition from <strong>The</strong> Scribner-Bantam English Dictionary: any of the nine goddesses who presidedover the arts and sciences.a definition from To Muse Or Not To Muse: An International Guide to Human Relations: "We aren'talways chicks, ya know."-- 30 --
---
<strong>The</strong> <strong>Amistad</strong> – <strong>Spring</strong> <strong>2007</strong>FICTION"I get it man," Calipe' said."It's cool," he added, lowering his hands."Sorry, I'm just on a deadline," Trevor began retreating to the sidewalk. "Sorry, don't know what cameover me."Trevor smiled, then turned to walk back to the house. Last thing this kid needed was to hear about hislife; best leave him alone to continue his pick-ups, Trevor thought. Running out here had embarrassed himenough as it was!"Sorry again," Trevor repeated, over his shoulder."Little fresh air, get the blood circulating can work wonders," Calipe' called to Trevor's back.Trevor turned as the tall Puerto Rican teen rose three feet from the hot street, floating to a perch on theback of the truck. With no driver, the truck once again began its backwards creep down the street."We aren't always chicks, ya know," Calipe' sang (he actually sang!) <strong>The</strong> tall boy smiled, his teethtwirling rainbow light in a wide mouth, his eyes wide and bluer then the sky above him. He kept his kindsmooth face on Trevor as the truck continued to tickle the concrete with its pillow wheels."Sometimes it come from the most unlikely places," Trevor heard in his head as the truck and thegarbage-man faded from view.Trevor raced back into his house, up the thirteen steps, through the hall, up the last five. Plopped downin front of his iMac the words came out his head to his fingers so fast he could hardly type.-- 31 --
---
<strong>The</strong> <strong>Amistad</strong> – <strong>Spring</strong> <strong>2007</strong>FICTIONLost LoveJasmine GreenIt was 4:46 in the morning, the phone was ringing. Brandon rolled over, bumping into Diane, he grunted."Will you answer that baby?" She smacked her lips and reluctantly rose from the bed to retrieve thephone, mad that she was awoken by a call so early."Who is this playin' on the damn phone?" <strong>The</strong> woman on the other end was taken aback by the voicethat she was hearing. She looked at the phone to make sure she dialed the correct number.She said "Ain't this number 309-555-1841?""Yes. What's it to you?" <strong>The</strong> woman coughed a little bit, clearing her throat ready to give a tonguelashing.She spoke "Look here, I'm 'suming you one of Brandon's lil heifer friends, and cause of yo' stupidness,I'm a let it go for now, but if you don't put Brandon Earl Stokes the third on this phone! I tell you'll 'gret it.""Excuse me, but you've the nerve demanding to speak to him at this time of morning!"Brandon sat up in the bed, noticing that Diane's voice was getting louder. He poked her in the ribs."Who's that on the phone?" He moved closer to her in an attempt to hear the conversation. <strong>The</strong> womanon the other line yelled through the phone."If you don't put him on the phon-" Brandon immediately recognized the voice and snatched the phoneaway from Diane."Hey Granny. How you doing?" He stated proudly. Diane frowned at him; she shifted back to herposition in bed."Who was that heifer with her uppity voice talking sassy to me? I promise, if I see that heifer tell her Isaid I'mma teach her tail some manners, and 'bout you, why you got that woman answering yo' phone in thistype of mornin'? Boy what I tell ya' 'bout courting dem Northern hussies. You and yo' cousins sho' is somehard-headed kids I tell ya'.He sighs "Granny, I'm grown now. I can have women over to my place."" 'Cuse me who is you talking to young man? You ain't too ol' to get slapped!""I apologize for being disrespectful, but did something happen?"-- 32 --
---
<strong>The</strong> <strong>Amistad</strong> – <strong>Spring</strong> <strong>2007</strong>FICTIONShe sighs heavily, "Baby, yo' granddaddy was rushed to St. Joseph's last night. He had a heart attackand he just come outta surgery." He paused for a few moments to gain composure even though he was sittingdown."Is he going to be okay, I mean I thought he was healthy?" Brandon began rubbing his own temples.Diane looked at him carefully, his demeanor had changed. She tried to console him, rubbing his back with herhand, at the same time trying to listen. He rose from the bed, pacing the floor with the cordless phone in hishand."Is there anything I can do for you? Do you need me to come down there and help out a little?" Hisgrandmother became quiet for a few moments before finally answering."Baby I don't wanna take ya' from yo' work.""Granny, don't worry about me right now. I will take care of arrangements and I will be down there.You take care of Pop; I'll get myself down there.""Ok baby, let me call that rest of the family to let them know the news and hope to see you soon.""Alright bye. Love ya Granny." He smiled into the phone."Love ya too baby." <strong>The</strong>y hung up and Diane spoke."So what happened? Is everything okay?" Brandon didn't answer immediately. He walked over to themirror, digesting the news that his grandfather was sick. He put his head down."That was my Granny on the phone. She told me that my Pop is in the hospital and he just came out ofsurgery. She wants me to come home and help out for a little while." Diane said immediately.look."I don't know. That could mean trouble at the job, missing a lot of time and all." He gave her a stern"I don't care about that job; this is my family we're talking about." His voice raising an octave, he beganto frown at her, his face showing a look of disgust. She walked over to him and rubbed his back, he put his headback down not paying any attention to her."I'm sorry. I didn't mean that in a negative way. I just want you to think about your livelihood. Howlong do you intend on staying down in Paducah? I mean you have a lot to think about. You just can't up andleave your job and school." He brought his head up to look at her reflection in the mirror, shaking his head ather."You don't get it to you? I don't care about school or work. I wouldn't even be in school if it wasn't formy Pop. Now I don't understand what or how your family is, but when a member needs your help in this type ofway you are supposed to do all things possible to help them. Even if that means taking some time off your work-- 33 --
---
<strong>The</strong> <strong>Amistad</strong> – <strong>Spring</strong> <strong>2007</strong>FICTIONand school to help. I need your support on this, but if its not there, then you can leave and not return to thisapartment."Her face dropped at the bluntness of Brandon's words. Diane sat on the bed, closely paying attention tohis every movement. He didn't look her way. He began to gather items for the shower. She walked over to him,gently touching his shoulder."I'll be here for support whenever you need me. I love you." He goes into the bathroom, slamming thedoor shut.* * *One day later, the soothing sounds of Norah Jones put Brandon's mind at ease as they began the drivefrom Peoria to Paducah. On his passenger side sat Diane, reading an issue of Ebony magazine. <strong>The</strong>y sat insilence for an hour before she speaks."You still mad at me?" She looked at him.ahead."No, if I were then you wouldn't be on this trip with me." He continued to concentrate on the road"So why aren't you talking to me? Is there a problem?" Brandon looked at her again, with an annoyedexpression on his face."Look I'm not trying to be rude but I have a lot on my mind and I don't want to talk. I rather sit anddrive in peace to get some solitude. Once we hit Paducah, I won't get any time for myself. So please drop it. I'mfine. Thanks for being concerned though." He looked into her eyes and he placed his right hand on her knee,rubbing it gently to show comfort in his words. <strong>The</strong>y continued to travel through the rest of Illinois, reached theoutskirts of Kentucky. <strong>The</strong>y continue until they reached the Paducah exit. <strong>The</strong>y continued to drive until theyreached Adams and made a left on 12 th Street. Brandon made the left and he seen the house that he grew up in.It was the second house right from the corner, as well as the biggest house on the block. He smiled gingerly atthe sight where he spent the majority of his life. He parked the car and quickly jumped out of the car, leavingDiane to fend for her belongings.He stood at the gate taking a long look at the place he called home. A two story house with fivebedrooms a huge porch and big backyard. <strong>The</strong> paint on the steps was beginning to deteriorate. <strong>The</strong> blue thatonce was bright now looked washed and pale. <strong>The</strong> screen door needed a new screen and the gate thatsurrounded the house needed to be replaced. <strong>The</strong> 'Palace' as the place was once affectionately called by all thefamily members looked the same besides the little repairs that he thought could be fixed. He started to walkinside the gate when the door swung open. A figure that wasn't visible to Brandon. It spoke."Hey whudda doin' 'round here? You bes' be moving from this property!" <strong>The</strong> thick female Kentuckydrawl stated.-- 34 --
---
<strong>The</strong> <strong>Amistad</strong> – <strong>Spring</strong> <strong>2007</strong>FICTION"Hey it's me. Brandon. Who is that? Is that you Auntie Essie?" At the mention of her name she stepsforwards, opening the screen door as well. She stood on the porch and placed her right hand over her eyebrowsto block the sun from her eyes."Brandon! Is that you? Boy, get on this porch and give me some suga." Brandon walked up and shestepped closer to the edge and they embraced."Boy it's so good to see ya." She smiled broadly showing her toothless gums."It's good to see you too maam." <strong>The</strong>y ended the embrace and she stepped to the side trying to take acloser look at the car."Is that yo' car?" She said."Yes that mines." He looked at the car, noticing that Diane had finally stepped out of the car, waiting tobe introduced. Auntie Essie looked at Diane then looked at Brandon before she spoke again."Well who that girl is standing looking all crazy by yo' car. You know her?" Auntie Essie said pointingdirectly at her. "Tell that girl to get from round yo' car." Brandon was embarrassed by his aunt's antics, but heknew that she thought she was helping the situation."Auntie this is my girlfriend, Diane. Diane this is my Auntie Essie." Brandon brought his hand out,signaling for her to approach the steps. She slowly walked to the porch, Auntie Essie start giving her an evilglare and before she reached the porch Auntie Essie said with disdain."Chile why yo' lips all poking out? Ain't nobody done nothin' to ya! Save yo' greetin' cause I don'twant it. Brandon, do Audrey know ya bring people like this to the house."She turned her body, her back facing Diane; she had officially written Diane off. Brandon knew that thiscould mean trouble for the rest of the visit."Auntie Essie, let me grab my bags and bring them to my old room. Who's in the house, where iseverybody anyway?""Well Audrey is gone to the store to get some food for the house, she wanna cook sumthin' real bigcause a lotta folk come to see Eddie Paul. Yo' momma and Joe is in the kitchen cleaning some greens andchitterlings last time I checked 'fore I comes out here to see ya.""Ok, let me get this stuff and then I'mma go inside to see everybody." With that Essie left them bothoutside, while they retrieved their luggage from the trunk of the car. <strong>The</strong>y entered the house filled with loudlaughter and the smell of greens and smoked ham hocks cooking. Brandon walked straight to the steps, whichled to his old bedroom. Diane followed him close behind; they both dropped their bags in the room. It was thesame way he left it the last time he visited. He didn't spend much time coming home from breaks while incollege so a lot of the stuff that preoccupied the room were items from his high school days. Plaques andribbons hung carefully against the walls from his years in track and field events, his specialty was the 100-- 35 --
---
<strong>The</strong> <strong>Amistad</strong> – <strong>Spring</strong> <strong>2007</strong>FICTIONmeter. His full size bed was adorned with a teddy bear that his Pop bought him when he was three. <strong>The</strong> dresserstill contained some empty cologne bottles that he used when he was in his teens. <strong>The</strong> room looked virtually thesame except the fact that the room was clean.Brandon was fascinated, looking at his old room as if it were a part of a museum exhibit. Dianeinterrupted his thoughts when she nudged him holding the teddy bear that sat on his bed."Is there something you want to tell me? Why do you have this raggedy ass teddy bear on your bed? Isthis yours?" She chuckled at her own joke, Brandon was offended by her comment; he snatched the bear out herhand."Look, my Pop bought me this bear when I was young and it's been something that has stayed with meas a keepsake for the house." Diane could tell that she made him upset."I apologize. I didn't mean to hurt your feelings, I just think it's a little odd for a boy or a man, for thatmatter to have something like a bear on his bed." She sat on the bed looking into his eyes."Look I'm not trying to get into another argument with you. Okay. I'm just trying to visit my Pops." Hewalked over to the bed and placed the bear in the same position it was when they first walked into the room."Hey whaddua doin up there. Boy bring yo' tail down here and give me a hug!" A voice screamed fromdownstairs, Brandon recognized the voice. It was the voice of his mother, Annette. His face brighten up like alittle kid waiting to get some birthday cake. Brandon stated."Here goes. Are you going to be okay? Cause I'm pretty sure that Granny hasn't forgot about you, soplease be aware, just in case she's down here." Diane retorted."Of what? I'll be fine. Trust me I've seen some mean grandmothers in my day. She can't possibly bethat bad.""Well don't say I didn't warn you." <strong>The</strong>y walked out of the room and down the stairs. As the two ofthem walked towards the kitchen, Diane grabbed his hand tightly as he lead the way. As they got closer to theback of the house where the kitchen was located voices increased in volume an argument ensuing about lastweek spades tournament."Hey y'all. Why didn't I get the invite for this here party?" <strong>The</strong>y all smiled at him, around the table satAuntie Essie, Uncle Boogie, Brandon's mother, Annette and his stepfather Joe. <strong>The</strong>y each took turns givinghim big strong hugs not knowing when the next time that they would see him again. His mother was the firstone to notice Diane."And who might you be young lady? Annette said. Diane extended her hand to give her a handshake.Brandon intervened.-- 36 --
---
<strong>The</strong> <strong>Amistad</strong> – <strong>Spring</strong> <strong>2007</strong>FICTION"Hey everybody this is my girlfriend Diane. Diane this is my family, this is Uncle Boogie, my motherAnnette and her husband Joe." <strong>The</strong>y all greeted her with a smile and a handshake with the exception of AuntieEssie, who gave her another evil look, then she spoke."Don't speak to her, she one of dem uppity young Northern girls." Before Brandon could speak inDiane's defense, Uncle Boogie hissed at his sister."Woman shut that noise up you talkin'! You don't even know her like that." Annette and Joe began tolaugh at the older two because they knew another argument can occur within seconds. Instead Essie used herhand and shooed him away as if he was a fly. After a few moments of chit chatter Audrey screamed in thekitchen."Hey one of y'all heathens come help me get this melon in the house." Uncle Boogie eagerly removedhimself from the table, wanting to get the first piece when it was time to be cut. Seconds later Audrey came intothe kitchen and she immediately dropped the two bags that she carried."My baby is home. Come here baby and give me some love. My baby. Ohh I'm so happy!" She walkedover to him as fast as possible but her limp slowed her a little. Brandon and his Granny embraced each other fora long time. He wanted to smell her rosy smelling body spray she'd been using since he could remember. Shepatted his back moved him from her body, smiled at him and brought him back for another hug. She thennoticed another person was in the room and not apart of the family. She nearly pushed Brandon out the way tolook at Diane. She finally spoke."Now I know you ain't brought that heifer from up North here with ya. Tell me that ain't her Brandon."He looked at his Granny; the words that he didn't speak let her know the answer. <strong>The</strong> room became quiet for along thirty seconds until she looked at Diane with disgust."Look here lil' girl. I don't like ya. So don't try and be my friend. My name is Mrs. Stokes to you andkeep yo talk with me short and to the point." She spoke her peace, leaving the rest of the room to pick at herwords. Diane's face was blank, not knowing if she should be mad and angry or hurt and cry."I told ya'll she was uppity." Auntie Essie said matter of factly."Didn't I tell you to hush all that nonsense you be talkin'?" Uncle Boogie said.Diane and Joe continued to sit in the kitchen, while Brandon and Annette went to see about Audrey, whohad left and went to sit in the rarely used living room, which was sealed shut with plastic coverings. As theymade there way to the room she started talking before they even reached her."Look, don't go tryna to convince me otherwise. Brandon I don't know why you brought that storebought girl up here with ya anyhow." Annette jumped in."Momma can you treat that girl better, she's a guest in yo' house." Audrey looked at her daughter andshe used her right hand for leverage when she lifted herself from the couch and she looked directly untilAnnette's eyes.-- 37 --
---
<strong>The</strong> <strong>Amistad</strong> – <strong>Spring</strong> <strong>2007</strong>FICTION"I'm too damned old to be tryna to 'press some folk I don't know. Don't got time or the effort. Keep thatgirl 'way from me!" She glared at the both of them, her face saying exactly what she was feeling. She walkedaway from them heading back into the kitchen. <strong>The</strong>y trailed close behind Audrey, hoping that she didn't sayanything else that could potentially hurt Diane's feelings. As the three of them came back into the kitchen,Uncle Boogie and Aunt Essie were arguing about some useless fact about Kentucky, Joe and Diane were not insight."Where's Joe and Diane?" Annette said."Hope he drove her to the nearest Greyhound station." Audrey stated out loud."Naw her and Joe went to the back porch with some lemonade to talk and stuff." Uncle Boogieconfirmed. Audrey sighed heavily; she turned her back from them and began seasoning the meat that wassupposed to go on the grill. Boogie, Essie and Annette found some cards and they began to play pitty-pat.Boogie being the only boy and the oldest of Audrey and Essie had a knack for cards. He played in some of thelocal tournaments around the city. He always wore a pair of oil stained overalls and a straw hat, yet he didn'tleave the house often. Definitely when he knew he was going to play cards, he always wore the same type ofoutfit.Essie, the youngest of the three, almost blind in her right eye, barely could see two fingers next to her.Her and Boogie always argued with each other, even when they were younger. As the three of them start toplay cards, Brandon walked over to his Granny. He stepped on the side of her and without hesitation, shehanded him some seasoning salt and he began to put some of it on the mounds of chicken that lookedstrategically placed in the silver aluminum pan."What's wrong Granny?" She continued to sauté the ribs at first, ignoring his comment at first beforeshe finally answered."Baby I'm tired and I'm worried 'bout yo' Pop. It just got me thinkin' that all. I don't know what I'm ado without that crazy man." She stopped for a moment, trying to gain composure. She didn't want anyone to seeher breaking down; she felt the need to be the strong one in the family. Her lone tear ran down her cheek but shequickly wiped it away. Brandon looked at his beloved Granny. Since he could think, he never remembered hercrying at all. He stopped for a moment, wiped his hands on the towel that sat closest to him and he rubbed hisGranny's back and he gave her a reassuring hug."Granny, he gon be okay." Brandon's Kentucky drawl seeping out at these last words."I hope so baby. I sure do hope so." She said and continued to season the ribs like nothing hadhappened."So how's Pop anyway?" Brandon inquired."He doing alright I guess. Had his surgery on yesterday. Ya know they had to 'move some of thearteries, somthin' like that the doctor was tellin' me." She shooed her hand trying to dismiss further discussion.Brandon said.-- 38 --
---
<strong>The</strong> <strong>Amistad</strong> – <strong>Spring</strong> <strong>2007</strong>FICTIONwall."What time is it? Can he still have visitors?" She looked at the orange clock that hung on the kitchen"It ain't nothin' but 5:28; you can still check him out. <strong>The</strong>y stop letting us visit 'bout 8." Brandonchecked the clock once more. He decided to go see him that very same day. He kissed Audrey on the cheek."Ma'am if you don't mind I'm a go see Pop right now since I still can. He at St. Joseph?" She shruggedher head in agreement, trying to act unfazed about the situation, the only words she said before he departed thehouse."Don't you dare take that hussy to see Eddie Paul, get his pressure rising up." Brandon smiled at hisGranny, her face scrunched at the mere thought of Diane. Before he left the house, he took all the informationhe needed before going to the hospital. He then stepped on the back porch to check on Diane and Joe, who weredrawn into conversation."Hey Diane, I'm going to see my Pop. Do you need anything before I leave."She stood up and walked closer so that he could only hear her speaking."Will I be okay here by myself?" He smiled for a quick second until he noticed that she was deadserious."Yeah you should be fine, as long as you can take the verbal abuse that Granny may keep throwing yo'way. Matter of fact she doesn't like you very much so she may not speak to you at all.""Well that comforting to hear." She sighed. She gave him a hug and a quick kiss on the lips."Be careful. Are you goin' to be okay." He nodded. With that he nodded at Joe, and stepped back intothe kitchen waved goodbye to the family, Essie, Boogie, and Annette were still being preoccupied with the cardgame and Audrey was beginning to make macaroni and cheese. He headed for the door, into his car towards St.Joseph hospital. As he gets comfortable in the car, he turned the radio station button until he finds the one helooking for, all blues station that Pop used to listen to all the time. Johnnie Taylor song had just come on. Hehums the song, about his last two dollars. <strong>The</strong> hospital was only ten minutes away from the house. He parkedthe car in the designated parking lot for visitors and entered the hospital to look for a nearby information station.He circled around the ground level until he finds one. An elderly man, who looked to be in his late sixties sat inthe chair with a blue uniform shirt, reading a guns magazine when Brandon approached him."Excuse me sir. Where can I find room 346 level B?" <strong>The</strong> man peered from his magazine, looking ratherirritated with someone bothering him."You see that elevator?" he points in the direction of the elevator. "You take that up to the third floormake a left soon as you get off. Walk all the way down that hall until you start seeing the number on the dooryou should find it then but before I let ya go let me give you a pass." Brandon nodded at him before he left."Thanks sir." With that he walked down to the location of the elevator. Pressing the number three on thekey, he watched the doors close. He looked down at his shoes and then at his hands, he realized that he wasshaking. He didn't know how to respond on seeing his Pop in the hospital. <strong>The</strong> elevator stopped at the-- 39 --
---
<strong>The</strong> <strong>Amistad</strong> – <strong>Spring</strong> <strong>2007</strong>FICTIONdesignated floor and he turned left, he walked all the way down the hall exactly how the uniformed officer hadinformed. It didn't take long for him to get to Pop's room. It was right in the corner at the end of the hallway.His hands start to shake again. He had never seen Pop in this type of situation, he was used to Pop being thestrong one. He took three deep breaths, smoothed his clothes out and shook himself. No turning back as heentered the room where Pop's laid.As he pushed the door he could hear a TV playing theme song music. He started walking inside theroom as the door began to creak, he paused for a moment. He walked in the room to see his Pop asleep in thestale looking bed. He walked over to him. He stared at his body for a long time. His color was leaving him, helooked an ashy white, almost ghostlike, and Brandon raised Pop's hand and held it. He let go of it momentarilyto retrieve a chair that sat in the corner of the room. He grabbed his hand again, holding it tenderly hoping thathe didn't start crying. He held his hand for about an hour looking at the same station that was on when firstarrived. He began to fall asleep, letting go of Pop's hand, until he heard a cough, he woke instantly."Pop, you okay." Eddie Paul opened his eyes and turn very slowly to Brandon. He smiled at him and hereached for his hand and Brandon took his. It took some time before he finally could speak; Pop cleared histhroat before he began."It took me to get in here for you to come and visit me." He smiled at his comment but Brandon eyessaddened, he placed his head down."I apologize Pop." Eddie Paul nodded his head."Boy you never did know when someone was kiddin' wit ya'. 'Nough of this talk how u doing boy?"Eddie Paul words were slow forming."I'm doing good. School is going well for me and the job is going fine. <strong>The</strong>y let me have as much timeas possible to come and see you." He looked into his grandfather's eyes, they stared back him, ready for more."And that's it. Ya' ain't got no pretty gal or nothin'. I just know you ain't no sissy poo is ya'?" Brandonlaughed at his Pop's accusations."Naw, I have a girlfriend. Her name is Diane and she's here with me. She's at the house." Pop's facehad a look of concern."Who she there wit? Yo crazy ass Granny and them? Do yo' Granny like her?"No. Don't like her at all. <strong>The</strong>y got into an argument over the phone the morning you came into thehospital, Granny told me she don't like her then, but when she seen her at the house she told her she didn't likeand don't speak to her and all that stuff. Pop it was just a big mess." Eddie Paul smiled at the stubbornness ofhis wife."Well ya' know how she is. Once she got somthin' in her mind it ain't goin' no where." He smiled again,he tried to laugh but he began having a coughing bout.-- 40 --
---
<strong>The</strong> <strong>Amistad</strong> – <strong>Spring</strong> <strong>2007</strong>FICTION"You okay Pop?" he tried to settle into a better position but to no avail. He was uncomfortable."Yeah I'mma be alright. ''Nough bout me, so what's this gal Diane 'bout. She good to ya. Ya loveher?" Brandon gave him a weird look."Why you say that Pop?""You brought that gal all the way down here to Paducah to meet the family and stuff. I'd 'sumed. GuessI 'sumed wrong." When Brandon didn't answer in defense for himself he knew the answer to that question."Listen here Brandon, there gon be a time when you and that gal gon have a sit down and she gon wannaknow if she the main squeeze. You gotta be able to handle situations at any time. Even if ya don't know how tohandle yo' self in a certain event act like ya do. Never fear nobody on this planet but the Lawd. You listenin' tome boy." He nodded at Pop's last statement."Ya know yo Granny always use to tell me that I wasn't listenin to her that was I only hearin'. Listen tome when I tell ya this, cause its gon be a time when you need to lead this family and this here family don't needno wimps." He coughed again, Brandon stood up and when to pat Pop on the back. "I'm fine boy, I'm fine."<strong>The</strong> door creaked open and a nurse popped her head inside."Visiting hours are closed now sir."<strong>The</strong>y looked at each other. Brandon held Pop's hand tightly and a small tear ran down Brandon's face."Stop all that cryin'. Ol' folk like me have to go to the hospital sometime. You always had that sensitivestreak in ya', yo Granny taught ya that I swear she did." Brandon couldn't help but laugh at his comment."Pop, I love you with all my heart.""I love ya too son. Now gon and tell them womenfolk that I'm doing fine and I be outta here in notime." With that Brandon gave him a long hug and then he left the room, and the hospital. He got into the carand turned on the radio another blues song that he was unfamiliar with came on. He left the hospital in goodspirits. On the drive home, he called the house phone to let everyone that he was on his way home. He wasdriving and decided to stop at this local store to get some pecan ice cream. As he got back into the car his cellphone rang the caller I.D. read Home. It was his mother telling him that Pop went into another shock and didn'tpull through. He dropped the ice cream and cried for hours in the car.-- 41 --
---
<strong>The</strong> <strong>Amistad</strong> – <strong>Spring</strong> <strong>2007</strong>FICTION<strong>The</strong> Pace of the HeartAlexia Hogan<strong>The</strong> sirens screamed eerily that night, piercing thick air and letting loose its whining cry throughout thestreets. <strong>The</strong> fire trucks, ambulances, and police cars all rushed to 6 th and Y only to discover that the TulsenHouse, the city's oldest museum had already been burned to the ground. All that was left were fragmentedpieces of the building's 1921 frame. <strong>The</strong> firemen sprayed the remaining embers in vain, hoping to save at leastone un-charred relic. But all hope was lost. <strong>The</strong> fire consumed every square inch of the building, including theelderly security guard who was apparently sleeping on the job. <strong>The</strong> paramedics all "tsk, tsk, tsked" and shooktheir heads in disbelief at the site of the tragedy. <strong>The</strong> channel 8 news crew arrived, preparing coverage of theincident that would be aired the next day nationwide.***When the match ignited, Kaz was settling into her new apartment. Her night was so still it almostseemed dead, as if the morning would never be born again. A recent college graduate from Georgia, Kazanxiously awaited the start of her first job at the famous Tulsen House. She lay in her new bed, staring at theceiling and U-Haul boxes, thinking about the future of her career. Thoughts of one day renovating the place,ushering in contemporary art exhibits, and holding art auctions jumped around in her head. But all that thinkingwas keeping her up and she only had a few hours before the new day would start. She decided to watch a littleTV to hasten the sleep a little bit. As the light of the screen dimly lit the room, an episode of Vh1's"Celebreality" appeared. It took a minute for her eyes to get adjusted to the new lighting arrangement but theysoon relaxed themselves. After chuckling a little bit at the extravagance of the stars, her eyelids spreadthemselves out and she fell into a comatose-like sleep. Kaz never could go to sleep without some type of soundto drown out her thoughts. Even when she was a little girl, she would turn her bathroom faucet on late at nightjust so she wouldn't have to coexist with that weird sphere of quietness that seemed as if it would suck her in ifit persisted too long. Plus, she never liked hearing the sound of her own breathing or the monotony of herheartbeat. It was only the constant "shhhh" sound of the streaming water that could carry her off into a state ofblissful unconsciousness.That night she dreamed. And that was something she hadn't done in two years. She dreamed of walkinginto her bathroom to find that it somehow transformed itself into a large brightly lit dressing room. At twovanities sat two older black women. <strong>The</strong>y were examining their faces closely, trying to figure out how to paintthem. When Kaz sat down at her vanity, she looked at all the different creams, make-up brushes, and colors ofeye shadows. Excited, she impetuously reached for the eye shadow. As she lifted her head to look into themirror, her eyes rolled back into their sockets, exposing only the whites. Realizing she couldn't see, she beganto experience heart palpitations that echoed throughout the room.She awoke to the alarm clock that disguised itself as the heartbeat in her dream. Breathing a sigh ofrelief, she headed for the shower, stopping only to turn on her computer. She showered quickly and proceededto get dressed in her best looking professional outfit: A black pants suit she'd bought from the Banana Republic,high heels, and a teal green scarf. She applied her make-up carefully but quickly, not taking too much time tolook at her face. Remembering her dream from the night before, she laughed at herself for being afraid to lookin the mirror. Although, still, she wouldn't lift her head and meet her own eyes to double check her work. Shechecked her email and read a few celebrity headlines to see who else found it trendy to sport newborns.Somehow, the sight of those little human accessories made her laugh.-- 42 --
---
<strong>The</strong> <strong>Amistad</strong> – <strong>Spring</strong> <strong>2007</strong>FICTIONShe set out on her journey to work with quick, dignified strides. She barely noticed the street lined withrestaurants, beauty shops, and clothing stores which began to flow heavily with "on the go" people like herself.<strong>The</strong>y mostly avoided contact with each other, except to dryly say "excuse me." <strong>The</strong>y looked straight ahead as iftheir necks were locked in that position.Kaz was almost halfway to the museum when a vendor on the corner called out to her. He was wearinga brown polyester suit with mud stained loafers and was standing behind a table full of handmade jewelry,incense, and paintings. "Hey Miss!...with the green scarf!" Kaz turned around sharply and stared at the manannoyed. "How you doin this morning sister?" he said showcasing his snaggle-toothed smile. "Is this mannuts?" Kaz thought to herself. She gave the man a terse "fine" and began walking again. "Can you spare acouple dollars and buy something from me?" he yelled.Kaz walked closer to the man so that he would be speak to her in a softer voice. She hated standing out andpreferred to be discreet about most things."I don't have much money on me today mister," she said."That's ok, I sell my stuff for cheap," the man said with a proud smile."No thank you, I'll pass," she replied"But I made everything myself," the man whined.Knowing the man wouldn't back down until she'd bought something, Kaz sighed and decided to buysomething so the crazy fool would leave her alone. She first spotted a colorful abstract painting of a little blackboy dancing in a field of grass."How much is this?" she asked."Three dollars. I made this one about thirty years ago when my son went to jail for protesting the policedepartment when some of their men attacked his friend for resisting arrest." He said with a deeply pensive lookon his face."Alright." she said emotionlessly, searching her purse for a few bills. As she handed the man the money andstuffed the painting in her purse she walked off with a stolid "take care."As she walked down the street she pulled out the picture to give it a closer look. On the bottom of thepainting she noticed the word "freedom" in small print. She looked carefully at the wild arms and legs of theboy and the picture, wondering how anyone could contort their body in such a manner. At that very moment, agust of wind crept up behind her and knocked the painting out of her hands. It had fallen next to the opening ofan alley. As she bent down to pick it up, she noticed a hooded child sitting with his back against the wall at theend of the alley. Walking closer she noticed that his little chest was heaving and spurts of what sounded likescreams and whines intermeshed flooded out of his tiny 6 yr. old mouth. Sitting there, forehead in hands, helooked exhausted. Kaz walked toward the boy slowing her pace, staring intently at him with her mouth slightlyopened as if she were going to pour out a speech. He looked up at her with blood red, panicked eyes and said,"My brother! My brother! I want my brother!" Stunned and at a loss of words, Kaz wanted to both walk awayfrom the child and hold him close all at once."Shh, shh it's ok honey. Just calm down… we'll find your-"-- 43 --
---
<strong>The</strong> <strong>Amistad</strong> – <strong>Spring</strong> <strong>2007</strong>FICTION"Get him! Get him!""Ok, ok, sweetie you gotta calm down. Where did you last see your brother?""Over there. He still there," he said gasping pointing to the large dumpster at the end of the alley.Kaz didn't know what to think. She looked at the silent dumpster and back at the boy. No one appeared to bethere so she thought it would be a good idea to comfort the boy by showing him that nothing was there. Shefigured poor little boys like him had vivid imaginations."You know what? Why don't you walk down there with me and we'll go get him together," she said stretchingher arm out to the boy's hand."Ok," he said sniffling and wiping a few tears from his cheek."OK." She said smiling with the satisfaction of knowing that she had gotten through to him.As they walked slowly hand and hand, she began to hear a faint high-pitched whining. Looking down atthe boy she saw his little finger rise, pointing to the dumpster. Motioning for the boy to stay quiet and still, shelet go of his timorous hand to peer over the side of the dumpster. Looking down she first spotted heaps of largetrash bags, exposing the fowl contents of diapers, leftovers, and a broken baby stroller. As she gazed at theother corner of the bin her eyes widened and she let out a sharp gasp on seeing the tiny naked body of a bloodstainedbaby boy who was wheezing and crying. She quickly turned away, nearly fainting as she collapsed tothe ground, contents of her purse flying in every direction. Her chest convulsed as she tasted the vomit whichhurled itself up in her mouth. After a few minutes of staring at the yellow splattered on the cement beneath her,she looked up at the now heavily panting boy staring directly into her eyes as if challenging the strength of herown. What the hell am I supposed to do now?, she thought to herself as she stood up quickly and walked to theside of the dumpster closest to where the baby had been placed. Looking at the little half-closed eyes and theheaving chest which was slowly being covered with flies, she for a moment contemplated running; running asfast as she could to the Tulsen House. But no. <strong>The</strong> little thing was speaking to her in a language her ears couldnever comprehend. She climbed into the dumpster, and hurdled wildly over the trash which soaked her shoesand pants. As she loomed over the little life, she took off her green silk scarf and wrapped the baby in it. Shemotioned for the little boy standing next to the dumpster to come closer. Knowing she was taking a dangerousrisk by passing the infant into the arms of a boy who had just barely come out of infancy, she decided it was theonly way the little thing would ever have a chance at life. Carefully, Kaz descended the baby into the tinychild's hands making sure he had a firm grip before she let go. She quickly climbed out of the garbage, feetdripping with muck and motioned for the boy to return the baby to her arms. Just then she saw the boy's necksnap in the other direction as a young girl moaned, "Trey!" He and Kaz froze still as the figure of a youngwoman hobbled around the corner. <strong>The</strong> woman, upon seeing the boy and Kaz, clinched her jaw saying,"Put it back.""I, I, I…" Kaz stuttered, standing speechless and full of fear."What? You stupid or something? I said put the damn thing back!" the girl said with tears beginning to streamdown her face."This baby needs some help…please let me take him to the-,""I don't care!," the woman said with her voice cracking, fighting to hold back tears. Stunned, Kaz realized thatshe was standing face to face with the young woman who no less than a few hours ago had attempted to dispose-- 44 --
---
<strong>The</strong> <strong>Amistad</strong> – <strong>Spring</strong> <strong>2007</strong>FICTIONof her baby. With tears welling in her own eyes, she felt the tiny nickel sized heart pounding above her fingers."Why?" she said softly to herself, not knowing that the girl heard her."Didn't nobody want me to have that thing," the girl said"But he's yours. He's not a thing. He's..alive. He's-""He ain't nobody's no more," she interrrupted."What?" Kaz said exasperated, looking down at the child."<strong>The</strong>re ain't no place for a thing like that here. Ain't no place for a bastard in this city…Just look at me." shesaid as she began to grow weaker, having to hold the wall for support."Now that's, that's not true," Kaz stuttered, not knowing what to say."I ain't like you. Walking around, wearing your designer clothes, making money at a real job, looking at therest of us like we the shit that didn't get flushed in the toilet." She said rolling her eyes at Kaz."Look, you look pretty weak. Let me take you to the hospital.""I ain't goin' to no damn hospital." As she said this the little baby in Kaz's hand shivered and so did she. Sheheard a whimper behind her and noticed that the boy had started a new wave of tears. <strong>The</strong> boy's mothersignaled for him to come closer and he ran, clinging onto her worn leg, burrowing his face deep into her flesh.It was at that moment Kaz felt her flesh crawl. It made her feel as though this was the first time she everrecognized that she had any flesh at all. "Ok," she said reluctantly. "But… I can't leave the baby here…I justcan't..I'm sorry," she said sobbing, wishing she had more time to talk to the girl. As she paced quickly past thenow heavily sobbing young girl and child, she closed her eyes tightly and felt as though she were being tornapart somehow. It was like part of her soul was being extracted from her body. Or perhaps, someone else'ssoul was being crammed into it.She walked frantically down the street and turned quickly down an avenue that would take her to thehospital in less than four blocks. As she dashed through the growing crowd of people, she noticed that no oneseemed to be affected by her panic or her rustled appearance. With their headphones and cell phones and selfabsorptionthey drowned out her hysteria. Her salty tears flowed adamantly down her cheeks like water rushingfrom a broken dam. "If lightning were to strike right in front of them they wouldn't pay attention to it," she saidto herself bitterly. And she was right. <strong>The</strong> people walking this street had been like that for years. Withoutrealizing it, they became hardened to the world they thought they were thriving in. Little did they know, it hadspit them out a long time ago, leaving them to rot slowly in their own squalor.Kaz approached the automatic doors of the ER entrance and immediately unleashed the situation to thewoman at the front desk. "Ma'am, I need help right now! This baby needs medical attention immediately!Please, I need to see a doctor right away! I-""Ok. First things first lady…you're gonna have to calm down so I can register you and your baby to see adoctor."-- 45 --
---
<strong>The</strong> <strong>Amistad</strong> – <strong>Spring</strong> <strong>2007</strong>FICTION"No… it's not my baby… I found him. His mother tried to throw him out and…Look, just please let him see adoctor right now. His breathing is getting worse.""Ma'am, I can't send you or that baby anywhere until I get all your insurance information and paper work in thecompu-""Damn the computer!" Kaz screamed out loud. She felt several eyes move in her direction. She closed her eyes,wiped her forehead with a shaky hand and attempted to regain composure. "I'm sorry," she whispered. "Look,what information do you need and how long do you think it will be before the baby will get treated?" <strong>The</strong>woman leaned up close to the edge of her desk and said "Ms.? You see all these people sitting here withemergencies? You gonna have to wait honey. Now I can't tell you how long it's gonna be but I promise youthe baby will get seen. So just take this clipboard and take a seat and fill out these papers, ok?" Kaz looked ather and sighed with defeat.She took her seat and stroked the faintly crying baby's forehead with her thumb. She propped theclipboard to her side and began writing with as much memory as she could muster since all recollections of heridentity had been lost in the alley. She thought about the child's mother, wishing she knew more about her:where she came from, what school she'd gone to, what type of parents she had. As she sat there with him in herlap, all thoughts of her job and goals seemed to drain out of her mind. While staring into the face of the boy,she'd come to the conclusion that the child had been the most human thing she had come across in a long time.Curled up in her lap, his tiny little features had spoken to her senses and emotions more than anything else everhad.She turned in the clipboard and the doctor called her back soon after. She rose to her feet half excitedand half apprehensive. As she approached the doctor, she barely got a word out before he said "Ok, ma'am youcan hand me the baby." She at first hesitated. She realized the child didn't have a name. She took a quick finalglance at the child and handed over the baby saying, "His name is, umm… Pace. Can I come back there withhim?" she pleaded desperately, stepping closer to the door."I'm sorry ma'am; I can't let anyone come back who isn't a legal guardian.""But he has no family…What's going to happen to him?""He looks like he's going to be ok, so you don't have to worry. Your job is finished. He's under our carenow.""No, I mean, is he going to be taken care of. Is someone going to find him a family? Can I keep in contact withhim?" <strong>The</strong> questions seemed to pour out from every direction as the doctor stared coldly back at her."I'm sorry Miss," he said as the door closed shut in her face. She stood for a moment frozen with pain anddesperation. In that moment, the most real thing she had ever known was sucked away into the abyss of thehospital. She felt her whole body go numb as she stood staring at the black door, streams of tears flowingbitterly. Left with no other choice, she backed away from the door and stared down at the floor. She took a seatin the waiting area and contemplated what to do next.-- 46 --
---
<strong>The</strong> <strong>Amistad</strong> – <strong>Spring</strong> <strong>2007</strong>FICTIONJust then she looked over at the television and learned that the Tulsen House had been destroyed. Shestared at the screen blankly as she felt every remaining ounce of energy drain from her body. It was as if hermind had gone totally blank and she was in a sort of mental limbo. Her whole body began to twitch nervouslyand she couldn't sit still. Her body kept whispering for her to "move" but it was as if she were semi-paralyzed.Ten minutes past before she sprung out of her seat, determined to see her Pace. She approached the front deskand demanded to be taken to the baby. After a few moments of screaming at the receptionist, she was takenback to the child. <strong>The</strong> eyes that darted toward her like bullets didn't seem to catch up to her speed. She ran likea madwoman.As she approached the glass case that held her rare, precious finding, her eyes glazed over with anuncanny brightness and her lips parted in amazement. She touched the glass in the same manner a spectatorwould in an art gallery. She stared at him with all the joy she could muster. After a while she also noticed thereflection of her face in the glass. She felt she was somehow in the incubator with him and breathed along withhis rhythm.-- 47 --
---
<strong>The</strong> <strong>Amistad</strong> – <strong>Spring</strong> <strong>2007</strong>FICTIONBefore the Wings Grow OutShari Inniss-Grant1.<strong>The</strong>re's a year your mother says you're going to die. She's not a mystic but she sees it in the way theday rises around you, sun peeling off your nightgown, skinning you down to your brown brown baby body.This is the year your mother's sinks her fingers into her hair and her body into the kitchen's holes. She isthe eye staring from the corner, holding your whole self in her gaze. She holds you inside her terror; whisperstruths to you.Everything has a story she says, and this one is spinning.'Spinning bigger than we can pull, tying you along the way,' your baby hands slipping through the knotswhen you try. But you keep reaching for the lines that pull her knees into huddles, breaks her voice intowhispers.Always, she is afraid someone will hear.So she keeps you on the kitchen floor beside her till your whole life is routine of up and out to the greywet world of school with its red whorls of danger hanging over you and back to the kitchen pulling themagicless air. 'Your mother is peeling back the past', your Dad says.And some days you two leave her alone to the red tiled floor, your crayons abandoned to its diamondsand swirls, and slip your feet over the moss of the river, into the brown squish of mud, roll your body over thesmooth stones and throw yourself into the sunlight reflected at the clear blue bottom.Breath pushes out of your chest like excitement and you're squealing to the top. Daddy's hands underyour shoulders tossing you to air- blue sky coming to your eyelids, and the the slash of your feet, bottom, bodysinking to the cold wet blue of the river.Your river. Like the kitchen. It's a place you spread yourself out. Only now it's the sky spreading beforeyou, blue and plain to see. Not patterns drifting through the air past your mother and the tiles with their diamondcages, and you feeling them around you like this many fairy vines; cords weaving their way all the way through,frustrating you because you can't pull them down, lines you can't see but can't ignore.And Mummy's at home still catching the pattern without you, rubbing it out of the counter—red spongeand fury fist.Your mama has all kinds of fears that year and that's the frenzy that drives her.Mostly she pours water over you and keeps your body pure. <strong>The</strong>re's a warm steel hurt in her handsclasped tight around yours, not a prayer but triangular all the same. She doesn't look at you as she pushes the2.-- 48 --
---
<strong>The</strong> <strong>Amistad</strong> – <strong>Spring</strong> <strong>2007</strong>FICTIONsoap across your tummy and you miss the tickles she used to make. Bath time, and giggles, and little stories.But now she's 'receding' and the pills on the counter seem to be pushing her further into her intricate world ofsilver lines.You hug her close so you don't lose her. She doesn't go anywhere but sometimes you think she might.You try not to tell your dad about it and your mouth laces with secrets till you can't unpick the truth. Buthonesty itches beneath your skin and breaks through your mouth; there's an anxious bite to your lip right whereno one can see, and all your worried eyes come at night. Your chest is a quake collapsing, and you think yourmother is falling into the hole in her chest too.<strong>The</strong> year after that your mother's pretty okay. Everyone eases into hushed silences that end with theword breakdown and your bones turn brittle, back arched and rigid. Everything safe and warm from last yearturns into steel laced fighting words- every stance is a threat- you're daring the question.You learn to battle this year and you take their words as fouls that you'll peddle around and drive backthrough the net. Still they (the family) watch you with ready eyes and devour your defence. <strong>The</strong>y like every lineyou spill, every move that's jagged from speculation—walking across the gravel car park to your door you putone foot in front of the other, like a robot, and take everything one thing at a time, battling down tears and thedisintegration you feel creeping into your skin.Mummy becomes Mum and she notices barely notices the pulling away. You slip from being the burn ofher supernova world to a brown skinned girl fitting into the scheme of her motherhood; a scheme where anychild would do. It seems like the fall away is natural, but all the fairied lines holding you together have beenproved false.And she insists she imagined it all, when choked words come from her lips.But that was in the beginning when she was all eyes, and lips' small movement, apologies and better.Now you're eight months past the first few weeks and she's fine.Regular.And you're the mold that's broken.You're the one that doesn't fit.You've been bent and rounded by the last year, and you don't know where or when the right pattern willcome. You still try to read the signs like she taught you when she was holding you in her cotton skirts, feet bareagainst the red kitchen tiles. But the world has righted itself, and it's nothing like circles, square or lines that laybeneath before.Her mouth is the one you look to.But she keeps so quiet until everything she says is just like the others.-- 49 --3.
---
<strong>The</strong> <strong>Amistad</strong> – <strong>Spring</strong> <strong>2007</strong>FICTIONJust like normal.Like nothing you're heard before.So even if you go it alone, because her calm that can't be shaken doesn't recognise the war in theirstares, the questioning rise of their sentences like they're never sure—Even if you go it alone, the only promiseyou ask is that maybe you'll fall into the space that's been waiting, that you've been molded for.<strong>The</strong>re's spot on the tiles where you sit and think and wonder and everyone else's cries just fade to blur.You fall insideAnd float.4.It's your aunt that drops the pretence.Out of necessity.When your cousins are caught in the backroom and the secret spreads quiet through the family, she hasto drop her hushed voice to silence. Cover the noise with the stream of water and 'clink' as she puts hot wetdish after hot wet dish into the rack.You slip into your grandmother's kitchen beside her and she doesn't turn. Keeps putting the wringingthe chequered clothe around the glass like a slow strangulation and then the tight release. It's a lounging silenceas you lean against the door watching her; understanding the weight of shared unshared truths. Too close to thethings others don't speak of but know anyway.And though you've known forever that Kerry and Anne play games behind the wooden door, it's thediscovery by clicking heels and large adult feet that matters. By a mouth that will say and does not know how tokeep.So your aunt spills the water out of the cup, and turns it over empty. And waits and waits. Sometimes allyou can do is wait and keep turning, turning, turning till something comes right. Till time rights itself, and thenyou forget and breathe.-- 50 --
---
<strong>The</strong> <strong>Amistad</strong> – <strong>Spring</strong> <strong>2007</strong>FICTIONAffirmationsKatherine LuckIt was her silent affirmations that kept her from going completely insane. She had posted them on thewall of her cubicle, in ornate 24-point Copperplate Gothic font.• Methamphetamines are illegal.• Methamphetamines will not solve my problems.• Methamphetamine dealers make more money each month than I do.• I do not sell methamphetamines.• I deserve a raise.Sheree said that she took her affirmations down whenever her boss was around."Which is exactly never. Condo-renovating jerk."She left them up for the benefit of her clients, however."<strong>The</strong>re's days I find myself buying their line of bullshit, and I want them to see that even if I'mcurrently addled by caffeine and sleep-deprivation and low-paying social service job blues, at one point in thepast I was immune to their tricks."I sat in her cubicle, drinking aged coffee from a gray Styrofoam cup and reading her affirmations. She'dkept me waiting for twenty-five minutes; average for her on a Wednesday at four o'clock."That copier is infested with Satan—with demons from the bowels of hell, and I know who put themthere. That punk-ass intern from the IT department. As revenge for me calling him a locomotive pimple to myco-worker over the phone where he could hear me. Ain't my fault he hasn't learned the beneficial powers ofbenzoyl peroxide. So…" she hefted a waist-high stack of bright yellow files from her chair onto her desk andsat wearily down. "How're you doing?""Oh, you know—""See, the think is, I needed to use the copier today, for real. I need to send damned food stamp renewalapplications to the Tenth Street DV Shelter in frickin' triplicate since moron over there always loses my clients'apps twice before the end of the month deadline. No, I never insulted him out loud where he could hear, beforeyou ask. Not by email, neither." She tapped rapidly on her keyboard, peering at her computer screen. "So,you're doing okay? Job's going well?""That's what I wanted to talk to you abo—""And you know what bothers me the most? Admin won't reimburse me for months if I run my glorifiedass over to Kinko's and use my hard-earned dollars to make copies on my own free time. Once, I made copiesof a client's resume to help her get a job at the Gap, and I didn't see that $7.95 for eight months! I am not evenexaggerating—I kept track."-- 51 --
---
"Actually, Sheree, I was wondering—"<strong>The</strong> <strong>Amistad</strong> – <strong>Spring</strong> <strong>2007</strong>FICTION"You don't suppose I could use the copier at your work real quick?"***"One time, alla us social workers photocopied our faces, and then fashioned, like, masks, see? For AprilFool's? And we each wore another person's face and sat at their desk. Would've been real funny if the bosswould've shown up that day."Sheree was efficient on the copier located in the deserted office of the theatre where I worked. I glancedat the clock over my friend Toby's desk. 5:15. I drummed my fingers nervously against my thigh as Shereeskimmed goldenrod paper through the manual loader."I really appreciate this, Janie. You're a pal and a half.""Oh, well, yeah," I put some aw-shucks into my posture to hide my impatience. I received formaltraining in acting during college, though I had been squandering it as a lowly theatrical researcher postgraduation."Most people these days only help out a sistah if they want something. Most people are always on themake; know what I mean?"I met Sheree's oh-so-innocent eyes over the flaring light of the photocopier. I was the first to blink."All right, I need you to do me a favor, okay?""Cracker always wants something from the black woman—I knew it! She can never bring her rarifiedboo-tocks into my grungy office for coffee and a chat unless ol' Sheree's got something she needs. Well, whatis it? One of your honkey-ass boyfriends on the ice and you want me to be all subtle and assess him and gethim rehab?""No, no, nothing like that. This is a fun thing, actually. See, my friend, Toby, is doing this play—""Oh, Lord, no!""He's doing this play about drugs or drug dealers or something. I didn't quite read it yet. He wanted meto find someone who knows—""Janie-child, no way!""Someone who knows what, um, drugee-types really act like. He wants authenticity.""Aw, come on, Janie! You know I love ya fine, girl, but those artsy-fartsy fruity friends of yours alwaysrub me the wrong way. Can't I just buy you dinner and call it even?"-- 52 --
---
<strong>The</strong> <strong>Amistad</strong> – <strong>Spring</strong> <strong>2007</strong>FICTION"Do you have any money?"***"I gotta have it! Don't you understand? I'm trashed…twenty-four…seven. It's all I have!It's…all…I…AM!"Onstage, Johnson, portrayed by an actor with a depressingly typical resume—Shakespeare summerstock, local musical theatre, voice-overs for the Mattress King on Highway 99—squatted on the floor and beganto itch himself all over. He scanned the audience, which consisted of myself, studious-faced Toby, and eyerollingSheree."You can't save me—no one can save me, Marie!""That's not true! Hold on—hold on to me!"Marie, a too-large-headed actress Toby had met at a Renaissance Faire, ran to Johnson and clutched himdesperately."Good," murmured Toby, hands templed beneath his chin."Jesus, save us," muttered Sheree.When we met two years ago, she'd been muttering exactly the same thing, wearing exactly the samestop-the-world-I-wanna-get-off pinch at the corners of her eyes."Jesus, save us. I'll pay for the damned cat food if it'll get us all outta here this century. I'll write acheck—a good one, even."<strong>The</strong> old lady ahead of us in line at the Buy'n'Save hadn't heard her, but hovering at the end of theconveyor belt with my basketful of single-gal groceries, I had. I let out an inappropriately loud laugh, causingall heads—except the old lady's—to turn my way."It's been a long day," I explained, apologetically.It had been a long day for Sheree, too, it turned out. In the twenty minutes it took the old woman toshakily withdraw all the pennies and dimes from her purse, count them out, change her mind about buying theSalmon Surprise, reconsider and put it back, and hunt for the corresponding coupon in all her pockets, Shereeand I got a lot of getting to know you chit-chat out of the way."Hey, call me sometime and we'll go for coffee," Sheree had proffered a crisp business card bearing thetitle "Social Worker II" surmounted by an official governmental seal. She seemed like such a grown-up withthat dignified business card.I could come up with nothing better than a crumpled program from my theatre's recent production of<strong>The</strong> Vagina Monologues with which to introduce myself and my work.-- 53 --
---
<strong>The</strong> <strong>Amistad</strong> – <strong>Spring</strong> <strong>2007</strong>FICTIONI decided to meet Sheree at her office for coffee that Friday.I had no idea it would prove to be my most humiliating experience on record.***"I finished the song for you, Marie! I finished all of them! Don't leave me!"Young Johnson, tastily sans shirt, gripped his nice round biceps to indicate cold as blue light shimmiedover him to indicate rain. Backstage, a cookie sheet was shaken to indicate the lamest thunder I'd ever heard.Toby's rapt face indicated satisfaction, however."I need you! I need you more than the meth! Time to get real. Time to live. Time to live in the world."Sheree's arms were folded and her head was cocked at an annoyed angle. Her boot was tappity-tappingfast and loud on the floor.Johnson knelt in the presumed rain puddle that was the stage floor and gazed into its depths.love!""I gave up the meth for you! I'm clean—I'll be clean forever! Because of you, Marie—because of your"Okay, nah-uh, no way! I gotta stop y'all right there." Sheree heaved herself to her feet and turned tous, hands on her hips."Unless Johnny Knoxville up there is about to keel over and an ice pipe comes rolling outta his pantsand his gangbanger pals come smoke it up and rob his dead body and roll him into a ditch for the cops to findabout three weeks from now, then there's been absolutely nothing real that you've shown me in the past threedamned hours.""Oh? Pray tell?" Toby affixed a sweety-bitch smile to his lips and twiddled his fingers under his chin.Sheree motivated up to the edge of the stage."You really think Junkie Johnny can just drop the meth like that? Just because he got some girlfriendmotivating him? That's lunacy! It never works that way.""It's the power of love. Ice Dance: Love and Drugs in the Twenty-First Century—""A play in eighty acts, yeah, I've been here the whole time.""A Modern Tragedy," finished Toby, bristling with defensiveness."Well, it ain't reality.""What exactly would you suggest to make it, as you put it, 'reality?'"-- 54 --
---
<strong>The</strong> <strong>Amistad</strong> – <strong>Spring</strong> <strong>2007</strong>FICTIONSheree laughed, hard and brittle. She never usually laughed like that. She rubbed her forehead too hardand exclaimed,"Where exactly should I start?"***Sheree's office was located in the heart of the Mission District downtown. I found myself clutching mypurse tight to my side before I'd even parked the car. Twelve blocks up it was all art galleries and $500,000condos. Abruptly, the milieu had degenerated to burned-out vans and filthy sidewalks littered with dead, orpassed out, bums. I was disoriented and filled with an unconditional desire to flee.<strong>The</strong> front doors to the James Street Community Action Office had plywood where the glass had been.<strong>The</strong> wood was in turn patched over with complex silver webs of duct tape. A stale scent of old paper, like inused bookstores and the back stacks of university libraries, hit me as I entered. This literary smell called tomind term papers, and added a nervous fear that I couldn't recall when Moliere had been born to the alreadypalpable terror I was feeling at the sight of the many scary characters shuffling along the scarred linoleum.A tall front desk loomed, with a plastic shield surmounting it. Half the shield had been knocked out, andfrom the legion of yellowed memos and comic strips taped to its edges, it must have happened years ago.I sidled up, coughing lightly to attract attention. I received formal acting training in college."Excuse me?" I ventured two minutes later, when I realized that most of the people in the crowdedwaiting room were coughing with the impressive vigor of nineteenth century consumptives."Yes, can I help you." <strong>The</strong> hard, diner waitress-looking woman seated behind the front desk statedwithout looking up."Um, hi, I'm here to see Sheree."<strong>The</strong> lady gave me a gimlet glare in reply."Sheree Marshall?" I dug through my purse and hesitantly offered the business card."Is this your first time here?"Yeah," I sighed, laughing in relief. "I don't usually come to this part of town."<strong>The</strong> lady shoved a small cup with a screw-on lid and a stack of pamphlets across the desk.Fill the cup in the bathroom on the right. Leave the specimen on the shelf by the toilet. Do not attemptto adulterate or alter the specimen in any way. After you're done, proceed down the hall to room 342 fororientation.""No, no, you don't understand. I'm here to see Sheree. For coffee."-- 55 --
---
<strong>The</strong> <strong>Amistad</strong> – <strong>Spring</strong> <strong>2007</strong>FICTION"Coffee will be provided at break time at 2:00. No smoking except on the patio.""No, wait, I—"<strong>The</strong> woman flicked a telepathic glance at the beefy security guard a few feet away."If you do not choose to comply, your parole will automatically be revoked, and you will return to jail.Immediately."attack.<strong>The</strong> security guard was armed with a massive canister of pepper spray suitable for halting a grizzly bear<strong>The</strong> front desk lady's hand hovered over the telephone.I hesitantly took the cup as the security guard began to edge my way. I'd seen enough TV to know that Iwas likely to be swarmed by cops and hauled off to jail for a night of misunderstanding and cavity searches ifthe front desk lady were to call them. Surely Sheree would appear any moment to set things straight. I decidedto stall for time. It wouldn't take Sheree more than five, maybe ten minutes, to come looking for me.An hour and forty-five minutes later, I cowered on a cold aluminum folding chair, surrounded by thriftstore stretch pants and sun-ravenged hair skinned back into french braids, whilst a scary man with a crew cutharangued me."We can't help you, Janie, until you admit that you have a problem! Just say it—'I am addicted tometh!' You can do it. 'I am an addict! I need help!' Say it!""But, I really don't use drugs. I swear. This is all a mistake.""A mistake. Well, that's a start, at least. You've made a mistake with your life. How many of us madea mistake that first time we shot up; that first time we smoked or snorted? Raise your hands."All hands shot into the air. I almost put mine up too, due to peer pressure."Come on, Janie! We want to help you regain control of your life.""But…""Non-compliance in our twelve-step program results in immediate revocation of your parole. You don'twant to go back to prison, do you?" <strong>The</strong> man thrust his drill-sergeant face close to mine, eyes glaring deep intomy presumably drug-ravenged soul."Okay, okay, um, I'm sure a big drug-banger. I enjoy smoking the drugs. I'm probably high right now.Um…""Lloyd, for the love of Christ, what're you doing? That's my friend—she's here to see me socially!"-- 56 --
---
<strong>The</strong> <strong>Amistad</strong> – <strong>Spring</strong> <strong>2007</strong>FICTIONSheree stood in the doorway, haloed by flickering greenish fluorescent light like a velvet painting of theVirgin Mary or Elvis."Why didn't you say something, Janie?" Lloyd grouched, as I scurried out of the room. "You sureseemed like you had a problem to me."Sheree bundled me off to the refuge of her cubicle, far from the addicted masses."You gotta tell the front desk that you're a friend of mine when you come here, seriously! Alla myclients say they're here for coffee. You gotta be clear—didn't you give them my card?"For the next year, I would only agree to meet Sheree at the eclectic art house coffee shop twelve blocksfrom her office.***"When you're on meth, you don't care about anything but the meth. <strong>The</strong> meth's your girlfriend. Youdon't eat, you don't sleep, and you don't write touchy-feely Michael Bolton-sounding songs to somehydrocephalic-looking bitch. You clean the bathroom floor with a toothbrush for nine hours coz you can't stop.You pluck out all your arm hairs one by one with tweezers till you're all bald, and then you start plucking theskin away and you bleed all over your nice clean bathroom floor. You get scarred and ruined and you loseeverything you ever loved. You do not get all cute and buff like homeskillet up there!"Sheree pointed a bit too vigorously at Johnson, who was looking all glistening and firmly bare-chestedand baffled."You get skinny and old and sick and you die! It ain't some prettily-tragic love story. You don't loveanything but the drug—not even yourself. Don't you get it?"It had grown very quiet in the theatre. Sheree's voice was bouncing harshly off the empty seats and darkwalls. Her eyes snapped sparks as she held up counting fingers."Methamphetamines are illegal. Methamphetamines will not solve your problemsMethamphetamine dealers make more money each month than I do, and you know what? In spite of that, I donot sell methamphetamines."Her voice echoed to silence.She muttered, almost too low to hear, "I deserve a raise."She lowered her head."Forget it."She didn't glare at Toby, or his handsome drugee, or even me as she stalked out.-- 57 --
---
<strong>The</strong> <strong>Amistad</strong> – <strong>Spring</strong> <strong>2007</strong>FICTIONI don't remember if Sheree had her affirmations posted in her cubicle when she plied me with coffee andtalked me down out of my jittery, addiction-confessing state, that first ill-fated visit I made to her office. WhenI finally dared venture back a year later, they were prominently displayed on bright salmon cardstock rightabove her computer screen, where she would see them dozens of times each day.It never before seemed important whether her affirmations had been there all along, but maybe it wasimportant. Maybe it was the most important thing about my friend."Are you okay?" I trailed Sheree out the stage door into the crisp night."Yeah, yeah. Just tired and stressed out. Whatever, you know."Sheree was shaky. Sheree was never shaky. She was always steady; always smooth.She was shuffling about. Moving her feet, rummaging in her purse, adjusting her bra straps. Gradually,eventually, she became still."See, the worst thing is when you start getting a messiah complex," she said finally. She tipped her headback and stared up into the bare yellow bulb which hung like a harvest moon over the stage door."It's better if you burn out and stop caring. When you care—when you actually believe that withoutyou, your clients will all OD and die alone in the streets, well…"She let out a ragged laugh."Aw hell. It's just another line of bullshit they feed you."Sheree jingled the change in her coat pocket and bit her lip.She met my eyes, hard."Isn't it?"-- 58 --
---
<strong>The</strong> <strong>Amistad</strong> – <strong>Spring</strong> <strong>2007</strong>FICTIONPoliticized CompassionKenya Mitchell"Feet. All I can see is feet. Stepping on the train, stepping off stepping on stepping off stop STOPSTEPPING ON ME! YOU CAN'T WALK ALL OVER ME!""Stop staring at her, baby. If you look too long, they try to talk to you."I jes feel sorry for her. She need some help. Where her people at?""She's one of them throw away people.""What?""You know how white people are. If you don't fit into the sears family portrait, they get rid of you.That's that white people shit.""How can you say that, man? I seen black people on the street before.""Yeah, but they strung out, or drunk, tryin to be badass. <strong>The</strong>y people lookin for them, but just can't find'em. See this lady? She crazy. How many crazy black folk you see on the street? Or Spanish? Or Asian? Wedon't let our crazies out of our sight. <strong>The</strong>y helpless. White people just don't want to be bothered. Kinda likethey put they parents in the old folks home and forget them. She might INTERRUPT THEIR LIFESTYLE.""Ha! HA! Where'd you get that funny voice from? You sounded just like a telemarketer.""Richard Prior records. C'mon. Here's our train."<strong>The</strong> silvery streak called <strong>The</strong> A Train screeches by, stirring up dust clouds as if it were a rocket to themoon. It's only going to end up in the project burdened Rockaways. In the dark subway station there is no wayto tell if it is day or night. <strong>The</strong> digital clock, smashed by bored teenagers, beams neon red hieroglyphs, wastingoil fed electricity. On the stairwell that leads to Times Square an aged woman, propped up by a grocery bag ofmeticulously selected garbage, babbles a monologue that can barely be heard for the roar of progress."I helped you when you were down I let you stay in my place you got me kicked out of my own place Ipaid the deposit you must have bribed them my own sister my own sister, stealing my home behind my backthere's tenant laws! how could the judge ignore them? Must have been bribed I know the law I was a brokernow I'm broken I was a broker now I'm broken I made a ton in real estate, one of the best realtors in the rushInterest rates balloon mortgages scheming Jews outsourcing bombings fuel cost stock crashes emigrants fuckingvampires you drained me! <strong>The</strong>re was panic panning for gold if I could sell the street I'd be rich. I'd give them adeal I could let it go for $45 a square foot, $200,000 a city block, not that it's even worth that much anymoreexcept to the break dancers, street to dance on break your back on He pushed me down the stairs! Oh, God!Somebody please help! I can't I can't work. What happened to all I had? Built on false wealth, false, creditloans, my bones… My back hurts, my back, help please…"-- 59 --
---
<strong>The</strong> <strong>Amistad</strong> – <strong>Spring</strong> <strong>2007</strong>FICTION"Did she just say somebody pushed her down the stairs?" A young woman lets go of her companion'shand, and crinkles her perfectly plucked eyebrows as she eyed the aged woman.Tucking a stray wisp of dirty blonde hair behind her ear, she turns to her companion and says, "LookDrew, that lady has a sign that says she hurt her back when her ex husband pushed her down the stairs. I thinkwe ought to help her.""Oh, she's just making that up to make you feel bad. Listen to her, Suzanne. She's rhyming. It's an act.See that cup? It's for money. Mark told me there's this group that pretends to be homeless to get money, whenactually they're doing pretty good. That's why they all have the exact same kind of signs made of cardboardand written on with black makers. <strong>The</strong>y're an underground union! It's a ploy.""Yeah, that makes total sense. I guess they have to distinguish themselves as more pathetic than thehomeless people who get their signs printed at Kinko's.""Don't start pulling that sensitive Jane Fonda shit with me.""That lady isn't pulling in a mil doing that, you know. If she has to go so far as to act crazy to get moneythen she must be pretty desperate. Anyway, I don't know why you're so down on Jane Fonda. She's a modernday heroine! One of the few wealthy people in her day that stood up for the underprivileged.""Jane stood up on the balcony of her mansion, ok? Listen, the night just started. I don't feel like ruiningit by talking about people who aren't contributing much to society.""Just because you volunteered to wear a silk noose doesn't give you the right to judge other people.""Don't start with my job again Suzanne. You always want me to quit after we go to the wine bar, neverbefore we drink the Riesling. If you want me to work for a more charitable company, like you always say, findme one that's going to at least match my salary and benefits. Until then, I don't want to hear about it! Listen,why are we standing in this underground pit? I think the atmosphere is making us cranky. Let's take a cab tothe club.""That sounds like a good idea. I love to see the night lights from the FDR. Put a dollar in her cup forme, sweetie.""Here, Susanne. You do it."Tottering on her black, patent leather stiletto heels, Suzanne makes her way to the decrepit woman. Sheleans in to place the dollar in the paper cup, but the old woman grabs her arm with preternatural energy,gasping,"Suzy, it's me Aunt Diane? Remember me? I lived at three seventeen east Ninth Street, number four.You used to come visit when you were a teenager and we planted bulbs in the community garden together.Don't you remember? It wasn't that long ago."-- 60 --
---
<strong>The</strong> <strong>Amistad</strong> – <strong>Spring</strong> <strong>2007</strong>FICTION<strong>The</strong> time Diane speaks of is over a decade ago. It only takes ten years for a young girl to morph into acorporate executive. It takes less time than that for a garden to turn into glass walled condos.Susanne's eyes widen, then go blank."Isn't that our address?" Drew asks hesitantly."B- be quiet Drew," Susanne stammers. "Don't give this lady any ideas." Susanne turned to Diane,"You're not my aunt, can't be. Mom told me Aunt Dee died in a car wreck in England. That's how Mom gotthe apartment. <strong>The</strong>n gave it to me when I was in college because it was so close to the school." Susanne jerksher wrist out of Diane's grasp. "You can't be her. Just can't. Nobody in my family is crazy. Nobody in myfamily lives in the street." Susanne turns to Drew with a frozen smile and says,"She must have seen the address on your driver license when you took the money out.""But isn't that too much of a co—"Susanne violently shakes her head. "No! She's just crazy like you said. She's probably seen us before orsomething." Susanne turns to Diane, pressing the dollar into Diane's palm."Here, this is all I can do."With that, Susanne rushed up the stairs, to the comfort of the winter air and the lights of New Babylonia,Drew trailing behind her.-- 61 --
---
<strong>The</strong> <strong>Amistad</strong> – <strong>Spring</strong> <strong>2007</strong>FICTIONfour- a statement on the struggle of man to find his place in the modern worldErik Powell Jr.i. <strong>The</strong> Piano PlayerHe tasted his coffee and smiled. "So, Max, how is the list coming along?""It's coming along.""I sense that you are not satisfied with your progress. Not enough to work with?""<strong>The</strong>re aren't so many of them in this area. That I know of.""<strong>The</strong>y are always around. In every town. <strong>The</strong>re are plenty in this area as well. Probably some right herein the room. You should open your eyes, Max. <strong>The</strong>re are agents all over town and the reports they give me arequite telling. Have you seen the numbers? ""Not recently.""We are making real progress in routing out perversion. <strong>The</strong> arrests are numbering the in the thousands.""Perhaps the increase in arrests is explained by—""<strong>The</strong> Rohm scandal was a unique situation, Max. What an antiquated theory! I would suggest you bemore creative in your thinking. Our methods are state of the art. <strong>The</strong> envy of the world, in fact. Most of the timea man will confess his deviance at the mention of the machines, simply so he doesn't have to try one.""Surely. But I can't help but wonder if—""Max, sometimes I worry about you. We are not to question directives of the Reich, however outdatedor bureaucratic they might be. You know that. It is our job as agents to do our duty to Germany. For ourchildren. Or at least, for the children of others.""I do love the music here. <strong>The</strong> next best thing to cabaret." He sips his coffee. <strong>The</strong> piano player beginsanother tune. His face nearly drops into his cup."What's the matter?""Do you know what he's playing, Max?""What's he playing?""Kurnst."-- 62 --
---
<strong>The</strong> <strong>Amistad</strong> – <strong>Spring</strong> <strong>2007</strong>FICTION"Imagine that.""Are you not surprised? Are you not appalled? Perhaps we should inform our friend that Kurnst is nolonger played. He wouldn't be playing that if we were in uniform.""Kurnst," I said. "I do regret the loss of such a great composer. I was on holiday in Monte Carlo when Iheard the news. A talented man.""<strong>The</strong> man was an enemy of the Reich, Max. You shouldn't—""He was a friend. We grew up together.""We weren't exactly strangers ourselves. I knew… of him. Most people did. His family was quiteaccomplished. But don't cry for him. Childhood has a way of…making people sentimental. We are adults now.And besides, the man was a lunatic. He tried to turn Dachau into a cabaret. Was writing plays instead ofworking, and making wigs from his bedding. Even a couple of prison guards were, shall we say, demoted, afteraccepting parts in his ridiculous spectacles.""Life still goes on in the camps. I hear many Jews still practice their religion there.""I will not hear it. Our camps are places of respect and diligence. For some people it's the only homethey'll ever have. <strong>The</strong>y're not for thespians and lunatics." He sips his coffee. "And you should always besuspicious of actors. Most of them pursue acting because they enjoy hiding behind the veil that art provides. It'ssupposed to be make believe. But you sense that they really do enjoy dressing up like women."He put his coffee down and leaned inward. "Now, back to the list. I think you should begin with thepiano player. I have my reasons for thinking he is one of them.""Perhaps it's simply our earlier conversation.""It has nothing to do with the parted hair, or tightly fitting collar, though neither are faulty indicators.But the choice in music gives him away. Kurnst is illegal! We must look into that. Make this café a regular stop.See what he is playing the next time you come in.""I will do my best to… investigate.""Where did he go?""Who?""<strong>The</strong> piano player. He's gone!""<strong>The</strong> song ended.""His exit was quite abrupt."-- 63 --
---
<strong>The</strong> <strong>Amistad</strong> – <strong>Spring</strong> <strong>2007</strong>FICTION"Perhaps our conversation scared him away.""I suppose he's freshening his makeup backstage."We pick up our coats and walk to the door."Enjoy your job, Max. Few men from our walk of life have the privilege of using their true talents forthe Fatherland. You have the opportunity to exceed expectations."<strong>The</strong> piano player greets us at the door with two armed guards."Max, what is going on here! Get your hands off me!""It looks like the list is coming along quite well. And getting shorter by the day."He kicks and curses as he is led away by the guards and into a waiting car.I turn to the piano player. "Excellent idea, my friend. Play Kurnst often, and play him loud. At this ratewe'll have this valley ridden of queers by springtime. Good day, my friend."I tip my hat and go on my way.ii. DEAR JOANThis is what I could never stand about him. While playing cards on a Tuesday night."Joan Crawford appeared in how many films?""Oh God.""Seventy-six."He peered out at me between his fingers. His cigarette seemed to draw something close to the shape of aquestion mark."I don't get this thing with you and Joan Crawford. In fact, it's beginning to weird me out a little bit."He looks at me with his jaw set in such a way that makes me think he is about to say something, andslowly draws his hand into a formidable gesture. <strong>The</strong> way a college professor holds his hand when he is makinga point. Perhaps to illustrate the difference between two things."That tie is beginning to wear me out a bit."-- 64 --
---
<strong>The</strong> <strong>Amistad</strong> – <strong>Spring</strong> <strong>2007</strong>FICTION"Silly is not the word for describing what our conversations have become. You can't have anyconversation that doesn't involve some big-shouldered broad from the forties." I take the tie off. "It's like goingthrough your Bette Davis stage all over again. Just worse.""Don't do it! You always bring Bette into it! Joan, Bette, Ingrid, Marilyn—they've all been a very bigpart of my life! As least I have a life—not just sitting behind a desk all day masturbating.""My masturbating pays the bills.""You have no interests and no imagination! I do. I am art!""Yes. Art without a job."He throws down his playing cards and gets up to leave. A two of hearts, three of spades, seven ofdiamonds. Nothing.I walk into the bedroom and open the drawer of the bedside table. Take out my pistol and walk back intothe living room. Now he's standing by the piano with his hips curved, taking a long, glamorous draw on hiscigarette.I walk up to him and point the gun dead in his face.He laughs, with genuine contempt. A real laugh, a laugh you believe in when you hear it, with his headback and Adam's apple bobbing, his cigarette hand staying steady. Doesn't lose an ash."So you're going to kill me? We've played this scene before. No paper would ever publish it. Even theletters in the headline wouldn't believe what they're saying. You're too much of a failure to accomplishanything quite as important killing me.""What's that from? <strong>The</strong> Damned Don't Cry?""Knock it off. Can we move the gun a little further away. It's making me cross-eyed." Pushes the end ofthe gun away."Joan Crawford kills her lover in how many of her films?""You got me.""All of 'em!"I fire once into his forehead. He hits the piano keys with a thud. "That's for Dancing Lady."I fire a second time. His flailing hand smears blood across the black and white keys."That's for Humoresque."-- 65 --
---
<strong>The</strong> <strong>Amistad</strong> – <strong>Spring</strong> <strong>2007</strong>FICTION"That's for Mildred Pierce.""That's for Flamingo Road.""That's for Torch Song.""That's for Baby Jane.""That's for Trog."He's gone. Long gone. Tiny trails of smoke rise from his bullet-burned pajamas. <strong>The</strong> cigarette liessmoldering into the carpet."And that's—for Mommie Dearest."iii. SentimentoHe was a member of the church choir at St. Stephen's. But he also sang solos, at least one every Sundaymorning. He was blind, and a phenomenally talented singer. One of the priests usually helped him to the stagefrom the choir loft. And the voice. Oh the voice.<strong>The</strong> first time I heard him sing was one Sunday this past August, over three months ago now. Followingthe Presentation of the Gifts he sang a song called "Every Valley."He stood with his eyes closed and his hands by his side.Every valley shall be exalted and every hill made low/And all God's people shall see together the glory of the LordI sat in the pew near the back of the church. My heart had been heavy for some time. Tears spilled downmy cheeks.Week after week I returned to the church, and every week he sang. Every time he sang, I cried. I knewmy tears appeared to other churchgoers as tears of Christian compassion, for the homeless, for those in war-torncountries, for children in the city who would be hungry next week at Thanksgiving. But I cried for his voice, hisfaith.One Sunday evening in September, I saw him in the subway with Millie, the Lassie look-a-like whowent everywhere with him. I saw him struggling to find the open door of the subway. I offered my assistance tohim and helped him find a seat on the train.-- 66 --
---
<strong>The</strong> <strong>Amistad</strong> – <strong>Spring</strong> <strong>2007</strong>FICTIONI complemented him on his excellent solo that morning."Thank you," he said with a light Spanish accent. "<strong>The</strong> notes are very difficult to hit. I'm glad I didn't—what is the word—fuck it up?"We both laughed hysterically."I hope you're not offended. In Spain we say that a lot, and it doesn't mean anything.""No, I'm not offended at all.""Will you let me know when we reach 86 th street? I have to stop there.""Sure. Is that where you live?""It is.""How long have you been in New York?""I came here from Spain as a university student six years ago. And just never left. I love it here. I lovemy home, my friends. And Millie knows the city well. She is my eyes, so I depend on her. And what do you doin New York?""I'm a writer.""I see. And what kind of writing? Novels, journalism?""Short stories.""So you get your ideas fast and like to get them out quick.""What is your longest story?""Twelve pages.""Wow. Really short.""You bet. Hey, this is your stop. Let's get you ready to go."I helped him up and kept him steady until the train came to a stop. He assured me he did this every dayby himself, just he and Millie. But I insisted I help him get home. It was late November and at this time of yearthe New York sun disappears just after four in the afternoon. I wasn't about to let him walk home in the dark.He told me his address at 86 th and Columbus and I helped him up the steps of the exquisite littlebrownstone. He had been holding my arm since we'd left the subway.-- 67 --
---
<strong>The</strong> <strong>Amistad</strong> – <strong>Spring</strong> <strong>2007</strong>FICTION"So you live alone?""Yes. Just me and Millie. But we get along. Thank you for your kindness. May I say that I hope to seeyou again sometime?"We laughed."Good night."<strong>The</strong> weeks went on and Gabriel and I saw each other more and more, as friends only initially. I made asurprise visit to him Thanksgiving night because I knew he would probably have no other visitors. I was right.He and Millie were spending the holiday alone in the dark. <strong>The</strong>y were glad to see me, and I hope I brightenedtheir lonely holiday.Soon, we were meeting every Friday night for a meal and conversation. I enjoyed his companionshipimmensely. He and I sang together quietly as we walked the streets, the same songs, and in harmony. He knewall the great composers and their pieces. But very little about popular songs."No Beatles? No Bowie? Nobody?" I chided him as we walked hand in hand through Central Park oneFriday evening."I know the chorus from 'People.'""Well, sing it.""Okay, but you sing with me. I'll start…. 'People'…"People who need people/Are the luckiest people/In the world/We're children/Needing other children/I knew he'd get lost here. "Okay, enough of that one. It gets difficult from there.""I like the way you sing," he said. "You didn't tell me you could sing.""I don't really sing. I hum. I drive people crazy with my humming habit. Did you study voice?"He laughed. "No. Everyone asks me that. I used to sing with my mother. She was a seamstress. Shewould sing while she sewed. I sat at her feet all day long helping her with her work. I guess that's how Ilearned."-- 68 --
---
"She sang only religious music?""It's all that was allowed in our home."<strong>The</strong> <strong>Amistad</strong> – <strong>Spring</strong> <strong>2007</strong>FICTIONI took Millie's leash from him and drew him close to me as we walked. His hair was black and wispyand smelled of oranges. I breathed him in. His scent flooded my imagination with images of dark little childrenwith black hair and eyes, of water-thirsty olive groves and the Mediterranean on fire.<strong>The</strong> following Sunday morning he sang a beautiful song for the Second Sunday of Advent. He looked sogood up there in his black suit. Stylish, not clumsy, a dark-haired angel, as he led the congregation in song.Our eyes have longed to see your loving face/ to live within your courts for all our daysBeyond the moon and stars/ as deep as night/ so great our hunger, Lord/ to see your light<strong>The</strong> sparrow finds her home beneath her wing/ so may we come to rest where angels singAfterward I accompanied him home. We decided to order Chinese food. I helped him get out of his suit,piece by piece. First the tie. <strong>The</strong>n the jacket. <strong>The</strong>n the shirt. <strong>The</strong> belt. <strong>The</strong> pants. He stood there with nothing on,such a clean and faultless creature. Our faces met. Our hands and lips and bodies touched. We fell onto his bedand lay there, in the disarray of his bedroom, half-ecstatic, half-asleep. I pulled him close to me and huggedhim. Tight.Later on we were sitting sat in the floor, laughing and talking about all the things I'd dreamed I'd laughabout with the person I loved. We sipped wine and listened to his vast collection of records. Gabriel had nevermade the upgrade to CDs. His records were all tattered and stained from having been listened to for years. Butthey still sounded great. Verdi, Domingo, Callas. <strong>The</strong> great voices.I pulled him close to me and lay there in the floor with the stereo booming above us. Millie rested herhead on my foot."I like having you around," he said."You're sweet."I got up and put my half-empty glass of wine on the bar.He felt his way to me and put his arms around me. "So do you feel the same about me?""You are beautiful.""Does that mean…?"-- 69 --
---
<strong>The</strong> <strong>Amistad</strong> – <strong>Spring</strong> <strong>2007</strong>FICTIONI knew this conversation would happen eventually, just not so soon. "Listen, Gabriel. I think you areamazing. I love your spirit, and your talent. You are a pleasure to be around. But I don't think I could ever bewith you. I am far too independent. I don't need anyone."I put on my shoes and went to the door. He followed me with his hand on my back."I thought we had something. You made it sound as though…""I think you thought we had something. I don't keep people around very long. Just enough to write aboutthem. That's it.""We could be good for each other. We need each other."I laughed. "To put it into song, I guess I'm not one of those people who needs people. And I don't thinkthey're the luckiest people in the world.""<strong>The</strong>re was nothing you liked about me other than my singing.""Well, you are nice looking. Great Mediterranean features. And I like the fact that you're blind."His mouth quivered. He bit his lip. "So I guess I'll be a character in your next short story.""Probably.""How long do you think this story will be?""Five pages."I kissed him on the cheek and left him crying at the door, then went down to the corner to wait for a cab.iv. <strong>The</strong> Speakerphone"Yes, I'm here to see Ms. Geneva Winston. I have a job interview."An all too thin receptionist dressed in black picked up the phone and dialed a few buttons. "What's yourname?""Michael Wilson.""A Mr. Wilson here to see Geneva." She hung up the phone. "Have a seat."A couple of moments later I was greeted by another thin young woman in black. "Good afternoon.You're here for an interview? Follow me." She never extended her hand or demonstrated even the most basiclevel of warmth.-- 70 --
---
<strong>The</strong> <strong>Amistad</strong> – <strong>Spring</strong> <strong>2007</strong>FICTIONI stood outside a glass-walled office for a few moments until greeted by a tall, strikingly mannishwoman wearing almost a man's suit. She extended her hand and smiled minimally. She never directly saidanything to me, but simply moved her head in such a way that I understood she was asking me to follow her toher office.I declined her assistant's offer for water and sat down in front of her desk. She remained silent and puton her glasses. <strong>The</strong> woman had style. Cold, cutting style. And she knew it. For two solid minutes she simplystared my resume up and down, then finally looked up at me."I hate those glasses," she said.For a moment I simply had no idea how to respond. I stared in silence at her for what seemed to beforever."Oh. I see.""I'm sorry.""I know Mr. Ramon won't either." She looked my resume over again."I apologize, Ms. Winston.""Call me, Geneva," she corrected. "Women don't need to be reminded they're different from men.""Certainly, Geneva.""So, let's start with your name. Is it pronounced Mikhail or Michel?""Michael.""I go by Mike.""Well, in that case you'll be lucky if you're hired here. Renuwul prides itself on its diversity. You willnotice many women and people of color here, as well as many different creeds, religions and lifestyles. I rarelyever hire people whose names I can pronounce.""I understand."She takes her glasses off. I wish I could take mine off too, given her comments. Unfortunately thenearsighted are rarely accompanied by the glamorous put-em-on take-em-off hand motions of the fashionablyfarsighted."Let's make this interview short. I always prefer it that way. <strong>The</strong>re's no doubt, Mike, that yourcredentials are impressive. That's why I called you here in the first place. Renuwul is a company whose-- 71 --
---
<strong>The</strong> <strong>Amistad</strong> – <strong>Spring</strong> <strong>2007</strong>FICTIONmouthwash is envied by consumers and companies all over the world, or at least by those whose populationscare about dental health. It would be your job, as our new Mouthwash Development and Care Administrator, toreach out to those cultures where our product is not yet being used. Africa, the former Soviet Union and any ofthose Muslim countries. <strong>The</strong>y all need to be civilized. Who better to do it than Renuwal.""Yes, great point.""Don't interrupt. I'm not finished."I nod."We know your name and we have your resume. Good afternoon."At that, the assistant re-appears at lightning speed. Geneva turns her broad-backed swivel chair aroundso that I no longer see her."Follow me. I'll show you out."I got the job.My first day at work, Geneva buzzes me."Mike, you have not yet met Mr. Ramon. Please meet me in the hallway."I leave my desk and walk up a flight of dimly lit stairs to the private office of Mr. Ramon. Genevabuzzes the door. A female voice from inside calls, "Yes?""It's me, Matilda."<strong>The</strong> door opened. An older woman sits by an old man in a wheel chair. He is wearing a pinstripedBurberry suit and does not look our way. He makes a strange noise as he breathes. An oxygen tank standsbesides him. I make eye contact with Matilda and nod politely. She does not speak or make any expression."Good morning, Mr. Ramon," Geneva calls. <strong>The</strong> old man does not answer or look at us. She whispers."Mr. Ramon is on oxygen now. He bought the company in 1941 as a young man and has done quite well forhimself. His sense of style is imitated everywhere. <strong>The</strong> wheels on his wheelchair are gold-plated, you see. Hisdesk is mahogany. Everyone loves his taste in art, living and luxury. Matilda has been his assistant for twentyyears.""Impressive."For what seemed like hours, we just stood there and watched the old man breathe, the only sound in theroom the gasping sound coming from his clogged throat.-- 72 --
---
<strong>The</strong> <strong>Amistad</strong> – <strong>Spring</strong> <strong>2007</strong>FICTION<strong>The</strong> following Monday morning, I made my presentation on dental health in Africa."So, the point I hope you've taken today is that Renuwul has ample opportunity to seize on the poorstate of dental health on the African continent. We could be the first company to make an important healthcontribution to a region of the world that badly needs it. Thank you, and I'll take any questions you mighthave."I look about the room. Twelve people seated at a rectangular table. Most had confused or ambivalentexpressions. Tense looks, neighborhoods of gabled hands."Thank you, Mike," said Geneva, who sat at the end of the gargantuan table. She leaned in to thespeakerphone. "Mr. Ramon, do you have any response to Mr. Wilson's presentation?"A long silence.<strong>The</strong>n a tonal, piercing "AAGHHHHHHHHHHHHGGGGGGGGGHHHHHHH!!!!!!!!!AHHHHGGGGGGGGGHHAHAHAHAH!" came blaring through the speakerphone.Everyone sat quietly while Geneva resumed control of the conversation. "Matilda, I believe Mr. Ramonis expressing disagreement.""He's expressing disagreement," Matilda confirms from the speaker."Oh my. Thank you, Mr. Ramon, for your comments." She turns to me. "Thank you for yourpresentation, Mr. Wilson."At this point, all heads seemed to turn to one person in particular, a young guy, dressed to the nines, withshort-cropped blonde hair and a stern, greedy chin.<strong>The</strong> Nephew.you.""I can tell you all that my uncle would not be interested in hearing any more about this project. ThankI feel my head pounding. I'm sure my face was red with embarrassment. I had fumbled a majorassignment my first week on the job."Moving on to other business now," Geneva continues, "we have a presentation by Xavier on an issue that isimportant to Mr. Ramon, and to all of us. Our new branding and advertisement campaign for the new year.""Thank you, Geneva," young, aristocratic Xavier begins. "Mr. Ramon personally asked me to take onthis project. I have in this box an item that is going to change the face of dental hygiene marketing. I want tothank everybody who had a part in this, who spent so many hours and days and weeks and months helping me-- 73 --
---
<strong>The</strong> <strong>Amistad</strong> – <strong>Spring</strong> <strong>2007</strong>FICTIONmake this idea a reality. This item is going to be included in our holiday bags, and will be the visual symbol ofRenuwul for the year to come. Watch this. You all are going be amazed."<strong>The</strong> room sat silent with anticipation as Xavier opened a small velvet-covered box. He took from it aplastic mouthpiece with red gums and white teeth. He wound up the piece and set it down. <strong>The</strong> entire officegasped in amazement as the chattering teeth wound its way across the table. Inside the toy a small recordingdevice played "Buy Renuwul, Buy Renuwul" over and over again in a robotic voice.<strong>The</strong> teeth soon came to a stop and Xavier's smile was as big as the teeth of the toy itself."Well done!" Geneva exclaimed, as the others broke into applause."Uncle Johnny, you're not to here so see this," <strong>The</strong> Nephew said into the speakerphone, "but if youwere, your teeth would fall out! This is a brilliant idea. <strong>The</strong>re is no telling where this will take us!""He's moving his right hand and his tongue is hanging out of his mouth," comes Matilda's voice on thespeaker. "That means he likes what he's hearing."<strong>The</strong> room continued to drool over this piece of business brilliance, while I asked to be excused to go tothe restroom.Geneva on my speakerphone. "Mr. Wilson, please see me in my office."I walk into her office and sit down."Mr. Wilson, I did not call you in here to criticize your presentation this morning, though it was a bitover the top. <strong>The</strong> reason you are here has to do with your choices in wardrobe. I don't like the way you'redressed today. In fact, I'm concerned that your style in general may be inappropriate for this office.""Oh, you mean the shoes? Too casual?""<strong>The</strong> shoes are hideous, but today I'm talking about your tie. It's pink, Mr. Wilson. Our clients will notunderstand.""Pink is a color men wear these days. And I mean, even men who aren't… you know…"men.""I am not here to discuss such things. I simply want to let you know that at Renuwul, men dress like"I appreciate the information. But in all due respect, Geneva, you're wearing a very manly suit today.<strong>The</strong> first time I met you, you were wearing a suit and tie.""That's equality, Mr. Wilson. Do I sense in you a prejudice against women?"-- 74 --
---
<strong>The</strong> <strong>Amistad</strong> – <strong>Spring</strong> <strong>2007</strong>FICTION"Only a prejudice against inequality.""I would hope. Sexism is detrimental to one's career at Renuwul.""I'm not sexist. Just fair.""Women dress like men because they have to. It's the only way we can make it in your world. Mencannot expect to receive the same treatment.""That isn't fair.""That's the way it's going to be as long as you work here. <strong>The</strong> look is the most powerful tool ofmodernity, Mr. Wilson. Take Mr. Ramon, for example. His sense of style is imitated everywhere. <strong>The</strong> wheelson his wheelchair are gold-plated, you see. His desk is mahogany. Everyone loves his taste in art, living andluxury. So no more scarves indoors, no more berets. This is not France. And no more pink ties. You are to looktraditional and professional at all times. We don't care about seeing your fashion statements. Our clients willnot understand.""But apparently they understand when a woman does it, correct?""<strong>The</strong>y don't expect anything better from women. You may leave my office now, Mr. Wilson."Two weeks later.* * *"Mr. Wilson," comes the voice over my speakerphone."Yes, Geneva.""Please see me in my office."I enter the chamber feeling like Charles Manson facing the parole board."Mr. Wilson, from time to time at Renuwul we monitor the online activities of our employees.""Yes.""In fact, we're quite capable internet sleuths. Recently I discovered that one of our employees wasaccessing pornography on their lunch break, and another person said that her mother was dying of cancer andasked for time off, and instead took the weekend and went to Vegas. Never have your hotel confirmationemailed to your work address. But today it's your turn, Mr. Wilson, to be asked for an explanation of youractivities on company computers.""Certainly."-- 75 --
---
<strong>The</strong> <strong>Amistad</strong> – <strong>Spring</strong> <strong>2007</strong>FICTION"Are you by chance a writer in your spare time?""Yes.""And have you been writing on company time?""Yes.""I want you to know that this story, or play, or whatever you call it, which I hold in my hand now, is avery serious matter. Not only was it written on company time, but it also is quite demeaning to your fellowemployees.""I don't understand. I just wrote—""You portray everyone in the most insulting, unflattering way possible.""Geneva, how do you even know I wrote it about the people here?""It's pretty obvious.""I only capture life the way it is. That's what every artist does, so if you're offended by it, that meansyou probably have made the same observations I have, but haven't been brave enough to say it.""MR. WILSON! I wish to hear no more from you. Here is your Goodbye Packet. <strong>The</strong>re is enoughreading material in this bag to keep you busy. <strong>The</strong>re is an especially long chapter on our employee terminationpolicy. Now, clean out your desk and leave as soon as possible."I can't say I was stunned or surprised. "You are the reason Americans have no trust in the white collarworld anymore.""And you, Mr. Wilson, are the reason artists are always the first to be killed in revolutions.""And I guess today you're the dictator.""For now, and for always. Goodbye, Mr. Wilson."I get up to leave and Geneva swivels around in her chair to no longer face me."Oh, Geneva, one more thing. Can I have one of those Renuwul chattering teeth toys? Christmas iscoming up and my nephew would love one of those…"-- 76 --
---
<strong>The</strong> <strong>Amistad</strong> – <strong>Spring</strong> <strong>2007</strong>FICTIONAmigaAileen RobledoI had a dream that I was you. I watched your favorite slip away, enslaved by drugs and liquor. I tasteddisgust and sorrow and I knew I was living it as you and not as someone who heard it from your mouth.She came in drunk and high, beat up and mystified by her miserable existence. She hardly spoke clearly and herown babies were afraid of her. I don't like her at the moment. I pay attention instead to the opulence on thescreen. She hands them broken toys that she meticulously searched for in her clouded state. I vow to bebeautiful and rich like the idols that were given to me on TV, vow to get myself, in fact, out of this sleazycomfortless atmosphere. I crave the same cheap display of sexiness that the female on the television screen has.My favorite pulls dollar bills out of her pocket that she got selling that which is no longer sacred to her. Shecontinues this way for a while, days now and I feel every moment without the weight of time. It was visible toeveryone that she was living a life of death but it took a doctor's words for it to become true. It took him to saythat her lifestyle had given her an incurable virus to make her feel so near death when she had been dying for solong now. I see her for the gritty piece of work she is and she still looks beautiful to me. Her hair lost shine, herskin lost color; her lips were dry and for some reason that bothered me. Her dark eyes showed no signs ofknowing anything long lasting. I finally begin to see her as lost to me as I start to search for signs of lifeeverywhere in her. No life anywhere but she continues to function, operating on her poison and surviving onthose crumpled dollar bills. One day she's actually gone. God takes her in his arms but when I'm you I don't seeit that way. She's just lost to me. By now I have what I want. I have money. I choose a vice that seems healthierand feed myself on sweet material honey. I hate myself but I think I love myself with the right body in the rightclothes. I decorate myself with the best jewelry and a confused smile on my face. I fear loneliness and relieve itde only way I know: with a man by my side. I give my heart to a man who enslaves me further. Childishly Ithink he helps me and teaches me everything I need to know. I love myself when I'm like this. I relieve the painof those I care about the way I think pain is relieved. I pay their debts and give the babies new unbroken toys.This is your life lived by me.I hate your pain, your beaten up soul, that plagiarized mind, and thoughts adopted from the rich andfamous. You're so fucked up and nobody knows it. You don't know it. I don't even know it sometimes. I wouldgive my life to take away your pain, give you in fact everything I had, but you would never want it. Sometimesyou love me, because I have what you think you are missing. Seeing me as goodness and purity, you care aboutme without understanding me. Subtly, you try to teach me to think like you. Attempting to teach me to bedistrustful and employ anger is the only way you know to take care of me. <strong>The</strong>re is still goodness in you,although sometimes you don't know it. Sometimes you do. Thoughts that it will destroy you, the way mydreams and faith will slowly kill me, cross your mind. Nothing convinces me of this and I ask myself: if itmakes her feel so good to see someone who is still like this in the world why is she so set on tearing them apart?Everybody needs love but nobody knows how to give it. I've tried to give it to you but you stopped recognizingit.-- 77 --
---
<strong>The</strong> <strong>Amistad</strong> – <strong>Spring</strong> <strong>2007</strong>FICTIONSoul CollectedAshanti White"You tested positive for HIV." <strong>The</strong> nurse's sensitive words pierce Sandra's ears instantly, but it takes afew moments for them to register in her mind. POSITIVE, HIV, AIDS, SICK, SKINNY, DEATH, DEATH,DEATH."Ma'am. Ma'am, are you okay?" Sandra's head snaps from the floor but stops short of the nurse'seyes. Focusing on her neck, she nods. POSITIVE, HIV, AIDS, SICK, SKINNY, DEATH."Here is Doctor Keagan's number. If you have any questions about new treatment, he can help you.For now, here are some prescriptions that you'll need. You can go to the pharmacy downstairs or you can go toanother pharmacy. Do you have any questions?"Prescriptions with an s, Sandra thinks. What the hell have I gotten myself into? "No, I don't have anyquestions.""Well, have a good day." <strong>The</strong> nurse offers a mechanical smile. Sandra's face grows hot. She wants tosmack that smile off nurse's face. If only temporarily, she would feel better. Instead, she returns the gesture,knowing her expression is broken like a mobster grinning at his rival whom he is about to slaughter."I'll try." Sandra is amazed at her ability to remain composed. She stands up and walks from the officetowards the lobby crowded with nameless, shapeless faces. She slips her coral tote onto her shoulder, adjustsher matching polo shirt, and struts towards the door. POSITIVE, HIV AIDS…Weakness creeps into her shortolive legs, and they fold until her weight. Her ankle twists causing her to stagger. A middle aged man hopsfrom his seat, catching her just before her hands reach the floor."Are you alright?" His thick enunciation accentuates his concern."Yeah, I'm fine. <strong>The</strong>re's nothing like finding out you have AIDS. Sorta knocks you off you feet."Sandra exclaims while struggling to her feet.A young woman with a pixie cut gasps and shuffles her chair further from the scene. Calmly, Sandrafaces her."You're scared of me? Well, you shouldn't be. Yesterday I didn't have AIDS. Today I have it. Youbetter be careful or you might get it, too. Oh wait, you might have it now. You are here for a reason." Turningto the man, Sandra says, "Thank you, sir." Flipping her dark brown hair with her fingers, she walks out of theoffice.When the door closes behind her, she wants to run away—to sprint down the stairs, out of the automaticdoors, and to her car. She wants to leave this building and forget everything that just happened, but she doesn't.Her pride won't let her. She strolls out confidently the same way she came in, heels clicking on the linoleumfloor.-- 78 --
---
<strong>The</strong> <strong>Amistad</strong> – <strong>Spring</strong> <strong>2007</strong>FICTION"Kyla, I have AIDS." <strong>The</strong> words spew from Sandra's mouth. "Well, not AIDS, just HIV." POSITIVE,SICK, SKINNY, DEATH. Her sister's hazel eyes weld up with tears as she plops on the oak wood bar stool inthe middle of the kitchen. She rests her head on the island while bawling like a sick child."Why? How did this happen?" Her wailing and sentimental babble annoy Sandra, but she refuses to letit show."Oh, it's okay. I'll be fine." POSITIVE, HIV, AIDS, SICK, SKINNY, DEATH."No you won't!" Kyla screams. "You're going to die.""You are too. I'd like to know who told you that you weren't." Sandra chuckles and places her armaround her sister's thick shoulder. Kyla jerks away."Why is everything a joke to you? It is not funny. AIDS is a serious disease and you should take itseriously.""Umm, it's HIV." Sandra corrects. POSITIVE, HIV, AIDS, SICK, SKINNY, DEATH. Kyla gruntsand stomps around the room. She takes a deep breath."Okay, HIV. You still should take it serious.""I do, but I will not allow it to take over my life. That's why I'm going out with the girls tonight."Sandra snaps her fingers and bobs her head to an imaginary beat.Kyla's mouth drops open in disbelief."You're going out? Do you even know who you got it from?" Kyla asks."Yep. From Gary. I hadn't been with anyone in a while, and Gary and I decided to take or relationshipto the next level. Unfortunately, neither of us had a condom, but we did it anyway. We were worried aboutgetting pregnant…Guess we underestimated the apprehensions." Sandra stares at her sister for a moment, andthen shrugs her shoulders."You want to come out with us tonight? It'll be fun.""No, Sandra, I do not want to go out with you tonight, but I hope you have all the fun in the world sinceyou don't how much longer you have." Kyla storms out of the room."You know the way out.""Oh, that really hurt." Sandra says sarcastically. She hops from her stool and scuffles out of the house.In her car, she whispers to herself."It really did."-- 79 --
---
<strong>The</strong> <strong>Amistad</strong> – <strong>Spring</strong> <strong>2007</strong>FICTION"Girl, we're heading there now. Call everybody else and tell them to meet us there. Okay, we'll see youthere." Sandra glances over at her best friend, Donna. "<strong>The</strong>y said they'll get there on time."Donna nodded at her."Well, aren't you going to say anything? You have been quiet since I told you that…""Please don't say it again. I don't want to hear it.""HIV, HIV, HIV." Sandra laughs. POSITIVE, HIV, AIDS, SICK, SKINNY, DEATH.Even Donna cannot resist laughing at her friend's amazing sense of humor. That is why Donna likesSandra so much. No matter how bad things were, Sandra could see the bright side. Donna remembers whenher boyfriend of five years dumped her to marry a woman that he had only known for three weeks. Donna wasso furious that she planned to go to his house one night and stab him.She shared her plan with Sandra who reasoned, "You don't really want to do that. He'll have this nicefuneral, and they'll make him look like Vin Diesel because you know the funeral home people can do that. Andyou'll be looking like Buck Wheat because your hair will be all over the place, and you'll be ashy. Girl, theydon't have lotion in prison. You've seen mug shots. You better think twice about killing him. He'll look betterthan you."Donna laughed so hard she thought she would wet herself. Needless to say, Donna abandoned that idea.Although Sandra has that same sense of humor today, Donna still worries. She had never thought of lifewithout her best friend."Donna," Sandra says in her pitiful Godfather impression, "I know you're worried, but don't be. <strong>The</strong>reare enough drugs in the world to sustain me for another 50 or 60 years. Just forget about it. Let's have funtonight. Let's have a night without HIV. Okay?" POSITIVE, HIV, AIDS, SICK, SKINNY, DEATH.Donna laughs. "Okay, I won't mention it.""<strong>The</strong> club is packed tonight!" Sandra yells at her group of close friends who move to the latest Outcastsong. All of them, individually beautiful, giggle and dance with the hordes of men that vie for their attention.After the song ends, a slow track blasts from the speakers. Not interested in dancing intimately with anyone,Sandra heads to the bar, and her friends follow."This is so much fun." Jasmine screams while playing in her short black curls. "We haven't been outtogether in so long. We should do this more often.""I agree.""Yeah.""You're right." <strong>The</strong> five women unanimously agree.-- 80 --
---
<strong>The</strong> <strong>Amistad</strong> – <strong>Spring</strong> <strong>2007</strong>FICTIONAt that moment, a small eared, thin lipped, middle aged man approaches them. He slicks the few hairsthat decorate his shiny head before speaking."Can I buy you ladies a drink?""No, thank you, sir." Kim, the petite friend counters."How about you pretty lady?" the man asks looking directly at Sandra. "You look good enough to betaken care of."A smirk creeps across Sandra's face. Donna spots her and mouths "no." Sandra doesn't pay her anyattention."Sir, you can't afford me.""Oh, I can't? Look at all this money here." He takes a handful of bills out of his pocket and flashesthem at the group."And I got more than that."Sandra's smile grows wider. "Sir, do you know how much AIDS medication costs?""What?" <strong>The</strong> man looks bewildered."I have AIDS, and on top my current car note, mortgage payment, and insurance premiums, you can'tafford me so have a nice day, sir."<strong>The</strong> cocky expression drops from the old man's face as he slowly backs away."Well, it was nice meeting you all." He says before disappearing in the crowd.<strong>The</strong> women gape at Sandra for a moment, their teeth exposed by shock. Sandra sips on her Pina Coladawhile Donna stares at her feet. Ashley, who has learned to love Sandra's quirky sense of humor, roars withlaughter. Kim, Jasmine, and Sandra chime in, but Donna remains silent.Ashley taps Donna on the shoulder. "Isn't Sandra a trip?""Now that's how you get rid of a man. I need to try that," Jasmine chuckles. "That was hilarious.""Please. It's even funnier when it's true!" Sandra yells over the new Kanye West track.<strong>The</strong> laughter stops immediately."Guys, she's not kidding," Donna offers."You have…AIDS?" Kim solicits.-- 81 --
---
<strong>The</strong> <strong>Amistad</strong> – <strong>Spring</strong> <strong>2007</strong>FICTION"Now why does everyone keep saying that? I have HIV. <strong>The</strong>re is a big difference." Sandra responds.POSITIVE, HIV, AIDS, SICK, SKINNY, DEATH."Well, whatever it is, why didn't you tell us?" Jasmine inquires."This is serious. Why are you here?""Aren't you upset?"Just as she felt with her sister, Sandra becomes irritated. POSITIVE, HIV, AIDS, SICK, SKINNY,DEATH."I didn't say anything because I did not want to hear all this crap about 'this is serious' and 'what areyou going to do.' I don't want to hear it. So please stop talking about it!""But Sandra…""You know what? I do not have time for this. I said I didn't want to hear it, but you're going to go onanyway. I'm leaving." Sandra snatches her purse from the bar top and stands. Just as she is about to walkaway, she turns to her friends."I am a grown woman, and I know how to take care of myself. I don't need any of you or Kyla to tellme what needs to be done. And remember that before you call me because if you mention anything dealingwith AIDS or HIV again, I won't talk to you. Goodbye." POSITIVE, HIV, AIDS, SICK, SKINNY, DEATH.Donna hops from the table."What about…"Before she can finish, Sandra screams, "Catch a ride with Ashley!" <strong>The</strong> others don't have time to sayanything else. Sandra had left the building."Hello." A tender but masculine voice answers."Gary, this is Sandra. How's it going?" Sandra's yellow Metro speeds down the highway."Good. I haven't heard from you in while. It's been what—three weeks? Did you find someone else?"Gary teases. His sense of humor is only matched by Sandra's."Yeah, HIV." POSITIVE, HIV, AIDS, SICK, SKINNY, DEATH."What?" Gary's uneasy tone magnifies in the small silver cell phone that shakes in Sandra's hand.Abruptly, he laughs."Girl, you had me for a second. Don't play with me like that."-- 82 --
---
<strong>The</strong> <strong>Amistad</strong> – <strong>Spring</strong> <strong>2007</strong>FICTION"I'm not playing. I have HIV. I got it from you. I haven't been with anyone else in over a year, andI've always used condoms except with you. If you don't believe me, go get yourself checked out." POSITIVE,HIV, AIDS, SICK, SKINNY, DEATH.Silence echoes through the phone."Gary?"Nothing."Gary?""I'm here. When did you find out?" Sandra could hear the tremble in his voice. She feels her heartsinking. POSITIVE, HIV, AIDS, SICK, SKINNY, DEATH."This morning. I would have called you earlier, but I wanted to make sure you would be home. I didn'twant to leave a message…Are you okay?""Sandra, can I call you later? I need to lie down right now." Gary's sobs are unmistakable."That's fine, but could you call me when…" Sandra hears the phone click in her ear. POSITIVE, HIV,AIDS, SICK, SKINNY, DEATH. She closes the phone, places it on the passenger seat where Donna sat earliertoday, and drives home with her head propped on her fist.POSITIVE, HIV, AIDS, SICK, SKINNY, DEATH. Sandra drops her purse on the floor when she stepsinto the foyer. POSITIVE, HIV, AIDS, SICK, SKINNY, DEATH. She kicks the door closed and heads to herbeige loveseat. She lowers herself on the chair while glancing around the room. POSITIVE, HIV, AIDS,SICK, SKINNY, DEATH. She sees the plasma screen TV, the Indian rug that graces the floor, and thechampagne glasses her friends gave her for her 21 st birthday. POSITIVE, HIV, AIDS, SICK, SKINNY,DEATH. Right beside it, she observes the picture of her parents, Kyla, her brother-in-law, and her one monthold nephew. POSITIVE, HIV, AIDS, SICK, SKINNY, DEATH. She gazes at it for minutes noticing theirsmiles and bright eyes. She remembers the day and how wonderful everything had been. POSITIVE, HIV,AIDS, SICK, SKINNY, DEATH. <strong>The</strong>y had a picnic to celebrate her graduation, and her nephew's birth. Herparents told her not thirty seconds before the camera snapped the picture that they had never been more proudof her. POSITIVE, HIV, AIDS, SICK, SKINNY, DEATH. <strong>The</strong>y said that anything that she wanted to do inlife, she could do. <strong>The</strong>y knew it. <strong>The</strong> words move in her head, but POSITIVE, HIV, AIDS, SICK, SICK,SKINNY, DEATH rings louder. She turns from the picture. Her life flashes before her eyes, but she isn'tdying. POSITIVE, HIV, AIDS, SICK, SKINNY, DEATH. She is still alive, and she doesn't want to die.POSITIVE, HIV, AIDS, SICK, SKINNY, DEATH. Not yet. She has too much to do. She can't die.POSITIVE, HIV, AIDS, SICK, SKINNY, DEATH.<strong>The</strong> feeling that she felt when she heard Gary's sniffles resurface. Sandra slumps down in her sofa andfor the first time today, she cries.-- 83 --
---
<strong>The</strong> <strong>Amistad</strong> – <strong>Spring</strong> <strong>2007</strong>FICTIONBreak in the SunAshanti WhiteSuicide has always been a bad word, but it suddenly seems like a realistic option as my grandfatherproposes the idea from his hospital bed. Eight months have passed and Granddaddy still hasn't been outside ofthese hospital walls. One doctor says that he has two months to live, but Granddaddy insists that he doesn'thave that long. Three, maybe four weeks left. He says he can feel it. I want to argue with him, but I can't.I watched this six foot, 175 pound man with all the vitality and spirit in the world waste away to thehelpless 98 pound man I see before me. His frail body and weak eyes remind me photos of the JewishHolocaust victims that plague the European History books. <strong>The</strong> image is enough to drive anyone insane, but Ihave managed to keep it together although I don't know how."Why do you want to do this?" I ask more out of sadness than anger. I know he is dying. I am a witnessto his death, but I just cannot accept it."I'm in pain. I have been in pain for over two years now. I'm going to die soon. I only got…""Two months. <strong>The</strong> doctor said…""<strong>The</strong> doctor doesn't know. I got a few weeks," Granddaddy responds harshly. I turn my back to him tolook out of the window at the street below. An ambulance races to the front of the hospital. Maybe it's a heartattack or a car accident. Could be suicide, I think to myself. I hope not. For God's sake, I hope not."I've lived 69 years." My granddad's tired voice breaks my concentration."I have had wonderful kids, and a beautiful grandchild that I love more than I love my life."<strong>The</strong> harsh words sting my heart as the warm tears sting my eyes. Don't cry. Don't cry. Please God,don't let me cry.Granddad continues."I've lived my life, loved every minute of it, and I would not change a thing. Three more weeks won'tmake a difference."Unable to bear anymore talk of suicide, I turn around screaming, my voice frantic."How can you say that?! You could do everything in three weeks! We can write letters look at pictures,and…and…we can do whatever you want."Calmly Granddad replies, "Can I leave the hospital? You know that I can't walk anymore. Can't liftmyself up. In a week or so, I won't even be able to talk."-- 84 --
---
<strong>The</strong> <strong>Amistad</strong> – <strong>Spring</strong> <strong>2007</strong>FICTION"So what?! That doesn't matter! I love you! You can't leave me! I need you!" I drop to my knees bythe cold bed and bury my head in my hands. <strong>The</strong> stale odor of the room and the faint noises in the halldisappear. All I feel is pain. I touch my chest quickly to make sure that the dagger in my heart isn't real. Whywould God do this to me? I want my grandfather to live forever and if he can't, I want him to live as long as hecan.As if he had just read my mind, Granddaddy whispers, "This isn't about you.""What?" I peer up from my hands."You know how you feel right now? That's how I feel everyday except my pain is physical and it willnever go away. I wake up in pain, eat in pain, sleep in pain, and I'll die from it. I can't take it another day. Iwant to die today. Not tomorrow, not in three weeks, but today. Either you'll help me or you won't. If youdon't help me, I guess I'll have to starve myself and that will take much longer and be so much more painful."now."Don't do this." My lips tremble violently at the thought of Granddaddy suffering any more than he is"Crush up those pills and put them in that water.""P…p…please, don't do this." My words are barely audible.Ignoring me completely, Granddaddy repeats himself."Crush those pills and put them in that water."table.I know I couldn't nor would I refuse Granddaddy. I got up from the floor and slowly walked over to the"I remember when you were little and…" Granddaddy talks to me to break the tension. I don't listen towhat he says because it takes all my concentration and strength to crush those pills. Where did he get the pillsfrom? How does he know that they'll work? What if they don't work? What will happen to me? No, it's notabout me. This is what Granddaddy wants and…tears drip from my face onto the stained hospital table.God, what am I doing? Why does he want this? <strong>The</strong> questions float in my head but I know the answers.I just don't want to accept it."You done yet?" Granddaddy asks impatiently, the desperation clearly distinguishable.I pause for a moment before racking the white powder that looks as innocent as sugar in the glass. Iwish it was sugar."Yeah, I'm done." I face Granddaddy. <strong>The</strong> glow that radiated from his face before he had cancer showagain, but it quickly fades when he sees that I am still crying. <strong>The</strong>n just as quickly as the glow faded, itreappears.-- 85 --
---
<strong>The</strong> <strong>Amistad</strong> – <strong>Spring</strong> <strong>2007</strong>FICTION"Cry baby cry.Wipe your weeping eyes.Cry to the eastCry to the westCry to the one that you love the best.Put your hands on your hips and let your backbone slip."That was the song that we used to sing together when I was little. I can't take it."Here." I push the glass in Granddaddy's hands and begin to walk away."Where are you going?" Granddaddy's voice trembles. "Don't leave me alone."die.I can tell that he is crying. I stop in my tracks. I don't want to leave, but I can't stay. I can't watch him"Granddaddy…""Please don't leave me.""I won't." Approaching him, I pull the chair to the head of Granddaddy's bed."Help me sit up." I place my arms behind his back and pull him up until he's parallel to the wall. I canfeel his ribs pressing into my chest. God, what ever happened to my Granddaddy?"Help me drink this," he commands. I open my mouth to speak, but I remind myself that this is notabout me. Granddaddy grips the glass as tight as he can while I place my hand up under it to help him lift it.This is not about me. This is not about me. I close my eyes, but I can still hear him gulping the poisoned water.This is not about me. This is not about me,When he is done, I take the glass and put it on the floor."Rinse it out, okay?" Granddaddy orders. I get up, rinse the glass, and move back to the bed. While Irest in the chair, Granddaddy reaches for my hand. I grab it. He winces. I'm hurting him, but I want to holdhim as tight as I can. I loosen my grip, but I never take my eyes off of his face. I want to remember his face. Ican never forget his face."Granddaddy, I love you. I love you so much." I stand up and kiss his forehead. I thought that he'd besweating from nervousness, but he wasn't. He was cold, like he was already dead. I lower myself back into theseat still focusing on his face."Won't be long now. I won't feel pain anymore."Tears flow down my face like a raging river, but I don't reach up to wipe them. I won't let his hand go.Not until…-- 86 --
---
<strong>The</strong> <strong>Amistad</strong> – <strong>Spring</strong> <strong>2007</strong>FICTION"I remember when you were born. You were the cutest little baby in the nursery. I told your mommathat you would grow up to be somebody great. And you did. You are great. I love you." A tear trickles downthe side of his face. "Yeah, I love you."I kiss his hand gently. He keeps talking."When you were in elementary school, you used to come home and show me those pictures that youdrew. I never knew what they were, but I'd always put them on the refrigerator. When you got older, thepictures got better, and you kept at it until you got so good at it, people were asking to buy it. That first pictureyou sold…was…so…amazing…" Granddaddy's voice began to trail off."What's wrong? What's happening?"Granddaddy's eyes glaze and spittle drips from his mouth."I don't…feel…any…pain."What did I do? What did I do? I killed my Granddaddy. I killed him."You did…good by your…granddaddy. You…did…good." Granddaddy's eyes close and ten secondslater, his breathing stops."Granddaddy? Wake up. Don't leave me! Come back! Come b…back." My heart hurts so badly.Why God? Why?I sit on the chair for what feels like years. This shouldn't have happened to…no, this isn't about me. Itake a deep breath and lift myself from the chair. I stare down at Granddaddy for a moment. I look over theskeletal face and the frail body. This is not the Granddaddy that I remember. This is not the Granddaddy that Iwant to remember. My Granddaddy died eight months ago. Three weeks wouldn't have brought him back.I bend down and kiss Granddaddy again. He doesn't even feel it.-- 87 --
---
<strong>The</strong> <strong>Amistad</strong> – <strong>Spring</strong> <strong>2007</strong>FICTIONA Gift for NinaAshley Lee WilliamsIt was his gift never to forget. Kai Cato's past was not fluid, sliding like water from his mind, drippinglike dew from the canopy of trees into a murky puddle where his reflection was distorted, eyes too far a part,limbs much too long. No. Kai's eyes could loll behind his lids with blinding clarity; and although it was theGood Lord alone that possessed the priceless gem of sight into the unseen, Kai could conjure dust into flesh,pull past to present with the closing of his eyes and a deep, phlegm-filled sigh. His memories, dense and hard asstone, split the summer-green sassafras buds as if they were sharpened blades. Kai even remembered for peoplethat he did not know, his thick, plum lips curling upward when he heard words in the wind, the memoriesdancing wildly in the breeze like whiskey-folks on Saturday nights. Those faceless recollections raced hotthrough his blood like skin-searing flames, burning eternally into his mind. So memory loss was not Kai Cato'sconcern; though he understood that the intangible was forgotten forever once misplaced.<strong>The</strong> past could crumble like bone without the power of collective memory. And Kai was but one manwith many tales scuttling in his head, and he was dying. Damp with salty-sea sweat, the limp, white hospitalsheets peeling from his back as he sat upright, Kai Cato was propelled by this conviction to clasp Eva's hand.Her fingers were moist, slender and long as gum roots, and Kai licked his cracked, bleeding lips, suddenlyconsumed with shame. His tongue wanted to weave the patch-pieces of his life, some smooth as silk, otherscoarse as nigger-cloth, into a tasteful yet timeless tapestry that he could offer Eva as a shawl for her shoulders.An heirloom, that was what Kai needed to fabricate with words, spreading-out his story at Eva's feet like giftsof frankincense and myrrh so that she could pass-along the tale to Nina. But speaking was impossible. Kai Catocould hardly grunt.Kai opened his lips but he gagged on his words, coughing violently before spewing mud-colored spittleonto his loose, bed gown. Eva shuttered, grimaced, her hand stiff at Kai's clammy touch. She eyed his boy-thinbody in astonishment without glancing too long at the custard-like mucus on his gown."You should lay down, Kai. You know them doctors don't want you sitting-up like that. You beinghard-headed," Eva sucked her teeth.She walked closer to Kai, her mauve dress gripping her thighs, her face solemn. Eva sat rigidly at theend of the bed, fumbling with the buttons of her shirt, biting her bottom lip.Kai was stubborn, had always been obdurate as packed earth, and he ignored her suggestion, slowlyrearranging his nasal tubing, leaning forward toward Eva. He scanned the room, squinting because the sunlightthat beamed through the bent, dusty blinds was powerful, warming his already hot flesh.Eva froze, staring incredulously at Kai, his hair soft when it had once been wool, his arms frail when inyears past they had wrapped tightly around her waist. It had been over twenty-years since she had seen Kai, andthen he had been a beautiful black boy, sucking dew from grass with Eva in the basement of her house when hermother was working. <strong>The</strong>y smoked marijuana until their urine was as green and sweet-smelling as the herb,discussing their dreams calmly before falling asleep. <strong>The</strong>n, back in '68, Kai had treasured life like ruby, risingsteadily to the sky like the sun. But growth and life were interchangeable, and Kai was no longer sproutinglimbs that could graze the clouds. He was dying.-- 88 --
---
<strong>The</strong> <strong>Amistad</strong> – <strong>Spring</strong> <strong>2007</strong>FICTION"You a damn fool, Kai," Eva shook her head, water filling her eyes. "I mean, I came. To see you, butNina wouldn't come. She ain't going to come neither," her voice was rising, her eyes pleading. "She don'tknow you from Adam, that's all. You a damn fool," she shook her head wearily.Kai Cato's eyes never left Eva's face. Perhaps his eyes, sallow and sunken, were feverish griots, singingthe story that Kai could not tell. But Eva noticed nothing, especially not the waning flames burning his irises.She turned her head away from Kai.She had aged, Kai realized, staring at Eva's profile in the sunlight. He nearly smiled at the thought oftime manipulating Eva's body, pushing her mouth downward, coloring the tender flesh beneath her eyescharcoal, kneading her buttocks supple. But she was still beautiful, her skin dusky as the sky at sunset. Kai feltshame again. He closed his eyes, wanting to recreate the image of himself in his youth, tall but not lanky,mountains spilling in piles at his feet each time he opened his mouth to speak. <strong>The</strong>y were good together, Kaiand Eva, and he would have married her; especially after that sweltering July night in 1969. <strong>The</strong>y had laytogether, legs entwined, the sheets moist from lovemaking, and Eva had whispered sweetly in his ear, "Wehaving a baby." So young then, so hopeful, and so absolutely drunk from the daffodil scent of Eva's teenagethighs, Kai could deny her nothing.He opened his mouth, lips gaping like salmon caught in the line, but there was only air and the rattlingof mucus in his chest."Pneumonia is the saddest thing for a man to die of in 1991, Cato," Eva whispered, her mouth open,hesitant to continue.Cato. Private First Class Cato. It was as if he could hear the name screamed through the cackling of theradio, the eternal sound of planes overhead consuming his ears. He shivered, but Eva was turned away from himand did not notice. Kai was overwhelmed with the memory of 1971, could vividly see himself in uniform, atwenty-two year old solider trudging through watery rice fields in constant search of the enemy. <strong>The</strong>y called itthe Cold War, but Kai knew from experience that the jungle was aflame, billows of smoke that smelled of friedfleshcumulating in the sky like clouds.Kai would have liked, right then, to grab Eva by her lovely neck, scream into her face how the air hadbeen so thick with mosquitoes that he had swallowed them, the ground bleeding red blood that sucked the blackboots from his feet; how the chopped, mangled pieces of the dead were indistinguishable –Black, Viet-Cong,White- all were just blasted bits of blackened meat and bone. And how returning home in '74, he was no herobut they kept telling him that the good die young. <strong>The</strong> good die young? No young death was good. But Kaicould not tell Eva these things, his memories. He sighed, realizing that Eva was still speaking."Nina and me both been tested too, Kai. We negative," she wringed her hands. "I mean, I didn't thinkthat you had it then, you know, because we was only kids," she smiled, "but I needed to be sure, youunderstand?"Of course, Eva and Nina were negative, Kai thought. His soul had not sprouted wings of mist, soaringup-up into the sky until it turned to steam, when he had possessed Eva, sleeping with her night after night as ifthey were adult lovers. <strong>The</strong>y were teenagers. And his darling Nina, he had held her a total of seven times since-- 89 --
---
<strong>The</strong> <strong>Amistad</strong> – <strong>Spring</strong> <strong>2007</strong>FICTIONshe had slid from Eva's womb, marveling at her tiny body, the sugary fragrance of her soft sealskin. Only aweek after Nina's birth Kai had been drafted, outfitted and shipped to Vietnam, dropped like cargo in thejungle, so far away from his new life, the life he had helped create. But this was over twenty-years ago. Sincethen Kai had seen Nina, now twenty-one, except he had had always been too ashamed to speak with her. Sheknew so little of him; only that Kai had abandoned her, slid rusted needles in his neck when the veins in hisforearm had collapsed, and shuffled, come rain or wind, through the streets of Baltimore selling radios, soapand 10W-30 oil tax free. Kai began to cry, the tears struggling to fall from his face."No reason to cry," Eva scooted closer, began massaging his wrist. "Just give thanks to the Lord thatyou lived. You lived," she murmured.Kai drew back from Eva, resting his head on the pillow, finally overcome with fatigue. He had lived,yes, but when he had returned home from Vietnam he was already dead. It was common knowledge that deathwas darkness, not just a final gasp and a still heart. And although Kai did not think in these terms, his reasoningwas the same.He had been given strict orders, commands so powerful that even the issuer was invisible. Decisionsmade by the decider trickled from some place way up-top into the ears of Private First Class Cato; it was hisduty as an American to exterminate the National Liberation Front, a bunch of "Communist Gooks" who wantedto overtake the world and change the-American-way-of-life. And although change was what Malcolm andMartin (he knew nothing of Marcus during this period of his life) had preached, Kai thought nothing of it. Butcoming home and witnessing the same bloody war raged in America against the Black Liberation Army, Kaijust knew that he had been duped. <strong>The</strong> war scenes streaming across the television screen, battles in Oakland,Baltimore, New York, were real, as real as those he had experienced in the Far East. So the Viet-Cong wantedthe same thing as the Blacks after all: liberation."It's nothing to be shamed about, Cato," Eva dropped her head solemnly. "AIDS don't reflect theperson…." the word numbed her mouth, and Eva could not continue.Kai was still crying, feeling his chest fill with fluid. He began to cough, a chest-racking hack of mucusand blood.AIDS. AcquiredImmunoDeficiencySyndrome. And to think that before his diagnosis Kai had notbelieved that the disorder, disease, death, could touch him; but the fact was as cold as the needle he forced intohis veins. In 1988 Kai had overdosed, the liquid magic slowing his breath, painting his tongue indigo. Oneblood test and two years later Kai was lying quietly in his death bed, a forty-two year old mute.Kai could not stop coughing, his labored breathing yanking him away from his thoughts. He felt hismuscles tighten, his lungs contract, and was surprised to feel sweat drizzling along his back. Eva stared wideeyed,her movements jerky, unsure of what to do. But the cough had consumed him, and Kai could not stop.He was filled with the sudden image of himself one bitter winter night in 1975.Walking clumsily down 25 th Street, his spirit having fled his flesh only weeks after the war had ended,Kai had believed in nothing, not even himself. Disillusion had shepherded him like a lamb into the warm-- 90 --
---
<strong>The</strong> <strong>Amistad</strong> – <strong>Spring</strong> <strong>2007</strong>FICTIONembrace of heroin. Because when you are jobless, and rent is due and your belly is roaring with hunger, and theonly image constantly replaying in your mind is the decapitation of your closest friend in the sweltering jungleheat, it is only natural that you seek comfort, that you try to forget.But Kai could never forget, no matter how high he climbed. And now he could not speak, could notshare his story with this woman, Eva, who could tell his only child, Nina Cato, how Kai had loved her mother,would have plucked the moon from the sky for her were his arms long enough; how he had nearly died the dayNina was born, his breath literally trapped in chest, because he had been so overwhelmed with happiness; howhe had returned home from Vietnam desperate and dispassionate, too ashamed to visit Eva and Nina, because hehad nothing to offer but the stories of his nightmares; and how all those times Kai had seen Nina around the city–as a child bending forward from the weight of her book-bag near a school bus, as a woman strolling down thestreet, popping bubble gum, humming a tune that was both familiar and sweet- he was simply too ashamed, toostrung-out, to greet his daughter the way he imagined was appropriate. Nina needed to know that Kai loved her,that all his stories and memories belonged to her.<strong>The</strong> fluid in his lungs made him gurgle, and Kai could feel himself drowning, unable to breathe. Eva ranfrom the room, screaming in a fury, "NURSE, someone, please, come see bout Kai!"Kai clasped the bed sheets into his fist, struggling for air, but the water in his lungs put out permanentlythe flames of his life. Kai gasped loudly before exhaling slowly, sighing his memories into the air where theywould dance with the others. And maybe, just maybe, Nina would hear them in the wind.-- 91 --
---
<strong>The</strong> <strong>Amistad</strong> – <strong>Spring</strong> <strong>2007</strong>DRAMAEvery Skin Teet Ain A LaughShari Inniss-GrantShari Inniss-GrantEvery Skin Teet Ain A LaughCHARACTERSSuzanne ChaseNatasha ChaseYvette GordonSuzanne, forties, dressed in animmigration uniform, stands in her livingroom ironing as Yvette squeezes a glass oforange juice.*Beat* indicates a change in tone notnecessarily a pause.YVETTEYou cahn walk down de street good widout hearing one uh dem.Natasha enters, walking purposefully, on amission to retrieve a book for her bag.Hearing who?NATASHAYvette and Suzanne exchange a look,silence.NATASHA(stupsing)Why you doan leave de Guyanese alone? Duh troubling you?YVETTEYuh mouth too fresh, dah's de problem. Spend too much time in Americawid dem fasss cousins.De cousins ain so bad-SUZANNEYVETTEYou ain say one uh dem was pregnant?SUZANNE-- 92 --
---
<strong>The</strong> <strong>Amistad</strong> – <strong>Spring</strong> <strong>2007</strong>DRAMAUh hmm. But she was always out uh hand and-YVETTEI don't know how out uh hand yuh could get at sixteen. Why your sisterdin put she foot down I doan know, but-SUZANNEWell Alicia was never too wid it. She ain really had that authoritarianspirit that she could tell anybody wuh to do.YVETTEShe de type to ask de husband to do it-By this point Natasha has left the room.And yuh know Frank.SUZANNEYVETTEI know. I know all dem sort so. I spend too many days wid dah type, butbless Jesus, thank yuh Lord fuh delivering me. Hhmph. When yuh doanknow, yuh cahn do nuh better, but when yuh know-SUZANNEThat's de time...to take action. But change ain easy and it ain fuhevahbody. Sometimes yuh bold or yuh not, yuh good or yuh not-YVETTEYou wasn't listening to de Pastor Sunday:(very dramatically, as if preaching a sermon, handsmoving to emphasize point)"If yuh aint got it. And yuh want it. Yuh better pray it so!"SUZANNE(moving away to gather something, unaffected,dismissing the mini-sermon)Yuh could only pray anybody so far. But some people ain goan changeone way or-She stops speaking when she realizes howcalculatingly Yvette is watching her.YVETTE(After a pause)You talking very strange. Something bothering you? It ain-George nuh?Wuh he do...-- 93 --
---
<strong>The</strong> <strong>Amistad</strong> – <strong>Spring</strong> <strong>2007</strong>DRAMAOh.(Beat)SUZANNENatasha, pass that shirt so I could press it.<strong>The</strong> silence is heavy. Natasha returns tograb a clothe and wipe a fresh stain out ofher skirt.I press it last night.It doan look press.NATASHAYVETTE(slightingly)NATASHADoan concern yuhself with that. It might not look press- to you- but itpress.YVETTEIf yuh want to walk de streets looking like yuh's sleep in gutters guh long.Natasha//You ain nuh reflection pun me-Natasha- de shirt.SUZANNEYVETTESUZANNENATASHAMummy, if I say de shirt press it press.(as an insult to Yvette)We ain got nuh liars in dis family.SUZANNE(calling after her)And change de skirt one time. And find that tie!Suzanne holds out her hand for the shirt.Natasha slips it off and goes off stagedabbing the stain.YVETTE-- 94 --
---
<strong>The</strong> <strong>Amistad</strong> – <strong>Spring</strong> <strong>2007</strong>DRAMAFive minutes Natasha! After dat yuh could walk!(to Suzanne, complete changeof tone, intense)She doan know?Bout de calls?SUZANNEYVETTESo she calling you again- de woman? It's de same guyanese or anotherwun?How it goan be another one?It's de same girl.SUZANNEYVETTE(testing the waters)But...you believe George- it's just a woman he used to work with, that henever sleep wid she.SUZANNE'We ain got nuh liars in dis family.'She slams the iron into the shirt. Shecontinues to press, moving the handholding the iron as an extension of herwords.SUZANNEShe ain know de half. Wuh could mek me foolish enough to believe he asecond time?YVETTE(relief, urgency as she speaksher mind without censure)Wuh mek yuh foolish enough de first? From de time you hear a guyanesevoice pon de line you in trouble.Cause them- ain't got no qualms bout nutting, give de men exactly wuhduh want. Dah's wuh yuh's do when yuh ain got nuttin to lose.SUZANNEBut wuh she could want wid a married man? She cahn get nuh papers?How he could help she?YVETTE-- 95 --
---
<strong>The</strong> <strong>Amistad</strong> – <strong>Spring</strong> <strong>2007</strong>DRAMAIt's all de same kinda ting girl. To get a job, to get money, to help bring inde family. Chile, it's better you know now- You remember Sylvia Paynegranddaughter from down de road- de pretty one that had all dem childrenfuh dah rasta man and lose she figure one time-Suzanne assents.NATASHA(off stage)Mummy where de paper? De printing paper?SUZANNE(startled, still angry fromtalking about George)Natasha, it's near 8:30, you ain ready yet? Why you's wait to de lastminute fuh dis kinda-NATASHAIt's just one project. It gun take a minute- a minute.SUZANNEUnder de desk. Dis is de last time Natasha! De las time.Silence.YVETTEOne uh 'dem' manage to get she hands in the man. Even after he brek itoff, she was still calling, talking bout gimme money or I gun tell yuh wife.Wipe he blind fuh two thousand dollars before any body find out. So thankJesus you know now. Sit down and tell de man you know-How dah goan help?SUZANNEYVETTEHe ain foolish enough to try running round giving she money and dahkinda ting when you know. Uh Uh. He got Natasha to tink bout. Doanworry- he goan get scared and back off she.SUZANNE(controlled anger)Natasha ain de one he got to think bout.YVETTE-- 96 --
---
<strong>The</strong> <strong>Amistad</strong> – <strong>Spring</strong> <strong>2007</strong>DRAMAWell, he shoulda been tinking bout you in de first place but dese men doesget duh head all tie up-SUZANNE(slowly)Yvette. Natasha not de only one he got to think bout.YVETTEWuh you talking bout though? Wuh he only got one family- one wifeand...You doan mean to tell me dat-Suzanne and Yvette exchange a look.YVETTE(rapid succession, but notrushed)And she call to tell you dat? Wuh concern uh yours is dat?(beat)Listen chile, dat ain got nuttin to do wuh You! You first concern is youhouse and you child. She shoulda tink bout dat before she get entangledwid a married man.(beat)Uh uh. Looka how de fass wid duhselves. Imagine calling you to tell youdat, like it's you problem. Umm Hmmmm.(beat)Duh got operations for dat kinda ting. You tell she so?Yvette.SUZANNEYVETTEDoan Yvette me. You too soft. She pun she own. Cah blemmah, if it wasme. Doan mind, next time she call she wuh hear my voice, call me pun dethree way, and I wuh leh she know: "Aye skipper, yuh see this womanhey, she ain get you pregnant, wuh yuh calling she fooorrr?"Yvette.SUZANNEYVETTEShe want something nuh? She want money? She calling you to pay for deoperation- Oh loss-(beat)To pay fuh de chile!?She keeping it? She tell you?(beat)-- 97 --
---
<strong>The</strong> <strong>Amistad</strong> – <strong>Spring</strong> <strong>2007</strong>DRAMAThat's how dem's work. Come in de country, meet a Bajan man, and try toHook Him Down- One way or another. De ruining dis nation lemme tellyou.(beat)De next generation gun be a mix-up set wid no values, cause de muddasaint got no class.Yvette. She seventeen.SUZANNEYVETTE(shocked, pauses, less surethan before)Maybe...she lying. Maybe he din know. She lie to de man that's all. Andshe lying to you now.SUZANNEWuh how much older than seventeen she goan look?(beat)I tired man. I near forty four and he older than me.(beat)She could be his child.She could be my child, Natasha older than she.But I tell you-YVETTESUZANNEI Don't Care. I done. When he come home...I been waiting to talk to you, to hear it out load, to see if it could be true.But I too tired to care. Parts of it true and dah's too much for me.(beat)De pastor cuh talk bout love suffering all tings, but I done paying fuhudder people mistakes. Everybody got a head- Think! That's all I ask-(beat)He get way with it one time, so he try it again.(beat)I forgive and I forget and I could just as well let go.YVETTESo you goan let this Guyanese woman brek up you home.SUZANNENo, I sit back and let my Bajan man do it. And now it done wuh I gonpoint fingers for.(beat)-- 98 --
---
<strong>The</strong> <strong>Amistad</strong> – <strong>Spring</strong> <strong>2007</strong>DRAMATwo uh dem get in de bed.(beat)And den he would come home to me. Wuh I goan go on wid a man likedat for- wait and hope he wuh change?(beat)I got a life to live girl. I got a child to raise. And I cahn be botheredrunning after women and people 'baby-muddas.' I too old.(beat)And I thought I was married.(beat)But if I was married. To a real man. Dis here wuh never be happening.-- 99 --
---
<strong>The</strong> <strong>Amistad</strong> – <strong>Spring</strong> <strong>2007</strong>POETRYMy One Last CentKim CarrDown to the penny, broke to the core.Open my wallet, it's beggin for more.Instead of seeing dollars, I see receipts and slips of what used to be money galore.In the zipper portion, there's only one last cent.Now, five days til payday, 86 hours for sure.Cause at midnight on Monday, I'll be jumping for more.But right now, I'm down to the mere last cent.For some, it maybe a dollar, others it maybe ten, but for me it'sMy one last cent.It may sound funny, but it's a rather pitiful site. Just to think, you car is ¼ full and you have to get to work forfour more nights.Will the gas stretch? It may if the traffic is not tight.Cause we only have one last cent.And it must last for four more nights.Let's not forget we have to eat to.Well, I could become a vegetarian until Monday night, that may do. At least I'll be eating healthy for those fournights, but what about the laundry in the hamper that's building high?I can take care of that with a wink of an eye. I'll wash them with Dawn and the dirt will go bye, bye. And noone would know what detergent I used. Why does it matter? My clothes are clean and I do smell good.That night, I checked my clothes,Desperate and frantic, I dumped all my purses, expecting more pennies, but finding the worse. No dollars, noten or fives inside. Just bubble gum wrappers and fortune cookie lies.Now, I have three days to cry, 'cause I'm still down to one last cent tonight.It's Saturday morning and I have two days left, to ponder and think about my one last cent.Should I go for a run, or got to the mall, or read a book, and forget it all?Two I can do and one I can't. I could go for a jog and read a bit, but going to the mall would only make methink, of a million ways to spend.My one last cent.-- 100 --
---
<strong>The</strong> <strong>Amistad</strong> – <strong>Spring</strong> <strong>2007</strong>POETRYoakland summersMeilani Clayoakland summers arestolen water pumping ferociously throughhydrants opened illegally with Papa's wrenchsmall bare feetsplashing playfully through the water that has collected at the curbmade all the children who ownedthose small bare feet line upyell for cars to drive throughso they could all get soakedoakland summers areice cream men teasing children with their jinglesalways sound like they're just around the cornerbarefooted childrenrun to slip wet feet into shoesbeg for 50 centsonly 50 cents"all i want is a 50 cent fudge bar" they cryolder hands reach intopurses wallets pockets and backpacksthere's always 50 cents for the ice cream mani'm telling youoakland summers are meoakland summers are mesplashing my small bare feetin stolen watereven nowoakland summers are meholding tightly to my 50 centsi know ice cream is just around the cornerit has to be-- 101 --
---
<strong>The</strong> <strong>Amistad</strong> – <strong>Spring</strong> <strong>2007</strong>POETRYWingsMeilani Claythe Hutu and Tutsi people of Rwandataught me this:human beings possess neither wings nor the ability to flybecause we would do nothing at allbesides drag each other downwe would discover the most grotesquely creative ways of keeping our brethrenfrom taking flightcut rip chopbind shackle burn and stereotypeanything to guarantee our wings stayed able to push us into flighthigher than the next'sbut this is not the way it should bethis is not the way it used to bewe used to be able to flyhaven't you heard?-- 102 --
---
<strong>The</strong> <strong>Amistad</strong> – <strong>Spring</strong> <strong>2007</strong>POETRYBallin'Curtis CrislerUs hip hop babies hit court, are screamingfireflies under streetlights, night glowinglike B-ballers before us, we are sweatingspirits of the Russells, Dr. Jays, Magics,Kareems and Jordans, dialectics to showpolitics of B-ball's like golf—make friends,do deals, make enemies. A hot pass can beyour end or your beginning into the newtax bracket of glimmer.We wannabe likeMike, like Iverson, Kobe or Shaq for sweetfinances, but real B-ball's therapy, our wayto cope with street life: our walk, talk, mamasand daddies, junk food—Nikes. B-ball childrenneed a hoop—a-slip-of-opening shot throughdire mindset of penury, a junkie's up. If allour cares are caught in the dribble it's too toohot a handle, we have to rid ourselves of its sin,we cleanse it, pop net like grandma spitting inspittoon, hitting her wet shot—call it swish,call it wisdom, circle of hype, call it bona fidecataclysmic, call it blue spot in your mindbeing formed, instant dream and realitymend all rifts.Twelve rookies and-they-mamasgot next since hot boys run court. Tired adagethose who do, do but those who can't can'twait to work new give-and-go, jump-shot, ormean cross-over they been practicing on allmonth, all winter on PlayStation, all year andevery second they got time to think: the playoffs,All-Star Game, the finals, where nothing'sfinal. It rides DNA's helix like cancer. Nobility.Wickedness. Our dream isn't the NBA, ourdream's the justice we do on court, air we tame,some new way: toll, footstep, lane, out there.-- 103 --
---
<strong>The</strong> <strong>Amistad</strong> – <strong>Spring</strong> <strong>2007</strong>POETRYJulius Erving—for Dr. J.Curtis CrislerYour big afro, a large blackglobe, would shake and bake thosechecking you. You'd take them to holewith your long arms and big hands to teachthem break down of endocrine system; grabbedred, white, and blue ball, for life depended onblack men getting out of government's flawedprojections. You jumped from free-throw lineto free-throw line and glided on silk from ABA—landed like platinum in the NBA—a technicianso bad, they called you "<strong>The</strong> Doctor"; had you incomic books with Rick Barry, wrote you a songlike Muhammad Ali's, put you in <strong>The</strong> Fish ThatSaved Pittsburgh so moviegoers could check outyour slow-mo montage in dress shoes and polyesterslacks. You showed balling is therapeutic; thata man could float past the backboard into outerspace like <strong>The</strong> Brown Hornet, matriculate modeslavender oxidizes in sandals near the Sphinx, chatchat with neighbors on civil unrest in Mozambique,smack and gulp down croissants with crazy coolFrench women with hairy armpits, let Spanishnectar of café con leche slide on its butt downyour throat, show how to keep 'fro tight whenwind and silence slip into the glimmer of grinding;then, come back around, up under backboard,finish with a reverse lay-up. Those arms, man.Those damn long arms—your meditation onthe Septuagint, the Vulgate, and Syriac, yourseismographic buoyancy. Maybe it was theConverse? I know it was the air you soared inthat got Jordan believing black boys got wings.-- 104 --
---
<strong>The</strong> <strong>Amistad</strong> – <strong>Spring</strong> <strong>2007</strong>POETRYSouthern ComfortsGenesisPlease.Make no mistakes about it.Im blackIm not claiming a mix to sound eclectic or exoticWhat you see is what you getExtra, Extra's are includedBut Im not just black, blackI hate when people call me regular blackIm southern blackIm down south going home southCarolina SmackIm grits and bacon blackSweet potatoe pie, Corn bread, collard greens, Neck bones, fat back, fat back,Fat.Im dusty roads upon dusty roadsUp yonderYou look just like your mama BlackIma mix of small towns and big city smackBlackPlats and mudpies, hand me downsThis look like it fit you blackMy nana is my grandmother but her nana never seen me blackIm watermelon sweet red spit the seeds out black.Im hot peas and butter JackIm crispy chicken, I hate the back blackIm dirty heals walking on bare feet blackIm rich curls and pretty napsOhh girl you gat that good hair blackJune bug, Tar baby, Brown as a Paper bag blackAcross the road from the candy storeRaised in the house black hands built blackGround up. My roots have been planted no weeds attached and Im budding southern comfortsIm hot sun let the sun come down someThick accentsBeat you with the switch you picked blackIm in church all day on Sunday riding home in uncles black Cadillac-- 105 --
---
Match my country rising with my urban twist blackMay I suggest some corn beef gash with thatOR would you prefer some Spam.Some black American beef how bout some off thatString beans and cat fishSlack cut me someSlick, Slick be gentle with my kitchenGetting my hair straightened, steam burning my back<strong>The</strong> <strong>Amistad</strong> – <strong>Spring</strong> <strong>2007</strong>POETRYBlackPencil in a square on your application for occupation next to other that suggest my upbringingYou do understand me black.Im not speaking in ebonicsCan't put no name on my slangingMy English aint broke it don't need no fixinI like my "r" just the way they "r"Maybe the fact that I wasn't raised in the south taints my country mouth blackSouthern black to be preciseSouthern black spades are the cards that I was dealt and I didn't renegeExcuse me for taking the hand and winning the potMy blood is ruby red rushed with Carolina smackCapture the picture I'm paintingJust cause I'm a new Yorker don't mean I aint felt the lickings from a lashing or the vibrations of southern lipssingingHeat raised meJazz mixed with gospel and blues tones made meI used to thinkSam Cook and BB King were uncles of mineHumming bird and sweet lil angel was always on rewindIm just as country as I wanna beMake no mistakes about thatI answer with no sirs and yes ma'am'sKids these days don't know nothing about thatExtra, extra are includedYou just don't see me cause Im covered in city brownI hate the fact my soul's existenceIs minimized to a color-- 106 --
---
<strong>The</strong> <strong>Amistad</strong> – <strong>Spring</strong> <strong>2007</strong>POETRYI can think of so many other names like kings or queens or sisters and brothers or angels or beauty I thin theskin where in defines beautyNigga stains the lips of so manyDon't want to call me the n word I knowBut you gotta call me something I knowI guess the name my mama gave isn't good enoughYou be preaching this countries freedoms and push for individualityBut categorize me forcing me to answer to the description of black girl when my subscription reads every colorin the rainbowSee the term black just isn't enough for meOr what lies within me<strong>The</strong> wordsAfrican American don't suit me eitherCause AfricaDon't want me. Hell I've never even been to its country. And American denies me as its childBeen running and I'm still at 3/5 th of a mileBut I guess I'll accept it because being called regular back is better that being called a nigger whether it'sspelled niggeror nigga-- 107 --
---
<strong>The</strong> <strong>Amistad</strong> – <strong>Spring</strong> <strong>2007</strong>POETRYReflections of a HopscotcherVenitia Ghozlanwe walk home after the day's activitiesskirting the broken rubble that litters the cracked pavementdebris of broken adultsand their broken dreamsmy little daughter ignores the decrepit surroundingsbombed structures, shattered glass and abandoned vehiclesplaying hopscotchalong the waysplashing in the puddlesshe nimbly tosses her pebble against the chalked sidewalkkangaroos uni-leggedone, two, threeto her destinationsmall children are not given to reflectionslearning to take much in stridethe daily monotony of lifeamidst horrors, joysand random bombspart of the fabric of life, deathmore concerned with hopscotchingloving parents, families and friendssmall happy dogs licking their facesgiggling late at night under the coversuntil they grow upor reality, politicians and slogans intrudes-- 108 --
---
<strong>The</strong> <strong>Amistad</strong> – <strong>Spring</strong> <strong>2007</strong>POETRYFirst Touch/Touch FirstJasmine GreenRaw nails and rough hands gently graze my thigh.Spoon position we lay, his warmth brings bliss.first touch, touch first. <strong>The</strong> comfort makes me high.Great expectations brings forth numerous lie,passion devours lies, forcing the first kiss.Raw nails and rough hands gently graze my thigh.Granted his drunken state, I want to cryHis beauty is something you cannot miss,first touch, touch first. <strong>The</strong> comfort makes me high.We share a common birthday month, July.<strong>The</strong> softness, yet roughness continues, persists.Raw hands and rough hands gently graze my thigh.We lay together, hoping I'd never have to say goodbyeAs I trace your nipple with my finger, I couldn't resistFirst touch, touch first. <strong>The</strong> comfort makes me high.Feelings were evident I can't deny<strong>The</strong> opportunity for more did existRaw nails and rough hands gently graze my thigh.First touch, touch first. <strong>The</strong> comfort makes me high.-- 109 --
---
<strong>The</strong> <strong>Amistad</strong> – <strong>Spring</strong> <strong>2007</strong>POETRYSista Hot-combed My HairLavelle IngramSista hot-combed my hair last night,and Lord! that hair put up a fight.It was fresh-washed and hard as wire,but my Sista don't play when it come to fire.She clamp down hard! With country strength,and make it sizzle full width and length.And cry if you wanna but she won't quit.Cause she know Mama would have a fit.So you just sit and cringe in fear,With that burnt spot scabbing on your ear.And I couldn't help jumpin' nor help twitchin'when she took that iron back to my kitchen.Lord, Sista can get it straight. Whether sheheat on the stove or on the hot-plate.She had us ready if she had to pull.Couldn't have your hair looking like cotton or wool.Not when we had church next day.You need straight hair to praise and pray.Sista hot-combed my hair last night.So in Sunday school I look just right.-- 110 --
---
<strong>The</strong> <strong>Amistad</strong> – <strong>Spring</strong> <strong>2007</strong>POETRYMay Blossom May FlowerHeidi MartinI don't know why white people let there silence speakSayin' keep your cottin pickin' hands off all that revenueyou made usyou made usyou mademillionsbillions gonedown that water wayafter mrs. Sippie was purchased as aslave; put more wood in the watermore bone in the trees, more leaves in the hands of thievesthieves will take everything, except responsibilitythieves agreed upona greed up onpark your free ass avenuebusy sortin' thrusegregatin' in this corporate warkeepin'brotha's bendin' down on all floors to get through the doorwhat ta pass word ?Fed XYou P. S.Are P. S.Airborne cuz your ass ain't landing a job hereStockin' shelves and stocks and bondsA hand full of shares leftA hand fool shares right ?A hand, An extension of the tension at the root twistin' in synthetic truth to cover your ears for what seem likeyears to keep you pretty deafWhatWe did in Americawe did What?we did what? in America ?If you can't ask why we did what we didIf you can't hear no truth – (it'sa lye)If you can't ask why we did what we didFU can't – ask why!Why We did in America what we did!If you can't try/If you can't : try /F U can't tryIf you dig, plant your seed with feets of change-- 111 --
---
<strong>The</strong> <strong>Amistad</strong> – <strong>Spring</strong> <strong>2007</strong>POETRYCause <strong>Spring</strong> come pass these partsSping come pass THESE partsCome pass these partsMay come truemay come true mayCome true May come true MehMay BlossomMay Flower…-- 112 --
---
<strong>The</strong> <strong>Amistad</strong> – <strong>Spring</strong> <strong>2007</strong>POETRYAFRO CENTRICAlison Matthewsknowledge wisdom understandingguides his lifeinspiring me to reach teach and preachthe stronghold of womb-man hoodit's not about appearancesor nappy hairwhen noddin yo head to thatbeat and claimingto representrethink what you're singingto your people"i got a nine in hand and..."nothing in my headwhat's this all about?killing blackonblackonwhiteon blackhas suddenly become the stapleand every momma's childis wearing colorshe or she just dont understand.yelling kicking and screamingfor someone to seehis invisibilitythrough thick skin and scarsshouting rebelling and wantingsomeone to hearher pangs of mental prostitutionselling themselves shortby cutting every corner...mommas and brothersin anguish over who to blame--is it his or her or your fault?shit maybe it's minefor seeing and notbelieving the guilty "pleasures"of dependency and inferiority!That's how they see us--not just the whites butour own people...brainwashed into thinkingdat nigga der is just SORRY!!come on Sista Solja,Mamanita, Mother Teresa-- 113 --
---
<strong>The</strong> <strong>Amistad</strong> – <strong>Spring</strong> <strong>2007</strong>POETRYand the rest...Come on Brother, Mr. Malcomand the king...We need you to raisefrom the dead and lead usjust one mo' 'gaincause, I don't think we got it yet.Come on tupac & biggycome out of hidingand demand better quality'cause I dont think youleft us right.Come on children ofAfrikayoung, old, weak, and stabledon't close your eyesto the struggle cause you'retired of tears.Don't give up--cause I ain't ready yet!-- 114 --
---
<strong>The</strong> <strong>Amistad</strong> – <strong>Spring</strong> <strong>2007</strong>POETRYCatwalksKenya MitchellFlimsy white polyester skirtsashays, passes for linenwhen seen from a distancein eyes unaccustomedto finery. Adrianna's legsmistake this gum-specked subwayplatform for light studded catwalksin spite of six years that makea frowning bridge betweenblinding photo flashed heavylidded sex eyes and night huedpimp shiners. Ankles cross and uncross.This strut accentuates convexcalves browned by florescent rays."<strong>The</strong> attention getter!" her agent had called it.Adriana surveys her underground audiencecomprised of one dazzled young man,maligned. A milky phlegm cataractis on his left eye.-- 115 --
---
<strong>The</strong> <strong>Amistad</strong> – <strong>Spring</strong> <strong>2007</strong>POETRYDespechoAileen RobledoIn all my trashiness I forgot youMourned my losses and escapesAnd purged my body of you in this drunken stateScandalized the night sceneDesire personified, ever sereneMy body vandalizedBy loathing leering eyesHate, envy, critical staresA conversation starter amongst the girlsMy gender and yoursBreaking me downEvery day, every step of the wayRumors and all that is untrueAnd if only they knewI'm just a monogamous prude lost on youLoves worthless whoreAphrodite's own washed up on the shoreBlindly begging you for moreWho made love to me a million timesIn my hearts purest shrinesAnd still mortified and bastardized my name-- 116 --
---
<strong>The</strong> <strong>Amistad</strong> – <strong>Spring</strong> <strong>2007</strong>POETRYDefaced me and buried me in shameAnd to forget you, my body's only persuasionIs to allow another's invasion-Gitanilla-- 117 --
---
<strong>The</strong> <strong>Amistad</strong> – <strong>Spring</strong> <strong>2007</strong>POETRYRapture EverlastingAileen Robledomy gaze mesmerizedLocked in the obsidian color of your eyesObsessed with your body's charcoal surpriseLuscious licorice lips locking on minethe fire of your tongue trailing my body's fine linesPumping liquid through my river of desireSurrendering my flesh to its primewith the rhythm of your anatomyrapture is forever caught in time-Gitanilla-- 118 --
---
<strong>The</strong> <strong>Amistad</strong> – <strong>Spring</strong> <strong>2007</strong>POETRYBronx BoysA.E. Roman<strong>The</strong> boys go trekking in summerIn white sneakers with red stripesFrom Bronx River Housing, they goIn blue jeans, faded tough at the kneesBounding soft and low, they goUnder heat and tree breezesTo the zoo, they goGathering flow-mindedBy glass cagesSitting under pink umbrellasLike black cats with two legsHand slapping purple butter-fliesBig yellow jacket beesMunching orange tortilla chipsGuzzling forty ounce sodas, coldWatching girls in tight shortsAnd tank topsLooking for good-timesTo pacify this sudden hunger<strong>The</strong>y are boys in summerDon't mind the heavy stench ofGator and HippoDancing to those stupid-crazy tunesOn the silver speakered music box<strong>The</strong>y motivate in the smooth warmOf too sunshine to learnHistory melting, meltingLeaving a residue of empty wordsWords, words, wordsThrough the zoo they go, chanting"Man, that bird's so ugly, he's cool."-- 119 --
---
<strong>The</strong> <strong>Amistad</strong> – <strong>Spring</strong> <strong>2007</strong>POETRYGrandpa and the Negro Leagues1927-1937A.E. RomanShe never wondered why he loved cartoonsQuickly running down a desolate hillFailure came slow at first, then soonOld black man from MobileNo Cooperstown for him<strong>The</strong> good pitcher gone badSix feet, three hundred pounds of grimIn thrift shop suit and fedora hatOne night in eighty-sevenHolding the boy and some bread<strong>The</strong> former New York CubanHe went to the woods and he said"<strong>The</strong> diamonds blinded my senses<strong>The</strong> money and girls don't lastBatting those balls over fences,"He mumbled and rattled his past"<strong>The</strong> game played me like a foolCrooks got away with the cashI almost died when I lost my tool,"And he set the boy on his lapAnd he touched the boy with his palm"A homerun's not love or respect,"He fed him and whispered a psalmAnd gently, he broke the boy's neck-- 120 --
---
<strong>The</strong> <strong>Amistad</strong> – <strong>Spring</strong> <strong>2007</strong>ESSAYSLessons from AbroadRonke AjalaWith much anticipation and preparation, my family and I embarked upon an almost month-longjourney to visit my family in Nigeria. I did not know what to expect, so I went expecting the unexpected. <strong>The</strong>one thing I anticipated or psyched myself up for was meeting a lot of relatives that I had not met in years, orever. Thinking back, it really fills me with emotion and pride, just the freely given embraces and hugs andwarmth extended by so many of my cousins, aunts, uncles, nieces, and nephews. It was not surprising;however, it still overwhelmed me to know that these people that I did not really know know, but knew of, werehanging on my every word and action, wanting to spend every waking minute of my trip with me and makingsure that I had no worries. <strong>The</strong>y had waited to see me for years, always asking of my well-being, and onlybeing able to hear my voice, or see me in photos.For a substantial part of our first week, we went around town visiting relatives and taking in the sightsand smells of Lagos. We just about saw everyone—aunts, uncles, neighbors, friends-of-friends-of-friends—youname it. From the moment we stepped off of the plane, I truly felt the love and warmth which flowed so freelyand abundantly from my cousins, whom we stayed with initially. It was such a surreal experience. My cousin'sfamily, as well as so many other, were thrilled to see us. No one wanted us to lift a finger. This was beyondhospitality. <strong>The</strong> African way is to truly take care of each other, but this was insane! My aunt was ready to stuffus like Thanksgiving turkeys. She offered us anything we felt like eating, basically all of our basic traditionalfoods: pounded yam, amala, eba, gberi, efo—you name it. I wanted them all. (I knew this would be downhomecooking, cooking that would surpass anything that we made here in the states). <strong>The</strong>re was just somethingabout the air, the water, the animals—all lending a different dimension to our meal. Our first meal was amalaand gberi, a stew made of crushed beans and meat. <strong>The</strong> food was simple, but infused with lots of love andflavor, and I thought to myself, are we going to be eating like this every night? If so, I'm going to be in trouble!During the following weeks, we traveled to Ogbomoso, my mother's hometown, and Abuja, Nigeria's capital.(Lagos is the former capital). I relished every opportunity to take in new sights, sounds, and smells. InOgbomoso, the country-side, the pace was markedly slower and most pastoral. To give you an idea of just howpastoral, as we drove, we were on the lookout for little goats crossing the road, or stopping to feed at theroadside. My uncle's house was situated just off the main road into town, surrounded by open greens and a fewneighbors. At night, the sky was pitch black and all of the stars were visible—something I had not experiencedin years. <strong>The</strong> vibe was very small-town, but also one of hard work and simlicity. Markets lined the roadsides,clusters of businesses selling fabric and shoes and a couple of banks peppered some of the busier street corners.<strong>The</strong> bustling streets were filled with vendors selling food on just about every corner, hot bread especially, andanything else you could think of—newspaper, toiletries, batteries, clothing, housewares, etc. I slowed my pacefor a week and appreciated this lifestyle and my people's way of life, as well as my own back here in America.I felt ambivalent about the opportunities I had—here I was, visiting and seeing many people who, though happyand living a simple life, would probably benefit from a little more money to further their stations in life (to sendtheir kids to college, build a bigger house, etc.), but then I thought, Is this just a Western mindset? If they arecontent, what is the problem with that? Was I projecting my own ideals upon them?In Abuja, the capital, the pace was decidedly more metropolitan. We were blessed with the opportunityto drive by President Obasanjo's dwelling, as well as the senate buildings. Abuja, and Nigeria, on the whole,overwhelmed me with the verdant palm trees providing scenery and landscape. I really felt like I was on a-121-
---
<strong>The</strong> <strong>Amistad</strong> – <strong>Spring</strong> <strong>2007</strong>ESSAYStropical island! <strong>The</strong> drive to Abuja demonstrated why our flag had the green/white/green panels. All we sawwere lush mountains and roads. It was really too much to put into words. When we reached Abuja, the hustleand bustle of business being conducted in Abuja impressed me, as well. This was a happening city. Though theweather was not cooperating, we visited Millenium Park, a huge park covering acres of land and sportinghundreds of plant species. My heart swelled with pride seeing my country and its beauty. Throughout this trip,and from that moment on, especially, no one could ever dispel any notion about Nigeria's worth to its peopleand to the world. This was not just material worth, but the great minds that existed in this country, the everydaypeople that took pride in their country and just wanted to be citizens of this world and treated like humanbeings. It was disheartening to know that thousands of miles away, and perhaps not so far away, derogatorylabels such as 'Third World country' were mentioned in the same sentence as the name of my homeland. Itmade me angry, but it also inspired me to erase the ignorance that existed about Nigeria and the Africancontinent. Not wanting to paint a broad stroke, I realized that not everyone thought of Africa as a destitute,forsaken place; however, I realized that prevailing Western attitudes still justified making only scant referencesto the history, vital events and progress in Africa. I wanted to change that—right away.My return to the Mecca, <strong>Howard</strong> <strong>University</strong>, was also a homecoming of sorts, further enhanced by mytrip to Nigeria. I did not want to leave Nigeria, but I came back so inspired and in awe of the strength andresilience of my people—both back home, and here in the America. I realized the significance of sharing andspreading knowledge about the Black diaspora. I wanted to, and will, take advantage of the plethora ofresources available here at <strong>Howard</strong> <strong>University</strong>, to learn about those who came before us and made the HUexperience possible. I wanted people to share with each other, to dialogue with each about what's happening inthe community, in their own lives, about the state of the Black community, about where we are going. I amalways glad to see and attend events about the diaspora at HU, and I applaud those who are involved. <strong>The</strong>y aretruly inspirations and invaluable resources. As I reach the end of my time here at HU, I am grateful butintrospective. I question my role in the diaspora and in this world, how our student body will represent itselfthroughout the diaspora, and how the Mecca will sustain its legacy.-122-
---
Playing Semantics<strong>The</strong> Curious Implications of Urban RenewalAbdul Ali<strong>The</strong> <strong>Amistad</strong> – <strong>Spring</strong> <strong>2007</strong>ESSAYSRecently, I went to see the play Jitney by August Wilson and it did something to me. It reminded me ofhow home is never really ours, that there is usually an arbitrary reason for our displacement. Jitney set amid thetumultuous 1970s: a decade marked by changes in music, neighborhood blight largely due to integration, thewar in Vietnam, the women's liberation movement, the Black Power Movement, and the curious tensionbetween the mainstream Blaxploitation cinema and the community-conscious oriented Black Arts Movement.While many of the external changes of the 1970 function as a pretext to the play, the drama largely focuses onthe imminent closing of a Jitney station which symbolizes a pillar in the community.Wilson is not the first to write about neighborhoods and the symbolic value of home and community,Black writers have spent a tremendous amount of time showing the world that our notion of home is constantlyin flux. . In the novel Beloved, Toni Morrison writes: "men and women were moved around like checkers".Although Washington, DC isn't the plantation of Morrison's fictionalized Sweet Home, there are someparallels, however.. <strong>The</strong>re is a gamesman approach to how city planners, developers, and those with powerplans, interrupt, and supposedly "renew" the communities, which perhaps were never ours to begin with.Washington D.C hasn't always been just a place to work, or maybe play. <strong>The</strong> people who had government jobswere more than content to commute from the suburbs of Virginia or Maryland. Such is not the case today; thereal estate market is through the roof, and condominiums are being built at an accelerated and exorbitant rate,rivaling tenement houses. Property taxes are forcing many residents to move, or sell their homes. And thosewho rent have become checkers: moved either to less developed parts of the city, or into Prince George'sCounty.Long after I left the Ford <strong>The</strong>atre on that cold winter night I slipped into a pensive state, contemplating howthe lives of the cabdrivers were affected by their taxi station being closed in the Hill District of Pittsburg. In thelives of those Jitney drivers I saw Washington's black residents, even though the play was set in Pittsburgduring the 1970s. Every morning as I leave my house on Fourteenth Street a barrage of construction signs blindme with their neon colors reflecting the hot white sunlight. <strong>The</strong>re are many plans for the 14 th Street corridor: aStarbucks, a Washington's Sport Club, and condominiums galore, next to and across the street from oneanother, on top of you, underneath you, just everywhere.In the world of August Wilson's Jitney, a group of taxi drivers created not only a livelihood but acornerstone for the community. No one describes what the Jitney station means for the community better thanBecker, the owner: "part of that service is providing people with a way to get their groceries home or to get theirsuitcase down to the bus station or the airport so they can go home to visit their mama or whoever it is they-123-
---
<strong>The</strong> <strong>Amistad</strong> – <strong>Spring</strong> <strong>2007</strong>ESSAYSwant to visit." This world is threatened by the city's plans to condemn the neighborhood, calling it "blighted".This trend of neighborhoods being abandoned and/or overhauled is not a unique theme for black writers; thistheme can also be seen in Toni Morrison's Sula and Gloria Naylor's Women of Brewster Place.How can the community respond to such a rapidly growing phenomena? Where should the lines to bedrawn? Is there a way to both enjoy the cultural renaissance and keep your home or apartment? Shouldgentrification be seen as an evil? Maybe it wouldn't be so bad if there was a way for the marginalized (mostlyAfrican American and Latino) residents to reap some of the rewards of all this change. Sadly, it wasn't designedfor black folks to enjoy the benefits. It feels more like a maneuver to kick us out. As one newspaper headlinereads: urban renewal is code for Negro removal.-124-
---
<strong>The</strong> <strong>Amistad</strong> – <strong>Spring</strong> <strong>2007</strong>ESSAYSReflections of PovertyTroy BakerI am grateful for a lot of things that probably should have destroyed me. I once came home to bulletholes in my bedroom as a result of my mother's struggle with schizophrenia. I have visited my father in jail,and my family had bouts of homelessness that landed us with various family members and neighborhoodshelters. This all happened before the fifth grade. I've been through a gauntlet of small tragedies, and I've gotthe scars to prove it. You can't tell by looking at me now, with my Ivy League degree and wing-tipped shoes,but I was raised in the world of the middle class American. <strong>The</strong> America from which I sprang is a differentplace than the one I now belong. <strong>The</strong> S.U.V. that I drive is worth more than the house I left on my way tocollege. <strong>The</strong>y call me a tight-ass, because I refuse to spend money on things I don't need. I don't play golf,because it costs too much. I refuse to pay someone to cut my grass, and I still cut my own hair to preventspending twenty dollars I could use for something meaningful. I don't go to clubs and I'm not interested inwearing the latest fashions. My kids don't have a Playstation, and my wife doesn't own a Coach purse. If Ihave three pairs of shoes, then I'm satisfied—one brown, one black, and a pair to play basketball. My middleclassfriends don't understand the place that I come from. I am a part of the middle-class world, but I aminherently different and deep in the recesses of my brain I know that I will never be one of them (a thought thatdoesn't upset me). I will never be one of them, because I have seen too much, and poverty is a scar from mychildhood. My financial situation as a kid is my lens for viewing the world. Poverty affects every humaninteraction that I have had in my entire life. Even now I have to force myself to be assertive, breaking the habitof rolling with the punches just to survive.I remember seeing my father as a hero. He wasn't a hero in the sense of having super-human strengthor the ability to do the impossible. In the eighth grade I was at a basketball camp at the <strong>University</strong> of Toledosponsored by NBA star Jimmy Jackson. On the last morning of the camp he asked the group, "who is yourhero?" I raised my hand and he told me to stand up. My heart was pounding up into my throat and I said, "Mydad." He asked me why and I looked down at the unraveling strings on my Nikes and replied, "He paid for meto be at this camp." To me it was quite a heroic feat to pay $90 for anything that wasn't involved with keepingthe utilities on or the refrigerator full.My father did a lot of things well, but his most arresting quality was his mind, because he had insightinto every facet of life imaginable. He could write volumes about any topic and he even completed a coupleyears of law school with a 3.5 average—a rarity for black men in the early 70s. He finished his Master'sDegree in Political Science at age 23 which was unheard of. My father had the type of mind that could havebeen placed alongside Cornell West's with information to spare. If he could have been in the right place at theright time just once, my father would have beaten Chris Gardner to the punch and that movie would have beenabout him. Instead he ended up with a felony—a whole new ballgame. A Master's degree in the seventies wasalmost guaranteed financial stability, and I was raised by two parents with Master's degrees. Somehow we stillended up broke.My mother was raped when I was 8 years old, and I stood on the porch listening to her call my name.Up until then everything was pretty normal. My mom was a school teacher, and she had a Master's degree fromthe <strong>University</strong> of Toledo. She loved to take pictures of us, and the year before everything went wrong she droveus all the way to Florida for a vacation. She and my sister Deanne always said that we went to Disney World,but I remember rain everyday and drinking orange juice in a hotel room with dark brown carpet. It was in-125-
---
<strong>The</strong> <strong>Amistad</strong> – <strong>Spring</strong> <strong>2007</strong>ESSAYSFlorida that I saw weakness in my mother for the first time. We were swimming in the hotel pool and she juststarted screaming and waiving her arms in the middle of the air. Everyone just stopped and looked as mymother fought for her life in the middle of the hotel courtyard. Deanne dove into the pool and saved her. Ididn't look at her when she finally got out of the water, because I didn't want to embarrass her. She has notspoken a word about that day in over twenty years.She was taking care of us on her own at the time, because my dad was in Texas teaching and coachingtennis at Brazosport. He sent money and clothes on a regular basis, but I was so young when he left that mymemories of him were not very sharp. I remembered his big grey charger with maroon leather interior and howhe would let me climb through the sunroof to get in and out. It made me feel like one of the Duke Boys. Hecalled one day and I didn't recognize his voice. I called him Uncle Edward and it broke his heart.When we got back from Florida some things started to change. My mother would drive for hours sayingthat somebody was following us. I would be in the backseat complaining the entire time."Mom, what are you doing? Nobody's following us.""Just be quiet." She would whisper turning down side streets trying to make herself invisible. Shewould make so many turns that we would end up lost. Her attention was on the rearview mirror, and nothing Isaid mattered. I shrugged it off as one of those things that adults do to torture their children. I didn't know thatshe was experiencing paranoia and hallucinations that are symptoms of schizophrenia. I wouldn't realize themagnitude of the situation until she bought a 38 and unloaded into the walls of the room in which I slept everynight.* * *I couldn't wait for my father to get home from Texas, but there was so much going on that day. My bestfriend Marja was having her 8 th birthday part, and I couldn't miss it. <strong>The</strong> day he got back from Texas we sat inan old Baptist church at his grandmother's funeral. He buried his face in his hand and his massive shouldersshook softly beneath his brown polyester suit coat. He looked different than I had remembered him. He wasstill the biggest man I had ever seen, but his eyes had changed from seeing so many different things down there.I don't remember leaving the church, but I do remember standing on the porch of our duplex and hearing mymom call out for me in a way that I had never heard before. I put my hand on the gold doorknob and my dad'svoice told me to stay outside. My mom called for me again and again, but I was frozen, because I knewsomething wrong was happening on the other side of that gigantic, impenetrable door. I knew that I wouldnever forget her voice but I didn't know why at the time. I felt my stomach turn, because I didn't want to let herdown, and I didn't want him to be mad at me. I hadn't seen him in so long. I turned from the door and walkedout into the front yard. About fifteen minutes later a police car pulled up in front of our house and two officerswent inside. <strong>The</strong>y walked my dad out of the house in handcuffs and I cried out loud like a toddler. I wasconvinced that whatever happened was my fault. Cars were pulling into Marja's driveway and her dad wasstanding on the porch watching my dad duck into the police car. I don't remember seeing my mother again thatday, but I remember riding off with my grandmother watching two ladies walk into Marja's house withballoons. Despite my mother later attempting to drop the charges, I wouldn't see my dad again until I visitedhim in prison.-126-
---
<strong>The</strong> <strong>Amistad</strong> – <strong>Spring</strong> <strong>2007</strong>ESSAYSMy parents once had high aspirations and expectations, and to see them unattained was crushing tothem. <strong>The</strong> feeling of defeat eventually trickled down to me and my siblings. We always had the feeling thatsomething monumental was taken away from us, and a pervasive sadness resided in our home. <strong>The</strong> good timeswere accompanied by the awareness that things would be even better if the ball had bounced in anotherdirection.Despite being poor and having a criminal record my father was still a wise man. <strong>The</strong> most beautifulthing about his wisdom is that he poured everything he knew into my head. He constantly warned me aboutpitfalls that waited ahead for any direction that I may decide to take. He knew everything about pitfalls,because he had been in each one of them. All of the advice he gave me came from first-hand knowledge. Iremember spending entire days out with my dad scrounging up money for dinner. We would stand at gasstations and he would ask people for quarters for gas so that we could get back home. After a while peoplewould start to recognize him and they would tell him to stop harassing the customers. Some of the peoplewould tell him to get a job mutherfucker. <strong>The</strong> worst is when people ignored him. I wanted to tell them that myfather had more education that they did and that they needed to respect him (and me) and a person. I wantedthem to know that my parents had four degrees between them, but all was well if we got to eat at night.While most kids were playing in soccer leagues and learning to fish, I sold newspapers in a wagonoutside of a neighborhood carry-out that was adjacent to the neighborhood jewelry store. Henry's Jewelry wasa haven for pimps and fast-talking hustlers who wore brim hats and brightly colored suits. I admired their flareand flashy four-finger rings. I wondered what is was like to drive a Cadillac, and I started saying things like,"What it is my nigga?" and I emulated the ever-present limp that they carried themselves along with. I wentinto that jewelry store at least three times a week to look at chains, rings, and shoes. I absorbed the slang andthe way the hood-rich interacted. <strong>The</strong>y laughed on the sly and covered their mouths like everyone was in on ajoke together. I wanted to laugh at whatever they thought was funny, because I sure as hell couldn't findanything funny about my situation. <strong>The</strong>y would give me dap and tell me to keep hustlin'. Some of them wouldgive me excessive amounts of money for newspapers and tell me to keep the change. Because of them I knowthat God dwells somewhere inside of everyone—even those that society deems as unworthy. I fell in love withtheir style, and by the fifth grade I was wearing white patent-leather shoes with playboy bunnies on them toschool. I wasn't interested in kid games and the raging hormones that inhabit every fifth grade classroom in theworld. I was interested in figuring out why some people had things while others had nothing. I wanted tofigure out how to get "stuff." From the information that I gleaned from my surroundings at school and in theneighborhood I came up with a few basic precepts: 1. Work hard all the time. 2. Get to college. 3. Be honest andtell the truth. Pretty simple maxims, but they would eventually carry me a long way and they became the pillarsof my plan.I remember finding ways to avoid being broke. I shoveled snow in the winter, and I cut grass in thesummer. By high school I was selling portraits in the front of Kroger's and bagging groceries at the very carryoutthat was my post as a kid. I learned volumes about the power of desperation while working in Provo'sGrocery. I made a deal with a neighborhood crack addict to keep my parking lot clear of carts for a small dailyfee. By age 16 I was on the register ringing up countless bottles of ridiculously cheap beer and laundering foodstamps into cash money. <strong>The</strong> owner of the store was a white guy named Sal, and he paid me under the table ina little envelope every week. Some weeks the envelope was stuffed and some weeks it was bordering anorexic.Regardless of how much was in the envelope, I made things run in that store. I think I may have been the mosteducated employee in the place.-127-
---
<strong>The</strong> <strong>Amistad</strong> – <strong>Spring</strong> <strong>2007</strong>ESSAYSTo the people in that store I was an average kid, bagging stale groceries in a dirty ass grocery store. ButI had plans. <strong>The</strong> beautiful thing about having a plan is that it is as precise and detailed as you decide to make it.A plan is different from a dream. Anyone can dream. It doesn't take any wherewithal to say, "someday I'mgonna be rich." But it takes something extraordinary to sit in the middle of total chaos with a plan in your mindof how to escape. It's even more extraordinary to work your plan and come home years later to visit. <strong>The</strong>re'ssomething supernatural about being able to transcend a tumultuous situation by focusing on your own plan. Ihave heard people dream all my life, but I've seen very few people plan. I've heard winos talk about how greatthings would be if they hit the lottery. <strong>The</strong>y talked about the cars and suits they would buy when their numberswere called. <strong>The</strong>n they would grab their nuts and take a big gulp from their paper bag. That's what a dreammeans to me.My plan eventually took me away from the chaos that once surrounded me. By age 25 I was in aMaster's program at Brown trying to convince myself that I actually belonged. Initially it was a shock. <strong>The</strong>campus was full of arches and everywhere you walked, it felt as if you were really going somewhere. Everycouple minutes I'd walk through an archway and say "Thank you Lord" under my breath regardless of who wasbeside me. I sat in my classes and I was amazed with the ease at which my peers spoke on Literature andhistorical figures. I felt overmatched, but I was hungry. My scars were still there from a tumultuous childhood,and I worked hard all the time. I made a point to close down the library EVERY night of the week. Isubmerged myself into my studies and never came up for air. I averaged a pot of coffee a day, and before thefirst semester was over teachers were using excerpts from my essays as models of what they wanted fromeveryone else in class. While my associates were eating spinach and tofu I picked up smoking cigarettes,convinced that it would help me cope with such a punishing schedule. <strong>The</strong>re was a difference between me andmy peers, but it wasn't what I initially thought. <strong>The</strong>y were working for themselves and I was working to breakchains and cycles.When I was ten years old I was riding my bike across Cherry Street and I got hit by a car. I havepermanent scars on my shoulder and the back of my right arm from sliding on the pavement after the impact.My kids always ask me to tell them the story of how I got those scars. No matter how many times I tell thestory, they are amazed at how I could have been hit by a 1500-pound car and remain in one piece. <strong>The</strong> scars arereminders of that incident. <strong>The</strong> scar of poverty is just the same. It's a reminder; something that makes medifferent. You have to squint to see it, but it's undoubtedly there. A scar is not a grudge, it's something thatbuilds character. Poverty gives me an edge, and most of my friends can't relate. Everyone has their ownstruggles and scars, but mine are unique and they set me apart from the crowd.<strong>The</strong> paradox I struggle with everyday is that my kids are being raised middle class, and I don't know ifthey will understand me. I can honestly say that I don't understand them. Already I can feel myself scoffing attheir soft edges and their expectations that everyday should bring something enjoyable. <strong>The</strong> more materialsuccess I obtain, the further the gulf between us widens. <strong>The</strong>y don't know what it's like to worry about theirnext meal, and when they ask, "can we go out to eat tonight?" I think about those days when my father and Ibegged for quarters. When my son says he's hungry, I tell him that he doesn't know what it means to be hungryas if it's of his own doing. I think of all the things my father told me about pitfalls and how many mistakes Iavoided as a result of his advice. Now I pour my knowledge about life and achieving goals to my kids. <strong>The</strong>ymarvel at how I seem to have some knowledge about everything that we come across: some of it's second handknowledge and some of it's from my own experiences. Instead of telling them about what was taken from me, I-128-
---
<strong>The</strong> <strong>Amistad</strong> – <strong>Spring</strong> <strong>2007</strong>ESSAYStell them about beating the odds when the deck is stacked against you. I have broken one chain a powerfulchain and, I'm starting one of my own.-129-
---
<strong>The</strong> <strong>Amistad</strong> – <strong>Spring</strong> <strong>2007</strong>ESSAYSOn How It Feels to Be Colored Me:A Personal ResponseMelanie Chambliss"I am colored but nothing in the way of extenuating circumstances except the fact that I am the only Negro inthe United States whose grandfather on the mother's side was not an Indian chief."– Zora Neale Hurston, "How It Feels to be Colored Me"Zora Neale Hurston wrote her essay "How It Feels to be Colored Me" in 1928. She pinpoints herrealization that she was indeed a Negro at the age of 13 when she left her home of Eatonville, FL to travel toJacksonville. <strong>The</strong> remainder of her reflection comments humorously on the aspects of her colored existencethat she most enjoyed. Those moments may have been times when she most identified with her race or othertimes when she soared beyond race and time. However, the first time I read this essay, I respected Zora themost because she never found her black identity to be tragic.<strong>The</strong> idea of trying to describe how it feels to be colored is a formidable proposition even before the actualattempt to write those thoughts. I think of my own experiences on the campus of a historically blackuniversity. Differences abound between African-Americans from the tops of our heads to the soles of our feet.I swear I have heard every explanation in the book why one hairstyle is preferred over another. For the relaxer:'It's more manageable.'; with the press: 'It's much healthier.'; to the natural or the locked: 'It's authentic—theway God intended.' But above all else, with all of these choices, we are individuals. Zora laughs at such heateddebates as she focuses on what it means to be colored me.<strong>The</strong>n I tried to superimpose Zora's independent perspective onto the issue of attending historically blackcolleges or universities. I realized the brilliance of one of her statements that echoes today. She writes, "I feelmost colored when I am thrown against a sharp white background," While on <strong>Howard</strong>'s campus, I canappreciate the diversity of hairstyles, the different flavors of diction, and varying viewpoint on the state of theworld—I can appreciate the diversity that is innate within humanity. It is always against the sharp whitebackground that it seems African-Americans are called to unite and share the same ideals and visions for thefuture.But how does it feel to be colored me?<strong>The</strong>re is a supposed threat of integrating too much into mainstream culture because we will lose our identity.<strong>The</strong>re is a threat if we are so monolithic within ourselves that we still lose our identity.My friend told me a story about a discussion in her Contemporary Black Child: Black Youth in Hip-Hopclass. A student was discussing the impact of Tupac in his life and how significant it was to the blackcommunity when Tupac made the song, "Brenda's Got a Baby." All the while, my friend say in the midst ofthe class wondering to herself—'Who's Brenda?!Zora captures the beauty of distinction as she depicts how it feels to be colored me. My friend exhibited ahumorous representation of how it felt to be in a hip-hop class, and supposedly a member of the hip-hop-130-
---
<strong>The</strong> <strong>Amistad</strong> – <strong>Spring</strong> <strong>2007</strong>ESSAYSgeneration but still be completely lost. But perhaps it is the ambiguity and those gray areas that should beencouraged.As Zora concludes—and I concur—, she writes, "But in the main, I feel like a brown bag of miscellanypropped against a wall. Against a wall in company with other bags white, red, and yellow. Pour out thecontents and there is discovered a jumble of small things priceless and worthless… Perhaps that is how theGreat Stuffer of Bags fill them in the first place--- who knows?"Not colored me.-131-
---
<strong>The</strong> <strong>Amistad</strong> – <strong>Spring</strong> <strong>2007</strong>CONTRIBUTORSArtistsMartin DixonBorn in Brooklyn 1965. Martin Dixon studied aeronautic technology at Aviation HS, 1979-1983,School of Visual Arts ,1983-1985, and completed a Bachelor of Fine Arts Degree at CooperUnion in 1988 on full academic scholarship. He spent a semester abroad in Paris, France in 1987and went on to receive an MFA from <strong>University</strong> of Michigan, 1988-1990. Martin Dixon foundedDixon/ Deux Yeux Photographie in 1990 and has been commercial freelance photographer sincethen. Some of his clients include: United Way of NY; <strong>The</strong> Ford Foundation; <strong>The</strong> CommonwealthFund; General Motors; Trump Communications; Atlantic, Polygram, and Motown records and ahost of popular magazines. Dixon published a book, Brooklyn Kings: New York City's BlackBikers, in 2000 for powerHouse Books. He is presently working on a new monograph and socialdocumentary video "Dakar Noir."Gilles HoarauGilles Hoarau is a 25-year-old self-educated in art and graphic design. He was born in Guyanaand grew up in France where he still lives and works. He started drawing at a young age beforegrowing into work with digital images and art as well. He finished school early and beganworking at age 20. He's been working in the medium of photography for almost a year. Currentlyhe is focusing on flowers and insects as his subject matter because he likes the idea of naturalobjects, not created by man. Also, for the past year he has been working in a communicationsagency, which he part owns.Christine StoddartChristine Stoddard is a senior at Yorktown High School and is heading to Grinnell College on afull-tuition merit scholarship this fall. Since elementary school, she has been identified as giftedin several subject areas, but most notably in English and the visual arts. Her writing and artworkappear extensively in local publications, such as Young D.C., frequently in national teenmagazines, like Teen Ink and Teen Voices, as well as in numerous other venues, both in printand online, from the Benton Courier to the Louisville Review. She is a native of Arlington, VA,where she has lived since birth with her parents and two younger sisters. Please feel free toGoogle her name and email her at chrissiestoddard@gmail.Matthew Felix SunMatthew Felix Sun currently lives in the San Francisco Bay Area and has been painting for morethan a decade. In depicting life frankly and critically in both its visual surfaces and interioraspects, his work reaches toward the realms of history and social commentary. He has exhibitedin several national competitions and his work is collected in the US, Canada and China.-132-
---
<strong>The</strong> <strong>Amistad</strong> – <strong>Spring</strong> <strong>2007</strong>CONTRIBUTORSEssayistsTroy BakerTroy Mckenzie Baker is a native of Ohio and currently resides in Jonesboro, Georgia. He holdsa Masters in Teaching with an English concentration from Brown <strong>University</strong>. His work hasappeared in <strong>The</strong> African Sun and Lexus Nexus.Feature ContributorsJuanita WatsonJuanita Watson is the Assistant Editor of Reader's Views, an online magazine specializing bookreviews. Her main work with Reader Views consists of interviewing authors, writing pressreleases, and management support. Born in Northern Alberta in Canada, Juanita currently residesin Austin, Texas. In 2003 she moved to Bisbee, AZ where she studied herbal medicine. Uponcompletion Juanita returned to Austin and started production of herbal tinctures. She continues toproduce herbal supplements while working as Assistant Editor with Reader Views. Juanita lovesto travel and has been to many of the states as well as making yearly trips to Jamaica where shespends time with the locals studying Jamaican herbs and natural healing.Fiction WritersJJ DeCeglieJJ DeCeglie is a 25 year old from Fremantle, West Australia. His work has been published inParis, the US, the UK and Australia. He is also the author of the underground novel the sea is notyet full.J. Laury DesmondJ. Laury Desmond, Desmond to his friends and colleagues is a 22-year-old native of Philadelphiaand the son of Antiguan parents. He attended the Philadelphia High School For Creative andPerforming Arts and continued on to the <strong>University</strong> of <strong>The</strong> Arts where he will be graduating inMay <strong>2007</strong>. Desmond regularly reads at open mikes around the city of Philadelphia, and is amember of the Meridian Writers collective, the Philadelphia Storyteller's Guild and the KellyWriter's House. His work has been published in United Writer and Artists, PhiladelphiaMagazine, and Meridian Bound, the anthology of the Meridian Writers Collective, as well asseveral other publications.Lloyd FryeBorn in California in 1947, Lloyd Frye grew up in Kansas City, yes, and drifted through collegesduring the Viet Nam War on a II-S deferment, worked odd jobs and finally joined the electronicsmanufacturing industry in 1978. Frye began writing early in 2004 and has since been publishedon Humdingerzine.com and dyingwriters.com. He was also a finalist in Humdingerzine.com's2006 Space Exploration Contest.-133-
---
<strong>The</strong> <strong>Amistad</strong> – <strong>Spring</strong> <strong>2007</strong>CONTRIBUTORSRalph Greco Jr.Ralph Greco, Jr. has been published in over 6 countries, in small press, major market and online.He is also an ASCAP songwriter. Living in the wilds of New Jersey suburbia, Ralph spendsmost of his free time trying to keep his already monstrous ego from growing to unimaginableproportions.Jasmine GreenJasmine D. Green was born and raised on the Westside of Chicago, IL. She attended SouthernIllinois <strong>University</strong>-Carbondale and received her Bachelor's in English Creative Writing in May2006. She has studied the works of some of her professors Allison Joseph and Rodney Jones. Shecontinues to write in her spare time.Katherine LuckA recipient of the 2006 Celebration Foundation Grant for Writing, Katherine Luck's short fictionhas appeared in several literary publications, including: <strong>The</strong> Los Angeles Journal, DenverSyntax, Farm House Magazine, HUMDINGER Magazine, and Oregon Literary Review. As afreelance writer, she has published numerous non-fiction pieces in Seattle Woman Magazine,Northwest Baby & Child, and Who Is Isabella Magazine. Her first novel, In Retrospect, will beavailable in late <strong>2007</strong>.Kenya MitchellKenya Mitchell, a New Orleans native who began writing at age ten, has been published inStanford's Black Arts Quarterly, A Gathering of the Tribes Magazine, and in the anthology, Lifeon the Moon; My Best Friend's Secrets. As a current student at the City College of New York ,Ms. Mitchell has been heaped with awards including the Melon Mays Fellowship, and hasstudied English intensively in Cambridge, England. In the spring, her first collection of shortstories, Aftermath of a Sociopath will be available on Lulu.com.Erik Powell Jr.Aileen RobledoGitanilla is an actress/writer who lives in New York. She loves to write and graduated fromcollege with a B.A. in Spanish literature. She has begun novels and never finished them, giftedwith the impatience and inconsistency of many artists. Her first language is Spanish but shewrites in both tongues. So far she has only read her works at open mics and this would is her firsttime being published. She can be reached at gatitagitanilla@gmail.comAshanti WhiteAshley L. Williams is currently a junior at <strong>University</strong> of Maryland, Baltimore County, majoringin Africana Studies. She was the 2006 recipient of the College Language Association/MargaretWalker Prize for Fiction. She was also invited to the 2006 Hurston-Wright Writers' Week.Presently she is working on several short stories and a novel.-134-
---
<strong>The</strong> <strong>Amistad</strong> – <strong>Spring</strong> <strong>2007</strong>CONTRIBUTORSPoetsKim CarrKimberley E. Carr is retired from the Navy and currently works as an Adjunct Professor withChattahoochee Technical College. She graduated from the National <strong>University</strong> and <strong>University</strong>of Central Florida and is the author of eight poems: "360 Degrees", "Love Is", "My One LastCent", "Good-Bye Means", "Come Back", "<strong>The</strong> Greatest Love of All", "That Friend of Mine","True Love Is Seldom Seen", "Sick n' Tired", and "<strong>The</strong> World Stopped When"…. Her currentproject is a novel entitled: When <strong>The</strong> Cycle Stops Spinning: It takes a new turn.Curtis CrislerCurtis L. Crisler is a Limited-Term Lecturer at Indiana Purdue Fort Wayne (IPFW). He has aforthcoming book from Front Street Press, Tough Boy Sonatas. He has recently published inElixir (forthcoming), Re)verb (forthcoming), <strong>The</strong> Ringing Ear: Anthology, In the Eye: ACollection of Writings, Callaloo, <strong>The</strong> Fourth River, and Only <strong>The</strong> Sea Keeps: Poetry of theTsunami. He is a Cave Canem fellow.GenesisPushing past Brooklyn streets, where Genesis first made noise on the microphone, this projecthype song is as strong as her name projects. Her childhood experiences along with urban politicsare a directly reflected in her writing. Genesis intends to push urban poetry into the hearts andsouls of misguided youth providing as a catalyst for change. Using her passion for poetry anddrawing from lessons learned between the basketball courts and double dutch ropes, Genesis,born Genesis T. Frederick, has never been formally trained. She uses her drive and hunger forthe spotlight to fuel every performance. Her Southern Black style is like no other and stands as abridge between hip hop issues, family struggles and social concerns. Performing Spoken wordsince 2000, Genesis has received appreciated standing ovations from diverse audiences such asthe World Famous Apollo <strong>The</strong>ater, the NuYorican Café, and the Bowery.Venitia GhozlanVenitia Ghozlan is a 49 year old disabled homo sapien, fem, daughter, mother, grandmother, ofmixed cultural heritage, borderline aetheist, humanist, non-tribalist, apolitical, misunderstoodpoet... During the day, she is an administrative assistant and to keep sane, she writes poetry, andreads. She also enjoys making politicians uncomfortable, over issues like global warming,hunger, free medical care and homelessness.Jasmine Green* see bio above-135-
---
<strong>The</strong> <strong>Amistad</strong> – <strong>Spring</strong> <strong>2007</strong>CONTRIBUTORSLaVelle IngramJ. LaVelle Ingram resides in Tucker, Georgia, and holds a Ph.D. in clinical psychology from the<strong>University</strong> of Tenesse at Knoxville. In her undergraduate years she attended Smith College and<strong>Howard</strong> <strong>University</strong>. LaVelle is a prolific writer and has written in several different genres,including fiction, drama, self-help, and poetry. Some of her unpublished works include: <strong>The</strong>Heart of the Matter, teleplay; and To Sleep Perchance to Dream, novel. She has publishedcolumns on lifeintheuse.com and poetry in American Anthology of Poetry as well as ShrinkWrap. In her spare time LaVelle is an inventor, singer/song-writer, portrait artist, jewelrydesigner.Heidi MartinWashington DC Native Vocalist and Composer, Heidi Martin, has written from her perspectiveon race relations since '97. She took a collection of her most intimate poems set them to musicand released her work in 2005, this collection of all original compositions is entitled HIDE.All About Jazz says"...a breezy stroll through the Civil Rights movement at a level deeper thanthe political could ever achieve. Miss Martin has a vision, one of oneness with all and shepromotes this vision with lyrics like these. She also steers toward the personal, articulating thosethings we often want to keep to ourselves but benefit most from talking about."She performs her work at Bossa Lounge every Tuesday night 9:30pm-12:30am.Allison MathewsAllison Mathews is a graduating senior at <strong>Howard</strong> <strong>University</strong>. Although she has focusedprimarily on sociological writing, she also uses poetry and photography as a creative writingoutlet for her thoughts and emotions. She has been published in two literary magazines and wonthe prestigeous McCluster Creative Writing Scholarship for her poem entitled, "Mack DaddyCane." She continues to read and write, and has recently been accepted to the Ph.D. program atthe <strong>University</strong> of North Carolina at Chapel Hill where she plans to continue her studies inSociology.Kenya Mitchell*see bio aboveAileen Robledo*see bio aboveA.E. RomanA.E. Roman (Alex Echevarria Roman) lives and writes in New York City. He has read his poetryat the Nuyorican Poet's Café, Dixon Place, <strong>The</strong> Cooper Hewitt Museum, and the John ColtraneSociety. He's recently published poetry in the magazine A Gathering of the Tribes (Issue #11)and the Orange Room Review, Issue #4. He also writes the Chico Santana mysteries for St.Martin's Press Minotaur. Email: aeroman101@aol.com-136-
---
<strong>The</strong> <strong>Amistad</strong> – <strong>Spring</strong> <strong>2007</strong>CONTRIBUTORSAbdul Ali Abdurrahman, Managing EditorAbdul Ali is a native of New York City studying English and Playwriting at <strong>Howard</strong> <strong>University</strong>.He is the <strong>2007</strong> winner of the Margaret Walker Creative Writing Contest in for poetry sponsoredby the College Language Association; a Zora Neale Hurston/ Richard Wright Writer's Weekalumnus; a 2006 Ronald E. McNair Scholar--he has presented at several conferences on theinfluences of the Blues and the prevalence of death in the plays of August Wilson. He recentlyread some of his original poems at the Smithsonian National Museum of African AmericanHistory and Culture, an event sponsored by the French Embassy in November commemoratingthe centennial of Josephine Baker. He work has been published in the forthcoming anthology AllThat I Am: Black Writers on Finding, Keeping, and Creating Love In <strong>The</strong>ir Lives, edited byMarita Golden; Black Issues Book Review; and he is the author of the column "Pause andAffect" for the online magazine, Scheme (www.schememag.com)Jemiah Barrow, Associate EditorJemiah Barrow is a junior honours student, double majoring in Latin and English at <strong>Howard</strong><strong>University</strong>. She was born in Philadelphia where she attended Philadelphia High School forCreative and Performing Arts, majoring in Design and Writing. She is currently using the skillsshe gained there as <strong>The</strong> <strong>Amistad</strong>'s Art Director and Web Designer. Her work has been publishedin Philadelphia Magazine and United Writers and Artists Magazine. She has read at the<strong>University</strong> of Pennsylvania's Kelly Writer's House and the Sedgwick Cultural Centre. Herartwork has been featured online at DeviantArt.com as well as Deep Synthesis Gallery. She isalso the writer of Endless Dreaming and Other Poems a short collection poetry, which shedesigned and published herself. Jemiah is also a partner in Graphic Synergy: Design andIllustration and is looking forward to her fourth year participating in NaNoWriMo.Ronke Ajala, Contributing EditorRonke Ajala, a Washingtonian, is a senior English major. In her spare time, she enjoys stayingup until 3 a.m. finishing papers, reading, traveling and volunteering.Melanie Chambliss, Contributing EditorMelanie Chambliss hails from Richmond, VA. She is a junior English major at <strong>Howard</strong><strong>University</strong>, Melanie plans to pursue graduate study in the field of Comparative Literature inhopes of becoming a reknown scholar and college professor. This is her first year serving on thestaff of <strong>The</strong> <strong>Amistad</strong>.Meilani Clay, Contributing EditorMeilani Clay is a conscious writer, educator and student from Oakland, California. She emergedas part of Youth Speaks, a literary arts organization founded in San Francisco in 1996. Meilani isa 2005 Bay Area Teen Poetry Slam Champion and a 2006 National Teen Poetry Slam Champion.She has been hailed as one of the most promising voices of her generation—an agent of socialchange and a teacher by nature. She attends <strong>Howard</strong> <strong>University</strong> and plans to publish a book inthe near future.-137-
---
<strong>The</strong> <strong>Amistad</strong> – <strong>Spring</strong> <strong>2007</strong>CONTRIBUTORSAlexia Hogan, Contributing EditorAlexia Hogan is a junior honors student from Lakeland, Florida majoring in English at <strong>Howard</strong><strong>University</strong>. She is an aspiring writer who enjoys writing short stories, fairytales, and poetry. Herinterests also include singing, dancing, playing the guitar, and painting.Shari Innis-Grant, Contributing EditorShari Inniss-Grant, a twenty-year old Barbadian native, is a world traveler at heart. She and herwords are seeking all the outlets that will let them breathe, whether that means a new country,character or story. She believes that while the 'incidents and events' matter, the most importantthing is the way you tell the story.Dr. Jon S. Woodson, Faculty AdviserJon Woodson is a Graduate Professor of English at <strong>Howard</strong> <strong>University</strong>. He is the author of twocritical studies, To Make a New Race: Gurdjieff, Toomer, and the Harlem Renaissance (1999)and A Study of Catch-22: Going Around Twice (2001). His articles have appeared in ObsidianII, African American Review, <strong>The</strong> Furious Flowering Of African American Poetry, <strong>The</strong>Dictionary of Literary Biography, Encyclopedia of the Harlem Renaissance, <strong>The</strong> HarlemRenaissance: a Gale Critical Companion, and <strong>The</strong> Oxford Companion to Women's Writing. Heis the author of two poetry chapbooks. Woodson has taught on the faculties of Lincoln<strong>University</strong>, George Mason <strong>University</strong>, Towson <strong>University</strong>, the <strong>University</strong> of Rhode Island, andas a Fulbright lecturer at two Hungarian universities, ELTE and the <strong>University</strong> of Pecs.-138-
---
<strong>The</strong> <strong>Amistad</strong> – <strong>Spring</strong> <strong>2007</strong>SUBMISSION GUIDELINES<strong>The</strong> <strong>Amistad</strong> is always looking for fresh literary voices. If you are that fresh voice and you'd like topublish in <strong>The</strong> <strong>Amistad</strong>, please send us your unpublished works:1. Short Fiction- 2000 words or less2. Poetry- You may submit 2-3 poems which are not to exceed 40 lines in length per poem3. Essays- 2000 words or less4. Interviews and Book/Film Reviews 1500 words or less.5. Art Submissions- Submit in the form of a PNG, GIF, or JPG. Please include the medium of thework(s) in the body of the email, and dimensions where applicable.*If you are unsure about whether we'd be interested in a submission you may send us your query.We accept submissions via email:1. When submitting please include your writing as an attachment- Microsoft Word Documents(.doc), Text Files (.txt) and Rich Text Files (.rtf) are all acceptable. Do not include yoursubmission in the body of the email.2. Include your full name, title, and the genre in the file name. (ex. Barrow-Jemiah_Snow_essay.doc)3. Please compress multiple pieces into a .zip file.4. Include a short biography not to exceed 75 words, within the body of the email. If you are unsurewhat to include in your bio please refer to our contributors list for examples.5. Additionally, we request contact information, full name, a telephone number, and an emailaddress. *Please be advised that we include contributors' email addresses in their shortbiographies, so only give us an email address that you are comfortable with the general publicpotentially using to contact you.6. Please put your name and the genre in the subject line of the email.7. Please follow this format as closely as possible. We need the format to be followed in order toreview submission and contact contributors as efficiently as possible. Be advised that we will notlook at or accept submissions that are formatted incorrectly- you will receive a reply asking thatyou resubmit.* If you have any questions regarding our submission process please feel free to contact us before yousubmit your work.All submissions may be emailed to us at submit.amistad@gmail.com; all queries may be emailed to usat amistad.staff@gmail.comFor our Fall <strong>2007</strong> issue our theme is Ars Poetica (the art of poetry); however, we are expanding thistheme to the craft of creating art, whether it is writing, photography, theatre, music, painting, etc.<strong>The</strong>refore, we are seeking submissions that respond to the impulses of the artists of how the readerresponds to art. We are open to poetry, short fiction, essays, interviews, book reviews, and visual art thatfocus on our stated theme. We will be accepting submissions until September 1, <strong>2007</strong>.-137-