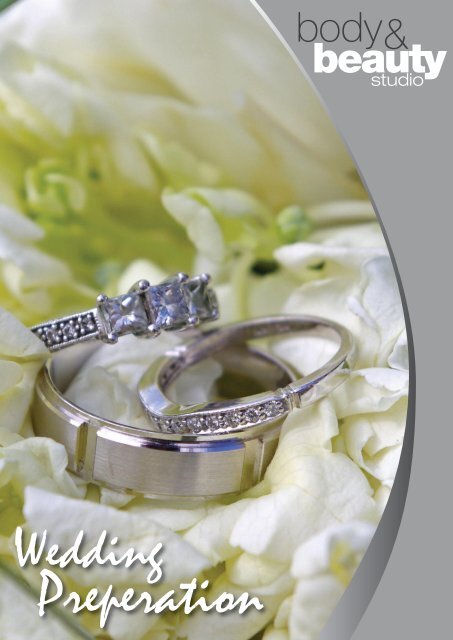 Wedding Preperation PDF sheet - Body & Beauty Studio
Wedding Preperation PDF sheet - Body & Beauty Studio
Wedding Preperation PDF sheet - Body & Beauty Studio
SHOW MORE
SHOW LESS
You also want an ePaper? Increase the reach of your titles
YUMPU automatically turns print PDFs into web optimized ePapers that Google loves.
WeddingPreperation
---
ORIGIN 6 MONTH & RESEARCHWEDDINGLaunched in 1978, Gernétic is truly different from any other skincare range.BecausePLANNERof its origins in biotechnology and cellular research, it works incompletely the opposite way to most products to produce remarkable results.Rather than adding ingredients to the surface of the skin, where mostcannot Brides want be absorbed to look their beyond very best a superficial on their wedding level, the day nutrients and it is in never Gernétic too soon to startare planning molecular and working size towards and small your enough special to day. penetrate At the Body to the and cellular Beauty level, Studio we havewhich a fantastic enables range the of treatments skin to renew that and can repair get your itself. face and body and nails looking fabulousin time for your wedding day. We have devised a 6 th Month plan that you can pick up atFor any example, given time our depending products on do your not specific contain needs. collagen - they work with your bodyto stimulate a natural production of collagen. It truly is beauty from within.An example of this would be:-And for that reason, it really works!6 MONTHSThe Gernétic range of skincare products started life in a burns unit of aTREATMENTSlimming body treatments -Platinum or GerneticFacials – Light Life, Oro or GerneticManicuresPedicuresFREQUENCYOnce a month until month 5 then 3weekly treatments before the big dayOnce a monthOnce or twice a monthOnce a monthParis hospital where a cream designed by French biologist Albert Laporteto assist the healing process of burns and scars was found to also improvethe3overallMONTHShealth and defence mechanisms of the skin.InHavetheacoursemake-upof 25trialyearswith ourof research,experiencedAlbertmake-upLaporteartistrealisedand if youthatcanmanytime it so thatbeautyyou haveimperfectionsyour hair donewereas well,the reflectioneven better.ofSheinternalwill spenddeficienciesat leastatonethehour with youcellulardiscussinglevel.theHelookparticularlyyou desireinvestigatedand give youthea fullbeneficialmake-upeffectsstep byofstepaminoso that you areacids,happy withpeptides,each stagebiopeptides,until theproteins,final resultvitamins,is achieved.traceMakeelementssure youandconfirmmanyyourmoreweddingnaturalappointmentmoleculeswithuponher.cell health. He discovered that when theseare 100 per cent extracted from organically grown plants and are delivereddeep into living cells they enhance the wellbeing and beauty of the skin.1 MONTHThese discoveries form the basis of the Gernétic range of skin care. Everyproduct • Facialsin the range helps to regenerate and protect the skin, whileharnessing the body's remarkable healing process.• Nail Extensions• By Eyelash enabling Extensions trans-dermal absorption of natural elements including plantextracts, amino acids, peptides, trace elements, vitamins and proteins,• Gernétic's Gel Overlays products assist with:• Manicures Anti-aging• Pedicures Dehydration• Tanning Wrinkles• Make-up Skin sensitivity• Couperose• Acne• Rosacea• Burns
---
2 WEEKSYour preparation will have paid dividends. You'll be slimmer, your facewill be radiant and your nails will have grown to the required length.We would recommend a final blitz to the body:- Spa body polish,facial and nail tidy.1 WEEKYour wedding arrangements are all booked - Relax. Start thinkingabout your honeymoon. Have a manicure, facial, leg wax and eyelashextensions to give you the final look.ON THE DAYThe makeup artist will arrive at your desired locationto prepare your make-up for your big day.Good luck and have a fabulous day!