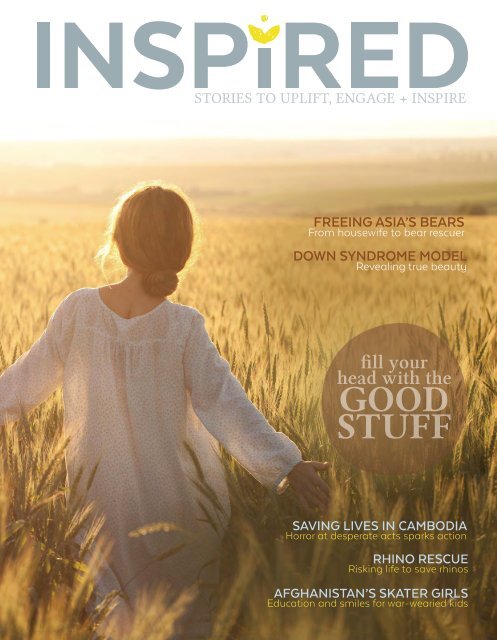 Inspired - Full issue
Feature stories to uplift, engage and inspire
Feature stories to uplift, engage and inspire
SHOW MORE
SHOW LESS
You also want an ePaper? Increase the reach of your titles
YUMPU automatically turns print PDFs into web optimized ePapers that Google loves.
FREEING ASIA'S BEARS

From housewife to bear rescuer

DOWN SYNDROME MODEL

Revealing true beauty

fill your

head with the

GOOD

STUFF

SAVING LIVES IN CAMBODIA

Horror at desperate acts sparks action

RHINO RESCUE

Risking life to save rhinos

AFGHANISTAN'S SKATER GIRLS

Education and smiles for war-wearied kids
---
Live boldly,

be vulnerable,

think big.

SAMILLE MITCHELL

Inspired founder/writer

www.inspired.org.au

Issue 1, December 2015

FOUNDER/WRITER/DREAMER

Samille Mitchell

GRAPHIC DESIGN/

CHIEF CHEERLEADER

Rhianna King

SUBSCRIPTION ENQUIRIES

Order online at www.inspired.org.au

GENERAL ENQUIRIES

samille@inspired.org.au

ADVERTISING ENQUIRIES

samille@inspired.org.au

GENERAL CONTACT

Inspired

PO BOX 628

Kalbarri WA

Phone: 0407 998 721

All content is subject to copyright

and may not be reproduced in any

form without written permission

from the publishers. Opinions

represented in Inspired are not

necessarily those of the publisher.

Inspired aims to uplift, empower

and inspire by countering

negative media with stories about

inspirational everyday people

and projects. For more stories

and to subscribe, visit

www.inspired.org.au.

If you know of someone who is

really going above and beyond to

make our amazing world more

special and you think they might

make an interesting profile for

Inspired, please contact us. They

may have overcome tragedy

with triumph, be fighting for

social justice, be protecting the

environment or battling for human

rights. It doesn't matter where

they live, what they are doing or

even if you know them personally

but if you find that their efforts

really fire you up, please feel free

to contact us with your suggestion.

Hello

I am super excited to welcome you to the first edition of Inspired in print –

a collection of the top 10 stories from Inspired's online fortnightly feature stories

(check out the full story list at www.inspired.org.au).

We launched Inspired in November 2014 to share stories that uplift, engage and

inspire. As a long-time journo I had become fed up with the media's focus on

negative, Tweet-sized and celebrity-obsessed news. I knew there were all these

amazing everyday people doing incredible things but I wasn't finding them in

mainstream media. And I wanted to fill my head with the good stuff.

Enter Inspired. Inspired is designed to remind us of the possibilities that life

presents, of all that is good, wondrous, beautiful in our world.

For me personally, interviewing and writing about Inspired subjects gives me

hope. Maybe I too could be like the people I write about. Maybe I too could make a

real difference?

How? I sincerely hope that, after reading Inspired

articles, readers may feel inspired to step up, to fight

for something they believe in, to take action to gift

the world with their magic. If everyone's taking that

extra step, just imagine the possibilities for humanity,

for nature, for our planet.

So please enjoy reading about the people striving

to make our beautiful world that bit more special.

Take note of their tendency to feel self-doubt and act

anyway, of their courage to risk scorn or failure, of

their ability to think big, of their seemingly unfailing

belief in their cause. And use it as inspiration for you

and your life, in filling the world with your own unique

brand of magic.

Enjoy

Samille

FOUNDER/WRITER

inspired

(ɪnˈspaɪəd)

-adj.

1. aroused, animated, or imbued with the spirit to do something, by or as if

by supernatural or divine influence.

Synonyms: brilliant, wonderful, impressive, exciting, outstanding, thrilling,

memorable, dazzling, enthralling, superlative.

FOREWORD 3
---
CONTENTS

6 12 18 24 30 36 42 48 54 62

Kay Eva

Saving lives in

Cambodia

A Perth woman's desire

to help the desperately

poor has saved and

transformed hundreds of

lives in Cambodia.

Oliver Percovich

Transforming Afghan

girls' lives with a

skateboard

An Australian

skateboarder is injecting

new life and hope into

the lives of Afghan

children wearied by war.

Natasha Anderson

Risking life to save

rhinos

Fighting for a cause

you believe in is one

thing but risking your

life to do so is quite

another. What drives this

Australian woman to risk

her life to save rhinos

amid achingly beautiful

Zimbabwean bush?

Qynn Beardman

Music brings new hope

for Aboriginal kids

Qynn Beardman

swapped his leafy

green home in Margaret

River for the red dust of

the Pilbara in Western

Australia's desert

north with a dream of

transforming kids' lives

through music. The

result, Boonderu Music

Academy, is providing

new hope for young

Aboriginals.

Marcia Huber &

Eleanor Gorman

Love, loss and new life

After Marcia Huber

watched her sister

Eleanor Gorman suffer

through the grief of

failed IVF attempts and

miscarriages, she offered

to carry Eleanor's child

through pregnancy as

a surrogate mother. The

resulting journey took

them on an emotional

whirlwind of fear, hope,

love and joy.

Mid West Charity

Begins at Home

Easing pain, capturing

hearts

This wildly successful

fundraising

phenomenon has

captured the hearts of

a region with its tireless

efforts to raise money

for the seriously ill. In the

process it has changed

the lives of those it has

helped – and those who

are doing the helping.

Madeline Stuart

Down Syndrome model

reveals true beauty

This 18-year-old

Brisbane model is

turning the fashion world

upside down by showing

that true beauty comes

from within, and this

often-fickle industry is

falling in love with her for

offering the reminder.

John van

Bockxmeer

Hooked on the high of

doing good

Western Australia's

Young Australian of

the Year for 2014 John

van Bockxmeer has

started three successful

charities, volunteered

internationally and

won an impressive list

of awards. Oh yes, and

he manages to fit in a

job as an emergency

department registrar too.

Mary Hutton

Freeing the bears

Mary Hutton has

transformed from

a humble mum

in the suburbs to

an international

powerhouse negotiating

with Asian governments

in her ongoing bid to

rescue Asian bears.

Clara Harris

A journey of love, pain

and autism

As the mother of a

17-year-old son with

autism, Clara Harris

has embarked on a

mission to help others

living with disabilities

and depression by

sharing her own often

raw, painful and lifeenriching

experiences. In

doing so she is capturing

the hearts of those she

meets with her warmth,

love and honesty.

4

CONTENTS

CONTENTS 5
---
Kay Eva

Cambodia

SAVING LIVES IN

A Perth woman's desire to help the desperately poor has

saved and transformed hundreds of lives in Cambodia.

Right top In Phnom

Penh alone between

10,000 and 20,000

children live and work

on the streets.

Right Cambodia's

desperately poor live in

homes such as this.

Kay Eva was travelling through rural Cambodia

on the day she realised her life calling. She was

with a group handing out supplies to those in

need when they approached a devastatingly poor

family living under sheets of tin. Grubby children

played in the dirt, the air hung heavy with humidity

and traffic roared down the nearby road.

They were here to deliver powdered milk for the

family's new baby. But the baby was missing. It

had been sold the day before for $20 – a desperate

act to raise money to feed the rest of the family. The

news hit Kay like a punch to the stomach. Horrified,

this mother of three knew she had to act. "That really

shook me up," she recalls. "I thought 'I've got to do

something. I can't just stand back and say 'how

horrible'."

Fast forward 11 years and Kay has launched a

thriving charity, Stitches of Hope, which operates

a sewing centre to train women and help them

find work, a children's home for under-privileged

kids, a community centre and a school. The charity

has sunk wells, built houses, sponsored families of

AIDS victims, funded cancer treatments and aided

grandparents looking after their grandchildren.

But how did Kay – a once-humble mother of three

who battled sexual abuse as a child and cancer as

an adult – go from an everyday housewife living on

the outskirts of Perth Western Australia to someone

who is quite literally saving lives in a developing

country?

BURNING DESIRE TO HELP

Home in Australia after her first Cambodian trip, Kay

couldn't rid her head of the image of the mother who

had sold her baby. They'd been told the baby would

go to someone unable to have children of their own.

But there were also whispers of babies and young

children sold for sex trafficking. If the traffickers got

kids early, there'd be little chance of escape. Kay was

horrified at a mother being in such a position - it was

almost beyond comprehension.

But what could Kay do? She wasn't a nurse, a

doctor, even a teacher. How could she possibly help?

"I felt inadequate," she says. "I carried this insecurity

that I wouldn't be able to do anything for anybody."

Kay shared her feelings of inadequacy with a

friend who worked in Cambodian prisons organising

activities and providing basic supplies for prisoners.

The friend asked: "Well what can you do?" "My only

training is a commercial dress makers' certificate,"

Kay replied. "Well that's exactly what they need –

teach them sewing," her friend responded.

A CHARITY IS BORN

Kay enlisted the help of family and friends to raise

$600 and journeyed back to Cambodia. Her friend

had organised sewing classes for women in a village

gripped by poverty, at a women's prison and at a

children's home with teenage girls.

A nervous Kay ventured in with hand-sewing kits and

an interpreter. She taught them how to thread needles,

to sew in a straight line. Interest soared. Kay bought

several sewing machines and soon her students were

cutting patterns and making children's clothes.

The most promising students were given their own

sewing machines to take home and start their own

business. "They were wildly excited and started

coming from miles around to learn how to sew," Kay

says. "We trained 24 women from the village on that

trip and more than half of them went on to get work

in a factory."

Kay was exhilarated by the program's success. "It

wasn't even about helping with basics like education

and health," Kay says. "Basically, [getting some

income] meant they didn't have to sell their children

into sex trafficking, or [to be] cleaners for the wealthy.

And in the prison it enabled women to obtain the

skills to get a job when they were released so they

didn't have to go back to a life of crime."

6

KAY EVA

KAY EVA

7
---
Below The streets

can be brutal for

Cambodian girls.

In Kay's

words ...

Who/what

inspires me?

I have always been

inspired by people who

can leave their home

country and show love,

kindness and mercy to

the people who live in

desperate poverty and

hardship. In Cambodia,

that would be someone

like Marie Ens from

Canada who leads Place

of Rescue – a home for

hundreds of orphan

children, AIDS families

and grannies. And in

Mozambique, Heidi

Baker from Iris Global

children's homes is

a pure example of

transforming love into

something concrete.

Best advice

Love in the midst of

pain. Forgive in the

midst of evil. Comfort

in the midst of agony.

DEPTHS OF POVERTY

In the meantime, Kay came to better know her

new interpreter Chanthy and Chanthy's husband

Narith. The duo showed Kay the depths of poverty

experienced in their home village. So they started

sewing classes here too and taught English. But Kay

realised the problems went much deeper. Soon she

was fundraising to install toilets, water filters and wells.

Every time she went home she and her friends

would conduct shed parties, movie nights and garage

sales to raise money. The funds started rolling in. Kay

is continually humbled by the generosity of donors.

As momentum grew Kay registered Stitches of Hope

as a charity and formed a board of directors.

Together with Chanthy and Narith she

founded the Stitches of Hope Sewing Centre – a

permanent institution that teaches women to sew,

accommodates and feeds them, pays them a wage

to fulfill factory orders, and encourages them to set

up their own sewing businesses.

HOMING UNDER-PRIVILEGED CHILDREN

The more time Kay spent in Cambodia, the more

she realised just how far poverty's tentacles stretched.

Everywhere there were heart-wrenching tales of

desperately needy children – innocent little beings

whose parents had died, or had to leave them

to search for work. So, in 2008, Stitches of Hope

launched a children's home which today houses 24

children cared for by live-in Cambodian couples.

Kay remembers one toddler whose parents were

leaving the country to seek work and had sold him

for cash to fund their journey. However, fortune tellers

warned the buyers that the boy was bad luck so they

returned him to his grandparents. Unable to care for

him herself, the grandmother brought the then two

year old to the Stitches of Hope Children's Home and

handed him over. "It took quite a while to put a smile

on his little face," Kay says. "They've all got sad stories

to tell, but now live in a place of love and security."

School-aged children at the children's home

attend a nearby school and the older kids can go to

university or, if they'd prefer, learn at the Stitches of

Hope Sewing Centre.

HIV VILLAGE

It was through her work at the children's home that

Kay realised how badly HIV/AIDS was affecting some

communities. Some of the children in the home had

been left without a carer after one or both of their

parents had died of AIDS.

One village was particularly devastated by the

condition. "It's in a very poor area of Cambodia where

the men go to the capital city of Phnom Penh to

work, and sleep around, then bring HIV back to their

wives," Kay says. "There are predominantly women

and children in the village because many of the men

have died. It's a very sad place. The women are very

downtrodden, but we are restoring their trust and

giving them a hope and a vision for an improved

future."

Some of the kids in the children's home are taken

back to villages like this one to care for their surviving

parents when HIV overcomes them – their chances of

a school and university education often gone when

they leave Stitches of Hope.

Kay learned that many HIV sufferers were foregoing

their treatment because taking a day off work to

receive medical help meant they were docked a

week's pay. So she organised sponsors to pay for

these victims to access their treatment. Stitches of

Hope also installed fish ponds, rice paddies and

vegetable plots in the village to help residents feed

themselves. They built five houses, dug a well and

established a meeting hall. Five more houses are in

the planning.

OVERCOMING THE POVERTY CYCLE

More and more Kay came to question the ongoing

poverty cycle. She says those entrenched in poverty

are too busy surviving the day to ponder how to

escape its cruel clutches. "But I believe we need to get

them to think outside their own needs, to think as a

community, to think beyond today and plan for the

future," she says.

With this in mind, Kay, Chanthy and Stitches of

Hope launched a community centre and school which

now teaches more than 80 children. "It's working

exceptionally well," Kay says. "It has brick walls,

desks, lighting, fans and school equipment. It's such a

delight to see them so keen to learn."

The charity's new in-country director is particularly

passionate about empowering and educating

the rural children and families who often miss the

opportunity to be supported. "Our Cambodian staff

are committed to improving the lives of the people we

work with and we keep in regular touch with all that is

happening," Kay says.

NEW HOPE FOR CANCER PATIENTS

Through their work in the children's home and the

villages it became increasingly obvious to Stitches of

Hope staff that it was grandparents who often bore

the burden of caring for children, because the parents

had left to find work. So again the charity stepped

in, this time sponsoring individual families from one

village.

Kay got to know the people here and met one lady

who had an external tumour on her breast that was

size of a saucer. The woman had wrapped the tumour

in plastic and tied it up with a piece of string to avoid

offending the westerners with the smell. She had

visited the doctor about it but he took one look, knew

she couldn't pay for treatment and dismissed her.

Top A cancer survivor

sponsored by Stitches

of Hope, with her four

children and Kay.

Above Stitches of Hope

supports a village left

reeling from HIV.

Left Stitches of Hope

provides fresh water

to some of Cambodia's

poor.

KAY EVA

9
---
it's about

peace of mind...

www.demeterwm.com

Another lady Kay met, a mother of four, had

experienced a similar situation. She'd been told,

"if you can't afford treatment there is none." Kay,

who'd battled ovarian and bowel cancer herself, was

outraged. She organised Stitches of Hope funding to

pay for their treatment.

She visited the women as they suffered through

chemotherapy, assuring them their hair loss and

fatigue was normal. "I was just able to lie with them

and hold their hand, encourage them and tell them

I'd been through cancer treatment so I understood

what they were going through."

Both women finished their treatment and survived

their cancer.

CHANGING LIVES

When Kay looks back on what Stitches of Hope has

achieved she feels immense satisfaction – especially

about the children's home and school. She says there

are so many stories of individual lives changed. The

journey of a woman aged about 22 springs to mind.

The woman had a tumour on her lip and

approached Kay begging for help. She'd never get

a job, she'd never get married, she sobbed. The

disfigurement had made her an outcast.

Stitches of Hope paid for the woman's treatment

and, the next time Kay saw her, she skipped up to

Kay to kiss her. All smiles and gratitude, the woman

gushed that she'd never before been able to kiss

people. The next time Kay visited the young woman

was no longer there – because she'd finally got the

job she'd never before dreamed possible.

Below Stitches of Hope Sewing Centre.

Get involved

You can support Stitches of Hope and its work

by making a donation or hosting a fundraising

event. For more information visit the website

www.stitchesofhope.org.au

If the

cause is

right and the

passion is within

just do it ... who knows

where it will take you.

MARY HUTTON

Free the Bears Foundation
---
Oliver Percovich

An Australian skateboarder

is injecting new life and

hope into the lives of Afghan

children wearied by war.

TRANSFORMING AFGHAN GIRLS' LIVES WITH A

The 14 year old grabs a skateboard, jumps

aboard, leaps off the skate ramp's steep edges

and seemingly floats through the air before

landing the board and shooting back up the other

side. It's a talented performance. Yet that's not what

makes it so compelling. For the skater is a girl. Her

family is poor. And she lives in Afghanistan.

Hanifa has transformed from a waif selling tea on

the streets of war-ravaged Kabul to a skateboard

instructor who is training to re-enter the school

system thanks to a grassroots initiative that now

employs 70 people and educates 1500 students a

week across four sites in Afghanistan, Cambodia and

South Africa.

Skateistan is transforming young lives by luring

youth with skateboards and offering skating lessons

alongside formal education. In the process the charity

is overcoming class distinctions, transcending social

barriers, and boosting confidence. It is injecting new

light into the eyes of Afghanistan's children.

AN IDEA IS BORN

Australian Oliver Percovich, or Ollie, was five years

old and living in Melbourne when a cousin gave him

his first skateboard. "I loved it from the moment I fell

off it," Ollie says. The passion endured as Ollie grew

up, and his skateboard came with him on extensive

travels around the globe.

So it was that Ollie brought his skateboard with him

when he joined his then girlfriend looking for work in

Afghanistan. Though he had studied environmental

chemistry and worked as a social scientist in

emergency management, Ollie didn't find the

work as a researcher that he'd hoped for. He found

himself on the streets, skateboarding to kill time. The

Afghan street children flocked to him and his strange

contraption. What was this chunk of wood with

wheels, they asked? How did it connect to his feet?

"I found the skateboard was a great way to break

the ice," Ollie says. "There was a huge cultural gap

and I had no language skills so skateboarding was

a great way of connecting with the street-working

kids that were hassling me for money. I gave them

my skateboard and noticed girls as well as boys

becoming interested. I hadn't noticed girls doing any

other sports so it really piqued my interest that it

could become something more."

OLIVER PERCOVICH 13
---
Previous page Young

Afghan girls like this

one experience soaring

confidence after

mastering the art of

skateboarding.

Above An Afghan girl

at work in a Skateistan

art class.

Top right Skateistan's

girl skaters in Kabul.

Above right Oliver

(right) has worked on

relationship building

with Afghans of all ages.

Photo – Chad Foreman

CONNECTION THROUGH SKATING

Intrigued by the possibilities, Ollie convinced a friend

in the skateboard industry to donate more boards

and started holding impromptu skating lessons in

public places in Kabul. "I had no money, everyone

thought I was totally crazy but for me it made a lot of

sense," he recalls.

Many of the lessons took place in a dish-shaped

concrete fountain built by the Russians during their

invasion of the country. At first the boys were his

sole students, while the girls stood far back, smiling

shy smiles and giggling behind their hands. Within

two weeks the girls were standing on the edge of the

fountain watching, intrigued. A few weeks later and

they were on skateboards.

While Afghan girls aren't allowed to ride bikes,

skateboarding was such a new entity it hadn't had

the chance to be outlawed. The girls relished the

opportunity to escape the sidelines.

After one girls-only session in the fountain, Ollie

watched gobsmacked as the girls – some middle

class, some desperately poor – joined hands and

started singing and dancing as one. He caught a

glimpse of the trust, the sense of community, that a

shared love of skateboarding could forge.

SKATEBOARDING-EDUCATION LINK FORGED

Ollie got to know the kids he was teaching and

realised many worked the streets to help support

their families and were therefore unable to attend

school. Among these kids was Fazilla, whose parents

had taken her out of school to beg full-time on

Afghanistan's grey streets. Ollie approached her

parents with a deal. Could Fazilla go back to school if

Ollie paid her $1 a day? Her parents agreed. And the

link between skating and education was formed.

But Ollie was so broke he was sleeping on friends'

couches, so hard up for money that he'd attend

market at closing time to bargain for rotten fruit to

eat. He knew the $1 a day arrangement couldn't last

for Fazilla, let alone all the other kids he dreamed of

helping.

DREAMING BIG

Impressed by what he witnessed during Ollie's

skating sessions, a friend of Ollie's arranged a

meeting between Ollie and the incoming president of

the Afghan Olympic committee. Ollie convinced the

president to donate some land and then embarked a

mass two-year fundraising effort that resulted in the

construction of Afghanistan's biggest indoor sports

facility – site of Skateistan's first premises.

Skateistan would offer skateboard instruction on

the condition its students embarked on one of three

programs – Skate and Create, in which students

receive weekly skateboarding instruction alongside

an educational arts-based curriculum; Back-to-

School, an accelerated learning program that

prepares out-of-school youth to enrol or re-enrol

in the public school system; and Youth Leadership,

in which participants help with skate sessions and

classroom lessons, help to plan and manage events,

and take part in special sports, arts, and multimedia

workshops.

Unlike traditional Afghan schooling which largely

operates on rote learning, Skateistan concentrated on

teaching critical thinking skills, enhancing creativity

and encouraging self-expression. Skateistan also paid

some of its students to become instructors, freeing

them of the need to peddle wares on Kabul's streets

and enabling them to access

school.

Several students who've

completed Skateistan's

Youth Leadership program

have gone on to represent

Afghanistan at UNICEF

events in Germany. One

young girl attended

the World Urban Forum

in Columbia along with

20,000 other delegates as

Afghanistan's only female

representative.

Another boy, Noorzai, whom Ollie

met as a street kid clad in filthy clothes,

escalated through the ranks of Skateistan to

become sports coordinator of Skateistan's north

Afghanistan operation. He is now enrolled in law

school.

TRANSCENDING SOCIAL BARRIERS

For Ollie the biggest satisfaction comes from

witnessing new relationships form and students'

confidence soar. "Over a period of weeks they gain

a lot of confidence as they do something they never

thought they'd do," he says. "And the relationships

they form are vitally important."

Ollie gains particular satisfaction in seeing povertystricken

kids interact with their middle class peers

– something that otherwise rarely occurs. He watches

the street kids, who are often bigger risk-takers and

"He caught a glimpse

of the trust, the sense of

community, that a shared

love of skateboarding

could forge."

Above Afghan girls

Wahila and Fazilla were

able to leave the streets

and return to education

thanks to Skateistan.

14

OLIVER PERCOVICH

OLIVER PERCOVICH 15
---
In Oliver's

words ...

Who/what

inspires me

The dozens of Skateistan

youth whose lives I've

seen change for the

better because of their

personal strength and

perseverance.

Inspired.

The way travel

should be

Best advice

Utilise your passion. If

you are passionate about

something, you will go

the extra mile.

Your holiday is a personal

adventure and the planning should be

just as exciting as your time away.

Above Oliver introduces

the magic of skating

to a group of Afghan

girls at a public

fountain in Kabul.

Above right Skateistan

puts smiles onto the

faces of children

wearied by war.

Right Skateistan offers

art-based education

programs.

Photo – Rhianon Bader

Opposite page Hanifa

masters Skateistan's

'great wall'.

therefore better skaters, helping their middle class

peers with skating and then, in return, the middle

class kids helping their lesser-schooled friends in the

classroom.

"You see these street-working girls and these middle

class girls skating together and overcoming these

huge barriers in society and making vital friendships,"

Ollie says. "I really see that [relationship building] as

the basis of what needs to happen in Afghanistan

society. The first thing that needs to be built is trust,

and that's built through social connection. When trust

is in place then other things are possible."

GROWTH

Inspired by the success of Skateistan in Kabul,

a Frenchman living in Cambodia's Phnom Penh

approached Ollie about starting a similar program

there. Skateistan offered a small grant and helped

launch Skateistan Cambodia. While the issues

Cambodian children face differ vastly from those in

Afghanistan, the lure of skateboarding remains strong.

"We really tailor the program to suit the country so

that they're locally relevant," Ollie says. "But the thing

that remains constant is that skateboarding is a lot

of fun and a great way for people to meet each other

and interact. Lots of things can grow from there."

Buoyed by the success of the Cambodian operation,

Skateistan is now opening a facility in Johannesburg

in South Africa.

CHALLENGE

Of course such success doesn't come easily.

Skateistan has faced grumblings from Afghanistan's

more traditional sector for having the gall to educate

girls, for introducing a western sport to its youth. As

girls age many are forbidden from attending. And yet

Skateistan has never received threats to close.

Skateistan staff also face the difficulties of living in

a society still gripped by the cruelties of war. In 2012

several Skateistan students and staff were killed in a

suicide attack at an international military base while

they attempted to sell trinkets to the soldiers – a loss

that reverberated through the Skateistan community.

There's also the human resources problems of

working across a deep cultural divide, and the time

spent living internationally away from family and

friends. And yet Ollie feels honoured to do what he

does.

"I really believe all humans are equal and there

should be equal opportunity for people all around the

world," he says. "To be able to work towards that in

my own little way is very rewarding. And seeing the

children blossom is the best reward."

FLYING FREE

Watching Hanifa on her skateboard, light dancing

across sparkling eyes, it's easy to understand

the reward Ollie speaks of. Speaking about her

involvement in Skateistan Hanifa mentions her love

of skating high on the ramps: "I like going high on the

ramps," she says. "When I'm up there I feel free, like

I'm flying."

Mazar-e-Sharif, Afghanistan

Johannesburg, South Africa

Get involved

Kabul, Afghanistan

Phnom Penh, Cambodia

Skateistan relies on sponsorship, donations

and merchandise sales to operate. You can

help Skateistan to continue its work by

visiting its website at www.skateistan.org

and pledging money or buying merchandise

such as T-shirts and a book or documentary

about Skateistan.

Creating a classic destination

itinerary is easy but the fun is in

journeying with you, getting to

know the places you want to see and

activities you want to experience.

So for a tailor-made holiday that is

all about you, contact Rebecca, your

Personal Travel manager.

Rebecca Harrison

Personal Travel Manager

M: 0413 161 550

E: rebecca.harrison@travelmanagers.com.au

travelmanagers.com.au/RebeccaHarrison

16

OLIVER PERCOVICH

Part of the House of Travel Group

ACN: 113 085 626 Member: IATA, AFTA, CLIA
---
Natasha Anderson

Fighting for a cause you believe in is one thing but

risking your life to do so is quite another. What drives

this Australian woman to risk her life to save rhinos amid

achingly beautiful Zimbabwean bush?

It was August 2008 and Natasha Anderson received

a call from the field. Poachers had shot a mother

black rhino in the shoulder. The rhino was injured

but likely to survive. She had a two-month-old calf

at foot.

Natasha and her team leapt into land cruisers and

sped to the site. They captured the duo and put them

in pens. While not mortally wounded, the mother

wasn't producing enough milk to sustain her calf. So

Natasha embarked on a mission to save him. For 10

to 12 hours a day she'd sit just outside their enclosure

wooing and attempting to bottle-feed the infant.

As if sensing that Natasha was trying to help, the

mother rhino, Teressa, positioned her enormous form

in a way that forced the calf towards Natasha and

the bottle. The hungry calf, reassured by his mother,

took to the bottle and regained strength. Over three

weeks Teressa's wound healed and the duo was

returned to freedom in the vast African bush.

Natasha watched the calf grow over the years like

a proud mother herself. She delighted in seeing new

offspring Teressa produced. Here was a good news

story in the intense battle to save black rhinos from

the poaching menace that is threatening their very

survival.

Today only 5000 black rhinos remain, their

populations decimated to provide horn as status

symbols, herbal medicine, even hangover cures,

especially in Vietnam and China. Natasha and the

team at Lowveld Rhino Trust are endangering their

own lives to save the rhinos, dodging bullets in gun

battles with machine-gun wielding poachers, dealing

with enormous and incredibly agile wild animals and

operating under challenging political and economic

circumstances.

So how is it that an Aussie lass from Melbourne finds

herself in shootouts in the Zimbabwean bush for the

sake of a wild African animal?

FALLING IN LOVE

Natasha was fresh out of university when she

applied to join Australian Volunteers Abroad in Africa.

She ventured to Zimbabwe to work with communities

on resource and catchment management programs.

However, given the volatile politics in the early 2000s,

Natasha's work in the rural communities became too

dangerous to continue.

While friends from the villages risked their own lives

to warn Natasha of planned youth militia attacks,

she knew she had to be careful. She had to avoid

taking the same approach and exit routes to reduce

the chance of being attacked. At the same time,

funding support for her projects dried up.

As her opportunity to work on community

development declined, a new need arose – helping to

monitor critically endangered black rhinos helplessly

caught in the politics of the time. New clearing of

land for subsistence farming spread through roughly

Above Poachers hack

off only the horn from a

rhino's face, leaving the

rest of the body behind.

Opposite page Only

5000 black rhinos

survive today, their

populations decimated

by poachers.

NATASHA ANDERSON 19
---
In Natasha's words ...

Who/what inspires me

Wild places. The world needs to hang on

to the wild places we have left – we need

them in more ways than we realise.

Best advice

Think about the consequences of your

actions. If we all made a bit more effort

in this regard we could make the world

a much better place far more easily than

we think. Lots of little actions add up –

both positively and negatively. It is in our

individual power to choose.

60,000 hectares of a 120,000-hectare private black

rhino conservancy, posing risks to both human and

animal. Wire traps were killing and injuring black

rhinos and the endangered animals needed to be

moved to safer areas before they were wiped out. It

was in this role that Natasha set eyes on her first wild

rhino – and fell in love.

"I was off-loading water and out of the corner of my

eye I saw this magnificent black rhino bull," she recalls.

"He just stepped out and we both sort of saw each

other at the same time. He was fabulous, just magic."

RESCUE QUEST

The sighting sparked Natasha's quest to help save

these magnificent animals. Working with Lowveld

Rhino Trust and conservancy staff, Natasha helps

monitor rhino populations, de-horn rhinos to reduce

their attractiveness to poachers, educate locals about

rhinos and their plight, translocate rhinos from highrisk

areas, organise treatment for rhinos with snare

and gunshot wounds, rescue orphaned rhino calves

and work with authorities to stamp out poaching.

So what is it about a rhino that drives Natasha's

work? "They are magnificent and fascinating

animals," she says. "Even the cows can weigh 1.2

tonnes and they are socially far more sensitive and

bonded to each other than we fully understand. And

there's the fact that they are critically endangered.

If we don't make an effort to save them they will go

extinct. I just don't think we've got the right to keep

writing off species."

Smitten by these enormous beasts, Natasha

embarked on an awareness-raising program that

would help educate school children about rhinos and

encourage them to support rhino conservation. That

program operates in 140 Zimbabwean schools today.

But by 2008 the rhino poaching had flared up

among the Lowveld rhino populations. Poachers were

slaughtering nearly five rhinos a week for their horn.

Driven by such circumstances, Natasha was forced

out of the classroom to take up arms to help support

the anti-poaching patrols.

GUN BATTLES

The anti-poaching units stage armed patrols in

certain areas to protect rhinos from the well-armed

poaching menace. But they must cover vast areas

with limited resources, and the poachers are hell bent

on their prize. Often the units don't find out about

a poaching presence until they receive a call about

shots being fired. Sometimes they receive the call

too late, arriving only to find the rhino's massive

bulk lying prone in the dirt, its horn sawn from his

face. Sometimes they turn up in time to rescue a calf

orphaned by the shooting. Other times the poachers

are still on the scene, bullets from their AK47s

whistling through the air around the anti-poaching

unit.

Mostly the poachers fire and run but sometimes,

when encountered at close range, a gun fight ensues.

"Often there is panic firing," Natasha says. "The

AKs tend to kick up and to the right. Poachers aren't

disciplined military people so they shoot most of the

bullets into the air."

Despite the high-risk nature of the work, Natasha

knows of just one fatal injury among the anti-

poaching teams in the Lowveld – a scout from an

anti-poaching unit who was unarmed and fleeing the

scene when the poachers opened fire.

HOPE AMID HORROR

Natasha is adamant the risk is worthwhile.

"I believe in what I'm doing," she says. "A lot of it is

really positive. We've managed to rehome a lot of

animals – that's incredibly rewarding. If we are not

going to stand up and help them they will be gone.

I feel a responsibility to help them. They didn't do

anything wrong."

Natasha believes rhinos stand a real chance of

survival. She gives the example of markets for rhino

horn that have closed – places like Yemen which once

demanded vast supplies of rhino horn but has since

closed down the horn trade thanks to enforcement of

trade regulations.

"There is hope," she says. "So often the rhino

situation is presented as completely hopeless but

that's not true. The trade has been shut down

repeatedly in the past. I think they will make it if we

can get on top of the poaching. We have to keep

enough rhinos alive to provide a viable genetic base

for them to survive long term."

Above The bullet

wounded mother rhino

Teressa and calf Jo Jo.

Opposite page, top

Natasha has fallen

in love with the

wild beauty of the

Zimbabwean bush.

Opposite page, centre

left Natasha in the field.

Opposite page, centre

right Natasha bottlefeeds

Jo Jo, a twomonth-old

rhino calf.

Opposite page, bottom

Members of the Lowveld

Rhino Trust rhino

monitoring team.

20

NATASHA ANDERSON

NATASHA ANDERSON 21
---
"They live up to

40 years so you

really get to know

the individuals."

REHOMING RHINOS

Charged with such a hope, Natasha gains immense

satisfaction from seeing rhinos safely rehomed

away from high-risk poaching areas. But moving an

enormous wild beast is, of course, no easy task.

Natasha cites the case of a typical rescue she took

part in recently. A mother white rhino was injured

with a calf by her side. They called a vet in Harare

who embarked on the eight-hour drive from the

Zimbabwean capital to the rescue site. Along the way

he received a call – the mother rhino had died but the

calf was too young to survive alone in the lion-rich

area in which it had been found.

The vet had to backtrack to pick up a trailer to

transport the calf but the bearings in the trailer were

ruined. He spent two hours repairing the trailer before

continuing the journey. Uncharacteristically drenching

rain had turned the earth to mud and soaked the

rescue team as they battled their way to the calf.

They finally found the calf, terrified, sheltering behind

its mother's carcass. Despite the conditions, no-one

in the rescue team uttered a word of complaint, all

intent on rescuing the calf before them.

In other cases the rescue team will approach a rhino

by helicopter and dart the animal with anaesthetic.

They then rush to the fallen beast and lift it aboard

trucks with cranes in a frantic bid to move it as fast as

possible. Too long under anaesthetic and the rhino's

heart could stop. Too long lying in one position and

their legs could become damaged. It's literally a race

to save them.

PASSION AND HEARTBREAK

Exhilarated by successful rescues, and in love with

the beauty of the bush around her, Natasha would

never swap her job. "It's rewarding work," she says. "I

work with such a great team. And it's unbelievably

stunning here. It's my home now. I think I gain far

more from this than I give up."

And yet there are times that test her resolve. Take

the case of the mother rhino, Teressa, whose calf

Natasha bottle-fed all those years before. Four

months ago Natasha received word of a rhino killed

by poachers. The carcass had been there some

time, its flesh ripped off by hyenas. Inside the

carcass she discovered a fully-formed but unborn calf.

At the fallen creature's shoulder was sign of the bullet

wound Natasha had tended all that time before.

Teressa, the mother she'd helped save, was gone.

"They live up to 40 years so you really get to know

the individuals," Natasha says. "She was a real

sweetie. But you just have to face it, deal with it,

gather all the information you can. What bullet was

it, what style of horn removal, where did they get in,

where did they get out – clues that can help you build

your understanding of the poachers' modus operandi

and hopefully be ahead of them next time."

Natasha also takes solace in the knowledge that

Teressa's children live on. They found the two-yearold

calf at Teressa's side when she died without bullet

wounds. He was old enough to survive on his own.

He now lives beside a young female rhino, whose

mother was friends with Teressa. Together such rhinos

provide hope for a population that, without the work

of people like Natasha and her team, may otherwise

already be gone.

Opposite page, top A crane loads a crated black rhino

for translocation.

Opposite page, middle Drilling into a rhino's horn to fit

a radio-tracking device to aid in monitoring a rhino after

its translocation.

Opposite page, bottom The two-month-old calf Jo Jo

with its mother Teressa, after their recovery and release.

Get involved

You can support Natasha's work with

the Lowveld Rhino Trust in saving the black

rhino from extinction by donating to the Perthbased

Save African Rhino Foundation Australia.

Visit: www.savefoundation.org.au.

In the USA, visit the International Rhino

Foundation (www.rhinos.org) and in the UK,

visit Save the Rhino International

(www.savetherhino.org).

live.

love.

purpose.

I KNOW YOU HAVE A DREAM

YOU WANT TO SHARE WITH

THE WORLD BUT YOU ARE

CRAZY BUSY AND MAKING IT

WORK SOMETIMES SEEMS

IMPOSSIBLE.

You're thinking through the risks,

the uncertainties, the unknown:

How do I set it up properly? Where

do I get clients? How do I get

myself out there? What do I

charge? Will my kids be ok? What if

it doesn't work? Will my partner

support me with this? We've all sat

there, creating the late night freak

out.

Some of you are doing it already –

and have been doing it well – but

it's not bringing you the full sense

of freedom you hoped it would. You

get to help, or to heal, or to give or

to teach, but you feel overwhelmed,

under the pump. You feel like

there's too many balls to juggle and

none of them are getting their fair

time in the air. And it doesn't feel

like freedom or peace. It's reached

that point where it's started to feel

like a hustle.

I don't want that for you. I want

you to find your magic. I want you,

every day, to find yourself in that

place where the thing inside you –

the fire, the beauty – gets its proper

place in the world. Where all the

people you could help are finding

you and being blessed by what you

have to offer, and you have a

business that is functional and

creating financial freedom.

Apply for a free strategy session

with Fleur to chat about finding

your purpose and magic. Go to

www.fleurporter.com/work-with-me

PURPOSE COACH

22

NATASHA ANDERSON
---
Qynn Beardman

Qynn Beardman swapped his leafy green home in Margaret River for the

red dust of the Pilbara in Western Australia's desert north with a dream of

transforming Aboriginal kids' lives through music.

Up in Western Australia's remote Pilbara

region, in the tiny town of Roebourne, sits

a transportable classroom – known as a

'donga' in the mining vernacular that dominates

this dusty corner of the country. Inside are a handful

of kids bashing out beats on the drums. Great

smiles flash across their faces, their eyes are alight

with excitement. These kids are here because they

turned up at school. No school, no music. And that's

incentive enough for a great horde of Roebourne kids

to give up the truancy that plagues many childhoods

here.

Boonderu Music Academy is helping to transform

the lives of Roebourne's kids by luring them with

music on the condition they attend school. For some

of the 60 kids who attend the academy regularly,

their school attendance rate has shot from around 20

percent to more than 80 percent. It's an outstanding

success in the town more often bemoaned as a

hopeless case, a town more often associated with

unemployment, family breakdown and alcohol

abuse. For these are more than music lessons – they

offer learning, somewhere to talk, somewhere people

care.
---
In Qynn's words ...

Who/what inspires me

My wife and kids inspire me beyond words.

Also, seeing anyone in a situation worse than

my own inspires me to make a difference

with my words and actions. Seeing anyone

who is achieving more than me inspires me

to strive harder to reach my full potential.

Best advice

Never let fear of failure stand in the way

of a good idea, then act on that notion

and give 100 percent.

Top (main) Qynn

Beardman teaches the

intricacies of music

making.

Top (inset) Boonderu

boasts a state-of-the-art

recording studio.

Above Learning

about rhythm.

Previous page Boonderu

Music Academy is bring

new smiles to the faces

of Roebourne's youth.

Photos – Elements

Margaret River

EDUCATION A SONG

The Aboriginal elders of Roebourne had long asked

for help in improving life's lot for their kids. And they'd

said education was part of the answer. But education

had to be a song, they said. And, like the stories from

Dreamtime legend, the songs had to be sung over

and over and over again until they became part of

the children's very psyche. It so happened that a

musician from the leafy green suburbs of Margaret

River in Western Australia's south, Qynn Beardman,

was in Roebourne, playing a private gig when he

started chatting to one of the elders. He learned

about Aboriginal people's rich connection to music:

how they sung stories to record historical events, how

songs delineated tribal boundaries, how generation

upon generation of people had sung songs to pass

on stories down through time.

He also learned how the strong family ties that once

bound the Aboriginal people so strongly had started

to unravel along with the traditional culture. Some

young people were no longer connecting with their

elders. They no longer came together as one for the

song and dance meetings so integral to their ancient

culture. It was after such a discussion that Qynn

began to wonder. Education, connection and music,

he thought. Surely the three could be linked? And so

began the vision for Boonderu Music Academy.

"I just saw these kids, they've got these little smiles,

and they are sharp, they can dunk a basketball

quicker than you can blink, and they just want to

learn," Qynn says. "It just struck a chord with me.

I thought to myself, I can go back to Margaret

River and say 'isn't it terrible' or we could try to do

something about it."

TAKING ACTION

Qynn elected to take action. He approached big

business CEOs and Aboriginal corporations and within

three months he'd gathered $200,000 to launch the

academy. He had been advised that he'd be doing

well if five to 10 kids turned up for music lessons.

Qynn arrived amid roasting January heat, visited

the school, obtained the donga-cum-classroom on

the school grounds and set up a recording studio,

complete with guitars, bass, drums, and digital

recording equipment. Expecting a handful of kids to

show, Qynn was swamped with 80 kids – nearly half

the number enrolled at the local school. About 60 of

these kids continue to visit Boonderu, and therefore

school. Some of these kids had never before enrolled

at school, let alone attended.

FROM FOREST TO DESERT

The unexpected popularity of the academy forced

Qynn to rethink his plans. His wife Susie came to visit

Roebourne and found herself similarly enamoured

with the town's youth. The locals they met were full

of smiles and welcome, not the forlorn people they'd

envisaged from media reports filled with sad stories

of alcohol and drug abuse.

They fell in love with the rich history – in awe of the

ancient Aboriginal art that decorates the rocks here

in what is probably the world's biggest collection of

outdoor art. They loved the sense of freedom the kids

here could experience – to be able to swim in the creek,

ride motorbikes, play basketball, fish.

Impressed with what they saw, Qynn, Susie and their

family decided to uproot and make the long move

north. They bid goodbyes to their friends, to the trees,

to the wineries, and the trendy shops of their Margaret

River home. They prepared to embark on a new life

in the desert north – a place where multi-billion dollar

mining enterprises operate alongside one of the

world's oldest living cultures.

BOONDERU IN ACTION

And all the while Boonderu continued to lure the

kids out of truancy and into education. So what's the

secret? "Music transcends everything, it just connects,"

Qynn says. "Music is a wonderful carrot, it's universal.

The girls do Beyoncé songs and the boys want to be

hip hop stars. And while they are sidetracked with

music they are actually going to school."

While going to school may be no big deal for some,

for many Roebourne kids it's a feat. In families

battling a whole raft of problems, there are often no

clocks showing when school starts,

no adult telling the kids to get

ready. So some kids just rock up

at school around the right time if

they happen to feel like it.

And these kids are now voting

with their feet. They are coming

to school. And they are staying

there. "You give them music,

you give them food and, more

importantly, you're just there for

them," Qynn says. "We're building

these relationships with these

wonderful little people."

TRANSFORMING LIVES

While the academy is impacting the lives of

many of its students, there are some who've really

transformed. There was one youngster who'd lived a

difficult life. "He was playing drums the other day and

put his arm around me and put his chin on my

shoulder and I just thought, good on you mate,"

Qynn recalls. "That was a special moment."

Qynn hopes to expand the academy to a

multiplatform performing arts centre at the

Roebourne school. He dreams of also luring kids

from nearby towns such as Karratha and

Wickham to learn music, dance and acting.

He'd love to offer scholarships for kids otherwise

disadvantaged by their remote location. He's also

working on recording an album with big-name

Aussie musos working alongside Boonderu students.

Documentary filmmakers are keen on recording the

project.

"Deep in my heart I believe we've found an

answer. Not the answer, there's no one answer, but

an answer for a fair portion of disconnected kids,"

Qynn says. "Because ultimately, if kids have got a

good education, they get a better view of the world

and an opportunity to broaden their horizons. With

education who knows where they could end up."

"... if kids have

got a good education,

they get a better view

of the world and an

opportunity to broaden

their horizons."

Above left Boonderu is

not only about music,

but spending quality

time together.

Above Qynn helps one

Roebourne youngster

master the art of the

drums.

Photos – Elements

Margaret River

26

QYNN BEARDMAN

QYNN BEARDMAN 27
---
YOUR NATURAL WELLNESS HUB

Look around and you will see so many people

who are sick, tired, sluggish, and simply

dragging themselves through life.

STRAIGHT UP HEALTH IS AN

INTEGRATIVE COLLABORATIVE

HEALTH AND WELLNESS CLINIC,

WITH A DEDICATED TEAM OF

HEALTH PROFESSIONALS.

Our mission is to help people discover

why they are sick, help them to get well

and teach them the knowledge and

skills they need to restore and elevate

themselves into a balanced life filled

with extraordinary health.

Young people just

have to dare to dream.

JOHN VAN BOCKXMEER

Young Western Australian of the Year 2014

Chiropractors, Naturopath, Nurse Practitioner,

Exercise Therapist & Yoga Instructor, Midwife, Doula,

Birth Educator, Pregnancy Yoga Teacher, Personal

Coach & Parent Trainer, Massage Therapist

Straight Up Health

Ph: 9964 4205

www.straightuphealth.com.au
---
Marcia Huber and Eleanor Gorman

After Marcia Huber watched

her sister Eleanor Gorman

suffer through the grief of

failed IVF attempts and

miscarriages, she offered

to carry Eleanor's child

through pregnancy as a

surrogate mother. The

resulting journey took them

on an emotional whirlwind

of fear, hope, love and,

ultimately, joy.

Eleanor Gorman lay on the sonographer's

patient table, a cool gel upon her stomach,

the ultrasound device rubbing over her skin.

Her husband Andrew stood beside her. The duo was

ecstatic. They had just married, Eleanor was already

pregnant and their life together was full of promise.

Smiling at each other they watched the hazy form of

their unborn child appear on the ultrasound screen.

Excited they glanced at the sonographer. Her face

was stern. Where a heartbeat should have sounded, a

heavy silence screamed back at them. "I'm sorry," the

sonographer said shaking her head. Their tiny baby

had died in Eleanor's womb.

"It was just horrific," Eleanor remembers. The

miscarriage was the start of a seven-year battle to

produce a child they so desperately wanted. Their

journey took them to lows from which they feared

they'd never recover – times when grief pierced their

very souls with a weight near impossible to bear. Yet,

they persevered. And when Eleanor's sister Marcia

Huber offered to carry Eleanor's child as a surrogate,

they dared to hope once more.

Today, with son Arlo who Marcia carried through

pregnancy, Eleanor feels like the luckiest mum in the

world. Watching his face while he sleeps, grasping

his tiny hands in hers, Eleanor feels like her heart

could burst with the love she feels for her child. But

surrogacy is not an easy gig. How did they reach

this point? How did Eleanor cope with someone else

carrying her child in their womb? How did Marcia deal

with handing over the life she'd nurtured?

QUEST FOR PARENTHOOD

After their initial miscarriage Eleanor and Andrew

craved parenthood more than ever. In her evermore

desperate attempts to conceive, Eleanor tried

acupuncture, she went gluten free, she gave up

coffee, she did her best to manage stress, and she

visited doctors and specialists. Finally she found

a specialist who diagnosed her with Asherman's

Syndrome, a condition caused by the scar tissue from

the curette she'd endured after her miscarriage.

The condition was preventing her falling pregnant

again so the scar tissue was removed with surgery.

Above left Marcia (left)

acted as a surrogate

mother for her sister

Eleanor's child Arlo.

Opposite page New life.

MARCIA HUBER AND ELEANOR GORMAN 31
---
"You want it so

much that it's in your

thoughts the whole

time but you have to

push it aside."

Above Eleanor

remembers IVF

procedures as cold,

clinical and uncaring.

But no pregnancy ensued. Two years

had passed since the miscarriage and

Eleanor decided it was time to get

serious. They'd try IVF.

IVF NIGHTMARE

Eleanor grimaces as she remembers

visiting the IVF clinic with its

factory feel, detached nurses and

uncomfortable conversations. "I'd catch

the train into the city in the early morning

to go to the clinic and see dozens of women

going through the same thing," Eleanor says.

"It's not a nice feeling at all. Everybody tries

to avoid eye contact with each other. Everyone is

in a world of pain and you put a big barrier around

yourself."

As Eleanor's IVF attempts continued to fail that

barrier got harder to penetrate. "After the first few

times it doesn't work you build up a fantastic shell,"

Eleanor says. "Your whole head is just filled with 'I

want a baby'. And you just have to tell yourself not

to get too hopeful. You want it so much that it's in

your thoughts the whole time but you have to push

it aside."

PREGNANCY – AND LOSS

After five attempts at IVF Eleanor finally got

the news she'd craved with her very soul. She was

pregnant. Ecstatic, she phoned Andrew and the duo

dared hope once more. The pregnancy lasted six

weeks. Another few IVF attempts later and another

pregnancy. Six weeks later another loss. Yet again

Eleanor became pregnant, and again the baby died

within two months.

After so much loss, so much pain, doctors

conducted more tests and Eleanor was finally

diagnosed with a condition which caused Eleanor's

body to produce 'killer blood cells' which would go

into attack mode against the embryos in Eleanor's

womb. It was unlikely Eleanor would ever carry a

baby to full term.

SURROGACY

By this time Eleanor and Andrew had endured 11

failed IVF attempts over seven years. Eleanor's sister

Marcia had grieved along with her sister each time,

comforted her through her four miscarriages. They'd

discussed surrogacy as an option before. Now it

appeared to be Eleanor's only hope.

Marcia eventually broached the subject with her

husband Rob. "Rob wasn't surprised but he was

concerned for my safety," Marcia says. "We've got our

own beautiful girls. I was older now. He felt caution,

and we didn't rush anything. There's the physical

side but there's also the mental side – would it be ok

for me to give a baby away that I'd carried all that

time?"

HOPE

After months of steps to gain approval for surrogacy

– including medicals, legal appointments and

counselling – they finally received the green light,

and one of the embryos produced with Eleanor's

eggs and Andrew's sperm was placed inside Marcia.

They'd have to wait 10 days for a blood test to see if

the embryo had survived. They had decided Eleanor

would be the first to receive the results of the test.

That phone call came. The attempt had failed. The

spark of hope that Eleanor had dared to let glow, was

nearly extinguished. "You have to tell yourself it won't

work because you want it so much," Eleanor says.

"But it's incredibly disappointing."

During the second attempt Eleanor said she

wouldn't speak to Marcia for the 10 days until they'd

discovered if she was pregnant. She couldn't bear the

thought of reading into Marcia's every statement –

did she feel tired, was she sick, could she possibly be

pregnant?

Ten days later Eleanor and Andrew finally received

the news they'd so ached for. "I was like 'you're

kidding'. I was excited but kind of non-believing. I

rang Marcia, she was really excited. There's a fine line

between wanting to run around and be totally excited

but you don't know if there's going to be a baby at

the end."

A HEARTBEAT

Weeks passed and it was time for the first

ultrasound scan. Eleanor drove from her home in

Sydney to Newcastle where Marcia lived and they

attended the scan together. Eleanor had nightmarish

visions of the ultrasound of her first pregnancy,

when the heartbeat had failed to sound. Grasping

hands Eleanor and Marcia waited. The baby's

form materialised on the screen. And there was the

heartbeat – a furious beating that lit up Eleanor's

very being.

"We both cried," Eleanor recalls. "I was so excited

to hear the sound of the heartbeat – that's what I

wanted to hear. I recorded it and called Andrew and

said 'you've got to hear this'."

Marcia was similarly elated: "She'd been trying

for seven years," Marcia says. "They'd had all these

losses and then there's a heartbeat – that was really

emotional. You really can't describe it."

A LIFE GROWS

As the pregnancy progressed Marcia became

stricken with the nausea that had characterised her

other pregnancies. Her family rallied around her. "Rob

and the girls were very supportive and patient with me

if I had to run away from the kitchen," Marcia says.

"Poor Rob had a huge load – the emotional load and

physically he needed to cook, he did the shopping, he

was wonderful. It was big for everybody."

As Marcia's stomach swelled, Eleanor tried to keep

her hope in check. Each time she saw Marcia she

marvelled at her grace, how calmly and beautifully

she handled the pregnancy. Jealousy was never

an issue. "I wasn't jealous at all," Eleanor says "She

was this mother earth person – it was just like it was

meant to be. I'd been through so much. I knew this

was my only option, so I could fully embrace it. I was

somehow able to go 'well my body wasn't able to do

this and yours can'. I was ok with that."

And while Marcia was nervous about how her body

would respond to handing over the baby, she knew in

her mind that she'd get through it. "I always knew the

baby was going to be theirs," she says. "It was like an

extended babysitting gig."

HOPE GROWS

At the 12-week pregnancy scan Marcia, Rob, Eleanor

and Andrew crowded into the room for the ultrasound.

"It was weird going in and saying 'yes it's me and

here's my husband and these are the parents',"

Marcia says.

Again they heard the heartbeat. Emotion soared

and tears flowed as another pregnancy milestone

passed. Like the life inside Marcia, the ember of hope

was beginning to grow stronger.

By the time Marcia was three months pregnant they

decided to tell people about the pregnancy. Every

movement Marcia felt from the growing life inside

her was a confirmation that the baby continued to

prosper. "There's the extra burden of concern when

you're carrying someone else's child so it's good

when there's movement," Marcia says. "But it's very

different to your own pregnancy in terms of talking

to people. You need people to realise that you won't

have a baby at the end."

LABOUR PAINS

As the pregnancy reached full term Eleanor and

Andrew travelled to Newcastle in preparation for the

birth. There was no way Eleanor was missing her

child's arrival into the world. Marcia had elected to

In Eleanor

and Marcia's

words ...

Who/what

inspires me

(Marcia) Those who

find their passion and

follow it even if it is

challenging. (Eleanor)

People who are positive

and keep searching for

new ways and ideas.

Best advice

(Marcia) Be nice to

others, it isn't difficult!

(Eleanor) Listen to that

little voice inside your

head … and NEVER

say NEVER!

have a natural birth. She'd given birth to her own girls

naturally and felt it was the best for the child. She

also feared being stuck on the labour ward after a

caesarean, the cry of other newborns a reminder of

the child she'd handed over.

As the labour started a tension hung over the

hospital. As they had previously arranged, Eleanor

and Andrew waited outside the delivery room where

they watched staff rush in and heard Marcia's cries

of pain pierce the ward. Hope turned to fear. Was this

normal? What was going wrong?

"The hardest thing was hearing her at the end and

just being so scared," Eleanor says. "I was crying

and praying please let us come out of this with two

healthy people. We couldn't lose Marcia, the most

wonderful person in the world, and we couldn't lose

this baby we wanted more than anything in the

world. I bargained with God, with the universe, could

we have got this far for something awful to happen.

This story couldn't end with heartbreak."

NEW LIFE

As the baby failed to arrive more people rushed in.

The air was thick with fear. The baby's head finally

crowned and Eleanor was called. She watched him

enter the world. She cut the umbilical cord. Andrew

came in. Eleanor pressed her child to her chest, closed

her eyes and thanked the universe. "I went totally into

my own little world," Eleanor says. "We had a baby. I

just looked into his little button eyes."

Eleanor had taken a hormone which enabled her to

breastfeed her child. She enjoyed skin on skin contact

with her new baby. Laying on the delivery bed, Marcia

Above Marcia, while

pregnant with Arlo,

and Eleanor.

32

MARCIA HUBER AND ELEANOR GORMAN

MARCIA HUBER AND ELEANOR GORMAN 33
---
Pollinators' mission is to nurture people and innovations that create healthy, resilient communities ...

Work, collaborate and

innovate in our amazing

SPACES

Work for an hour, day, week

or have your own office.

Connect in our meeting

rooms or at an event.

Explore and be inspired

by the laneways art.

Join a vibrant,

entrepreneurial

COMMUNITY

Grow with new friends,

peers and mentors.

Collaborate with fellow

professionals and volunteers.

Contribute to great ideas

and solve social problems.

Participate in events

and programs full of

LEARNING

Learn at regular and one-off

training and workshops.

Share your wisdom as a

trainer, coach or mentor.

Accelerate your growth through

our leadership programs.

PHONE

EMAIL

TWITTER

(08) 9965 5371

buzz@pollinators.org.au

@PollinatorsInc

FACEBOOK

VISIT

PO BOX

fb.com/PollinatorsInc

CityHive, 184 Marine Tce Geraldton

129 Geraldton WA 6531

pollinators.org.au

Top left Marcia enjoys an extra-special bond with Arlo.

Top right It's a boy! Marcia and Eleanor in the hospital after Arlo's birth.

Above Eleanor classes herself as the luckiest mum in the world.

witnessed Eleanor and Andrew's sheer joy. "It was

amazing," Marcia says. "She had this baby. She could

put him straight on the breast – that all helps with

bonding. I'm sure she would have bonded anyway

but that was extra special."

Andrew and Eleanor were able to stay with their

baby in the maternity ward. Marcia and Rob elected

to go home the same day. "I was hugely emotional

and I think shell shocked and tired," Marcia says. "We

went home and ate, I was exhausted. We went to

bed, lay there and read, chatted and I was sort of on

a high in a way. But then I woke in the night and just

cried – all the emotion, having the responsibility of

carrying the baby, that he'd come. I don't know – just

all of it. I just cried and cried."

SHEER ELATION

The next day Marcia, Rob and their girls went to the

hospital to see the baby, named Arlo. Marcia revelled

in holding this child that she'd carried inside so long.

She relished the joy her sister was radiating. After

several days Eleanor, Andrew and Arlo went home to

Sydney to begin their life together. Eleanor and Marcia

spoke every day on the phone. "The first week we'd

just call and cry – we were both so emotional," Eleanor

says.

Meanwhile Marcia battled the discomfort of stitches,

hormones and swelling breasts that were preparing

to feed a child that was not there. "I let myself cry

whenever I needed to cry," Marcia says. "I spent about

a month feeling fragile. I think when you've got a

baby you're busy but when you don't and you've

gone through all that and you've got these hormones

that's not totally easy. But I knew that I would

gradually work my way through and gave myself

time and let myself feel whatever. And my little

family huddled around me and gave me hugs –

that was amazing."

When Marcia and her family visited Eleanor and

Andrew several weeks later they knew they'd done the

right thing. The new parents were alight with the joy

of a parenthood they had fought so hard to

experience. "Giving Eleanor and Andrew something

that they really wanted was really special," Marcia

says. "You can't beat being able to give someone a

baby. It all worked so well. The hormones and all

after the birth were not easy but I knew that was

part of the deal."

So would she do it again? "It's certainly not

something to be undertaken lightly but it's very

rewarding to be able to help in such a huge way,"

Marcia says. "It's definitely not for everyone but if

you think you can do it, it will bring such joy."

That is certainly the case for Eleanor. "Because

Marcia did it so naturally and in such a giving way

it feels so normal," Eleanor says. "Every day I say to

Arlo we are so lucky to have you. I am the luckiest

mother in the world. I'm totally blown away by what

a gift Marcia has given."

GOT

SOMETHING

TO SAY?

SAY IT RIGHT

Whatever you're writing

– newsletter or website, thesis or book –

The Improving Pen can help.

Friendly constructive feedback

from our qualified editor will

help you engage and inspire your

readers, and ensure your

professional image.

For more information, including client

testimonials, visit www.theimprovingpen.com.

34

MARCIA HUBER AND ELEANOR GORMAN

Contact Jo – jo.theimprovingpen@gmail.com or 0438 557 688.
---
Mid West Charity Begins at Home

At 30 weeks pregnant, Linda Mason was feeling

uncomfortable and exhausted on the day her

life changed forever. She'd taken her two-yearold

Ethan to swimming lessons, where his instructor

said he looked unwell. Linda hadn't really noticed.

He'd been a bit tired but was otherwise fine. But

when Linda's Dad echoed the swimming instructor's

concerns she called the doctor in her hometown

of Geraldton, Western Australia. A junior doctor

called them in, saw Ethan, and suddenly turned

pale. He called a more senior doctor. Linda's pulse

quickened. Rush him to the hospital, they instructed.

Fear grasped Linda's heart. One blood test later

and doctors scrambled to organise an emergency

transfer to Princess Margaret Children's Hospital, 450

kilometres away in Perth. Panic. Linda's husband

Aaron wasn't answering his phone. They thought

it could be leukaemia. No, not this. Not a possible

death sentence to her bright, beautiful, blonde baby.

In Perth they confirmed the worst. Ethan had

acute lymphoblastic leukaemia. He was in a fight

for his life. They'd have to move from Geraldton

to Perth for at least six months of chemotherapy

treatment. The new baby was due to arrive

within weeks. They couldn't all squeeze into her

brother's apartment in Perth. But how could they

afford to rent in Perth and meet the mortgage

repayments at home? With a newborn on the way

and daily trips to hospital required for Ethan, Linda

needed Aaron by her side. But his job was back

in Geraldton. This couldn't be happening. How on

earth would they cope?

This wildly successful fundraising

phenomenon has captured the hearts of a

region with its tireless efforts to raise money

for the seriously ill. But what drives the

volunteers behind the charity and how has it

helped families fighting serious illness?

Anne-Maree Hopkinson

Chris Dobson

Lisa Pirrottina

Renee Doyle

Maree Kennedy

Sonya Hamilton

Amanda Miragliotta
---
Below Julie Camp's battle

with cancer provided

the incentive to start

fundraising efforts.

Bottom MWCBH eased

the financial strain for

Ethan, Linda, Aaron and

Reece Mason after Ethan's

leukaemia diagnosis.

In our

words ...

Who/what inspires us

Our recipients – meeting

them, hearing their

stories and being able

to help at such a hard

time for them is what

motivates us to keep

raising money.

Best advice

If you have the power to

make a difference, do it.

The world needs

more of that.

EASING THE PAIN

Step in Mid West Charity Begins at Home Inc

(MWCBH). This Geraldton-based, volunteer-run

charity got wind of the Mason's predicament. The

charity had formed in 2008 with the sole aim of

providing financial relief to people stricken by serious

illness. They sent a cheque and Linda finally felt she

could breathe again. They weren't alone. And this,

says MWCBH president Chris Dobson, is what the

charity is all about. "It's about helping to take the

pressure off financially at a time when people need

it most," Chris says. The Masons are among more

than 130 Mid West families to have received financial

support from MWCBH since its inception. Last year

alone the charity raised $850,000 for seriously ill Mid

West people. And it has achieved this through the work

of a committee of volunteers who dedicate much of

their lives to the cause – all without payment. So what

drives them to donate such enormous amounts of

time to raise money for people they don't even know?

And what's the secret of their massive success?

TRIUMPH FROM TRAGEDY

Rewind to 2008 and Geraldton woman Julie Camp

was sitting in a doctor's office when her world came

crashing down. You've got stage three breast cancer,

the doctor announced. It's aggressive. The worst

type of breast cancer you could get. The room spun.

Shock set in. Julie had two kids at home. She was

a single mum. What if she died? Who would look

after her kids? A whirlwind of treatment followed – a

mastectomy, chemotherapy, radiation treatment.

She couldn't possibly work. There were days she

couldn't get out of bed.

"I rang my aunt Ros (Worthington) bawling," Julie

remembers. "I just said I've got two kids, I'm a single

mum, I can't work, how am I going to afford this?"

Having worked for several charities, Ros was used to

fundraising. She called her nieces Tara Luff and Chris

Dobson in Geraldton. Ok girls, she announced, it's

time to get to work. They enlisted the help of a friend,

Caroline Pettet. And the foursome rallied into action

to fundraise for Julie. "We were kind of just – well

what the hell do we do?" Tara remembers. "We really

had no idea but we thought we'd give it a go." They

decided on a fundraising gala dinner with the aim of

raising $10,000 for Julie. They got on the phone, hit

the streets and, within five weeks, they'd organised

a dinner for 120 guests, with a fundraising auction

of goods donated by local businesses. By the end of

the dinner they'd raised $38,000. "We never expected

to raise that kind of money," Tara says. "We were so

happy we could help her. On the night I remember

just standing there being so overwhelmed. Julie's kids

were there. They were stoked. The family was crying.

The whole night had so much emotion."

STEPPING UP

The feeling of satisfaction Tara, Chris and Caroline

experienced was life-changing. And what started out

as a one-off fundraiser became an annual event. The

second year, 2009, the charity helped another three

families, another three the year after that. Things were

getting serious. They formed a registered charity,

which required a committee of seven. Others came on

board. Momentum increased. "It was so exhilarating

to be able to help in that way," Tara says. "And that's

an addictive feeling. Going to see the recipients,

sharing their stories, becoming part of their lives, it's

amazing." Chris agrees that the feeling of helping

out is addictive: "There's the adrenaline rush of the

gala dinner and the feeling you get when you go out

to hand over the cheque. You enter the house of a

complete stranger, walk into their lounge room, have

a cuppa and hand the cheque. It changes their lives

and that feeling is so addictive. You hear a lot that

you get so much more than you give but it's so true."

By the end of the 2013 gala dinner MWCBH had

handed out $1 million since its inception. At this time

the Mason family had just returned to Geraldton after

enduring 10 months of treatment for Ethan in Perth.

They arrived home without a cent to their name,

when MWCBH presented another cheque. The Mason

family attended the MWCBH gala dinner where Ethan

received a giant green bike and a bucket of toys.

Linda remembers the relief at their homecoming. "We

really wanted to be home for the charity dinner – it

was so great to be able to celebrate being back,"

she says. "I remember getting home and crying – I

literally kissed the ground."

COPING WITH GRIEF

Of course, for the MWCBH committee, becoming

close to those with serious illness has its downside.

Some lose their battle with life-threatening illness.

And yet the committee gains strength in the

knowledge they've helped ease someone's final days.

"The recipients are such beautiful people," Chris says.

"They manage to be so positive, and so grateful.

So it can be really heartbreaking [to lose someone].

It affects all us girls on the committee, especially if

you've been the one to visit them and hand over the

cheque. But we just know that we've made that road

a little less rocky, a little less difficult for them and

that gets us through."

Tara remembers being particularly traumatised by

the death of a child recipient, Alex Ashworth-Preece.

"He was such a larrikin, such a beautiful kid and I got

on really well with his parents," she says. "But he did

pass away two years after [he received MWCBH help].

He was the first child. Having kids yourself, it just

breaks your heart to see a family lose such a smart,

really cheeky, gorgeous soul."

For Chris it was an elderly couple that really touched

her heart. "There was one lady and gentleman and

they were living on food vouchers, they didn't have

a kettle, didn't have a toaster and (after receiving

the money) she was just so excited to be able to buy

a pair of slippers for him," Chris says. "I just think of

the relief he would have felt to know his wife was

[financially] ok."

FUNDRAISING PHENOMENON

On November 29 last year some 420 Mid West

residents prepared to look their very best. Women

deliberated over ball gowns, visited salons for hair,

nails, make up and fake tan. At 6pm they descended

on a sumptuously decorated hall to sip cocktails

and dine on seafood canapés. Inside the hall they

eased into chairs set at tables draped in folds of

white, admired handmade table centrepieces,

and gasped in delight at the elegant handmade

bracelets gifted to guests. Author Peter Fitzsimons

welcomed the crowd as MC and, later, the auctioning

of 20 packages had the city's movers and shakers

clamouring to win their bids while dining on a threecourse

meal. A pearl ring went for $17,000, a One

Direction package for $11,000. Next a representative

of Redink Homes Midwest presented funds pledged

to MWCBH through the sale of a newly built charity

house. As he presented a cheque for $550,000,

the crowd went wild, confetti rained, champagne

bottles popped. By the time the dance floor cleared

at the end of the night, the committee had raised

another $850,000 for their cause – through the sale

of the house, gala dinner tickets and a specially

created cookbook. For the committee, the frenzy

of activity, the sheer volume of hard work, was

suddenly worthwhile. They were gobsmacked by the

fundraising success.

Top The MWCBH

committee of volunteers

last year (left to right)

Lisa Pirrottina, Amanda

Miragliotta, Maree

Kennedy, Renee Doyle,

Chris Dobson, Anne-

Maree Hopkinson, Sonya

Hamilton.

Above left Last year's

fundraising gala dinner

raised $850,000 for

seriously ill Mid West

people.

Above When funding

recipient Alex

Ashworth-Preece lost

his battle with cancer

the committee was

heartbroken.

MID WEST CHARITY BEGINS AT HOME 39
---
Chris believes the secret to the wildly successful

fundraising is a generous local business community

and the promise to keep the money local. "I believe

it's because every dollar given out stays in the Mid

West," she says. "With other charities you may give

away $100 and never see or hear about it again. But

with us, a lot of the time people know who the money

is going to. And because we're not paying wages, the

money goes directly to the people who need it. I think

it's a model that could work in any community."

Among the crowd that night was Julie Camp, whose

battle with cancer unwittingly started this fundraising

phenomenon. She had offered to work as a waitress

to help the charity that had eased the pain of her

darkest hours. After being re-diagnosed with cancer

of the spine in 2011 and being told to "get her affairs

in order", she sought a second opinion, embarked on

new treatment and continues to keep the cancer in

check while working and caring for her kids.

Also following the charity's success this year were

Linda, Aaron, Ethan, Reece and their extended family.

Linda's mother Annette Evans had been diagnosed

with breast cancer while Ethan was receiving

treatment and embarked on chemotherapy at the

same time. Living with serious illness had become

second nature to this family.

Sitting in her Geraldton home, four-year-old Ethan

frolicking nearby, Linda looks back on their journey.

She remembers the Christmas just after his diagnosis.

She was lying in bed with Ethan on Christmas Day,

stroking his soft blonde hair when it began falling out

in her hands. She had been waiting for this. But the

reality struck hard. Now, with Christmas approaching

two years later, Ethan is in much better shape. He

continues to receive chemotherapy and a cocktail of

other drugs, but he's well enough to go to kindy next

year with his friends. They've just moved into a bigger

house. Linda's mum's cancer is in remission. For now,

the nightmare of two years ago is over. For now, they

are daring to hope for a brighter future.

Get involved

You can support the desperately ill

in the Mid West by making a donation to

MWCBH. Find out more at

www.charitybeginsathome.org.au.

To start up a similar charity in your

community, contact the MWCBH

committee via its website

www.charitybeginsathome.org.au.

People in the Mid West dealing with serious

illness and suffering financial strain can

apply for MWCBH help via its website

www.charitybeginsathome.org.au.

If you have the

power to make a

difference, do it.

The world needs

more of that.

MID WEST CHARITY BEGINS AT HOME COMMITTEE

Checking your rear view mirror is smart. Trying to drive using it exclusively is

stupid. Yet too many businesses rely on historical tax accounting information

to drive their business strategy and therefore have no real idea where they're

at or where they're going.

Meet OurCFO and get ready to completely change your view on your business.

It's all about using your numbers to look forward - so you know exactly where

you are and have the strategies in place to help your team get where you're

going with confidence.

WE'LL FIND IT OR IT'S FREE.

Your business information is likely to be masking your business's financial reality. This

causes you to unknowingly burn cash, make poor decisions and stifle performance.

To uncover the blind spots in your business, take our numbers audit and we'll find

$30k - $2M worth of misinformation or cash burn or both. If not, the entire audit is

completely on us.

And if you love us, we'll even offset this fee against the first year's retainer to make it

a no-brainer.

PERTH:

Level 2, 1139 Hay Street

West Perth WA 6005

GERALDTON:

Unit 4 – 4 Pollard Street

West End WA 6530

PO Box 1442, Geraldton WA 6531

PHONE: (08) 9920 7200

FREE CALL: 1300 544 744

www.ourcfo.com.au
---
Madeline Stuart

MODEL WITH DOWN SYNDROME REVEALS TRUE BEAUTY

This 18-year-old Brisbane model is turning the fashion

world upside down by showing that true beauty comes

from within, and this often-fickle industry is falling in love

with her for offering the reminder.
---
Below Madeline wowed

the crowds at New York

Fashion Week.

Previous page Madeline

has captured the hearts of

the modelling world with

her views on beauty.

Photo – Erica Nichols

Eighteen-year-old fashion model Madeline Stuart

has reached a career high. She's just returned

from fashion shows in New York and LA to

her Brisbane home. Journalists are clamouring for

her time. Ellen DeGenres' team has been in touch.

She's signed up as the face of GlossiGirl. She has

her own handbag line. She's been nominated for

Pride of Australia and Young Australian of the Year

awards. And the next few months are jammed with

red carpets, catwalks and photo shoots, including

the crème de la crème of fashion - New York Fashion

Week. But Madeleine is not like other models. For

Madeleine has Down Syndrome. She is winning the

hearts of an often-shallow industry with a pure beauty

that shines from within. And, in the process, she's

turning the traditional notion of beauty on its head.

DISABILITY DIAGNOSIS

Madeline had only just been born when her mother

Rosanne learned she had Down Syndrome. "I asked

the doctor what that meant and all his responses

were very negative," Rosanne says. "I cried for I think

about 12 hours and wouldn't see anyone for the first

day and then decided it was going to be ok and we

went on from there."

Not only did Madeline have Down Syndrome, but

she also had three holes in her heart and a leaky

valve. Rosanne was advised her baby had just an 11

percent chance of survival. But in a style for which

Rosanne is renowned, she did away with dramatics

and simply got on with the job of being a single

parent to the daughter she loved so much.

PASSION FOR FASHION

Fast forward 18 years and a bright and bubbly

Madeline joined her mum at a fashion show in their

home city of Brisbane, Australia. Gazing up at the

women on the catwalk Madeline announced she'd

like to join them. "I said 'no you can't' and she wasn't

happy with that," Rosanne says.

Madeline was already working to overcome the

weight troubles that can plague people with Down

Syndrome to get fit for her dance performances. But

the sight of the catwalk renewed her enthusiasm for

fitness. Rosanne rewarded Madeline's efforts with

a professional photo shoot and posted the photos

online. The images soon went viral and job modelling

offers poured in.

Was Rosanne surprised at the attention? "I always

thought she could do it," she says. "I've got this

daughter that whatever she tries to do she succeeds.

She's not scared of anything. She'll jump into

anything. She wins hearts everywhere she goes. I

knew once society got to know her they'd fall in love

with her."

SOCIETY IS SMITTEN

And fall in love with her they did. Rosanne recites

their schedule for the next few months and it's

jammed with modelling shoots, catwalk events and

red carpets in the US, Russia and Europe. But how

does Madeline cope with the schedule, the attention?

Ask Madeline and she says "It's so much fun." Her

favourite part? "The catwalk."

"She loves it," Rosanne says. "She's the centre of

attention. She loves that everyone is smiling and

happy. When you do a photo shoot everyone is happy.

She's never seen anything bad about it. And because

she's so beautiful – she's all high fives and hugs –

people go 'oh my god it's so amazing to work with a

model who's so kind'. She's just a really nice person."

CONCEPT OF BEAUTY

Rosanne says she feels privileged to be in a position

to make a statement on disabilities, to show the

world the beauty behind conditions such as Down

Syndrome. She says the modelling industry has

been left agog at the beauty that shines through

Madeline's personality.

"When I was young I didn't realise what beauty

was," Rosanne says. "I was young and insecure and

all that. Maddy isn't like that. Now I know beauty is

about the way you act and the way you treat people

and usually people don't realise that until they are

in their forties. Madeline never suffered from that.

She can't differentiate between someone who is 200

kilograms overweight and someone with a so-called

perfect figure – Madeline doesn't see that. People with

Down Syndrome don't understand age, they don't

understand height, they don't understand weight,

all they understand is personality. I think that's why

she's doing so well – because people can see that."

Asked what beauty means to her, Madeline replies,

"Loving each other and being kind." No wonder she is

stealing hearts.

FUN FUTURE

Despite Madeline's love of modelling Rosanne

says they'll be quick to drop it if Madeline's attitude

changes. "I have a rule if it's not fun, we don't do it,"

Rosanne says. "I tell them to treat her like a niece

– lots of high fives, lots of smiles - because it's not

about the modelling, it's about getting the word out

about inclusion and disabilities. If Madeline doesn't

want to do it, we just don't do it."

So what does the future hold for this Brisbane

model? "I have no idea," her mum says. "And I don't

care. It would be lovely for Madeline to keep modelling

and have this excitement but we were happy before

this started and we're going to be happy after it's

finished. I just want her to have a lovely life and that's

what's happening. So if she goes to New York Fashion

Week and hates it, it's too much, we'll just come

home. Even though it's very important to us to get

the word out about disability and inclusion it's not as

important as Madeline's happiness."

In Madeline's

words...

Who/what

inspires me

Mum.

Best advice

Have fun.

a little girl and came back a professional model,"

Rosanne says. "I never thought my daughter could

be a professional. She has an intellectual disability

and I didn't think she'd ever have a real job. But when

she gets in front of that camera, I am so proud of her.

I'm amazed. I want to scream it from the rooftops –

my daughter actually understands about business,

she understands the fact it's a job, it's serious. Even

though she enjoys it she takes it seriously. Maddy has

always been the jokester, the cuddler, the giggler, but

she's proven to me she really is a professional. I'm

sorry I'm going on but I'm so proud of her."

"I'm also proud of the fact she's so kind and she

always wants to help people pack up their makeup

and thank them at the end of the photoshoot. They

all say to me 'we deal with other models and put

up with how rude they are to us'. But dealing with

Madeline they all say what an amazing experience it

was. We've made some really good friends. It's just

so beautiful."

Get involved

Madeline is raising money for a dance group for people

with disabilities, for which she is ambassador.

You can contribute here: www.gofundme.com/danceensemble

Find out more ...

Follow Madeline's success on her social media channels:

Facebook www.facebook.com/madelinesmodelling

Twitter https://twitter.com/Madelinesmodel1

Instagram https://instagram.com/madelinesmodelling_/

Web www.madelinestuartmodel.com

Above left Madeline's

mum Rosanne is her

biggest fan.

Above Modelling is all

about fun and smiles for

Madeline.

PROUD MOTHER

Having watched her daughter from the sidelines

Rosanne says even she is amazed at how far she's

come. "She went over (to New York the first time)

MADELINE STUART 45
---
IS YOUR BUSINESS READY TO

BENEFIT FROM THE CLOUD?

It's time to scale back lump-sum IT investments and switch to a

cost-effective cloud solution.

Cloud computing is the process of storing and accessing data, applications and communications

over the internet, rather than traditional physical hardware. This allows for unlimited access to your

data so long as you are connected to the internet, regardless of your location.

Geraldton Data Centre will work with you to fi nd the right solution for your business. Our team of

professionals understand the business landscape and are 100% committed to helping local

businesses and communities grow.

• Reduced risk

Call us for a smart

business proposal on

9920 8550

• Flexible resources • Cost effective • Convenient

To find out more about the cloud, visit:

www.geraldtondatacentre.com.au

Never let fear

of failure stand

in the way of

a good idea,

then act on that

notion and give

100 percent.

Geraldton Office

(08) 9920 8500

mc@marketcreations.com.au

7 Chapman Road, Geraldton,

Western Australia, 6530

Perth Office

(08) 6168 1000

mc@marketcreations.com.au

Suite 22/513 Hay Street, Subiaco,

Western Australia, 6008

QYNN BEARDMAN

Founder Boonderu Music Academy
---
John van Bockxmeer

Western Australia's Young Australian of the Year for 2014

John van Bockxmeer has started three successful charities,

volunteered internationally and won an impressive list of awards.

Oh yes, and he manages to fit in a job as an emergency department

registrar too. But perhaps most impressive is the creation of his charity

Fair Game, which is improving the health of Aboriginal kids by donating

secondhand sports equipment and running health programs.

Young doctor John van Bockxmeer was in a

South Hedland hospital room caring for a

morbidly obese 18-year-old patient when the

idea struck. This patient was so overweight he could

barely move, his body so strained by the condition

that he struggled to stay awake. Sighing, John

glanced out the window. He spotted a rag-tag group

of kids kicking a tin can and a deflated football in the

red dirt. The image of these kids, with their flashing

white smiles and boundless energy, was a stark

difference to the near lifeless patient by John's side. If

only he could do something to keep these kids active,

to prevent the illness that plagued the young man

beside him.

Years before that day in the hospital John had

already formed the idea of recycling unwanted sports

equipment that lay abandoned, gathering dust and

spider webs in garages and sheds. And here before

him were the ideal recipients. Imagine if the kids

kicking a tin can around had access to real footballs,

basketballs, footy boots. Surely that would help stem

the tide of preventable illnesses troubling remote

communities.

And so John set about realising his vision. Fast

forward five years and the charity he started, Fair

Game, last year alone distributed 20,000 items of

sports equipment, made 25 road trips to remote

communities and reached 5000 participants.

Fair Game not only distributes the equipment but

also provides health education and encourages

participation in sports thanks to its team of volunteer

'Fair Gamers'. Such is the model's success that Fair

Game is now looking to expand into other Australian

states. But what drives a young, overworked doctor to

start a charity in his spare time? And how did he go

about turning his dreams into reality?

A PASSION UNEARTHED

As a student doctor keen on experiencing all facets

of medicine, John applied to volunteer internationally.

His first experience was working with Save the

Children in Honduras. Hooked on the high he got from

helping out, he soon volunteered with a governmenthospital

surgical team in Tajikistan, in a university

teaching hospital in Zambia and in government

hospitals in East Timor and Washington DC.

In the process, he discovered this feeling of doing

good was what stoked the fire of passion in his belly,

it was what he really lived for. "I get this real feeling

of reward," he says. "I love enabling communities to

change – it provides a real sense of giving back and,

ultimately, that's my motivation."

This feeling was cemented when John helped a

friend start The Red Party campaign in 2007 to raise

awareness about HIV/AIDS. The Red Party also

conducts fundraising events for Oxfam Australia's

Integrated HIV and AIDS Program in South Africa. So

far it has raised $200,000 for the cause.

Top Fair Game volunteers

in action.

Above left John working

in the Emergency

Department.

Above Donations of

soccer balls to Timor

Leste (East Timor).

Opposite page Fair Game

participants in a remote

Pilbara school undertaking

fitness sessions.

JOHN VAN BOCKXMEER 49
---
In John's

words ...

Who/what inspires me

My fellow young Australian

creative thinkers.

Best advice

Throw your heart off the

blocks and the rest

will follow.

Top Fair Game improves

the health of Aboriginal

youth.

Above Kids in remote

communities love

receiving sports equipment

thanks to Fair Game.

Opposite page John and

the founding Fair Gamers

on a road trip distributing

sporting equipment to

Aboriginal communities

throughout the state.

Buoyed by The Red Party's success, John and

some mates started Future Perth in response to the

negativity surrounding development at Elizabeth

Quay in Perth. "We were young, brash and naïve so we

just thought, why not?" John says. "We wrote a book

called 33 Ideas to Change Perth and launched it, we

also started Perth Hour, hosting monthly discussion

forums on urban issues for young people. And we're

now seeing some of the ideas that stemmed from this

coming to fruition – ideas like small bar licences, local

governments amalgamating, and public art." Future

Perth continues to act as a voice of progress for Perth

development, with John as vice chair.

Such experiences equipped John with the confidence

he could make a difference, with the skills to inspire

others to join a cause. And so, after the epiphany in

the South Hedland hospital room, he launched Fair

Game in 2010.

HITTING THE ROAD

John is the first to admit he started Fair Game with

little strategy. He simply gathered a group of friends

who shared his vision, hit up the community to

donate equipment, raised some cash and packed up

his friend's boyfriend's new Mazda 3 to the hilt.

The group of four then hit the road, en route to

Western Australia's desert heart – the Murchison.

Fired up about their adventure, chatting, laughing

and listening to music, they soon got a reality check

when they hit a kangaroo on a remote stretch of the

Brand Highway. No matter, they did the rest of the

trip in a car sporting an almighty dent.

"We were really excited and really looking forward

to meeting the kids in Mount Magnet," John says.

"We had a boot-full of equipment and went to a kids'

training session and they were quite delighted when

we handed out the stuff – squabbling over what

colour shoes they wanted and that kind of thing. We

finished that trip with this real feeling of fulfilment

and reward from the reaction of the community but

we also realised a lot of stuff needed to happen to

really make this work."

So make it happen they did, recruiting new Fair

Game volunteers (Fair Gamers), creating computing

systems to monitor donated stock, applying for

grants and piloting fitness and sports programs in the

communities they visited.

GEN Y IN A POSITIVE LIGHT

Such is Fair Game's success that John has taken out

an obscenely impressive list of awards – including

Young Australian of the Year (WA) 2014, WA's 100

Best and Brightest (2014), Junior Doctor of the Year

(2014), Youth Volunteer of the Year 2013, Australian

Primary Health Care Young Leader of the Year (2013),

and more. John also sits on various boards, including

Volunteering WA, Future Perth, the World Economic

Forum Global Shaper Hub and Fair Game. His

experiences have led him to view his generation in a

positive light.

"You know, 30 percent of volunteers in Western

Australia are aged under 30," John says. "Young

people can be really engaged if they are passionate

about something. Young people are really socially

aware. I think young people just have to dare to

dream. Young people have the energy and they are

creative, they are not tainted by others' ideas. The

things they want to achieve might be possible and

they'll never know if they don't try."

Despite the successes John's charities have

experienced and the awards he has obtained, feelings

of doubt sometimes strike. "I worry 'am I doing the

right thing, does the community actually want this,

are we experienced enough to be doing this'?" he

says. "But I just try to push through that. I've realised

that I have these doubts after one of two things –

setbacks or when I'm really tired. Most of the time it's

when I'm tired so I make sure I take a step back."

So how does John regroup? "I reward myself with

something I enjoy every day – it might be sport and

fitness, watching some television or eating something

really good," John says. "Last night I was in the

emergency department until midnight so I just really

enjoyed sitting down with a paper and having a

coffee."

John also recommends daily meditation and

making an effort to be in the present. "My problem

is that I've got this affliction where I love everything I

do – so I try to do all of it," he says. "So I've got to be

really efficient with my time, and be totally present

in the moment. That's probably something young

people are losing to this idea of instant gratification.

Everyone is eternally 'on' but, for me, working on

really being in the moment helps deal with that."

TWO-WAY BENEFITS

Doubts and time constraints aside, John says it's

often hindsight that reveals how much he's achieved.

He looks back on a recent Fair Game road trip to an

Aboriginal community in the Pilbara as a highlight.

The trip happened to coincide with his 29th birthday.

He'd been visiting this community for five years and

developed a great relationship with them – a notion

that was cemented when the kids held an impromptu

birthday party for John on the local basketball court.

"That was such a happy moment," John says. "I felt

a real sense of equilibrium – there was that feeling

of mutual respect, and the realisation that they

were teaching us just as much as we were teaching

them – we were learning about culture and identity

from the community whilst at the same time sharing

knowledge about health and fitness. I think that's

what the Fair Gamers appreciate most – that this is a

real two-way relationship that we are also getting so

much out of. It's pretty special to be part of that."

Be inspired

by nature's

magic in

the Kalbarri

River Gorges

Canoe the gorges Nature's Window Z Bend

Wildflower Wilderness Group charters available

PH: (08) 9937 1677, 0427 371 677 (Davo), 0419 943 795 (Helen)

E: kalcanoe@wn.com.au, W: www.kalbarritours.com.au

Get involved

FAIR GAME: You can get involved in

Fair Game in one of several ways – donating

unwanted sports equipment, hosting a party, offering

corporate sponsorship, conducting fundraising events

or becoming a 'Fair Gamer'. Visit the website for details:

www.fairgamewa.org.

RED PARTY: The Red Party campaign consists of a series

of awareness and fundraising events every year with two

main goals: to raise awareness about HIV/AIDS in the wider

community and to generate funds which are donated to

Oxfam Australia's Integrated HIV and AIDS Program,

South Africa. Visit the website www.redparty.org for details.

FUTURE PERTH runs regular meetings, discussion

forums and projects campaigning for quality urban

development in Perth. Find out more at

www.futureperth.org.

50

JOHN VAN BOCKXMEER
---
Be nice

to others,

it isn't

difficult!

MARCIA HUBER

Surrogate mother for her sister

WEDDING AND EVENT STYLISTS WHO DELIGHT IN BRINGING BEAUTY TO YOU

We believe beauty is everywhere – from character pieces to pre-loved treasures – and we love to search out

these unique items to make sure your wedding or special event is a true representation of you.

Once sourced (and from all sorts of places!), these treasures are laid out in just the right way, creating an event

or wedding that oozes personality. From table decorations and flowers, to props for a photo booth and lolly

buffet tables, even napkin rings and place cards, we make sure those special details take your breath away.

Our super stylish up-cycling is sustainable, earth friendly and gorgeous. Throwing our hearts, minds and souls

into it, we create something amazing. That's our promise to you.

E: AccumCo@gmail.com T: 0422 010 070 (Carolyn), 04228 471 473 (Clara)

FB: /AccumulatorCo Web: Coming soon
---
Mary Hutton

Mary Hutton has transformed from a humble

mum in the suburbs to an international

powerhouse negotiating with Asian governments

in her ongoing bid to rescue Asian bears.

Mary Hutton gazed with horror at the

anesthetised bear on a veterinary

surgeon's table in front of her. She winced at

the sight of pus oozing from the infected wound in

the bear's nose. She gasped as she realised the rope

around the bear's head had become embedded in

its flesh. Steeling herself, she and the veterinarian

beside her used every bit of their strength to

cut free the thick metal ring from the bear's

nostril. Shaking her head in pity, she helped remove

the jingle-jangle ornaments imprisoning its face.

The pitiful creature before her was among the last

of India's 'dancing bears' to be rescued. For years

Mary's charity, the Free the Bears Fund, had striven

to end the barbaric practice of bears being dragged

along by a rope through their nose and forced to

dance for tourists.

For Mary, ending this practice was a time of sheer

elation and relief – one of many milestones for this

suburban mum who launched Free the Bears from

her family home in Western Australia's capital city of

Perth. After witnessing bears' suffering on television,

Mary transformed her humble family home into a

bear rescue headquarters, gave up babysitting for

negotiating with Asian governments, and formed a

charity that today employs 120 in-country staff and

cares for around 500 bears in sanctuaries across

Asia. Not bad for someone who had never travelled,

didn't own a computer and had only recently heard

of a fax.

HORROR SPARKS ACTION

It was 1993 and Mary Hutton was watching the

news when images of bears struck the television

screen. The bears were cramped into coffin-sized

cages in China, a catheter feeding into their gall

bladder to milk bile direct from their bodies while

they stood there in pain, eyes dull. Some of the

bears are captured as cubs, forced into cages and

spend their whole lives there, eventually dying

agonising deaths from starvation, dehydration,

tumours or disease. Some spend years imprisoned

in this hellish practice to satisfy demand for the bile's

use as an alleged health tonic.

Horrified at the images marring the television

screen, Mary got up and walked out. She couldn't

stand to watch such cruelty. But her son Simon

called her back. "Mum, you've got to watch this," he

said. Hesitant, she returned. The image of the bears'

suffering imprinted on her brain. Traumatised, this

animal-loving mum couldn't sleep for weeks.
---
Below Mary with a

sun bear cub Hope.

Bottom Moon bear

Sandie lost her arm to a

poacher's snare trap.

Previous page The Free

the Bears Fund helps

rehabilitate rescued

moon bears.

Finally unable to stand it any longer, Mary

contacted her local member of parliament who

suggested she collect signatures for a petition calling

for an end to this barbaric act. "I thought 'God who

else am I going to get to sign this'," Mary recalls. "At

the time I didn't think anyone else cared."

A SMALL STEP

Pushing aside her fears, Mary whipped up a handdrawn

petition and stood outside the local shopping

centre. "The hardest part was getting up out of my

chair and going," she says. "I kept making all these

excuses to myself but once I was up I was out the

door." Standing there alone she felt a fool. "I felt such

a lemon. I really did," she says. "But one lady came

up and I told her what it was about and asked if she'd

like to sign and she said 'too bloody right I would' and

I thought at least I've got one signature."

Within several years Mary and a growing group

of supporters had gathered 300,000 signatures

calling for an end to bile farming. While the Chinese

government was flooded with calls to end the

practice, nothing changed. Mary realised they'd need

to do more than get signatures to make a difference.

SAVED SUN BEARS

During this time a friend of a friend said they knew

of a businessman in Cambodia, John Stephens, who

had rescued three sun bears from the restaurant

trade and wanted to bring them back to Australia.

Could Mary help? Mary had no idea if she could. Her

experience as a mum and babysitter for her friend's

kids hadn't exactly provided the skills for bear rescue.

But once she heard of the fate from which these bears

had been saved she knew she had to try. "They'd

been rescued from the restaurant trade where they

chop off their paws for bear paw soup while they're

still alive and then dump their carcasses into boiling

hot water," she says.

So Mary got on the phone. She called Taronga Zoo

in Sydney, Wellington Zoo in New Zealand and Perth

Zoo in her home city, every zoo she could think of.

Nothing. Finally she thought to hell with it – she'd

write directly to the Cambodian prime minister asking

if he'd be interested in relocating the sun bears to

Australia to help raise awareness of the country's

conservation efforts. Five weeks later the secondhand

fax machine her daughter Claire had bought her

sounded from the kitchen. Somewhat in awe of the

fandangled new contraption, Mary rushed to the

fax to read the flimsy paper spilling out. The prime

minister would be delighted to export them, it said.

But Mary still needed someone to take the bears.

Finally Taronga Zoo agreed. However, there were

legalities to be thrashed out, quarantine restrictions

to overcome, costs to cover. "When I look back I think I

was crazy," Mary says of her efforts.

The three bears finally arrived at Taronga on a fine

summer day amid a fury of media attention. Mary

saved her every penny and journeyed to Taronga

to see the bears for the first time. Such was the

international media attention at saving the bears

from the cooking pots that funds began rolling in to

Free the Bears which, by this time, was a registered

charity. Soon Mary had $35,000. Her lounge room

was overflowing with papers to record the donations,

her time filled with hand writing receipts. But what to

do with the cash?

FIRST SANCTUARY

The man in Cambodia who'd initially saved the

three sun bears, John Stephens, had an idea. Why

not build a sanctuary for other rescued sun bears?

With little idea how to do this in a developing country

where she knew no-one, Mary simply picked up the

phone. "I just said 'where are we going to build a

sanctuary, how are we going to build a sanctuary?'."

It turned out John knew a chap who had experience

building enclosures for gibbons – but he said he could

be anywhere and to ring Perth Zoo to see if they'd

heard of him.

So Mary picked up the phone again. It just so

happened the zoo staff had heard of the fellow –

Dave Ware who ran an animal management service –

and he happened to be in Perth. Mary made another

phone call. "Can you go to Cambodia and build a

sanctuary for sun bears?" she asked. "Go where and

do what?" came his response. But it wasn't long

before the seven-hectare Cambodian Bear Sanctuary

at the Phnom Tamao Wildlife Rescue Centre was

opened. Later, the centre came to boast a world-class

veterinary hospital and an awareness and education

centre that has educated hundreds of thousands of

Cambodians about the threats facing their dwindling

bear population.

It wasn't long before Mary received another phone

call. There was a bear in Thailand that had been

thrown outside a zoo with its leg missing. Could she

help? As was the case in Cambodia, the bear was just

one of dozens that needed help, either rescued from

the restaurant trade or confiscated from poachers.

Another sanctuary was in order. Apparently the

Thai military owned some land outside Lop Buri Zoo

that would be perfect for such a sanctuary.

In a style for which Mary was becoming increasingly

renowned, she simply picked up the phone and got to

work. After much negotiation with the Thai military,

another sanctuary was ready for opening. Mary had

transformed from someone who babysat her friend's

children to a powerhouse negotiating with the military

and government officials from her lounge room-cumbear-rescue

headquarters. She was invited to attend

the sanctuary opening. "I was so excited," she says.

"Other than the trip to Taronga [Zoo], I had never

been anywhere but the tip and the shops."

With her son Simon by her side, and hundreds of

onlookers, Mary watched the sanctuary's first bears

arrive. The bear duo had been kept in an old cage,

with no sunlight, no fresh air, no way to move. The

cage was lowered into the new sanctuary and the

door opened. One of the bears stepped out, raised her

face to the sun, breathed the fresh air in deep, rolled

on her back and, as if in heaven, dozed off into a

blissful slumber.

"I said to Simon 'my gosh if we don't do anything

else but what we've done for that bear, that's enough

for me'," Mary says of the moment. "It was the first

time I really saw what we were doing for these bears."

BEAR CELEBRITIES

But there was no time to revel in the glory. John

called from Cambodia again. There were another

three sun bears he had saved from the restaurant

trade. Would Perth Zoo like them? Aware of the

publicity Taronga had enjoyed for its new sun bears,

Perth Zoo was quick to take up the offer. The three

bears arrived in 1998 amid media attention worthy

of a Hollywood celebrity. Awareness of the bears'

plight skyrocketed and again funds poured in. Mary

was in huge demand as a speaker. Her life became

a whirlwind of giving talks, running fundraising cake

stalls and film nights, managing funds and, still

lacking a computer, issuing handwritten receipts.

Around this time she also started looking after her

granddaughter while her daughter went back to work

full-time. She'd care for her granddaughter all day

and spend her nights attending to Free the Bears. But

one day when a friend came to visit and asked

how Mary was, she burst into tears. Although

she had a team of volunteer friends around

her, it was all too much. Wiping away

her tears, Mary, her friend and Mary's

bus-driver husband Ron came up with

a solution. Employ some help. Free

the Bears' first paid staff member

was employed in 2002 to work in

a spare room which was turned

into an office. Today three paid

staff in Perth manage Free the

Bears' merchandising, membership,

and fundraising.

"I said ... if we

don't do anything else

but what we've done

for that bear, that's

enough ..."

Far left India's dancing

bears had holes burnt

through their noses to

enable rope to be fed

through their nostrils to

force them to dance as

entertainment.

Left A bear rescued in

Laos begins its 12-hour

journey to its new home,

Tat Kuang Si Bear Rescue

Centre in Laos.

MARY HUTTON 57
---
Below Mary and a bear

handler before this sloth

bear's release from the

dancing bear practice.

Bottom A sun bear

enjoys her hammock,

made by volunteers at the

Cambodia sanctuary.

Bottom right Cub carer

Kem Sunheng provides

a one-week-old cub with

her feed.

Opposite page A moon

bear.

LAOS BEAR RESCUE

Another phone call sounded. This time from Laos,

where a dilapidated sanctuary was in sad need of

repair. So Mary asked Dave Ware, who'd built their

first enclosure, to visit. He found three moon bears

in dismal cages. Mary had to act. From her family

home, now adorned in photos of rescued bears and

cute cats, she made contact with the Lao government

who agreed to sign a memorandum of understanding

with Free the Bears. The fund immediately set to

work designing and building new enclosures and the

Tat Kuang Si Bear Rescue Centre was opened soon

after. The sanctuary is now home to 31 moon bears.

Set amid rainforest, by a thundering waterfall and

tranquil pools, the sanctuary has become so popular

with visitors that it is nearly self-sustaining.

DANCING BEARS SAVED

Mary felt as though she'd barely had time to

breathe out when the phone sounded once more. This

time the call was about India's dancing bear trade.

"It's what?" came Mary's response. It wasn't long

before Mary learnt of the practice, which had begun

hundreds of years before when nomadic gypsy

tribesmen called Kalandars would force sloth bears to

perform for crowds gathered outside Mughal palaces.

They would seize bear cubs after slaughtering their

mothers, burn a hole through the top of their nose

and thread rope through the hole and out of a nostril.

They then trained the cubs to 'dance' by walking

them over hot coals or beating their legs while pulling

up on the rope and playing music. The cubs learned

to associate the pulling of the rope with searing pain

on their feet, and so would stand on their hind feet,

shuffling from one to another as soon as they heard

music.

While the practice had been officially outlawed in

the 1970s, when Mary heard of it there were still about

800 dancing bears plying Indian streets. Mary agreed

to work with India's Wildlife SOS and the UK-based

International Animal Rescue to end the practice and

create a sanctuary for the freed bears.

While horrified at the bears' treatment, Mary knew

they provided a livelihood to their owners. She knew

she too would resort to whatever it took to feed her

kids. So, together with Wildlife SOS, Free the Bears

started the Kalander Rehabilitation Program under

which Free the Bears would provide $2000 for each

bear to act as 'seed' money for bear owners to start a

new business after handing over their bears.

But where to find $2000 for each and every bear

on the streets? Free the Bears offered supporters

the chance to name a bear for a $2000 donation,

which would save a dancing bear. The money started

coming in. It wasn't long before they'd found 25

Kalander people willing to hand over their bears. While

nervous about changing their livelihood, many of

these people were relieved that they no longer had to

resort to such a practice to earn a living. They relished

the chance for a new future.

The first 25 bears come into the Agra Bear Rescue

Facility on Christmas Day in 2002. By 2009, the last

of the 800 bears was off the street. The chains had

been removed from infected faces, health problems

treated, and they were homed in four different

sanctuaries managed by Wildlife SOS and part

funded by Free the Bears.

For Mary, watching the last of the bears shuffle

down the road to rescue was a profound moment. "I

just thought 'oh my gosh, we've done this. It was

a feeling of elation'," she says. "Over $1,000,000

was raised by Free the Bears in seven years, which

saved all the bears from the roads of India. Today the

practice of 'dancing bears' is no more, a 300-yearold

tradition was broken."

Things are

about to get

really good.

Want to feel light and free

and stop the busyness?

Let's clear out your heart space, clear

out your head and make it all bright and

fresh and ready for a 'new story'. From

here you can create the life you want.

We will find out what's really inside that

beautiful you. Connect with me and let's

make it happen.

Anne-Maree x

www.beautifulnest.com.au

0437 700 834

FREE

Book a free

30-minute session.

Valued at $100.

Making women's hearts beautiful.

In Mary's

words ...

Who/what

inspires me

My son Simon inspired

me to help the bears.

I would never have

considered taking it

further than a petition

but he said to me so

many times, "Mum,

what will happen to

those bears if no-one

helps them? How will

you feel then?".

Best advice

If the cause is right and

the passion is within,

just do it. Who knows

where it will take you.

Get involved

Today Free the Bears also dedicates much of its

funding towards trying to save bears in their

ever-shrinking natural environment. It funds

anti-poacher patrols, wildlife monitoring projects,

awareness-raising campaigns and conservation

projects, while continuing to run the sanctuaries,

including a new one in Vietnam. It also continues

to facilitate rescued bears' admission to quality

zoos. The charity employs some 120 in-country

staff and tends to about 500 bears.

It raises money through the sales of merchandise,

donations and memberships. Find out how you

can help at www.freethebears.org.

Love food. Love life.

WANT TO FEEL GOOD? CONNECT WITH

YOUR LOVED ONES? FORGET FAD DIETS?

I'd love to help you enjoy food again - real food that is,

and get you on the path to a fuss-free, feel-fab lifestyle.

Contact me at

Real Food

Real You

for a free

chat about

how I can help.

Phone: 0448 642 542

Email: kate@tentigers.com.au

Facebook: www.facebook.com/

realfoodrealyou

"Kate talks great

sense about being

sensible about

our food choices

and relaxing and

enjoying the joy of

sharing good food -

as close to nature -

with family and

friends." Parenting

specialist Maggie Dent

58

MARY HUTTON
---
Think about the

consequences

of your actions.

Lots of little

actions add

up - both

When Demelza Potiuch opened her hairdressing salon Hot Locs aged just 17

she already knew it was going to be about so much more than hair.

From that day 20 years ago Demelza has striven to create a place for magic – somewhere

women can take the time out they need, where they can feel valued, where they can relax

and allow their inner beauty to shine through.

"For me it's always been about helping people feel special," Demelza says.

"Whether that's about giving them a haircut that makes them feel fabulous, or offering

them a cleansing tea or cappuccino and homemade snack, or a luxurious beauty treatment,

or just chatting about how they are and encouraging them to live their dreams."

With this emphasis in mind Demelza ensures her clients only have access to uplifting,

inspiring reading material – yes you can find Inspired here. She decorates with attention to

warmth and luscious style, creating a haven for her clients and her team of 12, who love

their workplace and feel happy and nurtured – a feeling they pass on to clients.

"Women are so busy these days – it's so important they make time for themselves for a

change," she says. "So that's what we're about – providing a place for them to feel special.

When women feel this way they are in just the right place to be the best version of

themselves. And when they are the best versions of themselves, they are ready to release all

kinds of magic on the world."

positively and

negatively.

NATASHA ANDERSON

Lowveld Rhino Trust

HOT LOCS HAIR BODY AND SOUL 23 Burges St, Beachlands WA 6530 (08) 9921 8089
---
Clara Harris

As the mother of a 17-year-old son with autism,

Clara Harris has embarked on a mission to help others

living with disabilities and depression by sharing her own

often raw, painful and life-enriching experiences. In doing

so she is capturing the hearts of those she meets with her

warmth, love and honesty.

It was a warm winter's day as Clara Harris sat on

the beach watching her six-year-old son frolic in the

waves at the tiny fishing town of Port Gregory in

Western Australia. The sun danced across the ocean

in a million pinpricks of light and the waves met the

shore in a rhythmic hum as he splashed with delight

before her. Warmed by the sun on her skin, Clara

found herself drifting into a daydream – a daydream

in which her beloved son would be eaten by a shark.

BEAUTY IN PAIN

"I was just so worried about how difficult the future

would be for him," Clara says. "I thought, he's such

hard work, he's not going to have a normal life, it's

going to be difficult so let's put him out of his misery."

Clara's son Sam has autism. And it has taken

years for Clara to accept that 'not normal' is ok, that

different doesn't mean misery. The journey since

Sam's diagnosis 14 years ago has taken Clara and

her husband Damian to depths from which they

feared they'd never return. It sent Clara spiralling into

a depression which stole her of the will to live.

But sitting in their beautiful seaside home today,

country-style furnishings adorning the rooms, a warm

and engaging Clara says their journey with autism

has also filled their life with the gift of acceptance

and the richness of close and loving relationships.

It has opened their eyes to the beauty that

often emerges on the other side of pain.

NOT NORMAL

Sam was 18 months old when Clara

and Damian first noticed he wasn't

developing like his peers. He was

loving and smiley and melted their

hearts with his blue eyes and giggles

but his development seemed to have

stalled. Friends told her not to worry.

He'll talk when he's ready, they advised.

Unconvinced, Clara eventually took Sam to

a speech pathologist who referred him to a

paediatrician.

By now Clara already suspected Sam may

have autism. He had an obsession with circles. He

Clara says their

journey with autism

has also filled their

life with the gift of

acceptance.

CLARA HARRIS 63
---
Binnu

"You have these

dreams for your kid

that you don't even

realise you have ...

and all of a sudden

you think they're not

going to happen."

Previous page Sam as a

kid frolicking in

the waves, and today as

a 17 year old.

Above The local

farming community

rallied behind the Harris

family to help start

'Sam's School' on the

family farm.

Above right Sam as

a youngster.

couldn't stand being around other

kids. He seemed not to hear his own

name, yet the sound of a particular

television show would make him

come running. He was frightened of

babies. Haircuts made him scream

with terror. He couldn't say mum

or dad, but he'd say Deborah – the

name of the ABC newsreader.

Clara and Damian journeyed from

their remote family farm in Binnu

to the capital city of Perth to visit

the paediatrician. The day before the

appointment they took Sam to the

park to feed the ducks and swans. Clara

had visions of a beautiful family day

out. But Sam descended into a screaming

fit, crying and fighting as he struggled to

immerse himself in some black mud. "All of us

were crying, all these people were staring at us and

I just remember saying to Dame, I'm so frightened of

what we're going to find out tomorrow," Clara says.

DIAGNOSIS

The next day Clara and Damian approached

the disability services building, shuddering at the

institution-like feel of the premises. Rusty cyclone

fencing surrounded run-down buildings which, they

later discovered, had once housed a mental asylum.

The paediatrician examined Sam but was reluctant

to give a diagnosis until a psychologist and speech

pathologist had also examined him. But Clara was

not leaving without an answer. She asked directly

if he thought Sam had autism. Choosing his words

carefully, the doctor admitted autism seemed

likely. With the announcement, he handed Clara

and Damian three or four sheets of photocopied

information about autism and bade them goodbye.

Arriving home to Clara's sister's house in Perth, the

couple collapsed in tears.

"You have these dreams for your kid that you don't

even realise you have – dreams like going to the zoo

and having wonderful holidays together," Clara says.

"And all of a sudden you think they're not going to

happen, let alone that you'll see your child getting

married or living a fulfilling life."

HELP

Over the next couple of months, follow-up

appointments with a psychologist and speech

pathologist confirmed the paediatrician's diagnosis.

A disability services officer visited their farm to discuss

their options. She handed Clara a list of four service

providers – three of which were six hours' drive away

in Perth. But they could access two, half-hour therapy

sessions in the Northampton hospital – a process

which involved 200 kilometres of driving for an hour

of therapy. Clara broke down in tears at the kitchen

table. "Oh, it will be ok," came the woman's awkward

response.

COMMUNITY LOVE

While the isolation of their family farm made

it difficult to access official services, it held one

outstanding benefit – a tightknit community who'd

do anything to help their friends. After the diagnosis,

Clara and Damian had been inundated with offers

of help. While it pained them to actually accept such

support, Clara and Damian eventually put a notice

into the local rag advertising for two people to be

trained to teach Sam. They warned it wouldn't be

easy, but they hoped it would prove rewarding. The

phone didn't stop ringing in response.

Two women from nearby farms became Sam's

teachers and they, and a whole group of others,

attended workshops to learn how to work with Sam,

what to teach him, how to handle his outbursts. Clara

and Damian knew they wanted to pay the teachers

and envisaged borrowing money from the farm

business. But again their friends galvanised. "You

know how some people sponsor kids in Africa?" they

said. "Well we want to sponsor Sam." Clara's dad's

employer donated a donga that they set up with

school equipment. And they started Sam, by now

aged three, at what became known as 'Sam's School'

on their family farm.

SAM'S SCHOOL

On the first day of school Clara sat in the house

crying as Sam's screams exploded from the

school room. On the second day a friend drove a

130-kilometre round trip to deliver Tim Tam biscuits

and distract Clara by taking her on a walk. But she

too heard Sam's screams and they sat down and

cried together over the Tim Tams, the sound of his

wailing ringing in their ears. But, by the third day

the screaming had eased to crying. And by the seventh

day, Sam was smiling and racing to his classroom.

In the meantime Clara and Damian's friends had

formed the Mid West Autism Awareness Group

(MWAAG) to fundraise for this loving couple and the

boy who'd captured their hearts. The funds paid for

therapists, travel to Perth for seminars, educational

equipment and awareness-raising efforts.

So successful was Sam's School that, after 18

months, Clara felt Sam would be ok to attend kindy

with other kids his age.

"I had read that early intervention can make an

autistic child 'indistinguishable from their peers',"

she says. "I just wanted him to be like any other

kid. I know now that was never going to happen. In

those early times you're searching for that cure. And

because I had this 'indistinguishable from his peers'

thing, I put him in kindy."

A SISTER

Sam progressed through his early school years with

a handful of other kids in their tiny bush school. True

country kids, Sam's peers took him in their stride.

Sam was Sam. Differences didn't matter.

Clara and Damian's friends continued to support

them through MWAAG, joining Clara to hold

information nights and stalls. Clara hoped that by

informing people about autism they'd help reduce

the stigma attached to it. She hoped by sharing their

story they could ease the journey for people dealing

with autistic people like Sam.

During this time Clara and Damian agonised over

whether to have more children. A geneticist told

them they had a 50:50 chance of having another

autistic child. "We ended up saying 'well if it happens

at least we know what we're in for'," Clara says. And

so, when Sam was seven years old, Sophie was

born.

VIOLENCE

Sam had always been scared of babies. He'd clutch

his ears at the sound of their crying as though he

were in physical pain. Yet he loved his little sister at

first sight. But as he grew older he became more

frustrated at his inability to communicate what he

felt. The frustration turned violent. He'd punch, bite

and hit Clara, and himself. But when he started

harming his little sister, Clara knew something had

to change.

"He learnt he could hurt Sophie so he'd just go over

and flatten her," she says. "It was horrific. I'd call

Dame on the two-way and say 'you've got to come

home' and Sam figured out that he'd get to spend

time with his dad if he behaved in this way."

Clara's emotional state crashed. "I had it all

figured out," she says, shaking her head at the

memory. "I was going to kill Sam. But if I was going

to kill Sam I'd have to kill Sophie because she

couldn't live without her mother – obviously I was

going to kill myself too. It was all so rational in my

head."

Above left The decision

to leave the family farm

at Binnu was a heartwrenching

move.

Photo - Carrie Young

Photography

Above Sam's School was

kitted out in a donga on

the family farm.

Left Sam fell in love with

his little sister Sophie.

64

CLARA HARRIS

CLARA HARRIS 65
---
In Clara's

words ...

Who/what inspires me

Bruce Springsteen.

Depression has been a part

of his life. Many people

say 'what has he got to be

depressed about' but I see a

man (the hottest man in the

world by the way!) who is

very honest with himself

and his struggles.

Best advice

Many, many people had told

me over the years to 'put

yourself first'. I couldn't do

that and I didn't understand

– surely that was being

selfish? It's taken a long

time but I now know you

NEED to put yourself first.

Your mental and physical

health are vital to your whole

family. If you crash, the

whole family may crash.

Be kind to yourself.

Top Clara celebrating

a birthday.

Above A tender moment

between mother and son.

Right Sam enjoying a swim.

Top far right A family

portrait at home on the farm.

Above far right Sam belts

out a karaoke song at his

school ball.

A DIVIDED FAMILY

Eventually Clara unwittingly sounded alarm bells

to her parents by making a light-hearted comment

about having imagined Sam being eaten by a shark.

Shocked, her parents realised just how low Clara had

become. "They were so devastated that I hadn't

asked for help," she says. "It made me realise where

I was at and what was I thinking about not letting

people help."

While friends were quick to put up their hands

to offer respite, Clara knew she couldn't go on like

this. She knew she'd need to move the family to the

closest city of Geraldton where she could send Sam to

a specialised school and receive formal respite while

Sophie received everyday schooling.

But Damian, who'd grown up on the farm himself,

was having none of it. "He was very, very angry,"

Clara says. "It was his family farm. He was born there.

We had a really tough time. He said 'I married you

to be here on the farm with me '. And I said 'yes, and

I'd dreamed of taking the kids to the zoo and reading

them Winnie Pooh but it's not what we've got'. The

zoo was a sensory nightmare for Sam and stories

and books were never meaningful."

Eventually they decided the family would split

their time between houses. They'd buy a house in

Geraldton, Damian would work on the farm during

the week and they'd spend weekends together as a

family.

SPREADING THE WORD

That was five years ago. Sam is now 17 and in his

second last year at Holland Street School for kids with

a disability. Sophie is nine and is making a name for

herself as a fundraiser and fierce advocate for people

with disabilities. Damian runs the farm and travels

back and forth to be with his family. Clara is sharing

more of her journey with others, hoping to ease the

pain for other families by providing raw, honest and

emotional accounts of her own experiences.

Recently she conducted an information night that

enticed more than 90 people – those dealing with

autism, but also people suffering depression or mental

illness. Clara is also now fulfilling a dream of launching

a home and wedding styling service with her sister.

And, most importantly, Clara believes Sam is

happy, that he has the fulfilling life she'd never

dreamed possible. He thrives on music. He loves

people. He's demonstrative with his affection. "Sam's

a nice young man," Clara says. "Everyone who meets

him is positively affected by it. He does care about

people and he puts a smile on people's faces."

And yet it's not easy. Sam now has the build and

strength of a man and knows how to intimidate

his mother. "He will stand over me and almost puff

himself up to be bigger again," Clara says. "It's scary.

He's six foot and he doesn't know his own strength.

But the hardest part is that he does it because he's

frustrated and as a mum I just think I should be able

to figure out what's wrong."

FUTURE HOPES AND FEARS

While learning to accept Sam's differences has

become easier, there are still moments that test Clara.

Recently Clara fell apart at the sight of a Facebook

photo of Sam posing with an old school buddy.

Sam's lifelong friend was dressed for his school ball

and grinning with Sam, who was dressed in casual

attire and sporting white cotton gloves, with which

he'd developed an obsession. "I saw the photo

and just cried and cried for days," Clara says. Sam

wouldn't be attending the school ball with his old

friends, she sobbed. She lamented the thought that

he'd probably never marry or have a family.

But in her more positive moments Clara believes

Sam has a bright future. He did, after all, attend

the Holland Street school ball and had such a blast

he took over the microphone to sing karaoke style.

Clara hopes Sam may one day live safely with some

friends, indulge his love and talent for music, and work

a part-time job in which he's cared for and valued.

"Sam needs to be independent from us because

of his behaviour – he's least independent when I'm

around. But his vulnerability is quite paralysing to

me and the paranoid mother in me screams that he's

such a target – he can't tell me what he did at school

today let alone if someone had grabbed him and put

him in the back of a van. But, in order for Sam to have

an awesome life, I've got to let go of him. The future

for Sam is exciting – as daunting as it is for me, it's

exciting for him. It's got to be Sam's journey now."

"We Love Events!"

Bringing hope to

Support Stitches

of Hope's live-saving

efforts in Cambodia

by making a

donation today.

You'll be helping kids in the

Stitches of Hope children's

home and school, AIDS

victims and their families,

desperately poor elderly,

poverty-stricken women to

gain employment and feed

their families, and a whole

heap more.

66

CLARA HARRIS

Visit the website www.stitchesofhope.org.au
---
SUPPORTERS/PHOTO CREDITS

Thank you

To you wonderful, fabulous, incredible people who

helped bring Inspired to print via the crowdfunding

campaign – THANK YOU from the bottom of my

heart. I can't say enough how much I appreciate

your support and your believing in me and Inspired.

Thanks to you I've taken the first big step towards

realising my dream of producing a regular print

magazine that spreads goodness and encourages

people to be their very best selves. Be sure to sign up

for the free newsletter on the website to keep

abreast of developments for the next issue

(www.inspired.org.au).

I shall love you forever!

Samille

LISTING OF THOSE WHO PLEDGED $50 AND ABOVE*

$400

Demelza Forrester Potiuch, Pierre-Julien Baudoin, Lisa Naera,

Clara Harris, Gerri Scott, Darren Lee, contributors to the Goodness Festival's Gero

Soup Pitch event

$200

Greg Smargiassi, Lisa Gervasoni, Brigitte Julien, Fleur Porter,

Rebecca Harrison, Melissa Simpson, Andrew Outhwaite

$100

Matt Lansdown, Helen Waite, Kim White, Lisa Currie, Joanna Moore,

Alison Rowland, Angie Simms, Diana Darmody, Wendy Watters, Kerry Russell,

Sharon Greenock, Robbie Garvey, Kate Tonkin, Kay Eva, Jodi Reilly

$50

Natasha Bright, Sarah Walker, Special Dental, Renee Tate, Iris and David Sharp,

Sally Dieterle Lucas, Yvette Hollings, Ella Curic, Jemma Callaghan, Malia Graham,

Roslyn Houl, Christina Ross, Cara Tennant, Sam Walker, Louise McInnes,

Chris Dobson, Marney Teasdale, Rebecca Millar, Daniel Newell, Manu Tiaki Brown,

Cara Tynan, Kelly Bennett, Christine Sheppard Pate, Tony Harrison, Chris Teakle

*excluding those who chose to remain anonymous

FRONT COVER - Dmitrii Kiselev

PAGE 2 - 8 Red Fish Creative

PAGE 11 - Morgan Sessions

PAGE 29 - Daniel Nanescu/SplitShire

PAGE 41 - Brian Mooney

PAGE 47 - Aaron Burden

PAGE 53 - Joshua Hibbert

PAGE 61 - Andrekart Photography

PAGE 68 - Aaron Burden

PAGE 69 (THIS PAGE) - Pawel Bukowski

Tyre repairs and replacement

Wheel alignment, rotation & balancing

Servicing and warranty services

Small engine repairs

Free quotes and advice

Spare parts, oil, globes, filters

STEVE'S TYRE AND MECHANICAL

PHONE 0499 366 426

PO Box 645, 16 Clotworthy Street, Kalbarri WA, 6536 (next to BP)

ABN 195 980 798 37

TIME TO GET

FROM THE INSIDE OUT.

Your life, your choice.

Join us.

BOOKINGS TO

STRAIGHT UP HEALTH

PH: 9964 4205

PERSONAL LIFE COACH NLP mBIT

PARENT TRAINER

The trusted first choice for your personal

journey of profound positive change.

PERSONAL LIFE COACH NLP mBIT

PARENT TRAINER
---
Bring warmth, wit and

professionalism to

your next event with

MC, host and presenter

DI DARMODY

"Di Darmody will delight any crowd with her effervescence, wit and charm."

Ros Thomas - Columnist, The West Weekend Magazine

"Di Darmody was the perfect MC. She was so professional, brilliant to work

with and not to mention very witty and entertaining." Gen Whisson - A Novel

Event

"I would happily recommend the services of Di Darmody to host or MC any

corporate event. Her professionalism and personable delivery style connects

her instantly with any audience and we received many compliments on the

way she carried out her duties." Paul Blakeley - CEO, Harcourts WA

phone: 0419 140 776 email: darmo.19@bigpond.com

web: www.didarmody.com.au twitter: @didarmody

Enjoy what you're reading

Visit the Inspired website to sign up for the free

Inspired newsletter. And be sure to pre-order

your next copy of Inspired in print –

DUE OUT JULY.

fill your

head with the

GOOD

STUFF

www.inspired.org.au