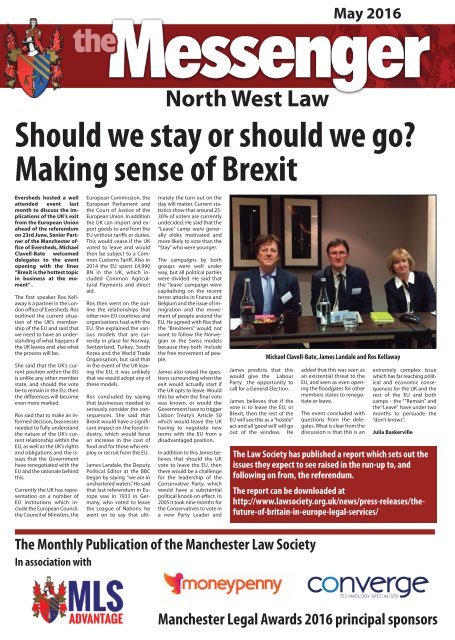 Create successful ePaper yourself
Turn your PDF publications into a flip-book with our unique Google optimized e-Paper software.
May 2016

October 09

1

North West Law

Should we stay or should we go?

Making sense of Brexit

Eversheds hosted a well

attended event last

month to discuss the implications

of the UK's exit

from the European Union

ahead of the referendum

on 23rd June. Senior Partner

of the Manchester office

of Eversheds, Michael

Clavell-Bate welcomed

delegates to the event

opening with the lines

"Brexit is the hottest topic

in business at the moment"

.

The first speaker Ros Kellaway

is a partner in the London

office of Eversheds. Ros

outlined the current situation

of the UK's membership

of the EU and said that

we need to have an understanding

of what happens if

the UK leaves and also what

the process will be.

She said that the UK's current

position within the EU

is unlike any other member

state, and should the vote

be to remain in the EU, then

the differences will become

even more marked.

Ros said that to make an informed

decision, businesses

needed to fully understand

the nature of the UK's current

relationship within the

EU, as well as the UK's rights

and obligations and the issues

that the Government

have renegotiated with the

EU and the rationale behind

this.

Currently the UK has representation

on a number of

EU institutions which include

the European Council.

the Council of Ministers, the

European Commission, the

European Parliament and

the Court of Justice of the

European Union. In addition

the UK can import and export

goods to and from the

EU without tariffs or duties.

This would cease if the UK

voted to leave and would

then be subject to a Common

Customs Tariff. Also in

2014 the EU spent £4,990

BN in the UK, which included

Common Agricultural

Payments and direct

aid.

Ros then went on the outline

the relationships that

other non-EU countries and

organisations had with the

EU. She explained the various

models that are currently

in place for Norway,

Switzerland, Turkey, South

Korea and the World Trade

Organisation, but said that

in the event of the UK leaving

the EU, it was unlikely

that we would adopt any of

these models.

Ros concluded by saying

that businesses needed to

seriously consider the consequences.

She said that

Brexit would have a significant

impact on the food industry,

which would force

an increase in the cost of

food and for those who employ

or recruit from the EU.

James Landale, the Deputy

Political Editor at the BBC

began by saying "we are in

unchartered waters." He said

that last referendum in Europe

was in 1933 in Germany,

who voted to leave

the League of Nations. he

went on to say that ultimately

the turn out on the

day will matter. Current statistics

show that around 25-

30% of voters are currently

undecided. He said that the

"Leave" camp were generally

older, motivated and

more likely to vote than the

"Stay" who were younger.

The campaigns by both

groups were well under

way, but all political parties

were divided. He said that

the "leave' campaign were

capitalising on the recent

terror attacks in France and

Belgium and the issue of immigration

and the movement

of people around the

EU. He agreed with Ros that

the "Brexiteers" would not

want to follow the Norwegian

or the Swiss models

because they both include

the free movement of people.

James also raised the questions

surrounding when the

exit would actually start if

the UK opts to leave. Would

this be when the final vote

was known, or would the

Government have to trigger

Lisbon Treaty's Article 50

which would leave the UK

having to negotiate new

terms with the EU from a

disadvantaged position.

In addition to this James believes

that should the UK

vote to leave the EU, then

there would be a challenge

for the leadership of the

Conservative Party, which

would have a substantial

political knock-on effect. In

2005 it took nine months for

the Conservatives to vote in

a new Party Leader and

James predicts that this

would give the Labour

Party the opportunity to

call for a General Election.

James believes that if the

vote is to leave the EU, or

Brexit, then the rest of the

EU will see this as a "hostile"

act and all 'good will' will go

out of the window. He

Michael Clavell-Bate, James Landale and Ros Kellaway

added that this was seen as

an existential threat to the

EU, and seen as even opening

the floodgates for other

members states to renegotiate

or leave.

The event concluded with

questions from the delegates.

What is clear from the

discussion is that this is an

extremely complex issue

which has far reaching political

and economic consequences

for the UK and the

rest of the EU and both

camps - the ""Remain" and

the "Leave" have under two

months to persuade the

"don't knows".

Julia Baskerville

The Law Society has published a report which sets out the

issues they expect to see raised in the run-up to, and

following on from, the referendum.

The report can be downloaded at

http://www.lawsociety.org.uk/news/press-releases/thefuture-of-britain-in-europe-legal-services/

The Monthly Publication of the Manchester Law Society

In association with

Manchester Legal Awards 2016 principal sponsors
---
conveyancing

nci

ng

is moving on

Times

change – so why do systems and processes s seem to stay the same? You know there must be ways of saving yourself

hassle and making your work easier, it's just that someone needs to make those things real. That's where we come in.

InfoTrack is a service e provider that's challenging the norm so that conveyancing can evolve. With us, you can carry out all

your key tasks – including Searches, SDLT

Submissions and AP1 Transfers – within a single website.

Times change –

and we're driving those changes, for you.

Land Registry

Searches e

SDLT AP1

To move on with InfoTrack, visit infotrack.co.uk/movingon

or call 020 7922

5777
---
Contents 3

North West Law

May 2016

Manchester Law Society

64 Bridge Street

Manchester M3 3BN

Tel: 0161 831 7337

Fax: 0161 839 2631

www.manchesterlawsociety.org.uk

Editor: Fran Eccles-Bech

News from the President

page 5

In this edition...

NEWS

Regional Business Award Win for Farleys

Solicitors

Commercial Litigation heavyweight

Michael Kennedy joins JMW

Hall Brown Family Law opens in

Manchester

6

6

8

Editorial Committee

Raana Afsarpour, JMW Solicitors LLP

Such Amin, Aequitas Legal

David Anderson, St Johns Buildings

Julia Baskerville, Baskerville Publications Ltd

Fran Eccles-Bech, Manchester Law Society

Danielle Best, Weightmans LLP

Adam Entwistle, JMW Solicitors LLP

Mark Fitzgibbon, Hill Dickinson

Jemma Goldstone, JMW Solicitors LLP

Michael Hardacre, Slater & Gordon

Helen Kanczes, Clyde & Co

Steve Kuncewicz, Bermans LLP

Adrian Kwintner, Mills & Reeve

Jeff Lewis, Brabners LLP

Louise Straw, Burton Copeland

Matthew Taylor, Eversheds LLP

Centrefield LLP: Leading UK sport and

media law firm launches in Manchester

9

Published by

Regulation Update

page 7

Trafford Law Society Ball

FEATURES

The debate over the formal recognition of

relationships under UK law

13

12

Baskerville Publications Ltd

25 Southworth Way

Thornton Cleveleys

Lancashire FY5 2WW

Advertising enquiries

Julia Baskerville

01253 829431 j.baskerville@jbaskerville.co.uk

www.locallawsocietypublications.co.uk

Panama Papers: the Changing Global

Landscape of Tax Avoidance

14

All rights reserved, reproduction in whole or part

without written permission from the Publisher and

Manchester Law Society is not permitted.

The Panama Papers

page 14

REGULARS

Photographic material and manuscripts are supplied at

owners risk, neither the company nor its agents accept

any liability for loss or damage.

Management Matters

page 18

News from the President

Management Matters

Monthly Competition

Win £100 voucher at Sakana

5

18

29

The Society welcomes articles and letters from members

on any topic and items should be sent to the above

address

The views and opinions expressed in the Manchester

Messenger are those of the individual contributors and

not of the Manchester Law Society

Printed by

Buxton Press
---
4 Manchester Law Society News

News from Bridge Street

Entente cordiale - would you be able to

give a placement to a law student from

Lyon?

Manchester has a twinning arrangement with Lyon in France, which both cities value a great

deal. As part of this, in September Lyon would like to send two final year law students to

Manchester to work for six months in a legal environment. This would be to widen their legal

training and could be within a law firm or an in-house environment.

Would anyone be able to give a placement to one of these students? It would be for a paralegal-type

role over six months and could either be with one student for the full six months

or three months for each student, if we can place both of them and everyone is happy to

swap for more variety.

The students would not expect to be paid or be found accommodation, although in the

past young lawyers or trainees have been able to offer a spare room - this gives the host a

bit of extra income and really helps integration.

Placing these students would really help Manchester to strengthen its relationship

with France's second city. If any firm or in-house team is able to help, please contact

our Joint Honorary Secretary, David Travis at david.travis@rbs.co.uk

Corporate membership – small increase

in annual charges

Eight years ago we were one of the first regional law societies to introduce corporate membership

and we are delighted that so many firms have joined in that capacity. In those eight

years corporate members have been able to enjoy the many benefits of membership and

in that time membership fees have not been increased at all.

Unfortunately, Manchester Law Society isn't immune to cost challenges and Council has

had to make the decision to increase annual corporate membership fees by 5% with effect

from 1st May, 2016. We believe that this represents a modest increase in the light of the previous

8-year freeze and we hope that we won't need to make further increases in the near

future.

If you wish to see the list of benefits of membership please visit our web site at www.manchesterlawsociety.org.uk

and go the Legal Profession page.

If you would like to discuss this matter in more detail or require any further information

please do not hesitate to contact Fran Eccles-Bech, Chief Executive either at

FranEccles-Bech@manchesterlawsociety.org.uk or on her direct line which is 0161 241

7470

The Manchester Law Society

Education Fund

The Manchester Law Society Education Fund was set up in 2015 to provide financial support

for students applying to study law at degree level.

The Education Fund has been created to provide assistance with course fees for one student

per academic year who, immediately prior to the commencement of their law degree:

· was resident in the cities of Manchester or Salford; and / or

· has attended a Secondary School, Sixth Form College or College of Further

Education in the cities of Manchester or Salford; and

· is intending to study a law degree at a University in the United Kingdom.

The successful recipient of the award will receive £15,000 towards their tuition fees which

will be paid in three staged payments during the course of the law degree.

To qualify for the award, all applicants will be required meet the eligibility criteria, submit

an application form and attend an interview.

Applications for law degrees which will commence during the 2016/2017 academic year

will close on Friday, 24th June, 2016

If you know of anybody who may be interested in applying for the 2017/2018 academic

year, submissions are open now and it is expected that they will close during June 2017.

Please ask any interested party to contact

franeccles-bech@manchesterlawsociety.org.uk

for full details of the eligibility criteria, application process and timetable.

Forthcoming Events

Trust Me – I'm a Doctor!

Exploring Clinical Negligence

Tuesday, 17th May 2016

Don't miss our exciting half day seminar Trust Me I'm a Doctor!

Exploring Clinical Negligence featuring presentations from

Simon Murray, Henry Venderpump and Jessica Wilson-Theaker

of St Johns Buildings. The speakers will explore topics including

breach of duty and causation, limitations in clinical negligence

claims and understanding medical evidence.

Venue: Hilton Hotel, Deansgate, Manchester

Cost to attend: MLS Members £50.00 + VAT (£60.00) Non-members

£80.00 + VAT (£96.00)

Registration: 09:00

Sessions start: 09:30

Conference closes: 12:45

CPD: 3 hours

Internet and Social Media Law

Conference

Tuesday, 24th May 2016

This full day conference will look at the burning issues of Data

Protection, the challenges faced by the growing use of social

media in terms of employment issues as well as in advertising

and marketing. There will be an update on the key case of Morrisons

data leak and a panel discussion on managing reputation

in the digital age.

Venue: Hilton Hotel, Deansgate, Manchester

Cost: MLS Members £110.00 + VAT (£132.00) Non Members

£150.00 + VAT (£180.00)

Registration: 09:00

Sessions start: 09:30

Conference closes: 16:30

CPD: 5 hours

Save the date

• 9th June: Regulatory Conference

• 21st June: Family Law Conference

• 23rd June: Word Training Course – Intermediate

• 11th October: Employment Law Conference

Keep up to date with the latest event information at

www.manchesterlawsociety.org.uk or follow us on Twitter

@ManLawSoc

To book a place on any of the above events, please email

VictoriaRidge@manchesterlawsociety.org.uk or

CarlaJones@manchesterlawsociety.org.uk
---
5

President's Column

5

From the President

It has been a busy few

weeks, with plenty going on

in and outside of work and

the Easter holidays intervening.

The perennial difficulties

familiar to anyone

with school age children,

trying to balance work with

some time off during the

holidays, were no easier to

manage this time around,

despite years of practice.

As I mentioned recently, I

have been trying to get different

perspectives across

the profession from other

areas of practice to my own.

Paul Johnson, Corporate

Partner at Ward Hadaway in

Manchester was my port of

call for some insight into

where things are heading in

his arena.

For Paul, whether it's the referendum

on the UK's membership

of the EU or the

fluctuations of global oil

prices, events always have

an influence on the life of a

corporate lawyer. External

factors over which you have

little or no control are something

which every corporate

lawyer has to live with. Market

conditions, the state of

the economy and general

business confidence are just

some of the things which

influence whether or not a

deal can go ahead and

when it is likely to be completed.

This has been the case for

many years in the field of

corporate law and it is

something that from a practitioner

with Paul's years of

experience behind him, it is

clear we are unlikely to ever

be rid of, particularly with

the increasingly globalised

nature of the business

world today. So for corporate

lawyers, they have to

learn to take such things in

their stride and develop as

sanguine an approach as

possible to their vocation as

they can.

The unpredictable nature of

corporate work also means

that there is no such thing

as a guaranteed work

stream, or for that matter a

predictable flow of transactions.

It remains a highly

competitive area of the law

in which to operate.

For Paul though, its very unpredictability

is one of the

attractions of corporate law

– no two deals are every the

same and the time pressures

which come with the

job get the adrenalin flowing

more than in other areas

of the law.

Having the chance to build

up relationships with business

people and help them

grow their companies, or at

the other end of the scale to

help them realise the proceeds

of the business which

they have built up over

many years, continues to

bring great professional satisfaction.

The general theme from the

discussions I have had so far

this year is that consistent

message of the satisfaction

that we take the work we

do, in whatever area of the

law we practice in.

We have also, this month,

started to see the results of

the radical overhaul of the

Manchester Law Society's

Legal Education Fund which

has been in existence for

many, many years but had

not really been fit for purpose

for some time. Annual

awards in the region of a

few hundred pounds were

being made, on our behalf

by local academic institutions

to worthy students

but with the fund standing

at tens of thousands, there

was no prospect of us properly

distributing the capital

of those funds in accordance

with the charitable

objectives. With the help of

Christine McGregor, John

Dunn, and other council

members, and having had

to gain approval from the

Charities Commission, all of

which took a very long time

to sort out, we are now

going to be in a position in

September 2016 to provide

significant financial support

for students applying to

study law at degree level.

The Education Fund has

been created to provide assistance

with course fees for

one student per academic

year who, immediately prior

to the commencement of

their law degree:

• was resident in the cities of

Manchester or Salford; and /

or

• has attended a Secondary

School, Sixth Form College

or College of Further Education

in the cities of Manchester

or Salford; and

• is intending to study a law

degree at a University in the

United Kingdom.

The successful recipient of

the award will receive

£15,000 towards their tuition

fees which will be paid

in three staged payments

during the course of the law

degree.

Michael Hardacre

To qualify for the award, all

applicants will be required

meet the eligibility criteria,

submit an application form

and attend an interview.

The deadline for applications

is 24 June. We have circulated

details to

Manchester and Salford education

departments and

Continued on page 8
---
6 Movers & Shakers

Regional Business Award Win for

Farleys Solicitors

Leading North West law

firm Farleys are celebrating

success after being

awarded 'Legal Business

of the Year' at the 2016

Red Rose Awards.

This is the second time the

firm have won the award,

having previously taken the

title in 2012.

Beating off stiff competition

from Curtis Law, Harrison

Drury, Napthens and Southerns,

Farleys were awarded

the prestigious title at a

1,000 strong ceremony held

at the Winter Gardens in

Blackpool on 10 March.

The awards, organised by

Lancashire Business View

celebrate the very best in

Lancashire business and enterprise.

Judges commented

on Farleys' "strong

growth, excellent profitability

and an impressive degree

of innovation, with a

commitment to digital platforms

and investment in

home grown talent."

Ian Liddle, Partner at Farleys

commented "we are delighted

with our win, and

especially to be recognised

for the second time.

This is a fantastic achievement

for Farleys and a testament

to the fantastic team

that makes Farleys what we

are – legal experts with a

down to earth approach.

"Our roots are held firmly in

the region and to be recognised

alongside Lancashire's

finest means a great deal to

us and the clients we represent.

We are absolutely delighted

with our win".

Caption Competition

Pannone Corporate expands real estate

team with double appointment

Law firm Pannone Corporate

has expanded its real

estate team with two appointments.

James Wynne will join the

firm as a partner from Shoosmiths'

Manchester office

where he was also a partner.

James has a wealth of experience

advising high profile

clients operating in the logistics,

leisure, industrial

and student accommodation

sectors.

He advises on all aspects of

real estate matters including

landlord and tenant,

corporate support, insolvency

and property finance.

Gareth Birch joined the firm

as an associate solicitor in

the real estate team. Gareth,

who was previously at

Napthens, advises retail, investor

and developer clients

on real estate issues.

James said: "The quality of

both the clients and the

people at Pannone Corporate

was a major factor in

deciding to join the firm.

There is a refreshing culture

at Pannone Corporate and I

am looking forward to further

expanding the client

base across a number of

sectors."

Pannone Corporate Managing

Partner Paul Jonson

said: "We are delighted to

welcome James and Gareth

to the team. I am confident

they will both play a significant

role in further developing

and raising the profile of

the real estate team."

Commercial Litigation heavyweight

Michael Kennedy joins JMW

Michael Kennedy has

joined the commercial litigation

team at Manchester

based law firm JMW

Solicitors LLP.

Michael joins JMW from

Slater and Gordon having

previously spent over 8

years at Pannone LLP where

he was an Equity Partner. He

specialises in all areas of

commercial litigation including

professional negligence

claims against other

professionals such as solicitors,

accountants and financial

service advisers as well

as shareholder and partnership

disputes. Michael

brings with him to JMW a

number of key clients including

Pro Vision, Smart

Parking, MMC Developments,

Ellesmere Engineering

and First Technical

Recruitment and Matrix

Limited. He will be joined in

due course by 2 further

lawyers to work alongside

him, a Senior Associate and

a Solicitor, who will join

JMW's 24 strong commercial

litigation team which is

headed up by Marc Yaffe.

Commenting on Michael

Kennedy's appointment,

Marc Yaffe, Head of Commercial

Litigation at JMW

said; "I am delighted to welcome

Michael to the commercial

litigation team at

JMW. Michael brings with

him a wealth of experience

and expertise as well as

some excellent clients. The

department has grown by

29% and fee income has increased

by 41% over the last

2 years. The addition of

Michael and his team creates

one of the largest and

strongest commercial litigation

teams in Manchester."

Michael Kennedy said about

his appointment at JMW:

"Having worked closely

with Joy Kingsley (JMW's

Senior Partner) at Pannone

for 4 years until she left for

JMW, I have watched with

great interest the rise of the

firm. When I decided to

leave my current firm, JMW

was the obvious choice for

me and my clients. I am very

much looking forward to

working with Marc and the

very busy team in what

seems to be a thriving environment."

JMW also confirmed that

family law Partners Sam Hall

and James Brown are to

leave the firm on 1 April to

set up their own firm, Hall

Brown Ltd. Only 4 Partners

have left JMW over a 3 year

period out of a total of 51

Equity, Fixed Share and

Salaried Partners. During

the same time 14 new Partners

joined the firm.

Commenting on the move

Joy Kingsley said: "At JMW

we commend entrepreneurial

spirit so we wish

James and Sam every success

with launching their

own niche family law firm.

Our relationship with them

both remains good and we

have already discussed with

them the referral to us of

their non-family law matters.

We have already had

offers of employment accepted

by other senior family

lawyers, who we expect

to join us in the coming

months. With the continued

recruitment of excellent

lawyers these are exciting

times at JMW as we continue

to grow profitably.

With 5 weeks left of the financial

year the firm expects

to exceed its annual

target of £21 million

thereby exceeding profit

targets also."

We had a number of entries for last month's caption

competition, and here are the three best entries:

Fran says " OMG I've just remembered I've left the Bridge Street

keys in the front door"

Moira Percival, Gorvins

"Where's that coming from, you could smell it in Eccles"

Matthew Gibbons

Senior Clerk, Deans Court Chambers

"Maybe I shouldn't have put that 'KICK ME' sign on the

President's back"

Victoria Ridge, Manchester Law Society

Marc Jaffe and Michael Kennedy
---
Regulatory Affairs Committee Update

Did you know that the

month of May is the National

Smile Month?!

Hopefully that little useless

bit of info will be

enough to put a smile on

your face – I doubt very

much that compliance

and regulation will do so!

Legal Ombudsman

The COLP and COFA forum

held on 11 April was delighted

to welcome the new

Chief Legal Ombudsman,

Kathryn Stone and her colleague

Alex Moore from the

Policy team. Kathryn was

very appreciative of the opportunity

to be able to address

lawyers at the coalface

of dealing with complaints.

She reflected on her first

few months in her role as

Chief Legal Ombudsman

and admitted that there

were governance and performance

issues to address

but felt it important to reflect

on the positives including

excellent staff who had

succeeded in reducing the

number of outstanding

cases and offering a high

standard of service and a

new Board whose focus is a

commitment to building for

the future.

She introduced statistics on

the practice areas which

generated most complaints

and the main types of complaint

– it won't I'm sure

come as any surprise to you

that conveyancing came

top of the pile followed by

Family, Wills and Probate,

Personal injury and Litigation

with client care, costs,

delay, failing to advise, not

following instructions and

failing to communicate

being the main problem

areas. She looked at a couple

of case studies and offered

some tips on

complaint handling which,

while perhaps somewhat

stating the obvious, is always

worth a reminder! She

took a number of questions

from the floor and dealt

with them openly and directly.

My personal impression

which I hope was

shared by all who attended

was that Kathryn is a good

listener, empathetic and will

get things done. She recognised

that she has a number

of challenges including

timeliness, quality, consistency

and value for money

as well as looking at some

jurisdictional changes,

some of which are likely to

be quite controversial including

third party complaints.

Kathryn will also be

speaking at the Regulatory

Conference in June and will

no doubt be welcomed

back in the future to update

us on how she is getting on.

SRA Activity

One thing which is unlikely

to make you smile is a significant

increase in visits/

investigations and disciplinary

activity by the SRA

which my Compli team has

noticed recently. We are

seeing visits to PI firms

(some with very little if any

notice) with their main

focus being on compliance

with referral arrangements.

This increased interest may

be tied in with the recent

comments made by Paul

Phillip that the SRA wanted

to know more about how

the PI market operates, but

if it is, it is of no consolation

to those firms who have to

drop everything in order to

get together a huge

amount of information

which the SRA asks to see

during their visit. If you are

in this position, please give

the Compli team a call for

further guidance and assistance.

Staying on PI, the SRA also

issued a warning notice recently

to PI firms in respect

of potentially fraudulent

personal injury claims. Anyone

dealing with PI claims

should familiarise themselves

with it, not because it

has anything particularly

new to say but because the

SRA might refer to it in any

investigation if they consider

a solicitor has failed to

take notice of the warning.

In a nutshell, the SRA has

raised concerns about five

specific issues

1. cold calling;

2. breaching the ban on referral

fees;

3. acting on instructions

without client approval;

4. paying damages to third

parties; and

5.bringing claims without

clients' knowledge.

What is clear is that PI firms

need to audit their files and

monitor their work sources

with this warning notice

very firmly at the forefront

of their minds.

You may also have seen that

the SRA has recently closed

5 practices in a week so they

have certainly been extremely

busy!

SRA v Law Society

The battle of words regarding

the future of legal regulation

continues. I recently

attended a meeting with

the Vice President of the

Law Society who is keen to

hear the profession's views

on this very important issue

about what functions the

SRA and the Law Society

would have under a

changed system. If you do

have any views, please feed

them back to me and they

will be passed on.

Another Register!

The deadline for the June edition of

The Messenger is 13th May

Email: j.baskerville@jbaskerville.co.uk

I'm afraid yet another register

has been introduced

which affects LLPs and Limited

companies and which

COLPs/COFAs may need to

be responsible for. The Register

of People with Significant

Control (PSC) has been

introduced as from 6 April

2016. Companies and LLPs

(with only very limited exceptions)

will be required to

hold and keep available for

inspection a register of people

with significant control

over the company/LLP

("PSC Register"). This is a

major administrative

change which will apply to

the vast majority of UK companies

and LLPs and Directors/

company secretaries

and/or COLPs/COFAs will

need to acquaint themselves

with the new rules

and consider how they will

apply as soon as possible. In

summary, the obligations

are to investigate, obtain

and keep updated information

on registrable persons

with significant control and

relevant legal entities with

significant control over the

company. A PSC register will

need to be created which

needs to include "required

particulars" of each person

with significant control over

the company who is a registrable

person. The PSC register

will also need to be

monitored, updated when

necessary and reviewed at

least annually so add this to

your calendar of monitoring

of policies/procedures etc.

Panama papers

The news has been full of

the Panama papers scandal

over the last month or so –

it's as if it's come straight out

of a John Grisham novel!

There will be many lessons

to learn even at this relatively

early stage so that

your law firm is not caught

up in any similar scandals or

incidents that causes such

huge reputational damage.

Are your client take-on procedures

robust enough and

effective in identifying potential

money laundering?

Do your fee earners understand

the importance of

asking the right questions

about source of funds? Do

they know about and are

you confident that they can

recognise red flags? Are

your systems properly protected

from hackers? Have

you reviewed your Data Protection

and Information security

policies recently?

The Law Society has just updated

its practice note on

protecting your firm if you

fall victim to a scam s have a

look at that and ensure you

have it all covered off.

That's it from me for this

month – keep smiling! ☺

Michelle Garlick

Chair of Regulatory

Affairs Committee

Manchester Law Society

Weightmans LLP

J. WIPPELL & CO LTD

Legal & Clerical Outfitters Since 1789

Providing a Specialist Service for

Members of the

Manchester Bar

Wippell's Manchester branch stock a wide range of

legal wear including gowns, shirts, elasticated and tie

legal bands, lay and wing collars, studs and legal falls.

To order call us now on

0161 834 7967

All major debit and credit cards accepted.

Manchester Branch

9-21 Princess Street M2 4DN · Email: wippell@btinternet.com

Opening Times: Monday – Thursday: 9am-5.15pm

Friday: 9am-5pm · Saturday: 10am-5pm

www.wippell.co.uk

Like us on Facebook.
---
Forthcoming Events

8 Movers & Shakers

Equity Partner Promotion for Farleys'

Tom O'Neill

Leading North West law

firm Farleys has announced

the promotion of

commercial property

lawyer Tom O'Neill to equity

partner.

Tom joined Farleys upon

qualification in 2005, and

currently heads up the firm's

dedicated commercial

property team. He has extensive

experience in all aspects

of property work,

including acquisitions and

disposals, development site

preparation and infrastructure,

landlord and tenant

work, development agreements,

option agreements

and refinancing transactions

Commenting on the promotion

Ian Liddle, Partner at

Farleys said "Tom is an outstanding

lawyer and is well

regarded by clients and colleagues

alike. His promotion

to the partnership here at

Farleys is deserved recognition

of his invaluable contribution

to the firm's success."

Tom said: "I am delighted to

become a partner here at

Farleys and look forward to

continuing the ongoing

growth and success of the

firm, and in particular the

commercial property team."

Tom O'Neill

Mills & Reeve hits a high note with Hallé

construction win

The construction team at

the Manchester office of

law firm Mills & Reeve has

been appointed to advise

on the multi-million

pound extension of Hallé

St. Peter's.

The team, led by Manchester

head of construction

Catherine Kay, is advising

on phase one of the development

of Hallé's St Peter's

in Ancoats by extending the

grade II-listed former

church building into rehearsal,

recording performance,

education and

ancillary space.

Catherine said: "We have advised

the Hallé for a number

of years and are delighted

to be appointed to this latest

project. The Hallé St

Peter's extension will enable

the orchestra to further develop

its education programme

and help inspire

the musicians of the future."

Quartet propel staff numbers to a

record high

Staff numbers at law firm

Bromleys have topped 50

for the first time with four

appointments, including

solicitor Kate Allsop.

Hall Brown Family Law opens in

Manchester

New boutique family law

firm, Hall Brown Family

Law, has opened its doors

in Manchester with the

promise of 'quality service

day and night' from its

founders, respected leading

family lawyers, Sam

Hall and James Brown.

With more than 20 years of

family law experience - and

high-profile clients including

ex-Liverpool FC manager,

Brendan Rodgers,

Premiership footballers, entrepreneurs

and celebrities -

Sam Hall, James Brown and

their team will practice from

the firm's new offices in King

Street.

Described as 'first rate' and

respected for 'leaving no

stone unturned' (Legal 500),

and both named as 'Leading

Experts' in the independent

legal directory, Chambers

and Partners, Sam Hall and

James Brown were previously

Partners at JMW Solicitors

and instrumental in

raising the family department

from a Tier 4 to the

top Tier 1 ranking. A Senior

Associate, Associate and Solicitor

from the team they

assembled at JMW will join

Hall Brown next month.

Sam Hall, currently Chairman

of future pro-manchester

and one of the country's

top 10 family lawyers, said:

"James and I share a desire

to focus primarily on quality

of service, rather than volume

of cases which is why

we set up our own firm. We

understand that exceptional

service, support and

guidance is vital for clients

at what can often be the

most stressful and traumatic

period of their lives. For us,

this means being accessible

whenever our clients need

us – regardless of the day of

the week, or time of night."

James Brown, one of only a

handful of family lawyers to

have represented a client in

the Supreme Court added:

"Setting up our own firm

means we now have the

freedom to invest time, care

and attention which we believe

clients should be

given. We are also determined

to avoid the jargon,

stuffiness and pomposity

that can be associated with

lawyers and want to be

known for honest, straighttalking

advice, understanding

and empathy."

James specialises in divorce

involving complex financial

issues and has acted for a

wide range of clients from

teachers to celebrities and

entrepreneurs. He represented

Mr Sharland in the

Supreme Court case, Sharland

v Sharland.

Sam too specialises in all aspects

of family law with a

particular focus in financial

settlements and future

arrangements for children.

Although the majority of his

clients remain highly confidential,

it is public knowledge

he acted for

Premiership Manager, Brendan

Rodgers following the

separation from his wife.

As well as high-profile

clients, Sam Hall and James

Brown are keen to emphasise

that they pride themselves

on the same level of

care for all clients: "While

certain cases can sometime

attract media attention, we

have extensive experience

working with the spectrum

of different family issues

from Magistrates Court to

Supreme Court."

Sam and James and their

hand-picked team are looking

forward to being able to

provide clients "with the

time, understanding, guidance

and service they deserve."

Kate has joined Bromleys'

child care team from the

Bury office of Woodcocks

Haworth & Nuttall, where

she qualified in 2009 and

spent eight years in total.

She specialises in acting for

children, parents and other

family members in care and

adoption cases and also advises

on private proceedings

relating to children,

special guardianship matters

and social services disputes.

Kate also has expertise in

advising on domestic abuse

and forced marriage protection

cases.

At the age of 27 in 2012,

Kate became one of the

UK's youngest solicitors to

be granted higher rights of

audience by the Solicitors

Regulation Authority, which

enables her to represent

clients in the most senior of

courts.

Outside of work, Kate is an

accomplished pool player

and has represented

Greater Manchester Ladies.

She is also on the committee

of north west charity

Child Concern.

Kate, who became Bromleys'

50th member of staff,

said: "Bromleys is a long-established

firm with a formidable

reputation.

"It's a real privilege to be

part of its highly-experienced

and respected care

team."

Keith Platts, who heads the

firm's child care department,

said: "We are seeing a

significant increase in demand

for our services and

we are delighted to wel-

Kate Allsop

come Kate to the team.

"She brings a wealth of experience

in child care matters

and I am sure she will

be an excellent addition to

what is already the largest

specialist team of its kind in

the Tameside and east Manchester

area."

The other recruits are Tahera

Khatun-Ali, a case progressor

in the property team,

and office staff Sarah De Vial

and Holly Wiles. Their arrival

takes Bromleys' staff numbers

to 53, which represents

an increase of 30 per cent in

the past three years.

with their assistance, we will

be able to reach out the

widest possible pool of potential

recipients.

I have also this month been

invited to become a governor

of the Cotton District's

Convalescent Fund and The

Barnes Samaritan Charity

and I have attended the first

meeting. The charities

merged many years ago,

but have their roots in the

cotton industry in the 19th

James Brown and Sam Hall

President's Column continued...

century. The purpose of the

Barnes Charity is to provide

financial assistance for people

afflicted with severe or

incurable illness and for

people convalescing from

such illness while continuing

to live in their own

home.

I decided that by far the

best approach for my first

meeting was to sit back and

learn and see how things

operated. It was a fantastic

opportunity to see how

small charities like this can

make a small, targeted difference

to the lives of people

in need. Not quite the

same as the Legal Education

Fund, a different angle perhaps,

but equally worthy

and it is a pleasure privilege

to be involved.

Michael Hardacre

President
---
Movers & Shakers 9

Centrefield LLP: Leading UK sport and media law firm

launches in Manchester

A new specialist Sport and

Media law firm, Centrefield

LLP, has been

founded by partners, Edward

Canty, David Bentham

and Matthew

Bennett.

Based in Manchester, Centrefield

is made up of a

highly specialised team of

ten lawyers with over 15

years' experience advising

exclusively in the sport and

media sector – one of the

key growth sectors for the

legal marketplace both in

the UK and worldwide. The

team is recognised by

clients and the industry

generally as a true market

leader on a national and international

basis and continues

to act for an enviable

client base of household

names.

Nine of the ten lawyers in

the team left North West

based law firm, Brabners

LLP, to form Centrefield. The

establishment of the new

firm builds on the lawyers'

existing reputation and sees

Centrefield become one of

the UK's largest sport and

media law specialists.

Matthew Bennett said:"Centrefield

marks a significant

development in our industry.

We act for clients across

a wide range of sports and

they all operate within a

highly specialised environment;

we believe that a

more industry-focused and

specialised firm is much

more closely aligned to

their interests. Our goal is to

create the leading sport and

media practice with the

greatest industry knowledge

and the best possible

client service."

When Canty, Bentham and

Bennett set up the practice

their clients followed. Centrefield

provides advice to a

wide range of clients including

governing bodies, national

associations, leagues,

clubs, player associations,

individuals, agents, sponsors

and businesses operating

in sport and media.

Edward Canty said:"That all

of our clients have come

with us as we open Centrefield

is not only gratifying –

it's proof of our skills and experience,

our determination

to secure the best results for

them and the close relationships

that we have built

over time."

The practice is based in a

converted historical mill

building and offers something

different to the traditional

law firm.

Edward Canty said:"We

were careful in selecting the

right office to base Centrefield

at; we wanted to find

an environment which reflected

the ethos and culture

of the firm as well as

the industry that we work in

so it is somewhere that both

the team and our clients feel

comfortable and enjoy

coming to."

Centrefield hit the ground

running with the opening of

the football transfer window

in January. A busy

month acting in transfers,

loans, contract re-negotiations

and image rights

arrangements for a number

of clients, including clubs

and players from the Premier

League, the Football

League and Major League

Soccer, set the pace for the

practice.

David Bentham said:"The

January transfer window

was a good way to kick off

the new business – it set the

pace for what promises to

be a thriving and growing

practice."

The launch of the firm has

been marked with a drinks

reception, at Manchester's

L to R Matthew Bennett, David Bentham, Edward Canty

recently opened arts venue,

HOME, attended by over

one hundred clients and

contacts of the firm.

David Bentham commented

that: "It was great

to see so many of our clients

and contacts come and

mark the start of Centrefield.

We very much appreci-

ate all of the support they

have provided at the start of

the new firm and we're excited

about working with

them in the coming years."

Expect the

Unexpected

GCS are there for you…

With policies that last in

perpetuity, cover all successors

in title and can be issued

instantly!

Whether it is Instant Issue Pack,

Online or Bespoke we are

committed to providing clear,

easy solutions whatever the

problem!

Call 01435 868050 to speak to an

underwriter today.

www.gcs-title.co.uk

01435 868050

underwriters@gcs-title.co.uk

Guaranteed Conveyancing Solutions Limited is authorised and regulated by the

Financial Conduct Authority. Registered in England and Wales No. 3623950

Legal Indemnity Insurance
---
10 News

Life after the Law

Steven Hindmarsh retired from his role as a commercial property solicitor with

Hill Dickinson in 2015. He talks to Julia Baskerville about his new role

volunteering with Salford CAB...

Stephen Hindmarsh, a

past President of Manchester

Law Society retired

from private practice

in 2015. He qualified as a

solicitor in 1977 with

Gorna and Co, which

merged with Hill Dickinson

in 2001. Stephen says

that once he knew he

would be retiring, he

began to volunteer with

Salford CAB and took a series

of training courses.

Stephen now volunteers

two days a week. One day is

spent giving general advice

and the other is spent with

the specialist debt team.

Salford CAB has a drop in

advice centres at Salford

Precinct, Eccles and Walkden.

SAS Daniels LLP recognised for its commitment to

staff training with STEP Gold accreditation

Leading North West law

firm SAS Daniels has been

accredited by the STEP

Employer Partnership

Programme and awarded

Gold status.

STEP is the worldwide professional

association for

those advising families

across generations. STEP

promotes best practice and

professional development

and its new Employer Partnership

Programme has

been launched to help employers

of STEP students

plan and deliver effective

training and development,

ensuring that staff can offer

the best possible advice to

clients.

The Gold accreditation

recognises SAS Daniels'

commitment to up-skilling

its staff and providing the

best possible service to its

clients.

STEP members are trained

to deal with issues and services

that include preparing

wills; ensuring elderly and

vulnerable people are cared

for and supported; family

business succession planning

and providing for a

husband or wife after the

death of a spouse while protecting

the interests of children.

Helen Kelly, Partner in the

Private Client team at SAS

Stephen says that there are

two aims of the CAB network.

Firstly they provide

free, independent, confidential

and impartial advice

to individuals on their rights

and secondly, through this

advice, they are able to

identify trends and this information

is used to improve

policies and practices

that impact on peoples

lives.

Stephen says that one of the

most rewarding aspects of

volunteering with the CAB

is that no two days are the

same. He says "I find volunteering

at the CAB to be refreshingly

different from

private practice and I enjoy

the variety of work. We offer

general advice on a whole

host of issues, such as benefits

advice, employment difficulties

queries, consumer

rights and problems, housing,

tax and NI contributions

Daniels and Chair of the

Cheshire branch of STEP

said: "Our clients come to us

at often difficult times in

their lives regarding some

incredibly complex matters,

so it's important that our

staff receives training at the

highest possible level.

"SAS Daniels is committed

to offering our staff the best

possible development opportunities

to ensure they

have the skills and specialist

knowledge to offer a firstclass

service to our clients in

the future. This STEP accreditation

is testament to this

commitment and will help

us ensure our clients receive

the specialist knowledge

they need at all times."

Jenni Hutchinson, Head of

Employer Partnerships at

STEP said, "SAS Daniels has

Helen Kelly

and family issues, such as

child custody and family

breakdown, and we are supported

by a team of very

knowledgeable managers."

Benefits advice is generally

one of the areas that many

people seek help from the

CAB for and Stephen says

that this is often linked with

debt and housing issues. He

adds "If we identify that an

individual is likely to be

evicted, then legal aid may

be available and we can

refer then to Manchester

CAB who have a specialist

housing solicitor and they

will advise on the best possible

course of action.

Stephen says that the role of

the CAB is very broad and is

not a replacement for legal

advice. He says "People

come to the CAB because

demonstrated a supportive

and encouraging approach

to learning and development

and we are pleased to

see the value they place on

the professional development

of their staff. We are

delighted to award SAS

Daniels with their well-deserved

Gold Employer Partner

accreditation".

SAS Daniels currently has

two members of staff in its

private client team who are

undertaking the STEP qualification.

STEP has over 20,000 members

across 100+ jurisdictions

from a range of

professional backgrounds

including accountants,

lawyers, trust specialists and

other practitioners in this

field.

they have a problem and it

is our job to give them the

options to help resolve this

and provide information

about their rights as individuals.

We may recommend

that they seek legal advice

from a solicitor, or it may be

other remedies."

Stephen says that as a commercial

property solicitor he

thought he had an understanding

of housing, but

since joining the CAB he

now has a better understanding

of the complexities

of assured tenancies

and the rights of tenants

and the issues of homelessness.

Stephen has found that

there are a couple of similarities

between his role as a

solicitor and that of a CAB

volunteer. Firstly there is

the drafting of documents

and secondly the importance

of referencing advice

to the authority. Stephen

also helps individuals to

complete forms. He adds

"Some people with disabilities

are eligible for Personal

Independence Payments,

and the applications for this

Chafes Solicitors expands team with

Katy Craik-White

Cheshire legal practice

Chafes Solicitors has expanded

its team with the

arrival of commercial real

estate specialist Katy

Craik-White.

Katy joins the Wilmslow office

to advise and assist

clients on buying, selling or

renegotiating leases on

commercial property. Katy

is returning to work after a

four-year break, having previously

worked at Herbert

Smith Freehills in London.

Katy Craik-White said:"I'm

delighted to join Chafes Solicitors

and look forward to

supporting growth plans in

the firm."

Jon Roberts, manging partner

of Chafes Solicitors,

added: "We're thrilled to

welcome Katy to Chafes, her

expertise in commercial

property will add to our already

experienced team.

She will play an important

role in our future plans and

ensure our service to clients

remains excellent."

are very detailed and complex

and so we are often

called up to assist in completing

the paperwork for

this in a method that is acceptable

to the DWP."

Stephen Hindmarsh

Katy Craik-White

Stephen concludes "Volunteering

with the CAB is a refreshing

change from the

law and you can volunteer

as much or as little as you

like. I enjoy the challenge

and get a great deal of satisfaction

from knowing I have

made a difference."

Chafes Solicitors provides personal and business legal services

form three offices, Wilmslow, Alderley Edge & New Mills.
---
Higher servicing standards.

Lower servicing costs.

All Porsche drivers can now benefit from fixed price servicing at Porsche Centre Bolton.

Prices for 911 (997) models start from £395.00 for a minor service and £95 for a brake fluid change.*

Porsche-trained Technicians guarantee workmanship, Porsche Genuine Parts, the latest

diagnostic equipment and, crucially, the complete peace of mind that your Porsche is in

the hands of genuine experts.

Having your Porsche serviced by us means you also have access to a courtesy car

or the option of a collection and delivery service.**

Why take your Porsche anywhere else?

For more information visit www.porsche.co.uk/service

Porsche Centre Bolton

Manchester Road

Bolton BL3 2RJ

Tel: 01204 559 911

info@porschebolton.co.uk

www.porschebolton.co.uk

* Participating Centres only. Fixed price service tariffs may be withdrawn or varied at any time. Prices for other models available from participating Centres.

** Subject to availability, age and licence restrictions.
---
12 Feature

The debate over the formal recognition of

relationships under UK law

The route to achieving formal

recognition of a relationship

in the UK has

been the subject of much

debate following the introduction

of the Marriage

(Same Sex Couples)

Act 2013.

Since 5 December 2005,

civil partnerships have been

available to same-sex couples

in the UK under the

Civil Partnership Act 2004.

This Act granted same-sex

couples the same rights as

those enjoyed by heterosexual

couples through civil

marriage. In 2014, however,

UK law evolved, and the additional

option of civil marriage

was made available to

same-sex couples under the

Marriage (Same Sex Couples)

Act 2013.

An increasing number of

heterosexual couples are

seeking to campaign for

their rights to enter into civil

partnerships and thereby

have the same choices and

options available to them as

same-sex couples. Many

heterosexuals argue they

would, if given the opportunity,

choose civil partnership

over marriage,

claiming, inter alia, that the

institution of marriage is oppressive,

sexist and of a historically

patriarchal nature.

Others contend that the law

as it stands both discriminates

against heterosexuals

and undermines equality in

the UK, simply because opposite-sex

couples do not

have the same choices as

same-sex couples.

In January 2016, heterosexual

couple Rebecca Steinfeld

and Charles Keidan lost

their challenge in the High

Court to obtain the right to

enter into a civil partnership;

a challenge which

began in 2014 when they

initially sought to enter into

a civil partnership and were

unable to do so because

they did not meet the legal

requirement of being a

same-sex couple. As their

battle progressed, they received

support through

36,000 signatures on their

petition (available to view

on www.change.org) which

called for civil partnership

to be opened up to couples

of the same sex.

Rebecca and Charles stated

that they did not oppose

the existence of marriage,

and accepted that it offered

the same legal rights as a

civil partnership with no

substantial practical differences

between the two.

However, the couple felt

that their relationship more

closely matched those values

contained in a civil partnership;

namely that of

equality. They believed that

recognising their relationship

by a civil partnership

avoided any connection

with historical ideas of patriarchy

that marriage is associated

with.

So, why did the High Court

rule against opening up civil

partnerships to couples of

the opposite sex? The judge

in the case ruled that the

different treatment of gay

and heterosexual couples in

this respect did not infringe

the right to a family and private

life under Article 8 of

the European Convention

on Human Rights. Furthermore,

even if it was found to

infringe Article 8, that

would be justified in any

case because heterosexual

couples have the equivalent

option of entering into civil

marriages. This means, essentially,

that there is actually

no disadvantage to

heterosexual couples

through their choice only of

civil marriage as opposed to

the additional choice of civil

partnership.

The government has supported

this ruling, and indicated

that now same-sex

couples are able to marry,

civil partnerships may well

be abolished in the future.

Accordingly, their view is

that changing the legislation

on a temporary basis

would be costly and difficult

to achieve. In addition, the

government was keen to reiterate

the judge's ruling,

and emphasise that the unavailability

of civil partnership

to opposite-sex

couples did not create any

disadvantage for heterosexual

couples.

It appears, then, that the

only material difference between

civil partnership and

marriage, other than the

title, (and indeed the fundamental

issue raised by heterosexual

couples who are

currently denied access to a

civil partnership), is that

marriage still carries historically

patriarchal connotations.

In contrast, a civil

partnership is believed to

be a fresh method of formally

recognising relationships,

which theoretically

lends itself to the notion of

equality – something that is

of increasing importance to

couples of the opposite sex,

it seems. The debate will no

doubt continue…

Mark Fitzgibbon,

Partner

Victoria Madsen,

Trainee Solicitor

Hill Dickinson

Mark Fitzgibbon

Victoria Madsen

/ Our analysis results and Expert Reports have been

used in thousands of family law cases and child

care proceedings across England and Wales

/ ISO 17025 UKAS accredited hair drug and alcohol

testing

/ Laboratory analysis in accordance with the Society

of Hair Testing

/ Speak to our experts directly to discuss the results

Lextox experts provide analysis and reports for family law

cases and child care proceedings within 5 working days

/ Responsive sample collections by qualified

healthcare professionals

/ Free SRA accredited CPD seminars

Call us today on 029 2048 4141

or email experts@lextox.co.uk for a competitively priced bespoke quotation

T: 029 2048 4141 / F: 029 2048 4321 / E: experts@lextox.co.uk / www.lextox.co.uk
---
AFG Law Charity Night

AFG Law held a Charity Night in February to raise funds for Early Break, Women's

Housing Action Group and Superjosh. This was the Bury firm's third annual Charity

Night and raised £2616 so each charity will receive £872.

Feature 13

Trafford Law Society Ball

Trafford Law Society held

their Annual Ball at the

Manchester Airport Marriott

Hotel in March. Over

120 guests attended, including

District Judge

Clegg and Mrs Clegg as

guests of honour.

Entertainment on the night

was provided by Kris Naylor,

Magician and the Fun Time

Frankies Band. The evening

also raised £2,000 for the

local charity "Friends of

Rosie".

The official sponsors were:

18 St John Street Chambers,

Deans Court Chambers,

Slater Heelis, Blackstones

Solicitors and Xpress Legal.

For further information visit

www.traffordlawsociety.co.uk

Mr and Mrs Clegg (formerly District Judge Clegg)

The Trafford Law Society Committee- Left to right David Hensley (treasurer),

Alison Barnett, Malcolm Horner, Sarah Amatiello (President), Camilla

Burton-Baddeley (secretary), Geraldine Stephens (Vice President) and Faye Beech

The magician entertains 18 St John Street
---
14 Feature

Panama Papers: the Changing Global

Landscape of Tax Avoidance

Robert Levy of Kuits Solicitors outlines the background to the Panama Papers

and the possible implications for those caught up in the maelstrom..

When the news broke on

the night of Sunday 3rd

April 2016 that the German

Newspaper Suddeutsche

Zeitung had

received 2.6 terabytes of

data made up of over 11

million documents originating

from the data files

of Panamanian Law Firm

Mossack Fonseca, the offshore

world exploded into

a frenzy of panic.

sanctions busting, laundering

proceeds of crime and

corruption, the biggest fallout

is likely to be in relation

to tax evasion, as even

though a large proportion

of the structures created by

Mossack Fonseca are likely

to be legitimate, there will

almost certainly be structures

wrapped up in that

being operated for people

whose desire for secrecy is

motivated by a desire to

keep their money out of the

clutch of the taxman.

As has happened before in

these cases, HMRC have accelerated

their timetable for

the introduction of new

criminal offences to help

stamp out evasion and increase

the pressure on

Overseas Territories and

Crown Dependencies to

agree to automatic exchange

of information, including

information as to

beneficial ownership of

structures held in those territories.

Given that these territories

include jurisdictions

such as the British Virgin Islands

and the Cayman Islands,

this should be

One point should be made clear right

from the outset: it is not against the law

for a UK taxpayer to hold an offshore

asset.

Over 200,000 offshore entities

and numerous law

firms, accounting firms, financial

advisory firms and

banks were implicated. The

nature of the leak, comprising

as it did of raw data (that

is not just columns of figures

but actual copies of letters,

emails, notes and

documents going back

forty years) falling into the

hands of the International

Consortium of Investigative

Journalists (ICIJ) and doubtless

on its way to international

tax authorities,

regulators and crime agencies,

meant that this panic

was not without foundation

(no pun intended).

Of course, a very large number

of the entities and transactions

thrown out by the

data leak will be entirely legitimate.

As we all now

know, many offshore entities

are established for perfectly

valid reasons and

those holding assets offshore

very often account

fully for their tax liabilities.

However, as the story

moved into its first phase, it

was presented by the press

in an uncomfortable light

and even those with legitimate

connections to the

story found themselves

with uncomfortable bedfellows,

such as Syrian President

Bashar al-Assad.

Alongside allegations of

One point should be made

clear right from the outset:

it is not against the law for a

UK taxpayer to hold an offshore

asset. However, in the

case of a resident domiciled

UK individual, it is their obligation

to disclose and pay

tax on the fruits of any offshore

asset, such as interest

on an overseas bank account

or gains made on the

sale of assets. UK resident

non-domiciled individuals

may opt for a different

regime.

HMRC have asked for the

data and will get it. The government

has announced

the establishment of a new

taskforce headed by HMRC

– a cross-departmental

agency that includes the Financial

Conduct Authority,

the National Crime Agency

and the Serious Fraud Office,

as well as the full power

of HMRC's state-of-the-art

data analytics software programme

"Connect" – which

will be deployed in order to

flush out targets for investigations

or prosecutions. The

sense of political outrage

would suggest that there

will be a leaning towards

prosecutions if at all possible.

expected to produce further

targets for investigation.

For those caught up in this

maelstrom, the appropriate

course of action is clear.

They should seek advice

and they should seek it

quickly – preferably from a

solicitor to ensure the protection

of privilege. Even

those that believe that their

structures are correctly established

and have operated

legally should take

advice to ensure that they

have not been caught out

by changes in the law.

Those who are deliberately

hiding assets from the taxman

need to get to HMRC

before HMRC get to them. A

full and unprompted voluntary

disclosure to HMRC

with experienced advisors

in controlled circumstances

will always achieve the best

outcome and, at the very

least, may help minimise

the sleepless nights.

Members and staff from St

John's Buildings Barristers'

Chambers have been

joining together to raise

fund for Headway, the UKwide

charity that works to

improve life after brain injury.

SJB are Headway

Challenge Baton holders

for 2016, and so have

planned a year-round calendar

of fundraising activities.

The first official event was

the SJB Ladies' Evening, held

at LK Bennett in Manchester

on 26 March. There was a

great turn out, and the attendees

enjoyed flower arranging

demonstrations

and gorgeous raffle prizes

as well as 20% off all purchases.

The event raised a

fabulous £1,000 for the

charity.

Robert Levy

SJB Fundraising Update

There are lots of ways that

clients and supporters can

get involved. Next on the

fundraising calendar is the

Spinathon – a continuous

spin session for 12 hours on

27 April at Pro Spin in Ashley.

Braving the bikes are

barristers Sally Harrison QC,

Elisabeth Cooper, Philippa

Waddell, Karl Rowley QC,

Richard Norton, Ben Kelly,

Kevin McNerney, and

Gareth Thompson, along

with CEO Chris Ronan and

Senior Civil Clerk Chris

Shaw. If you would like to

sponsor the participants or

make a donation to Headway,

please visit our Virgin

Money Giving page at

http://uk.virginmoneygiving.com/team/SJBforHeadway

On 26 May at Manchester

Art Gallery we will be holding

a Mindfulness for

Lawyers seminar. Consultant

Clinical Psychologist Dr

Fairuz Awenat will explain

the benefits of mindfulness

and look at how to use and

adapt mindfulness techniques

within your working

day. There is a minimum donation

of £10 and the event

run 6-8pm.

All are welcome to attend a

Brain Injury Seminar which

is being organised by Headway

Lancaster & Morecambe

Bay branch. The

event will be held at the

Lancaster House Hotel from

Friday 17 - Saturday 18 June

and will feature guest

speakers, a full exhibitor

showcase and a partner experience

day.

On 22 June our Stand-up

Comedy Night is back by

popular demand. Sally Harrison

QC, Fran Heaton QC

and barrister Samantha

Hillas will each perform a

stand-up routine at the

Contact Theatre in Manchester.

They will be supported

by professional

comics Debra Jane Appleby

and Laurence Clark. Tickets

cost £20 and all are welcome.

Our cyclists will be back out

in force for a road trip

around all four of our Chambers

sites. A team of members,

staff, family and friends

will set off from our Liverpool

Chambers on Saturday

17 September and cross the

Mersey by ferry before cycling

to Chester for lunch

and on to Manchester for

dinner and an overnight

stay. The following day they

will cycle from Manchester

to Sheffield. Supporters are

welcome to join the cyclists

or meet for lunch or dinner.

There are lots more events

planned including our summer

garden party known as

SJBstonbury, a 5-1-Side

football tournament, a

Chambers cricket match

and a sports persons' dinner.

Our full fundraising calendar

is available on our website

at

http://stjohnsbuildings.com

/fundraising- calendarheadway

If you require any further information

about any of

these events, please contact

Janet Moorhouse, Marketing

and Communications

Manager on 0161 214 1500

or email janet.moorhouse@stjohnsbuildings

.co.uk
---
Marketing and Social Media 15

Marketing – afterthought or part of the plan?

by Linda Coppell Integrated Marketing

I'm often asked what marketing means for law firms. Many think its placing an odd

advert here and there, sorting out the legal directories and perhaps doing a little

client entertaining. Although these are useful as part of an integrated plan, marketing

in the broader sense is concerned with the development and delivery of services

and products and ideally should form part of a firm's long-term strategic planning

process.

It involves maintaining relationships with existing clients and creating relationships with

prospective clients. In particular, developing an understanding of:

• why your clients buy your services and which services they buy

• how and when they make purchasing decisions

• the price they are willing to pay

• the triggers that would make them buy more

• cross-selling additional services they may not be aware of

• competitive forces – particularly where client panels are in place

• why they defect – and why they remain loyal to you

As clients' needs change, so must law firms respond, adapt and evolve to maintain and

grow in continuously changing market environments.

Where to begin?

Whatever size and structure, if your firm's marketing budget is to have maximum impact,

you need to know where to focus it.

Begin with a succinct, concise, plan; setting out Specific Measurable Achievable Realistic

Targeted/Timely (SMART) objectives and goals. Don't overcomplicate and don't try to do

everything all at once because it will inevitably fail. Prioritise - focus on just 2 or 3 key objectives

first. You'll then be able to assess marketing and business development opportunities

and put an action plan in place. Most importantly, when those 2 or 3 objectives

deliver results, it's then much easier to bring any sceptics in the firm along with you when

it's time to focus upon the next 2 or 3!

• Client added value programmes

• Key account management programmes

• Development of CRM/database of clients, referrals, targets and prospects

• Bid, tenders and capability statements

• Business development pipeline management

• Brand management, identity and values

• Differentiation strategies

Resources

Without an effective marketing infrastructure marketing of your firm, practice group or

sector will be difficult. If you haven't already appointed someone to take responsibility

for your marketing, consider what the firm will need to manage and implement the marketing

activities. Depending on size, this may be a sole co-ordinator or manager, a full

team structure, occasional consultancy support, a complete outsource solution, or a mixture

of these.

Final thoughts

Marketing, business development and firm-wide projects should all work together to protect

the future of the practice and be seen as important as short-term production and

billable hours.

As David Maister says – What you do with your billable time determines your current income,

but what you do with your non-billable time determines your future.

It's also worth mentioning that for those firms with Lexcel accreditation this requires you

to develop a marketing plan that includes these SMART objectives for the next 12

months. They also recommend the plan be reviewed every 6 months.

Marketing tools that work for law firms

You've prepared and prioritised your SMART plan. Now it's time to assess the marketing

and business development activities that will help you to achieve your goals and objectives.

As part of an integrated plan, choosing the mix that's right for your firm will deliver

results:

Which elements you use will depend on the focus and size of your firm, how your marketing

and business development teams are structured and how plans are developed. Additional

business and client development activity which may run alongside and integrate

with your marketing plans include:

BSN North & Manchester Group re-launch

On Monday, 18th April, 2016 BSN North & Manchester Group was re-launched

Questions to ask yourself before meeting an agency

So, you've got an initial

meeting booked in with an

agency, or maybe it's even a

pitch or a beauty parade.

You're ready to be bombarded

by numbers, creative

ideas and perhaps a

few buzzwords.

There are of course lots of

questions you'll want to ask

the agency. But there are

also some key questions

you should ask internally

before this situation, to help

you walk away with the

right decision.

What do you want to

achieve?

oughly, and understand

how their strategies will

help you.

Do you understand your

audience?

If you understand who your

audience are, where they

are online, what they like

and dislike, and the value

proposition you can offer

them, you're half way to a

good campaign. These factors

should be included in

an agency brief to help

them put together their

ideas. If you don't know

these things, you might

look for an agency that will

find out for you – research is

always a worthwhile investment.

How does your budget

stack up?

You probably have a figure

in mind, but make sure you

do your research beforehand

to gain an awareness

of what's expensive and inexpensive

in online marketing,

and the cost per click

you can expect from PPC. If

your budget is on the small

This is actually tougher than

it sounds. If it's an outdated

notion like ranking number

one, then forget it – no

agency worth their salt

should be promising this. Is

traffic important to you, or is

the focus on generating

valuable enquiries? How

soon do you want to

achieve it, and which areas

of your business are most

important? Being clear on

your objectives will help

you brief an agency thorside,

you need to have realistic

expectations – it takes

time and effort to produce

great marketing campaigns.

What do you value in the

people you work with?

This is probably the most

important question of all,

but should be the easiest to

answer. Whether it's honesty,

passion, energy, creative

ideas or commercial

nous, it should shine

through whenever you

speak to them. After all,

your agency will be an extension

of your business, so

you should recruit them as

carefully as you would an

employee.

The group would like to attract a range of people including solicitors, students, barristers

and academics to enable everyody's voice to be heard.

For further information please e-mail ravi.sethi@mibanks.co.uk
---
16 Charity & CSR

Brabners pledges support to Crisis for 2016

Commercial law firm Brabners

has nominated Crisis,

the national charity for

single homeless people,

as its chosen charity for

2016. The charity works to

end homelessness by delivering

life-changing

services and campaigning

for change.

Crisis was chosen by employees

following a vote.

Brabners has a dedicated

charity committee who will

organise fundraising events

over the coming year, although

fundraising began

before Christmas, when

staff raised over £3,550 to

support the Crisis at Christmas

campaign.

Forthcoming events in the

calendar include the Charity

Challenge, an actionpacked

weekend of canoeing,

cycling and hill

climbing in the Lake District

where teams from different

companies across the North

West compete to finish the

course in the fastest time.

There is also the return of

'The Big Idea', an apprentice-style

contest involving

one team from each of the

firm's offices competing

against each other to raise

money for the charity. Staff

will also be encouraged to

volunteer and participate in

charity collections and

events.

Mark Brandwood, Managing

Partner at Brabners said:

"We are delighted to be

working with Crisis during

2016. Our CSR programme

is thriving – all at Brabners

are very keen to support

charitable endeavours. We

are looking forward to getting

involved in a wide

range of volunteering and

fundraising activities to

raise both money and the

profile of the charity across

the region."

Crisis helps people rebuild

their lives through housing,

health, education and employment

services and

works with thousands of

homeless people across the

UK.

Kate Farrell, Director of Crisis

Skylight Merseyside said:

"We are delighted to have

been chosen as Brabners'

Charity of the Year for 2016.

With their help, thousands

of homeless people will

come to Crisis to learn, find

jobs and build confidence;

helping them to leave

homelessness behind for

good. We would like to

thank everyone at Brabners

for their generous support

and we look forward to

working with them

throughout the year."

Last year the firm raised

over £24,800 for its chosen

charity for 2015, Alder Hey

Children's Charity.

Law Firm Raises Over £16,000 For

Charity Of The Year

Irwin Mitchell Manchester

Presents Donation To

Friends Of Lancasterian

Specialist School Charity

Irwin Mitchell has presented

a donation of over £16,499

to Friends of Lancasterian,

the law firm's Manchester

office Charity of the Year for

2015.

Employees at Irwin

Mitchell's Manchester office

have supported the charity

throughout 2015, donating

the proceeds of charitable

activities, such as bake sales,

dress down days and special

events to the charity.

The money raised will go towards

supporting the work

of Lancasterian Specialist

School. At Friends of Lancasterian

they believe that

all children with disabilities

have the right to share the

same opportunities, challenges

and enjoyment of

life as every other child.

Irwin Mitchell's Charity of

the Year initiative is part of

the work of the Irwin

Mitchell Charities Foundation,

an independent registered

charity set up by the

partners and employees of

the national law firm. More

than £1.25m has been donated

to worth causes since

the foundation was formed

in 1997.

Grahame Codd, Regional

Managing Partner at Irwin

Mitchell, said: "Irwin

Mitchell has found working

with Friends of Lancasterian

really rewarding during

2015, raising much needed

funds to ensure they can

continue to provide their invaluable

services at the specialist

school.

"The generosity shown towards

the charity by our colleagues

and guests who

have attended fundraising

events over the year is very

much appreciated by everyone

and will make a real difference

to the lives of the

school-children."

Russell Miller from Friends

of Lancasterian added: "We

would like to thank Irwin

Mitchell for supporting us

as their Charity of the Year

2015. We are thrilled to receive

this donation from the

firm which will go towards

continuing to support and

offer numerous opportunities

to the children who attend

our specialist school."

A dad-of-two who was entered

into the London

marathon as a 'surprise'

says he has finally recovered

from the shock and is

looking forward to the

race.

Ian Mackie, 53, had no plans

to take part until he received

a text message from

godson Chris Jones to say

he had managed to secure

places for them both.

Inspired by the

Bournemouth halfmarathon

they ran together

last year, Chris, who has

autism, decided to go one

step further and sign them

up for the iconic event, double

the distance at 26.2

miles.

Both will be running to raise

funds for the eye charity

MACS – the Micro and

Anophthalmic Children's

Brabners with Crisis

Dad's shock after being entered into London marathon by 'surprise'

Society – which helps

youngsters like Chris's

cousin, four-year-old Jacob

Spackman, who was born

blind in his right eye and

with reduced vision in the

other.

Ian, from Hale, head of business

development at Manchester

law firm Slater and

Gordon, said: "Both Chris

and I like to keep fit and last

year he said he would like to

run a race and win a medal

so we did the halfmarathon."That

was that or

so I thought until I got his

message! It was a bit of a

shock to start with, but I just

couldn't say no.

"Chris is the most happy-golucky

person I know and has

never once thought we

couldn't do this. He texts me

every day to see how I'm

doing and I couldn't let him

down.

"We'll also be supporting a

fantastic charity which has

really helped Jacob and his

family. He's had a really

tough start in life, in and out

of hospital having various

operations on his eyes, but

you wouldn't know he's got

those problems because

he's such a happy little lad."

Despite his initial shock and

gruelling training schedule,

Ian says he's now looking

forward to the famous race

on Sunday, April 24, which

takes in the capital's major

landmarks including the

Houses of Parliament, St

Paul's Cathedral and Buckingham

Palace.

L to R: Stacey O'Sullivan (Friends of Lancasterian) Alexandra Barrie (Irwin Mitchell)

Katie Cass (Friends of Lancasterian) Grahame Codd (Irwin Mitchell)

He added: "About a month

ago I was in so much pain

through training, but recently

I managed to run 22

miles without having to

stop with tight calves or

cramp and that was a turning

point. That was when I

thought 'I can do it.' It is an

iconic race and everyone

tells me the crowd and the

atmosphere are just astonishing."

Ian has set a fundraising target

of £1,400 for MACS

which helps children born

without eyes or with underdeveloped

eyes.

To sponsor him go to justg

i v i n g . c o m / o w n e r -

email/pleasesponsor/Ianda

vidMackie.

Any further funds will be

donated to the Once Upon

a Smile charity in memory

of 10-year-old Isaac Maley

from Bowdon who died

suddenly after suffering an

asthma attack last year.
---
Charity & CSR 17

Making a Difference

This month, Mark Fitzgibbon of Hill Dickinson talks about his work as

a Board Member of The Big Issue North Trust

"Volunteering –

A wholly different perspective

When I came to Manchester as a (very) young lawyer in 1996 I

had no intention of getting involved with the third sector; why

would I, I was focussed on building my career as a commercial

lawyer.

Purely by chance, in 1997 after the wave of euphoria from a

Labour victory and their promised new dawn for the NHS, I was

instructed by a small unincorporated charity, the Zion Community

Health & Resource Centre in Hulme which had won a significant

contract from Manchester Health Authority to manage

a new primary care resource centre. Hulme was then starting to

go through its "regenerative" transition but was certainly not

somewhere lawyers in suits would consider their natural habitat.

Notwithstanding my initial reservations, we managed to get

the charity incorporated and got contracts signed with the

Health Authority for what was at the time a revolutionary new

form of community health resource; this was my first taste of

working with both the third sector and the NHS. Out of that

transaction, unexpectedly came a much closer working relationship

(as legal advisor) with the management team of the

charity. I was asked to join the Board around 1998 – while initially

flattered, I wasn't entirely sure at the time whether I had

any skills which would be of any use to them.

After a number of years finding my feet with what was at the

time a relatively compact and niche third sector organisation

with a single facility in Hulme (the Kath Locke Centre), I began

to find the volunteering aspect fascinating; as lawyers we don't

always get the opportunity to see the inner workings of the organisations

we act for, nor to be part of the decision making

process. Sitting on the Board has constantly proved to be an

eye-opening and rewarding experience – now this might be

down to the people I sit with on that Board which are from diverse

backgrounds, and the Senior Management Team are

some of the hardest working and most dedicated professionals

I have ever worked with, or it might also be down to the lessons

learnt through undergoing such a wide variety of

experiences the Board and the Senior Management Team have

been through over the past 18 years. But being involved with

an organisation which focuses on creating opportunities for

people to change their lives (and not focussing primarily on financial

return on investment) and which relies so heavily upon

hand-outs and government contracts opened my eyes in a

thoroughly unexpected way; while there is a misconception

that the third sector, in general, is shambolic and disorganised,

nothing could have been further from the truth with this organisation

– transparency and inclusive management have always

been key objectives across the group, it has the ability to overcome

adversity in a creative and compassionate way and it continues

to be led by the most inspiring of chief executives.

The group has grown significantly over the past 18 years and

now includes nurseries, primary schools, cutting edge mental

health services, primary care resource centres, the Big Issue

North magazine and all support services for vendors; it is now

a Manchester-based social enterprise group with a combined

turnover in excess of £15m pa. Working alongside such dedicated

professionals has taught me a lot about managing people

and viewing the world through their eyes."

Mark Fitzgibbon

Partner

Commercial

Business Services

Hill Dickinson

Mark Fitzgibbon

Thousands of pounds raised at fundraising ball for

spinal injuries charity

Lawyers raised an amazing £60,000 at a

charity ball to help people living with

spinal injuries.

More than 500 legal professionals from Manchester

and beyond came together for the

Spinal Injuries Association's annual Cornflower

Ball.

Money will be used to deliver support and

services to around 40,000 people living with

the life-changing effects of spinal injuries

across the UK.

The event, which was sponsored by Slater

and Gordon, took place at Old Trafford

Cricket Ground and was hosted by antiques

expert and star of BBC's Bargain Hunt, Charles

Hanson.

This year's theme was Rio in the run up to the

summer Olympics, and prizes including concert

tickets and holidays were also raffled or

auctioned off during the night.

Richard Scorer, national manager for serious

injury at Slater and Gordon, said: "The Cornflower

Ball is a wonderful event which we

look forward to every year and are delighted

to support.

"The Spinal Injuries Association does such

great work in helping people who have experienced

devastating and life-changing injuries

and it is fantastic that, once again, so

much money has been raised to enable

that work to continue."

Sue Browning, chief executive officer of the

Spinal Injuries Association, added: "The

Cornflower Ball is our biggest annual

fundraising dinner and the Emirates cricket

ground was a perfect venue.

"We were overwhelmed by the support we

received on the night and in raising such a

fantastic amount."

The Spinal Injuries Association (SIA) is the

UK's leading charity for people with spinal

cord injuries and works to ensure that they

get the specialist care, rehabilitation and

support they need.

It also helps families cope when a loved one

is injured and campaigns for better medical

and social care.

For more information about the charity

call the free advice line on 0800 980

0501 or visit spinal.co.uk
---
18 Management Issues

Management Matters

This column is now into its eighth year and feedback is still good. We would still like to receive observations and ideas for future

issues. Please mail Bill Kirby at billkirby@professionalchoiceconsultancy.com or the publisher Julia Baskerville at

j.baskerville@jbaskerville.co.uk

Law Firm's Relationships with their

most important asset – Their Clients –

A new dimension

It is absolutely vital that we retain and develop our clients

and create the right image and support to acquire new

clients. We have discussed this on many an occasion but

some new evidence has been produced and there is consideration

for enhancing the effective response.

Peppermint Technology has commissioned a report that

was published mid April.

www.pepperminttechnology.co.uk . Amongst its major findings

are these comparisons with other service sectors

• A third of law firms have not been involved in any business

innovations in the last two years, a much higher figure than

the other two sectors. Consultants have been the most innovative,

in particular in sales and marketing, and pricing –

two areas largely ignored by many law firms to date

• A third of law firms do not maintain a regular relationship

with their clients once a particular matter has been completed,

compared to 26% of accountants and 13% of consultants

• Law firms are behind in offering clients online access to enable

case tracking, or to check and download documents –

8.7% of law firms have this, half that of accountants

• 39% of law firms carry out regular client feedback surveys,

behind consultants (52%) but ahead of accountants (28%).

A smaller percentage in each sector incorporates the results

into their client records and an even smaller percentage use

the information to benchmark their performance over time

• Almost half of law firms (46%) expect to invest in IT over

the next 18 months, while 32% anticipate investing in sales

and marketing, and 22% will look again at their pricing and

customer delivery.

We really need to know what do our customers (clients)

really think about us and how do we therefore prioritise

our actions?

Many of the more progressive law firms are now looking for

improvements in their client feedback processes, and not

only Lexcel accredited firms that need to address compliance

requirement 6.6.

Traditionally a survey has been conducted either with the

practicing lawyer asking the question or in some cases a different

partner has asked and clients can be quite reticent to

say how it really was. Some firms more recently send out

feedback questionnaires and think 'job done'. This results in

minimal response levels and a large number of potential

missed opportunities to generate additional fee-earning

opportunities. It is like that procedural and cultural thing related

to the handling of inbound enquiries.

I met with Jon Hepburn, MD of Legally Better Ltd -

www.legallybetter.co.uk a specialist client feedback service

provider for law firms - whose comments were -

"If you don't know what you don't know about your clients and

what they think of your service, you really ought to find out.

They might well have already shared their views online, often

on review websites and you're none the wiser"

We could well be seeing a big growth in formal and informal

web sites and social media as we must recognise can get out

of hand and cause a great deal of damage. Comparison web

sites will have an increasing role to play and are a fundamental

part of the search journey potential clients undertake.

A list of 5* reviews from carefully chosen clients might

look good - but the real value for a law firm is in finding out

what your clients really think.

Jon firmly believes that "The law firm should also want those

'warts and all' insights from their client - based on their actual

experience of dealing with you. Clients like to be listened to and

given the opportunity to address any issues that may have

arisen. In short their perception is your reality; and when it

comes to client satisfaction if you identify the issues, and then

act on them, the outcomes can include improved fee income,

improved client relations and an improved reputation"

Here comes the new dimension. In order to get a much better,

honest and balanced view the sampling of client satisfaction

and perception can be outsourced to a third party

such as Legally Better. Who are much more likely to pick up

the true perception.

From a compliance and client confidentiality perspective

the client needs to be given an easy opt in or out choice –

at matter inception, through the case or at the end. They can

choose whether to be contacted by your appointed independent

third party survey company to get their feedback

on the service you provided – or not. For existing clients

who might not have been told of this previously but you

now want to seek their opinion it should be straightforward

to send them an email asking them to take part.

This is important, because having committed to this you

want to maximise the response.

Jon believes that "In short, they will get the feedback you

can't – in particular the negative issues that can affect your

firm's ability to attract and retain clients. They can ask your

clients if they would like their comments to be kept anonymous

or attributed to them and then responded to individually

by you."

It would appear that this is not revolutionary as a number of

firms are already undertaking the exercise "In our experience

clients are happy to tell a third party views they won't

tell a law firm directly. In terms of outcomes based on our

experience the information obtained is always more valuable

and in-depth than most law firm's own feedback

processes – we are so confident we are even prepared to

offer a trial for up to 10 of your clients" jon.hepburn@legallybetter.co.uk

AT LAST

Last month, in the management round up where we talked

about key business measures, accountability and delegation,

strategy and plans and in particular dynamic management

and the key elements of billing, chargeable time, gross

profit, lock up (validated WIP and outstanding bills) cash collection,

complaints and matter starts. To maintain focus,

perpetual forecasting and high performance we need the

right sort of KPI and management information easily available

and at all the relevant finger tips. Including trended

data.

Me and a number of my clients have been very frustrated

about the availability of the right data from our practice

management systems. There is now a solution. Easily installed

and paid for monthly. It is called SmartEye from Exen

www.xnls.co.uk/smarteye . Now installed in excess of 50

law firms and sitting on top of no less that 10 different PMS

systems.

The solution can be installed on one PMS and then migrated

(with full reporting suite fully intact) to a new solution

when and if the firm decides to change its core

PMS/back-office systems.

The analysis available is absolutely fundamental to the

management of a successful firm. I have met the owner –

Graham Moore – gm@xnls.co.uk twice during April and

have had a good look at the product.

Effectively dashboard reports

• By tier – fee earner, team, work-type, branch,

firm – drill down.

• Dependent on firm policy – data organised by

work-type or department.

• Trend analysis and history automatically

available for all data.

• Threshold reporting. Last activity reporting. WIP

validation and time recording history

• Alerts on breaches – financial, complaints, ID,

missed targets

• Analysis by client, matter, work type, sector,

introducer / source of business, funding type and

much more …

KPIs can be individually generated to drive individual or

team behaviour to focus on correction or enhancement

Other points:

One of my favourite topics - Gross Profit by team or department

– can be automatically calculated according to the

firm's own model

One of the things I liked the most is the simplicity of getting

going. Delivery is as a complete solution, not a toolkit –

therefore limited resource needed from the firm

• 80% of the solution is pre configured

• Faster implementation times

• Lower total cost of implementation

• Less work required from the firm (individuals)

• One less thing for the IT Team to worry about

With the advanced management techniques coming to

some law firms availability of data in a form and timeliness

to affect performance real time has been really frustrating

with a lot of manipulation of standard reports available required

even for something as simple as trends. This is easily

available and we don't have to change PMS systems to enhance

reporting but above all it enables firms to get on with

the key management criteria – plans, forecasts, key performance

points, delegation and accountability.

Bill Kirby is a director of Professional Choice Consultancy

offering advice to firms on business issues from

strategy, planning, business development, the effective

use of IT applications and IT hosting for compliance,

business continuity and DR. He can be contacted at billkirby@professionalchoiceconsultancy.com
---
Forensic Update

Horses for courses

John Grogan comments on the criteria by which

expert witnesses are selected

Some readers will be familiar with cases

where there has been judicial comment to

the effect that expert evidence from those

in practice provides a more reliable source

than that of experts who have left mainstream

practice.

Most cases where such observations have been made

have involved medical experts, but the same principle

may apply across a range of professional disciplines,

including accountancy, my own field.

Some of the accountancy evidence that is brought

before the courts simply calls for analysis of raw financial

data, without any opportunity to apply the high

level knowledge and skills that are the province of accountants.

Why solicitors instruct accountants in such

cases would be the subject of another paper. Suffice

it to say that accountants are thought, correctly, to

have an essential numeracy, and a facility with

spreadsheet packages, that make them well suited to

such work. At least many solicitors have no taste for

that type of work and accountants are available to do

it. Whether an accountant has real and up to date experience

of mainstream accountancy practice at a

senior level is irrelevant in this type of work as the

work affords no opportunity to bring such experience

to bear in any event.

It is in the cases requiring the deployment of high

level expertise in the core subject matter of the accountancy

profession that the judicial remarks I mentioned

should resonate.

Cases like the following examples call for the deployment

of just such high level expertise:

• a personal injury case where the claimant

has traded through the medium of a limited

company or a partnership;

• a matrimonial dispute where there is a need

to comment on the structures through

which the proprietor of a business has been

remunerated;

• a shareholder or partnership dispute where

the accuracy of the entity's accounts is at

issue;

• a criminal case involving allegations of

fraudulent manipulation of company

accounts;

• a case involving allegations of negligence by

accountants;

• a case involving the valuation of shares in

private companies or of interests in

unincorporated businesses.

If you have a case where you need a true expert accountant

look very carefully at the CV of anyone you

are considering. Discount the list of cases in which

the accountant has acted as an expert witness, except

insofar as it shows generally that there is past experience

of acting as an expert, which may make your job

easier. Beyond that, see what real experience of the

day to day mainstream work of an accountancy practice

remains. Is it recent and up to date experience or

was it gained in the distant past? At what level was

it gained? Has the expert taken responsibility at a

senior level for decisions about a client's accounts, or

an audit opinion, or the provision of tax advice? If not,

consider whether the absence of such experience

matters. It may not.

If you are satisfied that the expert you are instructing

has the real, credible and up to date experience that

your case requires, consider who will actually carry

out the work and whether to investigate the credentials

of that person also.

John Grogan is a chartered

accountant and a chartered tax

adviser. Since 2009 he has been the

founding principal of his own

independent practice, JGA, in which

he provides expert witness services

to the legal community and

accounting and tax services to

businesses and individuals.

Between 1986 and 2009 John was a

partner at PKF, the former top-ten

national firm of accountants, now

part of BDO.
---
20 Local News

CILEX

Jefferies Solicitors supports local entrepreneurs with

Manchester Growth Hub

Michael Jefferies, founder

and managing director of

Altrincham-based law

firm, Jefferies Solicitors,

has turned his attention

to mentoring the upcoming

entrepreneurial minds

of tomorrow.

In partnership with the

Manchester Growth Hub,

which helps local businesses

by providing mentors

who donate their time,

Michael is giving his time

and advice to two mentees.

Michael brings with him

vast experience, Jefferies

Solicitors was established in

1993, now with nearly 50

employees and an average

annual turnover of more

than £4million.

David Maudlin, The

Manchester Shoe Shine

Co.

Michael is helping David

Maudlin bring back the forgotten

tradition of shoe

shining after 25 years as a

house-husband looking

after his three daughters.

David runs his own business

polishing shoes in areas

with a high footfall, such as

Piccadilly train station. To

get his feet off the ground,

Michael has been working

with David to help leverage

his skills and identify new

Jamie Bettles, Intern China

David Maudlin, The Manchester Shoe Shine Co.

markets, such as corporate

events and golf days.

Since the mentoring,

David's business has gone

from strength to strength –

he recently travelled around

the country with car giant,

Ford, for the launch of its

new Mondeo. David encouraged

people to visit the

car stand in shopping centres,

while having their

shoes shined.

Jamie Bettles, Intern

China

Michael also offers strategic

business advice to the

owner of Intern China,

Jamie Bettles. Jamie runs a

Manchester-based tourism

company offering off-thebeaten-track

destinations to

give interns an insight into

modern China, while gaining

valuable work experience.

It has four Chinese

bases as well as permanent

staff, who offer regular trips,

social events and accommodation

opportunities.

Andy Hall, Mentoring Advisor

at the Business Growth

Hub comments: "Having a

sounding board from someone

who has walked a mile

in your shoes can make an

enormous difference to a

growing business. A mentor

can accelerate prospects

and increase chances of

success dramatically by

learning through someone

else's experience.

"We are always grateful for

mentors who volunteer

their time for the benefit of

other growing businesses

who appreciate wisdom

and knowledge. Michael

has been an incredible support

for our clients and I

know the relationships are

fulfilling for both parties."

Michael Jefferies comments:

"It's fantastic to be in a position

to give back to the local

community and support

upcoming businesses. In

this digital age, it's great to

see people like David going

back to basics with the art

of shoe shining, while

Jamie's company has great

potential to become a market

leader both locally and

internationally."

For more information on

mentoring, visit:

www.businessgrowthhub.com

Michael Jefferies

Ethos Forensics offer independent forensic consultancy and expert witness services. We specialise in body fluids evidence including

blood pattern analysis, DNA profiling interpretation including mixtures and Low Template DNA techniques, textile damage assessment,

sexual offences casework, cold case reviews and quality systems in forensic science. Ethos Forensics provide the following services:

l Forensic consultation in relation to DNA and body fluids evidence

l Expert witness services for prosecution or defence, including case review, reinterpretation of evidence and provision of expert

testimony at court

l Training and guest lecturing services in forensic awareness, DNA profiling, sexual offences investigation, case assessment and

interpretation, forensic quality systems or bespoke courses to meet your requirements. Courses are suitable for all audiences

including legal professionals, law enforcement personnel, medical practitioners, forensic experts, students or other interested

parties

l Quality systems consultancy to ISO 17025:2005, laboratory auditing services and quality investigations

l Scientific article writing

Contact us to discuss your requirements or for a free initial consultation.

07796 546 224

sue.carney@ethosforensics.com

www.ethosforensics.com
---
Conveyancing 21

Why conveyancers must employ enjoyable

technology by Scott Bozinis, CEO InfoTrack

Recently I found a fascinating book full of very interesting

statistics. Did you know that every day the amount

of data created grows by 2.5 quintillion bytes? That's 18

zero's! Or did you know that less than 0.5% of all available

data is ever analysed and used? Referring to information

of this magnitude the buzzword 'big data' is

often used, which is simply a term to describe structured

and unstructured data. However, I'm more interested in

how this growth of data affects law firms.

According to the book 'The Human Face of Big Data', the average

person now processes more data in a single day than

they did throughout a whole lifetime in the Middle Ages.

The majority of this data is, of course, driven by the internet

and the sharing of information and creation of content

associated with it. So, with the sheer volume of data and

amount of stimuli we process day-to-day, what impact does

this have on our lives?

On a daily basis employees, colleagues and peers are consuming

incredible amounts of information in both personal

and professional capacities, between which, the lines are

often blurred. So while we're taking time to process and

analyse the multitude of data during our working day, it's

leaving us with less time to manage operational or administrative

tasks.

Working in the conveyancing sector, there is a huge input

and output of information generated throughout the

process. All this resulting information then needs to be organised,

analysed and stored in a way that is easy to access.

That's not easy when we're constantly processing and filtering

data, so choosing a system that can help do this efficiently

is imperative. Furthermore, as client expectations

continue to increase, so too does the demand for a faster

and more economical service, placing additional pressure

upon the conveyancer.

Nowadays we are used to technology in our personal lives

that help us easily organise, analyse, store and access information.

This begs the question, 'why can't the clever technology

that I use in my personal life, be available in my work

life?', and as a busy legal professional, I hope this resonates

with you.

Commonly raised data challenges in the conveyancing industry

include filing matters, reconciling disbursements,

and rekeying information for SDLT submissions or AP1

transfers. Now, the good news is that while the issues

around the volume and management of information are

present, there is simple, intuitive technology built to evolve

how conveyancers manage their matters in the most efficient

way possible. Choosing to use these systems means

less logins and passwords to remember, eliminates the issue

of lost disbursements, re-keying errors, and houses all information

related to your matters in a central system, providing

one source of truth. Opting for the right technology for

your firm gives time back to you and your staff, creates efficiencies

and minimises risk - why would you work any other

way?

By making the change to simple, enjoyable technology, you

can change the way you work, store and analyse information

related to your matters, and thus, take the headache

out of the conveyancing process.

Scott Bozinis

VFS LEGAL FUNDING

RELEASING CASH FLOW

Do you want to improve

your Cashflow?

VFS provides quick, simple and cost effective funding

solutions that release YOUR funds locked up in YOUR profit

costs and disbursements.

The funds can be used by you for any purpose. Including, for

example, Tax and VAT payments, removing the need to rely on

costly, fixed term repayment loans from secondary funders.

Disbursement funding ('DCF')

VFS funds the ongoing disbursements incurred on PI, Clinical

Negligence and Litigation cases until their natural conclusion.

Costs advance facility ('CAF')

VFS can provide immediate funding against most bills that

have been served – releasing cash back into the practice.

For a no obligation discussion please call 020 3747 9333

or email enquiries@vfslegal.com or visit vfslegal.com
---
22 News

CILEX

MTSG News

The Summer Ball

After the roaring success of our winter

ball, we are really stepping things

up a gear with a bigger and better

summer-time counterpart. At an incredible

venue, to be announced in

due course, the Summer Ball will be

taking place on 17 June 2016. For those of you without

a diary open right this second, that's a Friday so for the

first time in an age, we won't all need to drag ourselves

to work, book a holiday or call in sick the next day.

Training Supervisors rejoice.

Socials

After laughing it up at the fantastic 'Taste of Comedy'

event on 21 April at Manchester 235 Casino, we'll next

be teaming up with our accountant counter-parts at

MCASS for a quiz night on 11 May. This means that we'll

get to answer the age-old question that nobody is asking:

who are the biggest geeks - lawyers or accountants?!

Who knows but suffice to say, regardless of the

result, we're obviously the superior profession... or so we

tell ourselves.

FELT

We also have one of the most eagerly anticipated events

of the year (by me at least) the FELT Rum Tasting night

which is taking place on 5 May. Expect this one to sell out

if it hasn't already!

Charity

We're busy bees on the charity front as well. After selling

out our Skin Health Spa event in an incredibly short

space of time, we've now arranged for an MTSG fashion

and beauty event in association with Kiehl's. The event

will be taking place on 4 May and again, is likely to sell

out. We'll also be having another pub quiz night, this

time with MYSG at the Living Room on 26 May. Keep

your eyes on your inboxes for details of what the

evening will involve.

Commercial Advocacy Training

We've planned an event for Thurs 16 June with 23

Essex Street Chambers in Manchester to be held at

BPP law school for MTSG members, BPTC and LPC students.

This will be a commercial advocacy presentation,

hosted by Arnold Ayoo who will be presenting

on the pitfalls of drafting as a solicitor. This will be relevant

to all practice areas and will explain principles

such as "without prejudice", followed by a networking

session, aimed at increasing links at a junior level between

the 2 professions.

Martin Bloor

MTSG Chairman

Martin.Bloor@Brabners.com

MYSG News

The Manchester Young Solicitors

Group had their most

successful event to date last

month with 100 tickets selling

out in a record 30 minutes!

The event was held in

conjunction with the Manchester

Young Professional

Network (MYPN) at the exclusive

Hotel Gotham.

Upon arrival attendees were

presented with an Easter

themed coloured named

badge. The colour would depend if you were a MYSG

member or a MYPN member. You then had to find your

match from the opposite group to win a free glass of

prosecco. This was a great way for our members to

meet new people from other groups and truly embrace

the spirit of what networking events should be

about. Thank you to our sponsors, Interlink Recruitment,

Yorkshire Bank and Shoosmiths who also had a

fantastic time at the event.

being events and Lida Khanverdi, our wellbeing representative

on the MYSG committee held 2 successful

events in April at Lululemon with the Royal Institute of

Chartered Surveyors. Here our members were treated to

complimentary yoga classes and lessons on how to cope

with the stress of everyday life.

May is also setting up to be an exciting month for the

MYSG with two fantastic networking opportunities.

The first event is on the 18th May at Kiehl's on King

Street. We will be joined by our good friends, the Manchester

Young Chartered Accountants Group (MYCAG)

As ever, to balance out the alcohol and frivolity, the

MYSG are committed to hosting their health and welland

attendees will be treated to complimentary treatments,

a DKNY fashion show and goodies from

Liquorice and Hey Little Cupcake. All the proceeds

raised will be donated to our charity, Forever Manchester.

The second networking event will be joint with the

Manchester Trainee Solicitors Group and the Manchester

Barristers Chambers. This will be a quiz in the Living

Room, Deansgate, on the 26th May. Thank you in advance

to our lovely sponsors for this event, Deans

Court Chambers and Anakin Seal.

If you are interested or know anyone at your firm who

is looking to develop their network and business development

skills please sign up to our mailing list at

https://www.mysg.co.uk and follow us on LinkedIn and

Facebook. Members are encouraged to check the website

regularly for news and updates as we are receiving

an unprecedented amount of interest in each of our

events and attendance is on a first come first served

basis.

Charlotte Percy (Same person as Charlotte Brinsley

– just a Mrs now! )

Chair of Manchester Young Solicitors Group

Family Solicitor at Slater and Gordon Lawyers

Charlotte.percy@slatergordon.co.uk

CILEX News

Branch News:

The Greater Manchester CILEx branch would like to

thank Norman Denton of Legal Eye and Joanne Holt

of PSG Connect Ltd for providing the branches March

training. Norman provided an interesting and insightful

training on Money Laundering.

If you are interested in joining the Manchester branch,

please email manchestercilex@outlook.com. The

branch regularly holds both CPD events and Social

events.

The next CPD events will take place on 26 May 2016

and 23 June 2016. Please contact the branch for further

information.

CILEx news:

Seven year rule removal opens up career in law

Law degrees no longer have to have been completed

within the last seven years to qualify for exemptions

against CILEx qualifications, following approval from the

Legal Services Board.

CILEx chief operating officer Linda Ford said: "This is a

welcome move which will open up a CILEx career to

even more people, and I'd like to thank the LSB for approving

the change. Law graduates have a home at

CILEx, where we offer a fast-track route to qualify as a

lawyer. This will make it even easier for mature students

and those looking to move into the law to join CILEx and

enjoy successful legal careers."

Law graduates can apply for exemption from the CILEx

Level 3 Diploma in Law and Practice and the Law units of

the CILEx Level 6 Diploma in Law and Practice. They can

then complete the CILEx Graduate Fast-Track Diploma to

gain graduate membership of CILEx, consisting of the

Level 6 Client Care Skills unit and two Level 6 Practice

units (one of which must link to the subjects studied

within their law degree).

Rachel Stevens

Chair
---
MLS ADVANTAGE

MORE ADDED VALUE FOR MEMBERS OF THE MANCHESTER LAW SOCIETY

Contact

David Opie: 01524 220001 or davidopie@etsos.co.uk

Search Aggregator

Contact

Ste Pritchard: 08000 740 247 or ste@matrix247.com

Telecoms : Connectivity : Mobiles

Document Direct

Contact

Martyn Best: 0151 227 9150 or martyn.best@documentdirect.co.uk

Docutech Office Solutions

Contact

Jason Dixon: 0844 8932919 or jasondixon@docutechsolutions.co.uk

Contact

Aaron Naisbitt: 0845 872 4400 or aaron.naisbitt@convergets.co.uk

Managed IT Services

Compli by Weightmans

Contact

Michelle Garlick: 0161 233 7330 or michelle.garlick@weightmans.com

Viewpoint

Contact

Quentin Birchall: 0844 811 7660 or quentin.birchall@viewpoint-av.com

Contact

Joanna Swash: 0333 202 1005 or joanna.swash@moneypenny.co.uk

Switchboard Support

Contact

Sarah Green: 0800 856 7792 or sarah.green@xyonecybersecurity.co.uk

Xyone Cyber Security

AML Training

Contact

Bill Jones or Sarah Scott: 0161 828 1937 or bill.jones@elplearning.co.uk

MLS AD

MLS AD

ANT

MLS ADVANT

ANTA

ANTA

AGE

Compli by W

MLS AD

MORE ADDED V

MORE ADDED V

i by Weightmans

MLS AD

UE FOR MEMBERS OF THE MAN

ALUE FOR MEMBERS OF THE MAN

MORE ADDED VAL

MORE ADDED VAL

MORE ADDED V

MORE ADDED VAL

ANT

MLS ADVANT

UE FOR MEMBERS OF THE MAN

UE FOR MEMBERS OF THE MAN

Viewpoint

ANTA

ANTA

HESTER LA

UE FOR MEMBERS OF THE MANCHESTER LA

UE FOR MEMBERS OF THE MAN

AGE

IETY

W SOCIETY

HESTER LAW SOC

HESTER LAW SOC

HESTER LA

HESTER LAW SOC

Contact

Di

Document

Michelle Garl

Direct

lick: 0161 233 7330 or mich

elle.garlick@weightmans.co

om

Contact

Quentin Birc

Trainin

AML T

hall: 0844 811 7660 or quen

ing

ntin.birchall@viewpoint-av.c

om

Contact

Martyn Best: 0

Switchboa

: 0151 227 9150 or martyn.b

rd Support

est@documentdirect.co.uk

k

Contact

Bill Jones or S

s or Sarah Scott: 0161 828 1937 or b

7 or bill.jones@elplearning.co

o.uk

Contact

upp

Docutech O

Office Solutions

Search Agg

Joanna Swash

gregator

333 202 1005

: 0 w

joanna.s

or j

.co.uk

wash@moneypenny.

Contact

Jason Dixon: 0

Managed IT

: 0844 8932919 or jasondixo

T Services

n@docutechsolutions.co.uk

k

Contact

01524 220001

vid Opie:

David Opie: 01524 220001

David Opie:

b

C

X

01524 220001 vidopie@etsos.co

or da

or davidopie@etsos.co

S

vidopie@etsos.co.uk

Contact

Xyone Cybe

Security

er S

C

Telecoms :

Contact

Aaron Naisbi

Mobiles

Connectivity :

tt: 0845 872 4400 or aaron

n.naisbitt@convergets.co.uk

k

Contact

een:

Sarah Green:

0800 856 7792 or sarah.green@xy

onecybersecurity.co.uk

een@xyonecybersecurity.co

Contact

Ste Pritchard

.uk

: 08000 740 247 or ste@ma

.com

atrix247.

Compli by Weightmans

Compli provides regulatory and compliance advice and assistance to law firms

and others in the legal sector. Whether you are a partnership, limited company,

ABS or sole practitioner, our flexible, tailor-made service is designed to support

you in meeting the evolving regulatory, compliance and risk challenges you face.

This is underpinned by incisive commercial advice on business management and

structure, all delivered by specialist teams with outstanding experience in their

disciplines. Confidentiality, legal professional privilege and peace of mind is

assured.

Contact

Michelle Garlick: 0161 233 7330 or michelle.garlick@weightmans.com

weightmans.com

Document Direct

Our flexible, 24-hour, 365 day service allows you to outsource as much or as

little of your typing and document production as you wish. We are 100% UK

based with an extensive team of experienced legal secretaries. We are

ISO27001 accredited and the exclusive endorsed transcription partner of the

Law Society of England and Wales.The outcome in using us will be an

improvement in your turnaround times, consistent document quality and a

significant reduction in your typing overheads. Our aim is to help you become a

more efficient and profitable law firm.

Contact

Julie Williams: 0844 225 1447 or julie.williams@documentdirect.co.uk

www.documentdirect.co.uk

Moneypenny

Moneypenny provides firms with a fully-outsourced switchboard facility, support

for an in-house team or business continuity on an ad-hoc basis. Hundreds of

firms already rely on Moneypenny's professional, 24-hour service that's endorsed

by the Law Society and is dedicated to taking care of calls for the legal sector.

Fully briefed by you, your own Moneypenny Receptionist and small team will

look after calls just as if based in your office, knowing you, your key clients and

how you like to work.

Contact

Joanna Swash: 0333 202 1005 or joanna.swash@moneypenny.co.uk

moneypenny.co.uk/legal

Search Aggregator

ETSOS is about helping law firms to grow their conveyancing volumes, improve

their customer delivery, save time and money and ultimately build stronger,

more profitable businesses for the long-term. ETSOS provides a free-to-use

online portal, incorporating our 'search supermarket' ordering platform, delivers

the widest possible selection of searches and reportsto review, compare and

select – all the brands and multiple product lines together in one place, backed

up by value pricing, easy checkout and dedicated assistance.

Contact

David Opie: 01524 220001 or davidopie@etsos.co.uk

etsos.co.uk

Xyone Cyber Security

Xyone provide top level cyber security consultancy to law firms. Our services

are designed to identify and mitigate risk from both an internal and an external

perspective. Our penetration testing services ensure that your infrastructure is

protected from vulnerabilities that could be exploited during a real hack, and

our staff training and policy enforcement process ensures protection against

human risk.We are a certification body for the Government's Cyber Essentials

scheme and we have highly qualified information security consultants and

Certified Ethical Hackers to deliver information security compliance required by

Lexcel v6 and ISO 27001.

Contact

Sarah Green: 0800 856 7792 or sarah.green@xyonecybersecurity.co.uk

xyonecybersecurity.co.uk

Viewpoint

Modern law firms are embracing technology - recognising the value that it can

deliver to the client experience, business processes and operational efficiency

too. At Viewpoint we provide a wide range of technology solutions for legal

environments where presentation, collaboration, training, learning and

communication take place. From sophisticated meeting room and presentation

technology to video-conferencing and digital signage systems, our specialist

knowledge allows us to integrate the very best audio-visual, multi-media and

collaboration solutions into legal working environments with ease. It's because

we understand the relationship between people, space and technology that we

can deliver specialist design, installation and management services.

Contact

Quentin Birchall: 0844 811 7660 or quentin.birchall@viewpoint-av.com

viewpoint-av.com

Riliance Training provides comprehensive interactive and cost-effective e-learning

training for businesses working in regulated sectors. All of our courses are

brought to life using topical case scenarios, interactive video, images and text.

The unique training and management platform helps manage and organise all of

your training needs from one user friendly training platform including logged

CPD hours. Our on-line anti-money laundering training service has proved so

popular that additional compliance courses covering topics such as bribery, data

protection, equality and diversity are now available.

Contact:

Suzanne Allwright on 07483 177663 or suzanne.allwright@riliance.co.uk

Riliance

riliancetraining.com

Docutech Office Solutions

Docutech Office Solutions focus on providing the service and products that you

need at great prices. We specialise in document technology, cost and emissions

reduction, improving your efficiency with a service second to none. At

Docutech Office Solutions we make it our business to know your business

before we can offer the right combination of hardware, software and technical

services to suit your company's specific needs. We provide full office solutions

including printers, consumables and service callouts - whatever your

requirement give us a call.

Contact

Jason Dixon: 0844 893291
---
Michelle Garlick: 0161 233 7330 or michelle.garlick@weightmans.com

MLS ADVANTAGEad-hoc

Managed IT Services

convergets.co.uk

Established in 2006, Converge Technology Specialists provide Hosted

3,000 staff relying on our services every day. Our services include

hosted desktop, co-location, hosted applications, managed IT support

and disaster recovery/business continuity from two UK datacentres.

We are familiar with many of the legal sector software vendors with

whom our team work on a daily basis for both our on-premise and

datacentre based clients. We are a Microsoft Gold Partner, Citrix Gold

Partner, IBM Business Partner and VMware Enterprise Solution Provider.

Managed IT Services

Telecoms : Connectivity : Mobiles

MORE ADDED VALUE FOR

MEMBERS OF THE MANCHESTER LAW SOCIETY

A group Contact of carefully selected partners who have had due diligence

Aaron undertaken Naisbitt: 0845 to ensure 872 4400 we or are aaron.naisbitt@convergets.co.uk

only working with the most

professional, innovative and knowledgeable of companies.

Document Direct

documentdirect.co.uk

viewpoint-av.com

Working with our partners will ensure that our members have improved

Search efficiency Aggregator and value, and most importantly, reduced etsos.co.uk cost packages and implementing networks for multi-location firms

Telecomms including telephone systems, low-cost landline calls, mobile

helping

an outsourced

your practice

typing

to

and

develop

transcription

and succeed.

service to your fee earners we it can deliver to the client experience, business processes and operational

help improve the turnaround of your documents enabling you to react

improve their customer delivery, save time and money and ultimately On-line AML Training search portal and aggregator helping for mlsolutions4u.co.uk

conveyancing departments

more effectively to your clients. We are 100% UK based and offer a

Key services that our preferred partners expertise lies in are:

solutions for legal environments where presentation, collaboration,

training,

ML Solutions

learning

provides

and communication

cost effective

take

anti-money

place. From

laundering

sophisticated

training

ETSOS provides a free-to-use online portal, incorporating our

supported by ISO27001 the Information Security Management system. meeting room and presentation technology to video-conferencing and

Regulatory 'search supermarket' and compliance ordering advice platform, and assistance delivers the to widest law firms possible and Technology solutions for law firms where presentation. Collaboration,

You will be impressed by how we can help you, so please call us for your digital signage systems, our specialist knowledge allows us to integrate

others selection in the of legal searches sector, and whatever reports your to review, structure. compare A flexibly, and select tailor training, organise learning and manage and communication their compulsory take AML place training obligations. All

free trial.

the very best audio-visual, multi-media and collaboration solutions into

made – all service the brands designed and to multiple support product you in lines meeting together the evolving one place, regulatory,

backed compliance up by value and pricing, risk challenges easy checkout you and face. dedicated assistance. MLS CPD Advantage hours. partners are able to identify and advise on core issues fac-

Contact

legal working environments with ease. It's because we understand the

Martyn Best: 0151 227 9150 or martyn.best@documentdirect.co.uk

relationship between people, space and technology that we can deliver

ing your business and using their experience, expertise and market

Contact

specialist Contact design, installation and management services.

Outsourced

David Opie:

typing

01524

and

220001

transcription,

or davidopie@etsos.co.uk

flexible, 24 hour, 365 day service

so as much or as little of your typing and document production Contact

knowledge

Bill Jones or

can

Sarah

bring

Scott:

you

0161

the

828

right

1937

solutions

or info@mlsolutions.co.uk

for these issues.

can be catered for

We Quentin know that Birchall: our 0844 members 811 7660 recognise or quentin.birchall@viewpoint-av.com

the value that technology, outsourcing

and business services can deliver to the client experience as well

Compl-i by Weightmans

weightmans.com

Fully Compl-i Telecoms outsourced provides : Connectivity switchboard regulatory : and Mobiles facility, compliance support advice for an and in-house assistance team to as business matrix247.com/law

processes and operational efficiency.

and business continuity on an ad-hoc basis.

Docutech Office Solutions

MLS

docutechsolutions.co.uk

Our MLS Advantage partners all offer special packages to Manchester Law

Top is and level designed regularity. cyber to support security Compliance you consultancy in has meeting a high the for priority evolving law firms along regulatory, designed with low compliance to ongoing identify

encompasses and risk mitigate challenges telephone risk you from face. systems, an This internal low-cost is underpinned and landline external by calls, incisive perspective mobile commercial packages and implementing that you need networks at great prices. for We specialise in document technology, cost

operating Society costs. members. Our portfolio

advice on business management and structure, all delivered by specialist Why not contact one of them today?

On-line Contact anti money laundering, bribery, data protection and equality

ADVANTAGE

and legal professional privilege and peace of mind is assured.

your business before we can offer the right combination of hardware,

Ste diversity Pritchard: training 08000 740 247 or ste@matrix247.com

Contact

Michelle Garlick: 0161 233 7330 or michelle.garlick@weightmans.com

callouts - whatever your requirement give us a call.

convergets.co.uk

Established in 2006, Converge Technology Specialists provide Hosted

"Alison and her team answer

our phones, delivering better

service for our clients

and prospects."

3,000 staff relying on our services every day. Our services include

hosted desktop, co-location, hosted applications, managed IT support

and disaster recovery/business continuity from two UK datacentres.

We are familiar with many of the legal sector software vendors with

whom our team work on a daily basis for both our on-premise and

datacentre based clients. We are a Microsoft Gold Partner, Citrix Gold

Partner, IBM Business Partner and VMware Enterprise Solution Provider.

Contact

Aaron Naisbitt: 0845 872 4400 or aaron.naisbitt@convergets.co.uk

Moneypenny client since 2011

Moneypenny will support your existing

or by providing a fully outsourced

switchboard facility.

Search Aggregator

etsos.co.uk

improve their customer delivery, save time and money and ultimately

ETSOS provides a free-to-use online portal, incorporating our

'search supermarket' ordering platform, delivers the widest possible

selection of searches and reports to review, compare and select

moneypenny.co.uk

– all the brands and multiple product lines together in one place,

0333 202 backed 1005 up by value pricing, easy checkout and dedicated assistance.

Contact

David Opie: 01524 220001 or davidopie@etsos.co.uk

Alison, Moneypenny Receptionist.

callouts - whatever your requirement give us a call.

Contact

Jason Dixon: 0844 8932919 or jasondixon@docutechsolutions.co.uk

Switchboard Support moneypenny.co.uk/legal

s upport for an in-house team or business continuity on an

WHAT IS MLS ADVANTAGE?

Dedicated Cloud computing for law firms including hosted desktop, colocation,

Contact hosted applications, managed IT support and disaster recovery/business

Joanna Swash: continuity 08000 199 from 944 two or joanna.swash@moneypenny.co.uk

UK datacentres

Viewpoint

Contact

Jason Dixon: 0844 8932919 or jasondixon@docutechsolutions.co.uk

Switchboard Support moneypenny.co.uk/legal

s upport

for an in-house team or business continuity on an ad-hoc basis.

service that's endorsed by the Law Society and dedicated to taking care

of calls for the legal sector. Fully briefed by you, your own Moneypenny

Receptionist and small team will look after calls just as if based in your

Contact

Joanna Swash: 08000 199 944 or joanna.swash@moneypenny.co.uk

AML Training

mlsolutions4u.co.uk

ML Solutions provides cost effective anti-money laundering training

organise and manage their compulsory AML training obligations. All

CPD hours.

Contact

Bill Jones or Sarah Scott: 0161 828 1937 or info@mlsolutions.co.uk

matrix247.com/law

basis.

service that's endorsed by the Law Society and dedicated to taking care

of calls for the legal sector. Fully briefed by you, your own Moneypenny

Receptionist and small team will look after calls just as if based in your

and regularity. Compliance has a high priority along with low ongoing operating costs. Our portfolio

encompasses telephone systems, low-cost landline calls, mobile packages and implementing networks for

Contact

Ste Pritchard: 08000 740 247 or ste@matrix247.com

OUTSOURCED

SWITCHBOARD

DIGITAL

SWITCHBOARD

SPECIALIST

TEAMS

ADVANTAGE
---
Email Fraud Tips for Solicitors

likely to centre on:

•

•

•

New Clients

•

commitment to cooperate

•

•

•

•

suspiciously such that:

•

Existing Clients

•

•

•

•

Summary

already upgraded their anti-fraud risk controls,

our aim in highlighting this issue is to ensure

that members are suitably placed so as to make

the whole PII process as easy as is possible by

highlighting your own robust methods in place.

Welcome to the

This article does not present a complete or comprehensive

statement of the law, nor does it constitute legal advice. It is

intended only to highlight issues that may be of interest to

MLS members and solicitors. Specialist advice should always

be sought in any particular case.

© MFL Professional 2016

MFL Professional is a division of McParland Finn Ltd. McParland Finn Ltd is

authorised and regulated by the Financial Conduct Authority.

Richard Gledhill,

Director

E: richardg@m-f-l.co.uk

T: 0161 237 7725

M: 07984 879124

John Jones,

Development Executive

E: johnj@m-f-l.co.uk

T: 0161 237 7739

M: 07872 501955

Contact the MFL Professional team to

discuss your PI arrangements:

T: 0161 236 2532

W: www.m-f-l.co.uk