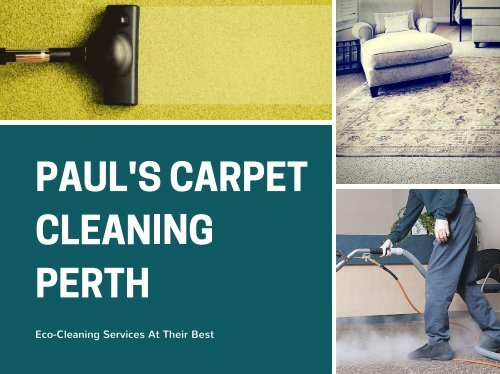 PAUL'S CARPET CLEANING PERTH
Paul's Carpet Cleaning Perth is your best choice when you need professionals to revitalize the floors of your home. We are a certified company that provide expert services including carpet, rug and upholstery cleaning for private and commercial properties. Our customer service center is available around the clock including weekends.
PAUL'S CARPET

CLEANING

Eco-Cleaning Services At Their Best

PERTH
---
WHO ARE WE

WHO ARE WE

Paul's Carpet Cleaning Perth is a leading

provider of tailored cleaning services

for private and commercial property owners.
---
WHAT WE DO

WHAT WE DO

CARPET CLEANING UPHOLSTERY CLEANING CARPET REPAIRING

- Dry Cleaning

- Deep Furniture Cleaning

- Tears, burnt spots, pulls

- Steam Cleaning

- Stain and Odor Removal

- Tighten and Stretch Loose

- Water Extraction Cleaning

- Car Interior Cleaning

Carpets

- Install New Carpets
---
Customer

24/7

Service

with

Treatment

Detergents

Bio

Insured

Services

Lasting Results

CARPET CLEANING PERTH

PAUL'S
---
http://www.paulscarpetcleaningperth.com.au/

08 6355 5619