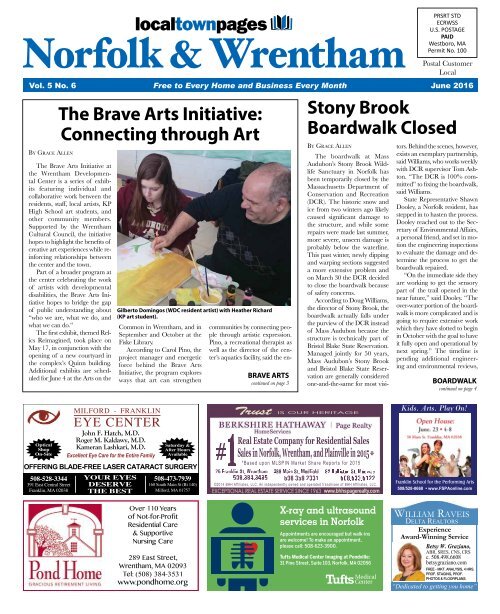 Norfolk/Wrentham June 2016
<style>.embed-container { position: relative; padding-bottom: 56.25%; height: 0; overflow: hidden; max-width: 100%; } .embed-container iframe, .embed-container object, .embed-container embed { position: absolute; top: 0; left: 0; width: 100%; height: 100%; }</style><div class='embed-container'><iframe src="https://www.yumpu.com/en/embed/view/zYM2Wo3wv8xEH0Us" frameborder="0" allowfullscreen="true" allowtransparency="true"></iframe></div>
<style>.embed-container { position: relative; padding-bottom: 56.25%; height: 0; overflow: hidden; max-width: 100%; } .embed-container iframe, .embed-container object, .embed-container embed { position: absolute; top: 0; left: 0; width: 100%; height: 100%; }</style><div class='embed-container'><iframe src="https://www.yumpu.com/en/embed/view/zYM2Wo3wv8xEH0Us" frameborder="0" allowfullscreen="true" allowtransparency="true"></iframe></div>
SHOW MORE
SHOW LESS
You also want an ePaper? Increase the reach of your titles
YUMPU automatically turns print PDFs into web optimized ePapers that Google loves.
Vol. 5 No. 6 Free to Every Home and Business Every Month June 2016

By Grace Allen

The Brave Arts Initiative:

Connecting through Art

The Brave Arts Initiative at

the Wrentham Developmental

Center is a series of exhibits

featuring individual and

collaborative work between the

residents, staff, local artists, KP

High School art students, and

other community members.

Supported by the Wrentham

Cultural Council, the initiative

hopes to highlight the benefits of

creative art experiences while reinforcing

relationships between

the center and the town.

Part of a broader program at

the center celebrating the work

of artists with developmental

disabilities, the Brave Arts Initiative

hopes to bridge the gap

of public understanding about

"who we are, what we do, and

what we can do."

The first exhibit, themed Relics

Reimagined, took place on

May 17, in conjunction with the

opening of a new courtyard in

the complex's Quinn building.

Additional exhibits are scheduled

for June 4 at the Arts on the

Gilberto Domingos (WDC resident artist) with Heather Richard

(KP art student).

Common in Wrentham, and in

September and October at the

Fiske Library.

According to Carol Pino, the

project manager and energetic

force behind the Brave Arts

Initiative, the program explores

ways that art can strengthen

communities by connecting people

through artistic expression.

Pino, a recreational therapist as

well as the director of the center's

aquatics facility, said the en-

BRAVE ARTS

continued on page 3

Stony Brook

Boardwalk Closed

By Grace Allen

PRSRT STD

ECRWSS

U.S. POSTAGE

PAID

Westboro, MA

Permit No. 100

Postal Customer

Local

The boardwalk at Mass

Audubon's Stony Brook Wildlife

Sanctuary in Norfolk has

been temporarily closed by the

Massachusetts Department of

Conservation and Recreation

(DCR). The historic snow and

ice from two winters ago likely

caused significant damage to

the structure, and while some

repairs were made last summer,

more severe, unseen damage is

probably below the waterline.

This past winter, newly dipping

and warping sections suggested

a more extensive problem and

on March 30 the DCR decided

to close the boardwalk because

of safety concerns.

According to Doug Williams,

the director of Stony Brook, the

boardwalk actually falls under

the purview of the DCR instead

of Mass Audubon because the

structure is technically part of

Bristol Blake State Reservation.

Managed jointly for 50 years,

Mass Audubon's Stony Brook

and Bristol Blake State Reservation

are generally considered

one-and-the-same for most visitors.

Behind the scenes, however,

exists an exemplary partnership,

said Williams, who works weekly

with DCR supervisor Tom Ashton.

"The DCR is 100% committed"

to fixing the boardwalk,

said Williams.

State Representative Shawn

Dooley, a Norfolk resident, has

stepped in to hasten the process.

Dooley reached out to the Secretary

of Environmental Affairs,

a personal friend, and set in motion

the engineering inspections

to evaluate the damage and determine

the process to get the

boardwalk repaired.

"On the immediate side they

are working to get the sensory

part of the trail opened in the

near future," said Dooley. "The

over-water portion of the boardwalk

is more complicated and is

going to require extensive work

which they have slotted to begin

in October with the goal to have

it fully open and operational by

next spring." The timeline is

pending additional engineering

and environmental reviews,

BOARDWALK

continued on page 4

Optical

Shop

On-Site

508-528-3344

391 East Central Street

Franklin, MA 02038

MILFORD - FRANKLIN

EYE CENTER

John F. Hatch, M.D.

Roger M. Kaldawy, M.D.

Kameran Lashkari, M.D.

Excellent Eye Care for the Entire Family

YOUR EYES

DESERVE

THE BEST

Saturday &

After Hours

Available

OFFERING BLADE-FREE LASER CATARACT SURGERY

508-473-7939

160 South Main St (Rt 140)

Milford, MA 01757

Over 110 Years

of Not-for-Profit

Residential Care

& Supportive

Nursing Care

289 East Street,

Wrentham, MA 02093

Tel: (508) 384-3531

www.pondhome.org

Trust IS OUR HERITAGE

Real Estate Company for Residential Sales

# 1Sales in Norfolk, Wrentham, and Plainville in 2015*

* B a s e d u p o n M L S P I N M a r k e t S h a r e R e p o r t s f o r 2 0 1 5

26 Franklin St, Wrentham 489 Main St, Medfield 82 Holliston St, Medway

508.384.3435

508.359.2331

508.533.5122

© 2 0 1 4 B H H A ff i l i a t e s , L L C . A n i n d e p e n d e n t l y o w n e d a n d o p e r a t e d f r a n c h i s e e o f B H H A ff i l i a t e s , L L C .

EXCEPTIONAL REAL ESTATE SERVICE SINCE 1963 www.bhhspagerealty.com

X-ray and ultrasound

services in Norfolk

Appointments are encouraged but walk-ins

are welcome! To make an appointment,

please call: 508-623-3900.

Tufts Medical Center Imaging at Pondville:

31 Pine Street, Suite 103, Norfolk, MA 02056

Kids. Arts. Play On!

Franklin School for the Performing Arts

508/528-8668 • www.FSPAonline.com

William Raveis

Delta RealtoRs

Experience

Award-Winning Service

Betsy W. Graziano,

ABR, SRES, CNS, CRS

c. 508.498.6608

betsygraziano.com

FREE - MKT. ANALYSIS, 4 HRS.

PROF. STAGING, PROF.

PHOTOS & FLOORPLANS.

"Dedicated to getting you home"
---
Page 2 Local Town Pages www.norfolkwrenthamnews.com June 2016

Goodman Eye Medical & Surgical Center

Receives 2016 Best Of Milford Award

Glen K. Goodman, M.D., F.A.C.S., Director and President of the Goodman Eye Medical

& Surgical Center, is pleased to announce that his practice has been selected for the

2016 Best of Milford Award in the Doctors category by the Milford Award Program.

The Milford Award Program is an annual awards program honoring the achievements

and accomplishments of local physicians throughout the Milford area. Recognition

is given to those physicians who have shown the ability to use best practices and

implemented programs to generate competitive advantages and long-term value to

their patients.

Each year, the Milford Award Program identifies physicians whom have achieved

exceptional success in their local community. These are local physicians whom

enhance the positive image of small businesses throughout their service area to their

patients and to their community. These exceptional recipients help make the Milford

area a great place to live, work and play.

Various sources of information were gathered and analyzed to choose the recipients.

The 2016 Milford Award Program focuses on quality, not quantity. Winners are

determined based on the information gathered both internally by the Milford Award

Program and by data provided by third parties.

The Goodman Eye Medical & Surgical Center is about to celebrate it's 7th year at its

145 West Street location. Dr. Goodman, a Wrentham native and current resident, is very

proud of the accomplishments achieved during this time. The Cataract Surgery Center

of Milford, our associated surgery center, is the only full service, Medicare certified,

ophthalmology surgical center in the area.

145 WEST STREET, MILFORD, MASSACHUSETTS 01757

Phone: 508.381.5600 • Fax: 508.381.5610 • www.besteyedoc.com
---
June 2016 Local Town Pages www.norfolkwrenthamnews.com Page 3

BRAVE ARTS

continued from page 1

deavor is different because it does

not separate artists by ability.

"The nice thing is that we're

not saying, 'you're an artist with

developmental disabilities so

you're going to exhibit here,'

while someone without those disabilities

will exhibit somewhere

else. It's drawing us all together,"

said Pino.

The Brave Arts Initiative includes

KP honors art students,

who work with the center's residents

in a class taught by Pino.

The class, called Art in the Park,

explores fine art materials, both

sculpture and painting, and how

they transform indoor and outdoor

spaces.

The act of collaborating on

artwork can be daunting, said

Pino. "I think there is something

very brave about art," she says.

"It takes a lot of courage to express

who you are and let it out,

especially collaboratively."

Working together, she believes,

is essentially a way to communicate

as well as a way to experience

artistic expression.

"If you have a piece of artwork

and you're working on it together

and one person works on

it, and then another person works

on it, that's a beautiful conversation,"

said Pino.

Shannon Cress, the faculty

advisor for KP's National Art

Honor Society, said her students

had been looking for opportunities

to use their artistic talents in

the community. A peer-coaching

program in the high school's

art classes "has brought about

beautiful friendships culminating

in authentic art experiences

regardless of ability levels," she

explained. It seemed a natural

progression to extend the idea to

the Wrentham Developmental

Center, she added.

Cress said the initial group

of KP students collaborating at

the center included Rylie Dalzell,

James Gately, Julia Govoni,

Heather Richard, Olivia Sottile,

and Rachel Stephens. Gately,

KP's student liaison to the Wrentham

Cultural Council, helped

facilitate the project.

Relics Reimagined was truly

a collaborative effort, celebrating

the new sculpture garden in the

courtyard as well as the talents of

myriad people.

The courtyard, in need of a

facelift, had been renovated by

Eagle Scout candidate Karlan

Dewitt and his Troop. The boys

Tom Fulginiti (WDC resident artist) with Rylie Dalzell

(KP art student).

Franklin

Smoke Shop

NOW OPEN

We carry premium Humidor Cigars and all Tobacco Pipes,

Bongs, Hookah, Grinders, Vaporizers, Vaporize flavors, Butane

and Scales at the best price in town!

Come and check it out. Satisfaction Guaranteed.

HOURS: Open 7 Days – 9 am to 9pm

508-528-4686

24 E. Central St., Franklin, MA 02038

FOGGED WINDOWS!

SEE WHAT YOU'VE BEEN MISSING

BEFORE

widened the walkways to make

them wheel-chair accessible, installed

benches, and added plantings.

The Boy Scouts, said Pino,

have embraced the project. Local

Girl Scouts also provided plants

to help beautify the area.

Even the center's staff took

part in Relics Reimagined.

"We elicited participation

from every discipline at the center,"

said Pino. A groundskeeper

created a sculpture from old

shovels, and staff donated ancient

keys, tiles and film reels that were

turned into sculptures. One of

the center's plumbers created a

fountain for the courtyard.

"We have this great old facility

here with all these relics around,

and a historical element is reemerging,"

said Pino of the

exhibit. "I love the idea of repurposing

those relics."

She added that other residents

of the center not involved in creating

artwork are learning various

skills involved in implementing an

art show, such as making flyers

and acting as greeters to guests,

with the help of the center's vocational

services.

"It's really an incredible group

effort," said Pino. "There is probably

no department here that

hasn't contributed in some way."

According to Donna Arcaro,

the director of the center's recreational

and vocational services,

"We have a lot of talented staff

and this sort of thing brings that

out. It enriches the whole environment."

Finding common ground in

art has been especially motivating

for Pino. An artist herself,

Pino has taught classes at the Attleboro

Art Museum and at afterschool

programs in the area. She

has been working at the Wrentham

Developmental Center

since 1989, and admits to being

re-energized by the Brave Arts

Initiative, as well as by her former

mentor, Andrea Tooker, who

passed away in 2014. Tooker, a

volunteer at the center, inspired

Pino by her devotion and advocacy

for the center's residents.

"Her core mission was about

mutual respect, mutual benefit,

collaboration, and working

towards a greater good in the

community by bringing people

together. She understood that

individuals with intellectual disabilities

were valued members of

the community, and had as much

to give as anyone else."

Added Pino, "I think there

is a lot of mystery surrounding

this place. Wrentham is a vibrant

community and we are a part of

that vibrant community. There's

so much creativity and energy

here. There's a lot of beauty like

you would find anywhere. Individuals

with intellectual disabilities

have challenges like everyone,

and we try to meet those challenges

with innovative programs

and creativity."

The residents, she said, take

great pride in their work for the

Brave Arts Initiative, and are

looking forward to sharing their

artwork with the community at

the other exhibits, too. Pino believes

both the center's artists and

the local artists working with them

have benefited from this program

and the sharing of ideas.

"There's something that happens

when you collaborate where

you have to let go of your ego a

little bit and let someone else steer

for a while," said Pino. "Next, it's

your turn to stir. Then you get

this energy that builds from that.

It's really about making something

together. I think it can be

very powerful. It could be a great

model for other programs in the

state."

Added Pino, "The synergy

that has been created and building

around this project has been

fun. I feel good about the kind of

meaningful integration that is occurring.

It's just such a really positive

thing for everybody."

AFTER

INSULATED GLASS REPLACEMENT

(IT'S QUICK AND EASY)

WE CHANGE ONLY THE GLASS

FRANKLIN GLASS COMPANY, INC.

273 Beaver St. Franklin, MA 02038

Phone: 508-528-9550

www.franklinglasscompany.com

SERVING the COMMUNITY for OVER 50 YEARS

MIRRORS.TABLETOPS.AUTO GLASS.PLEXIGLASS.SHOWER DOORS.STOREFRONTS
---
Page 4 Local Town Pages www.norfolkwrenthamnews.com June 2016

BOARDWALK

continued from page 1

SCREENS!

REPAIR

OR

REPLACE

PET RESISTANT SCREEN

WINDOW SCREENS

SCREEN DOORS

PATIO DOOR SCREENS

SCREEN PORCHES

added Dooley.

The iconic structure is wellknown

among local outdoor

enthusiasts and in the Mass

Audubon system, not only as the

means to the marsh-viewing platform,

but also as

a destination itself.

"It's what we

think of when we

think of Stony

Brook," agreed

Williams.

The boardwalk

is also important,

said

Williams, to a

broader group

of people.

"A couple of

years ago, someone

spotted a

rare bird from

the boardwalk…

a purple gallinule," recounted

Williams. "There were people

coming up from New Jersey to

see that bird. The boardwalk is

a well-recognized and significant

resource for people from all over."

In the short-term, Stony

Brook's numerous summer programs

and camps will be impacted.

Williams said his staff

has already started making

changes and modifications to the

programs, many of which are

popular with hundreds of area

children.

There are a couple of silver

linings to the

temporary loss

of the boardwalk,

said Williams.

He leads

an early-morning

bird watching

program

at the nature

center from

March to June,

and has had

to revise his

walk through

the trails and

find alternative

viewing spots

along the wetlands.

"Much to my surprise is the

fact that I'm not seeing a change

in the species of birds that we're

finding," explained Williams.

"And what that tells me is that

while I may not have unrestrained

access via the boardwalk

to the wetlands, it's causing me

FRANKLIN GLASS COMPANY, INC.

273 Beaver St. Franklin, MA 02038

Phone: 508-528-9550

www.franklinglasscompany.com

SERVING the COMMUNITY for OVER 50 YEARS

MIRRORS.TABLETOPS.AUTO GLASS.PLEXIGLASS.SHOWER DOORS.STOREFRONTS

to rediscover these places I have

always walked past on my way to

the boardwalk that offer good access

to see birds. It's forced me to

recognize there are a lot of other

places that provide wonderful

access to the wetlands that I've

skipped over because the boardwalk

was there."

Stony Brook's director is also

using the opportunity to solicit

feedback from users of the boardwalk

about possible changes during

reconstruction. "If the state's

going to come in and revise the

boardwalk, this is our opportunity

to say we wish we had this

or that. We want to make sure we

have access to the water for our

programs, but beyond that I really

want feedback from people,"

said Williams. Possibilities include

a different size viewing deck, or a

layout in a different direction, he

added.

"My goal is to have people

think about how they use the

boardwalk and share it with us."

Despite the challenges presented

by the closing of the

New Farmers Market in

Norfolk will offer Fresh and

Local Products

A new farmers market will

open in Norfolk this summer. The

market will be held in the historic

Grange Hall in Norfolk every

Friday from 2 to 6 p.m., starting

June 10 and running through

August 26. Two winter markets

will be held in November and

December.

NCTV June Workshops and

Monthly Open House

Every Tuesday night, Norfolk

Community Television hosts workshops

or discussions at its studio.

All workshops are free and start at

6:30 p.m. All ages and knowledge

levels are welcome (under 18 must

be accompanied by a parent/

guardian).

Join us on Thursday, June 7

for our second Open House! This

event will be held monthly and is

an opportunity to see what we're

all about as well as meet, talk,

and collaborate with community

members who are new or veterans

to NCTV. We will hold an Open

House on the first Thursday of

each month.

June 7: Public Speaking

Instructors: Pamela Ruby Russell

and Chris Lawn

Level: All

Join Pamela and Chris as they

teach the basics of public speaking

and its application in TV. In this

class you will learn techniques to

improve your speaking voice by

learning simple exercises to fine

tune enunciation and let go of

unwanted blocks and vocal habits.

An introduction to good posture

as well as proper breathing and

relaxation responses will help you

focus your intention and increase

confidence. All levels of expertise

welcome.

June 14: Web Video Basics

Instructor: Chris Lawn

Level: All

Learn how to go from edited

video to internet star in one workshop!

We will look at exporting a

video and uploading for video services

such as Vimeo and YouTube.

We will talk a little bit about You-

Tube settings and what options

you have available to you.

June 21: Chroma Key and

Green Screen

Instructor: Katy Woodhams

Level: All

Explore the setup and uses of

green screen/chroma key technology.

We will look at how to green

screen using studio equipment as

well as using field cameras and

compositing in post production

(using iMovie, FCPX, and Adobe

Premiere).

boardwalk, Williams has been

pleased with the public's response.

"People really love the boardwalk.

They are asking, 'What can

I do to help?' A lot of people go

to Stony Brook, take their walk,

and leave. But this is bringing

people together. It's been a rallying

point."

To discuss ideas or concerns

about the boardwalk, contact

Williams at 508-528-3140 or

drop by Stony Brook during business

hours.

Browse locally grown produce,

eggs, crafts, flowers, and more. In

addition, musicians will perform

during market hours.

The market will provide a lowrisk

opportunity for small farmers

and cottage industries to expand

their businesses and share their

goods with Norfolk and the surrounding

area, and encourage

growth in the local economy as

well as food independence.

Contact the market managers

at NorfolkMAfarmersmarket@

gmail.com with questions or to

become a vendor for the 2016

season.

June 28: Three Point Lighting

Instructor: Chris Lawn

Level: All

Learn the basics of how to light

an interview setting with three

point lighting as well as ways to

break these rules for interesting

lighting techniques.

For more information about

any of these programs or to sign

up for workshops, visit www.NorfolkCable.com/Classes.

NCTV is

located at 158 Main St., Suite 5,

in Norfolk.

Norfolk Community Television is a

non-profit community TV station located

in the heart of Norfolk, MA. We offer education

and access to media equipment in

order to empower our community to have

their voices heard. Videos created with

our equipment can be seen on our channels

and online and may not advertise or

solicit for any for-profit endeavor. Access to

our equipment, workshops, and resources

is free of charge. We preference access to

Norfolk residents but our doors are open

to all. For more information, visit www.

NorfolkCable.com or contact Katy Woodhams

at 508-520-2780 or email katy@

norfolkcable.com.
---
June 2016 Local Town Pages www.norfolkwrenthamnews.com Page 5

MASTERS TOUCH

DESIGN

Green Certified

Professional

We beat ALL

competitor pricing.

774-287-1133

Dumpsters AvAilAble

let us CleAn Out YOur unwAnteD Junk

Serving Metro-West and Beyond!

$25 off

Any Full Truck Removal

Not to be combined with any other offer

BUILD

Hand in Ad 201404 and you'll receive a $25.00 Starbucks Card with

your presentation of any proposal worth $5,000 or more.

Middle School Raises

Money for Cancer

Seventh graders at King Philip

Middle School recently raised

$10,371.38 for the children of

St. Jude Children's Research

Hospital by participating in a

Math-A-Thon. Every seventh

grader completed the 250 problems

in the Math-A-Thon booklet,

and 190 of the students also

collected sponsors. The money

raised will help St. Jude in its

ongoing fight against childhood

catastrophic diseases. Much of

the work done by St. Jude supports

children with cancer and

their families.

The top five fundraisers

from KPMS were Luke Morreale

($500); Emma Garabedian

($370); Lillian Carlow ($320);

Mackenzie Manning ($300); and

Matt Plumb ($300). This year's

Math-A-Thon raised $100 more

than last year, and since 2007

Quality work at

affordable prices

see website fOr DetAils

$274

15 Yard Dumpster

Not to be combined with any other offer

AffordableJunkRemoval@gmail.com

www.TakeAwayJunk.com

CALL 508-359-5900 NOW

King Philip Middle School has

raised over $122,300 for St. Jude.

St. Jude Children's Research

Hospital is internationally recognized

for its pioneering work

in finding cures and saving children

with cancer and other

catastrophic diseases. Founded

by the late entertainer Danny

Thomas, and based in Memphis,

Tennessee, St. Jude freely shares

its discoveries with scientific and

medical communities around the

world. No family ever pays for

treatments not covered by insurance,

and families without insurance

are never asked to pay.

St. Jude is financially supported

by ALSAC ® , its fund-raising

organization, through such

events as the Math-A-Thon. For

more information, please visit

www.mathathon.org.

BEN CONNELL ROOFING

• Residential/Commercial

• Roofing Replacement

• 10-Year Workmanship Guarantee

• 50-Year Product Warranty

Serving Needham &

Surrounding Towns

508-306-9157

LICENSED

& INSURED

HIC #172853 CLS #104803

Family Owned & Operated

A.

TO ARRANGE A CONSULTATION

www.masterstouchweb.com

FREE

ESTIMATES

Gift

Stylishly

• No Appointments Necessary

• Open 7 Days a Week

• Costcutters.com

MEDWAY COMMONS

67 Main St (Rt 109)

Medway 508-533-6800

ROCHE BROS CENTER

4 Milliston Rd (Rt 109)

Millis 508-376-4555

$

1 00

OFF

HAIRCUT

Adult or Kids

Reg. $16.95 and $14.95

No appointment necessary.

Valid with coupon.

Expires 6/30/16

NW

20 % OFF

Professional

Products

All Major Brands

Excludes special packaging.

Valid with coupon.

Expires 6/30/16

NW

$

3 00

OFF

Shampoo

Cut & Style

Reg. prices start at $31.95

No appointment necessary.

Valid with coupon.

Expires 6/30/16

DESIGN BUILD

HOME DESIGN

INTERIOR DESIGN

ADDITIONS & REMODELING

KITCHENS & BATHS

ANTIQUE RENOVATION

ROOFING, SIDING & WINDOWS

PROFESSIONAL PAINTING

Antiquarian Book Event to be

Held at Norfolk's Senior Center

The value of an antiquarian or

rare book is determined by a variety

of factors including its condition,

binding, provenance, scarcity,

the presence of inscriptions, and

whether a first edition or not. The

evaluation of documents, including

letters and signatures of wellknown

people, involves still other

considerations.

Ken Gloss, book antiquarian

and owner of the world-famous

Brattle Book Shop in Boston (one

of the oldest antiquarian book

stores in the country), will be giving

a special lecture on rare books

followed by book and document

appraisals on Tuesday, June 7 at

6:30 p.m. at the Norfolk Senior

Center. Known for his appearances

on the PBS show "Antiques

Roadshow," his popular presentations

are filled with anecdotes as

well as examples of books and

ephemera he has acquired over a

span of many years.

Mark your calendar to attend

this free program as both participants

and observers are welcome

to attend. Items are limited to

two per person for a free evaluation

and appraisal. In addition

to old books, documents (e.g.,

autographed materials, maps,

magazines, calendars, posters,

pamphlets, broadsides, and other

ephemerae) will also be appraised

by Mr. Gloss.

Due to the generous support of

the Friends of the Norfolk Council

on Aging, wine and hors d'oeuvres

will be served. The Norfolk Senior

Center (508-528-4430) is located

at 28 Medway Branch Road and

is open M-F from 9 a.m. to 4 p.m.

NW
---
Page 6 Local Town Pages www.norfolkwrenthamnews.com June 2016

What to Do If You Haven't Filed an Income Tax Return

Filing a past due return may

not be as difficult as you think.

Taxpayers should file all tax

returns that are due, regardless

of whether full payment can be

made with the return. Depending

on an individual's circumstances,

a taxpayer filing late may qualify

for a payment plan. It is important,

however, to know that full

payment of taxes upfront saves

you money.

New England

Financial Planning

Estate Planning

Insurance

Investments

Accounting

Bookkeeping

Payroll

Income Tax Preparation

For Individuals & Small Businesses

Here's What to Do When

Your Return Is Late

Gather Past Due Return

Information

Gather return information

and come see us. You should

bring any and all information related

to income and deductions

for the tax years for which a return

is required to be filed.

Payment Options - Ways to

Make a Payment

Inc.

Ballistic Services

Instant cash paid for

your valuable firearms.

Call today for a confidential consultation

508-381-0230 • www.neballistic.com

Haven't

Filed

Taxes Yet?

Call us!

667 South Street Route 1A Wampum Corner

Wrentham MA

800-560-4NFS www.nfsnet.com

There are several different

ways to make a payment on your

taxes. Payments can be made

by credit card, electronic funds

transfer, check, money order, cashier's

check, or cash.

Payment Options - For Those

Who Can't Pay in Full

Taxpayers unable to pay all

taxes due on the bill are encouraged

to pay as much as possible.

By paying as much as possible

now, the amount of interest and

penalties owed will be lessened.

Based on the circumstances, a

taxpayer could qualify for an extension

of time to pay, an installment

agreement, a temporary

delay, or an offer in compromise.

Taxpayers who need more

time to pay can set up either a

short-term payment extension or

a monthly payment plan.

• A short-term extension gives a

taxpayer up to 120 days to pay.

No fee is charged, but the latepayment

penalty plus interest

will apply.

• A monthly payment plan or

installment agreement gives

Jeffrey Schweitzer

Cabinet Refinishing and Painting Since 2000

Owner: Shawn Potter

Phone: 508.740.6602

Web: www.slppainting.com

E-mail: slppainting@yahoo.com

a taxpayer more time to pay.

However, penalties and interest

will continue to be charged on

the unpaid portion of the debt

throughout the duration of the

installment agreement/payment

plan. In terms of how to

pay your tax bill, it is important

to review all your options; the

interest rate on a loan or credit

card may be lower than the

combination of penalties and

interest imposed by the Internal

Revenue Code. You should pay

as much as possible before entering

into an installment agreement.

• A user fee will also be charged

if the installment agreement is

approved. The fee, normally

$105, is reduced to $52 if taxpayers

agree to make their

monthly payments electronically

through electronic funds

withdrawal. The fee is $43 for

eligible low-and-moderate-income

taxpayers.

What Will Happen If You Don't

File Your Past Due Return or

Contact the IRS

It's important to understand

the ramifications of not filing a

past due return and the steps that

the IRS will take. Taxpayers who

continue to not file a required return

and fail to respond to IRS

requests for a return may be considered

for a variety of enforcement

actions.

If you haven't filed a tax return

yet, please contact us. We're

here to help!

Jeffrey Schweitzer can be found

at Northeast Financial Strategies Inc

(NFS) at Wampum Corner in Wrentham.

NFS works with individuals and

small businesses providing financial and

estate planning, insurance, investments

and also offers full service accounting,

bookkeeping, payroll, income tax preparation,

and notary public services. For

more information, stop by the office, call

Jeffrey at 800-560-4NFS or visit online

- www.nfsnet.com.

Cunnally Law Group LLC, is a Massachusetts based

law firm dedicated to Family Law!

Divorce Mediation - Divorce Litigation

Collaborative Law

Contempts - Modifications- Alimony

Paternity - Custody- Child Support

Guardianships

Probate Court Equity Actions

508-346-3805

Call to schedule your confidential appointment

and visit our informative website at:

www.divorcecollaborative.com

163 Main Street, Suite Six, Medway, MA 02053

Patios • Walkways • Pool Surrounds

Retaining Walls • Outdoor Kitchens • Fire Pits

Landscape Design & Installation

Lawn Installation • Grading • Lot Clearing

508-376-2815

Free Estimates • Fully Insured

www.WenzelLandscaping.com
---
June 2016 Local Town Pages www.norfolkwrenthamnews.com Page 7

Guest Column

King Philip in Spain

By Will Linde,

Editor of the KP Metacomet

This past April vacation, 42

King Philip students traveled to

Spain to experience a once-in-alifetime

trip with their peers. Upon

landing in Barcelona, my classmates

and I began to explore La

Rambla, a beautiful street in Barcelona's

Gothic Quarter that features

a plethora of high-class stores

and local artisans. The culture

shock was instant, but invigorating.

Signs and directions were all

in Spanish and Catalan, and there

were new and different sights,

sounds, and smells all around; but

when given the chance to roam

the streets, I didn't really feel out

of place. For my peers and me, it

was wonderful to finally be in the

native country of the language

we have studied and practiced so

much. We were able to navigate

ourselves, converse with locals in

Spanish, and view world-famous

sights all within a few hours of our

arrival.

In Barcelona, we also walked

through centuries-old churches,

ventured through diverse and

beautiful food markets, beheld

an excavated marketplace, drove

by an Olympic Stadium,visited

Camp Nou, the home of FC Barcelona;

and we sampled delicious

tapas, paella, and pinchos, staples

of the local Spanish cuisine. In one

surprising coincidence, while asking

a Catalonian for directions in

Spanish, we learned that she had a

granddaughter in Boston! Despite

The Norfolk Community Federal Credit Union is Teaming Up with

Call our office for more details (508) 528-3360

Or visit our website www.norfolkcommunityfcu.org

Set up an appointment

today with Mass Save

1-866-527-7283

or visit their website at

www.masssave.com

for future questions.

being thousands of miles away

from home, we still met someone

who had connections to where we

were from. This unexpected happenstance

reminded me that even

in the vastness of our world, all

people are interconnected through

some means.

After a chance encounter that

brought us close to home, we

toured two of Barcelona's most renowned

locations, Park Güell and

La Sagrada Familia. Park Güell

was constructed by Spanish architect

Antoni Gaudí to build a close,

elite community within the city of

Barcelona. While the project was

never fully actualized, the curvy,

mosaic bench built to facilitate conversation

and filter rainwater was

completed. As Spanish students,

my classmates and I have seen

pictures of this legendary bench

for years, and just to be able to sit

on it was really quite incredible.

Gaudí also began construction on

La Sagrada Familia; an elaborate

and enormous church over one

hundred years in the making. The

church is slated for completion

in 2026, the 100 th anniversary of

Guadí's death, and I aim to make

a return trip to see the final vision

of the church. The intricacies and

execution of Guadí's plans left my

peers and me awestruck, just like

our entire time in Barcelona.

Halfway through our trip, we

took a three hour train ride to Madrid,

the capital of Spain. After a

quick lunch, we visited El Prado,

one of Spain's most famous museums.

Inside, we bore witness to

works by the likes of Goya, Velasquez,

El Greco, Sorolla, Caravaggio,

and Raphael. The next day at

La Reina Sofía, we also saw paintings

by Dalí and Picasso's masterpiece,

Guernica. It was almost

surreal to see the paintings we had

seen in books in school, in person.

Madrid brought many more good

times and fascinating sights including

a flamenco lesson and performance,

a refugee rights protest, the

Royal Palace of Spain, and tastes

of gelato and churros. On our final

day in Spain, the group traveled

outside of Madrid to the Toledo –

a city home to harmony between

Christians, Jews, and Muslims for

hundreds of years and to one of

the most stunning vistas I have

ever seen. After another walking

tour of Madrid, just like that, our

For 0% Financing Loan

NC ORFOLK

OMMUNITY

Federal Credit Union

Telephone: 508-528-3360

194 Main Street, Norfolk, MA 02056

time in Spain came to an end.

One of the most amazing aspects

of the trip was how much

bonding occurred between the

students on the trip. I grew closer

to my already-best friends, but I

also met a whole new group of

people with whom I shared some

of the most special experiences of

my life. Travel not only immersed

my classmates and me so fully into

another culture; it also pushed us

to learn more about each other.

This trip to Spain, my first experience

abroad, showed me how

PROFESSIONAL TREE SERVICE

Shade Tree Pruning • Tree Removal

Ornamental Tree Pruning

Bucket Truck Service

New Arrivals!

much the world has to offer all of

us – people, history, nature, food,

art, culture. As I go off to study International

Politics at Georgetown

University, I hope to continue

my travels to broaden my worldview

and engage myself in other

cultures, or maybe even return to

Spain and better acquaint myself

with the country's unique traditions

and people.

A big thank you to all of the

parents and teachers who made

this trip possible!

Call the certified arborists at

Destito Tree Services for an evaluation.

The name you have trusted since 1984.

Massachusetts Certified Arborist - Fully Insured

Nicholas Destito

781-551-0266

508-699-4532

www.destitotreeservices.com

Custom Picture Framing & Art Gallery

Value Line Custom Framing

Starting at $43. 95 for 11x14

Includes Moulding, Glass, Drymount, Labor

— add Mat $9. 99 —

FAMILY

OWNED AND

OPERATED

11 E. Central St. Franklin

508.528.3256

www.janesframes.com janeframe@verizon.net
---
Page 8 Local Town Pages www.norfolkwrenthamnews.com June 2016

A Visit to Norfolk, Home of Puritan Ancestors

The Norfolk Historical Commission

welcomed a visitor from

Alberta, Canada on April 26 and

27. David Blake Miller came to

Norfolk to view where his ancestors

had settled in 1686, after they

migrated from England to the

Massachusetts Bay Colony. The

Historical Commission escorted

Mr. Miller during his visit to the

sites related to his family.

The first Blakes--John and his

wife Bridget--arrived after King

Philip's War was over. John purchased

most of the holdings of

one of the original Wrentham

Proprietors, William McKiah,

who is said to have been killed in

the war. Now part of Norfolk, the

locations along Stony Brook were

then called North Wrentham.

On Tuesday, April 26 the

Commission escorted Mr. Miller

on a three-hour auto tour of

sites related to the Blake Family,

which followed a route along

Union Street, Diamond Street,

North Street, Needham Street,

Seekonk Street, Campbell Street,

and Main Street. Historical

Commission member Barbara

Bartholomew narrated the history

and background at each of

the 15 sites.

Some of the highlights included

a stop at Slate Rock at the

corner of Diamond and North

Streets, where John Blake built

FOOD INSPECTOR FOR ONE DAY EVENTS

The Wrentham Board of Health is seeking an

individual to conduct inspections at one day food

events. Qualified individuals will hold a current Food

Safety Manager Certification. The work will primarily be on

weekends on an as needed basis. Please forward your resume

with a copy of your food safety certification to: The Wrentham

Board of Health, 79 South Street, Wrentham, MA 02093 or

ebugbee@wrentham.ma.us. Resumes will be accepted until

June 30, 2016

his home behind the

outcropping down by

Stony Brook; the Blake

Section of the Norfolk

Cemetery at the corner

of Main and Seekonk

Streets; and the stone

ruins of the forge/

blacksmith shop that

James Blake Jr., built in

1747 behind the Morse

House at 18 Campbell

Street.

On Wednesday,

April 27 Historical

Commission Chairman

Betsy Pyne gave a

descriptive tour of the

Solomon Blake House

at 97 North Street to

Mr. Miller and members

of the Historical Commission.

Solomon built the house

in 1761 across from the sawmill

he operated on Stony Brook.

This was followed by a tour of

the Mass Audubon Stony Brook

Nature Center and Bristol Blake

State Reservation, conducted by

Doug Williams, the director of

Stony Brook.

Solomon Blake House at 97 North Street.

David Blake Miller is a direct

descendant of Moses Blake,

who was born here in 1726 and

the son of James Blake and Ann

(Bullard), as well as the grandson

of John Blake and older brother

of Solomon Blake. Moses Blake

migrated to Rehoboth in the

1750s and made it his home. His

sons, David and Simeon, joined

General Rufus Putnam's Ohio

Company in 1789 and journeyed

west to be among the first settlers

of Marietta, Ohio. Dave Miller's

cousin, William Blake of Delaware,

Ohio visited Wrentham in

September of 2007, which inspired

David to make his current

trip to see for himself where his

family first settled in America.
---
June 2016 Local Town Pages www.norfolkwrenthamnews.com Page 9

Premium Veterinary Service Right at your Door

No time for veterinary visits?

Pets anxious riding in the car?

Tired of waiting in crowded waiting

rooms? Dr. Michael Gerber, a

Massachusetts licensed veterinarian,

of Pawsitively Mobile Veterinary

Services can eliminate

the stress of those veterinary visits

with just one phone call. Pets will

receive stress-free exams and their

owners a new patient 15% discount!

Dr. Gerber founded Pawsitively

Mobile Veterinary Services

in early 2016 and began

seeing patients in his brand new

custom-built, 28-foot mobile veterinary

clinic. Together with his

state-of-the-art mobile clinic, and

his exceptional veterinary education

and training, Dr. Gerber's

four-legged patients receive the

best personalized care in the area

within the comforts of their home.

Dr. Gerber graduated from

Western University of Health

Services with his veterinary degree

in 2010, and was accepted

into a highly coveted, advanced,

post-graduate internship in medicine

and surgery at the prestigious

Animal Medical Center in Manhattan's

Upper East Side. During

the 13-month intense training

program, working alongside some

of the most respected and talented

veterinary specialists in the

nation, he gained valuable knowledge

and experience in several

veterinary specialties, including,

internal medicine, surgery, neurology,

cardiology, ophthalmology,

radiology, dentistry, oncology and

emergency/critical care. Within

a staff of 100 veterinarians that

is comprised of intern doctors,

resident doctors and staff specialists,

The Animal Medical Center

is one of the largest private, small

animal teaching/referral hospitals

in the country. Founded in 1910,

it is also one of the oldest. The

Animal Medical Center has a

very large case load which affords

its veterinarians the opportunities

to experience a very wide array

of both complicated, routine

and unusual cases. Completing

a year-long internship at the Animal

Medical Center is equivalent

to at least five years of experience

in general practice.

With his mobile veterinary

service and diverse medical background,

Dr. Gerber is able to provide

virtually any service offered

at a traditional brick and mortar

veterinary facility. Those diverse

services include the following:

• Routine wellness care (including

vaccines)

• Sick visits

• Lab work, including heartworm

and tick screening, full

chemistry and CBC, urinalysis

• Fecal testing

• Microchipping

• Dentistry

• X-rays

• Surgery

• In-house/point of care labs/

diagnostics

• Hospice care

• Euthanasia

• International and domestic

health certificates

While Dr. Gerber initially considered

a career as a specialist in

emergency and critical care (E/

CC), a specialty he found both

challenging and rewarding at

AMC, there was a facet of E/CC

that didn't completely fit with his

long-term, animal care goal aspirations.

"I liked the complexity of the

cases and the adrenaline surge of

triaging emergencies, but I wanted

to get to know and see a pet not

only in crisis, but during good

times as well," Dr. Gerber said.

"And getting to know the people

and form lasting relationships with

them… that is something you really

don't get as a critical care specialist."

After graduating from the intern

program at AMC in July

2011, Dr. Gerber worked in both

emergency/specialty referral hospitals

as well as in general practices.

When designing his truck, he

drew on his experience at AMC

working with the latest medical

Summer STEM Camps!

Minecraft Mania

Rocket Science & More!

June 27 -- August 19

equipment and personally handpicked

every piece of equipment

in his clinic to accommodate all

pets and potential conditions.

With those advanced tools and his

extensive veterinary background,

he now looks forward to helping

animals through all stages of their

good health.

"My experience and training

allow me to problem solve cases

at a higher level," Dr. Gerber said.

Dr. Gerber's mobile practice

also allows him the flexibility to

give back to the community and

homeless pets. Once a week, he

travels to the Norwood Petco and

performs cat examinations at the

Bay State Animal Cooperative, an

all-volunteer cat rescue organization.

Pawsitively Mobile Veterinary

Services' clients will find rates

similar to fixed-location veterinary

practices (with an additional

travel fee) and will receive the personalized

service that can only be

found through a concierge service.

An average house call is approximately

one hour and pets will

receive a complete examination

within the comforts of their own

home by Dr. Gerber and his certified

veterinary technician, Tim

Levesque. To learn more about

Pawsitively Mobile Veterinary

Services or make an appointment,

visit their website at www.

pawsmobile.vet or call (781) 816-

7297.

• For Ages 2.9 to 12 Years

• One & Two Week Summer Sessions

• A Fun, New Theme Each Session!

• Register for 6 Weeks – Save 10%

www.woodsideacademy.com

350 Village Street, Millis

508-376-5320
---
Page 10 Local Town Pages www.norfolkwrenthamnews.com June 2016

Kitchen Cabinet Selection 101

Nancy Werneken

Lead Designer at Masters Touch Design Build

1. Custom or Manufactured

– This is your first decision when

selecting cabinets. There are pros

and cons with both. Custom cabinets

are typically the more expensive

choice (however, not always so

some homework may be needed

here), but will better utilize the

space available and you can control

the details and enhancements

more. Also, a custom finish will

have more personality; more of a

human touch than a factory finish.

However, a factory finish will

last longer in most cases and some

cabinet manufacturers offer so

many modifications, that it is easier

today to achieve a more custom

look with manufactured cabinets

than in the past. Fillers are still a

necessary evil with manufactured

cabinets that you can avoid with

custom, because width options

are still limited with manufactured

cabinets.

2. Species and Finish – This

topic assumes you are using wood

– cabinets can be made from other

materials too: laminate and Thermofoil

are two materials used for

cabinets that are not wood. These

use different manufacturing methods

to make the cabinet look like

wood yet is more durable and

resistant to humidity, nicks and

scratches. We typically reserve

these two types of cabinets for

more commercial uses or more

industrial areas of the home. By

far, the vast majority of cabinets in

residential kitchens in New England

today are wood. The three

most common species of hard

wood used in kitchen cabinets are:

cherry, maple and oak. They all

have distinctively different appearances.

Cherry is naturally darker

with a dense, smooth grain. Maple

is very light with a similar, dense

smooth grain and oak is a medium

color tone with a definite open

grain that can also be felt on the

surface. Cherry tends to cost more

than the other two and develops a

deeper, redder coloring with age

which is very beautiful, so staining

cherry is the most popular method

of finishing this species. Maple is

also beautiful and stains evenly. It

will age to a deeper pinky-golden

yellow to orange tone which is

beautiful, but not as rich as cherry.

Maple is also popular to paint

because it is priced well and the

grain is hidden within the surface,

resulting in a smooth, painted finish.

When making these decisions,

keep in mind that painted finishes

come with an upcharge, whether

you are going custom or manufactured.

Oak is less popular than

maple or cherry but can be used

to create a more traditional look

or in other ways, such as combining

with a modern door style

and painted so the grain shows

through to create a more unique,

updated look. The number of

stain and paint colors, combined

with many glaze colors (and distressing

options) make the choices

overwhelming - your kitchen designer

will help to narrow this

down and show you samples of all

of the possibilities!

3. Frame style – Full overlay,

partial overlay or inset: full overlay

is where the door covers the face

frame (leaving only ¼" reveal for

door/drawer operation) like the

European style. Partial overlay is

where the face frame is exposed

by at least an inch around the

door/drawer. Inset is where the

door is actually inset within the

face frame. Full overlay is very

popular and can be used to create

more contemporary looks but

can be used to create a traditional

style kitchen as well (depending

on the door style and finish

selected). Inset is typically used

to create a shaker, farmhouse or

more traditional look, but can be

paired with a modern door style

for a fresh, updated look. Generally,

inset is more expensive than

the other two frame styles.

4. Door Style – Once you have

decided on species, color and

frame style, the door style is an

important decision: it will set the

style for the kitchen and also can

significantly affect pricing. Some

general guidelines: flat profile,

shaker and flat center panel doors

create a more contemporary, classic

or transitional style. Raised

panel doors are used to create traditional

style kitchens. Of course,

molding styles, hardware and

other embellishments further contribute

to the specific style you are

going for. Also consider the drawer

heads: some will come flat or plain

and some will come as a fivepiece

unit to match the door. This

choice will also contribute to the

look you are trying to achieve, as

well as price.

5. Color – This is where your

designer can really help: many

combinations are commonly used

to create that specific look you are

trying to achieve. Often the island

is done in a different color or different

door style and color. Or,

you can use one color for the base

cabinets and another for the wall

cabinets, stain one section and

paint another, change countertop

materials, change colors and countertops,

the options are endless! Be

sure to look at plenty of pictures

and ask plenty of questions during

the process.

Choosing the right cabinet can

be daunting or it can be simplified

if you follow these five selection

steps!

Nancy Werneken is a lead designer at

Masters Touch, a local design build firm

located at 24 Water St., Holliston. For

information contact (508) 359-5900,

e-mail info@MastersTouchWeb.com or

visit www.MastersTouchWeb.com.

Providing Quality Work For Over 30 Years!

Fully licensed and insured

Roofing • Carpentry • Plastering • Kitchens • Gutters

Painting • Tile Work • Other

Call Us Today for a FREE "No Pressure" Quote!

Your Roofing, Gutter, and Carpentry Specialist

Office: 508-660-2588

Cell: 508-596-9478

Fax: 508-660-7075

www.firstclassconstructionandremodeling.com

DESOUSA PLASTERING

No Job Too Big or Too Small

PLASTER • BLUEBOARD • DRYWALL

Rafael DeSousa • 508-939-1664

TimoThy GranTham

ELECTRICIAN

Serving your electrical needs

for new work, remodeling and repair.

NO JOB TOO SMALL

Fully insured • MA license #30329

339-203-1726

It May Be the Flu, But It May

Be Lyme Disease

Lyme Disease often goes undiagnosed

as the symptoms often

mimic the flu. When symptoms

last several weeks, those signs

should be followed up with a

blood test. Lyme Disease is typically

treated with doxycycline.

This antibiotic, however, is not

always effective, especially with

the many co-infections of Lyme,

such as Borellia, Bartonella,

Babesia, Rickettsia and Rocky

Mountain Spotted Fever.

According to the Center for

Disease Control (CDC), an estimated

300,000 Americans are

diagnosed with Lyme Disease

each year, and the numbers are

rising. Although it is believed that

Lyme is a result of a tick bite, the

infectious bacteria can be spread

by other biting or blood-sucking

insects, including mosquitoes, spiders,

fleas and mites.

Common effects of tick bites

include an itchy "bull's-eye," but

this rash only occurs in about

Dr. Rochelle Bien & Dr. Michael

Goldstein.

half of those infected. Other

symptoms include unrelenting fatigue,

recurring fever, headaches/

migraines and achy muscles and

joints.

For six years Pauline suffered

with various ailments, including

muscle aches, joint pains, brain

fog, extreme fatigue and unrelenting

headaches. Her primary

care physician diagnosed Lyme

Disease, prescribed doxycycline,

and notified her several weeks

later she was successfully treated

for Lyme. An appointment with

a Rheumatologist for her "arthritic"

condition resulted in a

prescription for antidepressants,

a side effect of dealing with the

pain. Pauline felt her life was

slowly slipping away. A referral

to the Holistic Center at Bristol

Square set her on a new path. At

the center Pauline was diagnosed

with Bartonella, a co-infection of

Lyme, and was treated homeopathically

for the strain as well

as for her other related health issues.

Within three months, Pauline's

life started to return. Today,

she is virtually symptom free and

enjoying her life free of pain and

fatigue.

If you suffer from Lyme Disease,

don't delay, call the Holistic

Center at Bristol Square today

(508) 660-2722 and schedule an

appointment with Dr. Bien or Dr.

Goldstein.
---
June 2016 Local Town Pages www.norfolkwrenthamnews.com Page 11

Norfolk Community Day Slated for Saturday, June 4th

The Norfolk Lions in conjunction

with a number of local

organizations are in the final

planning stages for the 24th annual

Norfolk Community Day, to

be held on June 4 at the Holmes

Complex on 22 Myrtle Street in

Norfolk. Community Day events

start at 11:00 a.m.

Events at this year's Community

Day include a children's

art contest, touch a DPW truck,

golf ball drop, and 50/50 raffle.

In addition, families can enjoy

amusements such as the Circus

Obstacle Course, Knights

& Dragons Bounce and Slide,

Soccer Shoot, The Joust and the

Bungee Bull Ride.

The black top entertainment

includes a number of local

groups who have participated for

the last 23 years. And for the first

time this year, Mike Piazza and

his Flying High Frisbee Dogs will

Published Monthly

Mailed FREE to the

Community of

Norfolk/Wrentham

Circulation: 7,000 households

and businesses

Publisher

Chuck Tashjian

Editor

Grace Allen

Advertising Sales Manager

Lori Koller

DJ Peter Conti All Day

Children's amusements All Day

Fire engine, hay wagon and train

rides All Day

Foam Fun (play in foam sprayed

by NFD) 3:30 p.m.

Enjoy the food, games and

fun all sponsored by various local

groups. Many local organizations

are selling baked goods to

raise funds, as well as providing

literature about their groups. It's

a great day for everyone to get together

and celebrate Norfolk.

In addition, food pantry supplies

are at their lowest during

the summer months, so to help

alleviate this problem, the Lions

are running a food drive at Community

Day. The goal is to Stuff-

A-Truck full of food to be shared

between the Norfolk and Franklin

food pantries. Some of the items

currently needed are jelly, maple

syrup, hamburger/tuna helper,

mayonnaise, tooth paste and

hand soap.

The Norfolk Lions could not

undertake this fun event without

the wide-spread assistance of all

those who volunteer their funds,

materials and time. The Lions

would like to thank the Norfolk

Fire, Police and Highway Departments

and the Norfolk Recreation

Department for their

ongoing support. The Lions are

also pleased to acknowledge the

platinum, gold and silver sponsors

for this year's Community

Day:

Platinum: Holmes Transportation,

1776 Financial Services,

Carpentry by Tom Antonellis,

Dedham Savings Bank, Foxboro

Federal Savings Bank, Norfolk

Cultural Council.

Gold: George T. Cronin &

Sons, DiPlacido Development

Corporation, Dover Trucking,

ECO Structures Inc., Emmanuel

Baptist Church, Minuteman

Press of West Newton, Norfolk

Community League, Rocky's

Auto Body, Rodman Ford.

Silver: Berkshire Hathaway

Page Realty, Carrison Design,

Colonial Fence, Dunkin Donuts,

Elite Foods, Federated Church

of Norfolk, New England Revolution,

Norfolk Auto Inc., Peter

Conti, Roche Brothers, State

Representative Shawn Dooley,

Snead Retirement Consulting,

St. Jude's Church, Stop & Shop,

Taylor Rental of Norfolk and

William Reveis Delta Realtors.

The Lions are a non-profit

organization known for working

to end preventable blindness.

Norfolk Lions participate in a

vast variety of projects important

to our community and proceeds

of Community Day are donated

back into local charities or to meet

community needs. For more information

regarding Community

Day, visit www.norfolkmalions.

org or call Ed Melanson at 508-

528-9302 or Patti McCarty at

508-520-0540.

Advertising Sales Assistant

Kyle Koller

Production & Layout

Susan Dunne

Mike McDaniel

Michelle McSherry

Dawna Shackley

Advertising Department

508-934-9608

lorikoller@localtownpages.com

Ad Deadline is the

15th of each month.

Localtownpages assumes

no financial liability for errors

or omissions in printed

advertising and reserves the

right to reject/edit advertising

or editorial submissions.

Send Editorial to:

editor@norfolkwrenthamnews.com

© Copyright 2016 LocalTownPages

entertain the crowds. Mike is the

#1 professional K-9 frisbee performer

in the world. He and his

highly athletic dogs will perform

a variety of frisbee tricks.

This year's schedule of events:

On the Main Stage:

The Inspiration Performing

Troupe of Norfolk 11:00 a.m.

Henry the Juggler 11:50 a.m.

King Philip World Percussion

Ensemble-African and Steel

Drums 1:00 p.m.

High Flying Frisbee Dogs

1:45 p.m.

Kids games & contests (hula

hoop, musical chairs & balloon

toss) 2:30 p.m.

Pie eating contest, golf ball

drop & silent auction winners

2:50 p.m.

Kathy Ryan Dance Studio

3:15 p.m.

On the Dining Area Stage:

Good Tymes Banjo Band

12:00 noon

Puppy's Paradise Dog Boarding

www.puppysparadisehomeboarding.com

617-899-2487 or

508-541-7254

•••••••••••••••••••••••••••••••••••

DOG LOVERS GROOMING

SALON & RE-TAIL

447 East Central Street

Franklin, MA 02038

Check Out Our New Products And Services in our

Newly Expanded Grooming Center & Re-Tail Store

• Doggie Bakery

• Grooming Supplies

• Leashes/Toys

• Spa Packages & More!

176 North Street Norfolk, MA

NOW OFFERING!

$5 Off NEW Grooming

Clients and 10% Off

Retail Purchases

must present coupon

Call Us Today! (508) 528-6556

www.dogloversgroomingsalon.com
---
Page 12 Local Town Pages www.norfolkwrenthamnews.com June 2016

Living Healthy

NORWOOD

Guild Medical Center

825 Washington St., Suite 280, Norwood

New Location

Norfolk Center Clinic, 5 Liberty Lane, Norfolk

Next to Walgreens

www.ptandsr.com

YOUR

RECOVERY

IS OUR

EXPERTISE

CALL Today

781-769-2040

NORFOLK / WRENTHAM

227 Dedham Street

Routes 1A & 115, Norfolk

Step Outside to Walk or Run

Contributed by

John Vacovec, Physical

Therapist and CEO of

Physical Therapy and Sports

Rehab, Inc.

People enjoy walking or running

for a number of reasons.

For many, it's a simple form of

exercise. For some, it's about 'the

freedom of the road' and

'being one with nature',

while others find it an effective

way to decrease

stress.

Walking or running

helps condition the body

and improves blood circulation.

Regular walking

is associated with a

healthier heart and a

greater sense of wellbeing.

For those who like

to run, the right running

technique combined with

appropriate footwear

helps minimize injuries.

The Mechanics of Motion

With the proper walking and

running technique, you can avoid

injury and improve endurance.

Here are a few things to consider:

1. The right degree of flexion

in your knees and elbows is

important to reduce strain on

your joints.

2. Posture is important. In fact,

your entire technique is dependent

upon your posture for efficiency

and safety.

3. An appropriate range of motion

helps minimize injuries

and improve running technique.

4. Proper stride length is an important

aspect of efficiency

and injury prevention.

5. Proper rhythm will help minimize

injury by eliminating

unnecessary overuse of your

muscles.

6. Coordination between upper

and lower body is an important

aspect of running technique.

Each of these components

plays a vital role in running technique.

As you progress with each

component, expect an improvement

in strength, efficiency, distance

and possibly speed.

Injury Prevention with

Physical Therapy

A physical therapist can identify

muscle imbalances and improper

joint alignments. The

physical therapist will conduct

a detailed evaluation, which includes

an analysis of gait, foot

alignment, upper body strength,

hip alignment and spine alignment.

With an adjustment of running

technique and

correction of muscle

imbalances, the therapist

will get you on your

feet so that you can

walk (and possibly run)

if your body allows it.

The best thing for

you to do right now is

call for an evaluation

of your movement patterns

before you start

a walking or running

program. We can also

create a rehabilitation

program if you are currently

experiencing any discomfort

while walking or running.

Your body deserves the right kind

of care. Call us directly and if

treatments are necessary, we can

coordinate with your MD. Your

recovery is our expertise!

Physical Therapy and Sports Rehab

Inc. has 3 convenient locations to serve

you! Call (781) 769-2040 to schedule

an appointment at our Norwood

clinic, our Norfolk/Wrentham clinic or

our Norfolk Center clinic. Go to www.

ptandsr.com to learn more!

Sunglasses

…For Dads & Grads

Gift with purchase!

508-376-0800

Milliston Common

Millis MA

Open: Tue 9-6, Wed 9-7, Thur 9-6, Fri 9-5, Sat 9-4

SELF

Aesthetics and Therapeutics Specialists

Medical Spa

Services Include:

skin tightening • facial treatments •

hair removal laser/waxing •

anti-aging • acne management

treatments • chemical peels •

microdermabrasion • dermaplaning

skin lesion removal •

LED light therapy • microneedling •

Botox ® /collagen fillers •

IPL photo facials • lash & brow •

extensions • lash & brow tinting

Therapeutic Massage:

swedish/relaxation • hot •

sports massage • acupuncture •

reflexology

Look and

Feel Younger

with advanced techniques

in the practice of aesthetics,

medical cosmetic and

therapeutics

$

60 Massage

Save $ 50 on

SunSpot Removal

Self Aesthetics & Therapeutic Specialists

323 West Central Street • Franklin • 508-541-7353

With this coupon. Not valid with other offers or prior services. Offer expires 6/30/16

For Appointments cAll 508-541-selF (7353 )

now locAted At 323 west centrAl st. FrAnklin

www.selF-therApeutics.com
---
June 2016 Local Town Pages www.norfolkwrenthamnews.com Page 13

Lasers and the Eye

By Roger M. Kaldawy, M.D.,

Milford Franklin Eye Center

Lasers can be very useful in

treating many eye problems. From

helping patients eliminate the

need for glasses to cosmetic procedures

of the eyelids, lasers have

been very valuable in performing

bladeless eye surgery while producing

precise and safe outcomes.

The world of eye surgery was

revolutionized when in 1946, a

German Ophthalmologist used

the first laser to treat the retina.

Laser is light amplified by stimulated

emission of radiation. This

produces photons acting in synchrony,

with high power and precision.

Health Risks from the Use

of Laser Pointers

Lasers can be very helpful as

a bladeless surgical device, but a

note of caution: Laser pointers

in hand-held, pen-like devices

that project a beam of laser light

are rapidly replacing the traditional

wooden pointers used by

lecturers during presentations.

However, these pointers can be

misused, for example, by students

in classrooms or by children at

home, and this has generated

safety concerns. There have been

reports of temporary blindness,

disorientation and headaches by

bus drivers, airline pilots, police

and teachers. Manufacturers are

now using similar low powered

laser devices in toys. Never look

at a laser pointer and never point

it at someone. Serious eye injury

(sometimes permanent) can result.

Laser Use in Diabetes

In some cases of diabetic eye

disease, small blebs can form on

the blood vessels of the retina.

These can later cause bleeding

and blurry vision. An Argon

Laser can be helpful in treating

these blebs. The same laser can

treat the entire retina in a scatter

fashion when more proliferation

of abnormal blood vessels is

noted.

Laser Use in Glaucoma

The laser can be used in a focused

beam of light to treat the

drainage angle of the eye. This

surgery makes it easier for fluid to

flow out of the front part of the

eye, decreasing pressure in the

eye. Two types of laser eye surgery

exist to open up the drainage

angle of the eye: Argon laser

trabeculoplasty and selective laser

trabeculoplasty.

Laser Use in After

Cataract Surgery

The lens capsule is the thin

bag that holds the intraocular lens

implant in position after cataract

surgery. This capsule becomes

clouded in about 25% of cataract

surgery patients. This causes

blurry vision and is also known as

secondary cataract. A YAG laser

can create a small opening in the

center of the capsule, allowing

light to enter the eye through a

central clear area. The procedure

is painless, requires no anesthesia,

and has very little risk.

Laser Use in Laser Vision

Correction

An excimer laser can be used

to correct a variety of refractive

errors of the eye, from nearsightedness

to farsightedness and

astigmatism. This type of laser is

extremely precise. It creates targeted

removal of tissue to reshape

the cornea, which reorients the

light in the correct place inside

the eye.

Laser Use in Cosmetic Eye

Lid Surgery

Eye lid surgery, also known

Living Healthy

EXPRESS

FACIAL

$45.00

Expires 6/3016. Not to be

combined with other coupons or

discounted gift cards

$10.00 OFF

OF A 1 HOUR

MASSAGE

WITH COLLEEN

Expires 6/3016. Not to be

combined with other coupons or

discounted gift cards

Bellezza Day Spa

MINI PEDI

& SHELLAC

MANI

$60.00

Expires 6/3016. Not to be

combined with other coupons or

discounted gift cards

72 GROVE STREET, FRANKLIN, MA (508) 553-9000

Comprehensive Family Dentistry

We Care About "YOU", Not Just Your Teeth

Safe

Hi Tech STERILIZATION

Low Exposure Digital X- Rays

White Fillings (metal Free)

as blepharoplasty, is designed to

rejuvenate baggy or droopy eyelids

and to restore youthful eyes.

The laser provides excellent precision

for this procedure. Since

the laser seals small blood vessels,

there is very little bleeding during

surgery. As a result, bruising and

swelling are kept to a minimum

and recovery is fast.

Laser Use in Macular

Degeneration

In selected cases of wet macular

degeneration, a photodynamic

procedure can be helpful: A laser

in combination of a light-sensitive

medicine target the abnormal

bleeding blood vessels to block

them.

Laser Use in Cataract Surgery

The laser has revolutionized

cataract surgery, allowing for a

completely blade-free procedure.

In addition to producing precise

cuts needed for surgery, the laser

used in bladeless cataract surgery

breaks up and softens the cloudy

cataract so there is less ultrasound

needed to remove the cataract.

Less ultrasound delivered inside

the eye translates into less energy

used in the eye and clearer corneas,

which in turn help producing

better vision on the first day

after the surgery. The same laser

is able to treat astigmatism during

Gentle

Nitrous Oxide (GAS)

Oral SEDATION

(relaxation)

"NORFOLK OFFICE ONLY"

Let Our Family,

Take Care Of Your Family

158 Main Street, Norfolk MA 508.528.6510

www.norfolkcountysedationdentist.com

David M Iadarola D.M.D.

28 Asylum Street, Milford MA 508.473.5737

the cataract procedure, producing

a better chance for being glassesfree

after the surgery.

At Milford Franklin Eye Center,

we use state-of-the-art laser

technology to treat a variety of

eye problems. Dr. Kaldawy is

the first to offer bladeless laser

cataract surgery in the area and

among the first in New England.

The top 5 eye hospitals in the

country offer bladeless femtosecond

laser cataract surgery....

So do we. We are proud to bring

this technology locally. Laser eye

surgery is now available when you

need it and closer to home.

For more details, see our ad on

the front page.

Modern

Implants

Laser Technology

Cerec (same visit crown)

3D Imaging

NORFOLK COUNTY DENTAL CARE

Trusted Since 1975
---
Page 14 Local Town Pages www.norfolkwrenthamnews.com June 2016

Living Healthy

Cruising To a Successful

Weight Loss

New England Fat Loss Client Clocks Many Miles to Achieve His Goal

East Wareham resident Jeff

Monast admits he was initially

hesitant to commit to the onehour

drive to join New England

Weight Loss (NEFL). Once he

met Dr. John and the NEFL staff

and learned about the program,

however, the commute was a

minimal factor to achieve his

weight loss goals.

"When I first heard it was so

far away, I thought, 'That really

stinks,' but after my experience, it

is well worth the drive," Monast

said.

According to forty-two yearold

Monast, the stimulus to walk

through that door on April 15

far outweighed inconvenience.

He was experiencing lack of energy

and was intrigued with their

20-to-40-pounds-lost-in-40-days

guarantee.

HAIR TODAY,

HAIR TODAY,

GONE

TOMORROW.

"I don't know what clicked in

my head, but I honestly couldn't

recommend it enough," Monast

said. "I've been fighting my

weight since I've been 10 years

old, and I honestly did not think

it would be this easy to lose the

weight.

While being interviewed on

day 23 of his first stage, Monast

had dropped 34.9 pounds, already

within reach of that first

significant goal. The food combinations,

daily weight reports and

office visits guided the way, but

Monast also found Dr. John's assistance

invaluable.

"I knew I would have no time

to prepare meals during one

weekend and we went back and

forth with ideas," Monast said.

He is very accessible."

Monast is thrilled with his success

of the Phase 1 portion of

the program, but is motivated to

enter the next stage. Through an

extensive diagnostic process, the

NEFL team will identify specific

foods to work with his individual

body chemistry and trigger additional

weight loss.

"Once I get through the 40

days, they give me a list of my

personal weight-burning foods

that are good for my body make

up," Monast said. "I'm pretty excited

to see what they are."

From the beginning, nothing

has come in the way of Monast

reaching his weight loss goals.

Not miles, time or commitment.

His true drive, however, comes

from his family.

"This is a lifestyle change not a

diet, and my number one reason

is because I have a beautiful wife

and two beautiful children that

I want to be around a long time

for," Monast said.

Your journey can begin today!

New England Fat Loss offers two

convenient locations: 22 South

Street, Suite 204, Hopkinton and

188 Needham Street, Suite 255,

Newton. To learn more, visit

their website at www.newenglandfatloss.com,

or call 1 (844)

437-8446.

Backyard

Gardening

Workshop:

Organic Pest and Weed Management

Join the Norfolk Grange

for its second Backyard Gardening

Workshop to be held

on June 18 from 10 a.m. to 12

p.m. at the Norfolk Grange

Hall on 28 Rockwood Rd.

The workshop, open to gardeners

of all ages and experience,

will provide first-timers

and experienced growers useful

information on organic

weed and pest control in the

garden. The workshop is free.

The workshop will cover

organic methods for unwanted

weeds, including

mulching and proper cultivation,

and will also cover

integrated pest management

techniques like beneficial insects,

pollinator strips, and

trap cropping.

The complete workshop

series will take gardeners

through designing a garden,

organic pest and disease management,

what to do with all

those great veggies and flowers,

extending the growing

season, and how to put the

garden to bed for the winter.

Each workshop will be a mix

of information and hands-on

activities. All workshops are

free and families are welcome.

Remaining

Workshop Dates

Organic Pest and Weed

Management: June 18

from 10 a.m. to 12 p.m.

Harvest Preservation

and Donation:

August 20 from

10 a.m. to 12 p.m.

Season Extension and

Putting Your Garden to

Bed: October 15 from

10 a.m. to 12 p.m.

The Massachusetts State

Grange is a grassroots agricultural

and community service

organization dedicated to

preserving our rural heritage

and promoting healthy community

building.

Get soft, Get silky soft, silky skin skin that's that's smooth smooth to the to the touch

just in touch time just for in summer. time for No summer. other No hair removal

method other is as hair gentle, removal effective method or is long as gentle, lasting.

Buy a effective package or in long June lasting. and save Buy for a package the months

to come. in June A call and to save schedule for the your months first towax is a

smooth come. move. A call to schedule your first wax

is a smooth move.

JUNE SERIES SALE. SERIOUS SAVINGS*

JUNE SERIES SALE. SERIOUS SAVINGS *

130 Franklin Village Visit www.elizabethgrady.com

Dr. • Franklin MA 02038

130 Franklin Village Dr., Franklin • 508-520-2257

508-520-2257

*Sale ends June 30, 2012. Cannot be combined with any other sale or promotion.

* Sale expires at the end of June. Cannot be combined

with any other sale or promotion.

Now Offering Pediatric Occupational Therapy Services

• Individual Speech, Language, Literacy

Evaluations & Therapies for All Ages

• Hearing Tests & Tinnitus Evaluations

• Hearing Aids & Tinnitus Treatment

• Auditory Processing Evaluations and Treatments

Serving the children, adolescents and adults

of greater Boston for fourteen years

5 North Meadow Rd, Medfield

(508) 359-4532

30 Man-Mar Drive, Plainville

(508) 695-6848

• Early Intervention Therapy

• Post-Stroke Rehabilitation

• Social Cognitive Groups

• Strategies for Reading & Writing

Visit our website:

www.speechlanguageandhearingassociates.com

Our Ad &

Editorial

Deadline is

the 15th of

the month,

for the

following

month's

issue
---
June 2016 Local Town Pages www.norfolkwrenthamnews.com Page 15

Sweatt Beach:

Wrentham's Secret

on Lake Pearl

By Alison Osborne

Wrentham and Norfolk residents

might not know about a

hidden gem right in their midst.

Sweatt Beach on Lake Pearl provides

water access for swimming

and sports, just a short ride from

home.

Sweatt Beach on Lake Pearl,

one of Wrentham's three ponds,

has gone through several renovations

the last several years.

These improvements were

made possible with the aid of

local Boy Scouts and money

from the Sweatt Fund. Already

a scenic location, these renovations

make Sweatt Beach a spot

where residents and non-residents

can look forward to spending

the dog days of summer.

Starting Memorial Day weekend,

Eastern Mountain Sports Schools

began offering kayak, canoe, and

paddleboard rentals, as well as

kayak and paddleboard classes at

Sweatt Beach. All rentals include

paddles and floatation vests. Staff

from EMS Schools are available

for quick demonstrations on how

to enter and exit kayaks and the

proper way to hold a paddle.

Rentals are on a first-come firstserve

basis. Anyone of any ability

level can rent and enjoy the

equipment. Hands-on training

with an experienced instructor is

.D. MURPHY

JCONSTRUCTION

Since 1976

also available for learning proper

technique. Rentals will be available

through Labor Day. To reserve

equipment or get training,

visit www.emsoutdoors.com or

call 800-310-4504.

Through the American Red

Cross, children ages 3 and up can

take part in swim classes at Sweatt

Beach. The lessons run in two

week sessions, Monday through

Thursdays, from June to August.

Registration forms can be found

on the Wrentham town website.

Class sizes are limited, but there

are several different sessions available.

The schedule is likely to

change depending on enrollment

numbers and interest.

Weather permitting, the beach

will open daily from 10 a.m. to 7

p.m. Daily fees are $5 for adults

and $3 for children, for residents

and non-residents. Seasonal

family passes are also available.

Norfolk and Plainville resident

passes are $150 while Wrentham

resident passes are $125. They

are available for purchase at the

beach with cash or check only.

Come on down and enjoy

the water at Sweatt Beach. With

something for everyone, the location

is a tempting spot for locals

and anyone from New England.

Wrentham's hidden gem opens

for the season on June 4.

Building • Remodeling • Additions

Kitchens • Baths • Replacement Windows • Decks • Garages

Licensed • Insured • Registered 508-376-5003

Electric Youth Bon Voyage

Concert at THE BLACK BOX

Show Kicks off 13th European Tour

Electric Youth (EY), the international

touring ensemble

of singer-dancers trained at the

Franklin School for the Performing

Arts (FSPA), will perform at

THE BLACK BOX in downtown

Franklin on Saturday, June

18 at 7:30 p.m. The event is a

Bon Voyage Concert for Electric

Youth, coming just days before

the ensemble departs on June

23rd for a three-week concert

tour of Austria and Italy. The

group's 13th European tour will

include a return Fourth of July

engagement at Aviano Air Force

Base to entertain U.S. Troops and

families stationed abroad.

Electric Youth is backed by an

eight-piece band of Boston musicians

who've performed, recorded

and toured with such music legends

as Tony Bennett, Aretha

Franklin, Dizzy Gillespie, B.B.

King, Diana Ross, The Temptations

and Van Morrison. EY's

show offers high-energy family

entertainment, delivering fully

choreographed performances

of classic rock, contemporary

pop and Broadway hits for audiences

of all ages. THE BLACK

BOX show will feature two full

sets including the best of Adele,

Beyonce, The Black Crowes,

Queen, Sugarland, Stevie Wonder

and more.

In addition to the July 4th Aviano

Air Force Base show, the 2016

tour will feature performances in

Vienna, Kirchberg, Gmunden,

Melk and St. Polten, Austria, including

a benefit concert for pediatric

cancer and patient family

support. Performances in Italy

will include multiple shows in

Our Mission: Your Comfort

REBATES* (up to)

Oil $1900

Gas $3500

AC $1150

Limited Time Offer

Great Financing, 0% Interest for 84 months.*

Live Better

Lignano, Bibione and Concordia

along the Adriatic Coast, concerts

in Todi and Cortona within the

Tuscany-Umbria region, and at

Lake Como.

Selected annually by audition,

the group is chosen for superior

musicianship, stage presence, and

"triple threat" accomplishments

in voice, dance, and acting. This

season's ensemble of performers,

ages 14-18, studies multiple

dance disciplines, voice, and acting

at FSPA. Electric Youth 2016

includes Madison Asgeirsson,

Brooke Collins, Aaron Frongillo,

Jocelyn Jones, Lauren Szczepanowski

and Melissa Wyner of

Franklin; Michael Fajardo of

Hopkinton; Sam Evans and

Colie Vancura of Medfield; Katie

Gray of Milford; Kylee Rollins of

North Attleboro; Griffin Wilkins

of Walpole; and Jenna McDermott

and Susauna Wickstrom of

Wrentham.

EY's show band features

Kenny Hadley on drums, Arnie

Gas, Oil Gas, and Oil AC and Sales AC Sales & & Service

888-818-2028 888-818-2028 • www.coanoil.com

www.coanoil.com

Oil

Gas

AC

*Rebates and financing provided by and subject to Mass Save Restrictions and Limitations

REBATES* (up to)

$1900

$4000

$1150

Limited Time Offer

Great Financing, 0% interest for 84 months*

*Rebates and financing provided by and subjectto Mass Save restrictions and Limitations

Krakowsky on tenor saxophone,

Bill Miele on bass, Artie Montanaro

on trombone, Walter Platt on

trumpet, Ken Reid on baritone

saxophone, Mark White on guitar

and Director Raye Lynn Mercer

on piano. Under the direction

of Mark Poniatowski, musical

arrangers for Electric Youth are

Rick Hammett, Jeff Perry, Walter

Platt, Poniatowski, Mark White

and Ben Whiting. Hallie Wetzell

is Electric Youth's Vocal Director.

Choreographers include Mercer,

Casey Andrade, Cheryl Madeux,

Nick Paone and Kellie Stamp.

THE BLACK BOX is located

at 15 West Central Street

in downtown Franklin. Tickets

for the Bon Voyage show are

$26. For more information or

to purchase tickets, visit www.

THEBLACKBOXonine.com

or call (508) 528-3370. To learn

more about Electric Youth or the

Franklin School for the Performing

Arts, visit www.electricyouth.

com and www.fspaonline.com.

GOT STYLES HAIR SALON

B

R

A

I

D

S

We

Supply

Hair

BRAIDS

Great for

swimming,

camping,

vacation,

etc.

781-551-9888

677 Washington Street, Norwood

gotstyleshairsalon@yahoo.com

B

R

A

I

D

S
---
Page 16 Local Town Pages www.norfolkwrenthamnews.com June 2016

Run Your Ads & Inserts

With Us! Call Lori Koller

508-934-9608

THE SOONER YOU CALL US…THE SOONER YOU'LL BE PEST FREE

Residential & Commercial

Ants (all types) • Termites • Wasps • Rodents

Mosquito & Tick Yard Treatments…and Much More!

10 % OFF Any Service

FHA/VA Approved Real Estate Inspections

*Maximum $100.00 discount, ask for details.

508.528.8269 • www.apcmass.com

We Are Here When You Need Us

Family owned & operated • 24-hour Admissions

since 1998, Serenity Hill is a • Medicare & Medicaid Certified

private 42 bed skilled nursing

• Occupational & Speech Therapy

• IV Therapy

center offering a continuum of

• Physical Therapy Planning

care for individuals who need • Respite & Hospice Care

short- or long-term services. • Therapeutic Recreation

655 Dedham Street • Wrentham, MA 02093

(508) 384-3400 • (508) 384-8005 – Fax

admissions@serenityhillnursingcenter.com

RPM Firearms

We Buy Collections

No License Needed

Have a Waterful Time at the

Crystal Pool & Spa

Customer Appreciation Day!

Saturday, June 4th • 9am–4pm

508-966-1322 • crystalpoolstore.com

We Come To You

Buy - Sell - Trade

Walpole, MA | 508.989.0682

Bring the Family!

Have lunch - hamburgers & hotdogs!

Check out our newest pool supplies, toys & floats!

95 Mechanic St, Rte 140, Bellingham

"Arts On The Common"

Returns to Wrentham on June 4

Wrentham Cultural Council event celebrates the arts in many forms

The premier annual cultural event in the town

of Wrentham, "Arts on the Common,"takes place

on Saturday, June 4 from 9 a.m. to 4 p.m. Sponsored

by the Wrentham Cultural Council, it is the

fourth celebration of the arts to be held on the historic

and picturesque Wrentham common, located

at the intersection of Routes 140 and 1A. Designed

to appeal to all ages, the event presents art

in its many creative forms, featuring handcrafted

fine arts and crafts, performance art, and interactive

activities.

More than thirty Council-selected artists from

the New England area will showcase their work for

sale in a variety of media, including watercolor, oil,

clay, wood, fiber and paper. In addition, students

from King Philip High School will also exhibit

their artwork.

A varied program of music performance by

accomplished New England-based musicians will

accompany the exhibition, covering Blues, Folk,

Letter to the Editor:

The Norfolk Grange #135

would like to thank all who

helped make Norfolk's recent 7 th

Annual Clean and Green event happen

this year. The town-wide

cleanup took place on Sunday,

May 1 and the litter/recycling

drop off followed at the Stony

Brook Wildlife Sanctuary as part

of their Earth Day/Arbor Day

celebration. First and foremost,

many thanks to those participants

who volunteered to help clean the

CHARRON

Tree Service

BELLINGHAM, MA

508-883-8823

FREE ESTIMATES • FULLY INSURED

KEVIN LEMIRE, OWNER

1060 Pulaski Blvd., Bellingham, MA 02019

streets and public places in Norfolk

this year! We collected the

following: 23 lbs of cardboard,

77 lbs of metal; 69 lbs of rigid

plastic; and 257 lbs of trash. We

also collected 14 utility-size bags

of recycling and 7 utility-size

bags of redeemables which were

donated to Stony Brook. We also

would like to thank the following

Norfolk Town Offices for their

assistance in making our 7th annual

event a success: the Norfolk

• COMMERICAL & RESIDENTIAL

• TREE REMOVAL BY BUCKET TRUCK /CRANE

• LAND CLEARING

• STUMP GRINDING

• STORM DAMAGE

• SNOW REMOVAL

• FIREWOOD SALES

Caribbean and Jazz music. Local dance studios

will also showcase their talented performers.

The entertainment line-up for the day includes:

9 to 10 a.m.: DJ Bill Jones

10 to 11 a.m.: El Caribe Duo

11 to noon: Showcase Dance Productions

Noon to 1 p.m.: Scott Tarulli Duo

2 to 3 p.m.: Dance and Beyond

3 to 4 p.m.: BC & Company Jazz Quartet

with vocalist Cindy Jones

This is a wonderful opportunity to become acquainted

with some of the talented artists in our

area, and to spend a relaxing day enjoying music

and entertainment on beautiful Wrentham common.

All ages are welcome.

For more about the event and to see past exhibitors,

visit http://wrentham.ma.us/wrentham-ma-cultural-council/155-town-living/

cultural-council/743-cc-arts-on-the-common, or

email contactWCC@wrentham.ma.us.

Moore's

Flowers

508-384-7450

48 South Street

Wrentham, MA 02093

Linda Moore ✽ Owner

CharronTreeCompany.com

CharronTreeService@yahoo.com

Board of Selectmen's Office,

Norfolk Recreation Department,

and the Freeman-Kennedy

School. We especially want to

thank the Department of Public

Works for their critical support

in making this event possible as

well as Dover Trucking, Inc.,

Recycling and Waste Removal

for their assistance removing the

single-stream recycling collected

during the cleanup. Finally, the

Norfolk Grange would like to

thank Stony Brook Wildlife Sanctuary

for inviting Norfolk's Clean

and Green cleanup to be a part

of their Earth Day/Arbor Day

Celebration.

Once again, thank you

everyone!

Robin Lind Biscaia

The Norfolk Grange #135

www.facebook.com/

NorfolkGrange135

PLEASE

RECYCLE
---
June 2016 Local Town Pages www.norfolkwrenthamnews.com Page 17

Norfolk CFCU Prepares Young People for Financial Future

Norfolk Community Federal

Credit Union went Credit

Union STRONG celebrating our

Twelfth Annual National Credit

Union Youth Week April 20-22,

during Spring vacation. The

credit union's goal is financial

education, including preparing

our young people for the financial

challenges they will meet as

they grow and mature. Our commitment

to serve our younger

members reflects our belief that

financial education has the greatest

impact on young people when

FPAC Presents Killer Comedy

Musical Little Shop of Horrors

Franklin Performing Arts

Company (FPAC) presents the

sci-fi smash musical Little Shop of

Horrors on Friday, June 10 and

Saturday, June 11. Performances

are at 7:30 p.m. at THE BLACK

BOX, FPAC's home and theater

located at 15 West Central Street

in downtown Franklin.

With book and lyrics by Howard

Ashman and music by Alan

Menken, the popular comic rock

musical delivers an uproariously

good time. With catchy, early

Motown-inspired tunes and a

basics such as money management,

saving and investing and

wise use of credit are taught early.

For the twelfth year, Youthweek

highlighted how young people

earn, spend, save and manage

their own money. Norfolk Credit

Union encouraged the children

to open an account and begin

saving by offering the children

free giveaways.

The three-day free celebration

was open to the public and

the "Credit Union Strong" theme

was celebrated with a festive gym,

wacky tale, Little Shop of Horrors

follows a down-and-out skid row

floral assistant who becomes an

overnight sensation after discovering

an exotic plant with a mysterious

craving for fresh blood.

Soon "Audrey II" grows into an

ill-tempered, R&B singing carnivore

– ultimately revealing itself

to be an alien creature poised for

global domination. The hilarious

Drama Critics Circle Award- and

Drama Desk Award-winning

rock horror musical is one of the

longest running off-Broadway

get moving atmosphere including

fun activities and backsacks and

water bottles for all the children.

The children enjoyed making

sport themed sand art creations.

They also played the activity dice

game by rolling the dice and performing

the required gym activity

such as jumping and hopping.

They all tried to break into the

play vault by using the correct

four digit code. Tickets were

awarded for each activity the

children participated in and the

children used the tickets to take

shows of all time, becoming a cult

film classic as well.

Directed by Nick Paone, Little

Shop of Horrors is presented as

part of FPAC's 25 th anniversary

season. Raye Lynn Mercer codirects,

with musical direction

by Hallie Wetzell. For more information

and to purchase tickets,

visit www.THEBLACKBOX

online.com or call (508) 528-3370.

Little Shop of Horrors is presented

through special arrangement

with Music Theatre International

(MTI).

Senator Ross Officially on the

Ballot for Re-Election

Senator Richard J. Ross recently

submitted the required

nomination signatures to the office

of the Secretary of the Commonwealth

officially putting his

name on the ballot for re-election

to the Massachusetts State Senate.

"It has been an honor serving

the people of my district for the

past six years in the Massachusetts

State Senate. Every day I

work hard to ensure they have a

voice on Beacon Hill and across

the Commonwealth. For six

years they put their trust in me

and I humbly ask for their vote

once again in 2016 so that I may

continue fighting for them," said

Senator Ross.

In order to have their names

placed on the ballot, candidates

for State Senate must have certified

signatures from 300 registered

voters in their district.

Senator Ross had help from a

number of constituents collecting

signatures, securing more than

500 so far.

"I am immensely grateful for

the outpouring of support from

constituents and volunteers to

help me collect the signatures

necessary to get on the ballot.

My district is made up of truly

incredible people and I am looking

forward to November," said

Senator Ross.

Senator Richard J. Ross is the

Assistant Minority Leader of

the State Senate, representing

twelve cities and towns across the

Norfolk, Bristol, and Middlesex

District. Senator Ross currently

serves on several key committees

including the Senate Committee

on Ways and Means, the Joint

Committee on the Judiciary, and

the Joint Committee on Public

Safety and Homeland Security.

Previously, Senator Ross served

three terms in the Massachusetts

House of Representatives and is

also a former selectman in the

town of Wrentham.

Contact the office the Richard

Ross Election Committee with

any questions or concerns at richard@voteross.org.

WWW.LOCALTOWNPAGES.COM

chances on many prizes including

Southwick Zoo tickets, a full

size portable basketball hoop, a

trampoline, a girls and boys bike

and many other summer activity

prizes. The children also posed

as a strong man and woman and

their pictures are on display at

our office.

Norfolk Community Federal

Credit Union was chartered in

1953 and serves the communities

of Norfolk, Franklin, Wrentham,

Bellingham, Millis, Medway, Foxboro,

Medfield, Plainville, and

Walpole. Membership is open

to all who live, work, worship, or

attend school in, and businesses

and other legal entities located in

these communities.

Norfolk Community Federal

Credit Union has announced the

Youthweek winners and the list is

posted in the credit union lobby.

Volunteers Need for

KP All Night Party

The King Philip Parent Network needs volunteers to help

with the senior class All Night Party. The event is scheduled

for Thursday, June 9 after graduation. Volunteers

are needed to help set up for the party, chaperone during

the party, and tear down afterwards. Parents of students

in all grades, community members, and KP alumni are

welcome.

The All Night Party is a 26-year-old tradition that keeps

graduates safe on the night of graduation. Over 100

volunteers are needed to ensure a successful event. To

volunteer, visit www.kpparentnetwork.org/all-nightparty/volunteer

or contact the All Night Party committee

at KP.All.Night.Party@gmail.com for more information.
---
Page 18 Local Town Pages www.norfolkwrenthamnews.com June 2016

Franklin, Bellingham, and Wrentham Relay for Life

Returns to KP

By Grace Allen

The Relay for Life of Franklin,

Bellingham, and Wrentham

will take place on Friday, June

3 at King Philip Regional High

School. The event, which raises

money for the American Cancer

Society, runs from 6 p.m. to

6 a.m. Teams set up tents, and

members take turns walking

around the school's track through

the night because "cancer never

sleeps."

The family-friendly event,

free and open to the public, will

include activities, themed laps,

music, food trucks, and more.

There will be multiple opportunities

to donate to the American

Cancer Society during the night.

The event is all-volunteer run.

Louise Fonteyne, the New

England Division's Community

Manager for Relay for Life, said

that as of mid-May, 30 teams had

registered and over $13,000 dollars

had been raised.

This is the second year in a

row the event will be held at KP.

According to Franklin resident

Teresa Fernald, the high school is

a perfect venue for Relay.

"We love King Philip," said

Fernald, one of the organizers.

"They are very accommodating.

The school really participates and

the students are really involved.

It's easy to get on and off the

field, especially for the survivors."

Each year, several traditional

ceremonies take place at Relay

for Life. The event begins at 6

p.m. with an opening ceremony,

followed by the survivor lap and

caregiver lap. Survivors are then

invited into the school for the survivor

reception. The moving luminaria

ceremony takes place at

9 p.m. Bags lining the track are lit

with glow sticks and then participants

walk a lap in silence. The

bags symbolize people fighting

cancer, and those lost to cancer.

In 2012, Fernald was diagnosed

with an aggressive form

of lymphoma. Her treatment included

a drug right off a clinical

trial, and she has been in remission

for four years.

"I did extraordinarily well,"

said Fernald. "So I decided that

maybe I was given a chance to

do something for someone else.

The American Cancer Society

funds so many clinical trials and

research. That's why I put my

whole heart and soul into Relay.

I am fighting for every single person

who comes behind me."

Also on the Relay committee

with Fernald is Cheryl Rowe, the

Faculty Advisor for KP Cares, a

Last year's Relay for Life at KP.

community service organization.

KP Cares was started several

years ago by a student to support

a teacher at KP Middle School

who was battling cancer. Since

then, several KP students

themselves were diagnosed with

the disease.

"It means a lot to have Relay

at KP again," said Rowe. "The

cancer diagnoses here at KP

really hit hard. It made the kids

much more aware that cancer

can hit anybody. They really feel

impacted by it. They get it."

Members of KP Cares, added

Rowe, helped spearhead the

drive to bring Relay to the high

school. Three of KP Cares'

board members—students

Kerry Morgan, Maggie Smith,

and Krista Cepkauskas—are on

the Relay for Life committee,

and attend meetings with

ACS representatives and other

organizers.

Organizers emphasize that

anyone can come to Relay and

enjoy the events, walk a lap, and

participate in the family-friendly

activities. Themed laps include

Dr. Seuss, Scrabble, Decades,

Country, Cotton Eye Joe, and

Boston Pride. Local band Co-

Pilot will perform, as well as

several area dance studios.

Cancer survivors are

encouraged to attend the

survivor reception, with

food generously donated by

Commonwealth BBQ, the

Rome Restaurant, Cole's

Tavern, Whole Foods

Market, PJ's Bar and Grill,

and Noodles & Company.

Floral centerpieces will

be donated by Moore's

Flowers. Survivors

attending the free dinner

can register the night of

the event.

"Come on down and

see what we're about,"

said Fernald. "There's

absolutely no obligation

to do anything. We are

really just honoring the survivors

and remembering those who

have passed. Anybody can come

who's been affected by cancer…

patients, survivors, caregivers,

friends and family."

To enter a team in Relay or

to donate, visit www.relayforlife.

org/franklinma, or register the

night of the event. There are

no fundraising minimums, but

participants who raise $100

receive a t-shirt. Relay for Life

is open to the public all night,

but those under 18 must have

a chaperone after 11 p.m. For

more information about the

event, contact Louise Fonteyne

at 508-270-4668 or email Louise.

Fonteyne@cancer.org.

Freshen up your home this spring.

Visit Our Factory & Factory Outlet

Fine Cherry Furniture

131 Morse Street | Foxboro | 508-543-9417 | woodforms@comcast.net

Made in Massachusetts

Come visit our

FACTORY and

FACTORY

SHOWROOM!

Hours:

Monday - Thursday:

7 a.m. - 3:30 p.m.

Friday:

7 a.m. - 3 p.m.

Saturday & Sunday:

CLOSED
---
June 2016 Local Town Pages www.norfolkwrenthamnews.com Page 19

Community Events

June 2

SWISH Basketball Game—

Annual charity basketball

game between Wrentham

elementary school staff

and police department. For

more information and to

purchase tickets, visit www.

swish-wrentham.org. Delaney

School/Gibbons Gym,

120 Taunton St., Wrentham.

7 p.m.

June 3

Color Fun Run—Get blasted

with (non-toxic) color

while running or walking in

this Norfolk PTO fundraiser.

Fun and messy for all ages.

For more information, contact

Lisa McManus at lisa.

mcmanus99@gmail.com or

Jill Lawrence at jillh216@

gmail.com. Rain date June

10. Freeman Kennedy

School fields, 70 Boardman

St., Norfolk. 5 p.m.

June 4

Norfolk Community Day—

Annual town celebration

featuring food, fun, activities

and music for the entire

family. Holmes Transportation

Complex, 22 Myrtle St.,

Norfolk. 11 a.m. to 4 p.m.

June 6

Teen Study Night at the

Norfolk Library—The library

will be open until

10 p.m. for teens (middle

school and high school)

only. Study for exams, relax,

and enjoy some snacks

and pizza. Registration is

appreciated. Contact librarian

Marissa Antosh at 508-

528-3380x5 or mantosh@

sailsinc.org. Norfolk Public

Library, 139 Main St., Norfolk.

7:30 to 10 p.m.

June 9

King Philip High School

Graduation—Stonehill College,

320 Washington St.,

North Easton. 7 p.m.

June 11

Flea Market—The Federated

Church of Norfolk will

hold a flea market in the

church vestry. Coffee and

pastries will be available

from 8 a.m. to 1 p.m., and a

cookout lunch will run from

11 a.m. to 1 p.m. For more

information, contact 508-

528-0262 or mail@fcon.org.

Federated Church of Norfolk,

1 Union St., Norfolk. 8

a.m. to 1 p.m.

Community Yard Sale—

The Norfolk Community

League is hosting a community

yard sale open to

the public. Spaces are also

available to rent for $20,

and include a 10 x 10 area

with an 8 ft. table and chair.

$

50 OFF

Your next plumbing

or heating repair*

*Not valid on trip or diagnostic fees. This offer expires June 30, 2016. Offer code OT-A-50

Or donate your items to

NCL and they will sell them

and donate the funds to local

charitable organizations.

For more information or to

reserve a space, visit www.

norfolkcommunityleague.

org. Norfolk DPW, 33 Medway

Branch, Norfolk. 9 a.m.

to 1 p.m.

June 13

Wrentham Town Meeting—The

annual Town

Meeting will be held at King

Philip Regional High School,

201 Franklin St. in Wrentham

at 7 p.m.

PLUMBING & HEATING

Clip and save this coupon

June 15

Blood Pressure Clinic—The

Wrentham Public Health

Nurse will hold a Blood Pressure

clinic for anyone who

lives or works in Wrentham.

All ages welcome. Wrentham

Senior Center, 400

Taunton St., Wrentham. 10

a.m. to noon.

June 20

King Philip School Committee

Meeting—Monthly

meeting held in the library.

King Philip High School, 201

Franklin St., Wrentham. 7

p.m.

June 21

Cookies and Coloring for

Grownups—Join the new

coloring book craze for

grownups. Coloring is relaxing

and fun! Bring your own

coloring book and markers/

crayons/pencils. Registration

is requested: sbluhm

@sailsinc.org. Norfolk Public

Library, 139 Main St., Norfolk.

7 to 8 p.m.

Visit our website for

more coupons and

special offers on heating

system installations.

800-633-PIPE

www.rodenhiser.com

June 22

Children's Concert with

Dale Freeman—Popular

children's entertainer will

present a concert for ages

preschool to Grade 2. Visit

www.dalefreeman.com for

more information. Tickets

available at the circulation

desk. The performance is

free but canned-good donations

for the food pantry

gratefully accepted. Fiske

Public Library, 110 Randall

Rd., Wrentham. 10:30 a.m.

June 25

Music Recitals—Ivy Music

Academy will hold its

spring recitals with a reception

to follow. The public is

welcome and admission is

free. Norfolk Grange Hall,

28 Rockwood Rd., Norfolk. 3

p.m. and 5 p.m.

N/W

Our Ad &

Editorial

Deadline is

the 15th of

the month,

for the

following

month's

issue

58 E. Central Street

Franklin, MA 02038

SILVER TREE JEWELRY

The Strawberry Patch is back in Franklin doing business as

Silver Tree Jewelry where you will find top quality sterling silver and

Swarovski Austrian Crystal jewelry handmade right in town.

Silver Tree Jewelry annouces the 2016 Gradution Bracelet.

Sterling silver, Swarovski Austrian crystals and a

sterling gradution cap charm. Send her into the

world in style and show her how proud you are of

her accomplishments.

Stop in and see our latest designs as well as old

favorites including:

• Mother's bracelets

• Grandmother bracelets

• Birthstone bracelets,

• Sterling silver rings

• Handmade anklets

• Necklaces

• Earrings and more

Bring in this ad and receive

20 % OFF

your in-stock jewelry purchase

(expires 6/15/16)

508.528.0600

Hours: Tue thru Sat 10-5

Tpro Bold 2

Your adventure begins here.

Travelpro ®

Travelpro Luggage Outlet

Wrentham Village Premium Outlet

1 Premium Outlets Blvd., Suite 330

Wrentham, MA 02093 • (508) 384-0266

The choice of flight crews

and frequent travelers. TM

TPro ® Bold 2.0 collection is ready to go anywhere, over rough terrain or

city streets. Amazingly durable, lightweight and versatile, this 9-piece set is

perfect for travelers with a sense of adventure. Loaded with extras, creature

comforts and flexible packing options, this sporty collection is Travelpro's

next generation of action luggage. Every piece is backed by our reassuring

Lifetime Warranty.

Present this coupon

to receive an

additional 10% OFF

sale price, offer good

through 7-15-16
---
Page 20 Local Town Pages www.norfolkwrenthamnews.com June 2016

Sports

Net Result: Ricci Excelling For KP Girls Tennis Team

By Ken Hamwey

Staff Sports Writer

Rebecca Ricci is enjoying

her tennis career at King Philip

Regional, following the path of

her mother who not only was

a highly-skilled player, but also

competed for current coach Bob

Goldberg.

Ricci plays first singles for the

Warriors, always facing the best

tennis players in the Hockomock

League and always aiming to put

KP in position to triumph. So far,

the 5-foot-4 junior has a 6-8 record

and the Warriors are 10-5,

a record that has earned them a

berth in the tourney.

"Playing first singles is very

competitive,'' Ricci emphasized.

"I match up against the best

player our opponents have. I'm

not afraid of losing but it is annoying.

In my role, it's about taking

a hit if it helps the rest of our

team.''

Ricci's mother, the former

Rebecca Lewicki, played for KP

and relied on "blinding speed,''

according to Goldberg. Ricci's

mother currently is the women's

tennis coach at Providence College.

"It's fun playing for the same

school as my mom did,'' Ricci

said. "It's interesting because we

share stories about tennis and I'm

honored to be following in her

footsteps. I don't feel any pressure

succeeding her and it's neat that

we've played for the same coach.''

Nicknamed "Becca,'' Ricci

draws high praise from her coach.

"She's a great communicator,

a top-notch team player and a

competitor who's very intense,''

said Goldberg, who's coached at

Norfolk's summer concert series begins

this month. The concerts are usually

held Thursday evenings on the town

hill at 6:30 p.m.

Rain dates are scheduled for the following

Monday. Bring a lawn chair and

a picnic and be sure to enjoy the all-too

fleeting summer nights.

KP for 44 years. "In all my years,

which includes nine coaching at

Dean College and 35 as a tennis

ref, I've seen only six or seven

players who hit a two-handed

forehand and backhand. Becca

hits effectively with two hands

from either side and her shots are

usually well-placed.''

Goldberg is quick to laud Ricci's

effort and refers to her 6-8 record

as commendable. "There's

no way we'd be 10-5 if Becca was

not at first singles,'' Goldberg emphasized.

Ricci's goals as the season

winds down are focused on tourney

play. She's aiming for success,

both for the squad and in her

individual matches. "Last year,

we made it to the tourney but

lost in the first round to North

Attleboro,'' she recalled. "We've

got the talent to advance. As for

myself, I'm striving to get by the

first round and advance as far as

possible.''

Ricci is a big fan of her teammates

— Emily MacDonald and

Meghan Sepich in singles and

Corinne Palumbo, Kelly Masse,

Molly Citarel and Megan Davenport

in doubles. "Meghan and

Emily are very competitive and

consistent and Corinne, Kelly,

Molly and Megan are all talented,

work hard and are determined.

As for coach Goldberg,

he's a great motivator and he's

very analytical. At practice, he's

always ready to work.''

The 17-year-old Ricci relies

on power but she's also capable

with her placement. She hits

hard, especially when employing

her two-handed backhands and

forehands. "I was advised to use

both hands when I was younger,''

Ricci said. "I use spin on my

serve and try to place my lobs effectively.

Whether I'm ahead or

behind in matches, I try to stay

upbeat, but I'm intense, always

thinking about what I need to do

to win.''

A native of Wrentham who

now lives in Plainville, Ricci

played first doubles as a freshman

and went 10-5. Last year at

first singles, she compiled a 13-7

Norfolk Summer Concert Series

June 23 - Last Call Country/

Western Band

June 30 - Bill McGoldrick Acoustic

Duo with Danielle Jean

July 7 - Southeastern Mass

Community Concert

Band

July 14 - The Reminisants

July 19 - Alastair Moock: A

Tuesday Children's

Concert (held at 6 p.m.

inside the library)

July 21 - Franklin School of

the Performing Arts/

Electric Youth

record, earning first team honors

as a Sun-Chronicle all-star and

honorable-mention notice in the

Hockomock League. A good student,

she plans on a college career

majoring in criminal justice and

possibly continuing with tennis.

Roger Williams University is a

potential venue.

Ricci says her best effort so far

was a victory over Taunton last

year when she won, 6-0, in the

third set. "My match decided the

outcome and we won as a team,''

she noted. "But, what was significant

is that I kind of figured out

what's needed to be a consistent

player.''

Goldberg revealed how strong

Ricci's will is when she refused to

default in her first match of the

year against Canton. "She was

sick and I suggested she not continue,''

he said. "But, she refused,

stayed in and won her match.

Ricci said she was nauseous and

believed she had a virus. When

asked if she wanted to default,

her response was "absolutely

not.''

Ricci relies on an athletic

philosophy of competing hard,

improving and having fun. And,

she blends in all three aspects

perfectly. "I'm not going to Wimbledon,

so it's important to have

fun,'' she said. "I like to improve

and that leads to winning. Athletics

teach life lessons, like working

together, setting goals and overcoming

problems. Sports also

teach maturity. I've learned not

to get angry over little things.''

Rebecca Ricci has a bright future

in tennis and she also has a

great grasp on perspective.

July 28 - King Philip High School

World Percussion

Ensemble & El Caribe

Steel Drum Band

August 4 - Ridgefield Crossing
---
June 2016 Local Town Pages www.norfolkwrenthamnews.com Page 21

Sports

KP Boys Tennis Nets New Coach, Wins

By Christopher Tremblay

Staff Sports Writer

After King Philip lost long

time boys tennis Coach Laurie

Puddester to relocation, the Warriors

were in need of a coach.

Enter Jim McGonigle. The first

year KP Coach acquires a team

that went 12-7 last spring, but was

bounced in the first round of the

Division 1 South Tournament to

Wellesley. The Warriors have advanced

into the tournament for

the past 4 years and 8 out of the

last 9 seasons with two trips to the

Quarter Finals.

Entering this season, McGonigle

will reign over a rather young

Warrior squad, but one with a lot

of depth.

Moving up from his second

singles position last spring, sophomore

Cole Ginter will be the

Warriors top dog playing first singles

this season. A baseline tennis

player with a big serve, Ginter

plays tennis year round and currently

finds himself 4-1-1 during

the early goings.

"People have told me that he

is a much more confident player

this year," McGonigle said. "Last

year he was new to the varsity

tennis experience as a freshman."

Another warrior racketeer

moving up a notch is senior cocaptain

Garrett Schneider, who

will play behind Ginter at second

singles. Schneider is currently

6-4 overall, having played four

matches at first singles. Rounding

out the singles players is freshman

Blake Ginter, who currently finds

himself undefeated at 6-0, and

according to the coach has totally

dominated his opponents.

"I walked into some good fortune

as a coach with these two

young athletes," the new coach

said. "In addition to the Ginter

brothers we have some talented

young tennis players that should

give us a bright future."

Juniors Ryan Gemelli and

Sam Colella will play as the Warriors

first doubles tandem. The

duo, which seems to have good

chemistry, is 7-3 thus far on the

courts.

"Having played together last

year they communicate well and

seemed to feed off one another,"

McGonigle said. "Ryan has a big

serve and Sam is more aggressive

at the net."

While the first doubles team

is established, the second doubles

team is primarily the only constant.

The senior co-captain Justin

Rohan has played with five

different partners thus far. With

junior Jake Webster as his partner,

Rohan has gone 3-0 and 2-1

with freshman Marco DiStefano.

In addition to Webster and DiStefano,

the senior co-captain has

also teamed with sophomore

Aidan Ignatius and juniors Tim

Constanzo and Nick Ihley.

The first year coach is hoping

to extend KP's streak to five

straight years of making it into

the state tournament. And although

a tough feat, the Warriors

are looking to capture the Kelly

Rex Division of the Hockomock

League.

"The Hockomock League is

very tough with Franklin as the

favorite. North Attleboro will also

be right there," the KP Coach

said. "We dropped a couple of

early matches that we could have

won against these two teams, but

we believe that we can take them

out the next time we meet them.

If we can do that then we'll have

a shot at the Kelly Rex, but may

need a little help."

The young King Philip tennis

players have shown that they can

continue to improve and making

the tournament should not be an

issue.

"We're getting better as the

year goes on," the coach said.

"Right now we're playing to get

into the tournament and draw a

home match. Once you get in you

never know what can happen in

the tournament; we have a bright

future and it's very exciting."

Blake Ginter

Cole Ginter

Sam Colella (left) and Ryan Gemelli (right)

Justin Rohan
---
Page 22 Local Town Pages www.norfolkwrenthamnews.com June 2016

Proven Tips to Winning a Bidding War

"If you are trying to buy a

home right now you have probably

realized that competition is

fierce! We experience this every

Dave Matthews, CPA, Realtor

Century 21 Commonwealth

Cell/Text 617-699-0871

dave.matthews@commonmoves.com

Your real estate and tax adviser

Selling? Call for a free, no obligation, market analysis.

Buyer clients wanted. First time buyers welcome.

Under Contract

588 Andover Street, Lowell

SOLD

16 Hillcrest Road, Medfield

SOLD

79 Highwood Drive, Franklin

Sold

7 Pine House Road, Millis

Sold

5 Empire Circle, Ashland

Are you military or former military?

Ask me about the Affinity Programs

for USAA and Navy Federal

Free 2016 Tax Return Preparation

Sign a new listing agreement or buyer agency contract with me. Close on your real estate

transaction by December 31, 2016. Receive a free individual tax return preparation and

e-filing from Soundings Financial LLC.

Under Contract

11 Tucker Road, Norfolk

(Some restrictions apply. Ask for details)

year in the late winter and very

early spring. Therefore we are

right in the midst of it. The reason

this happens is simply supply

Under Contract

2 Grapevine Way, Medway

Under Contract

64 Medway Street, Norfolk

SOLD

14D Pleasant Street, Franklin

SOLD

14 Medway Branch, Norfolk

Sold

10 Liberty Road, Medfield

Sold

15 Fleetwood Drive, Norfolk

and demand. At this time of year

there are more buyers than sellers

so as soon as a correctly priced

William Raveis/Delta Realtors

503 Main Street I Medfield I MA 02052

PRESIDENT'S CLUB | TOP PRODUCER

Guiding you home

REALTOR | 774.571.7842

annemarie.smith@raveis.com

William Raveis Delta Realtors | 503 Main St | Medfield

FREE: 4 HOURS OF PROF. STAGING, PROF. PHOTOS & FLOORPLANS

betsygraziano.com

Danielle Rochefort

Realtor ® , EcoBroker Certified ®

cell: 508.954.7690

danielleREsales@gmail.com

daniellerochefort.com

Experience, Commitment, Results

SOLD

Please

call me today

to find out

why NOW is

a great time

to sell.

• Complimentary Pre-Home Inspection *

• Professional Staging and Photography

• Highest Price Analysis

*up to $500, reimbursed at closing

home comes on the market buyers

dive all over it and it sells. Every

seller who wants to sell this Spring

MAKE THE RIGHT MOVE

should list NOW! This year does

seem to have especially high demand.

The mild winter weather,

low interest rates and a stronger

economy are all factors that are

contributing to this strong demand.

Periods like this can create frustration

for buyers but the good

news is it will not stay like this

forever and as we get into June

more and more homes will come

up for sale. If you see the house

of your dreams between now and

then you should take your best

shot at it. Here are some proven

tips to winning a bidding war:

Experienced Buyer's Agent

The Importance of Having a Buyer's

Agent in a multiple offer situation

really cannot be emphasized

enough and it is the first step you

should take when setting out to

buy a home. They will guide you

through the entire Home Buying

Process and provide you with all

the data and analysis you need to

compare properties and decide

How Much to Offer on a home in

a bidding war situation. They will

prepare you for what is to come

each step of the way and give you

very valuable insight into how to

negotiate in a multiple offer situation.

Have an Updated Pre-Approval

Letter in Hand

Have your pre-approval letter

in hand even before you start

looking, and have it updated so

you don't miss out on getting the

home you want. Make sure the

amount you're pre-approved for

is the amount you're offering on

the home. If you want to make

an offer on a home that is priced

above what you're pre-approved

for, get it updated to match that

amount so long as you qualify.

Getting the Right Mortgage Broker

and obtaining a pre-approval

ahead of time is a must in order

to buy a home in this market. If

there are multiple offers on the

home, having a recent, up-to-date

pre-approval letter is a distinct advantage

over a buyer who doesn't.

Make it Personal

Writing a letter to the seller

about why you are the best person

to own their home. It may help to

humanize the transaction. Most

sellers want someone to love the

house as much as they did. Tell

the seller why you love the home,

why you would be the best owner

for the home, and tell them a little

about yourself so the seller can
---
June 2016 Local Town Pages www.norfolkwrenthamnews.com Page 23

picture you as the owner. A home

seller may connect with a buyer

who expresses how much they love

the neighborhood or will maintain

the garden they planted. A personal

letter may give you an added

advantage when it comes time for

the seller to accept an offer.

Keep Contingencies/

Demands at a Minimum

A seller will prefer a buyer who

doesn't put any contingencies in

their offer, such as having to sell

an existing home before they can

purchase a new one, or having a

home inspection done. Although

we generally do recommend that

buyers have a home inspection,

in a competitive situation it can

help not to. Keep your demands

at a minimum as well. Too many

back and forth negotiations about

repairs or appliances will make the

seller turn to another buyer. Only

request what is necessary. If you

must have contingences such as

a home inspection, make sure the

timelines for them are short so you

get it over with as soon as possible.

Make Your First

Offer Count

The most popular question

that Realtors receive from buyers

is How Much Should I Offer?

Speak with your buyer's agent

about what your first bid should

be, and make sure it's your best.

Also be aware that you will not

be able to find out what the other

buyers are offering. You will often

only get one chance to bid on a

home, and an experienced agent

will know the market and what the

best offer will be for your budget.

Don't waste your time – or the

seller's time – with a lowball offer.

Above all be patient! Don't get

caught up with emotions when

presenting your offer or take it

personally if your offer is rejected.

There are many factors in play

during multiple offer situations,

and you won't always know all the

reasons why a seller chose another

buyer". Source: Unknown

Time for a Second Home?

Purchase a Vacation Home in Orlando Florida

New Construction Estate Homes Townhomes Condos

er Rd, Foxboro 25 Brandywine Rd, Franklin 6 Liberty Rd, Medfield Lot 6 Rockwood Ln, Medfield

The Kim Williams Real Estate Team truly understands our area. Our sales professionals

are qualified experts when it comes to representing the affluent real estate market. Rest assured

that we can offer the highest level of service and support for your real estate needs.

NEW CONSTRUCTION

bon Tr, Norfolk

Use your home as a vacation on rental investment or a vacation on

getaway! Ask us about our stay and tourprogram - stay in our

vacation homes while you tour the area for your new home.

HomeSalesnearDisney.com • (863) 420-7247

TO LEARN MORE

SCAN QR CODE

18 RIDGE RD, NORFOLK, MA

4 beds, 3 baths, 3,200 sqft • $649,900

Located in Maple Park Estates

Highly sought after Ridge Road in Pheasant Hill. Beautiful home

with updated appliances, granite & turn key interiors. 3 car garage,

50 Barnstable Rd, Norfolk 30 Berkshire St, Norfolk 76 Cleveland St, Norfolk

mudroom, large family room, finished basement & generously sized

rooms. Lovingly maintained home with great floor plan & professionally

landscaped lot with stone walls & lovely perennial beds.

16 BRISTOL POND DR, NORFOLK, MA

4 beds, 3 baths, 3,200+ sqft • $779,900 and up

To-Be-Built quality craftsmanship, high-end finishes & attention

to detail are the hallmarks of the final phase of Bristol Pond

Estates, one of Norfolk's most admired neighborhoods. Idyllic cul

de sac setting. Several plans and several lots to choose from.

Meadow Rd, Norfolk 2 Diamond St, Norfolk 8 Essex St, Norfolk 51 Grove St, Norfolk

ain St, Norfolk 18 Maple St, Norfolk 59 Myrtle St, Norfolk 29 North St, Norfolk

in Rd, Norfolk

Run Your

Real Estate Ads

& Inserts

With Us!

Call 36 Robin Lori Rd, Norfolk Koller 24 Stop River Rd, Norfolk

508-934-9608

sold all of these

es in 2015…

can deliver the same

s for you!

No. 1

Selling

Agent for

Norfolk in

2015

28 BERKSHIRE ST, NORFOLK, MA

4 beds, 3 baths, 3,873 sqft • $788,900

Located in Maple Park Estates

Spacious interior with Open Floor Plan in desirable Maple Park Estates

neighborhood. Sun-filled Open Family Room & Kitchen with Cathedral

Ceilings, skylights & access to screened porch & 2-level deck system.

Luxurious Master Suite with sitting area, extra large walk-in closet,

ensuite bath with water closet, jetted tub & large vanity.

Certified Luxury Home Specialist

14 BRIDIE LN, NORFOLK, MA

4 beds, 3 baths, 4,038 sqft • $624,880

Updated & impeccably maintained home on a stunning,

professionally landscaped lot. Gleaming hardwood floors,

updated appliances, stunning granite and beautiful built-in

features. Oversized bonus room. 2nd private staircase access

offers Au Pair options. Stunning Master Suite with ensuite bath.

Schedule an appointment to view our Fine and Luxury Home Collection.

KIM WILLIAMS

TEAM

CELL: 508 298 9725

WEBSITE: www.kimwilliams

realestatesales.com

TOP 2% OF

NETWORK
---
Page 24 Local Town Pages www.norfolkwrenthamnews.com June 2016

Mass Audubon Stony Brook Announces Its June Programming

Summer breezes are already here at Stony Brook!

Early Morning Birds: Tuesdays

in June from 7 to 8:30 a.m.

Spring brings a variety of birds to

Stony Brook, as migrants return

to nest or stop over on their journey

north. Take a morning stroll

with Doug Williams and/or Jack

Lash and discover the wonderful

LESS BUMMER

THIS SUMMER!

Lose 20-40 lbs

in 40 days...

Guaranteed!

New technology targets belly,

butt, hips and thighs.

No Exercise Needed!

No Drugs! No Hormones!

Book a Free Consultation at

newenglandfatloss.com

Lifetime Fat Loss New England

22 South Street

Suite 204, Hopkinton

creatures of the area. Nature lovers

of all levels are welcome! We

will focus on identifying birds by

habitat, behavior, color and call.

Tell your friends. Fee: $6m/$9nm

Tiny Trekkers: Saturday, June

4 and June 18, from 10:30 a.m. to

noon. Each day will have a special

Hello, Swim Suit Season!

844-437-8446

topic created to excite your child

about the natural world. This

month's themes: Our Webbed

Footed Friends/ Fabulous Frogs.

Ages 2.9 to 6 with a parent. Fee:

$5m/$6nm per person per session

Summer Hike at Quabbin

Reservoir: Sunday, June 5, from

DOCTOR

SUPERVISED!

188 Needham Street

Suite 255, Newton

9:30 a.m. to 2:30 p.m. Quabbin

Reservoir is a pristine 18-mile

long reservoir, secluded in almost

55,000 acres of uninhabited

woodland. We will start at the

Visitors' Center on our search for

Bald Eagles, Porcupines, Coyotes,

River Otters, Common Ravens,

and Pileated Woodpeckers, along

with views and/or evidence of all

3 Mass. Mega-mammals (Moose,

Black bear, Deer). Dress for the

weather including good walking/

hiking shoes, plus bring something

to keep the bugs at bay.

Bring Lunch. Fee: $32m/$39nm

We Are Nature, Thursday,

June 9 and June 23, from 11 a.m.

to noon. Join Ms. Jessica for a developmental

nature program that

encourages toddlers to discover

the wonders of nature as they

learn more about themselves.

Each week offers different themes

and questions for these little explorers

to ponder. Leave with a

tired toddler, and new enthusiasm

for our natural world.

Ages 2.5 to 5 with a care-giver.

Fee: $4m/$5nm per person per

session

Beaver Walk: Saturday, June

11, from 8 to 9 p.m. There is

no more exciting time to get out

onto the sanctuary than around

sunset and just after. The fading

light signals many of the animals

that it is time to get out and start

their daily activities. Creatures

such bats, moths, beavers, foxes,

raccoons and many others will

become active, foraging and

moving about. Bring your flashlight

and we'll cover the lens in

red to preserve our night vision

before we head outside. This program

will be held rain or shine, so

please dress for the weather. Fee:

$9adult/$6 child; $11/$7nm per

person

Herons at the Nest: Sunday,

June 12, from 9 to 11:30 a.m.

Join us for an easy walk to a magnificent

rookery which serves

as home to more than 30 pairs

of great blue herons near Stony

Brook. Herons raise their young

in giant stick nests built high up

in standing dead trees in the

middle of wetlands. Wetlands

are generally very busy places

in the summer so we will spend

time searching for the many other

species such as Wood Ducks and

Hooded Mergansers that call

these habitats home. We will carpool

from Stony Brook a short

distance to the rookery. Bring

cameras and binoculars. Fee:

$11m/$14nm

Whoo's Out There: Evening

Wildlife Prowl: Friday, June 17,

from 7:45 to 9:15 p.m. Explore

the fascinating world of Stony

Brook after dark. It's a magical

time of day and adventures out

on the trail often reinforce that

notion. You never know what

you will find on a walk around the

trails after sunset. We'll be on the

lookout for the many creatures

that roam the wetlands, fields

and forest in the early evening.

We might hear, or even see, owls,

beavers, frogs, otters, bats or other

nocturnal animals. Minimum

age 6. Fee: $9adult/$6childm -

$11/$7nm

What's the Buzz? Native Bees

of Massachusetts: Saturday,

June 18, from 1 to 3 p.m. Bees are

fascinating and very important

contributors to healthy ecosystems.

Although bee keepers have

been stewarding honey bees for

thousands of years, those bees are

not native to our country and are

not the best pollinators for many

of our native plants. Join Sean

Kent, Education Coordinator for

the Museum of American Bird

Art at Mass Audubon to see his

beautiful images of these incredible

pollinators and learn about

their natural history and efforts

to conservation these amazing

creatures. Fee: $8m/$10nm

Learn the Ferns: Saturday,

June 25, from 10:30 a.m. to

12:30 p.m. Ferns have been an

important component of the

landscape since before dinosaurs

roamed the earth. They predate

the pines, spruces, hemlocks and

all the beautiful flowering plants.

Although they do not flower,

their graceful arching forms add

their own special beauty to our

forests, fields and gardens. There

are fewer than 100 kinds of ferns

growing in our landscapes; we

will focus on recognizing the key

characteristics for identifying the

common and not so common

species. Join us to learn the skills

you will need to recognize the

common ferns in your landscape.

Fee: $17m/$21nm

Pre-registration is required for

all programs (except as noted).

For more details, contact us

at 508-528-3140. Register by

phone, email (stonybrook@massaudubon.org),

fax (508-553-

3864) or in person. Stony Brook

is located at 108 North Street in

Norfolk.