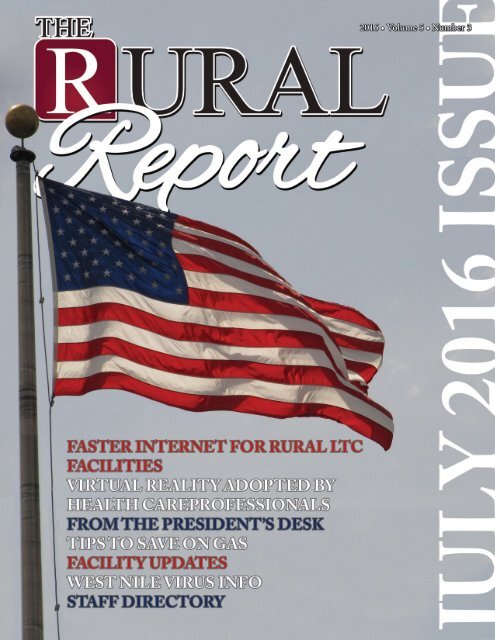 You also want an ePaper? Increase the reach of your titles
YUMPU automatically turns print PDFs into web optimized ePapers that Google loves.
2016 • Volume 5 • Number 3
---
15

Quarterly

Puzzles

Print out our

quarterly puzzle

page for your

staff or residents to

enjoy! We have a sudoku

puzzle, a word

scramble, and a crypted

quote puzzle for all

to enjoy.

14

West Nile

Virus Info:

Summer time and

mosquitos. The

first thing that

comes to mind is West

Nile Virus. What is

West Nile Virus? It is a

virus that is spread by

an infected mosquito.

West Nile Virus is

worldwide and is generally

more prevalent during

late summer to early

fall, when mosquitos are

around.

8-10

Facility

Updates

Get the latest

news from our

facilities. Updates

events and other

community involvement.

4 8 6 2

3 1 7 6

1 3

2 4 7

7 5 8 9

1 4 5

7 8

5 1 9

1 6 L XY Z Y FL K N B LR

Why do you

always play so

soft?!?!

SUDUKU Jumble Game

Crypted Quote:

The quote below has had all of its letters switched

with another in the alphabet. Use clues like

sentence structure and length to solve the puzzle.

Example: XAFFAW -> BETTER

VEYMG JL LXY T H L HEY

GF LR J EYNL Y GL –

NZENX NQ A GUJRA U

A b c d e f g h i j k l m

n o p q r s t u v w x y z

L i ttle Noc olo's teac hers

regrette d their instruc -

t ions a fter t hey told him

t o .

Combine

the circled

letters to finish

the above

sentence

Unscrample the letters below to form every-day

English words.

EMS IGH T O N

MIFLA Y

T TUEND S

RCAIG

IEU R RQ E

C E ROPD U
---
5

From The

President's Desk

Updates from Ron Ross

Have you ever

heard that you

can get better

gas mileage from

keeping your tank below

half full? Or have

you heard that a full

tank gives you the

greatest savings on

gas? Either way, read

some tips to save money

on gas.

Tips on

Saving

Gas

10

Since the purchase

of Oculus Rift,

a virtual reality

company, by Facebook

for 2 billion dollars,

many technology

buffs are excited to see

the technology fall

into consumer hands.

Though Virtual Reality

can be used as a

form of entertainment

the medical community

has adopted it with

open arms faster than

some have predicted.

Read about how health

care professionals are

using Virtual Reality.

Virtual

Reality

Adopted

by Health

Care

Professionals

4

Soon long term

care facilities will

be able to apply

for federal funds

to help them pay for

faster internet. The

federal legislation is

believed to be signed

into law soon by president

Obama. The law

allows Long Term

Care facilities to be

covered under the Rural

Health Care Program.

Faster

Internet

for Rural

Providers

4

Proud

Member of
---
VIRTUAL REALITY ADOPTED BY

HEALTH CARE PROFESSIONALS

It's no secret that Facebook purchased Oculus

Rift, a virtual reality company, for 2 Billion dollars. The

founder Mark Zuckerberg said in a post back in March of

2014 "Oculus's mission is to enable you to experience the

impossible." If you haven't yet experienced VR (Virtual

Reality) yourself you may think that this is an outlandish

statement. Though Zuckerberg envisioned that VR would

be able to do wonderful things this writer wonders if he

foresaw the outlandish support and adoption of this

technology by heath care professionals. Indeed VR is

currently allowing us to do things in the medical field

that before were impossible. What is impossible with some

of our modern medicine and techniques may become

plausible or even possible with Virtual Experiences.

Not only can Virtual Reality be used in treating

patients but it can also aide in the training of medical

professionals without risk to a real person. Before

physicians would have to practice on cadavers or alongside

another surgeon during a real operation to get

hands on experience in surgery. Not so with the new VR

experience with tactical feedback. Not only are surgeons

able to perform surgeries on digital people they are also

able to conduct surgeries across continents with the aid

of both VR technology and robotics.

Page 4
---
R e m o t e

Surgeries

It may sound like

science fiction to know that

it is now possible for a doctor

in Tokyo to conduct a surgery on

a patient in Cambridge, Nebraska

but it is a reality. Currently the

industry is working on perfecting the

feedback from the robot performing the

task to the surgeon, because perform intricate

tasks via the internet requires a great level of

feedback from the robot to assist the physician

in applying the right amount of force during an

operation. This feedback along with the stereo vision

that VR (Virtual Reality) gives the doctor can greatly

increase the speed and accuracy of the procedures.

A little trivia:

The first complete remote surgery or telesurgery

happened on September 7, 2001 and was dubbed Operation

Lindbergh after Charles Lindbergh who made the

transatlantic flight from New York to Paris. This surgery

was also done by a doctor in New York while the 68 year

old patient was located in Strasbourg, France.

Pain Management

Surprisingly enough the US military conducted a

study involving a virtual reality game called SnowWorld

in which players would throw snowballs at penguins

while listening to music and observe its effect on pain

management. The study showed that, for solders that were

wounded by burns found, the game was more effective than

morphine in managing pain. The university of Washington

Seattle created the game in an effort to reduce pain by using

Virtual Reality as a distraction while doing painful wound

care on burn victims.

Also Virtual Reality has also been used in helping cure

phantom limb symptoms of patients who have had

amputations.

Other uses

VR has been used in a myriad of ways by the medical

field, from being used to treat phobias to diagnosing brain

damage. As technology continues to advance we are sure to

see drastic change in how we treat and deal with ailments.

If you are curious about VR and have any smartphone, you

can purchase a low cost google cardboard VR kit for about

$20. If anything it could bring a great bit of fun into any

environment and maybe a few laughs

FROM THE PRESIDENT'S DESK

Nobody said it was going to be easy. Rural nursing homes continue to have

many , many challenges. We continue to see a decline in census as people

move to more urban areas. There are several reasons this takes place.

The two obvious reasons are: they move to where their children live

and work: and the cost continues to rise. It is also getting difficult

to find employees. We cannot let these challenges keep us from

providing good care. It will take everyone in the community

to work together and we will continue to overcome the

challenges.

Page 5
---
Faster Internet for Rural

Skilled Nursing Facilities

Rural Health Care

Connectivity Act

of 2016

Soon long term care facilities

will be able to

apply for federal funds to help them

pay for faster internet. The federal legislation

was signed into law by president Obama on June 22,

2016. The law allows Long Term Care facilities to be covered

under the S.1916 Rural health Care Connectivity Act of 2015.

As the medical field adopts more and more technology

based services, the need for fast internet connections has become

exceedingly necessary. The Rural Health Care Connectivity

Act of 2016 that was singed into low will help subsidize the

high cost of broadband internet for rural communities

where such services are either too

expensive or non-existent. The law

will allow for funds to be administered

to pay the difference in

cost between what

rural

telecommunication companies charge and what urban telecommunications

company charge.

With the law to be enacted within 180 days of its signing,

you may find that more ISPs (Internet Service Providers)

opting to bring greater internet coverages to rural areas. The

current law, which was amended to included skilled nursing

facilities, states that if there is no approved telecommunication

provider in your area then the state will ask a telecommunication

company to provide service to the area if it is a public

request. The law states that the only caveat to this rule is if the

act of providing service is de minimis, or trivial to

the company.

Page 6
---
Monday, December 19, 2016

The date that Skilled Nursing Facilities will be included

into the FCC's legislation that grants funds for subsidizing

telecommunications for Rural Providers.

The Rural Healthcare Connectivity Act of 2016 includes

Skilled Nursing Facilities into the list of community

health care centers, hospitals, and medical schools that are

granted funds to split the difference of the cost of telecommunications

based on what urban providers charge and what

rural providers charge. This means that if in a major city in

your state you can get phone and internet services for $500

less per month less, your facility now may be able to pay the

same rate as your urban partners.

The legislation was attached to a chemical safety act

which passed both the house and senate before being signed

by president Obama on june 22, of 2016. This Act amended

the Communications Act of 1934 (47 U.S.C. 254(h)(7)(B)) to include

"Skilled nursing facilities (as defined in section 1819(a)

of the Social Security Act (42) U.S.C. 1395i-3(a)."

Can I go through any telecommunication company?

The legislation stipulates that you must go through designated

telecommunication providers in your area, and

also the Universal Service Federal-State Joint Board requires

facilities to bid telecommunication service for 28 days prior to

accepting the lowest cost bid while also regarding features,

quality, reliability, and other factors.

How do I apply for this assistance?

You can apply for assistance if you are eligible under the

Rural Healthcare Connectivity Act of 2016 if you are a

non-profit entity that offers skilled nursing services in a declared

rural area.

The Health Care Providers Universal Service has

a Description of Services Requested & Certification Form

(FCC Form 465). This form is the first step

that you need to take in

order to apply for

assistance.

How do I know if my facility is in a declared rural

Area?

You can use the tool located on the RHCD website here:

http://www.usac.org/rhc/telecommunications/tools/

Rural/search/search.asp or call the Rural Health Care Division

at (800) 453-1546 to see if you are eligible and meet the

criteria.

The only exception for meeting the rural location

requirement is if your urban facility is required to pay toll

charges in order to reach the internet, and in which case the

lesser of being paid $180 or 30 hours is available to you.

What entities are covered under this law?

Currently until December 19, 2016 the following entities

are eligible:

•Post-secondary educational institutions offering health

care instruction, teaching hospitals, and medical schools

•Community health centers or health centers providing

health care to migrants

•Local health departments or agencies

•Community mental health centers

•Not-for-profit hospitals

•Rural health clinics

And on Monday, December 19, 2016:

•Skilled nursing facilities (as defined in section 1819(a) of

the Social Security Act (42) U.S.C. 1395i-3(a)

References:

H.R.2576 - Frank R. Lautenberg Chemical Safety for the 21st Century Act

The United States Telecommunications Act of 1996

Rural Health Care Pilot Program

S.1916 - Rural Health Care Connectivity Act of 2015

Page 7
---
FRIENDSHIP HOME

Audubon, IA

It's a SMALL WORLD with a

BIG HEART" the theme of National

Nursing Home Week was just as the

motto states; community members

and volunteer groups uniting with big

hearts to help the week be a success!

The Friendship Home kicked off the

week with the Audubon 1st Graders

and Residents releasing balloons

and the Mayor joining us to sign the

proclamation, Tuesday followed with

a fashionable ladies tea and hat show,

Wednesday musical entertainment

enjoyed by all, Thursday a Christian

service honoring staff and caregivers

with a "blessing of their hands" and a

carnival that was a huge hit with the

Children of the Children's Nest and

Residents and Friday finished out the

week with a Barbeque. In addition to

all the festivities inside we had groups

of awesome volunteers from Thrivent

Financial Services and The Audubon

School who helped us plant new

shrubs and flowering plants in front

of the nursing home and around the

gazebo area. Without, BIG Hearts this

would not have been possible.

SARAH ANN HESTER

MEMORIAL HOME

Benkelman, NE

Summer is here. We have seen

some days reach near 100 degrees.

In order to enjoy the outdoors, the

residents about have to get out in the

morning or evening, as during the

heat of the day it is just too dangerous

for the elders to be outdoors. We are

looking for some type of awning to

put out in our courtyard that will

increase the shaded areas for sitting

and enjoying the summer days. We

have not found exactly what we want

yet, but the search is on. We have

also purchased some small wading

pools and activities plans on having

a pool party where the residents can

sit around the wading pool and at

least get their feet wet. It sounds like

fun. Maybe I will join them. We also

have a new bench in the courtyard

thanks to the generosity of the family

of a former resident who used their

memorial money to purchase a lovely

bench which is made out of very

durable material and is elder friendly

for sitting and enjoying the courtyard.

Hope everyone stays cool and

has a fun and safe 4th of July. -

Janice Edwards, Administrator

SKYVIEW AT BRIDGEPORT

Bridgeport, NE

Skyview at Bridgeport is a

multigenerational facility with great

support from the community. During

May we celebrated the coming of

Spring with Mrs. Soto's six grade

class by spreading the gift of beauty

by way of plants and flowers. A rose

plant with a solar powered cross

was dedicated to all the residents'

that passed in the last year during a

Memorial Day tribute. Resident's and

volunteers helped to plant and water

the new additions to the Court Yard.

May is a busy month with

National Nursing Home Week, which

is when we choose and crown the

Skyview Royalty. This year Kine Bill

Jafferis was crowned King and Arlene

Huwaldt was crowned Queen. The

Kings attendant is Johnny Camacho

and the Queens attendant is Ethel

Frerichs. Ethel had just celebrated

her 100th birthday with many family

celebrating the occasion.

In honor of the crowning of Skyview

Royalty we had cake, ice cream and

cold beverages in the dining hall while

taking in the music and performance

of the Green Valley Homestead

Players. A good time was had by all

and we shared a memorable National

Nursing Home Week.

PONDEROSA VILLA

Crawford, NE

Hello everyone, it is that time

of year again when we begin getting

prepared for the 4th of July. Here on

the Ponderosa Villa front lawn we

will be serving hot dogs off the grill,

popcycles & popcorn during the parade

as well as cold iced tea & water.

The parade starts by coming through

the drive way here at teh Villa so all

of the residents get a good look at

the floats, there is also plenty of extra

room to sit and watch the parade. So

bring your lawn chairs and don't forget

the sun screen, we hope to see you

here. Also look for our entry in the

parade, we will be giving popcycles &

popcorn to the on lookers.

Roxi Daviews - Activities Director

COLONIAL HAVEN/COLO-

NIAL COURTS

Beemer, NE

Greeting from Colonial

Haven! Did you know that Mr. Potato

Head was the first toy advertised

on TV? Did you know Bingo was

originally called Beano? And the

city of Goose Flatts had its name

changed to Tombstone in Arizona.

Did you know in Utah in the 1870's

you could get a divorce for 2.00 from

a slot machine? Did you know that

President Andrew Jackson's pet parrot

was removed from his funeral for

swearing?

Our residents' had fun

guessing if these questions were true

or false in their game of Trivia. Just

like Trivia the group exercise program

we run six days a week keeps everyone

entertained and functioning at their

best. So stop in at Colonial Haven

and have some fun with us as our

residents' exercise their minds and

bodies.

Page 8

BERTRAND NURSING

HOME

Bertrand, NE

Friday April 15th the

Bertrand Nursing Home and Assisted

Living honored over 40 volunteers

and church organizations for their

commitment to the Home. Megan

Stuart, Activities Director addressed

the assembly of volunteers and

residents. She thanked them for not

only being here today, but also for all

the time and effort that they have put

in, a fun and active atmosphere. Betty

Meyer was voted by the resident's and

staff as Volunteer of the year for 2015.

Congratulations!

On May 6th we held our 3rd

Annual Women's Tea! There were

approximately 50 guests who enjoyed

the afternoon of entertainment, tea

and fellowship. We had eight tables

decorated for the event. Businesses,

members of the community and

employees volunteered to decorate a

table. Thank you from all the staff and

elders at the Bertrand Nursing Home

& Assisted Living!

CALLAWAY GOOD LIFE

CENTER, INC.

Callaway, NE

Each year, the Callaway Good

Life Center has a fundraiser that

honors and remembers loved ones.

For every $25 donation, a flag with

the requested honoree or memorial

name is placed around the walkway

in the front yard. The Callaway Good

Life Center Annual "Walkway of

Flags" was a great success again this

year thanks to the many generous

flag sponsorships and donations. 90

American Flags flew in our front

courtyard area for 2 weeks; from May

23 – June 3rd 2016. Total donations

were $3240.00 and these funds will

be used towards special projects at

the center like a new steamer for the

kitchen, new lounge furniture for

our activity room, new raised garden

boxes for our residents and picnic

tables for our new covered picnic area

in the back yard!

Thanks to all who supported

the Callaway Good Life Center in

meeting our goals!

ST. JOSEPH'S VILLA

David City, NE

SJVC has been making

the rounds to cemetery's to allow

residents to place flowers on their

loved ones graves, releasing butterflies

at our annual memorial day service,

going to Dairy Queen and taking road

trips to see how the water and crops

are doing. Since the weather has been

so nice, there is a lot of setting on the

front porches and visiting.

Sister Pytlik has been playing

the piano for rosary and mass. This

has really added to the services and all

who attend are enjoying having live

music. She also enhanced the print

size for the music so it is easier to read.

We would like to thank Sister for all

she does for SJVC. She developed a

'virtual tour' for the SNF side and

will do one for the A/L side as soon

as possible. We plan on using them

for marketing and admissions as well

as put them on the website.

Have a great summer…..May

God Bless………..Sandra Palmer,

ADM
---
GLEN HAVEN HOME/

LINNWOOD ASST. LIVING

Glenwood, IA

We are pleased to announce

that Eagle Scout group with Trevor

Stanley has started the butterfly

habitat and a raised bed for gardening.

Please go to the back patio and check

it out it looks beautiful!

GLENHAVEN VILLAGE

PROJECT UPDATE:

We met with the Governor

last week and he has given his blessing

to the project! Phil Warren has been

very busy obtaining donations. If you

read the paper last week the Rhoden

Foundation made a commitment to

a $5oo,ooo.oo matching grant, that

means the foundation will match

dollar for dollar up to $500,000.00

that is obtained by October 1st 2016.

Thank you Rhoden Foundation for

this wonderful gift and Phil for a job

well done!

HILLCREST CARE CENTER

Laurel, NE

We have many new projects

that we are going to be starting at

Hillcrest Care Center. Our resident

council decided that they wanted to

take on the project of sprucing up

our patio outside of the dining room

so they would have a nice area to sit

and visit with each other, and their

family members. We are going to turn

it into an outdoor living area with

new cushions for our furniture, and

a painted rug. We are going to extend

our flower bed in that area to run the

entire length of the Nursing Home,

and Assisted Living. This will be our

memorial garden, and any time that

someone leaves us memorial money

for plants or landscaping they will go

in that area with a memorial plaque.

We are also planning to spruce up the

rest of our landscaping this summer,

and if anyone is thinning their plants

in the community we would welcome

donations for use around the facility.

THE LUTHERAN HOME

Omaha, NE

Zoo Trip!

Has more advantages than

a just an "outing" Interacting with

animals on any level—including

taking a periodic trip to the zoo can

offer numerous advantages.

Animals can help lower

blood pressure, and increase feelings

of happiness and wellbeing in people

of all ages, according to the Centers

for Disease Control (CDC). Zoo

excursions also get an aging adult

out and about, increasing their

opportunity exercise and social

interaction, while decreasing their

risk for developing symptoms of

depression.

Taking a trip to the local

zoo or farm can also be a wonderful

way to expose your loved one to the

pros of animal interaction, without

risking the problems that often arise

for elderly pet owners.

SUTTON COMMUNITY

HOME

Sutton, NE

Small Town Run Reaches Big

City Runners

On May 28, 2016 Sutton

Community Home hosted its 3rd

Annual Run for a Resident mile funrun,

5k, and 10k. The event is on a

mission to break stereotypes about

older adults and nursing homes. So

intriguing was the cause to three

Dallas, TX based runners that they

choose to make the drive up to

Sutton to participate. Kathy Bradley,

Tricia Meek, and Jayme Meek are on

a mission to run in all 50 states; for

their 14th race, they choose Nebraska

and beautiful Sutton. Bradley, Meek,

and Meek said the best part of the race

was participating on the course with

4 SCH residents and meeting longtime

marathoner and poster boy of

the 1976 Runner's World magazine,

resident Don Hunt, who handed out

medals to winners.

COLONIAL ACRES

Humboldt, NE

We've had so many

celebrations during the last month!

Not only did we celebrate National

Nursing Home week with a balloon

lift-off and a picnic for our residents

and their adopted 5th graders, we

also celebrated National Nursing

Week. Our Assisted Living had a

special Mother's Day luncheon and

residents were able to invite a guest,

everyone enjoyed the afternoon.

We've got a big week planned to

recognize our dedicated CNAs during

National C.N.A. Week and of course,

we are planning special Father's Day

Activities, too.

We are pleased to announce

that we have completed the

transformation of one of our two

bath houses with a complete remodel

that includes a walk-in tub. It's been

tiled in earth-tone colors and one

of our residents said, "It looks like

a spa!" We've started work on our

other bathhouse and expect the large

shower room to be completed by the

end of June.

Another major improvement

completed this winter was the paving

of our parking lot. Our outpatient

therapy clients are thrilled to have a

smooth surface so they can enter the

building easily and resident families

are grateful that they no longer have

to walk through the gravel parking lot.

MITCHELL CARE CENTER

Mitchell, NE

Nursing Home week makes

everyone HAPPY, the residents had

so much fun dressing for the days

and participating in the activities.

Our PROM was very therapeutic

for some and reminiscent for others.

Staff danced with residents, residents

danced with residents, residents

danced by themselves and so did

some of the staff. Stephanie ,Angie

and Jeanie, a family member, tried

to be doo whop dancers (epic fail).

Everyone laughed, danced and had

a good time. A Time to Reflect was

a good choice for the name of our

Prom.

PARKSIDE MANOR

Stuart, NE

Summer has definitely made

it to Stuart! We've seen temps all the

way up into the 90's, which many of

the residents have told me is "just

right"! Our Activity Director has

several van trips scheduled and we

are also looking into some fishing

trips for some of the residents who

enjoy sitting by the pond! Stuart

has its big 4th of July Celebration, so

hopefully some residents will want to

take part in some of the activities in

the community. If you've never been

to the Stuart 4th of July celebration

you are definitely missing out! They

will have Cruise Night again this year,

which will go directly in front of our

building. We are hoping for many

visitors to stop by to join our residents

in the celebration. We have started

a monthly "Men's Club" which seems

to be a great success. We would like

to wish everyone a Safe and Happy

Summer!

ALPINE VILLAGE RETIRE-

MENT CENTER

Verdigre, NE

Alpine Village celebrated their

annual Kiddie Parade on June 11th.

This year's theme was "80's Toys". A

total of 11 floats were entered with 21

kids participating. All kids registered

for door prizes of ride tickets and pool

passes. Lunch of hot dogs, chips, pop,

popcorn and ice cream were free to

all in attendance. Thanks to our many

sponsors!

Page 9
---
SUNRISE HEIGHTS OF

WAUNETA

Wauneta, NE

Sunrise Heights celebrated

National Nursing Home Week with

a festive week of fun activities! Our

theme was "Dirt Roads and Country

Hearts". We kicked the week off with

a Mother's Day Social, serving pies

and entertainment provided by Kalli

Hoskovec, daughter of our Office

Manager, Julie. Monday, we wore

hats and bandanas and Tuesday was

"Little House on the Prairie Day". Staff

dressed in outfits like what was worn

during pioneer days and we had a staff

pot luck. Wednesday was "Wild West

- Cowboys N Indians Day". We had a

lot of fun that day, with a "shoot out at

high noon", using nerf guns. Thursday

was our big community Backporch

Barbecue held in our parking lot. We

had lots of community visitors for

hamburgers and hotdogs, grilled up

by board members, Tony Cribelli and

Page Johnston. We also served salad,

chips and dessert bars. Local favorite

musician, Ron Scott, entertained the

crowd with his guitar and singing

good old country tunes. Residents,

staff and visitors even danced! All staff

wore their new Sunrise T-Shirts so

we stood out in the crowd! The week

ended with "Comfy Clothes Day" -

to celebrate making it through a busy

week. Thank you to everyone who

made the week special!

WILBER CARE CENTER

Wilber, NE

Summer is here. Wilber Care

Center residents have been enjoying

the outdoors as much as possible. We

have taken several van rides around

town and the local area, we are also

enjoying being able to do many

outdoor activities on the patio.

Our room remodel project is well

under way. The construction crew is

working on the first two rooms and

we are so excited to see the finished

project . I myself can't wait to see the

reaction of residents, families and

staff when they see the changes that

will be taking place to our facility. I-

Page 10

-am so grateful that the City council

and board of directors approved this

project. I know for sure these rooms

will feel so much more like home.

We continue to work on

improving on how we care for our

Elders and continue to strive to make

them feel as comfortable and at home

as possible.

PLATTE COUNTY

LEGACY HOME

Assisted Living

PLATTE COUNTY MEMO-

RIAL NURSING HOME

Wheatland, WY

Cinco de Mayo was a real

celebration at Platte County Legacy

Home. The residents were treated

to a slide presentation on Mexico,

music, Mexican food and a cooking

demonstration on how to make Taco

Cookies. Samples were passed out to

everyone's delight.

NEW FACILITIES!

SANDHILLS CARE CENTER

Ainsworth, NE

The Interlocal board is now

the owner of the building at 143

N Fullerton. The transfer of the

building from previous owners was

effective June 7, 2016. The Interlocal

Board plans to reopen the skilled

nursing facility under the name of

the Sandhills Care Center (SCC) and

begin accepting resident admissions

later this summer or early fall.

On June 7 2016, Rural Health

Development, Inc. (RHD) was hired

by the Interlocal Board to manage

the facility after it reopens. A new

administrator – Stephanie Rucker

from Gordon, NE – has been hired by

RHD with input from the Interlocal

Board. Stephanie will start July 1,

2016. She will soon be moving to the

Ainsworth area.

RHD will work hand-inhand

with the Interlocal renovation

committee members, plus RHD

will soon begin hiring vendors and

applicants who are interested in

employment at SCC.

This is an exciting time for the

community. It is an opportunity to

bring back elders who had to transfer

to other facilities after the Spring

2015 closing of the facility. It is also

an opportunity to recreate jobs that

were also lost last Spring. It is also a

stepping stone to the future that will

lead to a transfer of elders into a new

Skilled Nursing Facility in Ainsworth.

1

(Whiteclay)

The Oglala Sioux Lakota

Nursing Home is located south of

Whiteclay, Nebraska. We are a 60 bed

nursing facility owned by the Oglala

Sioux Lakota Nursing Home, Inc.,

and managed by Native American

Health Management (NAHM). We

are delighted to bring family members

closer to their loved ones, and have

been planning this facility for over 8

years.

2

We currently anticipate

opening our doors around July of

2016.

OGLALA SIOUX LAKOTA

NURSING HOME

Rushville, NE

WHITE RIVER HEALTH

CARE CENTER

Whiteriver, NE

3

The White River Health

Care Center is owned by the

Rosebud Sioux Tribe (RST). Native

American Health Management

entered into a management agreement

with the RST on June 1st, 2016.

The Rosebud Sioux Tribe

has been operating the nursing

4

home for more than two decades.

Currently Terry St.Cyr is

the interim administrator and we

will be advertising the permanent

administrator position here in the

coming weeks.

Our Goals

Short-Term

• Continue to give good care to

the residents of the White River

Health Care Center.

• Increase Revenue with which

we can then offer more

competitive salary and benefits

for the employees.

Long-Term

• Our long term goal is to build a

new nursing home in the next

two to three years.

BUY GAS EARLY

Gas is more dense

when it is cold and you can

therefore get more bang

for your buck if you fill up

before it gets too hot out.

Though fuel is stored in the

ground, you will not see a

drastic increase but along

with these other tips can add

up to some gas savings.

SLOW DOWN

When driving over

55mph your car gets worse

gas mileage because of all the

air that your car has to push

out of the way. If you travel at

closer to 75mph you get even

worse gas mileage.

AIR UP

Tire pressure can effect your

fuel efficiency. Make sure

that your tires are properly

inflated before traveling to

save money on gas.

DRIVE SMART

If you have a manual

transmission you can

keep your car at lower rpms

to increase fuel economy. If

you have an automatic transmission

you can avoid accelerating

quickly to increase

fuel economy. When you are

stopped you get 0 miles to

the gallon, so reducing your

speed before a red light can

also increase your fuel economy.
---
Rural Health

Development Staff Directory

RON ROSS

PRESIDENT

Ron Ross and Roger Petrik started RHD in 1990.

As President of RHD, Ron provides leadership

for the staff and their facilities.

"I believe the biggest reason for our success has

been in delivering value to our customers. We

enjoy an excellent reputation based on our ability

to meet the needs of our clients, at a fair price."

EMILY PLAGEMAN

MARKETING DIRECTOR

Emily began working for RHD as a Marketing

Director in the spring of 2010. Emily loves the

opportunity that she's been given to meet so

many wonderful people at the facilities that RHD

manages, including staff and residents, and looks

forward to working with many more talented and

inspiring people. In addition to her work with

RHD, Emily is in charge of operations for RHD's

sister company, HHS Solutions, which provides

healthcare billing and consulting services.

JANET LYTTON

DIRECTOR OF REIMBURSEMENT

Janet Lytton has lived in rural America all her

life and worked in Rural Health Care the last

27 years. She lives on an acreage near Shelton,

NE with her husband, Gary. She has been the

Director of Reimbursement for Rural Health

Development for the last 25 years.

MARGARET MESSERSMITH

OFFICE MANAGER

Margaret Messersmith's official title at Rural

Health Development is "Office Manager" however,

with this title, she wears many hats. Margaret

is the receptionist, secretary, human resource

director, payroll clerk, accounts receivable/accounts

payable clerk, and corporate accountant.

MATT ROSS

VICE PRESIDENT

Matt has worked for Rural Health Development

since 2008 and has been the RHD Eastern

Regional Manager since 2012. Before assuming

the Regional Manager position, Matt was the

Administrator in our Glenwood, IA facility for

3 ½ years. In his current position, Matt seeks to

help guide our Administrators through the challenging

and rewarding duties of running a skilled

nursing facility.

JO FULLER

REGIONAL MANAGER

Jorena (Jo) Fuller began her employment with

Rural Health Development (RHD) in September

of 1999. Originally, she was hired to help with

rural health clinic consultations, as Jo has over

12 years of experience serving as director of 5

hospital-based rural health clinics.

WALT DYE

SPECIAL PROJECTS

Walt was the Administrator at Mitchell Care

Center from January of 1997 to 2011. Since 2011,

he has been involved with several other facilities

in Western Nebraska in the financial area. Walt

has also been involved in training several new

Administrators, who have developed into very

talented and capable Administrators within the

company and outside the company.

SUE BOOE

NURSE CONSULTANT

Sue Booe graduated from Lincoln General

School of Nursing in 1971 in Lincoln, Nebraska.

She has been actively licensed as a registered

nurse as well as worked in acute care for 4 years.

Sue spent eighteen years as a Director of Nursing

in LTC. Her experience includes 10 years working

with veterans in a 329 bed skilled facility,

working in a 48 bed assisted living facility, supervising

a nursing staff of 250, and preparing and

managing a budget of 9 million dollars.

MIKE HARRIS

SPECIAL PROJECTS

Mike started working for Rural Health Development

in June 2010. Since that time, he has served

as interim administrator at six RHD facilities

in Nebraska and Wyoming, plus he worked

part-time on various other projects. With RHD

expanding rapidly, Mike was offered full-time

employment in May 2012 with the responsibility

for special projects.

DIANE ROSS

SPECIAL PROJECTS

Diane was brought on in 2015 to help with

Special Projects. Diane has over 20 years of experience

in LTC management positions and helps

RHD with census building, interim administration,

and general project guidance. Diane brings

with her a wealth of knowledge she gained from

her management background with multiple

non-profits and for profit nursing homes over the

years and looks forward to sharing her expertise

with all of the RHD facilities.

Page 11
---
TERRY ST.CYR

NAHM - VICE PRESIDENT

Terry has worked with numerous tribes over the

last 25 years, creating jobs, building businesses

and providing strategic planning. He served on

the National Congress of American Indians Economic

Development Committee and the Finance

Committee. Terry is a member of the Winnebago

Tribe of Nebraska. In his formative years Terry

spent summers learning the traditional

ways of his people and his school years

growing up in the Dallas, Texas area.

KATHY SCHMID

NAHM - NURSE CONSULTANT

Kathy Schmid graduated from Western

Nebraska General Hospital in Scottsbluff in

1986 as an RN. She worked in acute care for 10

years, including Pediatrics and surgery. Kathy

has worked the last 20 years in long term care,

working with Veterans and their families. Kathy

has been married for almost 32 years and has 3

children and 2 grandchildren.

MISSIE BRAMHALL

BILLING MANAGER

Missie Bramhall has been in the healthcare field

for more than 5 years. She started off working in

Long-term Care eventually working her way up

to Business Office Director for one of Nebraska's

largest nursing homes. Missie earned a degree

in Business Management and also Healthcare

Management from the University of Phoenix.

TORY MOGHADAM

GRAPHIC DESIGNER/MARKETING

ASSISTANT

Tory joined Rural Health Development in October

of 2013 as the Graphic Designer & Marketing

Assistant. He has been doing graphic design and

marketing for over 10 years and has designed

many digital and printed marketing materials.

Tory also helps with Rural Health Development's

IT needs and enjoys solving tech related issues.

JESSICA RIDDER

BILLING SPECIALIST

Jessica Ridder began working for the billing department

for HHS solutions in June 2015. She is

currently attending the University of Lincoln Nebraska,

and majoring in Business Management.

Prior to joining the team at HHS she worked in

a Dermatology clinic and at ALN Medical Management

as a medical billing specialist.

SHELLY BERGONIA

BILLING SPECIALIST

Shelly joined HHS Solutions in August of 2015.

She grew up in Nebraska City, Nebraska. She

received her Medical Billing and Coding degree

from Herzing University in 2012. Prior to her

time with HHS Solutions she worked for a

Skilled Nursing Facility in the Billing Department.

ANNA MCCLAIN

ACCOUNTANT

Anna joined Rural Health Development in April

of 2013 as the Accountant. Anna attended Southeast

Community College in Lincoln, NE, where

she earned her A.A.S. in Business Accounting

in 2008, and a Bachelors Degree in Business Accounting

from Doane in 2012.

ADMINISTRATORS:

Audubon, IA

Beemer, NE

Benkelman, NE

Bertrand, NE

HILAREE STRINGHAM

FRIENDSHIP HOME

Stringham began her work in the nursing home

industry, holding positions from activity assistant

to social service coordinator. In 2005, Stringham

decided to further her career by going back to

school while working full time and earning a

bachelor's degree in health care administration.

In 2007, she finished the required education to

sit for the nursing home administrator exam and

became licensed.

LAURIE LIERMAN

COLONIAL HAVEN AND COURTS

I started my career at West Point Living Center as

administrator from 1988 to 2001. In 2001 I was

employed by Colonial Haven and in 2004 I was

hired by RHD when the Village of Beemer signed

a management contract with them.

I live in West Point with my husband LeRoy and

together we have 7 children and 15 grandchildren.

JANICE EDWARDS

SARAH ANN HESTER MEMORIAL

HOME

I have been an employee of Rural Health

Development for almost 5 years. Prior to that I

was employed directly by the Sarah Ann Hester

Memorial Home in various capacities since

1986. I was a Certified Nurse Aide and a Care

Staff Member until I became a Licensed Nurse.

I worked as a Charge Nurse and over time had

various duties such as Nursing Scheduling, Staff

Development Coordinator, Infection Control

Coordinator, Assisted Living Director, and Social

Services Director.

AMY GRUBE

BERTRAND NURSING HOME

Bertrand Nursing Home & Assisted Living is

a non-profit, long term care skilled nursing &

Assisted Living facility that has been providing

care for the Bertrand area since 1973. The facility

is Village owned and managed by Rural Health

Development.

Page 12
---
Glenwood, IA

David City, NE

Crawford, NE Callaway, NE

Bridgeport, NE

ADMINISTRATORS:

DEAN DRAGON

SKYVIEW AT BRIDGEPORT

Allow me to summarize, I started off as a medic

in the service. That led me to become a Respiratory

Therapy major at Creighton University

where I found a fondness for management which

has provided me a great career spanning more

than two decades.

VICKY HENDRICKS

CALLAWAY GOOD LIFE CENTER

On November 1, 2012, the facility changed from

Good Samaritan to the Callaway Good Life

Center and is locally owned. We are very proud

of that fact, as the communities have come together

to help keep the facility open. At that time

I became an employee of RHD as I was hired as

the Administrator.

STEPHANIE HUFFMAN

PONDEROSA VILLA

I am the administrator at Ponderosa Villa in

Crawford, Nebraska. I began working at Ponderosa

Villa in 2011 as the social services director.

I found this experience very rewarding and

developed a passion for long term care. I have

a bachelor's degree in Psychology, and Human

Services from Chadron State College. I have also

taken long term administrator courses through

Southeast Community College.

SANDRA PALMER

ST. JOSEPH'S VILLA

I am currently the Administrator at Saint Joseph's

Villa and Court. Being an Administrator affords

me the opportunity to give back to a population

that has given me the freedoms we all enjoy. I

encourage residents, staff and families to enjoy

the 'gift of time' we have been given.

My education consists of a Bachelor of Science

in Business Administration from BHSU in

Spearfish, SD and Accounting and a Masters in

Theology from Creighton University in Omaha,

NE. I am also a chaplain, completing my training

in the CPE program out of the Alegent Health

System in Omaha, NE.

Deborah Clarke

GLENHAVEN/

LINNWOOD ESTATES

Deborah started with Rural Health Development

in December of 2014. Deborah has a rich history

in healthcare starting in Altoona, IA in 1976.

Over the course of her career she has led many

communities as the Regional Director of Operations

for Village Properties Inc. Most recently she

worked as the regional Director of Operations

for American Baptist Homes of the Midwest

overseeing their communities in Omaha, NE and

Harlan IA.

Humboldt, NE

Laurel, NE

Mitchell, NE

Omaha, NE

Stuart, NE

Find us us online: online:

MARY KENT

COLONIAL ACRES NURSING

HOME

Mary Kent is the administrator at Colonial Acres

Nursing Home and Assisted Living in Humboldt,

Nebraska. Mary has spent her entire life working

and living in Southeast Nebraska. Prior to

becoming a nursing home administrator, Mary

worked in the banking industry and for the

Nebraska State Probation System. She also has

written federal and state grants and administered

those grants for housing rehabilitation and

education and training.

HEATHER EAGLE

HILLCREST CARE CENTER

Heather is the administrator at Hillcrest Care

Center in Laurel. She began employment with

RHD in September 2011. Heather has been

around nursing homes her whole life. She

became a nurse aide and a medication aide in

June of 2001. She then obtained her associates

Nursing Home, and Assisted Living Administrators

license.

STEPHANIE HAHN

MITCHELL CARE CENTER

Stephanie in the administrator at Mitchell Care

Center. She began employment with RHD in

May of 2011. Stephanie has been around nursing

homes her whole life. She has worked as a nurse

aide at Ponderosa Villa nursing home in Crawford

and also as a nurse aide/med aide in Wilber

Nebraska. Between those two locations she also

worked for a home health agency in Lincoln,

Nebraska.

DONNA SCHELLENBERGER

THE LUTHERAN HOME

In 1983, I decided it was time to work on my

education. I joined the US Air Force, and served

my four years in Phoenix working in the hospital

as a "906", which translates to medical administration.

While keeping Arizona safe, I earned

my BS in Human Resources and have since

obtained a Masters of Science in Health Services

Administration.

LUCAS KAUP

PARKSIDE MANOR

My name is Lucas Kaup and I started work as an

Administrator May 1, 2013. Prior to being the

Administrator I worked at a local financial office

in Stuart as an Insurance Agent and also helped

with Income Tax Preparation. I also worked at

Parkside Manor from 2005 – 2010 during summer

breaks from high school and college in the

Maintenance Department.

Page 13
---
Sutton, NE

ADMINISTRATORS:

HANNAH ELLIOTT

SUTTON COMMUNITY HOME

I began my college education at Concordia in

Seward and graduated with degrees in Psychology,

Behavioral Science, a certificate in

Gerontology and a minor in Spanish. I applied

for Concordia's Master's program in Gerontology

and once again felt like I was where I belonged.

It became apparent in college after working with

Dr. Renea Gernant that Gerontology and working

with aging adults was where I yearned to be

the rest of my life. I eventually was to earn a MA

in Gerontology and an MBA.

Wilber, NE

BARB DREYER

WILBER CARE CENTER

Barbara Dreyer graduated from Western Nebraska

Technical College in 1978 with an Associate

in Accounting Degree. Her first work experience

in the health care field was in 1979. Barb worked

at the Rushville Community Hospital first in the

Medical Records Department and then in the

Accounting Department. While at Rushville,

Barb went back to school and became an Accredited

Records Technician. In 1986 Barb accepted

the administrator position at the Parkview Lodge

Nursing Home in Rushville, Nebraska.

Whiteclay, NE Wheatland, WY Wauneta, NE

Verdigre, NE

Page 14

AL SHAKESPAERE

ALPINE VILLAGE RETIREMENT

CENTER

Al Shakespaere is the Administrator Alpine Village

Retirement Center. He has worked in Long-

Term Care for the past 17 years. He has been

an administrator for the last 9 years. He loves

working with the residents that he serves. Al has

a degree in Business from Western International

in Phoenix, Arizona. He grew up in Southern

California but loves small communities.

LISA KISINGER

SUNRISE HEIGHTS OF WAUNETA

I am the administrator at Sunrise Heights of

Wauneta. Prior to being Village owned and the

name changed to Sunrise Heights, our facility

was a Vetter Health Services facility and we

were known as Heritage of Wauneta. I've been

working for this facility since September of 1999,

when I was employed as the business office manager.

I held that job until January of 2008, when I

became the administrator.

SHANE FILIPI

PLATTE COUNTY LEGACY HOME

Shane has been the administrator of Platte

County Memorial Nursing Home in Wheatland,

WY, since November of 2011. Shane grew up in

Malcolm, NE and graduated from Doane College

in 2002 with a degree in Business Management.

Shane started in long term care after college

and has been involved with healthcare since he

graduated.

SUSAN POURIER

OGLALA SIOUX LAKOTA

NURSING HOME

I have been hired as the Administrator for the

Oglala Sioux Lakota Nursing Home (OSLNH) in

White Clay, Nebraska. I am an enrolled member

of the Oglala Sioux Tribe in Pine Ridge, South

Dakota. I have been blessed with two sons, an

amazing daughter-in-law, and five grandchildren.

I have been in the health field for the majority of

my career. I attended a year of Nursing School at

Presentation College in Aberdeen, South Dakota.

I graduated from the University of Wisconsin-

Superior, with an BS degree. I obtained Long

Term Administrator courses from Southeast

Community College in Lincoln, Nebraska.

West Nile Virus

Summer time and mosquitos.

The first thing that

comes to mind is West Nile

Virus. What is West Nile Virus?

It is a virus that is spread by an

infected mosquito. West Nile Virus

is worldwide and is generally

more prevalent during late summer

to early fall, when mosquitos

are around. Most people have

no lasting effects from mosquito

bites, however about 20% of people

bitten will develop flu-like

symptoms. In rare cases West

Nile Virus can lead to severe

complications and even death.

The most common symptoms of

West Nile Virus are: Fever and

chills, Headaches, Muscle pain,

Nausea and vomiting, Diarrhea,

Rash, Swollen lymph nodes and

eye inflammation know as conjunctivitis.

Symptoms can appear

within 2- 15 days and can

last several weeks.

A small percent of the

people who develop West Nile

Virus will have more serious

neurological symptoms that affect

the brain and spinal cord.

These symptoms may include

High Fever, Headache, Stiff

Neck, Disorientation, Stupor,

Tremors, Vision Loss, Severe

muscle weakness, Paralysis and

Coma. In rare cases death will

occur. The risk factors for having

complications include being

over 50 years of age and a having

a condition that affects your immune

system. In rare cases West

Nile Virus has been acquired

through blood transfusions.

So avoid spending time

in areas where mosquitoes are

present, and if you do, always

wear insect repellent that is effective

for West Nile Virus (DEET).

Always remove standing water

on your property as this is a

breeding ground for mosquitoes.

Avoid going outdoors at dawn or

dusk, if you do wear long sleeves

and long pants. Also if you have

a dead bird dispose of it with

gloves do not touch the bird with

bare hands. Some areas require

that you notify public health

for testing. Mosquitoes contact

WNV by biting infected birds.

So stay safe this summer

enjoying the outdoors by

taking the time to use repellent

to ward off any mosquito bites

that may cause health concerns

from West Nile Virus.
---
SUMMER PUZZLES

SUDOKU

4 8 6 2

3 1 7 6

1 3

Jumble Game

Why do you

always play so

soft?!?!

2 4 7

7 5 8 9

1 4 5

7 8

1 6 8 2

4 5 1 9

LXY ZYFL KNB LR

VEYMGJL LXY THLHEY

GF LR JEYNLY GL –

NZENXNQ

Crypted Quote:

The quote below has had all of its letters switched

with another in the alphabet. Use clues like

sentence structure and length to solve the puzzle.

Example: XAFFAW -> BETTER

AGUJRAU

A b c d e f g h i j k l m

n o p q r s t u v w x y z

Combine

the circled

letters to finish

the above

sentence

EMSIGHTON

MIFLAY

TTUENDS

RC AIG

IEURRQ E

CERO PDU

Little Nocolo's teachers

regretted their instructions

after they told him

to __________ ________.

Unscrample the letters below to form

every-day English words.

Rural

Health

Development, Inc.

Find us online:

Health Care Consulting & Management

Page 15