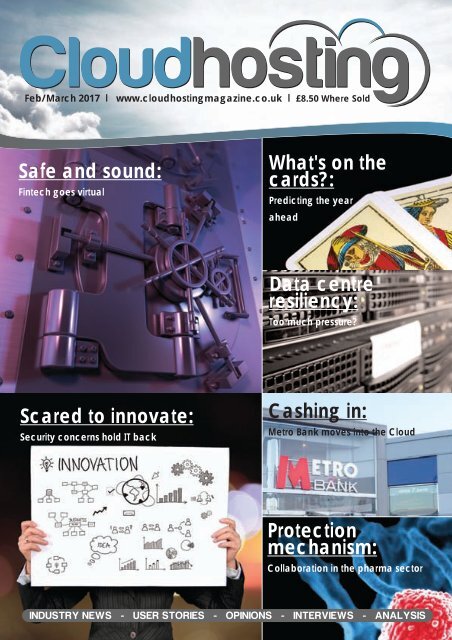 CHLATEST
LATEST ISSUE
LATEST ISSUE
SHOW MORE
SHOW LESS
You also want an ePaper? Increase the reach of your titles
YUMPU automatically turns print PDFs into web optimized ePapers that Google loves.
Cloudhosting

Feb/March 2017 l www.cloudhostingmagazine.co.uk l £8.50 Where Sold

Safe and sound:

Fintech goes virtual

What's on the

cards?:

Predicting the year

ahead

Data centre

resiliency:

Too much pressure?

Scared to innovate:

Security concerns hold IT back

Cashing in:

Metro Bank moves into the Cloud

Protection

mechanism:

Collaboration in the pharma sector

INDUSTRY NEWS - USER STORIES - OPINIONS - INTERVIEWS - ANALYSIS
---
COMMENT

From the Editor

This issue of Cloud Hosting will land on reader's desks and inboxes just a week or

two after Cloud Expo, an event which has grown into the biggest and best

attended trade show of its type in the whole of Europe. The multi-strand expo -

now encompassing Smart IoT, Cloud Security, Data Centre World and Big Data World

as well as Cloud Expo itself - was spread across almost the entire floor-space of the

voluminous ExCel in London's docklands.

The presentation theatres were hugely popular, with large queues outside in advance

of talks from the likes of BT, Google and Microsoft alongside industry specialists such

as Pulsant, Navisite and OVH. Cloud Hosting magazine had staff at the show

throughout both days, and as well as visiting stand and attending seminars we also

managed to sign up a healthy batch of new readers - so if this is your first time of

reading, welcome aboard!

Elsewhere in this issue Claranet unveil new research which suggests that UK IT

departments are more likely than many European counterparts to have concerns about

cloud security - which in turn may be making such organisations 'scared to innovate'.

Ian Furness of Claranet says it's understandable that organisations may prefer to host

applications internally, particularly those associated with high risk information: "But just

because your servers are under your roof, this doesn't necessarily make them more

secure. In fact, if managed and maintained correctly, alternative delivery models - such

as public cloud - are suitable for even the most sensitive data and can bring massive

transformational benefits to organisations."

We also look at the issue of data centre resiliency, something increasingly impacted

by the growth of cloud. Operators face a constant battle of balancing workloads

against available budgets. Many data centre owners choose to over-provision

resources and servers 'just in case' a disaster situation occurs, however this can be

immensely costly. There are other strategies available, as RF Code's Adrian Barker

comments: "It is all about understanding and managing your environment to ensure

reliability. Operational management solutions can provide real-time insight, control and

predictability so data centre managers can solve environmental and operational

challenges with valuable insight, rather than guesswork. Data centre assets need to be

monitored and tracked to maintain performance and guard against technical failure.

Environmental conditions need to be dynamically adjusted with changes in demand."

EDITOR: David Tyler

(david.tyler@cloudhostingmag.co.uk)

NEWS EDITOR: Mark Lyward

(mark.lyward@cloudhostingmag.co.uk)

PRODUCTION MANAGER: Abby Penn

(abby.penn@cloudhostingmag.co.uk)

DESIGN: Ian Collis

(ian.collis@cloudhostingmag.co.uk)

COMMERCIAL DIRECTOR: Josh Boulton

(josh.boulton@cloudhostingmag.co.uk)

MANAGING DIRECTOR: John Jageurs

(john.jageurs@cloudhostingmag.co.uk)

DISTRIBUTION/SUBSCRIPTIONS:

Christina Willis

(christina.willis@cloudhostingmag.co.uk)

PUBLISHED BY: JBJ Media Ltd (JBJ)

35 Station Square, Petts Wood

Kent BR5 1LZ, UK

Tel: +44 (0)1689 616 000

Fax: +44 (0)1689 82 66 22

SUBSCRIPTIONS:

UK £35/year, £60/two years,

£80/three years;

Europe:

£48/year, £85 two years,

£127/three years;

R.O.W. £62/year

£115/two years, £168/three years.

Single copies can be bought for £8.50

(includes postage & packaging).

Published 6 times a year.

No part of this magazine may be

reproduced without prior consent,

in writing, from the publisher.

©Copyright 2017

JBJ Media Ltd (JBJ)

Articles published reflect the opinions of the

authors and are not necessarily those of the

publisher or of JBJ employees. While every

reasonable effort is made to ensure that the

contents of articles, editorial and advertising

are accurate no responsibility can be accepted

by the publisher or JBJ for errors, misrepresentations

or any resulting effects.

With the likes of Cisco claiming that around 83% of data centre traffic in the next three

years will be generated through cloud computing, these issues need addressing, and

sooner rather than later.

David Tyler

david.tyler@cloudhostingmag.co.uk

www.cloudhostingmagazine.co.uk Feb/March 2017

@CHMagAndAwards

Cloudhosting

3
---
CONTENTS

Contents

Industry predictions...............................................................................................8

A little later than usual - due to unforeseen circumstances! - we ask leading industry names

to look ahead: what flavour of Cloud will we prefer, is file sync and share on its way out,

and even the future of the data centre itself are all under discussion

Case study: AstraZeneca..............................................................................14

Pharmaceutical giant AstraZeneca is leveraging Cloud collaboration technologies while

keeping users and data secure

Automating the IT production line........................................................22

David Grimes, CTO at Navisite, discusses the growing role of APIs in reducing costs

and developing tomorrow's businesses

The main event.......................................................................................................24

Cloud Expo, Europe's biggest and best attended Cloud and digital transformation show

took place recently in London's ExCel: Cloud Hosting magazine was there to report back

Editor's comment.........................................................3

News.......................................................................................6

88% adopting Cloud

Red Hat & IBM in new deal

Performance anxiety............................................12

Jonathan Arnold, Managing Director at Volta Data

Centres, explains how high performance computing can

change your business for the better

Scared to innovate?.............................................16

New research from Claranet suggests that UK IT

departments are among the most likely in Europe to

identify security/compliance as their biggest challenge

Technology: ECM....................................................17

Advantages of the Cloud reach to the core of most

businesses - but executives must choose their partners

carefully, argues Tim Rushent, Account Manager for

industry and commerce at Hyland

Pressure sensitive...........................................19

The growth in Cloud services is putting increased

pressure on data centre resiliency, suggests Adrian

Barker, General Manager EMEA at RF Code

Case study: FISCAL Technologies........21

Fintech specialist FISCAL Technologies is securing

customer data and winning new business thanks to The

Bunker's virtual hosting infrastructure

4

Cloudhosting

Feb/March 2017

@CHMagAndAwards

www.cloudhostingmagazine.co.uk
---
26-27 April 2017, Manchester Central

NETWORKS &

INFRASTRUCTURE

26-27 April 2017,

Manchester Central

AI, ANALYTICS

& IOT

CLOUD

CYBER

SECURITY

OPEN

SOURCE

DEVOPS

BE INSPIRED

EUROPE'S NUMBER ONE ENTERPRISE IT

EVENT IN THE NORTH OF ENGLAND

REGISTER FREE

www.ipexpomanchester.com NETWORKS &

INFRASTRUCTURE

NETWORKS &

INFRASTRUCTURE

AI, ANALYTICS & IOT DEVOPS OPEN

SOURCE

NETWORKS AI, ANALYTICS & & IOTAI, DEVOPS ANALYTICS & IOT DEVOPS OPEN

OP

INFRASTRUCTURE SOURCE SO
---
NEWS

HEAVENLY CLOUD

Navisite has partnered with PMGC to

provide its Infrastructure-as-a-

Service (IaaS) and Desktop-as-a-Service

(DaaS) solutions to multi-discipline, notfor-profit

organisation, BCHA

(Bournemouth Churches Housing

Association). PMGC and Navisite were

selected following a formal tender

process for their strong value-for-money

proposition, as well as the flexibility and

scalability of their solution. Nearly 500

users were migrated to the Cloud environments,

including roles, access rights

and over 1 Terabyte (TB) of data.

BCHA develops services that help bring

together housing, health and social care

in order to deliver support to society's

most in-need. Prior to reviewing its IT systems,

the organisation was using legacy

versions of software and carrying out their

important work through on-premise

servers. After a careful review process,

BCHA selected PMGC and Navisite's

Cloud hosting, IaaS and DaaS solutions

to meet the key objectives of reducing

system downtime and increasing the reliability

and speed of access to IT services.

With PMGC's help, BCHA's network

infrastructure was moved to an environment

that supports roaming use with centralised

profiles and file redirection. Since

moving to the Cloud, system downtime

has been vastly reduced and BCHA

employees are able to quickly connect to

applications and data - achieving a

reduction in access rate time of approximately

80 per cent, compared to the previous

system.

This reduction in time, facilitated by having

both their Cloud hosting and DaaS

environments in the same high quality

Navisite data centre facility, allows staff to

spend more of their working day to help

address real client needs. The migration

also involved upgrading and re-implementing

BCHA's full suite of both traditional

and bespoke applications.

www.navisite.co.uk

TIME TO DESIGN FOR FAILURE ON PUBLIC CLOUD SERVICES?

The recent Amazon Web Services (AWS)

outage, which impacted a number of

high-profile websites and service providers,

has highlighted the importance of specific

skillsets to support public Cloud services.

This is according to Radek Dymacz, head

of R&D at disaster recovery and AWS consulting

partner Databarracks, who states

that organisations should adopt a 'design

for failure' approach to prevent outages.

Radek explains: "The growth of hyperscale

Cloud services has led to an

increase in managed services for these

Clouds. We have seen telecoms providers,

data centre owners and managed service

providers launch their own Cloud services

and, in many cases, pull out of the market.

Many of these businesses are now focusing

their efforts on providing managed

services for the hyperscale public Clouds

of AWS, Azure and Google. However, platforms

like AWS need a different approach

to traditional hosting.

"The ability to design for failure is essential

to the value proposition of public Cloud

UK CLOUD ADOPTION RATE REACHES 88%

The latest research from the Cloud

Industry Forum (CIF) reveals that the

overall Cloud adoption rate in the UK now

stands at 88 per cent, with 67 per cent of

users expecting to increase their adoption of

Cloud services over the coming year.

However, while organisations are clearly taking

a Cloud-first approach, the industry body

predicts that the vast majority of companies

will be maintaining hybrid IT estates for

some time to come. Conducted in Feb

2017, the research, polled 250 IT and business

decision-makers in large enterprises,

SMBs and public sector organisations.

The results reveal that since the first

research was conducted in 2010, the overall

Cloud adoption rate has increased by 83

per cent, with an increase of 5 per cent

since last year. There has been a more significant

increase in Cloud adoption amongst

platforms, and yet organisations are still

consuming AWS services as though

they're building a traditional hosting environment.

The great strength of platforms

like AWS is that you can build in resiliency

in a way that scales depending on your

budget. At the larger end of the spectrum,

this might involve using object storage

across multiple Availability Zones and even

Regions to provide an extra layer of

resilience. This is expensive but, for large

organisations, so is downtime.

"We recommend that all organisations

adopt a 'design for failure' approach. This

means that if any single element fails then

there is an easily-identifiable specific

cause, with a known resolution.

Radek concludes, "What we're seeing in

customer demand agrees with this trend as

businesses are now more mature in their

use of Cloud services. They have gone

beyond testing, so they are now seeking

help to increase resilience, optimise cost

and support it round-the-clock."

www.databarracks.com

small and public sector organisations, who

have previously trailed behind overall adoption,

with adoption rates now standing at 82

per cent for both, up from 54 per cent and

62 per cent, respectively, a year ago.

Alex Hilton, CEO of CIF, commented: "This

research highlights how far the IT landscape

has come since we first conducted this

research in 2010. We are entering an

unprecedented time of change as digital

technologies disrupt entire industries and

customer expectations. Cloud is critical in

enabling companies to cope with this

change and this research highlights how

organisations are increasingly and consistently

warming to the Cloud delivery model,

especially as they begin the realise the benefits

to be had from migrating their apps and

infrastructure to the Cloud."

www.cloudindustryforum.org

6

Cloudhosting

Feb/March 2017

@CHMagAndAwards

www.cloudhostingmagazine.co.uk
---
NEWS

NOVOSCO SECURES SEVEN-FIGURE CLOUD CONTRACT

A3,500-room hotel group has chosen

managed Cloud provider Novosco to

upgrade and managed its entire IT infrastructure.

The seven-figure deal will see

Novosco work in partnership with Village

Hotel Club, which has 28 hotels, to manage

its migration to the Cloud.

Founded in 1995, Village Hotel Group

employs over 4,000 people and has a presence

in London, Cardiff, Edinburgh, and

other major cities across England, Scotland

and Wales. It is one of the major hotel

groups in the UK, and has been continuing

to expand its presence, with plans in place

for a new 153-bedroom hotel at Lakeside

Business Park in Portsmouth.

Novosco is a managed Cloud provider

with clients in the public, private and voluntary

sectors across the UK and Ireland,

including Premiership football teams, some

of the UK's largest health trusts and many

top companies. Novosco employs almost

150 people and has offices in Belfast,

Manchester, Dublin and Cork. Last year it

acquired English specialist IT security solutions

and managed services expert NetDef.

Novosco Managing Director, Patrick

McAliskey, said: "Village Hotel Club is a

highly dynamic and growing company, and

we are delighted to work with them to add

value to their business and help facilitate

their on-going expansion. As a result of the

investment being made, we will be able to

scale the company's IT infrastructure as it

continues to grow."

www.novosco.com

SOFA SO GOOD FOR RACKSPACE AND DFS CLOUD DEAL

Retail giant DFS handled a 34 per cent

increase in transactions per day during

its most recent busy sales periods by utilising

a Rackspace managed Cloud solution.

By undertaking "peak planning", DFS has

managed spikes in website traffic around

Christmas, and has been able to grow the

business through new digital services.

DFS is the UK's leading upholsterer, with

more than 110 stores nationwide as well

as additional outlets in Ireland, Holland

and Spain. The company has experienced

a huge increase in mobile and online

shoppers, with the platforms especially

popular amongst customers researching

new purchases.

Undertaking a process of digital transformation,

DFS has introduced in store functionality

on staff tablets allowing them to

show customers the products they are

interested in on the video walls and

screens, really bringing the product to life.

The business experiences two peak

shopping periods throughout the year, one

being the 'Guaranteed by Christmas' ordering

period in September, and the other

around the Boxing Day sales that filters

through to the New Year. Traffic to the website

during these times spikes by 68 percent

compared to average levels during

the rest of the year.

Employing a VMware Managed

Virtualisation offering, Rackspace worked

with DFS to carry out peak period planning

to help ensure the retailer is prepared to

deal with traffic surges and help ensure

online channels work effectively for customers.

In addition, through a working relationship

with ecommerce specialists

Salmon who rebuilt DFS's websites,

Rackspace is able to provide DFS with the

reassurance that it has some of the top

technology minds supporting its business.

www.rackspace.co.uk

IBM, RED HAT COLLABORATE

IBM and Red Hat have announced a

strategic collaboration designed to help

enterprises benefit from the OpenStack

platform's speed and economics while

more easily extending their existing Red

Hat virtualised and cloud workloads to the

IBM Private Cloud. As part of this new

collaboration, IBM has become a Red Hat

Certified Cloud and Service Provider, giving

clients greater confidence that they

can use Red Hat OpenStack Platform and

Red Hat Ceph Storage on IBM Private

Cloud when the offering launches for general

availability at the end of March 2017.

Additionally, Red Hat Cloud Access will

be available for IBM Cloud by the end of

Q2 2017, allowing Red Hat customers to

move eligible, unused Red Hat Enterprise

Linux subscriptions from their data centre

to a public, virtualised cloud environment.

www.ibm.com/cloud-computing

GOOGLE CLOUD PARTNER

Claranet is now part of the Google

Cloud Partner Program and has

achieved Premier status and the Partner

Specialisation in Infrastructure The Google

Cloud Partner Program is designed to

help partners build their practices or products

on the Google Cloud Platform in

order to help them reach higher levels of

success. The Partner Specialisation

recognises strong customer success and

technical proficiency.

Charles Nasser, Founder & CEO, at

Claranet, said: "Achieving Google Cloud

Premier Partner and Infrastructure

Specialisation status is an important step

forward for Claranet. Google Cloud provides

opportunities for significant business

transformation by allowing customers to

rapidly develop high-performance applications

and leverage data assets. Helping

customers improve through effective use

of platforms such as Google Cloud is central

to Claranet's proposition and reinforces

our commitment to customers."

www.claranet.co.uk

www.cloudhostingmagazine.co.uk @CHMagAndAwards

Feb/March 2017

Cloudhosting

7
---
2017 PREDICTIONS

What's on the cards this year?

A little later than usual - due to unforeseen circumstances! - we ask leading

industry names to look ahead to what 2017 might bring: what flavour of

Cloud will we prefer, is file sync and share on its way out, and even the

future of the data centre itself are all under discussion

Noone would argue that 2016 proved

to be a year of extraordinary events

and changes, politically and socially

as well as in terms of the Cloud industry

and the wider IT sector. Many of us are

eagerly looking forward to a new start and

hopefully some positive news. But as

always happens when we invite vendors

and analysts to submit their best guesses

for the sector in the coming 12 months,

there is a wide variety of opinion on offer.

WHITHER THE CLOUD?

The debate around what form Cloud

computing will most likely take in the future

continues, and as you'd expect, different

vendors have their own views on what

approach is likely to win out.

Jon Lucas, Director at Hyve Managed

Hosting comments: "Cloud computing has

been one of the biggest tech topics of last

year. Given the levels of hype, people could

be forgiven for thinking that it's already

established a winning position in the

technology industry. Yet, according to IDC,

Cloud spending is some distance away from

its peak, compared to investment in 'traditional'

approaches to IT. Their estimates say it will be

2020 before spending on Cloud services will

come close to equalling what is spent on

traditional IT. For IT users and purchasers, this

will mean Cloud will continue to dominate

strategic technology decision making next

year. For most, the debate has already gone

far beyond whether they will use cloud, to how

they can use it more effectively in even more

areas of their business. Businesses will also

seek out greater expertise in order to optimise

their use of cloud. The role of Cloud and

managed service providers will grow as IT

teams shift their emphasis from the traditional

role of 'keeping the IT lights on' to focusing on

how tech can deliver bottom-line benefits."

Jacco van Achterberg, EMEA Sales Director

at Cloudian sees security being a driver for

hybrid Cloud growth: "Last year we predicted

8 Cloudhosting Feb/March 2017 @CHMagAndAwards

www.cloudhostingmagazine.co.uk
---
2017 PREDICTIONS

"For most, the debate has already gone far beyond

whether they will use Cloud, to how they can use it more

effectively in even more areas of their business. The role

of cloud and managed service providers will grow as IT

teams shift their emphasis from the traditional role of

'keeping the IT lights on' to focusing on how tech can deliver bottom-line

benefits." - Jon Lucas, Hyve Managed Hosting

that Amazon S3 would become the de-facto

standard for Cloud storage. The rise of S3

has helped drive the adoption of cost-effective

object storage. Now, object storage is not just

a niche market; people are using it in everyday

life without realising, be it through social

media, Netflix and many other outlets that rely

on the service. S3 has turned object storage

into an industry movement. Looking ahead

into 2017, we are predicting a bigger

migration of data to cloud environments with a

focus on the deployment of hybrid

public/private Cloud solutions. With more

companies looking to deploy a Cloud storage

solution, the protection and control over

sensitive data will be a further driving force

toward hybrid solutions."

Geoff Barrall, CTO at Nexsan agrees but

goes further: "Towards the end of 2016 we

heard that vSphere-based Cloud services will

run on AWS in 2017, a move that shows the

major players are preparing to accommodate

customers in a hybrid Cloud environment. No

matter how far we look into the future, there

will always be data too sensitive to trust to

public Cloud services. So whilst some

companies will create a hybrid Cloud strategy,

and some may go all private, most

companies, especially larger ones, will not risk

their data to a 100% public Cloud strategy. So

what of file sync and share? Today's NAS

storage solutions have not kept up with the

times, creating a gap between the worlds of

the data centre and the connected mobile

user. 2017 will see forward thinking companies

not just creating secure file sync and share

capability, but intertwining them with the

company's storage environment to avoid

damaging or duplicating files. In essence, next

year we will see the delivery of the data centre

on the go."

CULTURE SHOCK

Paul Zeiter, President of Zerto is another

proponent of the hybrid Cloud approach:

"Over the last few years we've seen previous

predictions around increased public Cloud

adoption come to fruition, and we predict

2017 will be the year hybrid Cloud asserts

itself as the dominant Cloud environment.

Cloud spending will continue to be on the

incline, and we believe a majority of that

spend will go toward hybrid Cloud

infrastructures; this is proving to be the sweet

spot for the enterprise. Organisations that

have spent a lot of time and resources on their

own data centre are not likely to do away with

it all overnight. Adopting a hybrid Cloud

environment allows for a transition to Cloud in

a way in which feels most comfortable; a

gradual approach that can provide both

immense cost savings as well as recovery

benefits. Hybrid Cloud allows for a variety of

recovery options should the need arise, onpremises,

public Cloud or a little of both,

which help companies be better prepared for

a variety of disaster scenarios. Additionally, the

www.cloudhostingmagazine.co.uk

@CHMagAndAwards

Feb/March 2017 Cloudhosting

9
---
2017 PREDICTIONS

"2017 will be the year that organisations are able to break

free from the shackles of their storage hardware vendor and

take advantage of innovations in hybrid Cloud deployments

for storage. This is being driven by the long-awaited promise

of Software Defined Storage and that public Cloud pricing

can be realised for data protection."- Gary Quinn, FalconStor

perceived complication and expense of

transitioning to cloud, that has previously held

many IT organisations back, is now starting to

wither. More and more companies are

realising that adopting a hybrid Cloud

approach, with the right partners in place, can

actually be quite simple and affordable."

On the other hand, Campbell Williams,

Group Strategy and Marketing Director at Six

Degrees Group sees Cloud having to win

friends in the boardroom: "Businesses have

continued to rapidly adopt Cloud computing

in 2016 and IT leaders have become more

business focused. Now, IT is not just about

'keeping the technology lights on', it is a way to

transform organisations. Cloud technology

may have high levels of automation, but it

doesn't run itself. Businesses now realise that

human expertise is central to the success of

Cloud strategies. Moving into 2017 we are

seeing the growth of a broader 'Cloud culture'

where the influence of IT leaders is going far

beyond just tech teams and instead going

right into the boardroom. IT leaders in 2017 will

have to be more business savvy than ever

before and those in the boardroom will need

to be receptive to this change."

SDS ON THE RISE

Software-defined is one of the buzzwords of

the last year, and there is no question that this

will continue to be the case in 2017. Gary

Quinn, CEO FalconStor, says: "2017 will be the

year that organisations are able to break free

from the shackles of their storage hardware

vendor and take advantage of innovations in

hybrid Cloud deployments for storage. This is

being driven by the long-awaited promise of

Software Defined Storage and that public

Cloud pricing can be realised for data

protection. While SDS has in the past been

more about utilising legacy equipment, it can

now be used to leverage multi-vendor

hardware implementations that also leverage

multi-vendor public Cloud offerings."

CENTRE OF ATTENTION

The growth of Cloud will of course continue to

impact on how data centres evolve, as Patrick

Brennan of Atlantis Computing suggests: "In

2017, Cloud will continue to drive radical

change across enterprise IT. Businesses will

make even greater investments outside of their

own data centres, particularly in 'as-a-service'

computing. 2017 will be the last year we

spend money in our own data centre as we

move applications to the public Cloud. The

Cloud will also bring about significant change

in the role of IT professionals - IT leaders with

more general experience will create teams of

people with specialised knowledge of key

elements of IT infrastructure, such as storage

and security."

Jonathan Arnold, MD of Volta Data Centres

also sees radical changes in the future of the

data centre: "The modern data centre is set to

undergo big changes in 2017. Companies are

now accepting the need and practicalities of

outsourcing the care of their IT equipment to

third parties, but it is more imperative than ever

that those partners have the right

infrastructure, service levels and set-up.

Location, performance and technical

excellence all underpin the choices a business

will make when outsourcing to a data centre.

These can't be underestimated and in 2017

we will see the rise of the 'super data centre' -

delivering a service like no other. Those legacy

data centres that don't invest and update to

keep up will be left standing in the wake of

facilities that can offer exactly what this new

breed of customer needs."

Arnold goes on: "Legacy equipment is

finding its way out of enterprise data centres,

giving way to new equipment capable of more

computing in a smaller footprint. With

customers being more aware of the amount of

data they use and how they are using it, they

are looking to data centres to use

supercomputing technologies, such as High

Performance Computing clusters which exploit

parallel processing to enable advanced,

resource intensive applications to be run

efficiently, quickly and sustainably."

Chuck Dubuque of Tintri sounds a similar

warning: "Companies don't want to actively

manage their data centres-in fact they can't. It's

impossible to meet the agility and scale

demands of the digital market. 2017 will be the

year companies turn away from legacy

architectures that are crudely automated (or

Cloudhosting

10 Feb/March 2017

@CHMagAndAwards

www.cloudhostingmagazine.co.uk
---
2017 PREDICTIONS

"The rise of S3 has helped drive the adoption of costeffective

object storage. Now, object storage is not just a

niche market; people are using it in everyday life without

realising, be it through social media, Netflix and many other

outlets that rely on the service. S3 has turned object storage

into an industry movement." - Jacco van Achterberg, Cloudian

automatable) and look for intelligent

infrastructures built for virtualisation and

Cloud workloads that are highly autonomic,

providing guaranteed levels of service, high

performance, and policy based

management for workloads that run for 3

years or 3 seconds."

DIGITAL WATCH

A relatively new term that we are certain to see

more of in 2017 is 'digital transformation'.

Matthew Finnie, CTO of Interoute, touches on

the theme: "While some commentators expect

2017 to be flat on IT spending overall, we

expect to see IT increase spend on Cloud and

digital transformation. In particular, we'll see

investment in emerging integrated digital

platforms that enable a business to move

faster, deploy resources quicker and exploit

new market opportunities. The majority of

business-critical information for many

organisations is still in systems that are not

currently in the cloud, but as part of their

development, many companies will seek to

exploit Cloud-based models of consumption.

Exploiting corporate information whilst

continually innovating will drive a need for a

bimodal digital platform approach, or else

companies will risk ending up losing ground."

Dimension Data's CTO Ettienne Reinecke

says digital is about building truly customercentric

business models on IT including the

network, data centre, applications, and other

infrastructure - which may be on-premise, or

Cloud-based. "Today, there's no such thing as

a digital strategy - just strategy in a digital

world. And while the digital age is creating a

degree of uncertainty for some organisations,

it's also opening the doors to exciting

possibilities and ushering in an era of infinite

potential. In the year ahead, control and

ownership of data and metadata will emerge

as a point of discussion - and indeed

contention. That's because data and metadata

are the 'gold dust' that allow organisations to

glean rich insights about customer behaviour.

In addition, metadata allows organisations to

identify specific behavioural patterns, derive

business intelligence, and make informed

business decisions."

POST-BREXIT BLUES?

The impact of the 2016 referendum on EU

membership is yet to be felt, of course, but

there is little question that data sovereignty

and information management issues will arise.

As Dimension Data's Reinecke argues,

organisations are increasingly protective of

their metadata, and wary of who has access

to it. "Organisations don't just want ownership

and control of their data for compliance

reasons: they want it to perform analytics. We

expect that this will trigger some interesting

discussions between businesses and their

Cloud providers. For example, where are the

boundaries with respect to ownership,

especially around metadata. We foresee this

issue resulting in a bit of 'push and pull' among

the various parties."

Volta's Jonathan Arnold suggests: "Brexit

has brought about a greater need for data

sovereignty and for consumers to

understand that their data is held in a country

with data privacy laws they have confidence

in. London continues to be the number one

city location for colocation, with 72% of UK

consumers highlighting that they would feel

more confident if they knew their data was

being stored in London rather than other

European cities."

Matthew Finnie of Interoute reminds us that

the GDPR legislation will still affect practically

every business in the UK in 2017, whatever

Brexit may bring: "We will see 2017 beset

with GDPR readiness and testing, as the

bounds and impact of the regulation start to

become apparent. The onus will be on

enterprises and providers to seek out

solutions that have definitive compliance,

rather than waiting for challenges and legal

disputes to unravel in the courts.

Investments in compliant platforms that

support a simple approach to geographic

location of data will avoid this confusion."

Ultimately, there is only one absolutely

certain statement that we can make with

regard to the coming year: that in about 12

months time, Cloud Hosting magazine will be

running another 'predictions' feature not unlike

this one, containing just as many diverse

views. Anything more than that - well, your

guess is as good as ours! Ch

www.cloudhostingmagazine.co.uk

@CHMagAndAwards

Feb/March 2017 Cloudhosting

11
---
STRATEGY: HIGH PERFORMANCE COMPUTING

Performance anxiety

Jonathan Arnold, Managing Director at Volta Data Centres, explains how

high performance computing can change your business for the better

Big data has changed the way

companies view information; they

now recognise its value almost as

an asset on the balance sheet. How it is

managed, analysed and used to deliver

new services determines everything, from

operational performance to customer

satisfaction - not least through the

effective use of that essential single view

of the customer.

As a result, more and more companies

are looking to data centres that have

embraced high performance computing

(HPC). With its foundations in

supercomputing technologies, HPC

clusters exploit parallel processing to

enable advanced, resource intensive

applications to be run efficiently, quickly

and sustainably. This is done by using

huge amounts of power while dividing

activities between multiple processors,

dramatically reducing processing times

from hours to minutes.

HPC enables companies to scale

processes significantly, for example in the

cases of collecting, storing, analysing and

processing more data. In turn this will reduce

costs and increase profits through optimised

production and delivery of a service.

Companies with access to HPC solutions will

be able to develop and analyse increasingly

large databases of information.

Previously the need for HPC was limited

to markets such as engineering or

science and academia, focused on dataintensive

calculations.

One of Volta's customers, Academia,

specialises in providing software, IT

hardware, training and service solutions to

a vast number of clients within the

Education (and other) sectors. It required

a partner able to cope and scale with the

ever-increasing data needs of its own

customers and chose to work with Volta.

This enabled it to provide excellent

service, uptime and data speeds to its

customers in line with their expectations

and demands.

However, the business world is now

recognising the advantages of HPC and

looking to data centres to provide these

same capabilities.

One industry that has embraced high

performance computing is media postproduction,

where high quantities of data

need to be processed and moved as

quickly as possible. In this market,

reliable, accessible and secure IT

infrastructure is imperative to ensure

companies can deliver their world-class

movies on schedule. Downtime, latency

and poor security cannot be accepted in

the fast-paced and commercially sensitive

movie marketplace.

Without a partner able to perform at the

same speed, post-production studios will

struggle to meet the pressing demands

required by real-time editing and online

collaboration.

While these two sectors are just

examples of early adopters of high

performance computing, it's clear that

other businesses will benefit from faster

and more efficient processing.

For anyone looking to get more out of a

lot of data, HPC could be the answer, or

at least part of the solution. While the

growth of data acquisition and processing

demands is far outstripping the ability of a

standard CPU, a data centre with HPC

infrastructures will be able to help

customers get more out of their big data

by developing patterns and analysis.

HPC heralds a new opportunity to

innovate in order to meet the demands of

our new, data-devoted world. It is costeffective

and powerful, putting more

information back more quickly into the

hands of the people who need it. With

speed and analysis at your fingertips, your

business processes could be what

propels you to the head of the pack. And

when data is fully recognised as a

financial asset on your balance sheet,

how you treat it and how you make it work

effectively for you will help determine how

successful your company becomes.

More info: www.voltadatacentres.com

12 Cloudhosting Feb/March 2017 @CHMagAndAwards

www.cloudhostingmagazine.co.uk
---
2017

COMING SOON

www.cloudhostingawards.com
---
CASE STUDY: ASTRAZENECA

Focused on protection

Pharmaceutical giant AstraZeneca is leveraging Cloud collaboration

technologies while keeping users and data secure

As a global pharmaceutical

company whose footprint includes

operations in over 100 countries,

AstraZeneca has an immense amount of

data to protect, thousands of users to

connect, and a highly regulated

environment to operate in.

To help tackle these challenges,

AstraZeneca Chief Information Officer,

Dave Smoley, developed an IT strategy

that put collaboration at the forefront,

breaking the traditional mould of

conservative pharmaceutical companies;

allowing users, patients and medical

professionals to share data and make the

most of new science, creating a lean,

fast-paced and creative environment.

THINKING OUTSIDE THE BOX

In addition to collaborating with leading

universities and other pharmaceutical

companies, AstraZeneca has tens of

thousands of salespeople globally who

need immediate access to their data from

anywhere in the world. With the old ways

of connecting through VPNs proving to

be cumbersome, the team at

AstraZeneca started looking to the Cloud

for answers, specifically, how to drive

secure and effective collaboration

through widely used Cloud-based tools

like Box.

"People couldn't understand why they

need to VPN-in to access Box," says Jeff

Haskill, AstraZeneca's Chief Information

Security Officer. "With the help of Skyhigh,

we've removed that friction and offer a

more streamlined solution which is still

secure and compliant, but a night and

day difference from what our employees

are used to." With Skyhigh, AstraZeneca

now enforces security and compliance

policies across Cloud services like Box

without adding any friction in the form of

VPN or new agents on devices, making

the secure path the easy path for users.

With the consumerisation of IT on the

rise, the use of shadow, or unsanctioned

Cloud services, has grown within the

enterprise as any employee with a credit

card or email address can sign-up for

14 Cloudhosting Feb/March 2017 @CHMagAndAwards

www.cloudhostingmagazine.co.uk
---
CASE STUDY: ASTRAZENECA

new Cloud services without the

knowledge or approval of IT. As

employees start sharing data outside the

enterprise, they increase an

organisation's overall risk of data loss and

exfiltration.

"What we needed was visibility," says

Haskill. "As we pushed more data into the

Cloud, we really had to answer the tough

questions - what are we using the Cloud

for, what's our data doing, where's it

moving to, and who has access to it?"

To gain the granular visibility and control

AstraZeneca was looking for, they

decided to leverage CASB (Cloud Access

Security Broker) technology and brought

in Skyhigh Networks. Haskill and his team

deployed Skyhigh for Shadow IT to help

answer questions about who had access

to their data and where it was going.

AstraZeneca uses Zscaler as their inline

proxy to monitor web traffic across users,

devices and locations and protect

employees from malicious or

compromised sites. Skyhigh seamlessly

integrates with existing technologies like

Zscaler to process proxy logs to provide

the visibility into AstraZeneca's Cloud

usage as well as the individual risk ratings

of each service.

Using the integration, AstraZeneca can

also analyse a particular Cloud IP address

to see if the site is malicious or serving

malicious content and block it if so.

With increased visibility, Haskill and his

team were able to leverage Skyhigh's

Global CloudTrust Registry which includes

the risk ratings of over 19,000 Cloud

services to allow or block Cloud services

based on their individual risk scores, and

further drive adoption to Box through justin-

time coaching and user education.

"I've been in this field a long time and

not much surprises me," says Haskill. "We

thought we would have a lot of shadow IT,

we found it was true and now we can act

upon it."

In addition to driving adoption and

consolidating services, AstraZeneca also

uses Skyhigh to further secure their Box

usage. By using Skyhigh, Haskill and his

team are able to drill down and see who

has access to sensitive data, who it has

been shared with, and also have the

ability to extend their existing on-premises

Data Loss Prevention (DLP) to the cloud.

As such, they can limit and control

access based on user role, device type

(managed and unmanaged) and user's

geographic location; all while notifying the

security operations centre if compromised

accounts or insider threats are detected.

"Skyhigh lets us use Box to its full

capability," says Haskill. "We can see how

our data is being used and if it is being

shared with third parties."

DATA DRIVEN SECURITY

In utilising Skyhigh as a central control

point to enforce policies across all Cloud

services, Haskill and his team are armed

with the actionable information they need

to continue to lower risk across the

organisation and gain executive support.

"We have the proof, down to the

smallest kilobyte of data, which allows us

to have intelligent discussions with the

executive leadership teams and with the

business, because we have actionable

data to share," says Haskill. As a result,

Haskill knows that the overall risk posture

at AstraZeneca has decreased by the way

the business approaches Cloud usage:

"When IT can bring the audit committee

and the executive members together and

they are confident and comfortable using

the Cloud, it is huge. You know you've

made an impact on risk. It is no longer IT

security saying, 'we believe this, or we

think that'. We have the data we need to

answer their questions and provide the

metrics showing how Skyhigh is

mitigating and lowering risk. It's the facts."

FORWARD LOOKING

As Haskill and his team continue to

enable their workforce's needs for global

collaboration, all new services are

screened and "wrapped in Skyhigh,"

allowing for the required controls to be in

place. "Skyhigh has allowed us to

leverage new Cloud technologies that

wouldn't have been possible before,"

says Haskill. "Our users never see

Skyhigh even though it is a key part of

our whole IT security strategy, allowing us

to keep our users and data safe so they

can have the global access they need on

any device."

With a target of having a substantial

proportion of their apps in the Cloud by

2018, it is imperative for AstraZeneca to

have solutions that integrate into existing

solutions, as the old, traditional model is

heavy on paperwork and requires onpremises

devices.

"Skyhigh integrated seamlessly with our

existing providers like Zscaler, and feeds

into our SIEM, so we get the information

that is important for us and we can

continue to be fast, lean and agile," says

Haskill. Leveraging the integration

between Zscaler and Skyhigh,

AstraZeneca can secure and govern

Cloud usage, by pushing governance

policies based on Skyhigh's Cloud

insights directly to Zscaler to block highrisk

services, and enforcing granular DLP

policies on Cloud usage.

"Skyhigh has streamlined application

management from weeks to hours and

that's key to our overall strategy to be

fast," concludes Haskill. "The reduction in

man hours allows us to focus on more

important things, like enable our users

and deliver on the key science that makes

AstraZeneca a great place to work."

More info: www.skyhighnetworks.com

www.cloudhostingmagazine.co.uk

@CHMagAndAwards

Feb/March 2017 Cloudhosting

15
---
RESEARCH: SECURITY

Scared to innovate?

New research from Claranet suggests that UK IT departments are among

the most likely in Europe to identify security/compliance as their biggest

challenge - and as a result, they are also more likely to host their

applications internally

stumbling block to the prosperity of

businesses in the UK."

Vanson Bourne surveyed 900 end user

IT leaders from mid-market businesses

in the six markets in which Claranet

operates (Germany, Benelux, France, Spain,

Portugal, and the UK) and found that 57 per

cent of UK organisations rank security and

compliance as the biggest IT challenge, joint

highest with security conscious Germany.

This concern is reflected by the fact that 50

per cent of applications managed by UK

businesses are hosted on internal

infrastructure, which can be attributed to

prevailing attitudes towards cloud security

and data ownership. Additionally,

authentication and security are the

applications that are most likely to be

hosted internally, with 63 per cent of UK

organisations doing so, due to the fact that

these are often associated with highly

secure data.

For Ian Furness, Hosting Services Director at

Claranet, it's critical that British businesses

address these security concerns and maintain

the integrity of their data so they can facilitate

innovation and respond to changing market

pressures. He explains: "Security concerns

amongst UK organisations are justified as

businesses come under increasing pressure

to keep up with the constantly evolving threat

landscape, especially as more data is

analysed and stored online. However, these

security concerns make organisations a lot

more risk adverse, which ultimately stifles

innovation.

"Considering that today's businesses are

becoming much more software driven and the

gate to competitiveness comes down to

adapting applications that respond to

increasing market pressures, security

concerns, if left unaddressed, present a major

According to Furness, organisations often

equate security with having perceived control,

which indicates why British businesses are

more likely to host their applications internally.

It's understandable, he argues, that

organisations may want to take this approach

for their applications, particularly those that are

associated with high risk information: "But just

because your servers are under your roof, this

doesn't necessarily make them more secure.

In fact, if managed and maintained correctly,

alternative delivery models - such as public

cloud - are suitable for even the most sensitive

data and can bring massive transformational

benefits to organisations."

Claranet's conclusions from the research

are clear: though security is not likely to

change as the number one IT priority any

time soon, the specific threats, and the ways

businesses manage and respond to them,

most certainly will. Ian Furness comments:

"Businesses will need to stay alert to changes

to legislation and the nature of prevailing

threats as more and more data is stored and

analysed. IT services providers (ITSPs) have a

critical role to play here. A well-staffed ITSP

with years of security expertise is likely to be in

a better position to maintain the integrity of

data, compared to an under-resourced inhouse

IT team. By working with a trusted

service provider businesses can benefit from

transformational benefits and highly compliant

security protocols in tandem."

More info: www.claranet.co.uk

16 Cloudhosting Feb/March 2017 @CHMagAndAwards

www.cloudhostingmagazine.co.uk
---
TECHNOLOGY: ENTERPRISE CONTENT MANAGEMENT

Choose your

partners

The advantages of the Cloud reach to the core of

most businesses - but executives must choose their

partners carefully, argues Tim Rushent, Account

Manager for industry and commerce at Hyland

Nearly four-fifths of all data centre traffic

will be Cloud-based by 2019

according to some predictions, fuelled

by a growing awareness of the opportunity to

scale an organisation's digital capacity, not just

in terms of storage, but also functionality.

As early concerns over security have been

assuaged, executives have been persuaded to

embrace the Cloud for its flexibility and

reduced costs: however, most remain unaware

of further opportunities that the move presents

- and its hidden risks. For example, a move to

the Cloud can be an ideal time to adopt an

enterprise information platform that unites data

from different systems and formats, from

where it can be accessed, analysed and

managed. From increased efficiency at a user

level, to automated workflow management

and vastly improved executive overview, a

fundamental technology overhaul may not be

necessary, as enterprise content management

(ECM) software can provide the seamless link

needed to bring together existing platforms.

The move to Cloud makes the adoption of

such systems even easier, as they will not be

restrained by capacity. But it is not enough to

simply trust that a Cloud provider will keep a

company's data secure: it is important to

thoroughly evaluate key aspects, such as the

provider's infrastructure and security

provisions, alongside their track record and

industry reputation.

Common pitfalls include failure to ensure a

system offers the scope to cater for longerterm

needs; becoming locked into contracts

that can hold a firm's data hostage; and failure

to make adequate provision for disruptive

events, such as outages or the Cloud provider

going bust. All of these scenarios can be

avoided or suitably mitigated, but they must

be considered at an early stage - not when

they happen out of the blue and leave a

company unable to use its essential IT

infrastructure.

Other key issues to consider include:

Security - What technologies are in place

to manage risks and what are the

processes for dealing with a data breach?

How is encryption used and what data

backup regime do they have in place?

Audits - Will the provider carry out regular

infrastructure reviews, to ensure regulatory

and legal compliance? Who is responsible

for carrying out such audits and are they

prepared to share earlier reviews with you?

Integration - Are there any technical or

other hurdles to overcome, to ensure the

Cloud resources can readily be integrated

with your own on-premise and existing

Cloud systems? Does the hosting

provider have sufficient networking

bandwidth in place to deal with increased

data volumes?

When evaluating vendors, remember not all

Cloud providers are the same. For example,

if you are looking for a provider to deliver

ECM services, that provider's infrastructure

must be specifically designed for the task.

Servers, data stores and networking links

must be optimised to ensure they can

provide the level of availability and

performance that is required.

Once a Cloud provider has been selected,

putting an effective contract in place is the

next important step. Don't get locked into a

long-term agreement from which it is very

costly to withdraw. Also, pay particular

attention to how data will be transferred at the

end of the contract and what would happen to

it in the event that the provider ceases trading.

The contract should be clear about what

would happen if there were difficulties with any

third party involved, where responsibilities lie

and what compensation would be payable in

the event of outages.

The flexibility and scalability offered by the

Cloud provides a golden opportunity for firms

looking to develop their digital infrastructure

and build further competitive advantage

through a single enterprise information

platform. However it is important to carefully

review the prospective hosting provider before

entering what should be a very productive

long-term relationship.

More info: www.onbase.com

www.cloudhostingmagazine.co.uk

@CHMagAndAwards

Feb/March 2017 Cloudhosting

17
---
CASE STUDY: METRO BANK

Take that to the bank

Metro Bank, the first new UK high street bank in over 100 years, has

reduced close-of-business processing time by 50 percent and report

production time by two-thirds by moving its IT infrastructure to a managed

Cloud solution

focused culture and ethos of delivering

exceptional customer service. Kane explains:

"Rackspace just gets us - they understand

our culture and share our values. You can't

underestimate the power of people. They

have exceeded our expectations, and

provide us with superior levels of support

and guidance day in, day out."

Metro Bank was founded in 2010 and

has already launched more than 45

branches, providing banking

services for both personal and business

customers. With ambitions to reach 100

branches by 2020, Metro Bank stands out

from traditional financial organisations, with its

highly customer-driven approach that

includes services such as being open seven

days a week and the capability to open an

account in under 20 minutes - without having

to book an appointment.

Unlike its high street competitors, Metro Bank

is not tied to legacy IT systems, which means it

has the freedom to incorporate the latest

technologies that offer unparalleled scalability

and agility. This has enabled the business to

genuinely disrupt the banking sector and break

away from industry norms with services that

are focused entirely on providing high levels of

customer service and convenience. These

capabilities became a reality when seamlessly

migrating Metro Bank's entire infrastructure -

including its core banking operations, digital

offerings and even ATMs - to a managed

Cloud solution architected by Rackspace.

Metro Bank chose Rackspace to help

support its rapid growth, roll-out new services

and streamline existing processes, starting

with an initial 12-month migration project. This

was delivered on time, on budget and without

any costly downtime, with applications starting

to go online within six weeks. The day after the

first migration, close of business processing

on core banking systems were 50 percent

quicker and vital reports that were taking an

hour to produce could now be completed in

just 20 minutes.

Aisling Kane, Chief Operating Officer at Metro

Bank says: "We're growing exponentially so it's

essential that we partner with organisations

that can scale alongside us, which Rackspace

has clearly shown it can."

GROWING A CUSTOMER-FOCUSED

CULTURE

Both businesses share the same customer

Metro Bank is using a Rackspace

Dedicated Server Solution for its high

performance and enhanced security. The

company is also using DevOps to roll out

new services quickly in a controlled

environment as it moves towards automated

management. The infrastructure includes

Disaster Recovery capabilities.

Darren Norfolk, MD of Rackspace UK

added: "We're proud to be supporting Metro

Bank's impressive growth, and as an

organisation with a customer service

orientated culture ourselves, its mission to

deliver truly outstanding experiences for

customers. Metro Bank has used this

approach to pose a serious challenge to the

industry status quo during a period that has

seen technology change the face of

banking. These days, finance companies

have to focus on connecting people to their

money quickly, processing transactions

accurately and presenting customers with

access to their information at all times. We

have enjoyed helping the bank achieve this,

by providing the leading technology

platforms that power these compelling

customer offerings."

More info: www.rackspace.co.uk

18 Cloudhosting Feb/March 2017 @CHMagAndAwards

www.cloudhostingmagazine.co.uk
---
OPINION: DATA CENTRE RESILIENCY

Pressure sensitive?

The growth in cloud services is putting increased pressure on data centre

resiliency, suggests Adrian Barker, General Manager EMEA at RF Code

to damage or failure. A lack of capacity is

equally damaging - a spike in traffic could be

enough to cause downtime if equipment

becomes overheated and overworked.

The flood of digital content, internet

traffic, Big Data and eCommerce has

had a dramatic effect on data centres

in recent years. One of the most significant

trends to date is the meteoric rise of cloud

computing.

Cisco is forecasting 83% of data centre

traffic in the next three years will be generated

through cloud computing. Is that really

surprising? Businesses of every size are

utilising Infrastructure as a Service (IaaS),

PaaS (Platform as a Service) or SaaS

(Software as a Service) offerings. Data

centres have had to physically transform in

order to meet availability demands.

With fundamental business tasks now

dependent on an uninterrupted service from

the data centre, the spotlight is on the issue

of downtime. This is more than just a financial

consideration. If a business cannot access its

cloud and hosted services it seriously risks a

loss in productivity and the potential for a

major impact on its commercial reputation.

DOWNTIME DEBACLES

Software company SSP Worldwide came

under fire in September 2016 when its SaaS

solution suffered an outage. The system is

used by 40% of the UK's brokers to track

insurance renewals amongst other services.

The downtime, which was said to be caused

by a data centre power outage, lasted almost

two weeks, by which time brokers had made

their frustrations known online. Their concerns

included loss of business and risk of action

from the Financial Conduct Authority.

Another incident saw Salesforce suffer an

outage attributed to a failure in the power

distribution in its primary data centre, causing

twelve expensive hours of disruption. In this

case, the CEO was forced to apologise via

social media; the kind of experience that all

business leaders dread.

COPING WITH DEMAND

There are many different ways in which data

centre and service availability can be affected.

Around a quarter of outages are due to power

failures, but software and hardware problems,

human error, natural disasters and cyberattacks

also play a big part.

Another problem is overheating due to

inefficient cooling. A rapid increase in

temperature can cause immediate equipment

failure but inadequate cooling of equipment

over a prolonged period of time will also lead

Operators face a constant battle of

balancing workloads against available

budgets. Many data centre owners choose to

over-provision resources and servers 'just in

case' a disaster situation occurs, however this

can be immensely costly. There are other

strategies available.

PREVENTION - BETTER THAN CURE

One of the methods to maintaining resiliency,

even in the face of an extreme weather event

or a catastrophic power failure, is through a

clear understanding of the data centre

environment. Operational management

solutions can provide real-time insight,

control and predictability so data centre

managers can solve environmental and

operational challenges with valuable insight,

rather than guesswork.

Data centre assets need to be monitored

and tracked to maintain performance and

guard against technical failure. Environmental

conditions need to be dynamically adjusted

with changes in demand. It is all about

understanding and managing your

environment to ensure reliability.

As data gets bigger and cloud computing

expands further, data centre dependency is

only set to increase, although the use of realtime

insight and other tools will ensure data

centres remain secure, resilient and reliable in

the face of businesses' unrelenting appetite

for more data.

More info: www.rfcode.com

www.cloudhostingmagazine.co.uk

@CHMagAndAwards

Feb/March 2017 Cloudhosting

19
---
CASE STUDY: FISCAL TECHNOLOGIES

Safe and sound

Fintech specialist FISCAL Technologies is securing customer data and

winning new business thanks to The Bunker's virtual hosting infrastructure

Founded in 2002, innovative fintech

company FISCAL Technologies

provides forensic solutions that

empower purchase-to-pay (P2P) teams to

protect organisational spend. Ultimately, the

company creates software that prevents

money from mistakenly or fraudulently leaving

an organisation. It offers a variety of forensic

solutions that analyse financial transactions

across the entire P2P process, finding

anomalies, errors, duplicates and identifying

potential fraud. With offices in the UK and the

US, FISCAL has experienced seven years of

profitable growth, with ambitious plans for the

future.

INTERNATIONAL RESCUE

FISCAL Technologies' customers place a

premium on their security. Some of their

customers require contractual certainty that

their data does not come into contact with

any organisation that has any kind of

relationship with the US or American

organisations due to data sovereignty

requirements. FISCAL had kept US and UK

customers' data stored in the same data

centre in the UK, but subsequently needed to

split the data because of this segregation

requirement. Whilst FISCAL partnered with a

company in the US for their American

customers, they found that their previous UK

provider, who had been in place for three

years, did not have adequate measures in

place to guarantee adherence to their client's

data sovereignty requirements.

In order to guarantee its customers

complete certainty that they fulfilled the above

requirements, FISCAL needed a hosting and

infrastructure provider that not only met all the

most recent security accreditations, but also

had security embedded in everything it did. In

particular, adherence to the ISO 27001

security standard - a comprehensive,

technology-neutral specification that deploys

a risk-based approach going across all

sections of an organisation - was key.

Moreover, as an ambitious organisation

looking to accelerate its growth, FISCAL

needed a partner who could not only keep up

with them, but would have both the capacity

and the drive to grow with FISCAL and be

adaptable to its requirements. Another critical

20 Cloudhosting Feb/March 2017 @CHMagAndAwards

www.cloudhostingmagazine.co.uk
---
CASE STUDY: FISCAL TECHNOLOGIES

"It's hugely important to our clients to have certain security guarantees in

place. The Bunker is distinct for a security culture that is deeply embedded

in its DNA, and for having a more comprehensive security provision than

anyone else we spoke to."

consideration was experience, and FISCAL

sought a partner that had a heritage of

working with other fintech and financial

services firms.

ULTRA SECURE SOLUTION

FISCAL embarked on a wide-ranging

procurement process - and quickly found that

The Bunker stood out for its security provision,

which was more comprehensive than any

other they had encountered before and

covered all the necessary accreditations,

including ISO 27001. With a significant

amount of experience working in the fintech

sector, The Bunker fitted the bill perfectly.

The Bunker's solution was a virtual

environment, with powerful SQL Server

databases, load balanced firewalls, and

active directory domain controllers. This

system delivers not only a robust approach to

data and system security, but also the speedy

performance and seamless management that

FISCAL requires in order to deal with the

sheer volume of data and amount of

processing that it manages for its customers.

A NEW IMPETUS

Demonstrating a high-level of security

compliance has provided a powerful new

business impetus for FISCAL.

Howard Durdle, CTO at FISCAL,

commented: "Being in financial services,

security is absolutely paramount, and for

many of our customers, having the level of

security provided by The Bunker was a

prerequisite to making deals. For example, for

a large defence contractor who placed huge

value on security and on their data not

touching the US, The Bunker were a vital

element in passing a lengthy procurement

process and securing a deal. Hosting our

customers' data in a former Ministry of

Defence bunker, deep underground and fully

insulated from the outside world, gives us a

powerful story to tell potential and current

customers about the importance we place on

security."

Moreover, the benefits of running a fully

virtualised estate are clear to Howard: "In the

case of any kind of system failures, we can

migrate virtually across to other parts of the

infrastructure, massively reducing any

potential for downtime - not that it's been an

issue as of yet."

PRODUCTIVE PARTNERSHIP

Howard said: "It's hugely important to our

clients to have certain security guarantees in

place. The Bunker is distinct for a security

culture that is deeply embedded in its DNA,

and for having a more comprehensive

security provision than anyone else we spoke

to."

Looking to the future, while FISCAL is still in

the process of moving their customers off the

old platform, the company is looking to

expand the virtual infrastructure and to double

its customer load over the next year - all whilst

maintaining current performance levels.

"We have mutually complementary

narratives," concludes Howard. "FISCAL is

absolutely focused on protecting

organisations' money, whilst The Bunker has

the same obsession with protecting

organisations' data. This cultural overlap has

made for a productive partnership."

More info: www.thebunker.net

www.cloudhostingmagazine.co.uk

@CHMagAndAwards

Feb/March 2017 Cloudhosting

21
---
TECHNOLOGY: APIS

Automating the IT

production line

David Grimes, CTO at Navisite, discusses the growing role of APIs in reducing

costs and developing tomorrow's businesses

Finding ways to reduce costs while

continuing to offer excellent

products and services is the eternal

business challenge. To help businesses

do this, IT teams and service providers

are increasingly looking to APIs

(Application Programming Interfaces).

APIs are sets of routines, protocols and

tools for building software applications

that enable automation, which supports

increased efficiency, consistency and cost

savings for businesses. How exactly are

organisations using APIs to do this, and

how is this likely to develop in the future?

OPERATIONAL RELIABILITY &

EFFICIENCY

One important outcome of the automation

enabled by APIs is consistency. Through

automation, businesses remove human

error (and human expense) from

operational processes. Even when a

repeatable task is well-documented with a

clear procedure, when human workers

perform the task it is likely that you will

end up with varied outcomes.

On the other hand, if that repeatable task

is automated, it will be performed in the

same way every time, improving

operational reliability and in turn

operational efficiency. API enabled

platforms are driving a true re-think in how

we manage IT; we are moving quickly

from a process-driven, reactive world to

an automation-driven, proactive world.

AUTOMATING DEVOPS

APIs allow for more dynamic systems that

can scale up and down to deliver just the

right amount of infrastructure to the

application at all times. For example,

instrumentation in your application that

provides visibility to an orchestration layer

can tell when more capacity is required in

the web or app tier. The orchestration

layer can then come back to the APIs

provided by the infrastructure and begin

22 Cloudhosting Feb/March 2017 @CHMagAndAwards

www.cloudhostingmagazine.co.uk
---
TECHNOLOGY: APIS

spinning up new web servers and adding

them to the load balancer pool to

increase capacity.

Likewise, systems built on APIs will then

have the instrumentation to tell when they

are overbuilt, for example at night and can

then use the APIs to wind down

unnecessary servers in order to reduce

costs.

Indeed, through the ability to script the

powering-on of development and testing

environments at the start of the business

day and automatically powering-off at the

end of the business day, businesses can

realise huge cost savings on their hosting

- up to 50-60 per cent in some cases.

Overall, leveraging APIs in support of a

DevOps strategy is always a blend of

optimising for cost, for performance and

the ability to have deep app-level visibility.

AUTOMATING REPORTING

APIs are also highly useful in reporting

procedures, as many applications are

now producing vast amounts of data that

are often an untapped asset. IT teams

therefore need to think about how to

make those datasets available efficiently

in order to build a dynamic reporting

engine that can potentially be configured

by the end user, who will be the person

that understands the nature of the

information that he or she needs to

extract from the data.

This is frequently accomplished through

APIs. IT teams and application services

providers can use APIs to build systems

that process data and make it accessible

to end users immediately, so that they do

not have to go through a reporting team

and do not lose any of the real-time value

of their data.

BUSINESS CONTINUITY & DR

The benefits of automation through APIs

make them a crucial part of modern

disaster recovery approaches. The

assumption that you'll be able to access

all of the tools that you would need during

a disaster through the typical user

interfaces is not always true. In the

modern world of highly virtualised

infrastructure, APIs are the enabler for the

core building blocks of disaster recovery,

in particular replication, which is driven

from the APIs exposed by the

virtualisation platforms. The final act of

orchestrating DR, failover, is also often

highly API dependent, for these reasons.

In essence, disaster recovery is one

specific use case of the way that APIs

enable efficiency and operations

automation. Humans make mistakes and

processes become very difficult to

maintain and update. Therefore a DR plan

based on processes and humans

executing processes is not an ideal option

to ensure the safety of your business in

the event of a disaster. Kicking off DR can

be likened to "pressing the big red button".

However if you can make it one button

that kick starts a set of automated

processes, this will be much more

manageable and reliable than thirteen

different buttons, each of which has a

thirty-page policy and procedure

document that must be executed during

a disaster.

WHAT DOES THE FUTURE HOLD?

While there are some obvious benefits to

API-enabled technology and automation,

much of the IT industry is yet to get up to

speed to understand this technology's

potential. This is particularly true in

industries that have been using

information technology for a long time. In

these industries, we're still seeing a large

number of legacy applications, legacy

staff skill-sets and legacy approaches to

managing infrastructure.

As we watch the younger generation

coming into the IT industry, who have

grown up with and are being taught about

APIs, there is likely to be a shift towards

more comprehensive API use and

understanding of the value APIs can offer.

As we see disruptors displace incumbent

packaged software players and new

entrants to the enterprise IT community,

we are likely to see more realisation of the

benefits of API use - particularly as skillsets

build and the potential to utilise

capabilities inherent in new generation

Cloud infrastructures grow.

It will, however, take time to produce and

develop enough entry level IT

professionals who possess the training

and education required to take full

advantage of the opportunities APIs offer.

APIs are also contributing to reducing

the cost of developing new ideas.

Entrepreneurs can now quickly start a

new business on Cloud Infrastructure-asa-Service

platforms, without having to

make large upfront investments on IT

equipment to get an idea off the ground.

Start-ups can use APIs to control and

power systems down to reduce costs as

required and can then efficiently scale up

on the same Cloud infrastructure as their

new product or service grows.

To fully take advantage of the reduced

costs, APIs should be an integrated part

of Cloud solutions, rather than an

expensive addition to the service.

As the number of innovative startups in the

tech space grows and as enterprises

increasingly search for new, effective

solutions and ways of working, we are likely

to see more creative uses of APIs, driving

consistency, efficiency and automation.

Businesses are going to have to work hard

to stay ahead of the market and making full

use of API-enabled technologies and

software to increase efficiency and reduce

costs is a key enabler to support these

competitive drives.

More info: www.navisite.co.uk

www.cloudhostingmagazine.co.uk

@CHMagAndAwards

Feb/March 2017 Cloudhosting

23
---
EVENT REPORT: CLOUD EXPO EUROPE 2017

The main event

Cloud Expo, Europe's biggest and best attended cloud and digital transformation

show took place recently in London's ExCel: Cloud Hosting

magazine was there to report back

This year's Cloud Expo Europe -

alongside Smart IoT, Cloud

Security, Data Centre World and

Big Data World - played host to over 500

leading international technology

exhibitors and 600 speakers. Delegates

took advantage of the free entry to learn

from global business experts as well as

leaders of innovative UK and

international start-ups.

The comprehensive conference

programme included:

Over 600 top experts, including

number 1 rated CIOs, Acclaimed

Global Cloud Leaders, Cloud Gurus

from Box, BT, Google, McLaren

Technology Group, Microsoft, Paypal,

Spotify, Twitter and Vodafone,

covering all the major technology

and business issues

24 Cloudhosting Feb/March 2017 @CHMagAndAwards

www.cloudhostingmagazine.co.uk
---
EVENT REPORT: CLOUD EXPO EUROPE 2017

The opportunity to learn from dozens

of real practitioners from blue chip

companies, service providers and

leading organisations including

organisations including Financial

Times, ITV, LEGO, Lloyds, LV and the

Ministry of Defence.

Suppliers at the show included AWS,

Commvault, LeGrand, IBM, Intel, OVH,

Navisite, NTT Communications, Pure

Storage, Samsung, Trend Micro,

VMware, Veeam, Volta and Western

Digital.

Delegates were able to network with

thousands of peers, industry

visionaries, leaders and people who

are facing similar challenges.

The industry-leading sister events

were all well attended: Data Centre

World, Cloud Security Expo, and

Smart IoT all took place at the same

time in the same place, as well as

brand new launch event Big Data

World.

SPEAKERS' CORNER

Pulsant CTO Matt Lovell presented at the

Infrastructure, Storage & Virtualisation

Theatre, talking about 'converting hybrid

services to value', and also told us about

Pulsant's newest collaboration with

Microsoft on AMP, a hybrid cloud

solution set. As one of only a handful of

strategic hosting partners to Microsoft,

AMP will strengthen Pulsant's delivery,

management and support of Azure and

Azure Stack.

We also spoke with Hiren Parekh, UK

Director at OVH, one of Europe's largest

cloud hosting providers and a relatively

new name in the UK market. The

company recently announced a new

data centre in the UK, and has ambitious

growth plans. OVH also presented at

Cloud Expo on 'Understanding different

types of cloud services' as well as 'My

CTO loves Software Defined Data

Centres' - we were sorry to have missed

that one!

On the IBM stand the focus was on a

demonstration of the 'Cognitive

Command Centre', showing social

sentiment around blood and organ

donation using URLs and hash tags.

The company was involved in a number

of speaker sessions including the 'Cloud

Super Providers' panel discussion which

was one of the best attended of the two

days.

THIS YEAR'S MODELS

Navisite had a very noticeable presence

at the event, and Sean McAvan, Navisite

Europe MD presented on the topic of

'Multi-Cloud - Practical Use Cases,'

exploring one of the hottest trends in the

cloud and IT industry. Sean's talk

covered why businesses across multiple

industries are adopting a multi-cloud

approach, and how this is impacting IT

across a range of industries. He also

discussed how IT teams and providers

could manage multi-clouds and

overcome the barriers to adoption.

A major Navisite customer, the National

Theatre was also at the show talking

about the importance of technology to

the Theatre's success, and how moving

to the cloud has enabled this, including

the enablement of better remote

working. Cloud solutions are supporting

digital transformation across the arts

sector, explained John Cheyne, IT

Director at the NT, and this is likely to

develop in the future.

HyperGrid attended Cloud Expo to

showcase their HyperCloud offering but

also to talk in more detail about how

consumption-based models are set to

define the way businesses embrace

cloud in the coming years. HyperGrid

were the first provider to move from a

traditional, hardware-based hyperconverged

infrastructure solution to a

SaaS solution. HyperGrid now offer a

fully consumption-based, on-premise

cloud service for the enterprise, with no

Capex costs - an approach also adopted

by the likes of Nutanix and Simplivity.

HyperGrid CEO Nariman Teymourian

was on hand at the show to discuss how

HyperCloud is 'shaking up the cloud

landscape', as well as share his thoughts

on the latest developments and future of

cloud, including how consumptionbased

models can bring added depth to

a space currently dominated by key

players such as AWS and Azure.

www.cloudhostingmagazine.co.uk

@CHMagAndAwards

Feb/March 2017 Cloudhosting

25
---
EVENT REPORT: CLOUD EXPO EUROPE 2017

Datapipe - who acquired Adapt late last

year - were named a leader in the 2017

Gartner Magic Quadrant for Public Cloud

and Infrastructure Managed Service

Providers (the tenth time it has been

placed in a Magic Quadrant) and Stewart

Smythe, Managing Director at Datapipe

Europe was at Cloud Expo Europe to

discuss the strategies which have helped

to enable this achievement. This included

Datapipe's ability to support cloud

deployments in China, as a global

managed service provider of Alibaba

Cloud, as well as the recent launch of

Datapipe's end-to-end platform,

Trebuchet.

MAKING CONNECTIONS

Elsewhere, Talend was promoting how it

is using data to develop the connected

car and also talking about the

government's journey from being 'data

rich and insight poor' to truly data driven.

Vice President Ciaran Dynes discussed

the issues surrounding data collection for

the 23% of UK cars that are predicted to

be connected by 2020.

Interoute unveiled its VDC Container

Orchestration platform with Rancher - to

help companies develop the tools needed

to improve customer experience and

service levels, as well as speed up

DevOps projects. Matthew Finnie, CTO at

Interoute hosted a keynote presentation

on 'Why digital transformation is no longer

a choice'.

Finnie was also keen to explain how

Interoute is enabling enterprises (such as

client AO.com) to digitally transform, as

well as explaining how organisations can

integrate legacy, third party and digital IT

environments.

Druva used the timing of the event to

announce news around Office 365 and

data protection for cloud applications,

based on a partnership with Phoenix

Software here in the UK. According to

Rick Powles, Druva VP for EMEA, many

companies don't consider how easy it is

for data to live outside the data centre,

but at least 40 per cent of all company

data is already there according to analyst

reports.

Rubrik, one of the fastest growing cloud

companies to come out of Silicon Valley,

is the start-up responsible for developing

the world's first Cloud Data Management

platform for data protection, storage and

archival - and has recently opened a

London office. In the three years since its

conception, Rubrik has grown

exponentially, announcing earlier this year

a booked revenue approaching $100m

run rate and a 700% annual customer

growth. As a company, explained Yvonne

Prest, Rubrik's recently appointed UK

Channel Manager, its fundamental aim

has always stayed the same; to reimagine

and radically simplify how data storage,

back up and cloud recovery works.

WHAT'S IN STORE?

As usual, storage companies were well

represented at Cloud Expo Europe. Tom

O'Neill, Kaminario's CTO International,

talked about the urgent requirement for a

scalable storage platform to enable cloud

businesses to grow rapidly without

adding complexity. To that end, Kaminario

set itself a challenge: how to create a

cloud storage platform which can scale

without adding complexity. The answer,

O'Neill explained, is to make storage

application-aware.

At the event Kaminario was

demonstrating its sixth generation of its

K2 all-flash array delivering multi-petabyte

scale storage. The newer generation AFA

delivers up to five times more capacity

than the previous generation and twice as

much performance. The array can linearly

grow the number of CPU cores and

independently grow solid-state capacity.

Samsung Semiconductor showcased its

industry-leading memory and storage

systems at the show - including its Z-SSD

products, 10nm class DRAM with 3D TSV

and AutoCache. The company was also

promoting its selection of all-flash array

and NVMe over fabric solutions.

Overall there can be no question that no

other UK business IT event is bigger,

better attended and packs more leading

educational content into 2 unmissable

days than Cloud Expo Europe - all at no

cost.

More info: www.cloudexpoeurope.com

Cloudhosting

26 Feb/March 2017

@CHMagAndAwards

www.cloudhostingmagazine.co.uk
---
What if you could store, synchronise and share your

Vectorworks files in the cloud to make decisions from any location?

Now you can.

www.vectorworks.net/service-select/cloud-services

Authorised Distributor

For more information visit

www.vectorworks.co.uk

or call 020 8358 6668

In partnership with: