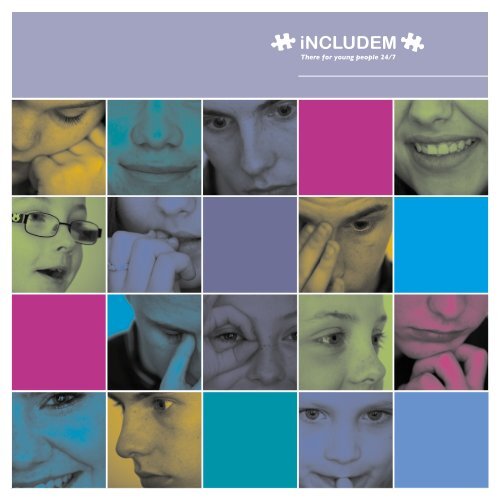 Includem Impact Report '14 (V5)
Create successful ePaper yourself
Turn your PDF publications into a flip-book with our unique Google optimized e-Paper software.
There for young people 24/7

ACTIVITY AND IMPACT REPORT 2014
---
We are a specialist Scottish charity established in 2000. We remain solely focused on delivering

support to the most vulnerable and challenging young people in society. Our 1-to-1 support at the

times of need helps young people, parents and carers make positive changes to their attitudes,

behaviours and relationships.

There for young people 24/7

Includem delivers

community alternatives

to custody and secure

care, and diversion

from formal youth justice

measures, reducing

reoffending and keeping

communities safe.

Includem prevents

family breakdown and the

unnecessary use of residential

care. We address problematic

behaviours and underlying

support needs and help

parents/carers to better

support young people.

Includem responds

immediately to provide

crisis support, reducing

immediate risk of harm,

and stabilising difficult

situations while assessments

happen and longer term

plans are made.

Includem empowers

young people during

transitions to engage with

other services, build

independent living skills and

strengthen family and other

support networks.

It was a blessing knowing that there was

someone there

for my daughter, giving her the

help and support she needed when I could

not. Forever Grateful.

PARENT

HIGH RISK

COMPLEX NEEDS

YOUNG PEOPLE AT RISK

VULNERABLE COMMUNITIES

ALL YOUNG PEOPLE

GIRFEC STAGED MODEL OF SERVICE PROVISION

Increasing

complexity

of risks

and needs.

Increasing cost

to society of

unmet needs.

CRISIS

RESPONSE

AND PREVENTION

OF IMMEDIATE HARM

COMMUNITY ALTERNATIVE

TO RESIDENTIAL CARE,

SECURE CARE OR CUSTODY

PREVENTING FAMILY BREAKDOWN

OR COMMUNITY PLACEMENT BREAKDOWN

TRANSITIONAL SUPPORT

INCLUDEM SPECTRUM OF SERVICES

Includem services

are reducing risk, addressing

immediate and underlying

support

needs, and reducing

the potential cost

to society.

Excellent work.

This young lady

might likely

have been

accommodated

if the intensive

support from

Includem

had not been

available.

SOCIAL

WORKER

CONTENTS

Message from the Chief Executive 04/05

Impact numbers 06

Includem Through the Year 07

Influencing Leadership 08

Foster Care Support 09

About Transitional Support 08

Understanding Transitions 11

Transitional Support

- Embedding Service Design 12

The Reality of Transition

- Connor's Story 13

Harnessing Technology 14

Leading the way on partnership working 15

Fun with young people and families 16

Message from the Chair 17

Accounts / funders 18

2 ACTIVITY AND IMPACT REPORT 2014

3
---
There for young people 24/7

MESSAGE FROM THE CHIEF EXECUTIVE

MESSAGE FROM THE CHIEF EXECUTIVE

In the 2012/13 report I highlighted our innovative approach to Quality

Assurance and the purpose of our unique post of Practice Champion.

We were therefore delighted this year to receive recognition for

this investment through the SSSC Chairman's Award. Professor Jim

McGoldrick, Chair and SSSC Convener said at the time our "Practice

Champion project demonstrated a very innovative approach to

organisational learning taking into account conventional quality

assurance measures, but also took in more qualitative measures

around 'compassion'".

The work of this post continues to

develop and bed in alongside a similar

process for the Includem MAPS database

which provides increasingly sophisticated

information on all our activity with targeted

reports for all levels of staff through to the

Board.

Through this combination of qualitative and

quantitative information we are therefore

continuing to translate our commitment

to a learning and improvement culture

into practice.

A key theme for ongoing scrutiny will be

quality of supervision for frontline staff

as the crucial activity to support their

personal and professional use of self in

helping young people and families with

complex problems.

In regard to this we are pleased to be

connected into a significant focus on

leadership skills for staff at all levels

through the SSSC workforce development

initiative and look forward to participating

in the strengthened learning and identity

for the wider social care workforce which

Social Work Scotland presents.

We have also over this year (re)established

relationships with the lead universities for

professional social work training given

our shared interests in professional and

practice development.

All of the above is not new but builds on

and develops the strategies we identified

5 years ago when we made the clear

decision to remain a specialist organisation

with a commitment to evidence and

improvement.

So whilst our core values and the

fundamental features of the Includem

model remain, our development and

diversification activity has been through

effective service targeting to support our

Local Authority partners in the objective

of prevention and early intervention at all

life stages – not just early years.

For example working with young

children and whole sibling groups to

keep families together; supporting foster

care placements where there is risk of

breakdown; maintaining young people

at school whose home circumstances

indicate risk of exclusion. All of which

fit our core purpose to support young

people who have the most challenging

and complex problems to have the best

life they can.

We therefore look forward to

supporting young people and families to

contribute their voice and experience

to implementation of the C+YP Act,

particularly the potential for "Relevant

Services" to further shape provision which

enables children, young people and families

to fulfil their potential as full members of

their communities. In that context our "Aye

Naw Mibbie" initiative to ensure young

people entitled are registered to vote in

the 2014 Referendum and supported to

develop their own judgement on this.

Lastly we were very appreciative of

the support and recognition Includem

received from the First Minister this year

when he opened Includem's new Head

Office and met staff and young people.

4

ACTIVITY AND IMPACT REPORT 2014 5
---
IMPACT NUMBERS

INCLUDEM THROUGH THE YEAR

There for young people 24/7

Prevented

106

young people

going into care

31,466

hours of contact

with young people out with

normal working hours

Awarded

33

grants from our

Young Person's Fund,

totalling £2,864.

9,984

calls to our free 24/7

support helpline

We had tried

just about

everything but

until Includem,

nothing had

worked. The

focus and the

"not giving up"

made a huge

difference.

SOCIAL

WORKER

They listened to me and were interested in

what I had to say.

YOUNG PERSON

from Clackmannanshire

6

100,189

hours of contact

with young people

Supported

73

families to

prevent breakdown

They helped

keep me safe and

feel safe

YOUNG PERSON

from Glasgow

I found Includem beneficial my son

needed some one on one support. All the

staff were very supportive and he feels

more confident now.

PARENT

ACTIVITY AND IMPACT REPORT 2014 7

* name changed to protect identity
---
INFLUENCING LEADERSHIP

FOSTER CARE SUPPORT

There for young people 24/7

Our Head of Corporate Services, Michelle Nairn has been seconded one day a week to

the Coalition of Care and Support Providers working on a project about leadership in

social services as part of the Workforce Development Network.

We have been involved in providing support to foster placements within Glasgow since

April 2013, with the aim of providing direct support where the placement has been assessed

as being at risk of breaking down.

This project is designed to recognise the

importance of leadership in driving forward

transformative change at a time of increasing

pressure and change across the social

services. It is also about looking at the way

services are designed for the people who

use them – not just focusing on processes

and procedures.

Includem is doing a lot on service design

at the moment, particularly around our

transitional support programme, and I

have been able to draw on many of these

experiences. There are also some lessons

to learn for all organisations working in the

sector – around the language we use, and

about how we empower people who are

leading in their field. From an organisational

point of view, it's also about adopting a

culture that takes measured risk – not being

averse to innovation or change.

Our aim is aligned with other recent

work including the Christie Commission

which recognises that leadership is a

key driver in implementing the changes

that are needed to solve contemporary

challenges – for example around welfare

reform. The work from this project will be

ongoing for a number of years, and our

aim is in many ways to professionalise

the social care sector so that people see

themselves as working to a shared goal –

whether in the public, private or voluntary

sector. Ultimately it's about ensuring that

what we are all doing is addressing the

problems and challenges we come across

on a daily basis in the sector and showing

leadership in how we address them.

This service is specifically targeted to

support the Council's strategy to work

at earlier levels of intervention and

prevention.

One such placement was Lucy* who

was 12 when referred to Includem with

the aim of preventing family breakdown

and reducing her risk taking behaviour.

Both Lucy and her brother have been

diagnosed with microcephaly, which led

both to have special needs.

Lucy's carer had been struggling with

her challenging behaviour and she had

been creating difficulties with other

foster children so that the carer had to

continually intervene to diffuse conflict.

However, through regular structured

activity in the local community and

sustained work on identifying the causes

of her behaviour and solutions to it,

we were able to build a much more

positive relationship between Lucy

and her carer. This resulted in reduced

incidences of difficult behaviour and

better communication about issues in

the house.

In addition to supporting Lucy, Includem

also supported her carer, offering advice,

guidance and encouragement as part of a

dual remit to support both young people

and their carers to sustain the foster

placement.

By achieving the desired outcomes we

were able to leave her in a placement

that was stable and secure – reducing the

future risk of it breaking down.

* name changed to protect identity

8

ACTIVITY AND IMPACT REPORT 2014

9
---
ABOUT TRANSITIONAL SUPPORT

UNDERSTANDING TRANSITIONS

There for young people 24/7

Since 2005 Includem's Transitional Support Service has worked with over 500 young

people from within Includem's core client group identified as most in need of

additional support.

Transitional Support ensures continuity

of support on a voluntary basis for

young people whose continuing vulnerability

may be due to their past histories

of abuse, neglect and deprivation and

the present deficits in family and environmental

supports at a critical time in

their adolescent development, when entitlement

to state funded support from

Includem is at an end.

This service builds on the outcomes

achieved in our core programmes based

on our proven delivery model which

helps young people build confidence,

sustain a non-offending lifestyle and ultimately

move towards employment

through incorporating the learning points

identified.

A key role for Includem has always been

to engage and support young people in

processes of constructive change. Our

model of practice is rooted not just in

research and theory but in hard earned

practice experience and emphasises the

positive potential of young people and

the importance of finding a way to release

it.

At the core of this is the establishing of

a constructive, caring relationship which

will support a young person to make

changes towards a better life.

A ground-breaking qualitative longitudinal study

of Includem's Transitional Support Programme is

being carried out by Briege Nugent.

By researching in detail the transition of young people into adulthood and

for those with an offending background, this study is designed to understand

how young people can move away from their chaotic and challenging lives

and begin a new and better one.

So far, the study highlights how tough the lives of these young people have

been. Their childhoods have not been carefree, but rather impoverished

financially and emotionally. They come from chaotic backgrounds often

where substance abuse, loss and hopelessness meant that they have had to

grow up quickly. Includem comes into their lives at the point when they are

needed most, and therefore offer crucial support.

The relationship between the worker and the young person is valued most

and underpins any success achieved. As well as providing practical support,

Includem workers try hard to build a connection, mutual respect and trust

with young people who can be weary and as a result initially difficult. One

of the key early findings of this study is the importance of instilling belief in

these young people that they can and are worth a better future. It is sad

to say, but actually for many of those interviewed this encouragement is

otherwise not there, and without hope, 'getting there', wherever 'there' may

be is unlikely.

This is a collaborative 3 year PhD study with Includem, Glasgow University

School of Social Work and Edinburgh University Department of Criminology,

funded by the Economic and Social Research Council. Wide dissemination of

findings is planned when the study completes next year.

Case Study

Supporting transitions isn't just a

theoretical challenge for Includem

- we know from the work we do

how important it is to get this

journey right.

John was referred to Includem at aged 13 for

committing violent offences with the local gang.

At the time he felt that everyone viewed him as

a 'bad person'. Includem saw John almost every

day for a few months and he was supported to

get into a construction course at college and to

get a gym pass.

He became interested in boxing which he describes

as a 'turning point.' At the local boxing

club he met new friends and was busy training

rather than getting involved in offending behaviour.

He has just had his seventh successful boxing

fight, and was both shocked and proud when

he recently visited his granny and saw a framed

picture on her wall of him winning his last fight.

John feels that four years on he sees himself

differently, not as a 'wee boy jumping about the

streets' but as a young man with a future ahead

of him. He is grateful to Includem for the support

offered and looking forward to the next

chapter of his life.

10 ACTIVITY AND IMPACT REPORT 2014

11
---
TRANSITIONAL SUPPORT - EMBEDDING SERVICE DESIGN

TRANSITION THE REALITY SUPPORT OF TRANSITION IN PRACTICE - CONNOR'S STORY

There for young people 24/7

Getting our transitional support service right is a key priority. We are engaged in a

partnership with service design agency Snook to develop a transition support service for

the future. Our 'Snookster' Keira Anderson explains what has been achieved.

Since May I have been working closely

with the Transitional Support Service

team and the young people they support,

with an aim to explore, define and

develop the service provided. Inclusivity,

empowerment and skills transfer are at

the heart of Snook's core practice. We

firmly believe that a co-design approach

produces the best results for our clients

and, more importantly, service users

themselves.

The very people who interact with

services are, of course, the most

important in any project, which seeks

to comment on or improve a service.

Throughout this venture, I have aimed

to put the young people working with

Transitional Support at its heart, and

to ensure that they, their needs and

creativity, are at the forefront of any

outcomes.

In total, 17 young people have engaged

with the project, across both Glasgow

and Fife. They have generously shared

their journeys though Includem, identified

barriers along the way and suggested

opportunities for improvement. We

then worked together to develop some

of these opportunities and solutions

further.

A majority of the young people were

happy to be involved throughout the

project, allowing them to see the

progression of their ideas - from barriers

first identified in their journey with

Includem right through to more realised

solutions.

Through this process it is hope that the

young people involved have gained some

insight into how and why change comes

about, how they can influence it, and how

it can be implemented.

The next step is to facilitate a hands on,

participant led workshop at Includem's

staff conference. Attendees will be

supported, encouraged and emboldened

to discuss, develop and define solutions

for Includem's future. Bring an open

mind.

* name changed to protect identity

Conor's* background is one of loss and pain. His father and mother were both alcoholics,

and as the older brothers and sisters had moved out when he was very young, he dealt

with the chaos more or less on his own. His father died when Conor was only thirteen,

and he became withdrawn and stopped going to school, at the time struggling to see any

point to his life. His mother worked alongside services to get herself sober, and she and

Conor became very close. She sheltered him, and allowed him to stay off from school and

remain for most of his day in his sanctuary, his bedroom, playing computer games.

At the age of sixteen Conor's mum died

suddenly, he had lost his world. He moved

in with his older sister, and realised that

without his mum he had to make a

choice, continue as he was, or live his life,

and he chose the latter. Conor tried to

re-engage with education, it was tough,

and at times he felt it was too tough.

The school helped him get support by

Includem, and he worked closely with

his workers to build self-confidence and

become clear about what he wanted for

his future.

Three years on, Conor has just completed

his probationary period with a firm

working as a computer technician, and

has been told that he has been accepted

onto a full time course at college. It

is difficult to describe in words what

Includem were able to do for Conor. He

admits that he might have been able to

get things together himself, but he feels

that the encouragement given to him,

particularly by his main worker to believe

in himself and to have confidence to even

be able to talk to people again cannot be

underestimated.

Chris: They have boosted my confidence...

compared to from the start when I was

very quiet and wouldn't talk to anyone,

and now I would talk to anyone who

spoke to me.

Calvin: I feel that talking about my future

goals made me motivated, and they made

me confident again.

12 ACTIVITY AND IMPACT REPORT 2014

13
---
There for young people 24/7

HARNESSING TECHNOLOGY

LEADING THE WAY ON PARTNERSHIP WORKING

14

Claire Barton, one of our Team Managers talks

about our new database and it's important role in

delivering an effective frontline service.

At Includem we have always utilised technology to enable more efficient

working. In the past year we have invested in a new database – MAPs. This

database is now fundamental to how we operate. It provides flexibility and is

responsive to the needs of young people and families, and crucially, it allows us

to respond immediately when situations arise.

Our 24/7 helpline – a lifeline for many young people and their carers – is

now able to offer an immediate response with up to date information on the

young people concerned. Having accurate risk assessments available instantly

allows frontline staff to make informed decisions about the type of response

which in turn provides the best possible service for our young people. It flags

up risks, and for instance, if a young person has gone missing, there is a list of

everywhere they might be.

This database isn't a distant resource for head office staff – it is a living

information tool utilised by all staff including frontline workers and is ahead of

the game in terms of being future proofed for GIRFEC and the Children and

Young People Act.

Euan's Story

Includem worked with a young person,

Euan*, who was suffering from PTSD

symptoms from childhood abuse and was a

risk of suicide and self-harm as well as a risk

of physical abuse to his brothers.

We worked with Euan to prevent his adoptive

family placement from breaking down and to

support him to overcome his anxiety issues

and to build his self-confidence.

Euan and his carers regularly used Includem's

24/7 helpline to report threatening behaviour

and self-harm. Helpline staff were able to

use the MAPs database to identify risks

and to provide appropriate support. In one

particular case, as a result of notes which

MAPs provided, a frontline worker was

able to intervene and take Euan to accident

and emergency following an attempted

suicide. The database allowed a speedy and

appropriate response.

Includem IMPACT is an initiative

to help reduce teenage violence in Glasgow

and is proving to be a success.

Our IMPACT programme was piloted in 2010 to support 14 to 18 year

olds embroiled in gang violence. In 2013 it was expanded as a Public Social

Partnership backed by two years funding from the Scottish Government's

Reducing Reoffending Change Fund.

Independent research from the Dartington Social Research Unit has found that

four-fifths (81 per cent) of the young people involved in the project reduced

their offending and 62 per cent reduced the frequency of it compared to

their behaviour in the six months prior to working with the Includem project.

Overall there was a 38 per cent reduction in offences – including assault,

serious assault and weapon possession. Violent offences dropped from 20 to 6.

A further report from the Dartington Social Research Unit is to be released

next year, but as Superintendent Alick Irvine of Police Scotland points out,

initial findings "provide evidence that effective collaboration across a range

of agencies to help support the focused interventions provided by Includem

can deliver dividends for the young people involved and improve the safety of

people in our communities".

Includem is interested in demonstrating value for money and contributions

towards the preventative spend agenda. This evaluation will therefore

complement our Public Social Partnership focus on translating better

outcomes to social and economic cost savings and ultimately cashable savings

for statutory funders.

ACTIVITY AND IMPACT REPORT 2014

DATA SHARING

Part of the success of IMPACT

has been the collaboration

between the third sector and

Police Scotland, but also the

innovative use of data gathering

and sharing.

As part of the evaluation of

the project protocols have

been put in place to share

Includem data – SHAANARI

outcomes, helpline statistics,

and descriptive records of our

work and police data – lists

of charges for young people

and qualitative feedback from

a comparison group who

have not been involved in

the IMPACT project. A police

analyst has been undertaking

this task with advice from

Scottish Government Justice

Analytical Services.

15
---
FUN WITH YOUNG PEOPLE AND FAMILIES

MESSAGE FROM THE CHAIR

There for young people 24/7

CREATING MEMORIES, ADDING VALUE

Includem's annual fun day this year

involved over sixty young people and their families.

Since 2006, this free event has been

a highlight of the year, organised by Includem staff

to create lasting memories

for young people and their families.

There were activities for all ages from face painting and bouncy

castle to caricature and henna painting along with a nail bar,

birds of prey demonstrations and a mini sports day. Our popular

family photographer provided family portraits – and lasting

memories for families to take away.

One parent said on the day – "we don't ever get to spend time

doing things as a family. Today let us let our hair down and have

some fun together. The wee one's had a great time".

The day is funded by Includem and provides a fun and safe

environment in which young people and their families can spend

time together. For many, this is an important time to spend

together that is not centred around family problems.

YOUNG PERSON'S FUND

Our Young Person's Fund was established in 2011

to provide young people with experiences

they wouldn't otherwise be able to access or

with help towards their life aspirations.

However it soon became apparent that some families and young

people needed much more basic items. The fund has been

used to provide necessities such as furniture and warm winter

clothing – items which most of us would take for granted,

alongside special experiences and activities.

This year, the fund has provided young people with support

including:

• replacing some essential items after a house fire

• supporting a young person in transition from being homeless

to his own house

• buying boots to allow a young person to take part in a football

training programme

• taking a foster family ice skating – the first day out as a family

• buying ingredients so a young person could cook his mum a

meal to say thank you for dealing with his challenging behaviour

Leadership and professional practice

development have been key themes

for Includem this year. We continue

to provide support for leadership

development in the Scottish Social

Care Services Workforce (including the

secondment of a senior staff member),

and internally we continue to challenge

ourselves to achieve the highest

standards of professional practice. Our

work has received significant external

recognition.

We were particularly proud to be awarded

the SSSC Chairman's accolade for our

work through the Practice Champion

role. We were also hugely honoured to

have the First Minister formally open our

new offices and spend some time with

our young people. As a board we are

proud to be associated with Includem's

achievements and work hard to support

the leadership team achieve their goal

of delivering outstanding professional

practice.

Our core belief in sticking with young

people and being there when they

need us continues to be delivered with

commitment and passion through the

professional leadership skills of our Team

Managers and the dedication of our

frontline staff in what are almost always

complex and challenging situations.

It is through this skill and commitment

that we have been able to develop

sufficient trust between staff and young

people, that during this significant year

for Scotland, we have been able to

support and encourage the eligible young

people we work with to participate in

the referendum.

As always, my sincere thanks go to all

of Includem's staff, my fellow Board

Members and our funders and supporters

without whom we could not be able to

make the positive difference that we do

in so many young lives.

JIM GIBSON

16

ACTIVITY AND IMPACT REPORT 2014

17
---
ACCOUNTS AND FUNDERS

There for young people 24/7

INCOME

Local Authority Service Fees £3,034,924

Grants £729,846

Other £58,801

Total £3,823, 571

EXPENDITURE

Staff £2,920,189

Direct client expenses / travel £326,462

Premises Costs £200,106

Administration costs £202,538

Professional Costs

Depreciation of Assets cost £74,761

Governance costs £26,374

FUNDERS

• The Robertson Trust • Big Lottery Fund Scotland •

• The Scottish Government • Strathclyde Police •

• Glasgow City Council • West Dunbartonshire Council •

• Fife Council • Clackmannanshire Council • Stirling Council •

• Dundee City Council • East Renfrewshire Council •

• Argyll and Bute Council

Copies of our full audited report and accounts along with current board

members are available on request.

TOTAL £3,750,430

BOARD MEMBERS

Jim Gibson

John McCaig

Bruce Marks

Sheena Brown

Alison Petch

Jo Noblett

Abigail Kinsella

Caroline Innes

David Wallace

Chairman

Deputy Chairman

Secretary / Treasurer

18 ACTIVITY AND IMPACT REPORT 2014

19
---
FIND OUT HOW INCLUDEM CAN HELP YOU

If you'd like to know more

about our services,

please get in touch today.

e-mail: david.ferrier@includem.co.uk

call: 0141 427 0523

web: www.includem.org

www.includem.org