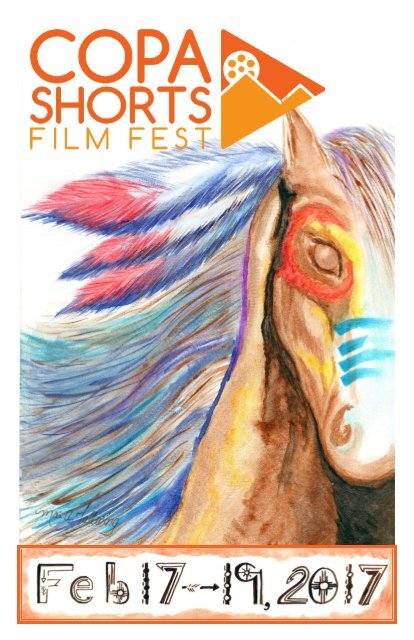 COPA SHORTS FILM FEST 2017
2017 Program
2017 Program
SHOW MORE
SHOW LESS
You also want an ePaper? Increase the reach of your titles
YUMPU automatically turns print PDFs into web optimized ePapers that Google loves.
Welcome to the Copa Shorts Film Fest

When Shelley and I decided to establish the Copa Shorts Film Fest in late 2015, we had no idea

what would result. The response has been amazing! Screenwriters and filmmakers from over 20

countries have entrusted us with their films and screenplays.

A festival takes many people. Without our sponsors and donors who saw our vision and the volunteers

who spent many hours reviewing the films, we would not have been able to hold our

festival. As a non-profit organization, Copa Shorts Film Fest, Inc. thanks each of those individuals

for their financial support and their valuable time.

With our mission of showcasing emerging talent, short films and screenplays provided the opportunity

for more talent to be recognized. We believe that the results will entertain audiences

and offer the creative filmmakers and screenwriters a "calling card" to Hollywood or production

houses to develop their projects.

The screenwriting table reads offer snapshots into whole worlds created within 15 pages. The

short films, in 20 minutes or less, evoke whole ranges of reactions. Many perspectives are showcased

with films from Maricopa, across the US, Canada, Australia, United Kingdom, Italy, Austria,

Spain, France, Sweden, Finland, Norway, Papua New Guinea and China.

Join us for the festival to see the range of projects that will make you laugh, cry, think and smile.

Thank you for your support! Without your presence Copa Shorts Film Fest would not be a fest!

Roger Gillespie

Festival Director

Shelley Gillespie

Executive Director

FESTIVAL POLICIES

ADULTS-ONLY ADVISORY

Although many of our films are family-friendly,

all are unrated by the M.P.A.A. Viewer

discretion is advised in determining whether

children are mature enough for any film block.

If you have questions, please ask our staff for

recommendations.

The exception is Saturday January 18th. The

8:30PM film block, "Scary Choices" is a mix of

horror, adult themes and moral choices. Please

be aware that no one under 16+ will be

admitted without a parent or guardian.

RECORDING DEVICES

Audio and video-recording are not permitted in

UltraStar Theatre 1 or the VIP areas (VIP 13 and

StarClass theatre 13) during the festival due to

copyright issues. Anyone attempting to record

films or audio will be asked to leave the

theatre.

PHONES AND DIGITAL DEVICES

Please turn off phones and other devices

during the films. We'd hate for you to miss a

single minute of the projects that our

filmmakers have worked so hard to have

featured in our festival.

If you need to make a call or send a text

message, please move to lobby or areas

outside of the theatre. Be considerate to all

attendees who wish to see and hear the films.

EMERGENCY SITUATIONS

A Copa Shorts Film Fest 2017 Staff member or

Volunteer will be present on the main floor

during all film and screenplay reading blocks.

They will be wearing a Volunteer or Staff

Badge.

Although we hope to have a safe and fun

event, if you need assistance, please see one of

our volunteers or staff.
---
2017 Festival Administration

Copa Shorts Film Fest is a volunteer organization. We wish to

thank all of those who support us.

Board of Directors

Roger & Shelley Gillespie

Gina D'Abella

Festival Directors

Roger & Shelley Gillespie

Executive Director

Shelley Gillespie

Original Cover Art

Mai A. Tallwing

Judy Tallwing

Logo Design

Taylor Lynn Slaughter

Website Layout

Elliot Johnson

Volunteer Coordinator

Gina D'Abella

Table Read Director

Cynthia Morgan

Film Reviewers

Matt Sugerik

Eryn Bailey

Ernesto Abeytia

Dayna Garza

Emina Karic

Joseph Dutra

James Brown

Pierce Greene

Kara Marvich

Hunter Lomayesva

Paul Bick

Gina D'Abella

Bruce Anderson

Katherine Sorensen

Joan Gale

Amanda Main

Advisory Board

Juliana Feher

Tony Estrada

Steve Wargo

Bruce Anderson

Eileen M. Kane

Joseph Dutra

Hunter Lomayesva

Jury

Roger Gillespie

(Producer/Screenwriter)

Shelley Gillespie

(Producer/Screenwriter)

Juliana Feher

(WGA Screenwriter/Consultant)

Matt Sugerick

(ASU Film School)

Eryn Bailey

(ASU Grad Student)

Program Printing

Impressive Imaging

===========================================================
---
SPECIAL EVENTS

OPENING NIGHT VIP PARTY

Filmmakers-Sponsors-Press-VIP pass holders

(Invitation Only)

Featuring Award-Winning

Celtic/Indian Musician

Arvel Bird

Friday February 17th

8:00 p.m. – 9:30 p.m.

Elements Event Center

CLOSING NIGHT WRAP PARTY

Awards / Recognition / Food

Non-VIP Pass Holders—$30.00

Featuring Award-Winning

Gila River Blues Band

Smokestack Lightning

Festival Musical Entertainment Sponsored by
---
WORKSHOPS

Two educational workshops are free to the public.

Please reserve your seat by signing up on EventBrite at: www.Eventbrite.com (search

Maricopa / Copa Shorts) as we have limited seating available for these Saturday

morning events.

Charging your Creative Spark

Saturday, February 18th

9:00 a.m. - 10:00 a.m.

Elements Event Center

Guest Presenter: Julie Swift

Discover how to work out your creative muscles to come up with ideas for films of all

genres. Learn how to move past the easy, first idea and onto the best idea that most closely

aligns with your passion.

Julia Swift has produced, written, shot, directed and edited award-winning short films. Her TV

and film scripts have been produced by Warner Bros., NBC, Universal, Fox, Regency, Sony and

Dick Wolf Production. Three of her episodes ("Smallville" and "Hercules") were "Pick of the

Weeks" in Entertainment Weekly and TV Guide. BOLD, her coming of age novel, hit the top ten

list in Amazon's teen issues category. Julia lives with her husband and son in Vermont, where

she teaches at Champlain College and writes weekly movie reviews for the local FOX/ABC

networks.

Film Scoring for Film Makers

Saturday, February 18th

10:15 a.m. - 11:30 a.m.

Elements Event Center

Guest Presenter: Brent Michael Davids

"Film Scoring for Film Makers" is an intensive workshop designed especially for producers,

directors and editors — rather than musicians. Instruction includes decoding the basic film

music vocabulary and film composer jargon, and a detailed examination of the four basic types

of film scoring: Scoring the Action, Scoring the Cuts, Underscoring the Mood, and Underscoring

Against the Action.

Film Composer Brent Michael Davids is the country's top award-winning American Indian

composer, and a citizen of the Mohican Nation in Wisconsin. Davids received the Best Original

Music Composition award in 2015 at the Native American Indian Film Festival of the Southeast

for his orchestral score to IROQUOIS CREATION STORY.

His career spans 40 years with original orchestral scores for films like Silent Enemy (1996), The

Business Of Fancy Dancing (2002), Dreamkeeper (2003), The World Of American Indian Dance

(2003), Last Of The Mohicans (1929/2003), Bright Circle (2007), Raccoon & Crawfish (2007), and

Opal (2012) that appeared on ABC, NBC, Hallmark, CBS, NPR, PBS and NAPT. Davids received his

MS from ASU.

Workshop venue sponsored by
---
SATURDAY February 18th

Ups and Downs

12:00 P.M.

Sometimes you're up! And sometimes, you're down! Flopping, flying,

sword fighting or just building a boat can get you there.

Belly Flop

Comedy/Fantasy ● 13 min ● USA

Director: Marc Gaudioso

An eight-year old girl reads a headline on a

trashy grocery-store magazine cover: Mother

of Quintuplets Says She Got Pregnant from

Fried Chicken! Fueled by a wild imagination,

the adventure begins.

Matchstick House

Drama ● 12 min ● USA

Director: Sean Kyte

Newly married David and Jennifer are looking

forward to their new lives together. David is

forced to confront his struggles and learns

how hard it is to confront the unknown.

Kanu belong Keram

Documentary ● 16 min ● Papua New Guinea (SUB)

Director: Daniel von Rüdiger

Kanu belong Keram is a documentary of the

building of a canoe in the remote village of

Kambot. It is located at the jungle river

Keram, which is a side stream of the great

jungle river Sepik in Papua New Guinea.

Flying

Animation ● 4 min ● USA (ST)

Director: Jacob Hood

A woman learns to fly again after grieving the

loss of her son.

Flight Fright

Comedy ● 7 min ● USA

Director: Jim Politano

An airline passenger with a fear of flying

starts to see strange things after taking his

nerve medicine. Comedy spoof of the Twilight

Zone episode "Nightmare At 20,000 Feet".

West Side Swordy

Sci-Fi/Fantasy/Dance ● 8 min ● USA

Director: Dan Liu

The Jets chase the Sharks through an

alleyway and up over a tall fence, when

suddenly they find themselves in another

world, magically transported into an

abandoned warehouse where they are

controlled by the electronic beat of the

world-renowned Disc Jockey, DEADMAU5.

This is an LA West Side Story.

Once Upon a Time in Space

Sci-Fi ● 19 min ● USA (ST)

Director: Qishi Li

Captain Adam is on a mission to colonize a

habitable planet, but when his ship

encounters disaster, he must abandon the

mission and instead, sends ancient bacteria

to the planet in the hope that it will evolve

into a new human species and thrive.

(SUB) Subtitled (ST) Student
---
SATURDAY February 18th

Kings and Other Things

2:00 P.M.

Who are you? When you find out, you might be surprised.

The Tenor

Comedy ● 12 min ● USA

Director: Damon Crump

A whimsical comedy about a Prima Donna

Tenor sent to participate in an experiment

conducted by an overbearing Military

Scientist who is testing the powers of the

human voice.

Maria Fernanda in Time

Sc-Fi/Comedy ● 9 min ● Spain (S)

Director: Xavier Pijuan

An overprotective mother produces an

accident with terrible consequences in the

space-time continuum in the scientific

laboratory where her son works.

Driver's Ed

Drama ● 15 min ● USA

Director: Chase Norman

A shy, overweight young woman leaves the

safety of her home for an unwelcoming high

school classroom.

Proverbial Luck

Comedy ● 5 min ● Austria (SUB)

Director: Dave Lojek, Steffi Sixdorf

Idioms garnish our language, but are often

hard to translate. This comedy helps to

illustrate them and tells the story of two

neighbors, who become enamored.

Run Cat Run

Animation ● 4 min ● USA (ST)

Director: Hao Li

2D animated comedy about an astronaut who

switches bodies with his pet cat while in orbit.

As everything goes wrong, the astronaut tries

frantically to right the situation.

I Hate the Color Red

Comedy ● 19 min ● USA (ST)

Director: Jazmin Jamias

A comedy about a sister and a brother who,

having inherited a video store from their

parents, struggle to keep it a viable business.

Thanks to "red boxes" and "red envelopes,"

they realize that their store will soon become

obsolete. How they reconcile themselves to

this realization, or don't, will leave you

chuckling and charmed.

Tom, The Knife Salesman

Comedy ● 11 min ● USA (ST)

Director: Ryan Brown

A down on his luck knife salesman, Tom, is

the worst performer in his division. While

going door-to-door, Tom is kidnapped by a

paranoid burglar who believes Tom's knife

routine is just a ruse. To get out alive – he'll

need to be sharper than a knife.

A King's Betrayal

Comedy/Drama ● 8 min ● USA

Director: David A Bornstein

The final 24 hours in the life of a Piñata, as

told from the Piñata's perspective.

(SUB) Subtitled (ST) Student
---
SATURDAY February 18th

Different Realities

4:00 P.M.

A new way of looking at the world through a different focus.

Focus (Honorable Mention)

Sci-Fi ● 14 min ● USA

Director: Matt Chesin

Through a series of unfortunate events, a

young girl stumbles upon a camera lens that

possesses a very mysterious power. Through

this lens, the photographer is able to see into

the past of its previous owners. A new acquaintance

becomes an old friend in a friendship

that spans two lifetimes.

Dear George

Romantic Comedy/Drama ● 20 min ● USA

Director: Emily Skyle

When his high school sweetheart sends him an

epic break-up letter and moves out of state for

a job, a self-proclaimed couch potato decides

to face his fears to get her back. He sets off on

a cross country trip filled with a stolen chicken

costume, TSA shakedowns, a cappella groups

and bad decisions.

The Art of Circus

Documentary ● 13 min ● USA (ST)

Director: Julia Cammack

A behind-the-scenes look at the lives of two

circus performers and teachers.

Zebra

Drama ● 17 min ● Italy (S)

Director: Cristiano Ciliberti

Two twins. One alive, the other dead, but only

half. The other half is Giovanni, the survivor

twin, who can't get over the death of Daniele.

Even in his death, Giovanni feels a dangerous

combination of love and hate for him. Through

a physical and mental way, he faces the consequences

of an unhealthy addiction. He struggles

to choose an identity between black and

white, between Cain and Abel.

Mother Tongue

Documentary ● 12 min ● Canada (ST)

Director: Nadim Iqbal

A story about a man who risked his life to save

his culture, his heritage, and his language. He

is heartbroken that the sacrifices made to save

his language are not appreciated or understood

by the younger generation.

Stuck in Time

Animation/Experimental ● 6min ● USA

Director: Asher Glaser

Henry lives alone in another time dimension.

The world rushes around him at another time

and pace. The moon and sun speed into each

other before Henry has a chance to keep up.

One day, he meets Mable, the only other person

sharing his world.

Non-Smoking Section

Drama ● 10 min ● USA (ST)

Director: Alexander Guyton

A teenage son rebelling against his overbearing

mother to assert his independence could lead

to explosive consequences.

Stripes

Sci-Fi/Comedy ● 4 min ● France

Director: Tibo Pinsard

She and He have their first date. They both try

to seduce the other one. But to really know

who he is/who she is, they will have to let their

masks down. Literally.

(SUB) Subtitled (ST) Student
---
SATURDAY February 18th

Student Films

The Fault

Drama ● 9 min

Maricopa, Arizona

Director: Kaden Rogers

When a devastating

earthquake strikes Phoenix,

two brothers and their

neighbor must fight for their

survival and locate their

loved ones.

The Wild Wonderous

West

Drama/Western ● 6 min

Maricopa, Arizona

Directors: Adam Houser, Nico

McKinley, Ashton Owen

The sheriff of a small quiet

town in the wild west thinks

his job's easy until an old

enemy arises. The bandit

group has been terrorizing

6:00 P.M.

the town and it's up to the

sheriff to stop them.

The Lockdown

Drama ● 6 min

Maricopa, Arizona

Director: Matthew Coles

A group of students break

into a school and run into an

unexpected problem.

Competition Films

Dr. Elevator

Comedy/Fantasy ● 13 min ● USA (ST)

Director: Kartikye Gupta

Trapped in an elevator with a strange

woman going into labor, an Indian

mathematician with Asperger must rise to

the occasion and deliver the baby.

Uncle Albert

Dark Comedy ● 12 min ● USA (ST)

Director: Summer Blake

Karen's left emotionless following the death

of her distant Uncle, Albert, she'll stop at

nothing to prove to fellow guests that she

can indeed feel "sad."

Success

Drama ● 13 min ● Norway (SUB) (ST)

Director: Stian Sivertsen

August is moving to a new city to study what

he loves most: art. His father, who drives

him, is not as happy with his choice of study.

The Bus Trip

Documentary ● 14 min ● Sweden (SUB) (ST)

Director: Sarah Gampel

Sarah goes to Israel hoping for political

discussions and friendship, but the

conversation ends when she brings up the

occupation of Palestine. Instead, she talks to

her dead dad over a noisy phone line.

(SUB) Subtitled (ST) Student

Care for Me

Dark Comedy ● 11 min ● USA (ST)

Director: Sam Freedman

The story of a wistful caregiver, his lonely

employer, and the particularly terrible thing

that happens to them.

True Colors

Drama ● 10 min ● Australia (ST)

Director: David Valent

An increasingly desolate teenage schoolboy

creates a coded language using paint color

sample cards to express his secret desires

and feelings for the object of his affection.

The Addiction

Drama/Romance ● 10min ● China (SUB) (ST)

Director: Dannes Zhang

In a city of wealth, the homeless are often

forgotten as Shanghai continues to struggle

with modernization. A homeless man tries to

fix a couple's broken relationship while

fighting the social stigma against him.

A Fire in All of Us

Documentary ● 3 min ● USA (ST)

Director: David Smith

A video about the passion and dedication

that the Chino Valley FFA chapter has for its

community. FFA makes a positive difference

in the lives of students by developing their

potential for premier leadership, personal

growth and career success through

agricultural education.
---
SATURDAY February 18th

Scary Choices

8:30 P.M.

A mix of Horror, Adult Themes and Moral Choices.

These films are unrated: (Admission Restricted to 16 years+)

Tobi & Matt: a dawn awakening

Drama ● 10 min ● USA

Director: Joe Gruberman

Chateau Sauvignon: terroir

Horror/Thriller ● 13 min ● USA (ST)

Director: David E. Munz-Maire

A grieving widow lets her guard down on the

anniversary of her late husband's death.

A Light On

Thriller / Horror ● 6 min ● USA (ST)

Director: Cedric Gegel

When Brad arrives home minutes before his

wife to find an intruder in their home, he

decides to take matters into his own hands.

He will never forget what he found inside.

In the Hands of God

Drama ● 7 min ● USA (ST)

Director: Alex Rivers

A priest hears the confession of a man

planning on killing his stepmother and must

decide whether or not to intervene.

A gruesome coming of age story about a

vintner son's disobedience and desire to care

for his ailing mother.

160 Characters

Documentary ● 11 min ● United Kingdom

Director: Victoria Mapplebeck

When a vintage Nokia is recharged, a

compelling real life story is revealed. A story

that unfolds in just 100 texts and tells the

story of how two people, meet, date, break

up and deal with an unplanned pregnancy.

Shot entirely on an iPhone, 160 Characters

uncovers the secrets and stories, buried in

our mobiles both old and new.

Might

Sci-Fi/Drama/Thriller ● 9 min ● Finland

Director: Emil Sallinen

Maryam, a rebel leader in a post-apocalyptic

world governed by a ruthless religion, is

determined to prove that the huge metallic

object hovering in the sky is not a god. An

opportunistic mission - in which she runs into

her lost father - ends with a revelation of a

secret only a god can keep.

Inheritance

Drama/Western ● 15 min ● USA

Director: Paul Stuart

A gritty 1960's Texas drama examining the

power struggle between two estranged

sisters in the wake of domestic violence.

Four Day Weekend

Drama ● 20 min ● USA

Director: Nicole Jones

A middle-aged couple, married for twentythree

years, takes a four-day break from each

other. The aftermath leaves their relationship

shaken and tested, but not broken.

(SUB) Subtitled (ST) Student
---
SUNDAY February 19th

Mixing It Up

12:00 P.M.

A little Comedy, a little Sci-Fi and a little Drama.

From the USA and Norway.

Quiet On Set

Comedy/Romance ● 11 min ● Norway (SUB)

Director: Petter Holmsen

We're in a war-zone. The year must be 1940:

World War 2. Soldiers are scattered in the

snow: freezing, bleeding and dead. Suddenly

we cut out: we're on a Norwegian film set in

2015. Quiet On Set is a metafictional short

film that deals with a romantic encounter at

bottom of the film world ladder.

Piper in the Woods

Sci-Fi ● 7 min ● USA (ST)

Director: Matthew Ramirez

With strange things happening at a remote

research station, a university psychologist is

sent to investigate. Based on a short story by

Philip K. Dick.

remnants

Drama ● 19 min ● USA

Director: A. Plancher

An elderly writer struggles to reveal his dark,

troubled past while suffering from Alzheimer's.

Heather's Painting

Drama ● 15 min ● USA

Director: Freddie Connor

The story follows the breakdown of a family

after losing their 14 year-old daughter,

Heather, to stage 4 Leukemia. The marriage

crumbles in the process of grief. Heather

leaves them a secret message to help them

through their turmoil.

Carbon

Sci-Fi ● 14 min ● USA

Director: Christian Lybrook

A rancher's carefully constructed life begins

to unravel when she discovers strange happenings

on her ranch.

To Bee or Not to Bee

Comedy ● 4 min ● USA (ST)

Director: Carlos Cortes

The only thing standing in the way of Charlie

and getting to his job interview is the bee in

his car.

Cradle

Sci-Fi ● 11 min ● USA

Director: David Holechek

A man risks his body and mind to right a

terrible wrong.

(SUB) Subtitled (ST) Student
---
SUNDAY February 19th

Native American Showcase

2:00 P.M.

Ak-Chin student and competition films.

Followed by a Q&A session with Filmmakers & a Q&A with Special Guest,

Stockbridge-Mohican Nation Award-Winning Film Composer, Brent Michael Davids

AWARD COMPETITION FILMS

The Thunderbird over the Whale

Documentary ● 15 min ● USA (ST)

Director: Nicole Acevedo

Spencer McCarty is an artist working in Neah

Bay Washington. An accident prevents him

from fishing and whaling regularly as his

ancestors once did. He has spent his life

reconciling the teachings of his ancestors with

the modern world he has found himself in,

where whaling is not practiced.

Iroquois Creation Story

Live Action/Animation ● 17 min ● USA

Director: Cathleen Ashworth

The Iroquois Creation Story film tells how our

earth came to be according to the oral story

recited by the Haudenosaunee people for

hundreds of years. This film combines

animation and dance to tell the story of Sky

Woman & her Grandsons Flint and Sky Holder.

The Gift

Drama ● 14 min ● USA

Directors: Sunny Moodie, Natalie Ulman, and

Joshua Indenbaum

A Muscogee woman is chosen by her

grandfather to return a sacred object to their

brothers and sisters living beyond the

mountains.

H.A.M.

Sci-Fi ● 16 min ● USA

Director: Boise Esquerra

16-year-old Peter must cope with his crackpot

father who builds a HAM Radio that

inadvertently catches the attention of an alien

creature from outer space.

AK-CHIN STUDENT FILMS

Close Encounter With An Alien

Sci-Fi/Animation ● 2 min ● USA

Director: Jeffrey Stoffer

Humans don't fare too well when an alien

visits until they work together.

Student Class President

Drama ● 10 min ● USA

Director: Cecily Peters

When a class president position is up for

election, class members campaign and show

themselves at their best and worst.

Lego Animation

Animation ● 2 min ● USA

Director: Jeffrey Stoffer

In a stop-motion animation, Legos magically

become part of games.

The Native American

Showcase Awards are sponsored by

The Ak-Chin Indian Community

And

(SUB) Subtitled (ST) Student
---
SUNDAY February 19th

Screenplay Table Read

4:00 P.M.

Before the cameras begin rolling on any film, the cast sits down together around a table and

reads their lines.

The director, producers, and anyone with a need-to-know listens. And, even though the film will

not be shot in page 1– 90+ page sequence, this is the actors' first chance to interact with their

co-stars.

Over 25 short screenplays (15 pages or less) were read and analyzed by our panel for concept/

originality, structure, plot, character development and dialogue.

We selected the best four screenplays to be table read by actors from the Maricopa area.

Prizes for the winner and runner-up include software from our Hollywood sponsors,

Jungle Software and Write Brothers. A short film (20 minutes or less) completed from the

winning script will be showcased in the 2018 Copa Shorts Film Fest.

Floating

Sc-Fi/Drama ● 13 Pages ● Vermont

Writer: Zane Swift

Screenplays

On a meteor floating through space with his mother and small city of people, Wyatt has the determination

to explore and help his mom with her sickness. During his exploration, Wyatt will

learn that not everything is what it seems.

Hell to Pay: The Legend of Robert Johnson

Fantasy/Drama ● 9 Pages ● California

Writer: Giancarlo Fusi

During the Depression, a sharecropper's burning desire to be a traveling Bluesman leads him to

sell his soul to Satan at a Mississippi crossroads to become the greatest guitarist of all time.

Holding Hands

Drama ● 15 Pages ● Massasschusetts

Writer: Barbara Keiler

Fearing her marriage is dying, Meredith sweeps her husband off for a romantic getaway. Everything

goes wrong--but somehow, in the end, everything goes right.

Kitsune Mask

Fantasy/Sci-Fi ● 15 pages ● Arizona

Writer: Sara Fujimura

When biracial, futuristic police officer Jay Yoshikawa traveled to Japan to pay her respects to her

deceased grandparents, she didn't intend to bring home the family's secret and unleash it on the

citizens of San Francisco. Now, this highly-trained cop must release her control to a yokaifighting,

nine-tailed fox entity to become Kitsune Mask and defeat the soul-sucking ice demon

Yuki-Onna (Snow Woman) before she takes the lives of Jay's best friend and her love interest.
---
SUNDAY February 19th

Best of the Fest

6:00 P.M.

The nine best-rated films in one film block. See the top picks if you were not able to

attend all of the films over the last two days. We won't spoil the surprise!

Join us after this film block for the

Wrap Party/Awards Ceremony

Awards / Recognition / Buffet

8:30 p.m.

Elements Event Center

Non-VIP Pass Holders—$30.00

Featuring Award-Winning

Gila River Blues Band

Smokestack Lightning

Musical Entertainment Sponsored by

Awards Sponsored by

Filmmakers!
---
TICKET INFORMATION

Welcome to Copa Shorts Film Fest 2017!

Purchase tickets in advance to save a seat for:

One or all of the 7 film blocks, the short

Screenplay Contest, Best of the Fest showing

of the winning films, or VIP or Day Passes.

A Festival Awards/Wrap Party is scheduled at

the conclusion of the festival.

PRICING

SINGLE SCREENING TICKETS (Any one Film

Block, Short Screenplay Contest or Best of the

Fest)

General Admission: $12

TICKET INFO

COPA SHORTS FILM FEST 1-DAY PASS

Saturday Only: 5 Category Film Blocks — $50

Sunday Only: 2 Category Film Blocks + Short

Screenplay Table Read + Best of the Fest +

includes Awards/Wrap Party with Buffet and

Entertainment —$65

FESTIVAL AWARDS/WRAP PARTY ONLY

(Sunday February 19th)

Elements Event Center

Wrap Party Only: $30 Food/Entertainment

(General Admission)

FILM INDUSTRY PROFESSIONAL WORKHOPS

(Saturday Morning February 18th)

Elements Event Center

Students/Seniors (65+): $10

Single screening block, day-of-show tickets

may be purchased at the theater box office

(as available).

Have a question about buying tickets?

Please contact us at:

info@copashortsfilmfest.org

VIP ALL ACCESS PASS $130

With a VIP All Access Pass, your priority seating

in UltraStar Theatre 1 is assured. A CSFF 2017

VIP All-Access pass provides complimentary:

VIP access to every category block, short

screenplay contest winners/table read

and Best of Fest screening during our 2-

day event

Priority seating at all screenings!

Entry to the VIP-only Opening Mixer! Hors

d'oeuvres + musical entertainment by

Arvel Bird

Entry to the Festival Awards/Wrap Party

Buffet + music by Gila River's Smokestack

Lightning blues band

Swag Bag

9:00 a.m. Charging Your Creative Spark

10:15 a.m. Film Scoring for Filmmakers

No charge – Advanced registration is required.

www.Eventbrite.com (Copa Shorts Film Fest-

Educational Seminar 1 or 2) until seminars are

filled.

EXCHANGES AND REFUNDS

All ticket and pass sales are final. There are no

refunds or exchanges of tickets, party or

festival passes.
---
FRIDAY February 17

COPA SHORTS FILM FEST 2017

FILM BLOCK SCHEDULE & SPONSORED EVENTS

OPENING NIGHT MIXER

8:00 p.m. – 9:30 p.m.

VIP Invitation only – meet with filmmakers

/screenwriters/sponsors/press/VIP pass holders

Arvel Bird

International Award-Winning Celtic/Native American Recording Artist

Elements Event Center

SATURDAY February 18

SUNDAY February 19

Filmmaker Education Workshops

9:00 a.m. – 10:00 a.m.

10:15 a.m. – 11:30 a.m.

Elements Event Center

ULTRASTAR – THEATRE 1

(VIP Pass Holder Access to 2 nd Floor StarClass and VIP Room)

FILM BLOCKS INCLUDE

Q&A with Filmmakers & Special Guests after the Films

SATURDAY SHOWTIMES

12 PM / 2 PM / 4 PM / 6 PM / 8:30 PM

SUNDAY SHOWTIMES

12 PM / 2 PM

4 PM — Short Screenplay Finalists Table Read

Actors read the 4 finalists' screenplays for the grand prize

6 PM — Best of the Fest Films

See some of the best short films from both days of the festival

SUNDAY EVENING

FESTIVAL WRAP PARTY/AWARDS CEREMONY

8:30 p.m. – 10:00 p.m.

Smokestack Lightning

Award-Winning Gila River Indian Blues Band

Elements Event Center
---
2017 Copa Shorts Film Fest

DONORS

The following individuals have pledged their support to

Copa Shorts Film Fest, Inc. through their generous

financial gifts and in-kind contributions:

County Supervisor Anthony Smith

Maricopa City Mayor Christian Price

Maricopa City Council member Peg Chapados

Maricopa City Council member Marvin Brown

Maricopa City Council member Nancy Smith

Maricopa City Council member Julia Gusse

Maricopa City Council member Henry Wade

Maricopa City Council member Vincent Manfredi

Maricopa City Council member Bridger Kimball

Gina D'Abella

A-1 Health and Wellness

Cynthia Morgan

Grace Robinson

Roberto A. Reveles

David B. Coward

Joseph Dutra

Anonymous

How to Donate

Copa Shorts Film Fest, Inc. is more

than an annual film festival. We also

present educational seminars in

filmmaking and screenwriting

through Central Arizona College and

the Maricopa Unified School

District. Please donate to our

nonprofit so we can offer these

life-changing workshops.

To make a tax-deductible

contribution, see our website and

hit the "Donate" button, which

takes you to a secure connection on

Paypal.

We welcome in-kind donations for

our silent auction, volunteering at

the festival (February 17-19, 2017)

and ticket purchases. VIP All-

Access , one day, and individual film

block passes are available at

www.copashortsfilmfest.org

Thank you for your contribution!

Join us for a fun, fabulous event!
---
SPONSORS

Copa Shorts Film Fest thanks the following Sponsors who are an essential part of

bringing quality independent short films and screenplays to Maricopa.

THE LAW OFFICES OF STEPHEN

WADE NEBGEN, PLLC