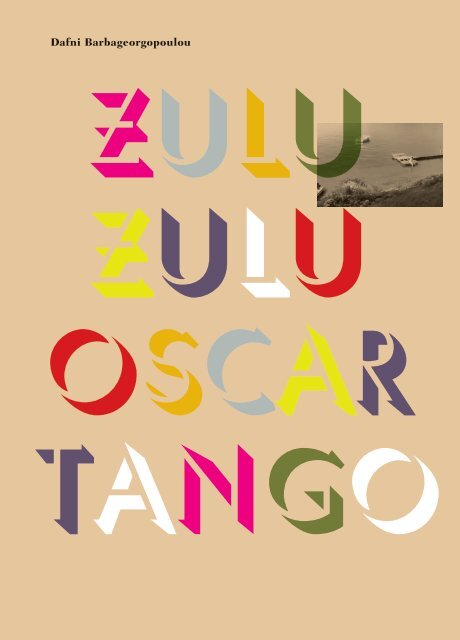 Dafni Barbageorgopoulou « ZZOT »
Goldrausch Künstlerinnenprojekt art IT, Berlin 2012, 36 pages, ill., 22.8 x 16.5 cm, Softcover, English/German, ISBN 978-3-941318-38-0
Goldrausch Künstlerinnenprojekt art IT, Berlin 2012, 36 pages, ill., 22.8 x 16.5 cm, Softcover, English/German, ISBN 978-3-941318-38-0
SHOW MORE
SHOW LESS
You also want an ePaper? Increase the reach of your titles
YUMPU automatically turns print PDFs into web optimized ePapers that Google loves.
Dafni Barbageorgopoulou
---
Dafni Barbageorgopoulou

Zulu Zulu Oscar Tango

1
---
Ludwig Seyfarth

ReASSEM-

BLING

NEWSPAPERS

AND

SPACESHIPS

3
---
Dafni Barbageorgopoulou's Art

In every larger railway station there is a shop

with "International Press". However, which

newspapers are international? The Englishlanguage

ones? Many people living in Berlin

are not able to read the popular Berlin Der

Tagesspiegel. The numerous international

artists who are in town for a scholarship or

who have settled here often speak no German

at all, or very little, even after years of living

here. This is due to the lack of opportunity

to practice. There are usually so many people

at larger events in Berlin who do not understand

German that one tends to automatically

speak English.

Those who have

a newspaper in

front of them

but are not able

to decipher the

text still read it

as an "image":

as a more or less

abstract ensemble

of headlines, text

blocks, pictures,

and graphic

elements. Those who are not familiar with

semaphore in the international maritime

signal flag system will admire the colourful,

diverse colours and geometric patterns as a

purely aesthetic phenomenon, without knowing

what messages are being exchanged.

The signal system equivalent of the sequence

of letters "ZZOT", for example, means more

or less "Attention! Watch out!", a message

that newspaper headlines also seek to convey.

In the series ZZOT from 2012, Dafni Barbageorgopoulou

employs the exposed metal

printing plates used to print the pages of the

ZZOT series, 2012, maritime signal flag system,

aluminium newspaper offset plates, 110 x 320 cm

Tagesspiegel. The plates have been cut or

mounted over one another and turned into

wall reliefs. The geometric shapes are based

on the semaphore motif "ZZOT". There are

also variations in which single plates have

been leant aslant on a newspaper stand. The

artist simultaneously superimposes two

information systems that quasi interfere and

intersect with one another.

Dafni Barbageorgopoulou has always been

interested in abstract patterns and ornaments.

However she does not follow the

trend towards "new abstraction" 1 and she is

not a "formalist", 2 like many contemporary

artists who simply

recompose

the vocabulary

of figurative

Modernism. The

formal elements

incorporated

into her works

that fill entire

walls, spraypainted

on rolls

of bast weave,

hand-stitched,

or folded as floor

sculptures comprised of two-dimensional

shapes, originate from very different contexts.

The large installation Bright Pointed

Arch from 2010 is characteristic of the

artist's approach. Structures such as Gothic

church windows, floor plans of skyscrapers

in Singapore, patterns for items of clothing,

and plans for models of spaceships provide

the source for the formal vocabulary, which

has been incorporated into a floor assembly

made up of wooden elements. The installation

also includes a roll of bast weave mounted

on the wall, hand-stitched for the most

part with red and white rhombuses. The way

they are presented is reminiscent of fabric

sold by the metre and the pattern evokes the

ornamental elements in Indian clothing.

To us, the diverse range of forms with which

cultures unfamiliar to us decorate their

clothes and objects are equally as "abstract"

as the construction plans for airplanes or

spaceships are for laypeople. Abstract does

not describe something non-figurative but

everything whose meaning we don't understand.

In our globalized world too, there is

scarcely anything that is as universally readable

as the pictogrammes in international

airports. How do we read a newspaper in a

language we are not familiar with? How do

we deal with visual forms that we encounter

every where where we are not "at home", and

which have their specific meaning, their

practical value in these places, which we

perceive, however, without any knowledge

of the "context"?

Dafni Barbageorgopoulou's art brings together

"abstract" shapes and patterns, which

she takes from the different contexts, in

spatial and also physically experienceable

ensembles. Instead of specifying the original

meanings as "references", the forms and

symbols used are linked together in a hybrid

way and are subsequently given the potential

for new codification. In this way, Barbageorgopoulou's

art can be compared to the approach

described by Claude Levi-Strauss as

"bricolage", or the reorganisation of symbols

and events to form new structures. Dafni

Barbageorgopoulou belongs to the group of

contemporary artists who have made it their

task to piece together our world, which is

becoming increasingly more complex at least

on a formal level, quasi in the form of a radically

reduced model. Her installations are

like spaceships of the mind and it is certainly

no coincidence that they are inspired by

models of spaceships that can be assembled

at home.

1 Sven Drühl (ed.), Neue Abstraktion, Special topic

in Kunstforum International, issue 206/2010.

2 Formalismus. Moderne Kunst, heute, Exh. cat.

Kunstverein in Hamburg 2004.

4

5
---
Zeitungen und Raumschiffe neu

zusammensetzen – Die Kunst von Dafni

Barbageorgopoulou

An jedem größeren Bahnhof gibt es einen

Laden mit "Internationaler Presse". Aber

wel che Zeitungen sind international? Die

englischsprachigen? Der beliebte Berliner

Tagesspiegel etwa kann bereits von vielen

Menschen nicht gelesen werden, die in

B erlin leben. So sprechen die zahlreichen

internationalen Künstler/-innen, die für ein

Stipendium in der Stadt sind oder sich hier

nieder gelassen haben, oft kein oder auch

nach Jahren nur wenig

Deutsch. Das liegt auch

an mangelnder Gelegenheit

zur Übung. Bei

größeren kulturellen

Events in Berlin sind

regelmäßi g so viele Menschen

an wesend, die

kein Deutsch verstehen,

dass man fast automatisch

Englisch spricht.

Wer eine Zeitung vor

Augen hat, die Texte aber

nicht entziffern kann,

liest sie trotzdem, nämlich

als "Bild": als mehr

oder weniger abstraktes Gefüge aus Schlagzeilen,

Textblöcken, Bildern und grafischen

Elementen. Und wer mit dem Flaggenalphabet

im internationalen Schiffsverkehr nicht

vertraut ist, wird die bunten, abwechslungsreichen

Farben und geometrischen Muster

als rein ästhetisches Phänomen bewundern,

ohne zu verstehen, welche Botschaften ausgetauscht

werden. Was als Buchstabenfolge

"ZZOT" lauten würde, heißt im Flaggenalpha

bet so viel wie "Achtung, aufpassen!":

ein Signal, das auch die Schlag zeile einer

Zeitung ausstrahlen will. Für ihre Serie

ZZOT von 2012 hat Dafni Barbageorgopoulou

belichtete Klischeeplatten aus Metall

verwendet, von denen einst die Seiten des

Tagesspiegels gedruckt wurden. Die Platte n

sind zu Wandreliefs verarbeitet, wofür

sie beschnitten oder übereinandergelegt

wurden. Den ent standenen geometrischen

Formen liegt das Flaggenmotiv "ZZOT"

zugrunde. Es gibt auch eine andere Variante,

bei der einzelne Platten wie Zeitungen

schräg auf einem Auslageständer liegen. Die

Künstlerin kombi niert hier zwei Informationssysteme,

die Zei tung und das Flaggenalphabet,

die sich gegenseitig

durchkreuzen.

Abstrakte Muster und

Ornamente haben

D afni Barbageorgopoulou

schon immer interessiert.

Aber sie folgt

nicht dem Trend zur

"neuen Abstraktion" 1 , ist

keine "Formalistin" 2 wie

viele heutige Künstler/

-innen, die lediglich das

Vokabular der ungegenständlichen

Moderne

Bright Pointed Arch, 2011, installation view, neu zusammensetzen.

Galerie Akinci, Amsterdam

Die formalen Element e,

die in ihren wand füllenden, auf Bastgewebe-

Rolle gesprayten oder gestickten Bildern

oder in den aus Flächenformen gefalteten

Bodenskulpture n verarbeitet werden, stammen

aus ganz unterschiedlichen Kontexten.

Kennzeichnend für das Vorgehen der

Künstlerin ist die große Installation Bright

Pointed Arch von 2010. Strukturen gotischer

Kirchenfenster, Grundrisse von Wolkenkratzern

in Singapur, Muster für Kleidungsstücke

und Pläne von Raumschiff-Modellen

sind die Quellen für das formale Vokabular,

das in ein Bodenensemble aus Holzelementen

eingegangen ist. Zu der Installation

gehört auch eine an der Wand aufgehängte,

vornehmlich mit rot-weißen rautenartigen

Formen bestickte Bastgewebe-Rolle, die in

ihrer Präsentatio n auch an eine Situation

im Stoffladen er innert. Das Muster ähnelt

Ornamenten auf indianischer Kleidung.

Die Formenwelt, mit der uns unvertraute

Kulturen ihre Kleider und Gegenstände

schmücken, sind für uns genauso "abstrakt"

wie für jeden Laien die Baupläne von Flugzeugen

oder Raumschiffen. Abstrakt ist nicht

das, was nichts Gegenständliches darstellt,

sondern alles, dessen Bedeutung wir nicht

verstehen. Auch in unserer globalisierten

Welt ist weniges so universell lesbar wie die

Piktogramme auf den internationalen Flughäfen.

Wie liest man eine Zeitung, deren

Sprache man nicht beherrscht? Wie gehen

wir mit visuellen Formen um, die uns überall

dort begegnen, wo wir nicht "zuhause" sind,

und mit ihren festgelegten Bedeutungen,

deren Kontext und praktischen Gebrauchswert

wir nicht erfassen können?

Dafni Barbageorgopoulous Kunst führt

"abstrakte" Formen und Muster, die sie den

unterschiedlichsten Kontexten entnimmt,

in räumlich und auch körperlich erfahrbaren

Ensembles zusammen. Anstatt die ursprünglichen

Bedeutungen als "Referenzen" festzuschreiben,

werden die verwendeten Formen

und Zeichen hybrid miteinander verbunden

und damit gleichsam für neue Kodierungen

freigesetzt. So lässt sich Barbageorgopoulous

Kunst mit dem von Claude Levi-Strauss als

"Bricolage" bezeichneten Vorgehen vergleichen,

der Reorganisation von Zeichen und

Ereignissen zu neuen Strukturen. Dafni

Barbageorgopoulou gehört zu den heutigen

Künstler/-innen, die es sich zur Aufgab e

gemacht haben, einzelne Bestandteile unserer

immer komplexeren Welt zumindest auf

formaler Ebene neu zusammenzubasteln,

gleichsam im radikal verkleinerten Modell.

Ihre Installationen sind so etwas wie mentale

Raumschiffe und sicher nicht zufällig von

den Raumschiff-

Modellen inspiriert,

die man sich

zuhause zusammenbauen

kann.

1 Sven Drühl (Hg.), Neue Abstraktion, Themenspecial

im Kunstforum International, Band 206/2010.

2 Formalismus. Moderne Kunst, heute, Ausst.-Kat.

Kunstverein in Hamburg 2004.

6

7
---
ZZOT series, 2012, maritime signal flag system, aluminium newspaper offset plates,

metal structure, 300 x 85 x 92 cm, installation view, Künstlerhaus Bethanien, Berlin

left: ZZOT series, 2012, spray paint, textile, 110 x 220 cm,

installation view, the Breeder, Athens

9
---
Bright Pointed Arch, 2010, mixed-media tapestry on bast weave, wool yarn, spray paint, 370 x 300 cm

right: Bright Pointed Arch, 2010, floor installation, CNC-cut veneered MDF,

wooden rods, 1100 x 500 x 50 cm (detail)

10
---
Discipline and Punish, 2008, wooden strips, acrylics,

spray paint, a book, 220 x 14 x 9 cm

Discipline and Punish

12

13
---
P, 2008, mixed-media tapestry on bast weave, wool yarn, spray paint, wooden construction, 300 x 400 x 250 cm,

installation view, Spike Island, Bristol

14
---
17

Floating Islands, 2010, installation overview, Künstlerhaus Bethanien, Berlin
---
T, 2009, hardwood boards, white acrylic filler, 200 x 200 x 16 cm

T

18

19
---
Space Mask, 2006, metal wires, elastic cords, tensioning devices, 700 x 150 x 500 cm

previous: Mother, 2006, mixed-media tapestry on bast weave, wool yarn, spray paint, 450 x 360 cm

23
---
24

STL_10, 2011, satellite discs, installation view, Kerameikos, Athens
---
26

7, 2007, wooden strips, acrylics, spray paint, a book, 220 x 14 x 9 cm
---
29

Space Base, 2005, floor installation, wood, asphalt felt, contact adhesive, fishing wire, 900 x 900 x 45 cm
---
Dafni Barbageorgopoulou

*1977, Johannesburg, South Africa

Education

2004 – 2006

M. A. in Sculpture, Royal College of Art,

London

1998 – 2003

B. A. in Sculpture, (Prof. George Lappas),

School of Fine Arts, Athens

Solo exhibitions

2011

Bright Pointed Arch, Galerie Akinci,

Amsterdam

2010

Floating Islands, Künstlerhaus Bethanien,

Berlin

Selected group exhibitions

2012

Berlin.Status (1), Künstlerhaus Bethanien,

Berlin (cat.)

The Newspaper Show, The Breeder, Athens

Luxus Loft, Re:Rotterdam, Rotterdam

2011

On the Balcony, Remap KM3, Athens

With and Without Painting, Max Wigram

Gallery, London

Looking Forward, The Breeder, Athens

2010

Cabinets of Miracles, Zone D, Athens (cat.)

Le Cercle Infernal Part II, Galerie Akinci,

Amsterdam

2009

Gama Delta Epsilon, TinT Gallery,

Thessaloniki

Tourists, Remap KM2, Athens

2008

MI2, project space K44, Athens

Entropia, Gallery Kappatos, Athens

Meet me around the corner, Spike Island,

Bristol

2007

I Sunhroni Elliniki Skini, Helexpo Garage,

Athens

Slippery Slope, Eagle Gallery, London

Underground, St Pancras church, London

2006

Bloomberg New Contemporaries, The Coach

Shed / Rochelle School, Liverpool Biennial,

London (cat.)

Generation, Royal College of Sculpture,

M. A. show, London

2004

Arhomenoi, Gazon Rouge gallery, Athens

Projections, Old Military Base Kodra,

Thessaloniki

2003

Rooms, Hotel St. George Lycabettus, Gallery

Kappatos, Athens (cat.)

Grants

2012

Goldrausch Künstlerinnenprojekt

2009

The Propondis Scholarship Foundation

2005

The Hellenic Scholarship Foundation

2004 – 06

The Royal College of Art Bursary

Residencies

2009 – 10

Künstlerhaus Bethanien, Berlin

ZZOT series, 2012 (detail)

30 31
---
Published by Goldrausch Künstlerinnenprojekt art IT

Goldrausch Künstlerinnenprojekt

Frauennetzwerk Berlin e. V., Händelallee 1, 10557 Berlin

A postgraduate professional development programme

for female artists funded by the Berlin Senate Department

for Labour, Integration, and Women's Issues and the

European Social Fund.

Project Directors

Birgit Effinger and Hannah Kruse,

www.goldrausch-kuenstlerinnen.de

Managing Editors

Birgit Effinger and Hannah Kruse

Text

Ludwig Seyfarth

Copyediting

Barbara Buchmaier and A. K. Lerner

Translation

Gillian Morris

Concept and Graphic Design

Harri Kuhn, mischen, www.mischen-berlin.de

Photographs

www.david-brandt.de (pp. 16, 17),

www.eberleeisfeld.de (p. 4),

www.henningmoser.de (pp. 6, 9, 10, 11, 20, 31, 32)

Flip Book

Building a dock in three minutes, YouTube video,

http://www.youtube.com/watch?v=EolREPWxFSs

Image Processing

Eberle & Eisfeld | Berlin

Production Manager

Ellen Nonnenmacher, Berlin

Printing

H. Heenemann Druck, Berlin

© 2012 Dafni Barbageorgopoulou, Ludwig Seyfarth,

Goldrausch Künstlerinnenprojekt

ISBN 978-3-941318-38-0

Printed in Germany

Published on the occasion of the exhibition

Rita, sagen Sie jetzt nichts! Goldrausch 2012

15 September – 13 October 2012

Kunstverein Tiergarten | Galerie Nord

10551 Berlin, www.kunstverein-tiergarten.de

32