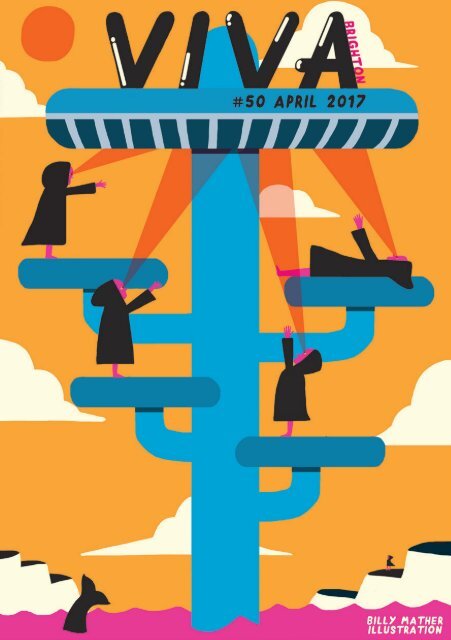 Viva Brighton Issue #50 April 2017
Create successful ePaper yourself
Turn your PDF publications into a flip-book with our unique Google optimized e-Paper software.
Kneehigh

Tue 23 – Sat 27 May

Theatre Royal Brighton

Tristan

& Yseult

Directed & adapted by

Emma Rice

Writers Carl Grose &

Anna Maria Murphy

'If this show doesn't

make you fall in love

with theatre, there's

no potion on earth

that can help you'

The Guardian

brightonfestival.org

01273 709709

Image © Steve Tanner
---
vivabrighton

Issue 50. April 2017

EDITORIAL

.......................................................................................

"It's just so not me." Deputy editor Steve agonises. He's got to go on a stag

weekend in June, to Liverpool. "It's a terrifying prospect… A combination of all

the things I'm very bad at or dislike: group conversation, lots of drinking and

too much stimulation - the loud music, the nightclubs..."

"So why go?" I ask. Steve isn't usually given to doing things that he doesn't want

to do. "I have to. It's a ritual. It's a rite of passage. At least the groom's a doctor,

so I can rest assured that we're not going to drink enough to actually die."

The Stag Do. Just one of life's inescapable, time-honoured rituals. Apparently, in French-speaking

countries, it's termed 'enterrement de vie de garçon' - 'burial of the life of the boy'. Cheery. A final

hazing on the threshold of adulthood.

I've long been fascinated by the rituals we observe. As a species, we seem to add ceremony and ornament

whenever possible. Sacred or secular, solitary or in congregation, grandiose or mundane, they

seem to steady us. Bind us together and orient us in time and space.

In this issue we examine just a few of them. From Norwegian shock rockers to modern-day pilgrims,

religious leaders to ritualistic tea drinkers, we all draw succour from the knowledge that we belong

to something greater than ourselves. To each other, to society, or the natural order of things… We

remind ourselves that what we are doing is worthwhile and has meaning. Touch wood.

THE TEAM

.....................

EDITOR: Lizzie Lower lizzie@vivamagazines.com

DEPUTY EDITOR: Steve Ramsey steve@vivamagazines.com

ART DIRECTOR: Katie Moorman katie@vivamagazines.com

WRITER/DESIGNER: Rebecca Cunningham rebecca@vivamagazines.com

PHOTOGRAPHER AT LARGE: Adam Bronkhorst mail@adambronkhorst.com

PUBLISHER: Becky Ramsden becky@vivamagazines.com

ADVERTISING: Hilary Maguire hilary@vivamagazines.com, Sarah Jane Lewis sarahjane@vivamagazines.com

ADMIN ASSISTANT: Kelly Hill kelly@vivamagazines.com

INTERN: Jasmine King hello@vivamagazines.com

DISTRIBUTION: David Pardue distribution@vivamagazines.com

CONTRIBUTORS: Alex Leith, Amy Holtz, Andrew Darling, Ben Bailey, Cara Courage, Chloë King,

David Jarman, Emma Chaplin, JJ Waller, Jay Collins, Joda, Joe Decie, John Helmer, Lizzie Enfield,

Mark Greco, Martin Skelton, Michael Blencowe and Nione Meakin

Viva Brighton is based at Brighton Junction, 1A Isetta Square, BN1 4GQ

For advertising enquiries call 01273 810 277. Other enquiries call 01273 810 259
---
Lancing College

Preparatory Schools, Senior School & Sixth Form

AN EXCEPTIONAL INDEPENDENT EDUCATION FOR BOYS AND GIRLS FROM NURSERY TO 18
---
Open Mornings

Senior School & Sixth Form – Saturday 29 April

Preparatory Schools in Hove and Worthing – Saturday 13 May

Lancing College

Senior School

& Sixth Form

Lancing,

West Sussex BN15 0RW

01273 465805

admissions@lancing.org.uk

Lancing College

Preparatory School

at Hove

The Droveway, Hove

East Sussex BN3 6LU

01273 503452

hove@lancing.org.uk

Lancing College

Preparatory School

at Worthing

Broadwater Road, Worthing

West Sussex BN14 8HU

01903 201123

worthing@lancing.org.uk

Registered Charity No. 1076483 Registered Charity No. 1155150

www.lancingcollege.co.uk
---
CONTENTS

...............................

Bits and bobs.

10-23. Tandem-riding mayor. Devotional

toilet graffito. Sleepy cartoonist's routine.

Cultish cover artist. Patcham-born Archbishop.

Lost art gallery. Fly-tipping rage.

Other stuff too.

My Brighton.

24-25. 'I don't get angry looking at them

in the shop window anymore'. Neurotic

cartoonist and artisan-scotch-egg avoider

Joe Decie.

Photography.

27-31. The photographer, model and war

correspondent who left a 60,000-shot

legacy. We delve into (a tiny fraction of)

the Lee Miller archive.

41

49

Photo by Paul Bergen

46

Columns.

33-37. John Helmer's ritual is mocked,

Amy Holtz's is interrupted, and Lizzie

Enfield's is surprisingly useful.

On this month.

38-49. Salem Witch Trials. Masked

Shock Rockers. Experimental Narrative

Circus. Managing Medical Uncertainty.

Ghanaian Kogolo Star. French Character

Comedy. Plus Billy Ocean.

....7 ....
---
CONTENTS (CONT)

...............................

Art, design and making.

51-65. Taking inspiration from a Nigerian

parable; tracking down Constable's Brighton

studio; painting with hot wax; fumbling

for words in front of Picasso; and more.

The way we worship.

67-71. Five religious leaders, of different

faiths, walk in front of Adam Bronkhorst's

camera lens. No joke.

Food and drink.

73-77. Casual dining (with a two-week

waiting list); very-non-casual tea drinking

(Song Dynasty style); plus thinking about

sugar, agreeing with Jay Rayner, and (inevitably)

more.

62

Photo by Dan Weill

73

97

Features.

79-97. Could society exist without

rituals? How does Google referee the

internet? Who killed off ladies' football

in 1921? How scary are parliamentary

whips? Can you have a church 'without

the god bit'? Which kind of insect is a

'tiny Travolta'? These, and other questions,

tackled.

Inside left.

98. The height of modernity (briefly): the

old Churchill Square building, in 1973.
---
THIS MONTH'S COVER ARTIST

..................................................

"A lot of my work has been described as 'cultish',"

says Billy Mather, the illustrator behind this

month's cover. "I wanted to be sensitive to the

theme. Ritual, when it's applied to religion, is

something people take very seriously, and I didn't

want the design to make fun of anybody's beliefs,

so I made up my own ritual/worship world. I'm

really obsessed with the idea of secret societies,

so that was where the idea for the characters

came from. Rituals are a way for people who

might be different from each other to share

experiences, so I liked the idea of the people

wearing cloaks, because underneath you don't

know if they are young or old, rich or poor, what

language they speak… the cloaks symbolise a sort

of uniform, making everybody equal.

"The tower is based on the i360, which kind of

makes a crucifix shape, and that made me think

about how symbols are used in rituals. What I

like about the i360 as a symbol is that it can be

quite divisive, because it's a part of the fabric of

the city now. We have to drive past it every day

on our way to work, we see it from our offices,

we can't avoid it, and the fact that it goes up and

down on a cycle is sort of a ritual in itself. It's a

focal point of the city and it kind of looks down

on all of us. Sometimes I think that if aliens

landed in Brighton they would probably think it

was our leader."

As well as our cover, Billy has recently been

....10....
---
BILLY MATHER

..........................................

working on the branding and labelling for Holler

Boys, a new brewery down the road in Lewes.

The designs feature more of his quirky, vibrant

characters, illustrating each of the equally

quirky beers. Moving into a slightly more

unusual medium, he recently started working

on an exhibition of socks called 'A Tus Pies'

('At Your Feet') which will open at Fábrica

Moritz in Barcelona in November. He'll

be putting his designs onto a pair of socks

which will be displayed and sold at the

exhibition.

Rebecca Cunningham

Check out more of Billy's work at

billymather.co.uk

....11....
---
The season to sell

Thinking about selling?

Now is the right time

to get the expert's view.

Our experience can

help you get the

faster, smoother

sale you want.

Call us now for a free valuation and

expert guidance for selling your property

Expert views for every property

01273 677 365 • bonetts.co.uk

78 St George's Road, Brighton BN2 1EF

CHARITY BOX #13: BARNARDO'S

Barnardo's has been supporting children and families for over 150

years. I work for one of their services, Brighton and Hove Link Plus,

which provides specialist foster care placements for disabled children and

young people on the autistic spectrum and/or with challenging behaviour

in the local area, enabling them to live in a family home.

We are currently in need of more full-time, shared-care and short-break carers for disabled children from

newborn up to aged 18. We're looking for families and individuals from all sectors of the community, who live

in Brighton, Hove and surrounding areas, to provide care for disabled children. We want people who can offer

anything from occasional overnight stays, through to shared-care and full-time fostering.

Carers we currently work with find it a rewarding role. Experience with disabled children isn't essential, but

a love for children, a sense of humour, time, energy and patience are all important. A spare room is also required.

All applicants undergo an assessment process, during which we explore the role in-depth, and consider the profile

of the child that the particular person or family would be caring for. We then offer ongoing support, training

and supervision from our small and friendly team of social workers. An allowance is paid.

As told to Emma Chaplin by team manager Vicky Lloyd

For more information, or a chat about whether you might be suitable to help us, please contact Vicky on 01273

295179 or vicky.lloyd@barnardos.org.uk [barnardos.org.uk]

....12....
---
BITS AND BOBS

...............................

ON THE BUSES #24: JOHN PECHAM (ROUTE 50, 50A, 46)

What was John Pecham like? Well, to grow up poor, and rise to become Archbishop

of Canterbury; to argue with the king about power, and with Thomas Aquinas about

philosophy; to write an optics textbook which was still being used centuries later - to do

all this, from a working-class background, in the thirteenth century…

It's believed that Pecham was born in Patcham, which may explain his surname. It's

believed that he was born around 1230, and educated at the Priory in Lewes. His rise

through academia and the church means that his later life is better documented, though

he remains a puzzling figure.

For example: Pecham believed in religious self-denial and poverty; but on being appointed

Archbishop in 1279, one historian notes, 'he entered Canterbury with the utmost pomp

and magnificence'. Pecham was noted for 'his kindness, sincerity and humility', according

to the Dictionary of National Biography; however, he could also be 'overbearing', 'high handed', and rude. Reading

about Pecham's dogged anti-corruption efforts, he seems modern and forward thinking; but then one finds out

that, in 1282, he ordered the demolition of every synagogue in the diocese of London.

This order, according to the historian Mark Antony Lower, 'would assuredly have been carried into effect but

for the wise and foreseeing policy of King Edward the First, who temporarily became their protector.' However,

Pecham wasn't defrocked or forced to resign in disgrace - he was still Archbishop at the time of his death in 1292.

Steve Ramsey

Illustration by Joda, jonydaga.weebly.com

DOES YOUR LAWYER

DO THIS FOR YOU?

• Conveyancing No move no fee service &

fixed fees

• Banking, finance and debt collection by

Paul Tilley, a leading national expert in the

Consumer Credit Act 1974

• Family law all our solicitors are accredited

as expert family lawyers with Resolution

and offer fixed fee divorces

• Personal Injury claims guaranteed direct

contact with an experienced advisor and a

no win no fee service

• Litigation outside the box thinking to

resolve any type of dispute, helping you

to avoid costly court proceedings

wherever possible

• Fixed fee Wills & Lasting Powers of

Attorney with home visits available upon

request

• Ask The Legal Expert service at a fixed

cost of £99 (including VAT) for 45 minutes

face to face with a specialist lawyer

Offering a full range of legal services since 1773

QualitySolicitors

Howlett Clarke

Our Brighton office is open on

Saturdays 9am-12:30pm

Changing the way you see lawyers.

01273 838 674 info@howlettclarke.co.uk www.qualitysolicitors.com/howlettclarke

@QSHowlettClarke @HowlettClarke QualitySolicitors Howlett Clarke
---
BITS AND BOBS

...............................

SPREAD THE WORD

Here we are with Steve (pictured right), one half of Alan and Steve, 'and

a bit of colourful Spanish pottery'. They are more usually to be found

around the West Hill and Seven Dials areas of Brighton, but they took

us on a sunny winter break to Seville. They tell us they couldn't leave us

behind, so caught up with our March issue in

between trips to the great tapas bars they found

on every corner. And Pat Scott (left) took our

'flesh'-themed issue with him on a recent trip

to that infamous fleshpot, the Colosseum, in

Rome. Whilst the naked bike ride might raise an

eyebrow or two in Brighton, our research tells

us that those gladiators got up to so much worse, with very few clothes on.

It makes for grisly reading. Keep taking us on your adventures and send your

pictures to us at hello@vivamagazines.com
---
BITS AND BOBS

...............................

JJ WALLER'S BRIGHTON

The dark clouds gathering overhead reflect JJ Waller's mood in response to this

scene, captured last month on the road to Ditchling Beacon. 'This dumping on

the Downs is really hard for me to comprehend' writes JJ… 'It verges on a raw

wickedness, a grotesque metaphor for human contemptuousness.'

We couldn't agree more, JJ.

....15....
---
Keeping you connected

All of our buses now have free WiFi available. Just search

'go-brighton' once on board.

2

Free

WiFi

@ 5 1

go-brighton

7

For full terms & conditions, please visit buses.co.uk/app
---
BITS AND BOBS

...............................

PUB: THE FONT

"Classy joint," says my mate Dave, down from

London for the day, who's asked me if I fancy

Friday-afternoon lunch, in a swanky restaurant,

on his business account. Thing is, I need to do

some fieldwork research on the Font, so I've told

him we're eating there instead. I arrive early, and

wait with a pint of Camden Hells, absorbing the

oddity of my surroundings. I've never before

been in a pub that was originally designed as a

Nonconformist chapel.

I've done enough onscreen research to bore poor

Dave to tears. In the late-seventeenth century,

when Brighton was expanding as a fashionable

resort, it only had one church, St Nicholas', so a

second was built nearer the seafront, named the

Union Chapel. The date of its foundation is under

dispute: some have it as early as 1668, some

as late as 1698. Its first Minister was a Presbyterian,

and the space was also used by other Non-

Anglican groups; 8% of the city's population was

then Nonconformist.

In 1825, when Brighton was undergoing its

Regency facelift, the building was redesigned

- probably by Amon Wilds Junior and Charles

Busby - which explains its rather gorgeous Classical

façade, rather difficult to admire nowadays in

the narrow alley it resides in. In 1853 it merged

with the Queen Square Congregational Church

(as featured in VB#49); by 1905 it had become an

Evangelical Mission Hall, and subsequently an

Elim Pentecostal Centre. The evangelists left in

1985, and the building was bought by the Firkin

group, who turned it into a real-ale pub - The

Font and Firkin.

Nowadays, run by pubco Mitchells & Butlers,

it's become something of a twenty-something

vertical-drinking establishment on Friday and

Saturday nights, filling up with revellers enjoying

the sounds spun by its resident DJs, and the

cheap booze on sale. In the weekdays and daytime

weekends its huge screen (above what used

to be the altar) shows live football and rugby: the

seats in the semi-circular gallery on the first floor

look like the perfect place to settle in for a game.

It's fairly quiet this Friday lunchtime: I enjoy

another couple of pints of craft lager and a very

reasonably priced (£8.95) meat platter as we catch

up on gossip and news. The sausages are pretty

average, but the steak isn't, actually, at all bad.

It's not quite The Salt Room, which Dave had in

mind for the afternoon, but when you can mix

work with pleasure… Alex Leith

Union Street, fontbrighton.co.uk

Painting by Jay Collins

....17....
---
BITS AND BOBS

...............................

Brighton Picture Gallery on Grand Parade, 1823 © Royal Pavilion Brighton

SECRETS OF THE ROYAL PAVILION ARCHIVES:

THE BRIGHTON PICTURE GALLERY: 'A BEAUTIFUL

AND SPLENDID CABINET OF THE ARTS'

With the Constable in Brighton exhibition opening

this month, to be followed in June by a display on

Jane Austen and the seaside, I have been interested

in the various forms of entertainment available in

our city in the early 19th century. Apart from events

at assembly rooms, horse races, theatres and libraries,

Brighton also had at least one significant picture

gallery in the 1820s, long before art exhibitions

were held in the Royal Pavilion (from 1850) and

Brighton Museum was built (1873).

This image from 1823 shows the interior of the

much-praised picture gallery that Constable is

likely to have visited during his time in Brighton.

It stood at what is now roughly the area between

Circus Street and Grand Parade. This plot of land

was developed between 1806 and 1808. The works

included the building of a riding school known as

the Royal Circus, which was opened by Messrs I

Kendall and Co in August 1808. An engraving from

the same year shows an impressive nine-bay, threestorey

structure, with a large Pegasus sculpture

placed on top. Wings to the north and south housed

a coffee house, billiard rooms and a confectionary.

By the early 1820s, the building had become a

picture gallery and social meeting place where

visitors, having paid a shilling admission, could

also read newspapers, magazines and reviews.

The engraving showing the interior appeared in

Richard Sickelmore's popular book The History

of Brighton (1823). He describes the gallery as a

'beautiful and splendid cabinet of the arts… As a

public exhibition, the Dulwich gallery excepted,

....18....
---
BITS AND BOBS

...............................

The Bazaar, 1826, courtesy of Alexandra Loske

it is decidedly unrivalled, provincially, and may be

fairly classed with those of the first consequence

in London.' The gallery looks impressive indeed:

fashionably dressed visitors can be seen flocking in,

and the paintings arranged in a style reminiscent

of the Royal Academy summer exhibitions - hung

closely and all the way to the top of each wall of

the top-lit, 95-foot-high room. Pictures on levels

above the coveted eye-line (referred to as 'on the

line') are slightly tilted, for better visibility. In the

early years after its opening, Brighton Museum

displayed paintings in the same way.

The list of artists shown at the Grand Parade

gallery was surprisingly international, comprising

Dutch, Flemish, Italian, German, Spanish

and French masters, among them Parmigiano,

Veronese, Caravaggio, Poussin, Ryusdael, Mengs,

Hogarth, Gainsborough and others, as well as

'the finest collection of De Loutherbourg's work

extant'. There are no records that confirm that

Constable visited the gallery, but it seems highly

unlikely that during his extended stays in Brighton

in the 1820s he would not have dropped in to see

the impressive display of high-quality art.

By 1826 the gallery had been turned into a 'Bazaar'.

J Whittemore notes in one of his Brighton

guides that 'although we lament the alterations it

has undergone, we are gratified to perceive that

in its present state, it affords an hour's amusement

to the numerous fashionable visitors, who honour

it with their presence.' The author also mentions

that some paintings by foreign artists are still displayed

in the building. A tiny engraving in Whittemore's

books shows a building that appears to have

been refaced completely, with the additional wings

gone. Sadly, no trace of it remains today.

Alexandra Loske, Curator, Royal Pavilion Archives

Constable in Brighton is on at Brighton Museum

from the 8th and forms part of Royal Pavilion &

Museums' Regency Summer season which will

include Jane Austen by the Sea at the Royal Pavilion

from the 17th June

....19....
---
BITS AND BOBS

...............................

ON YOUR BIKE, MR MAYOR

You're invited to join our tandemriding

Mayor, Councillor Pete West,

as he rounds off his year in office

with three charity events. Or, if that

sounds a bit too much like hard work,

you can sponsor him to complete

the triple and support upwards of 20

good causes.

Bike the Biosphere Boundary: On

the 23rd, Cllr West will lead a cycle

ride around the Brighton & Lewes

Downs Biosphere boundary: 50 miles

which, he assures us, won't be too

arduous. Heading out from Hove Lawns at 9am, he'll head along the coast to Newhaven, up the

Ouse valley to Lewes, on to Cooksbridge, over to Ditchling, on to Shoreham via Bramber and back

to Hove. Get yourself sponsored to join him and register at Eventbrite. (Registration £20)

Walk the 'Brighton & Hove Way': On the 30th, join Pete on an 18-mile path around the

boundary of the city. Starting at Saltdean Oval at 9am, the walk is broken down into six stages so

you can join for a shorter stretch. The route takes in Castle Hill, Stanmer Park, and Waterhall Golf

Course before ending at Emmaus in Portslade around 4pm. (Registration £5)

Sponsor the triple: To round things off - and launch the Brighton Fringe - Cllr West will ride the

Mayoral tandem back from Paris (having launched the Fringe fireworks via a live satellite link-up

from the Eiffel Tower and carried out a few ambassadorial duties on the way), arriving back for the

Fringe City Community Day on the 8th of May. Then he'll take a well-deserved rest. LL

To find out how to join in, or to sponsor Pete, visit facebook.com/BHMayor

Photo by Nick Ford, nickfordphotography.co.uk

Your local 24 hour taxi service

for Brighton & Hove

Est. 1964

Free to download taxi app to book, track and

pay for your taxis from your smartphone

www.brightontaxis.com
---
JOE DECIE

...............................

....21....
---
ADVANCED TICKETS

AVAILABLE NOW

FROM

BRIGHTONTATTOO.COM

Over 300

International

Tattoo Artists

Independent

brands and traders.

Chopper Exhibition

by "The Trip Out"

The Barberlife

Expo

Live Music, DJ's

and late night Bars.

Official

Judas Priest

Tattoo Art

Exhbition

the brighton centre

brightontattoo .com
---
BITS AND BOGS

...............................

MAGAZINE OF THE MONTH: DUMBO FEATHER

Habits are things we do

repeatedly without thinking;

rituals are ways of behaving

that we deliberately create

and regularly observe.

Wherever I am, I always have

a coffee each day. When I am

working in the shop I have

created a ritual of starting

my day at coffee@33, just up

from us in Trafalgar Street.

Their balance of simplicity,

calm and devotion to great

coffee (and food) always puts

me in the right place for a

day with people who love magazines. It also helps

me find the right mindset for doing things as well

as I can in our own shop.

Many of our customers tweet or post pictures

of themselves with a drink and one of our mags.

They often do this on a Sunday; it's part of their

ritual of finding downtime in their busy lives. For

them and me, these gorgeous

magazines become part of a

ritual of self-care.

Our magazine choice this

month is Dumbo Feather. The

new issue, just in, is its 50th,

and each comes from a good

place, trying to understand

people rather than throw

snarky comments the whole

time. It's challenging, in its

own way, but it is hopeful, too.

So much of its subject matter

is about ritual. About the need

to do things consciously and

regularly in order to make good things happen.

In the new issue, you can read about the healing

power of music, cultivating compassion, building

homes with heart, and business with a purpose.

All good, all achievable, all dependent, to one

degree or another, on ritual.

Martin Skelton, MagazineBrighton

TOILET GRAFFITO #27

Damascene conversion can strike in the

unlikeliest of places. This month's sitter

found faith in the lowliest of stalls.

But where is this confessional?

Last month's answer:

Presuming Ed's

....23....
---
Photo by Adam Bronkhorst, adambronkhorst.com

....24....
---
INTERVIEW

..........................................

MYbrighton: Joe Decie

Cartoonist and worrier

Are you local? No. In the I-Spy in Brighton

book you get 50 points if you can spot an actual

local. I've been here 15 years. I came for love,

from Leeds, and before that, Kent. I met my

wife Steph at university. She's from here, so we

had a choice of Brighton or Leeds, and we chose

Brighton. Because there's no place like it. It's

so unaware of the rest of the country. It's the

only place I know where people wouldn't bat an

eyelid at spending £3.50 on a Scotch egg.

Do you balk at that price, or have you been

here long enough not to? I do. But I'm acclimatised

to it. I wouldn't actually buy one, but

I don't get angry looking at them in the shop

window anymore.

What are your favourite things about the

city? I like how daft it is. The other day I saw

a sign for craft beer for dogs. I think in every

other town in this country dogs are satisfied

with water. Or least a big-brand dog beer. It's

quite silly. I do make fun of Brighton; it's very

easy to make fun of the organic-small-batchness

of everything, but sometimes I feel I'm being

priced out of the market because I can't afford to

buy a £4.50 artisan loaf on my high street.

But you're getting the community bakery

in your neighbourhood… I already bake my

own. That's the thing. I laugh and joke about

the Brighton folk, but I'm very much one of

them. This is my place. I wouldn't want to live

anywhere else.

You worry quite a bit, it seems. What worries

you most about Brighton lately? I don't

really worry about anything in Brighton. I

mean, I worry about everything in real life, but

not Brighton specific. I worry that I worry too

much. That is my main thing.

Does Brighton give you lots of inspiration

for your work? Constantly. Take a 37b bus and

you'll get a dozen stories.

What's a perfect Decie family outing? The

charity shops of Blatchington Road are fun. A

walk down London Road. We like our secret

spots. The Secret Woods…

Are we allowed to know where they are? No,

they're secret. Brighton's great for finding your

own special places. Going back to the 37b bus,

that takes you to the best views of Brighton - up

by the racecourse - and nobody goes there, just

a few dog walkers. Pack yourself some £3.50

Scotch eggs and have a picnic.

Have you got a favourite restaurant? I have

several. You don't get a better salt-beef bagel

than at Fourth & Church. And there's a pizza

place on Waterloo Street. I don't remember

the name. It's family run and a bit tatty around

the edges. The menu seems very basic, and you

could easily walk past it but they are the best

pizzas in Brighton. The best you'll get outside of

Naples. I'd rather people didn't know about it.

Do you swim in the sea? I will roll my trousers

up to my knees and paddle and the waves will

come in and I'll get completely soaked but

no, I don't swim in the sea. We're fair weather

seafront goers… around about now we go down

beachcombing. I'm sure that my son Sam found

a big bit of ambergris once.

Interview by Lizzie Lower

Collecting Sticks, Joe's first graphic novel, is published

by Jonathan Cape. Available from the 13th

....25....
---
PHOTOGRAPHY

..........................................

Lee Miller

Carole Callow, Archive Curator

"Most people see her from

the outside, as a model, a

fashion and portrait photographer,

a war correspondent,

a gourmet cook and hostess,"

says Carole Callow, of Lee

Miller, who was, indeed, all of

those things.

Miller worked either side of

the camera for Vogue in the

20s, experimented with surrealism

with her lover Man Ray

in the 30s, became Vogue's war

photographer and correspondent in Europe in the

40s, and ended up hosting a number of celebrity

artist friends in Farleys House, Chiddingly, where

she lived with her husband, the surrealist painter

Roland Penrose, until her death in 1977.

"But because I've got to know her more intimately,

through her photographs, I feel I know her from

the inside, through her eyes," she continues. "Like

a friend I never met."

For 35 years Carole has been responsible for the

Lee Miller archive, a collection of 60,000 negatives

which she has had sole responsibility for printing,

in a period in which Miller's star has risen dramatically.

When Carole started the job, in 1982, the

American was a largely forgotten figure; now

her work regularly features in major exhibitions

around the world.

Carole's involvement with the project was serendipitous.

"I got a job as a home help at Antony and

Susanna Penrose's house in Chiddingly. On my

first day I found some black and white photographic

prints hung on the line to dry. Later that

morning over coffee, I revealed to Susanna that in

previous years I worked in a photographer's studio,

and was familiar with darkroom techniques. This

came at a point when Antony was overwhelmed

with trying to document

and archive the photos."

Since then, every official

modern print of a Lee

Miller photograph has

been created by Carole's

hand, utilizing the original

wet process in the darkroom

or, more recently,

created digitally with

Carole's guidance.

"My favourite period in

Lee's career was when

she lived in Egypt between 1933 and 1939 with

her first husband. For the first time she wasn't

shooting for commercial purposes. My favourite?

Portrait of Space, the only print on my wall at

home, gifted to me after 25 years in the job."

Seeing Lee Miller's world through Lee Miller's

eyes hasn't always been easy for Carole, who

retires in June. The photographer was extremely

damaged by the experiences she went through

during and after the war. Particularly traumatic

was the liberation of Dachau in April 1945. "It

was only after a camp survivor came to Farleys

House some years ago, that the emotional reality

hit home," says Carole. "He told us how he met

Lee, and showed us a packet of cigarettes she had

signed for him. Suddenly I thought, 'this is real,

it's not just photos'. It hit me that they were depictions

of events that Lee had witnessed, and been

tremendously moved by. They started affecting

me even more profoundly, just as Lee had seen

through her lens."

Alex Leith

Lee Miller Archives Print Room Sale, Friends Meeting

House. Part of Artists' Open Houses festival,

weekends only, May 13th-21st, free entry.

Collectors evening, May 19th. leemiller.co.uk

....27....
---
PHOTOGRAPHY

..........................................

Max Ernst and Leonora Carrington, St Matin d'Ardeche, France 1939

© Courtesy Lee Miller Archives, England 2017. All rights reserved. leemiller.co.uk

....28....
---
PHOTOGRAPHY

..........................................

Roland Penrose and Picasso in Roland's studio, Farley Farm, East Sussex, England, 1950

© Courtesy Lee Miller Archives, England 2017. All rights reserved. leemiller.co.uk

....29....
---
PHOTOGRAPHY

..........................................

Saul Steinberg, Long Man of Wilmington, Sussex, England, 1952

© Courtesy Lee Miller Archives, England 2017. All rights reserved. leemiller.co.uk

....30....
---
PHOTOGRAPHY

..........................................

Lee Miller and Antony Penrose, London, England 1947

© Courtesy Lee Miller Archives, England 2017. All rights reserved. leemiller.co.uk

....31....
---
COME ALIVE AT

SUMMER OPERA FESTIVAL 2017

WORLD CLASS OPERA ON YOUR DOORSTEP

BOOK NOW AT GLYNDEBOURNE.COM
---
COLUMN

...........................................

Lizzie Enfield

Notes from North Village

"The man in the moon came tumbling down and

asked the way to Norwich… Da da da. No. That's

porridge."

I'm having tea and cake with a couple of friends

and am trying to remember which nursery rhyme

features groats.

I'm just back from Poland, where we were served

groats for dinner. They were new on me. A kind of

puy-lentil-coloured quinoa, if you want to be really

North Village about it. A grain of some description,

if not.

But I think they feature in a rhyme, so I'm going

through all the ones I know.

"Sing a song of sixpence, a pocket full of rye…

Nope."

"This is the rat that ate the malt that lay in the house

that Jack built. Malt!"

My companions are surprised by my knowledge of

nursery rhymes.

"Didn't your parents test you on them over

dinner?" I ask, casually, expecting the answer to be a

murmured "oh yes," not a bemused "no, did yours?"

Yes.

I now realise nursery-rhyme tests were not part

of everybody's mealtime rituals and that not

everybody's father sat at the head of the table asking,

"Who worried the cat that chased the rat that ate the

malt? Quick. First to answer can have another roast

potato!"

"The Dog." The potato went to my brother.

"And who popped its head into the shop and said

'What! No soap?'"

"I know! I know! The great she-bear."

A potato would be mine if there were any left.

Instead, a lifetime of thinking and sometimes saying

"What! No Soap? So he died…" out loud, whenever

someone in a public toilet remarks that the soap in

the dispenser has run out, was what I ended up with.

Cue strange looks. Were the people around this

washbasin not tested on the words of The Grand

Panjandrum over dinner? Clearly not.

Nor the friends of my children who question my

pronunciation of forehead to rhyme with florid or

torrid or, definitively, horrid because that's how the

nursery rhyme goes.

"It's fore to rhyme with score - head," the kids insist.

"There was a little girl, who had a little curl, Right in

the middle of her forehead…" I counter.

"And when she was good, she was very, very good,

but when she was bad, she was horrid!"

This proves that my pronunciation is right.

Otherwise the little girl is not "horrid" but "whore

head," and it's a children's nursery rhyme after all.

Not that they're all suitable for children.

The groat one comes to me.

"There was an old man in a velvet coat,

He kissed a maid, And gave her a groat" I begin

reciting.

"The groat it was cracked and would not go. Ah, old

man, do you serve me so?"

"Wow, I'm strangely impressed," says one of my

friends. "More cake?"

So, years down the line, ritualistic mealtime rhyme

testing at dinner has finally come into its own. I've

strangely impressed someone and earned more cake.

Illustration by Joda, jonydaga.weebly.com

....33....
---
WE ARE HIRING

An exciting opportunity for an individual with a passion for property and interiors to

help with the everyday running of this creative, independent property company.

For more details please contact Claire:

marketing@nashwatson.com 01273 733 500

nashwatson.com
---
COLUMN

...........................................

John Helmer

11 o'clock

Illustration by Joda, jonydaga.weebly.com

"Is that a coffee cup?"

I'm at the computer in my study, skyping with

my eldest child Grace. She's laughing at me.

"What?"

Poppy, at my side, smirks - in that unpleasant

way she does all the time now that she's nearly

fourteen and a proper teenager.

"What?!" I'm getting exasperated. "Let me in

on the joke, someone."

"Every morning at eleven…"

I look at the cup on my desk, slightly stained

at the rim; adorable little almond cantuccini

biscuit nestling in its saucer...

"You're so predictable, Dad!"

They're on to me. Coffee at eleven.

Lunch at one. Tea at four... How

did I become this OCD robot?

Blame a Catholic upbringing,

perhaps. I remember a game I

used to play with my brothers,

nibbling the corners off After

Eights and administering them

like hosts to each in turn, with

a blasphemous sign of the

cross - the body of Christ...

Or perhaps it's genetic. I am

the son of an engineer, a group

of people who, I was reading

the other day, are significantly

more likely to be on the

spectrum.

A picture comes to mind of Dad,

standing in the porch of our old

house, cleaning his ears out with

a front-door key. Was he

a bit autistic maybe?

Did he have

rituals? I struggle to think of any. But then I

struggle to know anything much about him. He

was a taciturn man, without much small talk.

And without much big talk either.

There was, of course, the tea-time ritual. Tea at

home was served strong, with up to four sugars.

Mum would bring it in and we would all sit

around in the front room nursing our mugs.

After one sip all three of the adults - Mum,

my father and my grandfather - would fall

deeply asleep and silence would reign until the

moment when the heat of the tea caused my

grandfather's dentures to expand, and they fell

into his cup with a loud splash.

But that was a family thing, and had no allotted

time. My father, my father, though: did he do

particular things at particular times of day? I

rifle through my memories of him - happy face,

cross face - and come back with not much. The

truth is, he was always away on some foreign

airfield, fixing planes (he was an aeronautical

engineer). Long dead, there's not enough of him

remaining in my memory from which to divine

any sort of pattern to his behaviour. It's like

looking for the shape of mist.

"…Predictability is not a bad thing," says Grace,

smiling sweetly through the screen; "Wherever

I am in the world, whoever I'm with, I always

know what you're doing at eleven o'clock every

morning. It's reassuring."

I think about this for a moment, wondering

what it must be like to have a parent whose

presence in your life makes you feel reassured

(rather than mystified and freaked out).

"…It's a good thing," says Poppy, patting me

softly, like a dog.

I sip my coffee. A good thing.

....35....
---
CNM

TRAINING SUCCESSFUL PRACTITIONERS

COLLEGE OF

NATUROPATHIC

MEDICINE

CHANGE CAREER

Train to become a…

Nutritionist Herbalist Acupuncturist

Homeopath Naturopath Natural Chef

Postgraduate Courses and Short Courses also available

Colleges throughout the UK, Ireland, Finland, USA

Part time and full time studies

01342 410 505 www.naturopathy-uk.com

Attend a FREE

Open Evening

at CNM Brighton

or CNM London

The Pamper Pod

Run by Kristina Botterill, a fully qualified therapist

and beautician, The Pamper Pod is a haven of

holistic wellbeing in the heart of Preston Park.

Reflexology, Reiki, Massage, Organic Facials and a

full range of Beauty Treatments.

Unwind - De-stress - Revitalise

BASE FLOW YOGA

Vinyasa Flow / weekly classes Brighton

info@baseflowyoga.com

Follow @baseflowyoga

Stockist of:

Neal's Yard Remedies Organics

Zephorium Aromatherapy Products

La Montana Candles

Book your appointment today.

01273 561548 / 07949461329

krisbotterill@aol.com

www.thepamperpod.co.uk
---
COLUMN

...........................................

Amy Holtz

And her ten-finger orchestra

I'm in the middle of telling

a story and drinking a pint

when one of my friend's

bejewelled hands reaches

out and slaps across mine.

"Stop it!" she thunders,

appalled.

"Stop what?" I ask,

bewildered. "Ow."

She points to my fingers with

the wide, all-seeing eyes of

a former teacher, and huffs.

"You know."

It takes a minute, but of

course I do know. I just forget

I'm doing it - cracking my

knuckles. And over the years, I've come to realise

there are only two kinds of people in the world;

the innocent, misunderstood air-bubble poppers

who just want to be left alone, and the people who

shame them.

"I'm just thinking of your future," she continues,

calmer, sifting through our pub booty of dryroasted

peanuts, the eating of which, in my opinion,

is a far bigger public-health risk. "My sister got

arthritis early on and she used to do that."

"But how do you know it was the knucklecracking?

Instead of say, I don't know, genetics?" I

say this defiantly, with not a smidgen of sensibility,

but I can feel what can only be described politely

as an urge - building. In my fingers. I didn't finish,

and now I'm going to have to wait until she turns

her back or risk another slapping.

I used to get regular knuckle raps from my

gramma. As an often-annoying do-gooder, it was

the only thing that gave me a frisson of devilry

throughout my youth. The feeling was as close

as I had come to bank robbery or face tattooing -

and likely ever will. And

my piano teacher spent

many a lesson lecturing

me on my thoughtless

habit, as though a

career as a concert

pianist was somehow

hanging in the balance.

It wasn't. Sighing, a

noise so charged with

disappointment, she

used to tap at my hands

with her marking pencil,

which, looking back,

smacks of counterproductiveness.

But it isn't just the well-intentioned - the folk who

rightly profess to be looking out for you, no matter

how obnoxiously persistent they are. People look

at you when you do this in the library, one knuckle

at a time, using your other fingers to get at the

thumbs, like a little ten-finger orchestra. Or say,

"ouch", and wince in your general direction, as

if experiencing some sort of knuckle-cracking

stigmata on their person.

It does make you wonder - just where do these

old wives' tales come from? And how come they

live on, even now we have Google?

I posit this to my friend - fishing for my rational

voice but coming up with shrill. "I'm not going to

get arthritis! There's simply no evidence!"

She looks at me with mild pity and passes me the

peanuts. I'm desperate to finish my forefinger and

thumb, which are patiently waiting, but I'm too

scared of her.

Ok, so maybe I do have a problem. In the end, it

doesn't really matter how these things start. All I

know is that they don't seem to stop.

....37....
---
MUSIC

..........................

Gigs In Brighton...

cHarLie sTraW

Monday 17th April

The Prince Albert, Brighton

Haus

Friday 21st April

Komedia, Brighton

WiLLiaM MccarTHy

Friday 21st April

The Haunt, Brighton

JoHnny LLoyD

Friday 21st April

Sticky Mike's, Brighton

VaLerie June

Saturday 22nd April

Concorde 2, Brighton

Dan oWen

Tuesday 25th April

Komedia, Brighton

counTerFeiT

Saturday 29th April

The Haunt, Brighton

ProToJe

Thursday 11th May

Concorde 2, Brighton

Marianas TrencH

Saturday 13th May

The Haunt, Brighton

Foy Vance

Monday 22nd May

Concorde 2, Brighton

exoDus

Wednesday 7th June

Concorde 2, Brighton

Minus THe Bear

Saturday 10th June

The Haunt, Brighton

LoutPromotions.co.uk

Ben Bailey rounds up

HATERS

Fri 7, Green Door Store, 7pm, £5/4/3

Perhaps pre-empting detractors with their choice

of band name, Haters make the kind of lo-fi

indie-pop that's often associated with groups from

the late 80s and early 90s. However, the combination

of jangly guitar and pop-punk drumming is a

format that never really went away, and with good

reason. It still works, especially as Haters' lyrics

have a straightforward honesty which ensures

indie kids of a certain hue will find something to

relate to here. This show, put on by local DIY

promoters FemRock, is the band's last UK date

before a short European tour. They're back again

at the end of the month, playing the 'Fallopian

Tunes Fest' at the same venue on the 30th.

HOLLY ISOBELLE

Mon 10, Prince Albert, 8pm, £2

Not to be confused

with Bath's Isobel

Holly, Brighton's

Holly Isobelle is a

singer-songwriter who

sometimes transforms

into the frontwoman of a pop band, trading her

acoustic guitar for a sparkly synth. It'll be in that

incarnation that she takes to the stage of the Prince

Albert for the launch show of her first single, Remains

of Our Love. Influences range from contemporary

alt-pop acts like Two Door Cinema Club

and Lucy Rose, to original shimmering-synthpop

exponents Simple Minds. Support comes from folk

songstress Hayley Chillcott and local indie rockers

Codename Aquarius. To mark the occasion Holly's

promising special décor, cupcakes and a free drink.

....38....
---
MUSIC

..........................

the local music scene

DIRTY WHITE FEVER

Sat 8, Sticky Mike's Frog Bar, 7pm, £5

Marking the anniversary of Kurt Cobain's death, this

tribute night sees four local grunge acts paying homage

to the tragic hero of 90s rock. Nirvana covers are

inevitable, the only question is: who gets to play Teen

Spirit? Fuoco, DITZ, and PLUNGE fill out the bill,

while Dirty White Fever take the headline slot, mixing

the sludgy blues rock of The White Stripes with

the speed riffing of Queens of the Stone Age. The

Brighton duo, one half of which was briefly in The

Eighties Matchbox B-Line Disaster, will go down well

with anyone who likes their rock raw and unpretentious.

The WÜF DJs round off the night playing all

the big grunge hits - which seems like an oxymoron,

but you know what we mean.

FIRST WORLD PROS

Thu 13, Sticky Mike's Frog Bar, 8pm, £5/3

Promoting the launch of

their debut album, First

World Pros are a new Brighton

seven-piece comprised

of former members of The

Leisure Society and Django Spears. If you ever caught

the latter, you'll remember that their klezmer/skiffle

pop covers were musically much better than they

needed to be for the humour to work. Likewise, the

comical lyrics that First World Pros have hewn out of

everyday petty problems (you know the sort) are set

to a diverse and impressively executed form of festival

music. The band's Afrobeat, highlife and alt-rock

influences leaves them sounding like a frenetic version

of Vampire Weekend mixed perhaps with some of

The Clash's weirder later stuff. If you're not dancing,

you'll be laughing.

________________________________________

Sammy and the Snow Leopard

Wed 19 - Thu 20 Apr

________________________________________

KIN

Wed 19 Apr

________________________________________

Banff Mountain Film Festival

Thu 20 Apr

________________________________________

Bournemouth Symphony Orchestra

Sat 22 Apr

________________________________________

Naomi's Wild & Scary

Sun 23 Apr

________________________________________

London Philharmonic Orchestra

Sat 29 Apr

________________________________________

Brighton Festival

Sat 6 - Sun 28 May

________________________________________

brightondome.org

01273 709709

....39....
---
Brighton Fringe Award

Winners 2014 . 2015 . 2016

What the critics say about Pretty Villain:

'Brilliant'- Plays International ✶✶✶✶✶ 'High quality' The Argus

'Thoroughly professional' – Fringe Review

'Tragedy and comedy intertwine magically' - Broadway Baby

Blue/Orange

by Joe Penhall

NE-YO

Sat 1 Apr

THE HARLEM GLOBETROTTERS

Sat 15 Apr

CARO EMERALD

Fri 14 Apr

DIVERSITY

Tue 18 Apr

Award-winning comedy and modern

masterpiece - one day before release

from psychiatric hospital, an enigmatic

patient claims to be the love child of

an African dictator.

27th - 28th May | 30th May - 3rd June

New York Stories

by Damon Runyon

Two wise-crackin', fast-talkin' 1930s

short stories brought to life by 'the

nest actors I have seen on the Fringe'.

'A masterclass in direct storytelling

and character comedy'.

16th - 21st May

box office 0844 847 1515 *

www.brightoncentre.co.uk

*calls cost 7p per minute plus your phone company's access charge

What did I miss?

The Missing Special

by Richard Hearn

Winner of The Rialto's 2016 new

writing competition by acclaimed

Brighton author. This comedy/drama

replays key events from Rufus' life -

but does he have a second chance ?

21st, 23rd - 26th May

11 Dyke Road, Brighton BN1 3FE

(50 yards from Churchill Square)

Box Office: 01273 725230

www.rialtotheatre.co.uk

whatdidimiss.co.uk
---
MUSIC

....................................

Ghost

Agnostic shock rock

All things considered, I guess we're a shockrock

band. I don't put a lot of effort into thinking

about what we are in terms of genre, but I perfectly

understand that if you're a little bit anal and you're

a protector of your genre, then you might not buy

into us.

I come from a very mixed-up musical background;

we listened to everything from doo-wop

and pop to extreme black metal. But the spark that

started Ghost was the fact that I found a way to

combine death-metal riffing with AOR choruses.

Papa Emeritus is our mascot. Like Eddie is for

Iron Maiden; but he just happens to be the singer

as well. I think what you'll get in Brighton is what

we call 'the full thing'. A few new songs, and maybe

some pyro that we haven't really done before in the

UK. It's a bigger show; it just looks grander.

Religions claim to be for the greater good,

whereas anyone who knows a little bit about history

knows they are made up in order to control people.

And that has led to an enormous amount of grief

and suffering, all in vain. Ghost is an emulation of

that, symbolic of that suffering. But as opposed to

traditional worship, we are trying to make people

euphoric by taking part in a mass, in a ritual. We

leave people with the idea of wanting to

live and wanting to live freely, rather

than going away feeling that they

need to repent or that their lives

suck. That is

not to say we

dismiss religion

per se, or a

belief in

something

greater. We

respect the

fact that we

have no f**king idea.

You get used to playing in a mask. Obviously it's

strange at first, but the upsides are definitely greater.

You find yourself transforming into a slightly different

character, and that in turn gives you an extra

boost on stage. In the beginning there wasn't an issue

with being recognised, because I never thought

it would be propelled to this size.

If there's one person screwing up the anonymity,

it's probably my mum. She's very proud. Ever

since I was a kid I've always been a fan of musicals

and theatre; she dragged me along to a lot of different

cultural events. The first time we went to

London we saw The Phantom of the Opera and Cats.

I was absolutely blown away. I knew it was a format

I wanted to work within. Will there be a Ghost

musical? I really hope so. The point has always been

to be theatrical. With the aid of masks you can more

freely let your mind ease into the idea that this is

'real'.

I knew nothing about the bands I loved when

I was a kid; I had to invest so much imagination

into the posters on my wall. Even in 2008, when

we started, I was extremely annoyed by hysteria on

Facebook and Twitter. A lot of the new bands have

to profile themselves as individuals and photograph

everything they eat. I guess Ghost was a counterreaction

to that. This is not

the rock 'n' roll that I love.

I wanted Ghost to be

something completely different.

We do things that

make other people

talk. As told to Ben

Bailey

Brighton Dome,

Sun 2nd Apr,

7pm, £27

....41....
---
MUSIC

....................................

Billy Ocean

Tailor's-apprentice-turned-megastar

"I was told I was singing before I could talk," says

Billy Ocean. "I used to sing along to the radio; I

always did it." He heard calypso tunes at his musician

father's shows; he listened to American popular

music on the radio; he sang in a church choir. He

was given his first instrument at the age of four - a

toy ukulele. The authoritative AllMusic website says

that 'by his teenage years [he] was singing regularly

in London clubs'.

All this - the keen interest, the early start, and

the useful mix of influences - might seem to have

been leading him towards inevitable success as a

musician. His mother, though, got him to learn a

trade, as a fall-back. So he started work as a tailor's

apprentice. The Telegraph later noted that 'he got

the sack when Annie Nightingale played his first

single on Radio One'.

That was in 1974; he signed with the GTO label

the following year, and went on to sell 30 million

records. It's tempting to say something like '…and

he never looked back'. But Ocean evidently retained

an interest in tailoring; he told the Guardian that 'in

the 80s, I made all my suits myself'.

"I still have a few of the old suits," he tells Viva. "But

they don't get worn these days. I like to feel good on

stage, so I always wear a suit and tie; it's just me."

Mon 24th, Brighton Dome Concert Hall, doors 7pm,

tickets from £24.50

2-4

June

Like WoodsTock for A

fAceBook GenerATion

PiPPingford Park nutley

east sussex tn22 3HW

A festival for people who don't want to take fake news, Trump

or alternative truth lying down.

free speech, music, comedy, immersive theatre with John Cleese,

June sarpong, Hugh grant, the Blow Monkeys, frances Barber,

radio 1 dJ nihal, lenny Henry, Hardeep singh kohli, Bonnie greer,

Martin Bell, a.l kennedy, department s, the Priscillas,

salena godden and more.

Dance, laugh, drink, discuss, create

get 30% off tHe norMal £150 tiCket PriCe for ViVa readers

aPPly Code ViVaByfest WHen you Book at www.bylinefestival.com

change the world...

@Bylinefest
---
COMEDY

....................................

Ed Patrick

Real life isn't like med school

"One of the main things about being a doctor,

actually, is managing uncertainty," says Ed Patrick, a

comedian and junior doctor. "Everything's laid out

for you on a plate in medical school, but actually in

real life you have to deal with uncertainty" - with

situations that are messier and more complex than

the ones you tend to encounter as a student.

In medical school, for example, "you learn a theory,

and you learn how things happen if there's only one

thing wrong." But in real life, patients often have

multiple issues, whose symptoms you have to try to

disentangle and make sense of.

In medical school "you have practical exams: you'll

be called together, examine the patient, take histories,

and all that stuff you need to do. But whether

you actually have the time, and the space, to do that

in the hospital setting, when it gets really busy, is

difficult. Because you're juggling a lot of priorities.

"That's one of the key things as a doctor; you have

to prioritise. You have people coming at you from

left, right and centre. If you're a junior doctor, like

me, you have a list, and have to assess each thing

that comes to you, and decide which is most important,

and prioritise that accordingly.

"You've seen what's happened in A&E over the last

couple of months; it's not like everyone's got their

own room, where you can go and comfortably do

everything you need to do in that time. It's more

hectic. You're having to work in corridors and

things like that. That's not what you're taught in

medical school.

"The show is about how you're kind of thrown

into this world that you didn't know about, and

it's not quite as set up as you thought it was… You

go from a medical-school situation, a university

situation, to suddenly being in a very responsible

position. And it's a baptism of fire, for the first few

years of doing that."

I gather that a theme of the show is that doctors

aren't 'demi-gods', as people might like to imagine -

they're just well-trained people doing their best. Ed

says: "I think society's always sort of seen doctors

on a pedestal. There are good reasons for that, but I

think sometimes you need to remember that they're

human as well.

"Actually, what makes a good doctor is someone

who's aware of their limitations and gets help when

they need it. And that's why you have teams of

people that you work with. It's not actually a solo

thing… You have different specialists; you wouldn't

attempt to do something that wasn't your specialism,

or where you felt out of your depth, your level.

"But what happens is that people come to see you

and might not realise that you're not the specialist

in that area. Because you are a doctor you've got

that general sort of, 'you are a man in a white coat;

you must know everything.'" Steve Ramsey

Ed Patrick: Junior Optimist, Komedia, Sun 30th,

8pm, £10, komedia.co.uk

....43....
---
Omid Djalili Tracy-Ann Oberman

FIDDLER ON

THE ROOF

This celebrated and much loved

musical directed by Daniel Evans is

packed with show-stopping songs

including If I Were A Rich Man,

Tradition and Matchmaker

#FiddlerOnTheRoof

10 July – 26 August

01243 781312 cft.org.uk
---
THEATRE

....................................

The Crucible

'A perfect post-truth play'

'I have laid seven babies

unbaptised in the earth,'

Ann Putnam says in The

Crucible, Arthur Miller's

play about the Salem

Witch Trials. This is

early in Act One; the

suspicion of witchcraft

has been raised; Mrs

Putnam connects it with

the deaths of her babies.

"That's the hardship of that time; many women lost

their children," says Douglas Rintoul, the director

of a current touring production of the play. "I find

the character incredibly moving, because she's desperately,

desperately looking for a reason why those

children didn't live, and she cannot [accept] that her

body was not strong enough to produce those seven

children. There has to be another reason…

"That's really the beginning of where the seed of

the hysteria starts. That's to do with somebody who

was so deeply unhappy in her life that she had to

find a reason outside of herself to explain it away.

And certainly we can find lots of analogies with that

in a contemporary society, as well. We often look

for something outside of ourselves to make up a

narrative of why things haven't worked out the way

that we were told that they should have done.

"For such a long time, as individuals in the western

world, we've been told that we can have anything

and everything, as long as we fight for it and we

work hard… It's kind of the American dream. And

then, when we don't attain those things… because

the structure of capitalist society has kind of let us

down - I mean, it is an anti-capitalist play - but then

we don't question the structure of that society.

"In the same way, in

the play they're…

[generally] not

questioning the

structure of their

theocracy, which is

really to blame for

all of the events in

the play. They're

looking to blame

other individuals for

why their lives have not turned out the way that

they were told that they should. And I think that's

the great parallel, is that we are in a time where our

structures are falling apart, and we're not blaming

the structures; we're looking to blame individuals,

which will be the minorities or the outsiders. In

the play, the weakest members of that community

are the ones who are first attacked. Which is Sarah

Good and Goody Osburn, who are old women who

live in ditches and probably have dementia. They're

a really easy, easy target. And the hysteria picks

them out first…

"There are lots of examples in contemporary

society… Look at Islamic extremism, or the way

that we scapegoat immigrants for all the ills of our

societies; we read enough Daily Mail headlines and

then we believe… I mean, the play is a perfect posttruth

play. I'm not sure that Arthur Miller would

have ever believed that we would find ourselves in

this situation in the 21st century, where his play is

probably more pertinent now than it was when he

wrote it in the 1950s. It's… the whole play is about

believing a lie, believing the lies."

Steve Ramsey

Theatre Royal, Mon 24th – Sat 29th

....45....
---
MUSIC

....................................

King Ayisoba

Ghanaian kologo prodigy

Photo by Paul Bergen

King Ayisoba is a musician

and singer from

Kalaga, in the Upper

East region of Ghana.

His grandfather was

a traditional healer

who taught him how

to play the kologo (a

two-stringed guitar),

and King Ayisoba

became something

of child prodigy in

the area. Having

played with hip-life artist Terry Bonchaka, King

Ayisoba went on to win the Ghana Music Award

in 2007. He's been touring the world more or less

ever since. This month he comes to Brighton,

supported by his unlikely ally Arnold de Boer, who

performs with his lo-fi electro-punk project Zea.

How would you describe your music? Is it a

traditional style? It is kologo music from Ghana,

played with my own personal style.

What is kologo? How did you start playing it?

Kologo is a mystical instrument, and it's a gift. My

grandfather was a kologo player, so the kologo

spirit caught me when I was born.

Who else are you bringing to the Komedia this

month? Ayuune Sulley (kologo player and singer),

Francis Ayamga (drummer and sound engineer),

Aboba Azure (talking drum) and my brother Adortanga

Abbadongo Aporee, who is a dancer and

horn player. We are all from the same area, Bongo

Soe and Bolgatanga.

What other influences have shaped your style

of music? I listened to reggae music, and I started

promoting kologo through the hip-life and hiphop

scene, with the support of Terry Bonchaka and

Panji Anoff.

What is your connection

with Dutch

punk band The Ex?

Arnold De Boer, a

member of The Ex

and also of Zea, invited

me on tour with

him and produced my

albums in Europe, so

I started touring with

him and we shared a

stage together. Later

he invited me again

with my full band for a European tour.

Have you toured around here before? Do audiences

in different parts of the world react differently

to your music? I've been touring all over

Europe and beyond for six years now... including

China. Even Chinese people enjoy my music and

dance like crazy.

What does 'King Ayisoba' mean? Why did you

choose it as a name? King Ayisoba means "Land

Lord"; people call me that.

How did you celebrate the 60th anniversary

of Ghanaian independence last month? What

are the biggest problems facing the country at

the moment? In the north of Ghana, we have a

big problem about water access and electricity. I

created my own water foundation to support my

people and my region.

What inspired your song Wicked Leaders?

I wrote this song to talk to all the leaders who

are not helping their own people and just make

promises when an election comes. I always want

to remind them that their "power" come from

their people!

Interview Ben Bailey

Komedia, Monday 3rd April, 7.30pm, £9

....46....
---
COMEDY

....................................

Marcel Lucont

Trop drôle pour l'Anglais

French 'raconteur, bon-viveur

and flâneur extraordinaire'

Marcel Lucont is the winequaffing

alter-ego of awardwinning

British comedian

Alexis Dubois. He shares his

Gallic wisdom…

What does being French

mean to you? In these times,

a discerning man chooses to

wear his nationalism lightly,

like a billowing cravat. Yet it

is difficult not to appreciate

the many positives that come

with being French - like a

billowing cravat. There is a

style, a way of life, an insouciance

that only the French can truly live.

French style is lauded all over the world; can

you talk us through your own look? My level

of style deceptively hides its functionality. Each

jacket pocket contains at least one book of notes;

the deft roll of the pullover conceals at least one

reminder of the night before; the neat trouser

contains at least one mystery.

Which French stereotype is furthest from the

truth? We are said to be aloof, I believe. If this

is the case, perhaps you should ask yourself why

are we not immediately engaging in conversation

with you? Perhaps we first need convincing that

an interaction will be worthwhile, or everybody's

time is wasted.

You've written a memoir, Moi. What do you

think readers will be most surprised to learn?

My role in France's space programme.

What are you reading at the moment? My

memoir.

Your new show is described as 'a kind of group

therapy'; have you ever

attended such a thing yourself?

No. Having to interact

with a group of strangers in

this way would merely drive

me to further therapy. Perhaps

this is a misleading précis

of the show, as it implies

that I will alleviate audience

members' gripes, grievances

or failings. I can assure you

this is not the case. It is highly

likely everyone will leave feeling

more depressed.

Do you rate any other

comedians? Comedy is, in

general, such a low art form. I

find it so bewildering that other practitioners refuse

to write even one poem or chanson. Observational

comedy, in particular, seems wasted on the

British, whose observations often reveal lives so

mundane that Socrates may instead have decided

the unexamined life to be perfect left as it is.

What do you think of English wine? It is about

time we had a joke question. I believe this is part

of your mythical folklore, along with Robin Hood,

King Arthur and Iraq's Weapons of Mass Destruction.

A good attempt, but it will take more than

this to fool me.

Are you a fan of Brighton? 'Fan' is a strong

word. Despite its unusually large grains of sand

and suspiciously cheery nature I have spent some

memorable afternoons staring across the sea at

civilisation. Often such moments can last up to

three minutes without the interruption of a skateboarder,

a child or a festival.

Interview by Nione Meakin

Marcel Lucont's Whine List, Komedia, April 12th

....47....
---
eathe deeply

close your eyes

think beautiful thoughts

about how your

home could look

do something about it

call Nutshell:spaces

01903 217900
---
CIRCUS

....................................

KIN

Narrative acrobatics

Dance and theatre director Ben Duke

has collaborated with acrobatic heroes

Barely Methodical Troupe

on their new show, KIN.

In a general sense, dance

is introverted where

circus seems extroverted

- needing the audience

to feed it. A few years

back, I made a dance piece

called It Needs Horses, about

two circus performers. It

explored the concept of having

no skills or talent and the increasingly

desperate lengths the performers

would go to to entertain - very direct in terms of

contact with the audience. It made me think about

how dance deals with a fourth wall; the performers

aren't necessarily pretending to be someone else

and it isn't like theatre, where you're developing a

separate world, but dance tends to have an inward

focus. I was curious about how these disciplines,

dance and circus, could meet - if an emotional narrative

could find its way into this extreme physical

language of the circus.

KIN is Barely Methodical Troupe's second

show after Bromance - the story of founding

members Charlie, Louis and Beren's relationship.

Bromance was a huge hit and they built a kind

of reputation and aesthetic; but we're trying to do

something different with KIN, which explores ideas

of hierarchy and power struggles. KIN is about

people who become close because of the situations

they are put in - the families that form outside

'blood families'; the circus is interesting in that

way because of the physical and mental closeness,

the trust and danger involved and how that builds

connections. This show looks at contemporary

ideas of those power

and gender roles.

This is an exciting time

for the circus - it's got an

openness and curiosity

about what's going on

and it's learning how to

borrow and steal from

other things. There's

something about the idea

of entertainment that circus

embraces very consciously,

which is a great thing. I'm a big

fan of dance, but it can have a feeling

of inaccessibility or, like with conceptual art, that

you need some kind of key to understand it. I don't

think that's the case, but I think that's how a lot of

people feel. But circus is overtly fun and inclusive,

less formal for the performers and the audience. If a

trick goes wrong, you can do it again; there's a kind

of humanity in that - we can acknowledge the fact

that it didn't succeed and that gives the circus a kind

of relatability.

KIN is a kind of experiment in sustaining a

narrative in circus. For me it shifts between these

moments where there are tricks, while feeling like

you're lost in an amazing world; there's an atmosphere

that carries you through, which creates an

emotional and theatrical landscape. It's interesting

to notice the kind of audience that comes to KIN as

opposed to a dance performance. It's got a more relaxed

kind of vibe; beer and popcorn, not high-arts

stuff. They want to clap and cheer for tricks, and I

think that's how it should be; but that doesn't mean

it can't be intelligent. As told to Amy Holtz

Brighton Dome, Wed 19th April, 3pm and 7.30pm

....49....
---
Your wedding is

our passion

go.botanica bespoke wedding flowers

Brighton:

01273 327722

www.gobotanica.com
---
ART

....................................

Constable in Brighton

Exhibition curator Peter Harrap

When artists Peter Harrap

and Natasha Kissell bought

a run-down house in Sillwood

Road back in 2010,

no-one could have predicted

that it would one day

display an English Heritage

blue plaque. "It looked kind

of bombed-out. The building

had been divided into

three flats, none of them

very salubrious, and some of the windows were

missing. But there was something about it that we

liked, particularly the light in the upstairs studio."

It was a journalist neighbour, Shan Lancaster, who

first hinted that the house might have an impressive

pedigree. "She had been doing some digging,

and was convinced that it had been the painter

John Constable's Brighton studio. The deeds of

her house were listed as Sober's Gardens and

there's a letter from 1824 where Constable says

he's living at 9, Sober's Gardens. Obviously that

address doesn't exist today, so up until that point,

no one had made the connection. We discovered

that both the street name and numeration had

changed twice, but through a process of deduction

- including an uncatalogued, unarchived letter we

found at the Tate - we were able to establish that

the house had indeed been Constable's studio."

Fired up by the discovery, Harrap then worked out

that the painter had made some 150 works over

the period he spent in Brighton during the 1820s,

many inspired by a series of walks he took from his

studio towards Shoreham, Devil's Dyke and along

the seafront in the direction of the chain pier.

"1824 was a particularly good year. The Hay Wain

had been selected for the Paris Salon, and Constable

later won a gold medal

for it. But he never went

to France. Instead, he was

at the top of Devil's Dyke

having a revelation about

painting. He decided it was

not the job of the painter

just to depict a beautiful

view, but instead, to make

something out of nothing.

He then began taking off

on these systematic walks across Brighton, stopping

every few yards to make a little painting. To

my delight, I realised that I walk my kids to their

school in St Nicholas Road overlooked by the

windmills Constable painted in 1824."

Although Constable only came to the city in the

(dashed) hope that the sea air would revive his

sick wife Maria, the years he spent here were to

change his work quite profoundly. "He gains a

lot of confidence over the Brighton period. His

paintings were a little stuffy, a little brown, and

during this time they became more energetic,

almost wild. There's a very clear transition from

these quite staid pictures of Salisbury Cathedral to

his big, bold storm clouds." The house has become

a popular draw for tourists since it received official

English Heritage recognition in 2013, but not,

Harrap has learned, for the reasons one might

expect. "We've had five years of people standing

outside taking snaps on their phones. I thought

it was fantastic that there was so much interest in

Constable. But I've just learned that it's probably

because our address is a Pokemon Go destination…"

Nione Meakin

Constable in Brighton, at Brighton Museum from

April 8th

'A Windmill near Brighton, 1824' by John Constable © Tate

....51....
---
ART

....................................

Victor Pasmore

Il était peintre

There is a story that is

often told about Victor

Pasmore meeting

Picasso. It's November

1950, and Picasso is

in England to address

the second International

Peace Congress

in Sheffield. Accounts

differ wildly. Sometimes

Pasmore is meeting Picasso

off the boat train at

Victoria. Or maybe he's

at St Pancras to greet Picasso on his return from

Sheffield. Sometimes he's deputising for a poorly

Roland Penrose as Picasso's chauffeur. Unless, that

is, he's bundling Picasso into a taxi to take him

from Victoria to St Pancras. Or was it from St Pancras

to Victoria? Occasionally, fellow-artist Rodrigo

Moynihan is in the taxi as well. Anyway, whichever

the version, whichever the terminus, there's a problem.

Unable to conduct a conversation with the

great man in either Spanish or English, Pasmore

has to fall back on his schoolboy French. After a

lengthy silence he essays: "Moi, je suis peintre".

Picasso replies: "Moi, aussi".

Victor Pasmore was born in 1908 and took to being

a peintre at an early age. His brother Stephen

recalled him determinedly drawing battleships and

aeroplanes in the nursery during World War One.

He showed great promise at Harrow, pulling off

a very creditable copy of Landseer's Dignity and

Impudence. Unfortunately, the sudden death of his

father meant that the proposed art-school education

was no longer financially viable. Instead, he

worked as a clerk in the Public Health department

of the London County Council for ten years. Two

factors were crucial in his eventually becoming an

artist. The first was that dogged determination first

revealed in the nursery.

According to Pasmore's

entry in the Dictionary

of National Biography,

he refused all promotions

at work to have as

much time as possible

to devote himself to art.

For years he attended

evening classes at the

Central School of Arts

and Crafts. The second

factor is the patronage

of Kenneth Clark. In 1935 he bought, from the

annual London Group Show, Victor Pasmore's The

Café (Tea Gardens). He went on to provide a stipend

for Pasmore in exchange for paintings, that eventually

allowed him to give up his job at the LCC.

Nonetheless, their first meeting was not propitious.

As recounted in his autobiography, Clark was

rehanging a Turner at the National Gallery in a

silvery new frame: 'A young man with bright black

eyes came up to me and said "I don't know who you

are, but whoever you are you've no taste". I agreed

and the frame was hastily removed'.

Clark was unable to follow Pasmore into the pure

abstraction which he embraced from the late 40s

onwards. The transition from his earlier figurative

style to abstraction provides the main focus of the

splendid Pasmore exhibition at Pallant House Gallery,

Chichester (until 11th June).

Pasmore is one of the great twentieth century British

Artists, able to paint both figurative and abstract

masterpieces. Take the exquisitely beautiful The

Quiet River: The Thames at Chiswick (1943-4); probably

my favourite painting on teenage visits to the

Tate. And turn round from the last room at Pallant

to look back at Yellow Abstract (1960-61). To me, it's

just breathtaking. David Jarman

'Spiral Motif Green, Violet, Blue, Gold...' by Victor Pasmore © TATE

....53....
---
ART

....................................

Keith Tyson

'It's just a simple process that I repeat'

Portrait of Keith Tyson © Scott Douglas

"I would like to do them

every day, but I have three children

and a complicated life, so

I don't really have that routine,"

says Keith Tyson, the 2002 Turner

Prize winner, on his series of

Studio Wall Drawings. Since

the project began in 1997, he's

produced "about 900" of them.

"It sounds a lot, but over 20

years it's about one a fortnight.

Not that regular, really."

The series began when he was

one of five artists sharing a

small studio in South London

and wall space was especially scarce. His part of

the studio had 'one solitary wall for painting and a

small area between the windows where I could pin

a sheet of watercolour paper to a board and scribble

down notes, ideas and sketches.'

Reflecting on the beginnings of this ongoing opus,

Tyson says: "All these nebulous ideas that hadn't

quite formed just went on to it. And when it got

full I would take it off and put another piece up.

So they would pile up in the corner like carpets.

But then I noticed that they all had different styles

as my mood changed through

them. A curator came in about

98 or 99 and he thought they

were really interesting, and he

was doing the Venice biennale

and asked if I would do a room

of them. So I started to think of

them as works, and they began

to evolve, and I started putting

more imagery in, and eventually

they became more like poems,

or paintings, or a diary.

"They are the way that I process

things as well. I might be going

through a particularly black

phase in my life and be very depressed, and then

it's very therapeutic. At other times it's difficult.

To sum it up, it's just life. You have good days,

you have bad days, you're inspired, you're jaded.

It's not meant to be anything grand. It hasn't got

any message. It's just a simple process that I repeat.

"But as I do it for longer and longer periods of

time it becomes imbued with some of the beauty

and pathos of what it's like to be a human being.

Anyone who did this regularly would see a similar

effect - maybe not as ambitious in scale, but I

....54....
---
ART

....................................

Photo by Lizzie Lower

think that's what it's supposed to be. It's always

been a longer project, and I kind of see it as one

big work. When I'm gone, that's what I'll leave

behind. Some kind of trace of my activity on earth,

or the things that I experienced.

"Everything in there happened. The things that

are favourites of mine are moments that just

happened - that catch you unawares. I remember

after the Paris attacks I was in New York eating

breakfast, and the New York Times had this headline

about all this suffering and sending bombers

into Syria, and in the corner was the weather

forecast. So on that drawing, there's a touch of

the news in the corner, but I focused on reproducing

the weather forecast. There's this thing

that the weather is always going on against our

affairs, our individual lives. There's something

kind of Buddhist about this relationship between

the clouds and the events. Those are the [drawings]

that are most successful to me, that point to

something transcendental. Even though they're

about specific events, there is something that draws

you out of yourself. If there weren't moments like

that then I wouldn't keep doing it. These are the

moments that make you want to carry on. That

I've just managed to grab something that's bigger

than me."

Lizzie Lower

Turn Back Now, a show of 365 of Tyson's Studio

Wall Drawings, continues at Jerwood Gallery until

4th June. jerwoodgallery.org

'Of Course I Know that you Don't Exist' 2015 © Keith Tyson

'Somewhere Near the Edge of the Visible Universe' 2001 © Keith Tyson

....55....
---
䠀 䄀 倀 倀 夀 䔀 䄀 匀 吀 䔀 刀

昀 爀 漀 洀 愀 氀 氀 愀 琀 嘀 椀 瘀 愀 䈀 爀 椀 最 栀 琀 漀 渀

瘀 椀 瘀 愀 洀 愀 最 愀 稀 椀 渀 攀 猀 ⸀ 挀 漀 洀
---
ART & ABOUT

....................................

ART & ABOUT

In town this month...

'Hove Beach c1824' by John Constable © V&A Museum

'There is not a healthy man in London, such is the state

of the atmosphere and the mode of life,' the painter John

Constable once said. His wife Maria had tuberculosis,

and the Constables spent quite some time, between 1824

and Maria's death in 1828, taking in the sea air at Brighton.

During these stays, he must have worked prolifically,

as he apparently produced around 150 works in the

town. From the 8th, Brighton Museum shows upwards

of 60 of these: paintings, drawings and sketches (more on

pg 51). [brightonmuseums.org.uk]

Ipek Duben has long been preoccupied with perceptions

of her native Turkey, both from within and without.

THEY / ONLAR, her latest work on the theme,

has its UK debut at Fabrica from the 8th as part of the

Brighton Festival. In the multi-screen video installation,

the personal stories of several individuals allow

us an insight into the interweaving strands of Turkish

society, revealing a diversity of ethnic, religious and gender positions and how they perceive, define and tolerate

one another. Dupek has said the work 'sets out to define the Other's Other. Prescribed identities marginalize

people within their own 'victimhood', in turn breeding prejudice, even violence and denying some people's right

to life. In such a divided situation, how can 'togetherness' be realised?' Continues until 29th May. [fabrica.org.uk]

Ipek Duben at Fabrica

Photo by Sergi Gorselleri

'Sway' by Solange Leon and Dirk Engels

From the 10th until the 23rd, ONCA Gallery hosts a two-week interactive community

art project exploring themes of identity, migration and borders. Sway is the brainchild of

Solange Leon, and is a response to the environmental and political challenges of recent

times. Visitors are invited to add to a flock, or

sway, of paper swallows suspended in the gallery,

and also to add their voice to a new dawn

chorus arranged by John Warburton. The

fortnight includes workshops, performances, films and talks.

[onca.org.uk] Cameron Contemporary has Menagerie until the 23rd;

a group exhibition inspired by all creatures furry, feathered and finned.

Featured artists include newcomers to the gallery Alice McMurrough,

Clare Mackie and Andrew Squire. [cameroncontemporaryart.com]

'Oui, Oui, Oui' by Alice McMurrough

....57....
---
ART & ABOUT

....................................

In town this month... (cont)

The DIY Art Market comes to The Old Market on Sunday the 30th.

It's a curated selection of works from upwards of 60 artists working in all

sorts of media and from a wide range of artistic backgrounds. Go along

for a rummage and find prints, ceramics, zines, illustration, risograph

prints, photography, jewellery, comics, custom tees, homemade cassettes,

records, artist books and all manner of creative knick-knackery.

[diyartmarket.com]

Methodology of the Edition: 50x50=75 is at 154–155 Edward Street until the

20th. 75 members of staff and students from The University of Brighton, Nagoya

University of Art and King Mongkut's Institute of Technology in Thailand

have collaborated on this international printmaking project, each making

a 50x50cm print using a variety of traditional and digital techniques. The exhibition

marks 20 years of exchange and communication between Brighton and

Nagoya universities.

Intimidated by art galleries? Bemused by art-speak? Too broke for Brâncusi?

Fear not. The Vending Machine Art Gallery comes to Patterns

in time for the Bank Holiday Weekend. Dispensing works from upwards

of 35 artists - including Brighton's Sophie Abbott - from just £20 a

pop. Curators Tom and Hannah chose Brighton as their latest landing

spot for its individuality and positivity and - no doubt - its love of a slot

machine. From the 13th of April until the 26th of May.

'Sunny Beach' by Sophie Abbott

Out of town...

Photo by JJ Waller

Ditchling Museum of Art + Craft is seeking Brightonians to take part in an installation

as part of their Festival programme. They need six colourful individuals who represent

the city's vibrant personality to model (clothed) for their Lunchtime Life Club; a series

of lively life-drawing classes using an eclectic array of models. The drawing classes will

take place at University of Brighton's Grand Parade gallery, in Cathie Pilkington's The

Life Rooms installation. If you want to volunteer yourself to model, email a photo of yourself

to lucy@ditchlingmuseumartcraft.org.uk, and tell her what makes your unique individuality

worth capturing. You'll also need to be available for three lunchtime sessions,

either Tuesday 9th, 16th, 23rd, or Thursday 11th, 18th, and 25th of May from 12.30-

2pm. All classes will be led by experienced drawing tutors. Go on, join in. [ditchlingmuseumartcraft.org.uk]

....58....
---
ART & ABOUT

....................................

Susie Monnington at Pelham House

From the 12th, at Pelham House in Lewes, there's an exhibition by painter

Susie Monnington, who has a technique that she calls 'drift and draw': making

sketches while afloat in a canoe. Her field drawings - not exclusively made

in canoes - are later used to create paintings. In them, Monnington tries to

capture the shifts in mood which come with the changing seasons: 'the stillness

of winter, the chaos of spring and the intensity of high summer,' as she has

described it. [pelhamhouse.com]

Turn Back Now, the epic show of 365 of Keith Tyson's

long-running series of studio wall drawings, continues

at Jerwood Gallery (see pg 54). The venue also hosts

Bride of the Sea, a one-room exhibition of works by Eileen

Agar. Affiliated with the British surrealists, and a

regular visitor to Farleys House, when pressed to define

herself, she wrote: 'If anything, I would like to call myself

a humanist. Whatever you are going to do, you should

do it here, on this planet, now. You must listen to your spiritual side and develop it. Listen to the things

that whisper to you.' [jerwoodgallery.org] Speaking of Farleys House, the former home of Lee Miller

and Roland Penrose, it's open again for the summer, with guided tours every Sunday. Admission is £12

per person (tickets from reception; there is no advance booking). They also have a selling exhibition of

Lee Miller's prints coming up, at the Friends Meeting House in Brighton, as part of the Artists' Open

Houses festival in May (more on pg 27). [leemiller.co.uk]

' Pigeon Post' by Eileen Agar

© The Estate of Eileen Agar

The Museum of Art at Towner

Photo by Rohan Van Twest

What was it like being an art collector before the globalised

mass-media age? How would you go about finding out how

many works survived by a particular artist, and where they

all were? You may find yourself pondering such questions

after visiting The Museum of Art, a show inspired by the eclectic

collections amassed by 19th-century art enthusiasts.

It continues at Towner Gallery

until the 17th. If you're

very quick, there is still time to

enter the gallery's Sussex Open 2017. Entries must be submitted by 4pm on

the 2nd of April. [townereastbourne.org.uk] Finally, our congratulations to

Simon Martin, whose appointment as Director of Pallant House Gallery

was recently announced. Simon joined the gallery as Assistant Curator in

2003, working his way up to the position of Co-director in November 2013.

During his time at the gallery, he has overseen an acclaimed programme of

exhibitions, which this spring includes Sidney Nolan in Britain and Victor

Pasmore: Towards a New Reality (see pg 53). We very much look forward to

seeing what plans he has for the gallery's future. [pallant.org.uk]

Photo of Simon Martin by Alun Callender

....59....
---
April Lambing

at MIDDLE FARM

Witness lambs being born, and

even help bottle feed some of them
---
WE TRY...

....................................

Hot-wax painting

'Aggressive is ok...'

"It looks a bit…

aggressive" I think

aloud, taking a step

back from the canvas

I'm working on. "Aggressive

is ok. Here,

take the heat gun."

I'm learning the art of

encaustic painting at

Tony Owers' studio

in Hove. Sometimes

called 'hot-wax painting',

the art form was

used by the ancient

Egyptians to paint portraits of the deceased,

Tony tells me. However, he became interested in

encaustic painting while studying the far more

contemporary work of Jasper Johns.

"Hot wax has all sorts of appeals," he explains.

"It's fast, immediate, spontaneous. It comes under

a genre called 'process painting', in which the

painter has less interest in the outcome and more

interest in the process. You allow the material to

do its own thing, so when you start painting you

won't have any set idea of what's coming out." The

wax we're using is a mixture of beeswax, paraffin

wax and a setting agent, which is kept hot over a

camping-sized electric hob while I'm painting.

I started by gluing down a piece of dyed fabric

onto my empty board. Then Tony dotted some

ink around, and told me to move it about using

the heat gun until it dried (the heat gun is a sort

of industrial-looking high-power hairdryer).

After that, I covered the board in clear wax, using

a broad, coarse brush, painting it on in random

strokes to create texture. Then Tony told me to

pick a coloured wax,

so I went for a garish

red, and painted

two thick, diagonal

strokes across the

board. And this is

the part where I start

to understand the

'process' bit.

Until now I've been

doing what I'm

told, to an extent,

and trying to make

something - if not

particularly artistic - at least pretty. But the red

has taken away any prettiness from my canvas, so

I feel more free to just mess around with it. "Take

the heat gun again, and you're going to heat the

coloured wax so that it blends into the clear wax

underneath," he guides. The heat has a much

stronger effect than I expected, and the brush

strokes in the red wax completely melt away. It

pools in some areas and creates rippling waves in

others. We experiment with dropping pigment

on top of the wax, and blowing it around with the

heat gun. Tony suggests looking in closely at the

way it moves and bubbles and dries onto the wax,

and it's kind of captivating.

I spend probably an hour on my piece, and it feels

a bit like meditation; I've become so focused on

each step that I stop feeling the time pass. And

while the end result isn't necessarily something

I'd hang on my wall, it was a lovely way to spend a

morning. Rebecca Cunningham

Workshops for beginner level up to practising artists,

call 07970613288. encausticworkshop.co.uk

....61....
---
DESIGN

....................................

Yinka Ilori

How do you turn a parable into a chair?

Photo above by Veerle Evens

Artist and designer Yinka Ilori is achieving great

things with his enigmatic furniture, which is

inspired by Nigerian words of wisdom. He may still

be in his twenties, but Yinka is already preparing for

his eighth solo show, in South Korea, and his chair

A Trapped Star was recently acquired for the permanent

collection at Brighton Museum & Art Gallery.

Yinka says it's an honour to have his work exhibited

alongside personal favourites such as Salvador

Dali's Mae West Lips Sofa. "To be around designers

and artists who I've looked up to a lot, to have my

work around theirs, is amazing."

Yinka's work found its way to Brighton after

Fashion Cities Africa co-curator Helen Mears asked

him to create chairs for their reading room. The

team visited Yinka's East London studio and were

taken by his series If Chairs Could Talk, so they

snapped up his favourite piece.

Photo by Dan Weill

....62....
---
DESIGN

....................................

The series is based on a Nigerian parable: 'No

matter how long the neck of a giraffe, it still

can't see the future'. "It's quite a funny parable,"

Yinka tells me, "but with a strong message… We

shouldn't judge people. We should always believe

that people can change."

Yinka was born and raised in London to Nigerian

parents, and many of his peers were also from

immigrant families. "That was quite powerful,"

says Yinka. "We shared this automatic love and this

bond based on our parents' backgrounds."

Having parents that are busy creating a sense

of belonging creates a particular sense of being.

Says Yinka, "I always respected [my parents], and

thought I can't ever say anything is hard enough

because they've done one of the hardest things

anyone can ever do: to start again... I struggled

with the idea of fitting in, because I love being

British, I love being born in London, but I always

felt there was a lot more to me."

The subject of A Trapped Star is a boy Yinka was

close to in year seven. His friend was brilliant at

music but was also falling over: dealing drugs and

bunking school. "He was trapped in this body of

two people," says Yinka. "He was trying to find this

inner person, find out who he is."

The piece, constructed from a child's and an

adult's chair bonded together, says Yinka, 'is quite

sentimental'. The larger, captain's chair, represents

the boy's unfulfilled potential. "I really liked this

person, he was intelligent. I just felt the system

could have done a lot more for him, and for a lot

of people."

While the stories Yinka tells can be touched with

sadness, the works themselves are almost overwhelmingly

joyous, playful, celebratory. Readymade

furniture items, repurposed and reinterpreted,

upholstered in allegorical wax print fabrics

and sprayed vivid colours.

"What I love about doing exhibitions," says Yinka,

"is seeing how people react to my work. Some

people, their first contact is to smile… You don't

always walk up to a chair and smile. Well I don't...

actually, that's a lie. I love chairs, so I'm always

smiling!" Interview by Chloë King

yinkailori.com

Photo by Andy Stagg

Photo by Dan Weill

....63....
---
let

with us

We'd love to talk to you

about how we can maximise

income on your property.

Best of Brighton

@bestof_brighton

best.of.brighton

www.bestofbrighton.co.uk

enquiries@bestofbrighton.co.uk

01273 308779
---
TRADE SECRETS

....................................

David Jones

Watch repairer

I've been in this business for about 70 years.

I'd been working as a mechanic for the National

Cash Register Company, but then I put my back

out. I was off work for a year, and while I was

recovering I started doing watch and clock repairs

from my home in Portslade.

It started as a hobby, but then a man called Mr

Scrace came knocking on my door, as he'd heard I

was keen. He trained me and gave me most of my

early jobs - mainly cleaning watches for seven and

sixpence.

I had a lucky break. My father worked for Remploy,

which organised factory work for disabled

people, and he was asked to move to Sussex to

oversee a new watchmaking factory. It fell through,

and the company had to sell off the tools and machinery.

My dad bought me a lot of the equipment

I needed to start out.

I took my first shop in Sackville Road in 1952,

in the building now occupied by Countryman

Improvements. I've been in this shop since 1970.

The business went through a tough time in the

'70s. Customers wanted everything brand new

and would just replace their watches when they

broke. Now it's picked up again, because a lot of

people have taken a shine to traditional mechanical

watches.

My son Martin has worked with me since

he was about 13. He wanted to buy a radiocontrolled

speedboat and I said: "Well, if you want

one, you'll have to come and earn some money."

I started him on watches, but he always preferred

working on clocks, so that's his speciality.

Watches are seen as a prestige item. Me, I'm

not particularly interested in that. I wear a secondhand

Tissot that I've had for about ten years. Tissot

is a subsidiary of Omega and good quality. But

as long as it keeps time, any watch is okay by me.

Some of the most unusual watches we get in

are by Verge and date from the 1700s. I have to

say, my heart sinks a bit when someone puts a

Verge on the counter. They're hard to make any

money from because you have to spend so much

time on them.

It's an inventive job; you have to think out of the

box to find solutions to problems. A lot of shops

now just tell customers they can't do the work or

they send it back to the makers. I always try and

fix it.

You need good eyesight. Mr Scrace taught me

how to drill balancestaffs, which are as thin as a

hair. My eyesight is not as good as it was, but it's

good enough.

I'm kept very busy. I didn't used to open the shop

til 11am. Now I come in at 8.30am and rarely go

home before 10pm. It would be nice to have a

little more time to myself, but I'd be a fish out of

water if I gave this up. As told to Nione Meakin

DL Jones & Son, 64 Blatchington Rd, Hove

dljonesandson.co.uk

Photo by Adam Bronkhorst, adambronkhorst.com

....65....
---
Feed your body & soul

- eat seasonally

Select your

Sussex treats

from our

seasonal local

farm produce.

You order

online and

we deliver

to your door.

browse our sussex produce:

www.FinandFarm.co.uk

嘀 椀 瘀 愀 䰀 攀 眀 攀 猀 ☀ 嘀 椀 瘀 愀 䈀 爀 椀 最 栀 琀 漀 渀

㈀ 㘀 Ⰰ 㔀 挀 漀 瀀 椀 攀 猀 搀 攀 氀 椀 瘀 攀 爀 攀 搀 攀 瘀 攀 爀 礀 洀 漀 渀 琀 栀 琀 漀 栀 漀 洀 攀 猀 愀 渀 搀

戀 甀 猀 椀 渀 攀 猀 猀 攀 猀 椀 渀 䰀 攀 眀 攀 猀 Ⰰ 䈀 爀 椀 最 栀 琀 漀 渀 愀 渀 搀 琀 栀 攀 猀 甀 爀 爀 漀 甀 渀 搀 椀 渀 最 愀 爀 攀 愀 ⸀

䄀 搀 瘀 攀 爀 琀 椀 猀 攀 眀 椀 琀 栀 甀 猀 ⸀

眀 眀 眀 ⸀ 瘀 椀 瘀 愀 洀 愀 最 愀 稀 椀 渀 攀 猀 ⸀ 挀 漀 洀
---
THE WAY WE WORSHIP

This month, Adam Bronkhorst's portrait series took him to a church, a mosque,

a meeting house, a synagogue and a meditation room, all in one morning.

We asked each of the religious figures he photographed:

'What's your morning ritual?'

adambronkhorst.com | 07879 401333

Rabbi Hershel Rader at West Hove Synagogue

"Every morning before I get out of bed, I say, not a prayer, but an affirmation:

'I thank you, living and eternal king, for giving me back my soul in mercy. Great is your faithfulness."
---
THE WAY WE WORSHIP

Deacon Julie Newson at St Luke's

"I get up, get dressed, take the dog for a walk, and then have porridge - always porridge."
---
THE WAY WE WORSHIP

Imam Uthman Jeewa at Almedinah Mosque

"First prayers are at 5am so I have to wake up at half four."
---
THE WAY WE WORSHIP

Rachel Ramaker, Elder at Friends Meeting House

"I've got two big windows in my bedroom, which I open up to say hello to the world."
---
THE WAY WE WORSHIP

Gen Kelsang Chodor at Bodhisattva Meditation Centre

"We start the day with a group meditation at 7.30am."
---
Food & Drink directory

ADVERTORIAL

Terre à Terre

It's spring! Visit Terre à Terre, the go-to for the most creative vegetarian food in Brighton,

always delivered with a cheeky little pun. Open all day offering lunch and dinner options

from small plates to three-course set meals, not forgetting their magnificent afternoon

tea: multi-tiered savoury, sweet and traditional delights available from 3 till 5pm daily and

lots of chocolate goodies! 71 East Street, 01273 729051, terreaterre.co.uk

The Set Café

The café is situated next to the The Set restaurant and offers laid-back snacks and small

plates in a relaxed atmosphere. Eating off tables made from the old West Pier and overlooking

Regency Square and the sea makes it an ideal place to have a quick lunch or night

out with friends. Cocktails and craft beers are on hand as well as a wine list shared with the

restaurant. 33 Regency Square, 01273 855572, thesetrestaurant.com

The Better Half

The Better Half pub has put the heart and soul back into one of the oldest public houses in

the city, just off Hove seafront. There's a superb wine and spirits list and some great ales and

ciders on offer, as well as a hearty and wholesome menu to enjoy, making the best of local

ingredients. The Better Half is relaxed, friendly and easy-going, making all feel welcome and

comfortable when you visit. 1 Hove Place, Hove, 01273 737869, thebetterhalfpub.co.uk
---
FOOD REVIEW

...........................................

Holy Phok

Casual street food with a two-week waiting list

It is very probably easier to book

a seat on a flight to Hanoi than

it is to get one at Holy Phok, the

22-seat, super-hip, Vietnamese

eatery on Lansdowne Place. Four

months after opening the place

is still packed, and I've waited a

fortnight for this table for two at

six o'clock on a Wednesday night.

Try as I might to get a third person

added closer to the day (I thought

you might appreciate me taking

a meat-eater along, as I hear the

chicken pho is truly life enhancing),

they take a hard line on not

overcrowding their diners, and

fellow Viva vegetarian Rebecca

had already called dibs. The menu

might be casual street-food dining

but the protocol, if you want to

avoid disappointment, is strictly call

ahead. Two weeks ahead.

We start our meal sharing an order

of 'vesto' - a pesto-style dip made

with coriander instead of basil and

peanuts in the place of pinenuts,

with a good kick of garlic and

chilli. It's served with vast sesame

rice crackers - all the better to

shovel it in. Rebecca is the office

bao bun expert and orders the (vegan) 'bao wow

tofu' - two springy steamed buns stuffed with

crispy marinated tofu, pickled carrots, cucumber,

beansprouts and both peanuts and chilli sauce.

Tofu can be underwhelming but, in this case, the

wow of the bao is justified. Even the side of Vietnamese

herb slaw is packed with zesty flavours

and, whilst I know it's rude to repeatedly help

yourself to another person's food,

I have decided that she who writes

the review gets to graze all plates.

And I do.

It is, in my experience, very hard

to clear your plate when using

chopsticks but I doggedly chase the

last few peanuts around my 'mockthe-squid'

noodle bowl. It's one of

those clever dishes where a thing is

masquerading as another thing. In

this instance it's oyster mushrooms,

dredged in a turmeric-and-five-spice

mixture, and fried until crispy. They

turn out to be an upgrade on calamari

which, in my memory, was so often

like rubbery washers. The 'mock

squid' is piled on cool vermicelli noodles,

pickled vegetables, mint, basil

(the aniseed Thai variety), coriander

and lime dressing. The mixture of

tastes, textures and temperatures is

mouth-watering. The flavours are as

bright on the tastebuds as the neon

lights are against the dark teal walls.

For dessert we share a salty fudge

brownie - pleasingly more salt than

sweet - and chilli chocolate ice cream.

As we've been eating, 40 golden

fortune cats have been waving

down from the wall, neatly regimented around

cerulean neon letters spelling 'YOU LUCKY

CATS'. Now I get what all the fuss is about. But

it's not luck you'll need to eat at Holy Phok.

It's patience.

Lizzie Lower

52 Lansdowne Place (entrance on Western Road)

01273 911551 holyphok.com

Photos by Lizzie Lower

....73....
---
RITUAL

..........................................

Photos by Horseshoe Photography

....74....
---
RITUAL

..........................................

Tea Ceremony

Brighton tea mistress Jennifer Maksymetz

explains all...

Tea ceremony stems from the Song Dynasty,

an era that ran from 960 to 1279. The monks

of southern China found that drinking

steeped tea leaves made them more alert and

able to meditate for longer periods of time.

What began as an everyday practice in mindfulness

developed over the centuries into the

ritual we know today.

I first learned about tea ceremony in 2000

when I was living in Taiwan. My Taiwanese

'family' didn't drink alcohol so all our

social occasions revolved around tea. When

I moved back to Canada two years later I

met Olivia Chan, a second-generation tea

master whose dad opened the first teashop in

Vancouver. She taught me how to perform

formal gongfu tea ceremony. Gongfu means

'with skill'.

The first thing one does when hosting tea

ceremony is to prepare the space or chaxi,

which translates as 'tea stage'. You might light

a candle or some incense, put out a cloth to

place your tea set on, and add some favourite

items - a beautiful flower, perhaps, or a poem.

You would warm the cups and teapot and

prepare the tea. In the spring, it's traditional

to drink green tea and other light teas as

they are thought to be cooling to the body.

In the winter, you might choose black tea or

fermented pu-erh.

Fill the teapot with water and let it overflow

a little as a sign of abundance and gratitude.

Pour into the cups immediately and as you

do, focus on your wishes and hopes for each

guest. Offer the tea to each person by placing

the cup in front of them, either on a coaster, a

piece of fabric or just on the table.

There will usually be three to five infusions

in total. The first and last are given in silence.

In between, the host will lead the conversation;

it's part of their training. Don't expect

general chit-chat. It's usual to talk about how

the tea tastes, or to comment on the teaware

or the flower the host has placed on the table.

The whole process should be approached

with reverence. Sitting down to tea ceremony

is like stepping into a church, temple or

mosque. When everyone has finished, it's

important to take a moment to appreciate the

time you have spent together.

Tea ceremony is a ritual that's accessible to

us all. You don't have to have the fancy yixing

teapot with the precise temperature of water

and the ornate tea tray. It can be done over a

mug of classic English breakfast tea in your

kitchen. The point is to focus on the moment.

You don't look at your phone, or read the

paper; you just sit, drink your tea and reflect.

As told to Nione Meakin

jadespringteas.com

....75....
---
FOOD

............................

Edible updates

Illustration by Chloë King

Fair to say, as Edible Updates columnist, I don't quite have Jay Rayner's level of

experience. But even so, I wholeheartedly agree with his recent (glowing) review

of The Salt Room. The restaurant has just celebrated its 2nd birthday, and their fab

new menu features delights like monkfish tiger's milk and gurnard, romesco and octopus.

A real star. Another delight is Edendum on East St, who are celebrating their newly revamped interior and menu.

Look out for their new pizzettes and extended selection of sharing plates.

Now, you must admit our city's bloggers and journos do much to boost Brighton & Hove's place on the food

map, but too many critics can be... pesky. The Set get their own back with Too Many Critics on Apr 9th, in aid of

Action Against Hunger. The likes of Andy Lynes (food writer and co-founder of Brighton's Best Restaurants) and

Fran Villani (Graphic Foodie) will take to the kitchen and it's bound to be fun (tickets via Eventbrite).

In other news, all eyes are on Brighton fave chef Tom Griffiths, of Flank fame, opening new restaurant Pascere

with Amanda Menahem this spring. The Manor on Gardner St has been given a fresh new start as The

Common - still serving 'proper food, made with love'. Fatto a Mano have just launched a new gluten-free pizza

option. Foodies Festival returns to Hove Lawns from Apr 29th - 1st May. Top of the pop-ups goes to Lizzie Bett

of Yolk Catering at Café Rust on Sat 8th (contact: lizziebett@live.com). And last but not least, on April 28th,

Conversations on Sugar at One Church promises an essential debate on one of the hottest topics in food (more

on pg 77). Chloë King

.................................................................................................
---
FOOD

...........................................

Conversations on Sugar

A dangerous weapon?

"In 1971, when we had a macrobiotic restaurant and the first naturalfood

store, I wrote a book called About Macrobiotics, and in it I said,

rather simplistically, 'if sugar was discovered today it would be banned immediately and handed over to the

military for weapons research'." So says health-food activist Craig Sams. He's since moderated his views, cofounding

the Green & Black's chocolate company with his wife in 1991. "But, ultimately," he adds, "our energy

comes from sugar - without it we'd be dead - so it's good stuff in principle. It's how we approach it that matters."

In Conversations On Sugar later this month, Craig will be discussing that approach with Jo Rallings of the Jamie

Oliver Food Foundation, and Dan Parker from Sugar Smart Brighton & Hove - organisations both dedicated

to increasing awareness of, and reducing consumption of, sugar nationwide. They've been making inroads with

their pilot phase in Brighton & Hove.

Obesity is rising; experts are telling us to drastically reduce sugar consumption, while advertisers are telling us

otherwise. Slow Food Sussex have convened the panel to examine the evidence, navigate the conflicting advice

and help to bring about a very necessary change. "It's about everything in moderation," Craig concludes. "You

get more pleasure out of the things that you don't overdo." Lizzie Lower

Friday 28th, 6.30-9pm, One Church Brighton, Gloucester Place. Tickets are available from eventbrite.co.uk

....77....
---
Indulgent Hampers & Boxes

for u nforgettaB le gIfts

we select the finest food and drinks found in s u s s e x ,

you personalise your hamper for that extra special touch.

www.tH esussexH ampercompany.co.uk 01273 387 220
---
THE LOWDOWN ON...

....................................

Sunday Assembly

A sort of church, 'without the god bit'

It's a non-religious

or secular community

that, in

Brighton, meets on

the 4th Sunday of

every month. There

are about 50 Sunday

Assembly groups

around the world

now. It's a community

of people who come

together without

having to have a

common belief in anything. They just want to

come together to celebrate life.

The London one was the first to be set up

by Sanderson Jones and Pippa Evans, two

comedians. They came together with the thought

that 'wouldn't it be great to have a church without

having to have the god bit'. Initially it was

nicknamed 'the atheist church', but very quickly

they abandoned that headline, as it wasn't just a

place for atheists.

I was brought up as a Christian, but realised

in my early teens that I didn't believe in the God

I'd been brought up with. I used to think I'd love

to go to the church at the end of my road and

be among other people, be part of a welcoming

community, but I didn't feel comfortable saying

or singing words in church that I didn't mean.

When I heard Sanderson speaking about Sunday

Assembly on the radio, I thought 'that's exactly

what I want'. So I expressed my interest, met

with Sanderson and some interested local people,

and eventually formed a committee of eight. We

launched in September 2013.

We were given a very loose template. There

should be an interesting

talk; something

like a TED

talk, something

positive. There

should be songs -

that's a big part of

it. There should

be a moment of

silence and reflection.

And, one of

the most important

bits, tea and cake

at the end. That's one of my favourite things, to

hear people chatting who didn't know each other

an hour before.

Everyone is welcome. Some people believe in

God, some people don't. We don't promote one

belief over another and we don't discuss religion...

we just focus on our common traits as humans.

Our lowest turnout has been 75, and the highest

250. There are always new faces, and I'm still

staggered by how many new people come. We

have an assembly every May in the Speigeltent as

part of Brighton Fringe. They keep asking us back,

so we'll have our fourth this year, on 7th May. It

gives us the capacity to have more people along.

It's really opened my eyes to lots of different

things. Different values. Other people's perspectives

on life and faith and all sorts of things. One

person told me that he thinks it saved his life. He

was in a place that was dark and lonely when he

came along; it just lifted him enough to see a way

out of a really dark time.

Lizzie Lower interviewed Brighton founding member

Jo Wright

sundayassemblybrighton.com

....79....
---
RITUAL

....................................

Modern Pilgrims

What's your wholesome destination?

When we made our first pilgrimage together,

the ritualising of the walk that we did

made it into a pilgrimage. We were walking

a song that had been written by gypsies

about a tragedy where 37 hop-pickers were killed

on a bridge over the River Medway. When we

got to the monument in the churchyard where

they were buried, there was this couple there, and

we asked, 'Why are you here?' They said, 'We

tried to find this monument ten years ago, but we

couldn't - we had three ancestors who died in the

tragedy'. They hadn't heard the song, and so we

got to return it, not only to the land where the

tragedy actually happened, but to the bloodline.

It was amazing, the power of ritualising something,

of having clear intention, and the very

specific destination of the source of the song; the

whole thing worked so well. What we realised

was that this was pilgrimage: a journey on foot

to a holy place - 'holy' being from the Old

English word 'halled', which just means holistic,

or wholesome. But having that focus changed

everything, and thus was our quest for pilgrimage

was born.

There's no description in Britain that says you

have to go barefoot or not shave or brush your

hair; what binds it all together is walking: pilgrimage

is an unbroken journey on foot. There

are four principles which we call the 'SONG' of

pilgrimage: 'S' is for 'self', which means connecting

with your physical self. We talk a lot about the

spirituality of pilgrimage, but it's a physical

journey; it puts you in your body in a way

that modern life often doesn't allow. We're of-

....80....
---
RITUAL

....................................

ten so hemmed in by walls and deadlines and

emails and mortgage repayments - all this stuff

that fills our minds in modern life – but all of

that kind of drifts away, and you find yourself

thinking about things in a totally different

way.

The 'O' is for 'other': connecting with the other

people you're walking with. They become

your mirror, showing you the ugliest and the

best parts of yourself. The 'N' is 'nature'; connecting

with more than just the human world

that we've created in cities, but everything. We

are just one animal amongst the whole wave of

life forms on earth, and it's quite easy to forget

that in our anthropocentric, human-built lives.

Pilgrimage really strips that away.

The final one is connecting with your sense

of gratitude. Which obviously leads to the question:

what, or who, are you grateful to? And we

leave that up to people to decide.

There are lots of groups today which will take

you to places all over the country, but what we

really try and tell people is that if you want to

make a pilgrimage, you don't have to take three

weeks or follow a signposted track. You can simply

work out for yourself where your wholesome

destination is, the one that calls to you - it might

be the grave of an ancestor, or a place where you

first experienced something significant. Choose

somewhere that feels like the right place, look

it up on Ordnance Survey maps, make sure you

plot a route that is away from the road, follow

footpaths as much as possible, and simply make

your own pilgrimage. You take a holiday, but you

make a pilgrimage - it's a creative act - so there's

a freedom within it to stretch to your own ritual

needs. As told to Rebecca Cunningham by Guy

Hayward and Will Parsons, founders of the British

Pilgrimage Trust.

They will be leading a two-night pilgrimage from

Lewes to Eastbourne, leaving on April 7th, see

britishpilgrimage.org

....81....
---
MY SPACE

....................................

Pete West

Mayor of Brighton

I've got two months to go. This is day 307 and

my 724th engagement. My spreadsheet calculates

that I might just get to 900 by the end of the year,

if I keep this up.

I've got a very long list of highlights. The first

was abseiling off Peacehaven cliffs for the Martlets.

That was properly scary. I won't forget that in a

hurry. Then there was a special moment at Pride.

They were remembering all the victims of the

Orlando massacre and it was very powerful to

be invited to walk at the front of the procession.

Tandeming down to Lewes bonfire, with 100 other

people in the cycle train, was fun. And I love putting

medals on runners when they come in. The mayor

gets invited to start lots of things, but I like to be

there at the end to celebrate the achievement.

I've enjoyed meeting so many of what I call

our newer communities. I've met people from

the Filipino community who have been here for

around 20 years and who mostly work in the

health service. Many of these groups identify

through their faith, so I've been to Coptic Christian

celebrations and visited a Sudanese Muslim

women's group.

One of the amazing things has been realising

how diverse the city is and what a beacon

of hope we project into the world. It's not just

our ethnic diversity, but our massive LGBTQ

community too. People have come here because

they feel a sense of sanctuary. They feel welcome,

....82....
---
MY SPACE

....................................

Photos by Lizzie Lower

at home, and not judged. All that diversity leads to

all sorts of amazing things happening. The good

thing about being the mayor is that you get a year

to focus on that. Such positive news. I feel very

humbled by that. I thought I knew the city well,

but I'm still finding out new things every day.

The mayor would usually have three of four

charities, but I was faced with 16 or 17 applicants,

so I've created a family of charities - some

big, some small - and they're learning from one

another and working together. There is so much

to embrace and support. People are motivated by

charitable giving and volunteering. Capturing all

that positive energy and getting people involved

is so important. I started my year with a theme,

'active life', and my first interpretation was from a

public-health point of view. But it's not just physical

wellbeing that's important, it's mental health

too, so my reinterpretation is to be as active as you

can and involved.

I'm often invited to thank volunteers, and I've

had loads of receptions here at the town hall. It's

a great place to invite people. We've had lots of

kids in too. Politicians are not highly regarded,

but the mayor seems to be immune from that.

Thankfully. Everyone seems to be well disposed

to the mayor. Kids see you as something between

a pirate and Santa Claus when you're wearing all

the gear. When I've captured their interest, I'll

take the group into the council chamber and ask

them to imagine all the decisions that have been

made there. I think that's an important role for the

mayor to perform - to strengthen an interest in

democracy. As told to Lizzie Lower

....83....
---
Often, a change

of direction is

all you need…

The Link Centre – a UKATA Registered Training Centre – is a friendly, relaxed

professional learning environment which runs a number of popular part-time

weekday & weekend training courses. Our TA101 course is the ideal starting

point for those wishing to learn how to communicate more effectively,

either within your professional or personal life.

Why not attend our FREE Open Evening

on 8 June 2017? Places are limited, so

please call us now on 01892 652487. Or

send an email to: info@thelinkcentre.co.uk

www.thelinkcentre.co.uk

Training in Counselling & Psychotherapy • Personal Counselling, Psychotherapy

& Coaching • Transactional Analysis Courses • Mindfulness Courses

Viva Lewes half page March 17 b.indd 1 13/03/2017 15:12
---
RITUAL

....................................

Prof Jon Mitchell

Why do we have rituals?

"I don't think society can

exist without rituals," says

Jon Mitchell, Professor

of Social Anthropology at

Sussex University. "The

idea of human beings without

ritual is a non-starter."

There is a caveat, though.

Ritual is a very broad term.

As well as the religious

kind, there are secular rituals

- which can be anything

from a stag do to the State

Opening of Parliament. Then there are personal

rituals: superstitious habits, for example. Anything

which is done partly for symbolic reasons can be

called ritual - and even that broad definition doesn't

cover everything, apparently.

Ritual, in this wider sense, is "absolutely central"

to what it is to be human, Mitchell says. So why

are we a ritualistic species? Is it a social thing, to

do with bonding?

"That's an argument that comes from Emile Durkheim,

a 19th-century sociologist-anthropologist

who was interested in religion. He argued that

at the core of religion is ritual activity, and ritual

activity is about social bonding. It's about bringing

people together in the worship of something bigger.

And that something bigger, he said, is simultaneously

god and society. That when people come

together to celebrate what they think is god, they're

actually celebrating the social bond that brings

them together. A very influential view.

"In some contexts, ritual is helping us to understand

that we're part of something bigger, and what the

dynamics of that are. In the classic religious 'rites of

collectivity', it's about recognising that we're all a

part of a group, worshipping the same god.

"I think that translates into

[secular] 'rituals of state' as

well, which are about recognising

that we are part of

something bigger: the state

which is presiding over us...

For example, the ritualization

which goes into legal

proceedings is about recognising

that we're subject to

a legal framework which is

shared and collective.

"More recently, people have

tweaked Durkheim's idea, and started to recognise

that ritual can be about challenging social cohesion,

as well as constructing it. Ritual activity can

be about protesting; it can be about going against

the established social order. The kind of ways in

which some of the alter-globalisation movement

has started protesting in the last, say, 20-30 years, is

often highly ritualistic.

"And things like the Orange parades in Northern

Ireland; to what extent are they about creating a

cohesive group of unionists, and to what extent are

they actually about communicating with the Catholics,

and creating antagonism in relation to the

Catholics? So it [can be] as much about out-groups

as about in-groups.

"Ritual is partly, I'd say, a search for an understanding

of the social bonds in which we are located... It

goes back to the basic Durkheimian idea that ritual

is about constructing an idea of what 'the social' is,

and how are we are placed as individuals within it.

"We assume that, as humans, we are individual,

separated, psychological beings. And so 'the social'

then becomes a problem. Actually ritual is about,

precisely, dealing with that issue."

Steve Ramsey

....85....
---
INTERVIEW

....................................

The whip system

Recent Labour rebel Peter Kyle tells all

Peter Kyle walked into the Labour whips' office,

accidentally interrupting a meeting. This was

a few months ago, before he defied the party's

three-line whip over the Brexit bill. Perhaps the

whips guessed what he'd come to talk about.

"They all stopped and looked at me," the MP for

Hove and Portslade recalls.

"The deputy chief whip walked over, walked past

me, and opened the door to his office, without

saying a word. I knew what I was supposed to do.

I walked in... He slammed the door shut and said

something quite frank and unrepeatable, along

the lines of 'what are you doing here, Kyle', but

using other words. I said to him 'I'm intending to

break the whip.'"

If Kyle was nervous at this point, it would have

been understandable. Years earlier, he had read

Jeremy Paxman's 2002 book The Political Animal.

It portrays whips as pretty fearsome people -

scheming, bullying, Machiavellian types. It says

that, 'for the average backbencher, the whip is the

street-corner thug they need to get past on their

way home from school'. It's got some worrying

stories about things whips have done to ensure

MPs' obedience.

However, Kyle had also worked for Hilary

Armstrong, a former chief whip, and "had a lot of

conversations with her about how it changed…

I think what [Paxman] was describing was an era

that ended, pretty much, pretty soon into the

Blair period…

"I don't think, in this day and age, the whips'

main job is actually discipline anymore. I think

the whips' job is a much more sophisticated one

now… ninety percent of what I've experienced

from whips has been supportive. It's much more

akin to the role of an HR department in any

other business.

"So, for example, I will get a phonecall from my

whip saying, 'there's a piece of legislation coming

in in two weeks' time; we think this is something

that you're really interested in and would have

an interesting perspective on - would you want

to speak on it? Would you like to go on the bill

committee for it? Is there any information we can

provide for you?'

"There'll be other times when my whip will call

me and say, 'we know that you are very, very busy

at the moment, you're under a lot of stress; is

everything ok? Can we help you with anything?

Is there any additional support that you need – in

terms of information, lightening the load, that

kind of thing?'

"Whipping is far more about understanding the

challenges and problems that MPs have, than just

trying to squeeze them into one voting lobby in

one division… It's a much more sophisticated

job than people realise; it's a lot more supportive

than people realise. As an MP, I've always

been really grateful for it, although I've been

at the receiving end of some pretty challenging

conversations."

For example, that Brexit-bill encounter in the

deputy chief whip's office. "He tore into my argument...

We had a conversation that lasted about

half an hour. It ranged from quiet, deliberate,

detailed, calm conversation, to the other extreme,

where there were raised voices and… It was very,

....86....
---
INTERVIEW

....................................

very challenging. Probably the

single most challenging conversation

I'd had since I'd become an

MP. And I left slightly shaken, and

physically pretty much sweating.

"But the next day I went and did

some interviews when I went

against Tories on TV and the radio

about what I was doing. And at that

instant I was grateful for what I'd

been through the day before, because

my argument was sharper, I

had a much deeper clarity of vision

and clarity of purpose, and I felt

like I'd been given a real challenge

as to why I was doing it… I came

away from that experience with

more respect for the whips and

what they do than I had before.

"And at no point - I'm really keen

to stress this - at no point did I

ever feel that any of the whips, including

the deputy chief whip, was

disrespectful to me, or disrespectful

to the people who elected me,

or compromised my ability to act

in the best interests of my community."

Which is not what one

might have expected, if whips still

behaved in the way that Paxman

described in The Political Animal.

"I think there has been a shift in

the way that whipping has been

done," Kyle says. Though the

whips, I gather, still carry a certain

aura of intrigue. "The mythology,

I think, around whipping is

understandable… [Imagine] you've

told people who work for you, who

are friends with you, that you're

thinking of rebelling on a piece of

legislation. Then you go into the whips' office, they take you

apart on the argument and it doesn't stand up, and you cave in.

If you leave and say, 'they put the argument to me, and they're

right and I'm wrong', you're going to look like a right idiot.

"But if you come out and say, 'oh my god, they threatened me

with this, that and the other; they threatened to take my office

away, to bury me in committees, and not put money into my

campaign in the next election', and all that stuff, then people

will understand it. So I think there is a… some people allow

the reputation of whips to grow because it kind of suits their

interests." Steve Ramsey

....87....
---
From A to Be

Coaching for your Career and

Working Life

• Is it time for a career change, or a new

direction?

• Are you seeking a promotion?

• Have you been made redundant?

• Returning to work after a career

break?

• Do you need help identifying your

skills, talents, values and strengths?

I can help you get from A to Be

Paula Cox

Career Coach & Business Psychologist

Paula Cox Coaching

For a FREE conversation, contact me:

07740 121675 or paula@paulacoxcoaching.co.uk

www.paulacoxcoaching.co.uk

Primary colours:

Highlight colours:

Jason Eyre

Painting and Decorating

jasoneyre2@gmail.com

07766 118289

01273 858300
---
THE LOWDOWN ON...

....................................

Search-engine optimisation

With brightonSEO founder Kelvin Newman

Apparently there are

'white-hat' SEO techniques,

which involve

making a website

better, and 'black-hat'

methods, which involve

tricking Google into

thinking a website's better

when it isn't. Is that

right? That's a good way

of approaching that… But

there are lots of shades of grey between white and

black hat. Often it's about what your motivation is,

and whether you can justify the approach you're

using if it wasn't for search reasons.

Google often updates its algorithms, possibly

to make SEO harder. Is it like an arms race between

Google and SEOs? I think a better way of

thinking of Google's role is like a referee. They're

refereeing between the different websites and saying

'we prefer this type of approach'. They're trying

to penalise the people who are diving, and reward

the people who are playing the game in the right

way. And Google do quite a lot to help people play

in the right way; they clarify the rules, they toughen

up the bans [for using black-hat techniques].

Is Google a good referee? To continue that

analogy, diving does sometimes work. But it comes

with risks. You can get a situation - and this has

happened in the past - where a major florist found

themselves banned by Google for Mother's Day.

Does SEO involve creativity, or just applying

standard techniques? There's fundamental rules,

changes you might want to make to your website

based on keywords that people are searching for.

So for a company that provides insurance for

expensive bicycles, on one level, you go, 'ok, we

just need to reflect what people search for'. The

obvious one might

be 'bike insurance'.

But some people

who are making

those queries might

be after motorbike

insurance. So, do we

optimise for 'bike

insurance'? Because

you're also then

going up against

the people who sell motorbike insurance - there's

a lot more competition, it's a lot harder to rank

for 'bike insurance' than for 'bicycle insurance'.

But are more people searching for it? Does it have

a bigger value? Nitty-gritty decisions like that

become the challenges, before you start to get

into… For example, you might find that people

search for 'cheap weekend breaks', but the people

selling the weekend breaks don't want to describe

themselves as cheap. So how do you navigate that as

well, before you then start to get into the technical

challenges, where it's like, I would like to make

this change because this is what the search engines

want, but the content-management system you're

on doesn't allow you to make that change… There's

some fundamental principles, but the devil's in the

detail. Often it's easy to come up with ideas that

help search, but it's much harder to actually make

them happen.

So SEOs aren't pure coding nerds? You also

need to understand psychology? Definitely; the

best people sit between those two disciplines. It's a

technical creative discipline, so… it's not an IT-type

role, if you see what I mean. Steve Ramsey

The brightonSEO conference is held every six

months. The next one is on April 7th, Brighton

Centre. brightonseo.com

....89....
---
Photos by Chloë King

....90....
---
HISTORY

....................................

The Chattri

'Spiritual and physical protection'

The Chattri memorial, situated

high on the Downs near Patcham, is

usually accessible only on foot. In the

company of the Chair of the Chattri

Memorial Group Davinder Dhillon,

however, I am permitted to drive

here over open farmland, and as the

white dome appears modestly in the

distance, I'm moved by the view.

This unique memorial, named for

the Urdu, Hindi and Punjabi word

for 'umbrella', was unveiled by the

Prince of Wales, Edward VIII, in

1921. Today, it is adorned with saffron

and blue cloths, representing the Hindu and

Sikh soldiers cremated here. Three raised slabs,

bordered by weathered poppy wreaths, mark the

cremation sites. "Looking at it," says Davinder, "the

Chattri represents shelter from the elements. It offers

spiritual and physical protection."

Some 12,000 soldiers from India were treated in

Brighton during the First World War, and in many

ways, the Chattri is a partner to the Gateway to the

Royal Pavilion, erected the same year as a gift from

India in gratitude for the work of 'Doctor Brighton'.

On this remote hill off Standean Lane, 53 Indian

soldiers were cremated in traditional ceremonies.

"They would have been sad but practical affairs,"

Davinder tells me.

The mourners had responsibility for gathering wood

and building a pyre on which they laid the body, covered

with clean white sheets. Prayers would be given

and then the pyre would be set alight. Afterwards, the

ashes would be gathered, taken to the sea, and scattered

over moving water.

The 1902 Cremation Act made it illegal to hold

funerals to these rites, but it is thought that the King

made an exception in respect of these soldiers. The

inscription on the Chattri acknowledges

it as the site where soldiers

"passed through the fire", in poetic

reference to their reincarnation.

The inscription, however, may be

open to different interpretations,

says Davinder. "It's a creative

phrase, and a good phrase, in my

view, but sadly, you can interpret

it as referring to all Indians, or

just the Sikhs and the Hindus."

India at the time was pre-partition,

and 19 Muslim soldiers, who

also died in Brighton and were

buried near Woking, should also be considered. The

Chattri honours all the Indian soldiers, and also the

Nepalese Gurkhas.

Each year, on the second Sunday in June, a pilgrimage

is made to the Chattri to honour them. Davinder

took responsibility for this commemoration quite

by accident. In 2000, he saw an article saying that

the Royal British Legion was struggling to continue

the service they had performed there since 1950. He

offered to help make the teas, only to find himself

tasked with the whole event.

Davinder has since grown what was a dwindling

gathering, to a meeting of over 500. People from

across the UK come for a wreath-laying service

and an exhibition, and each year, Davinder grows

our connection to the Chattri, meeting people and

learning new aspects of its story. It's important and

gratifying work.

"It's conceivable that the First World War, the Western

Front at least, would have been lost without the

Indians," he says, "and yet it's just a footnote in history.

Part of my motivation, if you like, is to correct

that imbalance." Chloë King

chattri.org

....91....
---
SPORT

....................................

Lewes Ladies FC

At the top of their game

Photo by James Boyes

We speak to Ash

Head, media and PR

manager of Lewes

Ladies FC.

Who are the

Rookettes? Members

of Lewes FC Ladies.

The nickname for

the men is the Rooks,

so the women are affectionately

called the

Rookettes. Both teams

play at the Dripping

Pan in Lewes and share training facilities. Lewes

Ladies play in the FA Women's Premier League,

alongside Tottenham, West Ham, Cardiff. We're

a small-town team playing against big-city clubs.

We're currently mid-table. The Rookettes recently

beat the Women's side of Leicester City, which

means we're through to the FAWPL Plate Final,

at Brackley Town FC's stadium on the 23rd of

April. That's St George's Day, which works for us

because our goal scorer was Georgia Bridges.

How did you come to be involved? I used to

watch the men and thought nothing of women's

football. One day, I was persuaded to watch Lewes

Ladies, and I've never looked back. If push comes

to shove, I'd watch the women over the men.

Why is that? The men are a little faster, but both

teams are equally skillful. I find the women's game

easier to follow, and you don't get the petulance

and aggression from players, or negativity from

opposing fans. The women's game is hard but fair.

There's a great camaraderie after the game. Plus,

we get fantastic supporters.

You've got some special events coming up...

Yes, to highlight an immense injustice in women's

football. In 1921, the FA banned women from

playing on men's pitches, effectively killing off

ladies' football. The

best-known team of

that time, Dick Kerr

Ladies, was formed in

1917, during WWI,

from workers at a

Preston munitions

factory. One Christmas

Day match they drew

a crowd of 10,000, and

donated the whole

gate (£38,000 in

today's money) to the

war wounded. So Lewes Ladies are donating their

entire gate for the last four matches of this season

to local women's charities, in their honour.

Where do Lewes Ladies get their players? The

pathway starts with the Newman Lewes Academy

for girls, followed by the Foundation Squad, then

the Development Squad. All are managed by John

Donoghue and Jacquie Agnew, who is a Lewes FC

director. (Four of the ten members of the Lewes

FC board are women).

How is the team funded? As well as gate receipts,

both the men's and women's teams are funded

from income from community ownership of Lewes

FC (£30 buys a year's membership, which offers

members discounts in many Lewes businesses).

Plus sponsorship of players by local businesses.

What's different about Lewes FC? It's an extension

of Lewes, so it's open and friendly. Beautiful

views, great food, Harvey's bitter, plus things like

fantastic posters and hospitality beach huts. We're

family friendly, and visiting supporters always say

they love the place. Interview by Emma Chaplin

Home matches this month: Lewes Ladies v Charlton,

Sun 9th, 2pm, Lewes Ladies v Coventry, tbc.

The Dripping Pan, Mountfield Road, Lewes BN7

2XA. £3/kids go free. lewesfc.com / @Rookmeister

....92....
---
HEALTH

....................................

OCD

Clawing back control

Obsessive Compulsive

Disorder (OCD) is

essentially an anxietydriven

condition, but like

all repetitive behaviours,

the compulsion may start

to function like any other

addiction. The OCD

sufferer may feel they have

to do increasingly more

of their compulsive behaviour just to feel 'normal'

- just as the addict may need to take increasingly

more of a substance to get the same hit.

I see OCD as particularly ritualized: 'If I do

this, I'll avert some disaster; I won't be powerless'.

There's often a superstitious element to it, doing

whatever it is - checking, cleaning, counting - a

certain number of times.

One very important, basic emotional need is

the need to feel some control over one's life

and environment. You see that need come out

in all sorts of ways, sometimes maladaptively

- perhaps as perfectionism. Someone with an

under-quenched need for feeling control and

autonomy in their life might try to get it through

unrealistic, unreasonable means. You could say that

religions are society's attempt to control capricious

nature, to give a sense of control. There's a lot of

uncertainty about the world, and in such times we

try to claw back some certainty: at least I know

how many times I'm doing this activity, at least I

can control how long I'm showering for.

We could say that with OCD, as with any

problem, there's a need trying to get through,

but the 'solution' can become a problem. An

analogy would be someone drinking engine oil in

the desert because they've no water and they're

desperate to hydrate.

There's a lot of

research that actually

suggests that the more

you check, the less

reliable your memory

of what you've done

becomes. Once the

imagination is involved,

there's almost a falsememory

effect: you become less sure whether

you've checked. It's a good idea to check once or

twice whether you've turned the gas off or locked

the door, but spending four hours doing it isn't

great. I teach people to trust their perceptions

more. One exercise I do is I clap my hands, and

then get them to close their eyes and tell them

to imagine me clapping my hands. Then I really

clap my hands, and I get them to tell me which

one was real. They always identify the real clap.

That would be the beginning of trusting their

perceptions rather than imagining.

People often understand that it's irrational,

but that can make it worse - the knowing. It's the

arousal that's the problem: it's the emotion driving

the thinking rather than the other way round, and

you can only appeal to the rational, cognitive part

of the brain once the emotions are calmed down. I

think that a therapeutic skill that's necessary across

all models is the ability to sit calmly with someone,

so that the emotional temperature can drop.

You can't clear the back garden until the wind's

dropped, otherwise the leaves will keep getting

whipped up. An emotionally heightened state

makes extremists of us all. As told to Andy Darling

by Mark Tyrrell, psychology trainer and psychotherapist

uncommonknowledge.co.uk

....93....
---
Illustration by Mark Greco

WILDLIFE

....................................

Ghost Moths

Spectral dancers of the South Downs

Last summer, as the sun set over the South Downs,

I was wandering through a wood on a twilight hike.

Through the trees I noticed about a dozen figures

decked out in brilliant white gathering in a small

clearing. I hit the floor and, buried amongst the

bracken, watched as other white figures joined them.

Each individual slowly started swaying, swinging

hypnotically like a pendulum suspended on an

invisible wire. The whole silent scene felt eerie,

otherworldly, ancient. I was spellbound and barely

breathing, scared I would be discovered and this

mesmerising performance would end. As some of

the figures swung fixed to their stations, others oscillated

wildly, whirling and crashing into each other.

The light was fading fast, and as my surroundings

dissolved into shadow, the swaying white figures

seemed luminous against the gloom. Then, as the

full moon rose and illuminated the glade, the action

slowed, the figures retreated and I was left alone in

the gloaming.

The ritual I had witnessed was not the sinister

secret ceremony of some part-time pagans. This

was the dance of the ghost moths: elaborate

courtship behaviour performed by the male moths

on warm summer evenings across Sussex. That

moonlit glade had been temporarily transformed

into a miniature moth disco where these incredible

insects pirouetted, pranced, swaggered and strutted

in an attempt to attract a female. More Saturday

Night Fever than The Wicker Man.

And, like tiny Travoltas, the male ghost moths

know that to stand out on a crowded dancefloor,

you need a flashy white suit. Their wings are whiter

than white and look as though they have been

hand-painted with Tipp-Ex. The female ghost

moth has a more subdued wardrobe and wears pale

yellow wings with elegant orange swirls. Males also

have another trick up their sleeve (or in this case

their trouserlegs). Their hind legs contain furry

scent-brushes which release pheromones into the

air which act as an overpowering aphrodisiac. Once

the ladies are lured it's the individual moth's dancing

which seals the deal. It can be murder on the dancefloor

and scuffles start as the males try to assert their

positions. It's a behaviour known as lekking and the

dominant dancers will lead a lucky lady of the lek

into the surrounding shadows.

In days gone by the moth's mysterious, ethereal

waltz was interpreted as something supernatural and

it has been suggested that the dance of the ghost

moth gave rise to local legends of fairies and will-o'-

the-wisp.

For many years I believed that an empty dancefloor,

Stevie Wonder's Superstition and a splash of Brut 33

was all that was needed for the ladies to fall under

my spell. Yet the ghost moths seemed to have more

success. I knew I should have gone for the white suit.

Michael Blencowe, Sussex Wildlife Trust

....95....
---
We believe we can create any shape

garden room, please challenge us!

25 Year guarantees on materials

T E L : 0 1 2 7 3 4 7 9 9 9 8

E M A I L : I N F O @ M O D P O D S . C O . U K

W W W . M O D P O D S . C O . U K

嘀 椀 瘀 愀 䰀 攀 眀 攀 猀 䤀 猀 猀 甀 攀 ⌀㈀ 㜀

䌀 漀 瘀 攀 爀 椀 洀 愀 最 攀 戀 礀 匀 椀 洀 漀 渀 攀 刀 椀 氀 攀 礀

猀 椀 洀 漀 渀 攀 爀 椀 氀 攀 礀 ⸀ 挀 漀 ⸀ 甀 欀

吀 爀 愀 渀 猀 昀 漀 爀 洀 礀 漀 甀 爀 栀 漀 洀 攀 眀 椀 琀 栀 漀 甀 爀 昀 椀 渀 攀 猀 琀 焀 甀 愀 氀 椀 琀 礀

匀 㨀 䌀 刀 䄀 䘀 吀 洀 愀 搀 攀 ⴀ 琀 漀 ⴀ 洀 攀 愀 猀 甀 爀 攀 椀 渀 琀 攀 爀 椀 漀 爀 猀 栀 甀 琀 琀 攀 爀 猀 ⸀

琀 ⸀ ㈀ 㜀 アパート アパート アパート 㠀 㐀 ㈀

攀 ⸀ 挀 漀 渀 琀 愀 挀 琀 䀀 戀 攀 氀 氀 愀 瘀 椀 猀 琀 愀 猀 栀 甀 琀 琀 攀 爀 猀 ⸀ 挀 漀 ⸀ 甀 欀

眀 ⸀ 眀 眀 眀 ⸀ 戀 攀 氀 氀 愀 瘀 椀 猀 琀 愀 猀 栀 甀 琀 琀 攀 爀 猀 ⸀ 挀 漀 ⸀ 甀 欀
---
RITUAL

....................................

Street Festivals

Identity parades

Rituals don't just take

place in buildings associated

with faith or religion.

Brighton and Hove has

created many rituals on its

streets to mark the passing

of the year. On the

seafront alone there will

be some 19 events, from

the marathon to speed

trials and the somewhat

slower Classic Car Run.

They sit in an annual

calendar of public parades

and happenings held each

year to celebrate who and

where we are.

During its long history, our annual Pride day has

transformed from a political march to a ritual celebration

of our gay community that is intrinsic to

the city's culture. Brighton and Hove also held the

first Trans Pride in the UK, now in its fourth year.

We're coming up to two of the biggest of our

calendar rituals - the Brighton Festival and Fringe.

This year's Festival guest director, Kate Tempest,

has urged that some of the programme be delivered

out in the community, and this year we'll see

events in Whitehawk and Hangleton, with Your

Place creative hubs alongside a range of outdoor

events. Festival season starts with one of the most

joyous of our annual street marches, that of the

Children's Parade, this year on the 6th of May.

The Fringe can be found on the streets all month

long, particularly on New Road, with its weekend

smorgasbord of performances.

Where the Children's Parade marks the beginning

of springtime and the fairer conditions that

make outdoor ritual

more pleasant, Same

Sky's Burning the Clocks

marks our mid-winter

celebration. Brighton's

White Night events

marked the ritual turning

of the seasonal clock with

a city-wide programme

of events late into the

night on the last day of

British Summertime.

Donna Close, Arts Officer

at the Council at the

time of White Night, and

one of the driving forces

behind it, comments:

'The best festivals always have an association with

ritual, not least in the way they mark key points in

the year and the passing of the years. White Night

was conceived as a modern-day ritual.' With ritual

comes myth and a quick affection, and Donna

recalls, 'You have to give space for the audience

to bring themselves to the experience in order for

it to be meaningful. Just after the fourth and last

White Night event, someone was saying that they

had gone to the first ever White Night in the mid-

1990s… success!'

None of these festivals can take place without the

people of the place, and they take a huge amount

of volunteer hours and enthusiasm. Much loved

rituals, such as Kemptown Carnival, operate in a

precarious setting and are reliant on community

support. Brighton's Trans Pride is also in need of

help this year - find them on Facebook to see if

you can help.

Cara Courage

Photo by Lizzie Lower

....97....
---
INSIDE LEFT: CHURCHILL SQUARE, 1973

.....................................................................................

This photo of the old Churchill Square Shopping Centre was taken in 1973, a year when young men were uncomfortable

if their hair didn't cover their ears (or their flares their toes); when Brighton buses were stripy and

colour coded; when the Albion were languishing in the old Third Division; when Brighton & Hove was still

more than a quarter-century away from becoming a city. We reckon it was taken from a flat in Sussex Heights.

Churchill Square was built in 1967 in the place of a neighbourhood which incorporated a number of highstreet

shops, lots of terraced houses, several pubs and an underground church, all demolished in the cause of

progress. At the time it was the height of modernity, but it very soon became dated, after indoor shopping malls

became all the rage, and within just 31 years the complex itself was razed to the ground, with the new covered

centre built in its place.

It's worth pointing out a few details you can see in this picture. The sculpture in the back (south) open space

was called Spirit of Brighton, and was designed as a water feature by the experimental artist Bill Mitchell, who

pioneered the use of recycled materials in his work. The water soon stopped running, and the statue became

a folly-like feature that a lot of townspeople loved to hate, its base filled with crisp packets and empty cans:

few mourned it when it was demolished in 1998 along with the rest of the Centre. The space around it

was poorly designed and became something of a wind-tunnel, though it was a popular area for the first

generation of skateboarders.

The round building at the other side of the complex was, when the photo was taken, a wedding-dress shop

called Solitaire: white-clad mannequin-brides looked out from each of the rectangular first-floor windows.

Other businesses located in the complex (and thanks here to members of the Brighton Past Facebook page

for the information) included British Home Stores (one of the 'anchor' stores at the front), Tesco, The Green

Shield Stamps shop, Slims Café, Orange Hand, Hall of Cards, Cox's Hi-fi, Savory & Moore Chemists, Habitat

and Bejam. At the top of the picture, just left of centre, you can see the Union Church, as featured in VB#49.

When the Square was rebuilt in 1998, the Council decided it would keep the name given to it in 1967:

Winston, of course, was partly schooled down the seafront in Hove. Alex Leith

Thanks to the Royal Pavilion and Museums for the use of this picture. brightonmuseums.org.uk

....98....