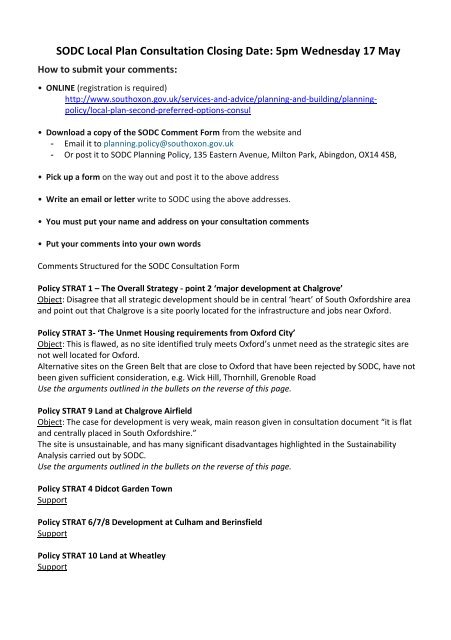 Hand-outs for 3rd May - double sided FINAL
Create successful ePaper yourself
Turn your PDF publications into a flip-book with our unique Google optimized e-Paper software.
SODC Local Plan Consultation Closing Date: 5pm Wednesday 17 May

How to submit your comments:

• ONLINE (registration is required)

http://www.southoxon.gov.uk/services-and-advice/planning-and-building/planningpolicy/local-plan-second-preferred-options-consul

• Download a copy of the SODC Comment Form from the website and

- Email it to planning.policy@southoxon.gov.uk

- Or post it to SODC Planning Policy, 135 Eastern Avenue, Milton Park, Abingdon, OX14 4SB,

• Pick up a form on the way out and post it to the above address

• Write an email or letter write to SODC using the above addresses.

• You must put your name and address on your consultation comments

• Put your comments into your own words

Comments Structured for the SODC Consultation Form

Policy STRAT 1 – The Overall Strategy - point 2 'major development at Chalgrove'

Object: Disagree that all strategic development should be in central 'heart' of South Oxfordshire area

and point out that Chalgrove is a site poorly located for the infrastructure and jobs near Oxford.

Policy STRAT 3- 'The Unmet Housing requirements from Oxford City'

Object: This is flawed, as no site identified truly meets Oxford's unmet need as the strategic sites are

not well located for Oxford.

Alternative sites on the Green Belt that are close to Oxford that have been rejected by SODC, have not

been given sufficient consideration, e.g. Wick Hill, Thornhill, Grenoble Road

Use the arguments outlined in the bullets on the reverse of this page.

Policy STRAT 9 Land at Chalgrove Airfield

Object: The case for development is very weak, main reason given in consultation document "it is flat

and centrally placed in South Oxfordshire."

The site is unsustainable, and has many significant disadvantages highlighted in the Sustainability

Analysis carried out by SODC.

Use the arguments outlined in the bullets on the reverse of this page.

Policy STRAT 4 Didcot Garden Town

Support

Policy STRAT 6/7/8 Development at Culham and Berinsfield

Support

Policy STRAT 10 Land at Wheatley

Support
---
Feedback on the South Oxfordshire Local Plan Second Preferred Options Consultation Documents

Points to consider including in your website or email/written responses

Please use your own words and personal arguments in logging your concerns regarding Chalgrove and Harrington proposals

with South Oxfordshire District Council.

• The Second Preferred Options document is a significant improvement on previous proposals prepared by SODC

last year. We share SODC's recognition of the need for more housing to serve Oxford's need.

• Delighted to see proposals for green belt developments adjacent to Oxford's need in Culham and Berinsfield.

• Proposals for a new town at Chalgrove were scored poorly in SODC's own sustainability assessment in 2016 and

there are no changes to the proposals that would change this low score.

• The proposed development at Chalgrove airfield would be isolated. The site is 13 miles to Oxford and not well

connected by public transport. Realistically, travel to Oxford would be 40 minutes in light traffic and considerably

longer at peak times. The amount of traffic generated from 3,000 houses at Chalgrove would most likely increase

such journey times to Oxford and other settlements significantly, and commuters to work could suffer very severe

traffic congestion. Cycling to the main areas of employment is unlikely to be practical for the majority of

commuters.

• Remote location of Chalgrove and poor connections to places of likely employment, leisure activities and shops

would inevitably lead to significant car based development, significantly increasing traffic in the area, thereby

increasing pollution and failing to meet Oxford's need.

• With poor road links to Oxford, bypasses at Stadhampton, Watlington and Benson will become necessary, taking

up large quantities of farmland at huge unnecessary cost compared to straightforward road links at sites directly

adjacent to Oxford.

• The population increase in Chalgrove would put significant pressure on community cohesion. This would be

exacerbated by poor access between the existing village and new development, potentially creating an "us and

them" attitude.

• The flooding problems that already beset Chalgrove Village are likely to be made significantly worse due to the

surface water runoff from the new development.

• The site will suffer from noise problems as it is on the flight path from RAF Benson and itself contains a runway

actively used by the Martin Baker organisation. For the Chalgrove development to proceed, the existing runway

will need to be moved to the northern end of the site. It is understood that this will cost around £12m.

• Chalgrove historical battlefield presents a significant heritage constraint on the eastern side of the site.

• The site's relative proximity to the M40 means that, rather than serving Oxfordshire's employment need, it will

more likely become a commuter town for people working in London, High Wycombe, etc.. Additionally the number

of cars seeking to access the M40 (at junction 6 or 7) will place huge pressure on the surrounding roads many of

which are single-track and completely unsuitable for the weight of traffic the new development would bring.

• The sites closer to Oxford which have been assessed within SOSC's sustainability appraisals (Grenoble Road, Wick

Farm, Lower Earlfield and Thornhill) are far better suited to meeting the Oxford unmet housing need.

• The primary reason for rejecting the sites closer to Oxford has been given to be due to them being within the

Oxford Green Belt, but this now seems irrational as the Culham, Berinsfield and Wheatley developments will be on

Green Belt land.

• The proposed site at Harrington that continues to be promoted independently is the least suited of all proposals.

This site faces many of the same environmental and transport challenges as Chalgrove. The proposal is

unsustainable and rightly not being supported by SODC.