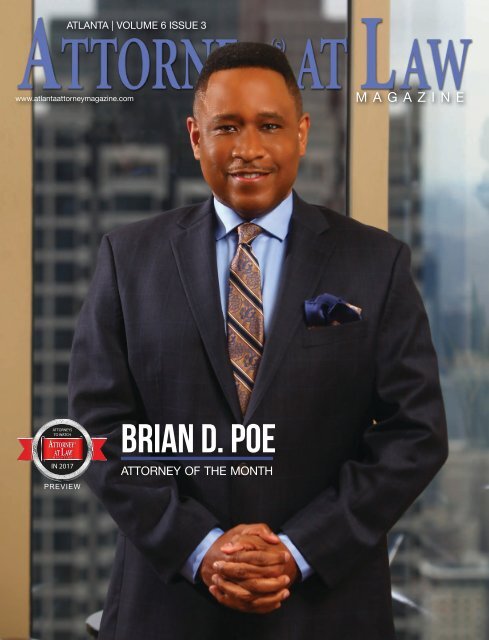 You also want an ePaper? Increase the reach of your titles
YUMPU automatically turns print PDFs into web optimized ePapers that Google loves.
ATLANTA | VOLUME 6 ISSUE 3

www.atlantaattorneymagazine.com

MAGAZINE

ATTORNEYS

TO WATCH

MAGAZINE

IN 2017

PREVIEW

Brian D. Poe

ATTORNEY OF THE MONTH

VOL. 6 ISSUE 3 ATLANTA ATTORNEY MAGAZINE | 1
---
ATLANTA | VOLUME 6 ISSUE 3

www.atlantaattorneymagazine.com

MAGAZINE

EDWARD D. BUCKLEY

PLAINTIFF'S LAWYER OF THE MONTH

2 | www.atlantaattorneymagazine.com
---
ATLANTA | VOLUME 6 ISSUE 3

www.atlantaattorneymagazine.com

MAGAZINE

thad woody

PRACTICE PROFILE OF THE MONTH

VOL. 6 ISSUE 3 ATLANTA ATTORNEY MAGAZINE | 3
---
www.atlantaattorneymagazine.com

VOL. 6 ISSUE 3 ATLANTA ATTORNEY MAGAZINE | 1

www.atlantaattorneymagazine.com

2 | www.atlantaattorneymagazine.com

www.atlantaattorneymagazine.com

VOL. 6 ISSUE 3 ATLANTA ATTORNEY MAGAZINE | 3

Table of Contents

EDITORIAL

ATLANTA | VOLUME 6 ISSUE 3

Brian D. Poe

ATTORNEY OF THE MONTH

5 Brian Poe

Attorney of the Month

10 Family Law Attorneys Must

Look at the Big Picture

Practice Profile of the Month

14 Buckley Beal, LLP, The Go to

Plaintiff's Law Firm

Plaintiff's Law Firm of the Month

16 Interview with:

Judge Michael J. Newman

18 E-Discovery

20 Food for Thought:

"Explanation"

By Lee LeFever

MAGAZINE

Atlanta Attorney(s) at Law Magazine is

published by: Atlanta Attorney Magazine

Bill McGill

Publisher

Kimberlee Payton Jones

Editor

Jan Jaben-Eilon

Elaine Frances

Yona Pesman

Staff Writers

Scott Bagley

Graphic Design

Korie Akinbami

Leslie McCree

Jeremy Adamo Photography

Photography

ATLANTA | VOLUME 6 ISSUE 3

EDWARD D. BUCKLEY

PLAINTIFF'S LAWYER OF THE MONTH

MAGAZINE

22 Mediation

By Jennifer Grippa

24 5 Reasons Why Law Firms

Need Custom Videos on

Their Website

By Montina Portis

25 10 Ways an Attorney will

Attack You on the Stand

26 Scene @ the RMN Event

28 Legal Recruiting:

The Art of Building a Book

of Business

ByRaj M Nichani

29 Movers & Shakers

Jennifer Grippa

Raj Nichani

Bill McGill

Montina Portis

Contributing Editors

ATLANTA | VOLUME 6 ISSUE 3

MAGAZINE

thad woody

PRACTICE PROFILE OF THE MONTH

Copyright c2017. Atlanta Attorney at Law

Magazine all rights reserved. Reproduction

in whole or in part of any text, photograph

or illustration without written permission

from the publisher is strictly prohibited.

Subscription rate $9 per copy. Bulk rate on

request. Mailed bulk third class standard

paid in Atlanta, Georgia. Principal office:

2221 Peachtree Road Suite D-460 Atlanta,

Georgia. Send change of address to Atlanta

Attorney at Law Magazine PO Box 14815

Atlanta, Georgia 30324.

Letter From the Publisher

Whether you're an attorney, executive,

entrepreneur, or a

non-profit leader, your success

is often dependent upon your ability to

engage and enroll influencers to get on

board with your ideas. When you create

connections with recognized and well

respected influencers, you move from

a "one-to-many" to a "many-to-many"

model, empowering others to carry your

ideas forward to their communities.

What follows inside these pages are

three cover stories of thought leaders

in the legal industry. Brian Poe, has

launched and successfully sustained a

multi-area law-practice. A quickly expanding

practice in areas of real estate,

family law, bankruptcy, personal injury,

criminal law and debt collections. Read

about all of these and how is approach

evolved from his early days as a lawyer.

Next, a regular top 100 ranked Georgia

lawyer Ed Buckley is previewed for our

"Attorneys to Watch 2017" issue coming

out next month. Notably, when asked

what characteristic is most important for

an attorney to posses, he responds, simply,

"Credibility. It's very important for

a lawyer to be truthful. You have to be

credible with the courts and opposing

counsel. If your reputation is for shading

the truth, then people won't believe

you. Judges know which lawyers they can

trust." The third is partner Thad Woody,

with Kessler & Solomiany the top family

law firm representing high-profile executives,

celebrities and athletes. Woody

tells a few war stories from the TV series,

"Real Housewives of Atlanta".

As you read their ideas-from such diverse

realms, imagine how each might

apply in your situation, then get creative

and add your own innovations.

Bill McGill

Atlanta | (404) 229-0780 | mcgill@atlantaattorneymagazine.com

4 | www.atlantaattorneymagazine.com
---
Brian Poe

By Kimberlee Payton Jones

From the time he entered law school, Brian Poe had plans to

do something "really outside of the box." At that time, he was

referring to becoming a general manager for a Major League

Baseball team. He did not ultimately end up in baseball, but

he definitely succeeded in crafting a law practice that is outside of

the box.

Brian Poe began his career in a traditional manner. Encouraged

by his parents - Atlanta pediatrician Booker Poe M.D. and the late

educator Gloria Reeves Poe, Brian Poe earned his bachelor's degree

at Florida State University, an MBA at University of Georgia, and he

received his JD from the University of Virginia, a Top 10 law school.

He subsequently worked at two top-tier law firms before going to

work in-house at a Fortune 500 company. Since that time, he has

succeeded in building traditional practice areas by using untraditional

methods.

Poe began his legal career as a summer associate at Morgan, Lewis

& Bockius. He chose that firm because of its baseball practice, and

while there he worked under Chuck O'Connor, one of the top labor

and employment attorneys in the country. He also worked under

Robert "Rob" Manfred, who is the current Commissioner of Baseball.

Upon graduating from UVA, Poe went to work at Morgan,

Lewis & Bockius as a full-time associate. He soon learned, however,

that he was not the only associate with hopes to work in the firm's

competitive baseball practice and that he would have to work in the

firm's labor and employment division for five to seven years before

he would be able to get any of the much-coveted baseball work.

As such, he crafted a plan to return to Georgia where he had attended

business school. He knew that after just a brief stint as a fulltime

associate at a major law firm that employers would question his

motives for wanting to relocate. In figuring out how to best sell himself,

he planted the seed for what would become one of his business

ventures, legal recruiting. Poe implemented his plan and secured a

position at Troutman Sanders in Atlanta working as a labor and employment

litigator.

Poe had a successful run at Troutman Sanders and subsequently at

Delta Air Lines, Inc., but he found it difficult to be working in labor

& employment, an area in which he had never dreamed of working.

Moreover, Poe found it challenging always having to defend the employer.

"A lot of my peers were really motivated to win these cases.

They would come up with 10 different reasons why someone should

lose their job or not be paid severance, and I might have one or two.

And while I often felt like when I was at [the firm] or at [the company]

that I was on the right side of the issue, sometimes I wasn't so sure."

The difference between his colleagues' zeal and his own brought Poe to

the realization that he should be doing something different. "I realized

that in order to succeed you really need to be that person that has ten

ideas. And if you don't have ten ideas on something, maybe you are not

in the right space."

With this revelation, Poe began venturing into a variety of business

and community endeavors, but he chose things about which he was

passionate. His pursuits thus far have included entertainment and film,

legal recruiting, practicing law, and writing a legal column for Atlanta

Tribune: The Magazine. To that end, Poe has written several screen

plays, and he has also written, produced, and financed a major film Big

Ain't Bad, the Hollywood Black Film Festival's Audience Choice Award

winner, that was distributed by Starz and First Look and was the red carpet

Kick Off Film of the Fox Theater's 75th Anniversary Summer Film

Series. In addition, since leaving corporate America, Poe has worked in

the area of legal recruiting and has established a specialty in the area of

diversity placement. He has placed attorneys, several of which are now

judges and elected officials, at major law firms and corporations.

Poe serves on numerous community non-profit boards and advisory

boards. Though not a politician himself, he has served on the

Campaign Finance Committee of Atlanta Mayor Kasim Reed, chaired

the successful 2016 campaign of Fulton County Superior Court Judge

Thomas A. Cox, Jr., and mentored and supported two former Troutman

Sanders summer associates – Atlanta City Council President

and current mayoral candidate Ceasar Mitchell and Fulton County

Commissioner Marvin Arrington, Jr. His support of former President

Barack Obama landed him a coveted invitation (which he accepted)

to attend the Motown Sound event in the East Room of the White

House in 2011. According to Judge Cox's campaign manager, "Our

campaign team's appointment of Attorney Brian Poe as Chairman was

the game-changing moment in our successful race in 2016."

Poe has also launched, and successfully sustained, a multi-area

law-practice. He currently has offices in downtown Atlanta, Decatur,

and in Union City. His rapidly expanding practice areas include real

estate closings, family law, business, bankruptcy, personal injury, criminal/DUI

law, estate, entertainment and debt collections. His approach

to the practice of law has changed from his early days in that he now

is extremely passionate about his work. As such, his primary focus is

consumer and small-business-based. "We've come full circle. Just

like children in Atlanta have needed my father's medical services for

decades, my consumer and small-business clients in our community

really need our legal service and advice. And we listen first, and then

keep exploring as many different ideas and approaches as necessary

– until we find the team, strategy and solution to best address their

challenge at hand."

A hallmark of Poe's practice is that he is diligent about choosing to

work with people who are passionate about what they are doing. These

strategic partnerships have enabled Poe to develop a true general service

law firm that he is continually growing. He currently has a team of

over 20 people. As a result of these partnerships, Poe has been able to

do many things well. But, as he had done since beginning law school,

he has approached each in a manner that is outside of the box.

Poe is the proud father of two teenage daughters with one in studying

pre-med at a prestigious Southeastern university and the other in a

prestigious Atlanta prep school with future political interests.

Visit: www.thesigningattorney.net

for further information

VOL. 6 ISSUE 3 ATLANTA ATTORNEY MAGAZINE | 5
---
ankruptcy | www.bankruptcyattorneys-georgia.com

By Kimberlee Payton Jones

The recession of the late 2000s was the impetus for Brian

Poe to start his bankruptcy practice. He did not choose to

start his bankruptcy practice for the typical reasons that one

would expect during a recession. While one would expect

it to have been a practical market decision considering the financial

crisis, it actually came from a pragmatic assessment of Poe's interests

and strengths.

For many years, Brian Poe & Associates has operated a successful

law firm that consisted primarily of a real estate closing practice,

in addition to several other practice areas. Upon leaving corporate

America, Poe started doing closings and his business expanded so

rapidly that he soon had attorneys across the state of Georgia doing

closings for the firm. Like most real estate practices, Poe & Associates

felt the ripple effects of the recession. The problem was further

compounded by changes to the Georgia Bar rules that made it more

difficult for small firms to do closings.

As a result, Poe found himself at a crossroads in his practice, and

so he did a self-assessment. He had a law degree. He knew that he

liked to help people, and he had already experienced a high-level of

success building his own practice. Poe also knew that he had to create

a practice that would provide a certain level of income based on

his prior earnings, but rather than choose a practice area based exclusively

on how much money he could make, Poe wanted to go into

an area about which he was passionate.

Because Poe is passionate about helping people, it made sense to

him to build a consumer-based practice. However, Poe also has a

strong sense of self-awareness. Understanding that his strengths lie

in building a good team, building solid relationships, and in marketing,

he also knew that he had to build a practice where he could utilize

a strong paralegal and support staff. In addition to being a great

and effective lawyer, Poe is also a gifted businessman, which is not

surprising given that he has an MBA from University of Georgia, as

well a law degree from the University of Virginia. As such, he understood

the importance of creating a practice where he would have the

flexibility to meet with clients, do marketing, and build his business.

All of these elements, in addition to advice from his colleagues that

he would be good at bankruptcy, informed Poe's decision to launch

a bankruptcy practice, officially known as "Georgia Bankruptcy Attorneys,

a division of Brian Poe & Associates, Attorneys, PC" with

offices in Atlanta, Decatur and South Fulton (Union City).

While Poe's bankruptcy practice was spawned from a talent inventory

and from the practical questions, Who do I like? and What

do they need?; the practice has been sustained by Poe's uncanny

ability to choose good partners. "The reason I chose bankruptcy is

because I am better at choosing partners and making sure people are

paid," he explained. "I am good at operating as a chairman. I am a

relationship guy, a theme guy, a people guy."

The bankruptcy team includes managing attorney Winn Keathley,

who received his law degree from Georgia State University and has

extensive experience doing bankruptcy work. Keathley provides Brian

Poe & Associates with consistent courtroom presence. The team

also includes senior paralegal, Jennifer Miller, who worked at one

of the largest bankruptcy firms in Georgia. Miller has many years'

experience working in Georgia bankruptcy courts and, having come

from one of Georgia's largest bankruptcy courts, helps Poe effectively

manage the high-volume business that they have built. Poe describes

Miller the bankruptcy practice's "x factor". "She is so smart and passionate

about bankruptcy law that people say to me all the time, "I

can't believe she's not a lawyer!"" When the firm is really busy, it

enlists paralegal Nicholas Kyle, a super smart, former big bankruptcy

firm colleague of Miller, to support the practice. Last but not least,

Poe relies on the steady counsel of Jamie Cox, Esq., a Double Ivy

League educated attorney with a Pennsylvania bar who practices under

his supervision and is taking the Georgia Bar this summer.

For a marketing boost, Poe also has hired Donald Craddock, who

coined the firm's "People's Champs" tagline, as the firm's Director of

Community Engagement. Craddock's acquisition has paid dividends

for the bankruptcy practice in particular, as the law firm's "Friends of

Georgia Bankruptcy Attorneys" Facebook group has grown to over

9,000 followers in just over one year.

Poe is effective, of course in bringing in the clients and preparing

them for the process. One of the benefits of working with Poe during

bankruptcy is that he has multilateral practice, so his clients do not

have to worry about the stigma that can be connected to hiring a

bankruptcy attorney. Also, Poe quick to depart from the firm's published

fees and will structure an understanding that better fits the

capability of each potential client - so that someone who needs help

is able to utilize the firm's services to file bankruptcy.

The irony is that what developed from a pragmatic need to find a

new practice area that could be sustained by practical partnerships,

developed into a passion for Poe. "I chose bankruptcy, in part, because

it was paralegal driven, but then I fell in love with what it is

that we do. We stop foreclosures. We stop evictions. We stop creditor

lawsuits. We stop harassing phone calls. We stop repossessions.

And get this, many times we have even reversed a repossession that

has already occurred – and returned a repossessed car to the original

owner. When we help people within the law, and we later see them

recover on a better track moving forward, it's an amazing feeling,"

Poe said.

6 | www.atlantaattorneymagazine.com
---
Debt Recovery / collections

By Kimberlee Payton Jones

It might seem somewhat incompatible that a bankruptcy attorney

would launch a collections practice, but for Brian Poe the

practice areas are simply two sides of the same coin.

"I have always thought about doing collections," Brian Poe

explained. "My father has been a small business owner since 1969,

and I know that for small businesses collecting all or most of their

money could mean the difference between being profitable and

being out of business."

Coming from this perspective, it makes senses for the corporate-lawyer

turned consumer-focused attorney to enter the realm

of collections. Corporations, large and small, need to have systems

in place to recoup their losses in order to sustain their businesses.

It has a ripple-effect on all aspects of the economy. In fact, Poe,

like many other attorneys who maintain their own practices understands

that financial sustainability can be difficult. "One of the

most challenging aspects of practicing law is staying viable financially,"

Poe said. Part of that is "because laws and regulations can

change at any moment. Your future can be dictated by things that you

cannot control."

For small businesses can experience a lack of control in the form of

unpaid debt. This is an area with which Poe strives to bring a sense of

control for his clients. Another aspect over which companies can have

little control can be the collection practices utilized by the collection

agencies that companies hire to assist them in mitigating their losses.

"I feel that there are companies out here that don't care about fair

debt collection," Poe said. "They are overly aggressive in their collections

practices and don't care about what they say, both from a legal

standpoint and a moral standpoint," Poe explained. This can create significant

legal issues for companies that employ these agencies.

In response to the propensity of many collection agencies to ignore

the Fair Debt Collection Practices Act ("FDCPA"), increasingly corporations

are opting to retain law firms to do their collections work. As

such, operating as a law firm that does collections has worked in Poe's

favor. Moreover, Poe cites compliance as his primary focus and his primary

selling point. "We will be consistent and thorough, but most of all

FDCPA compliant," Poe says.

"If there is a client that we are collecting for, I am not going to hard

sell you by saying that we will collect more than any other firm. I am

going to hard sell you on the fact that we have top quality people, and

that we are going to be compliant," Poe explains.

As with his other practice areas and business ventures, Poe recognizes

that establishing the correct partnerships and creating the right team

is essential to the success of the practice. To that end, Poe attributes the

bulk of the success of the practice area to his managerial team, which is

\led by Tiffany Moore, who is the General Manager of Decatur-based

Attorney Network Solutions, the division of Attorney Poe's law firm

that handles collections. Moore attributes the firm's early success to Attorney

Poe's compliance mindset as well as her own ability to motivate

their team to do their jobs the correct way.

Poe speaks very highly of Moore, a former client of his law firm who

has owned her own collection agency and managed collections staffs

previously. "Despite my personal interest in doing collections, I paused

at the idea - which was brought to me by Tiffany Moore - because of my

bankruptcy practice," Poe said. "It took a lot of persuasion, time and

trust, and considering her counsel as well as the advice of an attorney

friend with collections experience. Ultimately, I concluded that we

could make a positive difference together in this business. I would

not have launched a collections law firm without Tiffany Moore. She

is my peer, not as an attorney, but from a business standpoint. She

has my full trust."

"We know how to keep people happy, and this is coming from

people who have worked at [collections firms]," Moore said. "We

motivate people to do their jobs the right way rather than by threatening

people." As a result, Moore explains in agreement with Poe's

compliant-focused philosophy, "we do better business, not only because

we are effective, but also because we are compliant."

Poe's desire to protect himself and his reputation are part of the

reason that he stresses compliance. Another aspect, however, is his

understanding the necessity of protecting a company's reputation as

it seeks to collect money that it is owed. Consequently, Poe strives

to build relationships with his clients so that even while doing their

collections work he can protect their image in the community. By

staying compliant, companies not only avoid potential law suits that

could eclipse the money that they are attempting to collect, but they

are also more likely to preserve the goodwill of the consumer. Some

consumers may be experiencing a temporary financial hardship, but

could also be a source of future business.

Poe's experience as a bankruptcy attorney is yet another aspect of

his commitment to compliant debt collection. "Because I have experience

on the other side, I definitely have a place in my heart for

people who are experiencing debt issues," Poe said. This focus on

compliance has served Poe well. His collections practice has experienced

substantial growth in a brief period and has exceeded his

expectations. As a result, he has had to hire more employees and expand

his office space.

Contact: Attorney Network Solutions

A Division of Poe & Associates, Attorneys, PC

www.attorneynetworksolutions.com

4319 Covington Hwy. Suite 300

Decatur, Georgia 30035

(678) 250-5044

VOL. 6 ISSUE 3 ATLANTA ATTORNEY MAGAZINE | 7
---
eal estate closings

By Jan Jaben-Eilon

The real estate closing division of Brian Poe & Associates,

Attorneys, PC, probably constitutes only about 10 percent

of the firm's gross revenues, but the profit margins are

"more solid," says Poe, the managing partner. "It's the most

profitable part of the business."

A former senior attorney for Delta Air Lines Inc., and former

associate for Troutman Sanders LLP and Morgan Lewis & Bockius,

LLP, Poe started his own firm just a few years ago, initially as a legal

recruiting firm. He knew it would be a big risk to launch his own

firm, but he has successfully branched out into other legal areas, as

well, including the real estate closing business.

"I have built teams and relationships and can do full loan closings

for mortgages and refinances, as well as travel closings for borrowers

and clients in our offices or at the client's home or office,"

he explains. Part of the reason the real estate closing business is so

profitable is that Poe and his partners are paid from the borrower's

loan funds. "The firms pay us quickly and right off the settlements,"

he says. "We sit at the table, supervising and notarizing and making

sure all the documents are witnessed. We have an obligation to all

the parties."

About 80 percent of his closings are residential, with the remainder

on the commercial real estate side.

For the full loan closings, he has partnered with Tabitha Ponder

of The Ponder Law Group. "We met over a decade ago when I was

working in southern and middle Georgia," she says. "We were doing

mobile closings and we helped each other." Although she still has an

office in South Georgia, Ponder has transitioned to the Atlanta office.

"We're on each other's web sites, and are in-counsels in each other's

firms," says Poe, noting the closeness of their relationship.

"I have the title division and thus am able to do full closings beginning

to end, whether it's residential or commercial," Ponder says.

According to Ponder, what makes them unique is their smaller

size. "We tend to have a personal feel and attention with the clients,"

says Ponder, who also practices personal injury law. "We price our

closings on the basis of the cost of the house, not just fees. Pricing on

a scale helps everybody, especially if it's a lower-income home. Our

prices are more flexible; it's more fair to charge on scale."

Ponder, who is a graduate of Albany State University (where she

has taught for seven years) and Mercer University Law School,

stresses the importance of the relationships that she and Poe have

developed over the years, whether with mortgage brokers, Realtors

or investors. Most of their business comes from past clients and their

reputations spread by word of mouth.

Poe has been practicing law since 1993, he says. A severance from

Delta Air Lines allowed him to take the risk of starting his own practice.

"I had a year to figure out the business from the time I planned

to leave," adding that he's much more fulfilled in his own venture.

Some of the relationships he's built over the years are with out of

state, but Georgia-barred, escrow attorneys with whom he's teamed

up on closings. He's says that the law allows borrowers to choose

their own attorneys, but that is rarely done. That's why the relationships

he's built with bankers and other attorneys has been crucial for

the success of his business.

Poe points out that he's always willing to work with additional

attorneys and have them come watch how he and Ponder conduct

closings. "We can teach them," he says.

One attorney who has a track record for training attorneys is Jamie

S. Cox, an Atlanta native and undergraduate degree holder from

Columbia University and a J.D. from The University of Pennsylvania

Law School. She has worked with Poe & Associates since 2012, coordinating

the real estate closing division. She's the one who assigns

the closings, makes sure they are completed and compliant. "At any

one point, there are several closings at once," she says, referring to

herself as a juggler. "I am like an overarching COO. I get the paperwork

from the attorneys, especially if we have new attorneys, so I can

make sure it's all done properly and make sure everything goes to the

funder who then funds the loans."

Cox says the two things she really enjoys about the work is meeting

a lot of people and "helping to build a business from the ground

up and seeing it prosper. It's a great feeling."

Contact: Brian Poe & Associates,Attorneys, PC

(404) 880-3318

www.thesigningattorney.net

8 | www.atlantaattorneymagazine.com
---
By Jan Jaben-Eilon

Well-known legal recruiter Barbara

Goldman compares her

challenge of finding the right

candidate for the right law

firm to a puzzle. "I love to meet the candidates

and help figure out where they should

go. It's like a jigsaw puzzle. You have to get

the pieces to fit just right."

To make that fit successful, Goldman –

now Consultant for Esquire Connect, LLC

– carefully vets every candidate, finding out

what makes the person unhappy with their

current employment. "Usually it's more

than just money. Sometimes it's the expectations

of the law firm, or the support given

by the law firm," she explains.

Just as important as knowing the candidate,

Goldman carefully acquaints herself

with the hiring firm. "I talk to both partners

and associates to learn the good and the bad.

I want to know the culture of each practice

group, not just the culture of the law firm.

It's a two-sided deal and I must make both

the candidates and the law firms happy. I

don't want to make a mistake on either side.

I want the candidate to be happy and stay

with the firm."

Less than a year ago, Goldman took her

long experience in legal recruiting to Attorney

Brian Poe, after a short hiatus from

the business. While his legal recruiting firm

Esquire Connect LLC, a member of the National

Association of Legal Search Consultants

("NALSC"), has made many partner,

associate and in-house placements, Poe saw

the acquisition of Goldman as his company's

biggest move to date because, "Her experience

is unmatched. She actually started

recruiting in the telecommunications industry

in about 1990, before the extensive

mergers made recruitment more difficult. In

1993, she started working for a legal recruiting

company in Atlanta and then started her

own firm, BG Search Associates, in 1999.

From that time on, I believe she was among

the top 2 or 3 recruiters for women and minority

partners candidates in our region."

"I had worked for a friend, Gail Koch at

Comsearch, in New York. She taught me everything

about recruiting," says Goldman.

"There's a wonderful legal culture in Atlanta

compared to New York. The in-house

departments are wonderful here, very positive.

It's easy to bring people from out of

town into these corporations. It's easier and

friendlier here and the large law firms are

most flexible. They're still demanding, but

with a smile."

During her career, Goldman handled a

great deal of overseas recruitment as well.

She had clients who were American corporations

with overseas locations, especially

Esquire Connect

in South Korea and China, and she traveled

frequently to meet overseas clients. Recruitment

for overseas jobs differs from domestic

recruiting, she notes. "The candidate has to

have a desire for the experience and to be

able to fit in and be okay with an extended

overseas stay of three to five years."

The whole recruiting scene has changed

since Goldman started in the business, she

reflects. "Vetting of candidates is easier because

of the Internet, for instance. There

are different and better background checks.

Today's candidates now place more value

on quality of life than just financial success.

They're looking for more balance. Fortunately,

the firms are also more flexible. I really try

to make a good deal and make sure people

are happy on both sides."

When she owned BG Search Associates

she became certified as a Woman Owned

Business, and eventually became a Board

Member of the Women's Business Enterprise

National Council. Her certification and activities

on the WBENC Board enabled her

to meet with influential corporate executives

and diversity managers. "They really guided

me," she says, naming off several of Atlanta's

largest corporations as being particularly

helpful to her.

Goldman has long had a glowing reputation

for her ability to place women and minorities,

which she acknowledges. But she

adds that today, "it's not that big a deal to

have women and minority candidates, like

it was back in the 1990s. In the Atlanta legal

scene, there are now many women and minority

partners."

She now describes herself as a Consultant

to Esquire Connect LLC, where she joins

lawyers Brian Poe, Jamie Cox, and Sharece

Naomi Thomas. "I don't have my own client

base anymore, but Brian has amazing contacts.

He used to work for me and he was terrific,

the best. He has a great team. Everyone

with him is a lawyer. When I started, none of

the people were lawyers; now I'm the exception.

I'm 70 years old. I've been very lucky in

my career. A lot of everything is having the

right mentors I've been lucky to have such

mentors and now I want to give back some of

the experience that I've gained over the years

to the recruiters in Brian's firm."

Visit: www.esquire-connect.com

for further information

VOL. 6 ISSUE 3 ATLANTA ATTORNEY MAGAZINE | 9
---
Photo by Jeremy Adamo

ATTORNEYS

TO WATCH

MAGAZINE

IN 2017

SERIES

It's not about winning when you're

talking about family law, says Thad F.

Woody, a partner with Kessler & Solomiany,

which specializes in that dicey,

difficult, often damaging divorce world.

"What does winning even mean to a family?

If there are kids, you want them well adjusted;

if there are parents or in-laws, you want

to be able to continue to talk to them. A

family needs to stay intact somewhat when

children are involved."

Being a family law attorney thus also

means being a little bit of a therapist. "We enter

that role often," he says, "but we also have

a list of great therapists (to offer clients)." Too

often, he notes, clients are focused on bank

accounts, real property or retirement. "They

forget the big picture. As the attorney, we

can't get caught up in the emotion. Clients

10 | www.atlantaattorneymagazine.com

FAMILY LAW ATTORNEYS MUST LOOK AT

THE BIG PICTURE

By Elaine Frances

may think of winning in terms of dollars or

custody (of children), but it's not necessarily

what will make them happy. It's important

that attorneys provide realistic expectations."

That can prove to be challenging. "Clients

are malleable. They change under the

influence of family and friends. But it is

imperative to provide counsel from day

one," adds Woody who says in family law,

all cases are unique and unusual, ensuring

that the facts of each case "stick with you."

Certainly that's true in Kessler & Solomiany's

caseload. Among the high-profile

executives, celebrities and athletes who are

clients of the firm, are the women from the

TV series, "Real Housewives of Atlanta."

Through the years, the women may have

changed, but the issues they bring to Woody

and his partners remain the same: divorce

and pre-nuptial agreements. Other clients

come from the sports arena or music world,

especially now that the hip-hop and film industry

have blossomed in Atlanta.

"You don't have to live in Atlanta to find

love in Atlanta, have children, marriages

and divorces here," notes Woody.

"Atlanta has grown as a city and we have

a huge entertainment area as well as many

high-profile executives. What's different with

these clients is that they have a larger spotlight

on them. We hear all kinds of interesting

things that get repeated in the media. A lot of

people know these clients and there's always a

risk of gossip. We enter confidentiality orders

and seal the dockets, but things still leak and

we try to protect our clients."

The fact that Woody is now in a position

to protect his clients from the media is iron-
---
ic since when he was in college at the University

of North Carolina, he was deciding

whether to make a career in journalism or

in law. "When I studied journalism, it was

evolving from substantive reporting and

writing to sensationalism and faster deadlines,"

recalls Woody who lunches occasionally

with college friends at CNN which

is headquartered across the street from his

downtown office. "We have the same deadlines

with family law, but the idea of serving

a client is much more appealing than serving

a news agency. I try to keep my clients

out of the news."

"Whether our clients are red-carpet regulars or full-time parents,

they get the same type of high-end representation."

What is similar to journalism, however, is

its time demands. "It's challenging because

of the constant 24/7ness of it all now. With

the technology we all have, we're accessible

to our clients – and they're most available

on weekends, nights and holidays. I try to

give counsel at all times, but sometimes

I regret that I missed out on the days of

practicing law with only a typewriter and

a landline which also afforded attorneys in

that era to more easily disengage from the

practice when leaving the office. I would

not want to give up my technology now but

I do think attorneys and clients need to be

more mindful of life in front of them and

how they engage with people personally to

have more meaningful relationships. In the

divorce context, it is easy to be obstinate

and hide behind a keyboard but sometimes

those quick words can have a chilling effect

on the final outcome of a divorce and also

carry with a family for years to come. Two

summers ago, I went with some law school

friends to rural Sweden and it was the first

time without cell phone signals for three

days. It was delightful."

Yet, helping people in their time of need

is also what attracts Woody to family law.

"There's a feel-good component to helping

people," he admits. However, he stresses

that "patience," "a good basis in the law,"

and "kindness" are the most important

qualities for practicing family law. "Kindness

is probably unusual for a family lawyer

to say, but being kind to an opposing lawyer

helps later in your career. It's important

to be professional rather than smear into

someone's face when you're proven right."

Two words come to Marvin L. Solomiany's

mind when he thinks about Woody:

reliability and commitment. "Thad is one

of those guys that you can always count on

his word, no matter what the circumstances

may be. This applies to situations in and

out of the office. In addition, his commitment

to his cases is remarkable. Thad always

zealously represents his clients, while

at the same time making sure that he is

committed to explaining to them the pros

and cons of each particular decision that is

applicable to his/her case."

According to Randall M. Kessler, "Thad

is an organized, perceptive and detail-oriented

lawyer. But perhaps more important

is his ability to communicate with his clients.

He is responsive and his clients seem

to always appreciate his ability to listen to

them and to be there for him. As a former

chair of the ABA (American Bar Association)

Family Law Section, I am so happy

that Thad has picked up the mantle."

Indeed, Woody is active in the Atlanta

Volunteer Lawyers Association and he

teaches a family law course as adjunct professor

at the Georgia State University College

of Law. He charges that law schools,

in general, don't promote family law

sufficiently. "I have guided students who

think they want a desk job and some who

dismissed family law, thinking it would be

less fulfilling. The importance of family in

the institution of law needs to be stressed,"

he says. The advice he gives to law students

boils down to being consistent and thorough.

"Know what you're going to say be-

Photo by Jeremy Adamo

VOL. 6 ISSUE 3 ATLANTA ATTORNEY MAGAZINE | 11
---
fore you say it and know what the client will say before a judge. You

must do due diligence and be prepared."

Although Woody doesn't like grading exams, he says he loves

the interaction with law students. "They come with a sense of optimism,"

he smiles.

Kessler & Solomiany itself is a relatively young law firm, according

to Woody, comprised of attorneys with diverse backgrounds. "This

helps the client choose who they're most comfortable with. Some

clients want someone yelling at them and some seek more collegial

mechanisms. We have a very hard-working culture here. We get

feedback from other attorneys, but at the same time, both Randy

and Marvin allow us to develop our own styles," explains Woody.

Woody has been with Kessler & Solomiany for nearly 10 years.

"What interested me is that they represented high-profile and highwealth

clients which allows you to use and utilize different resources

to provide the best possible outcome for the client. That's good for

an attorney. We have different skill sets. Mediation and arbitration

can replace litigation, which is attractive because clients can reach

AT A GLANCE

Thad Woody

Partner

Firm Name

Kessler & Solomiany, LLC

Centennial Tower

101 Marietta Street, Suite 3500, Atlanta, GA 30303

Phone 404.688.8810

www.ksfamilylaw.com

Email: twoody@ksfamilylaw.com

Education

• B.A., University of North Carolina at Chapel Hill, 1996

-Senior Class President

• J.D., University of North Carolina at Chapel Hill, 2001

Clerkships

Chief Justice Sarah E. Parker, North Carolina Supreme Court

Admitted to Practice

Georgia, North Carolina and the Tribal Court of the Eastern

Band of Cherokee Indians

Community/Civic Involvement

• Adjunct Professor, Georgia State University College of Law

• At-large Council Member, American Bar Association

Family Law Section

• Co-Chair, CLE Committee of the American Bar

Association Family Law Section

• Author, Family Law Advocate

• Membership Committee, Atlanta Commerce Club

Professional Awards

• Super Lawyer by Atlanta Magazine

• Rising Star by Atlanta Magazine

• Legal Elite by Georgia Trend Magazine

• 10 of 10 ranking on AVVO

their endings on their own versus with a court. Not everyone can

afford that."

It was litigation, however, that drew him to law, he admits. "We all

enjoy going to court, but I do not think litigation is ever good for a

client, especially in a family law context. Of course, in some instances

we must go to court because the other side is obstinate, but most of

the time it's emotion and people trying to be right and that doesn't

get settled in court."

"I see high-profile women and men executives who you would

think would never shed a tear, cry. I see stay-at-home parents who are

meek and who have taken emotional abuse and their anger outshines

any other anger," reflects Woody. "Humans are complicated animals

and relationships compound that complication. In the end, each client

just wants to be loved. And if they've been betrayed, they've lost

a sense of trust. I hope I establish a sense of trust, but given that they

might have been married 20 or 30 years, their trust is shaken."

Even before Woody started practicing family law at Kessler & Solomiany,

when he worked for a large Atlanta law firm with little client

interaction, he says "friends and family came to me with questions

about law. In law school at the University of North Carolina School of

Law, I wanted family law, but where I grew up, people didn't think it

was specialized enough to make a living."

Woody grew up in the sleepy rural Great Smoky Mountains of

North Carolina. Both parents were educators, with his mother working

at the Department of Public Instruction and his father a high

school civics teacher. "It was important for them that I, as their only

child, would have a good education. In general, the area was not well

educated, but it had a lot of smart people."

Before jumping to the totally different world in Atlanta, Woody

clerked for North Carolina Supreme Court Chief Justice Sarah Parker.

"She had the biggest influence on me. She was the hardest worker

and had a curiosity for the law and commitment to community. She

was the only female member of the court then, and we were by far the

hardest working chamber. The lights went on first in our chamber in

the morning and the last to be turned off at night. We would never be

accused of not being hard working."

Although Parker retired at the mandatory age of 72 after being on

the high bench for 21 years, Woody still stays in touch with her. "We

meet yearly for a hike in the Smokies. She loves that part of the world

and I enjoy sharing it with her and other friends because it offers so

many great hikes and beautiful views and I know it well because I was

raised there and still have family there."

Woody's world has changed dramatically since his early days in

North Carolina, and now he sees dramatic changes coming in the

practice of family law. "Because of the June 2015 U.S. Supreme Court

ruling in Overgefell v. Hodges, allowing same sex marriages throughout

the country, attorneys in family law must be more accessible to

LGBT clients. We now see clients who have been together for a long

time and have accumulated many possessions, so they need pre-nup

agreements before marriage. In general, we see more pre-nups now

because people are waiting until later in life for marriage; they have

separate assets. Also, clients have friends whose parents were divorced

and they don't want to go through that themselves."

Another change Woody sees coming in family law is a huge surge

toward arbitration and mediation. In any case, "Whether our clients

are red-carpet regulars or full-time parents, they get the same type of

high-end representation," he states.

12 | www.atlantaattorneymagazine.com
---
ATTORNEY

MARKETING SOLUTIONS

Let us build your corporate identity while you develop your practice.

From custom logos to brochures and business cards, our professional

designers and copy writers will steer your marketing solutions.

• Professional and Creative Copy Writers

• Award Winning Graphic Design

• Nationally Published Photographer

• Exceptional Print Quality

Custom Logos | Business Cards | Stationary | Brochures | Attorney Bios

Annual Reports | Advertising | Invitations | eNewsletters | Display Boards

CD Packaging | Custom Notepads | Booklets | And More

770-694-1183

Call today for a free consultation

info@atlantaattorneymagazine.com

VOL. 6 ISSUE 3 ATLANTA ATTORNEY MAGAZINE | 13
---
ATTORNEYS

TO WATCH

MAGAZINE

IN 2017

SERIES

L-R Nicholas Smith, Andrew Beal, Ed Buckley, Rachel Berlin, Brian J. Sutherland

BUCKLEY BEAL, LLP

The Go to Plaintiff's Law Firm

By Jan Jaben-Eilon

Prominent on Edward D. Buckley's office wall, along with his

Emory University School of Law diploma, is a photograph

of Robert F. Kennedy, a sketch of Albert Einstein and a small

drawing of the late John Sirica, Chief Judge for the United

States District Court in the District of Columbia who presided over

the Watergate trial. The drawing was sketched by John Ehrlichman in

his Watergate trial notebook. The former adviser to President Richard

Nixon subsequently went to prison for conspiracy, obstruction of

justice and perjury.

Not everyone knows that Ehrlichman moved to Atlanta after he

was released from prison. Years later, he was working for a company

in a non-lawyer position. He hired Buckley to represent him in an age

discrimination case after he was fired. The case was settled outside

the court. Ehrlichman was happy with the result and gifted the sketch

to Buckley.

As far as Buckley - now managing partner at Buckley Beal - is concerned,

Ehrlichman was just one of the many interesting clients he has

represented over his years as an attorney specializing in employment

and civil rights law. "I've represented a number of news personalities,

war correspondents, as well as a lot of executives about contracts

and separations. I am never, ever bored," says the Atlanta native who

has been ranked as one of "America's leading labor & employment

lawyers" by Chambers and Partners, as a "SuperLawyer" by Atlanta

Magazine and as a member of Georgia's "Legal Elite" for several years

by Georgia Trend Magazine.

Buckley attributes his choice of careers to being "good at reading,

writing and running my mouth – all things lawyers need," he laughs.

14 | www.atlantaattorneymagazine.com

Photo by Jeremy Adamo

But he says he fell into employment law six years into his practice, after

he faced off against a highly skilled plaintiff 's attorney who later became

a U.S. District Court Judge. After their case was settled, the lawyer

referred plaintiff cases to him, which he found that he preferred.

"I like representing individuals and helping them vindicate their

rights. It's more interesting than representing companies. I like representing

the underdog, people who feel voiceless. Companies generally

have a voice," he explains. "I have represented steelworkers, hotel

laundry workers, dock workers. We run the gamut. One time, I represented

a restaurant worker and after I helped him, I thought this

guy was going to wring my hand off at my shoulder. Most people I

represent aren't famous celebrities."

Currently, he's representing an assistant principal in a religious

discrimination case against a Cobb County School district and

Asian-American, Latino, and Black voters in Gwinnett County in a

voting rights case. "I have a low threshold for fun. I have fun at work.

I work with interesting, smart people."

One of those people is Andrew Beal, with whom he has been

friends since either the third or fourth grade, depending on which

one you ask. Their firms merged in July 2015, with Beal bringing his

business litigation practice to the firm. "It's good to be friends with

your law partner," says Buckley. Beal represents business owners and

shareholders in a myriad of business situations, including breach

of contract, buying and selling of businesses, contract disputes and

mergers and acquisitions. Recently, the firm launched its mediation

practice under the leadership of partner Nicholas P. Smith. Buckley

says that the firm may add other areas of practice in the future. "But
---
we won't become a mega-firm. I know everyone's name here and I want it to

stay that way."

Indeed, he peppers his conversations about his law practice, and his life,

with the names of his junior partners, associates and staff. He explains that

when he is hiring for his firm, he looks at "whether this person is someone

I'd like to spend a lot of time with, someone who could potentially become a

partner. They have to be good writers and I ask whether they are a person I

can see carrying a case to court, and do I feel they have the moral principles

I want our firm to reflect. Can I trust their word?"

Notably, when asked what characteristic is most important for an attorney

to possess, he responds, simply, "Credibility. It's very important for a lawyer

to be truthful. You have to be credible with the courts and opposing counsel.

If your reputation is for shading the truth, then people won't believe you.

Judges know which lawyers they can trust."

It's also essential for attorneys to contribute to their communities, Buckley

stresses. "You need to give back if you are going to be a lawyer. You will be

working in a community and should be doing things for free sometimes. Not

everyone can afford an attorney." He suggests that attorneys find their "pro

bono sweet spot" that will excite them. "The worse thing is to be a slave to

billable hours. Then you just become a bean counter."

Buckley discovered the "sweet spot" that whetted his appetite is water.

Winner of the IEEE Gold Humanitarian and Pace Award in 2009, named

as an Ambassador for the Poor by nonprofit Food for the Poor in 2014 and

winner of the 11 Alive Community Service Award in 2015, Buckley is the

founder of the non-profit water charity, Water Life Hope, which helps people

in the Caribbean gain access to clean drinking water. Combining fundraising

and his own money, he has helped raise more than $1 million to build

more than 330 wells and provide more than one-half million people with

drinking water. "We're trying to install water systems so kids can grow up

healthy," he says.

"I started in Jamaica and Honduras, but then I talked to relief workers and

asked, what is the most economically disadvantaged country in this hemisphere.

Haiti has a combination of bad climate, harsh geography and bad

politics. I believe that water is a cornerstone human right," explains Buckley.

The charity has a low overhead both because it works with an existing NGO

(non-governmental organization) and because it operates out of his law firm.

Many of his colleagues travel to Haiti and work with him there.

Fighting for the underdog comes naturally to Buckley. "My parents were

involved in the labor movement," he says. "My dad, Ferdinand Buckley, frequently

worked as a civil rights attorney. He once resigned from an attorneys'

organization because they didn't allow membership to Maynard Jackson

(who later became Atlanta mayor) and William Alexander (later civil rights

attorney, judge and Georgia legislator). Our dinner table was a platform for

political conversations. I rode with my dad and passed out flyers in support

of Andy Young for Congress. When I was run off of porches, he told me to

just go out and distribute more flyers. My mother was also involved in human

rights and when my parents were well into their seventies, they were arrested

for marching against the School of the Americas in Columbus, Georgia."

Others who inspired Buckley along the way were English and political science

high school teachers who insisted he learn how to write. An English-literature

graduate, Buckley is a voracious reader. "I read until I can't keep my

eyes open." He also just finished writing a novel.

Buckley cites attorney John David Jones as another important mentor in

his life. "He was the opposite of me politically, but he was a great story-teller.

He would talk to juries as if he were their grandfather. I feel like I'm a product

of some wonderful people, many of who are around me now," adds Buckley,

who obviously still learns from and thrives from people surrounding him.

"We're all a work in progress." Introspectively, he adds: "I'm late everywhere

I go because I enjoy wherever I am!"

AT A GLANCE

Founding Partner, Buckley Beal, LLP

Promenade, Suite 900, 1230 Peachtree Street NE

Atlanta, GA 30309

Phone: (404) 781-1100

www.buckleybeal.com

Firm Composition

• Senior/Managing Partners: Ed Buckley

and Andrew Beal

• Junior Partners: Brian Sutherland, Nicholas Smith

and Rachel Berlin

• Associates: Thomas J. Mew IV, T. Brian Green,

Pamela Palmer, Amy Cheng, Isaac Raisner

• Of Counsel: Michael Kramer

• Staff: Fatisha Martinez, Glenda Puckett, Greg Lash,

Jemetria Dudley, Karen Lucarelli, Linda Larson,

Michael Glosup, Pam Rymin, Saida Latigue and

Steve Henricksen

Practice Areas:

Employment and Business Law

Community/Civic Involvement:

For the last twelve years, Ed has been involved in raising

funds and coordinating projects with NGOs to put

potable water systems in place in various locations

in the Caribbean including Haiti, Jamaica, Honduras

and Nicaragua. To date, he has raised over $1,000,000,

including, in part, fees he has earned in employment and

civil rights cases. His non-profit, Water-Life-Hope, Inc.,

has built water systems that serve over 450,000 people.

Presently, many of those systems are serving people

displaced by the earthquake and hurricane in Haiti.

Pro-Bono Activities:

Approx. 2-3 pro-bono cases/year

Professional Affliations and Honors

• IEEE Gold Humanitarian and Pace Award (2009)

• Atlanta Bar Association Professionalism Award (2009)

• Martindale-Hubbell Peer Review Rating

of "AV" Preeminent

• 11 Alive Community Service Award (2015)

• Food for the Poor: Ambassador for the Poor

Award (2014)

• Georgia Super Lawyer (2005 through 2017)

• Leadership Atlanta Class of 2013

Professional Memberships

• State Bar of Georgia (Labor and Employment Section)

• Atlanta Bar Association (Labor and Employment

Section; Past Chair, Secretary, Treasurer)

• Georgia Affiliate of the National Employment Lawyers

Association (Past Chair, Secretary, Treasurer)

• National Employment Lawyers Association

• American Bar Association (Labor and Employment

Section)

• Federal Bar Association

(Labor and Employment Section)

• Fellow of the College of Labor and

Employment Lawyers

• Georgia Trial Lawyers Association

VOL. 6 ISSUE 3 ATLANTA ATTORNEY MAGAZINE | 15
---
INTERVIEW WITH

Judge Michael J. Newman

sues that impact the practice of federal lawyers and the courts;

provides opportunities for scholarship and education to the profession;

delivers opportunities for judges and attorneys to professionally

and socially interact; and promotes high standards of

professional competence and ethical conduct. The mission of the

federal bar association includes serving not just the interests of

federal judiciary and the federal practitioner, but also the interests

of the community that they serve.

What is your legal background?

Since 2011, I've been a Federal Judge in Dayton, Ohio, where I sit

in the U.S. District Court for the Southern District of Ohio. I graduated

with honors from American University's Washington College of

Law in 1989, after which I was a law clerk to a U.S. Magistrate Judge

and a Sixth Circuit Court of Appeals Judge. Prior to my appointment

to the bench, I was partner at Dinsmore & Shohl, a large firm in Cincinnati,

where I started a pro bono program and was honored as a

Best Lawyer in America in labor and employment law. My full bio is

located at http://www.ohsd.uscourts.gov/BioNewman.

Tell us about the Federal Bar Association?

The Association consists of more than 19,000 federal lawyers, including

1,500 federal judges, who work together to promote the sound

administration of justice, quality, and independence of the judiciary.

Through its multifaceted programs, the FBA advocates on federal is-

Tell us about the National Community Outreach Project?

It's very important work. This is the second year the FBA is

undertaking this effort. The Federal Bar Association's mission

statement includes a commitment to the communities in which

their members serve. This year, FBA chapters in more than 25

districts throughout the country are devoting the month of

April to doing good work in their communities. We are fortunate

to have the support and funding of the Foundation of the

Federal Bar Association to allow these programs to reach communities

in their districts.

The FBA has an outreach program called the National Civics

Initiative and Resources for Civics Education in an effort to promote

learning about civic matters, what can you tell us about this?

This program provides FBA members with quality educational

material to take into any middle or high school classroom in

the United States to educate students on civic matters. The FBA's

Civics Initiative also seeks to increase the knowledge of civics

and the judicial system in middle and high-school students

and other communities by bringing them into the courthouses,

meeting with lawyers, observing court proceedings, and talking

directly to federal judges. The goal is to encourage nationwide

participation. With material ranging in content from "Pathways

to the Bench" to the "Bill of Rights," students are inspired

to learn more about the American judicial system.

What was the goal of the Civics Essay Contest and The

Nomination of Teachers for Excellence in Civics Education?

This year's essay contest posed the question: "What Does an

Impartial Judicial System Mean to Me?" This essay is an opportunity

for the young people of this nation to voice their opinions on

the judicial system in a constructive and rewarding way.

What are the winners of the essay contest awarded?

The middle school category awarded $1,000, $500, and

$250 for first, second, and third place respectively. The prizes

are doubled for high school winners, with first place receiving

$2,000, second place receiving $1,000, and third place receiving

$500. Writers of the first place submissions in each category

were rewarded with a trip to Washington, D.C. accompanied

16 | www.atlantaattorneymagazine.com
---
y one parent/guardian, with the organization

providing funds for travel. This

trip coincided with the Federal Bar Association's

Midyear Meeting on Saturday,

March 18, 2017.

Why is Civics Education important?

In these times when communities, especially

youth, have lost confidence in

our judicial system, the FBA's outreach

programming seeks to instill confidence

in the judicial system in middle and highschool

students and other communities by

bringing them into the courthouses, meeting

with lawyers, observing court proceedings,

and talking directly to federal judges.

What made you focus on this topic?

Is there a personal connection?

Several years ago, I was personally asked

by Jim Duff, the Director of the Administrative

Office of the U.S. Courts, if I would

consider working on a national civics initiative

during my tenure as FBA president.

I thought it was an honor to be so asked

by the Director of the A.O., and I believed

that the FBA was the right organization to

take on this effort to a national audience

of lawyers and students. Frankly, we have

succeeded beyond everyone's imagination

– we now have thousands of children who

will have a better understanding of civics,

and a better understanding of our Federal

Courts, as a direct result of this nationwide

civics program. It is a great privilege to

lead this program as a Federal Judge.

Where can elementary students, high

school students, educators and attorneys

and judges across the country find

information on how to get involved in the

FBA outreach programs?

Educational materials are available on the

Federal Bar Association's website. Lawyers

and judges can access lesson plans for audiences

ranging in presentation time from

fifteen minutes to three hours. For more information,

visit www.fedbar.org/civics.

Tell us about the FBA's Annual Meeting

and Convention that will take place in

Atlanta in September?

The Federal Bar Association is coming to

Atlanta on September 14-16! Besides our

association's Annual Meeting and other

business meetings, the Convention features

more than 20 continuing legal education

sessions on a wide variety of topics—something

for everyone. There are two networking

receptions hosted by the FBA Atlanta

Chapter: one at the Atlanta History Center;

and one at the National Center for Civil and

Human Rights. To cap off the week's events,

the Presidential Installation Banquet will

see Kip Bollin of Thompson Hine inducted

as the 2017-2018 FBA National President.

We encourage all attorneys and judges to

join us for some or all of these events; more

information is available at www.fedbar.org/

FBACon17.

Inaugural FBA Civics Essay Contest winners recognized at the FBA Midyear Meeting: (Left to right) Randolph Scott,

High School Essay Winner Isabelle Scott, FBA President Hon. Michael J. Newman, FBA Executive Director Stacy King,

Luncheon Keynote Speaker Jeffrey Rosen of the National Constitution Center, Middle School Essay Winner Alexander

Ashman, Jon Ashman, and FBA Government Relations Counsel Bruce Moyer.

VOL. 6 ISSUE 3 ATLANTA ATTORNEY MAGAZINE | 17
---
E-Discovery

5 Steps to Reducing E-Discovery Costs:

1. Treat E-Discovery as a Business Process

Like other areas of the organization, treat e-discovery as a

standard business process and ensure all activities are carefully

measured, centrally managed and consistently optimized.

2. Integrate Your E-Discovery Software

and Enterprise Systems

Ensure that your e-discovery technology can communicate

with your other enterprise systems, such as HR, asset management

and matter management technologies, which eliminates

manual data migration and ensures that everyone has access

to the most up to date information.

3. Consistent, Automated Legal Hold System

Develop a true legal hold system that preserves the right

data and enables you to prove it to a judge in the event that

the hold process is challenged down the road.

4. Proactively Limit the Amount of Data that is Preserved,

Collected, Processed and Ultimately Reviewed

Develop processes and invest in technologies that target

only relevant information at the outset of a matter to

substantially reduce preservation, collection, processing and

review costs.

5. Make the Review Process "Intelligent"

Leverage emerging technologies and expertise to streamline

the review process and reduce your dependence on traditional,

document by document human review.

5 Steps to Transforming E-Discovery

into a Business Process:

1. Define Roles

Formally define roles and responsibilities and build them

into the e-discovery workflow as to what will be delivered,

how, when and by whom to prevent mistaken assumptions

that are ultimately proven wrong and cause project delays or

failures.

2. Review Current State/Gap Analysis

In order to think more strategically about how to address

each e-discovery phase, review the current state of the legal

process and technologies being used to determine your organization's

maturity level.

18 | www.atlantaattorneymagazine.com

3. Develop a Remediation Plan

Once the improvements have been identified, develop a remediation

plan that incorporates how to put them into eff ect

and be sure to include the necessary approvals from executive

sponsors.

4. Develop E-Discovery Guidelines

Create a set of business guidelines that describe step-bystep

the actions taken and roles and responsibilities of all

stakeholders — legal, IT, records management — that detail

how your organization treats e-discovery.

5. Execute the Plan

The final step is to execute the plan for new projects and

then begin measuring and improving the quality of project

outcomes. Start with a test drive, such as a legal hold, and

then adjust the process and roll out to other phases of the

process.

4 Steps to Successfully Integrating Technologies:

1. Analysis

The integration process starts with understanding the true

information flows in your organization and the nature of

various data sources with respect to their governance and

discovery requirements. This will ensure that the scope of the

project is clearly defined and that the right technologies are

being accounted for.

2. Design

An integrated system is not built in a day. During the design

process, you must take the time to define requirements,

establish roles and responsibilities, identify risks and set goals

that can be assessed at the conclusion of the project.

3. Implementation

The implementation phase entails executing on the design

plan, while recognizing that adjustments to the project will oft

en need to be made to account for unforeseen obstacles.

4. Testing

The final step is thorough testing to ensure that the integration

is producing required results. Assume that if it hasn't

been tested it doesn't work and don't wait for a big case to

discover an issue that could undermine the defensibility of

your e-discovery process.
---
Creating a "Reasonable" E-Discovery Process:

1. Standardize and Automate the Legal Hold Process

The notice should be easy to understand and include clear,

unambiguous instructions. Beyond the initial notification,

reminder notices should be sent as well on an automated

schedule to ensure custodians remain educated about their

obligations and have opportunities to ask questions.

2. Track Custodians

Define processes for tracking custodian acknowledgments

of legal holds and triggers for sending repeat notifications to

non-responsive custodians. You also must account for employee

status changes, such as departures or extended leaves of absence.

3. Collect Highly Relevant Data

Depending on the nature of the matter, consider immediately

collecting highly relevant data from key custodians.

Another important consideration is accounting for those data

sources, such as structured databases, that may hold valuable

ESI but that can't necessarily be tracked back to an

individual custodian.

4. Document Everything

A reasonable process is punctuated by very clear

and detailed documentation of all steps taken, along

with the reasoning behind key decisions, such as

whether or not data was collected from a key custodian

and why.

4 Key Steps to Developing

an Information Governance Program:

1. Audit and Assess the Degree of Risk in Your Data

Environment

The assessment must focus on the level of risk

present across various data repositories. The goal

here is to identify those data sources that contain the

highest levels of legal exposure and make sure they

are a primary focus of subsequent IG policies and

processes.

2. Prioritize Initial IG Activities

The data environment assessment should drive the

prioritization of initial IG activities. Every organization

has its own unique set of challenges, and the prioritization

of IG activities should be reflective of the specific

data environment. IG plans aren't created overnight, so it's critical

to address the most pressing issues first.

3. Create Policies and Processes to Address Retention,

Access, Use and Storage of Data

A sound IG strategy includes clearly defined policies

regarding who has access to certain types of data, where that

data is stored and how long it is kept. The IG plan will be

inherently weak if it doesn't involve cross-functional input

from all key stakeholders, including representatives of key

business units.

4. Apply Technology

One way you can align your IG and e-discovery processes

is by integrating certain technologies, such as your HR and

legal hold systems. Data classification and categorization

tools can also be utilized to deliver intelligence about individual

data repositories by extracting key information and

content patterns.

Submit free content for

next issue, Movers & Shakers

• New Hires

• Promotions

• Honors and Awards

• Board Appointments

• Association Elections

• New Office Location

• Mergers & Acquisitions

• Speaking Engagements.

Contact: Bill McGill

404-229-0780

mcgill@AtlantaAttorneyMagazine.com

www.atlantaattorneymagazine.com

VOL. 6 ISSUE 3 ATLANTA ATTORNEY MAGAZINE | 19
---
Food for Thought

"EXPLANATION"

By Lee LeFever

What Is an Explanation?

For most of my life, I never considered

the definition of the word

''explanation''—and I doubt I am

alone in this. We all explain things

so often, why would we need to define

something we do every day? The fact is,

however, that most of us take explanation

for granted. For many people, it's

just something that happens. Someone

asks a question, we answer it in the form

of an explanation. We do not often step

back and think about what makes an

explanation an explanation or how we

could approach it differently. Our explanations

happen without much planning

or editing. It's a little like dancing.

Your grace on the dance floor may mean

that you take dancing for granted: it just

happens when there is a rhythm. But

even the best dancer can only get so far

without defining specific dances, such as

what makes the samba the samba and the

waltz the waltz. These definitions create

a standard form and shape that can be

honed and refined. Only by defining the

standards of the dance can we hope to

improve it.

We'll begin to define explanation below

by first looking at what is NOT an explanation.

This will allow us to see it not as a

Lee LeFever is the founder and chief explainer of

Common Craft, LLC, a company known around the

world for making ideas easier to understand via video

explanations. Visit: leelefever.com

20 | www.atlantaattorneymagazine.com

simple shake of the hips, but as a dance that

has a deliberate form, intent, and emotion.

What Is Not An Explanation

The following is a list of the various ways

we can relate ideas and information. Although

we will define explanation a bit later,

it is useful to think about what is not an

explanation. For instance, if explanation is

the samba, these are some other dances:

Description—A description is a direct

account of an action, person, event, and so

on in which the intent is to help someone

imagine something through words. For

example, if I describe my coffee mug, my

intent is to provide details that help you

picture it. A description may relate that a

mug is white, four inches tall, has a single

curved handle, and is made of ceramic.

Definition—A definition is a description

of the precise and literal meaning of

something. A definition is meant to make

clear exactly what something means. If I

define a word, I am providing statements

that help you see the exact meaning of the

word. I might define coffee as a beverage

that is made from roasted and ground

seeds of the coffee plant.

Instruction—An instruction is a direction

or order to do something. The intent

of instruction is to make clear what is expected

and how to proceed. If I give you

instructions on how to make coffee, I am

laying out the exact process or sequence

of events that are required to achieve the

desired outcome. Instructions may be related

in short sentences such as: Insert filter

into coffee maker. Pour ground coffee

into filter. Pour water into coffee maker

reservoir. Press start.

Elaboration—An elaboration is a presentation

of information with detail, with

the intent to provide a comprehensive

and rigorous look at a concept, idea, theory,

and so on. If I elaborate on the core

concepts of coffee production, I will try

to cover every detail. If I elaborate on

the farming of coffee, I may describe the

specific content of the soil in which it is

grown, how to test the soil, and what levels

of nitrogen will produce the best product

for a specific geographic region.

Report—A report is a spoken or written

account of an event and is intended to

relay facts and details to others. If I visit

coffee plantations in Colombia, I will

report my experiences upon my return.

This may appear in the form of a news

story or magazine article and relate an account

such as: ''The moment I arrived at

the plantation, I was offered a sample of

their finest product, which I drank with

joy. The company roasted the beans just a

mile away, and you could smell the roasting

beans in the air.''

Illustration—An illustration is an example

that serves to clarify an idea. The

intent of an illustration is to help make an

idea more real by providing an example.

I might say that the size of the plantation

is an illustration of the coffee company's

power in the region.

Of course, this doesn't mean

that these communication forms

have no role in explanation.

Quite the opposite, in fact; they

could all contribute to improved

explanations. I list them simply

to show that explanation is one

of many communication forms,

each with its own definition.

Now we can look specifically at

the definition of explanation.

Defining Explanation

Let us start with a formal definition.

Explanation, according to

Merriam-Webster, is ''the act or

process of explaining.''

OK, so maybe that's not very

helpful. We obviously need to

use a slightly different word.

Here is the Merriam-Webster

definition of explain as a verb:

''To make known; to make plain

or understandable.''

We can deduce from this

that an explanation is an act or

process that makes something

known, plain, or understandable.

That is pretty simple and

straightforward. Personally, I am
---
We do not often step back and think about what makes an

explanation an explanation or how we could approach it differently.

Our explanations happen without much planning or editing.

fond of the current Wikipedia version

(Wikipedia, 2012): An explanation is a set

of statements constructed to describe a set

of facts which clarifies the causes, context

and consequences of those facts.

To put it into the form

we used above:

Explanation—An explanation describes

facts in a way that makes them understandable.

The intent of an explanation

is to increase understanding. If I explain

coffee roasting, I am clarifying the facts

and making the ideas more understandable.

For example, an explanation may

highlight the role of heat in giving coffee a

distinctive color and flavor when roasted.

As you can see, explanation is different

from the other examples above, especially

in intent. Explanations make facts more

understandable. It seems to be that simple,

but is it? As we'll see below, there are

a number of nuances and ideas that make

explanations a particularly potent form of

communication.

Explanations Require Empathy

Every once in a while, I encounter

someone who is a natural explainer,

whose approach to communication naturally

jibes with many of the points illustrated

here. These people seek out unique

and helpful ways to explain ideas to others.

Sometimes, the best are teachers and

journalists who combine their natural

communication style with a focus on the

professional standards of their profession.

When I meet one of these people, I look

for common traits and ask: what do great

explainers have in common?

In a word, it is empathy. Great explainers

have the ability to picture themselves in

another person's shoes and communicate

from that perspective. A great example of

this is offering driving directions. From my

unscientific research, natural explainers

are better than average at giving directions.

Why? My guess is that they can account for

the experience of approaching a location

for the first time. They are able to block

out what is already familiar to them and

instead focus on what the driver is likely to

see at each turn.

And so it is with explanation. Creating

a great explanation involves stepping

out of your own shoes and into the audience's.

It is a process built on empathy, on

being able to understand and share the

feelings of another. Only by seeing the

world through the windshield of a driver

in a foreign land can we ever hope to help

them feel at home.

VOL. 6 ISSUE 3 ATLANTA ATTORNEY MAGAZINE | 21
---
Mediation

By Jennifer Grippa

When a construction project

goes awry, costs can

quickly escalate given the

number of stakeholders,

insurance policies, and third-party claims

involved. But most construction disputes

can be resolved without the need

for protracted litigation. With narrow

profit margins, many construction companies

do not have the appetite for costly

and time-consuming litigation. Implementing

these simple strategies for your

next mediation will best position your

client's dispute for a successful settlement

and you for one happy client.

Early Mediation

Mediating a dispute early, even before

litigation ensues, can keep time-sensitive

projects moving, restore working relationships

needed to complete a project,

and has a positive impact on a project's

Jennifer Grippa, Esq.

Miles Mediation & Arbitration Services

6 Concourse Parkway, Suite 1950

Atlanta, GA 30328

Tel: +1 678 320 9118

Fax: +1 404 389-0831

Email: jgrippa@milesmediation.com

22 | www.atlantaattorneymagazine.com

bottom line. In fact, there is little reason

not to mediate before time, money, and

energy is invested in a lawsuit. Mediation

can be an opportunity to get more information

about a dispute, size up the opposing

party, and better assess the strengths

and weaknesses of the case before embarking

on a path to the courthouse.

While a candid exchange of facts and

records can be helpful, discovery does

not need to be complete before the parties

mediate. Information you learn during

mediation might lead you to discover

new witnesses or third parties that should

be subpoenaed. Strategically, it may be

better to mediate well before the close of

discovery to allow sufficient time to complete

discovery and adequately prepare

for trial.

Coverage Disputes

Construction disputes often involve insurance

claims and if there are coverage

disputes at play, consider whether there

is an advantage to resolving those before

mediating. Having closure on coverage

will impact settlement. If resolving coverage

is not feasible, a coverage opinion can

be a powerful tool in creating settlement

leverage. Where there is no coverage, it

can seriously impact the parties' willingness

to compromise and test their resolve

for litigating the case.

The Mediation Brief

Do not underestimate the power of a

persuasive mediation brief. This is a rare

opportunity to communicate directly to

the adjuster without the filter of your adversary.

A bound, polished and professionally

prepared package with a thorough

analysis and supporting documents sends

a message to the opposing counsel and insurance

company that you are prepared,

confident, professional, and will be powerful

at trial. Anticipate your adversary's

points and address those as well. Send it

one to two weeks in advance to give the

adjuster time to analyze it. Your trial experience

and track record will be considered

in the analysis of whether to settle.

A well-prepared and professional brief

demonstrates your experience, professionalism,

and confidence, and will create

leverage for your client in getting the best

settlement possible.

Prepare your client

Client readiness to settle is key. Talk

with your client not just about the value

of the case, but also your mediation strategy.

Make sure the client understands

some demands or offers may be extremely

high/low and there will be times when

positions need to be compromised. The

more prepared your client is, the less

likely they are to experience anger or discouragement

with the process.

Advise them what to expect from your

adversary. Avoid surprises and make sure

your client knows in advance what the

opposing counsel will likely say. An antagonistic

joint session does not bode well

for an amicable resolution, but if your client

is well prepared, their adverse reaction

will be tempered.

Create a plan in advance

Where multiple defendants are involved,

counsel should talk in advance

and try to coordinate a plan. Discuss

whether the defendants should negotiate
---
as a group or make a joint offer of settlement.

See if an agreement can be reached

beforehand on a contribution percentage.

Should plaintiff make one demand to the

entire defendant group and let the defendants

divide it up? Using this strategy

can at least advance the process and get

the offers moving where there are several

parties all disputing liability.

Pre-Mediation Caucus

Have a pre-mediation call or meeting

with the mediator. While many litigators

overlook this opportunity, it can be very

effective in furthering the settlement process.

There is no requirement that lawyers

refrain from ex parte contact with the

mediator. In fact, this type of discussion

is often very useful in framing the issues,

bringing the mediator up to speed, and

informing the mediator of any personality

dynamics that could be at play. Giving the

mediator early insight can help determine

the right structure for the mediation and

possible options for settlement. Meeting

in advance also gives interested parties the

chance to be heard and reduces the amount

of down time during the mediation.

Settling Parts of Cases

Separating the issues or separating

claims against different defendants and

resolving them one by one can be effective

in multi-party situations, particularly

where one or more defendants are motivated

to settle and others are not. Settling

part of the case impacts the remaining

defendants and this tactic is sometimes

used to create leverage to get the remaining

parties to settle.

Issues to Negotiate

Construction disputes bring their own

unique issues to be considered during

negotiations. Aside from the payment of

money and a release, parties should consider

how to address:

• The release of liens

• Payments and corresponding

lien waivers

• Whether warranties will remain, and

if so, how they will be handled

• Handling indemnity claims

• The impact on other litigation

• Contingent liability for future bodily

injury or property damage claims

• The impact of a release on completed

operations coverage

• The impact on other business or

projects between the parties

• The transition following the

termination of parties

• The details of future work

to be performed

• Which policy, or to what types of

coverage, will the loss be assigned?

This could impact exhaustion and

may be important if the policy re

mains available for other claims.

EDITORIAL SPONSORSHIP

FREQUENTLY ASKED QUESTIONS

What is Education-Based Marketing?

Education-based marketing is a type of content marketing that

has become popularized in recent years. As you know, content

marketing is the attempt to distribute content (articles, stories,

blogs, information) in the hopes of connecting with potential

customers or referral sources. As the content is not promotional,

the reader retains the useful information and begins to forge a

positive bond with the supplier.

Education-based marketing is a subset of content marketing.

This form is – as the name indicates – educational. This type of

marketing involves the creation of informative content by the

company in the form of an article that is distributed to potential

consumers or referral sources. Since the article is helpful to the

consumer, they begin to forge a positive relationship with the

provider. Additionally, the recipient views the author – especially

over time – as an expert in the topic.

Buy a Law Firm Ad $1,500 Bonus One Page Article Included.

VOL. 6 ISSUE 3 ATLANTA ATTORNEY MAGAZINE | 23
---
Reasons Why

Law Firms Need

Custom Videos

5on Their Website

By Montina Portis

Are you looking for a way to attract

more clients?

Do you want to build a thriving

law firm?

If so, keep reading as I outline five reasons

why law firms need custom videos

on their website.

Why Use Custom Videos?

As the old addage goes, "content is

king"; video content is rapidly becoming

king of all of it.

One study recently conducted by eMarketer

demonstrated that 2015 and 2016

were the first years that adult internet

users in the United States were spending

more time watching online video than

they spent looking at text content up on

social media.

Increased demand, as well as the reduced

expenses of producing video, will

mean that it isn't only more critical than

ever for your firm to utilize video in your

Montina is the CEO of Creative Internet Authority, an

award winning digital marketing company specializing

in video production and promotion for lawyers and law

firms. With a strong blend of education, technology,

and marketing with her 15 years in the business world,

Montina is focused on targeted and efficient results.

Visit: creativeinternetauthority.com

24 | www.atlantaattorneymagazine.com

marketing strategy, it also is more affordable.

Here are 5 reasons why law firms

need custom videos on their website:

1Key #1: Quickly Deliver Your Message

You no longer need to pay high costs

for television commercial spots. A digital

video may be hosted in several places on

the Internet which are accessible to anybody

on the Internet, oftentimes for free.

It will increase your Internet presence and

additionally enable anyone worldwide to

find out information about you during

any time of the night or day – without being

reliant upon paid programming. Now

it's possible to place the video messages

where individuals already are hanging

out on the Web – such as on YouTube,

which now is the 2nd largest search engine

worldwide with an average of three

billion searches per month.

2Key #2: Engage Your Website Visitors

By now all of us expect to view video

content. It is every place we travel from

the shopping mall to the gas station.

We've been conditioned to stop and pay

attention. Video will inform through

both hearing and seeing, and increase

the odds that we'll retain messages. Statistically,

individuals also are more likely

to hear the whole message when it is

presented as a video than presented in

additional formats.

3Key #3: Drive Traffic to Your Website

Adding correctly optimized video to a

site may boost your odds of being on the

first page of a Google by as much as 53

times, according to Comscore. Video will

increase the quantity of time individuals

spend on your site. Also, video makes users

more likely to share all of your content

through social media, which may assist in

improving your site's performance in the

search engines.

4Key #4: Strengthen the Bond with Your

Visitors

With video, it's possible to rapidly develop

emotional connections with possible

clients. Video permits direct communication

of your passion for the law,

demonstrating your skill and knowledge

level, and ensures that individuals watching

your videos get a good sense of who

you actually are.

5Key #5: Stand Out from Your Competition

Due to built-in video analytics, it is

simple to track how effective a video is in

helping to build your company, enabling

you to make some real-time tweaks to the

video content in order to make it more

effective. It's possible to track how much

of your video typically is being viewed,

where your video is being seen, and a lot

more. Plus, multiple marketing studies

demonstrate that video marketing will

have a better conversion rate than additional

content formats.

Conclusion

When it comes to lawyer video marketing,

the results speak for themselves.

Profiles with videos on Lawyers.com

are viewed 174 percent more than those

without a video, and increase the clickthrough

rate to a firm's website by 146

percent. When it comes to choosing an

attorney building trust is important and

this can be done by introducing your firm

online and providing educational content

to put clients at ease before they walk

through your door.
---
10 Ways an Attorney will Attack You on the Stand

WHAT HR MANAGERS ARE TAUGHT.

If you're ever hauled into court to testify

in a case against our organization, what

you say,and how you say it, can sink our

defense or make our arguments float.

And don't forget:More than your credibility

as a manager may be on trial; you could

be held personally liable for your actions, if

the plaintiff is angry enough with you.

The good news: Some basic training and

monitoring can prepare you to ward off

the slings and arrows of an enemy attorney.

Here are 10 weak spots that opposing

attorneys will exploit to discredit you. Use

them as a checklist for preventing a credibility

attack.

1Being unfamiliar with our

policies and procedures. A

jury will view your lack of knowledge as

uncaring and lax, at best: purposeful and

negligent, at worst. After all, how can you

enforce policies that you don't even know

yourself?

Sloppy documentation. Most

2 discrimination cases aren't won with

"smoking gun" evidence.They're proven

circumstantially, often through documents

or statements made before the lawsuit

is filed. You're smart enough not to

admit bias directly, but juries know that a

lot of testimony is self-serving. That's why

documents, particularly email, can help

the employee show discriminatory intent.

Dishonest appraisals. Performance

reviews are one of our most

3

important forms of documentation, yet

managers often inflate the ratings. When

you later try to blame poor performance

for an adverse employment action, those

dishonest appraisals open up a land mine

of credibility concerns.

Inconsistent statements. When

4 responding to charges filed with the

EEOC or state agencies, you often have to

submit position statements or execute affidavits.

You can bet the employee's attorney

will review those statements, particularly

affidavits, and introduce them at trial,

especially if your story has changed. Keep it

consistent.

Not taking complaints seriously.

Turning a blind eye to any

5

complaints of unfairness or perceived

illegal actions will kill our credibility and

yours. Comments like "I'm not a babysitter"

or "Boys will be boys" will jeopardize

everything.

Poor interviewing techniques.

6 It may be easy to answer the question,

"Why did you hire the person you did?"

But managers often run into trouble

when they have to answer, "Why did you

reject certain other candidates?" That's

because rejection decisions typically

aren't well documented, and you may not

recall the reasons later on. This "selective

amnesia" will come off as a cover-up for

discrimination.

Changing rationales over

7 time. Whenever a plaintiff can show

that our reasons for making an adverse

employment decision change midstream,

our credibility is shot. Smart attorneys will

argue, successfully, that our "reasons" are

just pretext for discrimination.

Lack of knowledge as a

8 well-rounded leader. Would you

trust a brain surgeon who didn't stay updated

on recent developments in the field?

Well, juries will expect, and the plaintiff 's

lawyer will encourage them to expect, that

you're staying abreast of developments in

employment law.

Overdocumenting. You hear

9 the mantra, "document, document,

document." But you can overdocument,

especially when it all occurs right before

a firing.

Failing to work with an

10 employee before firing.

Remember, termination is the "capital

punishment" of the employment world.

Juries are likely to sympathize with employees

who have lost their livelihood and

self-esteem. A manager who fires without

first trying to improve performance will

appear insensitive and mean-spirited.

Conversely, the manager who really tries

to improve things before taking drastic

action will stand a much better chance of

winning in court.

VOL. 6 ISSUE 3 ATLANTA ATTORNEY MAGAZINE | 25
---
Scene @ the RMN event

On Thursday, March 23, 2017, the Korean-American Bar

Association of Georgia (KABA-GA) gathered some of

the most recognized partners and counsel in BigLaw

Atlanta to share their insights on building, retaining,

and growing a Book of Business--critical skills for all attorneys to

learn and master. With over 75 attorneys and law students in attendance,

the event was hosted at The RMN Agency. The roundtable

discussion featured:

- Ted Blum, Managing Shareholder of Greenberg Traurig Atlanta

- June Lee, Partner, Nelson Mullins Riley & Scarborough LLP

- Kiyo Kojima, Partner, Barnes & Thornburg

- Marcus LeBeouf, Counsel, Seyfarth Shaw

- Moderated by Raj Nichani, President of The RMN Agency

Co-sponsorship was generously provided by the Georgia Asian Pacific

American Bar Association (GAPABA) and Envision Discovery

From L - R: Jeffrey Kim (Morgan Stanley), Marcus LeBeouf

(Seyfarth Shaw), Joe Perdue (Morgan Stanley), and Chad

Smith (Morgan Stanley)

L - R: Fei Drouyor (GSU Law Student), Sydney Hu

(Ellarbee Thompson), Jason Kang (JK Law)

From L - R: Kyubin Han (Emory Law student) and June Lee

(Nelson Mullins)

26 | www.atlantaattorneymagazine.com

The panelists having fun
---
The crowd

From L - R: Raj Nichani (President, The RMN Agency), Marcus LeBeouf

(Counsel, Seyfarth Shaw), Ted Blum (Managing Shareholder for Atlanta,

Greenberg Traurig), June Lee (Partner, Nelson Mullins Riley & Scarborough),

and Kiyo Kojima (Partner, Barnes & Thornburg)

From L - R: Paul Nam (Pratt Industries), Baylie Fry (Owen

Gleaton), Ted Blum (Greenberg Traurig), Sarah Pons (Envision

Discovery), Britt Willingham (Envision Discovery)

The RMN Agency Team. From L - R: Ashley Barnett, Waqar Khawaja,

Raj Nichani, Bonnie Youn, Teylor Newsome, Sara Hamilton

From L - R: Jake Evans (Thompson Hine), Gautam Reddy (Kilpatrick

Townsend Stockton), Trent Lindsay (Barnes & Thornburg), Joey Fong

(UGA Law Student), Paul Nam (Pratt Industries), & Wellington Tzou

(WebMD)

VOL. 6 ISSUE 3 ATLANTA ATTORNEY MAGAZINE | 27
---
Legal Recruiting

The Art of Building a Book of Business

By Raj M. Nichani

This past March, we (the RMN Agency)

hosted an event called "The Art

of Building a Book of Business." Since

then, we've had a lot of pleasant follow up

discussions with attorneys, legal employers,

and law students.

I summarized a lot of the great points

from the discussion from that evening and

subsequent discussions into two posts. Here

are the first four tips to building a great book

of business:

Get out there and form relationships.

It's great if you have "some book" or starting

point already—but many new lawyers don't.

The takeaway is that you have to start somewhere,

which means you need to step out of

your comfort zone to get out and meet people.

There is no single way of doing this, but it

is important to have a level of self awareness

For new layers, you cannot rely only on

the people you are meeting through work.

Make an effort to meet people outside of

work (events where attorneys are likely to

be present AND events where you stand out

because you are an attorney). This can be

fun: food fairs, charity events, etc.

Everyone you meet is a potential client.

Realize that every single person you ever

meet is someone who is in or will be in a

position to be your client. Everyone, from

Raj M. Nichani, Esq. is the president of The RMN

Agency, a full-service legal search and staffing

company specializing in the permanent and temporary

placements of legal attorneys and professional staff

with law firms and corporate legal departments. Raj

and his team are dedicated to placing the highest

quality candidates based on their own unique needs.

The legal recruiting company was recently ranked the

best legal staffing firm of 2016 by The Daily Report.

You can reach Raj at (678) 426-3180, or by email at

raj@thermnagency.com or by visiting the website at

thermnagency.com for updated job postings and further

information on the recruiting process.

28 | www.atlantaattorneymagazine.com

the janitor you walk pass in the hall, the insurance

salesman you spoke with over the

phone. Really?

Yes!

What if the janitor's son was a law school

graduate and is sitting on the bench of a district

court? The insurance salesman might

be the son of the CEO and best friend of an

up and coming startup. Never underestimate

the people you meet.

Invest time in mastering your craft/industry.

The more interested you are in your work,

the better you are likely to do at this work.

Certainly, you want to learn everything you

can about your clients and potential clients

to serve them better.

For law students, this means taking the

time now to learn as much as you can about

the different areas of law and industry. For

new attorneys, it means seeking out mentors

and experts to grow as a professional. Develop

a mindset where you will do your best to

listen and understand what other peoples'

problems are, and then practice the ability to

communicate how you can help solve their

problems. You can also practice listening to

others speak at length to help.

Learn to tactfully talk about your work and

achievements.

I have written about talking about your

achievements before—and if you want to develop

a great book of business. There is a lot

of personal branding that I recommend you

to do—but at the end of the day, someone

thinking about hiring you needs to see you

as an expert and believe you are very good

at what you do!

What I am trying to get at here is that you

need to dive deeper than just writing articles

and speaking at events.

To master the art of building a book of

business, lawyers must:

Set great examples.

Not set a good example—but set GREAT

examples! You cannot just listen and talk—

you must walk the walk so that your body

of work and achievements inspire others

to want to be represented by you. It is important

that others believe that you are an

attorney who could effectively represent

them and would always look out for their

best interest.

Attorneys get a bad rap for being "professional

liars" and the general population

certainly enjoys joking about attorneys in

that manner—but when it comes down

to hiring an attorney when they need one

(whether an individual or an entity), no one

wants to hire an attorney who seems the

least bit dishonest.

This also means examining your interactions

with clients, colleagues, and other

attorneys. Remember that you don't want

any perception that you are too wild or out

of control. Clients (and referring attorneys)

want to know you will do the best work possible

and make clear decisions, and know

that you will handle yourself and their matters

properly.

Act and behave at all times as you would

want your attorney to act and behave.

Specialize—or develop specialty.

An attorney with a certain specialty is likely

to get more work in that specialty when it

becomes available. People will simply refer

clients to you.

This begins early when law students are

asked whether they are thinking about being

transactional attorneys or litigators. As

a lawyer's career develops, an attorney will

start to specialize in representing certain

types of clients and handling certain types of

matters. Eventually, developing a specialty in

representing supply-side lenders that work

in big agriculture means that you occupy a

niche and will generate some business simply

through that occupation.

In law—as with most service businesses—the

specialist has the better chance of

getting the business. Invest time in making

yourself and your practice seem as specialized

as possible.

Study marketing.

Learn about marketing in a way that suits

you—whether that means reading articles

or books or attending seminars. Every form

of marketing can translate into getting legal

clients. The effort you put into studying

marketing is likely to pay far more than you

put in.

Don't quit.

The practice of law can be stressful. Develop

a strategy to stay resilient and to be on

the lookout for clients. Even if you face a setback,

get back up. Relationships take years to

develop and require experimentation. If one

strategy does not work, try another.
---
Movers & Shakers

AWARDS ➤ ANNOUNCEMENTS ➤ PRESS RELEASES PROMOTIONS EVENTS ➤ ACTIVITIES ➤ HONORS ➤ RECOGNITIONS

➤ Ceasar Mitchell Statement: "Atlanta City

Council President Ceasar Mitchell applauds the

entrepreneurial spirit.

Brian Poe, a phenomenal man, humble and positive

visionary, has his priorities in order: God, family,

work and friends. A man who took the advice of

Ceasar Mitchell

his parents, "Always say Thank You", and built a legal

and business conglomerate.

Forward thinking businesses that have the ability to seize opportunities

and dare to be innovative in a competitive world, are to be

appreciated and admired.

We salute Brian Poe, managing partner, Brian Poe and Associates,

and his first class team for being industry leaders and demonstrating

exemplary client-focused service.

Brian, congratulations on being chosen as the cover story for the

May 2017 edition of, Attorney at Law Magazine. We can't think of

anyone more deserving than you."

Key Members of Bankruptcy Team at Attorney At Law Magazine event

Ryan Hood

➤ Ryan Hood has joined Wellstar Health System

as assistance general counsel from Arnall Golden

Gregory, where he was a partner in the health

care, government investigations and special matters

practice, defending doctors, hospitals and nursing

homes. Hood is aformer detective with Cobb County

Police Department.

➤ Baker Hostetler has hired patent practitioner

Sean Holder as an associate from Ballard Spahr.

He will focus on electrical, computer, mechanical

and software inventions.

Carla Hollins, RN BSN, Director of Business Development

for AICA Ortho & Spine.

Sydney Poe with Grandfather Dr. Booker Poe

Sean Holder

➤ The Georgia Association of Tax

Officials has named Weissman partners

Brad Hutchins and Allie Jett as

its first general counsel. The group

said it created the role to provide legal

guidance on the impact of legislation

Brad Hutchins

Allie Jett

and court decisions, property tax

matters and other legal issues important to the group's memebership,

Hutchins and Jett will also advise GATO's leadership team.

Brian Poe and Curtis Martin

John Ducat III

Daniel Simon

➤ DLA Piper has promoted John

Ducat III and Daniel Simon to partner,

out of 46 partner promotions

firmwide. Ducat is in the firm's real

estate practice and Simon is in the restructuring

practice.

Left to right: Brian Poe, Esq., ANS Chairman, Joysha Fordham, ANS Manager, Tiffany Moore, ANS General Manager and

Donald Craddock (event MC)

➤ Georgia Trial Lawyers

Association installed

its executive

committee and Mike

Prieto of Prieto, Margliano,

Holbert & Prieto

Mike Prieto Laurie W. Speed Daniel B. Snipes

as its new president,

President-Elect & Legislative Co-Chair Laurie W. Speed, Shamp,

Speed, Jordan, Woodward, Executive Vice President & Legislative

Co-Chair and Daniel B. Snipes, Taulbee, Rushing, Snipes, Marsh &

Hodgin, LLC.

VOL. 6 ISSUE 3 ATLANTA ATTORNEY MAGAZINE | 29
---
404.389.1000

ThriveAtl.com

Thrive is an upscale casual restaurant where food, drink & lounge meet pleasing taste

buds from around the world since 2007 with award winning dishes & specialty cocktails.

We offer salads, sandwiches, soups, sushi, steak, seafood & so much more. View our

lunch & dinner menus online.

Secured Validated Free Parking • Bring This Add To Receive 10% Off

excludes tax and gratuity

3 defi ned areas for private events • Named a Top 50 Restaurant by the AJC

One of Jezebel Magazine's Top 100 Atlanta Restaurants 3 consecutive years

Won 1st place at the 2013 Atlanta Chef's Expo for Best Restaurant

Open: Mon-Fri Lunch 11:30am-3pm • Dinner 5pm-10pm • Sat Dinner 5:30pm-10pm

Daily Lunch Specials: Choice of 2 items from special menu of soups, salads,

sandwiches & sushi only $8.99: Includes tea or soda

After Work Mixers: Mon-Fri 5pm-7pm featuring $5 apps & $5 cocktails

101 MARIETTA STREET

35 Story Centennial Building Lobby; 101 Marietta, Street Across from the GA Bar Association

2 blocks from Philips Arena

Open Late after all Philips Arena concerts & sporting events

30 | www.atlantaattorneymagazine.com
---
WE'VE MOVED to

WEST MIDTOWN

... AND WE'RE GROWING

INTRODUCING

Bonnie M. Youn

Sr. Legal Recruiter

Teylor Newsome

Legal Recruiter

Cleo Sloan

Legal Recruiter

The RMN Agency

The 2016 Daily Report Best Legal Recruiting Firm

981 Joseph E. Lowery Boulevard, NW

Ste. 100 • Atlanta • GA 30318

www.thermnagency.com • 678-426-3180

VOL. 6 ISSUE 3 ATLANTA ATTORNEY MAGAZINE | 31
---
32 | www.atlantaattorneymagazine.com