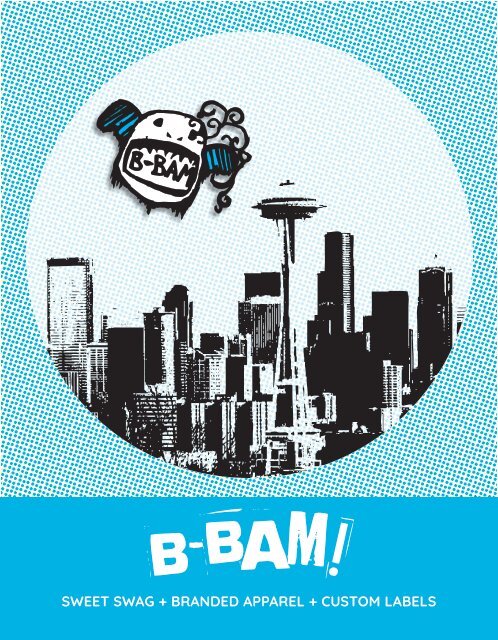 BBAM SWAG Capabilities Intro
You also want an ePaper? Increase the reach of your titles
YUMPU automatically turns print PDFs into web optimized ePapers that Google loves.
SWEET SWAG + BRANDED APPAREL + CUSTOM LABELS
---
CUSTOM APPAREL + SWEET BRANDED SWAG

We Will Brand Almost Anything...

We represent over 1 million products

B-BAM.COM / / 5700 6TH AVE S STE 203 SEATTLE WA 98108 / / 206.329.0499 / / INFO@B-BAM.COM

B-BAM.COM / / 5700 6TH AVE S STE 203 SEATTLE WA 98108 / / 206.329.0499 / / INFO@B-BAM.COM
---
CUSTOM APPAREL + SWEET BRANDED SWAG

B-BAM! Is A Full Service Branded Merchandise Agency.

Our job is to help you get noticed.

We use our creativity, ingenuity and ability to design out of the box promotional

products to help you make connections with people and businesses.

Success in business is based largely on relationship building. B-BAM! helps

you build those relationships with custom apparel and swag that people

love. Branded merchandise and apparel works because the act of giving and

receiving opens up a relationship. It creates a connection between two people

and produces good feelings for all involved. When you receive a gift, you feel

appreciated and grateful!

At B-BAM!, we are consummate gift givers. We specialize in helping you

choose the perfect item, whether that's a t-shirt for your team to celebrate

a job well done, or the most useful tech gadget as a way of thanking people

for coming by your booth at the trade show.

B-BAM! has designers on staff for one reason... We care what stuff looks like!

Good design makes all the difference in the world. It takes your ho hum

promo item and turns it in to a retail quality product that not only promotes

your brand but that people are clamoring to get their hands on. It's a win/win.

B-BAM! treats your brand with tender loving care.

Our promise to you...

• We create marketing giveaways that make a big impact .

• We guard your brand by ensuring your swag conveys the right image to your audience.

• We develop successful strategies for distribution.

• We even advise you on the best promotional message for your swag.

It will be original and clever — just like us!

• We process your orders quickly and accurately and make sure they deliver on time.

B-BAM! is a woman-owned and minority-owned business.

Memberships

Company Capabilities

Promotional Products

Corporate Apparel

Online Company Stores

Distribution & Fulfillment

Graphic Design

Embroidery & Screen Printing

Marketing

Trade Show Giveaways

POS & Thermal Labels

NAICS Codes

323111

323113

541860

541430

541613

541890

315999

561910

Commercial Printing

Commercial Screen Printing

Direct Mail Advertising

Graphic Design Services

Marketing Consulting Services

Services Related to Advertising

Apparel Accessories &

Other Apparel Manufacturing

Packaging and Labeling Services

B-BAM.COM / / 5700 6TH AVE S STE 203 SEATTLE WA 98108 / / 206.329.0499 / / INFO@B-BAM.COM

B-BAM.COM / / 5700 6TH AVE S STE 203 SEATTLE WA 98108 / / 206.329.0499 / / INFO@B-BAM.COM
---
CUSTOM APPAREL + SWEET BRANDED SWAG

B-BAM! Company History.

A road with twists and turns.

B-BAM! first opened as a retail store selling custom t-shirts in 2002. In the beginning, B-BAM!, sold and

applied heat transfer decals on apparel and printed custom one off shirts.

About a year after we opened, B-BAM! started getting requests for bulk orders of shirts with company logos.

In response, we started screen printing and embroidering larger orders. This went very well except that our

corporate customers also needed their logos' on bags, pens, mugs, flash drives and more. In order to satisfy

the needs of our customers, we became a distributor of branded merchandise in 2009.

In 2010, we closed the retail store to focus solely on corporate customers and we haven't looked back since.

We love helping companies with their marketing by providing awesome apparel and sweet branded swag!

It is pretty much our destiny.

In 2015, B-BAM! started distributing custom labels to our grocery store clients and in 2016, we have continued

to add to our label offering and to expand our scope. THE B-BAM! LABEL DIVISION is a full service

distributor of sustainable thermal and scale labels, pos supplies, and pressure sensitive labels. In

addition, we can provide growers and packers with PTI labels.

B-BAM!'s amazing customers...

We LOVE working with these people!

B-BAM.COM / / 5700 6TH AVE S STE 203 SEATTLE WA 98108 / / 206.329.0499 / / INFO@B-BAM.COM

B-BAM.COM / / 5700 6TH AVE S STE 203 SEATTLE WA 98108 / / 206.329.0499 / / INFO@B-BAM.COM
---
CUSTOM APPAREL + SWEET BRANDED SWAG

What They Say About Us...

In their own words

"Leslie is an out-of-the-box thinker who comes up with

innovative ideas and campaigns. She is very responsive and

can meet fast turnaround times with grace and humor. She

is a lot of fun to work with and is a great creative brainstorming

partner for connecting customers with your

product or service."

-Melinda Partin, Director of Digital Marketing at UW Medicine

"Since moving our scale-label business to B-Bam, our

ordering window has shortened significantly, our minimum

order size requirement has decreased and our procurement

process has been greatly simplified. B-Bam alleviated our

stress by managing the relationship with the manufacturer,

which has enabled us to consolidate our inventories. And

they have provided dependable, timely deliveries. Leslie and

crew have provided great customer support."

-Bruce Price, Town and Country Grocery Stores

"Leslie is a collaborator and problem solver. With a quick wit

and quick mind, she addresses issues at hand with diligence

and respect for everyone at the table. I appreciated her

work in marketing and promotion for the Capitol Hill Chamber

of Commerce."

-Jack Hilovsky, Fund Development Officer

"Leslie was great to work with from start to finish. She

created a design we all loved and helped us to understand

our options. She also went above and beyond to help us on

other projects when we got ourselves in a pinch. B-BAM! had

great prices and the whole team was a pleasure to work

with."

-Leigh Bezezekoff, Communications Specialist

"B-BAM is special in its commitment to sourcing the best

promotional merchandise with reliable fulfillment and

competitive pricing. The greatest part of working with

B-BAM is that you get Leslie and her creativity and deep

experience applied to your SWAG opportunity. Your brand

remains top-of-mind with your target audience and sales

follow."

-Jay Glass, Principal at Birch

"We have worked with Leslie for several years now, and the

service and product are top-notch. On one particular

challenging request, Leslie and her staff provided ideas until

we were confident in the final decision. I know from experience

that B-BAM! delivers as promised every time."

-Sarah Smith, Quorum Review

"B-BAM, especially Allison, have been absolutely wonderful

to work with for all of our swag needs. We've ordered

everything from t-shirts to lanyards and the quality has

always been great. Allison is always so helpful in making

sure everything is exactly how we want it even with tight

deadlines. I would highly recommend B-BAM for any swag

needs you or your company might need."

- Stephanie Berryhill, Amazon

"From start to finish, B-Bam was everything that I needed....-

Excellent product, fast turnaround time and the ability to

deal with my vague design instruction! Hand delivering all

the hats and hoodies was the icing on the cake--I was

literally getting on a plane in a matter of minutes. Thanks to

Leslie & Crew--for making my last minute order a truly

painless process!"

-Simon Moorby, Red Bull

"B-BAM! prints all of our t-shirts and jackets, certainly no

small task. I have been consistently pleased with not only the

quality of the product, but the true superiority of the service

provided by Leslie and her staff. They are not only efficient

and knowledgeable, but truly accomodating. Leslie has been

a constant source of creativity, insight, and a genuine

pleasure to work with on various jobs, large and small. She

has great ideas, enviable drive, and a strong dedication to

both her product and customer service."

-Dani Cone, Owner Fuel Coffee

"Leslie and B-Bam provide creative and knowledgeable

services. She was especially helpful in guiding us through,

what to us was, an unknown process with unfamiliar details.

Our end results were fantastic, with complete thanks to

Leslie and B-Bam. It's also important to note that the quality

of service consistently received by Leslie's staff is a true

testament to the high standards and expertise the of B-Bam

organization overall."

-Julie Cofone, Writer / Consultant

B-BAM.COM / / 5700 6TH AVE S STE 203 SEATTLE WA 98108 / / 206.329.0499 / / INFO@B-BAM.COM

B-BAM.COM / / 5700 6TH AVE S STE 203 SEATTLE WA 98108 / / 206.329.0499 / / INFO@B-BAM.COM
---
CUSTOM APPAREL + SWEET BRANDED SWAG

Some Of Our Apparel Brands...

We can get any kind of apparel you need, just ask

B-BAM.COM / / 5700 6TH AVE S STE 203 SEATTLE WA 98108 / / 206.329.0499 / / INFO@B-BAM.COM

B-BAM.COM / / 5700 6TH AVE S STE 203 SEATTLE WA 98108 / / 206.329.0499 / / INFO@B-BAM.COM