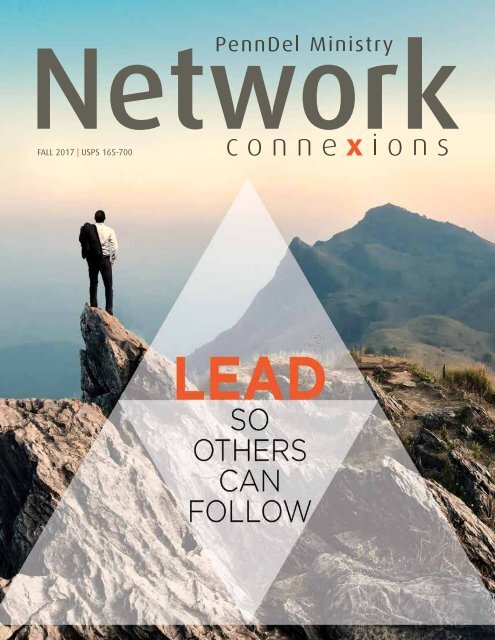 Create successful ePaper yourself
Turn your PDF publications into a flip-book with our unique Google optimized e-Paper software.
FALL 2017 | USPS 165-700
---
"When it comes to influence, people will follow

who we are more than what we say."

— James T. Bradford

Jim Bradford is a leader with a heart for pastors and

churches. He oversees credentialing, church chartering

and the Flower Pentecostal Heritage Center. Prior to his

election, Bradford pastored in Missouri, Southern California

and Vancouver. He holds a Ph.D. in Aerospace Engineering

and is the author of Preaching: Maybe It Is Rocket Science,

Second Chronicles Seven Fourteen, and Lead So Others Can

Follow. Jim and his wife, Sandi, have two married daughters

and live in Springfield, MO.

SESSION 1: Spirituality and Servanthood

SESSION 2: Systems and Strategies

SESSION 3: Skills and Strengths

SESSION 4: Stamina and Stability

2 | Network connexions | Fall 2017

We are delighted to have

Dr. Jim Bradford

with us for this years

Ministers' Enrichment.

Dr. James T. Bradford

General Secretary

Assemblies of God
---
SUPERINTENDENT

STEPHEN R. TOURVILLE

717.795.5921

supt@penndel.org

GETTING

SELF-LEADERSHIP

RIGHT

Many volumes have been written over the last couple of decades regarding leadership

in the church. Great resources have been produced to train leaders in the how-to side

of leadership, the relationship aspect of leading others and the systems approach to

developing effective church structures. These tools can equip ministers to fulfill their call to serve

in the church of Jesus Christ with greater effectiveness in ways that would otherwise require

much time to learn in the school of life experience.

Preaching is at the core of what we are called to do, but we come to understand that being a

shepherd of God's flock extends further than the pulpit. Our call to ministry certainly involves the

proclamation of the good news and the equipping of God's people through the exposition of the

Word, but our call does not end there.

Dr. Bradford's book, Lead So Others Can Follow, gets to the heart of what we call today

"self-leadership." Discussion related to leadership principles from a "how-to" perspective are

inadequate in kingdom work. While a political or business leader may experience a certain level

of success through the exercise of the power of position and personal expertise, in the kingdom

of God, the additional qualities of spirituality and personal influence are critical to what is to

be accomplished in building the church. Getting self-leadership right makes it possible to

lead so others can follow.

Ministers' Enrichment speaker, Dr. James Bradford, will help us

develop those key skills for ministry that are foundational for

effective service in the kingdom of God. Join us for this time of

learning, growth and enrichment that will bless you personally

and will bless your ministry in the future.

Network connexions | Fall 2017 | 3
---
ASSISTANT SUPERINTENDENT

Bryan Koch

610.678.0266 ext. 224

bryankoch@gtaog.org

FOLLOW THE LEADER

We've probably all played the game "Follow the Leader," and

while some may consider it just a simple game for children,

it really does represent the whole point of leadership.

After all, it's hard to be a leader when no one is following you! So

what does it look like to lead so that others can follow? In the last

issue of Connexions, I shared about a picture of leadership, which

encompassed five tried and true leadership practices.

One of those practices, "Model the Way," describes how we lead

through the four "C's:" competency, chemistry, character, and calling.

We need to know what we're doing, be able to get along and work

with other people, be a person of integrity, and be aware of and

obedient to God's calling on our lives. Psalm 78:72 speaks of David

and says that "He cared for them with a true heart and led them with

skillful hands."

Leading with character is extremely important, and attitude plays a

big role in that. Your attitude is one thing you can control that will

have a big impact on your success as a leader. How do you respond

when things go wrong or when you face difficulties? Do you have

the same values at home as you do at church? Are you following

Jesus personally? You can only lead others as well as you are being

led. If you're not continually pursuing a close relationship with Christ

and being led by Him, then where are you leading those who are

following you? While changing negative attitudes can be difficult, it

can be done with prayer and perseverance.

Another thing to keep in mind when leading so that others can follow

is this: if we want the people we lead to follow us and stay

on the right path, we need to guide from the front instead

of driving from the back. Cattle ranchers drive from the back -

they yell and use a whip to get the cattle where they need to be.

Shepherds, on the other hand guide from the front. The sheep know

the shepherd's voice and trust it enough to follow. When we have

integrity and inspire trust in the people we lead, they will follow us.

This is why in the LEAD U training that we do with leaders at GT, the

biblical picture for "Model the Way" is the shepherd's staff to remind

us to lead from the front.

There is a story told about an army that was chasing after Alexander

the Great. They were expecting to surprise him from behind and

overtake him. What they weren't expecting was being led completely

outside the borders of the map they had and feeling completely lost.

Sometimes that's how it is with following Christ. He can lead us to

places where we feel completely off the map with no clue where we

are going. But if we continue to follow Him, we can be sure

that we are going in the right direction along with those

who follow us.

When

we have

integrity

and inspire

trust in the

people we

lead, they

will follow us.

4 | Network connexions | Fall 2017
---
8 PRINCIPLES OF CHANGE

from a Rocket Scientist

Most of us have a love-hate relationship with change. We love it when it clearly

benefits us or when we think everyone else needs to change for our sake. But

when change robs us of that secure attachment to the familiar or when it's forced

on us against our will, it's an easy thing to resent. Here are a set of suggestions for

walking people through change – anxieties and all.

1.

2.

3.

4.

5.

6.

7.

8.

Always emphasize mission over preference.

In healthy ministries, the mission answers the question as to why

changes are needed, not the status quo or people's personal preferences

or the leader's insecurities. Change should always be tied to mission.

Pace changes wisely and realistically.

Too much change can ruin good change. Changing the systems too often can keep

them from ever taking root in the ministry culture and becoming effective.

Assess the real reasons for resistance to change.

More often than not, people resist change because the process for bringing about

change is flawed.

Create a sense of urgency.

People will change either because they want to or because they have to. Urgency

can be a powerful motivator.

Build a team of influencers to

champion the change.

It's difficult, if not impossible, for a leader to change an entire ministry culture alone.

Build ownership by letting people

participate in the planning.

When we walk people through change, our goal isn't for them to reluctantly submit

out of respect for our authority but to be enthusiastically committed to the change.

Remember that behaviors change

faster than personalities.

Changing a ministry's culture is usually a long process, but behaviors are easier to

change and are therefore usually the best starting points for bringing change.

Never forget the power of trust.

Trust is the foundation of our relationship with Christ and the essential ingredient in

any healthy human relationship. It is also the one non-negotiable for leading a group

of people through change.

Dr. Jim Bradford,

General Secretary of the

Assemblies of God, began

with a background in

Aerospace Engineering

before moving into fulltime

ministry. Here are

some of the principles of

change he has learned

along the way.

Adapted from Lead So

Others Can Follow by

Dr. James T. Bradford.

For more enlightening

lessons on leadership,

join Dr. Bradford,

our guest speaker, for

Minister's Enrichment

on October 2–4, 2017.

Network connexions | Fall 2017 | 5
---
SECRETARY/TREASURER

Donald J. Immel

717.795.5921

don@penndel.org

About People:

Ministers Transferring In:

Cornacchio, John P (Ordained) from New York

Crum, Benjamin (Licensed)

Miller, Charles (Ordained)

6 | Network connexions | Fall 2017

from Ohio

from Arizona

Ministers Transferring Out:

Busa, Sean (Licensed)

to Southern California

Clarkson, William M (Licensed)

Hall, Stephen M (Ordained)

Hart, Austin (Licensed)

Henely, Michael L (Ordained)

Morine, John D (Ordained)

Roloson, Rhea (Licensed)

Ward, (BJ) Benton J (Certified)

With The Lord:

to Michigan

to New Mexico

to PenFlorida

to North Carolina

to Wisconsin/N Michigan

to Oklahoma

to Kentucky

Jayne Grove, 89, went to be with the Lord on April 10th. She

served as our Women's Ministries Director from 1980-1996.

Jayne was a faithful lead pastor's wife in the following PennDel

Churches: Dusquene, Corry and Houtzdale.

Nettie Reitzel, 86, went to be with the Lord on April 17th. She

served alongside her surviving husband, Eber, at the following

PennDel Churches: New Cumberland, Landisburg, Honesdale,

Ebensburg, Bethlehem, and Chambersburg.

James Mugford, 86, went to be with the Lord on April 29th. His

ministry encompassed over 60 years of pastoring in Connecticut,

Indiana, Massachusetts, Maine, New York and Moosic AG in our

PennDel District.

James Hays, 78, went to be with the Lord on May 1st. He

served as lead pastor at Palmyra AG and was a former public

relations director for Teen Challenge. James is survived by his

loving wife, Elsie, of 58 years.

Ivan Cornwell, 57, went to be with the Lord on May 8th. He

was a school administrator for the following PennDel Christian

Schools: Evangel Heights, Littlestown, Pittsburgh East, Calvary

Academy and Calvary Temple. Ivan is survived by his loving

wife, Lisa.

Esther Preiser, 95, went to be with the Lord on May 13th,

where she was met by her husband, Gordon and son, Dale.

Esther served as a faithful lead pastor's wife at Ephrata, Dickson

City and Lititz. Esther and Gordon were known serving the

children in the PennDel and New Jersey District as "The Prize

Puppeteers".

New and Upgraded Credentials:

New

Upgraded

Andrews, Eileen (Ordained)

Barner, Sandy F (Licensed)

Beem, Kevin J (Certified)

DeFrain, Ryan M (Certified)

Gravitt, Faith A (Licensed)

Lund, Marissa J (Licensed)

Mack, Philip J (Certified)

Manning, Kyle L (Licensed)

Merrill, Christopher M (Certified)

Monserrate, Steven A (Licensed)

Nicola, Elizabeth N (Certified)

Parson, Katelyn M (Licensed)

Scott Jr, William N (Licensed)

Straub, Jennifer E (Licensed)

VanLeuven, Brinda S (Licensed)

Varughese, Jacob (Ordained)

Warnock, David W (Certified)

Worth, Aimee N (Licensed)

Wyns, Jonathan (Ordained)

Wyns, Tracey (Ordained)

Reinstated

Allen, Stefanie M (Licensed)

Andrews, Reedy, Elizabeth (Licensed)

About Churches:

General Council

Affiliated:

Crosspoint AG, Carmichaels

Lead Pastor – Joshua Koss

Eagle's Nest AG, Greenville

Lead Pastor – Vincent Bellanca

Life Church of Hershey, Hershey

Lead Pastor – Shawn Bentley

Mountaintop Family Church,

Mountain Top

Lead Pastor – Brian Knorr

Transferred Churches:

City Reach Church Las Vegas East –

S California

Pastoral Transitions:

Ben Rivera – New Beginning

Church of Bucks County, Jamison

Carter, W Bradford (Ordained)

Balban, Isaac J (Ordained)

Culbertson, David (Ordained)

George, Stacie (Ordained)

Giles, Janet (Ordained)

Gruber, Justin (Ordained)

Hall, Stephen M (Ordained)

Henry, Jeffrey A (Licensed)

Hyman, Lee (Ordained)

Jordan, Andrew D (Ordained)

Jordan, Megan B (Ordained)

Keever, Debra (Ordained)

Knoll, Nathaniel (Ordained)

Knorr, Deborah A (Ordained)

Krebs, Janette L (Ordained)

Lanza, Jared F (Ordained)

Mathias, Paul J (Ordained)

McNaney, Christopher (Ordained)

Neis Jr, Thomas A (Ordained)

Reyes III, Salvador (Licensed)

Ritenour, Jonathan (Ordained)

Rodriguez, Lisa F (Ordained)

Vagle, Kyle T (Ordained)

Waldecker, Paul M (Ordained)

Wirmel, John M (Licensed)

District Affiliated:

Pleasant Valley Chapel,

Mt Pleasant Mills

Lead Pastor – Terry Sheaffer

Parent Affiliated:

Harrisburg Nepali Church, Harrisburg

PAC Mother – Harrisburg 1 st AG

PAC Lead Pastor – Terry Lamer

Campus Pastor – Suresh Tamang

Mosaic Church, Reading

PAC Mother – Morning Star Fellowship,

Bechtelsville

PAC Lead Pastor – Steven R DeFrain

Campus Pastor – Iosif Hoca

Venture Church, Bluffton SC

PAC Mother – Morning Star

Fellowship

PAC Lead Pastor – Steve DeFrain

Campus Pastor – Shaun Olsen
---
WORLD MISSIONS

Donald J. Immel

717.795.5921

don@penndel.org

National Emphasis Theme and Materials

are available as you promote missions in

your church:

www.agwm.com/assets/theme-catalog.pdf

PennDel Missionaries Currently Itinerating:

New Missionaries Itineration:

Mike & Jess Brown (Latin America) mikendjessb@gmail.com

Tom & Brooke Harshberger (Europe) tomharshberger@gmail.com

Veteran Missionaries Itineration:

Paul & Kristin Mathias (Sensitive)

Ron & Amy Jones (Sensitive)

mathiasfamily@oikosmail.com

ronandamyjones@gmail.com

Missionaries Status Changes & Updates:

Brice Karper – Missionary to Eurasia submitted his resignation to AGWM

in March.

Peggy Lamb – Missionary with International Ministries has experienced a

transition in her life/ministry and has submitted her resignation to AGWM.

National Missions Connect 2017

59th Annual Commissioning Service

School of Missions

Robin & I had a wonderful time connecting with our

PennDel missionary family in Springfield during the

annual "Missions Refresh" and connection event. Each

year PennDel hosts a dinner with our missionaries who

are present in Springfield during this month of training.

The highlight of our visit is the Thursday evening

"Commissioning Service." We dearly love our missionaries

and their families, and so appreciate their responsive

call to reach the unreached around the world.

Shahan & Tyra Teberian and Family – Missionaries in a sensitive country

are home on their first furlough this past year serving in our churches, raising

monthly support and enjoying time reconnecting with friends and family.

During this time of residing in the Phoenixville area, God opened a door for

Shahan to use a combination of his previous legal experience, expertise in

business practices and ministry skills to bless the University of Valley Forge

for a brief season with the President's Cabinet as University Counsel.

Stay connected with the Teberian's at: www.theteberians.com or

shahan.teberian@agmd.org, tyra.teberian@agmd.org

Current Itineration List: Our PennDel website has a full up-to-date

itineration list for our PennDel missionaries during 2017 – 2018

Tom & Brooke Harshberger

Mike & Jess Brown and Family

2017 World Missions Project: The Roma Project

Throughout this past year we have been sharing information about the Roma people of

Slovakia. The need has been met with broad acceptance, and the desire to develop a partnership

with our Roma brothers and sisters seems to resonate with our PennDel Network family.

Our goal is to raise $150K to build a Community Center in Kendice, Slovakia. To date, we have

received $38,688.77 in offerings.

Thank you for helping us meet our goal by sending your donation to:

4651 Westport Drive, Mechanicsburg, PA 17055. Or give online: penndel.org

We kindly ask that all pledges for the Roma Project be met by MinistrieSummit 2018.

Network connexions | Fall 2017 | 7
---
HOPE WINS

How the Church Can Bring Hope to Rural America

Written by Courtney DiTrolio

America, land of the brave and home of the free, is also home to over 43 million

people living in poverty. Surprisingly our small towns and rural communities have

an even higher poverty rate than urban areas.

Steve Donaldson, founder of Rural Compassion, talks about the

death in these rural communities - death of people's dreams, death

of businesses, and death of homes, as they deteriorate over time.

But he also talks about a vision, "to see vitality, to see kids have

dreams again." Although the statistics are halting, the good news is,

there is hope.

This message of hope was brought to us through the means of an

18-wheeler truck, a small team of leaders, and a big heart and vision

for rural America.

In June, PennDel hosted its first Rural Compassion event. When

the flag-donning Convoy of Hope truck pulled into the lot of the

Bongiorno Conference Center, we knew it brought promise of an

extraordinary weekend. Rural Compassion missionaries, Kim and

Laurel Harvey, led the weekend and brought the heart of the ministry

to 34 pastors and pastors' wives through their personal stories,

innovative ideas and huge vision. Two other vital team members,

Dan and Karen Rhodes, drove the truck from Springfield and assisted

through their hard work and serve-oriented spirits.

The two-day event involved three sessions, led by Kim and Laurel,

as well as a blessing room of resources for pastors, and finally, the

distribution of approximately 35,000 pounds of goods to finish off the

weekend.

The big questions posed over the weekend were: What are we

doing to bring hope to our small towns and rural areas? And

how are we tangibly serving our rural communities?

Rural Compassion brought us some answers, with the idea of

cultivating relationships in our communities and identifying and

connecting with our communities' stakeholders like policemen,

firefighters, teachers, politicians, superintendents, and nonprofit

8 | Network connexions | Fall 2017
---
leaders. Pastor John Talcott, pastor of Christ Community Church in Emmitsburg,

reflected, "God really affirmed in me those things that I had been doing right

and inspired me to go harder and deeper into building relationships with

some of the other stakeholders."

Kim and Laurel shared their stories of pastoring a rural church. As Kim shared his moving

personal story, he reminded us, "God doesn't waste our pain." He talked about how

pain gives us compassion, and compassion connects us to people. Another reminder he

gave is that "compassion is always inconvenient." If we are waiting for a moment

when compassion is comfortable or easy, then we are missing it.

Laurel shared story after story about the needs in rural communities around the US.

In certain school districts, she has spoken to worried lunch ladies who know that for

some, the lunch that students eat on Friday will be their last full meal until Monday.

We learned that one of the largest causes of adolescent girls missing school in rural

areas is the inability to afford feminine products. Laurel told us of a family who

happily received new toothbrushes, exclaiming, "We don't have to share anymore!"

The families in our rural communities are in need of resources, but even more so,

they are in need of hope.

Rural Compassion uses resources as a means to reach people's hearts. At the

dismissal of the event, each pastor drove through rows of volunteers, as their vans,

u-hauls and trucks were loaded up with a wide array of tangible goods to bring to

their churches and communities. The pastors left with full hearts and full trucks, after

receiving collectively over 17 tons of resources!

The PennDel Ministry Network is committed to coming alongside our rural pastors,

with a renewed vision for reaching our rural areas for Jesus. If you want to take part

in our next Rural Compassion, April 6-7, 2018 at the Bongiorno Conference Center,

please contact Tom Rees (tom@penndel.org).

WHAT OUR PASTORS

SAID ABOUT RURAL

COMPASSION:

"Our hearts are full and overwhelmed

at the opportunity that

God will give us to love the people

in Galeton."

— Pastor LeRoy and Wanda Bunker

(Lighthouse Community Church, Galeton)

"It's nice to attend something

that 'fits' with the rural church.

It brought encouragement to our

souls. Put some excitement back

in us."

- Pastor Jim and Dorothy Rugg

(Mill City AG)

"God gave us a new direction and

a new hope to continue in the call

He has laid upon our hearts."

— Pastor Sean and Beth Heuer

(Trinity AG, Nicholson)

"Rural Compassion teaches us to

go above and beyond the 4 big

community events that we already

do each year."

— Pastor Tim and Rhonda Imes

(Pinchot Park AG)

"It was practical and easy to

remember. We really liked the workbook

because it was something that

we can take back and work together

with our staff to get the vision of

reaching rural families...We will leave

excited and pumped up to creatively

reach our community."

— Pastor Shane &

Aubrey McClanahan

(St. Thomas AG)

Courtney DiTrolio works as a writer, editor, florist

and English teacher in Buenos Aires, Argentina,

where she lives with her husband, Stephen. She

graduated from Vanguard University in Southern

California and previously worked as the Creative

Arts Specialist at GT Church in Reading.

"I'm consistently awestruck by the depth of poverty we see in

rural American towns. I'm equally inspired by the determination

and grassroots solutions in those same towns."

— Steve Donaldson

Network connexions | Fall 2017 | 9
---
2017 PENNDEL DISTRICT COUNCIL

Congratulations to the Ordination Class of 2017!

PENNDEL

MINISTRIESUMMIT

MAY 1-3 2017

•

2017 Jubilarians

50 years of Ordained Ministry

John & Carol Kenzy, Ed & Faith Ferguson

10 | Network connexions | Fall 2017
---
Eileen Andrews

Isaac & Courtney Balban

David & Rachel Culbertson

Stacie George

Janet Giles

Justin & Kelly Gruber

Stephen & Rachel Hall

Lee & Kiersten Hyman

Andrew & Megan Jordan

Debra & Ward Keever

Nathaniel & Rachel Knoll

Deborah & Brian Knorr

Jan & George Krebs

Jared & Heather Lanza

Paul & Kristin Mathias

Christopher & Samantha

McNaney

Thomas & Patricia Neis Jr.

Jonathan & Danielle

Ritenour

Lisa & Carlos Rodriguez

Kyle & Rendelle Vagle

Jacob & Valsala Varughese

Paul & Jill Waldecker

Jonathan & Tracey Wyns
---
LIFE IS HARD

Robin and Jeff

UVF 1981

Written by Courtney DiTrolio

It was the Christmas of 1996, and Robin Kettering, mother of three

and pastor's wife, remembers her family packing up to head to the

Florida Keys for a seaside holiday. She was excited to break in a new

pair of sneakers on the trip, but began to notice an unusual numb

sensation in her right foot. At first assuming the shoes were the cause,

she overlooked the issue. However, more questions began to arise

when the numbness in her foot continued to spread to her leg. She

knew something was not right.

Within a year, Robin was diagnosed with Multiple Sclerosis (MS),

a disease that hones in on the brain and spinal cord. It creates a

disconnect between the brain and the rest of the body, often causing

fatigue, limited mobility, or loss of vision.

As a person of faith, how do you respond to the diagnosis of a

chronic disease with no cure?

Aside from the fear and emotion that coincides with this kind of news,

Robin reminisces, "I felt thankful in my heart because I knew God

was going to take care of me. Life is hard, but God is good." Her

resolution to trust in God, even though depression and anger could

have easily set in, is the theme that has reigned in her life, especially in

the last twenty years.

Robin's

Ordination, 2016

Robin in 1981

12 | Network connexions | Fall 2017
---
GUEST INTERVIEW

Robin Kettering

rkettering59@gmail.com

Robin and her husband, Jeff, have been

serving Newville Church as senior pastors

for 28 years. Both Robin and Jeff are

ordained with PennDel, and Jeff serves as

the presbyter of the South Central Section.

They have 3 grown sons - Michael, 26,

Peter, 29 and Tim, 31.

Robin's 4 M's To Joy

Robin has always been determined, energetic, and passionate about

ministry. As a young lady, she attended University of Valley Forge to

follow God's call to ministry. At Valley Forge, she met her husband, Jeff

Kettering, and they moved into full-time pastoring after graduating

from Bible school. Robin invested in the youth and children's programs;

however, her calling shifted as she became a mom to three energetic

boys, Tim, Peter, and Michael. She also worked as a lifeguard, a school

bus driver and taught swimming lessons.

She is constantly asking for help from

God, "Lord help me!"

Don't be afraid to ask for help when

you are in need. (Romans 10:13)

In the last twenty years, her life has shifted externally but has

remained steadfast at the foundation. She has learned to adapt to life

in a wheelchair, and even embraces the conversations it initiates. When

acquaintances pity her condition, she assures them, "God is taking

care of me."

She says that you should never underestimate the power of staying

connected to people and to a support system. As a naturally

independent person, she has learned dependency; depending on her

husband and on her caregivers to help her with daily tasks has taught

her the importance of humility and keeping a thankful, gentle spirit.

She has learned to accept her limitations and does what she can with

what she has been given.

As a recently ordained AG pastor, Robin uses her story to share with

women's groups and churches. She communicates with passion her

prescription, her 4 M's recipe for joy. The detours her life has taken,

due to MS, have not always been easy, but she has still managed to

keep a tight grip on joy.

She keeps a melody and song in her

mind and heart always.

Robin's Go-To Songs for Encouragement:

Just Be Held by Casting Crowns

Come Holy Spirit

She meditates on scripture daily to

keep her spirit revived and encouraged.

Robin's Go-To Scriptures:

Philippians 4

Romans 8:28

To anyone who has a hard diagnosis, a loss, a devastating

disappointment or a detour in life, Robin encourages you to remember

that God still has a plan for you. And to remember that you did not do

anything wrong to bring you to this place. She reiterates that if you

trust in God, He will see you through. "Yes, life is hard, but yes, God

is good."

She makes up her mind to say yes to God.

When you don't know what to pray,

pray the Lord's Prayer to keep your

mind centered on God's will.

"Yes, life is hard, but yes, God is good."

Network connexions | Fall 2017 | 13
---
YOUTH ALIVE MISSIONARY

Lee Rogers

717.795.9780

lee@reachtheschool.com

REACHTHESCHOOL.COM • TWITTER.COM/REACHTHESCHOOL

FACEBOOK.COM/REACHTHESCHOOL

"Can I tell you about what I've been doing in my school?"

McKenzie asked me one night after I spoke at her youth group. She

was quiet and unassuming, but I could tell she had a passion for Jesus

and a story to share. She told me how she'd invited her entire class to

a weekly Bible study, and that a few dozen students were attending

regularly. I was a little surprised because McKenzie was a very shy

and quiet student; she was not the personality type most people

would expect to fearlessly launch a movement and make a difference

for the Gospel.

A few months later I contacted McKenzie and asked if we could

document her story with a video, and if she would be willing to

appear on stage with me at an event to tell the story in her own

words. She declined. McKenzie said, "To be honest, I'm very shy and

I don't consider myself to be a leader. I'm not comfortable in front of

large crowds, and I don't want to draw attention to myself. I just want

to make a difference for Jesus among my friends and in my school." I

was disappointed with her response, but I wasn't surprised; this was

more in line with what most would expect from her personality type.

McKenzie reveals an interesting juxtaposition for all of us who follow

Jesus; we are not all called to be leaders, but we are all called to lead

others to Christ.

In the church, we have too frequently conflated these separate

concepts and often to the detriment of the mission of God. The

Apostle Paul wrote that some have the gift of leadership, but some

have other gifts, such as serving or giving (see Romans 12:3-8).

At the same time, all believers are called to lead others to Christ

(Matthew 28:19-20), and we can even receive the empowerment

of the Holy Spirit to be His witnesses (Acts 1:8). So we are not all

leaders, but we are all to be leading our friends and acquaintances

YOUTH MINISTRIES

Doug Sayers

717.795.5921

dyd@penndel.org
---
to Christ. McKenzie was a perfect working example of this

seemingly irreconcilable contradiction; she wasn't a leader, yet

she was leading many to the Cross through the Scriptures. She

was making a difference for the Gospel, fulfilling the call placed

upon all followers of Christ.

When we assume that only "leaders" can start a movement

that will make a difference, or that only those in leadership

can share the Gospel, we severely limit the scope and breadth

of God's mission. We also limit the further discipleship and

effectiveness of all believers. Worst of all, we put the Holy Spirit

in a box as though the empowerment that is for all followers of

Christ is only for a few. It's time to reject this way of thinking.

It's time to embrace the truth that all believers are called to

make a difference for the Gospel; that all can share their faith

without fear; that each one can be used by God to shape history.

Join us for a brand new event designed to equip teenagers

to make a difference for the Gospel. This is not an event for

"leaders," it's an event for all believers! It's Fearless: One

Day to Make a Difference, a one-day conference happening

in three locations: West, East, and Central. Students will be

inspired and empowered to serve their friends, talk about their

faith, and make a difference without fear. For details and to

register, go to www.fearlessoneday.com.

For more information visit valleyforge.edu

Contact our Office of Admissions

800.432.8322 or admissions@valleyforge.edu
---
The PennDel School of Ministry is a

convenient and less expensive way

that a person can satisfy the academic

requirements for credentials with the

Assemblies of God.

NOW ON TWO CAMPUSES:

This Fall (2017)

• Monroeville Campus (meeting at

Monroeville A/G) will offer

Level 1 and Level 2 classes

• York Campus will offer

Level 1 classes only

16 | Network connexions | Fall 2017

Enrollment for each course is $60.

Classes meet one Saturday each

month (Sept-May).

For more information visit:

www.penndelsom.org
---
MEN'S MINISTRIES

Tom Rees

717.795.5921

tom@penndel.org

COMING

EVENTS

IN 2017:

District Leaders

Conference

Newport A/G

Thompsontown, PA

August 25-26

West Division

Fall Camporee

Camp Seph Mack

Penn Run, PA

September 8-10

East Division

Fall Camporee

Tri-County

Worship Center

Bethel, PA

Sept 22-23

Colonials Territorial

Rendezvous

PDRR Camp Berry

Honey Grove, PA

October 6-8

BE SOMEBODY

One is born into leadership, right? At least that is

what many believe. However, the idea that one is

naturally a good leader is a myth. Are there those who

are natural leaders? Absolutely! But leadership can be

and usually is a learned skill.

Consider the most fundamental example of Jesus

choosing the twelve. He didn't interview looking for

those who naturally exhibited good leadership. On

the contrary, He looked for those who were willing to

follow His example and learn to be good leaders. He

chose those with teachable hearts and then spent the

next few years teaching and training them for the roles

they were to fulfill.

So, here is the question, you as a leader in your church,

must answer. Are you training tomorrow's leaders?

Royal Rangers is, in part, devoted to training leaders

both for today and tomorrow. We offer training for

adults so they can be effective in their outposts and be

able to train our boys. We offer Jr. Leadership camps and

ROYAL RANGERS

Greg Scott

302.697.2313

gscott@pdrangers.org

www.pdrangers.org

merits so that our boys will be the Christ like servant

leaders of tomorrow. Are you taking advantage of what

Royal Rangers offers the men and boys in your church?

Oftentimes, if you lead, someone will follow. It's been

said that if you are not leading, you are a follower. If

you are not following, then you are lost. Be somebody,

be the best version of yourself that you can be.

Help us build tomorrow's leaders. Check out our

website for full information at www.pdrangers.org

Jr. Leadership opportunities:

Jr. Leadership Development Academy,

PDRR Camp Berry – August 2–5

Adult Leadership Opportunities:

Check with your Sectional RR Coordinator for local

Ranger Basics and Ranger Essentials

National Ranger Ministry Camp,

Whiteford, MD – Sept. 8–10

Network connexions | Fall 2017 | 17
---
GIRLS MINISTRIES

Sharon Poole

penndeldmc@yahoo.com

penndel.org/girls

September 10-16 is the

National Girls Ministries Week.

This annual celebration provides an opportunity for the

local church to promote its ministry to girls and young

women. This year the theme, "BLOOM, when little

becomes much," allows for teaching and discussion for all age

groups of girls. The National GM Department has developed

a packet to be used in this Celebration. To download this free

packet, go to ngm.ag.org Click on the "events/evangelism"

dropdown and choose "National Girls Ministries Week."

18 | Network connexions | Fall 2017

Even if you do not have organized Girls Ministries Clubs in your

church, use this time to highlight how you are reaching this

generation of females for Jesus. Never before has a gender

generation needed to be encouraged, honored and, more

importantly, mentored. Don't miss this opportunity to bring

about God's blessing in them!
---
Pennsylvania-Delaware

Ministry Network

4651 Westport Drive

Mechanicsburg, PA 17055

Read online: penndel.org/connexions

Editor: . . . . . . . . . . . Stephen R. Tourville

Managing Editor: . . . . . Carole Bongiorno

Executive Presbytery

Superintendent . . . . . . . Stephen R. Tourville

Assistant Superintendent . . Bryan Koch

Secretary/Treasurer. . . . . Donald J. Immel

Timothy Bunney Southwest Suburban - SWS

Christopher Clark North Central West - NCW

Roland Coon Delaware - DEL

Steven DeFrain East Central - EC

Jeffrey Kettering South Central - SC

Jeff Marshall Southwest Metro - SWM

Robert Novak Greater Philadelphia Area - GPA

James Pentz North Central - NC

Randall Rhoads South Central East - SCE

Walter Smith South Central West - SCW

Allan Thorpe Northwest - NW

David Twiss Northeast - NE

REpurpose, REclaim,

REplenish, REnew…

so many words to describe

the repairs we need in our

lives. God is the original

"fixer-upper." Our weekend

will focus on allowing God

to REjuvenate and REnovate

our body, soul and spirit.

General Presbyters

Stephen R. Tourville

Donald J. Immel

Bryan Koch

Honorary General Presbyter

Philip Bongiorno

PennDel Superintendent Emeritus

Volume 63 Number 3 - (USPS 165-700) is the official periodical

published quarterly by the Pennsylvaina-Delaware District Council of

the Assemblies of God. Periodical postage paid at Mechanicsburg,

Pennsylvania. Circulation Stands at Approximately 7,500

POSTMASTER:

Send address changes to:

Pennsylvania-Delaware District Council

4651 Westport Drive

Mechanicsburg, PA 17055-4887

DISTRICT CALENDAR

SEPTEMBER

4 ............Labor Day – Ministries Center closed

8-10 .......RR West Division Fall Camporee

9 ............Fearless (Yth) One Day to Make a Difference

East – Central/Bethlehem, PA

10-16 ..... National Girls Ministries Week

11 ..........Presbytery Meeting – BCC

12 ..........Credential Interviews – BCC

15 ..........Credential Apps due for Jan. 2018 Interviews

16 ..........Fearless (Yth) One Day to Make a Difference

Central – CLA/Camp Hill, PA

17 ..........Cluster Church Planting Day

22-23 ..... RR East Division Fall Camporee

22-24 ..... Women in Ministry Retreat – BCC

24 ..........Campus Awareness Day

27 ..........See You at the Pole

29 ..........PennDel Charities Trap Shooting –

Youngwood Sportsmen's Club

OCTOBER

1 ............Ministers' Appreciation Month

2 ............Youth Committee Meeting

2-4 .........Ministers Enrichment – BCC

4 ............World Missions Rep's Meeting – BCC

6-8 .........RR FCF Territorial Rendezvous

7 ............Junior Bible Quiz Meet #1

14 ..........Teen Bible Quiz Meet #1

15 ..........National STL Day

20-21 .....Acts 2 Journey #4 – BCC

20-21 .....GO Men's Conference – CLA, Camp Hill

21 ..........PDRR Camp Workday

21-23 .....PK/MK Retreat – BCC

30-31 .....STL Tour

NOVEMBER

1-17 .......STL Tour

4 ............Junior Bible Quiz Meet #2

5 ............Daylight Savings Time ends

10-11 ..... Women of Purpose Conference –

Hershey Arena

11 ..........RR Regional Business Meeting

15 ..........Credential App's due for March 2018

17-19 ..... Young Adult Outreach (NYSUM) –

New York City

23-24 ..... Thanksgiving – Ministries Center closed

Network connexions | Fall 2017 | 19
---
Pennsylvania-Delaware Ministry Network

4651 Westport Drive

Mechanicsburg, PA 17055

Find us online: penndel.org

Follow us on Facebook: PennDel Ministry Network

Follow us on Twitter: #penndelag

LEADING THE WAY

in Kingdom Investments

Investment Interest Rates

5 year note 4.00%

4 year note 3.25%

2½ year note 3.00%

1 year note 2.75%

6 month note 2.50%

Demand Note 2.25%

www.hisfund.com • 866-219-0820 (toll free) • 717-796-9784

MINIMUM DEPOSIT TO OPEN A NOTE IS $500.00. THE INITIAL INTEREST RATE

ON ALL NOTES WILL DEPEND ON EFFECTIVE INTEREST RATES AT THE TIME

OF PURCHASE. TERM NOTES PAY INTEREST AT A RATE FIXED AT THE TIME OF

ISSUANCE. ONCE FIXED, THE INTEREST RATE ON A TERM NOTE WILL NOT BE

CHANGED UNTIL THE NOTE MATURES. AT LEAST THIRTY (30) DAYS PRIOR TO ANY

DECREASE IN THE INTEREST RATE ON A DEMAND NOTE, HIS FUND WILL NOTIFY

THE HOLDER OF SUCH CHANGE. *DEMAND NOTES ARE NOT AVAILABLE IN SOUTH

CAROLINA. HIS FUND INTEREST RATES ARE SUBJECT TO CHANGE WITHOUT

NOTICE. FOR MORE INFORMATION OR ADDITIONAL FORMS, VISIT OUR WEBSITE

AT WWW.HISFUND.COM.

THIS INFORMATION IS NEITHER AN OFFER TO SELL NOR A SOLICITATION OF AN

OFFER TO BUY THE SECURITIES ISSUED BY HIS FUND. THE OFFERING IS MADE

ONLY BY THE PROSPECTUS. THE UNSECURED SECURITIES OF HIS FUND ARE

NOT OFFERED OR SOLD IN ANY JURISDICTION WHERE NOT PERMITTED. THE

NOTES ARE NOT SAVINGS OR DEPOSIT ACCOUNTS OR OTHER OBLIGATIONS

OF A BANK AND ARE NOT INSURED BY THE FEDERAL DEPOSIT INSURANCE

CORPORATION, ANY STATE BANK INSURANCE FUND, THE SECURITIES INVESTOR

PROTECTION CORPORATION OR ANY OTHER GOVERNMENTAL AGENCY.