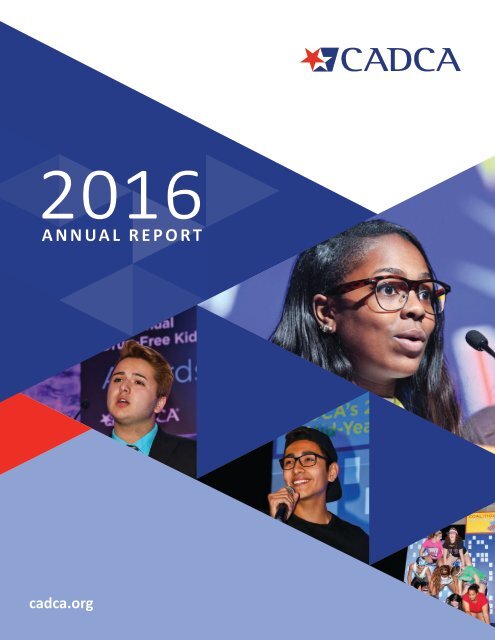 Create successful ePaper yourself
Turn your PDF publications into a flip-book with our unique Google optimized e-Paper software.
2016

ANNUAL REPORT

cadca.org
---
Contents

MESSAGE FROM THE CHAIRMAN AND CEO......................... 3

NATIONAL COALITION INSTITUTE.................................. 4

YOUTH LEADERSHIP ............................................. 6

TRAINING EVENTS............................................... 8

PARTNER PROJECTS............................................ 10

PUBLIC POLICY................................................ 11

DRUG-FREE KIDS CAMPAIGN AWARDS DINNER ................... 13

MEMBERSHIP................................................. 14

GEOGRAPHIC HEALTH EQUITY ALLIANCE......................... 18

INTERNATIONAL PROGRAMS.................................... 20

FINANCIAL.................................................... 22

PARTNERS.................................................... 23

SUMMATION.................................................. 24

BOARD OF DIRECTORS ......................................... 26

COALITION ADVISORY COMMITTEE.............................. 27
---
Message

FROM THE

CHAIRMAN & CEO

DEAR FRIENDS,

Through the tireless efforts of community

leaders, you will see how CADCA's effective

prevention model has reduced substance use and

misuse in communities across the country and

around the world.

Since the creation of CADCA almost 25 years

ago, our organization has remained committed

to encouraging, growing, training and assisting

community coalitions. With our resources, we

provide education and structure while local

coalitions hone in on effective strategies for their

communities. It takes leaders from all sectors

– community, federal, state, law enforcement,

medical and more – to make an impactful change

in our culture.

In this Annual Report, you will learn about the

impact your accomplishments have contributed

to the field.

For example, without your support, we would

not have been able to realize a record-breaking

Capitol Hill Day event, exceeding previous

number of attendees and Congressional

appointments!

We would not have been able to expand our

federal partnerships to cultivate projects and

prevention efforts in the fields of prescription

drug use and misuse, underage drinking,

marijuana and tobacco use, and more.

We would not have

been able to provide coalition

building and prevention training in

19 countries across four continents to more

than 1,500 people.

We would not have been able to do a deep dive

into the health disparities through the Geographic

Health Equity Alliance, exploring tobacco and

cancer education gaps across the country.

On behalf of our coalitions, our staff, and Board

of Directors, thank you for believing in CADCA's

mission to build safe, healthy, and drug-free

communities globally. We could not do this crucial

work without your support.

Sincerely,

Gen. Arthur T. Dean

CADCA's Chairman

and CEO

CADCA's effective

prevention model has

reduced substance use and

misuse in communities across the

country and around the world.
---
Institute

2016 was a year of firsts. The National Coalition

Institute partnered with SAMHSA to develop

and deliver the first-of-its-kind Tribal

Applicant Training to 13 Tribes entitled:

Healthy Tribes, Healthy Nations for

Generations to Come. Another first

for the Institute was a training in

Guam where 95 participants

and 12 coalitions were in

attendance. Lastly, one

hundred and seventy-three

coalitions graduated

from the National

Coalition Academy

– the largest

12

graduating class

COALITIONS

IN GUAM

to date.

13

TRIBAL APPLICANT

TRAINING

The Substance Abuse and

Mental Health Services

Administration again partnered

with the National Coalition Institute

to create coalitions at universities

and colleges called the Campus

Community Coalitions: Community of

Practice (4CP) project. The pilot cohort

class was California State University –

Northridge, Indiana University – Bloomington,

Iowa Lakes Community College, Morgan State

University, Southeastern Louisiana University,

University of Maryland – Eastern Shore, University

of South Florida and the University of Tampa.

95

PARTICIPANTS

IN GUAM

To expand the reach of CADCA training, a new class of

Training of Trainers (TOTers) was started in 2016. The new

class has gone through the prerequisites and the residential

training.

173

COALITIONS

GRADUATED

In 2016, CADCA partnered with the Drug Enforcement

Administration to start the DEA 360 Strategy in Milwaukee,

Wisconsin; Louisville, Kentucky; and St. Louis, Missouri. In St. Louis,

the training — A Comprehensive Approach to Addressing the Pills to

Heroin Epidemic — was held at the St. Louis College of Pharmacy. In

Milwaukee, the Lybert family spoke about how their son struggled with

drugs and alcohol for 11 years until he decided to get help. In Louisville,

CADCA worked with the U.S. Attorney, John Kuhn and the DEA to produce

a successful Heroin and Opioid Response Summit. We will continue to

move forward with this partnership in 2017 to include Philadelphia,

Pennsylvania; Manchester, New Hampshire; Dayton, Ohio; Charleston,

West Virginia; and Albuquerque, New Mexico.

4 CADCA ANNUAL REPORT 2016
---
The National Highway Traffic Safety

Administration (NHTSA) funded support

for a meeting and training sessions at the

27 th National Leadership Forum and the

15 th Annual Mid-Year Training Institute.

Additionally, they were a part of a CADCA

ad hoc advisory committee at the Forum

to discuss the development of a study

design for determining coalition evidencebased

strategies to reduce impaired

driving. CADCA has also hosted two

webinars that featured coalition efforts

to help prevent impaired driving in their

communities.

A Certified Prevention Specialist

(CPS) training was done in Idaho and

Washington, D.C., in 2016. The CPS exam

was available at the end of the trainings

for participants to take; as a result, in

Idaho 13 coalition leaders became CPS

certified and in Washington, D.C., 16

leaders became CPS certified.

Evaluation

& Research

The Research and Evaluation Advisory Board was

convened at the Mid-Year Training Institute as a part

of the launch of the new National Coalition Institute

External Evaluation. The Advisory Board is chaired by

the new evaluation lead, Dr. Mark Wolfson of the Wake

Forest University School of Medicine, and was initially

made up of both academic and coalition experts.

The 2016 Annual Survey Fact Sheet framed CADCA data

to benefit our members and partners. The 2016 Fact

Sheet framed demographic data against the National

Coalition Institute Framework for Community Change.

This continues the cycle of our Fact Sheets featuring

data by the defining characteristics of our coalitions. Last

year, we used the Seven Strategies to Affect Community

Change and next year we'll use the Strategic Prevention

Framework.

93%

COALITIONS EFFECTIVE AT

REDUCING POPULATION-LEVEL

SUBSTANCE ABUSE PROBLEMS

CADCA ANNUAL REPORT 2016 5
---
Youth

Leadership

In 2016, CADCA focused on building the capacity of our youth training team. After a

rigorous application process, 12 prospective youth were selected to move forward,

being trained on CADCA's training curriculum as well as presentation skills. Each of

these young people are continuing to accomplish great things in their communities,

and brings their unique skills and talents to the team. They are all undergoing a oneyear

training process and will graduate to become an official member of CADCA's Youth

Leadership training team.

Johnson & Johnson

Cardinal Health

Foundation

Office of National

Drug Control Policy

CADCA's youth leadership

department partnered with

Johnson & Johnson Consumer

to engage young leaders in a

medicine safety youth educators

pilot. CADCA trained youth from 20

member coalitions to teach 5 th and

6 th graders about medicine safety.

The youth trainers collectively were

able to train 866 5 th and 6 th graders

about medicine safety.

CADCA's youth leadership

department partnered with the

Cardinal Health Foundation to train

over 100 youth from Pennsylvania,

Tennessee, and Delaware on the

Strategic Prevention Framework.

These young people have created

strategic action plans to combat

underage drinking and prescription

drug use.

CADCA's youth leadership

department partnered with the

Office of National Drug Control

Policy to promote youth leadership

in coalitions. Through our

partnership, in 2016 we trained

over 1,400 youth on the Strategic

Prevention Framework. Youth who

attend CADCA's National Youth

Leadership Initiative are the most

engaged youth in coalitions and

we want to thank ONDCP for their

continued support.

CADCA wants to partner with you to foster Youth

Leadership by engaging, developing, and inspiring

young people to commit to coalition work.

6 CADCA ANNUAL REPORT 2016
---
CADCA ANNUAL REPORT 2016 7
---
Training Events

Attendees

26TH ANNUAL

NATIONAL

LEADERSHIP

FORUM

70

Training

sessions

Attendees

THE 15TH

ANNUAL

MID-YEAR

TRAINING

INSTITUTE

Capitol Hill Day

Appointments

Capitol Hill Day

Participants

half-day and

two-day

courses

FORUM

Nearly 2,700 community leaders attended the National

Leadership Forum in National Harbor, MD, in February

2016. The four-day training event featured more

than 70 training sessions to help participants learn

effective strategies to address drug-related problems

in their communities. Speakers Michael Botticelli from

the Office of National Drug Control Policy (ONDCP),

Chuck Rosenberg from the Drug Enforcement

Administration, and Dr. Bertha Madras from Harvard

Medical School addressed attendees at the National

Leadership Plenary, alongside CADCA's own Chairman

and CEO General Arthur T. Dean. 179 coalitions from

42 states, Washington, D.C. and Puerto Rico were

recognized at CADCA's National Coalition Academy

graduation ceremony. A roundtable discussion among

members of Congress was hosted at the Capitol Hill

Day plenary session before attendees headed to the

Hart Senate Office Building for the Congressional

Reception. Over 200 Capitol Hill Day appointments

were created so attendees could speak directly with

their representatives. At the Membership Breakfast,

award-winning reporter and producer Andy Field

shared how to best tell your story to the media,

how to personalize a message, the importance

of visuals, practical do's and don'ts and more.

8 CADCA ANNUAL REPORT 2016
---
At the National Leadership Awards Luncheon,

Congressman Hal Rogers received the National

Leadership Award for his invaluable prevention efforts

on Capitol Hill; Shelby County Drug Free Coalition

from Indiana received the Dose of Prevention Award

for their educational work during National Medicine

Abuse Awareness Month; and GOT OUTCOMES!

award winners were recognized. Attendees had the

opportunity to visit 40+ exhibitors during the week,

including booths from companies such as the Truth

Initiative and American Association of Poison

Control Centers.

MID-YEAR

At the 15 th annual Mid-Year Training Institute in Las

Vegas, a record-breaking 2,000 attendees attended

80+ top-tier training sessions from tracks such as "Data

Crusaders" and "Incredible Communication" to "Policy

Power" and "Heroes in Training." Attendees started the

week with a Monumental Impact Welcome Reception.

Opening Plenary and Breakfast treated attendees to

wise words from Frances Harding, the Director of the

Center for Substance Abuse Prevention at the Substance

Abuse and Mental Health Services Administration and

Dr. Moira O'Neil, senior researcher at the FrameWorks

Institute, who discussed the importance of message

framing. Attendees joined CADCA in giving back to the

community through the Community Service Project at

the Shade Tree, a safe shelter to homeless and abused

women and children in crisis. Mid-Year also offered

the opportunity for veteran attendees to go to the

Advanced Coalition Academy. Before the week was

over, the ONDCP Town Hall Meeting offered attendees

the opportunity to hear from ONCDP's Director Michael

Botticelli, DFC Administrator Helen Hernandez and other

ONDCP staff about upcoming key initiatives.

Future CADCA Events

2018

FEB 5-8

NATIONAL LEADERSHIP

FORUM

NATIONAL HARBOR, MD

JUL 15-19

MID-YEAR TRAINING

INSTITUTE

ORLANDO, FL

OCT 18

DRUG-FREE KIDS

CAMPAIGN AWARDS DINNER

NATIONAL HARBOR, MD

2019

FEB 4-7

NATIONAL LEADERSHIP

FORUM

NATIONAL HARBOR, MD

JUL 14-18

MID-YEAR TRAINING

INSTITUTE

DALLAS, TX

FALL

DRUG-FREE KIDS

CAMPAIGN AWARDS DINNER

NATIONAL HARBOR, MD

CADCA ANNUAL REPORT 2016 9
---
Partner Projects

CADCA ACCESS Project – Funded by the

Conrad N. Hilton Foundation

CADCA joined forces with the Conrad N. Hilton

Foundation to enhance and increase adolescent

Screening, Brief Intervention, and Referral to Treatment

(SBIRT) services in local communities, with the intention

to promote a new model through a community coalition

construct. In 2016, CADCA's new initiative – America's

Community Coalitions Expanding SBIRT Services – or

ACCESS, began with the convening of a Blue Ribbon

Advisory Panel to review the existing SBIRT-system in

the United States, recommend strategies for coalitions

and healthcare partners that incorporate a broader

utilization of SBIRT at the local level, recommend

strategies to catalyze SBIRT implementation through

prevention coalition efforts, and to ultimately inform

coalition involvement in SBIRT activities.

The Panel served an 8-month long tenure and

completed a comprehensive review of issues affecting

SBIRT expansion and enhancement, amongst other

issues. A culmination report of the Panel's conclusions

and recommendations was submitted to CADCA's

Executive Leadership and Board of Directors in the Fall

of 2016. The Panel's major decision included a threepronged

approach for how CADCA's coalitions can

engage in SBIRT. The report noted that coalitions of all

levels can engage in SBIRT as an advocate, while some

coalitions that are more equipped, can engage in SBIRT

as an implementer or a trainer (an abridged version of

this recommendations report is available at CADCA.org.)

SBIRT IMPLEMENTER

Coalitions will engage directly in

the implementation of SBIRT, e.g.,

working with service providers and

healthcare partners, hiring SBIRT

staff, managing the SBIRT project at

the local level.

SBIRT TRAINER

Coalitions will train their healthcare

partners on an approved SBIRT

model. Coalitions can train

community partners on the benefits

of SBIRT.

SBIRT ADVOCATE

Coalitions will advocate to improve/

enhance SBIRT services in the

community or to advocate to ensure

that their community implements a

new SBIRT program.

The recommendations provided by the Panel in this

planning year greatly informed CADCA's approach and

supported the development of a new proposal to the

Hilton Foundation. In the fall of 2016, CADCA submitted

this proposal that was approved and funded by the

Hilton Foundation in the spring of 2017.

10 CADCA ANNUAL REPORT 2016
---
Public Policy

CHRONICLING A SUCCESSFUL LEGISLATIVE YEAR

CADCA coalitions are laser-focused on working to keep

their communities safe, healthy and drug-free. As the

opioid epidemic continues spreading to communities

across the country, it has become clear that

the devastation is relentless, and

efforts to prevent drug use

before it starts are more

urgent than ever

before.

CADCA recognizes the steep challenge facing our

nation, and as the largest drug prevention organization

in the country, continues to work tirelessly to prevent,

delay and reduce substance use among youth. With

the help of our members, CADCA accomplished several

landmark achievements in 2016 that bolstered existing

and proven drug prevention efforts in the fight against

the opioid epidemic, youth drug use and underage

drinking.

Passage of the

Comprehensive

Addiction and

Recovery Act (CARA)

In 2014, Senators Sheldon Whitehouse, Rob

Portman, Amy Klobuchar and Kelly Ayotte brought

together leading organizations across all the six

pillars necessary for a coordinated response to the

opioid/heroin epidemic – prevention, treatment,

recovery, law enforcement, criminal justice reform,

and overdose reversal to find evidence-based,

comprehensive solutions. CADCA was a core member

of this working group and an active participant in the

many information summits that were held to discuss

what to include in the CARA legislation. Through

this process CADCA advocated for, and secured the

inclusion in the introduced legislation (Section 103) of

a $5 million enhancement grant program for current

and former Drug-Free Communities (DFC) grantees to

work more intensively in their communities to stop

prescription drug misuse in the first place.

On March 10, 2016, CARA was passed in the Senate

by a 94-1 vote, followed shortly thereafter by the

House of Representatives in a 400-5 vote. To iron

out the differences between the House and Senate

versions of the legislation, a Conference Committee

was formed. While the Senate included the $5 million

enhancement grant program for current and former

grantees (section 103), the House version did not.

CADCA's team quickly engaged the Members of the

Conference Committee and their staffs to make sure

that any final legislation included the critical DFC

enhancement grant prevention program. On July 22,

2016, President Obama signed CARA into law with

this important prevention provision intact.

CADCA is extremely proud that our organized, datadriven,

and comprehensive model was included as

the prevention pillar for the final CARA legislation

and that the $5 million enhancement grant program

was successfully authorized.

CADCA ANNUAL REPORT 2016 11
---
Reauthorization

of the Sober Truth

on Preventing

(STOP) Underage

Drinking Act

Reauthorizing the STOP Act has also

been an important long-term priority for

CADCA. In 2006, the original STOP Act

legislation was signed into law to combat

underage drinking, but authorization for

the legislation expired in 2010. While

CADCA successfully worked to ensure

that funding for the STOP Act program,

including $5 million for community

coalition enhancement grants, was

appropriated every year since 2010, it

remained a top priority to reauthorize

the program.

The STOP Act reauthorization legislation (H.R. 1717), introduced

by Congresswoman Roybal-Allard, reauthorized: community

coalition underage drinking enhancements grants; Interagency

Coordinating Committee to Prevent Underage Drinking (ICCPUD);

state annual reports on underage drinking; an adult-oriented

media campaign; epidemiological studies on excessive drinking;

and authorized a new program to assist pediatric health care

provider organizations in educating their members on best

practices for screening adolescents for alcohol use, offering brief

interventions, referring to other care when needed, and working

with parents.

To accomplish the goal of STOP Act reauthorization, CADCA

mobilized coalition members during Capitol Hill Day, which

helped the legislation achieve over 100 co-sponsors. CADCA then

organized and led the National Association for the Prevention

of Underage Drinking (NAPUD), a group of public health and

safety organizations, in meetings with key offices in Congress. On

September 8, 2016, CADCA's Chairman and CEO, General Arthur

T. Dean, testified at a Health Subcommittee hearing in the House

Energy and Commerce Committee to stress the importance of

the STOP Act reauthorization to Committee Members and the

tremendous reductions in underage drinking that coalitions

had achieved because of the STOP Act enhancement grants.

CADCA and NAPUD members received important commitments

from necessary offices, but the legislative calendar was ending.

Due to the strong CADCA advocacy-led efforts of NAPUD,

Congresswoman Roybal-Allard was able to get STOP Act

reauthorization included in the 21st Century Cures legislation

(P.L. 114-255), which was passed by both chambers in Congress

and signed into law by President Obama on December 13, 2016.

CADCA is proud of our major legislative accomplishments that

ensure effective substance use prevention, built on our coalition

model, is appropriately included in legislation to address all the

major substance use challenges our nation's communities face.

12 CADCA ANNUAL REPORT 2016
---
Drug-Free Kids

Campaign Awards Dinner

CADCA's 18 th annual Drug-Free Kids Campaign Awards Dinner (DFKC) held October 6 in

Washington, D.C., recognized leaders and corporations who are supporting and educating the

community about substance misuse and its impact on young people. Over 400 corporate leaders,

including special guests, prominent Members of Congress, federal officials, corporate leaders,

youth, and community coalition members were all unified with one voice, under one banner, with

one goal – to keep children, teens, and young adults safe and healthy. There were speakers, live

entertainment and opportunities to participate in a silent auction.

CADCA's DFKC Awards Dinner provided a venue for

young adult leaders to share their thoughts and insights

about what it means to be leaders in the field of

substance use prevention. Jetter White of the Pittsfield

Prevention Partnership (Pittsfield, Massachusetts)

affirmed, "Be confident, know what you want. You can

be the change." Youth coalition leader Ananth Ghosh of

the SRSLY Chelsea Coalition (Chelsea, Michigan), who

was also featured, shared that, "CADCA is an important

inspiration source. We know that CADCA has our back –

reinforcing the importance of people my age adopting

peer pressure release strategies that help us realize

that being drug-free is the norm."

CADCA presented the 2016 Humanitarian of the

Year award to Scott M. Melville, President and Chief

Executive Officer of Consumer Healthcare Products

Association (CHPA) for his commitment to addressing

the complex issues of medicine abuse and misuse

and for CHPA's 10 years of outstanding partnership

with CADCA. CADCA's Champion for Drug-Free Kids

award was bestowed upon The Honorable Mary Bono,

Principal, FaegreBD Consulting and former Member

of U.S. Congress (1998-2013) for her exceptional

leadership on the issue of substance abuse while

working both in and out of Congress. Funds raised

through the DFKC help support CADCA's efforts to

build and strengthen local community coalitions

and special programs that transform youth

into civic leaders and reduce substance

misuse in communities around the

country.

"There is so much more that we can do.

I say 'we,' because no one person,

coalition or government entity

can go at this problem alone."

– LARRY COTE

CADCA ANNUAL REPORT 2016 13
---
Membership

Changing Communities

One Member at a Time

Members are the strongest supporters of CADCA. CADCA

members attend trainings, advocate for prevention on Capitol

Hill, tell us their success stories to share with the community atlarge

and much more. In return for such strong support, CADCA

worked hard in 2016 to show our members that we care. We

made changes to the way we recognize our members and we

added benefits such as a new CADCA Prevention Job Board, a

more frequent members' newsletter and an election guide to

give them more value for their membership.

14 CADCA ANNUAL REPORT 2016
---
What's Changed?

MEMBER CATEGORIES.

CADCA added two new membership categories in August to better serve our member needs

and to expand into a larger market. We eliminated the individual membership category and

added:

PREVENTION PROFESSIONAL:

Any individual who works in the

substance use and prevention field,

but does not belong to a specific

organization.

FRIEND OF CADCA:

Any individual with an interest in

supporting substance abuse prevention

programs and in building safe, healthy

and drug-free communities.

Prevention Professionals receive a discount to training events, but Friends of CADCA do

not. 2016 was a soft launch for these categories. New benefits and incentives will be rolled

out in 2017 to increase membership in these categories.

OUTREACH.

We called nearly 1,500 members in 2016 to

ask them what they need from CADCA. We

listened and although most members tell

us they are happy with their membership,

we also received valuable feedback on

resources that need to be developed as

well as great stories on the challenges and

successes that our members face in their

communities every day.

RECOGNITION.

CADCA celebrated members who have been

supporting CADCA for 5, 10, 15 and 20+

years. New membership lapel pins were

passed out at trainings to create a sense of

recognition and pride among our members.

New members asked when they can receive

one and are now looking forward to wearing

their pins at a future CADCA event.

CADCA ANNUAL REPORT 2016 15
---
The Results?

2016 changes made a difference and CADCA

membership is growing stronger.

COALITION

PREVENTION

PROFESSIONAL

SPECIAL INTEREST

GROUPS

7.5%

CHANGE

FROM 2015

TO 2016

5%

CHANGE

FROM 2015

TO 2016

16.6%

CHANGE

FROM 2015

TO 2016

SUSTAINING

INDIVIDUALS

RECEIVING BENEFITS

TOTAL

10.3%

CHANGE

FROM 2015

TO 2016

9%

CHANGE

FROM 2015

TO 2016

9%

CHANGE

FROM 2015

TO 2016

16 CADCA ANNUAL REPORT 2016
---
Member Benefits:

To help members do their critical work

effectively, we provide a number of benefits:

Serve on Capitol Hill as

the voice and champion

of funding for coalitions

and the prevention

movement

Legislative alerts and

updates regarding

CADCA's public policy

efforts and time-sensitive

legislative issues

Discounted rates

on CADCA's printed

publications and online

courses

Use of CADCA logo for

branding purposes

Member-only rates for

CADCA's Leadership

Forum and Mid-Year

Training Institute

CADCA Prevention

Job Board

Two digital newsletters:

Members' Edge, now

published monthly,

and Coalitions Online,

published weekly

Access to media outreach

tools, including sample

letters and templates

Volunteer request

referrals

Eligibility to enter CADCA

sponsored contests and

scholarship opportunities

Affinity Program

discounts: Office Depot,

Hertz, Dell, UPS

Additional Benefits

for Sustaining Members

Comprehensive

report specifically

tailored to your state

based on results from

the Annual Survey of

Coalitions

Ability to schedule

CADCA senior

leadership staff for

public speaking

engagements and

training support

Bi-annual state-level

teleconference and/

or webinar addressing

issues at the forefront

of states (scheduling

upon request)

CADCA ANNUAL REPORT 2016 17
---
GHEA

GEOGRAPHIC HEALTH

EQUITY ALLIANCE

The Geographic Health Equity Alliance (GHEA), a CADCA project, is

a national network funded by the Centers for Disease Control and

Prevention (CDC) to address tobacco and cancer disparities specific to

certain geographical regions throughout the United States. As we enter

our fourth year, GHEA has made considerable progress in advancing our

public health focal areas.

Cultural Competence in

Tobacco Cessation Messaging

Alongside Community Connections, a West Virginia

based coalition, GHEA utilized a barn to convey healthy

messaging around quitting tobacco use and promoting

the West Virginia Tobacco Quitline. The tobacco cessation

messaging is based in part on the CDC's national Tips from

Former Smokers campaign (TIPS). Community Connections

identified a barn in Mineral County to convey culturally

competent, localized information to engage West Virginians,

who have the highest reported adult smoking rates in the

nation: 26.7 percent.

The TIPS campaign features real stories of people living

with smoking-related diseases and disabilities. The Mineral

County barn highlights Rebecca's story, a woman who turned

to smoking as an ineffective way to cope with her bouts

of depression. An additional 11 barns in West Virginia will

prompt calls to the West Virginia Tobacco Quitline. The

Quitline offers free, evidence-based, tobacco cessation

services. For the next 10 years, the Rebecca Barn will display

Rebecca's tip along U.S. Highway 50, where roughly 3,000

motorists daily will be exposed to this culturally competent

messaging.

Coalition Capacity Building

and Sustainability Efforts

In a working partnership with the Iowa

Department of Public Health's Division

of Tobacco Use and Prevention and with

support from the National Coalition

Institute's Master Trainers, GHEA is currently

developing a three-part webinar series.

The focus of the series is to support funded

coalitions in the Hawkeye State in realizing

their tobacco control goals areas, namely

preventing initiation of tobacco use among

youth and young adults, eliminating nonsmokers'

exposure to secondhand smoke and

promoting quitting among young people and

adults.

GHEA is also developing skill-building and

sustainability trainings with the Louisiana

Healthy Communities Coalition, which will

explore specific opportunities for growth

with regional coalition leaders.

18 CADCA ANNUAL REPORT 2016
---
CADCA's National Leadership

Forum and Mid-Year

Training Institute

Topics covered included:

Primary and secondary prevention

strategies to address tobacco and

cancer disparities

GHEA led the development of 10

tobacco-related training sessions

during the National Leadership Forum

and Mid-Year Training Institute.

They were presented by subject

matter experts working on

behalf of the CDC, professors

and researchers from major

universities, state-based

tobacco control programs

and representatives from

non-governmental

organizations.

Growing Social

Media Presence

460%

increase in followers

275%

increase in followers

Emerging tobacco products including

e-cigarettes and other electronic

nicotine delivery devices

Growing popularity of using

hookah among youth and

young adults

Insight on how to include

your LGBT neighbors in

coalition work

Tobacco 21 Policies

GHEACast –

GHEA's Podcast

10

episodes in

production

Addressing

Rural Cancer

Health Disparities

– A GHEA

Publication

GHEA and our partners at the Wake

Forest School of Medicine, developed

the publication Call to Action: Addressing

Rural Cancer Health Disparities. The

publication highlights ways leaders can

address rural disparities along the cancer

continuum. It provides GHEA's geographic

health equity model, which can be applied to

better identify contributors to rural disparities

in cancer and tobacco and implement the most

appropriate practices.

CADCA ANNUAL REPORT 2016 19
---
International

Programs

49 COALITIONS

MEXICO

International Narcotics

and Law Enforcement

(INL) has supported the

establishment of 229

community coalitions

WORLDWIDE.

6 COALITIONS

GUATEMALA

8 COALITIONS

HONDURAS

5 COALITIONS

COSTA RICA

1 COALITION

HAITI

CADCA works with

in-country partners

to establish coalition

NETWORKS,

currently composed

of more than 7,000

CADCA-trained

coalition members.

65 COALITIONS

PERU

2 COALITIONS

BOLIVIA

In 2016, CADCA delivered 55 international trainings

in 19 countries on 4 continents in

5 languages to more than 3,000 individuals.

20 CADCA ANNUAL REPORT 2016
---
2 COALITIONS

IRAQ

14 ACTIVE

TAJIKISTAN

5 COALITIONS

CAPE VERDE

15 COALITIONS

TAJIKISTAN

11 COALITIONS

KYRGYZSTAN

16 COALITIONS

PHILIPPINES

4 COALITIONS

SENEGAL

4 COALITIONS

KENYA

8 COALITIONS

GHANA

16 COALITIONS

BRAZIL

2 COALITIONS

PARAGUAY

2 COALITIONS

URUGUAY

8 COALITIONS

SOUTH AFRICA

In 2016, CADCA, with the support of its global

partners, was able to secure commitments and

resources from local, regional, and national

governments to support the development

of anti-drug community coalitions through

the Training of Leaders (TOL) Initiative. This

approach led to the successful formation of 54

additional drug prevention coalitions, and to the

strengthening of existing coalition networks in

the following countries:

COSTA RICA: 3 new coalitions

in the greater San José

Metropolitan Area

GHANA: 6 new coalitions in the

Eastern and Central regions

GUATEMALA: 3 new coalitions

in the Department of

Quetzaltenango

HONDURAS: 4 new coalitions

in the Department of Cortéz

KYRGYZSTAN: 5 new coalitions

in 3 regions

MEXICO: 12 new coalitions in

4 states

PERU: 5 new coalitions in 5

cities

PHILIPPINES: 9 new coalitions

throughout the country

TAJIKISTAN: 7 new coalitions

throughout the country
---
Financial

REVENUE

Grants and Contracts 59.0%

Sponsorships & Contributions 16.1%

Forum & Mid-Year Training 21.5%

Membership Dues 3.4%

EXPENSES

Training & Technical Assistance 36.1%

International Programs 18.5%

Forum & Mid-Year Training 21.4%

Communications 11.0%

Fundraising 5.0%

Public Policy 5.4%

Membership 2.6%

22 CADCA ANNUAL REPORT 2016
---
PREMIER ($75,000 +)

PLATINUM ($25,000 +)

PRESENTING ($100,000 +)

EXECUTIVE COMMITEE

($50,000 +)

GOLD ($15,000)

Axial Healthcare

Collegium Pharmaceutical

Indivior

Quarles & Brady LLP

SILVER ($10,000 +)

Auburn Pharmaceutical

BAV

Endo Pharmaceuticals

Honeywell

The Ina Kay Foundation

J. Walter Thompson – New York

WestCare

BRONZE ($5,000 +)

Adapt Pharma

AmerisourceBergen

DARE

Dave R. Zook

Don and Beverly Truslow

FaegreBD Consulting

Gannett

KemPharm

Krispy Kreme Doughnut Corporation

Proove Biosciences

RWJF Special Contributions Fund

of the Princeton Area Community

Foundation

The Honorable Mary Bono and

Admiral Steve Oswald, NASA

Astronaut

U.S. Pharmacopeial Convention

Verde Environmental Technologies

BENEFACTOR ($1,000 +)

Bayer Healthcare

Braeburn

Caron

Chief Warrant Officer (CW5) – John

L. Harrison, Sr., U.S. Army, Retired

Douglas W. and Astrid O. Hughes

Dr. Ken and Jeanine Dobbins

Dr. Kenneth G. & Jerilyn S. Jordan

Egalet

FP1 Strategies

Fran Flener

General & Mrs. Arthur T. Dean

General Barrye L. & Dr. Tracy Price

General Board of Church and

Society, The United Methodist

Church

Howard K. Koh, M.D., M.P.H.

Jack Sammis

Joel Pagliarello

Keith and Pamela Poulsen

Larry P. Cote, Esquire

National Association of Drug Court

Professionals

National Council of Behavioral

Health

Pacira

Rite Aid

San Antonio Fighting Back

Scholastic

Suzan Zimmerman, Senior Vice

President, Strategic Campaigns, CACI

International, Inc.

The Ryman Hospitality Properties

Foundation

The Thau Family Trust

Thomas J. Reddin

CADCA ANNUAL REPORT 2016 23
---
Summation

CADCA's mission is to strengthen the capacity of

community coalitions to create and maintain safe,

healthy and drug-free communities globally.

COALITION STRENGTHENING:

2,654 community

members

impacted

leaders attended training

coalitions graduated

coalitions developed

coalitions effective

at reducing

substance abuse

GLOBAL GROWTH:

55

international

trainings in

19 NEW

COUNTRIES

reaching

6,300

members

countries

adopted the

CADCA coalition

model

17

new coalitions in

THREE NEW

COUNTRIES

24 CADCA ANNUAL REPORT 2016
---
PARTNERSHIPS

AND POLICY:

INNOVATION:

CARA and the STOP

Act Reauthorization

were passed,

creating effective

policy change in

favor of prevention.

podcasts

35 %

increase in

email marketing

leaders

impacted

entries

youth

impacted

increase in

membership

Thank you for your part in making this happen in 2016.

CADCA ANNUAL REPORT 2016 25
---
CADCA Board of

Directors

CHAIRMAN AND CEO

Arthur T. Dean

Major General, U.S. Army, Retired

CADCA

VICE CHAIR

Jerilyn Simpson-Jordan

Past President & CEO, San

Bernardino

Communities Against Drugs

EMERITUS

Neil Austrian

Former Chairman & CEO, Office

Depot, Inc.

and former President, The NFL

Gerald R. Roche

Senior Chairman, Heidrick &

Struggles, Inc.

SECRETARY

Douglas Hughes

Past Executive Director, The Miami

Coalition for a Safe and Drug-Free

Community

TREASURER

Donald K. Truslow

Chief Financial Officer, Park Sterling

Bank

BOARD MEMBERS

The Honorable Mary Bono

Principal, FaegreBD Consulting

Member of U.S. Congress (1993-

2013)

Michael A. Braun

General Manager, SAVA

Workforce Solutions, LLC and DEA

Chief of Operations (Retired)

Larry P. Cote, Esquire

Partner/Washington, D.C. Office

Managing Partner, Quarles &

Brady LLP

Kenneth W. Dobbins, MBA, Ph.D.

President Emeritus, Southeast

Missouri State University

Karen Drexler, M.D.

National Mental Health Program

Director – Substance Use

Disorders, Mental Health Services

(10P4M), Office of Patient Care

Services,

VA Central Office

Fran Flener

Former Arkansas Drug Director

Curtis Hougland

Founder, The Social Good

R. Gil Kerlikowske

Former Commissioner, U.S.

Customs and Border Protection,

Department of Homeland

Security

Howard K. Koh, M.D., M.P.H.

Harvey V. Fineberg Professor

of the Practice of Public Health

Leadership, Harvard T.H. Chan

School of Public Health and The

Harvard Kennedy School

The Honorable Michael J.

Kramer

Judge, Noble Circuit Court, 33 rd

Judicial Circuit of Indiana and

Chair, Drug-Free Noble County

Chet Linton

President and Chief Executive

Officer

School Improvement Network

Willie Mitchell

President / Interim Executive

Director

San Antonio Fighting Back, Inc.

Thomas J. Reddin

Managing Partner, Red Dog

Ventures, LLC

Nathaniel J. Sutton

Vice Chairman and Partner

Heidrick & Struggles, Inc.

Kathleen Widmer

President, Johnson & Johnson

Consumer U.S. OTC Division,

Co-Chair, Johnson & Johnson

Consumer Inc., North America

Suzan Zimmerman

Senior Vice President, Strategic

Campaigns

CACI International, Inc.

26 CADCA ANNUAL REPORT 2016
---
Coalition

Advisory

Committee

Virgil Boysaw, Jr.

Drug Free Community Coordinator

Cecil County Health Department

Merilee Fowler

Executive Director

MATFORCE and Community Counts

Cheryl M. Guthier

Past Executive Director

Community Prevention Partnership of

Berks County

Cindy C. Hayford

Director

Deerfield Valley Community Partnership

Michael Langer

Chief, Office of Behavioral Health and

Prevention

Department of Social and Health

Services

Washington State Division of Behavioral

Health and Recovery

Erica Leary, MPH

Program Manager

North Coastal Prevention Coalition /

Vista Community Clinic

Gregory Puckett

Executive Director

Community Connections, Inc.

Vicki J. Turner

Director, Prevention Resource Center

Vice President – External Affairs,

National Prevention Network

CADCA BOARD MEMBER

REPRESENTATIVE

The Honorable Michael J. Kramer

Judge, Noble Circuit Court, 33rd Judicial

Circuit of Indiana

Chair, Drug-Free Noble County

CADCA ANNUAL REPORT 2016 27
---
cadca.org

Facebook.com/CADCA

Twitter.com/CADCA Instagram.com/CADCACoalitions

YouTube.com/CADCAorg

LinkedIn.com/company/CADCA