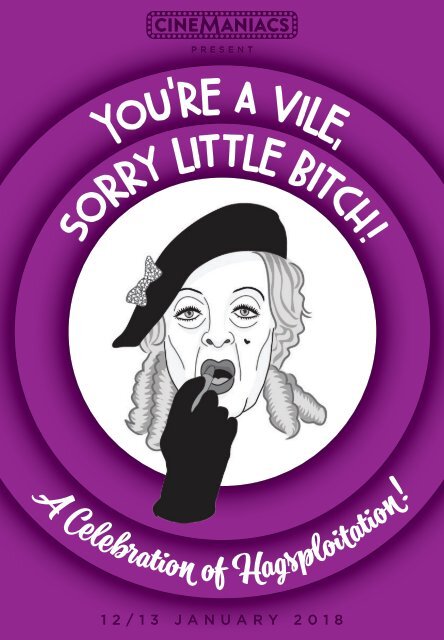 Cinemaniacs present 'You're a Vile Sorry Little Bitch' - A Celebration of Hagsploitation!
Cinemaniacs (Melbourne, Australia) present their first ever festival, celebrating older actresses making comebacks in film. January 2018. cinemaniacs.net
Cinemaniacs (Melbourne, Australia) present their first ever festival, celebrating older actresses making comebacks in film. January 2018. cinemaniacs.net
SHOW MORE
SHOW LESS
Create successful ePaper yourself
Turn your PDF publications into a flip-book with our unique Google optimized e-Paper software.
P R E S E N T

YOu're a vile

,

sOrry little bitch!

A Celebration of Hagsploitation !

1 2 / 1 3 J A N U A R Y 2 0 1 8
---
P R E S E N T

YOu're a vile, sOrry little bitch!

A Celebration of Hagsploitation !

Thematically, horror is a woman's domain. It is a female genre. Most horror movies

feature women or girls as their protagonists, and this is something that should be

celebrated and revered.

Something that also should be championed about the genre is that horror embraces

women and girls of all ages and puts them on the front line, bringing them to the

foreground – be they women in their "prime" (the most varied and dynamic of

roles), young women and teenage girls (oft-used in slasher fare), little girls (many a

time presented as "monster") and thankfully, women in their more seasoned years.

The latter is what Cinemaniacs are honouring with this festival! Those grand-dames

of horror! Those wonderful, more mature, but still as vibrant and as active-as-ever,

legendary actresses who reclaimed Hollywood and made it their own in their later

years. Superstars and revolutionaries such as Bette Davis, Joan Crawford, Olivia de

Havilland, Ruth Gordon, Ruth Roman, Shelley Winters, Gloria Swanson, Myrna Loy,

Piper Laurie, Agnes Moorehead, Yvonne de Carlo and many more, resurrected their

careers during the time of their advanced age, having to leave their ingénue days

behind in the Golden Age of Hollywood.

Come the early 60s, these versatile and passionate talents re-entered showbiz

carrying axes, sporting knives, drinking heavily and were caked up in grotesque

make-up all the while screaming and clawing their way onto the silver screen as

maniacal movie monsters! These older women that shaped Hollywood and were

massive box office draw cards in the 30s and 40s, now got a chance to go crazy on

screen, and the results were all gleefully delicious! The "psycho-biddy" sub-genre

was fundamentally "born" as soon as Bette and Joan had their "divine feud" in the

American Gothic masterpiece WHAT EVER HAPPENED TO BABY JANE?, a film that

brilliantly dissected the horrors of ageing in the entertainment industry, and ever

since after that Warner Bros. freak show, audiences hungered for more!

The beauty of these hag show horrors is that these divine divas really got a chance

to cut loose and have fun being psychotic. It's an honour and a privilege to head

this festival and give this unfairly underappreciated subgenre of horror cinema a

platform and a voice – I just hope that afterwards, it inspires self-proclaimed horror

fans to seek out more of these awesome movies, purchase them, integrate them

within their DVD and bluray collections and proudly sit them next to their slasher

flicks, Gialli and 80s faves. Remember – all horror matters!

– Lee Gambin (Cinemaniacs director)
---
What Ever Happened To Baby Jane? (1962)

The film that ultimately started the trend!

Featuring one the longest prologues in the

history of cinema, Robert Aldrich's classic sets up

its two central figures as polar opposites – one a

brassy show business brat and the other a selfsacrificing

martyr. Little Baby Jane is a superstar

of the vaudeville circuit, while her sister Blanche

sits in the wings watching.

Singing out her key song "I've Written A Letter

To Daddy", little Baby Jane Hudson wins the

admiration and affection of her song-and-dance

man father, while Blanche seems to be a burden.

But anger brews in the equally twisted heart of

little Blanche, who promises that someday she'll

"show her sister".

Years pass and the two have become successful

actresses in Hollywood (the film featuring Bette

Davis in all her pre-code glory), however times

get tough and Jane and Blanche find themselves

in a cold predicament – Jane is rendered

unbankable and box-office poison, while Blanche

(the more lauded and talented) is in a nasty

accident and left paralysed in a wheelchair.

Shifting our focus to the current 1962, the sisters

live in a decrepit Hollywood mansion and are

locked together in hatred.

Bette Davis is a knockout in this film – plastered

with layer upon layer of powder, eyes painted

on to look like the dead dull eyes of a doll, her

bleached-out hair in twisted poodle locks and

her lips garishly constructed while a little love

heart beauty mark sits upon her twisted, angry

and bitter face – she is a new kind of movie

monster, one without true pathos and one that is

hell bent on giving those around her a bastard of

a time. She is also foul mouthed, boozy and most

importantly haunted by her past as a successful

child star and actress. One of the most vividly

telling moments in the film is where she finds

herself in the mirror after a delusional recital in

her blacked out living room – she catches her

withered face, terrified of aging and is tormented

by the image of what she has become. Following

that is her handicapped sister buzzing her for

some help, which escalates in Davis's Jane

screaming and hollering and bitterly tending to

her invalid sister.

When she decides to resurrect her career

and enlist the help of a struggling musical

director (played by Victor Buono in a magnetic

performance) the film takes on an entirely new

life as ambitions, age, jealousy, mental illness,

resentment and the cruel mistress that is the

performing arts all come to light and bring the

film to a devastating climax on the washed out

beaches of California where truths are revealed

and a freakish Baby Jane Hudson gets the

captive audience she desperately longed for, but

for all the wrong reasons.

A cult favourite that, along with the noir/horror

melting pot SUNSET BLVD., exposed the ugly

underbelly of the throwaway machine that is

Hollywood, WHAT EVER HAPPENED TO BABY

JANE? is one of the most important horror films

of the sixties and Bette Davis and Joan Crawford

should be up on the genre's mantle alongside

the likes of Bela Lugosi and Boris Karloff. (LG)

Opening night film!

A special gala event!

A festival welcome from Lee Gambin!

Friday, January 12th 2018 – 8.00pm
---
That Cold Day in the Park (1969) Strait-Jacket (1964)

Auteur Robert Altman directs this moody, pondlike

chiller about a quietly repressed and sexually

dormant "spinster" who keeps a young man

imprisoned to assuage her crippling loneliness.

The phenomenally talented Sandy Dennis (WHO'S

AFRAID OF VIRGINIA WOOLF?, COME BACK TO

THE 5 AND DIME JIMMY DEAN, JIMMY DEAN)

stars as Frances Austen, a young wealthy woman

perpetually surrounded by - and chronically

babied by – overly solicitous elderly "friends".

One day, she meets a young man in the nearby

park and welcomes him inside - to escape the

relentless rain and the bone-numbing cold.

Instantly attracted to the seemingly mute boy,

Frances develops an unhealthy infatuation with

him and cannot bear to lose him to the "outside

world". Driven by desperation and determined

to ease her internal suffering, Frances slowly

falls into a subdued mania, leading her to do

unthinkable things.

In the grand cinematic tradition of "the psychotic

woman and the kept man syndrome", THAT

COLD DAY IN THE PARK shares wonderful

thematic and narrative constructs as its relatives

SUNSET BLVD., THE BEGUILED and MISERY.

Although, THAT COLD DAY IN THE PARK focuses

on a young woman as it's "gorgon", Cinemaniacs

decided to screen the film to examine the concept

of the "hag-to-be", which shall be explored in the

introduction. (LG)

Introduced by Alexandra Heller-Nicholas!

Saturday, January 13th 2018 – 12:30pm

Joan Crawford screaming in delicious histrionics

is enough to watch this fantastic film from horror

movie shlockster William Castle! Crawford is quite

honestly on top of her game here, a performance

that sings with nervous energy, relentless zeal and

an almost "I will prove that I am the greatest and

most hard working actress of the decade" vibe

that is almost penetrable.

A fabulous opening abounds as Crawford chops

the heads off her husband and his lover, beautifully

shot and now iconic in horror movie history. Years

later, and after some supposed rehabilitation she

is reunited with her daughter who welcomes her

mother back home with open arms. However, things

get messy when Crawford decides to win the heart

of her daughter's young beau, which in turn wakes

up a monstrous malevolence that will ultimately end

in more bloodshed and more manic behaviour. But

of course, in classic William Castle style (and boy

does he have style!), the murders might not be at

the hands of Crawford…but someone else!

Crawford started off her career as a hoofer in

backstage movie musicals at MGM (however she

was most certainly no Eleanor Powell in the song

and dance department), then worked her way into

becoming the "every woman" and the working

class shop girl with the heart of gold in multiple

"women's pictures". However, when she was

eventually cast in the phenomenal THE WOMEN,

she got to shine as a catty, narcissistic, man hungry

glamour queen and this stuck for many years.

But come the early 60s, Crawford's transition from

high and mighty sexy bitch to monstrous psychotic

was in clear form come the production of STRAIT-

JACKET. A role that she would continue to enjoy

with films such as BERSERK! and I SAW WHAT

YOU DID. (LG)

Introduced by Emma Westwood!

Saturday, January 13th 2018 – 5.00pm
---
F lowers in the Attic (1987)

Relentlessly trashy and proud of it, this gloriously

garish adaptation of writer Virginia Andrews'

novel is a monstrous affair loaded with sickly

imagery such as malnourished children, borderline

(and blatant) incest and bloodletting. This cult

favorite strings together the aforementioned

nasties and threads them alongside oppressive

concepts such as child abuse which acts as the

film's thematic backbone.

Louise Fletcher's performance as the stern,

ready-to-be-hated grandmother is too much

fun to ignore – and it is her captivating screen

presence that steals the show. She is outstanding

in her uncompromising evil and has no shame

in being a one dimensional caricature; with her

hair tightly pulled back in a bun, and dressed in

her sensible black dress and buckled shoe, she is

absolutely stunning. Her remarkable meanness

leads her to chop off the hair of the teen heroine,

lift up one of the young children by the head and

methodical attempts to poison her "ungrateful

grandchildren".

Fletcher, who never seemed to be able to shake

off the atypical "bitch" role as presented in Milos

Forman's analogous ONE FLEW OVER THE

CUCKOO'S NEST as Nurse Ratched (of which she

won an Academy Award for), came to represent

stoic and unfeeling authority throughout her

career, however in FLOWERS IN THE ATTIC,

she is permitted to overplay the monstrousness

and she revels in doing so with delectable and

dedicated vehemence. (LG)

Introduced by Sally Christie!

Saturday, January 13th 2018 – 8:30pm

SPECIAL EVENTS

Curtis Harrington Retrospective

Curtis Harrington: the man, the legend.

Harrington, an independent filmmaker, auteur,

friend of Hollywood royalty and cult figure, would

be a forerunner in the Hagsploitation movement

with his excellent films WHOEVER SLEW AUNTIE

ROO? (a macabre take on "Hansel and Gretel"

starring Shelley Winters), WHAT'S THE MATTER

WITH HELEN? (a Depression-era parlour room

horror romp pitting Debbie Reynolds against the

aforementioned Winters), RUBY (an EXORCIST/

CARRIE "rip-off" hybrid starring Piper Laurie)

and THE KILLER BEES (a made for TV ecohorror

classic starring Gloria Swanson) proudly

represented on his filmography.

This event will showcase his wonderful work with

clips, stills and anecdotes.

Hosted by Lee Gambin!

Saturday, January 13th 2018 – 3:30pm

The Women of Hagsploitation

A panel discussion celebrating the legendary

actresses who worked in the Hagsploitation

subgenre!

Join three of Melbourne's most important voices

in film criticism as they discuss the careers and

lives of celebrated Hollywood stars Bette Davis,

Joan Crawford, Olivia de Havilland, Shelley

Winters and many more.

Hosted by Alexandra Heller-Nicholas,

Emma Westwood and Sally Christie!

Saturday, January 13th 2018 – 7.00pm
---
Festival Timetable

f R i d A Y 1 2 T h J A N U A R Y 2 0 1 8

7.00pm

8.00pm

FESTIVAL DOORS OPEN

What Ever Happened

To Baby Jane? (1962)

S A T U R d A Y 1 3 T h J A N U A R Y 2 0 1 8

12.00pm

FESTIVAL DOORS OPEN

12.30pm That Cold Day in the Park (1969)

3.30pm

Curtis Harrington Retrospective

5.00pm Strait-Jacket (1964)

7.00pm

The Women of Hagsploitation

8.30pm F lowers in the Attic (1987)

festival location

T h E b A c k l o T S T U d i o S

6 5 h A i g S T R E E T , S o U T h b A N k

ticKets

VIA cineManiacs.net

OR tRYBooKinG.coM (SEARCH: CINEMANIACS)

cineManiacs.net

#cinemaniacsoz