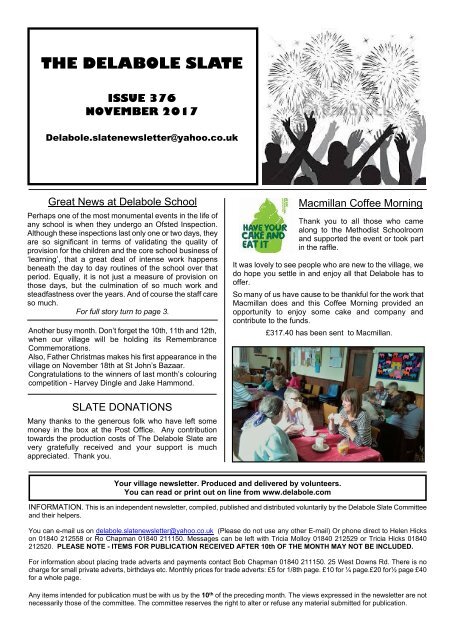 Create successful ePaper yourself
Turn your PDF publications into a flip-book with our unique Google optimized e-Paper software.
THE DELABOLE SLATE

ISSUE 376

NOVEMBER 2017

Delabole.slatenewsletter@yahoo.co.uk

Great News at Delabole School

Perhaps one of the most monumental events in the life of

any school is when they undergo an Ofsted Inspection.

Although these inspections last only one or two days, they

are so significant in terms of validating the quality of

provision for the children and the core school business of

'learning', that a great deal of intense work happens

beneath the day to day routines of the school over that

period. Equally, it is not just a measure of provision on

those days, but the culmination of so much work and

steadfastness over the years. And of course the staff care

so much.

For full story turn to page 3.

Another busy month. Don't forget the 10th, 11th and 12th,

when our village will be holding its Remembrance

Commemorations.

Also, Father Christmas makes his first appearance in the

village on November 18th at St John's Bazaar.

Congratulations to the winners of last month's colouring

competition - Harvey Dingle and Jake Hammond.

Macmillan Coffee Morning

Thank you to all those who came

along to the Methodist Schoolroom

and supported the event or took part

in the raffle.

It was lovely to see people who are new to the village, we

do hope you settle in and enjoy all that Delabole has to

offer.

So many of us have cause to be thankful for the work that

Macmillan does and this Coffee Morning provided an

opportunity to enjoy some cake and company and

contribute to the funds.

£317.40 has been sent to Macmillan.

SLATE DONATIONS

Many thanks to the generous folk who have left some

money in the box at the Post Office. Any contribution

towards the production costs of The Delabole Slate are

very gratefully received and your support is much

appreciated. Thank you.

Your village newsletter. Produced and delivered by volunteers.

You can read or print out on line from www.delabole.com

INFORMATION. This is an independent newsletter, compiled, published and distributed voluntarily by the Delabole Slate Committee

and their helpers.

You can e-mail us on delabole.slatenewsletter@yahoo.co.uk (Please do not use any other E-mail) Or phone direct to Helen Hicks

on 01840 212558 or Ro Chapman 01840 211150. Messages can be left with Tricia Molloy 01840 212529 or Tricia Hicks 01840

212520. PLEASE NOTE - ITEMS FOR PUBLICATION RECEIVED AFTER 10th OF THE MONTH MAY NOT BE INCLUDED.

For information about placing trade adverts and payments contact Bob Chapman 01840 211150. 25 West Downs Rd. There is no

charge for small private adverts, birthdays etc. Monthly prices for trade adverts: £5 for 1/8th page. £10 for ¼ page.£20 for½ page £40

for a whole page.

Any items intended for publication must be with us by the 10 th of the preceding month. The views expressed in the newsletter are not

necessarily those of the committee. The committee reserves the right to alter or refuse any material submitted for publication.
---
DELABOLE SPAR

01840-213897

CASHPOINT IN STORE

PAYPOINT

ELECTRICITY KEY METER CHARGING

ELECTRONIC MOBILE PHONE TOP-UPS

UTILITY PAYMENTS

TV LICENCES

SEE OUR GREAT RANGE OF SPECIAL OFFERS

OPEN WHEN YOU NEED US

TURNED ON TO DAILY VALUE

MON-THURS 7.30am-8.00pm FRI-SAT 7.30am-9.00pm

SUNDAY 8.30am-8.00pm
---
Delabole Primary School

(Continued from front page)

So on the 27 th and 28 th of September it was the turn of Delabole School to be assessed against very stringent criteria

under the following headings:

• Effectiveness of leadership and management

• Quality of teaching, learning and assessment

• Personal development, behaviour and welfare

• Outcomes for pupils

• Early Years provision

I am so delighted to share with you the judgements made by the inspection team. Delabole is now a 'Good' school –

and scored a 'good' against each of the measures. This is not easy to achieve.

Some highlights from the report include:

'The school's enquiry-based curriculum is inspirational for pupils…Learning is stimulating and varied, memorable and

meaningful.'

'Disadvantaged pupils and those who have special educational needs/and or disabilities make good progress, because

teaching is well matched to their needs.'

The school has 'created a culture of high ambition and aspiration for pupils and staff alike. All parents who responded

to Ofsted's online questionnaire, Parent View, said that the school is well-led and managed,'

'Pupils' attitudes to learning are consistently positive. This has a strong impact on the progress they make.'

Those of you who have followed the history of the school will know what an immense achievement this is for our

community, as in the past, the school has come through periods of instability and tricky times. It means so much to the

staff and is a well-deserved validation of all that they bring to the lives of the children: – care, humour, inventiveness,

excitement, self-belief, open-mindedness, resilience, joy and so much more. And of course, the support of the parents

is so much a part of the partnership around the nurture of the children. We felt the full force of that during the inspection.

Thank you, thank you.

When I first arrived in Delabole two years ago, I wrote in our Slate contribution that 'Delabole Community Primary School

is not my school – it is our school'. Now at last, we can all celebrate the little piece of the school's success that each of

us owns and feel proud as we look forward to the future.

Sue Cox and the team.

FLOWERS FROM BRUALLEN

Elaine Reynolds

AWARD WINNING FLORIST

67 High Street, Delabole,

North Cornwall PL33 9AH

01840 212555

CHRISTMAS FLOWER DEMO'S.

Fri. 24th Nov. 7pm St Tudy Village Hall

Fri. 1st Dec. 7pm St Mabyn Church

Christmas orders now being taken

Floral gifts, plants & holly wreaths

Flowers@bruallen.co.uk

www.bruallen.co.uk

Family run florist with that personal

touch

Contact us also for flower

demonstrations and workshops
---
THE

POLDARK INN

First Class Food - Vegetarian Dishes Available

Treligga Downs, Delabole

Saturday 4th November

Football & cricket clubs

Race night

Wednesday 29th November

Football club

bingo

Function Room Available

Weddings Parties

Phone: (01840) 212565

CENTRAL GARAGE

45/47 High Street, Delabole.

Tel: 01840 212388 / Mob: 07922301966

No VAT on any item

Stuart Biddick

GOOD FURNITURE

& ALADDIN'S CAVE

WE BUY AND SELL GOOD

SECOND-HAND FURNITURE

OPEN MONDAY - FRIDAY

12 noon - 4.00pm

or by appointment

GIVE US A VISIT - WITHOUT OBLIGATION
---
Termyn Gwari Fleghes

(children's playtime, in Cornish)

November is often cloudy, wet and windy and starts to get quite cold too,

so that being outside is not much fun at all. We tend to stay indoors by the

fire, enjoying the warmth and light. We are really missing summer and there

seems to be nothing happening out in the gardens and woods. It's true the

woods, fields and gardens are very quiet and still, all the plants are resting,

no insects or bugs to be seen, often not many birds. Now is the time to

really start feeding your garden birds. Food is starting to get scarce, and

if you can put out seeds, peanuts, fat balls and scraps, the garden birds

will have a much easier time through the winter. If we do get frosty, icy

weather, don't forget to put out water as well. Birds need to drink as well.

Something to look forward to in November is Bonfire Night! Huge bonfire,

jacket potatoes, toffee, fireworks! What's not to like? Well quite a lot if you

are an animal. Hedgehogs will get into the bonfire pile because it seems

like a good place to hibernate, so check the bonfire before you light it. Pets

hate loud noises, so on Bonfire night keep them safe indoors, where they

can feel safe. It's important to only let off fireworks on Bonfire night, or let

your neighbours know what is happening otherwise their pets could be

outside and be very scared.

A just for fun November wordsearch. 14 words hidden here: loud, fast,

potato.. to start you off.

F R O S T F A P

I L B C O L D O

R O A R F A S T

E U C D F M D A

W D E A E E F T

O F I R E S G O

R O C K E T S H

K B O N F I R E

S P A R K L E R
---
Man & Mini Digger

No Job Too Small

· Narrow Access – Digger fits through doorways / gateways

· Landscaping / Ground Works & Garden Services

· Supply of materials and removal (to save skip costs)

· Professional & reliable service

John Roe

Constructive Developments

Tel: 01840 211233

07747 606271

C. L. TOBIN M.P.T.A., H.N.D.

Piano Tuner / Technician

20 years Experience

St.Minver

08708 740014

FAULKNERS

PLUMBING & HEATING

Central heating installation, service and repair

Oil, LPG & Natural Gas

Landlord safety certificates

Central heating power flushing

Repair and service of cookers and range cookers

All plumbing works undertaken

Indoors or Outdoors

Big or Small

Any odd jobs

Just give me a call

Phone Phil (Burnard)

01840 212985 or 07539 092792

For a free estimate, please contact Brian on:

01840 250853

or

07773 132221

e-mail: faulknersplumbing@btinternet.com

Tel:

01840

212190

R. JONES

OFTEC Registered: 14288 Gas Safe Registered: 222122

FOR ALL YOUR BUILDING

AND ROOFING NEEDS
---
Cornwall Councillor

The Boundary Commission has now decided on the

preferred number of Cornwall Councillors to contest the

2021 local elections. The number will be reduced from the

current 123 to 87. This will obviously reflect what they

consider a changing role for Cornwall Councillors with

much more emphasis on the work done at County Hall and

much less on local work within the parishes with an

enhanced role for Parish Councils.

This was not something that I personally supported.

The average number of constituents for each councillor will

now be around 5000, but perhaps more importantly will be

the increase in area and parishes that they represent.

Work will now begin on the mapping and there is a

consultation process until February which you may or may

not wish to use to make your own views known.

87 was chosen as this was the best fit around the

Community Network Areas and Delabole falls within the

Camelford Community Network Area along with

St Teath, Michaelstow, St Breward, Advent, Camelford,

Tintagel, Davidstow, Forrabury & Minster, Lesnewth,

Otterham, St Clether, Tremaine, Treneglos, Tresmeer,

Trevalga & Warbstow.

This area is currently served by three

County Councillors and will be reduced in 2021 to two.

There are two possible ways of dividing the area to

maintain a broadly equal number of constituents within the

guidelines. One would be to simply add Tintagel to the

current St Teath and St Breward seat which I

represent. The other would be to add

St Teath & Delabole to the current Tintagel seat which

stretches out to Otterham.

The Commissions consultation material asks residents

these questions:

· Do you have suggestions about where your

division boundaries should be?

· Which areas do you identify as your local

community?

· Where do people in your area go to access local

facilities such as shops and leisure activities?

If you have any strong views on this please do get in touch

with me and I can help make sure that your views are

known to the Boundary Commission.

Dominic Fairman

Cornwall Councillor - St Teath, St Breward & Delabole

dominic.fairman@cornwallcouncillors.org.uk

07939 122303
---
Big Brew Up 2017

In 1885, Col Sir James Gildea, after seeing the problems

servicemen and their families suffered following various

wars, started the Soldiers Sailors Families Association to

help them. In 1919 it became Soldiers Sailors and Airmen

Families Association (ssafa)

and has been working for the

men and women who served

in the various armed forces.

Today there are 7,000

volunteers helping 90,000

men, women and families from

WW2 to present day who need

some sort of assistance.

To do this they need money,

so for many years they have

been holding The Big Brew

and this is the first time

Photo courtesy of Adrian Jasper

SSAFA County President

Alistair Ross

Delabole has hosted the event.

Two caseworkers, Mrs Judith

Kenealy from St Teath and Mr

Cameron Valentine from Delabole, organised the day and

with the help of other Caseworkers who had provided

cakes and other delicious edibles and many prizes for the

raffle.

The day was thoroughly enjoyed by all and has raised

£400 towards helping Cornwall branch to continue with

their valuable work. The organisers said that they would

like to thank the residents of Planet Park, Delabole and

Rosewater Park, St Teath, the Poldark Inn and all local

residents and businesses for their valuable assistance and

support.

Hip, hip, hooray,

we've had Music Day

Hope you enjoyed the continual

music-making between 10am and

5pm when kind musicians from

around the area shared their talents.

There were charity stalls selling Christmas cards and

goodies and people popping in and out throughout the

day - but lunchtime was especially popular when there

were delicious soups and sweets on offer.

Obviously tea or coffee was available at all times,

although we didn't use a kettle this year, but the very

efficient and much-appreciated boiling water heater

bought in memory of John Lugg. Afternoon tea was

luscious with jam and cream splits, cakes and buns. Many

thanks to all who provided the tempting fare and worked

so hard throughout the day.

Also. there were plenty of donation jars around so that

we could make a good contribution to this year's charity,

which was Treliske's

Cornwall Birth and Baby Appeal.

Not sure of the exact amount yet but I think most of the

stalls took in the region of £100 and the whole event

raised in excess of £1000 for the various charities.

Need your dog(s) walked on a

regular basis?

Contact Nicky

T. 07817 027672

E. nicky@wiggilywags.com

www.wiggilywags.co.uk

P.S.

If you enjoyed hearing Stuart Biddick play on Music Day,

make a note in your diary that Stuart and Family will be

entertaining on Friday 24th November at 7pm at the

Methodist Chapel.

LUGG'S GARAGE LTD

ROCKHEAD STREET Established 1925

MOT TESTING STATION

For cars, three-wheelers

and motorcycles

WELL STOCKED TYRE BAY

FULL DIAGNOSTIC EQUIPMENT

SKILLED WORKSHOP STAFF

With years of experience repairing

motors of all makes

Delabole, Cornwall

01840 213284
---
Delabole

St.Johns Church

Mondays

Children 4yrs up 5.30pm- 6.30pm Children 4.30pm- 5.30pm and

Parents welcome £3.00

5.45pm- 6.45 pm £3.00

Parents welcome

Adults/older children approx 10yrs up

6.45pm- 7.45pm Adults 7.00pm - 8.30pm £5.00

£3.00

Adults 8.000pm - 9.30pm £5.00

Norman and Wendy Thomason

01840 212262

www.northcornwallimpactmartialarts.co.uk

n.cornwallmartialarts@tesco.net

Fully insured through www.nakmas.org.uk

Tintagel Ladies

Freemasonic Hall

Fridays

Delabole

St John's Church

Mondays

Children 4yrs up 6pm - 7pm

Parents welcome £3.00

Adults 7.15 - 8.45 £5.00

Tuesday & Friday

Classes in Boscastle

Phone for details
---
Pigeon peas

Harvest

Had a good time celebrating Harvest

Festival this year, when once again it was

a joint celebration between the Methodist

and Anglican congregations and it

focused on the Christian Aid theme

centring on Malawi under the title, 'God

is working His Purpose Out'.

Morning worship was at St John's and

was led by Rev Bryan and Mrs Sue

Wilcox.

As well as hymns and readings, we learnt

about Pigeon Peas which have been introduced as an

ideal crop to thrive in Malawi. We handled these peas and

were fortunate enough to have them included in one of the

salads served at a delicious lunch in the Church.

To round off the day, we gathered together in the evening

at the chapel for a varied time of hymns old and new,

readings and musical items with Maria Nicholls at the

organ and Stuart Biddick at the piano. During the service,

2 water heaters, funded by donations in memory of our

friend John Lugg, were dedicated and were put to good

use at the end of the evening.

The service was led by Clare Salzmann and Rev Bryan,

whilst Sue Ede produced a very meaningful Powerpoint

to guide our thinking.

The offerings and lunch donations came to £370.11

and this has been sent to Christian Aid for use in Malawi,

whilst the tinned goods were taken to the FoodBank at

Wadebridge.

Tintagel Orpheus Male Voice Choir.

The choir is taking an Autumn break after a busy spring

(when we did so well at The International Festival) and

summer, with numerous concerts, including our series of

5 Summer Concerts. Our thanks go out to our loyal

supporters, and many visitors, who made these

concerts such a success.

We are moving towards December, when we have three

popular events planned.

Firstly, our Annual Choir Dinner, where we also sing,

hopefully before a hefty meal!

This will be at Bowood Golf Club on Friday, 1 st December

at 7pm. Friends and supporters are welcome, tickets can

be had from our secretary John Sadler.

Sunday, 3 rd December finds us at Tintagel Methodist

Church for the Annual Christmas Concert. Please come

along, no tickets needed, and join in the carol singing with

us.

Now, advanced details of our increasingly popular

Christmas Concert at The Camelot Castle Hotel. This

will be on Saturday, 23 rd December, (Tom Bowcock's Eve),

6.30pm for 7pm start. Again this year it will be a ticket only

event, so come early to secure a good seat.

Tickets for dinner and Camelot Castle can be had from

John Sadler on 01840 212583.

Enquiries regarding seating for the disabled should be

made direct to the hotel.

Any general enquiries to our Chairman, Bob Metters

on 01840 213736.

Again, many thanks for all your support of your local

Male Voice Choir.

This month's Bible verse

November 2017

Whosoever shall call upon the name

of the Lord shall be saved. Romans

10:13

Him that cometh to me I will in no

wise cast out. John 6:37

Dela-Cabs

PROPRIETOR : J. Lobb

MINI BUS TAXI

UP TO 8 SEATS

Telephone: 07929 220567

Wherefore He is able also to save

them to the uttermost that come

unto God by Him, seeing He ever

liveth to make intercession for

them. Hebrews 7:25

King James Bible
---
ATLANTIC MOTOR SERVICES

At Park Lane, Tintagel Road Valley Truckle

Camelford Cornwall PL32 9RR

E Mail alan@atlantic.orangehome.co.uk

A C Crosby F.I.M.I.

01840 212650

WE OFFER NEW SUPERTRACKER LASER FOUR WHEEL ALIGNMENT.

AIR CONDITIONING SERVICING RE GASSING AND REPAIRING.

FOUR VOLKSWAGEN POLO FREE COURTESY CARS OR FREE C O L L E C T I O N A N D D E L I V E R Y .

EVEN MORE ADDITIONS TO OUR DIAGNOSTIC EQUIPMENT GIVING US ACCESS TO 98% OF CARS FROM 2001.

M O T T E S T I N G

PLEASE CALL 01840 212650 OR 01840 215950 WHILE YOU WAIT FREE TEA OR COFFEE IN OUR RECEPTION. WHICH HAS THE

BENEFIT OF FREE WI-FI ACCESS.

S E R V I C I N G

WE ARE ABLE TO CARRY OUT SERVICING ON ALL MAKES AND MODELS,

EVEN WHILST UNDER MANUFACTURERS WARRANTY. WE ARE ALSO ABLE TO CARRY OUT REPAIR WORK FOR MOST

MAJOR WARRANTY COMPANIES.

ENGINE MANAGEMENT FAULTS AND PROBLEMS

WE ARE FINDING THAT MAIN DEALERS ARE CONSIDERABLY OVERCHARGING FOR ENGINE MANAGEMENT FAULTS,

COSTING CUSTOMERS MONEY THEY DO NOT NEED TO SPEND.

WE HAVE INVESTED A GREAT DEAL OF MONEY IN THE LATEST DIAGNOSTIC EQUIPMENT TO PREVENT THIS. IF YOU

HAVE SUCH A PROBLEM PLEASE CALL US.

GOOD GARAGE SCHEME

WE ARE MEMBER OF THE GOOD GARAGE SCHEME, IF YOU HAVE ACCESS TO THE INTERNET IF YOU GOOGLE GOOD

GARAGE SCHEME AND ENTER YOUR POSTCODE YOU WILL BE ABLE TO ACCESS OUR FEEDBACK FROM OTHER CLIENTS.

CARS FOR SALE

VAUXHALL CORSA ECO FLEX 2012. 12 PLATE 3 DOOR IN BRIGHT RED WITH CONTRASTING CLOTH

INTERIOR. VERY ECONOMIC SMALL DIESEL WITH LOW ROAD TAX. VERY LOW MILES. IDEAL SMALL

CAR AT £4,495.00

AUDI A4 CABRIOLET 2003. 52 PLATE IN METALLIC BLUE WITH DARK BLUE LEATHER (MY WIFE'S OWN

CAR FOR 3 YEARS) BLUE POWER HOOD AUTOMATIC PLUS TIPTRONIC, EXCEPTIONALLY GOOD VEHICLE

AND WELL MAINTAINED. BE READY FOR THE SUMMER AT £2,695.00

VAUXHALL CORSA ECO FLEX 2009. 09 PLATE 3 DOOR IN SILVER GREY METALLIC WITH GREY INTERIOR.

VERY ECONOMIC SMALL DIESEL WITH LOW ROAD TAX AT £2,695.00

BMW Z3 1.8 2000 W PLATE IN BLUE METALLIC WITH BLACK LEATHER SEATS, BLACK ROOF. IDEAL SMALL

AND SPORTY CAR AT £2,495.00

RENAULT GRAND SCENIC 2005 05 PLATE 7 SEATER 1.9 DIESEL VERY ECONOMIC SMALL PEOPLE

CARRIER AT £1,995.00

VAUXHALL MERIVA 2006 56 PLATE BLUE METALLIC CONTRASTING CLOTH INTERIOR, LOW MILES, GOOD

VALUE AT £1,695.00

ALL THE ABOVE VEHICLES ARE FULLY SERVICED AND WITH NEW 12 MONTHS MOT TEST

OUR STOCK IS CONSTANTLY CHANGING

PLEASE CALL WITH YOUR REQUIREMENTS

NUMBER PLATES MADE WHILE YOU WAIT

CAR RECOVERY AVAILABLE ON OUR CAR TRANSPORTER.

RAC APPROVED GARAGE
---
Delabole Branch of the Royal British Legion

Members and friends of the Delabole Branch spent an enjoyable evening at the annual dinner held at

The Poldark Inn. Many thanks to Adrian, Tracey and all staff for the excellent meal and service. Thanks

also for allowing the Branch to hold our regular meetings at The Poldark.

At our last meeting, details of the Combined Cornwall and Plymouth Veteran Support for aged veterans, their carers and

families was discussed. Support is available for anyone born before January 1st 1950 who completed at least one day

of service with any of the armed forces or who completed National Service, their families and their carers.

Help such as Get F + IT supports individuals to embrace technology for example by running free 6 weekly courses,

Home Guard to help those struggling with their fuel bills, Active Plus, a local organisation that motivates and builds

confidence, and Carer Support to help support getting advice and information. Further details can be accessed by Email:

agedveterans@cornwallrcc.org.uk or telephone 01326 567174.

Geoff Cleave, our president, is busy organising the Poppy Collection at the moment and it won't be long before one of

our loyal band of poppy sellers call on you, several of whom have been visiting homes in the village on the Legion's

behalf for many years. Please give generously.

Arrangements for this year's commemorations are as follows. On Friday 10th November there will be a time of

remembrance at the War Memorial at 11am, when our community will be joined by the children and staff of the Delabole

Primary School. Armistice Day, November 11th, please meet at the War Memorial for 11am to remember, followed by

a buffet lunch at the Methodist Sunday school room at 12 noon, donations for the Poppy Appeal. Sunday 12th meet at

The War Memorial for 2.30pm for a time of remembrance, followed by a parade to St John's Church led by Camelford

Town Band for a service at 3pm.

Our AGM will be held on Tuesday 21st November, preceded by a short committee meeting at 7pm. Refreshments will

be served at the close. Why not come along to join us...a warm welcomes awaits you.

Patricia Molloy.

Secretary Delabole Branch of the Royal British Legion

Keep safe on November 5th

Smuggler's

FISH and CHIPS

HIGH STREET, DELABOLE

01840 212232

Winter Opening times

LUNCH

EVENINGS

MON CLOSED 4.30 - 8.00

TUES CLOSED 4.30 - 8.00

WED CLOSED 4.30 - 8.00

THUR 12 - 1.30 4.30 - 8.00

FRI 12 - 1.30 4.30 - 8.30

SAT 12 - 1.30 4.30 - 8.30

SUN CLOSED 4.30 - 8.00

Also we have a new

lunchtime mega deal -

see in store for details
---
HOP OILS

Heating Oils, Farm Fuels,

Tanks Supplied and Fitted.

Unit 3 The Glebe

Blisland

Bodmin Cornwall

PL30 4JE

Tel: 01208 851195

*Top up Service

Ring:

Our Office

01208 851195

"Oil run out, no-one to do it?

Ring us NOW

we'll HOP to it!"

CORGI REGISTERED

No 130325

OFTEC REGISTERED

No C5185

S & J PLUMBING and HEATING

Gas and Oil heating installations

Domestic Services

Maintenance Service

Ian Sleep Proprietor Lee Jerred

01840 212389 01208 852080
---
Shoebox Gifts

• Microsoft certified & Apple authorised computer &

network technician .

• Windows PC Max, Android & iOS sales & service -

home or business.

• Hardware repair, software troubleshooting.

• Anti-virus / system maintenance.

• WiFi / network consultancy & installation.

• Website design & Construction.

• Tuition & training.

Contact Tim Ferrett at : boscastleit@gmail.com

TEL : 01840 250 106 MOB : 07976 046 810

ww w.boscastleit.co.uk

MARQUEE FOR HIRE

Private Garden Party or Club Function?

Camelford Rotary Club Hire Out &

Erect their Marquee

All in Aid of Local Charities

Contact via Facebook or 01840 212497

For the last few years we've

been packing shoeboxes for

Operaton Christmas Child to

be sent to needy children

around the world.

This year we're doing it again and the suggestion is that

we include new toys such as a doll or cuddly toy, skipping

rope, yo-yo or small puzzle.

School supplies would also be welcomed - for example,

pens, colouring pencils, sharpeners, felt pens, colouring

books etc.

Also, toothpaste, toothbrushes, wrapped soap, comb,

hairbrush, flannel, hat, gloves, scarf, hair accessories and

so on.

For more gift suggestions, you can visit

samaritans-purse.org.uk/occ

However, they don't want used or damaged items,

anything war related such as toy guns or knives, clothing

other than that mentioned, playing cards, liquids,

medicines, hand-made or knitted stuffed toys, sharp or

fragile items, chocolate or food, anything political,

religious or racial, books with mainly words.

If you're able to donate a gift, we'll be packing the

shoeboxes near the beginning of November at the

Methodist Sunday School, so you could pass any gifts to

Tricia Molloy or Marie Shore.

CALLING ALL

DOG LOVERS

Don't want to put your dog into

kennels?

Then why not think about an alternative?

We offer a home from home environment for your pet.

We will look after your pet in our home,

take it for walks etc.

You provide the food and we do the rest. £10.00 a day.

Contact Yvonne or Steve on 01840 213252 or

mobile 07538801005

Preferably well behaved animals.

DELABOLE COMMUNITY

FUNDRAISING SHOP

OPEN 10.00- 12.30 Monday - Saturday

PRE-LOVED CLOTHES, GIFTS, TOYS,

HOUSEHOLD ITEMS, GREETING CARDS

~ COME IN AND HAVE A BROWSE ~

DONATIONS OF GOOD QUALITY ITEMS ALWAYS

WELCOME DURING OPENING HOURS

RAISING FUNDS FOR OUR COMMUNITY

W E LUGG & SON

ROCKLAND GARAGE

Delabole, Cornwall. 01840 213284

(Established 1925)

-------------------------------

Your local Petrol and Diesel Station

Convenience Shop Newsagent
---
Camelford & District Bowling Club

Men's Fours:

Mixed Fours:

Brian Gardner

Ken Davey

Margaret Shillaber

Ken Davey

Men's Triples: Ken Davey

Geoff Risdon

Mixed Triples: Maggi Iles

Geoff Risdon

Errol Cato

Colin Parsons

George Morris

Colin Parsons

Ken Bray

Ron Shillaber

Men's Pairs Alec Luckin Geoff Risdon

Mixed Pairs Madeline Davey Geoff Risdon

Ladies' Pairs: Barbara Luckin Maggi Iles

Ladies' Two Wood Singles:

Ladies' Four Wood Singles:

Margeret Shillaber

Maggi Iles

100 Up: Nick Holmes

Men's Singles:

Neill Wright

Club Person of the Year:

Colin Parsons

The awards were presented at the Annual Dinner, at

Trethorne, on Saturday 14th October.

Congratulations to you all!

Also sincere thanks must go to Tom Goulbourne, our

fixtures secretary, for expending a lot of time and effort

into organising the club competitions, keeping the

competitors 'on track' and sourcing the winners' trophies.

The club is now involved in the Short Mat season at

Lanteglos Road and enquiries should go to Geoff Risdon

on 01840 213243.

Francis Bennett

Endelienta

Fostering the Arts and Spirituality in North Cornwall

Endelienta Events in November

Saturday 4 November 7.30pm

Galini Piano Trio

Haydn, Shostakovich and Schubert from these world

class players including Andrew Watkinson, 1 st violin of the

Endellion Quartet.

£10 (accompanied under 16s free)

4 Nov – 10 Dec Weekends 11.30-4.30

2 nd Endelienta Open Exhibition

Selected exhibition of a wide variety of works from West

Country artists. Entry free.

Friday 24 November 7.30pm

Flats and Sharps

Cornish band who blur the lines between bluegrass, folk,

country and pop, give us highly original songs as well as

renditions of Bluegrass classics.

£10 (accompanied under 16s free)

Book tickets online at www.endelienta.org.uk; by email

tickets@endelienta.org.uk; by phone 07787 944935;

or from the Wadebridge Bookshop (concert tickets

only).

DEADLINE FOR THE DECEMBER SLATE IS

NOVEMBER 10TH

Spriggans Cove

We will be at the Xmas Bazaar at St Johns Church Delabole

On 18th November Starts 2 pm

We will be selling

Special Offer's

Regatta Ladies, Gents and Children's Fleeces

From £9.00

We will also have a large selection

Of Winter Hats and Gloves for all

Animal Beanies

Good stocking fillers

"Don't forget Santa will be there with his helpers"

Contact us

Website: Sprigganshollow.co.uk

Email: sprigganshollow@live.co.uk

Tel: 01840 779 411

Mobile: 07860 525 835
---
A Methodist Minister's View

When we reach the month of November with the clocks

having been changed to Greenwich Mean Time and the

darker mornings and evenings I feel that we have really

entered into the winter months. November also brings to

us Armistice Day and Remembrance Sunday on

November 11 th and 12 th . Within our local communities

these days will be marked with Acts of Remembrance and

special Services at War Memorials and in Churches.

Remembrance Sunday this year has an additional

significance in that it marks the centenary of the end of

the Battle of Passchendaele as it is known in France, or

the Third Battle of Ypres as it is known in the West

Flanders region of Northern Belgium. The Menin Gate in

Ypres records of the names of 54,896 British and

Commonwealth Soldiers with no known grave who were

killed in the Ypres area. The Service and sacrifice of our

British and Commonwealth Soldiers is so significant to

our Belgian friends that they have a Last Post Ceremony

every day at the Menin Gate.

The question on my mind as I write is whether we

appreciate enough the Sacrifice and Service of those who

have served in our Armed Forces?

I was interested to hear Prince Harry say at the Invictus

Games in Toronto this year that he was moved to action

by his experience on one of his journeys home from the

War Front. He recalled seeing the coffins of dead

personnel, and injured persons who were in comas being

loaded on the plane which was bringing him and others

back to the United Kingdom. At that point he realised the

cost of War, the need to help the injured and families who

had experienced the loss of loved ones, and the need to

keep peace making to the fore.

Prince Harry has firsthand experience of War and its

consequences, and is active in ensuring the needy are

helped and in promoting peace. It seems to me that

observing Armistice Day or Remembrance Sunday is a

contribution to this that can involve us all in showing our

gratitude, contributing to the Welfare Work and the

promotion of peace.

In my Good News translation of The Bible, Jesus is quoted

as saying "Happy are those who work for peace; God will

call them his children." (Matthew 5:9)

Every Blessing, Bryan Ede
---
St Pirans Playschool

NEW OPENING TIMES:

8am - 4pm Monday to

Friday during term time.

· For children aged 2 – 5 years.

· Fees are low, quality of our childcare and education is high.

· We are run by a parent lead, voluntary Committee and are a registered

charity.

· FREE 15 hours funded for ALL children aged 3 and 4 (and to some 2 years

who fit the criteria).

· FREE 30 hours funded to families that are eligible.

· Registered for the government tax scheme to help save

parents 20% on their childcare costs.

· For more info call 01840 214871 to speak to Kasey or

email stpiransplayschool@btconnect.com

Breakfast & After School Club

Open to children from Delabole School, in

Reception Class and Year 1

· Breakfast club 8am – 9am.

· Drop off to school included.

· £4 for the hour.

· Healthy breakfast optional – 50p.

· After school club 3pm – 4pm.

· Pick-up from school included.

· £4 for the hour.

· Healthy snack provided – 50p.

New Stay and Play group for Dads.

A new Dad's Stay & Play group opens at St Pirans

Saturday 28th October from 10am-12pm.

All dads, step-dads, grandads, uncles and partners are welcome. There

will be fun for all the children aged 0-5

years (siblings up to 8 years).

£2 per child will include a healthy snack and drink for your child

and a hot drink for Dads.

A chance to spend some real quality time with your children doing fun things,

whilst catching up with other Dads.

Please come along, you do not need to attend St Pirans to join, all are

welcome.

The last Saturday of every month 10am-12pm

Usual Stay & Play every Friday during term time

9:15 – 10:45, £1.50
---
What's ON …

Delabole Branch of

The Royal British Legion

Friday 10th November

at 11am

'We Remember' at the War Memorial

Saturday 11th November

at 11am

'We Remember' - at the War Memorial

Followed by buffet lunch

at the Methodist Church.

Donations for the Poppy Appeal

Sunday 12th November

at 2.30pm

A time of Remembrance

at the War Memorial

Followed by a parade

to St John's Church

led by Camelford Town Band

for service at 3pm.

ROYAL BRITISH LEGION

CAMELFORD BRANCH

ROUGHTOR MEMORIAL WALK

Saturday 4th November 2017

11 am start

Muster in Roughtor car park

£1.50 charge for administration

Refreshments available

Under 16s must be accompanied by an adult

For further details please contact

secretary Kirsty on 01840 212015
---
Methodist Church

November Dates

Wed 1st 2.30pm Women's Fellowship

with Claire Salzmann

Sun 5th 9.30am Family Breakfast

11am

Morning Worship

Rev Bryan & Sue

Tues 7th 11am- noon FoodBank

Noon -

1.15pm

Community Lunch of

Steak/Steak &

Kidney Pie,

dessert, tea/coffee

£6.50

Wed 8th 2.30pm Nimble Fingers

Sun 12th 11am Morning Worship

Mr D. Rhodes

2.30pm

Remembrance

Service at War

Memorial

3pm

Service at St John's

Wed 15th 2.30pm Women's Fellowship

with Elaine - Flowers

for Christmas

Sun 19th 11am Morning Worship

Mrs. J. Keating

Wed 22nd 2.30pm Nimble Fingers

Fri 24th 7pm Evening with Stuart

Biddick & family

Sat 25th 11am - 2pm Christmas Coffee &

Pasty 'n' Sweet

Lunch

Sun 26th 11am Morning Worship

Mr R. Heywood

Wed 25th 2,30pm Nimble Fingers

Tues 28th 10.30 - noon Coffee & Chat

Foodbank

Wed 29th 10.30am Ladies' Advent

Service with Mrs.

Sue Ede at Tintagel
---
THE PLACE FOR YOUR ITEMS FOR SALE, THANK YOUS, BIRTHDAY

WISHES, SEASONS GREETINGS, GIVE-AWAYS, APOLOGIES &

ANNOUNCEMENTS

THANK YOU

Mick and Kay would like to thank everyone for their

kind enquiries, cards, gifts and flowers during Kay's

recent stay in hospital. Also a big thank you to the

family.

FOR SALE

For Sale - Nearly new Homebase 250 watt De

Humidifier.

Excellent condition £35 01840 213542

For Sale -

VIBE ENVY BMX BIKE

Colour - Pink/purple, excellent condition

Gel Seat & drinks holder

£30.00

RALEIGH CALYPSO LADIES BIKE

3 Gears, Purple

£10.00

RICHOCHET EXCALIBER MEN'S MOUNTAIN BIKE

Silver 21 gears

Pump and drinks holder

£20.00

SCALEXTRIC DIGITAL - SET C1322

Two Bugatti Veron cars purple & white

Multi car racing with lane changing

Hardly used unwanted present

£50.00

NIKE FOOTBALL BOOTS

Mercurial Orange UK Size 6. Immaculate, boxed.

£15.00

Contact 01840 770029.

Hope for Girls

Four years ago I was visiting a friend from London who had

bought a Ranch out in Kenya . During the visit my friend took

me to see a school that they built and supported. Imagine my

surprise when I came to a classroom door with the words " This

classroom was built by the generosity of the people of St.

Breward, Cornwall, U.K.

This little school has made a world of difference to the children

growing up there and I was suitably impressed.

I have since become involved in the building of a school for girls

in Freetown, Sierra Leone. Money was raised to build and they

were all set to open when the Ebola crisis hit the area. The

project was delayed for 2 yrs, but the founder did not give up

and has managed to open the doors this September to 25 girls

who would otherwise have no education whatsoever. Now of

course the hard work begins to raise enough funds to keep the

school open.

Is it possible that the people of Delabole could help ?

If any individuals or groups feel that they could sponsor a girl

please get in touch with me Sue Johnson on 07950342149 .

Any ideas for fundraising would be greatly appreciated.

BREAKFAST. LUNCH. SUNDAY ROAST.CREAM TEAS. HOME-

MADE CAKES.CELEBRATION CAKES. ICE CREAM .HOME

PRODUCED BEEF, LAMB AND FREE RANGE EGGS.FRESH

FRUIT AND VEG.LOCAL CHEESES.ETC. GIFTS AND CRAFTS.

Shop and Restaurant Open Daily from 9am

Winter Warmer Lunch

2 course lunch including tea or coffee…only £9.95pp

Offer available throughout November excluding Sundays.

Bookings now being taken for Christmas functions.

Please ask to see a copy of our Christmas menu

Don't forget we serve…

Breakfast 9am – 11am, Lunch 12noon – 3pm

Coffee, tea, homemade cakes, ice-cream etc served all day.

Pop in- you will be sure of a warm welcome.

Open every day!

Book now for our TRADITIONAL SUNDAY ROAST

A choice of meats including home-produced beef

followed by a selection of home-made desserts.

Booking essential!

TELEPHONE: 01208 880164 www.trevathanfarm.com

CHILDRENS PLAY AREA. RIDE-ON TRACTORS AND

DIGGERS. PETS CORNER.

FIND US ON THE B3314 AT ST ENDELLION, NEAR PORT ISAAC
---
DIARY DATES

YOUR GUIDE TO TO LOCAL EVENTS AND

MEETINGS IN AND AROUND DELABOLE

National Trust - Upcoming Events

thSaturday 11 November and Saturday 9 December

Scrub and Spuds 10am - 3pm Pentire Head, near Polzeath

Spend a few hours on the coast helping National Trust

rangers cut back gorse and blackthorn scrub to

encourage wildlife at this valuable coastal habitat. We'll

cook up a jacket potato lunch on the bonfire with cheese

and beans. Bring along a drink and some snacks to

keep you going. Please wear sturdy boots and clothing

suitable for the weather, working in thorns and brambles

and that you don't mind getting smoky/muddy. Family

friendly and a great way to meet new people. Free.

Booking essential, please phone 01208 863821 or

email tom.sparkes@nationaltrust.org.uk

Many thanks

Sarah Stevens

Ranger, North Cornwall - Tintagel to Holywell

01208 863821

ADVANCE DATE

Saturday 9th December

Fun Christmas concert at St John's Church 7.30pm

Saturday 18th at 8pm

Saturday 25th at 9pm

REGULAR MEETINGS / EVENTS

Every Monday (Excluding school holidays):

Delabole Art & Craft Group meet at Chapel School

Room. 1.45 - 4.00pm. £2.00

Every Tuesday: Kernow Credit Union 1.00- 2.15pm

Venue changed to St John's Church from 3rd October.

Tel : 212520

Every Tuesday/Thursday

Moor Harmony Ladies Barber Shop Chorus

Thursdays at Wadebridge Ambulance Hall from 7.15 -

10.00pm All Welcome Contact Mel 01840 212312

Every Wednesday Fitness League ladies exercise

group for all ages, 9.30am at Camelford Hall.

For more information call Katie Holmes 01208 815725

4th Thursday of each month except December.

Cornwall Council Out & About Service at Delabole

Childrens' Centre on the playing field.

Delabole Quilters will be meeting at Delabole Methodist

Church on Fridays at 2pm. £2 per session.

No experience necessary! Contact Sue 01840 212713

Monthly V.I.P. Club 3rd Wednesday from 2.00-4.00pm

Contact Tricia on 01840 212520 for details and to arrange

transport.

Camelford and District Save the Children group present

CARACANA & THE SONGBIRDS

Saturday 18 November, 7.30pm

At the Camelford Hall

Doors open 7pm

Tickets £7.50 to include delicious snacks

Bar and raffle

A delightful evening of foot-tapping music in the company

of Caracana, Cornish folk band whose material has

influences from all the Celtic nations and from Eastern

Europe, and from the angel-voiced Wadebridge-based

Songbirds, a group of nine women who sing a wide range

of material, from songs from the shows to folk song and

lots in between.

To reserve your ticket in advance, call 01840 214613.

Tickets on the door subject to availability.

Flagman's Notes

There are four days in November

when the Union Flag should be

flown.

11 th November – Armistice Day.

12 th November – Remembrance

Day.

14 th November – Birthday of the Prince of Wales.

20 th November – HM the Queen's Wedding Anniversary.