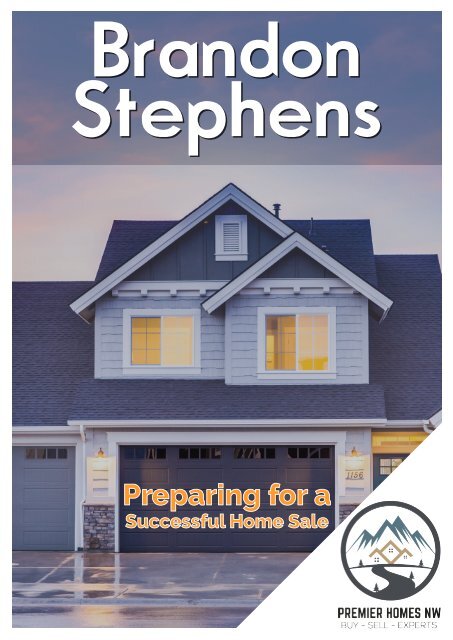 You also want an ePaper? Increase the reach of your titles
YUMPU automatically turns print PDFs into web optimized ePapers that Google loves.
Brandon

Stephens

Preparing for a

Successful Home Sale
---
EASY

EXIT
---
Easy Exit

Guarantee

If you're like most people preparing to sell their home, you may worry

about being locked into a lengthy listing agreement with a less-thancompetent

real estate agent, costing your home valuable time and

exposure on the market. Well, worry no more. We take the risk and fear out

of selling your home with a real estate agent.

How? Through my Easy Exit Listing Program

When you sell your home with Premier Homes NW, you can cancel your

listing at any time. No hassles, no worries. It's simple:

• You can cancel your listing at any time

• You can relax, knowing you won't be locked into a lengthy contract

• You will enjoy the highest caliber of service from a professional

confident enough to make this offer

We have a very strong opinion about real estate service. We absolutely

subscribe to the notion that if you're unhappy with the level of service

you receive for any reason, you should have the power to fire your agent.

It takes a strong belief in the quality of our service to make this kind of

offer, and we are proud to make it, as we never settle for anything less

that the highest professional standards. We are so confident that you will

be happy with our service and results that we put it in writing – We

always stand behind our service.
---
Welcome
---
We realize that you have a choice when hiring an agent to help you sell

your home and truly appreciate the opportunity to present my proven

approach and the results I've achieved for our clients. As your agent,

there are several services you can expect me to provide, including:

• Accurately pricing your home.

• Enhancing the perceived - and real - value of your home, enabling

you to command a higher asking price.

• Providing unmatched marketing including professional staging,

photography, video and custom property web sites.

• Securing a qualified buyer within your specific time frame.

• Helping you avoid the two main reasons sales fall apart - low lender's

appraisals and problems with the home inspection.

Regardless of the price of your home, when you hire us as your Realtor,

both you - and your home - will be prepared for a successful sale.

Warm Regards,

Brandon Stephens
---
What people

are saying!
---
"Brandon is by far the best real estate agent that has ever assisted me in the

purchase of a home. He is very knowledgeable in all aspects of the real estate

market and process for home buying. In the future, I will hire Brandon in a

heartbeat to sell my home. One thing that really stands out with Brandon is

that he is very responsive with communications and follows through very

quickly with what he says he will do. I have very high expectations when it

comes to moving things along quickly and accurately and Brandon always

met and exceeded my expectations and managed to always stay a step

ahead which I really appreciated. I highly recommend Brandon to be your real

estate broker- you will not be disappointed."

– Richard Cavizel

"We just recently bought a home in Olympia, WA with Brandon as our realtor

and then sold our old home with him as well. The process was pretty stressful,

as it all went so fast, but Brandon made it go smoother than we could imagine.

His attention to every detail was amazing. He is a very hard worker and you can

tell he loves his job. Our old house was on the market for less than 4 days! We

were soooo happy!"

– Jody Yowell

"Brandon was fantastic in this entire process. From the beginning of looking at

places, all the way through to closing, he was there, helping. I would HIGHLY

recommend Brandon!!"

– Tim Street

"Brandon assisted me with the sale of my father's house after he passed away.

Brandon was very tactful in providing feedback on what needed to be done to

the house in order to put it on the market and make it competitive. He also

provided names of contractors when required and met them at the house

during the day when I couldn't, due to work, in order to get estimates. He kept

me informed and stayed in touch during the entire process of cleaning out,

fixing and putting the house up for sale. I was very pleased that we got a full

price offer within a week of the house being for sale.!"

– April West Baker
---
"This property was sold as part of an estate. Brandon advice was followed and

led to helping me prepare the property for sale. Helpful and polite throughout

the process I would heartily recommend him. Would definitely use again to buy

or sell property in the future."

– Joe

"Brandon went above and beyond to help us find a home. In addition, as we

had a problem with the bank making many mistakes, Brandon was there to

help us through the mess. Since it took so long for the bank to rectify its

mistakes, Brandon continued to take us out to the house to let people in to give

us estimates.

I now am going to have him list our home to sell. I didn't know Brandon before

this experience. However, I am extremely happy that we found him."

-Madelin White

"It has been a pleasure working with Brandon to sell my home. He has been

very helpful, especially during the time that my home was vacant. My home

was a unique property and Brandon was very good at coming up with ideas to

help it sell.

- Andy & Supritah Gowda

"Brandon was always diligent, Courteous and on time. He never questioned

what it was that I wanted and was able to quickly respond with multiple

choices when I changed the parameters of my wishes for the best home I could

get for the money. I would recommend Brandon to any one, especially if you're

new in the property game, for finding the best locations for the best price!"

-Chris & Jodi Erickson

"Brandon is really straightforward, diligent and has integrity. He was great to

work with and made sure to point out all the pros and cons of each house

without pressuring me. I'd recommend him to my friends. He helped me find the

perfect house!!"

-Juliet Denison
---
UNDERSTANDING HOW BUYERS EVALUATE HOMES
---
UNDERSTANDING HOW

BUYERS EVALUATE HOMES

The marketing I will do to promote your home has only

one purpose - to increase awareness among potential

buyers leading to in-person showings.

Once buyers reach your front door, the job of marketing

is over.

Your home must now compete with other homes in two

areas;

Features and Price.

If your home has more features that appeal to buyers -

or your home is priced lower than comparable homes -

your home will stand out as the better value.

Conversely, if your home lacks the features that

potential buyers desire, your only option is to compete

on price.

To be effective, your home should stand out as one of

the top two to three best values in your immediate

market place.
---
PRICE $$ $$

PRICING YOUR HOME FOR A SUCCESSFUL SALE

Factors that Influence Market Value

• Supply & Demand

• Economic Conditions

• Asking & Selling Prices of Competing Homes

• Your Home's Condition

• Buyer's Perception of Your Home

Factors with Little or No Influence on Market Value

• The Price the Seller Paid for the House

• The Seller's Expected Net Proceeds

• The Amount Spent on Improvements
---
Pricing your home accurately is the most effective

way to ensure a successful sale. Allow me to repeat

that - pricing your home accurately is the most

effective way to ensure a successful sale.

No amount of marketing can sell an overpriced home.

Many sellers are tempted to list their home with the

agent who quotes the highest price.

Please keep in mind, the agent doesn't set the price,

the seller doesn't set the price - the market will set

the price, or value, for your home.
---
CONDITION

PREPARING YOUR HOME FOR A SUCCESSFUL SALE

In a Maritz Research poll, 63%

of buyers responded that

they would pay more for a

house that is move-in ready.
---
With the typical agent, you only discover potential

deal-killing repairs after you are already under

contract - when the buyer hires a home inspector to

scrutinize every aspect of your home.

When you list - and close - your home with me, I'll

pay for a pre-listing inspection by one of South

Sounds most experienced, and respected, inspection

firms.

Discovering and repairing problems early in the

marketing process places you in control, eliminating

the stress of making repairs on the buyer's schedule.

Having your house in move-in condition also helps

you avoid delays to closing and demonstrates to

buyers, agents and the buyer's home inspector that

your house has been very well maintained. We want

buyers to focus on how they would live in your home

- not what they would have to repair.

Additionally, your house will stand out from the

competition as a better value and command a higher

price.

I will also recommend trustworthy, professional

contractors to address any repairs that are needed.

The extent that these repairs are made will directly

affect your listing price. You have the ability to

command a higher asking price, and substantiate it,

when your home is in top condition.
---
CONDITION

HOME STAGING
---
Once we have had your home inspected

and made the necessary repairs we will

focus on presentation. You will only get

one opportunity to make a positive first

impression with potential buyers. Well

staged homes look better, photograph

better, show better and sell faster than

non-staged homes.

When you list - and close - your home

with me, I will pay for a staging

consultation with one of the South

Sounds most experienced professional

stagers.

Home staging is not decorating.

Decorating appeals to the person living

in the house; staging is positioning the

home to appeal to the psychological

needs of buyers by creating a series of

impressions that build an emotional

connection to help buyers imagine living

in the home. An AOL Money & Finance

poll revealed that 87% of respondents

said home presentation makes the

difference in most sales.

Also, while many agents overlook the

presentation of your home and push for

price reductions, the problems, whether

perceived or real, still exist.
---
CONDITION

HOME WARRANTY
---
While your home is listed with me, it will be covered

by a nationally-recognized home warranty from

Home Warranty of America. The benefit to you is that

many of the normal day-to-day repairs are covered

under this plan while your home is listed.

When you list - and close - your home with me, I will

pay to have a Home Warranty of America transferred

to your buyer.

By advertising a comprehensive warranty for your

home, we increase buyer confidence in your home

and set you apart from the competition.
---
Marketing

MARKETING YOUR HOME FOR A

SUCCESSFUL SALE
---
Your home is now priced accurately and looks great.

Let's show it off!

The marketing of your home will reflect an

established history of how buyers search for, and

purchase, homes.

• 95% of buyers use the Internet during their home

search.

• 85% of all home sales in the South Sound are

co-brokered. This means there is a listing agent who

represents you, the seller, and another agent who

represents the buyer of your home. As a result,

marketing to Realtors is our most productive activity.

• The most effective way to get the attention of

productive agents and buyers is through accurate

pricing and great photography.
---
MARKETING

PROFESSIONAL PHOTOGRAPHY
---
After your home is staged, we will pay to have your home

photographed by a professional photographer.

With 95% of buyers using the Internet to search for homes,

professional photography is essential to any

comprehensive marketing plan.

More people will view your home online than will ever visit

it personally. Getting, and holding, their attention online

with professional photography is one way to increase the

probability of an in-person showing.

"Buyers perceive homes with professional photography to

be worth, on average, 12% more than the actual price."

-The Wall Street Journal
---
Marketing

INTERNET MARKETING
---
Your home will be prominently featured with a

showcase listing on Realtor.com, the top real estate

web site in the nation.

Features of your showcase listing include:

• Up to 25 oversized photos

• Detailed descriptions of your home.

• High-definition virtual tour

• Interactive maps

• Open house notices

• Lead generation forms for potential buyers
---
Marketing

INTERNET MARKETING
---
I will place your home on 500 of the world's leading

real estate web sites for unmatched exposure.

Here are just a few of the sites where your home will

be found. . .
---
Marketing

INTERNET MARKETING
---
Your home will be featured in many of our real estate

web sites where it can be seen by hundreds of daily

visitors.

Your home is also directly accessible by more than

600 Leading Real Estate Companies in the World

affiliates with offices across the country and around

the world.

Additionally, all open houses are promoted on our

web site, increasing the exposure of your home.

Here is list of sites where your home will be featured:

• http://premierhomesnw.com

• http://nwhomeexperts.com

• http://FortLewisAreaRealEstate.com

• http://NwAffordableHomes.com

• More…
---
Marketing

SOCIAL MEDIA MARKETING
---
Your home will also

be marketed

extensively on

Facebook, the

world's leading

social media site.

We will market your

home using several

proven approaches,

including

highly-targeted ads

photos and more.
---
Marketing

INTERACTIVE MOBILE

MARKETING
---
Your home will be available on mobile web sites that can

be accessed from any smart phone, replacing the need for

paper flyers.

There are numerous advantages for you;

• Potential buyers are able to immediately access a

detailed description, along with the professional

photography of your home.

• Unlike paper flyers, we receive an immediate

notification with the potential buyer's cell phone number,

allowing us to follow up while the prospective buyer is still

in your neighborhood. With a paper flyer, we have to wait

until they call us - if they ever do.

• This technology is the flyer box that is never empty.

Nothing is more frustrating to potential buyers - and sellers

- than an empty flyer box!
---
WHAT ELSE YOU CAN EXPECT FROM US

Service
---
In addition to the services we've covered, you can

expect us to provide the following:

• Attentive one-on-one service. The responsibility of

managing the sale of your home is never passed off

to other agents or assistants. We can be present for

every showing to ensure your home is presented

properly and to gather valuable feedback.

• Regular communications regarding every

aspect of our efforts and the results of those

efforts as well as any changes in the market,

including new listings,

price changes of

competing homes,

sales and how we

should re-position

your property to

remain competitive.

• Assistance

negotiating offers and

preparing contracts.

• Attending the closing

to ensure all contract

provisions have been

met and that you are

fully satisfied with the

results of your sale.
---
THANK YOU

Thank you for the privilege and opportunity to work

with you. As always, feel free to call us if you have any

questions. We look forward to meeting with you and

helping you achieve a successful sale.

Brandon Stephens

Broker

Premier Homes NW

Abbey Realty

4621 Lacey Blvd SE

Lacey WA 98503

Office: 360-459-0428

Brandon's Cell: 360-888-3033

Brandon@premierhomesnw.com