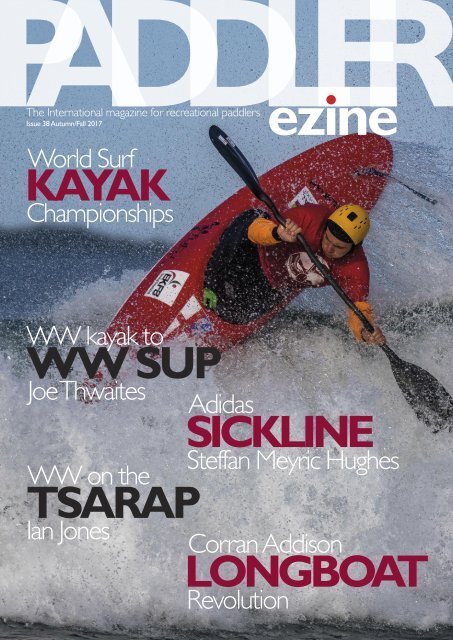 The Paddler Autumn/Fall issue 2017
The International magazine for recreational paddlers. The best for all paddling watersports including whitewater kayaking, sea kayaking, expedition kayaking, canoeing, open canoeing and rafting. All magazines are in excess of 150 pages and absolutely free.
The International magazine for recreational paddlers. The best for all paddling watersports including whitewater kayaking, sea kayaking, expedition kayaking, canoeing, open canoeing and rafting. All magazines are in excess of 150 pages and absolutely free.
SHOW MORE
SHOW LESS
You also want an ePaper? Increase the reach of your titles
YUMPU automatically turns print PDFs into web optimized ePapers that Google loves.
ADDLER

ezine

The International magazine for recreational paddlers

Issue 38 Autumn/Fall 2017

World Surf

KAYAK

Championships

WW kayak to

WW SUP

Joe Thwaites

WW on the

TSARAP

Ian Jones

Adidas

SICKLINE

Steffan Meyric Hughes

Corran Addison

LONGBOAT

Revolution
---
CONTENTS

Skittles kayakers by Paul Ramsdale

Editor

Peter Tranter

peter@thepaddlerezine.com

Tel: (01480) 465081

Mob: 07411 005824

www.thepaddlerezine.com

Advertising sales

Anne Egan

Tel: (01480) 465081

advertising@thepaddlerezine.com

Covers

Kayak:

Salty:

Canoe:

World Surf Kayak Champs by Mark Boyd

Big Sur by Roger Aguirre Smith

Ashley Kenlock by Richard Harpham

Thank you to: Pete Astles, Ashley Hunter, Nicola Taggart, Mark Boyd, Mick Feeney, Steve Childs,

Steve Bruno, Hap Wilson, Ashley Kenlock, C. Waldegger, D. Benedetto, J. Klatt, Olaf Obsommer,

George Younger, Anuj Kumar, Christine Pinsonneault, Damien Larrigaudiere, Jacob Seigel, Pat Keller,

Yannick Larouche and Allistair Swinsco for all your help in putting this issue together.

Not all contributors are professional writers and photographers, so don't be put off writing because you have no experience! The Paddler ezine is all about paddler to paddler dialogue: a paddler's magazine written by paddlers.

Next issue is Winter 2017 with a deadline of submissions on Nov 30th.Technical Information: Contributions preferably as a Microsoft Word file with 1200-2000 words, emailed to

submissions@thepaddler.ezine.com. Images should be hi-resolution and emailed with the Word file or if preferred, a Dropbox folder will be created for you. The Paddler ezine encourages contributions of any nature but

reserves the right to edit to the space available. Opinions expressed in this magazine are not necessarily those of the publishing parent company, 2b Graphic Design Limited. The publishing of an advertisement in the Paddler

ezine does not necessarily mean that the parent company, 2b Graphic Design Limited, endorse the company, item or service advertised. All material in the Paddler ezine is strictly copyright and all rights are reserved.

Reproduction without prior permission from the editor is forbidden.
---
Issue 38

Autumn/Fall 2017

004 Northern Ireland

World Surf Kayak Championships by Angela Hunter

014 Northern Ireland

A US viewpoint of the event by Roger Aguirre Smith

022 Testing, testing & new kit

Plenty of kit reviewed by our contributors

036 England

The Grand Tour of Cornwall by Liz Garnett

048 United States

Surfing to Big Sur by Roger Aguirre Smith

058 India (part 2)

The west coast of India by Kaustubh Khade

074 Scotland (part 2)

Rannoch Moor to Perth by Angela Ward & Adam Evans

084 Sweden/Norway

Scandinavian canoe expedition by Mal Grey

098 Canada

Muskoka River X race by Richard Harpham

106 Canada

Temagami wilderness by Richard Harpham

116 Scotland

Richard Harpham continues his Scottish explorations

122 Austria

Adidas Sickline and history by Steffan Meyric Hughes

136 India

The Tsarap River by Ian Jones

146 Longboat revolution

Corran Addison discusses the longboat's return

156 England

WW kayak to WW SUP by Joe Thwaites & Sam Ellis

164 England

The Big Ben SUP Challenge by Paul Hyman

ThePADDLER 3
---
ThePADDLER 4

W O R L D S U R F

KAYAK

C H A M P I O N S H I P S

Riding high

on success

Story: Angela Hunter, Nicola Taggart

Photos: Mark Boyd, Mick Feeney, Roger Aguirre Smith

October saw one of the

most spectacular World Surf

Kayaking Championships ever held in

the competition's history which spans over

20 years. Over 130 competitors from 15

countries across the globe took to the magnificent waves

of the Atlantic Ocean at Portrush in Northern Ireland – and conditions,

camaraderie and competitors did not disappoint.

This was the first time the competition, which ran from Friday 21st to Thursday 26th October, has been

held in Northern Ireland with over 70 friends, family and supporters attending and joining in the

spectacle. In the wake of Hurricane Ophelia, the surf at both the East and West Strand beaches in

Portrush, was offering splendid conditions at the start of the week for teams and individuals from as far

away as the US, Argentina and Australia, to compete and showcase their impressive world-class,

professional moves. As the week progressed, the winds died down, as did the waves, but they stayed

long enough to deliver just what was needed for an awesome competition.

The event was organised by the Canoe Association of Northern Ireland with a team of 35 staff and

volunteers, from all over the world, which saw twelve months of planning for five gruelling days of

competition on the Atlantic Ocean. Special recognition goes to these people who gave up their time so

gladly and without whom, the event could not have taken place.
---
ThePADDLER 5

Darren Bason
---
ThePADDLER 6

The event was organised by the Canoe A

Meabh Lynch

Liam Thierens
---
ssociation of Northern Ireland with a team

of 35 staff and volunteers, from all over the world,

which saw twelve months of planning for five

gruelling days of competition on the Atlantic

Ocean. Special recognition goes to these people

who gave up their time so gladly and without

whom, the event could not have taken place.

Many competitors and their families stayed for two

weeks or more in the picturesque seaside town,

helping boost tourism and the local economy.

The Royal National Lifeboat Institution (RNLI)

played a central role in the event – providing

world-class safety cover without which the event

could not have taken place. On the first day of

the competition during challenging conditions,

they rescued 12 people in the first few hours.

Competitor safety is paramount in our sport.

In addition, there were many supporters and

sponsors without which the event wouldn't have

had the same level of excellence. Special thanks

goes to the title sponsor, the Causeway Coast

and Glens Borough Council with many other local

and national supporters – we would like to thank

them all for the valuable role they played in this

world-class event.

The competition

The competition saw a number of team and

individual categories from Junior, Master, Grand

Masters, Ladies and Open – in two different

classes – High Performance (HP) and International

Class (IC) with 135 competitors in total

from 15 countries taking part over a five day stretch.

Odei Etxeberria

Paul Robertson

ThePADDLER 7
---
ThePADDLER 8

Nine teams battled it out for the number

one world ranking, with Team Basque taking

home the world championship. The Ulster team

took home an impressive fifth place over all.

The Individual competitors kicked off proceedings,

which was followed by the first round of the team

event. This was followed by a second round of the

individuals and team once again.

The event was very lucky to have waves for five

consecutive days. Conditions were varied, from

the very big on the first day, to smaller during

the week but they then built up again for the

team finals. So, competitors got to show off their

skill set on a range of conditions.

Ulster's 19 year-old, Meabh Lynch took to the

podium to scoop the fourth position in the

Sofia Lazarescu

James O'Donnell

Jim Grossman
---
Junior HP Classes. She was also a semi-finalist in

the Ladies International Class and High

Performance and a quarter finalist in the Junior

IC alongside Ulster's Andrew Lamont and Emil

Lazarescu. This is a great result for the young

Ulster competitors.

IC Classes

1. Junior

O BRIEN, Jamie

CRUJEIRAS BELLO, Hodei

DAVIES, Jack

ROSSITER, Nathan

IRE

EUS

ENG

ENG

HP Classes

6. Junior

CRUJEIRAS BELLO, Hodei

DAVIES, Jack

O BRIEN, Jamie

LYNCH, Meabh

EUS

ENG

IRE

ULS

2. Masters

BASON, Darren

ETXEBERRIA, Edu

ROBERTSON, Paul

ARKISON, Ewen

AUS

EUS

ENG

WAL

7. Masters

BASON, Darren

ETXEBERRIA, Edu

ROBERTSON, Paul

TETZSCHNER, David

AUS

EUS

ENG

DEN

3. Grand Masters

GROSSMAN, Jim

ADCOCK, Gary

ABANDO, LUIS ALBERTO

CRANDALL, Dan

USA

ENG

EUS

USA

8. Grand Masters

OLIVERAS, Adrián

CARRETO, Txema

YOUNG, Richard

INGLIS, John

ARG

EUS

SCO

SCO

4. Ladies

GREEN, Tamsin

IBARBURU ALTUNA, Enara

GARMENDIA, Olatz

GRIFFIN, Aisling

ENG

EUS

EUS

IRE

9. Ladies

TOLOSA INDA, Ainhoa EUS

BORDAGARAY MARTIJA, Irati EUS

ROGERSON, Teresa USA

MCQUEEN JONES, Lucy ENG

5. Open

BASON, Darren

THOMAS, Tim

ETXEBERRIA, Odei

BOYD, Zackary

AUS

WAL

EUS

USA

10. Open

ARROUAYS, Pablo

ETXEBERRIA, Odei

OLANO, Xabi

MARTIN, Gorka

FRA

EUS

EUS

EUS

Team World Champion

EUSKADI (BASQUE)

2nd ENGLAND

3rd WALES

4th IRELAND

5th ULSTER

6th

7th

8th

9th

ES WEST

SCOTLAND

DENMARK

BRITISH ISLANDS

ThePADDLER 9
---
ThePADDLER 10

Summary of proceedings:

Hodei Crujeiras

Opening day: Friday 21st October

The social side of the event was on a par with

the exceptional skill and excitement being

displayed on the waves – with many life-long

friendships being made over the five days.

The event started by offering the competitors

and their friends and family as taste of unique

Northern Ireland culture.

The local Sea Scouts, part of the UK's oldest

nautical youth charity, started proceedings with a

'bang' by playing an opening drum serenade. This

was followed by the world famous Innova Irish

Dance company who treated everyone to a

wonderful performance of their signature dance

style with a twist. This was followed by an official

welcome to the event by the Mayor of the

Causeway Coast and Glens Borough Council,

which was followed by information regarding the

running and organisational elements of the

event.

Sunday 23rd October – saw the Magheraboy

Hotel host a Traditional Irish Ceili allowing

competitors to embrace the local Northern

Irish and Irish culture and get their bodies

moving to the unique music.

Tuesday 25th October – saw many

competitors alongside their family and friends

descend upon Kiwis Brew Bar in Portrush who

supplied Local craft beer by brewer Lacada and

provided complimentary food by Lynas Food

Outlet. This was followed by live music

with Young Ike. A fantastic night was had by all.

Thursday 27th October – saw a social

fundraiser for the RNLI at the Portrush Yacht Club.

Saturday 29th October – featured the

magnificent closing ceremony at the Giants

Causeway followed by music by 7.30pm. Mood

music on arrival by Les Magee and evening

entertainment by the Outlaws.

In summary:

Portrush provided a world-class location for

this World Championship. All competitors, their

families and friends had a phenomenal time,

with fantastic hospitality, team spirit and craic.
---
Tamsin Green

Tim Thomas

Jack Davies

Lucy McQueen Jones

Ewen Arkison

ThePADDLER 11
---
ThePADDLER 12

When it was time to bid each other farewell, it

was a sad time, with many not wanting to leave

their new life-long friends and team mates.

Ashley Hunter

Speaking about the event, Ashley Hunter, Chief

Officer, the Canoe Association of Northern

Ireland said, "I am delighted that the Canoe

Association of Northern Ireland was able to host the

World Surf Kayak Championships in Portrush,

Northern Ireland. The championships provided us with

a great opportunity to showcase one of the many fun

and dynamic disciplines of our sport.

"The event was a great success and for that I would

like to thank the event committee for their work in

the buildup, the event team who worked long hard

days to ensure it ran smoothly, and to those that

supported the event with sponsorship and services.

We hope that everyone enjoyed their time in

Northern Ireland and we look forward to welcoming

everyone back to our shores in the future. I would like

to thank everyone who had a part to play in the

success of the event".

"Competitors and indeed the entire surf kayaking

community from across the world got to experience

some of the best waves we have seen on our own

shores – with spectator numbers reaching an alltime

high.

"I would like to take this opportunity to congratulate

all of the competitors and their families and support

network – so many of whom made the journey to get

here and make the event so memorable. And of

course, to the winners – congratulations and very well

done to you all – it was one heck of a competition,

and so tight in many cases – but those that came out

on top should be very proud.

"The Ulster team and the individual competitors did

really well and they should be proud of the results

achieved. The next worlds are in Peru where we hope

the team will build on the success and go the next

worlds increase the success.

"I would like to thank everyone who made the event

possible, the committee, event team, sponsors and

supporters. We brought the world's best surf kayakers

to Portrush and provided a great event."

Adrián Oliveras

Dylan Petherick

Zack Boyd

Further information and photographs visit www.surfchampionships.cani.org.uk

For further press information please contact:

Nicola Taggart on 07468 866808 or email Nicola@1visionpr.com or

Angela Hunter on 07970 294406 or email Angela@birdsongni.co.uk
---
ThePADDLER 14

THE RIDE

Story and Photos: Roger Aguirre Smith

3am: Could be jet lag, could be my normal early morning restlessness. I

sit in bed listening as the wind—finding its way through the smallest of

cracks in this building – whistles and rattles with a consistent and

pressured exhalation. I can make out the white outlines of wind waves

through the drops of water dripping down the window. Remnant tackle

blocks, manual cranes and cables surrounding this renovated salmon

fishery seem unfazed by the 60km wind. The Worlds begins in five hours

with a 4m/12-second period swell.
---
ThePADDLER 15
---
ThePADDLER 16

I invited myself.

A friend of mine, Mark Boyd, mentioned he was

travelling to Northern Ireland with his family and

friends for the World Surf Kayak Championships

to photograph his son Zack, who is competing

for the US West Coast team. Mark and I often

photograph kayak sports together closer to our

central California coast homes, so yes, I inserted

myself into his family as 'visual and social

support', for the US West Coast team. I hauled

thousands of dollars of photographic equipment,

paid for over-priced car rental insurance that

does not even cover tyres apparently and took

2.5 weeks off of work… to post 600px X 400px

photos to the team's Facebook page. Yup…"Love

you guys!" Actually, logistics and pretence aside,

I m just along for the ride.

I've never visited Europe; never travelled beyond

North America; never paid a pound for anything;

never driven on the left side of the road

(unintentionally) or from the right side of a

vehicle nor had a blown tyre that I was unable to

fix on a late rainy night in a place that was 5,000

miles from familiarity, in a fog that only 24 hours

of airline travel can create. Welcome to the land

of wattle and daub.

Settling into my room in the converted fishery,

Mark s family catches me up on the travels and

travails of other US team mates. Among the

inventoried events of the past few days: A

hurricane of the likes not seen in 50 years;

unleaded gas instead of diesel in the tank kind of

thing; various flat tyres; a heart attack (two

actually) and a broken arm (Mark's wife Barb).

This is just the US West Coast team. In fairness

Edu Etxeberria
---
Paul Robertson

Mark and I often photograph kayak sports together closer to our

central California coast homes, so yes, I inserted myself into his family as

'visual and social support',

for the US West Coast team

ThePADDLER 17
---
ThePADDLER 18

however, rumour has it that a paddler with the

Australian team had his boat fly off the roof of

his car only to be run over by his teammate.

"G'day Mate!"

These are just the known fodder for travelogues.

As I watch the parade of international teams

during the rainy opening ceremonies for the

Worlds, as they walk in colour, anthem and flags,

I wonder about each of these athletes and about

their families that travelled distances to support

the competition. What are their stories? What

did it take for them to get to this moment? What

obstacles challenged their best-laid plans? And

just how the hell do you get 60+ surf kayaks

from all over the world to the 'Santa Cruz' of the

Emerald Isle?

The truth is, I believe it comes down to seconds.

It comes down to 'The Ride'; when the 'how' and

'who' and 'what' disappears into the fragrant

ocean mist, the coolness of the vast Atlantic blue

and green and the rush of spray and foam

running down the line. It is a singular focus: the

slight bend of the horizon, predicting the pocket,

the breath, the blade, the hips, the edge,

pressured feet, knees, rotation… it's about that

singular moment of pure being where separation

ceases to exist.

Supporting these seconds of bliss, we are your

friends and family coming together from all over

the world. And for all of those moments of

seconds melded together each day for eight

days – we celebrate the ride together.

Roger Aguirre Smith

Roger has been a photographer and

writer for many years. His background is

in black and white fine art photography

using medium and large format cameras.

DSLRs are his new tools and he uses

them in places that really don't play well

with electronics.

His work has been published in several

outdoor publications and books and can

be found at www.rasphotography.com.

When not behind a lens, he can be found ocean whitewater kayaking along

the central coast of California and points beyond. Roger can be reached at

shutter@rasphotography.com

A star of the future: 12-year old Victor Bezard
---
Changing the game.

Once again.

Ergonomic 3D design

Lightweight, 100gsm

Great moisture transport

CoolMax® Air performance bres

All sports, all weather garment

Excellent body temperature

management

RRP

£36.00

USE DISCOUNT CODE:

20discount

Off The Website

WWW.CRAFTSPORTSWEAR.CO.UK
---
ThePADDLER 20

Testing,

Kitvision Immerse 360

and Immerse 360 Duo

http://www.kitvision.co.uk

By Peter Tranter

The development of POV action cams has

come a long way in the last few years and

there's now more choice than ever. Forget

the brand and think about what you want

from an action camera, how you plan to

use it and what you have to spend.

However, now there is another equation

to add to the mix: 360 degree capability.

The rules have changed and now anyone

can film a VR-ready video inexpensively.

Now you can look up the river, not just down it,

capturing not only what's in front of you but also

those paddling behind you. The world of

Immersion 360 features:

Video resolutions (.MOV):

1920 x 1080 @ 30 fps / 1440 x 1080 @ 30fps

Photo image: 16 MP JPEG

Lens: F2.0, 360 degrees hori x 220 degrees vert

Video format: H.264 MOV

Included with the camera:

Bike mount

Adhesive mount

Waterproof case

Camera cradle

Camera silicone suction case

Action camera screw

Micro USB cable

User manual
---
testin

gThe Paddler ezine

test

station. If you want

your product

reviewed and it will be of

extreme sports, especially paddling, is one of the most

appealing arenas for 360-degree VR video.

interest

to paddlers - email us: reviews@thepaddlerezine.com

Paddler HQ have frequently tested Kitvision cameras and

we've always without exception found them to be excellent

value for money, producing very good results whilst being

reliable. The icing on the cake is always the huge amount of

accessories you receive with each purchase and this is no

different with the Immerse 360s – with one exception,

which we'll come to later.

From the photos, you can see the obvious main difference

between the two cameras – one has a single lens and the

Duo has the two back to back lenses.

The original single lens 360 has been around for all of 2017

and sits on its back with the lens pointing to the sky. It has a

super-wide lens housed inside a small dome that gives the

camera a field of view of 220 degrees. Because the 360

Immerse action camera lens is located on top of the

camera, the lens captures the 360-degree peripheral

panoramic viewpoint of a dome.

The lens has the ability to see down 20 degrees on all sides

but that does leave 140 degrees of the environment out of

view, which sometimes leaves the constant feeling of having

to look up when viewing the finished results.

The other drawback when looking at the end result is the

quality of video. This isn't a 4k camera, it records in 1080p.

This isn't a problem in the usual fixed screen world as

nearly all the TVs that we own are now 1080p hi-definition

and the results are more than acceptable. However, in the

world of virtual reality where you're looking at a 360

degree world, the results are closer to the old standard of

pre HD viewing - there are at times, just too few pixels to

spread around.

ThePADDLER 21
---
ThePADDLER 22

Having said that let's come back to reality. As

mentioned, this camera has been around for a

year now and back then you would have shelled

out near £200, which even then was a bargain.

However, look around now and you can

purchase this camera for less than £100, which

considering all the accessories you get with it –

makes it an absolute steal and a fun device on

which to cut your VR teeth on.

As with all VR cameras, there is something to

bear in mind before you're ready to view VR

material: it can be a long winded process to get

there. Firstly, you have to convert the 360

degree footage for that 360 experience using

software like SYMAX360 that can be

downloaded from http://symax360.com.

Open your video, select 'high' quality and wait for

the bar to hit 100% as it transforms your video.

You can then edit your video using standard

video edit software, however before you upload

to YouTube you have to run your video through

another process with a piece of software that

injects metadata to make sure you get the full

on 360 degree VR experience. It is free and can

be downloaded here:

https://github.com/google/spatialmedia/releases.

After that you're ready to

upload and view your results.

The Immerse Duo

So the original 360 was released a year ago and

as mentioned, came with lots of goodies in the

box, one of which is a waterproof case, good for

a depth of 30 metres. Then Kitvision released the

Duo version of the Immerse earlier this year but

curiously without a waterproof case, which limits

its use. However, if you intend to stay clear of

white water, eskimo rolls, etc, I don't see it as

presenting too much of a problem.

Indeed I would encourage the use of the 360

Duo on calm water as the VR experience is a

leap above the standard 360.

The Duo has two lenses front and back, which

gives you a full-on 360 degree video with no

blank areas.

Although still not 4k, the quality of the recorded

image on the Duo is undeniably a level above

that of the original single lens 360, with the extra

lens capturing a more immersive range of

footage - the advantage of the twin lens.

The Immerse 360 Duo comes with some great

accessories, three of which instantly catch the

eye: the flexible tripod, the wrist mounted

remote control and the cardboard VR headset

on which to view your footage.

The flexible tripod is really neat in the way you

can wrap its bendy legs around anything.

Combined with the wrist remote, it really comes

into its own. Wrap it around a branch

overlooking your favourite run, hit the remote

and off you go. There are no limits and stability

can only be a good thing where sometimes only

the slightest of camera wobble can induce a

feeling of sickness, especially in 360 degrees!

Another really good area for the tripod is to try

it with time lapse in mind – you'll look very

professional.
---
PROUD PARTNERS:

t: +44 1629 732611 e: info@peakuk.com

w: www.peakuk.com

Paddler: Kerry Oldeld. River Derwent. Image: Pete Astles. Gear: Semi Long Jacket. River Vest PFD.
---
ThePADDLER 24

Both the Immerse 360 and the Duo use the

same combination of keys, either on the side or

in the case of the Duo, on the top. Press and

hold the Wi-Fi button to enter the menus and

use the red button to make a selection. Scrolling

through the menu is also done with the Wi-Fi

button by single presses.

You can control, capture, replay, and share your all

your footage with the compatible interactive apps

for both cameras. In the case of the single lens 360

download the 'SYMAX360' app and the Duo uses

the 'SYVR360' variant. The app gives you total

control of the camera in all modes. Be warned

though, when both these cameras have their Wi-Fi

enabled, it does reduce the battery life.

What more can we say. For me I would pay the

bit extra and go for the Duo - just incredible value

for money.

Immersion 360

Duo features:

Video Resolutions:

1920 x 960 @ 30fps

Photo image: 5MP

3008 x 1504

Lens: 360 x 220

degrees x2

Video format: .MOV

Included with the camera:

VR cardboard headset

Flexible tripod

USB charging cable

Screw (x2)

Camera clip mount

Adhesive mount

90° Adaptor

1/4 inch tripod screw adaptor

User manual

"

Downcreek's paddles are ace! Big Dippers &

Curlew bent-shafts were used throughout our

circumnavigation. They were superb & never

missed a beat. Beautifully balanced, efficient

& lightweight, yet durable & powerful, they

are custom made & finely crafted by experts

for each individual's needs.

"

Colin Skeath, Canoe Around Britain

Better paddles paddle better. With a Downcreek paddle you will feel the difference.

Handcrafted from premium materials, they are exceptional in form & function.

Ultimate customisation now available with Paddle Signing & RockGuard tip

upgrade options.

Also in our online store: Bespoke handmade paddle bags & canoe furnishings.

Visit us at www.downcreekpaddles.com and have us make the paddle of your dreams.

Check out our interview and review in past issues of the Paddler

Quote code "PADDLER" at checkout and get a free RockGuard tip upgrade worth £15
---
ThePADDLER 26

Standard Horizon HX870E Handheld DSC VHF

with GPS and Route Navigation

www.standardhorizon.co.uk

By Richard Harpham

We were pleased to receive the Horizon

Standard VHF Radio in our offices for

review as it feels rugged and well built

with a host of the latest features,

including SOS GPS Man overboard

button, Data download/upload functions

via USB and DSC (Digital Selective

Calling) using Maritime Mobile Service

Identity (MMSI) identification unique to

the ship or craft. VHF radio technology

has been advancing quickly with inbuilt

GPS positioning providing improved

rescue options.

The HX870E highlights the set's EU

configuration, the mandatory ATIS (Automatic

Transmitter Identification System), which can be

activated via the front panel for use on the

inland waterways of Europe.

The size of the model means it fits neatly into

most expedition sized buoyancy aids (PFD). It

has a solid clip on the back of the model, which

can be removed as well as a lanyard fixing point

on the main body. These fixing points are critical

as sea kayakers as common equipment losses

result from wave action and stormy seas.

The unit includes a rechargeable battery and an

enhanced lithium battery from 1150mAh to a

powerful 1800mAh as well as a larger screen

from their previous models. You can also track

other HX870E users shown on a compass like

screen display showing the position of group

paddlers or a small flotilla. The unit is rated to

IPX8, about 1.5 m for 30 minutes.

The Stand Horizon HX 870E is a great value

addition to the market and a good option for

sea kayakers, kayak fishing groups from sit on

tops and general marine use.

Features

l Size: 2.46" x 5.57" x 1.77" (62.5 x 141.5 x

45mm) w/o antennae.

l Weight: 11.8oz (335gm) (Gross).

l Flash and float SOS feature.

l Person overboard soft key with GPS.

l GPS tracking and weigh points.

l CH16 short cut button.

l USB connection for data/laptop purposes.

l DSC (Digital Selective Calling) for

emergency with CH70.

l Simple menu scroll option.

Review

Value for money: 5

Features: 5

Weight/size: 4

Ease of use: 4

Prices from: £205
---
MORE THAN

JUST A

SPRAY TOP!

ROOSTER ® PROLITE AQUAFLEECE ®

Durable, soft, flexible and requires

no re-proofing to perform. With a

microfleece lining to keep you warm

and feeling snug and adjustable

neoprene waist and cuff seals for

added security. Available in unisex

and ladies fit across 5 colourways.

Complete the look with matching

accessories at www.roostersailing.com

visit us online at ROOSTERKIT.COM

or call 01243 389997
---
ThePADDLER 28

Silverbirch Rebel 11.3

www.silverbirchcanoes.com

The Silverbirch Rebel is a modern 11-foot

whitewater canoe, just as capable on big

volume grade 4 as it is efficient on shallow

braided streams and flat sections.

The Rebel has been designed to excel with a

wide variety of loads – making it ideal for use on

longer trips where you may not only have

significant gear to take, but a continually

lightening load as the trip goes on.

Silverbirch have worked hard to optimise the

secondary stability – this was important

feedback from the early prototypes, not in terms

of literal stability but in terms of the transition

from primary to secondary, and how clearly

defined the rail feels as a consequence. The

production Rebel 11 not only 'sits' naturally on

the rail, but has massively boosted secondary

stability making it an easy to paddle and

confidence inspiring canoe.

The Rebel is available in two

construction options:

Duratough: Silverbirch's thickness optimised

material, which is ideal for all the abuse of

modern day creeking.

Duralite: Silverbirch's innovative three layer

material, which is great for use on bigger volume

rivers where stiffness and weight are the primary

concerns.

The Rebel comes outfitted with the custom

Silverbirch bulkhead saddle made from 30kgm3

density minicell foam.

The saddle is fitted as standard with Yakima

footrests. At the request of their customers, the

footrests are now fixed to the saddle with

bonded 40mm polyethylene dowels to ensure

maximum durability.

A fitting kit including foam sidewalls, foam shims,

glue, sandpaper and a surf-form is supplied to

allow you to customise your boat to your needs,

the second it arrives.

Dimensions

Length: 3480 mm / 11'4"

Width: 686 mm / 27"

Depth: 440 mm / 17.25"

"Whether you are looking for more speed from your

OC1 or a natural transition from your traditional

canoe, the Rebel is the boat for you."

James Dennis – Silverbirch canoes director

"This is a glorious boat! Silverbirch have really

outdone themselves. This boat will be at home on

any moving water, and won't even be too

objectionable on the flats."

Phillip Prince – Silverbirch ambassador and

test pilot

"The Rebel is fast, nimble, dry, and made of high

quality PE, so it can make those big water moves and

take a beating in the creeks!"

Jerrod Jones – Silverbirch ambassador and

test pilot
---
ULTRALIGHT KAYAKS

award winning design,

class leading construction.

W W W . T O O T E G A . C O M
---
ThePADDLER 30

MSR Elixr 2 tent

www.msrgear.com

By Richard Harpham

The MSR Elixr tent has 'Tardis' like

qualities for a small tent offering

reasonable sleeping quarters and kit

storage. Its geodetic design also means it

is perfect for pitching on different

surfaces including rock and harder

surfaces where pegs are less effective.

This style of 'free standing' tent is great for

canoe, SUP and sea kayak expeditions alike

where camp sites may be less available. All the

components have a high quality feel of

something that has been designed and

manufactured with loving care.

A quick glimpse at the instructions reveals that

the dome shape is established by positioning the

main linked (folding) poles on opposing arcs.

Quick clips and eyelets mean within a couple of

minutes your new home is pitched. The MSR

Elixr also comes with an optional base

groundsheet to improve insulation and reduce

damp from the ground.

Overall this tent is a gem offering a sturdy design

and ample space for two people with kit,

without sacrificing too much on heavy weight to

carry. It has two side entrances and two

porches for storage. You can pitch it fast and light

with the rainfly and base groundsheet reducing

the pack weight from 2.5Kg to 1.6kg. You can

also tie back the porches providing that

connection to nature we all seek.

This is our new favourite tent offering a fantastic

home from home when exploring by canoe,

kayak or SUP.

Features

l Two doors and two porches (unique in class)

l Internal loops and pockets for hanging kit

l Dual porch areas for stashing kit

l Geodetic 'freestanding design'

l Internal base tent and separate flysheet (can

be pitched separately)

l Floor space 2.69 sq metres

l Porch (vestibule area) 1.63 sq metres

Review

Value for money 4

Space 5

Features 5

Weight 4

Comfort 5

Prices from £192
---
Osprey Aether AG

backpacking rucksack

https://www.ospreyeurope.com

By Richard Harpham

The Osprey Aether AG is a game changer

with levitating qualities magically

reducing the load by 20-30% with its Anti

Gravity Suspension System Getting to

paddling trips and remote destinations is

a key part of a paddlers life. I have learnt

on my many human powered expeditions

that nothing weighs anything but

everything weighs something.

This rucksack is a joy to use and makes travel

significantly easier and more manageable. Of

course most of us paddlers chose to embrace a

wide range of outdoor activities including

trekking and back packing so the rucksack wins

there too.

Back packs and rucksacks have remained constant

in design since the last big change when external

frames were integrated into internal designs. Or

so we thought! The Osprey Pack includes a new

waist belt anti gravity system, which is literally

figure hugging, providing a reassuring connection

between you and your pack.

We field tested the packs on our recent Ontario

Canadian Canoe Culture trip and returning

home I managed to carry 26Kg comfortably in

my 85-litre pack. (Warning: it is possible that

access to local maple syrup, Hap Wilson's books

and other paddling items can make your pack

heavier that usual).

The pack includes front zips for 'flat packing' your Review

bag, plenty of fixings and a built in waterproof

cover. The pack comes with a medium and large

size option and a brilliant sizing app, to help

make sure you pick the size for you. The Osprey

Aether Pack is like a new friend you feel like you

have known for ever. You will wonder how you

ever survived without it.

Features

l Size: 85-litres

l Weight: 2.42 kg

l Sizing (medium & large) – use their sizing app

l Colours: green, blue and orange

l Large body of rucksack top and front J-zip

l Anti gravity 3D carrying system

l Precurved hip belt system

l Detachable pack lid

l Integral waterproof cover

Value for money 5

Space 5

Features 5

Weight 5

Comfort 5

RRP: £205 and worth

every penny

ThePADDLER 31
---
ThePADDLER 32

River Guide PFD

www.peakuk.com

Peak UK's top whitewater PFD the

River Guide has been updated for 2018

but still keeps the original storage

features of a large front pocket (with

phone, sling and camera

compartments), twin karabiner pockets

and a knife pocket.

The unique integrated harness is now

adjustable so you can create the perfect length

for you with no cutting required. Integral

shoulder pads make boat carrying a much

more welcome prospect and the tough 600D

polyester/nylon shell and Gaia eco friendly

foam, will not let you down. A must for serious

whitewater nuts and coaches or guides

everywhere! The River Guide comes in S/M,

L/XL and XXL and will be available early in

2018.

RRP: £139

Colours: red/lime. Blue/lime

SealLine Discovery

Deck Dry Bag

www.seallinegear.com

By Richard Harpham

The SealLine Discovery Deck Dry Bag is a

simply brilliant design with its robust

material and multiple fixing points. It's

perfect for day or expedition use on a

canoe, kayak or SUP, whether you are a

day tripper or instructor, or adventurer.

The dry bag comes in a choice of different

colours and we thoroughly tested them in

Scotland on the River Spey (including the

Washing Machine), wild camping on Scottish

lochs and in general use. The bags passed with

flying colours where we used them as DS

(Deep Sh*t) bags with essential kit as well as

camera and valuables.

We found them useful for portages, touring

and moving water alike, with full confidence

that our kit would remain dry.

Features

l 10, 20 or 30 litre capacity options

l Choice of colours blue, black, green

l Integral carrying handle

l Shoulder strap duffle design

l Easy stow design

l Purgeair

TM

valve

Paddler review

Value for money 5

Durability 5

Features 5

Look / Feel 5

Weight 5

RRP: From £17.95 for the 10-litre option and

£22.95 for the 20-litre option
---
www.celticpaddles.uk

DIRECTORY

Canadian Wilderness www.paddlersinn.ca

SEA

KAYAK

ADVENTURES

Explore Jersey

by sea kayak

C O U R S E S | S U R F S A F A R I S | E X P E D I T I O N S | R O L L I N G C L I N I C S

Guided tours, courses and

offshore trips. Open all year.

Sea kayaks and sit-on-tops available.

Call: +44 (0) 7797 853033

P l a s M e n a i , N a t i o n a l O u t d o o r C e n t r e , W a l e s

w w w . p l a s m e n a i . c o . u k | 0 3 0 0 3 0 0 3 1 1 3

To advertise email: ads@thepaddlerezine.com or call +44 (0)1480 465081 ThePADDLER 33
---
CONGRATULATIONS TRACI

MILES COMPLETED

ON HER WORLD RECORD ATTEMPT

SUPPORT TRACI

RPC3 will donate $25

for every paddle sold

Enter code TRACI at checkout

High Performance Carbon Fiber Paddles

THANKS FOR BELIEVING IN US!

Visit us at RPC3.com

Traci Lynn Martin
---
ThePADDLER 36

KERNOW

G R A N D T O U R
---
A trip around the pointy bit of England

By Liz Garnett

The clock was ticking and summer was just around the corner. An adventure

was on the cards. Where should we go? Brittany? Donegal? Orkney?

Hebrides? I would happily sea kayak in any of these locations but squeezing a

long drive and ferry crossing into a 13-day mutual holiday window was tricky.

The somewhat surprising choice was simple and local: Cornwall (or Kernow

to the Cornish). This might have been a cop-out except for two details:

1) the challenge was set as a navigation of the entire county's coastline and

2) I'd never paddled in Cornwall.

All we needed was a bit of favourable weather and the 200-mile challenge

was achievable; I also needed to ignore my bad vibes about the approaching

summer's weather. However, the metaphorical towel was thrown down:

Eurion created a logo and got us a sticker. Our holiday had officially become

an expedition and the four of us were ready for action!

ThePADDLER 37
---
ThePADDLER

Headwinds

Fast forward several months and I'm sleeping in a

car park at Bovisand, the most westerly bay in

South Devon. Plymouth and the start of Cornwall

proper, the River Tamar, is just a short hop across

the sound. Besides a brief midnight interlude of

teenagers thrashing mopeds, it was a remarkably

pleasant night's sleep. I do love the romanticism of

an adventure in the making. We spent the morning

squeezing the mass of kit into our fleet of Cetus'

and then launched into a rather brisk NW

headwind. This was a weather pattern that we

struggled to break for many days.

The in-ya-face breeze kept us company through

days one and two. The first camp spot, on a cobble

berm at Seaton, blessed us with a driftwood fire

and the most stunning moon rise ever. The following

day we continued past Looe, cutting nicely through

the middle of a sailing race. A brief stop amongst

the tourists at Polperro reminded us that this was

prime summer season, a fact that's easy to forget

when you are weaving amongst the rocks along the

coastline. But they were soon left behind as we

continued westwards, dipping into the bays to try

The first camp spot, on a cobble berm at Seaton,

blessed us with a driftwood fire

and the most stunning

moon rise ever

and avoid the worst of the wind, only to find

ourselves dodging day trippers, cruisers and fishing

boats at the entrance to Fowey.

We dropped into tourist mode once again at the

fantastically named Readymoney Cove. Sheltered

from the wind, this cove was in British

Summertime. Ice creams may have been purchased.

We soaked up the rays and waited… hoping that

the evening would bring a drop in the wind and

allow us an easy 8km paddle across St Austell Bay.

An uneventful crossing was highlighted by gannets

diving for their supper. The spectacular green

pyramidal cliffs of Penare Point welcomed us to the

west side of the bay. The temperature dropped

significantly as clouds covered the sun and we

paddled on into the evening.

We eventually landed sometime after 8pm on the

stunningly sandy Vault Beach. Our bodies had

found 'kayaking mode' but that doesn't mean that

we weren't properly knackered after 38km! A very

late dinner was not exactly enhanced by squillions

of sandhoppers trying to commit suicide in our

meal. A grim forecast for the next day meant an

early start, to try and avoid the worst of that

damn headwind…
---
ThePADDLER 39
---
ThePADDLER 40

Day three was a slog.

Four and a half hours of

interminable plodding. We snuck

past Dodman Head, hid behind

every possible rocky outcrop in

Veryan Bay, blessed the volunteer

toilet warden at Portholland and

then crawled around Nare Head,

saluting Gull Rock #1. There was a

definite sigh of relief when we gave

up and camped on a lovely grassy bank above

Pendower Beach, on the isolated Roseland Peninsula,

after a measly 16km. Tea drinking and blustery clothes

drying was the order of the afternoon, as three of us

looked on in bemusement as Eurion tried to organise

the most complex escape plan in the history of sea

kayaking. Against all the odds, he managed it and went

to London – for one day.

Dolphin and chips

Suitably recharged by café culture, we headed straight

across Mount's Bay, a 21km short cut across the last

major bay in south Cornwall. Calm weather and

glassy seas were the perfect ingredients for being

caught in the middle of a dolphin dinner chase. Round

and round they went. Fins in the front, to the side, at

the rear. Amazing! And then it was time to settle in,

heads down and paddle. Porthleven, keep paddling.

Praa Sands, keep paddling. St Michael's Mount, keep

paddling. A moored tanker, keep paddling!

The weather gradually deteriorated and four hours

later we flopped out in Mousehole harbour, a

picture postcard of charming cottages cupping an

army of fishing boats. Three words: no chip shop.

Chris cried. It was 7pm, a hugely long day that had

also encompassed rounding the Lizard, Britain's

most southerly point. We plodded even further

south to Lamorna Cove, passing (what should be)

the namesake giant mouse sized caves. This epic

41km paddle had, however, landed us on Land's End

peninsula, the most westerly point in Cornwall, and

indeed of England.
---
Monsoonal weather

Lamorna Café sells huge breakfasts and has

great cake. There's a plentiful supply of tea too.

We watched the rain, checked forecasts,

perused the maps and debated. Was day six

good to go? Land's End is exposed to the

Atlantic swell and the weather wasn't ideal.

When the rain stopped at 15.00, we opted to

launch. The sea was lumpy and then got a bit

wilder. England's most westerly point is,

apparently, epic in terms of scenery and jutting

outcrops. But the cloud was down and the sea

around Gwennap Head was a maelstrom of

confusion.

We snuck through relatively sheltered alleys

between mainland and zawns (deep and narrow

inlets). The arch of Enys Dodnan is truly epic in

stature and memorable in that it provided a

moment of calm water to pump out my

cockpit! Longships lighthouse was just visible,

until monsoonal rain arrived and coated the

surface of the sea with mini impact craters.

Laughably insane conditions! But this was a

turning point; we were officially heading north,

backtracking along the Cornwall peninsula.

The highs and the lows

After a brief stop at Sennen, we continued on

for a very late landing at Priest's Cove, just shy

of Cape Cornwall. A steep slipway drops into

the sea, where local fishermen haul their catch

up to sheds enclosed within the cove's rocky

arms. We perched our tents on a grassy slope

above the cove, overlooking Longships

lighthouse. This was our first western view and

allowed for a spectacular sunset. We ate dinner

in the dark, watching the repetitive five-second

flashes of light slip past, happy to be within the

grasp of this tiny cove.

A series of late landings and 06.00 starts

impaired my joy of the spectacular north coast

mining scenery that followed. The journey

north to St Ives (without any wives, sacks, cats

or kits) is a repetition of towering cliffs topped

by chimneys and derelict brick structures.

ThePADDLER 41
---
ThePADDLER 42

The morning shadow hid most of this coast's

true glory but it still impressed. The sun was out

and the scenery was ticking boxes, but the long

days, late nights and early starts had finally caught

up with me by day seven. By the time we passed

an unbelievably packed Porthmeor beach at St

Ives, I was crawling along behind the others.

Officially broken! And then came the culture

shock – we landed amidst all the tourists in

Cornwall. St Ives was teeming with burnt Brits!

Despite having had limited company for a week,

we were still unabashed about spreading wet kit

in a 10m radius around us. We had reached

saturation point, quite literally, and were

desperate to dry our clothes. Bless the sun!

Suitably recharged by Spanish tortilla in St Ives,

the afternoon paddle saw the Cornish coast

completely change character. The tin mines were

replaced by a fascinating collection of stacked

sediments. Godrevy lighthouse has a secret

(you'll have to go there to find out) and the seal

colony was surprisingly empty. However, the

rolling swell delivered us to the Samphire Islands.

We squeezed through the pair of islands, gawping

at the layers of mud and sandstone. The bizarrely

named Ralph's Cupboard was next. We didn't see

Ralph but his cupboard was an epic alcove in the

cliff. However, the sun was setting and Portreath

beckoned. A quick group discussion determined

that the camping opportunities looked limited and

so a frantic 4km dash to Porthtowan ensued, as

we tried to land before full dark. In the fading light,

we could see the white capped tops of the waves

that were rolling into the beach.

A surf landing in the dark? What fun! Mark went

first and was surfed wildly into the beach. He

imagined the rest of us were doomed. Amazingly

we all landed, much wetter than before, without

incident. Adrenaline and cold wet bodies fuelled a

crazed run up the beach, with the loaded boats.

Hard choices

In the darkness, we found a flat spot within the

dunes, right in the middle of Porthtowan. Not

exactly subtle, but needs must and we urgently

needed dry clothes and food. The forecast for

early day eight was OK, but deteriorated rapidly

as the wind piled into the coast. Options were

limited as we considered the exposed Atlantic

coast and the increasing surf. I certainly welcomed

the first opportunity for a day off and we spent

the day mending and drying kit. A bit of tin mine

tourism and more café time was a welcome

respite from the hours at sea. However the

forecast for the next four days varied from

unpleasant to awful to downright wild force 7 as

Hurricane Gert swirled across the Atlantic. A

difficult decision was approaching…
---
Mark took one for the team and went down to

the sea at 05.00 in the pouring rain. It was

possible to launch, but where would we head to?

We might get a few kilometres further north,

and find a place to land, but then what? We

certainly weren't going to make the Devon

border in the few days that we had left. So we

called in quits, 220km into our journey around

Cornwall but still an annoying 115km to go. A

few good weather days would see us finished.

We left with the wild idea that August bank

holiday would deliver a balmy summer delight.

I'm sure Porthtowan were pleased to see the

pop-up village depart.

Counting our blessings

Unbelievably, eight days later, I was back in

Porthtowan, sleeping in yet another car park.

Mark and I had watched the intervening weather

Adrenaline and

cold wet bodies fuelled a crazed run up the beach,

with the loaded boats.

forecast with amazement. Three days of calm

winds and sunshine were beckoning; this trip

could be finished, albeit minus half the team. After

being driven to the beach and tipped into my

(now much lighter) kayak, we launched at 07.30.

As I slammed down off the back of the miniature

clean surf, it was a joy to be back on the sea. The

Devon border seemed to be achievable.

This stretch of coast is filled with appealing

gullies and I managed to persuade Mark that we

had time to explore a few. There is also the

delightful pair of islands called Man and his man,

and the less imaginative Gull Rock #4. We

watched the top of the Atlantic swell rolling into

Perranporth and Holywell. In the shelter of

Newquay harbour, we waited for the afternoon

tide and spotted the resident seals. It was quite

clear why they were resident: mackerel. They

were being fed from the tourist boats!

ThePADDLER 43
---
ThePADDLER 44

The afternoon was tranquil. The sun shone and

we made excellent time, the miles clocking up.

The disappointment was the craggy coast that

cried for exploration, slipping inexorably past

on our right. Trevose Head, and its lighthouse,

glowed in the evening sun and it was definitely

time to find a landing spot. We'd progressed

another 42km and were blessed with the most

incredible evening spent above the beach at

Harlyn. The sunset was wonderful and dawn,

simply stunning. The lavender and rose skies

suggested we were in for more cracking

weather.

Glassy seas

Another early launch into the glassy sea was

barely a hardship. Day nine just got better and

better. The unique outline of Pentire Head,

silhouetted in the morning sun, was more

reminiscent of a dragon's scaly ruff. The

decision to continue around Port Isaac Bay

against the tide, turned out to be an excellent

one. The tide was unnoticeable set against the

fascination of this stretch of coast: caves, zawns,

islands. It's all there. The bizarre right-angled

catacombs of Dennis Point fashioned the

strangest cliffs I've ever seen; how does the sea

repeatedly shape 90° bends? We rounded the

point and came face to face with the masses,

clustered on the rocks like oyster catchers,

waiting for the tide to expose Trebarwith

Strand. The kayaks slid onto our personal,

private beach, overshadowed by immense

cliffs; the kayaks tiny specs against the cliff's

magnitude.

Lunch at Trebarwith was hardly a chore. The

sun beat down, the tide receded and the

shallow turquoise sea filled with happy people.

Eventually, our private beach joined with the

main strand and we waded

back to the kayaks. The

transparent, glittering water

allowed views right to its

sandy depths. Even Gull

Rock #5 didn't disappoint.

It looked like a blancmange!

Suddenly, it felt like our final

destination was within our

grasp as we arrived in

North Cornwall proper.

Tintagel Island loomed on

the horizon. From the sea,

it seems separate from the

mainland and it is easier to
---
understand why

early Christians

chose this spot and

why the legend of

King Arthur swirls

around it. Our

seafaring forefathers

would have been

equally impressed.

We gazed up at the

sightseers and they

looked back down.

Continuing

northwards, we

weaved in and out

of rocky bays, arches

and islands. At low

tide the entrance to

Boscastle harbour is

a green forest of

kelp, their huge

fronds waving gently

underneath us. In

case of boredom,

waterfalls are

thrown into the

mix.

The grand finale was Seals Hole, a double cave

of epic magnitude. Kayaking inside the dark

bowels of the cliffs becomes increasingly

disturbing. The deeper you go, the darker it gets

and the more the cave continues. Finally the

light disappears and you are left alone; only the

sound of the waves exploding against the back

of the cave reassures you that there is actually

an end to the tunnel, somewhere far ahead.

Leaving the cave, the zigzags start: contorted

rocks in every direction. The chevron folding

accompanied us all the way to Hartland Quay.

ThePADDLER 45
---
ThePADDLER 46

They are relics of tectonic mountain building that

created the super continent Pangaea, a mere

300 million years ago. Given all this

entertainment, it's not surprising that we

managed 49km that day. Landing through the

small surf at Widemouth allowed us a camp spot

on the dunes, watching the sun set into the sea.

We had to drag ourselves away to shuttle cars,

eventually falling into bed at midnight. It was a

surreal way to end a perfect day.

The grand finale

Knowing that we had a mere four hours of

paddling left, we enjoyed a late start, although

this meant paddling against the tide. The sea was

a mirror, another perfect weather day; an

extremely rare occurrence for a British bank

holiday. Our compasses resolutely pointed north.

Those zigs kept zagging as we followed fold after

fold along the cliffs. The dip became so steep on

occasion that the layers of rock were vertical

sheets, pushing out into the sea. Bude hardly

made a blip in their inexorable waves. Neither

did Marsland Mouth, but this tiny non-descript

bay halted our progress. We'd reached the

border! There were obligatory selfies and

congratulations. We'd paddled round Cornwall.

Yay! Unfortunately there was still another 8km

to Hartland Quay and the car. Our paddle

wasn't over yet. Gull Rock #6 and #7 passed in

quick succession. More folds and rocky fingers

pointed west, fingers that had ripped holes in the

sides of a multitude of ships. This included

Johanna that was wrecked in 1982, on her way

to South Wales with a cargo of wheat. She

floundered within sight of Hartland lighthouse,

the headland known locally as 'Sailor's Grave'.

We beached at Hartland Quay and joined the

Devon holiday makers in the sea, finally able to

cool off. It was done. The Cornish coast, all

337km of it. During those ten long days we only

saw three other sea kayakers. Where are you all?

Why isn't the Cornish coast in demand,

surrounded by our bobbing craft? There are so

many sections that I will be returning to, to

explore more fully; I deserve to give into my

curiosity. So do you!

Chris, Eurion, Mark and I would like to thank P&H Kayaks and Palm

Equipment for their support in completing this adventure.
---
PROUD PARTNERS:

t: +44 1629 732611 e: info@peakuk.com w: www.peakuk.com

Paddler: Doug Copper. Greenland. Image: Pete Astles. Gear: Adventure Single Jacket. Explorer Zip PFD.
---
ThePADDLER 48

S U R F I N G T O

BIGSUR
---
Story and photos: Roger Aguirre Smith

We're almost clear of the final land mass jutting out into the Pacific; a bluff

extending out from the base of Whale Peak. Our eyes have been on

Soberanes Point for hours now. Six hours ago, under starry skies, we left our

sheltered camp and began the paddle north. Now with only three miles to go,

the wind is nuclear, every stroke is like pulling taffy, muscles beyond cramped,

mush-mind has replaced any logical thought, wind pressures against our chests,

our paddles flick in the wind. We round the point a quarter mile off the

coastline and into chaos and the intensity of deterioration. The hardest part is

yet to come.

It was my idea to make the trip knowing the conditions might

not be good. The small craft advisory should have been a red

flag but it wasn't. I've pulled the plug on trips with similar

warnings before only to see little texture on the water. I was

wrong, I should have known the winds would be apocalyptic

south of Carmel despite the contrary forecasts.

I sent out an email to 20 of my fellow kayakers, "The Big Sur

weekend paddle is on. Thirty-eight miles round-trip with ninja camping

Saturday night. Who's in?" All but one declined: Priscilla.

ThePADDLER 49
---
ThePADDLER 50

We were on the water by 08.00

Saturday morning with a cool NW breeze

feathering across our skin. Blue skies, wisps of fog

and stoke for our quick Big Sur tour filled the

conversation as we packed our sea kayaks with

food, dry clothes, sleeping bags and safety gear.

Paddling along the white sandy stretch of

Garrapata Beach and around Kaiser Point, the

fog teased our visibility in an uncomfortable

dance of hide and seek. The steep Santa Lucia

Mountains to the east were our guides. Travelling

further south these 1,600 foot ridge tops

disappeared into another time.

Castle Rock, our first critical navigational mark,

emerged from behind a veil. Through dense fog

we began to make out rock pillars and a large

stone face rising out of the water – guards of

an ancient timeline of mountains and erosion.

The tall concrete supports of a coastal icon

rose up to meet the sun. We stopped for water

and calories under the Bixby Bridge; breathing

in the morning solitude shared with two

Common dolphins.

We surfed our first waves after rounding

Hurricane Point. Wind at our stern quarter,

boats picking up momentum, we began linking

waves together. Each swell increased our hull

speed, allowing us to pick up the next roller. We

were surfing to Big Sur and making excellent

time! Point Sur was our next target.

With winds blowing 20 knots, we approached an

obscured Point Sur. Blindly rounding the point,

we adjusted our heading to stay 100 yards off

the rock. The spit of sand on the lee side of the

landmark was a funnel for the gradient weather

patterns. It was windy. Really windy. We set our

course to 111 magnetic and continued surfing

towards False Sur, Swiss Canyon and the Big Sur

river mouth.

We reached our camp at 12.30 where raking

sand scoured a forgotten beach of lost shoes and

wrack. Seventeen and a half nautical miles in four

hours. This seemed appropriate for a travelling

surf session. We hauled our loaded boats high up

on the deserted beach and took stock of the

afternoon's potential. Priscilla opted for a long

walk down the beach-of-searching-souls, while I

hunkered down behind my boat to read about

the birds facing into the afternoon's gale.

I couldn't remember the last time I was a human

being rather than a human doing. Deserted

beaches can do that do you. I read, I walked, I

collected a dozen shoes lost to their owners.

Who were these people and why did they all

lose their left shoe? This, I thought, is what a

human being does without Facebook, SnapChat,

Email or Netflix. We ask questions, we create, we

mark time by the sun, moon and tides… and

hopes of diminishing winds.

I hardly sleep at all but it didn't really matter. The

stars are out; the Milky Way offering

opportunities of distant wonder – the wind too

seems distant from our protected lee. We point

our kayaks north and head home this morning. I

hope the paddle is enjoyable, I know it won't

be… so does Priscilla. The small craft advisory

told us so and we… I …didn't listen.

We launch our boats in the Big Sur

river at 05.00

Guided by moonlight and pre-dawn stars, we

paddle a few lengths up river and edge our long

sea kayaks around to set up for the narrow

channel we need to thread for the final hard left

turn that will flush us into the ocean's will. The

wind hits us a half mile from the confluence of

fresh and salt. We lean forward and dig in.

The rising sun lights up Priscilla's X18. Her white

boat, a sunrise-orange bloom in the middle of

wind's hand. The sculpted blue troughs and high

peaks speak of adventure, of challenge… of raw

grace. Looking deeply, I feel connected to the

moment… of the sublime. My mind looks

hopelessly towards our next objectives.

It is difficult for me to articulate. Words get lost,

just as one hopes the mind will, when the physical

body is pushed beyond assumptive limits. I've

never had to work so hard physically or mentally

in my 52 years as I have on this trip and we're not

even half way home; in fact we've only be on the

water for two hours this morning.

By now, four hours into the slog, I am feeling panic

bubble up the back of my neck, floating all

rationale and calm up and out of some invisible

seam in my head. My mind, hardly wandering, is

gripped solely on its objective; gripped on

embracing the suck; gripped like my cramping
---
ThePADDLER 51
---
ThePADDLER

muscles. Catch, pressure, rotate, exit. Time,

distance, speed. My mind is falling into that abyss

of fear, the frustration, the incessant mental

smackdown… and with it, draining the precious

few positive thoughts left. I am so screwed!

Every time I look ahead, Priscilla seems unfazed by

the experience, somehow living in a world of

fuzzy bunnies only attainable through an

enlightenment far greater than any I have achieved

in this lifetime or any other.

We land in the sheltered bliss of Bixby Cove, sip a

some of water and attempt to throw some

calories down rather than up. The absence of wind

is deafening. The constant pressure, the strain, the

wind's howling eddies forming in my ears, the salt

spray with each stroke, the chill of sweat and

exhaustion… gone. This is a snapshot in time. A

molecule of the sublime qualities of being,

wordless and lacking definition to the mind. We sit

relieved and smiling under the towering concrete

cathedral of the Bixby Bridge once again.

I am thinking things will get better as we approach

our final point, Soberanes. Why I am thinking this is

beyond me. The wind is getting worse. With each

point we clear, the pressure mounts. The wind is

dancing with my paddle blades – teasing and

encouraging each blade's independence from my

control. I am no longer the dominant partner. We

still have hours to go in deteriorating conditions.

Rocky Point comes after a two and a quarter mile

slog across one of the most beautiful bays along

the coast. Bordered to the east by an iconic bluff

extending along Rocky Point, Palo Colorado and

Rocky Creek, this bay is often tranquil and is the

summation of California's Coastal elegance. Today,

I see none of it. I am aware of none of it. We just

need to clear our next point. I am paying no

attention to our Mother's beauty. How many of

these moments of grace have been lost to my

inability to embrace the suck? How do I

experience beauty when all I am feeling is

exhaustion, frustration and fear. Sixty enlightened

moments lost to an unenlightened soul.

This stopped being a sightseeing trip a long time

ago. The conditions are too rough to enjoy a nearshore

paddle. We are trying to shave off every

foot we can from every mile just to get off the

water sooner. A and B are the only two letters in

our alphabet at this point.

Mush-mind. The face relaxes and droops slightly,

the eyes soften, the body, working at hyperovercapacity

over time, begins to move without

direction, without notice. The mind conjures fewer

thoughts – a string of sentences melts to a string

We land in the sheltered

and attempt
---
liss of Bixby Cove, sip a some of water

to throw some calories down rather than up

ThePADDLER 53
---
ThePADDLER 54

I keep an eye on Priscilla as she navigates around rock,

crashing waves and reflected swell energy

confused beyond recognition
---
of words melting into words coalescing to one

word and into timelessness. Words create time

and time creates need. Need creates words.

Again. Relax the face, soften the eyes, move

without direction, sentences to words, words to

word, word to timelessness. Mush-mind; this is the

objective when the body is suffering.

Final state of deterioration

We round Soberanes at 11.20 into absolute

nuking winds and huge swells rolling in. If

something goes sideways, a lost paddle, a

swimmer, an injury, the wind will surely blow us

into some place unrecoverable. There is no towing

option, no resting option, no landing option, we

have reached that final state of deterioration.

We are two and a quarter miles from the take

out and we dare not let a blade leave the water.

Each paddle stroke is like moving a snow shovel

through mud. Every stroke guided by a forward

shoulder, deep catch, pressure on the foot and a

strong rotation from the body. Our reality, no

paddle stroke too shitty, no words too foul, no

hate too deep. It's a shit show now and we just

want to get the fuck off the water.

I keep an eye on Priscilla as she navigates around

rock, crashing waves and reflected swell energy

confused beyond recognition. Outside sets are

difficult to anticipate. The intensity of the wind is

reaching a comical state at this point. I know we're

going to make it if we can just stay off the rocks.

Priscilla arrives first and waits to land on the

beach while I catch up. As I approach, I can feel

the last seven and a half hours disappearing

already. Memory is a funny thing that way. As the

fear lifts, so too lifts the mind-fuck—the mind

gripping tightly on the suck until it feels safe again.

Surfacing between exhaustion, thirst and hunger,

I now begin to embrace the raw beauty and

depth of the experience. Priscilla looks at me

and says, "That was so fucking hard!"

We land our crafts; bodies unfold and we crawl

out of our boats. Boats… extensions of our

spines, vertebrae; connecting us to the sea.

We haul our boats and gear up the trail, load our

cars and change into dry clothes. We say

goodbye. Priscilla has another long slog ahead of

her through central coast summer traffic along

Highway One—more beautiful coastal scenery.

Three hours later she will arrive at her home in

the South Bay…surrounded by concrete, cars

and humans. It will be weeks before Priscilla and

I have an opportunity to talk about the Big Sur

trip. I wonder about her insights and how they

will manifest in other parts of her life.

ThePADDLER 55
---
ThePADDLER 56

I drive home 20 minutes inland from our

takeout. Exhausted and speechless, I take stock

of my being. My sense is that this has been

deeply healing for both of us, in our own ways, in

our own lives. Tonight I will fall into a fog of

physical and mental repair.

balanced and rejuvenated

Five days a week I make the same drive to work;

sometimes in my car, sometimes on my bike. Today,

Monday, as I cross the Salinas River, I feel different.

My body feels whole, balanced and rejuvenated.

My connection to the land feels vivid. I feel

saturated in the water that surrounds us all. There

is a deeper relationship now – a connection and

admiration at an elemental level. I will not be

spared from the wrath of the elements but I will

be a more willing participant in their grace.

Arriving at work, after clocking in, the first order

of business is to check the surf report to see

what potentials exist for the coming weekend.

Catch, pressure, rotate, exit. Again.
---
NEW

MULTISPORT 5

DRYSUIT

FRONT ENTRY|BACK ENTRY|NEW COLOURWAYS

of

TECHNICAL

EXCELLENCE

Comes with

a changing

mat bag

HINGE ZIP FOR QUICK DONNING

NEOPRENE NECK SEAL

3 YEAR WARRANTY

www.typhoon-int.co.uk | sales@typhoon-int.co.uk | +44(0) + 1642 486 104 | Typhoon_international | TyphoonInt
---
ThePADDLER 58

K A Y A K I N G T H E

INDIA

W E S T C O A S T O F

2
---
I live in India. A land often associated with strong religious beliefs, snake charmers

and elephants. But we have kayaks and a coastline to boast about. People's

warmth will drive away the cold you feel in your bones after nine hours of

kayaking out at sea. This is the story of how I kayaked the west coast of India.

Story: Kaustubh Khade

We left off in Gujarat where the effect

of the gulf can be felt hundreds of

kilometres away and ships anchors are

prone to breaking. It was the first state I was to

check off my list of six states and three union

territories (cities that come under the central

government's jurisdiction). Incidentally, it was also

the state where I encountered a rising sun over

the sea.

Day 11

I'm standing at the southern tip of the island of

Diu and the water is a clear blue. But It's not the

water that has my attention – it's the sunrise.

Despite being on the west coast of India, the sun

is rising majestically over the sea to the east.

As the town wakes, I'm stretching for another

day of kayaking. I am 10 days into my threemonth

long, human-powered expedition to solo

kayak the west coast of India (3,000 kms), the

first attempt by any Indian. The sea is calm and as

I launch, it doesn't betray what is in store. I kayak,

for the first time, into a golden sunrise and it is

indescribable.

Just 30 minutes, or three kms later, I am

astonished to find the blue water has turned a

murky opaque brown. To my left, the coastline is

now jagged with rocks. A wind picks up and the

calm sea turns into a whirlwind of raging brown

water. As I enter the influence of the Gulf of

Khambhat, I realize I am being sucked into the

gulf at great speed. I'm suddenly propelled at

10kms/hr, often into the waves this head-wind is

kicking up.

ThePADDLER 59
---
ThePADDLER 60
---
It's fast and reckless all of a sudden, and a

turbulent sea keeps me guessing my route. After

28 kms of horrendous kayaking and four hours

at sea, I am three kms from Rajpara, the last big

fishing village this side of the gulf. At this

opportune time, dehydrated and aching, I get

sucked into an eddie. Waves leap up at me as I

kayak above rocks hidden from view. The water

makes it difficult to decipher the right way out.

A large fishing boat, the only kinds that can ply

here, spots me. They take a U-turn, from their

position of safety, to provide help. By the time

they arrive I'm made my peace with the water

and instead we quickly exchange information.

Sitting two kms out at sea, they help plot a

course, and I bid adieu to the rough waters in

exchange for Gujurati hospitality. Day 11.

Seventy-two more to go.

Detour: the ship graveyard

Nothing on this trip, and I mean nothing, had me

more excited than the small town of Alang.

There is that old question, "If you knew where

you would meet your demise, would you

knowingly go there?" For 30 years, ships have

been, like dogs sensing their end, retreating to

Alang for their last rites. Huge giants of the sea

treading softly in on a high tide, and as the water

retreats their death toll is rung.

It takes three months to tear apart a medium

size container vessel, says the guard, Prajapati. He

tells me that once a ship is brought into land, the

captain is relieved of his ship. Sold through bids

to any one of the multitude of ship breakers, it's

now no more than a hunk of metal, wood and

plastic – and not a scrap goes to waste.

As we drive into Alang, five kms out, they start.

Big open warehouses, fenced and categorized,

big dusty yards turned orange by life-rafts of all

sizes and states of disrepair. One lot has engines

in that rustproof green. Cables, pulleys, ropes of

varying thicknesses and make. I ask for life

jackets and the owner of the yard starts blowing

into aircraft yellow inflatables. I can buy a bath

tub with the works and a jerry can to fill it with.

Furniture stores share a border with

warehouses selling wood planks that share a

border with waterproof doors. Buoys, anchors

and winter down-jackets.

An army of workers from all over India come

here to work, says Ramprakash, the kindly,

groggy attendant at ship breaking plot 134. What

once took years of work, from parts from

around the world and withstood the battering

of a million waves, is now taken apart by a mob

of migrant workers in the brown city in Gujarat.

As the workers start entering the plots, I smell

fumes. The kinds my lungs would avoid if they

could take a walk off of this beach. Big chemical

carriers, container ships, dredgers, drillers. 50%

of the world's ships due for demolition come to

Alang. On a long enough timeline the chances of

a ship ending up at Alang is higher than ships in

the Suez Canal being attacked by Somali Pirates

on a bad day. Definitely more than the chances

of the workers seeing a ripe age of 60. Welcome

to Alang,the dying graveyard.

Alang's beach runs for five kms, each plot shares

a wall with another. Walls and gates meant to

keep prying eyes and camera lenses out. Fate is

not without irony as the one thing they all share

in common are the words boldly painted on the

wall — 'Safety first.' To drive home the humour –

'Clean Sosiyo, Green Sosiyo.'

I've now wriggled my way on to the beach. The

first ship I see looks a wreck. A container vessel

whose stern literally fell out with the rest of the

ship. Containers stand in the water while an

open ship rotor sticks out over the brown

murky waves. I move on. The next ship looks

almost whole, only the top of the bow has been

ThePADDLER 61
---
ThePADDLER 62

removed. Prajapati has seen it all. He adds

nothing to his explanation of permissions being

revoked. As I stare at the hunk of metal that was

removed before the paperwork arrived, I see the

name of the vessel – 'Friends'. So here it lies,

dying and friendless. As I chat with said guard,

two local women start picking up plastic gems

scattered on this rocky beach after the departing

tide. Prajapati shoos them off. Nothing is black

and white here. Just various shades of brown,

each squabbling for a juicier pound of flesh.

There's no going further than Alang. By sea that

is. The sea is littered with shrapnel. Even if I

launched I would have to wade out for miles to

put the kayak knee deep. If I did that, the Gulf

might take me, so at the advice of everyone

who's sailed or avoided sailing here, we cut

across 30 kms to the beach of Dandi, where

Mahatami Gandhi broke the British with his

barefoot march for free salt.

Mainland!

Breaking past the peninsula of Gujarat has it's

benefits. One, the cross wind doesn't play as big a

role here. It does however expose me to a sea of

rock under the sea of brown murky water. I

launch from Gandhi's favoured beach with the

tide behind my back. It's fast paddling and the

calm you'd expect in a sheltered beach. The charts

I've consulted show fishing nets and rocks and

sure enough I'm dodging through poles and fishing

lines about two kms out. I'm skirting danger by

being this close but it's a thin line between some

of these rocks. By day three of this, I feel I've got

the hang of it and skirt between a rock island and

land. I'm sure I can touch the bottom where I'm

paddling, but the sea is calm and I like my chances.

#donottrythisathome

Despite the sun and the murkiness of the water,

I am buoyant. A little out of my third day halt, I

catch waves of sandbars. Instead of weaving past,
---
Standing out a few kilometres out with your own kayak and

nothing but time

and endless sea is true freedom

I stop at one. I name my island of sand and take

in a 360 degree view of sea. Standing out a few

kilometres out with your own kayak and nothing

but time and endless sea is true freedom.

After days of being the only crazy in these

waters, I run into fishermen and it's nice to listen

to a voice that hasn't been downloaded. We talk

about nothing mostly, and then about Bombay,

the city of dreams and home. I'm told I should

hurry because there's a leaving tide and it can

get pretty marshy pretty quickly in this spot. So I

head on. By the 23rd day I'm in Maharashtra and

past my first state.

Crossing over

When you come to India people will use the

word 'diverse' fairly often. But after 23+ days of

vegetarian food, I dig into some chicken and I

thank diversity. It's also a beach where the water

is maroon, thanks to effluents and a whopper of

a fish jumps out, almost startling me straight into

the depths of this hell that humans have created.

But that's quickly forgotten when I'm mistaken

ThePADDLER 63
---
ThePADDLER 64

for a hostile port researcher on landing and

welcomed by a mob of youngsters and the

media. It does help to know the language and I

leave with a helping hand and a news piece by

an eccentric journalist in the local paper. All in a

day's work.

Before we wrap that chapter though, I should

inform you that some prankster stole my spray

skirt. Now this isn't the kind of thing you

account for. Broken paddle – sure, losing

bottles – yes, drowning a mobile or two – why,

not? But someone taking off with a Seal

Extreme Tour Spray Skirt in a country where

nobody has a kayak to match it and you can't

find a replacement for thousands of miles, just

takes the cake. I have another small channel to

cross to get into the island of Bombay

(Mumbai), one that can get turbulent and see

some big container ships. To run or not to run

(without a spray skirt) is the question. I run.

Welcome home

Having squandered a month in the reckless

pursuit of the sea, it feels good to return

home. The fishing village of Uttan has been

alerted to the return of the prodigal

son and asked to come celebrate. I've

barely walked 10 metres on the beach

before I'm garlanded twice and the

topic of a town hall meeting by the beach.

The local politician is expounding on how

vision and resilience has helped this son-of-anon-fisherman

map the country's coastline. I

could correct him and tell him how it was
---
Abhilash Tomy, the first Indian to

solo circumnavigate

the world non-stop, comes to see me off.

important for the country to recognize the

sport and sportsmen, but the narrative is

powerful stuff. I could tear up, but the aroma of

the garland is refreshing and the confused look

of the collective mob is distracting. I retreat to

some of the best seafood I've had. What's the

helping after seconds called?

Amazon prime, DHL and logistics partners are

working to get me a new spray skirt all the way

from the US, thanks to my kayaking partner in

Bombay. A cyclone sets up on the east coast of

India and grounds air traffic. Perfect. I sip some

tea at home and stare out the window into

nothingness. A couple of interviews make the

evening news pan-India and I return to waiting

out a cyclone.

Finally the parcel arrives and literally seven hours

later I'm launching from the Gateway of India, a

historic monument that sits at the mouth of

Bombay's harbour. Abhilash Tomy, the first Indian

to solo circumnavigate the world non-stop,

comes to see me off. He and Commander Dilip

Dhonde have been instrumental in charting out

this path and staying on course, so it is amazing

having one of them here.

And so begins a route I've kayaked before –

Bombay to Goa. From financial capital to beach

destination. Much like last time, it didn't

disappoint. I did however, have more confidence

in this path and I found myself taking more

informed decisions about which ports to dock

and which ones to avoid. I was also less cautious

ThePADDLER 65
---
ThePADDLER 66

I've just dipped my hand in the water when the plastic pumps and

its tentacles run a Mexican wave! It's an

orange jellyfish

that I was going to pull out with my bare hands
---
this coastline. Often, I'm too dehydrated or out of

the way to pick it up. Being on the water everyday

for 7–9 hours, paddling in the harsh sun, perpetually

wet, trying to maintain a steady pace doesn't allow

for too many detours. But when I am 4 kms out of

the port of Ratnagiri, I am buoyant, optimistic and

feel I can make a difference.

So, when my kayak draws up next to a flat orange

piece of plastic, I decide to pick it up. I've just

dipped my hand in the water when the plastic

pumps and its tentacles run a Mexican wave! It's

an orange jellyfish that I was going to pull out with

my bare hands, as it drifts away majestically.

with my distances and where, on the last

expedition I had taken four days to cover my

first 120 kms, I found myself doing it in three this

time. The state's tourism board had offered me

lodging at their beach side properties and it was

a welcome gesture. Shanjali, my girlfriend, took ill

on day three and we spent the day on a beach

facing house with some clear water and a

private sandbar.

Maharashtra is home, and it sure felt like it.

When we resumed, I found that it was faster to

take the water route than land. With it's

unending hills that lie close to the sea, I'd find I

reached destinations much

faster than Shanjali did on

a cycle. It gave

me time to

mix with

the locals

and talk shop, all with the complimentary

coconut in hand.

On the water, I was having a great time, having had

most of my run ins with the police; it was quite

jovial thanks to some high-level clearances dad had

procured in Bombay. That is the trick to sailing

under the radar – knowing the right person.

Indian waters are full of plastic

The beauty of our own backyard is often lost on

us. However, one always wants to preserve it.

Plastic. It is the enemy and no one knows this

better than someone who's seen it strewn all along

I barely snap my hand back as the water around

me changes. The clear green water comes alive

with orange. My kayak is swarmed with Jellyfish.

My paranoid mind tells me they are here to

window shop their lunch. I paddle hard and fast

out of it. When I'm clear I laugh, to no one in

particular. When you're so far out at sea, there is

no one, you're laughing at nature and it's laughing

back. I turn around and kayak back, get the

camera out and take a moment to be with my

new found friends.

The next day, I chase a pod of dolphins. Eight of

them surfacing together, forming lines of breaking

spray just three metres ahead of me. One lone

wolf consecutively dives out in glee. Just as I

catch up to them, paddling furiously, they break

away playfully and change course. I laugh and

maintain mine.

The waters of Maharashtra, India are blue, green,

grey and orange! It's day 36 and I have 47 more

to go.

Goa – the beach capital

I enter Goa jubilant at how quickly I've crossed

Maharashtra. As opposed to the 17 days it took

me the last time, I'd saved four days by taking just

the one rest day. So when we landed in we were

ready to let our hair down. Our sponsors

obviously had spotted this, as they sent down a

crew to welcome us with video cameras. We

took a well earned break and took some

amazing shots, shuttling to butterfly beach and

back. Yes, it's as picturesque as it sounds.

When we hit the waters a few days later and

covered the small sliver of coast in just three

well timed days, treating ourselves to some crab

and shrimp along the way. As opposed to the

regular fare of 'local food' this was a real shot in

the arm.

The jellyfish continued to follow me all the way

into the next state though and the water turned

even clearer.

ThePADDLER 67
---
ThePADDLER 68

Karnataka

The first time I'd visited this state was on a

back breaking motorbike ride across some

very broken

roads. After 10

hours of riding

and a bike failure, the road finally ran parallel to

the most pristine pebbled beach I'd ever seen.

Also, the local food is Idli, a personal favourite.

Crossing over from Goa to Karnataka was

picturesque. The land is scattered with islands.

To welcome me, a pod of three dolphins

thrashed around darting one way and then the

next. Karwar is the first major fishing village

and we skirted past its calm waters into the

infamous Gokarna, known for its ganja parties

and drownings. Thanks to the tourists, the

shacks by the beach were full and I spent the

night in a small room that was 2x3 metres

wide and called a cement block a bed. A

window small enough to squeeze my face

through allowed me to take in the full moon.

Yet, I slept soundly and before the beach could

wake up, I was already crossing the small

channel that lies south of Gokarna.

Mangalore houses three surf schools but try as

I might, I did not spot them on the water. It was

pure luck that after having crossed two of

them, a friend on Facebook reached out

to me and invited us to stay with

him. We readily accepted,

after
---
having going a number of days without a break.

We took in a surf session at the local surf

school and paddled out to a wreckage of a ship

that lies just under the water's edge.

With us firmly into January, the winds started

picking up in the afternoons and very soon the

cross winds were blowing shoulder high waves

into my path. It made the going considerably

slower and to complicate matters I donated my

smartphone to the sea. On the water it meant

I had nothing to distract me, but for Shanjali it

was a lot of , "Where ARE you?" moments.

Lasso of justice

I pride myself in being super friendly on the

water, always stopping to have a chat with

the local fishermen. So when I

passed Shiriya

and entered

the

penultimate state of Kerala, I thought it was

some curious fishermen flagging me down. I

slowed down so the two of them could catch

up and as they powered down and drifted

close, I said Hi. I got nothing. Passive faces as

the first guy asked me where I'm from. I

answered him, while at the back I see the guy

at the engine coiling rope. I turn just in time as

he flings a lasso right at me! I'm stunned but I

put the brakes on, and the lasso overshoots. I

back paddle quickly enough and ask what this is

about? The first chap starts telling me how I

should speak to the police and I say that I'm

happy to. He starts bringing his boat around,

coiling the rope again.

ThePADDLER 69
---
ThePADDLER 70

https://youtu.be/ITLXX9OsxCQ

I literally could not move – my body cold and

hurting, dehydrated

and unsure of where I was
---
I make it very clear that I am happy to talk to

whoever he likes and even follow him to shore,

but I will not have him lasso my kayak again. I'm

not sure he gets the gist, but he thrusts a phone

at me and says police. I go on to have a broken

conversation about who I am and where I'm

from. My name, which is not easy on most days

to pronounce, finds particularly good form with

an on-edge police officer on a shaky network

connection. I tell him I'll come and meet him and

he takes my number down for good measure.

I return the phone to the first fisherman. His

captain is smoking a bidi (a local cigarette that is

known for being cheap and of questionable

content). He has a drag and then offers it to me

as a truce. I'm a ruffled bird, but I politely refuse

and just like that we part ways. The fishermen

content they've done their bit, and I amused at

how I found cowboys out at sea.

The story ended well with a trip to the policemen

later that evening, having a photo taken together

with that photo (plus story) making it to the local

newspaper the next day. Welcome to Kerala, a

state laced with natural beauty.

God's own country

At day 73 I had the option of kayaking in the

calm, serene backwaters that run parallel to the

coast in Kerala. These backwaters were built to

once traverse the whole state and I thought it

was a good way to get some kilometres on the

pedometer.

One of Kerala's largest backwaters stretches

from just north of Kochi all the way down to

Allepy. A 90km distance through the canals. So

far, the longest days I've paddled have been 45

kms, so I figure that on a calmer stretch, I can do

45 in about six hours of kayaking. This is a story

of optimism vs reality.

45 km days are exhausting in hot and humid

conditions. But such was my confidence that I

took a morning interview with a newspaper and

even took time out to let his photographer take

some stunning shots in the backwaters. By the

time I launched, I was already three hours late.

However, I was not too worried and it helped to

have scenery so close on either side.

Big Chinese fishing nets stretched on my left and

in the middle of the backwater, a fisherman cast

out his hopes and pulled it back as I sauntered

past him in my kayak. I had taken my DSLR out

on the water, and I made good use of it,

capturing the cars humming on bridges

overhead and the massive blue port of Kochi. As

I entered the harbour area, big boats skipped

past, leaving me in their wake.

The backwater is treacherous in the fact that

every path looks alike and I couldn't distinguish

routes on the line-drawing on my GPS watch. As

the afternoon kicked in and the novelty of the

backwater withered away, another truth dawned

on me. It had been five hours that I'd been

kayaking and only completed 22kms. I had 20

kms to go and the tide was against me.

I also found that I was short on both food and

water. The heat kicked up and I was burning in my

jacket. Just as I took it off, a storm hit. The rain

seeped through and I went from burning up to

being cold and damp – it was painfully slow going.

Standing in the rain, flailing his arms around, I saw

someone calling out to me. Uncharacteristically, I

approached, and in broken hindi he said , "Bada

barish. Aap ruko. Fir jao." (A storm is about to hit,

please wait it out). Such was his sincerity and so

beaten was my condition, that I brought my

kayak alongside his boat, parked along the bank

and just stopped. I literally could not move – my

body cold and hurting, dehydrated and unsure of

where I was.

Over his shoulder, his brother peered at me and

said, "Lunch kiya?" (have you had lunch) I

mumbled , "No." A wave of worry washed over

their faces, and the next thing I know – they're

helping me out of my kayak, onto their boat and

then to land. Minutes later I was walking through

thicket and into their small house. The whole

village seemed to congregate, as I was ushered in

and given a fresh plate of rice and curry and fish.

As I wolfed it down, someone brought me icecold

water (a first in a state that has hot water

with every meal). As I answered questions and

showed the kids my GoPro, I was struck by how

beautiful life is. How simple and welcoming

people are. Someone fetched a pail of water for

me to wash my hands and walked me back to my

boat. The storm had cleared, and they helped me

back in the kayak and bid me goodbye. The next

18 kms were the easiest I'd done on this trip.

Muttom point

Much of Kerala was spent paddling in a fair bit of

discomfort. My fingers were swelling up and being

locked in a grip for those many hours was

particularly telling on my right hand. Despite the

endurance training and the stretching I was doing

every day, my bones were just not having it.

ThePADDLER 71
---
ThePADDLER 72

As we slipped past Kerala, with its shored up

beaches and the pitch black jellyfishes waiting for

the waves on either side of the kayak to trip you

up, we were coming dangerously close to the tip

of India. Here lies a point where the land goes

from it's gradual south east direction to a full

east bearing. On the phone , Abhilash Tomy's

words of, "Enjoy Muttom Point," are fair warning.

The water gets rough and big waves lash out

head first. The Palk Strait that connects the east

and west seas, has its own influence here and I

can do nothing but ride it all out.

As we entered Tamil Nadu, I knew we had just

three days of kayaking to go. A close friend of

mine had travelled half the country to be at the

finish with his wife, but thanks to an unscheduled

stop we were going to miss him by a day. He

visited us a day before the end and together we

did a 'recce'/dinner at the end point –

Kanyakumari, arguably the best known city for

100 kms.

My mother flew in to the nearest airport and it

suddenly started kicking in that I was close to

the finish. I'd paddled a 40 km stretch on the

penultimate day leaving me with a meagre 22

kms to gallop on the last day. As I launched from

the beach for the last time, I didn't feel as

accomplished as I felt the calm of completion. I

recall singing my first 7–8 kms. I feel noise carries

loudest over water, but I didn't much care that

https://goo.gl/maps/iCPqj8dnCyN2

morning. I could see the large black stone statue

that adorns the southern tip of India and

distinctly remember my spirits lift. As I paddled

between it and the mainland, I whipped out my

phone and called home. "I did it Dad."

I didn't tear up. That was waiting for my landing. I

circled the spot a few times, and just took it all

in. On land, Shanjali and mom were going to get

a couple of shots of me coming into land. As I

waited for them to set up, Shanjali calls and tells

me to head to land. Not for the shot, but for my

welcome party of cops. I landed to the

grumpiest policeman of my trip, but so buoyant

was my mood that it ended with me telling the

collected press about the fab job he'd done, and

him giving me his number to call in case of any

'emergencies'.

In a weird circle of life way, the expedition

started and ended with cops telling me where I

should and shouldn't be kayaking. But I did it

anyway. And that's probably the best way to

kayak the west coast of India.
---
Manufactured with pride in Bavaria

OUR

CHECK NEW

DISTRIBUTOR

www.en.prijon.com/PRIJON-UK-2.html

Made in Germany

Innlaende 6 Phone: +49 (0) 8031 / 3037-0 info@prijon.com

83022 Rosenheim Fax: +49 (0) 8031 / 3037-99 www.en.prijon.com

prijonkayakpaddles

WWW.EN.PRIJON.COM
---
ThePADDLER 74

W I N T E R C R O S S I N G F O R

RANNOCH
---
MOOR

Story and photos: Angela Ward and Adam Evans

PERTH

T O

2

Continuing Angela and Adam's story from the Late Summer edition (read about the

first three days here… https://joom.ag/Je4L/p50.

DAY FOUR

Surprisingly for Scotland, the lovely weather continued and we awoke to a sparkling

morning haze on the mirror-calm waters of Loch Tummel. We paddled to the end of

the loch and onwards between the steep pine-covered slopes of Loch Faskally to

Pitlochry and then we portaged past the huge metal water-holding dam. Rather than

portaging through the town itself, we decided to follow the directions which were

offered to us by a helpful elderly local gentleman who told us of a 'short-cut'.

ThePADDLER 75
---
ThePADDLER

76

It wasn't exactly the shortest of short-cuts but

en route, we conveniently discovered a thing of

great beauty – a pub. This gave us the chance to

obey the fourth rule of expedition paddling

according to Adam, which is to never pass up on

the opportunity to use a proper toilet. It was

wonderful to have the opportunity to rest in the

sunshine and stretch our legs whilst enjoying

another medicinal pint of Thistly Cross cider.

Definitely another of life's perfect moments.

A tarp, a stove and fresh air

Past detours and dead-ends with our canoes on

trolleys, we found our way back onto the River

Tummel and slid our boats into the water, much

to the amusement of nearby fishermen. We then

paddled on gently in the fading sunshine to just

past the poignant confluence of the Tummel and

the Tay. Hauling the canoes up the river bank we

camped that night on the edge of a farmer's

sheep field, again using the combination of our

boats, paddles and a tarp. There is something

truly magical about a tarp, a stove and fresh air.

Next morning, we awoke to bright sunshine

streaming through the entrance to our tarp and

outside, the warm grass was sparkling with dew.

Anybody can rough it outdoors, so for us to

have a little luxury It's become a tradition on our

expeditions, so today we had freshly cooked

pancakes with maple syrup. Adam always makes

them. I'm capable of making them myself but he's

very proud of his pancakes so I'm more than

happy to sit back, watch and eat. We're a

successful paddling and pancake partnership as

he cooks and I eat.

Appetites satiated, the farmer on whose land

we'd camped was out checking on his livestock

and came over for an early morning chat. There

was no issue whatsoever with us being there. In

fact he was more than happy to see people

travelling through and engaging with the

splendour of the Scottish countryside. We

discussed the importance of being respectful to

the environment and that we closely adhere to

the 'leave no trace' philosophy.

'Proper adventure'

The farmer seemed impressed that we'd

travelled by canoe from Rannoch Moor, saying

that we'd had a 'proper adventure'. He noted

that many people and particularly kids like the

ones from the local outdoor activity centre,

could gain much more from doing something

like this than their usual on-site thrill activities.

Sadly, we were inclined to agree and also noted

how much the concept of adventure has

changed in recent years. There seems to have

been a move away from deeper ethical learning

experiences towards something less so and

more focussed on simple thrills.
---
Next morning, we awoke to bright sunshine streaming

through the entrance to our tarp and outside,

the warm grass

was sparkling with dew

ThePADDLER 77
---
ThePADDLER 78

Retrieving my beautiful boat and my well-loved

expedition kit without any

loss or damage

was an extremely emotional moment
---
onto my PFD and I went into the water as 'live

bait' in order to retrieve as much kit as I could

from my boat in order to make it as light as

possible before attempting to haul it free.

The first priority was of course to retrieve my two

Downcreek Paddles. All the kit inside my boat was

well-organised & carefully packed so although it

was partly submerged and I only had one fullyfunctioning

hand, I got everything out reasonably

quickly and being organised on an expedition

makes it easier for things to go right but also easier

to solve problems when things go wrong.

Day five

Having meandered along Loch Tay and River Tay

twice previously, I was familiar with the final leg

of our journey. Passing through Dunkeld and

Caputh, we made our way towards one of my

most favourite locations, the grand point at

which the Tay passes through a narrow gap,

Campsie Linn. Although the current was carrying

us along, the pain and attractive crunching sound

in my wrist was getting progressively worse. The

usual strategy of dunking my bare forearm in icy

cold water had become a way of life for the past

few days and that had been pretty successful.

The constriction caused by the latex wrist seal

on my paddlesuit had made my forearm swell up

to the size of a small pink marrow and make

noises akin to a badly lubricated old wooden

door. Taking this and the water levels into

account, we decided that rather than paddling

over the main section of Campsie Linn and risk a

large boil area and haystack-filled swim, we'd line

the canoes and kit down one of the smaller side

chutes. Discretion is the better part of valour

and all that jazz.

What followed next can best be described as

'The Tale of the Two Point Broach at Campsie

Linn'. What should have been a relatively simple

manoeuvre resulted in being very complicated. It

was entirely my fault. I was a split-second too

slow in releasing my painter and the fast-moving

current swung my boat and it ended up being

jack-knifed solid across the base of the chute

with the force of the water holding it in place.

It's not really something to be proud of but Adam

did say it was the worst pin location that he'd ever

seen. There was only one low boulder that we

could use as an anchor point and we'd somehow

need to lift the boat up by about a metre, as well

as peeling it. It clearly wasn't going to be an easy

release. We constructed a system using pulleys and

two strong floating lines which Adam reckoned

was about an 8:1 haul. He attached a safety rope

The icy-cold raging water meant that the

swelling in my forearm was much less and an

added bonus was that my cuticles were

extremely clean. It was like a little trip to a little

natural beauty spa. Apart from the relaxation. I

don't think that jet-washing your hands is a

conventional beauty treatment but it definitely

worked! With a liberal application of rope work

magic, muscle power and a fair dose of luck, We

were victorious and recovered my Paddy from a

watery grave.

Retrieving my beautiful boat and my well-loved

expedition kit without any loss or damage was

an extremely emotional moment. The only sign

of what had occurred was a minor blemish to

the edge of my Downcreek Dipper.

Very crunchy to slightly floppy

The original plan was to line the small chute and

then have a short break for a bite to eat but as

we'd lost time, we decided to press on hard in

order to reach the get-out at Perth Racecourse.

Without wishing to sound like a wimp, the pain

in my wrist was now getting progressively worse

and had changed from being very crunchy to

slightly floppy. I figured that I couldn't make it any

worse than it already was so I'd just 'man-up' and

get on with it. Rather than wild camping for

another night, I was spurred on by the thought

of having a shower under copious streams of hot

running water in a real bathroom and the

promise of beer and curry at the Balajee Spice

Indian restaurant.

Adam paddled on ahead slightly so that he could

locate the somewhat non-descript get-out point

and we reached our destination as the sun slid

down behind the horizon.

The final lugging of kit and boats up the steep

wooden steps and onto the canoe trolleys

heralded the final portage of this mega trip. True

to form, this wasn't as simple as we'd anticipated

but hey, nobody said it was going to be easy. If it

was easy, everyone would be doing it!

ThePADDLER 79
---
ThePADDLER 80

I've no idea how, but one of my trolley tyres had a split in it

so that slowed down my progress to an annoying crawl. By

the time we'd dragged the reluctant trolleys for a kilometre

and reached the wooded path at the back of the campsite,

our route was in darkness and an unfortunate altercation

between a tree root and my wonky trolley ended up with a

snapped axle, it failed just 50 metres from our destination.

If it had done so at any other point during the expedition

itself, we would have had to abandon the trip as portaging

would have been impossible. As far as we were concerned,

it was completely acceptable to 'fail' here because we could

simply drag my boat and kit for the last 50 metres to our

final destination.

We almost fell into the campsite, pitched our tents and got

ready to celebrate the completion of another tough,

inspiring classic expedition. The fact that I'd nearly killed my

Paddy, I had a painful swollen wrist and my arm was making

some very peculiar creaking noises didn't dampen my

spirits. After all, it's the tough bits and the hiccups which

make the best stories and the most amazing memories.

In Perth we enjoyed a slap-up meal whilst making travel

plans to get back to Loch Bà the following day. Scottish

public transport on Sunday wasn't looking too promising

and whilst consulting the train timetable at Perth Railway

station, I was approached by a pair of local 'Street Angels'

who asked if I was OK. I'm not entirely sure if I looked like I

was in distress or if I looked like a down and out but it was

kind of them to ask.

Our plan to find somewhere that serves alcoholic

beverages aka muscle relaxants aka Thistly Cross cider in

Perth after 10pm was also unsuccessful, so we resorted to

accepting cups of tea from a group of evangelists, who were

probably looking for people to convert to Christianity. I was

just happy to have a hot drink and some shortbread. It all

helped with achieving a great night's sleep.

Day six

Accompanied by a dawn chorus from the birds, we set off

early from the campsite. We knew that the Sunday public

transport situation was likely to cause us issues but we were

confident that we'd 'find a way'. It's good to remember that

if every part of an expedition is planned and goes according

to that plan, then it's no longer an adventure and instead,

becomes more like a package holiday.

With trains from Perth to Glasgow, we worked out that

unless we wanted to wait hours for a coach, we could get a

train to Lower Tyndrum, the closest station to our

destination. We walked to The Green Welly and then came

up with several ingenious options. Adam asked for advice in

the petrol station about taxis and buses and the attendant

said we'd have to walk. I'm not exactly sure how far it was

but a very long walk uphill in blazing hot sunshine with

super-sexy Crocs on our feet didn't sound too appealing.
---
It's good to remember that if every part

of an expedition is planned and goes

according to that plan, then it's no

longer an adventure and instead,

becomes more like a

package holiday

ThePADDLER 81
---
ThePADDLER 82

experienced five days previously. It was now

devoid of snow and the summer-like expanse of

bright blue skies heralded the end of this epic

adventure and the start of our journey home.

I haven't been coached in cadging lifts from

complete strangers but I reckoned that I could

be useful here by pretending to be a damsel in

distress. Adam looked more like a convict on

the run. Six-foot and three inches – unshaven.

You get the picture!

My initial plan was to approach a coach driver in

the car park to ask if we sneak aboard but then I

came up with another plan. Lurk around near

the petrol pumps, find someone with a nice car

who didn't look like a serial killer and politely ask

them if they could take us to Loch Bà.

I noticed a nice looking car with a driver who

was wearing an immaculately pressed pink shirt

and had a mass of white hair. As they refuelled, I

made my move and politely asked, using my best

'damsel in distress' tones, if we could possibly

have a lift. Funnily enough, the pink-shirted, bushy

white-haired driver was in fact a very wellspoken

and incredibly kind retired dentist called

Freddie who was on holiday with his partner

Johnny. And that's how we ended up being

chauffeur-driven in a top spec Range Rover

through the wilds of Scotland, back to the

shockingly different Loch Bà, which we had

I'd like to give thanks to a couple

of people

Firstly to Adam 'Dipsy' Evans for his excellent

coaching and support with ongoing outrageous

ideas!

I'd also thank to thank Andi Riley for making my

paddlesuit. It's served me very well on all my

expeditions and certainly proved it's worth on

this trip, due to the harsh weather conditions.

DAM-X have been making drysuits for over 20

years now. Generally speaking, their suits last

10+ years and they have a meaningful 'openended'

warranty. The paddlesuits themselves are

custom-made and so are a perfect fit. Their seam

construction is uniquely designed so that

individual damaged sections can be replaced,

rather than having to buy a complete

replacement. Repairs and adjustments are done

extremely quickly, usually within 2-3 days.

As well as making paddlesuits, DAM-X also

produce suits such as worn by scuba divers, by

voluntary and professional rescue services and

also by the British Antarctic Survey Team.

For further details, please feel free to

contact Andi Riley on 01234 267314 or

damwatersports@yahoo.co.uk
---
ThePADDLER 84

ROGEN RØROS

T O
---
Day one – Oster-Vingarna

A Scandinavian canoe expedition

By Mal Grey

As the low-loader left the remote gravel car park with our only vehicle on its back,

we were committed. Properly committed, as our only means of transport now

were our canoes and our feet, and the nearest water was still 800 metres away.

Ahead of us lay 100 kilometres or so of wilderness, a landscape of lakes, timeweathered

hills, tumbling rivers and, above all, rocks.

ThePADDLER 85
---
ThePADDLER 86

Our trip had been months in the planning,

and it had taken us three long days to drive

here from the UK with canoes on the van.

Rogen is a beautiful nature reserve in

Sweden, bumping up against the Norwegian

border at 62 degrees north, sitting on a

plateau at around 700 metres and thus

almost arctic in its appearance. A forest of

pines and birch covers most of the region,

growing on the thin layer of earth that

clings to the rocky land.

Above the woodlands, bare mountains are clad

merely in a variety of mosses, one of the few

things able to live here through the harsh

winters. A series of lakes, including the

eponymous centrepiece of the reserve, can be

linked together to form a circular tour or, as we

intended, extended into the Roa river system

that takes one across the border via the

enormous Lake Femunden, before a final section

of river leads to the former mining town and

World Heritage site of Røros. We expected this

to take us nearly two weeks, allowing time for a

few side excursions and with a few spare days to

allow for being wind-bound on the lakes. Our

journey would include big lakes, little lakes,

moderate white water, gentle meandering rivers

and, unfortunately, many portages where the

rivers were too difficult to run or too shallow to

paddle. We started as a group of six; for the first

few days, Fred and Rob would join the core

team of Mark, Dris, Paul and myself, before they

circled back to the start, unable to get enough

time off to finish the whole trip.

Into the wilds

Now we stood on the edge of the silent

wilderness, as our van was taken away to be

Finally, with a sense of relief, we were afloat on our first lake, Öster-Vingarna,

and we paddled happily around its islands and bays before swinging south

towards our first proper camp
---
looked at, for it had been sounding a little sickly,

in the hope that it would be returned to the end

of this gravel road before we returned for it. It

certainly put into perspective how reliant we

would now be on our own ability to travel

through this landscape. After a night camped by

the car park, our first portage, and first test,

began. This one wasn't too bad, with boardwalks

and an obvious track, just a few roots and stones

keeping us alert. This became typical of the

portages during the first part of our trip, down

and into the Rogen reserve itself.

Finally, with a sense of relief, we were afloat on

our first lake, Öster-Vingarna, and we paddled

happily around its islands and bays before

swinging south towards our first proper camp,

having planned an easy day to start the trip with.

That night was spent in a lovely camp, with one

of the 'wind shelters' so typical of Scandinavia

forming a centrepiece where we could light a

fire and enjoy the first of our excellent meals.

Food is a key part of any wilderness trip, and we

were determined to eat well. Mark is now a

veteran of several Sweden trips, and having his

own dehydrator and vac-packer, as well as a high

level of culinary skill, he had prepared the

majority of our food, supplemented by my own

efforts for the first three nights when fresh food

could be used.

Another 700 metres portage in the morning

brought us to our next lake. Today we were

making for Rogen lake itself, via a small lake and

river system, about which we knew little. First we

paddled another island-dotted lake, Stor-

Tandsjön, complex enough that a compass

bearing helped find our exit. Would it be a

paddleable stream? No, it was a rock-filled

trickle, more stone than water. A 100-metre

Day two – on Rogen

ThePADDLER 87
---
ThePADDLER 88

This amazing landscape,

under the shadow of the hills, is basically a glacial moraine,

a mix of small scraped-out lakes separated by hills

portage took us down into a beautiful, sheltered

lake, where once more we took to the clear

waters. The day progressed, short portage

followed by short paddle, followed by more

lugging. We now finally felt we had left behind

the trappings of the modern world, enjoying a

simpler life where all we had to worry about

was the route ahead. We entered a stunning,

reed-lined lake, where an old, uninhabited beaver

lodge hinted at the wildlife around us. Exiting this

into a larger stream, we were glad to see that all

we needed to do was dodge a few rocks in the

gently flowing water, and our way onwards

towards Rogen was clear.

After the enclosed feel of the river and its small

lakes, where views were short, it was a bit of a

shock to come out onto Rogen itself. This is a big

lake, 18km long, sat high on the plateau at over

750 metres, and today it was looking rather grey

and bleak. Around the lake, the bare hills were

tinged with a strange pale green colour, the moss

which is one of the few things that can live there.

This shallow lake has a bit of a reputation, and

waves can rise quickly, but we were favoured

with only a modest breeze. Our plan was to

head for Rödviken, an arm of the lake on its

northern shore, where we would hopefully find

a sheltered camp, before heading north into a

maze of lakes where we would spend the next

couple of days exploring.

This was our first paddle of the trip on open

water, and it was a useful exercise to get the

hang of our boats in the slight chop. Dris and

Paul were tandem in a long Swift Temagami, and

quickly pulled ahead, following Rob and Fred

who'd set off earlier, thanks to their more
---
Day two – making our way through the lakes

rushed schedule. Mark and I, each stubbornly

paddling solo by preference, were a little slower.

I had brought my Ally 15DR folding canoe, and

so far, it had proven an excellent choice for this

terrain. Now I was paddling it on open water, its

least happy medium, but it was fine, a little slow

but very sea-worthy. Every now and then, the

cold, dark waters would reveal a huge boulder

below us, even when hundreds of metres off

shore, such is the nature of this large shallow

scrape in the Scandinavian hills. A couple of

hours later and we were entering the bay at

Rödviken, where another wind shelter made for

a comfortable, if slightly cramped, campsite.

Tonight was the last of the fresh food, so I

treated us to steak, onions, mushrooms and

potatoes, washed down with a little red wine,

known to us as 'ballast'.

The thousand lakes

The next couple of days would be spent

exploring the remarkable area we refer to as the

'Thousand Lakes', one of the most notable

features of Rogen. This amazing landscape, under

the shadow of the hills, is basically a glacial

moraine, a mix of small scraped-out lakes

separated by hills, peninsulars and islands. First,

though, our toughest portage so far, an uphill

climb on a path littered with rocks and roots,

before levelling off as it approached the biggest

of the lakes, Öster Rödsjön. An hour or so later,

we were on the lake, and heading for our next

camp to make a base for a couple of nights and

give us time to explore without our heavy loads.

The maze of islands confused us slightly, and it took

back bearings on mountain summits to confirm our

position and help us to find our camp. Here an old

ThePADDLER 89
---
ThePADDLER 90

Day six – Dris recovering in the hut

Day three – Sami Lavvu at camp Day three – rocky portage to the Thousand Lakes
---
eindeer

Osprey

Day three – sunset reflections

ThePADDLER 91
---
ThePADDLER 92

Sami Lavvu and fire pit marked a spot used for

generations, and we quickly set up camp. This was a

stunning spot, on a long, thin, peninsula, between

the lakes of Väster and Oster Rödsjön. The views

across this landscape of water and stone, to the

snow-speckled mountains beyond, were magical.

We spent the rest of the day resting, doing chores,

or going for short paddles. On one solo

exploration, I suddenly had the feeling of being

watched, and looked up to find an osprey perched

in a tree eyeing me suspiciously. Another appeared,

and they circled, watching me. I suddenly realised I

was near their nest, and moved further away. One

returned to the nest, and then I realised there

were three birds, one a juvenile that had fledged.

Glad I hadn't spooked them too much, I headed

off to explore more of the lakes and inlets, a

spellbinding landscape where the trees cling

precariously to the rocky mounds.

Returning to camp, we were treated to the most

amazing evening, the clear light of the arctic sun

softening towards dusk, too much of a temptation

for us not to have a stunning evening paddle on

the mirror-like water. Before bed, the Norse gods

offered us one last display of their power, the

most amazing sunset outlined against the hills, and

reflected in the mercury-like water of Rogen.

A rest day followed, where we simply explored

and lived in this wonderful landscape, before we

brought our side-excursion to the Thousand

Lakes to an end by heading back towards Lake

Rogen. This required an early start, as we needed

to hit the big lake before the wind rose, as was

typical each afternoon. Repeating our rough

portage to Rödviken, we were pleased to find

the waters were flat and calm, and paddled out

onto the vast lake before rounding a headland

and heading west. Our destination tonight was

Before bed, the Norse gods offered us one last display of their power,

the most amazing sunset outlined against the hills, and reflected in the

mercury-like water of Rogen
---
the west end of the lake, where the Norwegian

border lies, and our jumping off point for the

next stage of the journey. Paddling on this huge

expanse of water in flat-calm conditions was an

unforgettable experience, enhanced even

further when the black-throated divers started

their eerie calls as we rounded the point. Here

we stopped for lunch on a pile of rocks sticking

right out into the lake, a special place.

The breeze found us in the afternoon, and the last

couple of kilometres were a little harder work,

but soon enough we were at a large, popular

camping area with a small hut and a shelter.

Popular, in that we saw another person walk

though, and some kayak fishermen off-shore.

I'd wanted to get up high and see a view of the

landscape from above, so spent the rest of the

afternoon climbing a nearby hill, Bustvålen. This

felt properly remote, and I was conscious to take

extra care, alone in this wild landscape on

trackless, rock-strewn terrain, but I was

rewarded with an amazing panorama of lake,

rock, forest, mountains and sky. Looking ahead, I

could just about trace our onward journey

towards the huge Lake Femunden, a truly

massive 60km long lake that would make our

next target. First, though, we had the Roa river

system to descend, 20km of unknown travel on

lakes, on rivers, and no doubt, on foot. This 20km

would take us four days.

Rough times on the Roa

The map showed us the route ahead, and early

in the day we crossed into Norway. The customs

process was not difficult, what with this

happening 200 metres off the shore on our final

Rogen paddle. Now we were entering

Day three – sunset over Vaster Rödsjön

ThePADDLER 93
---
ThePADDLER 94

Carrying the big food bag, he'd slipped on a relatively simple

bit of path, and turned his ankle. Badly. It was unclear if

he'd be able to continue

Femundsmarka National Park, and after a short

portage out of the big lake, we found ourselves

at the start of what we expected to be the most

challenging part of the trip.

The Roa River links Rogen and Femunden, the

two huge lakes that dominate the region.

Dropping only a 100 metres or so, it's a string of

small lakes and short river sections in its first

part, followed by a couple of bigger lakes. The

last part is all river, and we knew this would

include some impassable rapids, for it has the

largest proportion of the overall drop within a

few short kilometres.

Our first rapid was marked by one of the

trademark wooden suspension footbridges of

Scandinavia, and formed a grade 2 rapid of

about 50 metres in length. We ran it in turn, Paul

going solo as Dris gave safety cover below, it

being our first proper rapid of the trip. This was

followed by a wonderful series of lakes linked by

similar short modest rapids.

We were really enjoying ourselves now, reading

and running the rapids, or whoever was leading

hopping out for a quick inspection as required. This

was one of the highlights of the trip for me, proper

expedition travelling, not knowing what was

coming next, but finding amenable grade water, all

the time surrounded by this most amazing

landscape of trees, moss and lichen-clad rocks.

The next rapid was longer, the drop on the map

greater, and it was time for a proper inspection.

Walking, with difficulty, along the banks, it was

clear it was a step up in difficulty, and too much

for us to run in laden open canoes. A continuous

grade 3 at least, with more than a few rocks to

dodge. Time for a portage. By now we were
---
Day three – evening paddle

getting quite slick, each of us taking a trip with

personal bags first, and returning for the canoes

and communal food bags on the second leg. This

portage was only about 150 metres, and

followed a small path between the boulders.

It was on the second leg that it happened, just a

few metres from the end. Carrying my canoe on

my shoulders, I came across Dris's load

abandoned by the trail; clearly something had

occurred. Reaching the put-in, we found Dris sat

on a rock in clear pain.

Carrying the big food bag, he'd slipped on a

relatively simple bit of path, and turned his ankle.

Badly. It was unclear if he'd be able to continue.

Being lunchtime, we stopped for an hour to give

him chance to recover a little. Everybody was a

little quiet, each of us pondering the

consequences of the injury, and whether Dris

would be able to move at all. We even wondered

if he'd broken it, and if so, that was likely to be the

end of the trip, other than finding a way to

extricate ourselves, call for help, or deploy the

'SPOT' emergency device that we carry.

Fortunately, Dris reckoned it was only a bad

sprain, but he could only just hobble about. I

helped him bind his ankle, deployed some

ibuprofen, and took stock. We were on the

shores of a kilometre-long lake, it was midafternoon,

and at the other end of the lake we

knew there was a hut marked on the map. We

decided to head for that, and have an early finish,

giving Dris time to recover a little before we

made any further decisions in the morning.

Rain clouds approached, matching our unsettled

mood, as we paddled the lake, the hut a clear

target in the distance, a real haven in the

ThePADDLER 95
---
ThePADDLER 96

Day six – starting the River Roa

Day five – perfect lunch spot

wilderness. Kløfthåbua was its name, one of the

Norwegian State huts that have welcomed many

a weary traveller before us, and it stood at the

start of the next portage, the perfect place for

us to spend the night.

As heavy rain arrived, we made ourselves at

home. The feeling of being in sheltered comfort,

with a fantastic wood stove and piles of logs to

hand, was a major relief and allowed us to take

time to relax and take stock. Dris was in slightly

less pain now, things were hopefully looking up.

We would see what the morning brought; either

we would continue with our journey, sharing the

load amongst the remaining fit members of the

group; or we would have to work out our

easiest escape, not an easy option as we were

pretty much at the furthest point on our trip

from any road.

[Part two in the winter issue]

Camp life
---
W E A R E A L L U N I Q U E .

W H Y S H O U L D N T O U R C A N O E S B E T H E S A M E ?

CUSTOM

CANOES

C O L O U R . O U T F I T T I N G . C O N S T R U C T I O N

S I L V E R B I R C H C A N O E S . C O M
---
ThePADDLER 98

MUSKOKA

R I V E R X R A C E

By Richard Harpham

In the last edition of the Paddler magazine,we updated you

with news that our roving reporter Richard Harpham, would

be taking part in the Muskoka River X Race – 80 miles of

wilderness paddling. His brief to investigate 'Canadian Canoe

Culture', a vision of Ontario's Steve Bruno.

The Muskoka River X series is a brilliant series of traditional wilderness races by canoe, kayak or

SUP. Without doubt it is the most welcoming and friendly race I have competed in, with plenty of

encouragement and banter from competitors and supporters alike. There are different races

throughout the year with a 24-hour endurance race in circuits, as well as the Muskoka River X

Sprint and Classic, 50 and 80 miles respectively. The route has plenty of wilderness and tough

portages (waterfalls, dams and obstacles) to carry around.
---
ThePADDLER 99
---
ThePADDLER 100

Hap Wilson

I was racing with Hap Wilson, a Canadian

paddling icon, environmentalist and North

America's best known guide. We had just an

hour-long warm up paddle together the day

before from Algonquin Outfitters at Oxtonge

Lake to Ragged Falls. Perfect preparation for an

80-mile race with 20 challenging portages,

paddling lakes, rivers during daylight and

darkness! We were kindly equipped with a brand

new Swift Canoe, 18ft 6 inch Kaywaidan racing

cruiser. The all carbon outfitting and carbon

Kevlar finish make for an excellent fast canoe,

which was incredible comfortable. Although not

an out and out racing canoe, we kept pace with

faster boats and overtook plenty.

It is fair to say that our approach to the race was

'gentlemen racers', which resulted in a tortoise

and hare approach, with fast cadence paddling

and overtaking following by leisurely portages,

planned food stops utilizing our stove and even

playing the harmonica. This might have reduced

our overall speed and record-breaking ability but

it did not diminish our enjoyment.

The 80-mile race follows the same course as the

50-miler before looping back in a giant

'horseshoe' shape back upstream. Only in

Canada would you paddle a race up and down

stream with portages up to 1,700 metres over

hills. It's brilliant and changes your perspective on

new journeys across old lands. The race start

resembled a post apocalyptic scene with

paddlers racing across Fairy Lake, through mist

with an eerie sunlight.

The river section downstream was lovely with

some interesting portages around beautiful

waterfalls and other features. As we reached

Bracebridge at the 50-mile mark, it seemed we

were on the homeward leg. Paddling upstream

in the dark presented a few issues including

snapping a paddle on the rock garden in one

white water section (swifts). Hap was not

retreating and demanded I paddle harder, which

had little effect with the limp paddle. Eventually

we conceded and liberated the spare paddle.

Portaging the big dam, with its many steps and

inconvenient chest height barrier was a little

tricky to say the least.

Richard and Hap
---
On the trail portaging on the Muskoka River X

ThePADDLER 101
---
ThePADDLER 102
---
ThePADDLER 103
---
ThePADDLER 104

The final portage back onto Fairy Lake was

exciting, the end was in site despite the

pockets of heavy fog. A slight loss of bearings

meant we did a little detour following the

bright lights of the Tim Horton's. But what

would you expect of gentlemen racers? We

retraced our tracks and arrived back to

Huntsville Dock pleased with our completed

mission.

Worth a mention, the post race banquet was a

continuation of the friendly community

approach – prizes and swag galore and plenty

of humour. Thanks to Algonquin Outfitters and

Randy Mitzen in particular for your brilliant

support and sponsorship. It was a brilliant

example of Canadian Canoe Culture to be

made to feel so welcome.

Hap and I placed 24th in the race, several

hours behind the winning crews of B49 (1st)

(Glen Dawson and Mike Vincent), 13 hours: 26

minutes, O.D on Paddling, (2nd) (Oliver

McMillan and Dean Brown), 14 hours: 10

minutes and Wolf Pack, (3rd) (Wilfred

McIntyre and Edouard McIntyre), 14 hours: 33

minutes. Well done to first C1 Solo (Patrick

Turner), 15 hours: 25 minutes, first kayak,

(Shawn Urban), 15 hours: 47 minutes and first

SUP (Mike Crouzat), 20 hours: 37 minutes.

Congratulations to Courtney Sinclair who

won the overall series competition with best

points over five races. Full results are available

at www.muskokariverx.com
---
COMPLETE CUSTOM BACKCOUNTRY CANOE TRIPS WITH PREMIUM GEAR AND CANOES BY SWIFT CANOE

Family owned, Algonquin Outfitters has been organizing great Canadian adventures since 1961

Reservations and information online at t www.algonquinoutfitters.com o or call 1-705-635-2243
---
ThePADDLER 106

TEMAGAMIA
---
Story: Richard Harpham

Photos: Ashley Kenlock and Hap Wilson

Our mission to explore and embrace Canadian Canoe Culture began with a trip to the world's largest

canoe and kayak museum at Peterborough, Ontario, followed by paddling Algonquin Park and the beautiful

Hailstorm Creek with Randy from Algonquin Outfitters (we will share this in a future edition of the Paddler

magazine). Things then sped up a little with the 80-mile Muskoka River X unsupported wilderness race, see

previous feature – then came the 'icing on the cake' – exploring Temagami's wilderness.

W I L D E R N E S S P A R A D I S E

ThePADDLER 107
---
ThePADDLER 108

One of the benefits of my world of adventure is meeting 'my kind of people'

and it definitely felt like moments of serendipity and synchronicity meeting this

generous hearted husband and wife team

We were excited to explore Temagami, the

world's largest pine forest, with Hap and

Andrea Wilson (and Oban their collie). Hap is

a mine of information and wrote the guide

books to this magical wilderness, documenting

the history, wildlife and trails throughout the

park and many other areas over a lifetime of

trail blazing.

One of the benefits of my world of adventure

is meeting 'my kind of people" and it definitely

felt like moments of serendipity and

synchronicity meeting this generous hearted

husband and wife team. Sharing these slow

motion opportunities in life with such people is

one of the reasons we have chosen our

lifestyle and felt like the perfect retreat.

We arrived at Lakeland Airlines to find their

'Beaver Float Plane' tethered to the dock and

ready for action. Whilst you can access the

park by canoe it is a long way to Cabin Falls

Eco-Lodge so usually people fly to one of

several more convenient access points. Having

spent years on expeditions with float planes

landing and flying over me in Alaska and British

Columbia, I was truly buzzing to be flying into

the wilderness with our canoes strapped to

the struts.

Hap and Andrea departed first with a roar of

the engine, out over the lake system whilst we

waited checking out the Temagami Canoe

Company, founded in 1929, and the second

oldest in Canada still making cedar and canvas

Ash Kenlock, Oban the collie and Andrea Wilson on a portage.

The team inside the de Havilland Beaver.
---
Arriving at Bear Island

canoes. Before long we were strapped into the

little plane and powering down the lake, take-off.

It was exhilarating flying above the tree tops and

lakes of different sizes. We landed smoothly on a

lake literally in the middle of nowhere with a

60km paddle to Cabin Falls Eco Lodge our

mission. We loaded kit from the plane, standing

on the sponsens whilst basking in the warm sun.

Heavily laden with supplies and kit we headed

across the glimmering water.

Our transport was two brand new Swift

canoes, straight out of the factory using their

carbon Kevlar technology and all carbon

fittings. I have paddled a lot of boats in my time

but they are surely are the 'Rolls-Royce' of

canoes #acanoeforlife. One carried the

Canadian Maple Leaf flag celebrating 150 years

of independence. They were a joy to paddle

albeit with the burden of responsibility of

avoiding scrapes and scratches on the rapids.

ThePADDLER 109
---
ThePADDLER 110

The sunset transformed our camp,

showcasing the full repertoire of

vibrant colours,

as we swapped stories of trips and

adventures nestled by the camp fire

Lining the canoe. Photo: Ash Kenlock
---
Giant tranquil paradise

We made land quickly, literally a mile or so later

full of paddling promise. Darren the pilot had

departed leaving us with the deep peace of this

giant tranquil paradise. We crossed a small sandy

spit forensically investigating an old cabin, loitering

another year and waiting for some much needed

TLC. Onward we paddled, towards one of those

beautiful wild campsites inviting adventurous types

with its large ancient rocky shelf. We accepted the

invite and made camp. Hap and Andrea came into

their own with a host of tasty morsels fit for any

banquet. I am pleased we brought the MSR Elixir2

tent with its geodetic design as it stood proud on

the rocky outcrop.

Given the 'Indian summer' and our sweaty attire,

we opt for the obvious solution and embarked

on the first of many memorable wild swims on

Florence Lake. It is said that you can see almost

60ft below the surface with its crystal clear

waters. This one was orchestrated in shifts as we

'skinny dipped' and swam around the bays and

temples of rock, completely free in the moment.

The sunset transformed our camp, showcasing

the full repertoire of vibrant colours, as we

swapped stories of trips and adventures nestled

by the camp fire. Already away from digital inputs

and demands, we were reconnecting with our

inner dreams and ideas.

Morning brought more culinary delights with

waffles and local maple syrup heated on the

reflector oven and 'cowboy coffee'. The mist over

the water burnt off quickly as the sun declared its

intent to stay golden. More reflections, on the

water and within ourselves, as we paddled along

winding marshland, smaller lakes and connecting

rivers. Periodically, we reached a portage trail

around rapids or waterfalls. It was bizarre how a

calm lake would transform into a raging torrent of

white water with little or no warning. Certainly

the relief and terrain was not sharing this ancient

knowledge. The portages were traditionally

Canadian in style with large boulder fields and

uneven trails often hundreds of metres.

Trekking through the scrub

We quickly became adept at balancing the

lightweight Swift Canoes on our heads (well

shoulders) and trekking through the scrub. Some

rapids were runnable, although the carbon shiny

boats and 'boney waters' made this a slightly more

nerve racking experience. Reading the water is a

skill like riding a bike and we were soon running

chutes and 'swifts' confidently. Our next campsite

was chosen for its vantage point over a rapid. Our

team work and routine was synchronized into a

smooth operation to light the fire, make camp

and cook. Then came obligatory wild swim

Wild swimming. Photo: Ash Kenlock

The three musketeers, Hap, Rich and Alex. Photo: Hap Wilson

Garter snake at Cabin Falls. Photo: Ash Kenlock

ThePADDLER 111
---
ThePADDLER 112

Lily pad reflections. Photo: Ash Kenlock

followed the hot day's paddle. There was a slightly

amusing moment as I filmed the event for the

obligatory edit and received a nip on the toes

from a passing crayfish defending its territorial

waters. All sense of pride and ceremony was lost

as I flailed around.

Cabin Falls Eco-lodge

The warm weather highs stayed with us as we

paddled on towards Cabin Falls on our holy grail

of paddling trips. More portages, rapids, beautiful

scenery and great company made us feel blessed

to be in this wild paradise. We lined a couple of

rapids (a traditional skill using bow and stern

ropes to guide the canoes) through the fast

turbulent water. Finally one last portage and we

would reach our destination. Nothing could have

prepared me for the incredible setting and

scenery of Cabin Falls Eco-lodge on Lady Evelyn

River. I have travelled and explored many places

around the world but this surely was the most

idyllic and yet rugged home from home – ever.

The original cabin (the only one in the park for 60

square miles) was built in 1931 by Americans and

then maintained by two brothers and the 'Dirty

Dozen' club. Hap and Andrea have painstakingly

added to the original cabin with three additional

cabins, boardwalks over the falls and various

home comforts including a wood burning sauna.

The plunge pool is the ever-present waterfall with

its grumbling undertones and mesmerizing

glistening flows. This became our personal

swimming pool along with riding some sections

and chutes in rubber rings and inner tubes.

Detox and retune

Cabin Falls Eco-lodge seeps into your relaxed

psyche and delivers a perfect venue to escape,

detox and retune your priorities. Slowing down

without the modern distractions, allowed us to

unwind and achieve a rare peace and balance in

our lives. Our agenda was simplicity itself, to

explore by foot, on water and wild swimming

sharing good food, conversation and time with

our new close friends. Inspired by the waterfall

swimming, we embarked on our next mission to

Another lovely ash canoe portage. Photo: Ash Kenlock

Waffles a la reflector oven Photo: Ash Kenlock

explore the Lady Evelyn North Channel and

South Channels for more places to swim. It

literally put the 'wild' into 'wild swimming'.

We also took time to hike the many trails

guarded by large red and white pines often

peppered with moose scat, as they opted for the

same paths. The array of fungi and wild

mushrooms was incredible with the forest
---
carpeted with so many different species. One of

our favourite swim spots was at the aptly named

Leap of Faith where the flow from the Helen

Falls is channeled into a series of pools. If you

search hard enough, there is a suitable ledge

above the pool offering a spot to leap into the

cool inviting waters. After a bit of scrambling, I

was standing on the ledge searching my memory

banks for the switch to enable to me to jump off

and suppress my fears. Switch flicked, pride

restored and I was free falling.

Sacred Spirit Rock. Photo: Ash Kenlock

Nipping crayfish

The next few days formed the most perfect

retreat, with our mission to wild swim as many

locations as possible as well as hiking the river and

mountain trails flanking the cabin. We paddled

further downstream to swim under the Bridal Veil

Fall, which became a mission dodging more

nipping crayfish from below and the vigorous

shower from above. We all however, found a

peace that we had been missing with busy lives.

One of the most remarkable chapters in the

evolution of the area and cabin is to

remembering that Hap and Andrea had been

instrumental in saving this incredible area from

clear cut logging. What a legacy! Also incredible

and worth a mention is that everything that has

made Cabin Falls a deeply spiritual retreat was

transported there by float plane and then by

canoe and human portage. Many tons of

equipment and materials, including fridges, stoves

and mattresses were carried there by blood,

sweat and tears – an incredible feat.

Lake Orbabika

Our trip was coming to an end. We had

extended our family finding kindred spirits, in

Hap and Andrea (check out his guide books and

new novel 'River of Fire') and we witnessed

some incredible wilderness that they helped

save. Our final stop was to fly to Lake Orbabika

(place of the smooth rocks) by float plane to

visit Alex Mathias, a First Nation elder who

shared his stories around the campfire growing

up in Bear Island. It was fitting knowing we were

paddling with his blessing on his people's

traditional lands. Alex is the last fluent speaking

member of his people (Ojibwa), which provided

a sombre and poignant reminder of the price of

progress of the modern world.

Alex had also been a key activist in protecting the

forest from decimation. We paddled across the

Orbabika Lake to explore a rough trail with huge

Cabin Falls. Photo: Ash Kenlock

ThePADDLER 113
---
ThePADDLER 114

Andrea and Oban at the waterfall

pines including the three sisters. The route led to

Chee-Skon-Abikong (Spirit,Rock), the place of

huge rock lake. The Rock, a jagged pillar of rock

standing guard against a crumbling cliff face. There

was a small sting in the tail as the wind picked up

requiring us to bay hop and traverse back to Alex

against strong winds and waves. Our time in this

sacred and spiritual place was over, for now.

We dipped our silver wings and roared back

over the tree tops leaving this Temagami firmly

lodged in our hearts. We will be back running

retreats for our own customers in future to help

share this place in a respectful and authentic way.

We came to find Canadian Canoe Culture and

left overflowing with inspiration and warmed

hearts for new paddling expeditions and trips.

We had the privilege to paddle and share the

trip with many incredible pioneers and outdoor

people including Steve Bruno and Trish, the army

of racers in the Muskoka River X, Randy and

Lynne from Algonquin Outfitters and of course

Hap, Andrea and Oban who shared their world

with us. The journey doesn't end here, it is

merely a rest stop before paddling on.

Temagami, Ontario is an accessible wilderness

paradise located a few hours north of Toronto.

Perfect for paddlers from the UK and Europe

wanting to explore and witness, some of the most

incredible wildlife and countryside in Canada.

Bios

Richard Harpham is a human powered adventurer and

inspirational speaker who has completed over 9,000 miles of

expeditions by kayak, canoe, bike and on foot including

exploring the Yukon, cycling the Sahara and Canada's Inside

Passage. At home he runs www.canoetrail.co.uk, a

watersports and adventure business with his wife Ashley in

Bedfordshire providing qualifications, canoe camping,

coaching and paddling trips to some of the UK's and world's

best locations. He is the editor of Bushcraft and Survival

Magazine and writes for Outdoor Adventure Guide and

Paddler magazine. His adventures are supported by: Flint

Group, Paramo Clothing, Olympus Cameras, Silver Birch

Canoes, Bamboo Clothing, MSR, Canadian Affair, Osprey

Rucksacks, Reed Chillcheater and Exposure Lights.

Follow Rich on his adventures

@myrichadventure www.richadventure.com

Hap Wilson is a prolific writer, wilderness explorer and canoe

guide. A former park ranger and outfitter Hap and his wife

Andrea run Cabin Falls Eco-Lodge and eco trail building in

Ontario. Hap has been a driving force in saving many areas of

prime pine forest as an environmental activist and had

written many guide books sharing his knowledge of over

60,000kms of wilderness paddling by canoe, on foot and

snow shoe. Hap is a self taught writer, photographer and

artist and is one of North America's best known wilderness

guides. Hap received the Bill Mason Award for services to

conservation. Hap is supported by Swift Canoes. Hap's latest

book was released recently, a novel entitled 'River of Fire'.

You can follow Hap and Andrea at

www.hapwilson.com

Cabin Falls Eco Lodge
---
C A N O E | K A Y A K | S T A N D U P P A D D L E B O A R D

W I L D C A M P I N G | A D V E N T U R O U S A C T I V I T I E S

Develop Your Adventurous Side with Canoe Trail..

Iconic paddling

trips

Canoe & kayak

expeditions

Scottish Wilderness

Canoe Trips

Yukon canoe expeditions

Courses & professional

qualifications

Our Adventure

School

Canoeing Trips to the River

Spey, Severn & Tweed

• Canoe, Kayak & SUP Hire

• Wild camping at Matchstick Wood

• Multi Day Trips & Bushcraft Skills

• Kids Parties, Stag/Hen Do's & Corporate Events

• British Canoeing & 1st Aid Qualifications

• Canoe & Kayak Expeditions

T: 01234 825499

T: 07710 616520

E: info@canoetrail.co.uk
---
ThePADDLER 116

E X P L O R I N G

SCOTTISH

By Richard Harpham

In the second in the series about paddling areas of the Scottish wilderness, humanpowered

adventurer Richard Harpham shares some more of his favourite

locations in Scotland by canoe. This time it's Scottish lochs under the spotlight.

I have just returned from another paddling trip to Scotland to replenish my need for wilderness

paddling, big vistas and stunning landscapes. It was our bi-annual 'Best of Scotland' paddling trip and

this one was equally fantastic with challenging whitewater, new locations and world-class paddling

destinations.

Scotland is famous for its lochs (and whisky), teeming with inland fresh waters and integrated sea

lochs stretching around its rugged coastline. There is plenty to explore and escape from the over

crowded pressure cooker of modern life.
---
LOCHS

ThePADDLER 117
---
ThePADDLER 118

Loch Ness & River Ness

Although part of the Great Glenn Canoe Trail

Loch Ness can be paddled as a shorter half day

or day trip to tackle this iconic location. Just last

week she allowed us safe passage despite the

Force 3-4 winds. Given its 26-mile length and

moody disposition, even the lightest breeze can

create significant waves. Stay close to shore and

ensure you have the right equipment and

experience for the conditions. We launched

from friendly pub and beach site at Dores and

headed into the wind on a suitable course.

After a slightly rough ride we turned downwind to

enjoy surfing down the two-foot waves towards

Loch End. Our Silverbirch canoes and us enjoyed

the work out, catching wave after wave

accelerating each time to maximize the ride.

Behind the stony spit likes the often overlooked

Loch Dochfour, which splits into the ongoing

original canal or the River Ness. We rigged a jury

rig sail (impromptu sail) harnessing the 'fetch' at the

top of Loch Ness and then enjoyed a full spread

picnic in our rafted canoe on Loch Dochfour.

We arrived at the weir accessing the River Ness

and after a quick scout ran the right hand side

adjacent the small sluice. Be aware in higher

flows this may require a portage as it can have a

full stopper and be extremely dangerous. The

meandering flow was a welcome addition and

our mixed group of coaches and novices

enjoyed the new challenge. The River Ness is a

brilliant intro river with a series of small weirs

and chutes that can be run in low water or

portaged. Just before Inverness, adjacent a lovely

looking house (mansion), is a small fish weir with

decent wave train running. This caused some

excitement amongst the group with their first

experience of bigger waves in a canoe.

We finished the trip adjacent the car park/skate

park near Bught Park Pitches and returned to

Dores to shuttle kit and vehicles. We stopped in

to the Dores Inn and ordered drinks to say

thanks for allowing us access from their beach.

islets and islands is a real treat and of course

'leaving no trace' rules apply.

Isle Maree tucked away among 65 islands, has

the remains of an old chapel, graveyard and holy

well. It is believed to be the 8th century

hermitage of Saint Mael Ruba (d. 722), who

founded the monastery of Applecross in 672.

The same island contains ancient stands of oak

and holly which have been linked with Scottish

Druids. There is also the 'money tree' with coins

dating back over 150 years. Queen Victoria

visited the Loch in 1877 which led to the naming

of a waterfall on the south side, Victoria Falls (it is

slightly smaller than the African version).

We paddled and camped this at New Year and

again in October to enjoy the autumnal colours,

each time exploring a little more. We took the

opportunity to feast on tasty campfire delicacies

and of course sampling the whisky with friends

telling tales of 'daring do'. The loch definitely has

a magical quality and we went to sleep listening

to stags bark at each other. The next morning we

braved the icy waters for a wild swim, which

definitely took the breath away with a vigorous

dip. Breakfast was waffles and Canadian Maple

syrup brought specially from our recent Ontario

Trip. It was perfect and that morning we saw

several stags as we trekked around the larger

islands in search of the 'loch within a loch'.

Loch Ness & River Ness

https://goo.gl/maps/TRFsXsDNtSC2

Diane and Aaron enjoying a river section.

Loch Maree

https://goo.gl/maps/ujmSM2YrZik

Loch Maree

Loch Maree is one of my favourite places to

paddle in the world with its folklore, ancient

history and beautiful setting. Loch Maree is in

Wester Ross in the north west Highlands

flanked by an impressive Munro named Slioch,

which resembles a craggy fortress. It is the forth

largest fresh water loch in Scotland and 12 miles

in length with a collection of islands including a

nature reserve. Camping here amongst the small
---
The graveyard on Isle Maree Exploring Loch Maree The money tree, Isle Maree

Surfing on Loch Ness

ThePADDLER 119
---
ThePADDLER 120

Loch Morar

Loch Morar is located in Lochaber on the

western side of Scotland in the highlands and

offers a mix of classic canoe paddling with islands,

an 11.7 mile length and a portage route that is

challenging to say the least. There are beautiful

little islands offering shelter and wild camping at

the western end of the loch. The portage at

Tarbet connects your journey to out onto the sea

loch Nevis and is just over 1km. Our last visit we

used the islands as shelter and lee paddling to

escape the huge gusts and prevailing gales.

Once on Loch Nevis an easterly route will take

you through narrows at Kyleknoysdart to sandy

beaches 8km away with a small bothy at

Sourlies. Heading west means increasing open

water down towards Inverie. Further round the

coast is Mallaig a beautiful coastal town popular

with sailors as well as port for the Cal Mac

(Caledonian Macbrayne) Ferries. Mallaig is a

great place to 'kick back' and enjoy the local

culture. I have enjoyed Hogmanay with local folk

bands in Mallaig as well as stunning paddling.

Loch Shiel

Loch Shiel has been made a popular tourist

attraction by virtue of the viaduct, featuring in a

certain Harry Potter book and film series, as well

as the Glenfinnan Jacobite monument. The young

prince, 'Bonny Prince Charlie' raised his standard

on the shore in 1745. The history of trade,

exploration and voyages dates significantly

further back than that, with one of the most

popular wilderness canoe trips in Scotland being

the Shiel Circuit. There are no roads for almost

33kms of the loch's length and plenty of wildlife

with otters, eagles and pine martins in residence.

Although parts of the river system may be

navigable in low waters this may involve longer

portages that you envisage.

This loch has also featured as inspiration for much

of the work of artist Rob Campbell (my DW and

Yukon River Quest team mate) for his sculpture

and paintings (www.robhoustoncampbell.com).

Loch Moidart to the north on the return leg of

the circuit, has wild camp sites on islands and

other places to call home.

Our last visit coincided with heavy weather with

a force 6 gusting 7 blowing down the loch. We

battled out in 'teeth chattering' conditions,

literally planting the paddle to hold station

before eventually conceding to the fierce

elements and flying back to the start point. Our

retreat complete we ventured up the small river

feeding the loch and practiced our poling and

subbing in the flows (poling and snubbing are

traditional canoe skills using a pole to move up

and downstream in rapids, swifts and moving

water).

Loch Linnhe

Loch Linnhe is a classic sea loch stretching up

from the sea town of Oban and the Firth of

Lorne 32 miles or so up to the Highland hub of

Fort William. Paddling from Kinlochleven through

the narrows at Ballachulish can be a mind

boggling experience on the ebb tide as eddies

and swirling waters aim to spin you around. The

bridge at Ballachulish with the Pap of Glencoe

and the Aonach Eagach Ridge makes a

picturesque back drop.

The Corran Ferry requires a bit of cat and

mouse as you head up towards the larger sea

lock at Corpach (north of Fort William)

signalling the start of the Caledonian Canal. I

have played Gran Mother's footsteps with local

seals around this stretch of water on many

occasions. Remember if you are canoeing on a

sea loch make sure the conditions suit the craft

you are in. The western end can be extremely

challenging and is open to the force of swells

from the Irish Sea and Atlantic.

I have canoed and kayaked on this beautiful loch

and on its day it offers great paddling with

incredible mountains flanking the loch.

General paddling rules apply

With all paddling in the Highlands be respectful

of other users and local people. If you are using

access points and car parks from local pubs,

hotels and sites then make sure you 'pay

forward' their kindness by spending some

money. Equally leave no trace, minimize your

impact and don't block access ways.

It is worth remembering that inland and sea lochs

can behave like small seas, so make sure you

paddle within your experience for the conditions.

Longer lochs have significant 'fetch' and journeying

far from shore can be dangerous. Make sure you

have checked the weather forecast and have the

right clothing and equipment for the day and

season. The old adage, "There is no such thing as

cold weather just the wrong clothing" applies.

Hopefully you have begun to get a flavour of the

world-class paddling on offer in Scotland. See you

on the water. Rich
---
Loch Morar

https://goo.gl/maps/WMSRGz4XFtr

Loch Shiel

https://goo.gl/maps/sQu4ba5YqdJ2

Poling on the river feeding Loch Shiel

Loch Linnhe

https://goo.gl/maps/G6HF9k9uYoq

Exploring Loch Morar

BEST OF SCOTLAND CANOE TRIP

The next 'Best of Scotland' trips are running in spring and autumn 2018 for small groups looking to develop their adventurous

side. Prices start at £599 (early bird offer) for the week including accommodation, equipment, food and coaching.

Visit www.canoetrail.co.uk or contact the team @ info@canoetrail.co.uk or 01234 825499

ThePADDLER 121
---
ThePADDLER 122

H O W H A R D C A N I T B E ?

ADIDAS
---
SICKLINE

2 0 1 7

By Steffan Meyric Hughes

Photos: C. Waldegger, D. Benedetto and J. Klatt

All Sickline attempts start with an idle moment online, debit

card in hand. You pay a little over £100, which gets you entry

to the race and events, as well as five meals, a tee-shirt a

goody bag, free massage, race insurance and more. You tick

the box that says you are an 'expert grade five kayaker' or

something like that then, if you're me at least, fool yourself

that you're going to do some 'training' before spending the

rest of the summer farting about in your playboat at the

Lee Valley Legacy course.

ThePADDLER 123
---
ThePADDLER 124

Google

Meanwhile, your nearest and dearest will have a

Google of what you're going to be up to for a

week in October. Technically difficult – and

DANGEROUS! Every little mistake has

CONSEQUENCES! The Eiger North Wall of

kayaking! Grade SIX! It's the sort of hyperbole

that's pretty much required by a major event

these days, but you try explaining this and she

(statistically it will be a 'she') won't believe you.

Of course, any event is going to make a strong

case for itself, particularly to the non-paddling

public (the Sickline gets considerable air time on

TV around the world), so it's understandable.

And, as Olaf Obsommer, event founder, points

out, grade 5-6 is the guidebook description for

this section, and it wouldn't be much fun if the

organisers claimed five and the insurers found

mention of six.

Gross exaggeration

I heard paddlers refer to it rather differently:

"two boofs and a load of flat" and "grade 4+ at

most." Seeing a group of paddlers tackle it in

playboats on YouTube and watching the 2016

low-water videos, along with the fact that

paddlers are prone to gross exaggeration, was

enough to satisfy me that the truth would lie

somewhere between the two extremes, and

four of us (Mike, Tom, me, with Rob coming

along for the ride – all playboaters) decided to

find out what it was all about.

My ambitions were not high: running the qualies

and enjoying a week in Austria were as far as it

went. My training for the event even consisted of

a single session in my brand-new creek boat,

Pyranha's forgiving Machno, on the Lee Valley

Olympic Course. It is clearly a great boat; loads

of rocker and volume to keep you on top of

things, comfortable with straightforward,

effective outfitting, and just enough rail on the

chine to break in and out. You can pretty much

drift down the Olympic course in it if you like –

it's that forgiving. Best of all, it weighs in at under

22kg, as I found out at the Sickline boat-weighing

station, which resembles a sex swing for kayaks.

Mike, sponsored by Jackson, had one go in a

borrowed Jackson Nirvana, pronounced it a

good'un and got straight back in his playboat.

Tom didn't try out his (26kg!) Dagger Mamba,

borrowed from his dad, at all.

As the four of us – Mike, Tom, Rob and me – drove

through France, Belgium, Luxembourg and

Germany en route to our final destination, the

Tyrolean village of Oetz in the Austrian Alps, the

texts started pinging in from those already there.

They spoke of heaving levels and multiple swims.

With the gauge reading between 185 and 192, just

a centimetre short of the level where they cancel

the race (193), this was not going to be a pooldrop

year on the well-known Wellerbrucke section.

With the gauge reading between 185 and 192, just a

I wasn't alone, when first having a look from the

crowded bank, to feel a little queasy at the

thought of running it. A 20ft-high ramp leads into

an easy section called Mandatory Left, which is

followed by a flat pool before the course's crux –

the TNT Cataract. This leads into the two bestknown

features on the course: Champions' Killer

Minus One, a surging, bouncy hole, and

Champions' Killer, a 10ft-high angled drop into flat

water, quickly followed by a narrow, boily passage

between the left wall of the gorge and a huge

mid-river boulder, known as Exit Slot. After that

it's a sprint to the finish line down a rock-strewn

section that marks the start of the slalom course.

The free meals were very

good, heavy on meat and

satisfying after a cold day

on the river.
---
centimetre short of the level where they

cancel the race (193),

this was not going to be a pool-drop year on the well-known Wellerbrucke section.

ThePADDLER 125
---
ThePADDLER 126

We saw one woman take Minus One on the right,

to find herself with her boat

snatched away from

underneath her as though sucked to the

centre of the earth
---
Very nervous

Grades are hard for paddlers to agree on, but

think mostly G3/4, with a G5 section (TNT) and

some big, technical but relatively consequencefree

G4 (Minus One and Champions). It was big

enough to make most there to feel very nervous

but went nowhere near some of the deranged

things we'd read about it and we were seeing it

at one of the highest levels the Sickline has been

run on. At peak snow melt in summer, the

glacier-fed run must be monstrous.

We watched as the world's best paddlers did

laps, and the nervous, those who'd come to this

arena and found themselves wanting, wandered

pale-faced, palms sweating, bile rising in the

throat. We saw one woman take Minus One on

the right, to find herself with her boat snatched

away from underneath her as though sucked to

the centre of the earth. It reappeared a full five

seconds later. It was hardly confidence-inspiring,

but most seemed to be getting through it alive.

As a mediocre playboater and occasional riverrunner

I found the qualification course (Minus

One, Champions Exit Slot and a couple of

hundred metres of the G3 slalom course

below), a good, fun challenge, failing every time

to hit a great line and flipping in half my runs, but

not taking any beatings.

After seeing more than a few paddlers swim

from their boats while safely out of the feature

and even one slapper (one who slaps the

surface with the blade before rolling up –

beginners' stuff), I have a new theory about

whitewater paddlers in general, and it is this:

slalom paddlers and river runners/creekers don't

always capsize enough to have bulletproof rolls.

The former category are busy perfecting their

speed and turns on easier water, while the latter,

in very challenging water, must avoid situations

that will make them swim.

Plan 'A' and Plan 'B' paddlers

Of course, the good paddlers in any discipline will

have their roll well sorted, but at an amateur level,

slalomists and creekers are 'Plan A' paddlers, who

read the river well and take a good line but are

simply too unaccustomed to being upside down

to be comfortable rolling in all conditions, every

time. Playboaters and surf kayakers, even

mediocre ones, spend half their time on the water

upside down, and their rolls become developed

beyond the level of the rest of their paddling.

These paddlers might be less adept at getting

down a river or seeing the best line, but they are

great 'Plan B' people; when the shit hits the fan, the

playboater will roll up, somehow.

The drill for the qualies is to line your boats up

in bib order, then to take them down some

steep steps to the launching platform, the feeling

of nerves quite palpable as you wait for your

turn. You hear a race coordinator say into his

mic, "40 on the course, 41 in the eddy" then he

says, "you're good" and it's on.

It's an easy ferry to river left, then almost

immediately Minus One, a short, turbulent

stopper where you fight to stay left so you don't

get pushed into the rocks just under the surface

on right, where many paddlers took a submerged

thumping before rolling up or swimming, then into

Champions', where you hope you boof properly,

or you can get endered out vertically (most

likely), back looped or worked in the hole. One

thing to bear in mind, when you watch Sickline on

YouTube is that the boof on Champions is harder

than it looks! The paddlers keeping their boats

perfectly flat are likely the best paddlers in the

world, and even they occasionally got it wrong.

Having said that, we didn't see anyone take a real

beating in there. After that it's left through the

awkward, boily, narrow exit slot (again, trickier

than it looks) then 200m or so of read-and-run

G3 to the takeout.

ThePADDLER 127
---
ThePADDLER 128

Training days

The qualification course was enough for me at

these high levels: around half the paddlers there

were opting out of the entire course, due to the

TNT section, particularly in the light that the

safety team are not present for the training days

(it's too expensive). After some deliberation,

Mike ran the whole course. To our

disappointment, he was fine. He has never

swum, and I had half-hoped he might do it here,

with a humiliating man hug rescue from one of

the many live bait guys lining then banks (the

safety here is brilliant). Mike's one run down the

main course gave him 129th place out of 175.

Only the top 52 men going through. If I tell you

that Peter Csonka, ex-freestyle champion, only

just made the grade, that will give an idea of

how stiff the competition here is.

Tom provided far more entertainment, taking

four runs down the qualifier section, each one

seemingly more comically awful than the one

before it. On his last, the crowd erupted in

cheers as he finally rolled up for the umpteenth

time just as he crossed the finishing line upside

down. Rob, Mike and I sighed in

disappointment, having hoped for a swim. In all

seriousness though, Tom showed some bravery

in going out and getting battered again and

again, and always rolling up. That's what I mean

about the playboater thing. The other thing

about this is that the qualification course,

although a stiff, intimidating challenge, is still a

place where you can laugh about swims.

On Friday night, the Big O movie night showed

a short film of Bren Orton's first descent of

Norway's steep, long creek, Megatron, and a fulllength

film of some massive-volume expedition

paddling in Pakistan – Into the Indus. We

checked in at the well-named Losers' Party on

the way home. An angry, disappointed paddler…

an eponymous loser if you like… stood outside,

and angrily kicked a can against the wall as we

walked past, while a few peers inside sipped

beer quietly. We enjoyed this spectacle almost as

much as the empassioned young man who

nearly burst into tears at seeing his result that

day, but we passed the party by, returning to our

rented flat to watch Enter the Dragon and

engage in puerile, vacuous banter until bedtime,

an art we are well versed in.

Finals day saw the level drop slightly to the high

180s, still a chunky level, and the sun out.

Favourites to take it, with double British winner

Joe Morley out of the running, were three-times

NZ winner Sam Sutton; US phenomenon Dane

Jackson, whose achievements in kayaking are so

broad and numerous that he has to be counted

as a contender in whatever he enters; last year's

winner, the Catalonian paddler Aniol Serrasolses

and the 2015 winner, his brother Gerd.

Winners

In the end Dane took the all-time course record

in 53.8 seconds in the semis. But in the final,

where it counted, Sam put in a good run of 54.9s

to be crowned the 2017 Sickline men's winner,

for an amazing fourth time. It must have felt

good, after having lost out to Catalonian paddler

Aniol Serrasolses last year by just a hundredth of

a second. In the women's race, Nouria Newman

beat her nearest rival by two seconds to take

the crown for the first time.

"I was struggling in the high water levels," Sam

Sutton told Paddler magazine as he stepped off

the podium, a modest statement profoundly

belied by his run. I had a few minutes with race

director Mike Hammel, who told me that

inclusivity is a big part of the Sickline. "It's not F1"

he told me. "You can't win it with money," a point

underlined by a survey conducted during this

year's event, where a two-thirds majority voted

against carbon boats in the race.

A slightly harder question to answer is how

the event can call itself the world

championship of extreme kayaking, when there

are other races that are more challenging (like

the North Fork or Green River) and in some

cases have been around longer than the decade

Sickline has been running for.
---
In the women's race,

Nouria Newman

beat her nearest rival by two seconds

RESULTS

Men

1. Sam Sutton

(NZ) 54.9

2. Aniol Serrasolses

(ESP) 55.2

3. Alexander Grimm

(GER) 55.4

Women

1. Nouria Newman

(FRA) 1.01.8

2 Martina Wegman

(NED) 1.04.8

3. Jennifer Chrimes

(GBR) 1.09.4

ThePADDLER 129
---
ThePADDLER 130

His answer, to paraphrase, is about the event's

prominence: it received a claimed 2,400 hours of

global TV coverage, including on airlines and

Austrian national TV, where a local paddler told

me it was also one of the main items on the news

while it was happening. Kayak manufacturers build

boats specially to win it. And it is probably the best

known of the competitions. But the real answer is

in the calibre of participants: this is the race that

the world's best paddlers come to. The great

achievement is its inclusivity, a word that Michael

used. This is an event run largely by its participants

for its participants, and anyone can have a go. Just

don't expect to qualify, unless you're a local hero

or international name.

You want to

do Sickline?

The first thing you might wonder is: am I

good enough? I hope this article has made it

clearer, but if in doubt, go. If you find yourself

wanting, (many of us did this year), there is a nice

G3 section below the course to run, not to

mention plenty of other runs in the area, and

you should at least manage the qualification

course which looks a lot scarier than it is. You will

still get to enjoy the movie night, parties, meals

and spectating.

Book well in advance: Sickline was sold out at

least three months before the race this year.

Photography: if you plan on taking photos/video

of your friends (important, as the official

photographers and videographers don't catch

everyone), a 50-200mm telephoto zoom or

equivalent focal range would be ideal, as you can't

get as close to the action as you might hope.

Spend more than one hour in the boat

you plan to use for the event! Practise your

boof until it's confident and consistent. Do some

strength and endurance paddling if you are in it to

try to qualify. If you don't spend half your time in a

kayak upside down (playboaters and surf

paddlers!), then bomb-proof your roll, including

off-side, back-deck and hands, if you don't already.

Take solid, grippy, comfortable shoes, preferably

boots with some ankle support – there is a lot

of clambering around on rough boulders, and

long portages.

Make sure your PFD, helmet and boat are

approved (the event website is quite clear on this).

Transport: we drove there and back. It's about

11-12 hours from Calais to Oetz, and free of all

toll charges if you choose that option, which is a

no-brainer, as it's probably quicker than the toll

option. This, along with of-peak ferry deals for

about £50 return, makes it a very cheap trip.

Speed limits, particularly in Germany, land of the

contra-flow, are variable, so watch out. We saw

nothing of the much-vaunted autobahns, and if you

see a red light in your rearview, you've been done

by a speed cam, but apparently fines are very

reasonable if they materialize at all – we'll see!

Accommodation: another bargain, as it's offpeak

time in the Tyrolean Alps, which thrive on

winter sports. We paid about £150 for seven

nights in a passable self-catering apartment with

two double rooms, within boat-carrying distance

of the course.

Boat lugging: if you are not concerned about

cultivating a heroic persona, consider a small boat

trolley – we calculated that Mike carried his 20kg+

Jackson Nirvana two miles on his shoulder on the

first day's training runs. Why bother? At the very

least, have a thick sponge to slip under the

shoulder strap of your PFD.
---
Passion for paddlesports?

Share your knowledge & experience with our guests!

We're looking for energetic people to work with us in 2018 to ensure our guests

have the time of their lives.

Canoeing has been at the heart of PGL since 1957 and we have long recognised

this sport as a great way to introduce children to the outdoors. We offer a variety

of opportunities for qualified paddlers to introduce canoeing and kayaking to our

guests. If you're a qualified UKCC Level 1 or UKCC Level 2 Coach or above,

you'll be able to lead sessions in addition to consolidating your instructional skills,

accumulating log book time and working towards higher level qualifications.

The variety of our centre locations means there's plenty of chances to paddle

during your free time, from flat to moving water. We offer a competitive wage,

meals and free uniform; accommodation is provided, plus transport from a UK

departure point for staff working in France or Spain.

Find out more and apply now...

www.pgl.co.uk/paddle

@pglstaff /pglstaff
---
ThePADDLER 132

Special thanks to…

Jackson, Pyranha, Mitchell Blades,

Square Rock and Immersion

Research. And last but not least,

those who make it happen: Mike

Hamel, Sonja Guldner-Hamel, Olaf

Obsommer, the safety guys, and

everyone else who gives their time

to make Sickline what it is.
---
T H E E X P L O S I V E

H I S T O R Y O F

SICKLINE

Taken from conversations with event founder Olaf Obsommer

In 2005, there were plans up for a huge

dam project to take all the water from

the Oetz river and pump it to the

Kaunertal. Olaf and friends staged a big

protest in the summer of that year, with

500 kayakers showing up. The highlight

was kayaking the Oetz by night through

the village Soelden holding flaming

torches. "It was an impressive and really

emotional moment" Olaf remembers.

"In 2006 we stopped doing those protests, thinking it

would be more effective to do extreme races instead,

as they are easier to sell to the media to show the

world the beauty of this river and its valley.

"In the summer 2006 we did an invitational boater

cross on the Soelden cataracts at high water for 50

competitors, then we had the idea to start another

extreme race in the fall on the famous

Wellerbruecken rapids…"

One vantage point

The Wellerbrucke rapids, home of Sickline, were

chosen for many reasons. Firstly, you can watch the

start and finish from one vantage point. "The course

is really technical with many spots where you can lose

time," Olaf adds. Also adding to the appeal of the

venue is the convenience. Once in Oetz, you don't

have to drive anywhere, and the town has all the

amenities an event of this size needs.

Sickline got off to a shaky start after that first

invitational race back in 2006. The 2007 race was

cancelled for high water (210 on the gauge) and

in 2008, it looked as though it would be

unrunnable due to a river-wide siphon above

what is now Champions' Killer Minus One. "I was

really depressed" remembers Olaf. "Then a local

came to us and said no problem – he knows a dude

who is doing all the dynamite stuff for the ski resort.

And this dude was so fired up and motivated for that

mission, we had just to pay his costs… so really early

in the morning we blew away this rock. That was big,

man! The rocks were crashing and flying everywhere.

We got a call from the major of Oetz what the hell

was going on the Wellerbruecke. The guys from the

tourism board told him it was a military practice…

and it's why I named the rapid TNT!"

This year, Sickline had 32 nations enter [the

British entry was the largest by number] and 175

entrants. It's come a long way.

ThePADDLER 133
---
ThePADDLER 134

Links

History of Sickline – the documentary by Olaf Obsommer

https://youtu.be/QXquVcjbmKg

Sam Sutton's winning men's run

https://www.youtube.com/watch?v=V0u_pUPcGp4

Nouria Newman's winning women's run

https://www.youtube.com/watch?v=lBj5ZR1nQtU&t=12s
---
01479 861 256

www.glenmorelodge.org.uk

Join us on Scotland's

famous f rivers

Offering the full range of British Canoeing coaching,

leadership, performance, safety & CPD modules

qualifications

white water kayaking open canoeing Stand up paddle boarding

sea kayaking
---
ThePADDLER 136

E G G A N D C H I P

R E F L E C T I O N S

By Ian Jones

Photos: Ian Jones, George Younger and Anuj Kumar

I am sat with Daz Clarkson-King and George Younger in a

first-floor restaurant in Padum, Ladakh, a village at the

confluence of the Tsarap and the Stod rivers before they

merge to become the Zanskar. We are waiting for our

egg and chips, reflecting on the world-class river we have

just completed. The Tsarap has all the ingredients: altitude,

remoteness, box canyons, pristine white water, all set in

the spectacular Himalayan scenery, perfectly blended to

give you a journey you will not forget in a hurry.
---
O N T H E

TSARAP

R I V E R

Ian Jones in the Zanskar Gorge

ThePADDLER 137
---
ThePADDLER 138

Two days earlier we had left our tented

encampment at Sarchu and put-in the Tsarap at

the bottom of the Gata Loops on the Leh

Manali Highway. The open vista as you seal

yourself into your boat belies what is ahead.

Day one, the box

canyons

Six or eight of them depending how you count

your boxes, but, truly, there is only one box

canyon, number four on our calculator! The

open nature of the river changes after two

hours of floating. The river's flow constricts

between narrowing walls and you enter box

one, a swirling mess of boil, whirlpools and

funky water.

Exiting to a rapid offering multiple lines we are

now committed to the river and the problems it

presents. George was here just last week; the

levels have dropped to the high side of medium

flows. I am losing track of the boxes, more open

than I had anticipated, when we drop into what I

later discover is our box four. No mistaking this,

barely wider than the length of our boats, sheer

sided polished rock walls compress flows, things

start happening, fast!

I look ahead and to my eye the river pretty

much stops a hundred metres ahead, George

disappears round, through the 'blockage' a wall

of white water created by a kink in the route

of the canyon. Seconds later I am through the

same stopper, ooof, pull through and into a

surging eddy above a very obvious horizon line,

I am informed this drop is new this year. Left of

centre, there is an obvious window.

Zanskar Valley monk's view.

Photo: George Younger
---
The peace and quiet of the high Himalayas is disturbed by two JCBs, working

the roadside verge at our put-in.

Photo: Ian Jones

George putting the kayaks to sleep before hiking up to Phuktal Monastery for

the night. Photo: Ian Jones

Tsarap Chu view with Darren

Clarkson King and Ian Jones

Photo: George Younger

ThePADDLER 139
---
ThePADDLER

140

Tsarap Chu. George Younger and Darren Clarkson-King with legs

out floating into the lake . Photo: Ian Jones

Tsarap Chu Reru Falls. George Younger and Darren Clarkson-King

taking a brief rest at the bottom of the main section.
---
Tsarap Phuktal Monastery. Photo: George Younger

I drift to the horizon line and as I am committed, the line

opens, there's the tongue, angle right, left stroke and

through to more messy water.

The altitude factor

One thing I haven't really mentioned is the altitude

factor. We put on a shade over 4,000 metres, 13,500

feet, by any standards, that's high. That would be why I

am gasping for breath, nothing to do with the effort I am

expending to stay on line and upright, or maybe it's a

combination of the two factors.

We exit the last box and I seek clarification, just to be

sure, "That was the last box wasn't it?" The boxes have

been playing out in my sub-conscious since 2008 when I

first paddled the Zanskar and the possibility of a run

down the Tsarap first crossed my mind.

The last third of the rapid is dispatched and a long

paddle follows to Phuktal Monastery. A roll in sight of

our beach completes a cold day and I land shivering

uncontrollably. A down jacket and a small fire aid the

warming process, as we are swamped by mini monks all

demanding to know our names and where we are from.

We approach the lake and our first overnight camp. The

lake was created in 2014 by a huge landslide,

however, the Indian army blew two channels to release

the water in a controlled manner to prevent a tidal

wave of water breaking through on its own. The next

morning I have been bitten by bugs that get you in these

parts – I am not at my best. By landslide rapid I am

operating on autopilot. I can't see the line; Daz carries

my boat for the first section as I stumble over rocks to

an eddy at the base of the side.

George drops down below me, with Daz above, I have

to paddle the remaining two-thirds of the rapid –

portage is not an option. The line is simple enough but

not in my current condition. I break out, make the line

and arrive next to George in an eddy. The river

disappears round a left bend, I follow George and

paddling frantically to avoid the cushion wave. In my

jaded state, nothing is happening until I catch a surf and

arrive in the eddy breathing heavily.

Zanskar waterfall. Photo: George Younger

ThePADDLER

141
---
ThePADDLER 142

Day three brings us to the top of the page, Reru

Falls and an afternoon of solid white water with

little let up, before the calmer waters just above

Padum.

For some idea of the scale of Reru Falls, that

flash of orange, behind George is Daz, in the

trough of the wave that George is topping out

on (see Ian's photos right).

As the river turns left, it disappears out of sight,

the river steepens and a whole world of white

water is delivered on a huge plate with all the

trimmings, Daz, not one to over egg a rapid tells

me "its steep" in over ten years of boating with

him I have never heard this description of a

rapid, I would worry, but this is not the place or

the time to worry.

Back to the present and our eggs arrive and ten

minutes later so do our chips. Combining the

two, we devour our food, order another masala

chai and continue our reflection.

Tomorrow, the Zanskar, the copper

canyon

The volume increases but the intensity of the

rapids decreases, apart from another landslide

rapid, this time man made rather than a natural

disaster. The road being built requires ample use

of high explosives to cut its path down the

valley. Over use of such substances can create

rapids, in this case, an intimidating maelstrom of

turmoil with an almost river wide hole, come

stopper, avoided only by paddling onto a boil

river left.
---
George Younger, Chilling Rapid, Zanskar

Photo: Anuj Kumar

ThePADDLER 143
---
ThePADDLER 144

Rapid now dispatched, our attention is drawn to

the red flags flying above us, displayed by the

road workers about to blow more rocks to

bits. The workers don't want us to paddle any

further but as we are mid-rapid, we pretty much

don't have a choice. We paddle, quickly,

rounding the next bend as there is a huge

explosion behind us. As we exchange words as

to just how close we had come to being blown

up our attention is diverted by movement on

the river bank. We have disturbed a bear having

an afternoon drink. In all the descents

completed by both Daz and George they have

never seen a bear, rare in these parts, the road

can only endanger them further.

Our last camp deep in the heart of the Zanskar

Gorge at Nyrak, leaves us with only the roller

coaster rides of the lower river, the biggest at

Chilling before the river spits us out into the

Indus at Nimmu.

The team: Darren Clarkson-King, George Younger and Ian Jones

We didn't take many pictures of the rapids in

our 250-kilometre journey, if you want to see

the treasures between Sarchu and Nimmu

before the road is completed, book your ticket

and get there before Jo Tourist in a jeep beats

you to it.

Massive thanks to Darren Clarkson King

and George Younger

#purelandexpeditions
---
To advertise email: ads@thepaddlerezine.com or call +44 (0)1480 465081 ThePADDLER 145
---
ThePADDLER

146

T H E

LONGBOAT

C O U N T E

Photo: Damien Larrigaudiere

https://www.facebook.com/LDkayak
---
R - R E V O L U T I O N

By Corran Addison

Photos unless stated: Christine Pinsonneault

A short boater and a long boater are standing on shore overlooking a rapid full

of waves and holes, ferries, splat rocks and eddylines.

The short boater says, "Look at that awesome wave at the bottom of the rapid.

Lets go down there and surf it!"

The long boater replies, "No, let's go to the top of the raid, and play them all!"
---
ThePADDLER 148

Photo: Jacob Seigel

In theory, and for many people, the short boat revolution was a fantastic one. But as

Winston Churchill so deftly said,

"However beautiful the strategy, you should occasionally look at the results."
---
Now I'm hardly going to be that guy that

sits here and tells you that paddling sixfoot

freestyle kayaks isn't a load of fun. I

was one of the main protagonists of the

short boat and planing hull revolution,

and this revolution happened because

the short planing hulled boats opened up

more and more possibilities in certain

kinds of river features.

Photo: Pat Keller

In fact, if you have 'that perfect feature' on your

run, it's pretty hard to beat the fun times that

even average paddlers can have.

But therein lies the catch: 'perfect feature'!

This does not have to mean a large 'Lachines

waves' or 'rock Island' style holes. It could be the

perfectly formed little loop-hole at the artificial

slalom course, or an exciting little wave hole on

an otherwise uninteresting river run.

In theory, and for many people, the short boat

revolution was a fantastic one. But as Winston

Churchill so deftly said, "However beautiful the

strategy, you should occasionally look at the results."

And the results have been trickling in over the

last decade.

Freestyle kayaks

I've already touched on the problem. Freestyle

kayaks are a whole lot of fun in that perfect

feature. But that pretty much leaves the rest of

the river run as a battle to overcome constant

verticality, missing dozens of on-the-fly one hit

waves, and essentially just flip-flopping down the

main current in what amounts to sitting in a

plastic turd (unless you're on that perfect feature).

And so, paddlers grab their other boat; the

creeker.

We find ourselves in Lewis Carroll's Alice in

Wonderland, asking, "Would you tell me, please,

which way I ought to go from here?" The answer, as

Cat so eloquently states, "Depends a good deal on

where you want to get to."

This is why people are paddling their creek boats

on easy class 3 runs, and there has been a recent

scurry to buy up older longer pre-2000

playboats out of ex-paddlers back yards: Craigslist

has become the treasure trove of modern

long boater.

ThePADDLER 149
---
ThePADDLER 150

Photo: Pat Keller

Ask a paddler why they're on a class 3 run in a

creek boat, and they'll tell you about all the cool

moves on the river to make, fast eddies to zoom

through, slots to squeeze between, mini boofs to

spin off and some on-the-fly waves to hit. And

they're absolutely right.

It's just the wrong boat for the job.

So recently we've seen the manufacturers start

to come out with progressively longer and

longer river playful boats. While some of these

are still well under eight-foot, they are a good bit

longer than a freestyle boat, and they do open

up some more river possibilities.

Glide and carrying speed

Most creek boats nowadays are in the nine-foot

range (270cm) and there is a good reason why

they're so fun to paddle. Somewhere around

eight and a half to nine-foot, boats get back

their glide and carrying speed, and this takes

another giant leap in speed and glide as you

approach ten-foot. Ironically, an eight-foot boat

paddles more like a longer six-foot boat than a

shorter ten-foot boat.

While there are some decent sub eight-foot

new style river play boats, for the purposes of

this article, I'm going to focus more on the

longer boats that truly do bring back a sense of

being able to use the whole river, and exploit all

its features.

Not everyone is looking for the same thing

either, and this is natural. The current main focus

is on 'creekish' style boats with squished tails.

Given the predominance, especially in Europe, of

alpine style rivers, it's only natural that a

rockered buoyant bow is desirable, while the

squished tail opens up some of the possibilities

of tail squirts, rock splats and more dynamic

wave surfing than your average creeker.

Some have displacement hulls, like the popular

Braap, which keeps focused mainly on running

hard creeks with some 'play' thrown in, while

others are full planning hulls like the Gonzo, and

are focused more as 'all river' playboats, with

some 'creek' thrown in.

Between these two are a slew of varying

interpretations with degrees of squirtability, bow

volume, and semi-planing hulls. It's all about

where you live and paddle as to which is going

to be the most fun.

Another alternative

But there is another alternative too. One which,

so far has been largely unexplored, except in the

resurgence of the popularity of old recovered

boats like the Dagger RPM, and Savage Scorpion

for example. Both really long (by today's

standards), and with more balanced nose and tail

volumes than the new Braaps and Gonzos, these

boats really allow you go back to a time where

you'd explore every ripple, seam, splatable rock,

and surfable hole or wave you could find.

But the displacement hull on these older boats

effectively excludes the last 20 years of design and

paddling progression. There is no reason why you

have to give up all the cool wave surfing moves

we've mastered, just to have some speed and to

explore your favourite rivers all over again.

For my own personal paddling enjoyment, I've

addressed this with a new design, the 303, and

I'm sure others will be right behind me with a

number of variations on the theme. I was looking

for the same 'back to basics' river exploration as

many, but I had no interest in making my creek

boat, no matter how great it is at creeking, my

daily paddler. Even the Gonzo, as remarkable as

it is, wasn't what I wanted.

The joy that the 303 has brought back to

paddling for me was one that I'd lost in the early

2000s, when I effectively stopped kayaking and

went surfing full time (making it as far as the SUP

surfing world cup). I was not alone, as paddlers

abandoned their boats for kiteboards, mountain

bikes and so on will attest – paddling got

uninteresting (a bizarre concept when you

consider what the young paddlers are doing

today in freestyle boats on big waves).
---
Drone images: Yannick Larouche

ThePADDLER 151
---
ThePADDLER 152

While I could, now well past the peak of my

paddling career, go to the Lachines in my 14lbs

ultra explosive, air grabbing six-foot Super Sic

and go bigger and do more than I ever could in

the past - after about two weeks I'd once more

lost interest; and I live at the greatest playboating

spot in the world.

For me, throwing an endless series of aerial

moves was like Jenim Dibie's Calligraphy of God,

"This empty shell holds nothing but the echoes of

what was."

Once I had my 303 prototype, I barely paddled

anything else at the Lachines, (and consequently

sold the Super Sic) surfing a half dozen waves,

and squirting countless eddies and boils,

between the put-in and the infamous Big Joe

wave. Once at the main play spot, I was able to

effortlessly jump from one wave to another, and

back, while others spend half their session

attaining back up the eddies.

But even on my 30m3/s (900cfs) local class 3

play run, I have more fun with my long scything

blade of a kayak than in anything else; squirting,

splatting, cartwheeling and surfing every micro

feature I can find, racing from eddy to eddy

making imaginary slalom moves, only to break up

this set of invisible gates to pause for a giant

stalled stern squirt.

Inevitability

In hindsight, the return of long boating was a

foreseeable inevitability. Just look at surfing, where

long boarding has had a remarkable resurgence in

popularity in the last decade, and surf paddle

boarding arrived with an explosion, taking the

ease and enjoyment of long boarding to an

entirely new level (the surfing equivalent of

putting a planing hull on an old school long kayak).

If you're old and broken, like I am, these new

long boats are really opening up doors to a new

way of paddling the old way, and if you only

learned to paddle after the short boat

revolution, they're bringing to you new ways of

exploring your same rivers, making paddling

them new and refreshing again.

I believe Suanne Laquer must have been

referring inadvertently to the return of long

boating when she proclaimed, "You're the best

thing to ever happen to me twice."
---
Adventure on the Wild

Atlantic Way

Kayak and Wild Camping getaways on the stunning North West

coast of Ireland.

Immerse yourself in the rugged scenery and untouched beauty of

the Wild Atlantic Way.

Explore little visited areas only accessible by kayak, sleep under the

stars, experience abundant wildlife.

Enjoy award winning local hospitality and cuisine.

Custom made packages to suit your needs inc. transfers and extra

activities.

www.inishadventures.com email: info@inishadventures.com

Phone: +00353 (87) 220 2577 Moville, County Donegal, Ireland

Burtech

Trailers

Hand built in North Wales

Fully EC Type Approved

Kayak/Canoe/Bike Trailers

All Kayak/Canoe/Bike Trailer enquires welcome

Email: info@burtechtrailers.co.uk

l

Email: info@burtechtrailers.co.uk

Tel: 01492641905

Website: www.burtechtrailers.co.uk
---
Help us put the life back int o our seas

Join the Marine Conservation Society and receive

your welcome pack, free gift and the opportunity

to help look after our precious marine environment

www.mcsuk.org/join

Promo code: Padsum17

E: info@mcsuk.org T: 01989 566017

W: www.mcsuk.org

Registered Charity No (England and Wales): 1004005

Registered Charity No (Scotland): SC037480
---
ThePADDLER 156

M A K I N G

WW
---
T H E J U M P F R O M

KAYAKING

T O

WW SUP

Photos and story: Joe Thwaites

Kayaker: Sam Ellis

As a brand owner and experienced paddle surfer, I'd been looking at white water SUP for some

time but 'the scene' (well the one that piqued my interest anyway) seemed to be largely happening

across the pond. So when I got the opportunity to hook up with a seasoned kayaker who was

interested in giving SUP a go in his native environment, I jumped at the chance to get involved!

Originally I thought I'd actually be getting in the water too with a knowledgeable river rat on hand,

who'd save me from drowning if things went south.

After the usual stoke-rich Facebook messages and pre-mission phone call as is often the way in this

game, I was as excited as a small child on Christmas Eve. Cameras charged, drone tested and

packed, assortment of kit at the ready, I set off on a two-hour trip down to North Yorkshire, not

really sure what to expect.

ThePADDLER 157
---
ThePADDLER 158

After a few choice words with himself,

York's own viking

grew some stones and headed for the lip with a

determined look on his face
---
Remote location

Sam Ellis has been in the white water game for years and

has paddled some of the world's most challenging rivers

and has a string of first descents to his credit, so I

certainly felt like I was in safe hands. Finding Keld and

indeed Sam in a remote, no signal location was more of a

challenge than I had hoped for but finally our paths

crossed and we went for a look at the river to see what

was possible.

Unfortunately the water wasn't quite high enough, so it

looked like my fun would be kerbed this time, as the

risk of injury outweighed the opportunity to fuel my

ego that I was a natural at all things SUP – well at least

in my own mind anyway. I was also lacking the body

armour necessary to fling myself off a waterfall, so we

decided it was best to leave Sam to it and I'd snap in

the all too familiar Yorkshire drizzle.

In fairness to Sam he'd done very little SUP and at a vikingsized

100kg, I did worry he might struggle to even stand up

on our 10' x 32'' Amigo Air iSUP – despite it's generous

220L. After some 'test paddling' at the foot of the first

waterfall, it was clear this lad knew his craft, as he was soon

paddling around like he'd been doing it six months.

Nerves

We both went for a look up at the top of the falls to see

where the water was flowing and to assess any hard

ouchy things that might take out Sam. He was a little

nervous and rightly so but after the obligatory jump in

the pool depth test, it was psych yourself time, while I

walked down to the bottom and negotiated the rocks,

over to the best vantage point to hopefully get the

money shot.

The tension was unbearable. Sam's obvious anxiety had

made my mind race: what happens if he knocks himself

out? I have no phone signal, am I going to have jump in

and drag him out, is he going to sue Loco if he breaks

his neck? Talk about a full on fanny fit but this was

uncharted ground! Thankfully both of our concerns

were totally OTT and after some initial thinking and

probably a few choice words with himself, York's own

Viking grew some stones and headed for the lip with a

determined look on his face – or the snake was half

out of the cage!

Boom he hit the sweet spot and nearly rode out of it,

cheeky bar steward! I was rightly impressed considering

the flow and the 90 degree angle. He popped up,

looking stoked and before I could even show him the

snaps, he was out and back off to the top for another

bash – some boy! This time he managed to get a full on

boof stroke in and his projection was much better but

sadly the side fins caught on a ledge on the way down,

which catapulted him over the bars. You could see his

confidence growing and like any seasoned pro, he was

back on it and we repeated the process until I was

happy we had a keeper.

ThePADDLER 159
---
ThePADDLER 160

I thought that was it but big Sam had a trump

card up his drysuit-clad sleeve and after a quick

refuel we jumped back in the vans and headed

back to Keld. After a very muddy and semi

treacherous walk (at least for me in my civvies),

which involved some abseiling, which is always

fun with an iSUP/paddle and fully laden camera

gear, we reached two larger waterfalls

downstream. Now this was the real deal, a tenfooter

and a 25-footer, which looked bloody

terrifying with a cliff wall you could easily smash

into and slide down Wile E. Coyote style!

https://vimeo.com/237439365

Zero room for any error

Again risk assessments were justified, so we went

and had a look at both. The big one presented zero

room for any error with a low flow, so it was

decided to leave that for me to first descent

another day, wearing a chainmail suit and with half a

bottle of Scotch in me, for the necessary kahunas!

So we concentrated on attacking the smaller tenfooter.

Sam did his usual checks while I scrambled

across the rocks to the mid-river outcrop to set

up with my camera. The rain had stopped for a

minute and the light was better than we could of

hoped for, so I gave Sam the nod after some more

deep breaths. He edged out from the eddy and

headed for the shallow, jagged lip.

Is it a bird? Is it a plane? No it's Sam Ellis flying

forwards Superman style due to the fins getting

caught again. I was glad to see him breach the

surface, as it looked like he'd taken a proper slap

– belly flop style. Thankfully he's an ex-rugby

league unit, so he just shook it off and was soon

getting out and wanting a look at the photos. I

sensed he was less keen to do this one again but

the cover shot we wanted hadn't happened, so it

was a quick abseil back up to the top iSUP in

hand for round two. He deserved a medal just

for that in my book.

Is it a bird? Is it a plane? No it's

Sam Ellis flying

forwards superman style due to the

fins getting caught again
---
ThePADDLER 161
---
ThePADDLER 162

The money

shot.

SUP Mag UK

cover for the

autumn issue.

Thankfully his second attempt was much more

successful and his exit into the water didn't look

quite as painful, moreover we had a couple of

potential keepers! It was getting on, so it was

agreed he'd have one more attempt then we'd

call it a day as he wanted to get back to York for

some family time and I still had to get back to

South Shields. I couldn't have asked for more on

the final attempt, all sponsors, which including

Kokatat, VE Paddles and or course Loco Surfing

would be kept VERY happy with these stills.

After a couple of obligatory lifestyle shots we

both scaled K2 and headed back to the car park

to de-mud before heading off to a little café in

Keld for a well-earned brew and caramel

shortbread, which is highly recommended if

you're ever up in that neck of the woods.

Destruction testing at its finest for our standard

construction all-round iSUP, which looked as new

when it went back in the bag and a new contact

with a fellow water nut – so no complaints.

'Falls cherry'

I'm told I'll get to pop my 'falls cherry' next time

it rains, so I'm amped for that and I'm hoping

Sam will also introduce me to some standing

waves, where I can show him what I can do.

S t a n d U p P a d d l e M a g U K

CROATIAN CHRONICLES

Simon Winkley

FRESHWATER BAY & THE NEEDLES

Jason Swain

LADIES STEP UP!

OLYMPIC SUP

Will Satch

COTTAGE INDUSTRY

shaping

OPINIONS

Bryce Dyer, Dave Adams,

Joe Thwaites

TONY BAIN'S

SUP knowledge

SCOT SUP

wilderness

BEHIND THE BRAND

SBS

GEAR TESTS

APLENTY

ISSN 2397-8597 October 2017
---
AWARD W I N N I N G PORTA B LE M ARI N E S T E R EO

@FusionStereoActive
---
ThePADDLER 164
---
M A K I N G

HISTORY

Story: Paul Hyman Photos: Paul Hyman and Allistair Swinsco

The tide is high as first light comes up over the river Thames. The river is

already a bustle with the watermen of today, a hundred years of heritage can

be felt in the air as countless numbers of rowing club athletes set about

their Saturday morning ritual of training.

There's a real feel of competitive sportsmanship about the place as boats and

skulls move up and down the river, coaches and cox-men calling out with

strict voices. The Thames is a river that has always bought life to the city of

London, ebbing and flowing, giving this great city its life blood to thrive. It has

many traditions and sports come and go, but Father Thames can now add to

its sporting history stand up paddling (SUP).

ThePADDLER 165
---
ThePADDLER 166

Walking on water

The sport of SUP has become more and

more popular and accessible over the

last few years, with many clubs springing

up around the country giving the

opportunity to anyone who takes

the challenge. Many have

described it like walking on

water and as a great form of

exercise, it's understandable

that the growth has been

rapid. Keen competitors

unload their SUP boards,

integrating into an already

busy riverside sprawling

with rowing craft and

weekenders up early to soak

up the atmosphere of this

exciting place.

SUP'ers as they are

affectionately known, know

something special is happening

here. In only its 2nd year, having

originally piloted in 2016, the

London river

authorities have

given permission for the Big Ben Challenge to

paddle and race 10km and 20km from Putney

Bridge to Big Ben, returning back on their

challenge in front of the houses of parliament at

Westminster, and then heading back with the

turn of tide. This is something up until now that

was considered too dangerous to under take

due to the strong currents and busy river traffic.

The challenge has a competitive field of

paddlers ready to take on the fast pace, with

great kudos involved, coupled with a handsome

prize purse, many have travelled from far and

wide to participate. Above all, there's an

underlying feel that all here are privileged and

excited about the experience.

London's iconic bridges

On busy streets running along the Thames,

bystanders crowd around the start line, looking

on with intrigue at the spectacle of this new and

fast growing sport. The challenge starts with

great anticipation at the starting whistle as the

10km "challenge SUP'ers'' command the power

of the Thames' full flow aiding them on their

swift departure, a journey which will take in

many of the London's iconic bridges and sights.
---
The 20km racers soon follow suit with an

explosive start showing the skill and stamina of

both male and female paddlers competing side

by side, quickly flying off out of view, soon

passing under Putney bridge.

The momentum of the water's fast flow makes

for an exhilarating paddle as the SUP'ers seek out

its fastest current. Passing under bridge after

bridge, paddlers witness multiple vistas of this

cities vast and varied landscape, heritage and

modernism thriving side by side. Londoners going

about their business stop to cheer and encourage

the paddlers as they powerfully glide by.

UK's seat of power

The paddlers soon come alongside the UK's seat

of power, the magnificent Houses of Parliament.

With the ever watchful face of Big Ben signalling

to one and all the turning point barge, the

paddlers work harder than ever to compete

against the swirling waters as the Thames tide

starts to turn. The SUP'ers crossing the river

have to use all their skills to command the

balance of their boards.

Seeing the waters gradually rising lifts the spirits of

the now tiring competitors on he return paddle

back to the start. On their journey new sights

ThePADDLER 167
---
ThePADDLER 168

Glenn Eldridge and Paul Hyman

Bill Bailey and Paul Hyman

catch their attention, helping to combat the feeling

of fatigue, as parks, grand buildings, heliports and

boats slip by with every paddle stroke. Each

paddler concludes the journey passing under the

last bridge at Putney. Smiles radiate as they give

their last efforts to cross the finish line of their

personal journey with great gusto

Stories of the experience

Finishing paddlers wade out of the waters to

cheers and claps from bystanders, friends and

loved ones. Waiting on the water's edge,

paddlers who have finished, encourage the

achievements of all who have partaken in this

epic journey. Many stories of the experience are

shared right there and then on the banks with

hearty laughing, closely followed by groans as stiff

and sore muscles carry boards off the shoreline

The festival feeling rose in the air as SUP'ers

joined the frivolities and music on the riverside

at the Foreshore Festival event. Crowds

gathered as the organisers took great pride in

announcing the achievements of the SUP

paddlers at the prize giving, with all involved

cheering and showing that they truly enjoyed the

privilege of taking part.

As the SUP'ers slowly started to disperse and

the tide fully returned, nobody was left in any

doubt that this event would be back too. Big Ben

had indeed seen all paddlers achieve their

individual goals. The clock will chime at midnight

on New Year's Eve, signalling to all that 2018 will

bring a fresh challenge for all SUP'ers to

participate at, with friends new and old, once

again enjoying this epic paddle.
---
BillboardSup.com

INTRODUCING THE H4

THE HERON 4METER IS A FAST AND STABLE PADDLE BOARD BORN ON THE RIVER THAMES

MADE FOR THE URBAN EXPLORER, CAPABLE OF ADVENTURES FAR BEYOND THE CITY.

BILLBOARDSUP.COM