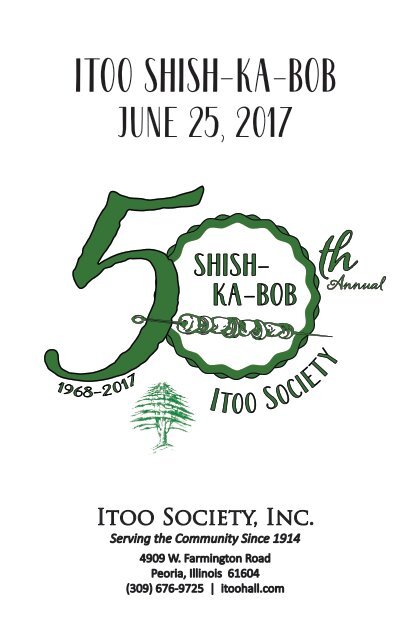 ShishKaBob_SponsorBook2017
Create successful ePaper yourself
Turn your PDF publications into a flip-book with our unique Google optimized e-Paper software.
Itoo Shish-Ka-Bob

June 25, 2017

Itoo Society, Inc.

Serving the Community Since 1914

4909 W. Farmington Road

Peoria, Illinois 61604

(309) 676-9725 | itoohall.com
---
gold sponsors

Nicole Reese Designs

Alwan and Sons Meat Co. alwanandsons.com 688-8711

D. Joseph Companies djoseph.com 692-1135

Madanat Properes madanatproperties.com 241-2940

Nicole Reese Designs nicolereesedesigns.com 696-0041
---
Welcome

We welcome you to our 50th Annual Itoo Shish-Ka-Bob . . .

fifty years ago it was Louis Kouri's vision to hold a

Shish-Ka-Bob each summer to help raise money for the

Itoo Society. He wanted to keep the spirit of the Itoo Club

alive year round by offering more than only the Itoo Supper

in November. Lou held weekly meetings for months upon

end while carefully planning and organizing every detail

of that inaugural Itoo Shish-Ka-Bob.

For fifty years members of the Itoo Society have continued

the tradition that Lou began in 1968, and we continue to

welcome the greater Peoria community to our "home" as

we celebrate our heritage and continue the tradition so

many of our relatives helped to set in motion.

Today we would like to extend our appreciation to all the

dedicated men, ladies, children, and friends of the Itoo

Society who generously gave of their time, help, and

encouragement in preparation for today's celebration.

We are proud and thankful to have such a wonderful

group that has continued the Itoo Shish-Ka-Bob and

makes it the great tradition that it is.

We also thank all of the individuals and business

establishments who have advertised in this year's

souvenir program. We highly recommend and appreciate

you patronizing our sponsors!

Sah-Thine (Eat Hearty and Enjoy!)
---
silver sponsors
---
silver sponsors

5th Avenue Fashions (Madanat Family)

facebook.com/5thAvenueFashionsPeoria 637-6744

A & J Termite & Pest Control

ajpestcontrolpeoria.com 360-7422

Caliber Home Loans (John Abraham)

caliberhomeloans.com/loan-consultant/illinois/Peoria-IL/jabraham 370-5172

Congressman Darin LaHood, 18th District

lahood.house.gov 671-7027

Dr. Carla Couri, DMD

carlacouri.com 682-5522

Ghantous Law Offices

ghantouslaw.com 672-1444

Jamie Harwood, Peoria County Coroner

peoriacounty.org/coroner 669-2000

Judge Steve Kouri, Tazwell County

tazewell.com/Courts/Courts.html 477-2230

Landmark Recreaon Center

landmarkrec.net 685-8200

Merheb Surgical Arts

myfacemd.com 353-4111

Sid Ruckriegel, Councilman

sidforcouncil.com 303-0083

State Representave Mike Unes

mikeunes.net 620-8631

TERRA Engineering (George Ghareeb)

terraengineering.com 999-0123
---
onze sponsors

Quality shoes since 1918

CHIROPRATIC | REHABILITATION | ACUPUNCTURE
---
onze sponsors

Academy of Screen Prinng

awardshirts.com 686-0026

Baumgarten Distribung

691-4200

Brewers Distribung

brewersdist.com 692-2883

Coker's Repair

cokersrepairinc.com 251-3133

Couri's License Service

699-1258

Fred's Shoe Repair

fredsshoerepair.com 686-4115

Jerry Brady, Peoria County State's Aorney

peoriacounty.org/statesattorney 672-6900

Joe Couri Photos

joecouri.com 682-2636

Joseph & Hishon Chiropracc

chiropracticpeoria.com 693-2225

Khoury's Cuisine

facebook.com/KhourysCuisine 685-3000

LaGondola

peorialagonadola.com 688-0800

Mid Illinois Insurance

midillinoisins.com 676-5504

Moser Shoes

mosersshoe.com 674-4400

Wright and Salmon Mortuary

wrightandsalmon.com 688-4441
---
In loving memory

As we celebrate our 50th Annual Shish-Ka-Bob as an

Itoo Society, we remember all those who have come

before us and helped pave the way to bring us where

we are today. This book is dedicated to all of the

deceased family members of the Itoo Society. Their

unselfish giving and their traditions that have been

handed down through the generations are the

backbone of our Club today.

Marilyn Joseph - who showed love to all

For Ed Mallow - how he loved

our Itoo family!

In Loving Memory of Ray Maroon

Jamil Couri (1958-2015)

Jamil loved the Shish-Ka-Bob, one of his

favorite Itoo events. He started the

previous Sunday by coring cabbage

with the crew, working when he

could during the week, and was

always there on "game day" to

help wherever he was needed.

Jamil always had his calm demeanor,

no matter how crazy the day got,

and always his beautiful smile.

We miss you, Jamil.
---
Sunday, November 5, 2017

90th Annual Itoo Supper

Tuesday, November 28, 2017

#GivingTuesday

upcoming events

Sunday, February 5, 2018

2nd Annual Cabbage Roll Extravaganza

Saturday, April 7, 2018

2nd Annual Military Retiree Appreciation Day

Sunday, June 24, 2018

Watch our website (itoohall.com) and Facebook page

(facebook.com/itoosociety) for additional event details.

Please join us again in November at our Itoo Supper (held annually on the

first Sunday of November) as we celebrate 90 years of sharing our

Lebanese heritage with the greater community.

We invite you to join the movement this #GivingTuesday in supporting

Itoo Society, Inc. as we work together to shape our future, building upon

the work of so many who came before us and continuing our rich,

century-old traditions.

We'll return this year with another Cabbage Roll Extravaganza on Big Game

Day Sunday. Cabbage rolls (with some newer offerings) will be available

for carry-out only and must be pre-ordered.

The annual event for military retirees features a wealth of information and

prominent speakers from throughout the local and national areas.

51st Annual Itoo Shish-Ka-Bob

Held annually on the last Sunday in June, our Shish-Ka-Bob features both beef

and chicken kabobs, along with cabbage rolls, salad, and Lebanese bread.
---
Itoo Hall

Banquet Facilities

Main Banquet Hall

Small Gathering Room

Outside Pavilion

4909 W Farmington Rd

Peoria, IL 61604

(309) 676-9725

banquets.itoohall.com

facebook.com/itoobanquethall

Contact Us to Host Your Next Event

Semaan Trad, Business Manager