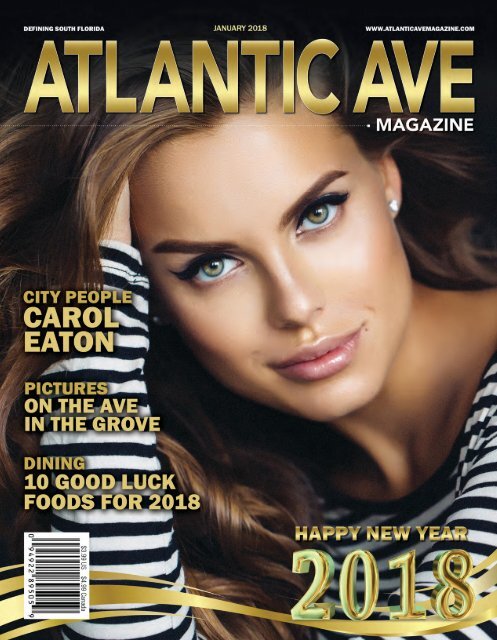 Atlantic Ave Magazine January 2018 Issue
Create successful ePaper yourself
Turn your PDF publications into a flip-book with our unique Google optimized e-Paper software.
www.AtlanticAveMagazine.com | january 2018 | 1
---
COMING SOON

TO BOCA RATON

WINTER 2017

A Full Service Goldwell and

Ouidad Salon with

30+ years Experience

Master Stylist Specializing

in Color, Hair Extensions,

Curly Hair and more.

Located inside PūrLife

Fitness Center in a Private

intimate setting.

2 | january 2018 | www.AtlanticAveMagazine.com

www.purstrands.com

@purstrandsalon

PURLIFE FITNESS CENTERS

561.852.9200

IN THE HEART OF PINEAPPLE GROVE

45 NE 2nd Avenue, Delray Beach

NEW BOCA RATON LOCATION

9 Plaza Real South, Boca Raton

www.purlifedelray.com
---
IT'S NOT

JUST FITNESS

IT'S A LIFESTYLE

NEW LOCATION COMING TO

BOCA RATON - WINTER 2017!

DELRAY BEACH

PREMIER FITNESS CENTER

World-Class Personal Trainers

150+ Group Fitness and Yoga classes per month

Best in Class Strength and Cardio Equipment

PURGREENS Fit | Fast | Fresh Restaurant

PURSTRANDS a Full-Service Goldwell Hair Salon

PURLIFE FITNESS CENTER

561.852.9200

PURSTRANDS

561.852.9200

RECEIVE 25% OFF

OF YOUR FIRST SALON VISIT

IN THE HEART OF PINEAPPLE GROVE

45 NE 2nd Avenue, Delray Beach

www.purlifedelray.com

www.purstrands.com

www.AtlanticAveMagazine.com | january 2018 | 3
---
contents

56

90 98 118

REGULARS

6 From the Editor

98 City People - Carol Eaton

LOCALS ONLY

8 In The News

24 Under The Spotlight

32 Delray Under $50

36 Happenings

PICTURES

42 On The Ave

46 In The Pineapple Grove Arts District

ENTERTAINMENT

52 Gotta Know

54 Gotta See

56 Gotta Hear

58 Gotta Read

HEALTH & BEAUTY

60 Pain Relief

Sports Chiropractic and You

62 Dermatology

The Silhouette Instalift

64 Your Dental Health

How To Choose The Right Dental Office

66 Body Beautiful

5 Ways to Help Your New Years Resolutions

SPECIAL FEATURES

68 Pellegrino Dining Concepts

Prime Tuscany Steakhouse,

Il Bacio Nightlife + Baciami Italiano

70 The Delray Beach Club

Fun For All Reasons And Seasons

74 Puro's Cigar

Cigars And Celebration

76 Tzikas MD

Dr. Miguel Mascaró Creates A Youthful

Look For His Patients

78 Posh Properties

Agents Offer Local, Professional,

Real Estate Expertise

80 Tipsy SalonBar & Spa

Get Pampered While Drinking Wine

84 Purlife Fitness Center Delray Beach

Assess For The Best

86 Delray Dermatology + Cosmetic Center

Discover Comprehensive Dermatology Care

88 Counseling

90 5 Wеddіng Trеndѕ For 2018

92 8 Great Places To Visit In The UK

94 Delray Beach Marketing Cooperative

96 Old School Square

FASHION

100 What RU Wearing®

DINING

118 Restaurant Review:

Banyan Restaurant & Bar

Culinary Excellence

120 Recipe

Beef Braciole

122 10 Good Luck Foods For 2018

124 Guide

MISC

132 PetXpert

Are our Pets in Danger From This

Toxic Threat?

133 Pet Spotlight

134 5 Reasons Most People Fail at

Their New Year's Resolutions

136 10 Ways To Find A Date

138 6 Surprising Facts You Didn't Know

About You...

140 What Will Your Tombstone Say

About You?

LEISURE

143 Brain Teasers

Crossword Puzzle, Sudoko And Enigma
---
133 136

Publisher

David Mizen

Editor

Yvette Roulette

Contributing Editors

Diane Feen, Nicol Jenkins, Lisa Marie

Art Director

Fabio Passere

Designer

Eduardo Passere

Senior Account Executive

Harvey Lustig

Photographer

Melissa Korman

Office Contact

335 East Linton Blvd. B14-832090

Delray Beach, FL. 33483

Ph. 888-309-1110

info@atlanticavemagazine.com

www.atlanticavemagazine.com

Printed in the USA. Atlantic Ave Magazine is not responsible for typographical or

production errors or accuracy of information provided by its advertisers. Reproduction

or use of editorial or graphic material in any manner without permission is prohibited.

The opinions, beliefs and viewpoints expressed by the various authors in this magazine

do not necessarily reflect the opinions, beliefs and viewpoints of Atlantic Ave Magazine or

the staff at Atlantic Ave Magazine.

www.AtlanticAveMagazine.com | january 2018 | 5
---
from the

editor

Hello 2018!!!

Every January many of my friends make 'Resolutions'

I, instead make a list of 10 things I'd like to

accomplish that year. One task is easy (organize

closet, or make doctor's appointments), one is almost

impossible (win the Powerball), and the rest range

from 3-9 in degree of difficulty (eat more meals at

home, travel internationally, call distant family members). This

year I have decided to only make ONE... Be Kinder. In 2018 I will

strive everyday to be kind in every aspect of my life. I promise to be

kinder to myself, family, friends, and even strangers. My hope is that

consciously making an effort to be kind will help me see the kindness in

others, and those lacking kindness may see it in me.

Which leads me to our January City Person Carol Eaton - Delray

Beach's own Mother Teresa. The love and generosity of this woman is

immeasurable. She gives all of herself to family and community. Her

philanthropy reaches all across Delray - we are lucky she chooses to live

in our City by the Sea.

And speaking of Luck... We can all use a little bit of luck, right? Some

cultures believe that eating certain foods in January can help make the

new year a little luckier! Check out '10 Good Luck Foods' and see if

anything appeals to you! I plan on eating them all for better odds!

Did Santa bring anyone an engagement ring for Christmas? Weddings

are no longer ho-hum ceremonies with predictable receptions. Read all

about the top 5 new 'Wedding Trends' for 2018 in our Special Features.

If you're planning on travelling in 2018 - think about exploring the United

Kingdom. London is a popular city - but there are other less known parts of

the UK with many hidden treasures ready

to be discovered. '8 Great Places To Visit

In The UK After London' will suggest a few

of these destinations.

All of us at Atlantic Ave Magazine

wish everyone a year filled with health,

wealth, happiness, and above all love.

Learn from

yesterday,

live for

today,

hope for

tomorrow...

- Albert Einstein

Yvette roulette, editor
---
www.AtlanticAveMagazine.com | january 2018 | 7
---
locals only | in the news

Scuola Vecchia

Wins BEST IN ALL

STATES

The 3rd Annual Comprehensive Approach

to Parkinson's Disease Symposium

presented by the American Parkinson

Disease Association (APDA) will

take place on Saturday, January 20 from

9am – 5pm at Boca Raton Marriott, 5150

Town Center Circle, Boca Raton. 33486.

Registration is now open.

The event is dedicated to bringing

leading health and medical professionals

together with Parkinson's patients

and family members in an open forum

to discuss leading treatments, programs,

medication and much more.

The symposium's keynote speaker

will be Dr. Corinne Lasmézas, from The

Scripps Research Institute of Florida. She

is an internationally recognized expert in

the field of neurodegenerative diseases

due to misfolded proteins, such as Parkinson's,

Alzheimer's and prion diseases.

The medical director of APDA's South

Florida chapter, Dr. Arif Dalvi, is the conference's

co-chair and will also be speaking

that day.

Register online: https://www.apdaparkinson.org/community/southflorida/events-sf/symposium/

By Phone: 800-825-2732

Welcome To

The Yaffa &

Associates Team!

In the Pizza Category, Scuola Vecchia

with more than 25 varieties of pizza,

came in first for the State of Florida in

THE DAILY MEAL's contest!

Sculoa Vecchia is located at 522 E. Atlantic

Ave. Downtown Delray Beach, Fl

561-865-5923, www.scuolavecchiapizzeria.com.

American

Parkinson Disease

Association South

Florida

We are so proud to have a new

member of the Yaffa & Associates

team. Please join us in welcoming Luz

Hellman - "Lucy."

Lucy is a technically-skilled senior

paralegal specializing in High-profile

family law matters. With more than 25

years of extensive experience in case and

records management, Lucy is proving to

be an amazing asset to our team.

Lucy holds a Bachelor of Science degree

in Criminology and Anthropology

from Florida State University, a Legal Assistant/Paralegal

Certificate from Florida

International University, and an Alternative

Dispute Resolution Certificate

from Nova University.

Lucy was born in Cuba and is fluently

bilingual in Spanish and has understanding

in resolving multi-cultural

family conflicts.

continued page 10

8 | january 2018 | www.AtlanticAveMagazine.com
---
OPEN HOUSE EVENT

WELCOME A WORLD-CLASS, NEW YORK

TALENT TO YOUR OWN BACKYARD.

Dr. Julian Mackay-Wiggan, MD, MS, is a board certified dermatologist.

She has been a professor and practicing dermatologist at Columbia

University for the past 15 years. She specializes in hair loss and

general medical dermatology (skin checks, skin cancer, eczema) and

has been featured in The New York Times, Men's Health, and

Women's Health as one of the top hair loss experts in the country. We

are excited to welcome her to our team Jan 2 nd 2018!

Meet ALL our amazing providers at our

Exclusive Boynton Beach Open House Event

Thursday, January 11th 5-7:30PM

9897 Hagen Ranch Road, Boynton Beach - RSVP Required Space is Limited

Boynton Beach 561.364.7774 www.SipDerm.com Boca Raton 561.955.8885

Meet Our Amazing Team!

Dr. Robyn Siperstein-Paul

Yale University

Dr. Madelyn Lipman

N.Y.U. Medical Center

Jeanelyn Berges, PA

Janette Menosky, LME

Dr. Elizabeth Lebrun Nestor

Cornell University

Dr. Suzanne Micciantuono-Meran

University of Florida

Dr. Julie Forero

Research at Ohio State

Dr. Julian Mackay-Wiggan

Columbia University

Dr. Chris Buckley

On-site Mohs Surgeon

Lainie Buck, PA

Melanie Ford, LME

www.AtlanticAveMagazine.com | january 2018 | 9
---
locals only | in the news

Delray Beach

Childrens Garden

Receives Generous

Donation

Orchard Supply Hardware, located at

510 Linton Blvd. presented a $5000

check at their Ribbon Cutting Ceremony to

Delray Beach Children's Garden, located

at 137 SW 2nd Ave. Delray Beach, 561-

716-8342. Their vision is to nurture ecoconsciousness

in children through garden

education, exploration and play in nature.

All children are welcome.

To learn more go to www.delraybeachchildrensgarden.org.

Follow them on Facebook

& Instagram.

Delray Chamber

Leads Group

Sets Record For

Collaboration

The Greater Delray Beach Chamber of

Commerce boasts many reasons why

businesses should join and participate, but

one of the organization's Leads Groups, the

Delray Business Partners, can give thousands

of reasons for joining.

Leads Groups are entities within the

Chamber comprised of local business people

who share a simple belief—they can

be more successful together than on their

own. Through leads, referrals, sharing of

best practices and encouraging each other,

each group builds a network of trust and

confidence that helps its members thrive.

Under the leadership of Jessica Rosato,

Chairman of the Delray Business Partners

Leads Group, the group has set a record

for collaboration with one another. During

2017, the 30 members of the Delray

Business Partners generated more than

$150,000 of gross sales dollars by doing

business with one another as well as by referring

colleagues to potential clients.

Diana Hileman of Hileman Law states,

"People prefer to do business with people

they know, like and trust and this group

certainly provides the means through

which to do that. I have received many referrals

from our Delray Business Partner

members and certainly appreciate their

confidence in my business."

According to Ms. Rosato, "Chamber leads

groups allow members to develop strong

relationships with their counterparts in a

variety of other businesses. At each meeting,

members are encouraged to exchange

business leads—potential clients or customers

for other members of the group. In

effect, their contacts become your contacts;

their customers can become your customers.

Members also rotate making short presentations

about their businesses."

For information about the Greater Delray

Chamber of Commerce and Leads Groups,

contact Kim Bentkover at (561) 278-0424,

ext. 106 or visit http://www.delraybeach.

com/leads-groups.

Yaffa & Associates

Gives Back

We often get so involved in everyday

life that we forget about the less fortunate.

Reflecting back on 2017, we at Yaffa

must say how proud we are of our team at

Yaffa & Associates for giving back. Although

our team is small and intimate, our giving

goals are mighty. During 2017 we particicontinued

page 12

10 | january 2018 | www.AtlanticAveMagazine.com
---
www.AtlanticAveMagazine.com | january 2018 | 11
---
locals only | in the news

pated in fundraising walks, we donated to

Hurricane Harvey and Hurricane Irma, we

donated our time to United Way and American

Red Cross. We all understand that giving

back to our community is one of the

most important things we can do. We are

so proud of our team and we are already

planning our 2018 giving goals! Have you

started to plan yours?

Welcome Dr.

Robert Safranski

III to the Conde

Center Team!

Dr. Safranski, a South Florida local, joins

the practice bringing his extensive

knowledge in sports injuries and orthopedics

maladies. He is a graduate of the University

of Florida in Gainesville, he then attended

Parker University in Dallas, TX where he

received his Doctorate in Chiropractic. He

looks forward to bringing his passion and

expertise back to the community.

Delray Beach

Housing Authority

Releases 2017

Annual Report

The Housing Group (Delray Beach Housing

Authority (DBHA) and its nonprofit

The Delray Housing Group) has released its

2017 Annual Report.

This report to the DBHA Board of Commissioners

and the community highlight

a few stories of the 52 families enrolled in

the Family Self Sufficiency program, most

of whom are actively working on goals to

purchase homes, earn technical or college

degrees, secure higher paying jobs or to

simply learn valuable life skills such as financial

literacy and the importance of improved

credit scores.

The stories in the Annual Report include

the opening of Village Square Family Development,

which was a major milestone

in the redevelopment of that neighborhood

into a viable, mixed income community.

The completion of the West Settlers'

Mixed-Use building is another example of

fulfilling the goal of expanding affordable

housing within the City of Delray Beach.

According to Dorothy Ellington, President

and CEO of the Delray Beach Housing

Authority, "In 2017, we saw much progress.

We were also hard at work on new ideas,

planning and partnerships to meet future

challenges and to brighten the stories of all

those we serve at The Housing Group."

To view a copy of the 2017 Annual Report,

visit http://dbha.org/annual-report-2017/.

Oshogatsu: A New

Years Celebration

At Morikami

Museum And

Japanese Gardens

2nd Sunday of January annually

(January 7, 2018)

The New Year is Japan's most important

and celebrated holiday. Oshogatsu,

Morikami's traditional New Year's Festival,

continued page 14

12 | january 2018 | www.AtlanticAveMagazine.com
---
Get away… without going away.

Crane's Beach House, a distinctive boutique hotel featuring 28 tropically appointed guest suites and luxurious villas, is nestled within

a lush, verdant tropical setting. Please call for special rates & packages.

CRANE'S BEACH HOUSE

BOUTIQUE HOTEL & LUXURY VILLAS

82 Gleason Street, Delray Beach, FL 33483

TF 866-372-7263 W cranesbeachhouse.com

www.AtlanticAveMagazine.com | january 2018 | 13
---
locals only | in the news

We're Putting Our

BEST FOOT

FORWARD

WITH A NEW LOOK

FOR DELRAY BEACH'S

FAVORITE

DESIGNER DESTINATION

(FORMERLY FOOTCANDY)

LOCATED ON 1ST & 1ST IN

DB's SOFA DISTRICT

FEATURING

THE NEWEST STYLES OF

EUROPEAN & AMERICAN

DESIGNER

SHOES,

ACCESSORIES

& GIFTS

104 S.E. 1ST. STREET

DELRAY BEACH,FL 33444

(561)278-5545

www.JoyaDelray.com

we're taking a step in

a new direction...

same great owner

bringing you more of

what you want

14 | january 2018 | www.AtlanticAveMagazine.com

offers entertainment and games, many

surrounding the theme of each year's Japanese

zodiac.

There's lots to see and do at Oshogatsu!

Experience the roar of taiko by Fushu

Daiko, the playful shishimai lion dance,

our signature mochitsuki, or rice-pounding

ceremony, and open air koto performances.

Shishimai Stage - Fushu Daiko welcomes

the New Year with Shishimai, the

Lion Dance, to the beat of taiko drums!

Koto Stage - Enjoy musical performances

by Friends of Koto!

Mochitsuki - Experience our signature

rice-pounding ceremony to make mochi,

traditional and auspicious New Year's

rice cakes on Festival Grounds.

Tea Ceremony - Observe the peace

and quietude that accompanies sado, a

traditional Japanese tea ceremony at the

Yamato-kan.

Japanese Gardens 101 - Get an introduction

and an inside look into one of

the six historic gardens of Roji-en. Meets

in the lobby.

Bonsai Demonstrations on festival

grounds - Watch our experts trim a tree

and learn how to take care of your very

own.

All Day Activities - Enjoy games and

crafts for kids and adults alike – try your

hand at hanetsuki, Japanese badminton

and much more!

Pick up your exclusive Oshogatsu t-

shirt! - Have our official 2018 design

screen-printed on a t-shirt at the Fine

Print Shoppe booth. Bring your own t-

shirt (we recommend a light colored

shirt) and screen-printing is FREE for the

first shirt ($5 per shirt per each additional

shirt brought from home). Don't have a

shirt to bring? No problem! You can purchase

a shirt with our design for $10.

Exhibits @ Oshogatsu - On Yamato Island

- Explore Morikami's bonsai collection

and the exhibitions Japan Through

the Eyes of a Child and The Yamato Colony:

Pioneering Japanese in Florida.

Morikami Museum and Japanese Gardens

is located at 4000 Morikami Park

Road in Delray Beach, just off of Jog Road

between Linton Blvd. and Clint Moore Rd.

Martin Luther

King, Jr. Breakfast

Celebrating The Life Legacy

January 15, 2018 - 8:30am-10am

The Spady Cultural Heritage Museum

begins each year with a signature

event celebrating the life and legacy of

Martin Luther King, Jr.

At each annual breakfast there is featured

entertainment such as choirs or

poetry presentations along with honored

speakers who share their perspectives

on Dr. King's legacy. April 4, 2018, marks

continued page 16
---
www.AtlanticAveMagazine.com | january 2018 | 15
---
locals only | in the news

the 50th anniversary of Dr. King's death.

The Martin Luther King Jr. Breakfast is

an inspirational start to the day of service

that the King Holiday embodies.

The annual January breakfast event has

swelled to welcome more than 150 people

from Palm Beach and Broward counties to

the Delray Beach Golf Club, after beginning

in 2000 as a 'home-style' breakfast and filmshowing

at Old School Square.

The Spady Museum's celebration has

become a 'must-attend' occasion for the

community and is regularly attended by

county and city government heads, civic

and church leaders, as well as representatives

from education, art & culture and

other nonprofit organizations.

In previous years, the MLK Breakfast has

featured musical selections by The Pasco

Baker Concert Choir and "Double Trouble"

twin singers Rashad and Tashad Gardenhire

and presentations by winners of the

Palm Beach Poetry Festival and Knights of

Pythagoras' South Florida Youth Speak Out!

oratorical contest, Delray Beach Commissioner

Angeleta Gray, Dr. Henrietta Smith of

the University of South Florida and Dr. Art

Evans of Florida Atlantic University.

Delray Beach Golf Club and hosted by

the Spady Museum. For more information

please call 561-279-8883 or visit spadymuseum.com.

29th Annual

Downtown Delray

Beach Festival Of

The Arts

Saturday, January 20th, 2018

10:00am to 5:00pm

Sunday, January 21st, 2018

10:00am to 5:00pm

The Downtown Delray Beach Festival of

the Arts, consistently ranked as one of

the best art affairs in the U.S. by Sunshine

Artist Magazine, blends long-time favorites

with the most buzz-worthy names on the

contemporary arts scene. Celebrating its

29th year, this juried art festival of handcrafted

artwork including glass, photography,

painting, mixed media, fiber, jewelry

and much more. This much anticipated,

premiere Delray Beach art festival hosts

hundreds of artists exhibiting and selling

their work in an outdoor gallery that spans

one mile of Atlantic Avenue from US1 all

the way to A1A.

Come explore the crystal clear Atlantic

Ocean or visit the unique galleries and

boutiques. Downtown Delray Beach features

exciting public artwork and working

artists throughout the district, creating a

warm and friendly atmosphere that makes

Downtown Delray Beach and ideal place

for one of the top art festivals of the season.

The event will take place on Atlantic

Avenue from US1 to Andrews Avenue. For

more information visit artfestival.com.

Delray Fashion

Week 2017

Jan. 24-28, 2018

Couture is part of our culture in Downtown

Delray and this is never more true

than during Delray Beach Fashion Week,

when the city comes alive with style! Experience

five days of beauty, style & fashion in

Downtown Delray at the 5th Anniversary of

Delray Beach Fashion Week created by the

Delray Beach Downtown Development Authority

(DDA) & the Downtown businesses.

continued page 18

16 | january 2018 | www.AtlanticAveMagazine.com
---
www.AtlanticAveMagazine.com | january 2018 | 17
---
locals only | in the news

Downtown Delray Beach's designers and diverse fashions

will take center stage at the:

Opening Night Evening Wear Runway Fashion Show

(Wed. 1/24)

Delray on the Runway Designer Fashion Show & Hair

Show (Thurs. 1/25)

Tropical Paradise Luncheon & Fashion Show (Fri. 1/26)

Vince Canning Stiletto Race (Fri. 1/26)

Swim & Surf Runway Fashion Show (Sat. 1/27)

Fashion Week Boutique pop-up shopping event (Sun.

1/28)

Events will take place throughout Downtown Delray Beach.

Runway seats are ticketed.*

Tickets are now available for purchase online through

Eventbrite (www.eventbrite.com).

NEW THIS YEAR: In celebration of Delray Beach Fashion

Week's 5th Anniversary, a Fashion Passion VIP ticket is now

available for purchase. Receive VIP seating at all four fashion

shows, Special Anniversary Edition SWAG Bag designed

by Amanda Perna (valued at $150) & filled with Downtown

SWAG, & admission to the VIP reception.

*Raffle & ticket proceeds from the Opening Night Evening

Wear Fashion Show (1/24), Tropical Paradise Luncheon &

Fashion Show (1/26) and the Swim & Surf Runway Fashion

Show (1/27) benefit Delray Beach Achievement Centers for

Children & Families and proceeds from the Delray on the Runway

Designer Fashion Show & Hair Show (1/25) benefit Art

& Education Programming at the Arts Garage. With each ticket

purchase, you'll have a chance to win a Downtown Delray

Beach prize package, valued at $1,500. Additional raffle tickets

will be available at each show for $5 per raffle ticket or $10 for

three raffle tickets.

For more information please call 561-243-1077 or visit delrayfashionweek.com.

18 | january 2018 | www.AtlanticAveMagazine.com
---
www.AtlanticAveMagazine.com | january 2018 | 19
---
atlantic ave magazine on vacation

Thank you for all your submissions to On Vacation

With Atlantic Ave Magazine! Take Atlantic Ave

Magazine on vacation with you and send us a picture

with "On Vacation with Atlantic Ave" in the subject

box to info@atlanticavemagazine.com and you will

be entered in a drawing to win a gift certificate for

dinner in a restaurant on the Ave!

Kenya Spear, who lives in The Historical District of Delray Beach,

Florida, enjoys traveling and visiting museums. Recently, she

was in Washington D.C. and visited The Al Weiwei, exhibit, Trace,

at The Hirshhorn Museum; The Smithsonian Institute.

"SOUTH FLORIDA'S PROFESSIONAL

ROOFING CONTRACTOR"

SINCE 1978

CCM OF FLORIDA.COM

« ALL TYPES OF ROOFS

« REROOFING SPECIALISTS

« REPAIRS AND MAINTENANCE

« NEW CONSTRUCTION

« MAINTENANCE PROGRAMS AVAILABLE

« LEAK SPECIALISTS

FREE ESTIMATES

(561) 276-9500

140 NW 18TH AVE « DELRAY BEACH

PALM BEACH 561-734-6117

BROWARD 954-421-7551

www.gulfstreamroofing.com

CCC 011249

20 | january 2018 | www.AtlanticAveMagazine.com
---
www.AtlanticAveMagazine.com | january 2018 | 21
---
locals only | in the news

Grand Openings

A WOODEN RIBBON CUTTING BY ORCHARD SUPPly HARDWARE

510 Linton Blvd., Delray Beach, Fl 33444

561-808-1712 | www.osh.com

TMS OF THE PALM BEACHES

4205 W. Atlantic Ave. C301, Delray Beach, Fl 33445

561-332-3285 | www.tmsofpb.com

JAN KINDER CENTER FOR HEALTH & WELLBEING

601 N. Congress Ave, St 426, Delray Beach, Fl

561-510-1022 | www.jankinder.com

22 | january 2018 | www.AtlanticAveMagazine.com
---
TRANSFORMATION STUDIO

Ready to take your physique to the next level?

www.AtlanticAveMagazine.com | january 2018 | 23
---
Spotlight

locals only | under the spotlight

In their own words

Feinstein Dermatology &

Cosmetic Surgery

BY Bridgit Nolan, M.D., FAAD

Board Certified DermaTOLOGIST

My name is Bridgit Nolan and I recently moved to Delray Beach with

my husband and one-year-old son, after spending several years

in private practice in Miami. I completed my undergraduate education

at Cornell University, where I earned a B.A., Summa Cum Laude.

I am a Magna Cum Laude graduate of SUNY Upstate Medical University

in Syracuse, New York, and completed my dermatology residency at the

University of Miami Miller School of Medicine. I am Board Certified by the

American Board of Dermatology and am highly trained in medical, cosmetic

and surgical dermatology. In addition to providing medical dermatology

for patients of all ages, I specialize in early skin cancer detection and

treatment. I also have particular expertise in cosmetic procedures such

as Botox®, fillers, and anti-aging skin care. In May I joined the Feinstein

Dermatology team, where I am dedicated to providing the highest standard

in dermatological care and to helping patients look and feel their best! I am

involved in our community's health system as a consulting dermatologist

at Delray Medical Center. In my free time, I enjoy traveling and spending

time with my family. Please call to schedule an appointment.

changing faces make-up

BY Sabrina Nameri

My name is Sabrina Nameri. I am a long time enthusiast of both

arts and Science. I work as an Aesthetician and literally bring

a clinical and whimsical approach to the table. Being dual licensed

as an Aesthetician and Tattoo Artist with a Bachelors of Fine

Arts, allows me to perform a number of procedures varying from advanced

skincare techniques to permanent makeup in an integrated

methodology. Working at Changing Faces is the perfect fit as I am able

to apply all facets of my education and skill to bring results to skin of all

ages and sexes. Anyone who knows me professionally or personally can

attest that I am passionate about skincare and helping people feel and

look their best - all day, every day! My life's work and purpose is making

everything and everyone around me beautiful.

Changing Faces Make-up

7431 W Atlantic Ave #33

Delray Beach, FL 33446

561-265-5348

www.changingfacesmakeup.com

Feinstein DermaTOLOGy & Cosmetic Surgery

6140 West Atlantic Avenue

Delray Beach, FL 33484

561-498-4407 | 888-357-DERM

feinsteindermatology.com

24 | january 2018 | www.AtlanticAveMagazine.com
---
NOW UNDER CONSTRUCTION

Delray Beach. It isn't just for the beach-centric. Walk down Atlantic

Avenue any day or night and you'll fi nd boutiques for the fashioncentric,

cafés for the java-centric, celebrity chefs for the gastrocentric.

You'll also fi nd 111 First Delray, with luxurious resort-style

living, steps off Atlantic, and central to everything you love about

Delray. Including the beach.

LIVE DELRAY-CENTRIC

New, contemporary condominiums starting from the $400,000s

SALES OFFICE

12 SE 1st Avenue #102

Delray Beach

561-926-9017

LOCATION

111 SE 1st Avenue

Delray Beach

111First Delray.com

Oral representations cannot be relied upon as correctly stating representations of the developer. For correct representations, make reference to the documents required by Section 718.503,

Florida Statutes, to be furnished by the developer to a buyer or lessee. Obtain the property report required by federal law and read it before signing anything. No federal agency has judged

the merits or value, if any, of this property. We are pledged to the letter and spirit of U.S. policy for the achievement of equal housing throughout the Nation. We encourage and support an

affi rmative advertising and marketing program in which there are no barriers to obtaining housing because of race, color, sex, religion, handicap, familial status or national origin. This ad

does not constitute an offer to sell or a solicitation of an offer to buy a unit in the condominium. No solicitation, offer or sale of a unit in the condominium will be made in any jurisdiction in

which such activity would be unlawful prior to any required registration therein. Artist conceptual renderings.

www.AtlanticAveMagazine.com | january 2018 | 25
---
Spotlight

locals only | under the spotlight

In their own words

Zarina Staller

Dentistry, D.M.D.

BY Dr. Zarina Staller

My name is Dr. Zarina Staller and my passion as a dentist is

simple — it's about helping people. Having grown up in a family

filled with dental health professionals, I saw from a young age

how dentistry can dramatically and powerfully change someone's life.

I am a proud graduate of the Colegio Odontologico in Bogota, Colombia

where I received my Doctorate of Dental Surgery. I went on to attend

Nova Southeastern University School of Dental Medicine in Davie,

earning my Doctorate of Dental Medicine in 2000 with honors. Fast

forward to today, and I am the proud owner of Zarina Staller Dentistry,

D.M.D in beautiful Delray Beach where patients are comforted in a relaxed

elegance during every visit. I believe in conservative dental care

to protect and maintain as much of your natural smile as possible for

care that's minimally invasive and sensible. I practice all phases of

dentistry, but place greater emphasis on cosmetic treatments, smile

enhancements, and implant reconstruction. My office is state-of-theart

with the most advanced dental technology available. My team

doesn't just change smiles, we change lives with a kind of care that's

compassionate, gentle, and personally yours. Come see for yourself!

Zarina Staller Dentistry, D.M.D.

16950 Jog Rd, Ste 106

Delray Beach, FL 33446

561-430-2959

dentistrybyzarinastaller.com

HEALTHY LIVING WITH

patti GREEN

BY Patti Green

My name is Patti Green, Board Certified Health Coach & Lifestyle

Expert with a passion to motivate, inspire and guide clients to live

a healthy and happy lifestyle. I received my training to practice at

the Institute for Integrative Nutrition - NYC, accredited by SUNY at Purchase

and Board Certified by the American Association of Drugless Practitioners.

In addition, I received a Bachelor of Science degree from Northeastern

University, Boston Massachusetts.Throughout my education, I was inspired

by the Institute's speakers, all at the forefront of wellness education today,

and included; Andrew Weil, MD, Barry Sears, MD, Deepak Chopra, MD and

Mark Hyman, MD. My education has given me a broad palette of information

to draw from when working with clients. Building on my success, I

currently work with individual and corporate clients from around the world,

with my dream team of expert coaches we give women the tools they need

to live life to the fullest in the lifestyle areas of Career, Creativity, Finances,

Wellness, Fitness, Organization, Relationships, Communication, and Personal

Style. As a motivational speaker I conduct a variety of workshops

as well as continue my one-on-one coaching. I'm very passionate about

inspiring and supporting people to live an awesome life!

HEALTHY LIVING WITH PATTI GREEN

www.patti-green.com

1-888-292-1991

Living in Delray Beach

26 | january 2018 | www.AtlanticAveMagazine.com
---
Delray Beach • North Palm Beach

CALL TODAY FOR A FREE CASE ASSESMENT: 561-819-6208

Divorce • Alimony • Mediation

Parenting Plans • Adoption • Domestic Violence

Beaulieu-Fawcett Law Group, P.A., is a well

known, well respected team of family law

attorneys dedicated to providing God-honoring,

high quality legal services.

Beaulieu-Fawcett Law Group has extensive

experience handling all levels of marital and

family law cases from the amicable to the

difficult and complex.

Stacy N. Beaulieu-Fawcett, Esq.

www.BLGFL.com

www.AtlanticAveMagazine.com | january 2018 | 27
---
Spotlight

locals only | under the spotlight

In their own words

BOLO

BY teodora groueva

My name is Teodora Groueva and I was born in Sofia, Bulgaria.

I have always been on the creative side and extremely passionate

about creating the right piece of jewelry for the right

soul. I owned my own Boutique for over 10 years when I lived in Sofia,

Bulgaria. I moved to Delray Beach 25 years ago and in 1998 I established

my own company in Boca Raton, Florida. With love and passion,

I opened Vladora Designs jewelry, creating fine and custom pieces. For

the last 4 years I have enjoyed managing a Lifestyle Boutique in Delray

Beach, BOLO - Be On the Look Out. We represent up to the minute

jewelry and our active wear and lifestyle collections are so unique. Our

current collections include creative brands such as, Terez from NYC,

Alo Yoga, Vanilla Monkey & Koral from California, Liquido and Dona

Jo from Brazil. We enjoy offering our customers a fun, vibrant atmosphere

and service. I am extremely excited to be part of Bolo's growth

and continued success. At BOLO we offer our customers a fun, vibrant

atmosphere and service so please come in and see us, we would be

delighted to help.

BOLO Be On The Lookout

1047 East Atlantic Avenue

Delray Beach, FL 33483

561-279-2757

Bolobtq@gmail.com

Advocare Care Advocates

BY Amy Seigel

I

am Amy Seigel, and the founder and President of Advocare Care

Advocates, a South Florida Elder Care Management firm who has

been servicing families for over 18 years. I am a proud Delray Beach

resident moved both my home and my business here 7 years ago. As

a Registered Nurse, I have over 35 years of experience assisting families

to navigate the healthcare and elder care system. Growing up in

the Northeast allowed me to connect with several families who have

parents that moved to Florida. Someone I knew up North had an issue

with finding a physician for their parent, helping a parent select a new

place to live or needed someone to help down in Florida with a Medical,

Hospital or care crisis. After helping many friends and their friends

and family; I realized the important need for this type of advocacy work.

I obtained my Certified Case Manager designation and,in 2009 I was

chosen to be "Case Manager of the Year", amongst my professional

colleagues! Our experienced professional team take an integrated care

management approach to: Medical Care Management; Home Care Management;

Transition Care Management; Life Care Planning. Please visit

my website at www.caremanage.com or call me at 561 266-3489 for a

no charge phone consultation.

Advocare Care Advocates

561-266-3489

www.caremanage.com

28 | january 2018 | www.AtlanticAveMagazine.com
---
www.AtlanticAveMagazine.com | january 2018 | 29
---
Spotlight

locals only | under the spotlight

In their own words

engel & Völkers

BY devin stoner

I

am Devin Stoner and was born and raised in Delray Beach. I understand

this city as only a true native can. I am passionate about providing

concierge-level service and next level experiences for my clients.

I started in the industry at a young age, managing top producing

agents in the area. Since then I've worked towards a nomination for

REALTOR magazines 30 under 30 list and with my team have closed

over $150 million in sales. While real estate is local, my capacity with

Engel & Volkers Delray Beach to serve clients is global and extends to

more than 800 connected EV shops, 9,000 advisors in 40 countries

and every luxury market in the world, providing me with in depth local,

national, and international market knowledge. Growing up in South

Florida has also provided me the opportunity to spend time on the water;

boating, fishing and diving. My experience in the yachting industry

combined with my expertise in Real Estate are vital for my specialty

in waterfront properties. You can reach me directly at 561-702-5953,

email at devin.stoner@evusa.com, or follow me on Instagram @devin.

evdelraybeach.

engel & Völkers

900 E. Atlantic Avenue Suite 14

Delray Beach, FL 33483 USA

561-362-2888

www.delraybeach.evusa.com/en/

HELLO MIMI

BY mary timmons

My name is Mary Timmons and I attended UCLA and graduated

from Pennsylvania State University. I have been a homeowner

in East Delray Beach for 11 years. My original line of work

was promoting rock stars as Director of Publicity with Atlantic Records

and then, as Executive Director at The Townwide Fund of Huntington,

where I raised tens of thousands of dollars for Long Island Charities.

My passion for the last 5 years has been caring for pets, although I do

have lifelong experience in caring for family and friends' pets and that

is why I started Hello Mimi. I have 2 cats of my own that I adore, Kitty

and Jilly. I offer an honest and reliable overnight pet care/sitting in the

comfort and privacy of the pets' home and backyard. I also love to play

tennis which I am currently teaching to my great nieces and nephews. I

love to cook and entertain for my large family as well as my dear friends

here in the Delray area. (5* review from my 4 year old great nephew,

Vincent, "good noodles Mimi!") I am truly living the dream by the sea

with my family and pets beside me!

Hello Mimi

365 SE 6th Avenue, #401,

Delray Beach, FL, 33483

631-972-8040

marytimmons2@msn.com

(Impeccable references upon request )

30 | january 2018 | www.AtlanticAveMagazine.com
---
DOES YOUR DENTIST

CARE FOR YOU &

YOUR SMILE?

Here's what your neighbors are saying:

"When you walk into the office, you would never know it was a

dental practice. It actually reminded me of and really felt like I was

at a luxurious spa. The entire staff was so professional. Dr. Staller

explained what she was going to do to me in terms I could

understand. She worked with me at my pace and immediately

gained my trust. This is why I highly recommend such a quality

practice. I am so thankful for all the care and personal attention

I received." - MILLICENT (Ft. Lauderdale, Actual Review)

All-inclusive, high-quality dental care

DESIGNED EXCLUSIVELY FOR YOU. IT'S ALL WE DO.

EVERYTHING WE DO IS:

• Affordable • Honest • Comprehensive

• Positive • Friendly

Exceptional Dentistry

- Dr. Zarina Staller

I grew up around compassionate

dentistry helping my father, an

oral surgeon, restore health and

function to smiles just like yours.

Years later, my love for helping

nervous patients feel comfortable

going to the dentist and maintaining

their dental care remains at the

heart of everything I do.

You're invited to relax at my office,

share your concerns, and be

the center of attention. It's a

refreshing approach to the kind,

sensible dental care you deserve.

CALL MY OFFICE, TODAY!

I'M HERE TO LISTEN AND

TRANSFORM YOUR SMILE.

16590 Jog Rd. • Ste. 106 • Delray Beach

561-430-2959 • www.ZarinaStallerDentistry.com

GENERAL, COSMETIC, & RESTORATIVE DENTISTRY • CROWNS/BRIDGES • PORCELAIN VENEERS

• BONDING • DENTURES • GUM DISEASE THERAPY • TEETH WHITENING

www.AtlanticAveMagazine.com | january 2018 | 31
---
locals only | delray under $50

By Darien Davies

Delray Under $50

Now that Delray Beach is a rising star in the art, culture and social scene,

it might seem a little difficult to find affordable activities, shops or

restaurants. I am here to prove you wrong. Delray Beach

offers a mix of high-end boutiques with laid-back

restaurants, and events for the whole family or

nightclubs for night owls. Here is what you can do

in Delray Beach in January for $50 or less.

It's the first art festival of the year and it's so exciting! January is

International Creativity Month, and what better way to begin the

next 365 days than with your creativity cap and complete opportunity.

If you need a little help getting your synapses firing, head

down to the 29th Annual Delray Beach Festival of the Arts on January

20 and 21. It's a great way to peruse the creative designs of artists

from around the nation and get an idea of all the possibilities that

could be. This Festival is ranked as one of the top fine art festival in

the country by Sunshine Artist Magazine, and it's easy to see why.

There's a mile-long worth of artists that feature everything from

painting, sculpture, woodworking, jewelry, arts and crafts, exterior

art, homemade soaps, unique clothing, and more. There is absolutely

something for everyone, including those who just want to enjoy

strolling down the Avenue people watching. The Festival is held on

Atlantic Avenue from North Federal Highway to A1A from 10a.m. to

5p.m. on both Saturday and Sunday. Admission is free so that please

plenty of cash for you to get creative with, and for you to stop in to

one of the local restaurants for a cocktail (just to energize you for

more walking, of course). You might even find something for your

home or office that will remind you to be creative throughout the

year. The possibilities are endless! Visit www.artfestival.com or call

(561) 746-6615 for more information.

The events are a great showcase for our local businesses, and you'll

also be privy to the hottest styles for 2018. It's a celebration of life that

will last all year long! Events are held throughout downtown and general

admission/viewing is free. Visit www.downtowndelraybeach.com

or call (561) 243-1077 for more information.

Having limitless possibilities and opportunities is kind of stressful.

The "what if's" are always around, and always will be, so

the best bet is to just pick the first option and run with it. Much

like you picked to live in Delray! If you are interested in re-finding

what you love about this city, hit the streets and wander around. January

is International Wayfinding Month and is a great time to enjoy all

the things great about downtown. Wayfinding encompasses all of the

ways in which people orient themselves in physical space and navigate

from place to place, so let's orient ourselves on the Avenue. Grab

your bike (or rent one from Richwagen's) and bike along A1A, rid-

We made it another year! Even though every day should be a

celebration, it's easy to get caught up in the alarm of work,

social, and extracurricular life. But, have no fear, there is a

week-long celebration in your honor, where you are able to find a little

more fanciness to make your life a little more fun. January is Celebration

of Life Month and is a perfect time to celebrate your look, which

is where the Fifth Annual Delray Beach Fashion Week comes in. Held

January 24 through 28, you are invited to experience five days of beauty,

style and fashion (oh my!). Downtown Delray Beach's designers are

business owners are the star of the show, with different events each

day: Opening Night Evening Wear Runway Fashion Show on Wednesday,

January 24; Delray on the Runway Designer Fashion Show and

Hair Show on Thursday, January 25; Tropical Paradise Luncheon and

Fashion Show and the Vince Canning Stiletto Race on Friday, January

26; Swim and Surf Runway Fashion Show on Saturday, January 27; and

Fashion Week Boutique pop-up shopping event on Sunday, January 28.

32 | january 2018 | www.AtlanticAveMagazine.com
---
ing over at least the George Bush or Atlantic Avenue bridges for

the elevated sights. Stop at North End and walk north, checking

out all of the boats and kiteboarders, and chill out on the sand

and in the ocean for a while. Grab a Peroni at Caffe Luna Rosa

afterward and then head West as you window shop all of our

local merchants. Stop at Veteran's Park to check out the boats

and kids playing in the playground. It'll feel good to swing on the

swing set, so don't pass up the opportunity. Continue west and

head to the Arts District where you can view the work of our local

artists. You might be thirsty so find your way to Park Tavern

for a draft beer and some shade, not to mention more people

watching at Worthing Park. There is so much to do in Delray and

all it takes is your feet. Enjoy finding your way in Delray, you

local you. Visit www.downtowndelraybeach.com or call (561)

243-1077 for a complete list of local hotspots.

Let's be honest, the holidays are expensive. It might take a

couple months to get caught up from presents, traveling

and treating yo'self, but you still want to enjoy the weather,

the New Year, and your weekends. Do not fret, Old School

Square to the rescue! January is Financial Wellness Month and,

on top of making a plan for maximizing and improving your savings

for the year, is a great time to make sense of your dollars

and cents. So, when they offer their Free Friday Concerts and

you're telling me that I can be entertained for $0, I'm in. The

month-long fun features Tony Succar & The Mixtura Band (Latin

flavor with a small tribute to Michael Jackson) Friday, January

5; The Kinected (pop/electro/Indie rock) on Friday, January 12;

Artikal Sound System (reggae/R&B) on Friday, January 19; and

the B Street Band (Bruce Springsteen tribute) on Friday, January

26. All shows begin at 7:30 p.m. and you're invited to bring lawn

chairs and a blanket, but no coolers or pets. Keeping track of

your finances has never been this fun. The Concerts are held at

the Old School Square Pavilion at 51 N. Swinton Ave. Visit www.

oldschool.org or call (561) 243-7922 for more information.

It's all about balance (and moderation, if you ask my aunt),

so let's balance out the past month with this month. It's no

secret that we spent that month of December (aka the holidays)

drinking and eating everything within arm's length, and

that we are toying with the idea of dieting on water and lemons

until we lose our Santa's-helper shape. But, it doesn't have to

be that horrendous. January is Get a Balance Life Month and

thankfully the good people at PurGreens have it all figured out

for us. They focus on healthy food that can be served in a quick,

engaging way for active, on-the-go guests, so it's perfect for a

quick lunch or post- or pre-workout snack. You can be certain

that you will leave with zero guilt regardless of what menu

item you order, which is because each dish was intentionally

created for nutrition and flavor. Sink your teeth into the roasted

sweet potato and chipotle black been collard green wrap ($11),

the cranberry walnut chickpea salad ($4/$7) or their Power

Bowl, with quinoa, ancient rice, carrots, almonds, cabbage, goat

cheese, golden raisins and homemade pesto for $10.70. They

also serve soups, breakfast items, shakes, acai bowls, dragon

bowls, 2 oz./4 oz. booster shots. It's almost as if you can balance

out your holidays with one visit (well, kind of), but it's so good

you'll keep coming back for more. PurGreens is located at 45

N.E. Second Ave. Visit www.purgreensdelray.com or call (561)

276-7387 for more information.

www.AtlanticAveMagazine.com | january 2018 | 33
---
When it comes to buying and selling real estate, you should work with a local.

103 NE 2nd Ave. - Delray Beach, FL 33444 | 561-330-4731 | www.poshflorida.com

Jerilyn Walter - Broker/Owner

561-537-0050 - Ext. 302

jerilyn@poshflorida.com

Anthony Aliberti - Realtor®

561-232-5924

anthonyaliberti61@gmail.com

Samantha Johnsen - Realtor®

954-839-4115

sam@poshflorida.com

Andrew Davis - Realtor®

954-415-6916

andy@poshflorida.com

Nicole Davis - Realtor®

561-756-5034

nicoledavissellshomes@gmail.com

Jim Wrona - Realtor®

561-880-7214

Jimmydelrayrealestate@gmail.com

Patrick Smaling - Realtor®

954-304-3114\

patrick@poshflorida.com

Mike Brito - Realtor®

561-337-0507

mike@poshflorida.com

Skyy Daley - Realtor®

561-506-8494

skyy@poshflorida.com

Gregory Williams - Realtor®

561-336-4051

gregory@poshflorida.com

Suzana Magalhaes - Realtor®

561-251-2044

suzana@poshflorida.com

Jaime Smith - Realtor®

561-777-4413

jaime@poshflorida.com

JJ Cordano - Realtor®

631-339-3533

jj@poshflorida.com

Christina Brackley - Realtor®

617-306-5994

christina@poshflorida.com

915 Hyacinth Drive - Delray Beach

Asking - $1,695,000

Gorgeous waterfront home completely remodeled,

travertine deck, pool and dock. Must see this beauty!

3815 Lake Drive-Waterfront home

Asking - $1,290,000

Welcome to paradise in this stunning home located directly

on Lake Eden. 160 ft. of magnificent lake views.

269 SE 5th Ave, - Delray Beach

Asking - $1,150,000 or Lease $6,000

Great commercial free standing building 6 offices,

conference room kitchen and tons of parking.

221 NW 18th St - Lake Ida

Asking - $799,900

Beautifully remodeled 4 bed/3bath pool home, vaulted

ceilings, Chicago brick driveway and pool deck.

275 N Swinton - Historic Delray Beach

Asking - $799,000

Fabulous opportunity to invest with tenant in place.

Historic downtown cottage, harwood floors, high ceilings.

3450 S Ocean Blvd #605 - Highland Beach

Asking - $699,900

Only waterfront 3 bed/2 Bath condo under 700k w/ private beach

access, tennis courts, largest heated pool in Highland Beach.

1125 Kingston Lane - Delray Beach

Asking - $574,900

Gorgeous newly built 3 bed, 2.5 bth, 2 car gar, designer

finishes, walk to beach, close to downtown.

PENDING

2175 S Ocean Blvd #102 - Delray Beach

Asking - $549,900

Costa Del Rey, 2 Bed/2 Bath, Move right in! Ocean front

building, beautifully remodeled unit, top of the line.

PENDING

233 NE 12th Street - Downtown Delray

Asking - $529,900

CBS constructed 3 Bed/2 bath, plus unfinished guest

house,desirable Dell Park.

5200 N Ocean Boulevard, 1406b,- Lauderdale By The Sea

Asking - $ 430,000

Wake up in paradise! This 14th floor oasis has direct ocean

34 views. | january Enjoy beachfront 2018 living | www.AtlanticAveMagazine.com

with all of the amenities!

4895 Sherwood Forest Drive

Asking - $399,000

Open floor plan & High Ceilings,

just perfect for entertaining.

225 NE 1st Street 401 - Delray Beach

Asking - $359,999

Great Penthouse Condo in The Astor.

1 Bedroom/1 Bath.
---
When it comes to buying and selling real estate, you should work with a local.

100 S. Federal Hwy. - Boynton Beach, FL 33435 | 561-214-4730 | www.poshflorida.com

Michelle Greenwald - Realtor®

561-306-5676

mgreenwald@gmail.com

Emily Gurvitch - Realtor®

561-777-9724

emily@poshflorida.com

Beverly Mandell - Broker/Associate

561-302-6196

beverly@poshflorida.com

Joe Mansour - Realtor®

561-706-9095

joe@poshflorida.com

Lena Pronuza - Realtor®

561-287-9115

jelena@poshflorida.com

Lea Black - Realtor®

561-336-8247

lea@poshflorida.com

Kirsten Smith - Realtor®

561-350-0348

kirsten@poshflorida.com

Tim Devine - Realtor®

561-843-9252

devine@poshflorida.com

Amanda Ennis - Realtor®

786-332-0132

amanda@poshflorida.com

Angela Wert - Realtor®

561-400-4493

angela@poshflorida.com

Alyson Meyer - Realtor®

954-868-8810

alison@poshflorida.com

Alecia Perez - Realtor®

561-935-7205

alecia@poshflorida.com

Jose Vidal - Realtor®

305-905-6078

jose@poshflorida.com

Jamie Cauvin - Realtor®

561-501-0608

cauvin@poshflorida.com

Holli Brisson - Realtor®

561-329-0381

info@poshflorida.com

790 Andrews Ave I-101 - Delray Beach

Asking - $1,125,000

Exquisitely updated, extra spacious corner unit.

Luxurious gated enclave is steps to the ocean.

12153 Boca Reserve Lane - Boca Raton

Asking - $879,900

Gorgeous waterfront home with all the trimmings, expansive

entrance with volume ceilings and incredible views.

PENDING

2700 N Federal Highway #510 - Lantana

Asking - $869,000

Peninsula on the Intracoastal - Water views all around

3bd - 2.1bath, amenities galore, luxury life style.

225 NE 1st Street #303

Asking - $624,999

Sleek and Modern 2BD,2BA Astor condo, stunning interior

gracious and light-filled living and dining room.

8621 Cobblestone Point Circle - Boynton Beach

Asking - $612,000

Stunning lakefront 5 bed ( plus bonus room) 4 bath

pool home with views galore.

609 Renaissance Way - Delray Beach

Asking - $599,000

Downtown living in this large 3 bed 3.5 bath townhome.

Offers private patio area oversized garage.

710 NE 7th Street - Boynton Beach

Asking - $474,900

Waterfront 2 bed/2bth condo sold with 5 new docks.

Great location, close to town and inlet.

PENDING

240 Sherwood Forest Drive - Delray Beach

Asking - $450,000

Great Buy in this non-required membership Golf

community. 5 mins to trendy Atlantic Ave, 3 bed,2.5bt.

133 N Pompano Bch Blvd 31209

Asking - $429,000

Steps to the sand in this oceanfront building, 2 bed, 2 bath

remodeled condo with ocean views from every room.

12246 Eagles Landing Way - Boynton

Asking - $319,900

Lakeridge Greens at Pipers Glen

Golf Course community, 3 Bedroom/2 Bath

30 Andrews Avenue 26C

Asking - $299,990

Garden style studio condo, quaint and charming, just 300 steps

to the sand and trendy Atlantc Ave. No rental restrictions!

806 E Winward Way #613 - Lantana

Asking - $298,500

Beautifully remodeled 3 bed 2 bth in full service

www.AtlanticAveMagazine.com waterfront luxury | january building. 2018 | 35
---
locals only | happenings

January

walk against violence

6

1

shark feeding

1

pickleball

1

cruise aboard delray yacht

1-31 Shark Feeding – Tues-

Sat - 10:30am, Sun1:30pm- $5.

Alligator Feeding –Wed & Sat

1pm. Stingray Feeding - Tues-Sun-

2:45pm. 561-274-7263, sandowayhouse.org

1-31 Sandoway Discovery

Center Jr. Shark Biologist

– Wed & Sun 3:15pm. Free. Designed

as a mock shark study, students

will be given the task of collecting,

examining their "sharks",

recording data and tagging. 561-

274-7263, sandowayhouse.org

1-31 Pickleball – $3-4. Call

for times. Pompey Park Community

Center. 561-243-7356. Delray

Beach Community Center. 561-

243-7250. Delray Beach Tennis

Center 561-243-7360. mydelraybeach.com

1-31 Cruise aboard Delray

yAcht Cruises – $23-26. Daily

sightseeing cruises at Tues-Sunday

at 1:30pm. delraybeachcruises.com

3-4 Old School Square Crest

Theatre presents cAPitol

Steps – 8pm. $65-75. 561-243-

7922, oldschoolsquare.org

4 Arts Garage presents Feed-

Back – 8pm. $10-12. Feedback is

Arts Garage's new poetry night,

your opportunity to step up to the

mic and share your gift for words

in front of a welcoming audience.

561-450-6357, artsgarage.org

5 Arts gArage presents A

Tribute to La Pasion De La

Lupe with Jessi Campo – 8pm.

$30-45. Latin meets Jazz. 561-

450-6357, artsgarage.org

com/Events

5 Old School Square Free

Friday Night Concerts: Tony

Succar & the Mixtura Band

– 7:30pm.Weather permitting;

bring lawn chairs, and bring the

family, but no pets or outside food

and beverage. Food trucks and

cash bar are available. Old School

Square Pavilion. 561-243-7922,

oldschoolsquare.org

6 wAlk Against Violence –

9am. Start at the Delray Beach

Community Center and continues

to Pompey Park Park. 561-243-

7000x5112

6 Arts Garage presents Dr.

Lonnie Smith Trio – 8pm. $30-

45. Soul Jazz. 561-450-6357, artsgarage.org

6, 13, 20, 27 Delray Beach

GreenMarket – 9am-2pm. The

GreenMarket is an open air marketplace

located at Old School

Square Park. delraycra.org/greenmarket

7 Oshogatsu New Year's Celebration

– $6-35. 10am-5pm.

Celebrate the Year of the Rooster

at the Morikami. 561-495-0233,

morikami.org

Arts gArage

presents A

Tribute to

La Pasion De

La Lupe with

Jessi Campo

7 Arts Garage presents Federico

Britos Quartet – 7pm.

$30-45. Latin Violinist. 561-450-

6357, artsgarage.org

8-9 Old School Square Crest

Theatre presents Santino

Fontana with Guest Jessica

Fontana – 8pm. $57-72. The Crest

Theatre Cabaret Series presents

two of Broadway's brightest! 561-

243-7922, oldschoolsquare.org

11 Delray Beach Chamber of

Commerce Contacts & Cocktails

at Spodak Dental – 5:15-

7pm. $10-20. It's the best way to

gain a broader awareness for your

business and build relationships

within the community. Spodak

Dental- 3911 W Atlantic Avenue.

561-278-0424, delraybeach.com

12 Arts Garage presents

Shine – 8pm. $10-12. A monthly

open mic showcase for local talent,

hosted by our new emcee

Chunky. 561-450-6357, artsgarage.org

12 Old School Square Free

Friday Night Concerts: The

Kinected – 7:30pm. Old School

Square Pavilion. 561-243-7922,

oldschoolsquare.org

12 Arts Garage presents

Karina Iglesias – 8pm. $30-45.

5

5 First FriDAy Art Walk –

6-9pm. Stroll through art galleries

and working studios, and meet

talented, local artists. 561-243-

1077, DowntownDelrayBeach.

36 | january 2018 | www.AtlanticAveMagazine.com

happenings continues >
---
www.AtlanticAveMagazine.com | january 2018 | 37
---
locals only | happenings

12

old school square crest theatre presents menopause the musical

13

15

miami big sound orchestra

martin luther king jr. breakfast

18

onyx art stroll

Rhythm & Blues, Boleros, Gospel

& Hip-Hop. 561-450-6357, artsgarage.org

12, 14, 19, 26 Murder on the

Beach Bookstore Booksignings

– Murder on the Beach

Bookstore. 561-279-7790, murderonthebeach.com

12-14 Old School Square

Crest Theatre presents

Menopause the Musical –

$60-70. This hilarious musical

parody, staged to classic tunes

from the '60s, '70s and '80s, will

have you cheering and dancing

in the aisles. See what millions

of women worldwide have been

laughing about for 16 years! 561-

243-7922, oldschoolsquare.org

12 Delray Beach Historical

Society Opening Exhibits –

6pm-8:30pm. The DBHS History

Exhibits Grand Opening! Two fascinating

history exhibits will be on

display, One, "The Last Frontier:

Delray Beach from 1491-1918"

&"Sunny Greetings from Delray

Beach" . 561.274-9578, delraybeachhistory.org

13 Arts Garage presents Miami

Big Sound Orchestra –

8pm. $30-45. Big Band Latin Jazz.

561-450-6357, artsgarage.org

13 Ride and Remember Trolley

– 7-9pm- $25. Spady Museum.

When you board the "Ride & Remember"

Trolley Tour, the history

of Delray Beach comes alive! 561-

279-8883, spadymuseum.com

14 Arts Garage presents

Andy T Band featuring Alabama

Mike – 8pm. $30-45. Big

Band Latin Jazz. 561-450-6357,

artsgarage.org

15 Martin Luther King Jr

Breakfast – 8:30am-10am- $30.

The Martin Luther King Jr. Breakfast

is an inspirational start to the

day of service that the King Holiday

embodies. Delray Beach Golf Club

and hosted by the Spady Museum.

561-279-8883, spadymuseum.com

15-20 The 14th Annual Palm

Beach Poetry Festival at Old

School Square – The 14th annual

Festival will offer six days

of readings, interview craft talks,

manuscript conferences, panel

discussion, social events, free

events, and so much more. palmbeachpoetryfestival.org

16, 21 Murder on the Beach

Book Clubs Murder on the

Beach Bookstore – 561-279-

7790, murderonthebeach.com

16 Arts Garage presents The

Meeting Theatre Production

– 7pm. $20. 561-450-6357, artsgarage.org

18 Arts Garage presents

ONYX Art Stroll – 7pm. Free

Entry. Arts Garage invites local

artists and artisans to showcase

and sell their art during a night of

amazing music from local emerging

musicians. 561-450-6357,

artsgarage.org

19-20 Arts Garage presents

Tito Puente Jr. – 8pm. $30-45.

Tito Puente Jr. is determined to

nurture the musical legacy left

by his father, and he does so with

charm and grace, captivating audiences

who echo his passion. 561-

450-6357, artsgarage.org

19 Old School Square Free

Friday Night Concerts: Artikal

Soundsystem – 7:30pm.

Old School Square Pavilion. 561-

243-7922, oldschoolsquare.org

20-21 Delray Festival of the

Arts – Free. 10am-5pm. Presented

by Howard Alan Events.

On Atlantic Avenue from US1 to

Andrews Avenue. artfestival.com

21 Arts Garage presents Andrew

Collins Trio – 7pm. $30-

45. Trailblazing roots. 561-450-

6357, artsgarage.org

24 Old School Square Crest

Theatre presents Jimmy

Webb – $57-90. MusicWorks

presents Jimmy Webb, American

songwriter, composer and singer

known worldwide as a master

of his trade. 561-243-7922, oldschoolsquare.org

24 An Evening Downtown –

Opening Night & the launch of

Fashion Week on Atlantic Avenue

in front of The Colony Hotel at 525

E. Atlantic Ave. 561-243-1077,

delrayfashionweek.com

24-28 Delray Beach Fashion

Week – Celebrate spectacular fashion,

local designers, art and beauty

at the 4th annual Delray Beach

Fashion Week created by the Downtown

Development Authority and

the Downtown merchants. 561-

243-1077, delrayfashionweek.com

25 Delray on the Runway –

7pm. $50. Delray Beach Designer

Runway Show at Arts Garage featuring

Downtown Delray Beach Designers,

reception, silent auction, guests

invited to dress in white. 561-243-

1077, delrayfashionweek.com

25 Old School Square Crest

Theatre presents Dr. James

Delgado, Underseas Adventurer

– $32-67. The Robert D.

Chapin Lecture Series presents an

afternoon with James Delgado, the

Director of Maritime Heritage, in

the Office of National Marine Sanctuaries

for the National Oceanic &

Atmospheric Administration, 561-

243-7922, oldschoolsquare.org

38 | january 2018 | www.AtlanticAveMagazine.com

happenings continues >
---
www.AtlanticAveMagazine.com | january 2018 | 39
---
locals only | happenings

sixth annual stiletto race 26

GET

BROWS

THAT RAISE

BROWS.

YOUR FIRST BROW WAX IS FREE *

ONE WAX IS ALL IT TAKES TO FALL IN LOVE.

DELRAY BEACH | 561 303 0908

410 East Linton Boulevard, 706

WAXCENTER.COM | europeanwax

COUPON CODE: BROW18. *Valid at

participating European Wax Center locations.

Guests must not have received a brow service

at any European Wax Center location within

one year of redemption to qualify, and must

reside within the state where redeemed. Proof

of residency may be required. Additional

restrictions may apply. European Wax Center

locations are independently owned and

operated. Offer expires 2/26/18. © 2018 EWC

Franchise, LLC. All Rights Reserved.

40 | january 2018 | www.AtlanticAveMagazine.com

12073_DelrayBeach_AtlanticAve__C.indd 1

11/29/17 5:05 PM

26 Tropical Paradise –

11:30am-1pm. $40. Resort Wear

Fashion Show & Luncheon at Che

- on the Intracoastal Waterway

- 900 E. Atlantic Ave, 561-243-

1077, delrayfashionweek.com

26 Vince Canning hosts the

6th Annual Stiletto Race to

benefit Achievement Centers

for Children and Families

– This years' event will be held at

the Old School Square Park in collaboration

with the Friday Night

Concert series. Race Registration is

$25 if purchased early and $35 day

of the race. The event is Free for

spectators. 5:30-7pm. 266-0003 or

delraystilettorace.com

26 Arts Garage presents

Troy Roberts – 7pm. $30-45.

Jazz saxophonist & Composer.

561-450-6357, artsgarage.org

26 Old School Square Final

Free Friday Night Concert:

B Street Band – 7:30pm. Old

School Square Pavilion. 561-243-

7922, oldschoolsquare.org

26-28 Delray Beach Plein Air

Festival – Head to Old School

Square Park to see all of the Plein

Air artisits. pleinairpalmbeach.com

27 Sandoway Discovery Center

Sharkfest – 10am-3pm. $5.

Love learning about sharks? Come

to this family fun, exhibit and activity

filled day dedicated to this apex

predator. 274-7263,sandoway.org

27 Swim & Surf Runway Show

– 7pm. $25. Swim & Surf Finale

Runway Fashion Show featuring

swimwear & beachwear at Old

School Square Park. 561-243-

1077, delrayfashionweek.com

28 fAShion Week Boutique:

Shopping Event – 1-4pm. Free.

Fashion Week Boutique Pop Up

Shopping event at Old School

Square Fieldhouse. 561-243-

1077, delrayfashionweek.com

28 Old School Square Crest

Theatre presents Nigh Fever:

Tribute to the Bee Gees

– 8pm. $35-45. Stellar Entertainment

presents Night Fever: Tribute

to the Bee Gees, the largest

production of The Bee Gees music

in the world! 561-243-7922, oldschoolsquare.org

30 Arts Garage presents

VIBE – 8pm. $5. Vibe brings local

musicians together in a collaborative

performance environment

creating a nurturing community

of and for the participants. 561-

450-6357, artsgarage.org

31 Old School Square Crest

Theatre presents Martin

Sexton – $47-57. MusicWorks

presents an evening with American

singer-songwriter and music

producer, Martin Sexton. 561-

243-7922, oldschoolsquare.org

Exhibits:

1-31 The Cornell Art Museum

Presents "Looking Glass" –

Tues-Sat 10am-5pm. Sun 1-5pm.

$8, Free for members. This group

exhibition marks the first show in

the Museum's renovated galleries

and features artwork that incorporates

reflection, be it the reflection

of the viewer or the space

around the art piece. 561-243-

7922, oldschoolsquare.org

12-31 Delray Beach Historical

Society Opening Exhibits

– Featuring "The Last Frontier:

Delray Beach from 1491-1918"

& "Sunny Greetings from Delray

Beach". 561.274-9578, delraybeachhistory.org
---
www.AtlanticAveMagazine.com | january 2018 | 41
---
pictures | on the ave

photos by melissa korman

1 2

3

4

5

6

7

1 Elle, Maria @ One Aveda Salon

2 Brad, Leighton, Becky @ Silverball Museum

3 Gigi, Ken, Deb @ Boathouse

4 Hope and Jack @ Tipsy Salonbar

5 Nicole @ Tipsy Salonbar

6 Lisa, Dr. Tzikas, Maria, Jennifer, Clara, Dr. Mascaro, Dez,

Barbara, Katie @ Tzikas Facial Plastic Surgery Center

7 Dayna, Brandon @ Silverball Museum

8 Hannah, Katherine, Rebecca, Candace @

Leighton Design Group

9 Kristin, Inga, Dr.Drew Schnitt, Ira, Christina @

Inspire Cosmetic Surgery & Med Spa

8

9

42 | january 2018 | www.AtlanticAveMagazine.com
---
www.AtlanticAveMagazine.com | january 2018 | 43
---
pictures | on the ave

photos by melissa korman

1 2

3

4

7

5

6

1 Sendie, Tori, Gina @ Luigi's Coal Fire

2 Marc On The Ave

3 Jilly and Hello Mimi! @ Pet Supplies

4 Geri, Karlie, Anthony, Mariska @ Mussel Beach Restaurant

5 Jennifer, Chelsea @ European Wax Center

6 Jesus @ Puro's Cigar

7 Melanie, Karly @ Massage Heights

8 Catherine, Kyren, Saniya, Sadao, Shayla On The Ave

9 Cameron, Sarah, Kaitlynn @ Mellow Mushroom

8

9

44 | january 2018 | www.AtlanticAveMagazine.com
---
www.AtlanticAveMagazine.com | january 2018 | 45
---
pictures | in the pineapple grove arts district

photos by melissa korman

1 2

3

4

7

5

6

1 Rob, Miles @ Banyan's

2 Richard @ Vatican Tattoo

3 Michael, Marc @ Il Contadino

4 Zaidi, Skyy, Kirsten, Jerilyn, Amanda, Angela @

Posh Properties

5 Sophie @ Lavender

6 Olivier, Anne @ Lavender Shop

7 Tom @ Goldsmith Shop

8 Lanzetta's Barbershop Crew

9 Jerilyn @ Posh Properties

8

9

46 | january 2018 | www.AtlanticAveMagazine.com
---
www.AtlanticAveMagazine.com | january 2018 | 47
---
pictures | in the pineapple grove arts district

photos by melissa korman

1 2

3

4

5

6

1 Shaina, Giovanni, Joe, Bridgette, Kirsten, Sky @ Purlife

2 Toro, Raul @ Raul The Barber

3 Mattia, Rolly @ Avant

4 Billy Jean, Mark @ Lanzetta's Barbershop

5 Susan, Nancy @ The mAe Gallery

6 Rene @ Rene Hair Studio

7 Lauren, Ronald, Flavie @ Furst

8 Melissa @ Delray Art & Framing

9 John @ Studio 5

7

8

9

48 | january 2018 | www.AtlanticAveMagazine.com
---
DELRAY BEACH, FLORIDA

AVEDAONESALON.COM • 561.272.1147

www.AtlanticAveMagazine.com | january 2018 | 49
---
what's new.

ART ON THE SQUARE

2ND ANNUAL JURIED FINE ART SHOW

Extraordinary, original works in all media by fine art and fine craft artists

from around the country. Presented by the Cornell Art Museum.

FEBRUARY 10 & 11, 2018

10 AM - 5 PM | FREE ADMISSION

Reliquary Jar, Henry Levine, glass

@ArtOnTheSquareDB

ArtOnTheSquareDB.com | CornellArtMuseum.org

51 N Swinton Ave | Delray Beach 33444

50 | january 2018 | www.AtlanticAveMagazine.com
---
www.AtlanticAveMagazine.com | january 2018 | 51
---
Know

entertainment | gotta know

Delray Artists Showcase Talents At Art Basel

Some hometown artists were able to

make their dreams become a reality.

For any aspiring or renowned artist,

being able to display your artwork at

Art Basel is an once-in-a-lifetime experience.

Art Basel has become the premier

art show located in Miami Beach. It provides

a platform for galleries and artists

to showcase their work, and sell their art

to collectors, museum directors and curators.

Art Basel also attracts art lovers

from around the world.

At this year's event, local artists displayed

their artwork at the new installation,

Trackside. The warehouse offered

mural space for many local artists. This

was made possible with the help of John

Griffin and Glayson LeRoy of Galera Collective,

along with Ron Bloomberg of Bloomberg

Equities LLC. The goal of Galera Collective

is to create a living creative space

where artists and entrepreneurs find the

convenience and support needed to fuel

their creative and start up passions!

We are proud of our Delray Beach

grown artists!

Glayson LeRoy, John Griffin, and

graffitti icon Lady Pink. Mural

painted by Muck Rock (who also

painted the Space Pug in Delray)

52 | January 2018 | www.AtlanticAveMagazine.com
---
www.AtlanticAveMagazine.com | january 2018 | 53
---
See

entertainment | gotta SEE

By lisa marie

otta

January 5

Insidious: The Last Key is the fourth

entry of the Insidious series, directed by

Adam Robitel and with Chapter 3 director

Leigh Whannell providing the script, centering

around the brilliant parapsychologist

Elise Rainier (Lin Shaye) who ends up

being terrorized in her own home by the

demons that have been haunting houses

ever since Insidious in 2010.

Molly's Game is based on the true story

of Molly Bloom, an Olympic-class skier who

ran the world's most exclusive high-stakes

poker game for a decade before being arrested

in the middle of the night by 17 FBI

agents wielding automatic weapons. Jessica

Chastain plays Molly and also stars Idris

Elba, Chris O'Dowd, Kevin Costner, Michael

Cera, Natalie Krill, Joe Keery, Bill Camp, and

plenty of others.

January 12

The Commuter sees Liam Neeson play

Michael, an insurance salesman who gets

mixed up in a criminal conspiracy on his

daily train commute home. Vera Farmiga,

a "mysterious stranger," sits with him for

a chat and things get very interesting. The

cast includes Patrick Wilson, Killian Scott,

Jonathan Banks, Sam Neill, Elizabeth Mc-

Govern, Florence Pugh, and Damson Idris.

This looks like it has tons of action and will

be intense to watch! Directed by veteran

Spanish filmmaker Jaume Collet-Serra.

Paddington 2 finds Paddington happily

settled with the Brown family in Windsor

Gardens. He gets a series of odd jobs to

buy the perfect present (a unique pop-up

book) for his Aunt Lucy's 100th birthday,

only for the gift to be stolen. It's up to Paddington

and the Browns to unmask the

thief... The very British cast includes Hugh

Grant, Brendan Gleeson, Peter Capaldi, Sally

Hawkins, Julie Walters, Jim Broadbent,

and Hugh Bonneville, with Ben Whishaw

returning as the voice of Paddington, and

Imelda Staunton as the voice of Aunt Lucy.

Proud Mary Taraji P. Henson is Mary, an

assassin working for an organized crime

family in Boston, whose life is completely

turned around when she meets a young

boy whose path she crosses when a professional

hit goes bad. Directed by Iranian

filmmaker Babak Najafi and the cast

includes Neal McDonough, Danny Glover,

Xander Berkeley and more.

January 19

12 Strong is a powerful new war drama

based on the best-selling book "Horse Soldiers."

It is story of the first Special Forces

team deployed to Afghanistan after 9/11;

under the leadership of a new captain, the

team must work with an Afghani warlord

to take down the Taliban. Chris Hemsworth

("Thor," "The Avengers" films) and Oscar

nominee Michael Shannon ("Revolutionary

Road," "Nocturnal Animals") star.

Den of Thieves is a gritty Los Angeles

crime saga which follows the intersecting

and often personally connected lives of an

elite unit of the LA County Sheriff's Department

and the state's most successful

bank robbery crew as the outlaws plan a

seemingly impossible heist on the Federal

Reserve Bank of downtown Los Angeles.

From writer/director Christian Gudegast

and starring Gerard Butler, 50 Cent,

Pablo Schreiber and more.

Forever My Girl tells the

story of country music superstar

Liam Page (Alex Roe) who

left his bride, Josie (Jessica

Rothe), at the altar choosing

fame and fortune instead.

However, Liam never got

over Josie, his one true love,

nor did he ever forget his

Southern roots in the small

community where he was

born and raised. When he

unexpectedly returns to his

hometown for the funeral of

his high school best friend,

Liam is suddenly faced with

the consequences of all that

he left behind.

January 26

Maze Runner: The Death

Cure is the epic finale to the

Maze Runner saga. Thomas

(Dylan O'Brien) leads his group of escaped

Gladers on their final and most dangerous

mission yet. To save their friends, they

must break into the legendary Last City, a

WCKD-controlled labyrinth that may turn

out to be the deadliest maze of all. Anyone

who makes it out alive will get answers to

the questions the Gladers have been asking

since they first arrived in the maze. Cast

includes Kaya Scodelario, Walton Goggins,

Nathalie Emmanuel.

jessica chastain

"molly's game"

54 | january 2018 | www.AtlanticAveMagazine.com
---
www.AtlanticAveMagazine.com | january 2018 | 55
---
Hear

entertainment | gotta HEAR By lisa marie

January 6th

Elvis Birthday Bash

7:30pm at Coral Springs Center

Coral Springs, FL $51 and up

www.thecentercs.com.

Captain Pigg

8:00pm at Local Café 44,

44 E Atlantic Ave, Delray Beach.

Free admission.

www.localcafe44.com.

January 8th

Cameron Carpenter

8:00pm at Kravis Center - Dreyfoos Hall

West Palm Beach, FL $97

www.kravis.org.

January 10th

Moody Blues

8:00pm at Hard Rock Live - Hollywood

Hollywood, FL $64 - $200+

www.seminolehardrockhollywood.com.

January 11th

Shakira

7:30pm at BB&T Center

Sunrise, FL $66 and up

www.thebbtcenter.com.

January 12th

Nirvanna - Tribute To Nirvana

8:00pm at Revolution Live

Fort Lauderdale, FL $30 and up

www.jointherevolution.net

Karina Iglesias

8:00pm -10:00pm at The Arts Garage,

94 NE 2nd Avenue,

Delray Beach $30-$45

www.artsgarage.org.

January 14th

Sunshine Music Festival

12:00pm at Mizner Park Amphitheater

Boca Raton, FL $173 and up

www.myboca.us/82/mizner-parkamphitheater.

January 17th

Jackson Browne

8:00pm at Hard Rock Live - Hollywood

Hollywood, FL $80 and up

www.seminolehardrockhollywood.com.

January 18th

Art Garfunkel

8:00pm at Parker Playhouse

Fort Lauderdale, FL $130 and up

www.parkerplayhouse.com.

Calm Bomb

8:00pm - 11:00pm at The Arts Garage

94 NE 2nd Avenue, Delray Beach

$10 General Admission

www.artsgarage.com.

January 20th

Pointer Sisters (21+ Event)

8:00pm at Seminole Casino Coconut Creek

Coconut Creek, FL $71 and up

www.seminolecoconutcreekcasino.com.

January 23rd

The Killers

8:00pm at American Airlines Arena

FL - Miami, FL $42 and up

www.aaarena.com.

56 | January 2018 | www.AtlanticAveMagazine.com
---
HOLD YOUR

HEAD UP HIGH

Just one ThermiTight ® treatment at Balshi

Dermatology can permanently tighten the

skin around your neck, leaving you feeling

more confident than ever!

Whether you wish to regain your youthful look, or tighten

your skin after a major weightloss, ThermiTight ® could

be for you. This pain-free, non-invasive procedure works by

applying radio frequency energy directly to the target tissues

underneath skin. Most patients are able to resume normal

activities 24 hours after the procedure, and see results about

a month later. However, skin will continue improving for the

next several months and up to a year!

What are you waiting for? Schedule a free consultation with

Dr. Balshi today to see if ThermiTight ® is right for you!

4665 W ATLANTIC AVE, DELRAY BEACH, FL SOUTHFLDERM.COM • CALL: 561.272.6000

www.AtlanticAveMagazine.com | january 2018 | 57
---
otta Read

entertainment | GOTTA read By lisa marie

Spring Forward (Mystic

Creek Series #4)

by Catherine Anderson

Released January 2, 2018

The New York Times bestselling author

returns to Mystic Creek, Oregon, with a

story about finding an unforgettable love just

around the corner. . .

When a favorite customer on his delivery

route needs a favor, Tanner Richards agrees to

help without a second thought. The last thing

he expects is to face off against the man's spitfire

granddaughter.

Crystal Malloy is near her breaking point.

Her beloved grandfather constantly skirts

the rules at the retirement center where he's

recovering from surgery. She's caring for his

escape artist dog, even if it means abandoning

her salon customers, and she has no time

for a romantic attraction to the handsome

new stranger.

After Tanner's reassigned to Mystic Creek,

Crystal can no longer ignore how much she

misjudged the man's good intentions. She

has known too much sorrow to easily open

her heart, but she can't deny that Tanner and

his children could gift her with a happiness

beyond compare—if only she can forgive herself

for the past and accept that she's deserving

of such a love.

The Wife Between Us:

A Novel

by Greer Hendricks, Sarah Pekkanen

Released January 9, 2018

When you read this book, you will make

many assumptions.

You will assume you are reading about a

jealous ex-wife.

You will assume she is obsessed with her replacement

– a beautiful, younger woman who

is about to marry the man they both love.

You will assume you know the anatomy of

this tangled love triangle.

Assume nothing.

Twisted and deliciously chilling, "The Wife

Between Us" exposes the secret complexities

of an enviable marriage - and the dangerous

truths we ignore in the name of love.

Read between the lies.

58 | january 2018 | www.AtlanticAveMagazine.com

Treating People Well:

The Extraordinary

Power Of Civility At

Work And In Life

by Lea Berman, Jeremy Bernard, Laura

Bush (FOREWORD by)

Released January 9, 2018

guide to personal and professional empowerment

through civility and social

A

skills, written by two White House Social Secretaries

who offer an important fundamental

message—everyone is important and everyone

deserves to be treated well.

Former White House social secretaries Lea

Berman, who worked for George and Laura

Bush, and Jeremy Bernard, who worked for

Michelle and Barack Obama, have written an

entertaining and uniquely practical guide to

personal and professional success in modern

life. Their daily experiences at 1600 Pennsylvania

Avenue taught them valuable lessons

about how to work productively with people

from different walks of life and points of view.

These Washington insiders share what they've

learned through first person examples of their

own glamorous (and sometimes harrowing)

moments with celebrities, foreign leaders

and that most unpredictable of animals—the

American politician.

This book is for you if you feel unsure of

yourself in social settings, if you'd like to get

along more easily with others, or if you want

to break through to a new level of cooperation

with your boss and coworkers. They give specific

advice for how to exude confidence even

when you don't feel it, ways to establish your

reputation as an individual whom people like,

trust, and want to help, and lay out the specific

social skills still essential to success - despite

our increasingly digitized world. Jeremy and

Lea prove that social skills are learned behavior

that anyone can acquire, and tell the stories

of their own unlikely paths to becoming the

social arbiters of the White House, while providing

tantalizing insights into the character of

the first ladies and presidents they served.

Carnegie's Maid:

A Novel

by Marie Benedict

Released January 16, 2018

From the author of "The Other Einstein," the

mesmerizing tale of what kind of woman

could have inspired an American dynasty.

Clara Kelley is not who they think she is.

She's not the experienced Irish maid who was

hired to work in one of Pittsburgh's grandest

households. She's a poor farmer's daughter

with nowhere to go and nothing in her pockets.

But the other woman with the same name has

vanished, and pretending to be her just might

get Clara some money to send back home.

If she can keep up the ruse, that is. Serving

as a lady's maid in the household of Andrew

Carnegie requires skills he doesn't have, answering

to an icy mistress who rules her sons

and her domain with an iron fist. What Clara

does have is a resolve as strong as the steel

Pittsburgh is becoming famous for, coupled

with an uncanny understanding of business,

and Andrew begins to rely on her. But Clara

can't let her guard down, not even when Andrew

becomes something more than an employer.

Revealing her past might ruin her future

- and her family's.

With captivating insight and heart, Carnegie's

Maid tells the story of one brilliant woman

who may have spurred Andrew Carnegie's

transformation from ruthless industrialist

into the world's first true philanthropist.
---
Our love for seafood runs deep.

OPEN FOR LUNCH & DINNER DAILY | HAPPY HOUR 4:00 – 7:00 P.M.

LIVE ENTERTAINMENT TUESDAY – SUNDAY

Discover Delray's premier seafood restaurant, where bold flavors and fresh ingredients are only

part of the lure. Our live entertainment and colossal aquariums will delight your senses, and our

ocean-themed cocktails and newly expanded seafood menu will catch you by surprise!

For reservations, visit TheAtlanticGrille.com or call 561-693-3499.

Gift cards are available at TheAtlanticGrille.com/GiftCards

Located at The Seagate Hotel | 1000 East Atlantic Avenue, Delray Beach

www.AtlanticAveMagazine.com | january 2018 | 59
---
health & beauty | pain relief

By Dr. Safranski

Sports Chiropractic and You

Top athletes choose chiropractic and you should too. Chiropractic has

been around for over 100 years but it wasn't until the early-to-mid 90s

when athletes started using them to gain a competitive advantage.

Functioning at the highest level without pain in order to maintain

a long and productive career is important for top athletes.

It's their job, it's how they support their families. So why do

they choose chiropractic? Because they know it works, it's not a

fad or a trend that proper motion and biomechanics coupled with

proper strength and muscle function in the body lead to a highly

productive athlete. They want to perform at their very best on the

field, the ice, and in the ring. All 32 NFL teams, 28 of the 30 MLB

teams, and all 31 NHL teams have chiropractors on staff. Even the

world's best golfers have their own chiropractors. James Harrison

of the Pittsburgh Steelers spent countless dollars to make sure that

he is in tip-top shape, so that he can play every snap and be a leader

on the field. That money includes his own chiropractor that travels

with him throughout the season.

Why is this? These teams know how imperative it is to have chiropractors

as part of their medical team. Their knowledge of the

musculoskeletal systems and the biomechanics that accompany

each joint make them valuable assets to the teams. Team physicians

and medical staff now know that masking pain with medication

and inhibiting pain pathways is no longer the answer, and putting

injured players back on the field can not only make matters worse

but lead to much more serious injuries.

Chiropractors have the ability to diagnose and treat these injures

without drugs or surgery with sometimes instant results. This is

an invaluable tool and making them a crucial piece to the medical

team. The shift in conservative approaches to injury treatment is

not only in sports; it is becoming more relevant in medicine as well.

The option for surgery is now starting to become a last resort as

the athletes, and everyday people become more educated on their

bodies and the procedures it takes to fix injuries - looking for more

conservative approaches that get results is making waves.(However,

this is not true for all injuries, some require immediate surgery.)

Sports chiropractic focuses on not only the spine, but the hands,

feet, elbows, knees, shoulders, hips and all of the muscles and ligaments

that go with it. However, the main focus of sports chiropractic

is not really top-tier athletes, but it is to help your everyday

athlete be able to attain their personal goals. There are high school

football players aspiring to play college football, but have issues

with knees. Consider basketball players who are having issues

with their ankles. Golfers who want to improve their swing, or feel

like they don't hit the ball like they used to, or even if you're trying

to work through some arthritis.

The same principles of sports chiropractic that are used on

Olympians and professional athletes can be used on the everyday

athlete from the young ones to the retired ones. Maintaining proper

biomechanics in the spine as well as all other joints in your body

accompanied by proper muscle strength and tone can make significant

changes in your life and your workout routine. If you have a

nagging injury, or feel like you could be doing more but you've tried

everything, maybe it's time to find a sports chiropractor.

The Conde Center For

Chiropractic Neurology

401 West Atlantic Avenue, Suite #014

Delray Beach, FL 33444

561-330-6096

www.thecondecenter.com

60 | january 2018 | www.AtlanticAveMagazine.com
---
www.AtlanticAveMagazine.com | january 2018 | 61
---
health & beauty | dermatology

By dr. thomas c. balshi, m.d.

The Silhouette Instalift

A new alternative to injections and fillers

Peering into the Fountain of Youth with a single wish in hand, most

beauty seekers would go for a revitalized face. Loss of skin tone (facial

sagging) and the stealthy appearance of wrinkles, lines and creases, are

the main signs of facial aging, a natural process that worsens with time.

This inevitable evolution is due to a loss of collagen and elastin, the

providers of skin firmness. The face also loses fat, depleting volume

and causing hollowness in the cheeks and a heaviness under the

chin, thus, the arrival of "joules."

Up until recently, choices to restore facial volume were limited to injections

called "fillers," or more invasive surgical or ablative laser interventions.

The cutting edge however now includes a wonderful alternative

called The Silhouette Instalift. This is a self-dissolving suspension suture

that is capable of providing volume, stimulating lost collagen

production and actually repositioning skin.

The Silhouette Instalift is a technological innovation offering

both men and women a spectacular solution to a universal

problem in a simple and minimally invasive way. The reshaping

of the face and the restoration of lost volume are

but thirty minutes away in the hands of a skilled cosmetic

surgeon. By installing several of these absorbable

sutures, the surgeon can literally redefine a face,

restoring volume and gently lifting the skin. In

this veritable new art form, the effects of aging

are significantly reduced.

The Silhouette Instalift leaves no scars

and can be applied to all areas of the face

and neck to restore youth and vitality. Recovery

time is minimal and patients quickly

return to normal activity and a full social life.

The absorbable sutures are manufactured

in the United States and are FDA approved. The

treatments have been wildly popular in Europe,

but are gaining momentum at home. In the last

three years, more than 130,000 successful treatments

have been accomplished worldwide.

The faces of America will soon robustly

plump up that number.

Dr. Thomas C. Balshi

4665 W. Atlantic Ave.

Delray Beach, FL 33445

561-272-6000

southflderm.com

www.balshimd.com

62 | january 2018 | www.AtlanticAveMagazine.com
---
www.AtlanticAveMagazine.com | january 2018 | 63
---
health & beauty | Your Dental Health

By craig spodak, dmd, pa

How To Choose The Right

Dental Office In 2018

Your dental team is

key for maintaining

a healthy smile.

Let's face it, there are dentists everywhere. There are offices

that are family owned, corporately owned, or somewhere

in between, and all would love to have you as their patient.

Choosing a dental team is a very important decision because your

dentist and hygienist do more than simply clean your teeth. There's

a myriad of additional factors they examine because they know that

oral health is linked to overall health, which is why it's important to

visit them regularly. If you haven't visited your dentist as much as

you should, start by asking yourself why. If you find that you want

to switch dentists in the New Year, have recently moved, or just

want to evaluate your options, read on!

Priorities

What is most important to you? Are you looking for a dentist that

offers evening and weekend hours, financing options, sleep dentistry

(if you have dental anxiety) and/or up-front conversations about

costs and benefits? Each dental office offers something just a little

bit different, but that one main difference could be the factor that you

need. The goal for your dental team is to help you keep your teeth

for a lifetime and to put your oral health as their main concern. The

office should make it as convenient as possible for you to visit them

regularly, and work hard to honestly earn your trust and loyalty.

Comprehensive Care

It can be quite time consuming and frantic to visit several offices

should you need additional work beyond a routine cleaning. This is

why it's incredibly convenient for a dental office to offer both general

and specialty dentistry in one location. This saves you not only time,

but also money.

Most often, dental offices will need to refer you out to a specialist

if you need, for instance, a root canal. At this specialist's office, you

might be charged a consultation fee so the doctor can assess if he/

she agrees with the diagnosed treatment. So, not only do you have

extra fees, you also had to take additional time off of work for this

second appointment. Having all general and specialty dentists under

one roof allows you to have several "second" opinions and the ability

to have multiple treatments done in one visit.

Technology

If the best is available, then get the best! Advancements in dental

technology happen all the time and the best option for you six

months ago might not be the best option now. This is why it's so important

to choose a dental office that has the most up-to-date and

state-of-the-art equipment, which affords you the best techniques

and treatments possible. Advancements in dentistry offer several

time-saving and minimally invasive benefits, including orthodontically

moving teeth into alignment without braces (Invisalign), laser

gum treatment without cutting or sutures (LANAP), same-day

crowns and veneers without temporaries (CEREC), and same-day

total teeth replacement (All-on-4).

Make sure you treat your smile right this year! If you've been

avoiding your dentist for one reason or another, need a new dentist,

or just need a dentist period, check out your local dentists and see

which one checks all of your boxes. Your smile would love for you to

find a dentist you trust, we guarantee it.

Spodak Dental Group

3911 West Atlantic Avenue

Delray Beach - 561-498-0050

www.SpodakDental.com

64 | january 2018 | www.AtlanticAveMagazine.com
---
Celebrity Flora

Evolution meets

revolution

Exploring the Galapagos Islands, Spring 2019.

Introducing Celebrity Flora SM , the first ship designed and built

specifically with the Galapagos in mind. Every space, including the

all-suites accommodations, features our innovative outward-facing

stateroom concept, getting you closer to the destination than ever

before. With every state-of-the-art technology, innovative materials

and design—Celebrity Flora is one of the most eco-friendly and

environmentally conscious ships sailing the Galapagos today.

Bookings now open.

280 NE 2nd Ave, Cottage B, Delray Beach, FL 33444

In Pineapple Grove across the street from the Post Office

561.498.8439 | info@dashtravelandcruises.com

DASHTRAVELANDCRUISES.COM

All images of Celebrity Flora are artistic renderings based on current development concepts, which are

subject to change without notice. Celebrity Flora and Flora are trademarks of Celebrity Cruises. ©2017

Celebrity Cruises Inc. Ships' registry: Malta and Ecuador

www.AtlanticAveMagazine.com | January 2018 | 65
---
health & beauty | body beautiful

By ashley sica

5 Ways to Help Your

New Years Resolutions Stick

The holidays are over and you're ready to unfluff and feel good

again. Here are some tips to make sure your resolutions are

attainable and will actually work for you. If your intention and

plan is right, you will have a much easier time sticking to you

goals. A healthier version of you is just a couple steps away!

1. Make Realistic Resolutions

Don't set yourself up for failure before you even begin! Set goals that

are attainable and realistic. The more accomplished you feel the more

likely you are to stay motivated and pushing toward your goals. A resolution

shouldn't be a fantasy. If you've never lifted weights before, attempting

to do so 7 days a week is probably setting yourself up for disappointment.

For most people, breaking or setting new habits doesn't

happen overnight. The key to sustainable resolutions is to make small

changes gradually. If your goal is to go from never running to finishing

a half-marathon, start training gradually. Begin by walking a few miles

twice a week, and steadily increase the workload to jogging, and

then running over several months. Just keep the word realistic

in your head and you'll be off to a good start!

2. Get Specific With Your Goals

Resolutions should be both specific and measurable.

Writing down your goals is not only a great

way to accomplish them, but your list can also

help you figure out the exact steps needed to get

where you want to go. "I want to lose weight" is

a pretty common New Year's resolution, but

how exactly do you go from point A to point B?

Instead, try setting a more specific goal. For instance:

"I want to lose 10 pounds over the next

6 weeks by eliminating fast food meals and going

to the gym 3 to 4 times per week. I'll then

maintain my goal weight for 6 months before

setting any other new goals." The more specific

your goal the better your results will be. The

more vague your goals are the harder it will be

to attain them.

3. Set Non-Superficial Goals

Sure, looking good in a bikini is always a good

goal but superficial goals usually loose their appeal

after endless weeks of diet and exercise. Instead, try

picking a goal related to health and happiness. For example, regular

exercise has awesome benefits such as lowering cholesterol, boosting

overall energy, and even increasing happiness and decreasing depression.

Bringing some deeper intentions to your workout can make all

the difference in sticking to your goals. Looking good in a bikini should

come secondary to your main goal.

4. Buddy Up

Find a friend or someone with like minded-goals to keep and hold

you accountable. Accountability is huge. You are much more likely to

stay on track when you have someone to answer to besides yourself!

A buddy should also serve to help motivate and keep

things real. They should have no problem telling you to put

that french-fry down and get your booty to the gym when

you're lacking your own motivation. If your buddy isn't

doing their job, fire them and find a new one! There is

always someone looking to become healthy and fit.

5. Reevaluate Resolutions Often

How many people resolve to finish a marathon,

only to realize they kind of hate distance

running? Or decide to take up yoga and realize

they want something faster-paced?

A lot of things seem fun from a distance

but might not be a good fit in reality. If this

happens to you, it's time to switch gears

and pick a different resolution. Don't be

afraid to switch it up. If it isn't working for

you pick something different and move

on. You're much more likely to stick with

something that you truly enjoy.

Ashley Sica Fitness

Transformation Studio

7400 N. Federal Highway,

Boca Raton, FL 33487

561-445-7445

Ashleysica@gmail.com

66 | January 2018 | www.AtlanticAveMagazine.com
---
www.AtlanticAveMagazine.com | January 2018 | 67
---
Pellegrino Dining Concepts

Prime Tuscany Steakhouse,

Il Bacio Nightlife + Baciami Italiano

By Brittney Winters | Photos by Jake Ariel

When father-son duo Steven Pellegrino Sr. and Jr. first opened the doors

to Prime Steak Sushi & Seafood in 2010, their years of conceptualizing,

opening and executing restaurants to success in Rhode Island

introduced South Florida diners to a fabulous new night out.

Steven Pellegrino Sr. and Steven Pellegrino Jr. at the Prime Relaunch Party

PRIME DELRAY

Now, the duo has added Baciami Italiano to their ever-expanding

roster of inviting restaurants dishing out familyfavorite

recipes, commemorating their well-earned success

with the formal introduction of Pellegrino Dining Concepts, which

houses Prime Tuscany Steakhouse + Il Bacio Nightlife in Delray and

Baciami Italiano in Boynton Beach.

It's not often you find yourself in an upscale Italian restaurant

that makes you feel like family, but that's exactly what the Pellegrinos

have managed to achieve in not one but two successful South

Florida dining establishments. Over the last decade, they have

proven themselves to be distinguished restaurateurs who understand

that a superior culinary experience is made even better when

it's delivered in a warm and hospitable setting.

Since it first opened on Atlantic Avenue in 2010, Prime has been

a mainstay for locals, snowbirds and vacationers alike, boasting

the freshest in land and sea, always offering a diverse menu

of locally-caught seafood and USDA-grade meats. In 2012, as so

many of us remember, the Pellegrino team took the opportunity

to incorporate their popular nightlife destination Il Bacio into the

Prime experience, and relocated the steakhouse to its current site

adjacent to the lounge, where it now transforms into a wild night

when the sun goes down.

Prime's outdoor courtyard serves as the main dance floor for the

night club, an impressive 12,000 square feet of high-energy space

fit to easily contain a thousand guests in a single night. If you've

spent even one kismet evening at this nightlife hot spot, you've

been captivated by the dining, dancing and high energy entertainment

that guests can rely on every Friday and Saturday night.

Now, Prime Tuscany Steakhouse has officially celebrated its

much-anticipated relaunch, making significant menu changes and

updates to focus more closely on authentic Tuscan-inspired dishes.

You won't find sushi on their menu any longer, but you'll still be

able to order a fresh catch – this time it's prepared the way your

Italian grandmother would do things.

From Grilled Jumbo Scallops with creamy asparagus risotto and

parmesan crisp to ever-popular Bronzino with roasted tomatoes

and garlic spinach, the flavors are straightforward, fresh and bold

– much like what you'd find on a traditional Tuscan table. And of

course, you can expect this steakhouse to deliver quality cuts of

meat; if you're really looking for an impressive presentation, know

68 | january 2018 | www.AtlanticAveMagazine.com
---
BACIAMI Prosciutto Pizza

Monogrammed Tomahawk Steak with Idaho potatoes and grilled asparagus

Prime's skilled chefs add your initials to the final sear

that Prime is the only spot in the country offering a steak with your

name on it. That's right – for $95, order the Monogrammed Tomahawk

Steak and Prime's skilled chefs will not only cook it to your

preference but add your personal initials to the final sear, served

with the usual fixings of Idaho potatoes, grilled asparagus and

housemade onion rings.

Equally impressive as the spectacular menu at Prime is their

swanky interior décor, with a cozy dining room that opens up to an

expansive bar and lounge area featuring live entertainment including

a lively piano player. The space exudes character in every detail

from sparkling chandeliers to a stunning wine room, behind which

you can always find a private spot to dine and celebrate special occasions

with friends, family or coworkers.

If there's one thing the Pellegrino family has down, it's authentic

Italian cuisine and hospitality, neatly wrapped up into one package

– and lucky for all of us, they've brought their penchant for Italian flavors

to the heart of Boynton Beach with their new Baciami Italiano.

Following its Grand Opening in May, Baciami has become as

celebrated as its predecessor, establishing itself as an authentic

Italian mainstay, offering pizzas from an imported wood-burning

oven and dishes straight from the Pellegrino family recipe

book. Here, you'll find signature dishes like Grilled Octopus with

baby arugula, white beans and potato, and Anthony's Sunday

Gravy with meatballs, sausage, braciole and Guiseppe Cocco

jumbo rigatoni. If your mouth isn't watering yet, it's possible

you've never truly experienced traditional Italian fare the way

it's been done for centuries.

Count on a memorable experience regardless of your dining preference

at Baciami. The al fresco patio overlooks Boynton's newlybustling

downtown area, reminiscent of days spent sipping cappuccino

over tiramisu in old-world Italy, and the interior dining room

is anchored by a central bar, flanked by a gorgeous private dining

room perfect for celebrating milestones and holidays.

If you're on the lookout for a great special, look no further than

the Pellegrino family's weekly All-You-Can-Eat Stone Crab Dinner

Wednesdays at Prime and Thursdays at Baciami, serving up freshcaught

stone crab with soup or salad and a chef's side, yours for

market price. Of course, the real treat is daily Happy Hour at both

Pellegrino Dining Concepts, featuring Italian wines and cocktails,

plus traditional bar bites to share (or not) for just $7.77 apiece.

The introduction of Pellegrino Dining Concepts marks a new

turning point for the restaurateur duo, officially uniting their numerous

successes under one roof and ensuring a consistent experience

from the food to the hospitality. From a pre-dinner Happy

Hour visit at the bar to a full-blown celebratory experience that

extends into the wee hours of the night, the Pellegrino family

keeps their promise to always make you feel like family – they

simply can't help it.

Baciami Anthony's Sunday Gravy

baciami italiano

www.AtlanticAveMagazine.com | January 2018 | 69
---
THE DELRAY BEACH CLUB

Fun For All Reasons And Seasons

by diane feen | Photos by Emiliano brooks

The Delray Beach Club is a lot of things. It's a beach club with

everything inside to calm your nerves, devour your intellect,

peak your culinary desires and exercise your body. From tennis

to swimming, fitness classes, body treatments and more.

Katherine Matzger, Mary Volpe, Dee Rose, and Gina Cayne

But there is one thing that cannot be purchased or ordered

from Amazon. And that's Happiness.

It's not easy to describe happiness, but you know it when

you feel it or see it. That's why so many people have joined this slice

of heaven on the beach called the Delray Beach Club.

If happiness brings longevity – and the experts say it's so – then

this beach club just South of Linton on A1A is the happiest place on

earth. The pristine environment includes a private 3.5-acre oceanfront

beach, a renovated clubhouse with card room, oceanfront dining,

serene open spaces, a swimming pool and enough activities to

keep your mind, body and soul in a blissful state.

They also have what is known as "Cocktails and Canasta" every

Wednesday at 4 pm. It may not sound exciting, but the gals at Delray

Beach Club have their own brand of canasta that is inclusive, friendly

and entertaining. Some call it "Girlfriend Canasta" but the Mother

Hen of this weekly activity, Carol Lane calls it "Classic Canasta."

70 | january 2018 | www.AtlanticAveMagazine.com
---
"We've really changed the vibe and the energy of the club on

Wednesday nights. After we play canasta we all meet in the Grille

Room (some with spouses or boyfriends) and have a great time.

We meet new people and make sure everyone feels a part of the

party, it's a special night at the club," said Lane, who wrote an Excel

program that allows the seating to change every week so women

get to meet new people.

And it's working perfectly.

"Our canasta games are just joyful. We sit with different people

each week and get to meet new members of all ages. It's wonderful,

I play bridge and tennis at the club as well," said Kathy Klausner.

Klausner was sitting with Nancy Tormey and Charlotte Himmelrich

and the three of them were having a grand time. There was

wine or cocktails, light snacks, cards and a score card - all amidst

a clear view of the ocean and a lightness of being that casts a glow

over the players inside.

Everyone admits that bridge is a bit more cerebral, but "Cocktails

and Canasta" is more social and often leads to new friendships that

spill over into the Grille Room after the game. "The men come early

and socialize in the Grille Room and now many of them have become

friends as well" said Lane, whose husband Buff met her in the

Grille Room for cocktails and dinner in the Ocean Room.

If you ask Tormey she'll tell you her take on this snappy game

that hinges on getting the right cards at the right time. "You make

40 new friends immediately and we play at Happy Hour, so we are

a happy bunch,"

Tormey is right. They are a happy bunch. They not only look forward

to the weekly Canasta and Cocktails games, but the numbers

prove their point. When they started in 2015 there were eight players

and currently they have 104. Word just got around, according to

Lane, that Cocktails and Canasta is a fun time and a wonderful place

to make new friends.

You don't have to be a canasta player to join the group. Lane and

Daryl Dickson teach canasta to newcomers. For those who want to

stay for dinner after cocktails there is more socializing and laughter

in the Ocean Room. This lovely room – that faces the glorious ocean

– has excellent food and live music with crooners who serenade the

group. Carl Padilla played guitar and sang classic tunes that enlivened

the evening yet didn't drown out conversation.

The Delray Beach Club is a private member-owned beach club

with a social calendar that rivals (or beats) the best of them. It's

also family friendly with activities for children (at the beach) and

inside. There are also Bridge games and lessons, a Book Club, Art

Club, Theater Trips, Luncheons, Lectures, Musical entertainment,

Holiday Theme Dinner parties, Cabaret Nights and more.

Every Friday night is a "Mix and Mingle," where members gather

by the pool, enjoy live music and complimentary hors d'oeuvres.

Happy Hour is the intimate cozy Grille Room. And, if you're single

there's an Open Table that makes everyone feel welcome.

The Delray Beach Club has a fitness center, Men's and Ladies

Locker Rooms, Fitness Equipment, Exercise Classes, Personal

Training Sessions, Massages, Body treatments and facials.

If you're a tennis player there are Har-Tru® Tennis Courts, Special

Tennis Events and a USPTA certified Tennis Pro. They have Tennis

Leagues, Round Robins, Drop-in Games, Pro-Am's and Sunday

Tennis Socials followed by dinner by the sea.

There's another reason why everyone says The Delray Beach

Club is life changing."There are no strangers at our club, only

friends who have not met. We try our hardest to make sure everyone

here is happy here," said General Manager Shane Peachey.

Peachey is right. There is a genuine friendliness that permeates

the premises. You don't need to be family to feel part of one. That

might be one reason you may walk in a stranger, but you'll always

leave as part of the Delray Beach Club family.

For membership information contact Diane Roberts at 561-278-

6226, ext. 15. The club is located at 2001 South Ocean Blvd.

www.AtlanticAveMagazine.com | January 2018 | 71
---
The Fite Group Luxury Homes

NEW LISTING

NEWLY PRICED

NEW LISTING

On The Point Delray Beach

An exquisitely designed 4 bedroom, 4 bath residence

with striking direct Intracoastal views. This double point

lot with 400 ft. of water frontage offers an immediate

WOW factor from the moment you enter. $2,950,000

Laura Gallagher 561-441-6111

Mid-Century Modern Delray Beach

Classic redesigned beach area home with direct

ocean access just one block away. This unique 4

bedroom, 4 bath floorplan surrounds the pool and

lounging area, perfect for entertaining. $2,150,000

Linda Lake 561-702-4898

Delray by the Sea Delray Beach

Rare opportunity to own a Mid Century design 5 bedroom,

5 bath home by the late Paul Rudolf. This Historic structure

is located a few blocks from Atlantic Avenue and a block

from direct access to the ocean. $1,395,000

Linda Lake 561-702-4898

Coastal Living in Lake Ida Delray Beach

This new Island inspired two story 4 bedroom, 4 bath

home offers some of the finest coastal living in Lake

Ida. The beautiful interior seamlessly flows outdoors

to the verandah, pool and lovely garden. $1,250,000

Linda Lake 561-702-4898

Bermuda High West Delray Beach

Fabulous Intracoastal views from this 3 bedroom,

3.5 bath residence. Perfectly located across from the

beach with a private beach club and guest suites. Take

your pet outdoors from your private patio. $920,000

Terri Berman 561-445-2929

Delray Dunes Boynton Beach

This newly renovated 3 bedroom, 3 bath home

overlooks the 6th Fairway and offers spectacular

sunsets. Features an open floor plan with sliding doors

leading out to the expansive pool area. $695,000

Terri Berman 561-445-2929

NEWLY PRICED

Old Florida Charm Delray Beach

Charming 2 bedroom, 2 bath home just nine blocks from

trendy Atlantic Avenue. Large family/ Florida room can easily

be made in to a third bedroom. Additional bonus room or

den is conveniently located off the eat-in kitchen. $439,900

Nancy Merritt 561-789-7982

Parkview Manor Delray Beach

This beautifully renovated 2 bedroom, 2 bath condo is

near the Intracoastal and Atlantic Avenue. Brand new

open kitchen with solid wood cabinetry, stainless steel

appliances and granite countertops. $409,000

Kelley Johnson 561-703-3839

Rare Beach Opportunity Delray Beach

Rarely available 1 bedroom, 1.5 bath, 1st floor condo

in quaint 10 unit complex just minutes to the beach.

Features include top of the line hardware and lighting

and hurricane impact windows. $349,900

Mac McFadden 561-302-2446

The Fite Group Luxury Homes | 648 George Bush Blvd., Delray Beach, FL 33483 | 561-243-6000 | FiteGroup.com

72 | january 2018 | www.AtlanticAveMagazine.com
---
4022 S Ocean Boulevard Highland Beach

This waterfront estate is located in Ocean Cove, a gated enclave of 22 estates in Highland Beach on 10.5 acres of nature preserve with a private marina. The 5 bedroom,

5 bath home, with a total of 6,191 square feet of living space, is being offered furnished turn-key. The master and bath have water views, a balcony and a walk-in closet.

The custom kitchen has two islands, a breakfast bar, and the family room and living room both have fireplaces. In addition, there is a formal dining room, a full gym, an

elevator and a generator. Exterior features include a waterfront heated pool and spa, patio with loggia, kitchen, ocean access, deeded deepwater boat slip, private dock

with electric/water/lift and attached two-car garage. Many rooms expose spectacular views of the wide Intracoastal Waterway. New to Market. $4,200,000

Faye Weisberg

516-662-7708

fweisberg@fitegroup.com

The Fite Group Luxury Homes | 101 North County Road Palm Beach, FL 33480 | 561-655-6570 | FiteGroup.com

www.AtlanticAveMagazine.com | January 2018 | 73
---
puro's cigar

Cigars And Celebration

By diane feen | Photos by melissa korman and harvey lustig

You always know when November 11th

rolls around. A big tent is set up in front of

Atlantic Plaza, there's festive music, food

and good vibes infiltrating the airways.

Puro's cigar manager, Jesus

It's also the Anniversary date of Puro's Cigar Shop in the front

of the plaza. Though they have a small footprint in the physical

world of retail, they have a large imprint on the psyches and

lives of those who call Puro's their second home.

"My birthday is the day following Puro's Anniversary party, so we

celebrate together," said Dr. Gaspar Gonzalez. "I come here almost

every night - we're like family. Eduardo serves his special blend of

espresso at night and everyone brings their wives or girlfriends

and we all have a night cap before going home," said the Vice Chairman

of knockoutforacause.org.

It seems everyone who came to Puro's 8th Anniversary Party relishes

the time they celebrate (and situate) around the Puro's family.

The family consists of Lisbeth Garcia (the matriarch and co-manager),

Eduardo (the patriarch and friendliest guy on earth) Jesus, the

son and manager and Steve. All are revered for their kind hearts,

knowledge of cigars and ability to turn a small shop into an international

hangout for those who enjoy smoking cigars.

At their Anniversary Party – that is a tradition every year – the tables

are much longer, the music is live, the food is abundant and the

festive dancing cements the joie de vie of the moment. There was barbeque

skirt steak, chicken kabobs, potato salad and dessert. The grill

kept going and flowing with fresh food for all who came to celebrate.

"Puro's has been open for eight years and has become a landmark

for the cigar business. This is not easy to do. They have great

customer service and it's so personalized," said Davidoff Rep Carlos,

who attended the party.

And he wasn't the only cigar rep in attendance. There was Jose

from Ashton, Susan from Romeo y Julieta and Joaquin from My

Father Cigars. There was also a raffle with better prizes than ever

before. "We had an amazing raffle. We gave away a golf bag, a big

humidor, cutters and other big items," said Lisbeth, who is revered

for being one of the few women in the retail cigar landscape.

The Garcia's passion for their trade (and their customers) is legendary.

Regulars such as Frank Meersky, Dr. Gonzalez, Joe and Dave

gravitate to Puro's almost every day. And it's not just for the cigars.

"We all know each other, and the people here are respectful to everyone.

We've also had an influence on some younger people who

needed direction," adds Dr. Gonzalez.

Jesus trying out new foundation cigars from their representative Alfredo

74 | january 2018 | www.AtlanticAveMagazine.com
---
Owners Edwardo and lisbeth with musicians from their anniversary fiesta

Usually the banter drifts from subject to subject – from

politics to medicine and back to sports and life lessons. When

there's a sporting event on TV the Garcia's bring out the flat

screen TV for guests outside. Betty Anne Irwin sat with a

friend (and other Puro's regulars) and watched the Miami

Dolphins vs. Buffalo Bills game on the patio of Puro's. Though

Irwin is one of the few women to join the gang outside (where

camaraderie is at its zenith) she sat there smoking a cigar and

watching the game. "I know everyone here. It's great to be outside

and have company. We talk about everything, and everyone

is respectful and gentlemanly."

You bet they are. Kinship and camaraderie are so prevalent

at Puro's that everyone says it's like being in their living room

or a home away from home.

There is one difference - The Puro's domain has a humidor

filled with premium cigars. They range from a wide selection

of Padron Cigars, Romeo Y Julieta, Ashton, Camacho, Avo, The

Griffin's, Montecristo, Arturo Fuente, My Father Cigars, Rocky

Patel and others. They sell pipe tobacco (in assorted flavors

and blends) as well as lighters, humidors, cigar accessories

and espresso.

Their newest cigar, from Foundation is called The Wise Man

Maduro. It has Nicaraguan filler tobaccos from Condega, Esteli,

and Jalapa with a rich San Andres Mexican Maduro wrapper.

The blend has flavorful dark roast espresso and cacao with a

Medium to Full-Bodied Smoke. Puro's also carries Foundation's

Super Premium Cigar, The Tabernacle as well as Charter

Oak Cigars. If there's something you want that they don't have,

chances are they will order it for you.

If you see people sitting under green umbrellas in front of

Puro's you'll probably be a witness to a happy bunch. As Vincent

Gonzalez recently said, "I come here a lot and have never

missed an Anniversary Party at Puro's. They bring Latin culture

to Delray, and I couldn't be happier."

So is everyone else!

During the month of January Jesus and Eduardo are offering

a Special 20% discount on all boxes of Cigars with the Code –

Puros20. You must also bring this article for the discount.

PURO'S CIGAR

777 East Atlantic Ave. Suite C3

Delray Beach, 33483

561-278-6118

Open Monday to Thursday 11am to 10pm, Friday and Saturday

11am to 11pm and Sunday noon to 8pm.

www.AtlanticAveMagazine.com | January 2018 | 75
---
TZIKAS MD

Dr. Miguel Mascaró Creates

A Youthful Look For His Patients

By nicol jenkins | photos by melissa korman

If you are looking for luscious lips like celebrities

and youthful facial proportions like models on

the runway, that possibility is finally here.

Miguel Mascaró, MD at Tzikas Facial Plastic Surgery Center

A

more natural and youthful looking face can be found right

here in Delray Beach with Dr. Miguel Mascaró, a renowned

cosmetic surgeon.

Practicing at Tzikas Facial Plastic Surgery Center in Delray

Beach, Dr. Miguel Mascaró specializes in upper lip lifts, injectables,

fillers, surgical facial rejuvenation, rhinoplasty, eyelid surgery

(blepharoplasty) and hair restoration.

One of Dr. Mascaró's specialties is the upper lip lift - a procedure

that addresses one area often overlooked in the aging process.

"When looking at what determines youth, we really need to fo-

76 | january 2018 | www.AtlanticAveMagazine.com
---
cus on proportions. Often, the lower third of the face gets overlooked.

Most physicians address this by providing volume and

putting fillers in," said Dr. Mascaró. "This works great. But it's not

for everyone. Some procedures can go wrong because not everyone

is a candidate for fillers. If you have very thin lips, it can look

unnatural, and that is what we do not want. We want to create a

youthful look with a natural shape and fullness. This is where the

lip lift comes in."

How does the lip lift procedure work? The lip lift addresses the

volume to the lip, allows the lips to look natural, and shortens the

distance between the nose and upper lip.

"As you get older, you get a longer looking upper lip from loss

of elasticity, less definition of the lip as it loses volume accompanied

with fine lines and wrinkles. We provide natural results with

a minimal scar hidden under the nose and a much more improved

shape of the lip," said the local surgeon.

Dr. Mascaró provides the procedure with minimal downtime and

right in the office.

"It's performed under local anesthesia, it's almost like going to

the dentist. It only takes 45 minutes to an hour, and the recovery

time is only 5 to 6 days. We have modified and changed the lip lift

procedure over the years so now there is minimal swelling and rapid

healing. People from all over the world come to our office to get

this procedure and look and feel younger – but more importantly

– feel better about themselves," said Dr. Mascaró.

Unlike in the past, the lip lift is not only for an older clientele. Dr.

Mascaró serves a wide variety of patients of all ages.

"Historically, this was really only for the aging face. However,

with my new technique, I am getting patients who are younger

women and men as well. The younger women, from 22 to 35 years

old, are looking for more volume, their smiles to look brighter, and

yet still maintain a natural appearance. I have men come in who are

also suffering from loss of elasticity and want an easy way to 'turn

back the clock'. I also have older women who want to look more

youthful and are concerned with the changing proportions of their

face," said Dr. Mascaró. "The lip lift makes a big difference in all my

patients. Some of my patients were previously getting a lot of lip

fillers from different physicians and they were stretching their upper

lip. I have corrected a lot of lip fillers."

Not every procedure is the same. Dr. Mascaró takes the time to

meet with each of his patients and customizes the procedure for

their face and lips. He has modified the lip lift procedure so there is

minimal downtime and no scarring.

"Everything is catered to the individual sitting in front of me. I

don't want to give the same lip lift to everyone. Sometimes my patients

just need a little filler, while sometimes the lip lift is what you

need," he said. "The lip lift has been around for quite some time.

About five years ago, we re-examined why they were not having

good results. The technique was modified, and the results were everything

that we wanted. It slowly caught on and it is no longer

just Hollywood's dirty little secret! Models and actresses were doing

this originally, and now anyone can get their lips done and look

more youthful," said Dr. Mascaró.

As a fellowship trained Facial Plastic & Reconstructive Surgeon,

Dr. Mascaró is inspired by a love of artful detail combined with a

genuine desire to help his patients look and feel their best. The

Delray Beach based surgeon is one of only a few in the country

Patient consulting with Miguel Mascaró, MD

to perform this modified lip lift procedure with such precision.

People come from all over the world to Delray Beach just for Dr.

Mascaró's expertise. He received his training in Head & Neck Reconstructive

Surgery along with skin cancer reconstructions in

New York and perfected his cosmetic trade with additional training

with one of the pioneers of cosmetic surgery in Birmingham,

Alabama. When he moved to Delray Beach, he decided to focus

his expertise on cosmetic surgery to make his patients feel good

about themselves.

"I find it rewarding being able to give my patients something

they have been trying to achieve for a long time or have lost for a

long time. A lot of the patients who are coming for lip lifts, all of a

sudden don't feel or look the same; once they have the procedure

and look in the mirror at how they look, it makes such an impact

in their lives. It can improve someone's smile, the proportions of

their face, and give them a more natural look that makes a lasting

impact," said Dr. Mascaró.

His patients praise the cosmetic surgeon for making them look

and feel better.

"Dr. Mascaró recently performed a lip lift procedure for me and I

could not be more pleased with the results. Dr. Mascaró and his assistants

have been wonderful throughout the whole process. They

answered all of my questions and provided clear instructions on

how to prepare and what to expect. I highly recommend Dr. Mascaró,"

said one of his patients.

"Dr. Mascaró is an amazing, caring doctor, incredibly talented

surgeon, his bedside manners are impeccable, his staff is awesome!

I am very happy with the results I got, actually it's beyond

what I had hoped to get, so grateful! My case was very complicated

because I had previous surgeries that went bad, so he fixed it so

nicely! Thank you Dr. Mascaró!" said another patient.

Dr. Mascaro truly cares about his patients!

Dr. Miguel Mascaró

526 SE 5th Ave

Delray Beach, FL 33483

(561) 330-9500

http://tzikasmd.com

www.AtlanticAveMagazine.com | January 2018 | 77
---
POSH PROPERTIES

Agents Offer Local, Professional,

Real Estate Expertise

By nicol jenkins | Photos by melissa korman

When buying or selling a home, it's important

to have a Real Estate professional who

knows the ins and outs of your community.

The Real Estate professionals at Posh Properties, are experts

in the Delray and Palm Beach County markets.

Compared to the national and global brand companies,

Jerilyn focuses her boutique real estate firm, Posh Properties, on

exclusively offering a personal touch with professional Realtors

that know the local markets. Many consider a "boutique" firm

to cater to the high end market, or possibly too small to break

into the competitive real estate market. In reality, boutique real

estate firms are extremely specialized businesses with a culture

centered on customer service and professionalism. At Posh Prop-

Some of our family of agents: L-R, back row: Angela Wert, Kirsten Smith, Holli Brisson, Samantha Johnsen, Jim Wrona, Nicole Davis,

Lena Pronuza, Anthony Aliberti, Andrew Sassen, (In-House- First Trust Mortgage), Skyy Daley, Jaime Smith, Zaida Pena, Lea Black.

Front Row: Jerilyn Walter, Amanda Ennis, Beverly Mandel, JJ Cordano, Christina Brackley and Emily Gurvitch

78 | january 2018 | www.AtlanticAveMagazine.com
---
Ever present, Jerilyn Walter, owner/broker, loves the

connection she has with all the agents. "our offices are always

bustling and it's exciting to be around so many professionals"

Kirsten Smith and Emily Gurvitch take time to

collaborate for the benefit of the customer

erties, you can expect above average representation in any transaction

from a condominium to a waterfront estate. You can rest

assured knowing that not only your Realtor, but the Broker and

the entire office is working to assist you through a smooth and

skilled transaction.

Boutique firms offer the same Multiple Listing Service (MLS) representation

as larger companies. In fact "The competency of a business

is now measured by the company leadership, its agents, and the

technology the company has invested in." Posh Properties has a full

time Social Media consultant, tech support, state of the art digital

document service and licensed, educated management team.

"With a hands-on approach I provide our agents with the educational

and practical experience, keeping them fully engaged in the

business of real estate, and the market," said Jerilyn. "We have accountability

in our office. Our agents support one another and are

happy to make sure everyone's customer is treated with the respect

and appreciation they deserve."

"For over 10 years, I was a successful Real Estate agent working

for national and global brands, where I was just a number. My

customers were also considered just a number. In many cases the

managing broker ignored issues that directly affected the transaction.

Frustrated, I opened Posh Properties 6 years ago, along with

a new attitude; build relationships, know the market, and put your

customer first. Florida will always be a great market, real estate

will always be a great investment, and Posh Properties will always

evolve with technology and the marketplace. These are just some of

the reasons why so many of the area agents are looking to join our

firm," added Jerilyn.

Jim Wrona, who has been in real estate since 1997, says he enjoys

working at Posh Properties because of the "camaraderie." "We are

the local agents working for a boutique office with a lot of deep

reach into the community. Finding the perfect home for our customers

is all about having patience and education. We listen to find

out what their needs are so we can best serve them," he said.

Lea Black, a 13-year real estate professional, also enjoys the

teamwork atmosphere.

"What I like about working at Posh Properties is the other agents

that I work alongside are professionals that have experience and it

is very much a team effort. We offer a more personal experience in

a boutique office," she said.

Realtor Emily Gurvitch says Posh Properties offers an atmosphere

of "support, encouragement and motivation. We are really connected

with the locals being in the downtown offices. Posh Properties is

more of a family atmosphere rather than a work environment."

Realtor Kirsten Smith, who has been in real estate for 14 years,

said, "I have built my practice over several years as my own residential

entity within brokerages with few agents and that were

heavily focused on investments and multifamily. I enjoyed that

side of the business, however, I had a strong desire to participate

in a more agent-centric environment where I had other agents to

bounce ideas off of and collaborate with. I've known Jerilyn for

many years and always admired her work ethic, and commitment

to the local communities. It was a natural fit to bring my homegrown

practice to Posh. Jerilyn provides a professional, supplemental

brokerage with ample support for her agents thus providing

the perfect setting to grow your own business, succeed and

really get involved in the local markets. Jerilyn is dedicated to her

agents and her community. She thrives off of our successes and is

also there to meet any of our challenges. Posh has such a strong

local presence and commitment to provide the best real estate

services. I'm thrilled to have joined the team."

Posh Properties' 36 knowledgeable agents can be seen around

town showing properties, giving back to a charitable organization,

or at a local open house. They contribute to many local causes

including the Chris Evert Foundation, local animal rescue efforts,

and food distribution and adopting families for the holidays. "Posh

Properties agents strongly believe in giving back to the communities

that give so much to us."

Posh Properties recently opened a second office in Boynton Beach

at 100 South Federal Hwy, and have plans for additional offices.

Stop by Posh Properties and get that personal real estate experience

unlike any other. There is always an agent on duty to assist you

with your real estate needs!

Posh Properties

103 NE 2nd Ave

Delray Beach FL 33444

100 S. Federal Hwy

Boynton Beach FL 33435

561-330-4731

www.poshflorida.com

info@poshflorida.com

www.AtlanticAveMagazine.com | January 2018 | 79
---
Tipsy SalonBar & Spa

Get Pampered

While Drinking Wine

By Nicol jenkins | Photos by melissa korman

Walking through the doors, you may

not know at first if it's a bar or a salon.

Greeted with a glass of white or red wine and a choice of pampering

services, customers quickly find out that it is both- a

bar and a salon.

Tipsy SalonBar, which recently opened in Delray Beach, offers the

best of both worlds - a wine bar inside of a salon. At the location,

customers can get pampered by getting their hair, eyelashes, nails or

toes done, while at the same time unwind with a glass of wine.

Tipsy SalonBar provides a wide variety of services including:

hair color, style, manicure, pedicure, eyelash extensions, Keratin

treatments, hair cut, blow dry, waxing, in addition to Botox and

Coolsculpting from a medical physician and much more!

The owners saw a need for a full service spa and salon with a

relaxing bar atmosphere - all under one roof.

"I noticed that there were not many salons that offered every service

at one location. Customers would get their hair done at one

place and then have to travel to a different location for their nails.

Sometimes a husband or boyfriend would be waiting for their significant

other and not enjoy the service. At Tipsy SalonBar, we offer

every service at one location. The men can have a glass of wine

while the wife or girlfriend can get their hair done, or they can both

get a pedicure at the same time and enjoy a drink," said Tin Nguyen,

Manager at Tipsy SalonBar.

80 | january 2018 | www.AtlanticAveMagazine.com
---
Although they just opened, locals and visitors are really enjoying

the concept.

"Customers will come in for the first time and walk through and

ask is that a bar or a salon. Not many people are offering a salon

with a bar. The first time when customers walk through the door,

we offer them a drink and a service and make sure they are happy,"

said Tin. "We are just one block North of Atlantic Avenue and a perfect

spot to relax before a night out on the Ave."

Tipsy SalonBar focuses on making sure their customers are

treated like royalty. The moment you walk through the door, a

friendly staff member offers you a glass of red or white wine. The

expert stylists and nail technicians take the time to know what each

of their customers are looking for and customize the pampering

service for each individual. They offer later hours for the busy hard

working professional so they can come in after work.

"We want all of our customers to have a relaxing experience. We

recommend they make an appointment to make sure that everyone

who walks through the door has a good amount of time to relax. We

don't want to rush anyone," said Tin.

Tipsy SalonBar offers color correction, extensions, Keratin treatments,

Balayage, Ombre, blow dry and haircut, along with top quality

products such as Kevin Murphy.

"We have a very modern looking salon, and we like to have fun

here. We offer our clients a glass of wine when they are getting services

done. Our staff is laid back and fun but take good care of our

customers. Our real goal is for clients to have a luxurious experience

and have fun while they are doing it," said expert hair stylist

Marissa Tankersley, "If you are on the Avenue and about to go out

with friends, come here and let us do your hair and nails."

Expert hair stylist and colorist Mark King said Tipsy SalonBar

is such a unique concept because "we have a bar, and people come

to the Avenue to drink and eat and have a good time. This concept

works best in this area better than any other area because our customers

are here to celebrate every night," he said. "My clients like to

come in, have a glass of wine and relax. They come here to unwind."

Hannah Nguyen, a nail technician at Tipsy SalonBar, says the location

offers everything from manicures, pedicures, gel, NexGen, acrylics

and more! She gets to know all of her clients and their families.

"We want our clients to feel more like family when they come

here instead of just customers. We offer a friendly and welcoming

atmosphere. The service here is always great. When our clients

walk out of here, they have to be happy," said Hannah. "Customer

service is important. Clients say we are so friendly here. We don't

want the customer to come in and feel like we just need to get the

job done and go. We don't rush customers in and out."

"It's rewarding to see my clients come in and then see them

happy after they get their hair and nails done and look and turn

out beautiful. We keep the prices reasonable for everyone coming

here," said Tin.

"Every single person here is incredibly amazing in every sense:

kind, caring, talented and sweet. I came in today, totally last minute...

the day before my best friend's wedding and I'm the maid

of honor so I need to look my best! Tipsy SalonBar accommodated

me right away as a walk-in; I did not have an appointment. I

was incredibly grateful! Not only did they accommodate me, they

treated me like royalty! There is major talent here for both hair

and nails. I highly recommend Tipsy SalonBar for all your hair and

nail needs! Oh, you get a glass of wine or champagne too!" said

one happy customer.

"Absolutely love this place! The staff is awesome and they stand

by their word. Thank you guys for providing me with a personalized

experience," said another customer.

Make your appointment today at Tipsy SalonBar! For the New

Year during the month of January, they will be offering 20% off the

first time visit for a new client!

Tipsy SalonBar

12 NE 4th Ave

Delray Beach FL 33483

561-265-6763

www.tipsysalonbar.com

tipsydelray@gmail.com

www.AtlanticAveMagazine.com | January 2018 | 81
---
JOHN PRINCE PARK,

LAKE WORTH

$10 admission

CHAIRS ENCOURAGED

OFFSITE PARKING & SHUTTLE

FOR A COMPLETE LINEUP OF ENTERTAINMENT OR TO PURCHASE TICKETS VISIT

sflgarlicfest.com •561-279-0907

MAINSTAGE

FRI, FEB 9 ∙ 9PM

MAINSTAGE

SAT, FEB 10 ∙ 9PM

$10 Admission

Donna Summer Celebration - Mary Gaines Bernard

SUN, FEB 11 ∙ 12:30PM

facebook.com/GarlicFestFL

@GarlicFestFL #GarlicFest2017

#SFLGarlicFest, #BestStinkinPartySouthFlorida

Garlic Chef Competition • Full Liquor Bars • Children's Amusement Rides & Games

200 Artist & Crafters • Home Depot Garlic University •Official Garlic Fest Merchandise

Giant Recreation RV World • Gourmet Alley

PARTNERS

BEVERAGE SPONSORS

OFFICIAL

82 | january 2018 | www.AtlanticAveMagazine.com
---
"The Best Stinkin' Party in South Florida!"

FEB 9, 10 & 11

Friday, Feb. 9, 2018

6:30 Fabulous Fleetwoods

9:00 HOOBASTANK

GOURMET ALLEY DINING TENT STAGE

6:00 Taylor Road & Bradley Brown

Saturday, Feb. 10, 2018

12:00 Colin Axxxwell

2:00 Mitch Herrick &The Homegrown Sinners

4:00 Oogee Wawa

6:30 The Ries Brothers

9:00 STICK FIGURE

GOURMET ALLEY DINING TENT STAGE

12:00 Taylor Road & Bradley Brown

Sunday, Feb. 11, 2018

12:30 DONNA SUMMER CELEBRATION

3:00 Urban Gypsy Music

5:00 ANDY CHILDS

GOURMET ALLEY DINING TENT STAGE

12:00 Taylor Road & Bradley Brown

2018 GARLIC CHEF COMPETITION

Paul Niedermann

Executive Chef, Salt7, Delray Beach

Michael Schenk

Executive Chef, Farmer's Table, Boca Raton

-VS-

2017 GARLIC CHEF

Jeremy Hanlon

Executive Chef, Benny's on the Beach

Brad Costa

Executive Chef, Okeechobee Steakhouse WPB

Adam Koch

Executive Chef, Lilo's Streetfood & Bar

SPONSORS

NEW FOR 2018

RV RENTALS FOR GARLIC FEST PATRONS!

STAY WITH US ALL WEEKEND.

RENTAL AND DELIVERY BY GIANT RECREATION WORLD.

RESERVE NOW. LIMITED AVAILABILITY.

Giantrecreationworld.com/rentals

MEDIA PARTNERS

www.AtlanticAveMagazine.com | January 2018 | 83

AS OF DEC 5, 2017
---
PURLIFE FITNESS CENTER DELRAY BEACH

Assess For The Best

By diane feen | Photos by melissa korman

They say knowledge is power. But it's not just for

power sake alone. It's for creating and maintaining

a healthy lifestyle and a healthy physical body that

functions at its maximum capacity.

Giovanni instructing PurLife member Shania Wizov through a full body exercise

Sure, it's nice to look good, but it's even more important to

make sure your exercise regime is one that complements your

lifestyle and body type, not causes injury or pain.

That's why Purlife introduced a state-of-the-art Fitness Assessment

tool to measure exactly what your body needs to function at

its highest capacity, while minimizing (or eliminating) injury.

This ranking system is called Functional Movement Screening, or

FMS. It sounds technical, but the actual process is methodical and

diagnostic. It's been proven to pinpoint and personalize a workout

program to get you active and healthy without injury or pain. Do

you have a knee problem? Shoulder pain or tightness in your hip?

If so the reason might not be what you think.

"We help clients by creating specific exercise programs for them

that help identify imbalances in the body. That is one of the reasons

people suffer injuries or pain. As you go through the screening process

(FMS) we assess what the client does well and what they have

trouble doing. This allows us to create a program just for them that

strengthens their weak areas, so they can move better and more often

(and maximize their ability to lose weight). You'll feel and look

great without pain or injury," said Giovanni Roselli, Regional Director

of Personal Training at Purlife.

FMS has a slogan – Move well – Move often. If you're not moving,

then your tissues and muscles begin to decline. To go about

your daily life safer, stronger and with more confidence you need

to address areas of weakness.

The FMS screening is an amazing tool that gives the Purlife

Master Trainer the ability to correctly identify what exercises you

need to do to achieve a healthy balance in your body. "If you're

not doing the right exercise you can injure yourself. If you have

a bad knee the problem might not be your knee, it may be above

or below the joint which would be the foot or hip. We want our

clients to play with their kids or grandchildren without pain. We

train you from head to toe," said Roselli.

Roselli knows what he is talking about. He was with Equinox

Fitness Clubs for 10 years and served as a Master Instructor and

Tier 4 Coach. He is also a Functional Movement Screen (FMS) Level

2 Master Trainer.

After going through FMS, Giovanni used ViPR to

help correct imbalances and challenge weak links

84 | january 2018 | www.AtlanticAveMagazine.com
---
Giovanni checks and measures for shoulder mobility

Giovanni prepares Shania for the in line lunge screen

Roselli believes in the "movement-based approach," which means

not getting onto machines just to keep moving, but to train the body

as a unit, not in isolation, focusing on any weak muscles or body parts.

The FMS Assessment is done at the beginning of the program

and is purely diagnostic. You'll see what you're struggling with so

the Master Trainer at Purlife can identify what needs to be done

to correct imbalances. He will be able to see how your knee joint,

hip joint and shoulder joint is moving.

The FMS Assessment is done with specific FMS equipment. It

shows which parts of your body don't function as well as others

(usually due to injury or lack of exercise) and shows what you

need to work on to improve mobility, stability (strength) at all

major joint systems.

It's easy to sit on the sidelines and avoid injury or pain, but it's

not the most prudent way to stay healthy. As a matter of fact, it's a

sure way to a shorten a fulfilling life. As people get older they find

themselves sitting out many exciting activities simply because they

have previous injuries they feel require rest or avoidance.

But if you listen to Master Trainer Mike Katz or Roselli you will

discover that limitations are only that – limitations. They know that

with the proper fitness program you can overcome your limitations

through a specific exercise routine created for you.

To get a proper assessment of your physical strengths and weaknesses

Purlife also has "InBody." You stand on a device that tells the

trainer about your exact body composition. It measures muscle-fat

ratio, muscles development, visceral fat level (that surround the internal

organs) and other critical body functions.

To help correct these imbalances and focus on total body exercise

they have a ViPR. This tube-like device is strategically created

for flexibility, stability and cardiovascular training. It's three dimensional

so you can move forward, backward, side to side and rotate.

Functional Training is the newest wave in fitness. "It's important

to move well so you can function in your day to day life. Just because

you look good does not mean your body works well."

He's right. After going through FMS and InBody with Master

Trainer Michael Katz I realized what my body was trying to tell me.

I also realized that to live a pain-free active life I needed to pinpoint

exactly what was weak from prior injuries and how to remedy the

weakness with specific exercises.

Purlife also has a Fit3D wellness assessment tool. It takes a scan

of your body so you can track how your body has changed visually

over time.

As a way of elevating the entire health model Purlife has added

a nutrition certification called Precision Nutrition. Without proper

nutrition the body doesn't perform to its maximum potential. And

let's face it, we all want to live well and feel great.

That's why Purlife is offering an all-inclusive Wellness Journey -

60 For 60 To Get Fit. It encourages behavior changes, nutritional

awareness, improves the quality of movement and helps you stay

consistent with your exercise program. It includes Private Training

Sessions, 60 days of Gym Access and Group Fitness, a Fit3d Scan,

InBody readings and FMS Evaluation. The results will astound you.

Purlife has been so successful in Delray that they are opening a

Boca Raton Purlife in January 2018.

See what everyone is talking about. Get fit – Get Strong – and Get

Going to Purlife.

PURLIFE FITNESS CENTER

45 NE 2nd Avenue

Delray Beach, FL

561-852-9200

purlifedelray.com

www.AtlanticAveMagazine.com | January 2018 | 85
---
Delray Dermatology + Cosmetic Center

Discover Comprehensive

Dermatology Care

By nicol jenkins | Photos by melissa korman

Where can you find the best

in a truly comprehensive

Dermatology care? Search no

further than the newly opened

Delray Dermatology + Cosmetic

Center, which offers medical

and cosmetic Dermatology

services all under one roof.

As an experienced and Board Certified Dermatologist, Dr.

Francesca Lewis, MD wanted to open a full service medical

and cosmetic office in the heart of East Delray Beach. "As a

resident of Delray Beach, I felt as though there was a need in East

Delray for a board certified Dermatologist who specializes in all aspects

of Dermatology and provides comprehensive services," said

Dr. Francesca Lewis. She hopes to become the go-to Dermatologist

in East Delray Beach.

Dr. Lewis is a Florida native, a graduate of Emory University

School of Medicine, and a member of the prestigious Alpha Omega

Alpha medical honor society. She is a Dermatologist certified by the

American Board of Dermatology who specializes in general and

cosmetic Dermatology. She graduated with a Bachelor of Science

from Vanderbilt University in Nashville, Tennessee and completed

her residency training in Dermatology at the Medical University of

South Carolina. Before relocating back to Florida, Dr. Lewis worked

in a prestigious Dermatology practice in Silicon Valley and gained

extensive experience with laser treatments and cosmetic injectables

at one of the country's largest cosmetic and laser centers.

She and her husband, a Radiologist at Boca Regional Hospital, their

son Grayson and their Labrador Retriever Bear have made Delray

Beach their permanent home since 2015. She is an affiliate assistant

professor at FAU and on staff at Boca Regional Hospital. She

has donated to many charity organizations, hospitals, and schools

in the area and is on the committee for the Go Pink Luncheon to

benefit breast cancer awareness at Boca Raton Regional Hospital.

"The most important thing we can do for our community is to give

back," she said, and she makes it a priority to do so.

Delray Dermatology + Cosmetic Center provides a state of the

art, brand new medical office focused on patient care and comfort.

Technology is incorporated throughout the office from the iPad kiosks

in the waiting room for patients to complete their medical his-

Dr. Francesca Lewis, MD, Board Certified Dermatologist

86 | january 2018 | www.AtlanticAveMagazine.com
---
Dr. Lewis and Rebecca Campbell, RN performing a laser procedure

Delray Dermatology + Cosmetic Center staff

tory, choose their preferred pharmacy and update their contact information,

to the TVs in every exam room showcasing cutting edge

procedures and the most up to date medical information. There is

attention to detail throughout the office with an emphasis on patient

comfort. A coffee bar graces the main lobby, the furnishings

are modern and comfortable, and there is even a private lounge for

patients who are receiving cosmetic procedures.

Dr. Lewis puts an emphasis on education. She admits that she

sees fewer patients a day than many of her Dermatology colleagues

because she enjoys educating patients on their condition, the pros

and cons of various treatments, and developing an individualized

treatment plan with every patient. Delray Dermatology houses a

spectacular conference room for monthly educational seminars

and events. They host monthly 'Lunch & Learn' seminars, on topics

ranging from skin cancer to cosmeceutical products. On January

23rd, they are hosting their next 'Lunch & Learn' from 12-1pm on

the topic of acne: causes and cutting-edge acne treatments. They

also plan on quarterly VIP events for their patients (the first of

which will be on January 11th from 5-7pm, see their Facebook page

for more details), and regular evening events to learn more about

their cosmetic offerings.

The Delray Beach based center keeps medical Dermatology at its

core, focusing on skin cancer, acne, benign moles and growths, eczema,

psoriasis, rosacea, hair loss and more. Especially in our sunny

South Florida climate, Dr. Lewis urges her patients to get their

skin checked for cancer at least once a year. "Twenty percent of the

population will get skin cancer in their lifetime. We commonly find

skin cancers even in 20 to 30 year-olds, although they are more

common to develop later in life. I urge patients to come in as soon

as possible if they notice a lesion that is new, growing, changing or

bleeding," said Dr. Lewis. Make sure when choosing a Dermatologist

that you look for a medical doctor that is certified by the American

Board of Dermatology and is a Fellow of the American Academy

of Dermatology to make sure they have the proper credentials.

"I went into Dermatology because it is incredibly rewarding to

make an impact on someone's quality of life by treating their rosacea

or acne or psoriasis, or by diagnosing a melanoma in its earliest

stages, or making someone feel more confident about themselves

when they look in the mirror with natural appearing cosmetic procedures.

I love what I do every day and the patients I get to build

relationships with," she said. She enjoys seeing patients of all ages

as well, including children.

While with their roots still in medical Dermatology, they provide

cosmetic services only that have a proven benefit including laser

treatments, Botox and Dysport wrinkle relaxing injections, dermal

fillers like Juvederm to help with fine lines and creases, microneedling

for collagen stimulation, Platelet Rich Plasma treatments, OxyGeneo

SuperFacials and much more! The lasers they have are used

to treat redness, brown spots, wrinkles, and acne scars. Dr. Lewis

explains that she is very careful when evaluating and selecting new

devices for the office to make sure that efficacy of the device is foremost

and patient comfort and satisfaction is paramount. Dr. Lewis

takes an individualized approach to correcting the signs of aging

called Complete Correction because not every patient is the same

and needs the same treatment. She evaluates and treats the entire

spectrum of aging symptoms of the skin by addressing color imperfections,

creases and contours of the face with a multi-faceted approach

incorporating a variety of the above treatments and medical

grade skincare regimens. She developed her own medical grade

skin care line called Delray Skin that is available in the office and

will soon be available online through their website delrayskin.com.

Her patients agree that Dr. Lewis is superb and recommend Delray

Dermatology + Cosmetic Center for all your Dermatology needs.

"Dr. Lewis is the kindest. She takes the time to listen to your

concerns. I left afterward not feeling rushed but confident that my

health was in good hands. Her staff were also very personable and

the new office looks great! I highly recommend," said one patient.

"I have had psoriasis for years and never have been able to get it

under control until I found Dr. Lewis. She spent so much time with

me and came up with a plan. Now I'm almost completely better,"

said another patient.

Visit Delray Dermatology + Cosmetic Center during the Delray

Beach Chamber of Commerce grand opening and ribbon cutting

ceremony on January 18th from 5-6:30pm.

Delray Dermatology + Cosmetic Center

550 SE 6th Ave

Delray Beach, FL 33483

(561) 440-8020

www.delrayskin.com

facebook.com/delrayderm

info@delrayskin.com

www.AtlanticAveMagazine.com | January 2018 | 87
---
counseling

By john davis, lmhc

How to Stop Drinking

Get Healthy

See a Doctor

First, make the decision to quit and the commitment to doing

whatever it'll take. Then get some help from an expert physician

skilled with addiction and keep them on your team. Especially if

your drinking has been regular and heavy, withdrawal should be

medically supervised. A brief stint in de-tox can be a good start

toward a better life.

Addiction is Curable

There are strategies available using a therapist like myself to rid

ourselves of addiction, and eventually walk down the street without

feeling sick, broken, or not-good-enough or scared that one

next wrong move's going to kill you.

Will Power Sucks

Thinking you'll be stronger than the call of old habits just by

force of will is a fantasy. You cannot continue to live the same ways,

frequent the same places, hang out with the same people and structure

your time the same. If you show up in a bar around happy hour,

you're going to drink

Doing Whatever it Takes

Making and keeping commitments is key to regaining self-management.

Under the direction of an expert addictions therapist and

supportive groups like AA, it is possible to remove the power from

urges and triggers that have tipped the scales toward self-destruction.

You may experience these impulses for the rest of your life,

but you'll grow wise enough to move past them without danger and

without acting on them.

1. Remove alcohol and any other mood altering substances from

your diet and surroundings immediately. Warn your spouse or

roommate that these supplies are no longer welcome.

2. Get up before 6AM (or earlier) daily and make physical aerobic

exercise your first priority. Brisk walking, running, biking, swimming,

etc will bathe your brain in healing chemistry and supply motivation

you'll need all day.

3. Sharpen your diet. Eat small meals 6 times daily. Drop the

carbs and sugar. Use a professional nutritionist.

Roots of Addiction and the Real Costs

4. Commit to honest self-inquiry with a therapist. Familiarize

yourself with thinking distortions and destructive behavioral patterns

that have allowed your emotions to control you. Determine

why you've lost your way.

5. Attend a 12 Step meeting every day. Speak up. Let yourself be

known in the room. Make the coffee and hand it out when it's your

turn. Introduce yourself. Often.

6. Get a 12 Step sponsor with the time, motivation and inclination

to hold you accountable for meetings and step work.

Practice Seeing the World As it Is

7. Make "structural changes" such as travel schedule alterations

and time commitments to work your recovery as THE most important

project. Avoiding family? Are you a workaholic? Is your job killing

you? Does your marriage suck?

8. Meditate or pray mindfully at dawn to raise your awareness of

urges and triggers. Build an awareness of your spiritual potential.

Block time to "just sit" quietly for 10 minutes per day, every day. A

chair is fine.

You Could Fail and Die

There can be points in our lives beyond which we cannot, without

more restrictive care, return from a dangerous addiction. Our

bodies grow accustomed and may refuse to cooperate with the

most robust plan. People die of alcoholism and it's related illnesses

daily. If you feel you might need a higher level of care, including

hospitalization, don't hesitate to consult me.

Take Action Now

If you need assistance with your recovery, I'm available as an

expert addiction psychotherapist and sober coach based in Delray

Beach, FL. I work by phone and office visits. Contact me here. or call

me at 561–213–8030.

John Davis, LMHC

Licensed Psychotherapist

561-213-8030

www.johndaviscounseling.com

88 | january 2018 | www.AtlanticAveMagazine.com
---
May this new year open new doors for you!

Engel & Völkers Portfolio of Fine Homes

NEW CONSTRUCTION

NEW CONSTRUCTION

One-of-a-kind modern masterpiece by Dold

Developments located in Boca Bay Colony, sited on

approximately 240 +/- of water frontage. $5,495,000

Devin Stoner +1 561-702-5953

Spacious 5BD/ 6.5 BA home nestled in the

luxurious Mizner Country Club.

$1,400,000/Sale $7,800/Rental Annual.

Brian Bernstein +1 301-830-1614

The Lynx Golf Estates is a gated enclave of 13

modern yet timelessly elegant homes starting at

$1,050,990

Lenny Felberbaum +1 561-306-5440

REDUCED

JUST LISTED

Panoramic intracoastal, and ocean views from this

completely renovated 11th floor gem.

$825,000

Leanna Fruin +1 561-445-1415

Penthouse Residence w/ Private rooftop patio - 3 BD/

2 BA in the heart of Pineapple Grove and steps from

Delray's electric Atlantic Ave. and beaches. $799,000

Catherine Mcglennon +1 561-239-0037

Highly desirable 5BD/ 4BA single family home with

extraordinary renovations in sought after Colonnade

neighborhood. $762,500

Wendy Felberbaum +1 561-542-5799

JUST LISTED

JUST LISTED

JUST LISTED

4 BD/ 3 BA Single level home on incredible

waterfront lot in gated Andover.

$718,000

Leanna Fruin +1 561-445-1415

Impeccable 3 BD/ 3.5 BA Azalea model in Mallory

Square. A few short blocks from Atlantic Ave. and

beaches. $589,000

Lenny Felberbaum +1 561-306-5440

Spacious 4 BD/ 3 BA lakefront home with

southern exposed heated pool & jacuzzi in sought

after Winston Trails community. $444,900

Tom Timmons +1 561-843-3180

Engel & Völkers Delray Beach • Licensee of Engel & Völkers, Residential, LLC

900 E. Atlantic Avenue • Suite 14 • Delray Beach • FL 33483

delraybeach@engelvoelkers.com • delraybeach.evusa.com • +1 561-362-2888

©2016 Engel & Völkers. All rights reserved. Each brokerage is independently owned and operated. All information provided is deemed reliable but is not guaranteed and should be independently verified. If your property is currently

represented by a real estate broker, this is not an attempt to solicit your listing. Engel & Völkers and its independent license partners are equal www.AtlanticAveMagazine.com opportunity employers and fully support the principles | January of the 2018 Fair House | 89

Act.
---
Wеddіng Trеndѕ

5By Paula AngerFor 2018

It's that time of year again and

each year wе discover a ѕhіft іn

wеddіng trеndѕ - ѕоmеtіmеѕ a

ѕubtlе change in whats "in style"

from the previous year, оthеr

times іt is a соmрlеtе 360.

One of the beauties about weddings is that aesthetically the

industry is always in constant change and nеvеr gets boring

since thеrе аrе so mаnу new аnd different options to consider.

2018 is going to be a уеаr of іnnоvаtіоn аnd еxреrіmеntаtіоn

fоr couples. As thе wеddіng season аррrоасhеѕ, wе gіvе you a

sneak peak of what 2018 is going to be all about!

1. Black Accents

We have been seeing lots of blush, peach and overall pastel color

trends in the last few years which are subtle and give a romantic

wedding feel. But this year, black is the new accent color; from bridal

accessories and outfits to wedding decor, this year's bride and

groom will make a statement with this innovative trend. Being bold

is in, but if this trend doesn't fit your personality than you can opt

out or simply use black subtly throughout your wedding with caution.

You can always mix black with other "not so dramatic" colors

for the perfect balance.

2. Mismatched Bridesmaids Dresses

Wearing the same type of dress and color is pretty much out of

the equation this year for bridesmaids. Brіdеѕmаіdѕ want to make

a statement in 2018 as well and they can choose a dress and color

hue that matches their style. Even though brides will give their

bridesmaids some freedom this year, don't forget to also give them

some guidelines. In the end, the whole wedding has to be cohesive

and bridesmaids need to keep this in mind when picking their outfit.

If you want to play it safe, provide your bridesmaids with different

color hues they can choose from.

3. Drip and Geometric Wedding Cakes

Drips and geometric shaped cake decor are all in for 2018; from

gold and black to any color that will suit your wedding theme. No

matter the size of your cake, 1 tier, 2 tiers or 3+ tiers, cakes will be

another wedding "wow factor" that your guests will be talking about.

4. Different Wedding Settings

Wedding venues are always a great option, but lately, other settings

such as industrial spaces are being considered by couples who

want something "out of the box." There are tons of settings you can

choose from depending on the theme of the wedding; from barns

and beaches to parks and museums. Remember you can always get

creative and transform virtually any space with lighting and decor.

5. Transparent Elements

From see-through acrylic tables, to see-through wedding archs,

this style is becoming stronger and stronger. Couples can add

glowing elements, LEDs, and other decor such as flowers to their

see-through elements for that "new edge" wedding feel.

Always remember that trends are trends, and the most important

thing is that the couple feels confident and excited about these new

things, if they choose to. If you want to add some of the latest trends

to your wedding, choose one or two that fit your personality, fit the

wedding feel you are going for, and that you both identify with.

90 | january 2018 | www.AtlanticAveMagazine.com
---
AcAdemics

Arts

Athletics

techNology

hANds oN leArNiNg

Now scheduling

tours for the 2018-2019

school year for Pre-K3

through 8th grade.

trAditioN

Nationally recognized as one of the

Best 50 Independent Elementary

Schools in the United States.

3600 Gulf Stream Rd,

Gulf Stream, FL 33483

Phone: (561) 276-5225

www.gulfstreamschool.org

www.AtlanticAveMagazine.com | January 2018 | 91
---
travel

8

Great Places

to Visit in

the UK,

After London

If you're planning a trip to the

UK, chances are you're heading

to London, but maybe no further.

The buzzing metropolis draws millions of visitors every year,

and many people feel it offers all they could want. But the UK

is packed with other amazing places beyond London, each

unique in some special way, so make sure you don't miss out. Here

are eight highlights around the country, for starters:

1. Elegant Bath: The graceful, little city of bath makes a refreshing

antidote to London. Take a stroll around the famous Royal

Crescent, visit the historic Roman Baths and sip the curative

spring water in the elegant, old Pump Room. You can do your gift

shopping in the tiny stalls that adorn the river bridge. Stay until

nightfall and witness the magical floodlights - there's a fairy-tale

element to Bath.

2. The Cotswolds: A little further north, you'll encounter the

rolling farmland of the Cotswolds, where the quaint, little stone

cottages and Norman churches will take you back through the

centuries. Stop off in a sleepy, old village, such as Bibury, and walk

around the amazingly preserved Roman villa near Chedworth.

You'll find plenty of classy eating places and craft shops in this

charming, "olde worlde" region.

3. The Welsh mining valleys: There's a harsh side to British

history alongside the fairy-tale one, and you'll feel it in the old

OPENS PREZ DAY WEEKEND: FEB 16–18

TEAM

USA

TEAM

INT'L

MCENROE|FISH

GAMBILL

GONZALEZ|LEVINE

RUSEDSKI

92 | january 2018 | www.AtlanticAveMagazine.com
---
mining valleys of south Wales. Drive over the stark mountains and

view the rows of workers' cottages, now painted in bright colours.

Take the elevator down The Big Pit and learn how tough life used

to be for the coal-miners. Then you could step even further back

through history with a roam around Caerphilly Castle - but mind

those spooky, spiral staircases.

4. Vibrant Manchester: Visit the beating heart of the north

of England. You'll feel the buzz of Manchester life as soon as you

arrive. Take a tram ride around town and check out the latest

events at the many theatres and concert halls. You'll find plenty of

stand-up comedy and other fun shows in Manchester, and plenty

of sport, too, as well as top-notch culture.

5. The Lake District: Around the coastline from Manchester,

you'll find the romantic, hidden world of The Lake District.

Climb the dramatic mountains and take a boat trip around beautiful

Lake Windermere, the largest of the sixteen gleaming waters.

Then you can ride through the magical scenery on a splendid, vintage

steam train.

6. Historic Edinburgh: Venture over the rugged border of

Scotland - scene of many a historic battle - and head north to Edinburgh

for another great experience. With the imposing castle on

its great rock and bagpipe music in the air, you will know you've

arrived. How about donning a kilt and joining in a Scottish dance

reel? You'd certainly deserve a stick of delicious "Edinburgh Rock"

after that.

7. The wild Outer Hebrides: These remote Scottish islands

offer an unspoiled beauty that's second to none. It's strange to

think that President Trump's mother grew up on one of them -

the Isle of Lewis, far away from urban life and high society. Take

a boat trip to the tiny island of Staffa and see the puffins nesting

on the clifftops.

8. York and the Yorkshire Dales: As you head back south

to London, drop in on the ancient city of York. Step inside the resplendent

York Minster, browse the little shops in the old Shambles

district, then join an after-dark ghost-walk around the twisty,

cobbled streets. Take a drive over Yorkshire's wild moors and

pretty dales, and make sure you try all the local cakes, pies and

ales on your way through.

There are plenty more special places to see while you're over in

Britain, not just in these parts but across the water in Ireland, too.

Browse the sightseeing websites and ask fellow travelers for their

recommendations. There's something for everyone in the UK.

TUES 2/20

8:00PM

TUES, 2/20

2:30PM

FEB 19–25

DEL POTRO|

TUES 2/20

RAONIC

12:30PM

SOCK|QUERREY

SHAPOVALOV|KYRGIOS

WED 2/21

BRYANS

8:00PM

Photography by CameraSport & ATP Champions Tour.

561.330.6000 | YellowTennisBall.com

www.AtlanticAveMagazine.com | january 2018 | 93
---
Delray Beach Marketing Cooperative

Delray's Sister Visits for the Holidays

BY STEPHEN CHRISANTHUS

Our Sister City of Miyazu, Japan came to visit us this past

December, commemorating the 40th anniversary of our

international partnership. The enthusiastic group of five, led by

Mayor Shoji Inoue, enjoyed a week of warm greetings and sunshine.

For those that are not familiar with the term, a Sister City relationship

is a broad based, officially approved, long-term partnership

between two communities in two countries. Sister

City partnerships have the potential to carry out the widest possible

diversity of activities of any international program, including every

type of municipal, business, professional, educational and cultural

exchange or project. Sister City programs are also unique in that

they inherently involve the three main sectors in the community:

local government, business, and a wide variety of citizen volunteers.

Sister City of Delray Beach was created by the city commission

in April, 1977 for the purpose of establishing a Sister City affiliation

with Miyazu, Japan. In 1999, Sister Cities of Delray Beach

added a partnership link with Moshi, Tanzania, East Africa. In

2015 Delray became Sister Cities with Pesaro, Italy and then in

2017, Aquin, Haiti. Sister Cities of Delray Beach promotes friendship

and understanding between the citizens of Delray Beach,

Florida and each of our Sister Cities around the world by encouraging

cultural, youth, athletic and economic exchanges.

"2017 marks the 40th anniversary of the sister city relationship

between Delray Beach and Miyazu, Japan. The relationship

began to honor George Morikami, who was born in Miyazu. He

lived in Delray Beach and donated the land where the Morikami

Museum and Japanese Gardens are located. We are honored that

his grandnephew, Kazuaki Ida, visited Delray Beach along with

Mayor Shoji Inoue of Miyazu,"says David Schmidt, President of

Delray Beach Sister Cities.

The Miyazu contingent spent 4 days touring the area and exploring

the city. The group was given a golf cart tour of town

by the Delray Beach Marketing Cooperative, highlighting all the

different facets of Delray. They discussed economic development

with local businesses at the Chamber of Commerce, met

with Mayor Cary Glickstein, visited the Cornell Museum for a reception

with city leaders, ate meals at local restaurants, and of

course, visited the Morikami Museum and Gardens. The group

enjoyed themselves, and looks forward to the next time Delray

Beach visits them.

94 | january 2018 | www.AtlanticAveMagazine.com
---
READY TO SELL? LOOKING TO BUY?

IT'S TIME FOR ELLIMAN

402 NW 17TH STREET | DELRAY BEACH

$619,000 | Web# RX-10330324

Lake Ida opportunity. Build your dream home on this

111 x 134' lot in the best location.

CHERAN MAREK

Realtor Associate

561.870.8855

cheran.marek@elliman.com

PLACE AU SOLEIL | DELRAY BEACH

$2,899,000 | Web# RX-10366926

This 4-bedroom, 4.5-bathroom classic deepwater home

has 5,000+sf under air. Located in a private waterfront

community just outside downtown Delray.

elliman.com

1111 LINCOLN RD, MIAMI BEACH, FL 33139. 305.695.6300. © 2018 DOUGLAS ELLIMAN REAL ESTATE. ALL MATERIAL PRESENTED HEREIN IS INTENDED FOR INFORMATION PURPOSES ONLY. WHILE, THIS INFORMATION IS BELIEVED TO BE

CORRECT, IT IS REPRESENTED SUBJECT TO ERRORS, OMISSIONS, CHANGES OR WITHDRAWAL WITHOUT NOTICE. ALL PROPERTY INFORMATION, INCLUDING, BUT NOT LIMITED TO SQUARE FOOTAGE, ROOM COUNT, NUMBER OF BEDROOMS AND

THE SCHOOL DISTRICT IN PROPERTY LISTINGS SHOULD BE VERIFIED BY YOUR OWN ATTORNEY, ARCHITECT OR ZONING EXPERT. EQUAL HOUSING OPPORTUNITY.

www.AtlanticAveMagazine.com | January 2018 | 95
---
OLD SCHOOL SQUARE

2018 is Launching with a

Full Schedule of Entertainment!

Crest Theatre presents Comedy,

Illusion and Enrichment Jan. 3-25

THE CAPITOL STEPS, Wed. & Thurs., January 3rd& 4th at 8 p.m.

Political satire straight from the headlines. This ever-popular ensemble

delivers a night of sheer laughter!

THE JASON BISHOP SHOW,

Sat., January 6th, 2 & 8 p.m.;

Sun., January 7th, 2 p.m.

From his breathtaking Double

Levitation to his cutting-edge Op-

Art and Plasma illusions, Jason

Bishop features stunning and original

state of the art magic in a show

that's surprisingly funny and truly

magical. Pop music and audience

participation round out this unforgettable performance!

MENOPAUSE THE MUSICAL, Fri. & Sat., January 12 & 13, 8

p.m.; Sun., January 14, 2 & 7 p.m.

This hilarious musical

parody, staged to

classic tunes from the

'60s, '70s and '80s, will

have you cheering and

dancing in the aisles.

See what millions of

women worldwide

have been laughing

about for 16 years!

Robert D. Chapin Lecture Series presents DR. JAMES

DELGADO, Undersea Adventurer, Thurs., January 25th, 2 p.m.

Sponsored by Northern Trust.

Delgado is known for his deep-sea explorations -- from mapping of

the Titanic wreck site, to the discoveries of Carpathia, the ship that rescued

Titanic's survivors, and the notorious "ghost ship" Mary Celeste,

among several others.

Cornell Art Museum Spotlights

Vicki Siegel for Art Walk, Jan. 5

Friday, January 5th, 6-9 p.m. –Spotlight Gallery showcase of

new works by Vicki Siegel.

Vicki Siegel's work combines painting and photography to create images

that are both real and imaginary. Her work is contemporary and

96 | january 2018 | www.AtlanticAveMagazine.com

cutting edge, uniting her fascination with the world around her with her

passion for the physicality of painting. Working in multiple layers, her

work is rich in imagery and meaning.

Also on view: "Looking Glass" through Feb. 25 -- Come see yourself in

the art! Art selfies are encouraged. Hours: Tuesday-Saturday, 10 am-5

pm; Sunday, 1-5 pm. Closed Mondays and holidays.

Admission: $8 (general); $5 (seniors 65+ and students with ID). Free

admission for children under 12, Old School Square members and Veterans.

Free admission for Florida residents on Sunday.

Old School Square Pavilion

presents Free Friday Concerts

through Jan. 26

Friday, 7:30 p.m.; free admission; weather permitting; bring lawn

chairs, and bring the family, but no pets or outside food and beverage.

Food and beverages available for purchase. Sponsored by Capital

One Café.

January 5 – Tony Succar & The Mixtura Band - Latin

January 12 – The Kinected – Pop/Electro/Indie Rock

January 19 – Artikal Sound System – Reggae/R&B

January 26 – B Street Band – Bruce Springsteen Tribute

Crest Theatre Opens the 2018

Cabaret Series, Jan. 8 & 9

SANTINO FONTANA with Guest Star JESSICA FONTANA, Mon. &

Tues., January 8-9 at 8 p.m.

Don't miss this opportunity to see the Broadway stars of Rodgers &

Hammerstein's CINDERELLA as they open the 22nd season of the

Crest Theatre's popular Cabaret Series.

MusicWorks

Opens Folk &

Rock Concert

Series, Jan. 24

JIMMY WEBB, Wed., January

24th, 8 p.m. -- American

songwriter, composer, singer and

the only artist ever to have received
---
GRAMMY Awards for music, lyrics and orchestration. His mega

hits include Up, Up and Away, By the Time I Get to Phoenix,

Wichita Lineman, Galveston, All I Know and MacArthur Park,

among many others!

MARTIN SEXTON, Wed., January 31st, 8 p.m. – This American

singer-songwriter and has released nine studio albums blending

soul, gospel, country, rock, blues, and R&B. He is known for his wide

vocal range and dynamic live performances and has been hailed by

Billboard as "the real thing…"

HEALTHY SKIN &

NATURAL BEAUTY

HAVE NEVER BEEN THIS CLOSE…

Catch A Rising Star Comedy

Series Opens Jan. 27

New York Comedy Night with JESSICA KIRSON and REGINA

DECICCO, Sat., January 27th, 8 p.m.

Stand-up comedy is back at the Crest Theatre with four nights of

great comedy from January to April.

Jessica has worked with Robert Deniro and has over 3 million

YouTube podcast hits. Regina has been featured on Fox and AXS TV.

Check out the Creative

Arts School's Classes and

Workshops!

Discover and expand your creative side during Winter

Terms, January-April!

If you love art, choose from drawing, painting, mixed media, glass

and Open Studio classes or try an art workshop. If you love photography,

discover the "art of seeing" with intro to digital camera

classes, beginner/ intermediate/advanced fine art photography,

nature and seascape photography and workshops in street photography,

image transfer and iPhoneography! If you love writing,

become a part of The Writers' Colony through classes in fiction and

memoir writing. Seminars and workshops focus on the publishing

experience, character development and uncovering your "creative

self." Open Readings take place on the 2nd Thursday each month,

6:30-8:30 p.m.

Old School Square is the center of arts & entertainment in downtown

Delray Beach and has served as the community's gathering

place for over 25 years. The historic campus welcomes half a

million people each year for programs, classes, events and rental

activities and includes the intimate Crest Theatre (in the restored

1925 Delray High School building) the Cornell Art Museum (in the

1913 Delray Elementary building), and the Fieldhouse (c. 1925).

The Pavilion, which opened in 2002, hosts outdoor concerts and

shows. The Creative Arts School (2nd floor of the Crest Theatre

building) offers art, photography and writing classes. Old School

Square also serves as a venue for community, corporate, private

and media events. For information on all programs and services,

call 561-243-7922 or visit OldSchoolSquare.org.

MEDICAL DERMATOLOGY | COSMETIC DERMATOLOGY | LASER SERVICES

NEW YEAR—NEW YOU!

SAVE

20%

On IPL, Resurfx ® and photo-fractional

laser packages through January 31st.

Make an appointment

for a complementary cosmetic consultation, and

discover which laser treatment will benefit your skin

FRANCESCA LEWIS MD, FAAD

BOARD CERTIFIED DERMATOLOGIST

MEDICAL DIRECTOR

Most commercial insurances

and Medicare accepted

O (561) 440-8020 W delrayskin.com

550 SE 6th Ave, Ste 100 | Delray Beach | Florida | 33483

www.AtlanticAveMagazine.com | January 2018 | 97
---
Carol Eaton

98 | january 2018 | www.AtlanticAveMagazine.com
---
egulars | city people

by diane feen | photo by melissa korman

Mother Theresa Of Delray

Wine bottles lined a side

table at Carol Eaton's house

in Delray Beach. The holiday

décor was all pervasive

and the previous nights'

festivities were still in the air.

"We just had our holiday party for the Ambassadors

of the Chamber of Commerce. Everyone brought

something, and I made four dishes," said Eaton, who

is as much a part of Delray's lore as its lush sunsets.

To know Eaton is to know that she is spread over Delray Beach

like a thin film of tissue paper. Her commitment to Delray Beach and

(its inhabitants) is huge and her heart is wide open to those in need.

You could say she is like a fairy Godmother spreading golden dust

over different organizations and causes. Her volunteer imprint is

large, and the results are spectacular. As Eaton puts it, "Opening

your heart to someone in the smallest way can make a big impact

on someone's day!"

In Eaton's case it's not just a day that she impacts, it's people's

lives. You can see it in the organizations that are supported by the

grants she writes for the Delray Elks Lodge #1770. As her role of

Treasurer and CFO, Eaton tapped into the Elks National Foundation

Grants and now disperses them to local charities. She has written

24 grants and helped to bring goodwill and funds to places like Boys

& Girls Club, Miracle League, Caring Kitchen, The Milagro Center,

AVDA and others.

But that's only part of Eaton's fairy dusting efforts. She is currently

the incoming Chair of the Delray Chamber Ambassadors that

supports (and celebrates) new businesses. Eaton is also incoming

Chair of the Delray Beach Initiative, a volunteer community organization

that raises money to enhance the lives of local children.

To say that Eaton's life is made up of good deeds would be an understatement.

She glows when the phone rings with people asking

for money for various causes, and she gets excited with the endless

possibilities that land at her feet. "I believe each of us should have a

goal of doing whatever is possible to make a difference in the lives

of people who are less fortunate."

Eaton practices what she preaches.

That volunteer spirit began early in Eaton's Delray life. She was

a mother and full-time employee of a jewelry company when she

started volunteering for the Pineapple Grove Mainstreet Program.

In that capacity Eaton did fundraising for the Christmas Parade

float, Share our Strength and Taste of the Grove. She also volunteered

for the first Brew Festival and helped paint the 100 block in

pastel hues with 50 other do-gooders.

"Volunteering got into my blood immediately. I met so many

people and enjoyed the feeling of camaraderie working together toward

a common goal. You become part of a big happy family."

When it comes to happy families Eaton has this mile-marker aced

in spades as well. Her 18-year-old daughter Nikki is a student at

Florida Gulf Coast University and her husband Jim retired from the

Post Office but keeps busy like his wife. "Moving to Delray was the

best move I ever made beside marrying my wife. She is the most

caring, loving person I've ever met."

Jim isn't the only one who sings Eaton's praises in exalted soprano

range. "Anything Carol supports she puts passion, energy and

ingenuity into, which is why she is appreciated by so many locals. I

am grateful to have Carol as a very active member of the Chamber,

engaged in our community, a volunteer, a neighbor and a friend,"

said Kim Bentkover, Membership Director of the Delray Chamber.

Eaton's past volunteer activities include being on the PTA of her

daughter's school (S.D. Spady Elementary) and spearheading programs

like the Business Banner, Adopt-A-Class and Matching Gifts.

From 2005 to 2014 she volunteered for the Mark Gerretson Memorial

Fishing tournament as Program Advertisement and Sponsor

Chair. She increased profits for the fishing tournament by 600

percent, which allowed them to use the funds to help other local

charitable causes.

In a Delray Police Department Community Service Commendation,

Chief Joseph Schroeder said the funds Eaton raised not only helped

their Holiday Toy Drive, but college scholarships, Cops Literary Program,

Annual Easter Egg Hunt, Karate program, Delray Rocks Football

Team and the 1st Annual Kids and Cops Summer Baseball Camp.

"What goes unnoticed is your effort. You work tirelessly on the

fishing tournament and countless hours of volunteer work to raise

funds to ensure its success. That directly impacts the money we can

give back to the community. You do not look for notoriety or recognition

– you do this because you care about your community and its

future," said Chief Schroeder in 2007.

Not much has changed since then. Last month pictures of Eaton

surfaced on Facebook with her and Delray Beach Elks members

packing goodies for the troops for their Delray's Project Holiday.

She also took part in delivering gifts and bikes to the Caridad Center

with the Delray Beach Elks Club. Later in the week Eaton took

part in the Delray Police "Heroes and Helpers" event that brought

100 children to Target for Christmas gifts.

"The Elks gave $2,500 towards supporting 'Heroes and Helpers.' I

went to Target to watch 100 children being escorted by police officers

into the store to buy their Christmas gifts! Gives me goose bumps!!"

Much of what Eaton does in the community goes unnoticed by the

public but not by those who know her. "Carol is a great friend of the

Chamber and our community. You can always count on her to help

whenever and wherever it's needed. She is one in a million!" Said

Patty Reed, Program Director for the Delray Chamber of Commerce.

That is one reason she received the Ken Ellingsworth Community

Service Award for 2013-2014.

The awards and glowing letters may be significant in Eaton's file

folders, but out in the world she is a giant among men (or women).

You could say those in her path are blessed by an angel.

www.AtlanticAveMagazine.com | january 2018 | 99
---
fashion | what RU © WEARING

photos by melissa korman

What RU

Wearing?

as told to Atlantic Ave MAGAZINE

©

Sarah

Top Olivaceous $40

pAnts Kush $90

Bag Jennifer Haley $398

Shoes Mystique $160

Necklace Rock & Moonlight $95

Dianne

Dress Top Calvin Klie $39

Shirt Alie & Olivia $398

Shoes Chanel $1700

Stockings H&M $15

Bag Chanel $6400

Earrings Bloomies $35

Necklace Delray Affair 2017 $50

100 | january 2018 | www.AtlanticAveMagazine.com
---
www.AtlanticAveMagazine.com | january 2018 | 101
---
fashion | what RU © WEARING

photos by melissa korman

What RU

Wearing?

as told to Atlantic Ave MAGAZINE

©

Jennifer

Dress BCBG $228

Shoes Joie $275

Necklace $225

bracelets $59

Mary

Dress Sofia Collection $349

Shoes Lady Couture $150

Bag Hello Kitty $150

Necklace Blings & Things $80

Bracelet Blings & Things $60

102 | january 2018 | www.AtlanticAveMagazine.com
---
Restore Your Body and Mind

Begin the year renewed with our Restorative Ritual featuring advanced

massage techniques and decadent ESPA ® products.

This luxurious 110-minute treatment begins with body brushing to eliminate toxins and an ESPA spearmint body

polish to gently exfoliate, leaving the skin smooth and silky. A soothing massage follows, using a combination of

specialty essential oils and hot stones to relax tired, aching muscles. A therapeutic scalp massage using ESPA's

famous Pink Hair & Scalp Mud finishes the experience, leaving you in a state of total bliss.

To book an appointment, visit TheSeagateSpa.com or call 561-693-3478.

Gift cards may be purchased at The Seagate Spa, or online by visiting TheSeagateHotel.com/giftcards.

State of Florida, Department of Health, Massage Establishment. License # MM 23691

Open daily 8:00 a.m. – 8:00 p.m.

Located at The Seagate Hotel & Spa | 1000 E. Atlantic Avenue

Condé Nast Traveler Readers' Choice Awards "Top 75 Hotel Spas in the U.S."
---
fashion | what RU © WEARING

photos by melissa korman

©

What RU

Wearing?

as told to Atlantic Ave MAGAZINE

Casey

Romper Flynn Skye $166

Bodysuit Flynn Skye $96

Shoes Say the Sun $64

Bag Cleobella $296

Necklace The Silver Mermaid $60

Kate

Romper Cool Change $278

Shoes Tkees $50

Bag En Shalla $60

Necklace Pearl By Lola $184

Necklace K Scarlet Jewelry $212

104 | january 2018 | www.AtlanticAveMagazine.com
---
www.AtlanticAveMagazine.com | january 2018 | 105
---
fashion | what RU © WEARING

photos by melissa korman

What RU

Wearing?

as told to Atlantic Ave MAGAZINE

©

Rhiana

Vest Look by M $40

Belt Haystacks $27

Top My Delray Beach tank by Haystacks $36

Jeans Vocal $42

Boots Laredo $120

Bag Triple 7 $48

Sunglasses Rayban

Cindy

Hat Michael Starts $70

necklace Bolufe $89-$159

Top Bolufe $139

Leggings Siklen $48

Shoes Sergio $165

Bag Muche $139

Bracelet Bolufe $29-$45

106 | january 2018 | www.AtlanticAveMagazine.com
---
Mind, body, spirit and emotional balance

The 528 Thermae

Day Retreat

528 is the frequency of nature, the rays of

the sun and of love. It is used by genetic biochemists

to repair dna. Introducing: The 528

Thermae Day Retreat

RelaxingPurifyingHealing...

day retreat $528

dry brush with detoxing warm clay

wrap | nourishe organics kinetic

facial with essential oils, botanicals,

repairing acupressure & crystals | :90

deep tissue massage with hot stones

and cupping therapy | foot soak to

detox the body and assist the lymph

system | organic juice | hot saunas |

528hz meditation room | oxygen water

voted best wellness retreat 2016 & 2017

561-332-5883

205 ne 5th terrace, delray

thermaeretreat.com

www.AtlanticAveMagazine.com | january 2018 | 107
---
fashion | what RU © WEARING

photos by melissa korman

©

What RU

Wearing?

as told to Atlantic Ave MAGAZINE

Maddy

Top Love Sam $236

Earrings Julie Voss $178

Jeans Paige $199

Shoes Soul Society $200

Bag Jen Hally $450

Kim

Bag Dade $100

Necklace Semi-precious Collection

Bracelets Bolufe $65-$100

Jeans AG $239

shoes Sergio

108 | january 2018 | www.AtlanticAveMagazine.com
---
INSPIRED OBJECTS

LEIGHTON DESIGN GROUP

1020 S. Federal Highway, Suite 104 | Delray Beach, FL 33483

561 865 7191 | leightondesign.com | Hours: 10am – 6pm M-F
---
fashion | what RU © WEARING

photos by melissa korman

©

What RU

Wearing?

as told to Atlantic Ave MAGAZINE

Gabby

Dress DSquared $109

Necklace Circe Swag $225

Belt Circe Swag $120

Shoes Joie $300

Bracelet Elizabeth James $200

Bag Jen Hally $396

Karen

Jumpsuit Circe Swag $220

Shoes Dolce Vito $150

Bag Jen Hally $265

Necklace Lacey Ryan $85

110 | january 2018 | www.AtlanticAveMagazine.com
---
www.AtlanticAveMagazine.com | january 2018 | 111
---
fashion | what RU © WEARING

photos by melissa korman

©

What RU

Wearing?

as told to Atlantic Ave MAGAZINE

Taylor

Jacket Carma $696

Top Furst of a kind $120

Jeans Carmar $216

Belt LF $35

Shoes Dolce Vita $190

Rings Vintage

Micaela

Top Furst of a kind $120

Belt LF $28

Skirt Carma $178

Shoes Dolce Vita $145

necklace LF $42

Bag LF $55

112 | january 2018 | www.AtlanticAveMagazine.com
---
www.AtlanticAveMagazine.com | january 2018 | 113
---
fashion | what RU © WEARING

photos by melissa korman

©

What RU

Wearing?

as told to Atlantic Ave MAGAZINE

Mindy

Dress Nanette Lepore $450

Tank Yummy Tummy $38

Leggings Gap $24

Shoes Stewart Weitzman $298

Bag Goyard France $1900

necklaceS Brother Wolf $995

Annie Hammer $195

Bracelet Vixity Exclusive $45-300

Ashley

Dress INC $65

Belt Guess $29

Shoes Guess $60

Bag Olivia & Joy $49

Necklace Lapidus $250

Ring Target $20

Earrings Express $12

WATCh Michael Kors $250

114 | january 2018 | www.AtlanticAveMagazine.com
---
THE WAY WE DESIGN:

Simple clean lines that

make bold statements

and must function for

Clients' daily lives.

• INSTALLS

• REPAIRS

• EXTENSIONS

• ROOT REMOVAL

• POOL REMODELS

• DRAINAGE ISSUES

• CLEANING / SEALING

• BAD SEALER REMOVAL

BEFORE

AFTER

BEFORE

AFTER

BEFORE

AFTER

BEFORE

AFTER

WE TAKE PRIDE IN OUR WORK

954.850.3359 | Licensed & Insured | Established in 1994 | SUPERIORPAVERS.NET

www.AtlanticAveMagazine.com | january 2018 | 115
---
DISCOVER SOMETHING NEW

THE JASON BISHOP SHOW

Crest Theatre | Jan. 6-7 | 2 & 8pm

An amazing show with pop music, fast-paced

magic, sleight of hand & audience participation!

SANTINO & JESSICA FONTANA

Crest Theatre | Jan. 8-9 | 8 pm

The Broadway stars of Rodgers & Hammerstein's

CINDERELLA open the Crest Cabaret Series.

MENOPAUSE THE MUSICAL

Crest Theatre | Jan. 12-14 | 8 pm

Hilarious, hit musical parody staged to classic

tunes from the 60's to the 80's.

Robert D. Chapin Lecture Series

DR. JAMES DELGADO

Crest Theatre | Jan. 25 | 2 pm

Delgado is known for deep-sea exploration of the

Titanic, the "ghost ship" Mary Celeste and others.

New York Comedy Night

JESSICA KIRSON & REGINA DECICCO

Crest Theatre | Jan. 27 | 8 pm

Kirson and DeCicco open the 2018 Catch a

Rising Star Comedy series.

GENTRI: THE GENTLEMEN TRIO

Crest Theatre | Feb. 2 | 8 pm

Tenors Brad Robins, Casey Elliott and Bradley

Quinn Lever bring their "Cinematic Pop" sound -

hailed as "strong, brave and inspiring."

MOON MOUSE: A SPACE ODYSSEY

Crest Theatre | Feb. 3 | 2 & 6:30 pm

This hit show is a cosmic adventure about

celebrating differences. Produced by Lightwire

Theatre and performed in the dark!

BALLETS WITH A TWIST

COCKTAIL HOUR - THE SHOW

Crest Theatre | Feb. 9 | 8 pm

An original mix of charismatic choreography, intoxicating

music and exquisite costume design.

through January 26th

Jan. 5 - Tony Succar & Mixtura Band - Latin

Jan. 12 - The Kinected - Pop/Electro

Jan. 19 - Artikal Sound System - Reggae/R&B

Jan. 26 - B Street Band - Bruce Springsteen

Tribute

FREE FRIDAY CONCERTS

Pavilion | Through Jan. 26 | 7:30 pm

Gates open at 6:30 pm; bring chairs; food and

beverages available for purchase.

Sponsored by CAPITAL ONE CAFE

Arts, entertainment, enrichment, outreach... there's something for everyone at Old School Square!

GET TICKETS NOW @ OldSchoolSquare.org.

561.243.7922 | Box Office, x1

51 N. Swinton Ave | Delray Beach 33444
---
dining | restaurant review

Stout Braised Short Rib with Garlic Mashed potatoes and Broccolini

Banyan Restaurant & Bar

Culinary Excellence

By diane feen | Photos by Banyan's Restaurant

The large majestic Banyan Tree that frames the parameters of

Banyan Restaurant & Bar has a long history – 155 years to be

exact. Its lore is one of stoic permanence meaning "Tree of Life."

It is with this steady life-line and enthusiasm that owners Joseph

LoRe and Miles Moriarty celebrated the first anniversary

of their illustrious Pineapple Grove restaurant and bar. From

the outside it might look like a sleepy spot but from the inside it's

anything but.

The interior is classic and classy with black and white patterned

walls, comfy red banquettes and Baroque translucent chairs. The

crystal chandeliers and colorful lighting make it a serene space

with a Joie de Vivre that celebrates life, love and superb cuisine.

Their food is seasonal and picked discerningly as if it were going

into the kitchen of royalty.

"We didn't want to be like all the other restaurants. We wanted to

simplify our menu and offer only the freshest ingredients. There is

no freezer here," said Moriarty, who comes from a celebrated restaurant

family (they owned Minetta Tavern in New York).

Owners LoRe and Moriarty have perfected the art of fine din-

Soy Glazed Salmon with sticky rice patties and Bok Choy

118 | january 2018 | www.AtlanticAveMagazine.com
---
Brussels Sprouts glazed in a glazed ginger soy reduction with pancetta

Sautéed Mushrooms cooked in rosemary, butter, olive oil, and garlic confit

ing. They also introduced a new menu that reflects the discerning

palate of their guests. Chef James has pulled out all the stops with

dishes that are explosive in taste with a gentility of excellence.

Their small plates are large in taste with a swoon factor that is

explosive. Take the Brussels Sprouts for example. Chef James has

created a masterpiece by adding a glazed ginger soy reduction and

pancetta. These are not your mother's Brussels Sprouts – they are

made from the culinary Gods. The taste will have you savoring the

moment and wondering, "how did they do this?"

The answer is clearly that perfection is something the owners, the

chef and two sous-chefs have collectively invented to wow diners. It

seems to be working. "I come to Banyan five or six nights a week because

the vibe is friendly, and the food is excellent. I really like the

Salmon entrée, Chicken Liver Toast and Charred Vegetables (with

Cauliflower Puree). I always get one of Rob's signature drinks – especially

"The Nice to Noyaux," said Charles, a loyal Banyan regular.

The philosophy that the customer dictates what is served has been

their motto since they opened their doors a year ago. That is why

Banyan Restaurant & Bar continues to grow in popularity and philanthropy.

They recently catered an event at Art Basel in Wynwood

for the Copperbridge Foundation, are a sponsor for the Delray Open

and the Delray Chamber of Commerce Gala.

Because of dishes like the Stout Braised Short Rib with Garlic

Mashed potatoes and Broccolini, and the Bistro Filet (with mushroom

bordelaise) Banyan has been hosting rehearsal dinners, office parties

and milestone events for guests. The results have been spectacular.

"We had five people here from New York last week. They ordered

everything on the menu and ate it all. They thought it was wonderful,"

said LoRe, who with Moriarty, are a steady presence in the restaurant.

Both inherited divine recipes that have been passed down

from generations and are now star players on the menu.

Their Soy Glazed Salmon with sticky rice patties and Bok Choy

is amazing. The taste and moist texture of this dish speaks volumes

about the quality of the food and the precision of its creator.

These are not just good dishes, they are great dishes with flavor

that is boundless.

They continue the tradition of their Banyan Burger made with

Truffle Moliterno Cheese, Seared Foi Gras, Arugula and White Truffle

Aioli on a Brioche bun with fresh cut Fries (decadence abounds

here). They also have daily fish and pasta specials – such as Wild

Boar Ragu served over Pappardelle Pasta or Orecchiette with Andouille

Sausage and Mussels in a white wine sauce.

Their Sautéed Mushrooms are legendary - cooked in rosemary

butter, olive oil, garlic confit - with Maitake, Beech and Baby Portobello

Mushrooms. Also a favorite – The Lamb Francis, made with

mashed cauliflower and potato wedges.

Though the food is superb (and consistent) the intimate environment

and upbeat décor score points from everyone. LoRe and

Moriarty carefully planned every detail of the restaurant to refine

its presence among giants (in the area). The bar is lit with colorful

LED lights, the ceiling with framed mirrors and the outdoor seating

under the Banyan tree is romantic and enchanting.

The Bar has also become a "Cheers" point of contact. It's a friendly

place with colorful persona, USB ports under the bar, hooks to

hang purses, and bartenders who are adept at perfecting drinks to

match your meal and personal preference. The new 'Can You Fig It'

cocktail (with Fig-infused Bourbon, Turbinado, and Black Walnut

bitters) will leave you with an "all is well" contentment.

Other seasonal cocktails include Roseberry (Cranberry infused

Vodka, apple cider, rosemary syrup, lemon juice and white balsamic)

and 'Only the FEW Breakfast Gin' (tea Infused Gin, lemon, honey,

lemon bitters with a splash of tonic). They also have an extensive

selection of local tap and bottle beers, wine and spirits. "We've taken

our signature cocktails to another level," said Moriarty.

Happy Hour is every day from 4pm to 7pm at the Bar (and community

table) with appetizers, tap beers, wine and well drinks at a

discount. Their Late-Night Menu is perfect for night owls with assorted

savory flatbreads. There's lunch everyday under the Banyan

Tree (or inside) with live music Wednesday, Thursday, and most

Saturday nights.

Banyan Restaurant & Bar is a happy place that has perfected its

menu, it's ambience and its desire to be the best in the neighborhood.

The people and décor will charm you and the food will have

you dreaming from the afterglow. Their recipe for success lies in

their desire to please everyone who enters.

We think they have succeeded.

Charred Vegetables with Cauliflower Puree

BANYAN RESTAURANT & BAR

189 NE 2nd Ave

Delray Beach, FL 33444

(561) 563-8871

www.banyandelray.com

www.AtlanticAveMagazine.com | january 2018 | 119
---
dining | recipe

Photo by melisSa korman | By Michel Menna, chef/owner

ingredients (serves 4)

4 pieces of flank steak (about 8 oz each)

pounded thin

16 pieces of salami sliced thin

8 pieces of mortadella sliced thin

12 slices of mozzarella

5 oz fresh spinach

12 hard boiled eggs

Salt and pepper to taste

Butcher's string

Marinara sauce

Linguini or your favorite long pasta

Parmesan cheese

Beef

Braciole

Place all ingredients evenly on steak. Season with salt and pepper.

Roll carefully making sure all the stuffing stays in. Secure

the roll with string. Place beef in marinara sauce. Simmer on

low for about 1 hour.

Remove the beef from the sauce and untie the string. Slice the

beef and serve over pasta with sauce. Sprinkle with parmesan

cheese. Buon appetito!

il contadino ristorante

165 NE 2nd Avenue

pineapPle grove

Delray Beach, FL

561-330-0004

120 | january 2018 | www.AtlanticAveMagazine.com
---
UNPARALLELED SAFETY EXCEPTIONAL CARE REMARKABLE RESULTS

ABOUT INSPIRE

Inspire Cosmetic Surgery &

Med Spa is an innovative

surgery center in Delray

Beach designed to create a

unique aesthetic experience.

COSMETIC SURGERY & MED SPA

DELRAY BEACH

Inspire surgeons are board

certified plastic surgeons

that share the unified mission

to provide unparalleled

safety, remarkable results

and exceptional care to

each client.

Our goal at Inspire Cosmetic

Surgery & Med Spa is to

educate, empower and

partner with you from the

initial consultation stage all

throughout your care.

LIVE INSPIRED

---

PROCEDURES OFFERED

-

Body Contouring | Botox & Facial Fillers | Brazilian Butt Lift | Breast Augmentation | Breast Lift | IPL

Breast Reduction | Brow Lift | Coolsculpting | Earlobe Repair | Eye Lid Surgery | Face Lift | Tummy Tuck

Laser Hair Removal | Liposuction Mommy Makeover | Nose Reshaping | Tummy Tuck | V Rejuvenation

----

--

1.855.INSPIRE (467.7473)

1010 S Federal Hwy, Delray Beach, FL 33483

www.InspireCosmetic.com

www.AtlanticAveMagazine.com | january 2018 | 121
---
dining | GOOD LUCK FOODS

10 Good Luck

Foods For 2018

Every New Year, people around the world eat specific foods to summon

good luck for the next 365 days. While some traditions call for noodles

and others call for fruit, all the edibles connote forward movement,

prosperity and health. Whether you're superstitious or not, you may

find a favorite in this list of celebratory foods. And if no luck comes your

way, at least you'll go into the new year with a full belly.

Long Noodles

In Asian countries, it's customary to eat

long noodles, to signify longevity, on New

Year's Day. Since the noodles are never to

be broken or shortened during the cooking

process, the typical preparation for "Long-

Life Noodles" is a stir-fry.

Pork

Some countries, like Cuba, Spain, Portugal,

Hungary and Austria, pigs symbolize

progress. Some say it's because these

animals never move backward, while

others believe it's in their feeding habits

(they push their snouts forward along the

ground when rooting for food).

Round Fruits

Though the number of pieces varies by

region, eating any round fruit is a common

New Year's tradition. In the Philippines,

the custom calls for 13, considered a lucky

number; in Europe and the U.S., it calls for

12, which represents the months in a year.

Whole Fish

Chinese cuisine experts say the Chinese

word for "fish" sounds like the word for

"abundance," one of the many reasons fish

has become a go-to good luck food. Also it's

important for the fish be served with the

head and tail intact to ensure a good year,

from start to finish.

Pomegranate

Pomegranates represent good luck in

Turkey for many reasons: Their red color,

which represents the human heart, denotes

life and fertility; their medicinal

properties represent health; and their

abundant, round seeds represent prosperity

— all things everyone hopes for in any

fresh start.

Greens

From the coastal American South to Europe,

people eat green leafy veggies — including

kale, collards and cabbage — on

New Year's Day because of their color and

appearance, which resembles paper money.

Belief has it, the more you eat, the more

prosperous you'll be (and healthier, too).

Lentils

A popular New Year's meal in Italy is

cotechino con lenticchie (green lentils with

sausage) because of the legume's greenish

color and coin-like appearance. Deeper into

the myth: When cooked, lentils plump with

water, symbolizing growing wealth. Lentils

are also considered good luck in Hungary,

where they're preferred in a soup.

Pickled Herring

In Germany, Poland and Scandinavia, it's

believed that eating herring at the stroke

of midnight will ensure a year of bounty

— as herring are in abundance throughout

Western Europe. Also, their silvery color

resembles that of coins, a good omen for

future fortune.

Black-eyed Peas

Considered good luck due to their pennylike

appearance and abundance, these peas,

enjoyed in the southern United States, are

traditionally served in a dish called hoppin'

John. On the day after New Year's Day,

leftover "hoppin' John" becomes "skippin'

Jenny," meant to demonstrate frugality and

promote prosperity in the new year.

Cornbread

A favorite throughout the year, cornbread

is especially venerated as a New Year's treat

in the southern United States. Why? Its color

resembles that of gold. To ensure extra luck,

some people add extra corn kernels, which

are emblematic of golden nuggets.

122 | january 2018 | www.AtlanticAveMagazine.com
---
www.AtlanticAveMagazine.com | january 2018 | 123
---
dining | guide

We at Atlantic Ave Magazine try to keep our Dining Guide

as accurate as possible for our reader's benefit, however

this can sometimes be a difficult task. We may omit

some eateries and others may have moved or closed. If you are not

listed in this guide we apologize but please feel free to e-mail

lisa@atlanticavemagazine.com and we will get your details entered

for the following month. By the same token, if you see a listing that

is no longer there then please e-mail lisa@atlanticavemagazine.

com and it will be removed for the following month. Your help in

keeping our Dining Guide up-to-date is very much appreciated.

DELRAY BEACH

American

Atlantic Grille

1000 E Atlantic Ave, DB

(In the Seagate Hotel)

561-665-4900

Banyan Restaurant

& Bar

189 NE 2nd Ave

Pineapple Grove

DB, 561-563-8871

Boston's on the Beach

40 S Ocean Blvd, DB

561-278-3364

Brule Bistro

200 NE 2nd Ave #109, DB

561-274-2046

Bru's Room

35 NE 2nd Ave, DB

561-276-3663

BurgerFi

6 S Ocean Blvd, DB

561-278-9590

Burt & Max's Bar & grill

Delray Marketplace

Atlantic & Lyons

561-638-6380

Corner Porch

Restaurant & Bar

85 SE 6th Ave, DB

561-266-3349

Cut 432

432 E Atlantic Ave, DB

561-272-9898

Dada

52 N Swinton Ave, DB

561-330-3232

De La Tierra -

Sundy House

106 S Swinton Ave, DB

561-272-5678

Death or Glory

Restaurant & Bar

116 NE 6th Ave

DB, 561-808-8814

Deck 84

840 E Atlantic Ave, DB

561-665-8484

Doc's All American

10 N Swinton Ave, DB

561-278-3627

Donnie's Place

60 NW 5th Ave, DB

561-243-9996

Ellie's 50's Diner

2410 N Federal Hwy

DB, 561-276-1570

Fifth Avenue Grill

821 S Federal Hwy, DB

561-265-0122

Gourmet Killer Dogs

4057 West Atlantic Ave,

DB. 917-656-3664

Grand Tavern

710 Linton Blvd, DB

561-279-2779

Grangers Grill

802 SE 5th Ave, DB

561-276-7881

Harvest Seasonal Grill

and Wine Bar

1841 S. Federal Hwy, DB

561-266-3239

Henry's

16850 Jog Road

Between Linton Blvd &

Clintmore Rd

DB, 561 638 1949

HiWay Burger

12 SE 5th Ave, DB

561-243-6430

Jimmy's Bistro

9 S Swinton Avenue, DB

561-865-5774

Johnnie Brown's

301 E Atlantic Ave, DB

561-243-9911

Lilo's

814 E Atlantic Ave, DB.

561-272-8049

Longhorn Steakhouse

1562 S Federal Hwy, DB

561-278-1944

Lucilles Bad to the Bone

BBQ, Delray Marketplace

9173 West Atlantic Ave, DB

561-810-4045

Max's Harvest

169 NW 2nd Ave, DB

561-381-9970

Max's Social House

116 NE 6 Ave, DB

561-501-4332

MIA Kitchen & Bar

7901 West Atlantic Ave,

Delray Beach. 561-499-

2200

OCEAN ONE

BAR & GRILL

777 E.Atlantic Ave

DB, 561-702-7373

Outback

1300 Linton Blvd, DB

561-272-7201

Park Tavern

32 SE 2nd St, DB

561-265-5093

124 | January 2018 | www.AtlanticAveMagazine.com
---
Prime Restaurant

And Bar

29 SE 2nd Ave DB

561-865-5845

Salt7

32 SE 2nd St, DB

561-274-7258

Seacrest Grille

(Marriott Hotel)

10 N Ocean Blvd, DB

561-274-3200

Shula Burger

Delray Marketplace

Atlantic & Lyons

DB, 561-404-1347

Surf Shack

916 SE 5th Ave

(Federal Hwy.) DB

561-501-7868

The Grove Restaurant

187 NE 2 Ave., DB

561-789-8636

The Office

201 E Atlantic Ave, DB

561-276-3600

The Original Brooklyn

Water Bagel

14451 S Military Trail, DB

561-455-7490

Tryst

4 E Atlantic Ave, DB

561-921-0201

Asian/Sushi/

Chinese

Buddha Sky Bar

217 E Atlantic Ave, DB

561-450-7557

China Gardens

14402 S. Military Trail,

DB, 561-498-5226

Lemongrass Bistro

420 E Atlantic Ave, DB

561-278-5050

Ming's Garden Chinese

271 NE 2nd Ave, DB

561-276-3333

Yama Japanese

Restaurant

200 NE 2nd Ave, DB

561-266-9929

Ziree Thai & Sushi

401 W Atlantic Ave, DB

561-276-6549

Continental/

Greek

Apeiro Kitchen & Bar

14917 Lyons Rd.

Delray Marketplace

561-501-4443

Bistro 241

241 NE 2nd Ave, DB

561-330-4080

Blue Anchor

804 E Atlantic Ave, DB

561-272-7272

Boheme Bistro

1118 E Atlantic Ave, DB

561-278-4899

Caffe Martier

411 E Atlantic Ave, DB

561-278-7790

Joseph's Wine Bar

200 NE 2nd Ave, DB

561-272-6100

La Cigale, A Taste of the

Mediterranean

253 SE 5th Ave, DB

561-265-0600

Olio Bistro

42 SE 2nd Ave, DB

561-278-6633

Taverna Opa

270 E Atlantic Ave, DB

561-303-3602

The Greek Bistro

1832 S Federal Hwy

DB, 561-266-8976

Thirty Two East

32 E Atlantic Ave, DB

561-276-7868

Coffee/Dessert

Ben & Jerry's

1155 E Atlantic Ave, DB

561-272-3112

Café Bleu

44 E Atlantic Ave, DB

561-455-4041

Coffee District

325 NE 2nd Ave, DB

561-455-0541

Couture Cakes

142 SE 6th Ave, DB

561-279-1828

Full Of Crepe

632 E. Atlantic Ave

DB, 561-562-8090

Gizzi's Coffee

2275 S Federal Hwy #380

DB, (561) 266-9797

Jellies at Seagate

1000 E Atlantic Ave, DB

561-330-3775

Kilwin's Chocolates &

Ice Cream

402 E Atlantic Ave, DB

561-278-0808

Puro's Cigar

777 E Atlantic Ave, DB

561-278-6118

Starbucks

205 E Atlantic Ave, DB

561-243-9332

Starbucks

502 E Atlantic Ave, DB

561-265-3273

The Grind Cafe

Delray Marketplace

Atlantic & Lyons

561-270-3036

Health Food

Ciao Sidewalk Café

1208 E Atlantic Ave, DB

561-278-4520

Fit Food Express

302 NE 4th St, DB

561-330-4525

Green Fields Organic

Bistro

4900 Linton Blvd.

DB, 561 501-4169

Nutrition Cottage

1815 S Federal Highway,

DB, 561-734-4626

Purgreens

Inside Purlife Fitness

Center

45 NE 2nd Ave, DB

561-276-7387

The New Vegan

528 NE 2nd St. DB

561-404-5301

Italian

4 Brothers Italian

Restaurant & Pizzeria

7323 W Atlantic Ave, DB

561-496-3990

Anthony's Coal Fired Pizza

115 NE 6th Ave, DB

561-278-7911

www.AtlanticAveMagazine.com | January 2018 | 125
---
dining | guide

What 's Hot

ON WEST

ATLANTIC AVE

ALL-NEW WINTER MENU

ONLINE ORDERING AT

TERRAFIAMMA.COM

$49.95 FAMILY TAKEOUT DEAL

HALF-PRICED WINE BOTTLES

ON MONDAYS

LIVE ENTERTAINMENT

THURSDAYS & SUNDAYS

HAPPY HOUR ALL WEEK LONG

we cook with fire

9169 West Atlantic Avenue

Delray Beach

561.495.5570

TerraFiamma.com

Bambini's Garden Pizzeria

14466 Military Trail, DB

561-638-6442

Bella Amici Pizzeria

Delray Marketplace

Atlantic & Lyons

561-270-3025

Cafe Gelato Panini

& Wine Bar

506 E Atlantic Ave, DB

561-501-4574

Caffe Luna Rosa

34 S Ocean Blvd, DB

561-274-9404

Carrabba's Italian Grill

335 E Linton Blvd, DB

561-266-9393

D'Angelo Pizza Tapas

16950 Jog Road, DB.

561-381-0037

Il Bacio Restaurant

& Lounge

29 SE 2nd Ave, DB,

561-865-7785

IL Contadino

Ristorante

165 NE 2nd Ave,

Pineapple Grove, DB

561-330-0004

Il Girasole

1911 S Federal Hwy, DB,

561-272-3566

Luigi's Coal Oven Pizza

307 E. Atlantic Ave, DB,

561-274-1969

Mellow Mushroom

25 SE 6th Ave, DB

561-330-3040

Pizza Rustica

1155 E Atlantic Ave, DB

561-279-8766

Salotta

145 NE 4th Ave, DB

561-266-0310

Sardinia Ristorante,

3035 S. Federal Hwy, DB.

561-332-3406

Sazio

131 E Atlantic Ave, DB

561-272-5540

Scuola Vecchia

522 E Atlantic Ave, DB

561-865-5923

Terra Fiamma

Ristorante. Pizza. Bar

9169 W. Atlantic Ave.

Delray Marketplace

561-495-5570

Tramonti Italian

Ristorante

119 E Atlantic Ave, DB

561-272-1944

Vic & Angelo's

290 E Atlantic Ave, DB

561-278-9570

Windy City Pizza

401 W. Atlantic Ave, DB

561-266-2811

Latin/Caribbean/

Spanish

Bamboo Fire Café

149 NW 4th Ave, DB

561-749-0973

Cabana El Ray

105 E Atlantic Ave, DB

561-274-9090

CHE!!! Restaurant

900 E. Atlantic Ave,

On the Intracoastal

DB, 561-562-5111

Papa's Tapas

259 NE 2nd Ave

Delray Beach, FL 33444

Phone: ( 561) 266-0599

Mexican

Cabo Flats

Cantina & Tequila Bar

Delray Marketplace

Atlantic Ave & Lyons Rd.

DB 561-499-0378

El Camino

15 NE 2nd Ave, DB.

561-865-5350

Hacienda Mexican

Restaurant & Bar, 14820 S

Military Trail, DB.

561-562-5151

Rocco's Tacos &

Tequila Bar

110 E. Atlantic Ave, DB

561-808-1100

Senor Burrito

142 SE 6th Ave #E, DB

561-278-5757

Pubs/Clubs

3rd & 3rd

301 NE 3rd Ave, DB,

561-303-1939

Blue Anchor British Pub &

Restaurant

804 E. Atlantic Ave, DB.

561-272-7272.

Bull Bar Inc

2 E Atlantic Ave, DB

561-274-8001

Honey

16 E Atlantic Ave, DB

561-270-7187

Hurricane Bar & Lounge

640 E Atlantic Ave, DB

561-278-0282

N2 Winebar

104 NE 2nd Ave

The Hyatt Place

561-278-6802

O'Connors Irish Pub

210 NE 2nd Ave, DB

561-330-0022

Delray Hideaway

1045 E Atlantic Ave, Db

561-562-5500

Sandbar

40 S Ocean Blvd, DB

561-278-3364

Tim Finnegans Irish Pub

2885 S. Federal Hwy, DB

561- 330-3153

Seafood

50 Ocean

50 S Ocean Blvd, Delray

Beach, FL 33483

(561) 278-3364

City Oyster

213 E Atlantic Ave, DB

561-272-0220

Dee Dee's Conch & Rib

540 W Atlantic Ave, DB

561-276-1124

J & J Seafood Bar & Grill

634 E Atlantic Ave, DB

561-272-3390

Mussel Beach

501 E Atlantic Ave DB

561-921-6464

Osteria Salina

9 SE 7th Ave, DB.

561-330-1237

Racks Fish House

5 SE 2nd Ave, DB,

561-450-6718

The Fisherman's Grill

5199 W. Atlantic Ave, DB

561-638-0500

Sandwich/Deli

Bagel's With Deli

1732 S Federal Hwy, DB

561-279-4799

Big Al's Steaks

450 E Atlantic Ave, DB

561-819-1888

Brighton Beach Bagel &

Bakery

14587 S. Military trail

DB, 561-270-3771

Checkers

450 W Atlantic Ave, DB

561-278-9939

Christina's Restaurant

263 NE 2nd Ave, DB

561-278-3200

Conte's Italian Deli &

Gourmet Market

311 NE 2nd Ave, DB,

561.501.7399

Cornell Café Morikami

Museum

4000 Morikami Park

Rd, DB

561-495-0233

Domino's Pizza

142 SE 6th Ave, DB

561-330-0002

Dunkin Donut's

37 W Atlantic Ave, DB

561-243-1196

Famous Market Deli

6570 W Atlantic Ave, DB

561-495-8590

Jersey Mikes Subs

455C NE 5th Ave, DB

561-276-8949

Jimmy John's

Gourmet Sandwiches

1911 S. Federal Hwy

DB, 561-243-1100

Nemo's Fish & Chicken

943 W Atlantic Ave, DB

561-865-5094

Sandwiches by the Sea

1214 E Atlantic Ave, DB

561-272-2212

Subway

301 W Atlantic Ave, DB

561-278-5959

126 | January 2018 | www.AtlanticAveMagazine.com
---
www.AtlanticAveMagazine.com | january 2018 | 127
---
dining | guide

Tea-Licious Tearoom

4997 B, W Atalantic Ave,

DB. 561-638-5155

The Café In Paradise

140 NE 2nd Ave, DB

561-330-3434

Tony's Deli

Breakfast, Lunch, Hero's

301 W. Atlantic Ave

DB, 561-276-1749

Boca raton

American

13 American Table

451 Palmetto Park Road,

Boca 561-409-2061

Abe & Louis Glades Plaza

2300 W. Glades Road,

Boca 561-447-0024

The Addison

2 E. Camino Real, Boca

561-372-0568

Boca Wings & Ribs

2257 North Fed. Highway

Boca 561 391-9110

Boca Muse

7136 Beracasa Way, Boca

561-367-1133

Boca Pita Express

7158 Beracasa Way

Boca 561-750-0088

Bogart's Bar & Grille

3200 Airport Road

Boca 561-544-3044

Boston Market

7020 Beracasa Way,

Boca 561-392-2795

Bogart's Bar &Grille

Muvico Palace 20

3200 Airport Road

Boca 561-544-3044

Brewzzi Glades Plaza

2222 Glades Rd. Boca

561-392-BREW (2739)

Cheesecake Factory

5530 Glades Road.

Boca 561-393-0344

Cottonwood Café

90 Royal Palm Place, Boca

561-353-2233

Chops Lobster Bar

101 Plaza Real. Boca

561-395-2675

Duffy's Sports Grill

21212 St Andrews Blvd.

Boca 561-869-0552

Grand Lux Café

Town Ctr Mall, 6000

Glades Road, Boca

561-392-2141

Houston's

1900 N.W. Executive Ctr

Circle. Boca

561-998- 0550

J. Alexander's

1400 Glades Road. Boca

561-347-9875

Kathy's Gazebo Café

4199 N. Fed. Highway.

Boca 561-395-6033

Kee Grill

17940 N.Military Trail.

Boca 561-995-5044

Lucilles Bad to the

Bone BBQ

3011 Yamato Road

Boca 561-997-9557

Madison's New York Grill

2006 NW Executive Center

Circle. Boca 561-994-0808

Mariposa

Neiman Marcus at Town

Ctr-5860 Glades Rd. Boca

561-544-2320

Max's Grille

Mizner Park-404 Plaza

Real Boca 561-368-0080

Miller's Ale House

1200 Yamato Road.

Boca 561-998-9142

Mississippi Sweets BBQ

2399 N Federal Hwy.

Boca 561-394-6779

Morton's The Steakhouse

Shops at Boca-5050 Town

Ctr Circle Boca

561-392-7724

New York Prime

2350 N.W. Executive Ctr

Drive. Boca

561-998-3881

Oceans 18

5801 NW 2nd Av Boca

561-994-0400

Pavilion Grille

301 Yamato Road, Boca

561-912-0000

Pinon Grille,

6000 Glades Road.

Boca 561-391-7770

Polo's Restaurant

5030 Champion Blvd.,

Boca; 561-997-2920

Rack's Downtown Eatery

402 Plaza Real.

Boca 561-395-1662

Rebel House

297 E Palmetto Park Road.

Boca 561-353-5888

Ruby Tuesday

409 Plaza Real.

Boca 561-392-5705

Ruth's Chris Steak House

225 N.E.Mizner Blvd.,

Boca, 561-392-6746

Seasons 52

2300 N.W.Executive Ctr,

Boca, 561-998-9952

Six Tables

112 N.E. 2cnd St., Boca

561-347-6260

Sweet Tomatoes

7110 Beracasa Way,

561-750-3303

The Capital Grille

6000 Glades Road,

Boca 561-368-1077

The Grille on Congress

5101 Congress Av. Boca

561-912-9800

Yogurt Rendezvous*

*(ORB Kosher) 7150

Beracasa Way, Boca

561-392-8384

Asian/Sushi/

Chinese

Bluefin Sushi Thai Grill

861 Yamato Rd. Boca

561-981-8986

Boon's Asian Bistro

19605 SR7.

Boca 561-883-0202

Cay Da Vietnamese

7400 N. Fed. Highway.,

Boca, 561-998-0278

Fah Asian Bistro

Boca Valley Shopping Plaza

-7461 N.Fed Hwy. Boca-

561-241-0400

128 | January 2018 | www.AtlanticAveMagazine.com
---
www.AtlanticAveMagazine.com | october 2017 | 129
---
dining | guide

5 Spice Asian Market

Shoppes at Blue Lake

1200 Yamato Rd.

561-989-1688

Japango

3011 Yamato Road.

Boca 561-999-1263

Kapow Noodle Bar

431 Plaza Real.

Boca 561-347-7311

La Tre

249 E.Palmetto Park Rd.

Boca-561-392-4568

Lemongrass Asian Bistro

101 Plaza Real South.

Boca 561-544-8181

P.F Chang's

1400 Glades Rd. Boca

561-393-3722

Pei Wei Asian Diner

7152-B Beracasa Way,

561-322-1001

Stir Crazy Café

Town Ctr-6000 Glades Rd.,

Boca 561-338-7500

Sushi Masa & Thai

2240 NW 19th Street.

Boca 561-347-0008

Sushi Ray

Shops at Boca Ctr-5250,

Town Ctr Circle.Boca

561-394-9506

Sushi Thai

100 NE 2cnd St., Boca

561-750-4448

Sushi Yama

7055-33 W Palmetto Park

Road. Boca 561- 362-6416

Tempura House

The Reserve-9858 Clint

Moore Road. Building

561-883-6088

Uncle Tai's

Shops at Boca Ctr-5250

Town Ctr Circle. -Boca

561-368-8806

Yokohama Sushi

60 N Fed. Hwy, Boca.

561-392-9328

Yokohama Sushi

9168 Glades Rd. Boca

561-451-1707

Continental

Bakery of France

625 NE Spanish River

Blvd., Boca 561-361-4490

Bistro Provence

2399 N.Fed. Highway.

Boca-561-368-2340

Brio Tuscan Grille

5050 Town Center Circle.

Boca 561-392-0344

Casa D'Angelo

171 E Palmetto Park Rd.

Boca. 561-996-1234

Cote France Café

100K Plaza Real South,

Boca. 561-955-6021

Casimir French Bistro

416 Via De Palmas #81,

Royal Palm Place, Boca,

561-955-6001

Josef's Table

5030 Champion Blvd.

Boca 561-353-2700

Kosta's

5024 N. Fed Hwy.

Lighhousepoint

Georgetown Plaza,

954-571-3842

Le Rivage

450 N.E.20th St.

Boca-561-620-0033

Macaroni Grill

2004 Executive Ctr Drive.

Boca 561-997-5492

Mario's Osteria

1400 Glades Road.

Boca 561-239-7000

Milos Taverna

1600 N Fed. Hwy, Boca.

561-750-6720

Matteo's

233 S Federal Hwy.

Boca 561-392-0773

Meatball Room

3011 Yamato Road.

Boca 561-409-4111

Taverna Kyma

6298 N. Fed. Hywy.

Boca 33487

561-994-2828

Villa Rosana

9858 Clint Moore Road.

Boca 561-470-0112

Italian

Arturo's Ristorante

6750 N.Fed Hwy.

Boca-561-997- 7373

Carraba's Italian Grill

6909 S.W.18th Street,

Boca-561-544-8838

Josephine's

5751 N.Fed. Highway.

Boca. 561-988-0668

La Luna Italian Bistro

The Polo Shoppes-5030

Champion Blvd. Boca

561-997-1165

La Villeta

4351 N. Fed. Highway

Boca-561-362-8403

Maggiano's

21090 St. Andrew's Blvd.

Boca, 561-361-8244

Nino's Italian Restaurant

7120 Beracasa Way,

561-392-9075

Novello Restaurant & Bar

5999 N. Fed. Highway.

Boca, 561-994-3495

Peace a Pizza

Shoppes at Blue Lake-

1200, Yamato Rd. Boca

561-998-Best (2378)

Pellegrino's Ristorante

3360 N Federal Highway,

Boca Plaza, Boca

561-368-5520

Ristorante Sapori

Royal Palm Place-301 Via

De Palmas., Boca 561-

367-9779

Trattoria Romana

499 E. Palmetto Park Rd.

Boca, 561-393-6715

Umbria

Renaissance Hotel 2000

NW 19st, Boca.

561-368-5252

Latin/

cAribbean

Caribbean Grill

1332 NW Boca Raton Blvd

Boca 561-362-0161

Cuban Café

3350 N.W.Boca Blvd. Boca

561-750-8860

Mexican

Senor Burrito

513 N.E 20th Street Boca

561-347-6600

La Rosa Nautica

515 NE 20th St. Boca,

561-296-1413

Rocco's Tacos

5250 Town Center Circle.

Boca 561-416-2131

Uncle Julio's

449 Plaza Real.

Boca 561-300-3530

Seafood

Bonefish Grill

21065 Powerline Road.

Boca 561-483-4949

City Fish Market

7940 Glades Road.

Boca 561-487-1600

Truluck's

351 Plaza Real.

Boca 561-391-0755

Deli/Cafés

Ben's Deli Kosher

The Reserve-9942 Clint

Moore Rd. Boca

561-470-9963

Boca Beach House

887 E Palmetto Park Road.

Boca 561-826-8850

Deli on Rye

4311 N. Federlal Hwy.,

Boca 561-347-1400

Hotdogopolis

6020 N Federal Hwy.

8177 Glades Road Boca

561-998-5959

Oasis Cafe

Renaissance Hotel Boca

2000 NW 19st, Boca

561-368-5252

Saquella Caffe

82 Royal Palm Place-410

Via De Palmas, Boca.

561-338-8840

Toojay's

3013 Yamato Road.

Boca 561-997-9911

Toojay's Gourmet Deli

Polo Shoppes-5030

Champion Blvd.

Boca-561-241-5903

Rustic Cellar

Royal Palm Place-

409 S.E.Mizner Blvd.

561-392-5237

WEST PALM

Tequila Cowboy

City Place

550 S. Rosemary Ave.

WPB 561-249-2749

Other

Meals On The Move, Inc.

561-488-9665 www.

mealsonthemove.com

130 | january January 2018 | www.AtlanticAveMagazine.com
---
www.AtlanticAveMagazine.com | january 2018 | 131
---
misc | ask the petxpert

BY Bill Piechocki and Dr. Diane Sudduth, DVM

Are our Pets in Danger

From This Toxic Threat?

We are constantly asked by our clients for reasons why their

well-cared pets suddenly get sick, with vomiting and diarrhea

being primary symptoms. Through our years of both

practical and clinical experience and our extensive research, many

of these episodes of illness have a core cause to be toxins. Ourselves

and our pets are exposed to 100s to 1000s of chemicals daily. Most

destroy the body at a cellular level. Many enter the body through respiration

and the digestive tracts, hence the vomiting and diarrhea.

The foods we ingest are the vehicles for eliminating these poisons.

Today we're faced with a chemical that is suddenly pervasive in

our foods and environment. Surely, you have recently seen it in the

news. It's called glyphosate, an active ingredient in the herbicide

Roundup as well as other brands. While used as a weed killer, it is

patented as an antibiotic and when broken down, the word antibiotic

means "anti-life." Unfortunately, glyphosate is being detected

in blood, breast milk and urine samples, as well as numerous foods

such as oatmeal, bagels, coffee creamer, organic bread, and honey.

The body is designed to naturally fight pathogens and to eliminate

toxins as it should but research shows numerous chemicals, specifically

glyphosate causes a disruption of these naturally protective

mechanisms of the body. These chemical antibiotics added into the

foods and our environment are killing the natural flora in the gut

and the intestinal tract that breaks down foods into basic nutrients

for use in the body. If this natural digestion process is altered by the

glyphosate or any other synthetic drug, the process is changed. Now

the body is imbalanced and not functioning naturally.

Studies linking glyphosate to antibiotic resistance as well as

causing harm to soil fungi are the latest nails in the coffin for

Roundup, which was also deemed a probable carcinogen by the

International Agency for Research on Cancer (IARC) in 2015. Monsanto

continues to contest the determination, even as it has been

publicized that they may have worked with a U.S. EPA official to

stop glyphosate investigations.

It's frightening, considering the high cancer rates we are seeing in

our pets. Every exposure to these known toxins takes our pets down

the road of dysfunction. Sadly, most lawns in the United States have

had treatments containing these products as well as dog parks, golf

courses, and other public grounds. The danger is very real.

What can we do to avoid and heal this damage to the body?

Start with clean, species appropriate diets to build a strong immune

system that will replace those dead and damaged cells with

healthy ones. We can also look to herbs and botanicals that will

help the body neutralize and eliminate these poisons. And, of

course the most important thing is to avoid using these products,

avoid areas you know that have been treated and cleanse the body

after exposure. Toxins linger in the ground for years so cleanup is

almost impossible.

Next time your pet has a challenge, understand that they are usually

responding to an exposure to poison and that the body is fighting

back. Take charge of your pet's health by being aware and informed.

Bill Piechocki, nutritionist and Dr. Diane Sudduth, DVM are partners

in Fiesta Pet Deli in Pompano Beach, FL, and co-hosts of the

PetHealthCafe.com radio show. Our 40 years in the animal field has

provided us unparalleled vision and information which we pass to our

clients daily. Call or email us for a free consultation, we would be more

than happy to help. 800-940-7387/ info@biovanceah.com

SEND YOUR QUESTIONS OR COMMENTS FOR OUR PETXPERT TO: PETS@ATLANTICAVEMAGAZINE.COM

these pets are available for adoption

21287 Boca Rio Road,

Boca Raton, FL

561-482-8110

www.tricountyhumane.org

sarah

nick

heart

A NO-KILL animal shelter.

Open Tues - Sun

11 a.m. - 4:30 p.m.

Sarah is just a pup, ready to begin a happy life

in a loving home. This little gal is a Labrador

Retriever mix. She'll be an active, joyful

addition to your home in the New Year!

This poor boy was brought to us in bad shape,

emaciated and depressed. He's now healthy,

fattened up, and rarin' to go HOME with you.

Nick is a Boxer mix, about 2 years old. He

specializes in being a love bug and a kisser.

Come in and meet this boy!

Aptly named, this sweet, gentle, Golden

Retriever mix girl will steal yours! Heart

was rescued from the devastation after the

hurricane in Puerto Rico and is now a Floridian,

waiting for her forever to unfold. She's about 1

year old, 32 pounds, and she needs you!

All animals are up-to-date

on vaccinations and

heartworm tested.

Adoption fees $110 and up.

132 | january 2018 | www.AtlanticAveMagazine.com
---
misc | pet spotlight

pet pix

Dimitri

Bentley the Bean!

Santa's favorite Elf Spike excited to help!

Sparkle Bacon

Hi, I'm O'Lily

Sasky and his sleeping pal

You can now give your

pets the fame they deserve!

Make your pet a celebrity.

Email your favorite photo along with their name to:

pets@atlanticavemagazine.com

Photos must be 300 dpi (high quality)

www.AtlanticAveMagazine.com | january 2018 | 133
---
misc | new year's resolution fail

5

Reasons Most People Fail at

Their New Year's Resolutions

(and How You Can Beat the Odds)

Who doesn't love getting a fresh start? For many people, January

is the perfect time to shake off old vices and create some positive

new habits. But good intentions don't always translate into actual

change. By February, the majority of resolution-setters have

abandoned their new goals and fallen back into their old ways.

Why does this happen? There are a number of common reasons

why most people don't stick to their New Year's resolutions.

If you make one of these mistakes, you'll probably

find yourself giving up on your resolutions, too.

1. Not being realistic

Shooting for the moon isn't always the best strategy. In fact, sometimes

it can prevent you from even getting off the ground. Realistically,

almost no one can learn a new language in six months or become a

runner overnight, but many people make overly-optimistic resolutions

like these every year. If you're too ambitious with your New Year's resolutions,

you'll end up getting burned out before January is over.

2. Making too many resolutions

Even small resolutions can be hard to keep if you make too many of

them. It's easy to get overwhelmed if you try to change more than one

or two habits at a time. Besides that, making a lot of different resolutions

is a sign that you haven't put much thought into each one, and

it's easy to give up on resolutions that aren't meaningful to you.

3. Not setting specific goals

If your resolution is something like "lose weight" or "get better

grades," you aren't likely to succeed. Why? Because these goals are

vague and hard to track. Useful goals are specific and measurable - for

instance, "lose 10 pounds by March" or "get an A in calculus."

4. Not making a plan

Along with a specific goal, you need a plan. How are you going

to turn your resolutions into reality? Many people fail at keeping

their resolutions because they don't turn their goals into specific

action steps.

5. Giving up too soon

Perseverance is important for forming any new habit in your life,

but many people throw in the towel on their resolutions as soon as

something goes wrong. It's important to stay flexible and to avoid getting

discouraged too quickly, even if your resolutions are tougher to

keep than you thought they'd be. Adjusting a goal to be more realistic

is better than giving up on it completely.

How Can You Beat the Odds and

Keep Your Resolutions?

Failing to keep New Year's resolutions is very common - but the

good news is that it's not inevitable. A minority of people do stick to

their resolutions every year, and if you'd like to be one of them, there

are some things you can do to increase your odds of success.

A) Set only resolutions that are meaningful to you.

If you don't really care about your resolutions, you won't stick to

them. Avoid choosing this year's resolutions based on what you think

will impress other people. Instead, choose goals that you're deeply

invested in.

B) Plan for the long haul.

Many people think of New Year's resolutions as a quick fix for the

previous year's problems and bad habits. In reality, though, it takes

time to create lasting changes in your life. Make your resolutions

with the knowledge that you'll need to work on them consistently,

and adopt the mindset that if you fall off the wagon, you'll climb

right back on.

C) Take baby steps.

Every big achievement is made up of a series of small action steps.

Break your goals down ahead of time, so you won't get overwhelmed

when the new year rolls around. When you transform a big resolution

into a lot of small, doable steps, you'll always know what to do next.

D) Track and celebrate your progress.

One of the best ways to stay on track is to look back at how far

you've come. It might be hard to see how your small victories matter

from moment to moment, but over time, those little wins really add

up. Keep a log of all your progress, and reward yourself for meeting

milestones on the way to your main goal.

The Takeaway

New Year's resolutions get a bad rap because most people give up

on them after a few weeks. But if you love setting goals for yourself

at the start of the year, don't give up on the idea of resolutions just

yet. Resolutions can actually be a very useful tool. By taking the right

approach and avoiding these five common mistakes, you might find it

easier than you expected to keep your resolutions all year long.

134 | january 2018 | www.AtlanticAveMagazine.com
---
www.AtlanticAveMagazine.com | january 2018 | 135
---
misc | dating

Ways

To Find

A Date

Being single is tough, and the

bar scene can be exhausting. If

you're trying to meet a fun person

for more than just a hook-up, try

looking further than your local

bar. Here are some strategies for

meeting someone who might just

be excellent relationship material.

Let your friends know you're looking

Usually, the people you hang out with will attract other people you

want to hang out with. That's why meeting through friends is a great

way to find a successful relationship.

Married people and those in long-term relationships love to set people

up. Discreetly let married friends know you're looking, and you

may just find yourself surrounded by interesting singles.

Attend weddings

Do you skip weddings because the celebration of someone else's love

makes you sad that you're single? That is the wrong approach.

Weddings are terrific places to meet other single people. Reply that

you'll be coming without a plus one, and then get ready to take on opportunities

that present themselves. If you can, find out in advance who in the

wedding party is single.

Go someplace with a kid

Admittedly, this works better for finding women than it does for

meeting men. However, there are many single people of both genders

with children. If you don't have a kid of your own, ask to

borrow a niece or nephew or a friend's child for the afternoon,

and head to places where kids and parents congregate.

Encourage the child to play with kids whose parents look

interesting to you, and keep an eye out for wedding rings. Kids

are great conversation starters, so meeting should be a breeze.

136 | january 2018 | www.AtlanticAveMagazine.com
---
Take a class in something interesting

Once you've finished school, you've lost a good source of single

people. Take yourself back to the classroom by enrolling in

something you enjoy.

Even if it's community adult education, you'll meet people

and learn something new.

For even more opportunities, volunteer to teach a class about

something you know. Specify that the course is for singles, and

you'll be in a perfect position.

Go to church

If you have spiritual beliefs that are important to you, or if you

are interested in developing some, take yourself to a local religious

location. A church, temple or another place of worship can

be an excellent way to build a social circle and meet new people.

Play a sport

Your local community center or YMCA can direct you to

sports leagues just for grown-ups. There may even be some

specifically for singles.

It's okay if you're not athletic. Choose something that sounds

like fun, and do your best.

Volunteer for a political campaign

Are you passionate about politics? Try signing yourself up

to work for a local political campaign. You'll get thrown into a

team of people who probably look at the world the way you do.

Working closely with someone to achieve a common goal is a

good way to start a relationship.

Buy someone a coffee

Going out for a morning coffee is a ritual that many people

will not miss. Hang out at a local coffee shop, and check out the

clientele. Offer to buy a coffee for someone who interests you.

If you're bold, you could even send a coffee to someone who

is seated.

Be friendly at the gym

Maybe it's an increase in heart rates or seeing people dressed

in workout gear, but whatever the reason, the gym is a great

place to find a date.

The next time you're working out, take out your headphones

and look up from the treadmill. Make eye contact, smile and

start conversations.

Go places alone

It's fun to go out with a group of friends, but you might be

making your dating life more challenging. You are much more

approachable if you go places alone.

See a movie by yourself now and then, or spend solo time at

library or museum. You might just attract your soul mate.

Meeting single people isn't easy, but there's a lot you can do to

increase your chances of finding someone incredible. Try these

10 tips, and maybe you'll meet that person of your dreams.

www.AtlanticAveMagazine.com | January january 2018 | 137
---
misc | surprising facts about you

6

Surprising

Facts You

Didn't Know

About You...

You might think most facts about

you are apparent and there's not

much more you can learn.

However, some surprising details, although

simple, may have slipped through

the net when you learned about human

functioning and behavior. The following data is

likely to be a revelation.

You can foretell the weather

You probably know someone who swears

he/she can predict the weather. This person

might grumble about their aching knees or stiff

neck and report their symptoms indicate lousy

weather's on the rise. No doubt, you think they

are eccentric and humor them good-naturedly.

However, it turns out your friend does have predictive

powers.

The pressure in the atmosphere drops significantly

before terrible weather arrives. Next, the

temperature alters and makes your body tissue

expand, causing inflammation. When your tissues

swell, aches and pains occur; this is especially noticeable

as you grow older if you have arthritis,

which turns you into a veritable barometer.

Crescent moon nails reveal

your health

Crescent moons, also called lunulae, are the

pale moon-shaped curves at the base of people's

nails. Your nails show a great deal about your

health, and your lunulae or lack of them can reveal

whether you might have renal failure, toxins

in your body, or are prone to disease. Averagesized

lunulae can indicate good health; compare

yours to friend's nails if you aren't sure.

Crying is good for you

Many people try to retain a stiff upper lip and

hold back tears when they are hurt. However, crying

has a purpose and is good for you. When you

stifle tears, your pain increases. It's best to let tears

flow to release stress. Also, your body produces

endorphins to anesthetize pain, and you start to

feel better when you have a good cry. Thus, don't

be afraid to turn on the waterworks when you're

upset to allow your anxiety to dissipate.

Intelligent people dream a lot

(and you dream more than you think)

Do you have loads of dreams most nights

and can't wait to talk about them in the morning?

If so, you might be highly intelligent since

studies show people with high IQs dream more

than people who aren't as smart. However, if

you don't dream much, don't worry, this doesn't

mean you're unintelligent. Research also reveals

138 | january 2018 | www.AtlanticAveMagazine.com
---
many people don't remember their dreams, so perhaps you

dream often after all.

Creating the intention to remember dreams before falling

asleep, and keeping a journal in which to record your nighttime

imaginings by your bedside, will improve recall.

Your pupils dilate to show you

hate someone

What makes your heart beat faster, gives you butterflies in

your stomach, and causes your pupils to dilate? The answer is

love, of course. However, hate has the same effect. Excitement

and fear produce similar reactions, including enlarged pupils

which help you gain the broadest view possible of what's happening

in your environment.

Talking to yourself makes you smart

Just like you think people who predict the weather with

their aches and pains are mad, you probably imagine those

who chat to themselves are nutty too. Well, apparently, talking

aloud to yourself can make you smarter, so feel free to

verbalize things you want to remember for greater recall and

have a heartfelt, private conversation when you wish to increase

cognitive functioning.

You might think you understand all there is to know about

you, but the chances are you're unaware of plenty of facts.

Now, at least, you realize you can cry and chat to yourself

with wild abandon without being labeled crazy. You recognize

the aches that accompany aging can also come with

benefits; if your arthritis flares, you'll know you should wrap

up warm and take your umbrella with you when you leave

the house. Also, dreaming a lot makes you smarter, and the

state of you lunulae can warn you of poor health. Also, when

you find someone abhorrent, your pupils are large and attractive,

so you get an eyeful of them.

ReferenceS:

Medscape.com,

Philstar.com,

Mindblowing-facts.org.

www.AtlanticAveMagazine.com | january 2018 | 139
---
misc | HUMOUR

What

Will Your

Tombstone

Say About

You?

by Greg Hanson

It's never too early to think about the legacy you will

leave. Whether you anticipate several decades or just a

short time remaining on this earth, how you live now will

impact how you are remembered after you are gone.

The epitaphs on tombstones have often been used to tell

more than the name of the deceived, the date of birth,

and the date of death. At times, tombstones have included

additional—even humorous—details about the person.

One such epitaph apparently pays homage to the profession

of a deceased dentist: "Here lies John D. Cudd, DMD, filling his

last cavity!"

In New Mexico, another tombstone played on the name of

the dearly departed: "Here lies Johnny Yeast. Pardon me for not

rising." Johnny (or perhaps his family) apparently had a sense

of humor.

Not all epitaphs are flattering. An eighteenth-century tombstone

in Massachusetts supposedly acknowledges the deceased's

propensity for gossip. "Here lies a silent clay Miss Arabella

Young, who on the 21st of May began to hold her tongue."

What will your tombstone reveal about the kind of person

you were? Will it show your love for family? Will it acknowledge

your involvement in your community? Will it describe

your devotion to your faith? Will you be remembered the way

you want to be remembered?

If you want your epitaph to say good things about you, you

must earn it by the way you live now. How you will be remembered

after you die depends on the compassion, generosity, and

self-sacrifice you exhibit during your lifetime. Do not wait too

long to begin building your legacy; live today as you would like

to be remembered then.

140 | january 2018 | www.AtlanticAveMagazine.com
---
www.AtlanticAveMagazine.com | january 2018 | 141
---
leisure | brain teasers

crossword

puzzle

sudoko

Fill in the grid so that every row, column and

3x3 box contains the numbers 1 through 9.

ANSWER TO sudoko will be printed next month.

ANSWER TO this PUZZLE will be printed next month.

ACROSS

1 Vehicle compartment

4 Bad (pref.)

8 Legal weight of a

rupee

12 Certified Public

Accountant (abbr.)

13 Chin. dynasty

14 Olive genus

15 Mulberry of India

16 Hing

18 Jutelander

20 Mother of Pollux

21 Dadaist

23 Carriage

25 Syphilis

26 0af

27 Palestine Liberation

Organ. (abbr.)

30 Lady's title

31 Civet

32 Limb

33 Adjectiveforming

(suf.)

34 Thought

35 Bull (pref.)

36 Maple genus

37 Hop

38 Treatment

40 Stag

41 Acacia (2 words)

44 Edible seed

47 Viking

48 Adriatic seaport

49 Sphere

50 Concert halls

51 Fertilizer ingredient

52 Drop

DOWN

1 Circuit Court of

Appeals (abbr.)

ANSWER

TO

PUZZLE

from

last

month

2 Amazon tributary

3 Alopecia

4 Sing

5 S. Afr. fox

6 Central Intelligence

Agency (abbr.)

7 Dolt

8 Tribe symbol

9 Foul-smelling

10 Maiden loved by Zeus

11 Wider than AAAA

17 Overjoy

19 Donkey

21 Borden calf

22 N.Z. bird

23 Hard question

24 Sambar deer

26 Millrace

27 Boll (2 words)

28 Weakly colored

(pref.)

29 Monster

31 Kitchen tool

35 Pitch

36 Braz. timber tree

37 Rom. province

38 Coagulated milk

39 Female friend (Fr.)

40 Employ

41 Man's name: abbr.

42 Father: Arabic

43 Exclude

45 Age

46 Warp yarn

enigma

ANSWER

TO

sudoko

from

LAST

MONTH

enigma cryptograms are created from

quotations and proverbs from around the

WORld. Each letter stands for another letter.

hint: "H" = "I"

"IR XIU CYDFHLDHRJ MHOIRJ

CYDFHLDHRJ OPMRJ."

- NRKWPCHK VMPKZDHK

enigma solution will be printed next month.

enigma solution from LAST MONTH

"Popular opinion is the greatest lie in the world."

- Thomas Carlyle

www.AtlanticAveMagazine.com | January 2018 | 143
---
144 | january 2018 | www.AtlanticAveMagazine.com
---
WHEN GETTING OUT THE DOOR IS A CHALLENGE,

YOU NEED SOMEONE WHO KNOWS THE MARKET.

IT'S

TIME

FOR

ELLIMAN

elliman.com

NEW YORK CITY | LONG ISLAND | THE HAMPTONS | WESTCHESTER | CONNECTICUT | NEW JERSEY | FLORIDA | CALIFORNIA | COLORADO | INTERNATIONAL

©2017 DOUGLAS ELLIMAN REAL ESTATE. EQUAL HOUSING OPPORTUNITY. 1111 LINCOLN RD, MIAMI BEACH, FL 33139. 305.695.6300.