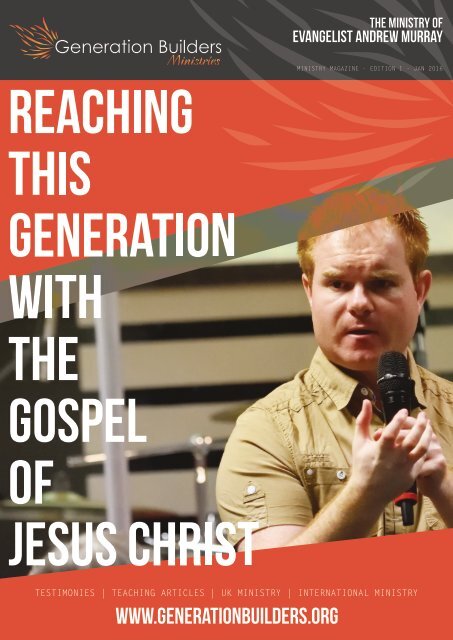 Generation Builders Magazine 2016
Create successful ePaper yourself
Turn your PDF publications into a flip-book with our unique Google optimized e-Paper software.
THE MINISTRY OF

EVANGELIST ANDREW MURRAY

MINISTRY MAGAZINE - EDITION 1 - JAN 2016

TESTIMONIES | TEACHING ARTICLES | UK MINISTRY | INTERNATIONAL MINISTRY

WWW.generationbuilders.org
---
THANK YOU TO OUR PARTNERS

HelpING to bring in the Harvest

Generation Builders Ministries would like to say thank you to all those who

partner with us. Without you we would not be able to fulfil the mandate

God has given us and see his hand at work throughout the uK and around the

world...so THANK YOU!

Why do we need partners?

Generation Builders Ministries has been called to reach the nations with the gospel of Jesus Christ, stir a

hunger for God's presence within the Church and train and equip the next generation of soul winners. All of

this costs finance and we can not operate without the generosity of our partners. Please be assured that a

gift to this ministry helps fund the great harvest of souls that is being reaped in these last days.

where does my finance go?

Any finance that this ministry receives goes towards fulfilling our mandate to reach the nations with the

gospel. That means helping us facilitate gospel crusades, overseas missions and helping us travel the UK

and USA. The financial support of our partners also helps us to reach people in places we can not physically

get to through ministry resources and products. The support of partners also helps us to equip and raise up

the next generation of Christian leaders through our ministry school.

how do i give?

Would you please prayerfully consider parterning with us on a monthly basis

or giving a one-off donation? If you feel led to support this ministry then

please visit:

Visit www.generationbuilders.org/missions/give

There you can give one off donations both in the UK and the rest of Europe

and also from the United States of America. You can also set up a direct debit

to give on a monthly basis
---
Generation Builders

ONLINE STORE

Exclusive audio messages by Andrew Murray to boost your faith and stir up your hunger.

Visit www.generationbuilders.org/media/listen to purchase and download.

One More Night With The Frogs

In the book of Exodus, Egypt was plagued by frogs. When Moses told Pharaoh he

had the honour of setting the time when the plague ended, he said "tomorrow".

Why didn't he say "today?" Why did he live one more night with the frogs? In this

powerful message, we look at why you don't need to live one more night with the

things tormenting you! You can receive breakthrough today!

It's Not Over 'Till The Barren Woman Sings

God's plan for His Church is that we bear much fruit. But sometimes in our lives

and churches we can go through times of barrenness. In the Bible there were seven

barren woman who God made fruitful. Looking at each of these women, we look at

how God turns our barrenness into fruitfulness.

Seeing Jesus

This powerful message will help us to have a fresh revelation of the Jesus who is

crucified, resurrected and glorified. We have had amazing testimonies of people who

have played this message to unsaved loved ones and saw them come to Christ. A

great evangelistic tool as well as a faith booster for all.

God's Timing

God's timing can often seem mysterious. Sometimes it appears as though He is too

late. Sometimes it can appear He is too early. But Jesus always comes on time. Be

encouraged to know that all our times, years and seasons are in His hands.

THE UPPER ROOM

In the Bible, incredible supernatural things took place in upper rooms. It was in

an upper room that the dead were raised. It was an upper room that Jesus had

communion with his disciples. It was in an upper room that one of God's enemies

was killed. It was in an upper room that the Holy Spirit was poured out. This message

asks the question: do you have an upper room in your life?

HE GOES BEFORE YOU

The book of Exodus tells us that God went ahead of His people in a cloud by day and

a pillar of fire by night. Throughout the scriptures God is always pictured as going

ahead of those who belong to Him. Be encouraged today, that wherever you are

going, He has already been there. If you are about to enter into a new season, then

this message is for you!
---
Welcome

Dear Friend,

Thank you so much for taking the time to read this magazine

and for your interest in this ministry. Your support and prayers

mean the world to us. The name Generation Builders is taken

from two scriptures. In 1 Corinthians 3, Paul writes: "Each one

should build with care. For no one can lay any foundation other

than the one already laid, which is Jesus Christ." In Psalm 24, the

Psalmist declares: "Such is the generation of those who seek Him,

who seek your face, God of Jacob" These two scriptures sum up

the heart of this ministry. Firstly, we are unashamedly a Christ

centered ministry. Our hearts burn with a passion for Him and we

desire to proclaim the wonderful message of His gospel wherever

the Father sends us. Secondly, it was an encounter with the Holy

Spirit that changed our lives, and so we desire to stir the Church

back to a place where it really seeks God's face and encounters His

glorious manifest presence.

With every breath we seek to see the lost saved, the broken

restored, the captives set free, the sick healed and the hungry and

thirsty filled.

As we travel the world preaching the gospel of Christ, we would

love it if you would support us in prayer. Please read in the pages

of this magazine the wonderful things that God has been doing.

We would love to hear from you if you have a testimony, prayer

request or would like us to minister at your church.

Many blessings

Andrew, Laura and Judah Murray

In this

magazine:

Read our...

Testimonies from our 2015 UK Ministry

The Lame Walk. The Lost are

Saved. God's Fire Falls .

Argentina 2015 Report

The Key of David

Teaching Article by Andrew Murray

Also including:

USA Ministry 2015

Mexico Report

Azzato Ministries UK Tour

Albania Report

Generation Builders School of

Ministry and our work with

Revive Church

AND MORE...

Andrew Murray is a fiery and passionate preacher of God's Word, with a burning desire

to lift up Jesus Christ and see Him save, heal and deliver. In his meetings many people

have been blessed and encouraged as he preaches a message of faith and hope and also

stirred and challenged to seek God's presence and give their all to Him. Along with

the preaching of the gospel, Andrew's ministry is often accompanied with healings and

miracles and times of encountering the Holy Spirit.

Andrew has been in full time Christian ministry since the age of 18, based at a Church

in Barnsley in the North of England. In 2007 Andrew had a powerful encounter with the

Holy Spirit which led to him starting "Generation Builders" ministries and beginning to

travel as an evangelist. God has led him to minister throughout the UK and he has led

teams on missions to Argentina, USA and various parts of Africa and Europe.

Andrew is married to Laura, they have one son, Judah. They are currently based out of

Revive Church, A multi-site church in East Yorkshire, led by Jarrod Cooper.

This magazine was designed by

If you need any design work, from

logos, business cards, flyers,

leaflets, magazines and brochures,

pull up banners, websites,

t-shirt design, printing and more,

contact Laura today!

laura@peanutdesigns.co.uk

www.peanutdesigns.co.uk

facebook.com/peanutdesigns

twitter.com/peanutdesigns
---
2015 UK MINISTRY

Hollybush Christian Fellowship: Thirsk

New Life Church: Ripon

New Life Church: Wakefield

New Life Ministries: Bradford

Northern Lights Church: Halifax

New Beginnings Church: Halifax

Selby Fellowship: Selby

Revive Church: Goole

Revive Church: Driffield

Revive Church: Hull

Threshold Church: Hull

Royston Bethel Community Church: Barnsley

Life Church: Doncaster

Father's House: Rotherham

City Life: Sheffield

The Hub: Stocksbridge

The Hub: Penistone

New Life Church: Chesterfield

Fresh Fire Church: Manchester

Fresh Fire Church: Oldham

International Church: Mansfield

Buxton Community Church: Buxton

Uttoxeter Pentecostal Church: Uttoxeter

One Event: Lincoln

Arise: Northampton

Revealed Word: Northampton

Salem Church: Northampton

King's Church: Cambridge

Kings Lynn Christian Fellowship: Kings Lynn

Radical Church: Norwich

Ayslebury Community Church: Ayslebury

Revival Christian Centre: Enfield

Guiding Light Assembly: Boreham Wood

New Anointing Centre: Aldershot

Elim Pentecostal Church: Wimbledon
---
UK Testimonies

from 2015

Our passion is to see God move throughout the UK and as we have travelled around the country this year we have preached a

Christ centered message and seen God demonstrate His awesome power!

We have seen many people respond to salvation; lots of people healed and set free; people impacted by words of prophecy;

hundreds encountering the Holy Spirit. We give God all the glory for the doors He has opened and for all He has done this year.

One of the highlights of the year was taking two sessions in the Holy Spirit Stream

at One Event, Lincoln. On the first day Andrew spoke on "The Holy Spirit and The

Believers Authority" which was well received. The second day we had a double, two

and half hour session and the venue was packed with hundreds of hungry people

gathering together. As Andrew spoke on "The Fire Of God", God's Spirit swept

through the place with many being touched and being overwhelmed by the power

of God and some testifying of healing.

Earlier in the year we had seen God move mightily in two youth events; one

in Boreham Wood, the other "Arise" in Northampton. In both events, we met

teenagers hungry for God's presence. The event in Boreham Wood was memorable

as it was held in a public library. During the ministry time as Andrew prayed for people, visitors to the library stared through the

glass doors, curious as to what was going on. Praise God, some of these teenagers ended up walking into the venue and meeting

Jesus for themselves!

We always enjoy our visits to Norfolk to minister with our friends Paul Randerson in Kings Lynn and Matt Richards in Norwich.

When Andrew had visited this area in 2014 he had ministered to a lady in a wheelchair who had had fibromyalgia for twenty

years. As he had prayed, the women had felt God's power come upon her and she had walked around the building. Over a year

later, it was great to hear that this woman had handed in her disability badge and was even well enough to go horse riding!

Totally healed by the power of God! Our visit to Kings Lynn this year was memorable, as we had the joy of leading a Jewish lady

to Christ. In tears she accepted and received Jesus as her Messiah.

At a church in Northampton, Andrew was prompted to call out of the congregation

a young man and prophesy over him that the call of God was upon his life and not

to give up on following Jesus. The young man broke down in tears and afterwards

shared a powerful testimony. He explained how he had been so discouraged that he

was on the verge of giving up on God. In fact, he had told God on his way to church

that night that unless God spoke directly to him in the service he would never set

foot in a church building again! Well, God did speak to him and he was radically

changed by the power of God!

There are so many more stories we would love to share but we don't have space

in this magazine. Of course, the vast majority of what happens in peoples lives we

never hear about. But we are convinced God is doing great things around the UK.

Please continue to pray for all our ministry around the country and please visit the

website to see if we are in a church near you. We would love to see you at an event

soon!
---
THE LAME WALK.

THE LOST ARE SAVED.

GOD'S FIRE FALLS.

Argentina 2015 Report by Andrew Murray

In March,

Generation

Builders went

to Argentina

for the second

time.

Our first weekend

was spent

ministering at

Agape to the Nations, a church that is experiencing phenomenal

growth led by Pastor Carlos Sanchez.

On the Friday night there were a few hundred people present and I

ministered on "The Wave Of God's Goodness". We had a great start

with many first time decisions for Christ, deliverance and people

weeping as they received prophetic words.

I must have prayed for hundreds of people and went away very

encouraged by all God did.

On the Saturday afternoon I taught on evangelism to a small group

of around fifty or sixty people. All of them responded to the altar call

wanting to be used by God as soul winners. Paul Bendele (Missionary

Ventures) shared on his heart for mission, and ten people came up at

the end wanting to be used as missionaries in the future. Although

this was the smallest meeting

of the weekend, the potential

impact could be huge!

Saturday night I preached on

"Seeing Jesus" and we saw at

least sixty people respond to

the gospel. It was wonderful

to see so many coming to the

altar. That night we saw an

amazing miracle as I prayed for

an eight year old girl, blind in one eye from birth. Within moments,

her sight was totally restored. In floods of tears her testimony was

simply "Jesus has healed me forever!"

On Sunday I preached to hundreds of people in three back to back

services. In the Sunday morning, we again saw around sixty decisions

for Christ and another wonderful miracle as a woman who had had

pain in her back, legs and kidneys for over ten years was healed. The

pain in her body had been so bad that at times she had been unable

to work. As we prayed, she felt fire all over her body and before long

she was testifying that she was now pain free!

The final service at Agape was to a bumper crowd of over seven

hundred people. I spoke on "Bartimeus" and nearly the whole church

ran to the altar for an encounter with Jesus! It was an incredible

sight! We saw loads of first time decisions and the fire of God fell in

what was a mighty move of God.

After our time at Agape we were able to support several smaller

ministries in Cordoba, which is the second largest city in the country.

On Monday we met a dear couple who have a wonderful ministry to

street children. Thanks to the kindness of our partners we were able

to bless them financially. The next day, we met with their church and

another smaller church for a midweek meeting. Both congregations

have gone through tough times in recent years and speaking on "You

Are The God Who Sees Me" we saw the presence of God move in a

wonderful way. The Holy Spirit manifested in such a strong way and

God gave us prophetic words for many people, with many being in

tears, broken and prostrate before God.

The following night, we ministered in another needy church and

again God's fire fell. It was great to see many children respond to the

gospel in this meeting.

Also, during this time it was good to fellowship with many Assemblies

of God pastors

at their regional

meeting.

Leaving Cordoba,

went to the town of

Chancani.

We first visited

Chancani in 2012.

It is an incredibly

small, needy place,

isolated from the

rest of the province.

To give you an idea

of how remote it is, we travelled for over an hour on the main road

there and only passed one other car the whole time!

In 2012 God told me that He was sending me to that village to reach

one person with the gospel. That person was Barbara, and what a joy

three years later to see that her life has been totally transformed! She

is full of joy and has a real hunger for God, It was wonderful that she

was able to give testimony in the meeting about what God had done

for her.

On this trip, however, we saw God touch more than just one person!

The first night was fairly quiet, we gathered in the town square

and just began to preach. We had a decent response with about

seventeen responding to the gospel. What was amazing though

was to see so many people from the town watching and listening

from across the road. As I led people in the sinner's prayer I wasn't

prepared for what happened next. As we laid hands on people,

they began to fall under the power of God! This created quite a

commotion and suddenly those who had been watching, rushed over

to see what was happening. The following day the town was full of

rumours of visitors with "magic powers" who had come to visit!

That evening we had a bumper crowd of over two hundred people

with around seventy responding to the gospel. Over the two nights
---
that means there were around one hundred decisions. For a town

with a population of around five hundred that's a pretty big deal!

Following the preaching of the gospel, the fire of God fell on those

who had responded. We saw a boy healed who had bad eyesight

and several other healings too. One of those healed was a lady

with terrible back pain. As I prayed she fell face down on the

floor. She had a top on that exposed her back, and I watched in

amazement as I saw the bones in her back moving back into place.

She got up totally pain free. Glory to God!

We then travelled back to Cordoba for a

second weekend of ministry in the city. On

the Saturday night we ministered at a youth

service where I preached on the Holy Spirit.

Every single young person responded and

we were able to release several prophetic

words over people. The presence of God was

so strong in that meeting with many young

people crying and broken before God. After

the ministry time there was a wonderful holy

hush as young people carried on praying for

one another long after I had officially finished

ministering.

On Sunday morning we were honoured to minister for David Saint

at his church in Cordoba. The glory of God turned up in a mighty

way and nearly everyone in the church wanted prayer. There

was one wonderful moment where a couple in the church who

had been going through marital difficulties were reconciled and

movingly embraced one another following a prophetic word from

one of the team.

On Sunday evening we visited an amazing church in Carlos Paz. This

place was packed and the people were so hungry for God. The fire

of God fell in that place and it was an incredible time of encounter.

Many people were touched with the joy of the Lord, while even

some of our own team were totally undone in the presence of God.

Again, leaving Cordoba we spent two days ministering in the town

of Mina Clavero. The first night was quite a tough night and I had to

really preach through what I felt was a strong religious barrier (it is

a very strong Roman Catholic area). Praise God that we saw around

fifty salvations that night and the next night the heavens were

opened and we enjoyed a wonderful move of the Holy Spirit with

more salvations plus healings, prophecy and people being touched

by God. It was especially wonderful to see the three sons of our

host pastor all being powerfully touched as they re-dedicated their

lives to Christ.

Whilst in Mina Clavero we had the opportunity to share the gospel

on secular radio and also met the mayor who attended near the

end of the second service. This Roman

Catholic walked in just as the fire was falling

during the altar call! Afterwards he said he

had never seen anything like it, except on

TV! After the service we got the chance to

share a few words with the local pastors and

pray for them, another great move of God's

Spirit.

Our biggest meetings were reserved for near

the end of the trip as we spent three nights

doing back to back outdoor crusades in the

city of Villa Dolores.

The first two nights we had around six

hundred people in attendance.

On the first night I preached on "God's

Judgement", a hard hitting message on sin, hell and repentance.

Around two hundred came to the altar with many weeping and

repenting under the conviction of the Holy Spirit. I refused to pray

for the sick that night as I made it clear that salvation was the

greatest need and the greatest miracle. It was a great joy to have

a young boy come up to me at the end and say "when I grow up I

want to preach the gospel!"

The second night we again saw well over a hundred people respond

to the gospel as I preached on "The Blood Of Christ". We saw many

children powerfully touched.

God gave us great favour in Villa Dolores, opening up the doors to

meet the mayor and pray with him and also minister on the radio. With

the evening meetings being outdoor we were also able to minister to

people who hadn't actually come to the meeting. The second meeting

was held on a couple of basketball courts surrounded by children's

play activities. We heard the testimony of one man who

had taken his children there to play, stopping what he was

doing and listening as the gospel was being preached. He

said he had never heard anything like it before!

This was the night we saw another outstanding miracle as

we prayed for an eighteen year old girl who had been born

with a severe spinal condition that left her unable to walk

without leg braces. As I laid hands on her she fell under

the power of God. As I then placed my hands on her legs I

heard bones cracking

and moving back into

place. Within a few

moments she had

taken the leg braces

off and was walking unaided for the

first time in her life!

That night, two young girls who

had been victims of sexual abuse

responded to words of knowledge

from two of our team members

and were both powerfully touched.

We believe God set them free from

the trauma they had gone through.

On the last night, we had our largest crowd of around two thousand

people. Again, there were many hundreds of people responding to

salvation and also a call for prodigals to return home. We prayed

specifically for children and later pastors that were in attendance and

the Holy Spirit touched both sets of people. Tears fell as we ministered

to those responding to the gospel for the first time. What a mighty

three days we had!

On our last Sunday morning in Argentina, I preached at Bethel church, a

Messianic congregation led by Omar Francia, who had been overseeing

all the meetings in Mina Clavero and Villa Dolores. I preached on

mission and evangelism and it was awesome to see nearly the entire

church responding to being committed to fulfil the Great Commission

in their area.

At the end of the meeting a young girl who was blind in one eye asked

for prayed. I prayed for a few minutes but nothing happened. I prayed

again and again she was still unable to see. I told

her to keep trusting God and then turned away. As

I did, the girl broke down sobbing in her mother's

arms. I felt such compassion towards her and

refused to believe that it was God's will for her

to remain this way. I grabbed her and asked her

straight "do you believe Jesus can heal you?" In a

flash she responded "yes" "Then go and lay hands

on your own eye and come back and tell me what

happens". She came back a few minutes later with

a huge smile "I can see!" This is Jesus!

While I was preaching here, Scott Bottger

(Heritage Fellowship, Kentucky) was preaching in

another church with the rest of the team. I spoke

to the host pastor afterwards and he was very

happy with what God had done in the meeting.

God's fire had fallen in a mighty way!

Sunday evening was our last official meeting before the team went

home. We ministered at a packed church in a place called Mirlo. This

church is very open to the Holy Spirit and so we ended the trip with a

real outpouring of the Holy Spirit!
---
The Key Of David

By Andrew Murray

"I am the Living One; I was dead, and now look, I am alive for ever

and ever! And I hold the keys of death and Hades."

(Revelation 1v8)

In Revelation chapter 5, the apostle John has a

vision of a scroll that is sealed with seven seals. As

heaven asks who is worthy to break open the seals,

John is devastated to learn that there is no one in

heaven, earth or under the earth worthy enough to

break open the seals. Suddenly, a triumphant cry

comes from one of the elders "'Do not weep! See,

the Lion of the tribe of Judah, the Root of David,

has triumphed. He is able to open the scroll and

its seven seals." (Revelation 5v5) The elder was of

course referring to Jesus Christ, the One who was

worthy and able to break open the seals.

Many believers today are desperate for a breakthrough. Many

times it seems breakthrough is an impossibility. However, there

is no need to weep and despair. Jesus Christ is still worthy and

He is still able to bring breakthrough into the most hopeless of

situations.

A few years ago I was ministering in

a prison in Kenya. It was a slightly

daunting place with guards who had

machine guns and prisoners wearing

black and white stripped uniforms. I

shared a few words before my pastor

preached the gospel and several of the

men gave their lives to Jesus. At the

end of the message the Kenyan pastor,

who had arranged the visit, announced that we were to go and lay

hands on the men who had responded. A little reluctantly I moved

among these criminals and started to pray for each one. When I

got to one man, I paused.

The Holy Spirit had given me a word for him. "Sir", I said, "God has

brought you to this prison because He wanted to meet with you

here but very soon you will be released from this prison and when

you are on the outside you will serve God". As I gave the word a

few people around me began to laugh.

Afterwards they told me what was so funny. The man was in

prison for murder. He was under a life sentence. "In our country

life means life. This man will never be released. He will die in this

prison"

A few weeks later I received an email from the pastor in Kenya.

It seemed that there had been a problem in that prison with

over-crowding. The government had never done this before in

history but they had written a list of prisoners who were in that

jail for minor offences. They had pardoned them to make room for

more serious felons. For some reason, that no one could explain, that

man's name had got on the list! His sentence had been cancelled and

he walked through the doors a free man! He contacted the pastor to let

him know what had happened and dedicated his life to serve God!

Friend we truly serve a God of breakthrough! A God who makes a way

where there seems to be no way! A God who still holds the keys of

victory to every battle that we face and a God who holds the keys to

any and every situation!

The Keys of the Kingdom

Not only does Jesus

have the keys - He has

given the keys to His

Church!

As encouraging as this is to know, it is also important to understand

that Jesus is not the only one who has the keys. In Matthew 16v19,

Jesus speaks directly to Peter, however He is also speaking prophetically

to all who would become members of the Church, that was built on

the rock. Jesus promises us "I will give you the keys of the kingdom

of heaven; whatever you bind on earth will be bound in heaven, and

whatever you loose on earth will be loosed in heaven."

Not only does Jesus have the keys – He has

given the keys to His Church! When I married

my wife, she moved into the apartment that

I owned. The first thing that I did after we got

married was to give her a copy of the keys. What

kind of husband would I be if I said I was the

only one who could have keys? As the Bride of

Christ, Jesus has given us a copy of the keys to

His Kingdom! He has said of His Church "we (me

and the Father) will come to them and make our

home with them. (John 14v23). As He makes His home in us, He gives

us a copy of the keys to His Kingdom.

The Kingdom of God is God's realm. It contains His presence and

His "stuff". The Kingdom is a place of joy, abundance, peace, grace,

forgiveness, mercy, healing, strength, righteousness, wisdom and so

much more. Whoever has the keys has the access and the right to

obtain all that God is and all that God has.

Prayer and the Church

Jesus has said that His Church should be a place of prayer: 'It is written,'

he said to them, '"My house will be called a house of prayer," (Matthew

21v13)

As the army of God, we must use the weapon of prayer in order to see

God's Kingdom advance. It is only through prayer that we will see the

victory. You cannot win a spiritual battle with carnal weapons.

When we pray however, we must see that the Church has already been

given the keys to the Kingdom. Perhaps, you have found yourself in the
---
unfortunate position of being locked outside, having lost your

keys! You hammer on the door, trying to get someone's attention,

hoping someone will answer. How foolish would it be to do that

if you already had the keys! You could open up the door and walk

straight in.

Many believers treat prayer like they are beggars, shivering in

the cold, hammering away, trying to get God's attention. When

we realise that Jesus has already given us the keys and we have

access to an open door it changes the way we approach prayer.

When I started working at Bethel church in Barnsley in 2001

one of the first things they gave me was a copy of the keys.

That meant I had access to the church any time day or night. If

I wanted to, I could enter the church at 3.00 am. If the police

stopped me I could show them that I had the keys and they knew

I had a legal right of entry. When I left that church in 2014, I had

to hand my keys back. Now I am restricted to accessing that

building only when it is open to the public. It doesn't matter that

I was there 13 years. It doesn't matter that I know the pastor. I

don't have the keys, so if I enter without permission I am a thief.

The church will never pray correctly and never be victorious,

praying like it doesn't deserve to pray. But when we understand

that we have the keys to God's Kingdom and can access His

throne room any time, day or night, we have discovered a

powerful truth!

The Master Key

A number of years ago I was ministering in the nation of Zambia.

On the last day we were flying home and

needed to leave the hotel very early in

the morning. I contacted reception the

night before and asked them to give me

an early morning wake up call. The next

morning I woke up suddenly and looking

at my watch, I realised they had forgotten

to call me! I had only a few minutes to get

downstairs. Quickly dressing I grabbed my

bags and went to the door handle. Disaster struck as I pulled it,

the handle fell off in my hand with the door still locked! I began

to shout, but it would do no good as even if my friends heard me,

they only had keys for their doors.

Eventually I got someone's attention and a porter came with

something very special. He had a master key to the hotel. It was

the key that opened up every door! He quickly used that key to

let me out.

Notice that Jesus, spoke about the "keys" to the Kingdom, plural.

There are many keys in the Kingdom. But hidden in the Word of

God, is a master key. This is a key that opens up any and every

door and it is a key that God longs for His Church to discover.

This key is called the key of David. Jesus spoke about this key in

Revelation 3v7: "These are the words of him who is holy and

true, who holds the key of David. What he opens no one can

shut, and what he shuts no one can open."

See that whatever He opens remains open. This shows us that

not only is the Key of David a master key that opens every door,

but also it brings permanent breakthrough. Many times in life

we see the same old problems reoccurring. But the key of David

enables a permant breakthrough. Things open and shift and

remain that way. Not only does the key of David open things,

it also shuts the door. We need to shut the door to sickness,

negativity, unbelief, bad habits, doubt, fear and so many other

things, in our lives. The believer that has the key of David is able

to do this.

What is the key of David?

The key of David

enables permanent

breakthrough

I believe that in naming this master key after King David, the Holy Spirit

is pointing us to the life of David. There are two distinguishing marks of

the life of David. Number one – He was a worshipper. Number two – He

was a pursuer of God's presence.

This is also where our victory lies. In being a believer that puts on the

garments of praise and boldly and passionately lifts up the name of

Jesus; we are given the keys of victory. And when like David we say

"My heart says of you, seek His face; your face Lord I will seek" (Psalm

63v1), we find the master key that gives us access to keys to Kingdom

breakthrough.

Several months ago I lost the spare key to my car and couldn't find

it anywhere. That car was being sold and the new owner insisted on

having the spare key. Faced with the prospect of knocking loads of

money from the agreed price I was in a panic and looked all over the

house and couldn't find it anywhere. I went to bed that evening and

prayed saying "Lord, you know where that key is, you need to tell me".

As soon as I woke up, the Lord told me where it was, in a very very

obscure place, but I picked it up straight away. The lesson - I worried

and stressed and couldn't find that key, but as soon as I prayed, the key

was there. Easy.

Here is what God said: "Many of my people are faced with closed

doors, they are hammering on the door trying to get it to open and

are begging for the keys. Others once knew what it was to live with the

open door but now all doors have closed and there is a panic that the

keys seem to have been lost.

There are keys that open up doors to finance,

ministry opportunities, family being saved,

marriages being restored. There are keys

to abundance, joy, peace and deliverance.

For church leaders there are keys to new

buildings, keys to your city and community.

For evangelists there are keys to nations,

regions and miracles. As long as you stress,

panic, strategies and try to find the key to your breakthrough in your

own strength, the way will remain hidden. But in my presence, keys are

found. The key to your breakthrough, the key to your open door.

For the Lord says "I am the One who holds the key of David, what I

open no one can shut and what I shut no one can open". The name

David means "Beloved". As you walk in the reality of being the Beloved

of God, as you embrace your identity as His Bride, as you rest, enjoy

and abide in His presence, and live in the simplicity of being a lover of

Jesus, it is in that place that keys are found. Christ still gives the keys to

the kingdom to His Church, but not the Church that walks in the flesh,

but the Church that walks in the Spirit.

I see in the Spirit, keys, lost keys, abandoned keys, keys long forgotten,

but keys ready to be found and put into locks that will open with

ease to those who have the keys. There is a door of blessing, a door

of breakthrough, a door of destiny and Christ has the keys. The Lord

urges His people to go back to His presence, back to the place of prayer

and fasting, back to the intimacy of worship, become His beloved and

find and pick up the keys He intends for you to have."

Heaven on earth

In Psalm 62, David says "I have seen you in the sanctuary and beheld

your power and your glory." Have you ever stopped to think that under

the Old covenant David wasn't actually allowed access into the glory of

God? Only the High Priest could access God's glory and he only once a

year.

Yet because David was a worshipper and a pursuer of God's presence,

he found the keys to a dispensation that would only come later, after

the death of Jesus.
---
In the same way, although we are now in the Church age, there is

another dispensation coming, it is called the dispensation of the

Kingdom. In that age, there will be no more death, sickness, pain

or injustice. In that age we will see Him face to face and be like

Him.

Some believers are content to live in defeat and bondage on earth,

waiting for that future dispensation that is coming. However, if we

as the Church will discover true Spirit and Truth worship and start

to really hunger and thirst after God's presence, then maybe will

find the keys that enable us to access what is coming in the future,

right now. Maybe that is what it means in Hebrews 6 when it talks

of those "who have tasted the goodness of the Word of God and

the powers of the coming age"

When we have the key of David we can taste heaven now, we can

taste resurrection power, healing, glory and justice now. This is

what God longs to show His Church.

river to carry us to the lost and broken we find ourselves in the midst of

the enemy's camp, but not as captives, but as victors. We have found

the keys to the city God has promised us.

In speaking of the religious leaders of his day Jesus said "Woe to you

experts in the law, because you have taken away the key to knowledge.

You yourselves have not entered, and you have hindered those who

were entering." (Luke 11v52)

You see religion always robs people of the keys to the Kingdom. A

believer that doesn't have an active prayer life doesn't have the keys

of victory that it needs. But as the army of God we must discover once

again the old secret of the secret place. We must again go back to that

secret place of prayer and that river of the Holy Spirit. A Church that

responds to the Spirit's call to pray, will find the keys to their city and

whatever other breakthrough they need. Let us all resolve to be the

Spirit filled, praying people that Jesus requires us to be.

The Keys of Destiny

The city of Jerusalem was David's destiny and inheritance. The

only problem was that between David and his inheritance was

an enemy. The enemy mocked David saying "'You will not get in

here; even the blind and the lame can ward you off.' They thought,

'David cannot get in here." (2 Samuel 5v6).

Like David we too have an inheritance. Psalm 2 says "Ask me and

I will make the nations your inheritance" (v8). Our inheritance is

that we will see His Kingdom come in our nations and His glory

change our communities. But we too have an enemy that mocks

us "Great Britain (substitute your nation) belongs to me", says the

enemy. "The Church is finished, a dwindling minority. Immorality

has won, darkness has won. The Church has failed".

Yet, the Bible declares "Nevertheless, David captured the fortress

of Zion – which is the City of David." (v2 Samuel 5v7)

I want to prophesy a "nevertheless" over your church, your

community, your nation and your life today! It doesn't matter how

small or needy your church is…..NEVERTHELESS! It doesn't matter

what strongholds are over your community….NEVERTHELSS!

It doesn't matter how backslidden your nation appears…..

NEVERTHELESS! It doesn't matter what the doctor has said....

NEVERTHLESS! It doesn't matter how hopeless the situation

appears....NEVERTHLESS! It doesn't matter how far away that

prodigal is away from God....NEVERTHLESS!

You see underneath the city was a hidden shaft of water. It was a

secret place that not even the enemy noticed. David and his men,

got on their hands and knees and climbed up that water shaft.

They came out a bit soggy, but they were right in the center of the

enemies camp! They had found the key to the city!

The key to taking cities is still the same today. There is a secret

place, it is called the secret place of prayer. The enemy cannot

see us in the secret place because in that place we "dwell in

the shelter of the Most High and rest under the shadow of the

Almighty" (Psalm 91). But God sees us in that secret place. He

promises:

"But when you pray, go into your room, close the door and pray

to your Father, who is unseen. Then your Father, who sees what is

done in secret, will reward you." (Matthew 6v6)

In the secret place there is a hidden flow of water. It is called the

river of the Holy Spirit. God is calling His Church to fight from

their knees. Like David and his men, let us get on our hands and

knees in a posture of prayer and worship and enter the river of

His presence. As we become immersed in that river and allow the

More teaching articles can be found online

www.GENERATIONBUILDERS.ORG/teaching

ONLINE STORE

www.GENERATIONBUILDERS.ORG

Confidence in Prayer

Prayer is one of those things that all

Christians know they should do, but

many struggle with. Most Christians

desire to take their prayer life to another

level. In this powerful teaching, Andrew

Murray teaches on why we can pray with

confidence and assurance. Let your faith

soar, as we look at the relationship God

has brought us into and how that effects

our prayer life and our ability to access

God's throne room.

Blood Covenant

When Jesus shed His blood on the

cross it was about much more than

forgiveness and salvation. When Jesus

shed His blood, He entered into a

covenant with you. Using the life of

Abraham as an example, Andrew Murray

teaches on what a blood covenant is

and what is the covenant that Christ

has made with His Church. This is an

inspiring message, that will inspire you

to receive all that God has for you today.
---
Andrew reports on our November trip to

Mexico

U

Generation Builders partnered with Revive Church for a week

long mission trip to Uruapan in Mexico. Evangelist Andrew was

joined by members of Revive Church plus campus pastor Jonathan

Whitehouse as well as Pastor Rene Rocha from Heritage Fellowship

in the USA.

Our host was Pastor Salomon Valdez and our first service in Mexico

was in his church: Uruapan Revival Center on a Wednesday night. I

spoke on pursuing the anointing from the life of Elisha and we had

a great time in God's presence, with the Holy Spirit touching many

people. It was especially amazing to see many young people and

even unbelievers having encounters with God.

On Wednesday and Thursday morning we held pastor's conferences

in a hotel suite that had been hired. These two mornings were the

undoubted highlight of the trip as God did incredibly significant

things. We had been told prior to arriving that historically there

had been a lot of division among churches, with pastors very rarely

coming together to meet or work with each other. It was in this

backdrop of hostility that we were ministering. Over 100 leaders

gathered from all kinds of denominations and backgrounds from

very strict conservative type churches, to churches that were much

more liberal. It would need a true outpouring from God to break

through all these different groups.

On the first day I spoke on "joy" sharing on how God's joy is our

strength and then prophesying over the city that they would

rejoice as men rejoice at harvest time. As I invited people forward

for prayer, there was a rush to the altar as the vast majority of the

pastors were desperate for God to touch them. The fire of God

began to fall on these leaders with many being refreshed, healed,

set free and restored.

The second day was described by Pastor Salomon as "historic" and

later he said he felt like he was dreaming because of what God did.

As I ministered, the altar was packed as pastors and leaders lay

weeping in repentance and rededicating themselves to God's service.

Afterwards, in a powerful form of unity the leaders ministered to

each other, but I encouraged them to pray for those who were from

different denominations or church affiliations. God did an amazing

work of healing in this city, bringing true unity and restoration. It was

an honour to see God at work.

The evening gospel crusades were done within the shadow of the

"Day Of The Dead" festival which had taken place just days before.

As the nation had come together to celebrate and worship death,

we stood on the promise of God's word that "The people walking

in darkness have seen a great light; on those living in the shadow of

death a light has dawned." (Isaiah 9)

On the first evening around 700 people gathered, with around 100 of

those responding to the gospel. There were many healing's including

a woman who had had pain in her knees for 5 years being instantly

healed, people throwing away walking canes and demons being cast

out.

The second night was another incredible service with many

salvations, impartations and encounters. One amazing testimony

was that of a blind lady who was instantly healed during the ministry

time. The woman was in total shock. She had been blind for over

2 years because of diabetes. Remarkably the woman was from

California, USA and was only in Mexico on holiday!

On the Saturday we held a conference for youth and teenagers.

Pastor Jonathan Whitehouse shared his testimony of deliverance

from drug addiction and around 30 young people came forward to

receive Christ as Saviour. Then another 200 or so young people came

out wanting the power of God. The fire of God fell on these hungry

youth and the meeting was extended as God's presence was just

touching lives.

On the Sunday, the team split up, with the ladies from Revive church

ministering in one church and Pastor Jonathan ministering in 3

different churches. I spoke in 2 churches. The church I spoke at in

the morning was led by Pastor David Rice, who translated in many

of the services. His church were holding a "Bring a Friend Sunday"

and many new people responded to the gospel. The altar was so full

at the end of the message, that I couldn't physically get to everyone

to lay hands on them. We trusted that the presence of God would

minister and it did.

We had an incredible few days in Mexico with God moving in such

power. Already we are planning to return later this year (2016) but

this time doing a tour of the region, with a repeat of the format (day

time Pastors meetings,

evening gospel crusades)

in several different cities.

Please continue to join us

in prayer as we contend

for a great harvest of souls

in these days.
---
USA MINISTRY

America is a nation where God continues to bless us with good friends and open doors.

It has been an honour to visit the States twice in 2015 and see God Do amazing things.

In May Andrew spent two weeks ministering in Ohio, Kentucky, Indiana and Michigan.

It was great to preach for our good friends Cleddie Keith, Roy Ellis, Shane Brunner,

Trent Houchell, Billy Price, Josh Shulz, Ron Neal and Drew Neal. As well as ministering

in churches, Andrew also shared the gospel in a prison and a school. In both places,

souls came to Christ.

In October, Andrew returned to the US but this time Laura and Judah came with him.

We had a special time with our good friends Ron and Teri Neal at Creekside Ministries,

Indiana, as Andrew taught in their School of Ministry and also at their annual Fall

conference. We ministered in several other churches on this trip including Heritage

Fellowship in Florence, led by Pastor Cleddie Keith and Solid Rock church in Ohio, led

by Lawrence Bishop. Wherever we met, the power of God moved and hundreds were

impacted by the Holy Spirit.

AZZATO UK TOUR

In November, Carmine

and Jennifer Azzato

from Creekside,

Indiana visited

the UK for a two

week ministry tour

arranged by

Generation Builders.

Former Pro-Wrestler, Carmine, and Jennifer, an incredibly

powerful worship leader, both have a strong evangelistic and

prophetic ministry. During the two weeks we travelled all

over the UK, ministering at Revive Church (East Yorkshire),

Fresh Fire in Manchester, The Threshold church in Hull,

New Beginning's in Halifax, Radical Church in Norwich,

Rock Church Walsall and Revival Christian Centre in Enfield.

Andrew and Laura Murray ministered in each service. We

had amazing services with so many testimonies of healings,

salvations, breakthroughs and encounters with Jesus. We

look forward to partnering with Azzato ministries again in

the future.

" 'Wow!' is the word that comes to mind when we think

about our two and half week tour through the UK! Firstly,

The Murray's who lead Generation Builders and who are

DEAR friends of ours, just rocked our socks off with their

love, kindness and generosity. They are powerhouses and

it's an honour ANY time we get to partner with this family!

Secondly, every city we went to, every person we met, we

will never forget the faces, the churches, the communities.

They impacted us with their hunger for more community,

more presence and more JOY! It was just a blessing to us

to be on the receiving side of the hunger. And with that

hunger was flowing words of knowledge, people having

their first encounters with Jesus, EVER, in the history of

their lives. God was feeding His people and filling them

with gladness. As we continue hearing stories of lives

impacted by that tour we look more and more forward to

returning to the beautiful United Kingdom to be a part of

the MORE that God is pouring out on this great nation!"

~ Carmine & Jennifer Azzato
---
Andrew reports on our July trip to

ALBANIA

During the summer, Andrew travelled with Sam

Dent and Tanya Parker (from Revive Church Hull)

to Albania for our first mission trip to this

NATION. We connected with Pastor Barry Ogden,

an American missionary who leads a church in

Tirana, the capital city of Albania.

I spoke several times at this church during the trip and

afterwards Barry said "The recent ministry of Andrew

Murray and the Generation Builders team was a divine

appointment, not only for our church, but for the nation

of Albania! In the weeks leading up to the visit, God

promised healing, salvation and deliverance... And He

delivered! Brother Andrew moves in step with the Holy

Spirit under a powerful anointing, and delivers the Word

in a way that connects with the mature believer and

the atheist sceptic alike. I know that lives were changed

and seeds were planted for transformation in this

once-atheistic land. Thank you Andrew and Generation

Builders for your obedience to Christ in coming to

Albania!"

During these meetings we saw many touched by the

Holy Spirit, several salvations, people testifying of

healing, prophetic words released and deliverance. It

was also amazing to see our hotel receptionist, who

had a Muslim background, come to the meeting and

give her life to Jesus.

As well as speaking in Tirana we ministered in serveral

other churches in other parts of the country and also

spoke in a prison where we got the chance to share the

gospel with the inmates.

and we truly had some powerful times together with people

encountering God and testimonies of healing and salvation.

AS OF JANUARY 2015, ANDREW AND LAURA HAVE MADE REVIVE

CHURCH THEIR HOME CHURCH. REVIVE IS A MULTI-SITE CHURCH IN EAST

YORKSHIRE LED BY JARROD COOPER. JARROD HAS BEEN A GOOD FRIEND

AND SUPPORTER TO THIS MINISTRY FOR MANY YEARS.

Once a month Andrew preaches in one of the churches

various campus', currently Hull, Goole and Driffield. Andrew is

also a regular speaker at the mid-week Bible school.

Throughout 2015, Generation Builders ran bi-monthly

revival services on a Saturday night in Revive's Bridlington

Avenue building. The heart behind these meetings was to

see Christian's from around the region, hungry for God's

presence, gather together to encounter Him. It was awesome

to see believers from around Yorkshire and even further afield

(some even travelling from London) attend these meetings

In September, Generation Builders ran it's first conference

"Glory In The Land" with Andrew and Jarrod both speaking.

What an amazing time we had!

This January (2016), Generation Builders is partnering with

Revive Church to run a full time ministry school for young

people aged 18-35. This will be an incredible course where

students will be taught and discipled by Andrew, Jarrod and

the Revive team as well as being busy serving in the local

church and going on mission with Generation Builders.
---
MIRACLES, BOOKS &

MAKING HISTORY

BY ANDREW MURRAY

"Jesus did many other things as well. If every one of them were written

down, I suppose that even the whole world would not have room

for the books that would be written."

(John 21v25 )

One of my favourite verses in the Bible is John

21v25 which says "Jesus did many other things as

well. If every one of them were written down, I

suppose that even the whole world would not have

room for the books that would be written."

healing the sick, setting the captives free and loving the broken.

As we minister the gospel in word and deed, each page of our

book is filled with the mighty expolits we have done for Christ!

As each member of the body of Christ becomes a history maker,

then truely the whole world will be filled with the books of what

Christ has done through His body.

What an awesome scripture! Many miracles are recorded

in the gospels, from the blind having their sight restored, to

the lame walking, the lepers being cleansed and even the

dead being raised! Then there are the accounts of other

miracles such as walking on water, the feeding of the 5000

and the calming of the storm. Then what about the times

when Jesus ministered to whole crowds of people healing

them all? And what about the lives of men like Zaccheus

and the woman at the well who were never the same after

an encounter with the Master? It

would be true to say that Jesus'

whole ministry was a continuous

account of miracle after miracle,

everything He said and did was

miraculous!

But still, what an incredible

statement – that if everyone of

Jesus' miracles had been written

down, the whole world would not be able to contain the

books that would be written! As I was pondering this

thought, the Holy Spirit spoke to me and said "you are one

of those books!" Suddenly an awesome revelation dropped

into my spirit. It says "Jesus DID many other things as well".

I believe we could just as easily say "Jesus is DOING many

other things as well". The book of Acts begins with Luke

saying that he wrote about all that "Jesus BEGAN to do and

teach". The miracle ministry of Jesus has not ended but has

continued for over 2000 years. Today Christ works through

each and every Christian, as they do the works He did and

even greater things.

Everyone of our lives is a book. The apostle Paul said "you

show that you are a letter from Christ" (2 Corinthians 3v3).

Just as the 10 commandments were written by the finger

of God, God wants to write on each page of our lives by

His Spirit. "All the days ordained for me were written in

your book" (Pslm 139). Each day we have an opportunity

to continue the ministry of Jesus by preaching the gospel,

I wonder when our

book is opened how

many pages will be

blank?

There are history books yet to be written, miracles still to be

performed, revivals still to take place. On our own the book

of our life may seem small and insignifacant, but we are part

of God's library, a library that the whole world can't contain.

From Wigglesworth to Finney, to some un-known prayer

warrior somewhere, we are part of the ministry of Jesus that is

continuing to be written.

The Bible says that one day we will stand before Christ and the

books will be opened. I wonder when our

book is opened how many pages will be

blank as we wasted days and opportunities

to serve Jesus? I don't know about you but

I want my book to be filled! I want every

page to tell of souls saved, bodies healed,

prayers prayed and battles won! I don't

want one page to be empty!

The book of Acts has not ended. Neither

has the ministry of Jesus. Each one of us is a book and God

wants to write on each page of our lives and tell of the history

we have made. As the church continues to make history, the

whole world will be filled with the books written about what

Christ did: for three and half years in the flesh, and for 2000 plus

years through His Spirit, working in men and women like me and

you!

ONLINE STORE

www.GENERATIONBUILDERS.ORG

Water into wine

Jesus' first miracle was the turning of water into wine. The

Bible tells us that it was through this miracle that He revealed

His glory. Today Jesus still wants to reveal His glory, through our

lives and churches. How? We look at this miracle and see how

through a simple act of outpouring, Jesus releases His glory in

and through us.
---
INVITE US

WOULD YOU LIKE EVANGELIST ANDREW MURRAY TO MINISTER

AT YOUR CHURCH OR EVENT?

IN ALL OUR MEETINGS WE SEEK TO BRING STRONG BIBLE BASED MESSAGES, CENTERED FULLY AROUND

CHRIST AND HIS FINISHED WORK. WE BELIEVE FIRMLY IN THE GIFTS OF THE HOLY SPIRIT AND SEEK TO SEE A

DEMONSTRATION OF GOD'S POWER WHEREVER WE GO.

IF YOU WOULD LIKE TO INVITE US THEN PLEASE EMAIL admin@generationbuilders.org

WATCH US ON

OR AT

www.generationbuilders.org

CONTACT US

admin@generationbuilders.org

facebook.com/generationbuilders

Generation Builders Ministries

Revive Church

Bridlington Avenue

Kingston-upon-Hull

HU2 0DU

England

Reg. UK Charity No. 1159923

WWW.GENERATIONBUILDERS.ORG